San Francisco is an Instagrammer's dream! I mean… the app was invented here.
From its impossibly steep hills to its houses with Victorian charms, from the reds of the Golden Gate Bridge to the deep turquoise of the Bay, from cable cars to piers: every bit of San Francisco is Instagram gold.
I'm a Bay Area native who worked in San Francisco for two years and spent much of my childhood visiting this beautiful city by the bay.
I left California when I went away to college, and now every time I return, I get to feel like a tourist rediscovering my home city, a place I grew up only 20 miles away from.
I've seen San Francisco through both a local's eyes and a tourist's eyes and I'm here to show you the best of the city.
This Instagram guide to San Francisco will include the most scenic places in San Francisco: epic Golden Gate views, beautiful city hikes, pretty architecture, and a handful of hidden gems.
So, here we go!
The Most Instagrammable Places in San Francisco
Crissy Field
Note: This post contains affiliate links, which earn me a small commission at no extra cost to you if you make a purchase using one of these links. Thank you for supporting this free content!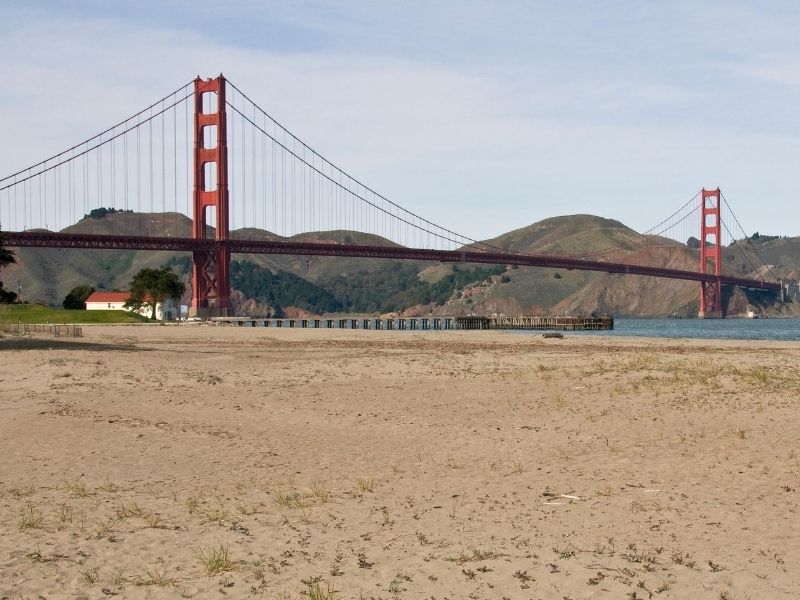 A number of spots on this San Francisco Instagram guide are going to be of SF's most famous landmark: The Golden Gate Bridge! There are a number of great spots to snap this quintessential SF Insta photo, but Crissy Field is one of the most accessible and lovely.
Crissy Field promenade boasts some beaches where you can get up close and personal with the bridge. Frankly, it's a large area, so here are a few of the best spots: Crissy Field West Bluffs for greenery and bridge views, Warming Hut Cafe for coffees with a view of the Golden Gate, and anywhere along Crissy Field East Beach.
Baker Beach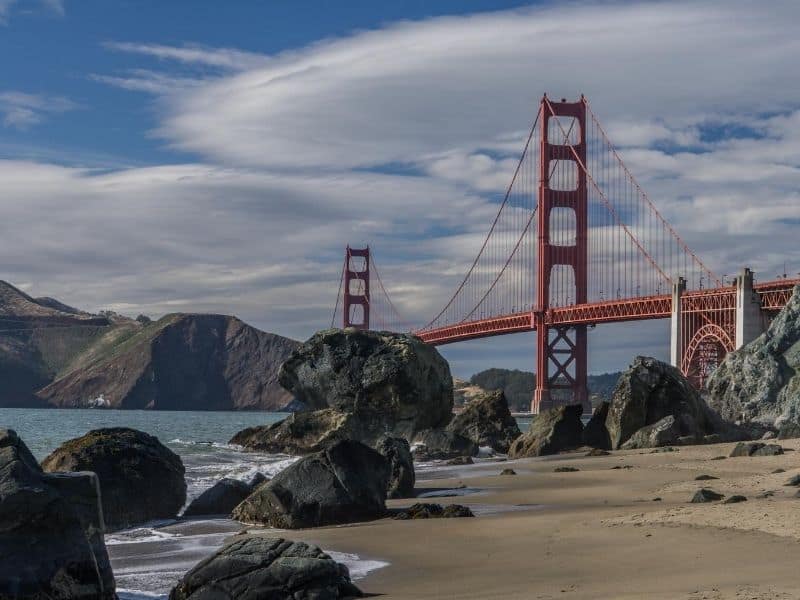 This is one of my personal favorite spots to snap San Francisco Instagram shots of the majestic Golden Gate Bridge. I love the wild ruggedness of Baker Beach.
It's got the rocky outcroppings that make this feel like a true NorCal beach to me, and for photography fans, these rocks also make great foreground and compositional elements so that you can make your San Francisco Insta photos truly your own.
Fort Point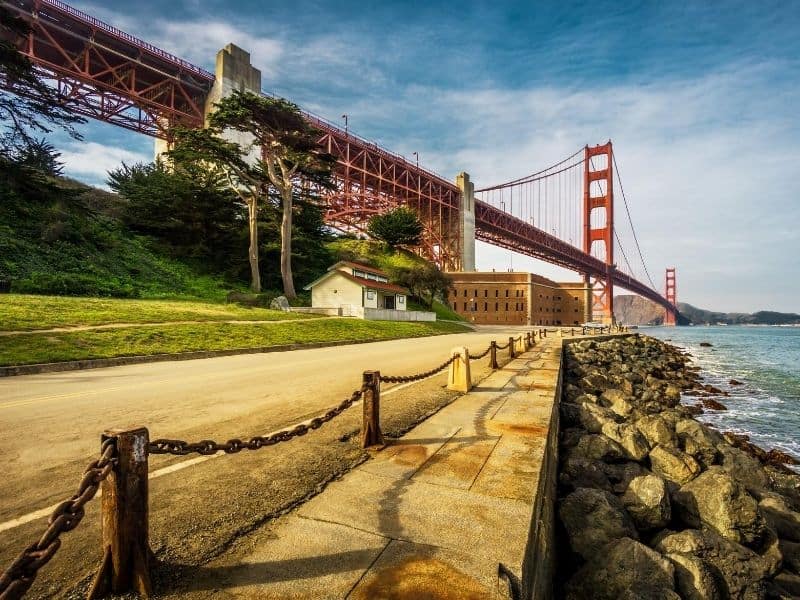 I promise that this guide to Instagramming San Francisco isn't all Golden Gate Bridge snaps, but I got started with a few of my favorite because, well, it's my favorite photo spot in the city!
If you're looking for another angle of the Golden Gate Bridge where you can play with perspective from a lower angle, walk around the embarcadero area of Fort Point.
Fort Point is actually a seacoast fortification made of masonry and a national historic site, so it's really a cool spot from both a historical and a photography perspective!
The area of the fortification where it intersects with the architecture of the bridge is really cool, and great for more abstract-oriented shots!
Marshall's Beach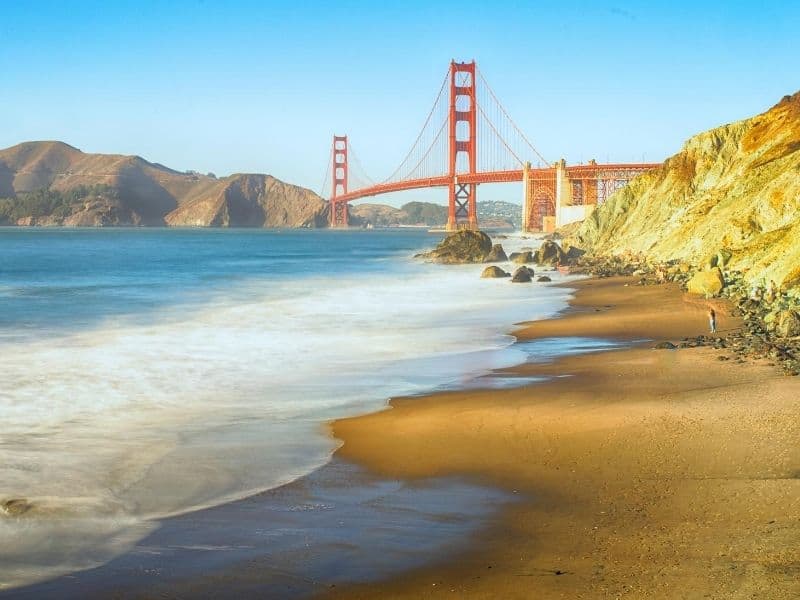 I promise this is the last Golden Gate Instagram photo spot… for now!
North a bit from Baker's Bridge is the quieter, less crowded Marshall's Beach, an in-the-know Instagram spot for San Francisco locals.
It's got a bit of the ruggedness, but not to the extent as Baker Beach, but it's quieter, closer to the Bridge, and you'll likely find it easier to snap your best Insta shots of San Francisco here.
Saints Peter and Paul Church (Washington Square Park)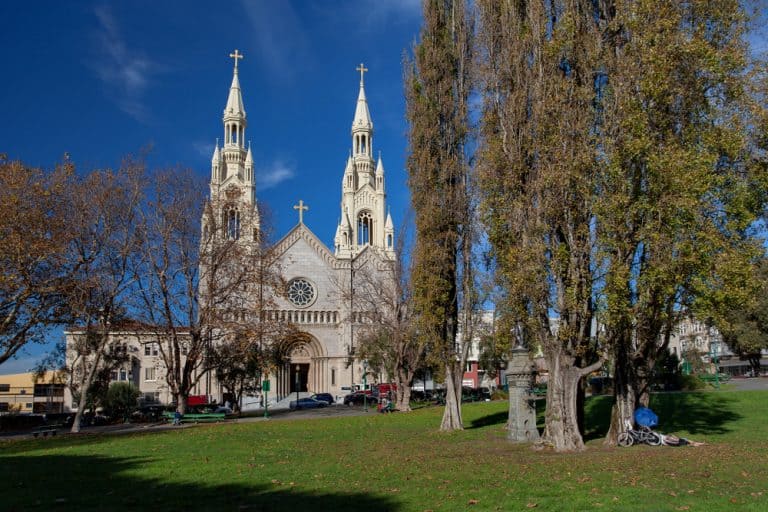 This charming park is in the heart of North Beach, the heart of San Francisco's early Italian immigration wave.
North Beach was also a locus of the Beatnik movement, which saw poets such as Allen Ginsberg and Lawrence Ferlinghetti pushing the bounds of language with wildly confessional free-verse poetry that was emblematically San Francisco.
The Church in the park has been featured in several films, including two Clint Eastwood productions, Dirty Harry and The Dead Pool. Other films who used the church as alocation are The Ten Commandments, What's Up Doc?, and Whoopi Goldberg's opus, Sister Act 2.
But perhaps one of its most famous guests were Marilyn Monroe and Joe DiMaggio, who took photos on the steps of this church following their civil ceremony (they couldn't marry there as the rules against divorces were rather strict back in the day). Joe DiMaggio's funeral also took place here, so it's an essential part of San Francisco history, as well as being a great San Francisco Instagram spot!
Ocean Beach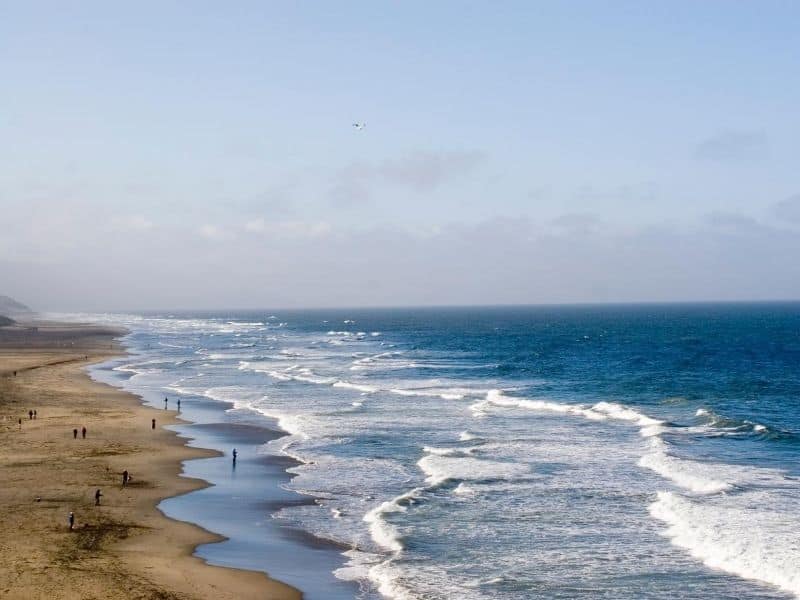 I couldn't stay away from San Francisco's beaches for long! Truly, there are too many beautiful beaches in the city…. even if the conditions are often so cold and foggy you'll likely never want to do more than dip your toes in the cerulean swirling waters!
Ocean Beach doesn't have Golden Gate views, this is true, but it does have several viewpoints of its own worth scouting out. The Cliff House on the north end of the beach, the Seal Rocks, and Sutro Baths (later on this list) is just a short walk away from Ocean Beach!
If you're doing a longer Insta walk of SF, you could head up to the Sutro Baths, over to the Lands End Lookout, pop by the Legion of Honor make your way to the Lands End Labyrinth, and then walk up through a series of beaches to the Golden Gate: China Beach, Baker Beach, and Marshall's Beach, ticking off 7 San Francisco Insta spots on this list in one two-hour walk (not counting ample time for photos, of course!)
16th Avenue Tiled Steps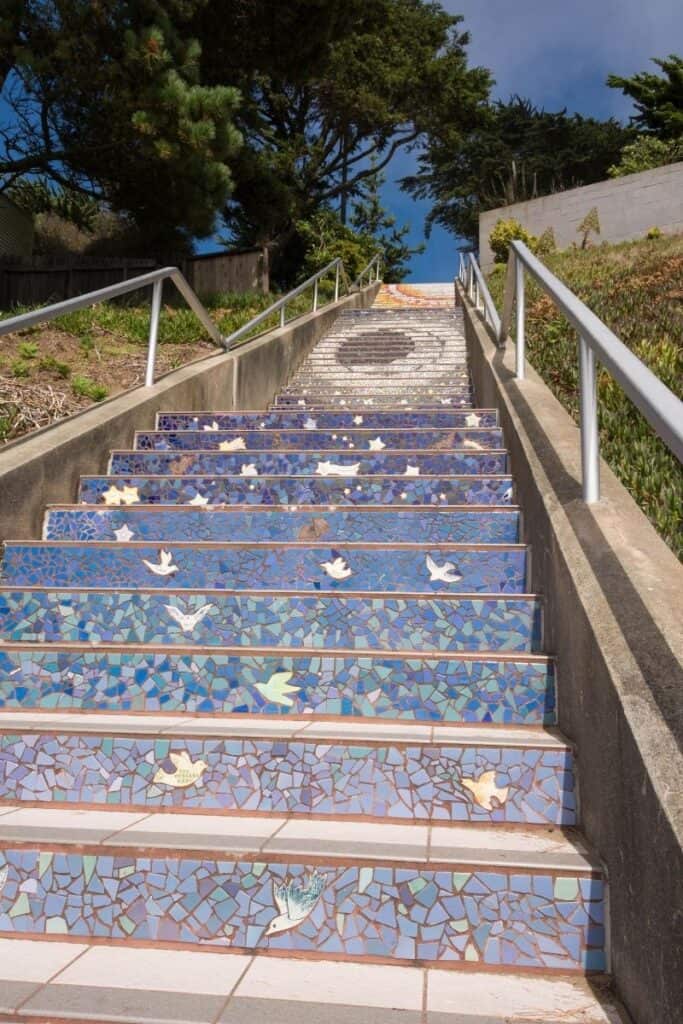 This famous San Francisco Instagram spot is a bit out of the way compared to most of the other Instagram spots in San Francisco.
This awesome mosaic staircase was built by the community, containing 163 steps of mosaic art. It's undoubtedly one of the top 10 Instagram spots in San Francisco: Instagrammers flock here for that quintessential "I'm in San Francisco!" shot.
I recommend pairing it with spots in Golden Gate Park below, and also stopping at the Hidden Garden Steps which are in between Golden Gate Park and the 16th Avenue Steps.
From here, Twin Peaks also isn't that far away.
Queen Wilhelmina Tulip Garden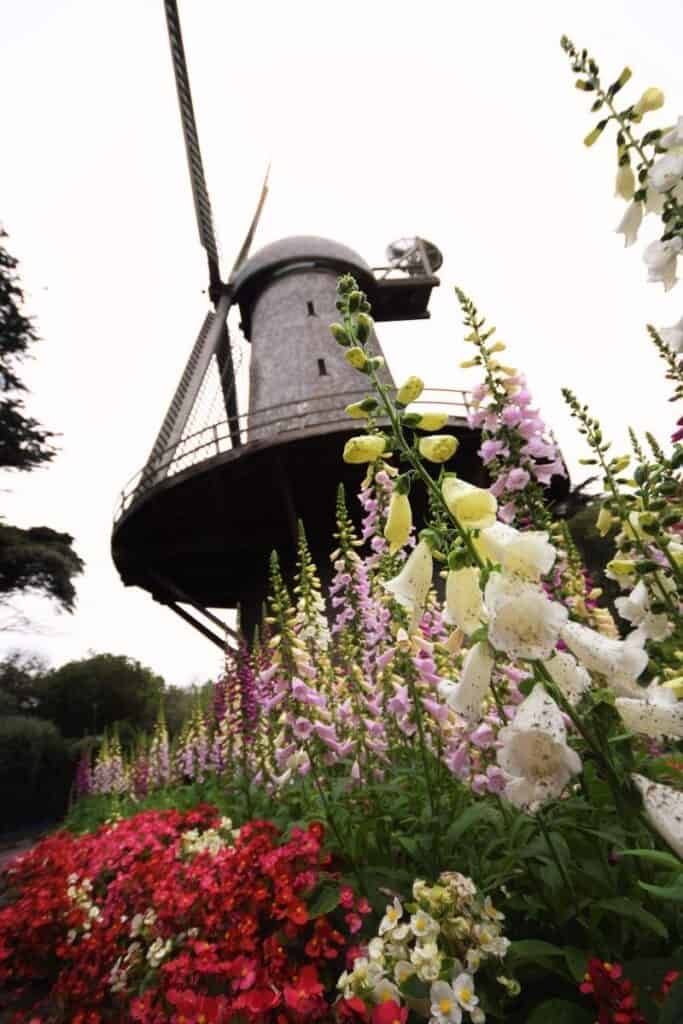 Did you know that San Francisco's Golden Gate Park is bigger than NYC's Central Park? And not by a small amount, either: Golden Gate Park boasts a whopping 150 acres over Central Park!
So you won't be surprised to find that there are cool SF Instagram spots in nearly every corner of Golden Gate Park.
One especially cool place is the Queen Wilhelmina Tulip Garden with its historic Dutch windmill… yes, a real live Dutch windmill in the heart of San Francisco!
The tulips bloom in spring only, but there are other flowers in the park year-round, making it worth visiting basically any time of year!
This is located on the west side of the park only steps away from Ocean Beach, so it's good to pair these two Instagram spots together.
Japanese Tea Garden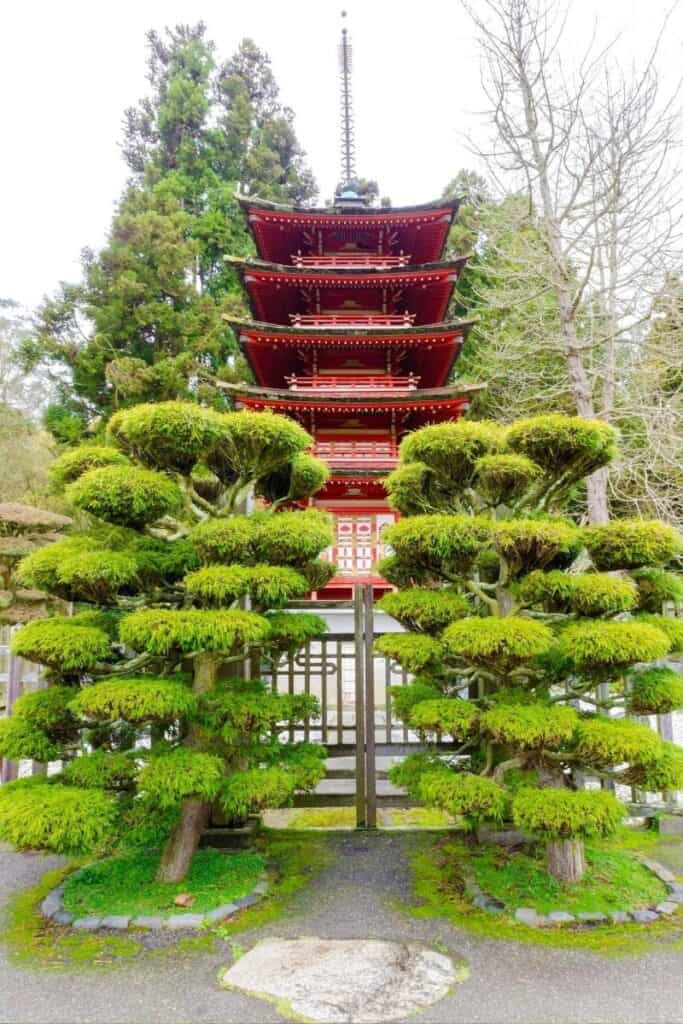 This is another place that's hard to believe is in San Francisco — it looks so authentically Japanese!
San Francisco has a major Japanese population. It's the US city with the 4th most Japanese-Americans, making up nearly 2% of the population. You can see this influence in Japantown and in other structures around San Francisco, but my personal favorite spot is the unbelievably serene Japanese Tea Garden located in Golden Gate Park.
It was originally built to be part of the World's Fair of 1894, but it has remained and been updated through the decades. It's the oldest Japanese garden in the United States.
Insider Tip: Admission and tea can be a bit pricy, but you can access the grounds for free if you get there before 10 AM on Mondays, Wednesdays, or Fridays. All the more reason for an early morning start!
Golden Gate Park Lake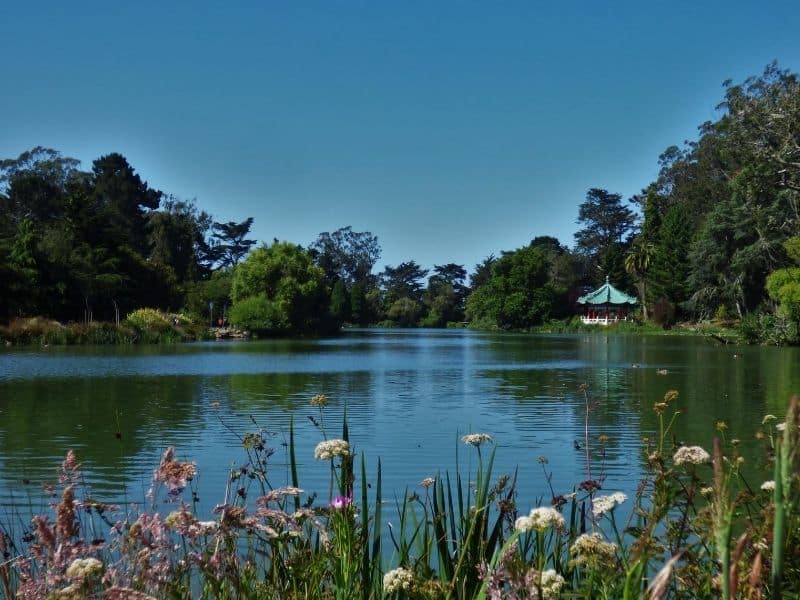 There are actually a handful of lakes in Golden Gate Park, all artificial of course, but no less beautiful.
My favorite is Stow Lake, which has an island in the middle and a Chinese Pagoda on one side of the lake.
Rustic Bridge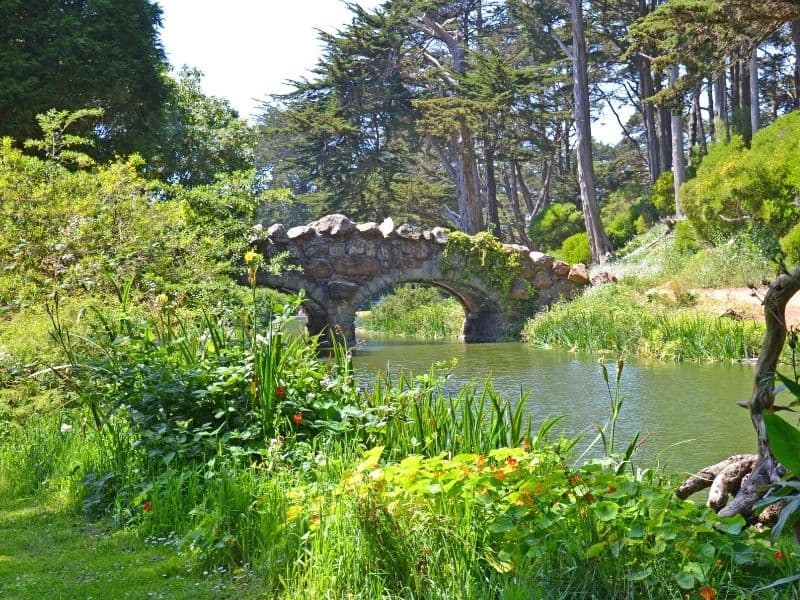 Another special park of Stow Lake is the so-called Rustic Bridge (8also called Boulder Bridge of Rocky Bridge). It's great for photos on the banks of the lake.
Cross the stony Stow Lake Bridge and climb up Strawberry Hill, 430 feet tall and with a beautiful (but also manmade) waterfall on the trail — a bonus Instagram spot in Sf!
Golden Gate Park Pagoda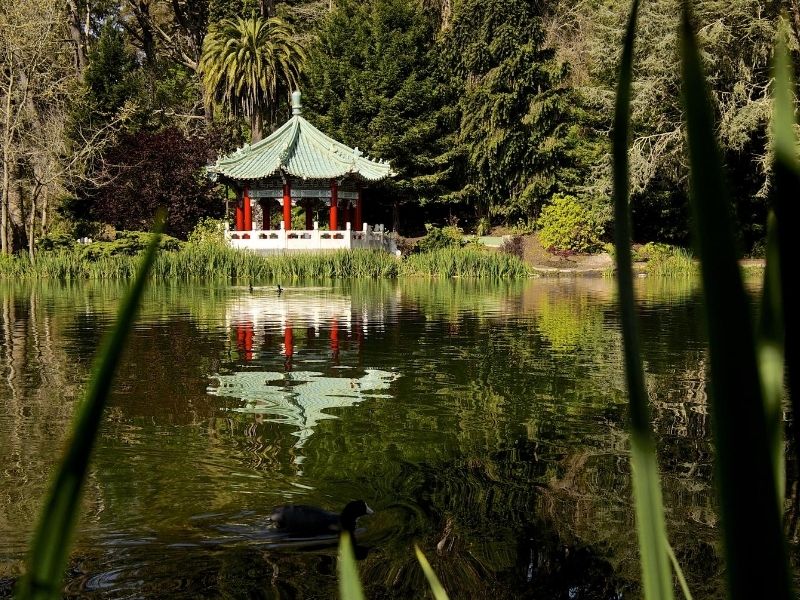 Here's one final stop on Stow Lake (well, Strawberry Hill island to be precise) — the Golden Gate Pavilion at Stow Lake.
You can get there walking via the Stony Bridge, or you can snap photos from the greenery on the other side of Stow Lake to get a lovely blurry foreground with a tack-sharp background of the pavilion. It's up to you how to frame this awesome Instagram spot in San Francisco!
Conservatory of Flowers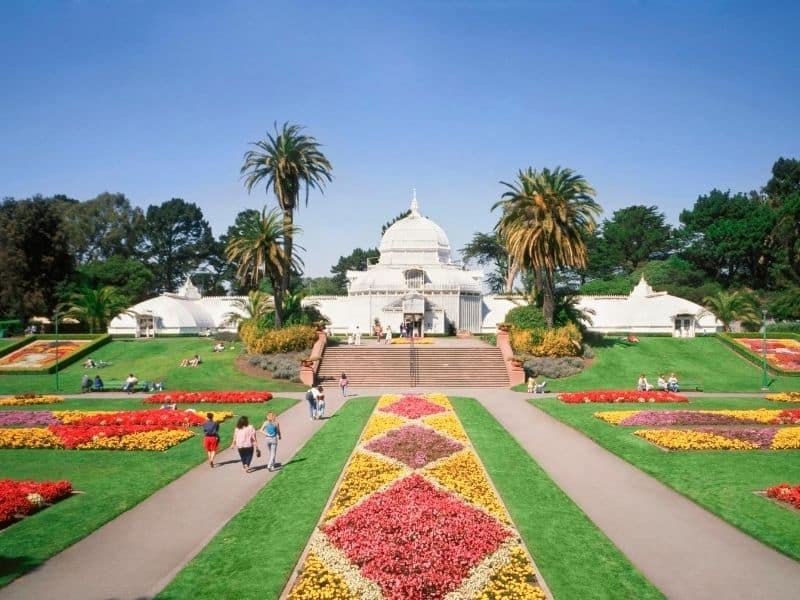 I truly could keep going on and on with the different Instagram spots in Golden Gate Park alone…. but I have to stop sometime. And what better place to start than the unreal Conservatory of Flowers?
This greenhouse is done is beautiful shades of white and glass, done in a Victorian style. The grounds are replete with tons of flower beds out in front done in exquisite patterns, which look almost like living carpets.
Inside, you'll find more than 2,000 species of flowers and unbeatable Instagram spots!
Bernal Heights Swing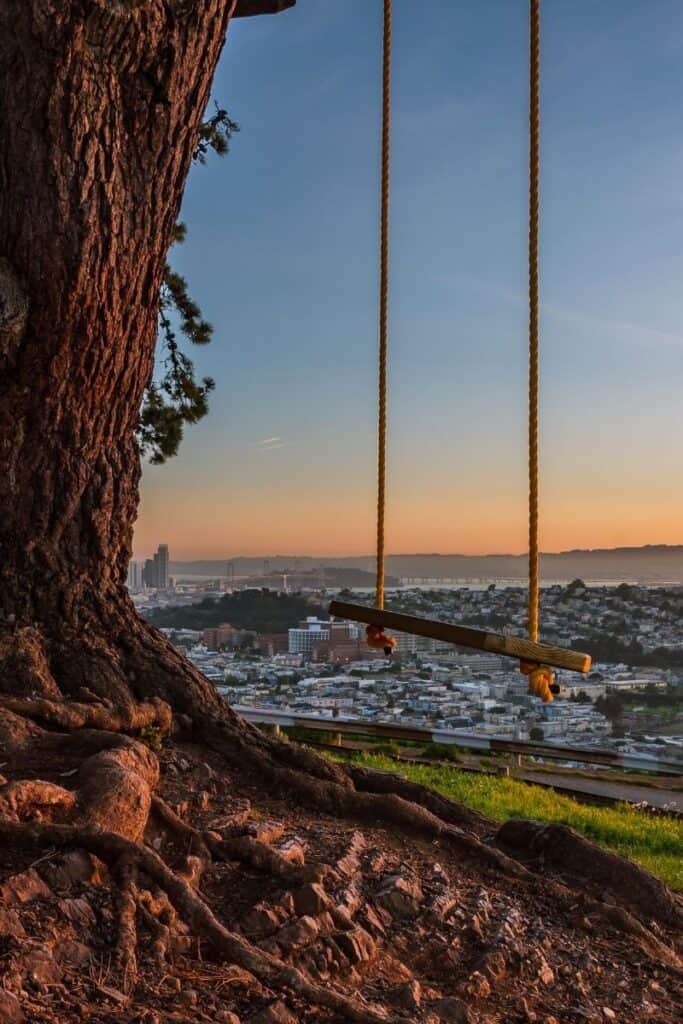 Now let's move up, way up to Bernal Heights!
Head on up to Bernal Heights Park and climb the hill for epic views of San Francisco.
Do note that when this photo was taken, there was a swing for use which was a perfect Instagrammable spot in San Francisco. However, the swings do disappear and reappear frequently for safety reasons, theft, etc., so don't have your heart totally set on this!
Recent Google reviews within a month said the swing was taken down, but it may be back up the future. Regardless, it's still an amazing place for sunset views of the city, so I'll keep it on the list of Instagrammable places in San Francisco — swing or no swing!
Twin Peaks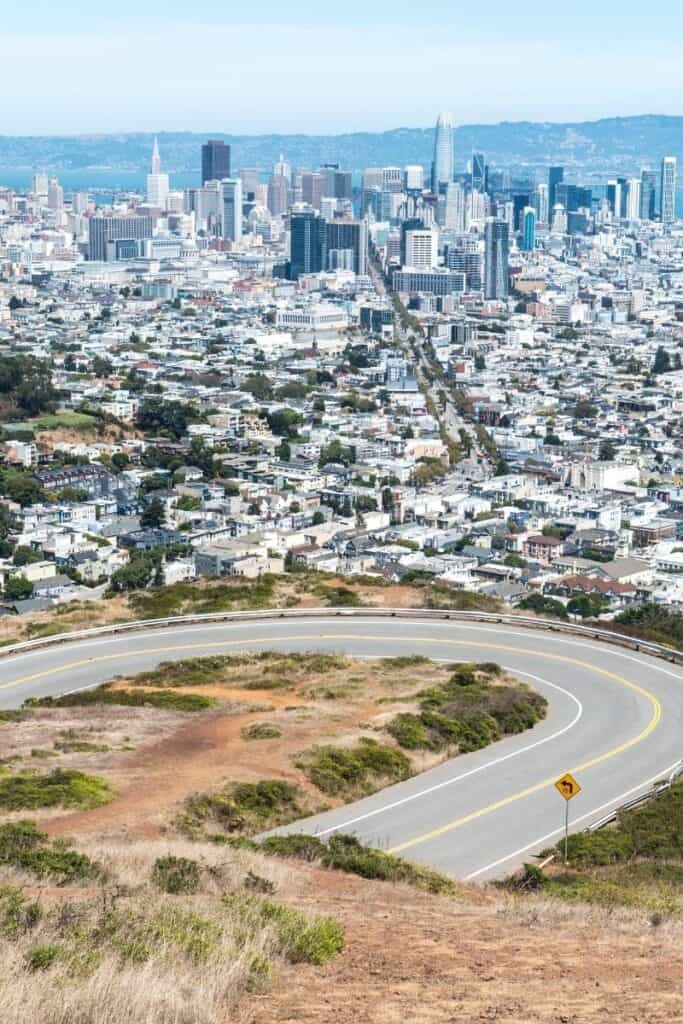 No relation to the David Lynch series, so far as I can tell, but Twin Peaks is a great spot for incredible views over all of San Francisco!
These two peaks stand side-by-side at around 925 feet each, offering panoramic views and a 2.1 mile hike for those who don't mind getting their blood pumping for great photos of San Francisco!
In spring and early summer, you'll find beautiful wildflowers along the hike, which is icing on the cake of this popular San Francisco photography spot.
Insider Tip: Not much of a hiker? If you park at Grand View Avenue and 24th Street, you can "hike" up in just 20 minutes.
Coit Tower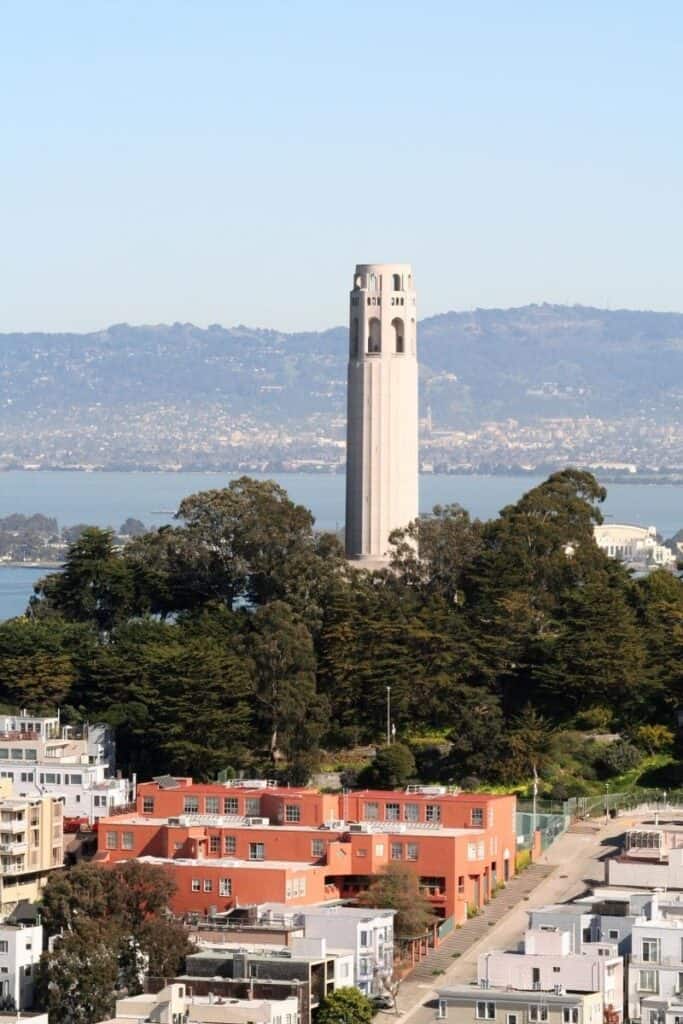 Coit Tower is an San Francisco landmark that's beloved by locals, a 21–foot tower almost resembling a lighthouse, perched atop Telegraph Hill. (If you can walk up to Coit Tower, it's worth it, since you might see the famous parrots of Telegraph Hill!)
However, the best photo spots of Coit Tower are from different places in the city. The three best spots are from Lombard Street, from the Embarcadero and piers along the way, and in particular, Fisherman's Wharf (another Instagram spot on this list with two photo spot recommendations!).
Chinatown Gate
San Francisco's Chinatown is one of my favorite places in the city. Has it become a bit touristy and commodified? Absolutely. But is it still absolutely worth going to? Yes, yes, a resounding yes!
If you want a photo of the entrance to Chinatown at Dragon's Gate — one of the most iconic photo spots in San Francisco — head to the intersection of Grant Avenue and Bush Street, where you'll find it… and many other people.
I recommend coming here early if you want a people-free photo, or embrace the chaos and play along with some long exposure shots to blur out the people walking behind you (just stay super still in your photos if that's the case, or you'll be a blur, too!)
Grant Avenue, Chinatown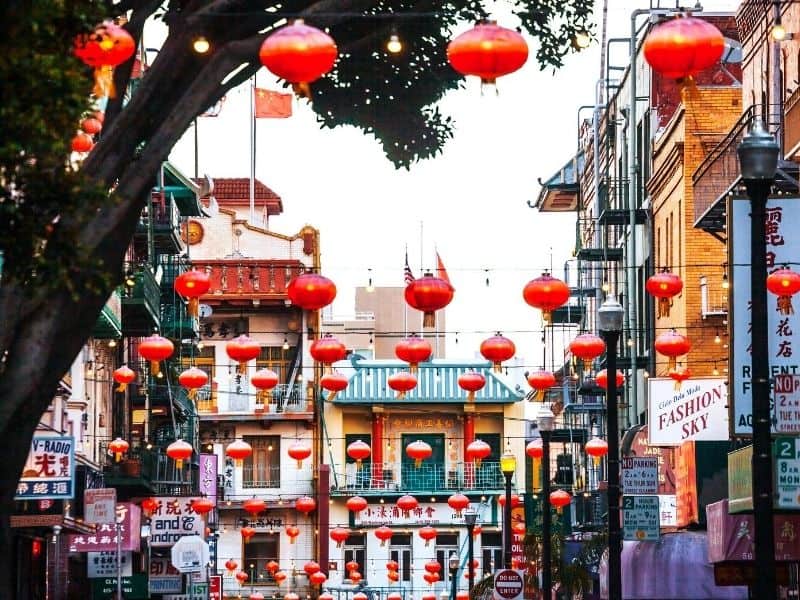 The signature red lanterns that mark many parts of Chinatown can be found on blocks throughout the city, but you'll find most of them on Grant Avenue.
The best area to spot them is on Grant Avenue between Sacramento and Clay, but a few other spots in Chinatown will have the signature red lanterns as well.
This is a great spot for portraits with a low f-stop setting that allows for tons of bokeh in the background!
Lombard Street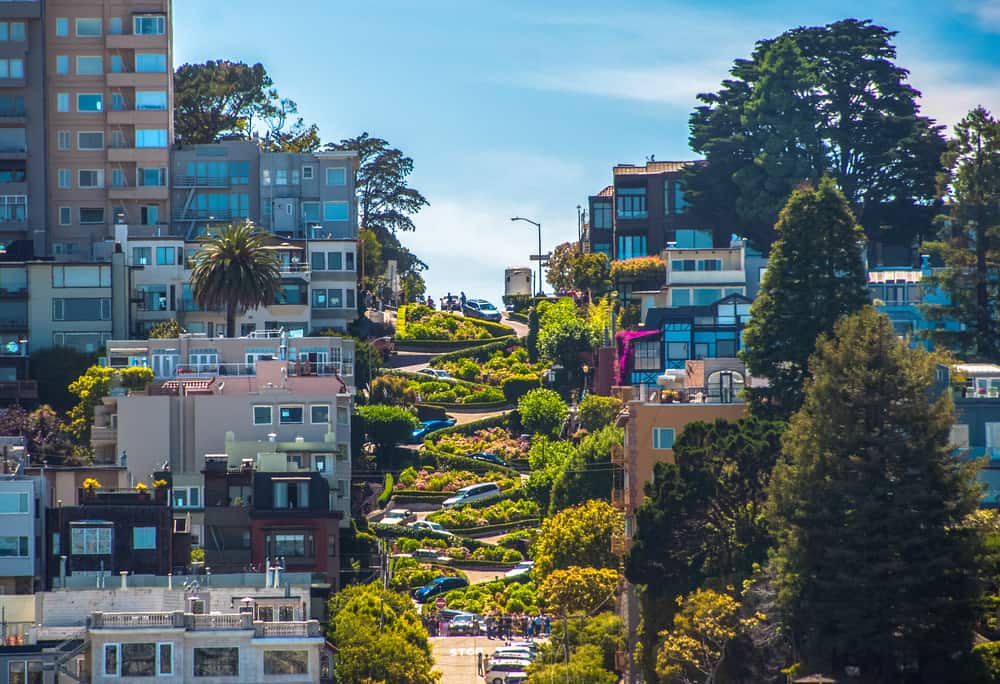 The crookedest street in the world can be found at Lombard Street — a quirky San Francisco Instagram spot that nearly everyone likes to snap when they visit the city!
Much of Lombard Street is pretty normal, but the section between Leavenworth and Hyde streets has tons of zigzag switchbacks — since the road was too steep for just simple two-way roads! It's now a one-way road, only going down.
There are 8 hairpin tight switchbacks in just 600 feet of road. I'm way too anxious to ever drive it (San Francisco driving gives me anxiety as it is!), but apparently a million people a year brave this road!
The view from the top is actually a great place to get snaps of Coit Tower like the one above! Another popular spot is from the bottom, where you can capture all the winds of the road as well as the explosion of flowers and bushes that make Lombard Street so beautiful.
For better photos, try a lens with a long range (70 mm+) and aim for a compression effect from far away!
Transamerica Pyramid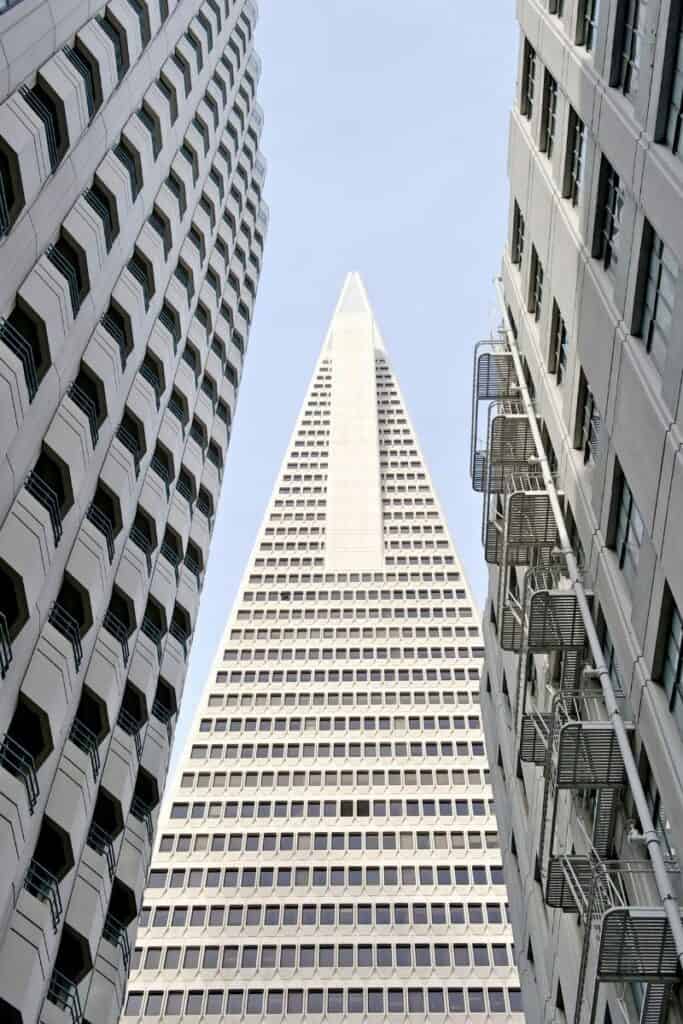 The Transamerica Building is hands-down my favorite skyscraper in San Francisco's skyline. At 48 stories, it's not an extremely tall skyscraper by New York or Chicago standards, but it still juts out impressively from the San Francisco skyline.
It's done in a unique futurist style, the likes of which I've rarely seen elsewhere in my travels. It was the tallest skyscraper in San Francisco until 2018, when it was eclipsed by the much less interesting Salesforce Tower.
For the best shots of the building, check out Portsmouth Square or from Columbus Street.
Bay Bridge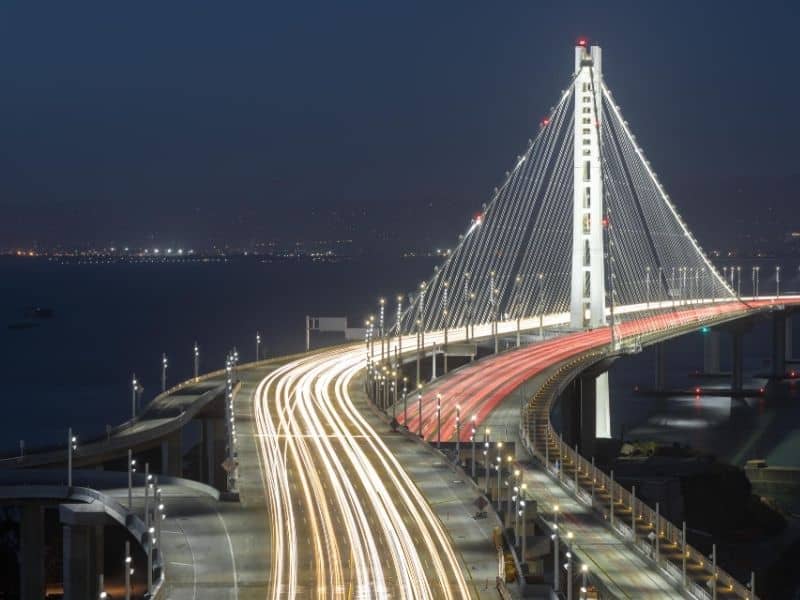 It's a shame that the beautiful Bay Bridge is often overshadowed by the Golden Gate Bridge, especially since its reconstruction is absolutely marvelous.
There a number of incredible spots to snap Instagram photos of San Francisco's second-most popular bridge. I recommend trying a few different spots along the Embarcadero to find the angle you like best. Rincon Park, Pier 14, and the Ferry Terminal Building (another San Francisco IG spot!) are all great places to capture the Bay Bridge.
Embarcadero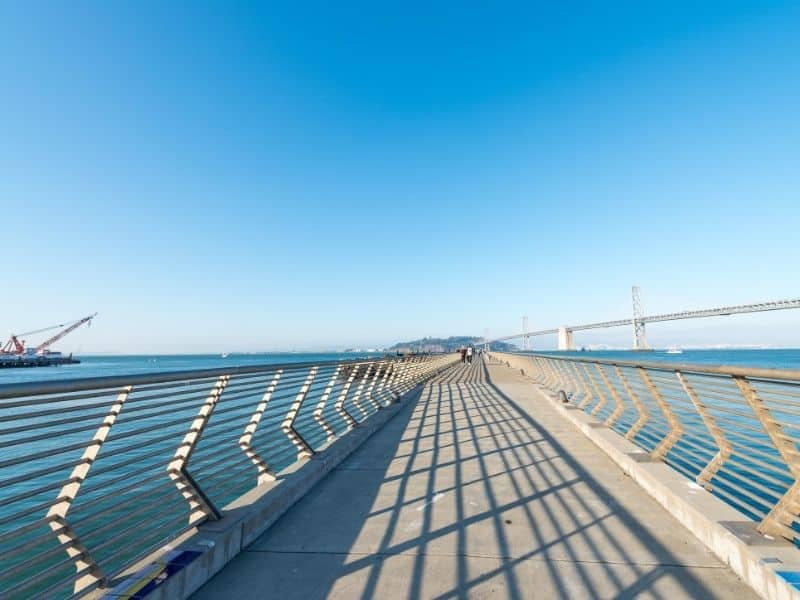 While you're snapping photos of the Bay Bridge, you can't help but walk a section of the Embarcadero, one of the best bay-front walks in San Francisco!
Be sure to walk along the piers to get great snaps!
Ferry Terminal Building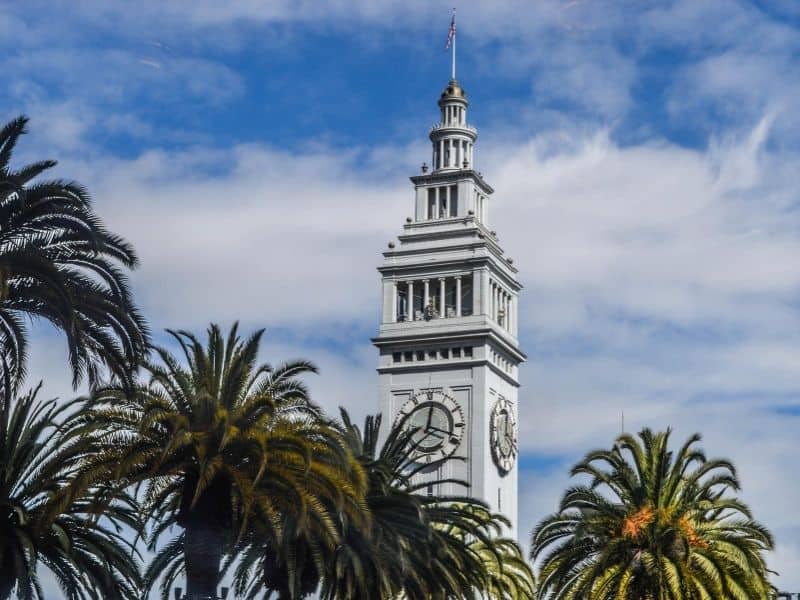 One of my top favorite places to visit in San Francisco is the Ferry Terminal Building located in the Embarcadero. Its easily visible from many places along the Embarcadero for its white clocktower which protrudes beautifully into the skyline.
There are a number of great eateries in here, and there's also a Farmer's Market several times a week — the best of which is on Saturday, as there are also food trucks and so many delicious produce vendors.
This is also a working ferry terminal, so you can catch a ferry to Sausalito, Tiburon, Larkspur, or Alameda/Oakland here and enjoy amazing views! I recommend taking the ferry to Sausalito, as I have a few Instagram spots on this list there at the end of the post!
The Presidio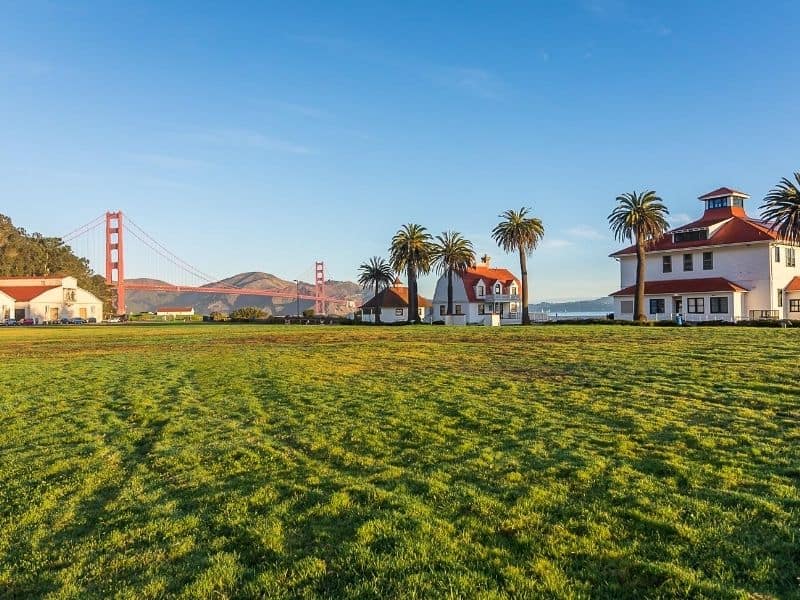 The Presidio is an enormous expanse of park located at the tip of the San Francisco peninsula.
It's part of the protected Golden Gate National Recreation Area, and it was an important site throughout history, changing hands many times.
In 1776, a military fort was first established in the Presidio by Spain. By 1821, Mexico gained its independence from Spain and controlled the space. But the at was short-lived: by 1846, the U.S. Army seized the Presidio and made it a U.S. army base. The army left in 1994, and from then, the Presidio was a National Park Site.
You'll find a number of cool things in the Presidio: from patches of redwood groves to art pieces (there are 3 pieces by Andy Goldsworthy: Spire, Earth Wall, and Wood Line), relaxed beaches, great views of the Golden Gate Bridge, and remnants of military buildings which speak to its multilayered past.
Lover's Lane (Presidio)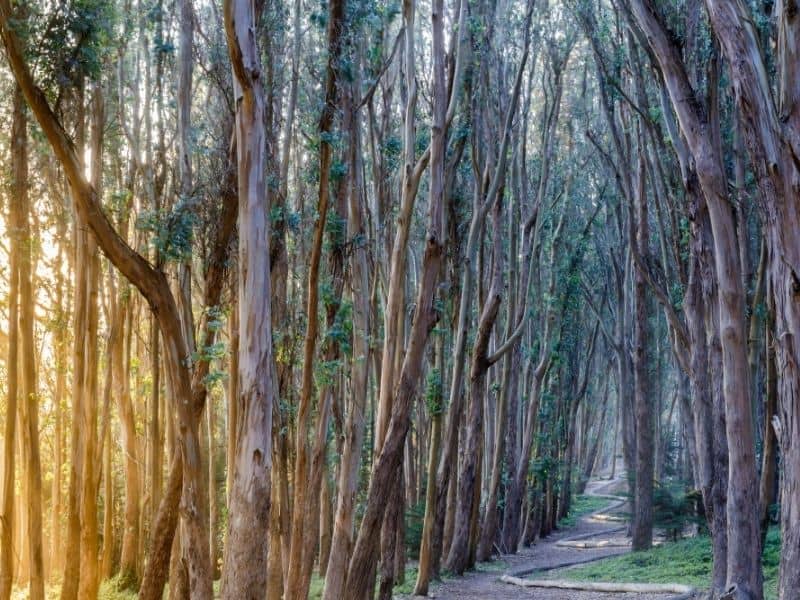 It's hard to narrow down all the Instagrammable spots in the Presidio, but if I have to pick one to highlight, it'd be the charming Lover's Lane.
A tree tunnel with a small road going through, it feels like a fairytale forest in the middle of the city. Great for couple shots!
Palace of Fine Arts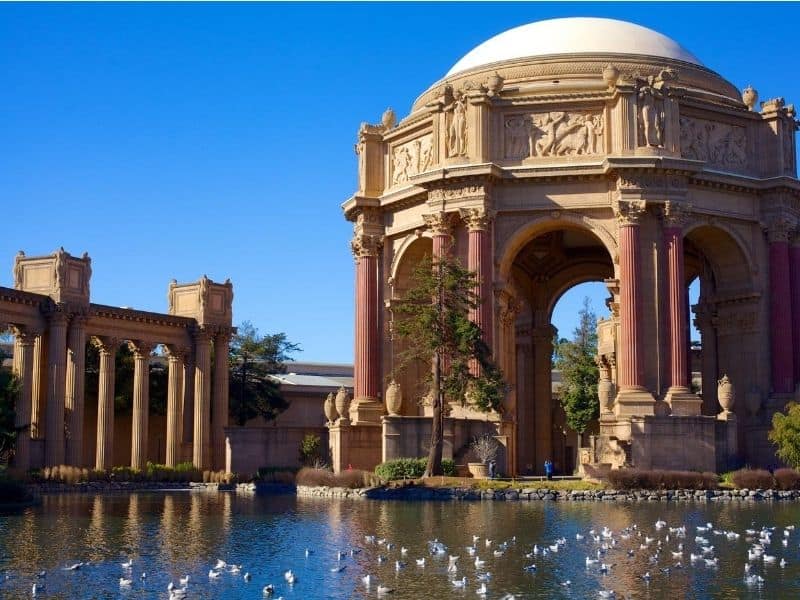 Located just adjacent to the Presidio, the Palace of Fine Arts is a really unique architectural gem in San Francisco and well worth seeking out, as it's a bit of a hidden gem (though it is well-known amongst locals).
The structure is inspired by Greco-Roman design, and a variety of performing arts take place here. The structure was originally built for the 1915 Panama-Pacific exhibition, but it's been maintained beautifully and the grounds are a fantastic place to go for a walk and snap photos to your Instagrammer heart's content!
Painted Ladies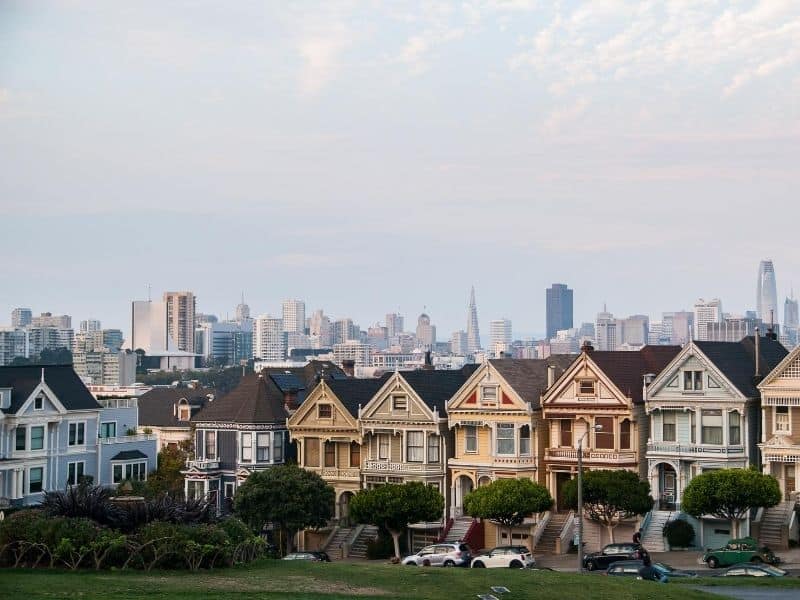 One of the most iconic Instagram spots in San Francisco is by far Alamo Square and its Painted Ladies, a row of colorful Victorian houses made famous by the opening sequence to Full House.
This is one of those spots that you can't miss when visiting San Francisco, so be sure to pop by here for those epic shots that combine beautiful Victorian architecture and the modern SF skyline in the background.
Rainbow House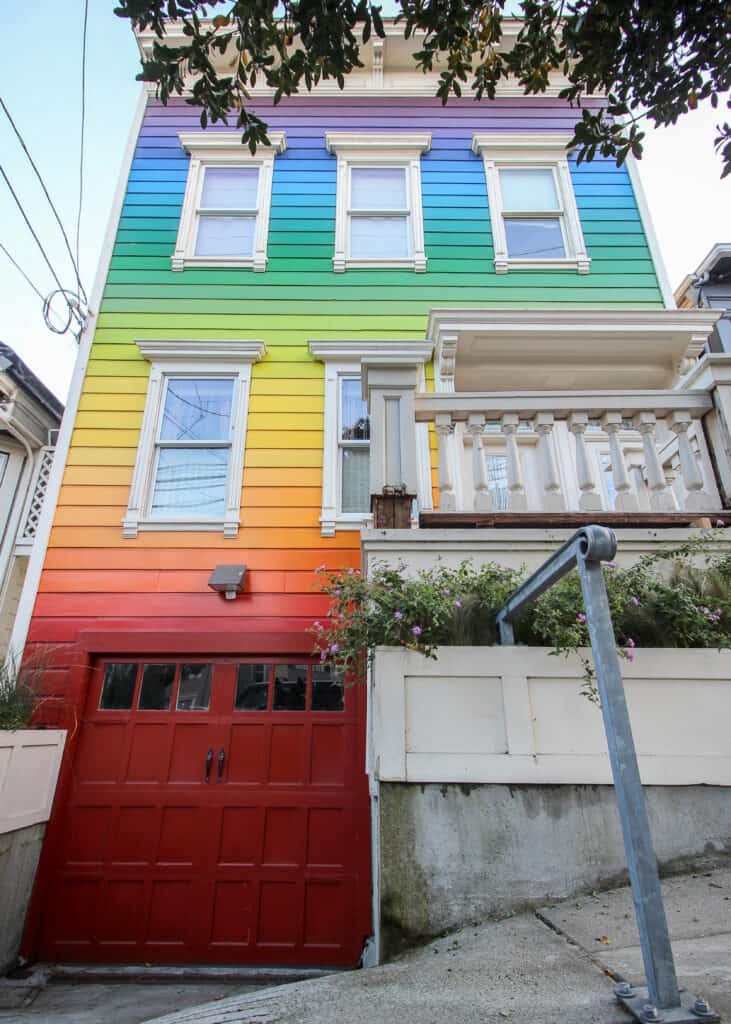 There are many colorful houses in San Francisco that make great Instagram spots! However, always keep in mind that these are private residences, and you shouldn't trespass or bother the residents.
However, snapping a quick photo while in front of the property (not climbing the stairs or entering the actual property) is fine! This house is located on Clipper Street between Douglass and Diamond Street in the Noe Valley area.
Pier 39 Sea Lions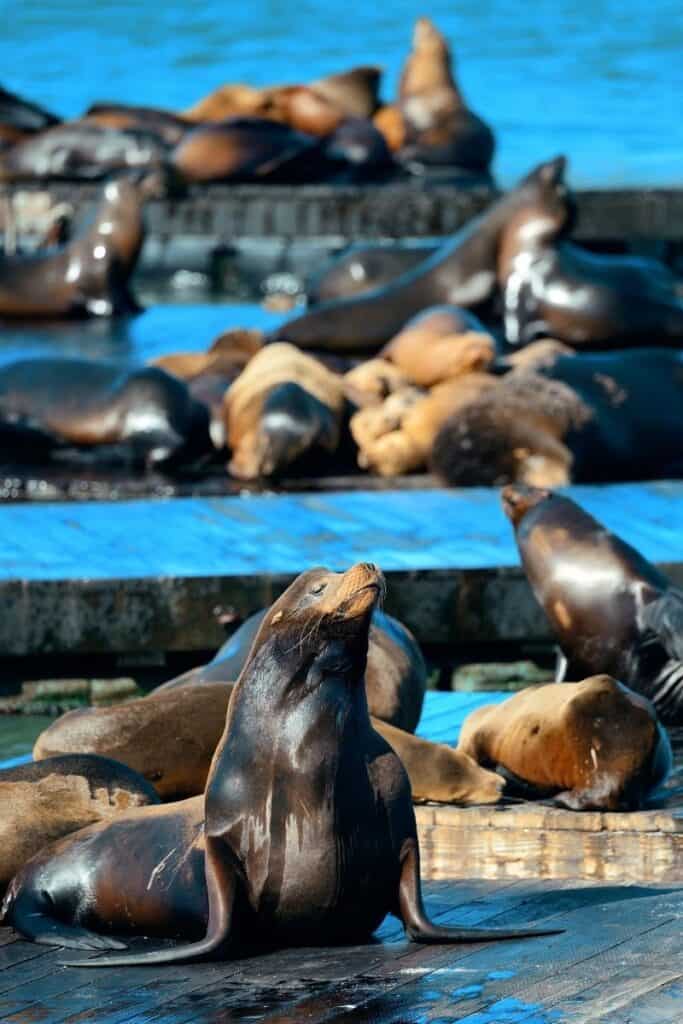 Another San Francisco Instagram must! While Pier 39 is (rightfully) decried as a tourist trap, I'd also argue it has its charms… if you hold your pocketbook tight and don't go too crazy on the touristy stuff here.
A must-see are the sea lions of Pier 39, who made this pier their home after the Loma Prieta earthquake of 1989. They're adorable… but loud and smelly… but also a great Instagram shot!
Pier 39 Carousel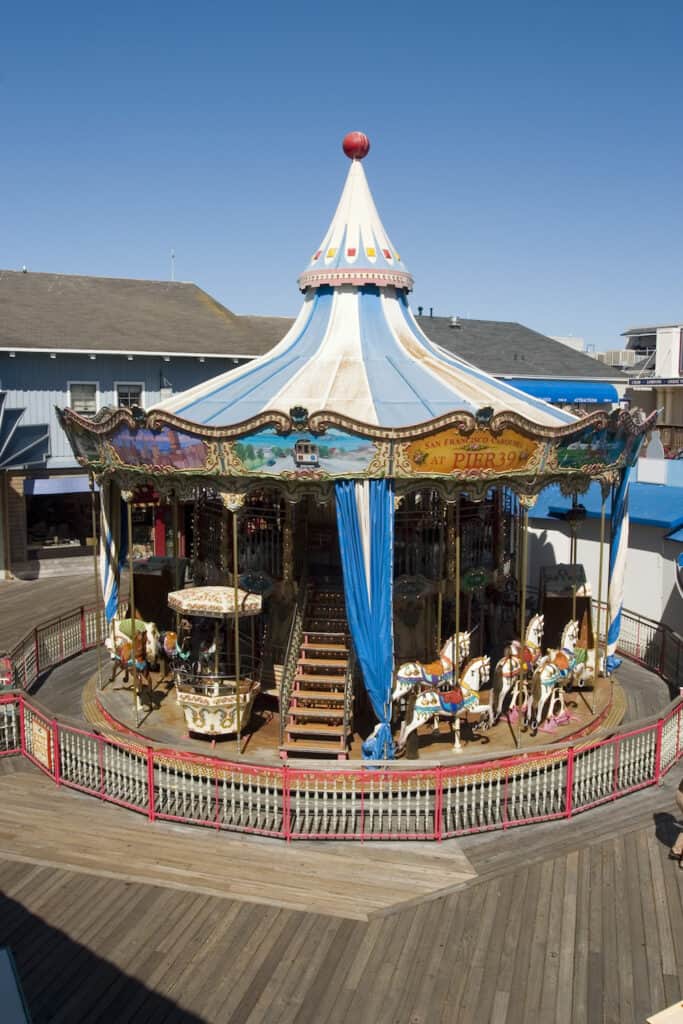 One more snap while you're in Pier 39 should be the famous carousel building, which is replete with vintage charm.
For kids-at-heart and girly girls, it's an Instagram must in SF!
Legion of Honor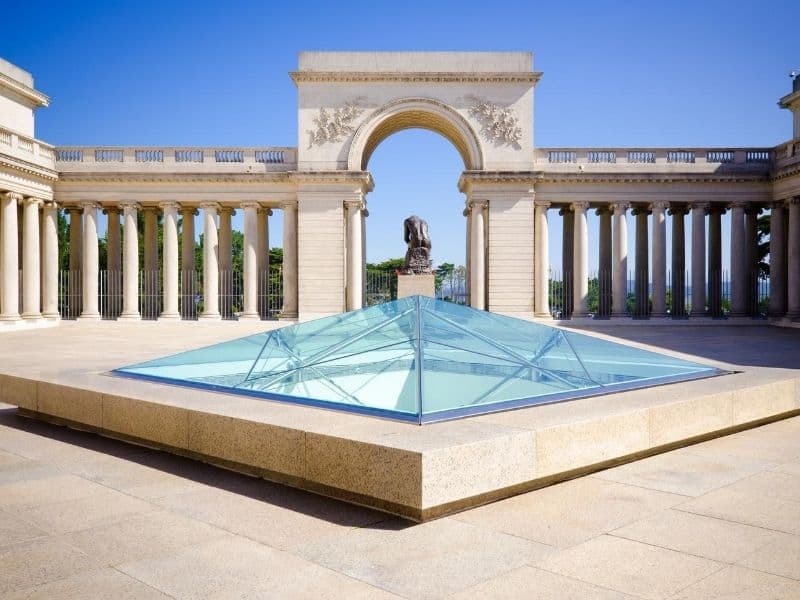 The Legion of Honor is a little-known spot in the Land's End area of San Francisco, with beautiful Beaux Arts architecture. It's a part of the Fine Arts Museum
Inside, you'll find over 4,000 years of art history, ranging from ancient times to present-day. Nearby, you can see beautiful views of the Golden Gate, and the grounds are really exquisite as well, even if you don't go inside!
Peace Pagoda (Japantown)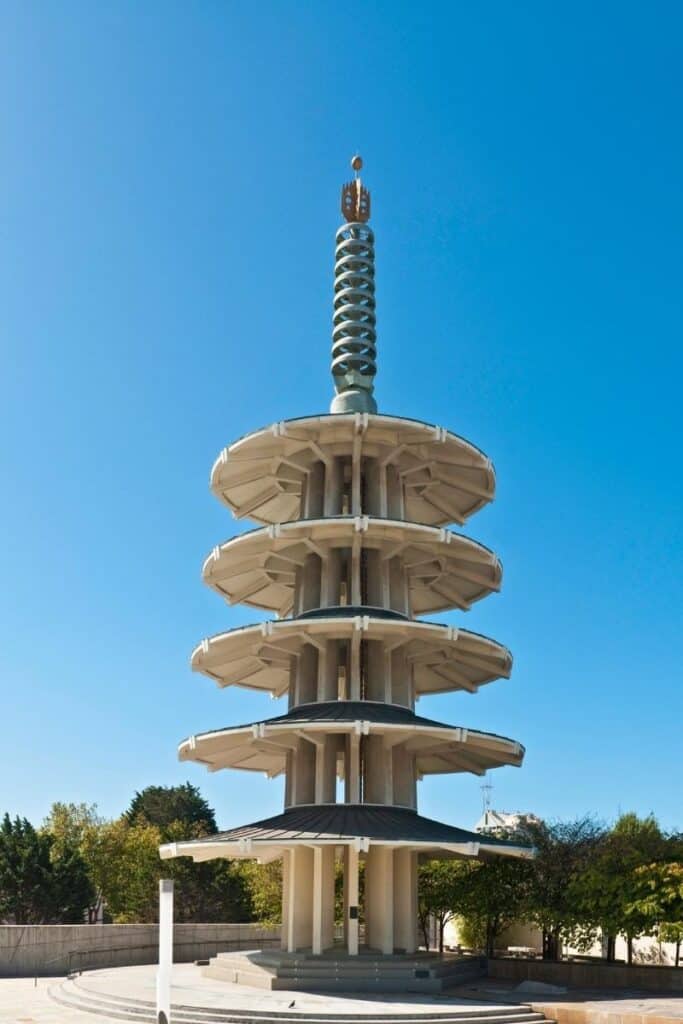 Built in the 1960s by a Japanese architect named Yoshiro Taniguchi, the Peace Pagoda is designed to promote friendship between San Francisco and Osaka, San Francisco's sister city in Japan.
80+ peace pagodas have been built around the world after the end of World War II, designed by Buddhists to inspire peace amongst people and to provide hope that such a tragedy as what happened in Hiroshima and Nagasaki will never happen again.
You can find it at on Buchanan Street between Post and Geary Streets in Japantown.
Sutro Baths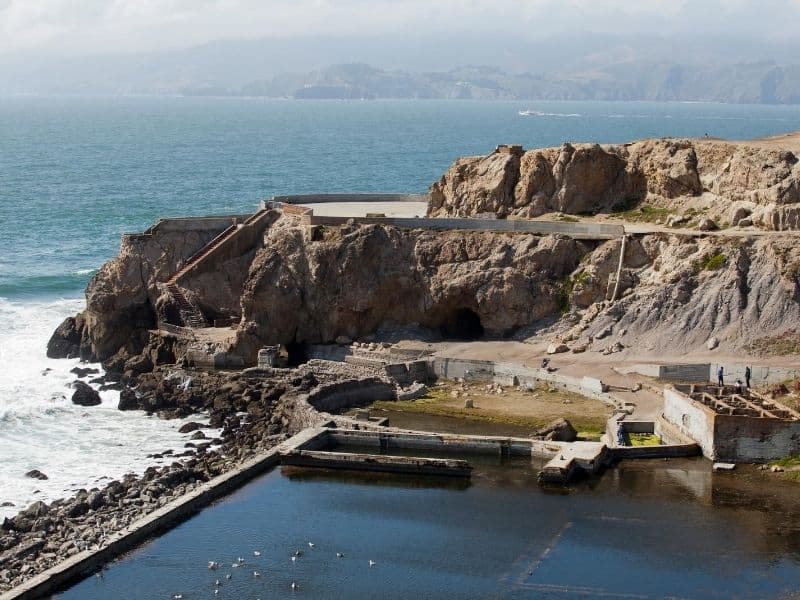 The Sutro Baths are a unique place in San Francisco.
Built by Adolph Sutro, designed of the Cliff House, developed these baths in 1894. He constructed a 3-acre public bathhouse, designed to be inexpensive and easy to access for the average San Franciscan.
He designed it to have 7 swimming pools, high dives, slides: all sorts of fun things. It could accommodate up to 10,000 people simultaneously, and it was incredibly sustainable since the Pacific Ocean during high tide could provide the water needed for the entire complex in one hour.
However, despite his goals, the Sutro Baths were never successful. After Sutro's death, the Baths began to decline, and the Great Depression made it even less viable. The real nail in the coffin came in 1966, when a fire destroyed the remnants of the baths, leaving the concrete ruins you see today.
Despite its wild history, Sutro Baths are a popular spot for San Francisco hikers and Instagrammers alike — for all its ruin, it is still incredibly photogenic.
Land's End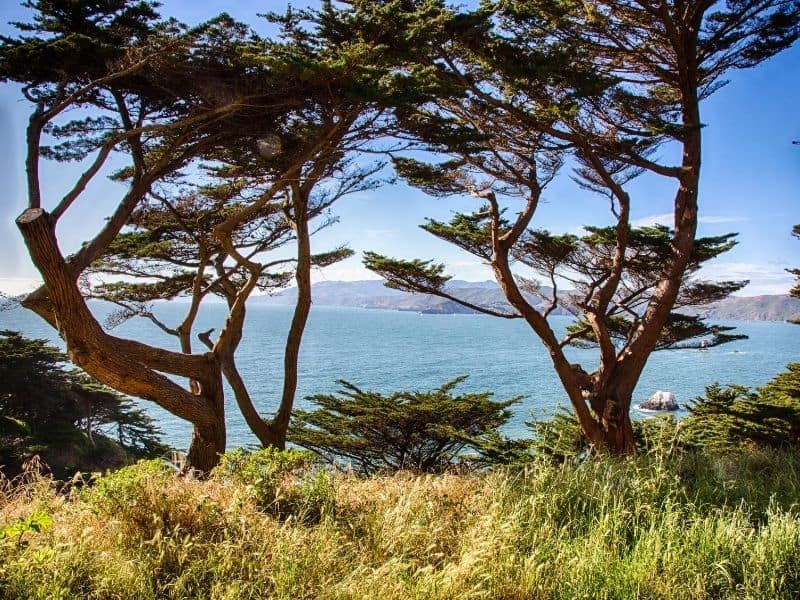 Part of the area where you'll find the Sutro Baths, Land's End is a great place for some urban hiking in San Francisco.
Take the 3.4 mile Land's End Loop Trail for stunning views, beautiful glances of the Golden Gate Bridge, and wildflowers at the right times of year!
Land's End Labyrinth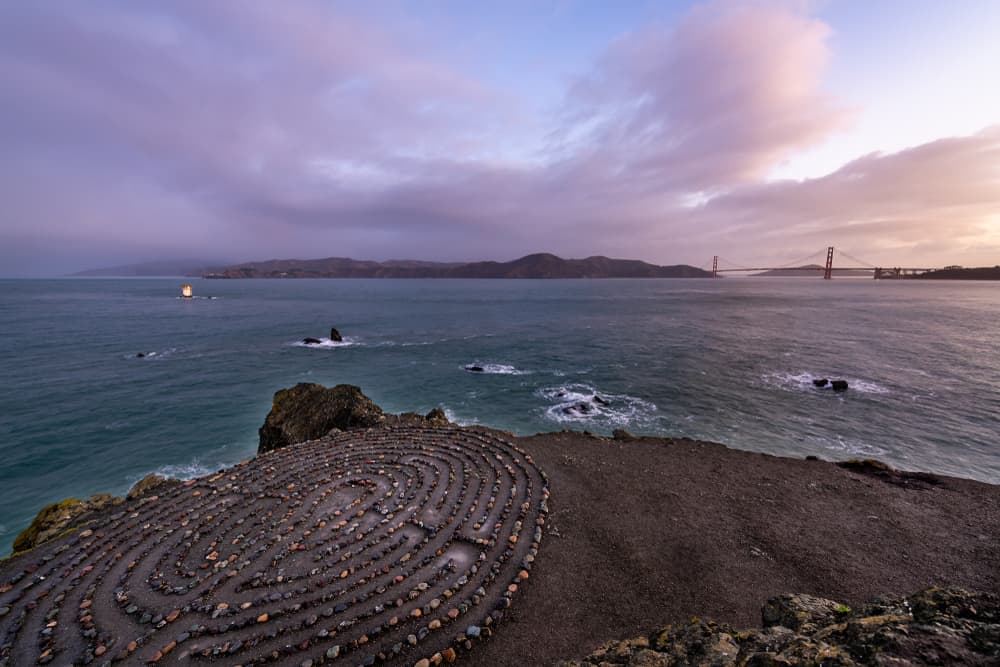 One of the most unique places in Land's End is the Labyrinth, created by the artist Eduardo Aguilerla in 2004.
It offers a cool visual with views of the Golden Gate Bridge, and it's a popular Instagram spot in San Francisco for those willing to make the trek out there. It can be a bit hard to find, so here are some directions.
Wave Organ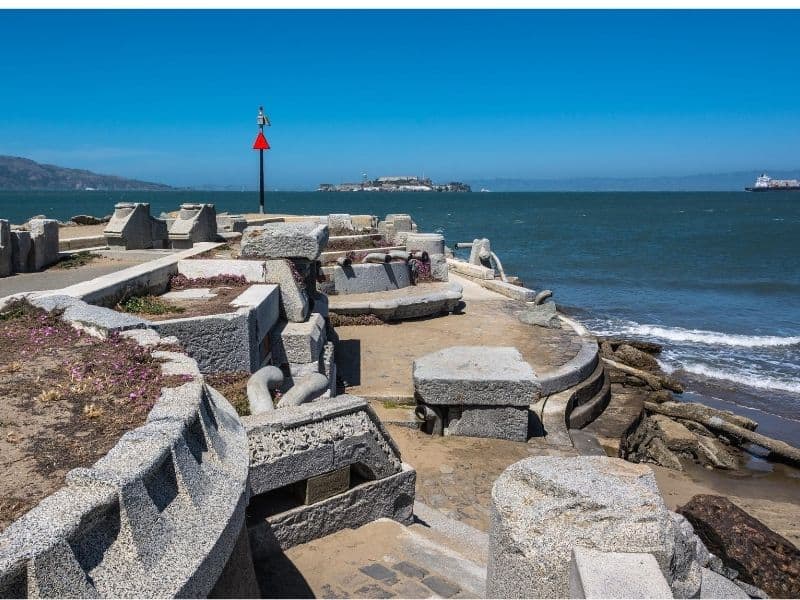 The Wave Organ is a really unique place in San Francisco — in fact, I can only think of one other Wave Organ in the world, located in Zadar, Croatia.
So what is a wave organ? In short, it is a sculpture designed to interact wtih the sea and create beautiful musical sounds. This Wave Organ was part of the Exploratorium Museum's work, and it was created in 1986 by Peter Richards and George Gonzales.
It's located between Crissy Field and Fort Mason, right by the Marina Yacht Harbor, so it's an easy Instagram spot to stop at while in San Francisco.
Dolores Park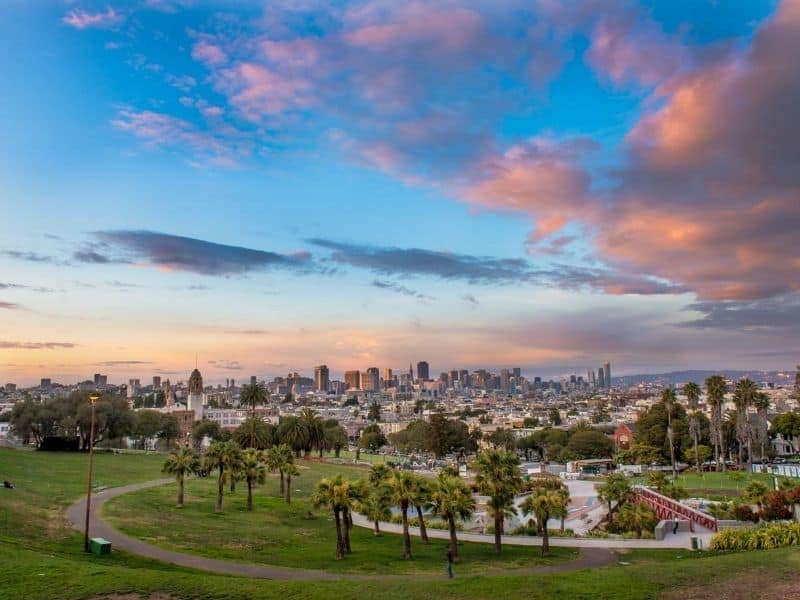 Located in the hip Mission District, Dolores Park is one of those places to see and be seen in San Francisco — it's a great spot for people watching.
It's also usually a lot warmer in Dolores Park due to the specific microclimates here, and the sunset views are incredible! Bring a picnic and enjoy this lovely Insta spot.
Mission Dolores Basilica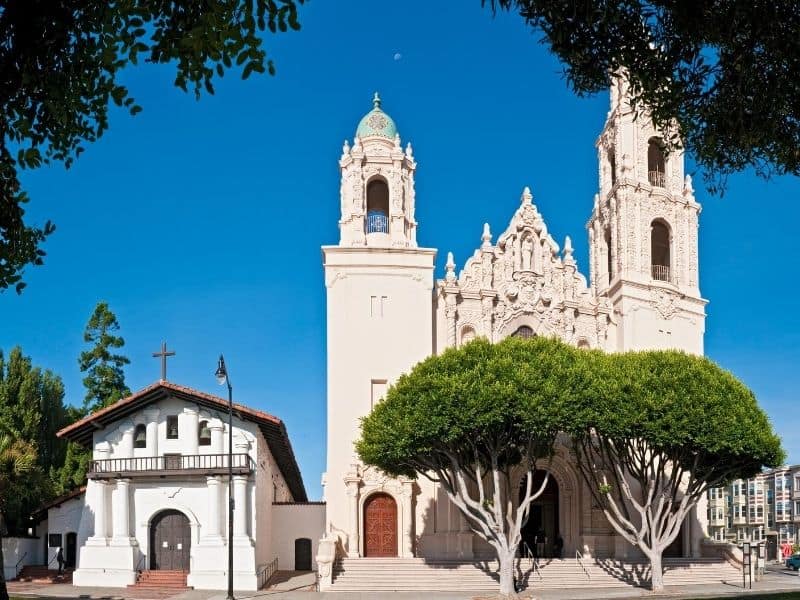 Also in the Mission District are the Mission Dolores Basilica, which contains the original Dolores Mission (the smaller building on the left) and the much larger basilica to its side.
The adobe Dolores Mission is the oldest building in all of San Francisco, founded in 1776, and the basilica was added in 1918.
It can be a bit hard to great a great angle of either of the buildings due to the busy street that they're on, but they're worth a quick snap while you're in San Francisco!
Castro Theatre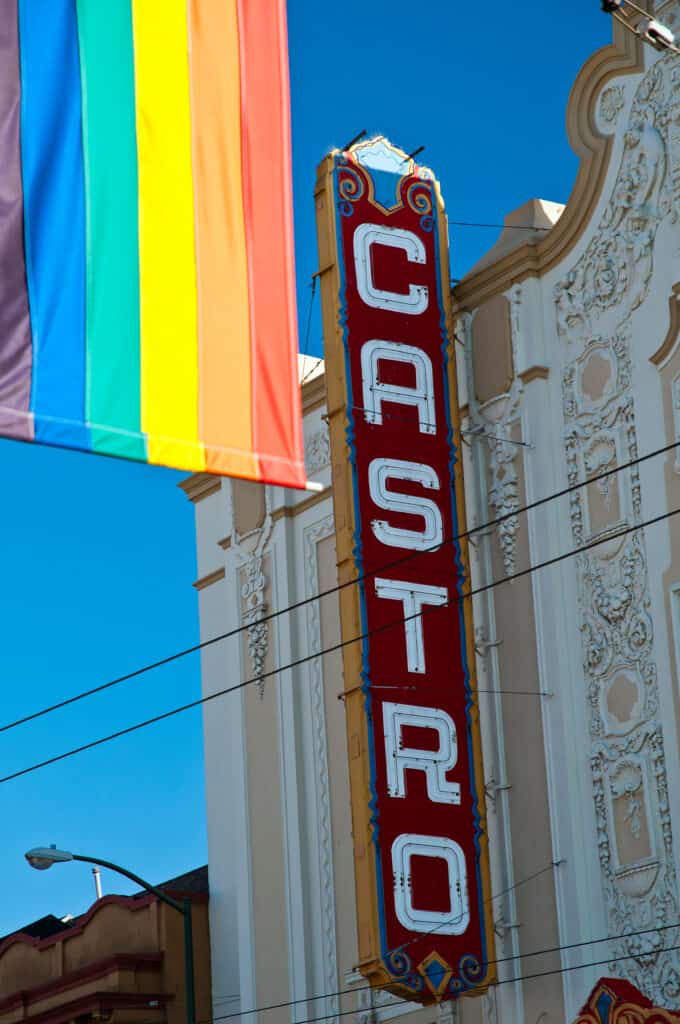 The Castro is San Francisco's primary LGBTQ neighborhood, and walking around the Castro is a great way to see the diversity and tolerance that marks San Francisco and makes it one of the most special U.S. Cities.
There are a few iconic spots in the Castro, but the Castro theater is an absolute must-snap Instagram spot in San Francisco if you're visiting the Castro!
Castro Rainbow Crosswalks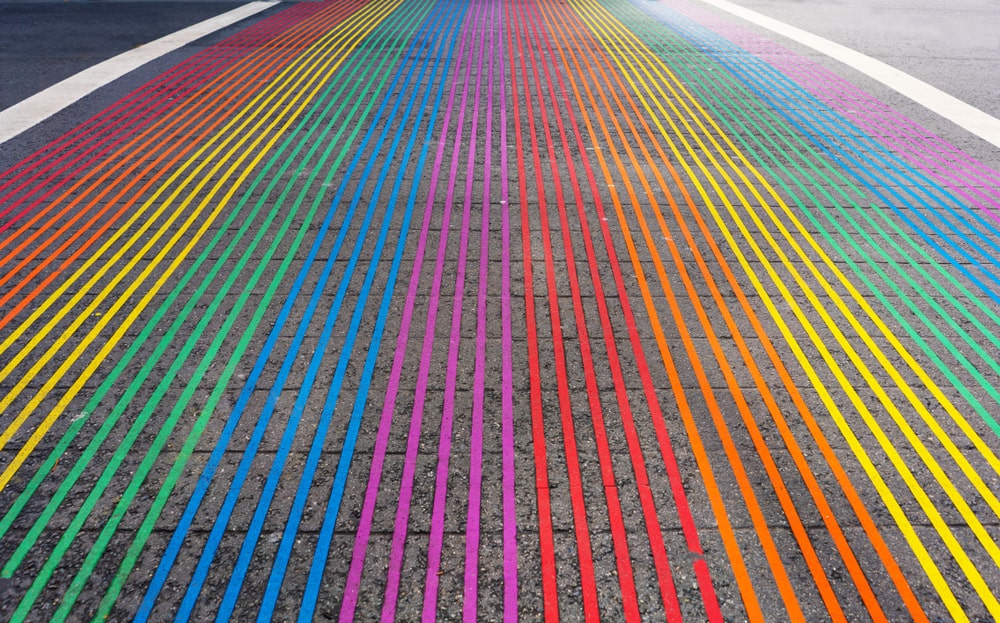 Another famous Insta spot you'll find in the Castro are the Rainbow Crosswalks, which you'll find four of on the intersection of Castro and 18th streets!
Keep in mind, of course, that there are working, functional crosswalks… so don't block traffic (pedestrian or car) while grabbing your Insta shots!
Alcatraz Island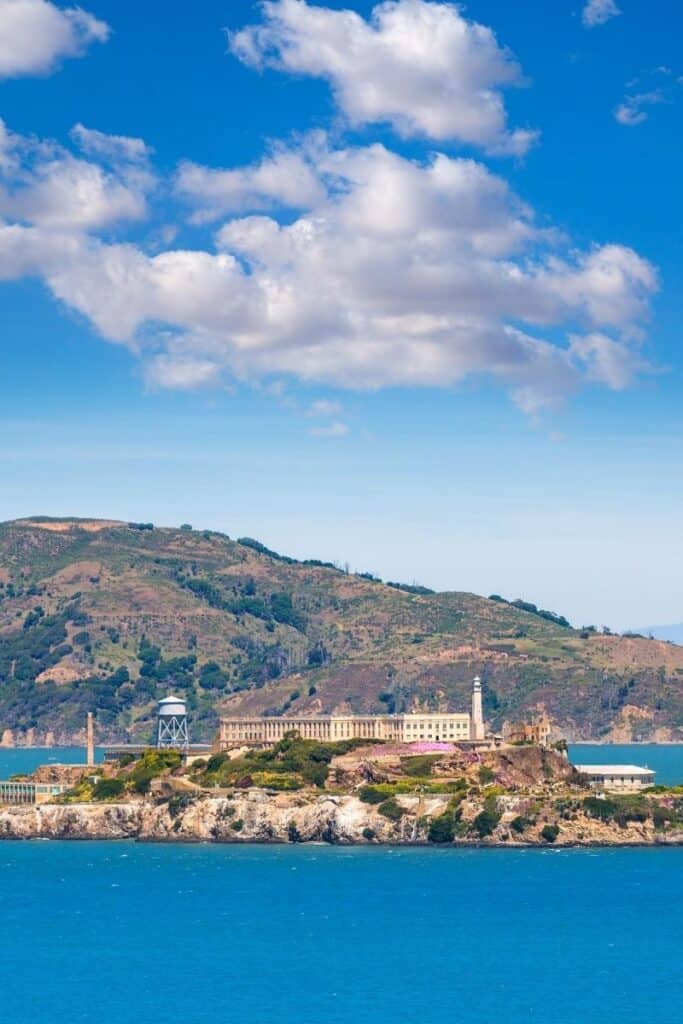 Once San Francisco's most notorious prison, Alcatraz is now one of its top must-visit attractions!
While the interior of Alcatraz isn't exactly charming, t here's no denying that from afar, Alcatraz Island is a must-snap Instagram spot in San Francisco.
It's even better if you're taking a cruise out on the Bay, when you can get even better photos, or if you have a great telephoto lens to get some cool zoom and compression.
Hyde Street Cable Car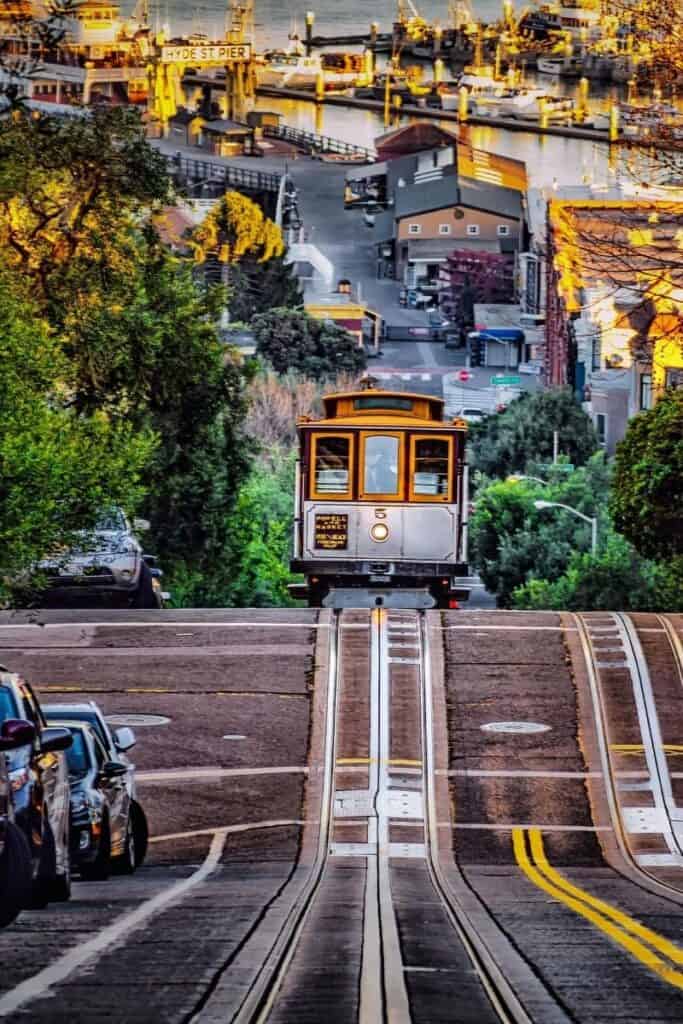 If you head up the (admittedly quite steep) hill from Hyde Street Pier, following the track of the cable cars, you can capture a really cool shot of the cable car climbing the hills with Hyde Street Pier and even Alcatraz in the background!
Lining up the shot will take patience and caution — whenever you're photographing cable cars, make sure you're not in the way of traffic.
Haight Ashbury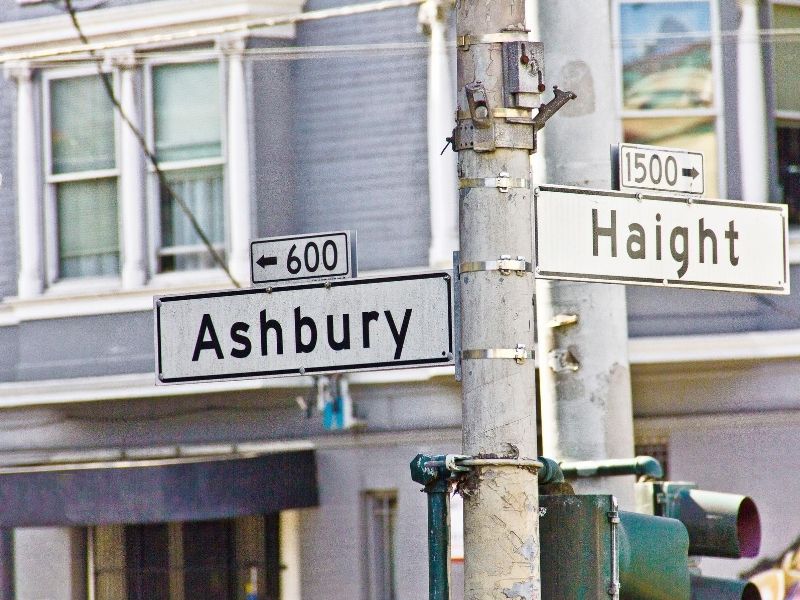 The district of Haight-Ashbury was the heart of San Francisco's hippie movement in the 1960s.
Admittedly, now the area is rather kitschy and doesn't have the same countercultural charm, but the Victorians in the area are exquisite, and there are a ton of cool storefronts worth snapping photos of.
San Francisco City Hall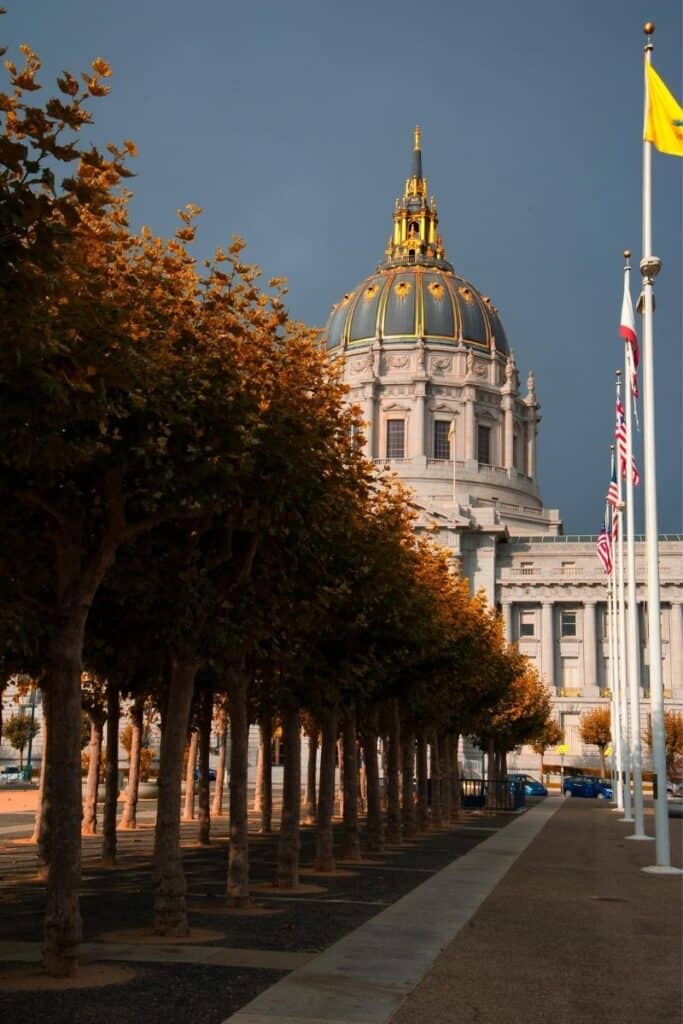 Fun fact: I had my senior prom inside the gorgeous City Hall Building!
The San Francisco City Hall is an exquisite building — I especially love its colorful rooftop, which is unique to san Francisco which doesn't traditionally incorporate this form of architecture.
I recommend going inside on a guided tour to really see the beauty of this building
Be aware that the area around City Hall (Civic Center BART area) is one of the rougher neighborhoods in the city — lots of open air drug use, etc. Of course, the people here are largely harmless, but for kids, it may be a bit troubling to see.
Yacht Marina and Fort Mason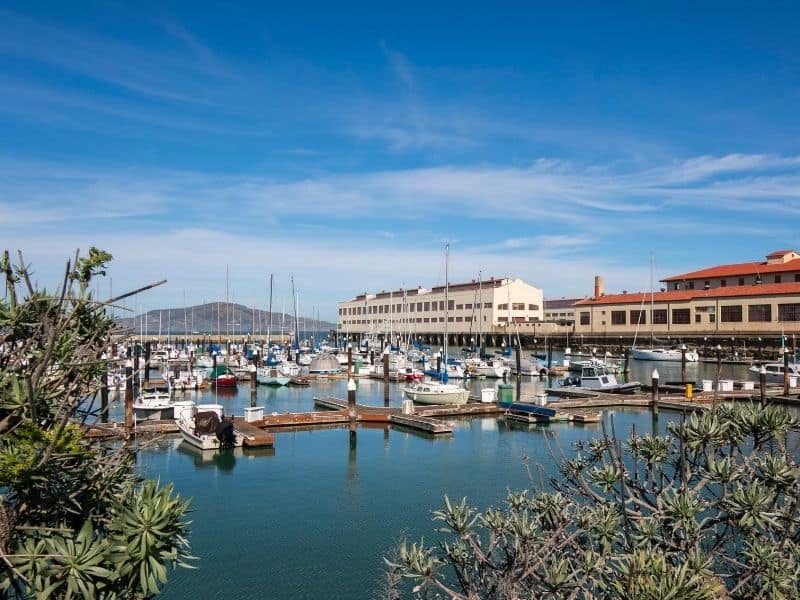 The Yacht Marina and Fort Mason are two different spots that are so close I'll just group them together on this guide for the sake of saving time, as this post is quickly becoming a behemoth!
The Marina makes a great backdrop for fashion-y photos, and Fort Mason is a cool place to walk around and ch eck out the views.
Torpedo Wharf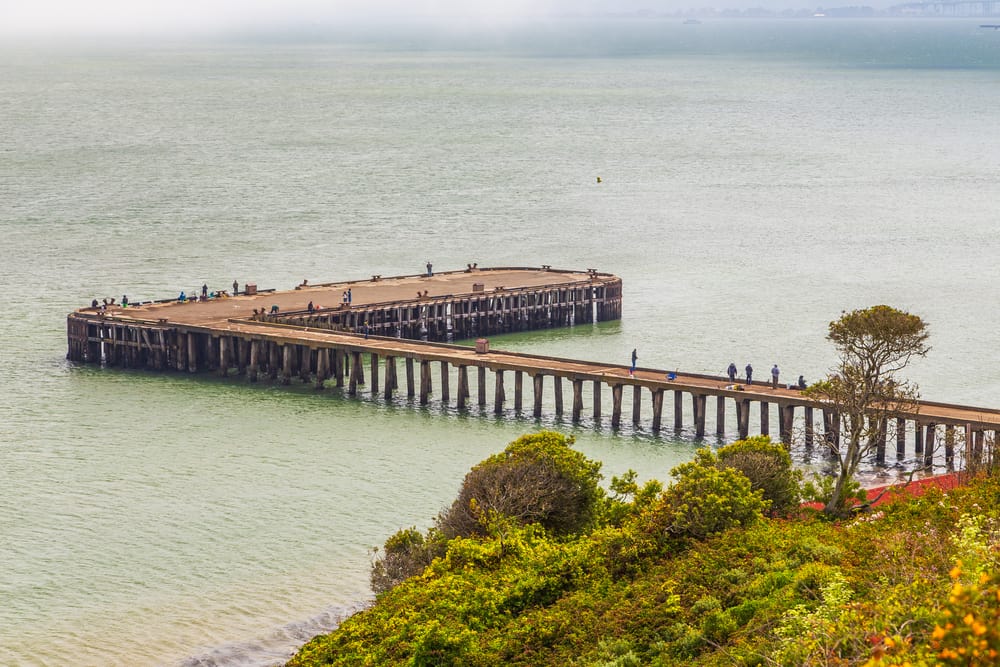 Located in the Presidio, Torpedo Wharf is a cool pier that few people visit.
It also offers exquisite views of the Golden Gate Bridge without the crowds!
Fort Baker (Sausalito)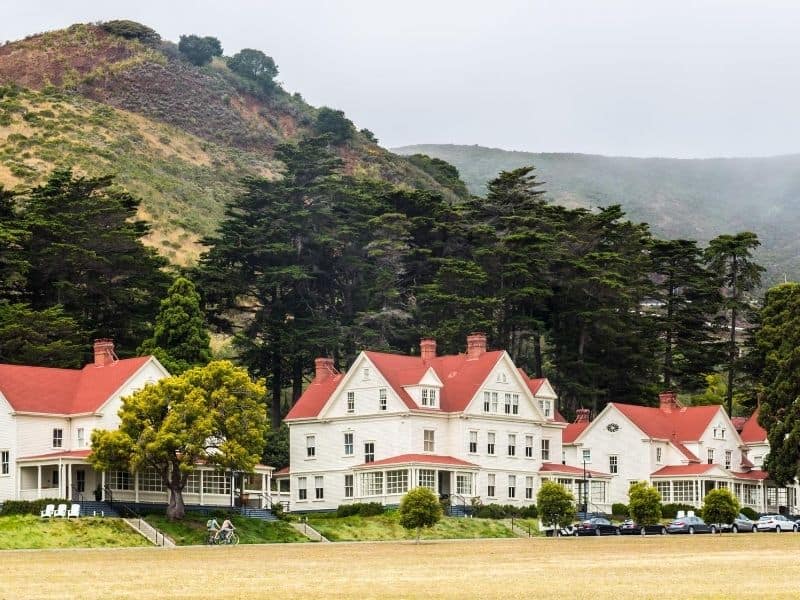 The last few spots here will involve crossing the Golden Gate Bridge either by foot, bike, rideshare, car, or ferry.
From the Presidio to Fort Baker it's a 4 mile, 1.5 hour walk — so only pick this option if you love walking. By car, it's about 10 minutes.
This historic army base in Sausalito is incredibly photogenic and it's a really cool spot to visit if you don't mind getting out of San Francisco proper and exploring a little bit of the Marin Headlands area.
It also offers cool views of the Golden Gate from an alternate angle!
Point Bonita Lighthouse (Sausalito)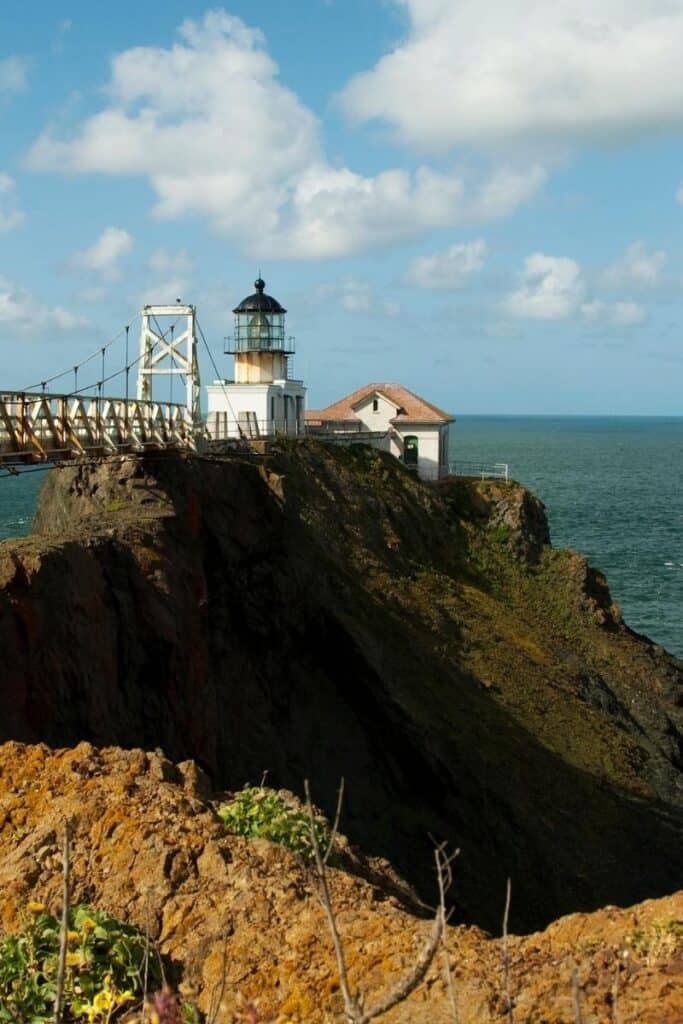 Another cool Instagram spot in Sausalito area is Point Bonita and its lighthouse. It's a bit far to go by foot, so I recommend going by car, rideshare, or electric bike.
From the parking lot, it's only a half-mile trail to the lighthouse, and the photo opps are incredible!
Battery Spencer (Marin Headlands)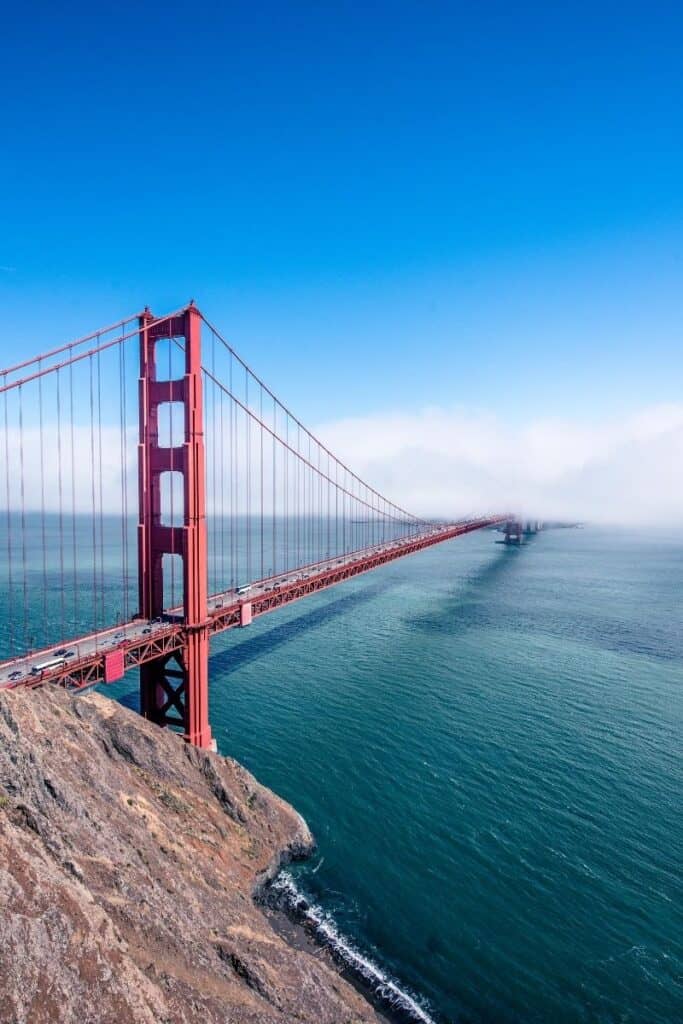 Here's another one of the most popular Golden Gate Bridge viewpoints, this time from the Marin Headlands side. In fact, this is probably the most commonly shot angle of the bridge.
Once you cross the bridge, make your way to Fort Baker, which is a concrete battery dating back to the 19th century — this is where you'll get some of the best possible San Francisco Instagram shots!
Kirby Cove (Marin Headlands)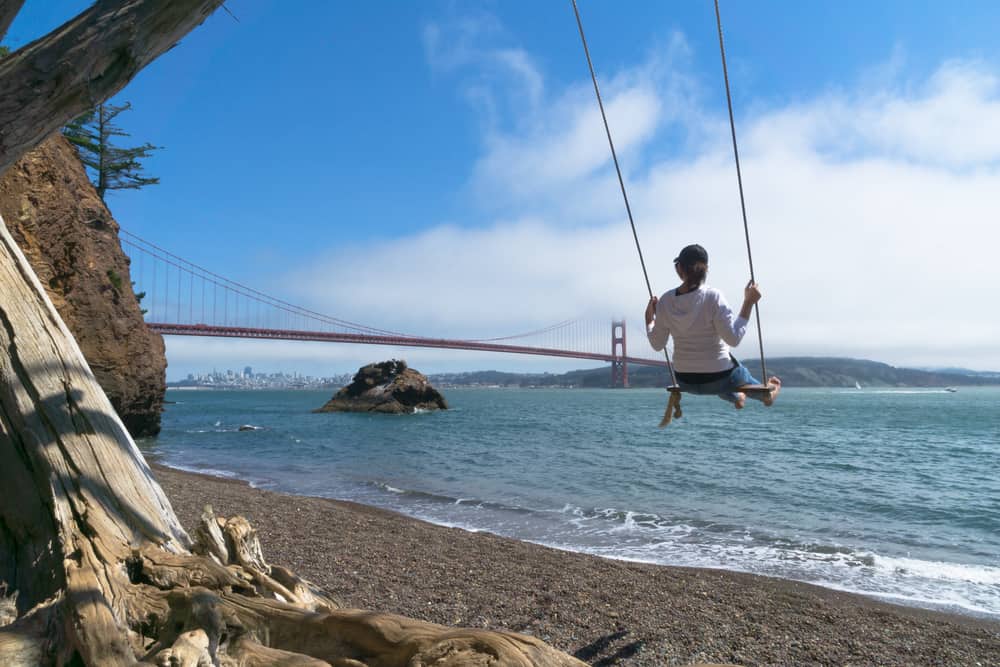 Last but certainly not least, people always want to know where you can grab a picture swinging on the beach with the Golden Gate Bridge in the background.
Well, the answer is Kirby Cove! From Battery Spenser, it's about a 1-mile, 30 minute walk down to the beach, where you'll find epic views and a cute swing set ready for an Instagram shoot!
Keep in mind the swing sometimes gets cut down. At the time of writing, it should be up, but it changes frequently. This guide is great for finding the swing, and it keeps updated frequently.
What to Pack for San Francisco Photo Scouting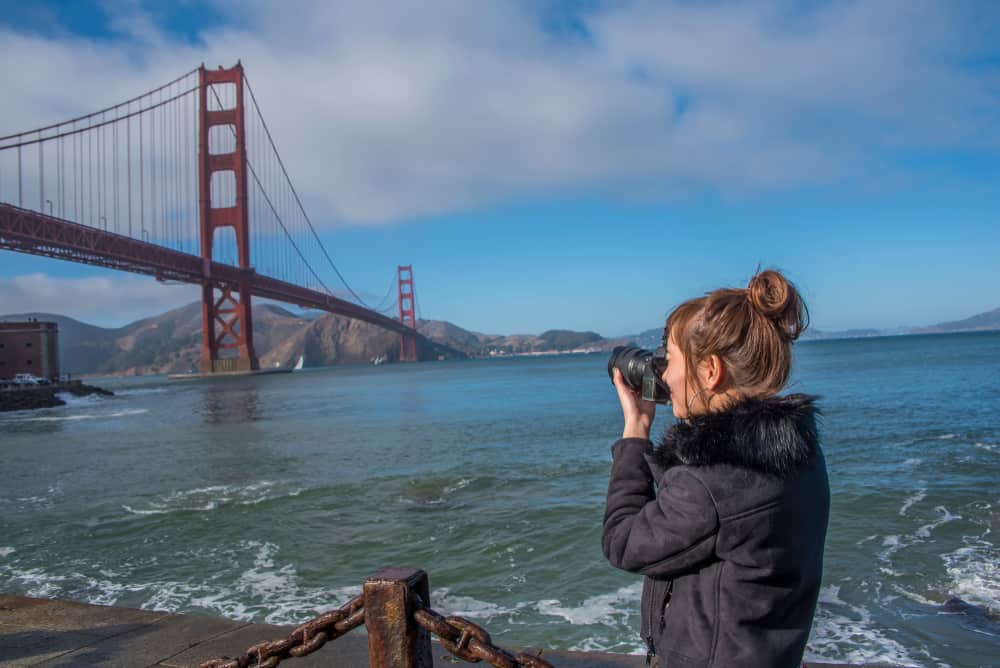 A waterproof, windproof jacket: The weather in San Francisco is, in a word, mercurial. There are different microclimates all over the city, and you'll often find a temperature range of 20 degrees Fahrenheit… at the exact same time in the exact same city, just depending on neighborhoods. The foggy air can be really humid and cold, so a waterproof jacket will serve you well, even if it's not actively raining! I love my Marmot rain jacket because it's breathable (hello underarm zips!), cozy, and goes with everything.
A scarf. Basically every San Franciscan wears one as an armor from the constantly changing weather! I like these Speakeasy Travel Scarves which have a hidden pocket in them that no thief will suspect! Pickpocketing is rife in San Francisco, nfortuantely, so this is good armor for holding your cash, passport/ID, cards, and other important necessities close to your heart — literally!
A secure purse or backpack. Like I said, unfortunately, theft and pickpocketing in San Francisco can be a big issue. Almost everyone I know who lives in the city has been stolen from once… or twice. I'm obsessed with this chic, sleek Pacsafe Citysafe CX Backpack, which fits a laptop, several cameras and lenses, and way, way more than you'd think… seriously, it's like a Mary Poppins bag! I've traveled with it from Morocco to Central America to the Caucasus and never once had an issue. The interlocking zippers confound thieves and scare them off to look for another easier target. Plus, it's cute AF!
A compact camera: I love my Sony A6000 mirrorless camera. It's insanely lightweight and compact, making it inconspicuous compared to DSLRs, which scream "I'm expensive, grab me!" to would-be thieves. The Sony A6000 is a great mid-range camera if you don't need professional, sale-quality shots. I used it for my travel blogs since 2017 and it still works great.
A good wide-angle and a good zoom lens: If you want the full range of capabilities while shooting San Francisco, two lenses will do the trick. I recommend an inexpensive zoom lens (this is one I have and love) and a lens that can go from wide to middle range — this one goes from 16mm-55mm, so the combination of the two lenses together covers everything from ultra-wide to mega-zoomed!
Pin This Guide to Instagrammable Spots in San Francisco!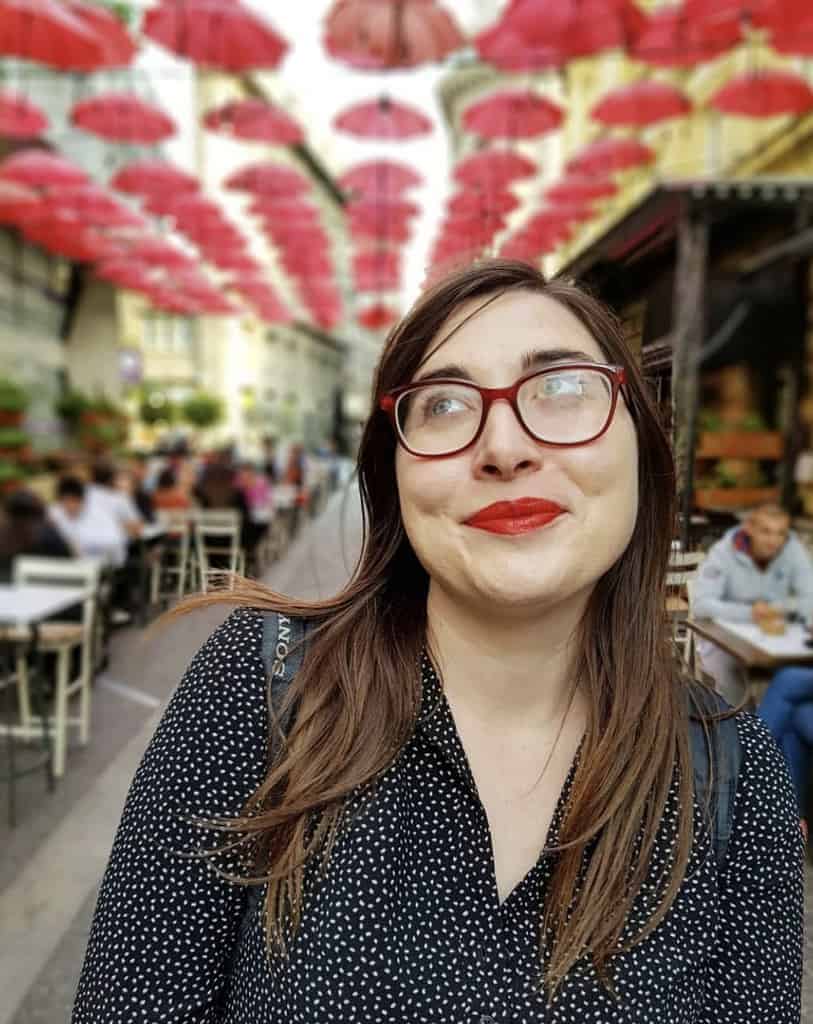 Allison Green is a travel blogger, writer, and podcaster who grew up in the Bay Area of California. She has spent time living in New York, Prague, and Sofia, but has returned to live in the East Bay. She has traveled to 60 countries before the age of 30 while running several digital travel publications. Her writing and podcast have been featured in Forbes, CBC Canada, National Geographic, the Huffington Post, and CNN Arabic, amongst others. She's obsessed with bouldering, houseplants, other people's pets, and anywhere she can see the ocean.