Sitting right on top of the California-Nevada border, Lake Tahoe is known for its clear water and the endless outdoor activities it provides in all seasons, from water sports to skiing to hiking to camping.
In the winter, the Tahoe area is known for its epic ski and snowboarding conditions, but don't sleep on Tahoe in the summer!
Lake Tahoe is a fantastic year-round destination nestled in the Sierra Nevadas, meaning you can find some truly epic mountain biking trails in Tahoe.
When referring to Lake Tahoe, the area is huge! To distinguish the different parts of Tahoe, people generally talk about the north side and the south side of the lake.
The main difference is that the North shore has more of a laid-back vibe with fewer people, and the South shore has more of the hustle and bustle, as it's more popular with the Bay Area weekend trip crowd.
Although the North and South sides differentiate greatly regarding the social aspect, they both are endowed with beautiful views and incredible mountain biking trails.
Lake Tahoe is a mecca for mountain biking enthusiasts! Filled with bike parks for the adrenaline junkies, standard climb and descent trails for the classics, and the good ol' bike paths for those who just want to cruise, Tahoe has an option for anyone at any level.
It is also a great spot to work on your mountain biking skills with the goal of improving them, since you can always find a trail that's just at the edge of your skill level.
Whether you are a mountain biking pro or just getting started, there's no better place to ride than Lake Tahoe. Here are some of the best mountain biking trails in the Tahoe area.
Easy Mountain Biking Trails in Lake Tahoe
Martis Creek Trail
Rated: Easy
Length: 4 miles
This bike path is well-used for a reason. Martis Creek allows you to just cruise as you take in the scenic views.
With a few small side trails that go off of this main trail, you can really customize this bike trail to be tailored exactly to what you want.
Perfect to take children on, this trail is pretty flat the entire time and is a great way to get the kids started on their love for biking!
Don't forget to take advantage of the picnic areas on this trail to get you fueled up again and ready to ride some more through the stunning meadows.
Antone Meadows Loop
Rated: Easy/Intermediate
Length: 8-9 miles
In the winter, Antone Meadows is a cross country ski area, but during the summer it makes for an enjoyable mountain biking route!
With a variety of different trails to branch off on, the fun is endless and you can go on as long as you like!
For wildflowers galore, many recommend hitting this trail when the flowers are in bloom in late spring and early summer to add to this enjoyable ride.
This 8.6-mile trail has a slow descent of about 500 feet, which keeps things fun and light.
Taking you through the forest and then opening up to a great view of Lake Tahoe, the scenery is a real bonus to this ride!
Best Intermediate Mountain Biking Trails in Tahoe
Flume Trail
Rated: Intermediate
Length: 14-20 miles
We can't forget one of the best mountain biking trails in Tahoe — the Flume Trail. If you've searched at all for Lake Tahoe adventures, no doubt you've seen stunning pictures of this trail!
Overlooking the clear blue lake that is Tahoe, the views on this mountain biking trail are breathtaking.
With the amazing views and a trail that encompasses both flowy and technical aspects, this trail should be at the top of any mountain bikers list when visiting Tahoe.
Some sections of the trail are on the side of a hill, but these spots give riders the ability to see Lake Tahoe for a greater portion of their ride.
If you start at Spooner Lake, the first four miles are a steady climb of about 1,000 feet in elevation gain, but it is well worth the effort as the Flume Trail overlooks some of the most scenic parts of Lake Tahoe.
Angora Ridge Trail
Rated: Intermediate
Length: 2 miles
As it overlooks both Mt. Tallac and the Desolation Wilderness, the Angora Ridge Trail provides so much to take in and enjoy.
There is a fire lookout that you can bike to, which shows off the beautiful area you're riding in!
With both an upper and lower section, this incredibly fun trail keeps you wanting more when you've finished its nearly two-mile ride.
Thankfully the ascent is not too steep, so your efforts will be spent on technical features instead of climbing.
When riding the Angora Ridge Trail, you get quite familiar with rock gardens as they do make up the terrain for a good portion of the path.
This means that you really get a feel for picking your line and actively engaging on the task at hand.
Corral Loop
Rated: Intermediate
Length: 5 miles
Accessed from a paved parking lot, the Corral Loop trail is located in South Lake Tahoe.
Perfect for shuttling due to the access road, Corral Loop lends to great conditions for riding a few times in a day.
This trail is a fun one for all of the downhill and freestyle junkies out there!
There are jumps and berms that are blended with a good amount of flow, making this a great ride.
With around 30 features on this trail that are all relatively new, Corral has a fresh take on how to please mountain bike riders.
Whether you take the line with all of the features or go off on a less intense side trail, you're bound to enjoy yourself.
Just from watching one of the many videos about this trail, you can't help but get stoked!
Clear Creek
Rated: Intermediate
Length: 10-16 miles
Recently extended onto the Tahoe Rim Trail, Clear Creek is a single-track trail that starts in the high desert of Nevada and eventually makes a complete change of scenery into the nearby forest.
With the majority of the ride being in the trees, you forget that you're on the Nevada side and are reminded of the California forests you love!
This chill ride is best after the ground has gotten wet, as it's less dusty then.
It is perfect for all levels of riders and increases about 1,500 feet of elevation over the course of the ride.
This flowy trail allows you to pick your speed and decide whether you will go fast or simply cruise at a slower speed.
With work still being done to extend the Clear Creek Trail, you can be assured that this trail is well-maintained and will only get better in the near future!
You will just have to come back to enjoy the work of the extended trail when it is done.
Best Difficult Mountain Biking Trails in Tahoe
Livewire
Rated: Difficult
Length: 2 miles
Once you get to the start of this trail, it quickly changes pace as it drops nearly 1,000 feet of elevation in about 2 miles!
With jumps, berms, and drops this trail easily allows each rider to make it their own.
Livewire is mostly smooth as it flawlessly takes you through a progression of fun jumps.
You start off immediately with a jump which sets you up to flow right into the next jump and this is the pattern that is kept the whole way down.
This trail is fast and fun as you fly around those berms and dominate those jumps.
Gypsy
Rated: Difficult
Length: 1 mile
You can't help but shred the gnar on this legendary trail. It demands experience with massive wooden features and a whole lot of variety!
Many consider Gypsy to be the best trail in the entire Northstar MTB Park, and we can't disagree!
With a beautiful blend of all of the different features, there is so much to love.
Like a fine wine, this trail only gets better as you get a feel for it and truly make it your own.
You can't help but respect the people who made this epic mountain biking trail and the ingenuity that was involved!
Mr. Toad's Wild Ride
Rated: Difficult
Length: 5 miles
This well-known trail has the locals hooked! Many regard it as the best trail in all of Tahoe.
Established in 1982, it's fun to imagine riding this trail back then with the bikes they had at that time!
Although the climb has you working hard, it pays off when you're cruising downhill for the descent. Don't forget lots of snacks to refuel during the climb on this one!
The rock drop at the start clues you into what type of ride Mr. Toad's is!
With rock gardens, riders who enjoy technical features will no doubt get a kick out of this one.
If you had any doubt, Mr. Toad's really shows you what your bike is made of!
Starting off with technical features and ending with a fast through-section, this trail keeps you hooked and counting down the days until you can return!
OTB (Over the Bars)
Rated: Difficult
Length: 1.7 miles
Initially used for Motocross and then repurposed for mountain biking, this trail is well built and surrounded by beautiful trees and rock formations.
This trail includes quick turns and rock sections that keep the rider on their toes, hence the name!
With a steady descent, OTB is a trail that keeps the rider going fast and with ever-changing scenery.
This trail is especially loved during the fall when the ground is a bit wet and the dust levels are low. Regardless, it is an overall great trail for those ready to take it on!
Note: This post contains affiliate links, which earn me a small commission at no extra cost to you if you make a purchase using one of these links. Thank you for supporting this free content!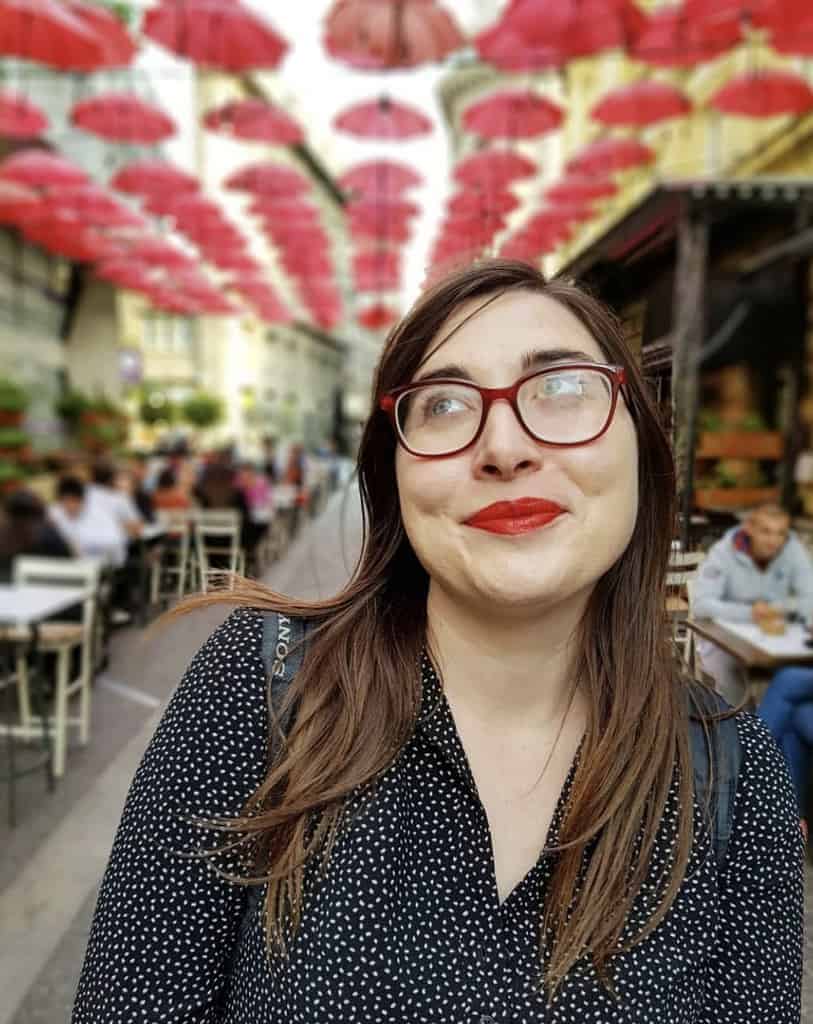 Allison Green is a travel blogger, writer, and podcaster who grew up in the Bay Area of California. She has spent time living in New York, Prague, and Sofia, but has returned to live in the East Bay. She has traveled to 60 countries before the age of 30 while running several digital travel publications. Her writing and podcast have been featured in Forbes, CBC Canada, National Geographic, the Huffington Post, and CNN Arabic, amongst others. She's obsessed with bouldering, houseplants, other people's pets, and anywhere she can see the ocean.