If you are looking for the perfect summer getaway, look no further than Lake Tahoe.
This crystal blue alpine lake sits high in the Sierra Nevada mountains, surrounded by towering Ponderosa pines, white fir, and quaking aspen trees. It is one of the largest alpine lakes in the world, and certainly one of the most beautiful.
The area of this amazing body of water exceeds 191 miles and is the second deepest lake in the United States, only after Crater Lake in Oregon. While two-thirds of the lake is in the state of California, the remaining area belongs to Nevada, and as such, most visits to Tahoe include a little time in both states.
Lake Tahoe is so breathtaking that the great American author, Mark Twain, has been quoted as saying, "Lake Tahoe would restore an Egyptian mummy to his pristine vigor." And I don't think he's wrong!
Besides the obvious beauty of the area, Lake Tahoe provides an escape for people of all ages, all abilities and all budgets.
Plus, there is a boundless variety of activities for everyone, especially if you love the outdoors.
Where to Stay in Tahoe: Quick Guide
Tahoe is a huge lake with a ton of different towns on the lakefront. I've picked my favorite area to stay in Tahoe, Carnelian Bay, and given you three options: budget, mid-range, and luxury. Note that Airbnb is the way to go in Tahoe as you get a lot more personality and a lot more bang for your buck!
Note: This post contains affiliate links, which earn me a small commission at no extra cost to you if you make a purchase using one of these links. Thank you for supporting this free content!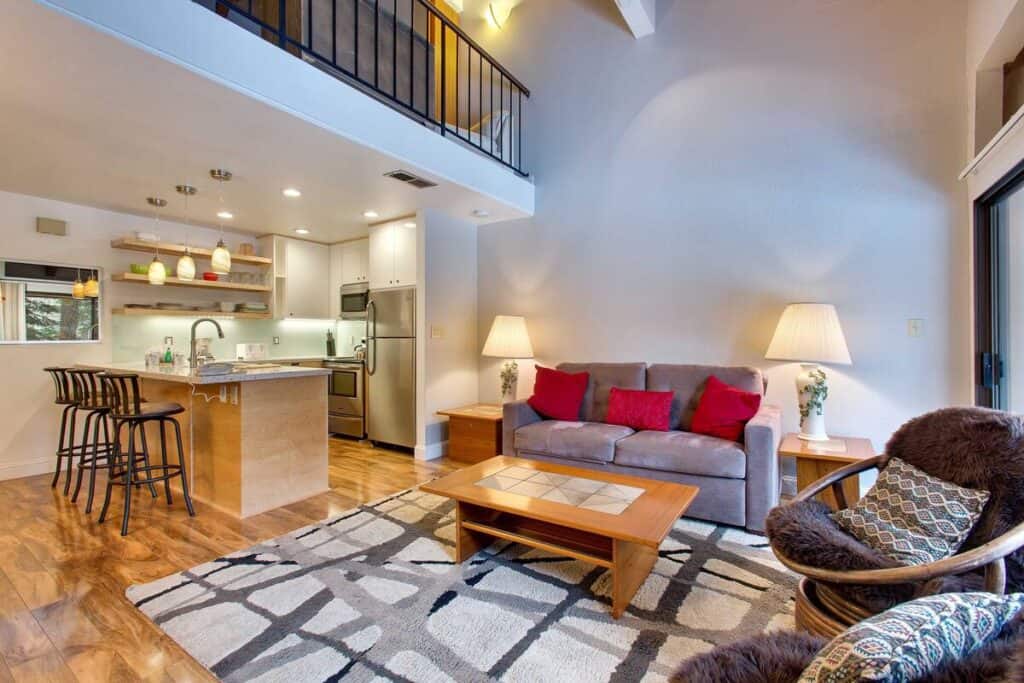 This charming two-floor townhouse is a great choice in Carnelian Bay, one of my favorite areas of Tahoe.
The interior of the house is gorgeous – the open-door design of its ground floor ties the kitchen and living room areas together beautifully. The balcony comes equipped with a grill, so you can take full advantage of the spacious ground floor and have a tasty meal. One of the ground-floor sofas unfolds into a bed, and the other bed is upstairs, offering couples a fair bit of privacy.
Lake Tahoe's Patton Landing Beach is a beautiful spot in the area for beach lovers (famous for being a great standup paddleboarding spot). Guests of the Woodsy Suite will also have access to an impressive recreation center, which features hot tubs, pools, tennis courts, a fitness trail, a game room with a pool table, and an arcade room.
>> Find more details and book on Airbnb!
With its old-school wood design and homey interior, this beautiful A-frame epitomizes coziness. The entire house oozes with personality – just about everything apart from the kitchenware, fireplace, and bathroom tiles is made of wood.
The front wall of the house is essentially just glass, giving you a full view of the local greenery, as well as a lot of natural light to offset the darker colors of the interior. The house has two decks, and one of them comes equipped with a gas grill, making it the perfect cookout spot for a larger group of people. In addition, the outdoor hot tub is available throughout the year.
>> Find more details and book on Airbnb!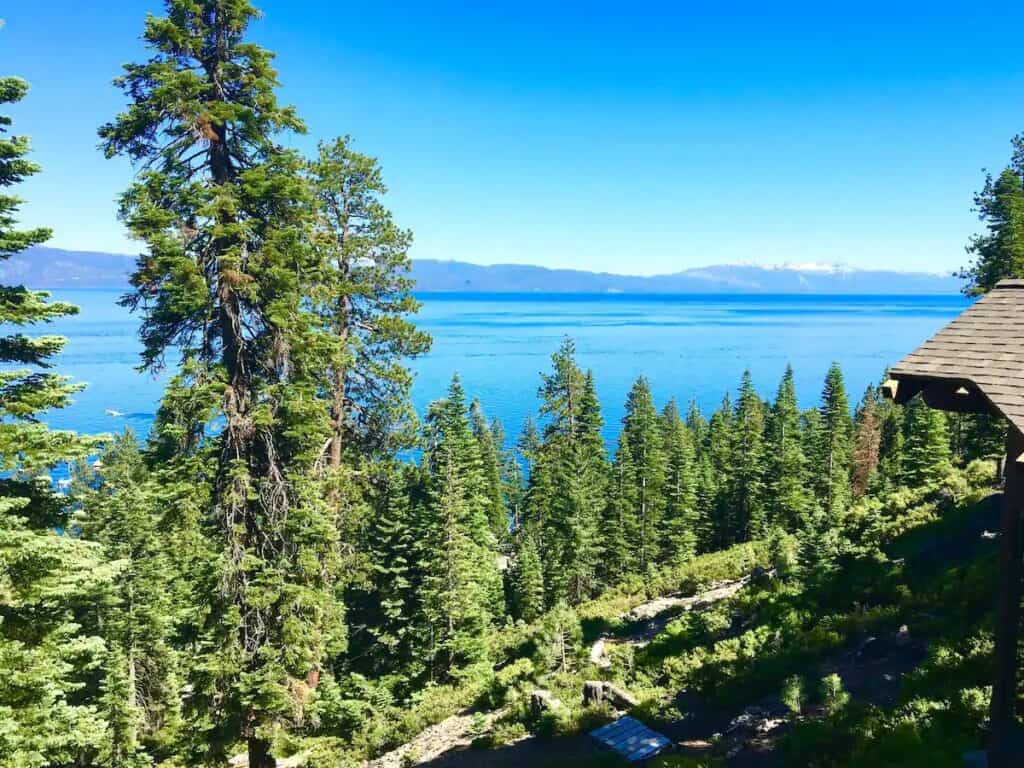 This beautiful forest cabin has a convenient location and a beautiful interior, and it's ideal for a couple looking to explore the Tahoe area. The living/dining room is very homey and well-lit, on top of having a fireplace and a beautiful window view. There's also a gourmet kitchen and a bathroom with floor heating.
The kitchen and bedroom both come with a deck, each one with a beautiful view of the forest and Lake Tahoe. On top of being surrounded by beautiful scenery, the area is home to some amazing skiing resorts, including Northstar, Squaw, and Alpine. The property is also near Carnelian Bay and Tahoe City, so you can relax after a long day of hiking, skiing, or sightseeing by visiting one of the local restaurants. It's worth noting that the hosts live in the house next door, so they're likely to be available to address any concerns you may have at a moment's notice.
>> Find more details and book on Airbnb here
Take a Scenic Drive Around the Lake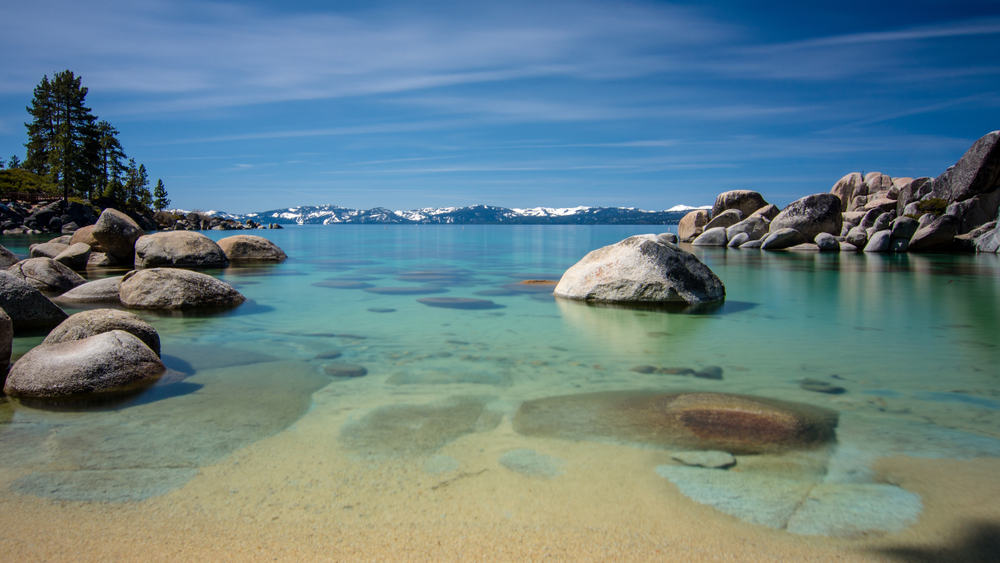 If you are in your own vehicle, it will only cost you the price of gas to make the scenic drive along Highway 89, bordering the lake. There are lots of picturesque spots to stop and take photos.
At Emerald Bay, you can park and view Fannette Island and Vikingsholm Castle. Vikingsholm is an actual castle dating back to the late 1860s. It is a California and National Historic Landmark. (For more information and tour details, visit the website).
Camp and Relax in Emerald Bay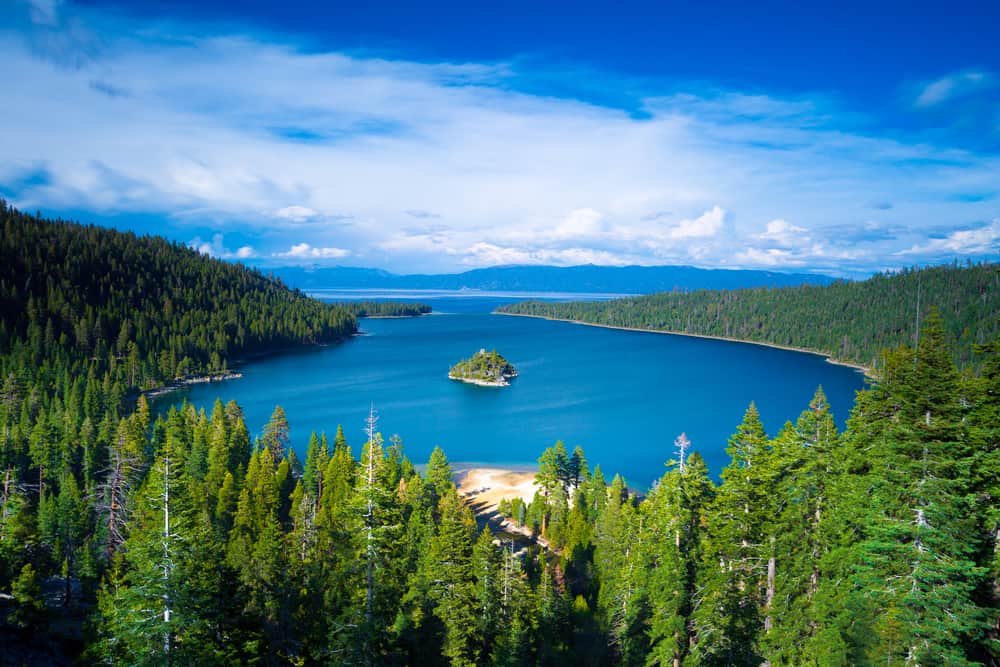 If you would like to explore Emerald Bay from more than a scenic vista, plan ahead. You can camp at the Eagle Point campground, but you must have a reservation. You can visit www.ReserveCalifornia.com or call 1-800-444-7275.
Emerald Bay also offers a boat-in camp, which is only accessible by boat or by foot.
Go Diving or Snorkeling in Emerald Bay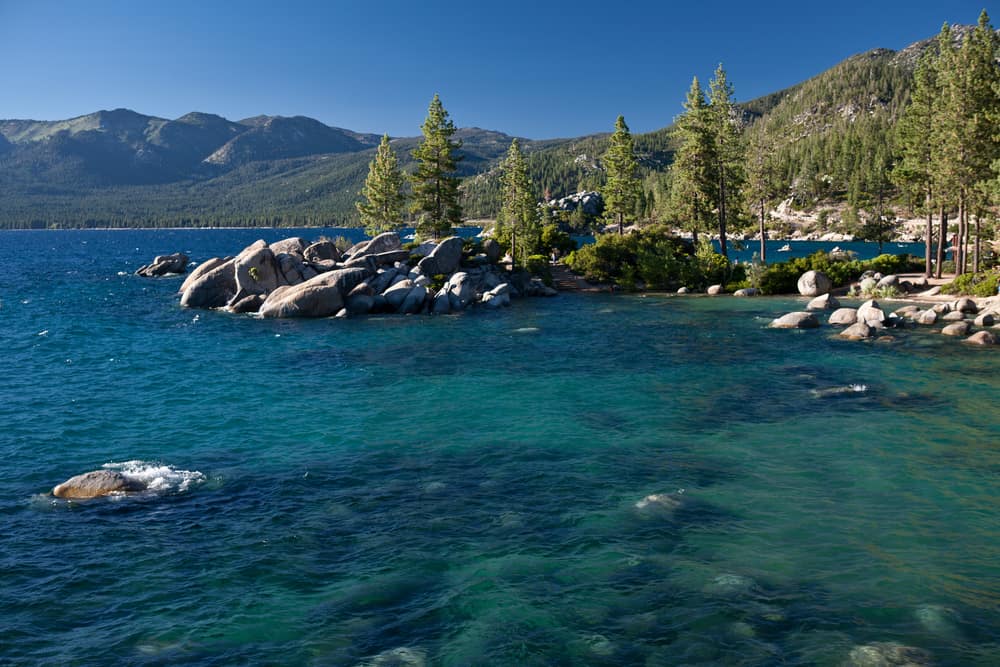 In 1994, Emerald Bay was designated as an underwater state park. Many boats, launches, and barges used for the construction of the Vikingsholm Castle rest in peace at the bottom of the bay.
In 1998, California State Parks established the Historic Barge Dive Site, but they did not divulge the exact location until 2018. Now, scuba divers and snorkelers can experience what is presently called "California's first maritime heritage underwater trail."
Underwater interpretive panels are displayed at four dive sites in the bay. Divers can even use waterproof information cards that are available at the park's visitor centers and at local dive shops!
Not planning to dive? Get incredible views of this gorgeous scenery on a 2-hour boat cruise of Emerald Bay. Cruise 7 miles in this majestic turquoise lake while sipping a complimentary glass of champagne or beer, and keep an ear out as your captain tells you about the sights, including possible wildlife spotting like black bears and bald eagles!
Relax or play on King's Beach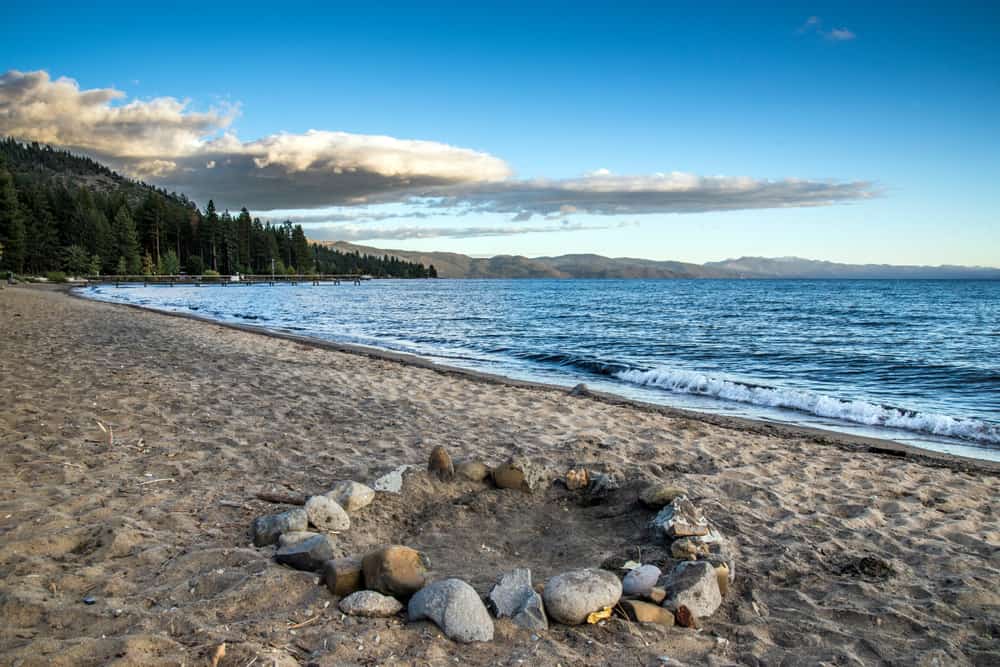 If you enjoy getting in, or on the water, there are a lot of options for summer fun on the lake. A popular location is King's Beach on the north shore.
If you plan to visit, arrive early. Public parking is free, but spots fill up fast, especially on the weekends.
Swimmers can easily access the water from a nice, sandy beach. You can bring blankets and beach chairs to soak up the sun, or jump in the nice, cool surf. If you are used to swimming in the ocean, you are in for a pleasant surprise. The water is clear, clean, and has no salt!
You probably won't mind if you get a mouthful of lake water. However, be sure to bring sunscreen. The high elevation brings a greater risk of sunburn (trust me: I've learned this the hard way many a time)
Indulge in Some Aquatic Adventure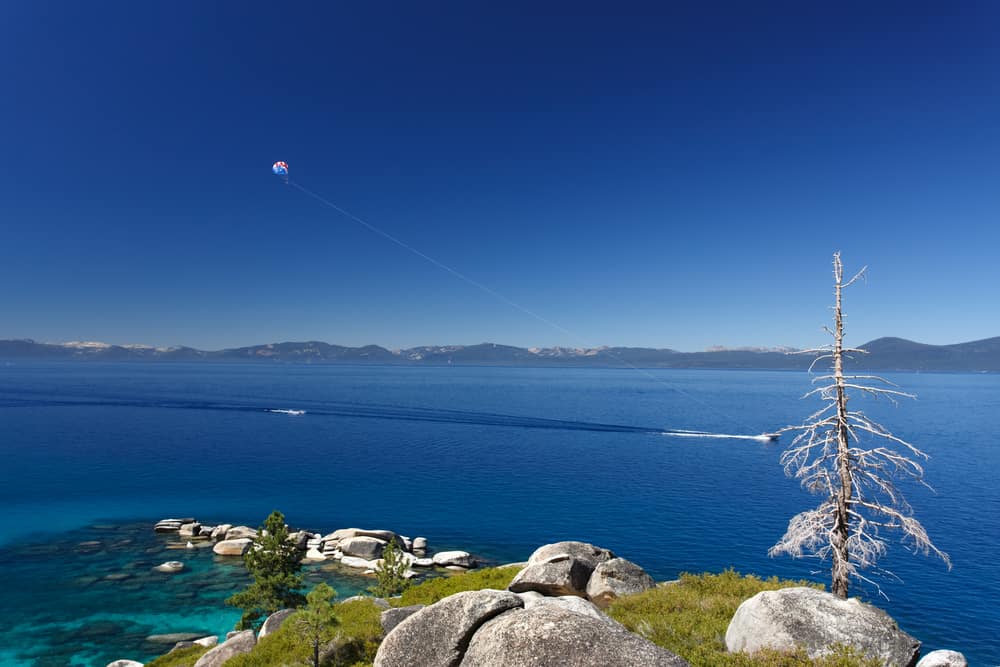 Other than swimming, you can experience jet skiing, kayaking, stand up paddleboarding, and parasailing on the Lake. Four-person pedal boats and Aqua Cycle trikes are also available.
You can bring your own equipment or contact North Tahoe Watersports for more information. For parasailing, visit Parasail Tahoe for availability and pricing.
Never kayaked or stand-up paddleboarded before? Don't sweat it — go with a guided tour rather than renting your own equipment and going it alone. It's a great way to learn a new sport without being overwhelmed!
Try a Clear Kayak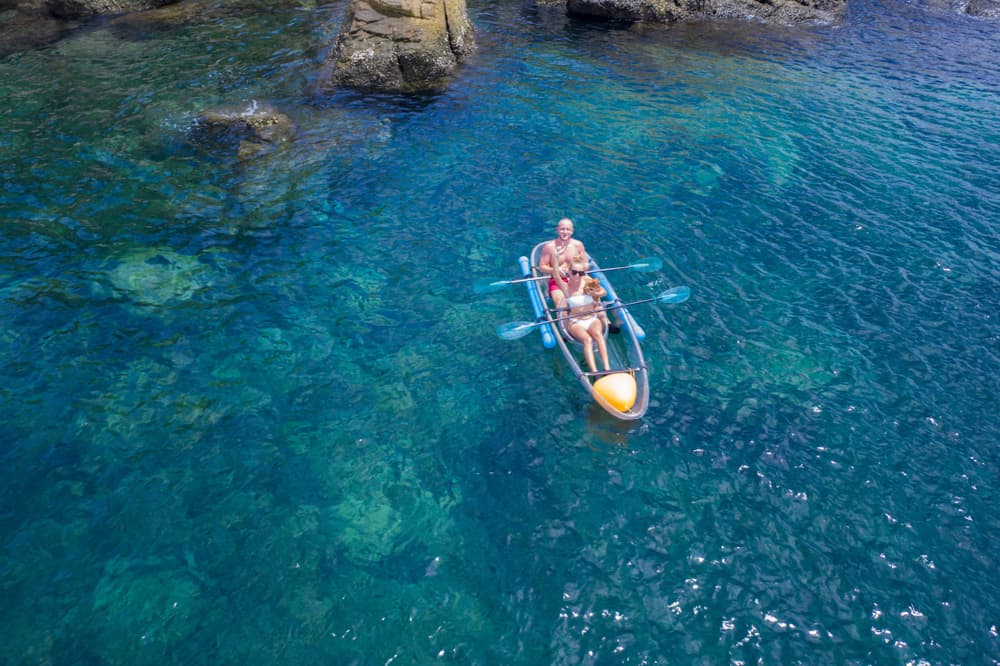 A new and unique way to experience the lake is by taking a clear kayak outing.
The company, Clearly Tahoe, offers glass bottomed kayaks, as well as completely clear kayaks that are equipped with LED lights and Bluetooth speakers for night adventures.
The company offers a variety of rentals and tours. All ages from five and up are welcomed and they are pet friendly too! The company has three locations in the Tahoe area at Cave Rock, the Tahoe Keys Marina, and at the Edgewood Resort in Stateline, NV. Visit their site for more details.
Take a Scenic Cruise Across Lake Tahoe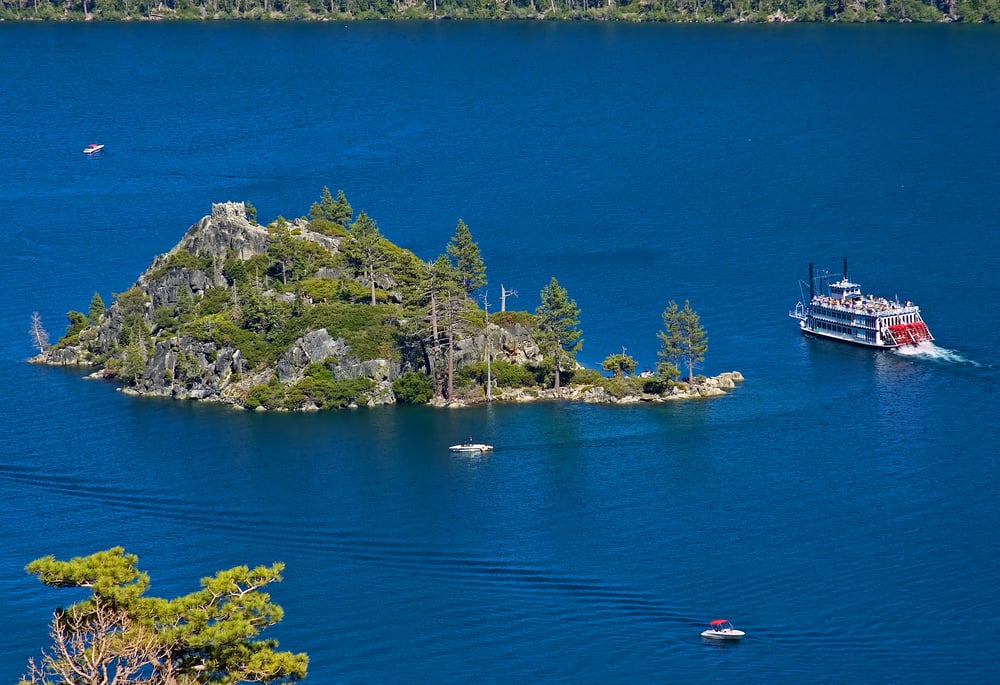 Another option for enjoying the lake is aboard one of the scenic cruises available year-round. The MS Dixie II is the largest cruising vessel in South Lake Tahoe.
This award-winning paddle wheeler can hold up to 500 passengers and offers two-hour daytime scenic tours, as well as three-hour sunset dinner cruises. If you would like a more personal experience, charter cruises are available aboard the Tahoe Paradise.
If you would like to take the wheel yourself, power boats, pontoon party boats, and fishing vessels are all available to rent as well.
Go Fishing for Salmon and More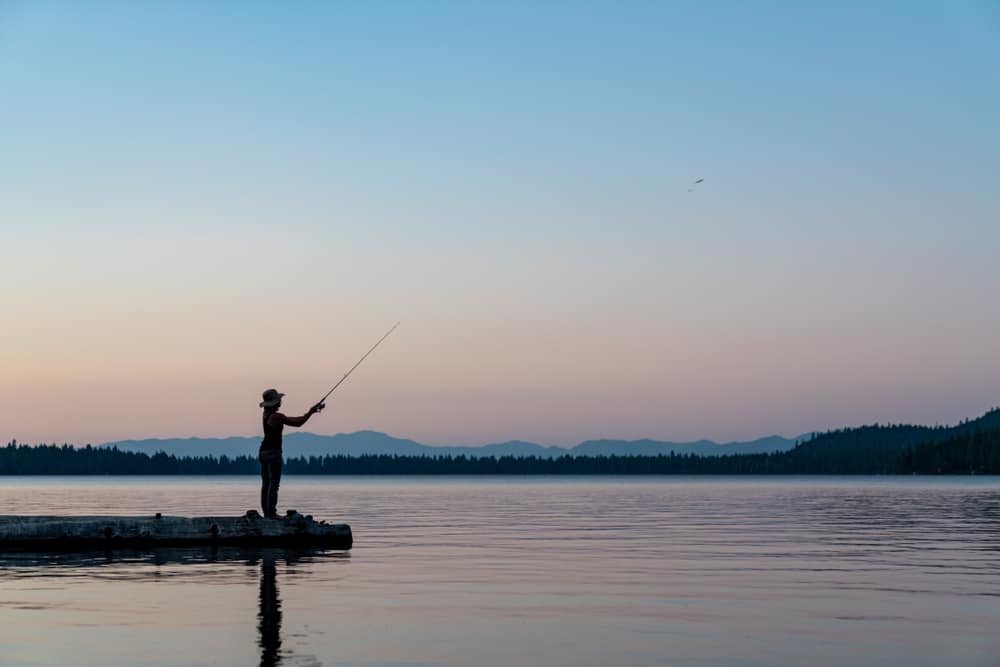 If fishing is your thing, you will find Sockeye Salmon, Lahontan Cutthroat Trout, and Largemouth Bass among the variety of fish in Lake Tahoe.
There are several sport fishing charters and tours to choose from. You can also opt to fish from numerous available docks in the area.
For the more adventurous, there are fly-fishing adventures that will take you out to nearby locations in the Lake Tahoe area. A guided fly-fishing trip will take you into the back country.
Even if you don't catch a Rainbow Trout or two, you will enjoy amazing scenery and cool, fresh air. Do keep in mind that all people over the age of 16 must have a valid fishing license. Since the lake is in both California and Nevada, a license from either state will do.
However, if you venture out to fish in other nearby lakes and streams, then a license is required for the state in which the person is fishing. The Department of Wildlife in both states oversee the purchase of licenses, permits, and passes for all sport fishing and hunting.
Keep an Eye Out for Wildlife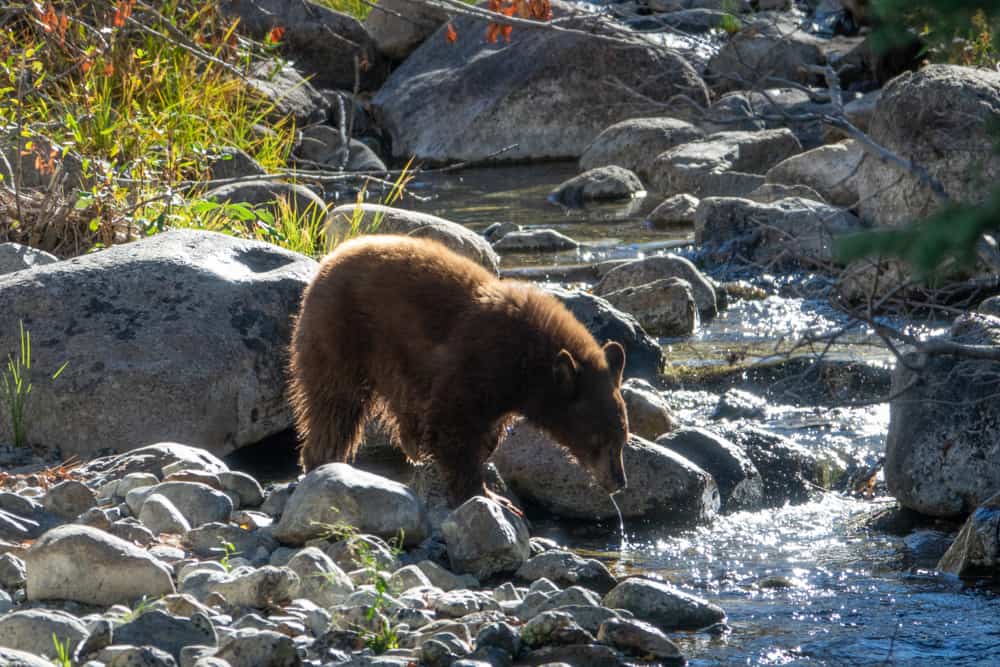 If you would prefer to view wildlife, rather than catch it, Lake Tahoe is abundant with native animals and birds. American beavers are commonly found building their lodges and dams. If you see gnawed branches and twigs near a shoreline, a beaver family is likely living nearby!
Black bears, mountain lions, coyotes, mule deer, porcupines, raccoons, marmots, and squirrels are many of the animals that you may encounter.  If you are camping in Tahoe, do not leave out food or trash, or a hungry bear may visit your site for a free buffet! 
Black bears actually range in color from blond to black, with the most common coloration being a cinnamon brown.  Although they may look cute and cuddly, keep your distance because they can be dangerous. They aren't as aggressive as grizzly bears though, so just make a lot of noise and keep your distance, and they'll generally run away. Raccoons are also notorious for being camp robbers and general miscreants!
Go Bird Watching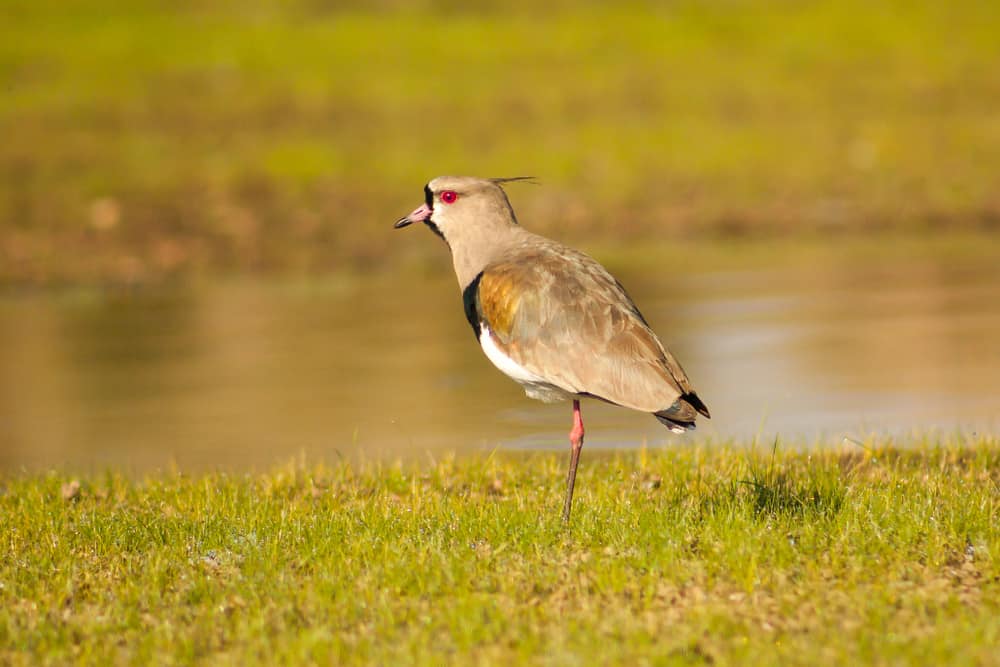 Many distinctive birds call the Lake Tahoe area home. Even if you are not an experienced birder, you may want to pack a bird book and binoculars to spot and identify the wide range of bird species.
In the summer, you may spot an Osprey. The Osprey is a large bird that is often mistaken for an Eagle, and it is sometimes referred to as a Fish Hawk because it feeds only on fish.
Canada Geese are plentiful around the shores of Lake Tahoe. They may look pretty, but they are noisy and really aggressive, and they can — and will — bite you if you're not careful. Take it from a girl who got attacked by a flock of Canadian geese at Lake Merritt when she was 3.
Other birds that you may spot include the Red-Tailed Hawk, the American Robin, the Hairy Woodpecker, the California Gull, and the bright blue Stellar's Jay. Bald Eagles have occasionally been spotted near Lake Tahoe, but that's generally in the winter months.
Go for a Hike!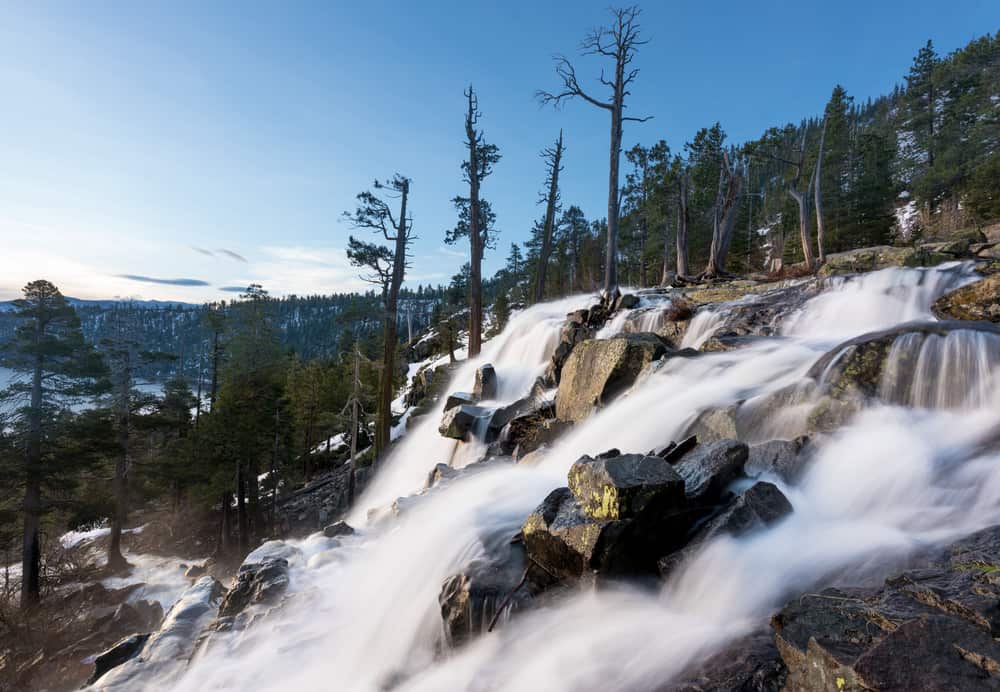 There are many hiking paths and trails to choose from in the Tahoe area, so picking just one feels nearly impossible.
A popular hike is along the Eagle Falls Trail. It is located near Emerald Bay off Highway 89. Park at the Eagle Falls picnic area where you can eat your lunch and then head up the easy half-mile trail.
The path will lead you to the picturesque Eagle Falls. You will not need any special skills or equipment, other than a sturdy pair of shoes or hiking boots. Here you will find cascading waterfalls, towering trees, and countless photo opportunities. For the more adventurous folks, you can continue on about another half-mile to Eagle Lake.
If so, you will have to pick up a Desolation Wilderness permit at the trailhead. The trail is best used from May to September, as snow will come later in the season.
The Lake Tahoe area offers over 90 trails for hiking and exploring, and Eagle Falls is just one of them (and one of the most popular).
The trails range from a leisurely stroll to climbing to the peak of Mt. Tallac. Tallac is the tallest mountain along the lakes' shoreline, towering at 9,738 feet. It is a ten-mile vertical hike — so not the best for amateur hikers. For a list of the best trails in South Lake Tahoe, AllTrails is a great resource.
Check out the Coaster and Ziplines at Heavenly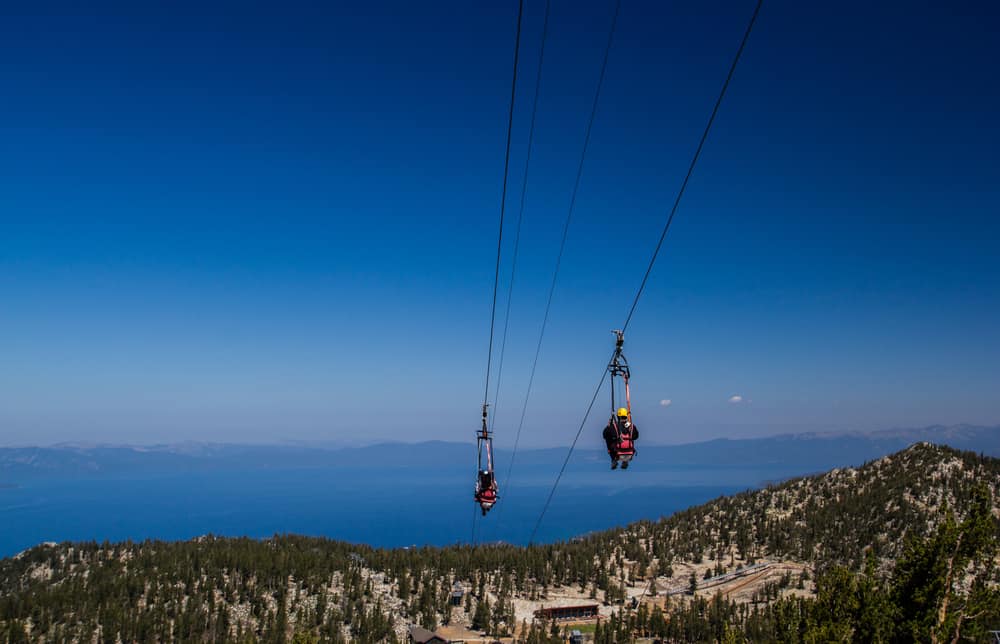 For family fun, check out Heavenly's Ridge Rider Mountain Coaster.
This gravity-powered thrill ride is located at the top of Heavenly mountain, which is a popular winter ski destination where the fun doesn't stop just because the snow has!
The ride descends 300 vertical feet along a 3,400-foot track. The ride sweeps you around impressive rock formations, while also offering an amazing view of the lake.
Adults and adrenaline seekers will prefer the zip lines at Heavenly Blue Streak, which are two parallel zip lines that measure a whopping 3,300 feet! At top speeds of 50 miles per hour, you'll surely get your adrenaline going as you zip down from 10,000 feet elevation to the ground level at Heavenly Resort.
No matter which adrenaline activity you choose, once you regain your equilibrium, you can head down the mountain to check out one of the three mini-golf courses. Tahoe also offers movie theaters, shopping, and arcades to entertain kids of all ages.
How to Get to Tahoe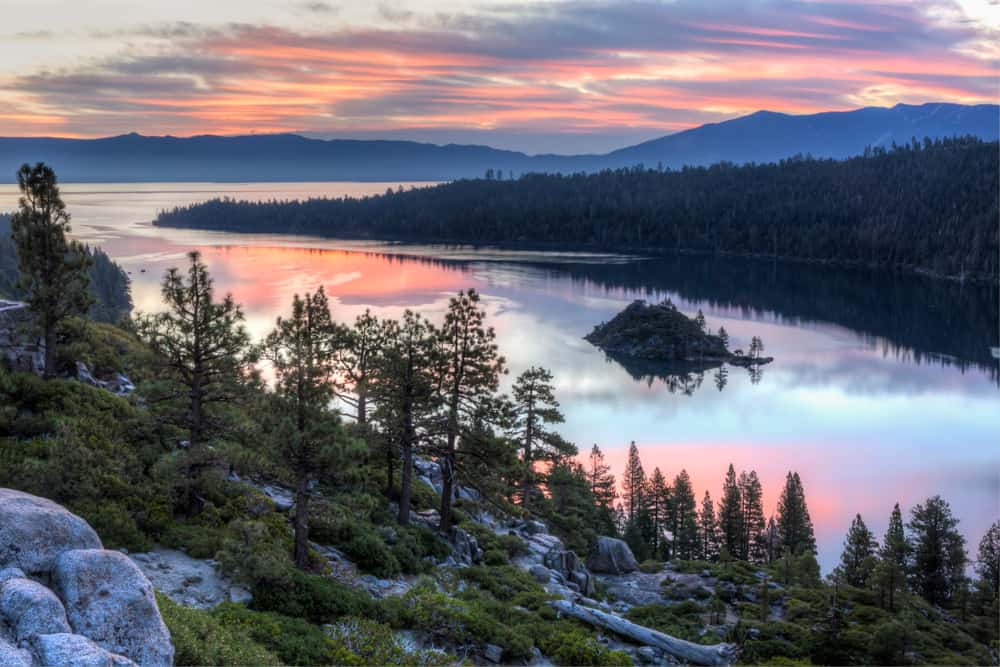 To get to Lake Tahoe, you can fly into the Reno/Tahoe airport located in Reno, Nevada. Nine airlines fly into the airport.
If you are driving, go through Carson City, which is the capital of Nevada. Take Hwy 50 up the mountain to Stateline at the South Shore.
Alternatively, from Reno, you can take State Route 431, otherwise known as the Mount Rose Highway towards Incline Village on the North Shore.
If you're coming from the San Francisco Bay Area, you'll take I-80 East most of the way until you reach CA-89 to turn towards Tahoe.
Pin this Guide to Things to Do in Lake Tahoe in Summer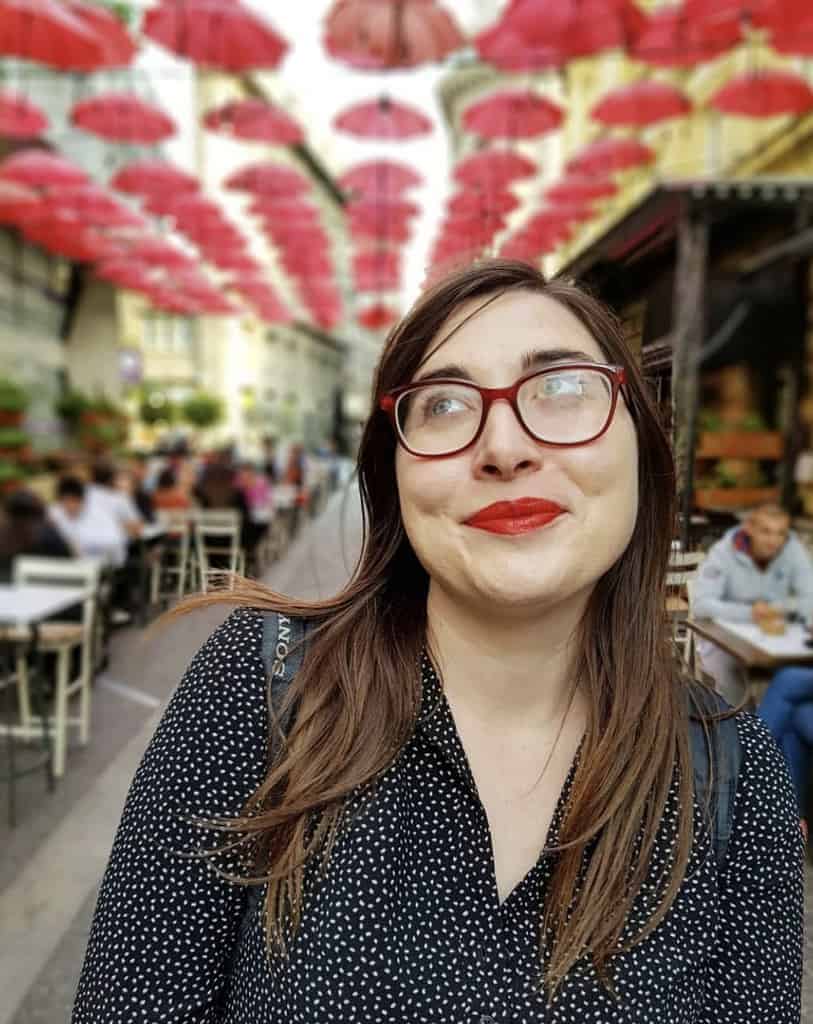 Allison Green is a travel blogger, writer, and podcaster who grew up in the Bay Area of California. She has spent time living in New York, Prague, and Sofia, but has returned to live in the East Bay. She has traveled to 60 countries before the age of 30 while running several digital travel publications. Her writing and podcast have been featured in Forbes, CBC Canada, National Geographic, the Huffington Post, and CNN Arabic, amongst others. She's obsessed with bouldering, houseplants, other people's pets, and anywhere she can see the ocean.