Lake Tahoe is one of the most beautiful places in Northern California and is a common destination for water sports, vacationing, and boating.
While Lake Tahoe may be more known for its winter activities and its mountains, visiting Tahoe in summer is a fantastic choice as well, as you can truly enjoy Lake Tahoe beaches and crystal blue waters to their fullest.
Although Tahoe may conjure images of winter and snow, in the summer the towns around Lake Tahoe come to life as people from around California come here to enjoy the delightful weather, to do some water sports, and to see this famous lake.
If you are looking for a delightful summer getaway or a fun place to go boating, Lake Tahoe is the perfect place to visit!
Here is a list of the best beaches that Lake Tahoe offers. You can't go wrong when you pick from this list, and you will be amazed at the beauty of the scenery that is available at any of these locations.
Best Lake Tahoe Beaches
Sand Harbor
Note: This post contains affiliate links, which earn me a small commission at no extra cost to you if you make a purchase using one of these links. Thank you for supporting this free content!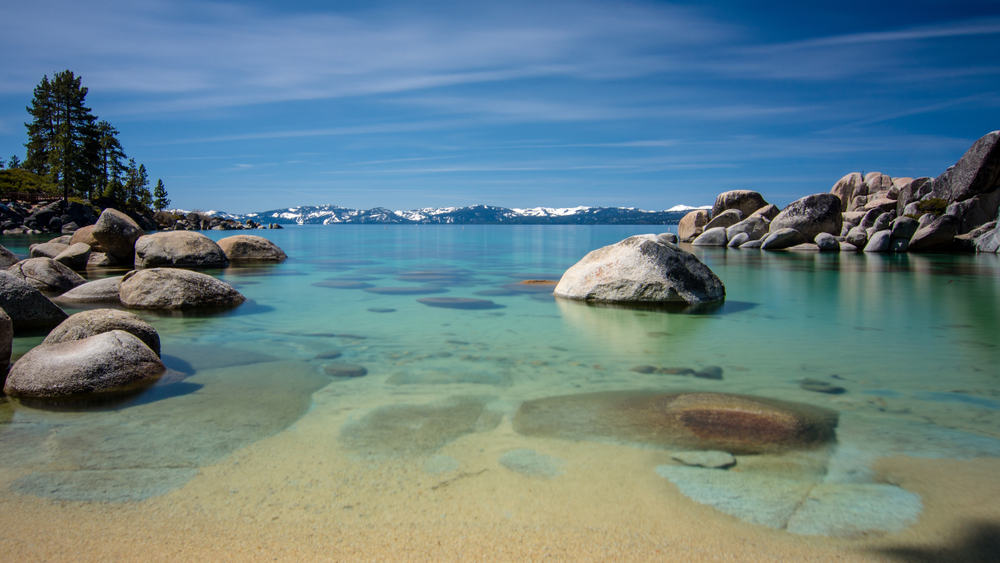 This beach is located on the Eastern side of the lake and is part of Sand Harbor.
This is one of the best beaches on Lake Tahoe and has everything that you could ever want in a beach getaway locale!
There are picnic tables, lots of trees for shade, a neat visitor's center, and some really great sand to sunbathe on.
There is also a cove that is dedicated just to scuba diving, so if this is your favorite pastime, you absolutely have to come to this beach during your trip!
There is also a nice boat launch and tow vehicle parking area in the park as well, so if you drove to your lake vacation with your boat, you are all set!
If you come in the summer, you might also catch the Lake Tahoe Shakespeare Festival, which is a real gem and should not be missed out on.
Note that this Tahoe beach can get really busy in the summer, so you should come early to get your spot staked out, especially on the weekend.
Baldwin Beach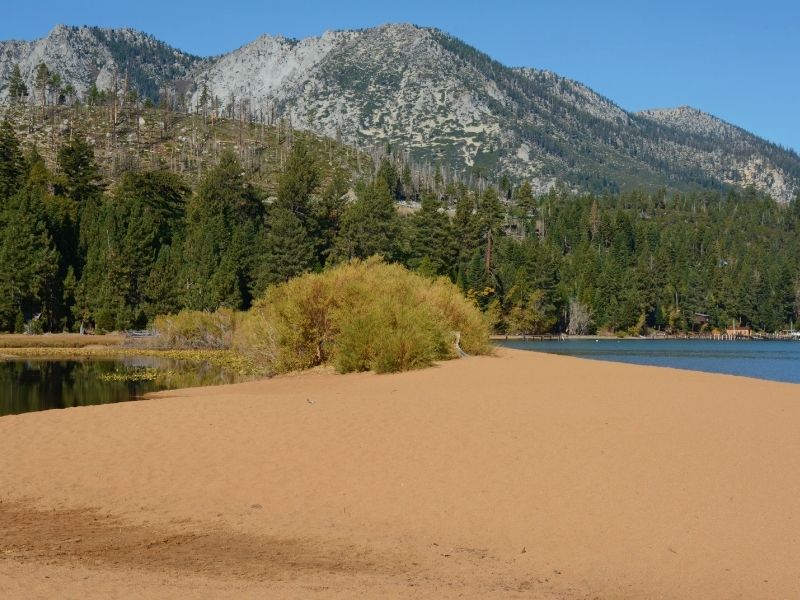 Located in South Lake Tahoe, this is a great place to go if you love to kayak!
You will be within easy reach of the stunning waters of Emerald Bay when you visit this beach, and this is a really great family beach location.
The parking lot is big here, and the beach offers up a lot of sand to get comfortable on and read a book or to let your kids build sandcastles.
This is one of the largest Tahoe beaches that the lake has to offer at half a mile long, and it is near a gorgeous meadow in case you want to do a hike in Tahoe as well as mellow out on the shores!
Enjoy the views of Mount Tallac and the warm water that is created by the shallow beach entry!
However, do note that dogs can't come to this beach, and there is a parking fee.
You might also want to bring along an umbrella or a pop-up as there are not very many trees along this beach to offer you shade.
Lester Beach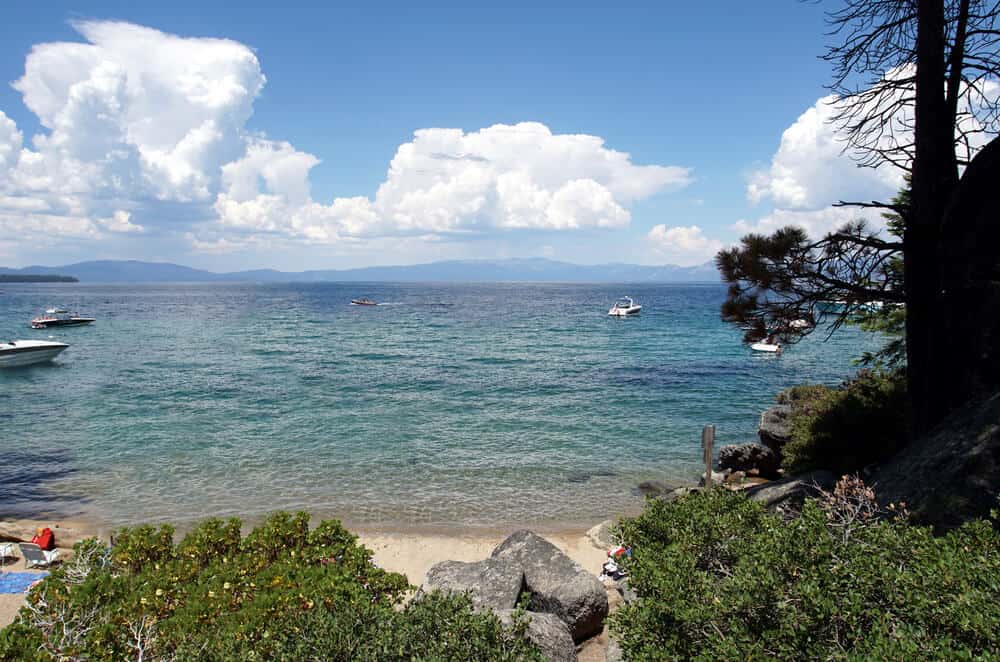 This beach is on the West Shore of Lake Tahoe and is actually nestled inside of D.L. Bliss State Park.
This beach offers a really unique lagoon-like swimming area, and the restrooms have running water. This Tahoe beach is really big as well, giving you lots of room to run and play.
This beach location is hidden away a bit as it must be accessed through the campground at D.L. Bliss (one of our favorite Tahoe campsites!) off Highway 89, but you will find parking at the beach itself!
The lot is small, so get there early in the day if you want to be sure you can hang out and park nearby.
Kayaks, stand-up paddleboards, and small craft launching are all approved here.
You can park a few miles up the road in the campground if you don't fit in the small parking lot with a large vehicle, and they will let you drop off your gear first before leaving for the overflow parking lot.
There is no designated swim area here, so you will want to pay attention to your kids as they play in the water. There is also more boat traffic here than at some other beaches, which may affect your plans related to swimming.
Secret Cove Beach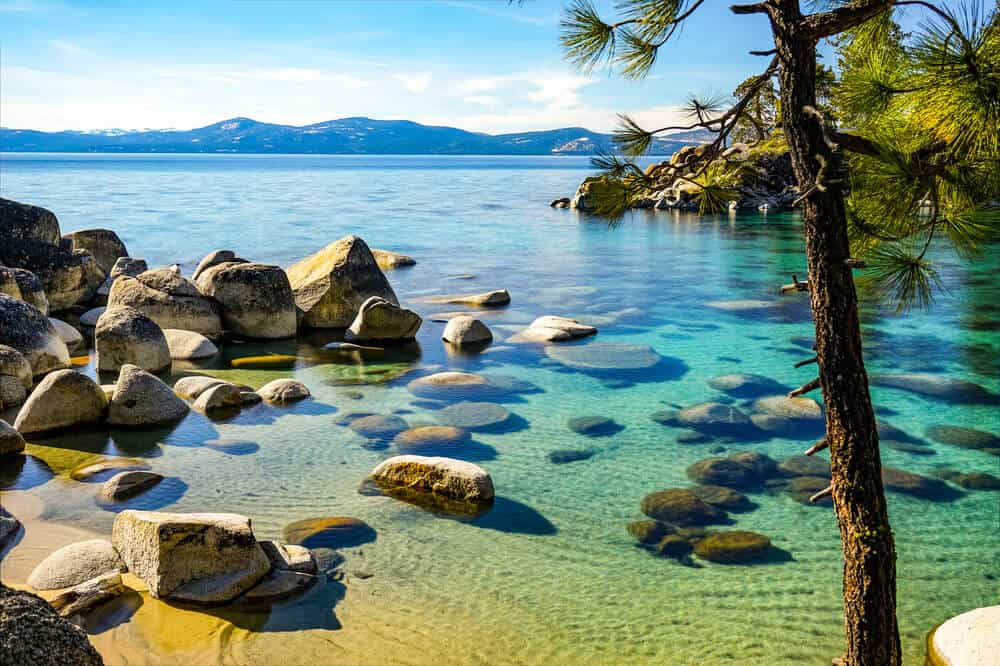 Aptly named, this little beach is hidden away from the view of the rest of the East Shore. Due to its privacy, this is a popular naturist beach, so be prepared if you have kids with you and you don't want to encounter nudists who might be sunbathing there!
This is one of the most delightful beaches on the lake, and there is a small parking lot near Chimney Beach that serves this location as well.
The walk down to the beach is about 0.75 miles long and is just as nice as the beach itself. But do keep that in mind in case you are traveling with anyone with mobility concerns, as it's not the easiest to access.
You can find small alcoves away from others when you visit this beach, so it might be possible to find your own little space to play in the water and hang out if you want to avoid encounters with the nude sunbathers that might be visiting at the same time as you.
This is a well-known snorkeling area, so be sure to bring your gear!
Kiva Beach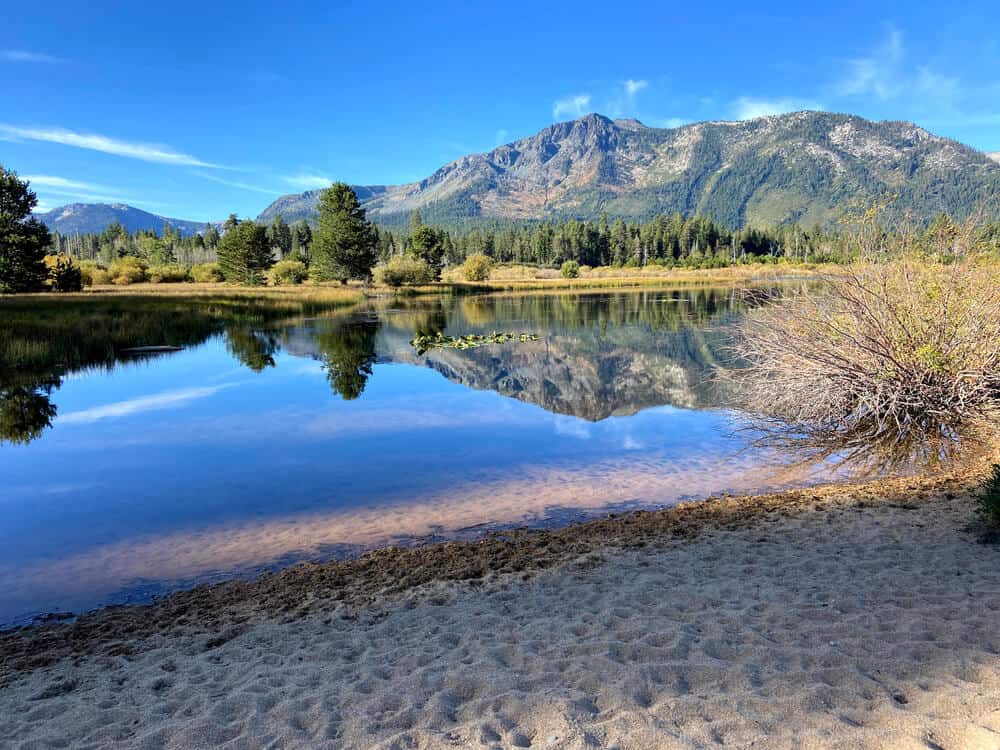 Probably one of the best-known beaches along the lake, this is a great place to come if you want to rent a really nice lake cabin and bring a dog.
This beach is one of the only dog-friendly Tahoe beaches along the lake, making it a fun place to come to meet other people who have traveled with their canine friends.
However, you do need to bring a leash for your dog since dogs can't play off-leash here.
There is also free parking, which makes it popular. However, there are porta-potties only here, just as a fair warning, but the beach is usually far less crowded than others.
This beach is popular for swimming because the swimming holes here are quite deep compared to some of the other shallower beach locations.
You can also bring your boat or plan to fish here, although you will have to be certain to have your boat properly dried and drained before launching to prevent invasive aquatic species from getting into the lake.
Pope Beach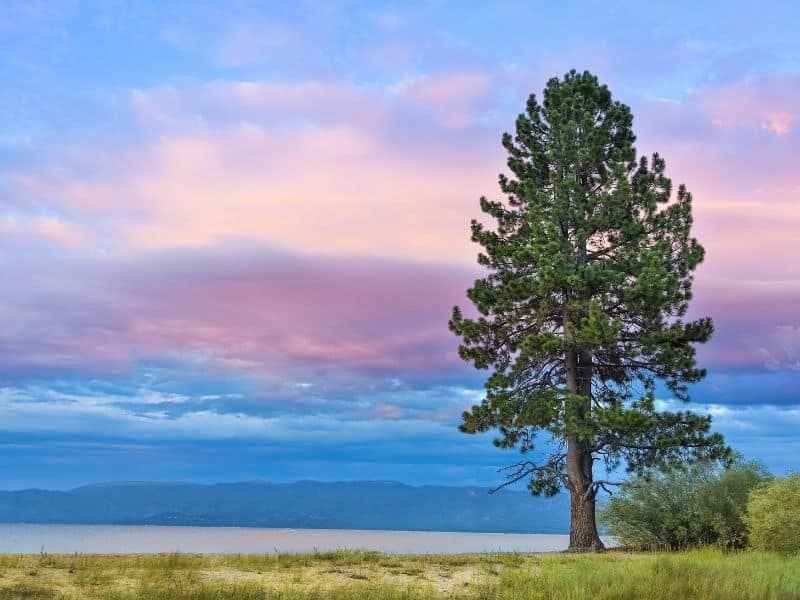 Adjacent to Camp Richardson on the South Shore of Lake Tahoe, this is a year-round location that you can visit.
Sadly, dogs are not allowed on this Tahoe beach, but you can do everything else here from picnicking, to paddle boarding, to kayaking, to boating.
You can also rent a bike and ride down to the beach along the Pope/Baldwin Bike Path. This is a nice ride and well worth the extra effort!
If you need a ride to the beach, public transit stops nearby as well, making this beach really easy to get to if you're visiting Tahoe without a car.
There is a parking fee, but there are a lot of really nice areas to sit in the shade that have picnic tables.
This beach is also really close to the Beacon Bar & Grill, so you can grab some drinks or some food to go and come back to the beach for fun.
If you come during the summer months, there is often live music right on the beach at this location, so bring a towel and some sunscreen and enjoy the show!
You can also hike from the Watertrail Trailhead which has an outlet nearby.
Hidden Beach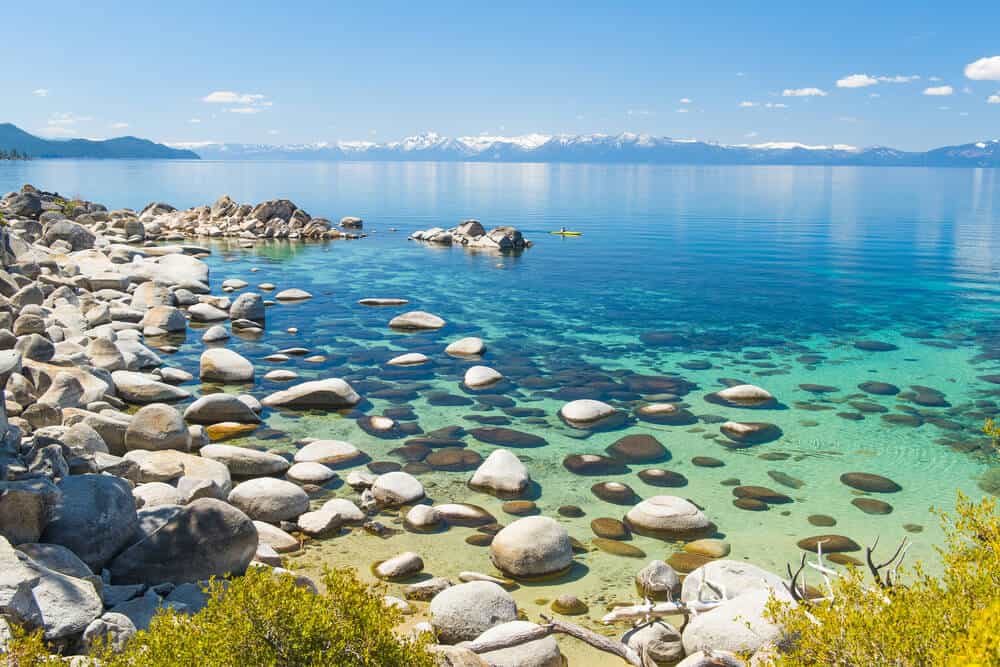 This is in North Lake Tahoe, and it can be hard to locate — I guess that's why it's called Hidden Beach! You have to park along Highway 28 near Incline Village to see it by leaning over the guard rail.
This is a small beach that is often quite empty, and it is usually only accessed by Tahoe locals who know the trails to get down to the beach.
The best parking is near Lakeshore Blvd, and you will want to make sure that you are close to Incline Village, or you will have an added hike down to the beach.
Find parking early in the day and follow the local or two who are there with you down to the beach!
This is a great place for some peace and quiet, some sun and some snorkeling.
Vikingsholm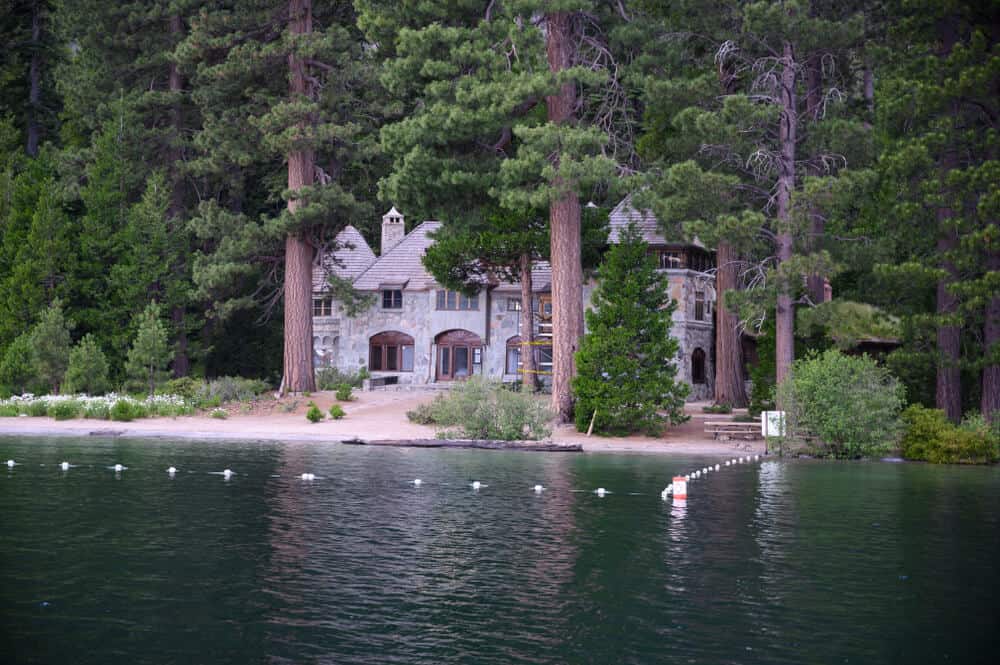 Located inside of Emerald Bay State Park, this beach is another of the locations that are usually only accessed by locals.
The best approach is off Highway 89, and you can park in the small parking lot there to go down to the beach.
The walk down to the beach near Vikingsholm is a mile, so be prepared to hike in. You cannot swim here, but you can kayak and paddleboard. There are lots of boats here in the summer as well.
This is a great place to see Emerald Bay and Fannette Island and to bask in the sun and read a book.
You can also plan a jaunt up to the Scandinavian castle that the beach gets its name from and take a tour!
They offer tours at the castle during the summer months, and the building is a must-see item for many visitors to the beach.
Commons Beach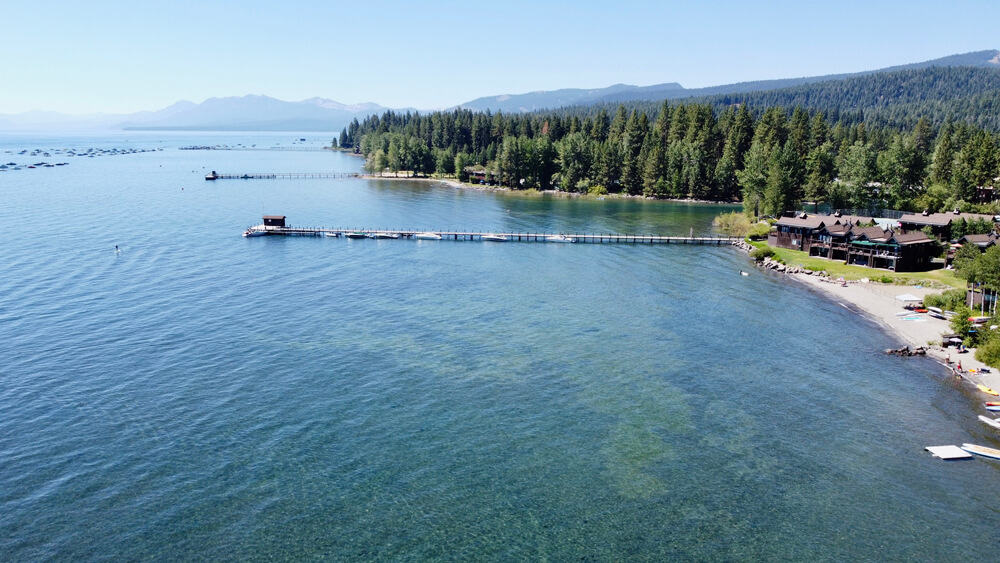 This is a beach on the West Shore. Located near Tahoe City, this is an unusual beach that offers up more grassy areas than sand.
There is also access to the Truckee River Inlet here, which can be a lot of fun for kids to splash and play in. There is also a playground here, which can be nice for little kids.
The sun and the views are really nice here, and there is free live music in the summer right on the beach.
Also available during the nice part of the year are food vendors who come down to hang out near the beach and feed the visitors!
If you don't want to spend the whole day at the beach, this is a great place to visit since you are right next to Tahoe City with its restaurants, bars, and shopping.
Kings Beach State Recreation Area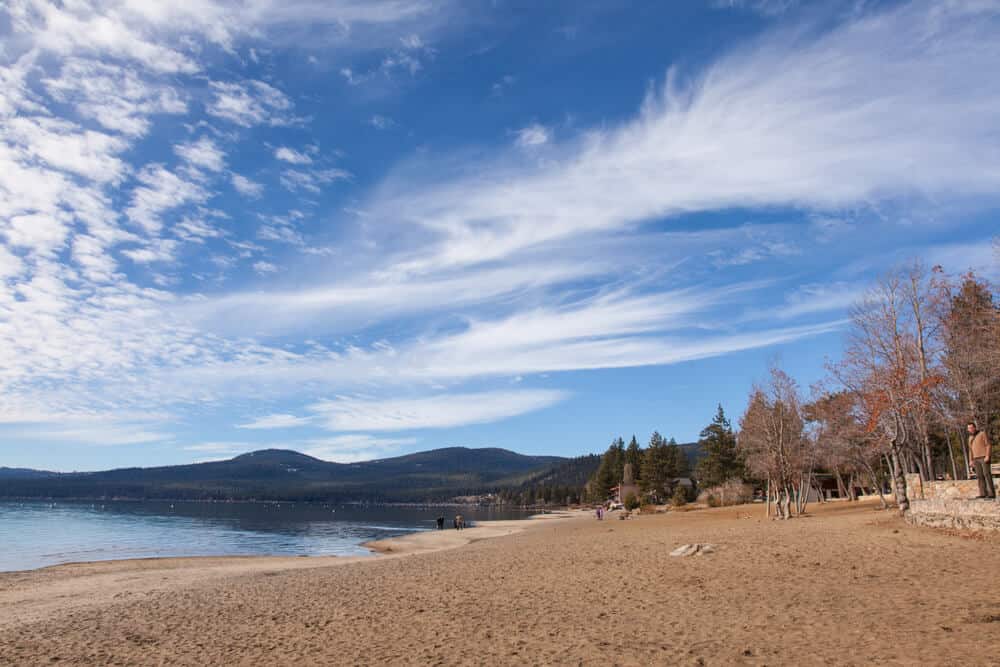 Located on the North Shore near the town of Kings Beach, this is a nice beach in Tahoe at any time of the year, but it's especially fun in summer!
You can parasail here, go jet skiing, and go paddle-boarding. This is also a really nice beach for sunbathing during the summer months.
You are close to town here, so you can drop by Kings Beach itself for supplies or snacks or leave the beach and run into town for a meal before heading back for more fun.
This is a great area for parking as well, and you will not have to plan ahead to be there super early in the day to secure parking on most days.
However, you will have to pay for parking, so plan ahead for this part of your day. There is a boat launch as well if you have brought your boat on your trip.
***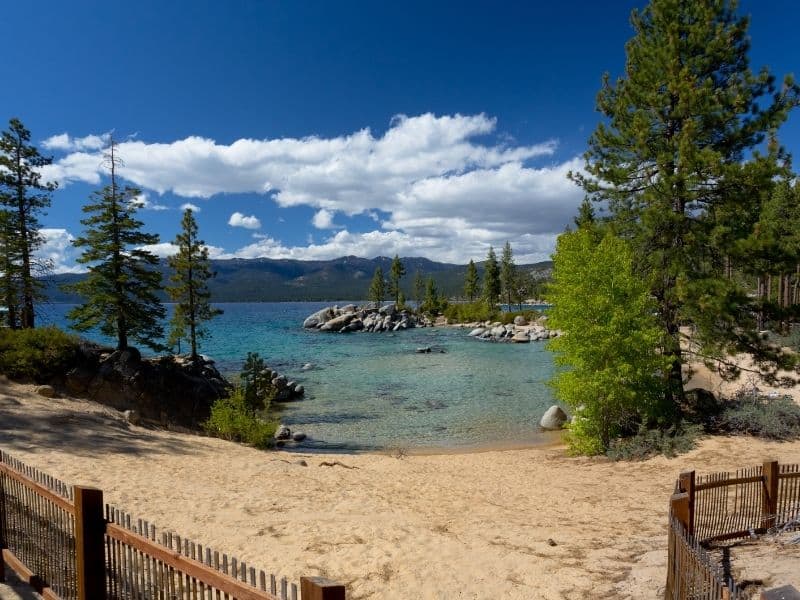 Lake Tahoe is one of the nicest locations in California that you can visit if you want to experience beautiful alpine lake beaches and fun local culture. There is no other place that offers up the same blend of sporting options from kayaking, to snow sports in the winter, to boating!
Lake Tahoe and its many towns and beaches are some of the most exciting and beautiful places to plan a vacation. Even if you decide to rent a house boat, or to camp at a campground, there are tons of available beaches nearby that you can see on day trips.
Lake Tahoe is one of my favorite places to visit, and I am always sad if I don't get the chance to spend at least a week or so here each year.
There is no wrong way to plan a vacation to Lake Tahoe, and you will not be disappointed in any of the beaches in Tahoe on this list!
Pin This Guide to Tahoe Beaches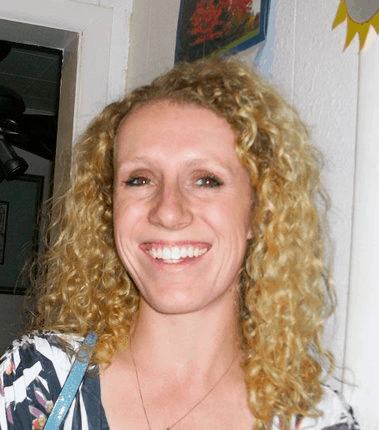 Brianna York has spent many years of her life traveling for work and pleasure, and grew up in Oregon in the gorgeous Pacific Northwest. She embraces each new place she visits and makes the most of seeing all the best that each city or place has to offer.  She is a published author and competes with her Arabian Show horses all over the United States. She embraces each day like a new adventure and is always ready for new experiences!