Yosemite is arguably California's most iconic National Park!
With its towering granite walls, crystal clear lakes, and tremendous giant sequoias, it's no wonder Yosemite was chosen as America's first protected wilderness area under the 1864 Yosemite Valley Grant Act.
The park stretches more than 1,100 square miles and is larger than the state of Rhode Island.
With a park this large, you'll want to plan ahead and know which spots you can't miss. Here's our list of the top 16 things to do in Yosemite National Park!
Where to Stay in Yosemite
Note: This post contains affiliate links, which earn me a small commission at no extra cost to you if you make a purchase using one of these links. Thank you for supporting this free content!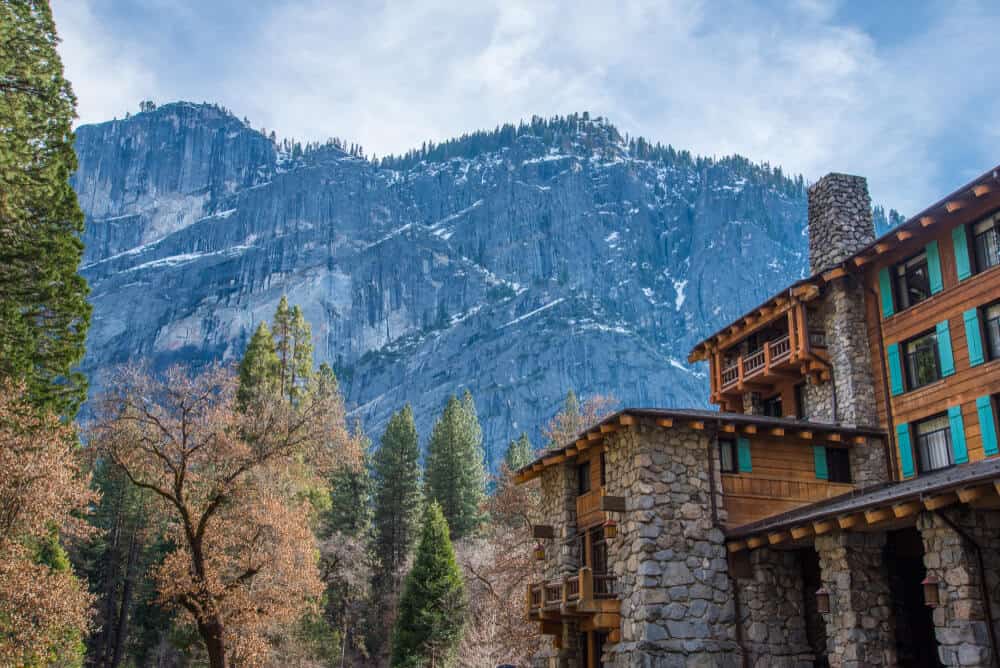 While in an ideal world, we'd all stay in the Ahwahnee Hotel, let's be real: you have to plan that like, a year in advance for peak times (and 6 months out for off-peak).
Plus it costs like, $800 a night at a minimum even in off-peak times, which is pretty cost-prohibitive for most people.
I've picked two affordably-priced options: one more ideal for people heading in from Southern California and another better suited for people heading in from Northern California.
Yosemite has five entrances and they can be up to 2.5 hours between them so you will want to be careful when you book!
Coming from the South (LA/San Diego): Tenaya Lodge
Located right by the South Entrance, the Tenaya Lodge in Fish Camp is a great place to stay — especially if you're coming from Southern California, as it couldn't be more convenient.
Tenaya Lodge has all the amenities you want in a comfortable mountain lodge: A/C rooms, an on-site restaurant (a luxury near national parks!), a fitness center (if those Yosemite hikes weren't enough), and a spa if you want to soothe tired and achy muscles.
The rooms are clean and spacious. They also offer private deluxe cabins with small kitchenettes if you'd like to cook your own meals and have more space to yourself — or they're a great choice for families.
Check availability, prices, and photos of Tenaya Lodge here!
Coming from the North (San Francisco Bay Area): The Groveland Hotel
Located by the West Entrance — perfect for those coming from the San Francisco Bay Area — The Groveland Hotel is a great home base during your trip to Yosemite, just 24 miles away.
While not in the park per se, it's a short drive, and Groveland is a really cute California Gold Country town!
The Groveland Hotel's rooms all offer A/C, seating areas, and Keurig coffee-makers (so you can pack that morning coffee bright and early!).
Some suites have spa baths or even fireplaces — perfect for a cozy, romantic Yosemite getaway!
Best of all, the hotel is pet-friendly and it also has its own electric vehicle charging station in case you are bringing an electric car to Yosemite!
Check availability, reviews, and photos of the Groveland hotel here!
Best Things to Do in Yosemite National Park
Take in the sights at Tunnel View.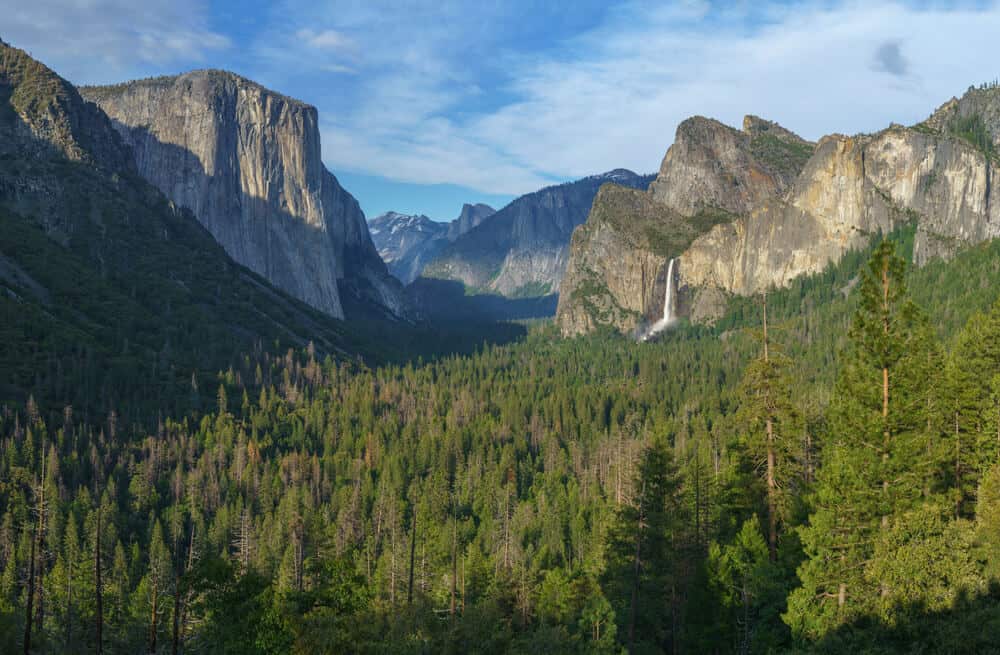 Yosemite Valley was carved out by glaciers during the ice age and is now 7 miles long, 1 mile wide, and over 3,000 feet deep!
In a valley that grand, it can be difficult to take in the entire thing. Drive up to Tunnel View for the perfect panorama of the entire valley — one of the best views in Yosemite.
From the viewing area, Bridal Falls, El Capitan, and the world-famous Half Dome will all be in view. This is a great spot to take a group picture to commemorate your trip.
Float down the Merced River.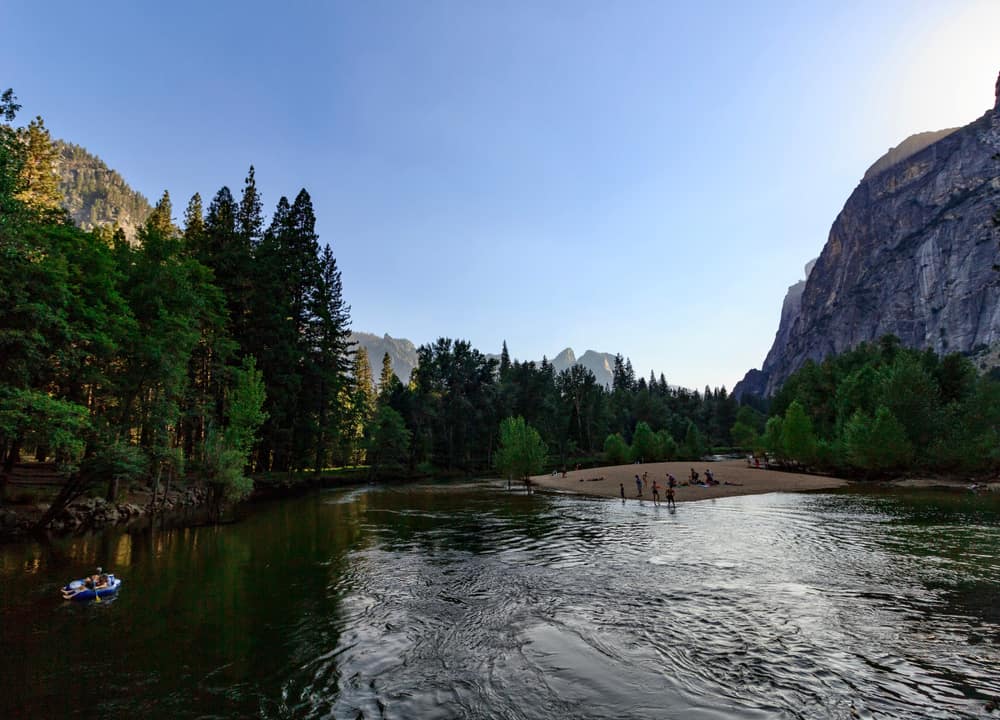 The scenic Merced River peacefully flows through Yosemite's picturesque valley. The best time to take a trip down the river is in the late summer.
Grab your sunscreen and an inflatable floatie and enjoy a leisurely afternoon floating down the river, looking up in wonder at the granite walls towering 3000ft above you.
Rafts are available for rent in Curry Village, but the park also allows you to bring your own inflatables too.
Enter the river at Stoneman Bridge and float down to Sentinel Beach, and then use the free Yosemite Valley Shuttle to return to your car after your trip!
Wander amongst the giants.
Yosemite is home to three groves of giant sequoia trees- the most massive tree on earth!
The largest, most impressive grove is the Mariposa Grove of Giant Sequoias located in the southernmost section of the park.
You can take an easy, quarter-mile stroll amongst the giants on the newly-constructed boardwalk or put on your hiking boots and conquer the 7-mile trek to see the entire grove.
The boardwalk is wheelchair and stroller accessible, with public restrooms at the trailhead.
Enjoy a drink at the Ahwahnee Hotel.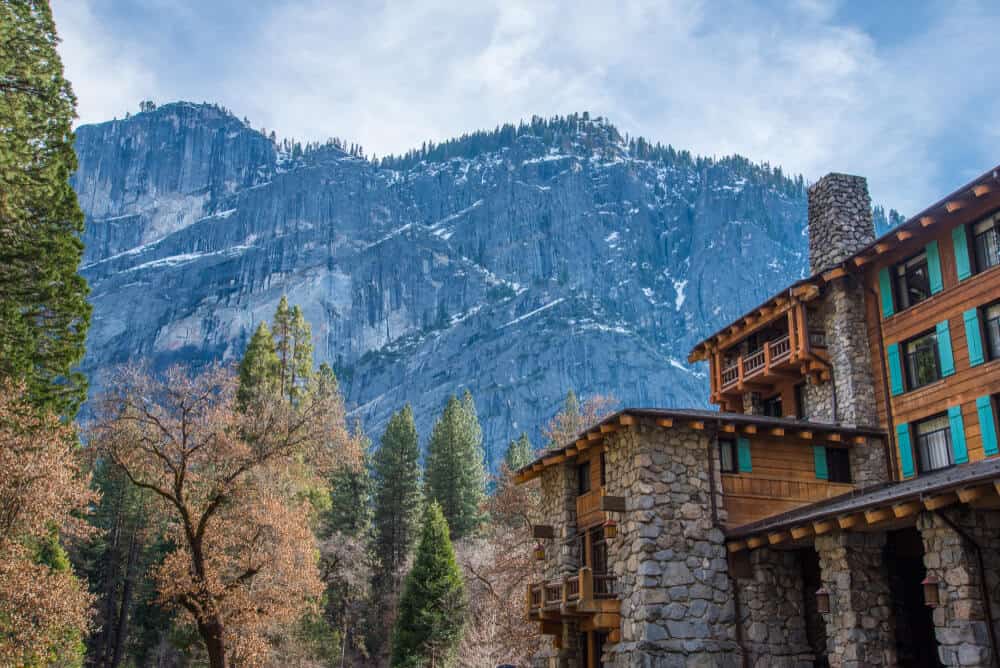 Built in 1927, the historic Ahwahnee Hotel is known for its rustic architecture and grand dining room.
The hotel sits on the valley floor and offers impressive views of Half Dome, Yosemite Falls and the surrounding valley. With its beautiful views, this is a great spot to grab a drink after a long day of exploring!
The Ahwahnee Bar offers indoor and outdoor seating. Enjoy a coffee with a view of the valley's impressive granite walls.
Browse the Ansel Adams Gallery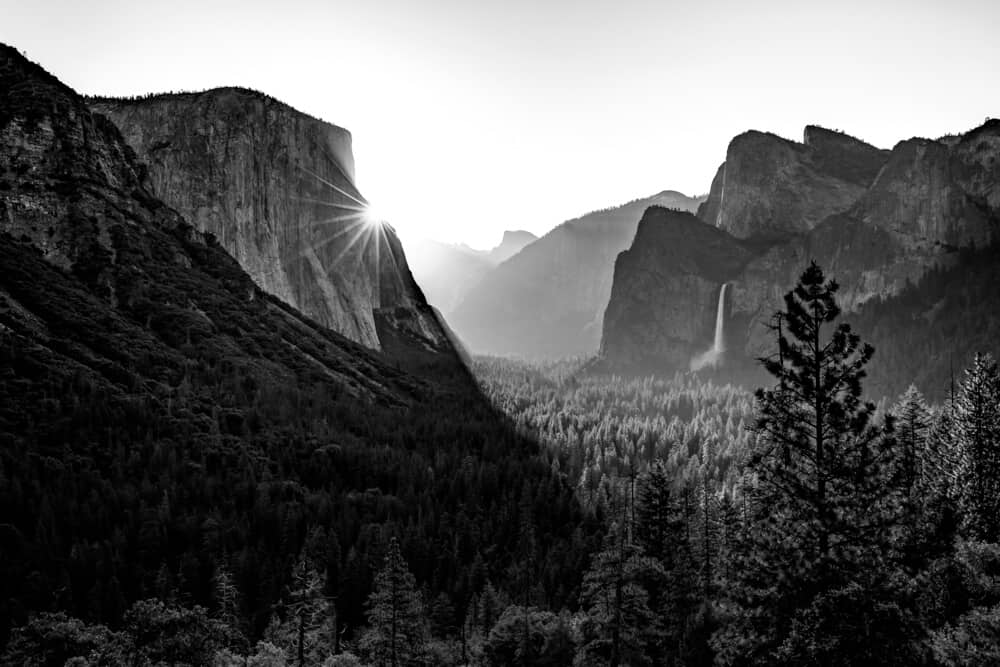 Ansel Adams was a landscape photographer who was made famous for his black-and-white photos of Yosemite National Park.
The Adams' family has owned and operated the Ansel Adams Gallery in Yosemite Valley since 1902. Take a step back in history to the early 20th century as you browse the gallery and admire the original black-and-white photographs of Yosemite's most iconic sites.
Visit the gift shop for prints of your favorites to take home and display to be reminded of the beauty and grandeur that Yosemite offers to its visitors — it makes a fantastic souvenir!
Hike to the top of a waterfall.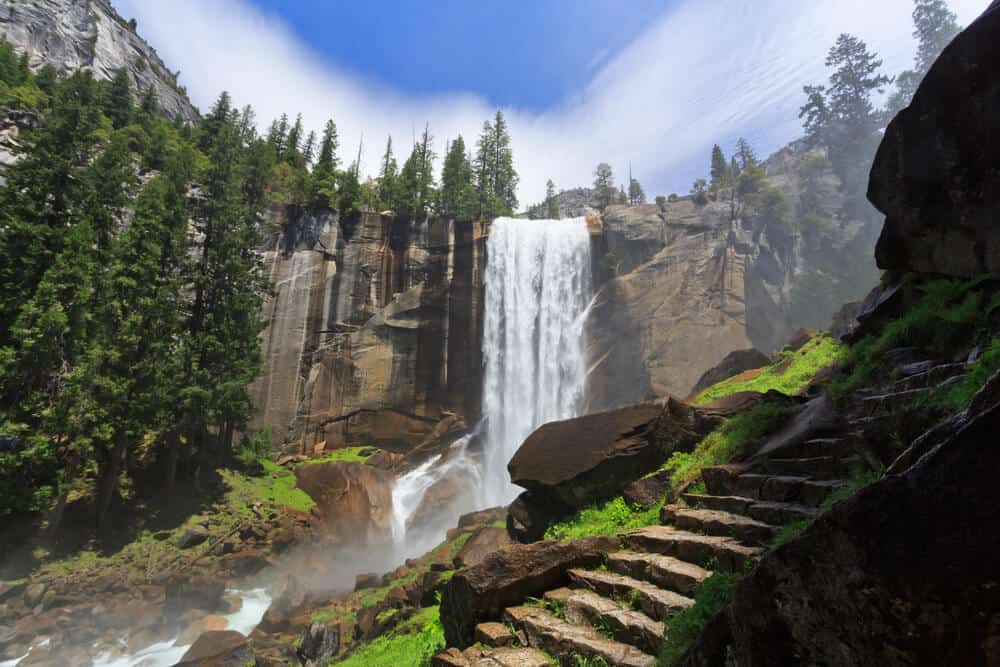 Vernal and Nevada Falls is an impressive two-tier waterfall that flows into the valley and runs year-round. Take a hike to the top of it by following the Mist Trail.
It's a 2 ½ mile round trip hike to the top of the picturesque Vernal Falls. Vernal flows down a wide slab of granite and its water often produces a rainbow as it tumbles.
Continuing up the Mist Trail will take you to the top of the mighty Nevada Falls. From the top, you'll see the Upper Merced River plummet 600 feet down the falls!
Reaching the top of Nevada Falls is a 6-mile roundtrip hike. This is a more difficult trail, and we recommend you bring plenty of water with you on this hike.
Take a dip in Tenaya Lake.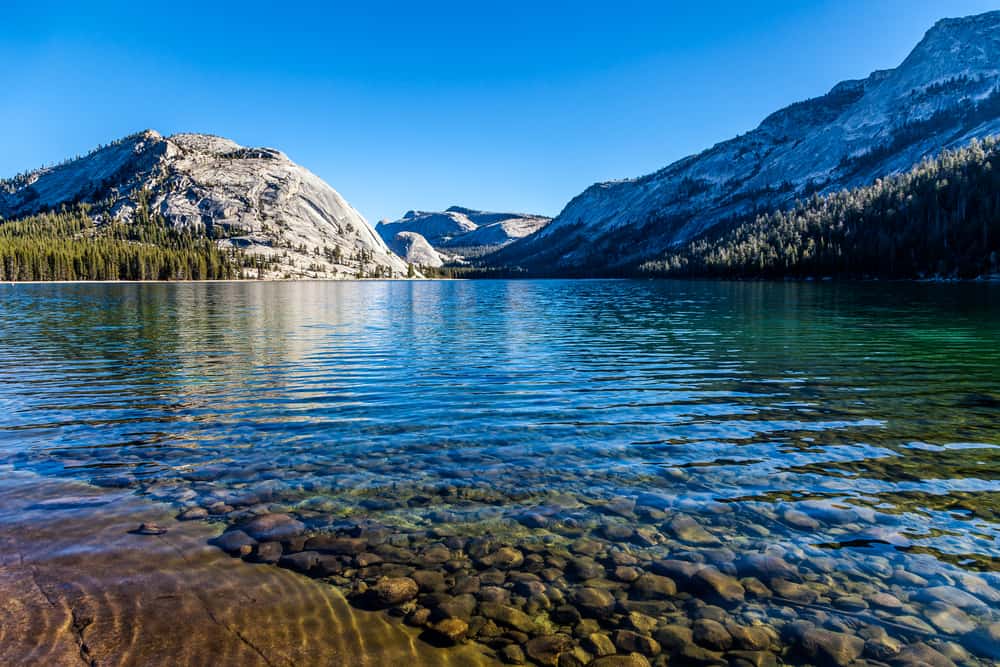 Yosemite is home to over 300 lakes, but few are as beautiful and as easily accessible as Tenaya Lake.
An hour's drive from Yosemite Valley, this large alpine lake offers long, sandy beaches and incredible views.
Picnic tables and bathrooms are available for use. Grab some snacks, put on your swimsuit, and enjoy an afternoon wading in Tenaya Lake's crystal-clear waters!
Take a sip from a carbonated spring.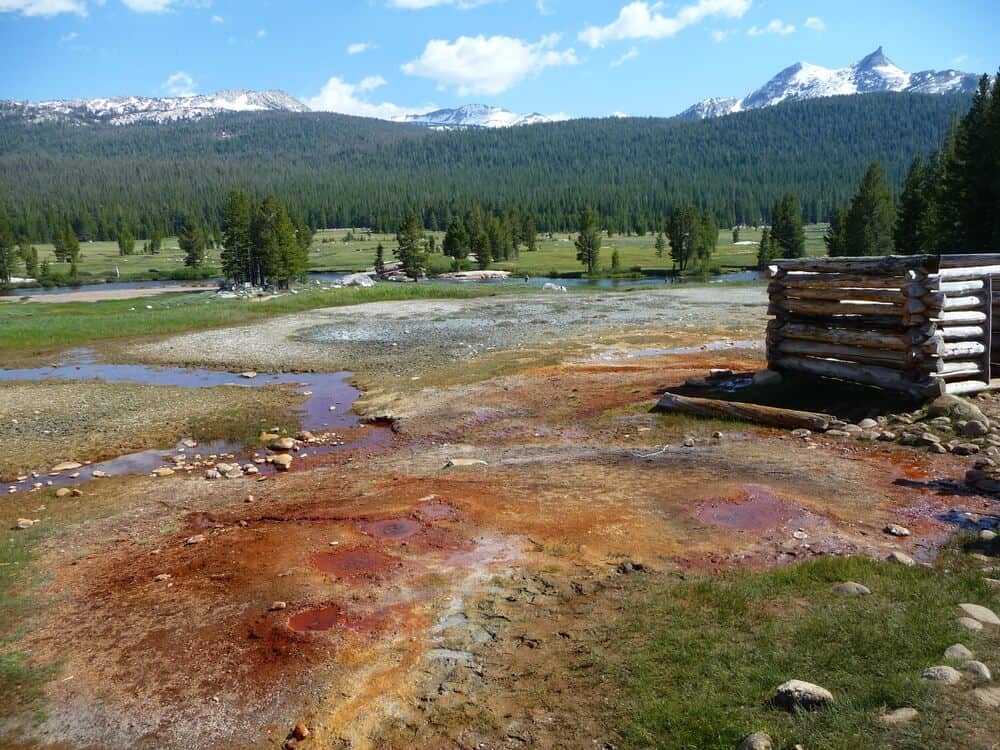 Yosemite has no shortage of fresh spring water, but Soda Springs in Tuolumne Meadows is the most unique fresh-water spring by far!
At Soda Springs, carbonated, cold water bubbles out of the ground. Scientists aren't certain what causes the water to be carbonated; it remains a mystery!
The hike out to Soda Springs is 1.5 miles from the trailhead in Tuolumne Meadows. Look out for mule deer as you stroll through the meadow!
Hike up a granite dome.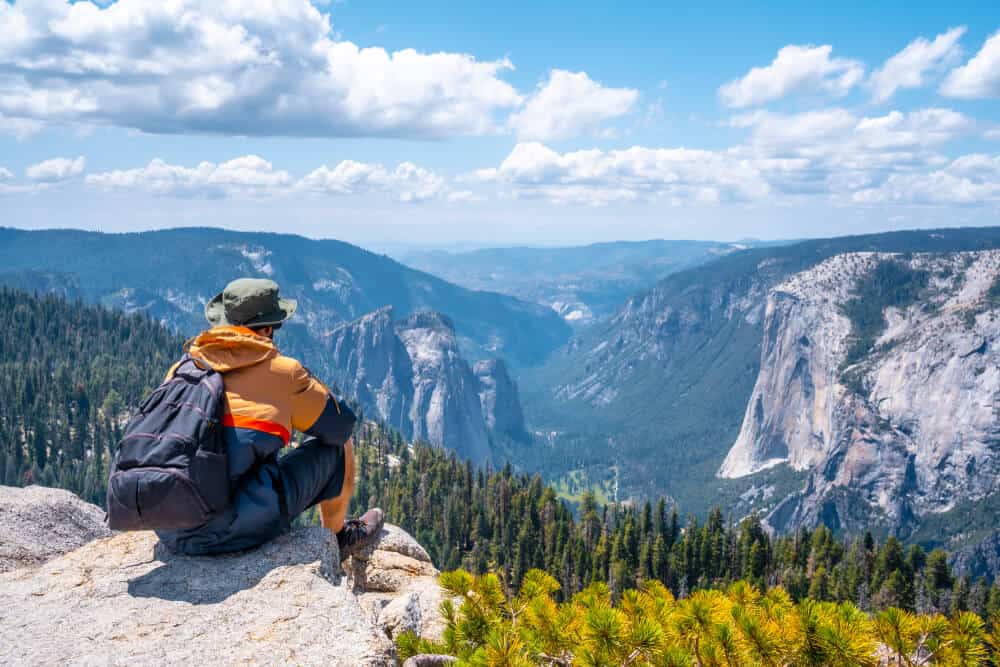 Yosemite is littered with massive granite domes, which form as the rock flakes off and erodes.
While Half Dome is the most famous, it's a very challenging hike which requires permits. There are other more accessible domes in the park to hike!
Sentinel Dome is one of many incredible granite domes in the park. Hiking to the top of Sentinel Dome will reward you with unbelievable 360º views.
You can reach the Sentinel Dome trailhead from Glacier Point Road, about an hour's drive from Yosemite Valley.
The hike is 2.2 miles round trip, making it a nice easy hike in Yosemite, and can be made longer by adding a stop at Taft Point.
Overlook the valley at Glacier Point.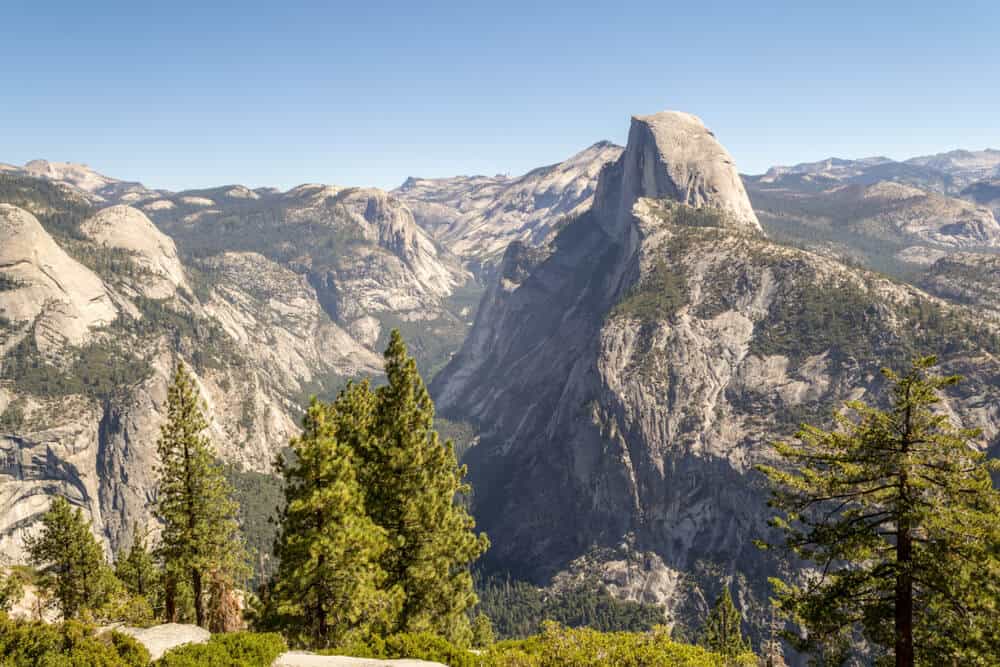 Glacier Point rests 3000 feet above Yosemite Valley and offers impressive views of Half Dome, Vernal and Nevada Falls, and the surrounding valley. This must-see viewpoint is one you're sure to remember!
You can reach the Glacier Point overlook by following the winding Glacier Point Road until the road ends at the parking lot. The view from here is best appreciated in morning and afternoon light.
Have a picnic by the river.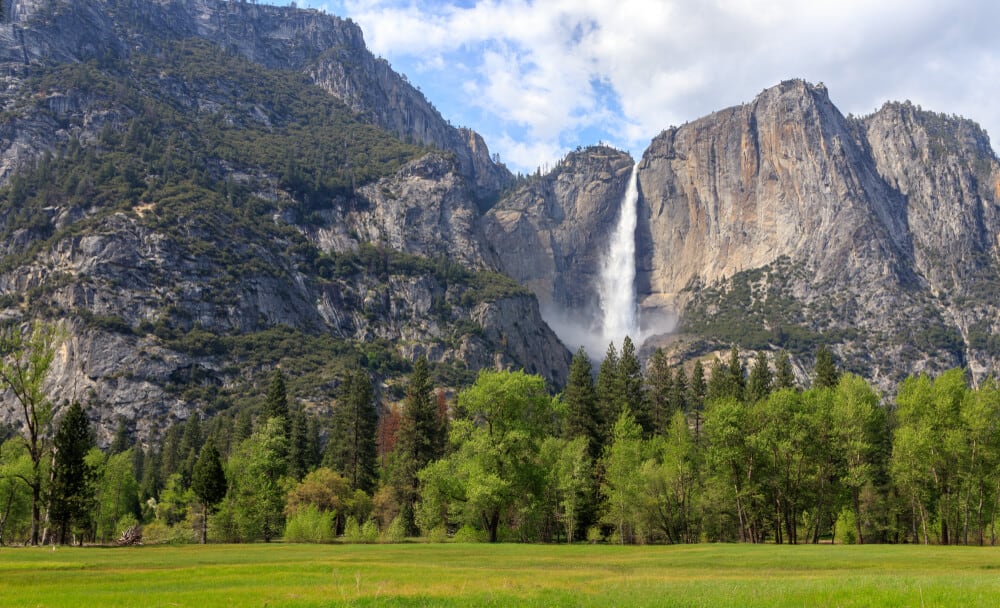 Pack up your cooler and head to Cathedral Beach to enjoy a delightful picnic with the 3,000 foot tall El Capitan as your backdrop!
The Cathedral Beach Picnic Area has tables and bathrooms and offers a sandy beach along the Merced River.
The water slowly meanders around the bend here, making it the perfect spot to eat lunch and relax in the water.
Look up (and up, and up) at El Capitan.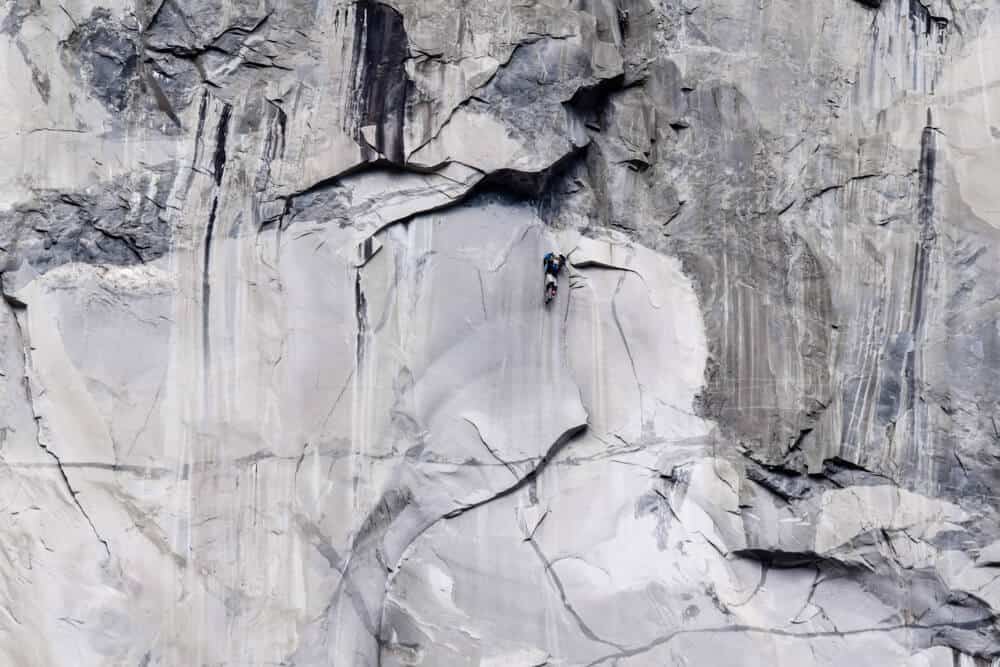 El Capitan has long been a favorite among the world's most famous rock climbers.
This massive monolith was famously free-climbed by world-renowned rock climber Alex Honnold. The climb was documented in the Academy Award-winning film Free Solo.
You'll want to see this 3000-foot-tall cliff face up-close in order to truly gauge its colossal size!
Park at El Capitan Meadow for a great view of El Capitan. Keep your eye out for rock climbers on the wall in the spring and fall.
Walk to the base of Bridalveil Falls.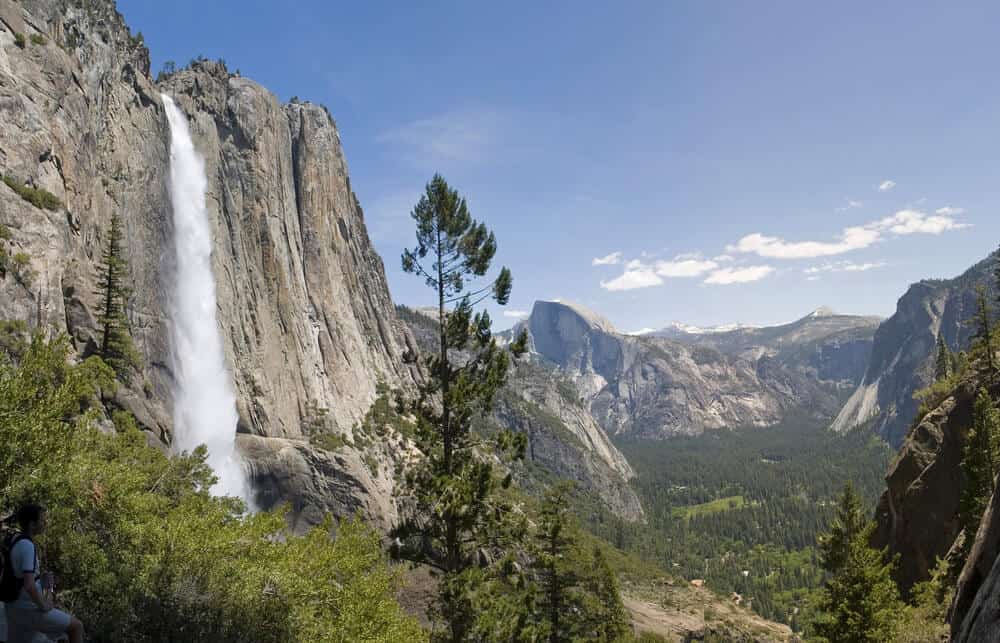 Bridalveil Falls is a charming waterfall that elegantly plunges over 600 feet into Yosemite Valley and is often the first waterfall visible as you enter Yosemite Valley!
An easy half-mile trail will take you to the base of the falls where (in the spring) you'll be sprayed by the mist of the falls.
This short, paved path is a great hike for all ages and offers minimal effort for maximum reward.
Hike to alpine lakes.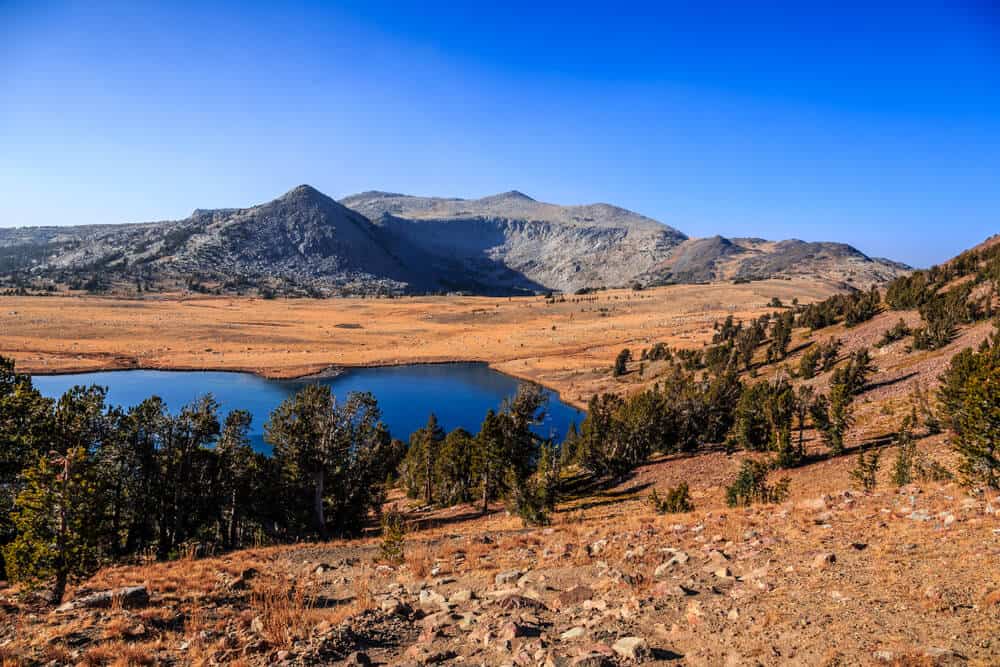 Gaylor Lakes sits on the far north east side of Yosemite and is the perfect first hike for those entering the park from the east on Tioga Road.
The lakes offer spectacular views of Yosemite's high country as snow-capped mountains fill the horizon!
The hike out to Gaylor Lakes is 2 miles roundtrip and is the first trailhead after the pay station when entering from the east.
Visit a seasonal lake.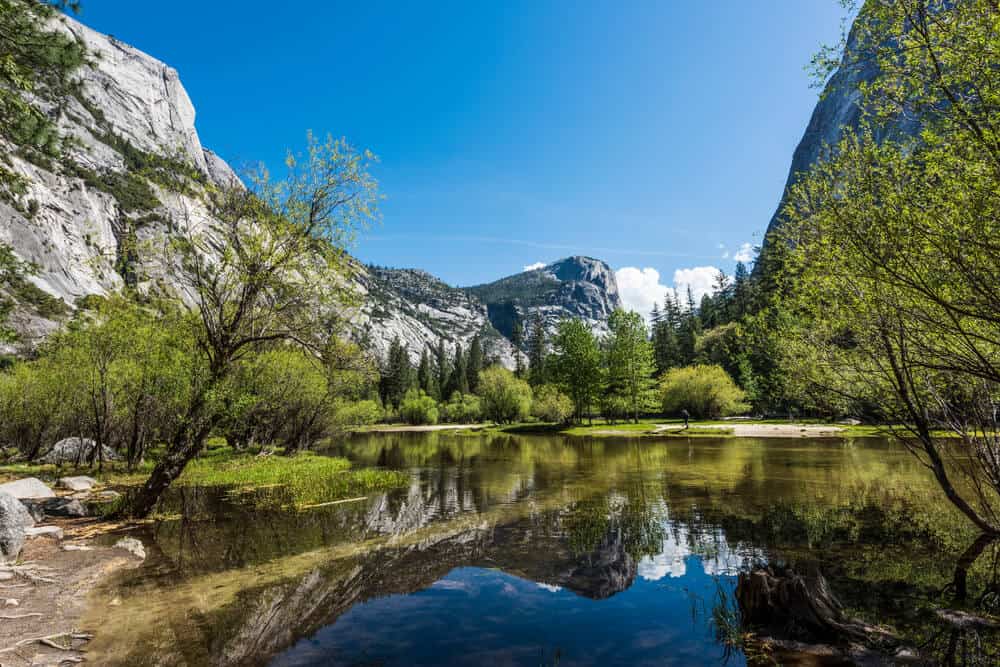 Mirror Lake is named for its calm water and mirror-like reflection and sits on the valley floor under Half Dome.
In the spring when the lake is full, there is a great photo opportunity to capture the reflection of the granite domes in the water.
As a seasonal lake, it often runs dry by early summer. The walk to Mirror Lake is 2 miles roundtrip, relatively flat, and is rated as easy.
Tackle the Half Dome cables.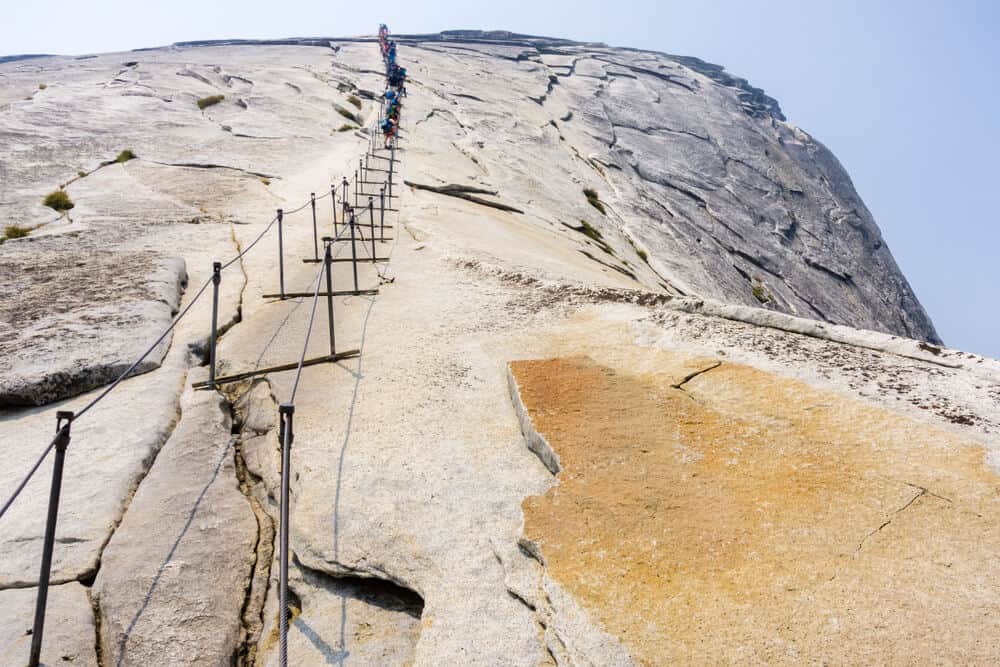 Shaved off by a glacier during the Ice Age, Half Dome is the most famous dome in Yosemite!
This steep granite dome sits prominently over Yosemite Valley and, with a bit of planning and preparation, it can be climbed.
Yosemite National Park has cables installed to allow visitors to reach the summit without climbing gear. Use of the Half Dome cables requires a permit, which can be reserved in advance.
This is a competitive permit process and should be planned out months before your trip. For more information, visit the National Park's Half Dome webpage.
What to Pack for Yosemite Hikes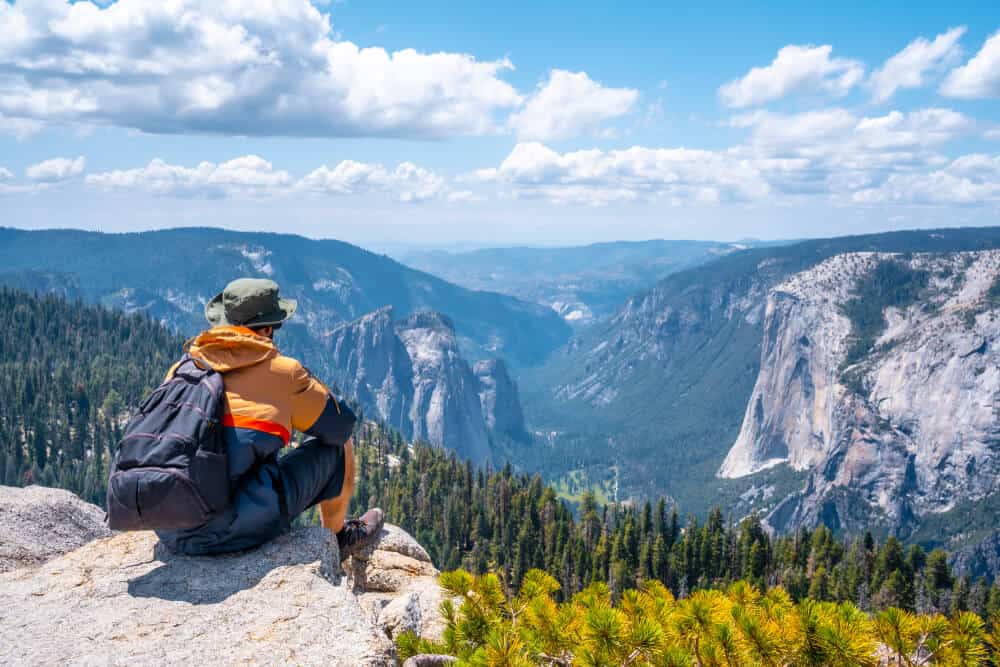 First aid kit: You'll want to pack a small kit with the things you need — but in my opinion, it's better to buy a pre-made first aid kit as it'll likely cover things you might forget.
I recommend this HART Weekend First Aid kit, which has extras in case you use something, so you won't have to replace it as often.READ NEXTOne Day in Yosemite National Park: Itinerary for a Quick Day Trip
Headlamp (and extra batteries): In case you're planning any sunset hikes where you may come back after dark, you'll want a headlamp to keep your hands free as you hike in the dark.
Trust me, you don't want to have to rely on the flashlight funciton of your phone – I've learned this the hard way before!. This Petzl headlamp is highly-rated and affordable.
Water Filter Bottle: There are a wide variety of water filtration systems and treatments, but for a day hike, I recommend a water bottle with a filtration system set up inside of it. I recommend the GRAYL Geopress.
It's compact and easy to use, and you can refill from anywhere: streams, waterfalls, lakes, you name it, without getting sick. Otherwise, you can only refill at designated drinking water stations in the park.
Rain gear: A rain jacket is great to have as a just-in-case: nothing ruins a hike quite like a sudden shower without a rain jacket.
I recommend Marmot brand — this men's jacket is great and stylish, and I have the women's Marmot Precip (and have had it for years) and love it.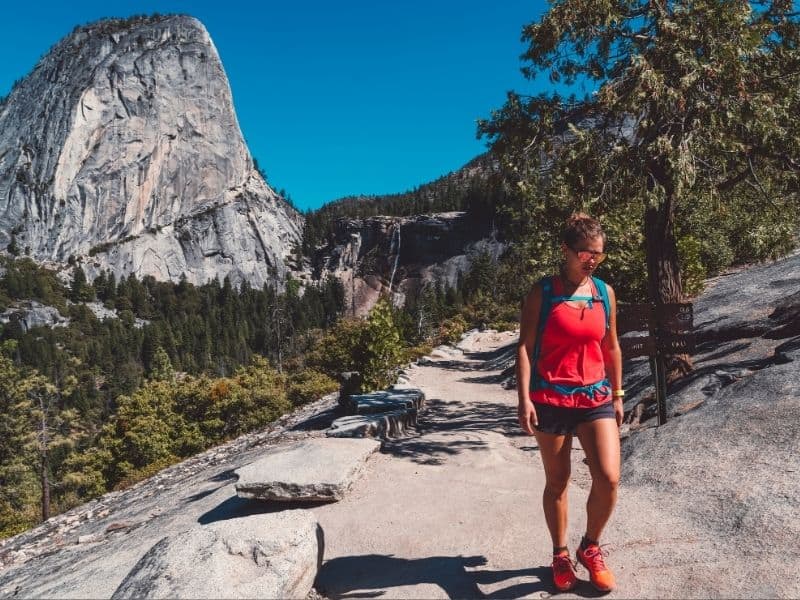 Day pack: No need for a giant backpack for these easy Yosemite hikes! Just bring a comfortable day pack. Look for something with a mesh back panel, so it's less hot and sweaty against your back.
I suggest picking something with waist straps and a shoulder strap to help distribute weight if you're someone who gets back pain easily *raises 80-year-old hand*. I love the Osprey day pack – it's cheap but durable, so comfortable, and has all the features you need for a day hike.
Sunscreen: Wear this every day of your trip — even on a cloudy day!
Sunglasses: Great for unshaded trails and sunny days!
Hiking boots: You'll want good, possibly waterproof hiking shoes for these Yosemite hikes!
I own and love my pair of Ahnu Sugarpine hiking boots and recommend it for other women – especially if you have wide feet like I do! For men, I've heard good things about the KEEN Durand boot, but haven't used them personally (for obvious reasons).
If you're only doing the really easy no elevation hikes, you can maybe get away with doing these Yosemite hikes in tennis shoes, but I have really bad ankles and am always grateful for the extra ankle support. Even a pair of work boots like Timberlands are a lot better than sneakers.
Camera: I use and love my Sony A60! It's mirrorless, so it's lightweight and perfect for a high-quality camera that won't weigh your pack down.
Sunhat: To keep sun off your face – I recommend a packable hat like this one which has a strap so it won't blow off in guests of wind and you can easily wear it on your back when you don't feel like wearing it on your head.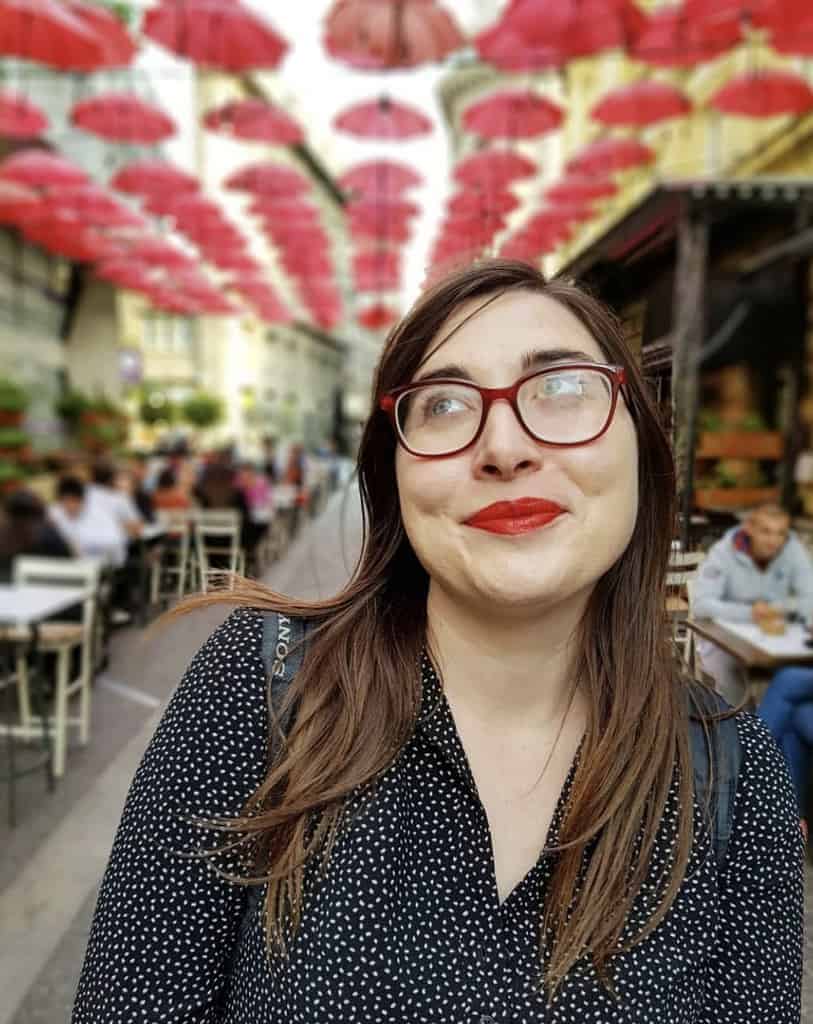 Allison Green is a travel blogger, writer, and podcaster who grew up in the Bay Area of California. She has spent time living in New York, Prague, and Sofia, but has returned to live in the East Bay. She has traveled to 60 countries before the age of 30 while running several digital travel publications. Her writing and podcast have been featured in Forbes, CBC Canada, National Geographic, the Huffington Post, and CNN Arabic, amongst others. She's obsessed with bouldering, houseplants, other people's pets, and anywhere she can see the ocean.