Are you trying to plan the perfect Yosemite escape, but a little lost at sea when it comes to picking where to stay in Yosemite?
Unlike other national parks in the US, Yosemite actually has an abundance of excellent rental homes inside the national park, and all types of accommodations: from stand-alone cabins to studio spaces with the owners on-site to condominiums in the park, there's a perfect Yosemite vacation rental or Airbnb for you.
Since the park is extremely large, this is a huge benefit as it means you spend less time traveling between the park and your rental in Yosemite.
As Yosemite is one of the most popular national parks in the country, the gate can get really backed up — but if you stay in the park, you'll never have to worry about that when you stay in a Yosemite National Park vacation rental inside the gates!
Also, another benefit of picking an vacation rental in Yosemite National Park as opposed to on the periphery of the park is that it includes park reservations… which can be hard to come by as the park is a popular escape!
Note: All property photo image credits belong to the owners
Yosemite FAQs
Note: This post contains affiliate links, which earn me a small commission at no extra cost to you if you make a purchase using one of these links. Thank you for supporting this free content!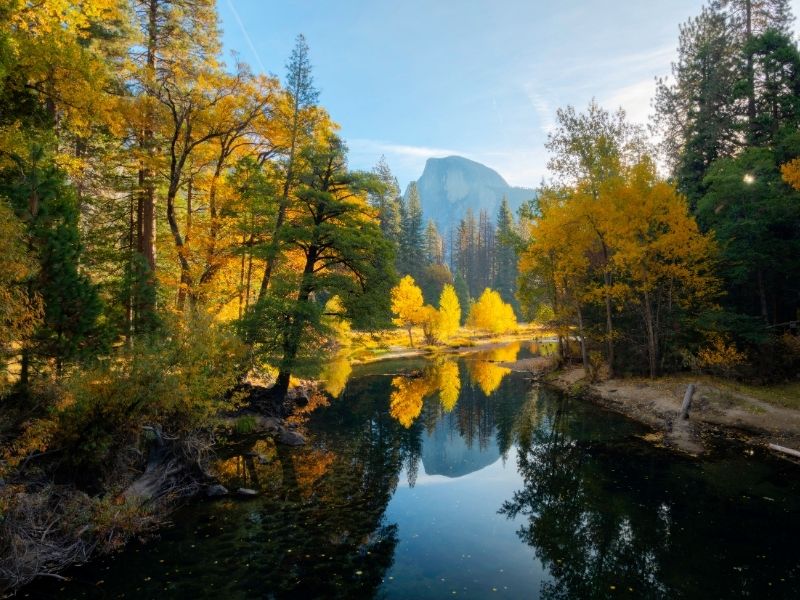 The Best Yosemite Airbnbs & Vacation Rentals
River View A-Frame Cabin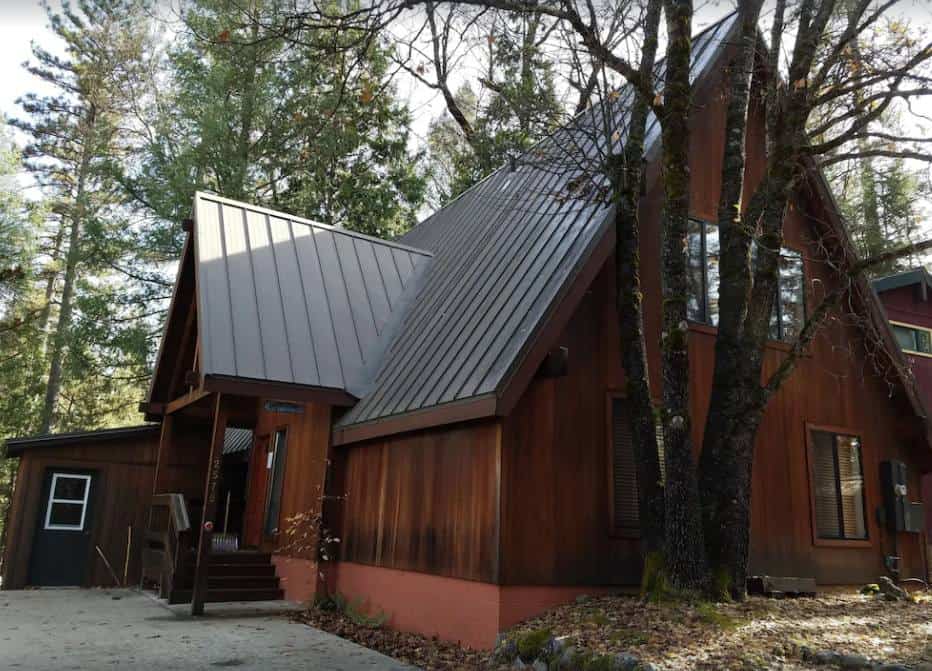 The Yosemite Cabin is a beautiful resort that is both luxurious and in tune with nature.
Stepping into the living area, you'll find yourself mesmerized by the simple elegance of the furniture and take in the beautiful forest through the large windows – on top of that, there's also a cozy and heated 'conversation area' connected to this room.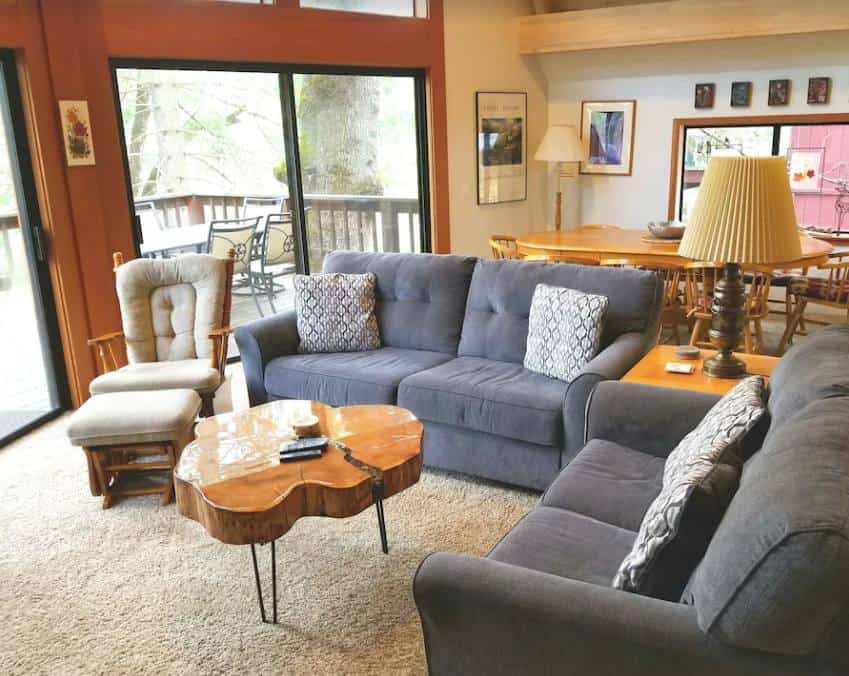 If the view from the windows wasn't impressive enough, you can step out on the patio, where guests can gather and soak in the beautiful sights – thanks to its elevation, the cabin can offer you views that very few other rentals in the area could.
The open plan living and dining area include gorgeous floor-to-ceiling glass and a wood stove. The home features three bedrooms and two bathrooms, including a master suite, ideal for families and groups of friends. Extra sleeping is available in the loft. Nestled in the quaint village of Wawona, the Riverview cabin allows for the full Yosemite National Park experience.
What's more, you'll only be a short drive from the Yosemite Valley, home to most of Yosemite's major landmarks.
>>>
Book this Yosemite home on VRBO
<<<
Yosemite's Chateau West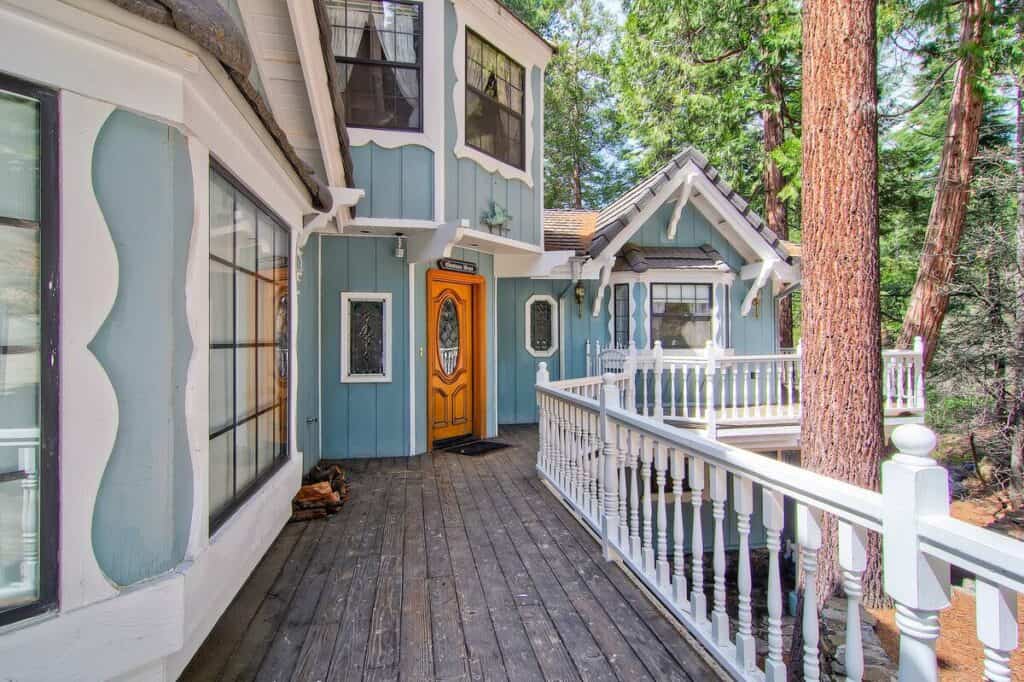 Beautiful on the inside and on the outside, this chateau is arguably the best resort for a large family or group of friends in the entire Yosemite West area, especially if booked together with Yosemite's Chateau East.
The interior is more than spacious enough for 8 people, and it comes equipped with everything you could possibly need.
The main living area is extremely bright and well-decorated, the kitchen has enough room for several people to get around and cook in, the 3 bedrooms provide plenty of privacy if you're visiting with friends or children, and there's an upstairs sitting area with a great window view.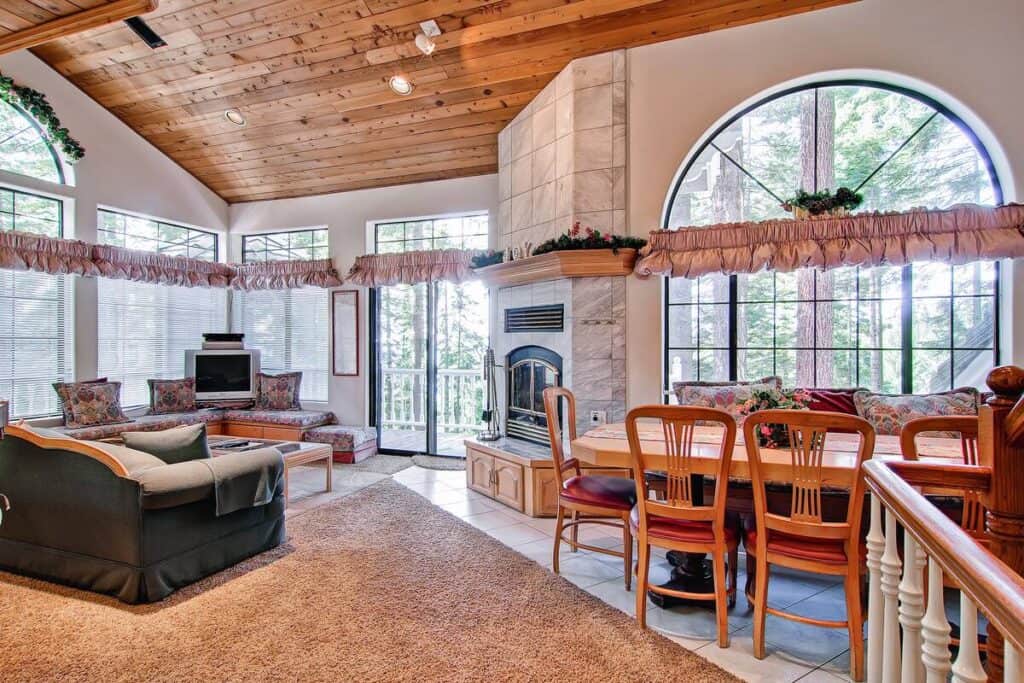 As far as the exterior goes, there's also a large deck with a sitting area, which is a great place to start and end your day.
Because of how well-furnished the house is, it's the perfect choice for guests who aren't particularly outdoorsy but can still appreciate a beautiful landscape when they see it.
Also, every location you could possibly hope to visit is only a short drive away, including Half Dome, Yosemite Falls, Village, and Valley.
>>>
Book this Yosemite Airbnb
<<<
Royal Retreat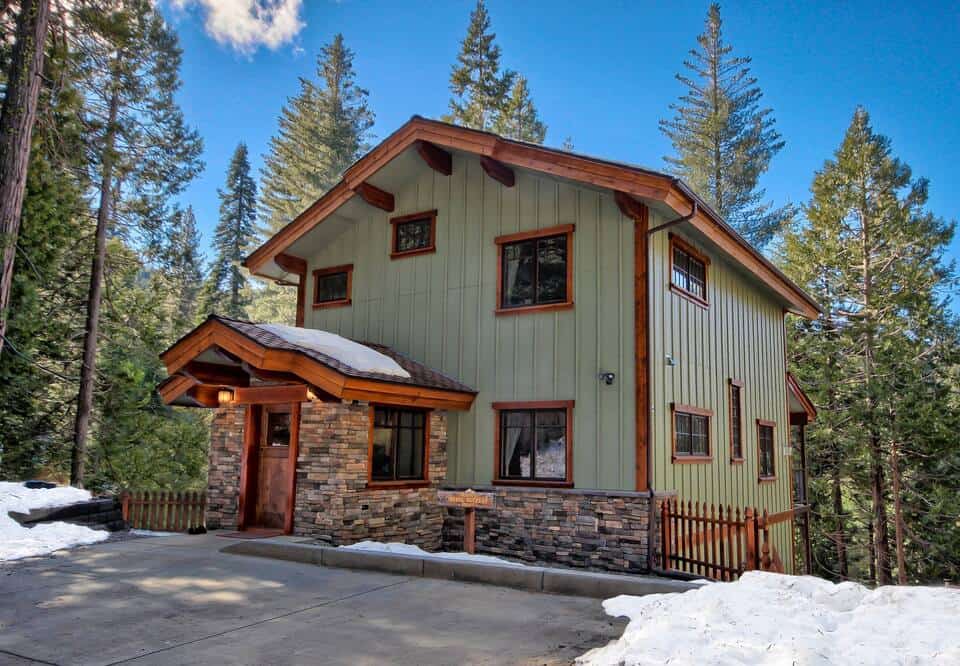 This rental is great for 2 couples looking for a spacious, homely place to stay in Yosemite.
This is one of the rare houses in the area not to be mounted on a hill (no steps to enter), so those who don't favor high altitudes can rest easy and still see some beautiful sights – you can see the forest from virtually any window in any room.
The spacious living room area makes for a great game area thanks to the ample seating, fireplace, and DVD player, and the master bedroom comes with a private bathroom with a jacuzzi tub and a regular shower.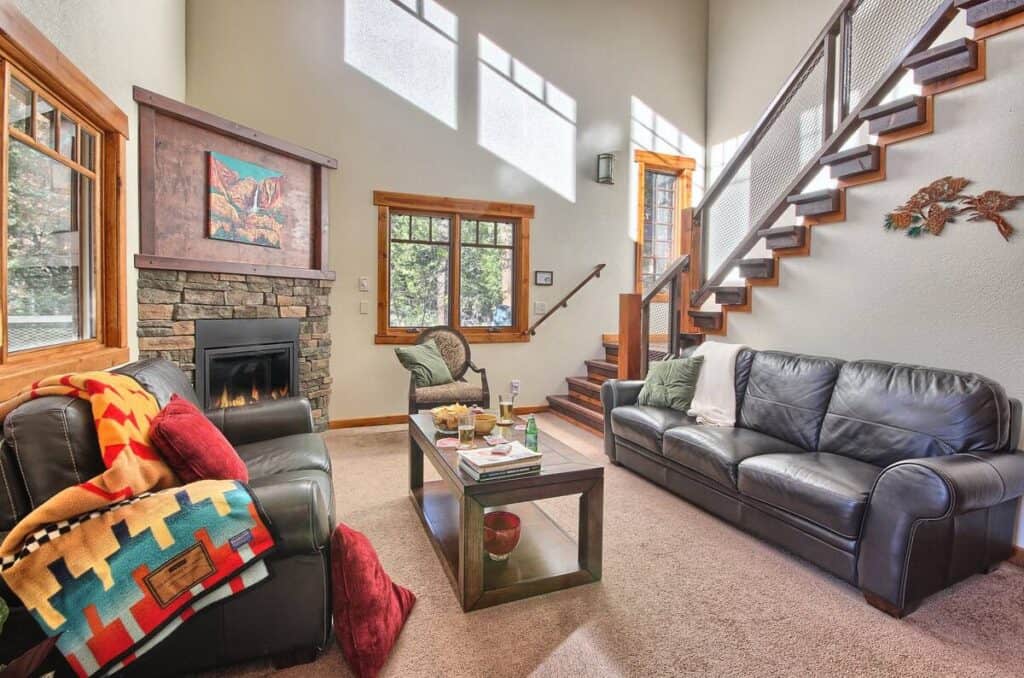 There's additional seating in front of the kitchen area if you want to grab a quick bite to eat, as well as a large dining room area with a view of the nearby ridges.
Also, the deck has 2 tables and a barbecue grill, making this the perfect spot for a cookout under the stars.
Thanks to the house's great location, local landmarks like Mariposa Grove and Yosemite Valley are only a short drive away.
>>>
Book this Yosemite home on VRBO
<<<
Yosemite's Craftsman Cottage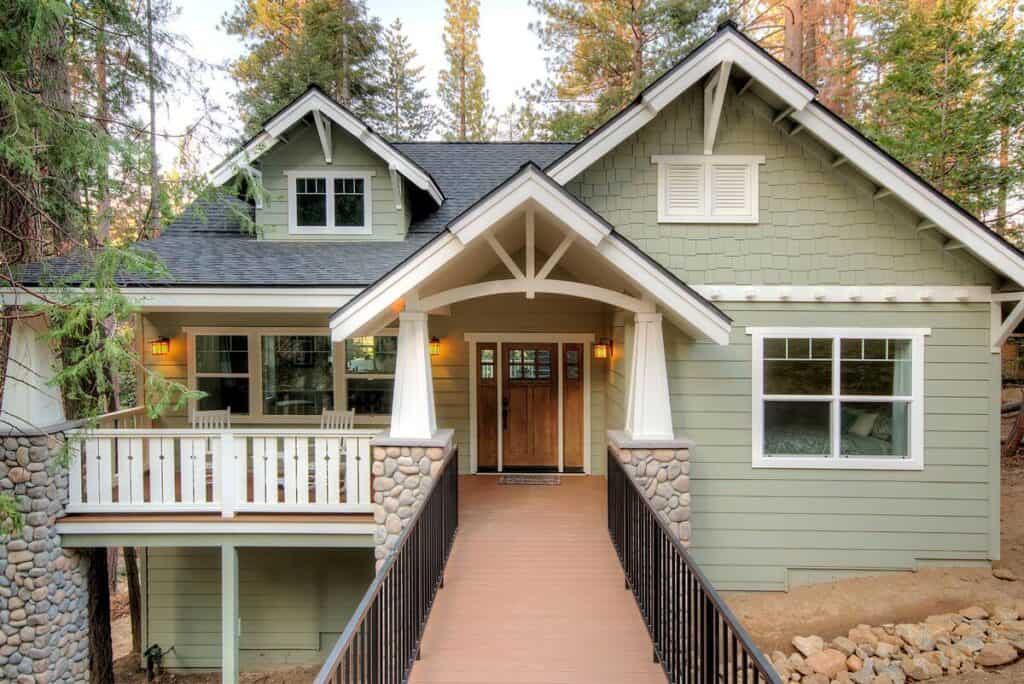 Few places in the Yosemite area are as well-suited for a large group of vacationers as this beautiful cottage.
On top of being spacious, the interior is almost entirely white with the occasional splash of baby blue, giving the house a heavenly aesthetic – the relaxing ambient is amplified by the abundance of natural light pouring in from every window, as well as the many lights and chandeliers.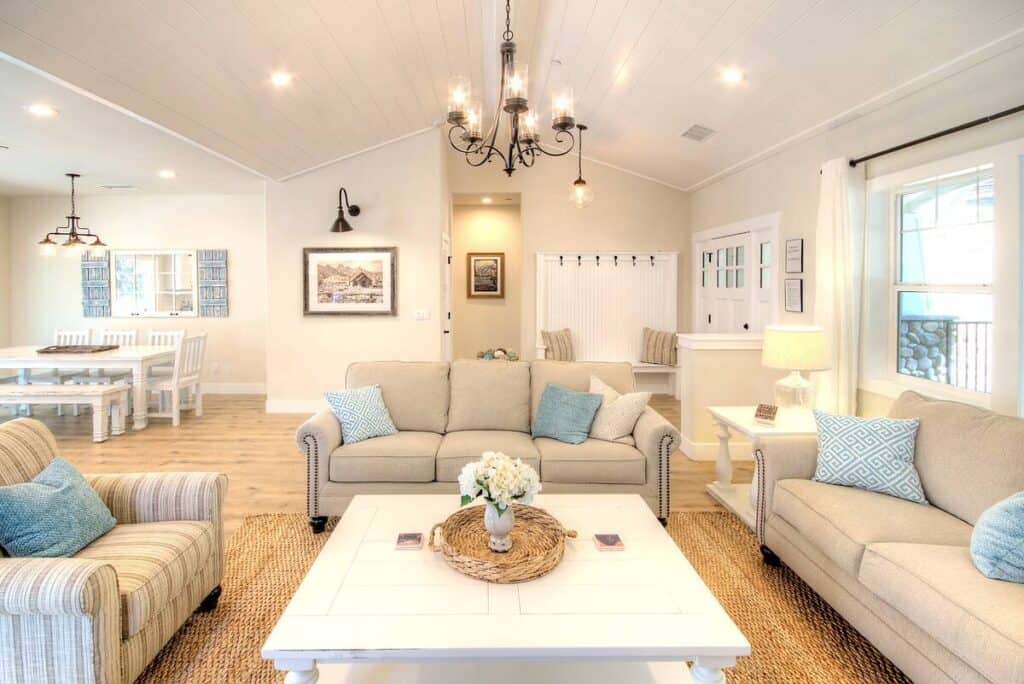 The living area boasts a beautiful fireplace and is the perfect place to spend an evening, and between the dining area, kitchen, and deck (equipped with a grill), you'll have no shortage of places to prepare and enjoy a delicious meal.
This house is a great pick if you have children or if you're not looking to spend most of your day outdoors – the living room area has a 4k TV with cable and a Blu-Ray player for a day of family entertainment.
Located inside the NP, the cottage is about 15-20 minutes from Yosemite Valley, Wawona, and Badger Pass Ski Area, and if you're looking to come with a particularly large group (20 or so people), you can also rent the cottage together with the nearby River Rock Retreat.
>>>
Book this Yosemite home on Booking
<<<
Alpenglow 3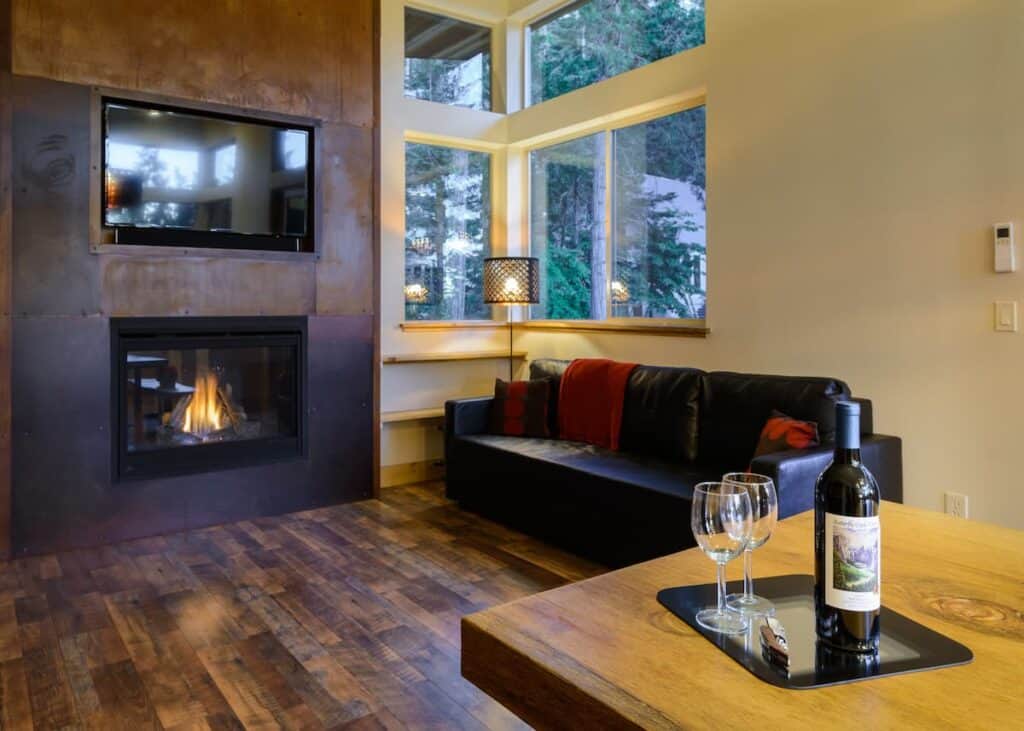 Whether you're traveling with a partner, a medium-to-large family, or a group of friends, you can't go wrong with Alpenglow 3.
The open-floor kitchen/living room/dining room area is the epitome of class – the black sofa and the mounted TV and fireplace give the room an air of sophistication, and the dining area, while quite simple and minimalist, perfectly matches the hardwood floor and the overall tone of the room.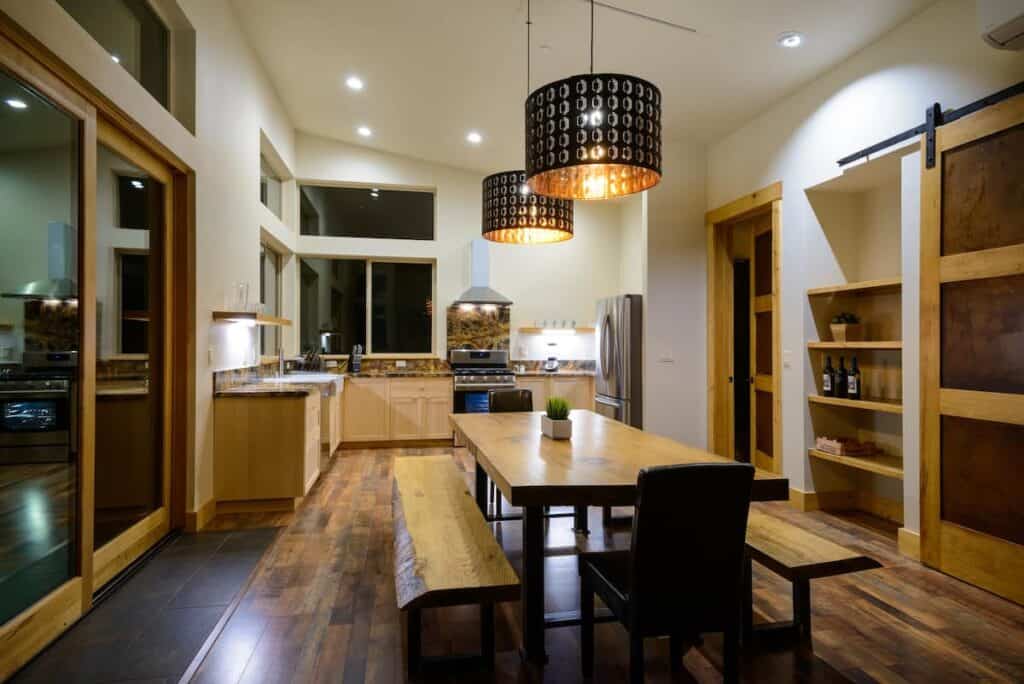 This area has a great window view of the surrounding nature, as do the two elegant bedrooms.
The kitchen is very well-stocked, but if you'd prefer to take the cooking process outside, the deck comes equipped with a barbecue grill – this is also a great spot for admiring the surrounding forest or stargazing at night.
The house is conveniently located inside Yosemite National Park, and you can quickly get to Tunnel View, Yosemite Valley, Mariposa Grove, and just about any other place of interest by car.
>>>
Book this Yosemite home on Booking
<<<
Alpine Escape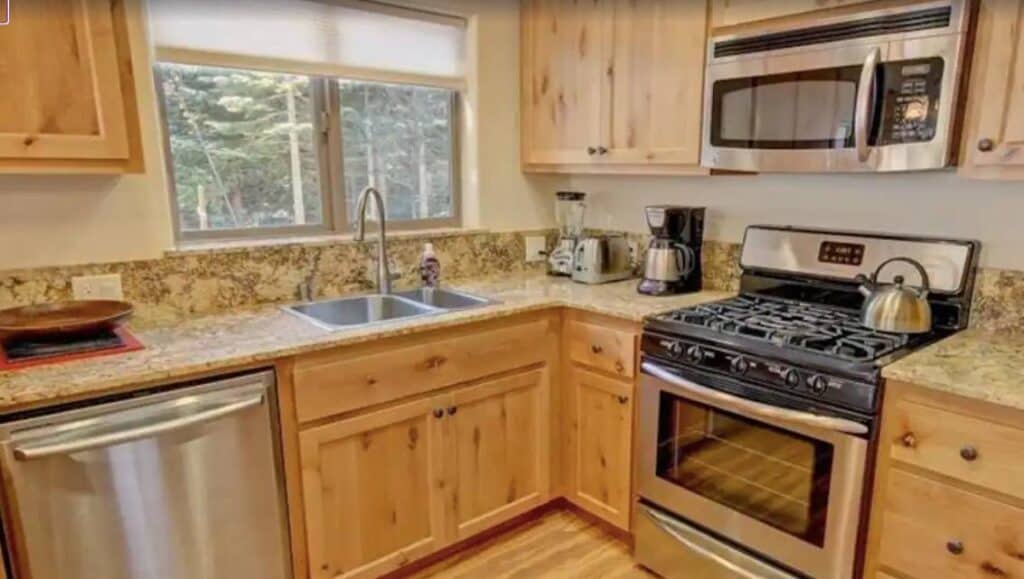 Conveniently equidistant from Mariposa Grove, Yosemite Valley, and Glacier Point (only about a half-hour drive from each), this is a great apartment for groups of up to four people who love hiking and exploring.
The interior of the house is dominated by wooden furniture and reflective surfaces, giving it a very pleasant, homely atmosphere.
You'll be spending most of your indoor time in the incredibly cozy living room, which has a large TV and dozens of DVDs, as well as a fireplace to ensure maximum comfort – especially cozy if visiting Yosemite in the winter.
The outside is a great place to catch some sunsets and enjoy the evening from the garden chairs or from under the pergola.
Also, the apartment is on the ground floor of the duplex while the host lives on the floor above. This should not deter visitors who are looking for privacy, however, as you'll have access to your own private entrance.
Plus, having locals right upstairs means that you can get answers to any questions about the Yosemite area at a moment's notice!
>>>
Book this Yosemite home on Expedia
<<<
YoBee!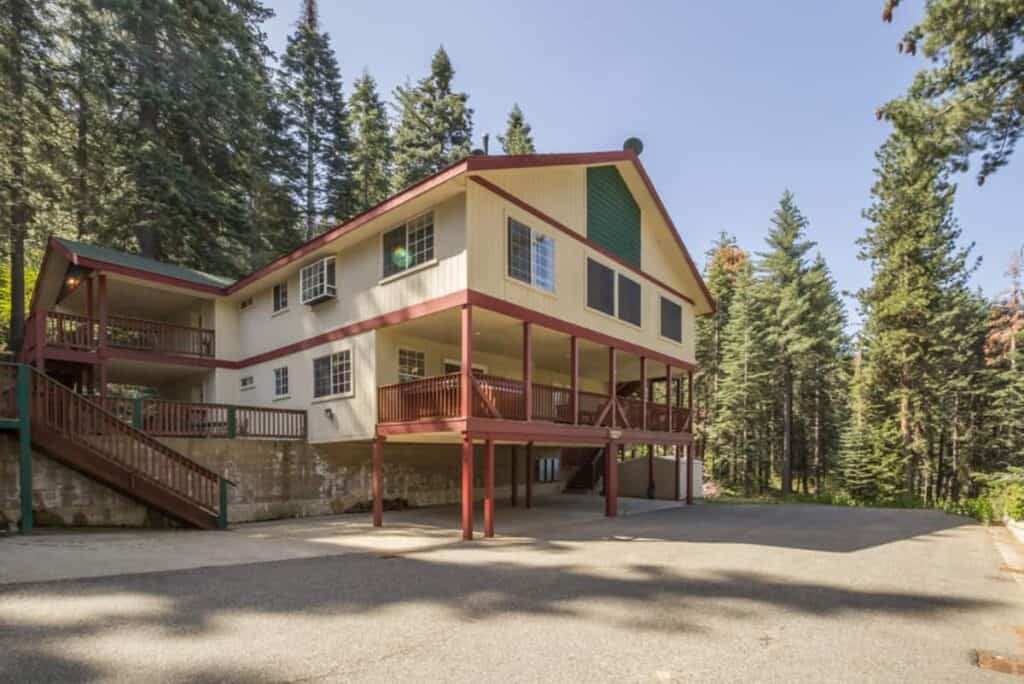 If you're looking for quick and easy access to Yosemite National Park's most notable landmarks, you'd be hard-pressed to find a more convenient rental.
Located in the heart of the park itself, YoBee removes the hassle of having to drive and wait at the gate every time you want to visit Yosemite, and it's very cozy and welcoming to boot.
The fashionable studio is equipped with a king-size bed and a romantic fireplace for chillier nights.
You'll get a great view of the mountains and greenery from the deck as the studio is on the upper floor – the deck also has a BBQ grill, a side burner, and seating for an outdoor dinner under the night sky.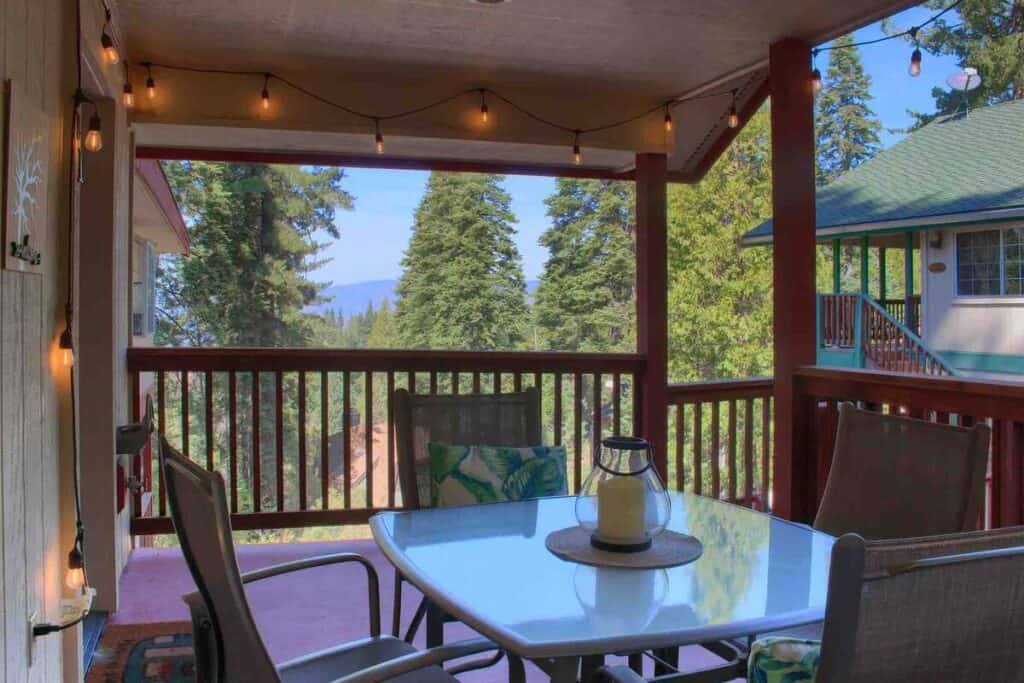 In the mornings, you can start off the day by enjoying the complimentary continental breakfast in your fridge.
A short 20-to-30-minute drive in any direction will get you to one of Yosemite's highlights, such as Wawona, Badger Ski Pass, Tunnel View, and Yosemite Valley – you'll be surrounded by beautiful scenery while driving to these places anyway, so getting around can be a great adventure in and of itself.
>>>
Book this Yosemite home on Booking
<<<
Serenity Suite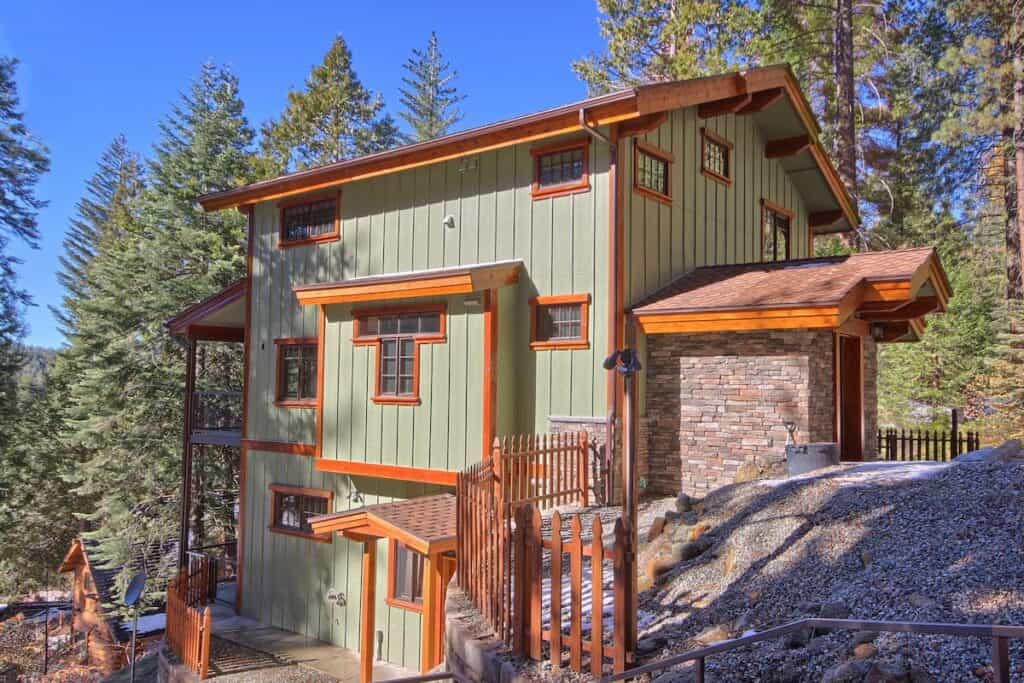 This suite is the perfect place for a romantic getaway inside Yosemite National Park.
Despite only housing two, the layout of the interior makes the apartment feel much bigger than it actually is.
The fireplace in the living area makes the room a great daytime relaxation hub, and the walls are covered in windows, so you'll have a great view of the surrounding trees from virtually anywhere in the house.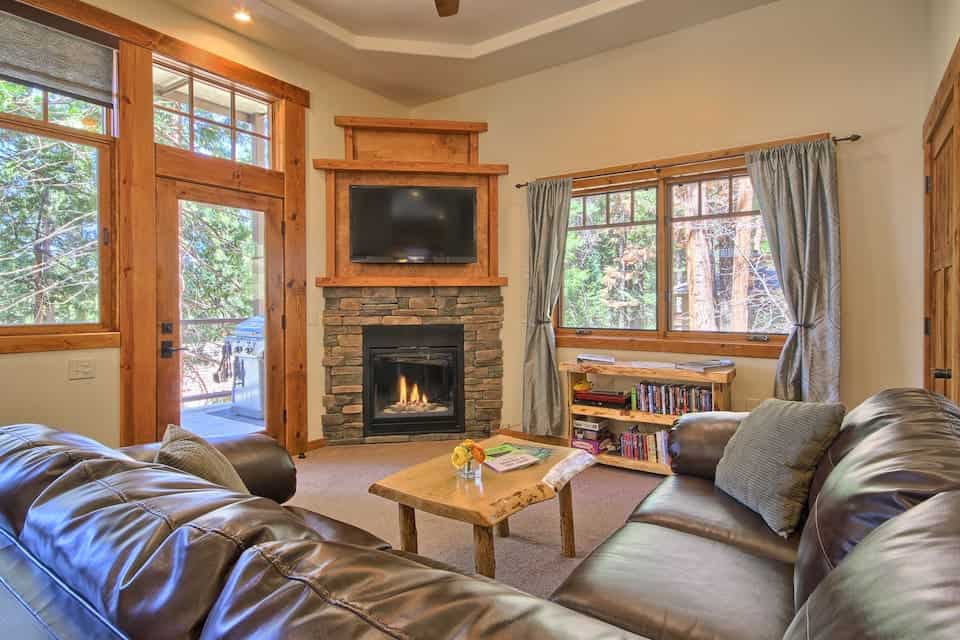 As for outdoor activities, you'll also have access to a deck with a barbecue grill for a nice cookout.
Right above the suite is another rental that accommodates up to 4 people, so you have the option of vacationing with a large group of friends without sacrificing any of your or your partner's privacy.
The location of the house is also very convenient – thanks to its high altitude, you'll be about as close to Badger Ski Pass as you could hope to get, and about a 30-minute drive from Mariposa Grove, Wawona, and Glacier Point.
>>>
Book this Yosemite home on Expedia
<<<
Yosemite Studio Condo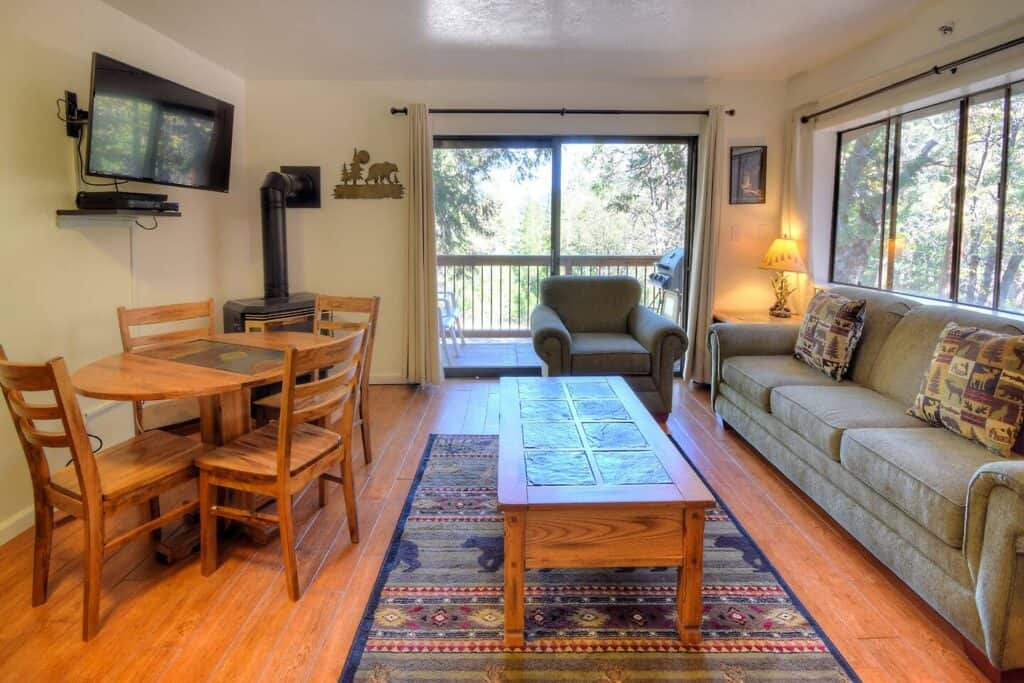 Yosemite National Park is all about the breathtaking natural landscapes – all you really need in terms of accommodation is a well-located place to whip up a meal and lay your head at night, and this house certainly delivers.
Located inside the NP (right by the entrance), the condo is close to all of Yosemite's landmarks while still remaining quiet and isolated.
The tastefully furnished interior has plenty of seating. The home features a free movie library, a propane fireplace, and a private outdoor deck with an electric barbeque.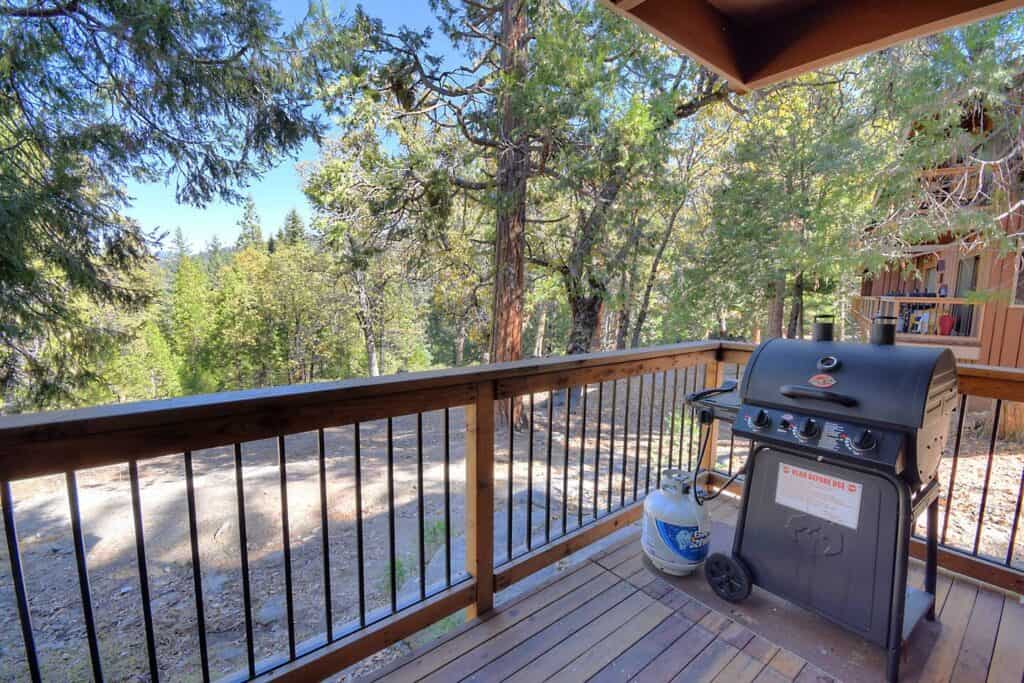 Also, thanks to the great window view, you'll be waking up every morning feeling refreshed and surrounded by lush green trees.
While it can easily house 4 people, the studio is perhaps best suited for a couple with a small child looking to explore the park – this is a great place to just put your phone and laptop away for a weekend and soak in as much of the beautiful surroundings as you can.
>>>
Book this Yosemite condo on VRBO
<<<
The Red Door Apartment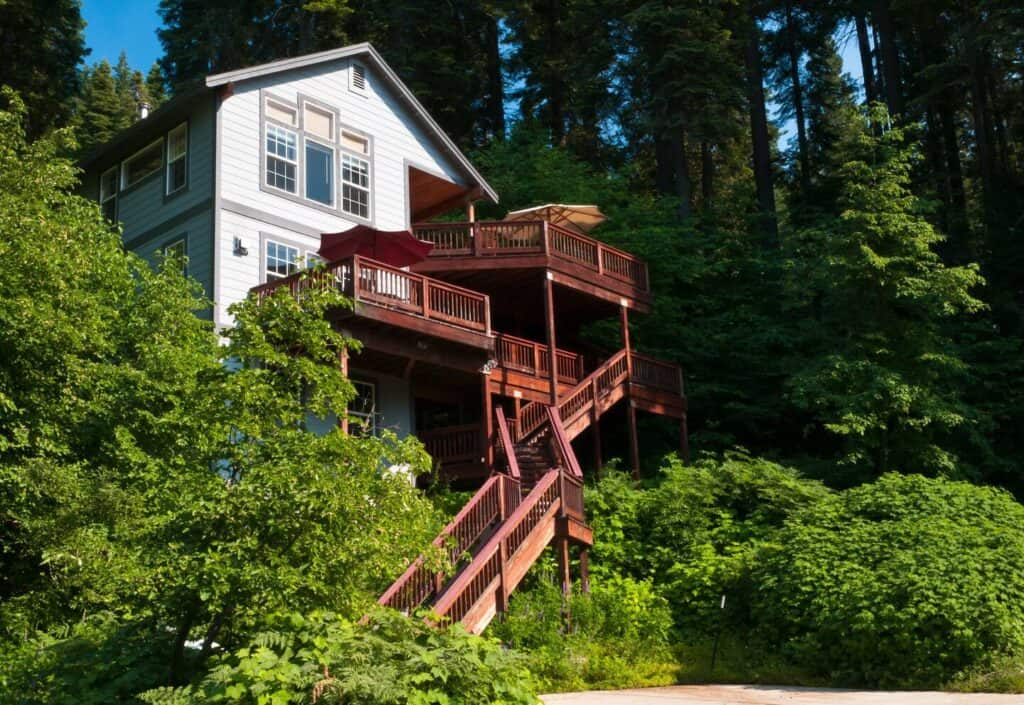 This beautiful little apartment is bound to add plenty of color to your Yosemite Airbnb stay.
The choice of retro, colorful furniture gives the interior a quaint, homely feel – the blues of the kitchen and reds of the living area give each room its own unique character.
You'll have access to a high-altitude deck where you can fire up the grill for a barbecue, catch some beautiful sunsets, or even a breathtaking view of the forest that spans as far as the eye can see.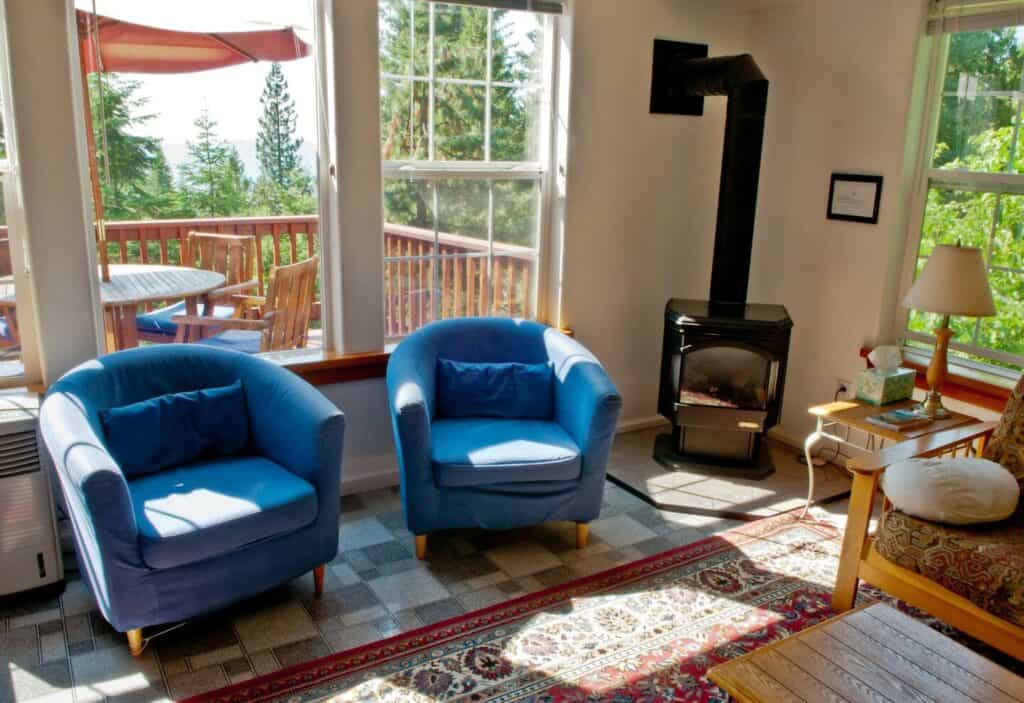 As there's no cell phone reception or television, this off-grid location is the perfect place to unwind and forget about your gadgets for a few days.
The apartment is located in Yosemite West, meaning it's close to every place of interest within the NP, including Glacier Point, Yosemite Valley, Mariposa Grove, Wawon, and Curry Deck, to name a few.
There are no restaurants or stores in the residential area, but because the apartment is minutes away from Highway 41, you can expect some good connectivity to places outside of Yosemite.
>>>
Book this Yosemite Airbnb
<<<
Cozy Rooms Inside Yosemite N.P. Gates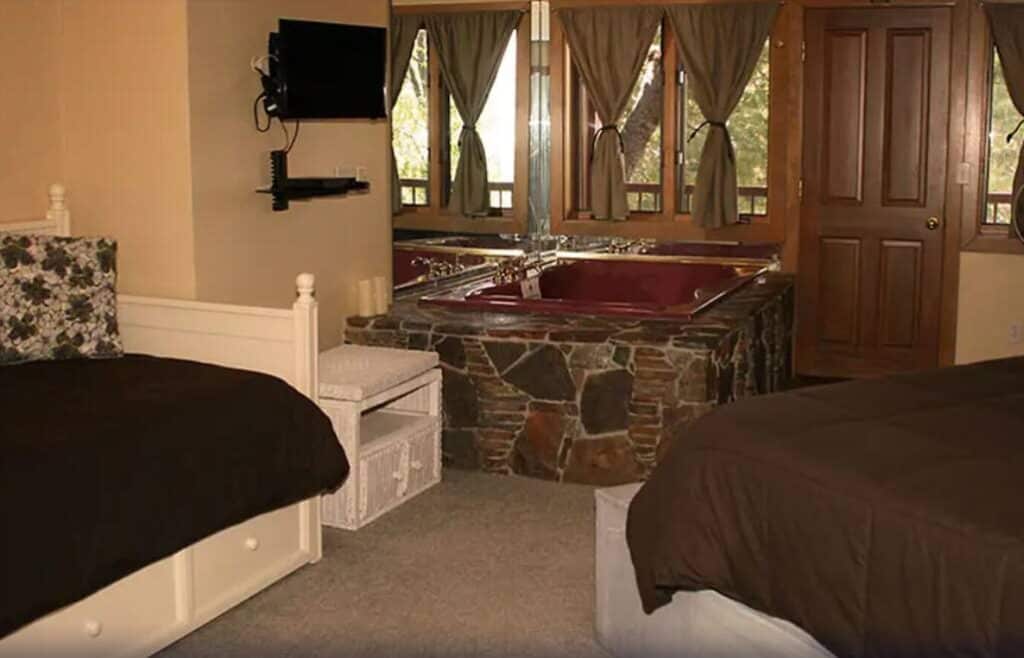 If you're in the market for a romantic retreat in nature, this room might be exactly what you're looking for.
Whereas most other rentals in nature resorts opt to maximize the amount of light coming in, this house goes for a darker, shadier approach that works in its favor, as it makes it feel more private and intimate.
Besides the small bathroom, the interior is essentially one decent-sized bedroom with a TV and a romantic fireplace.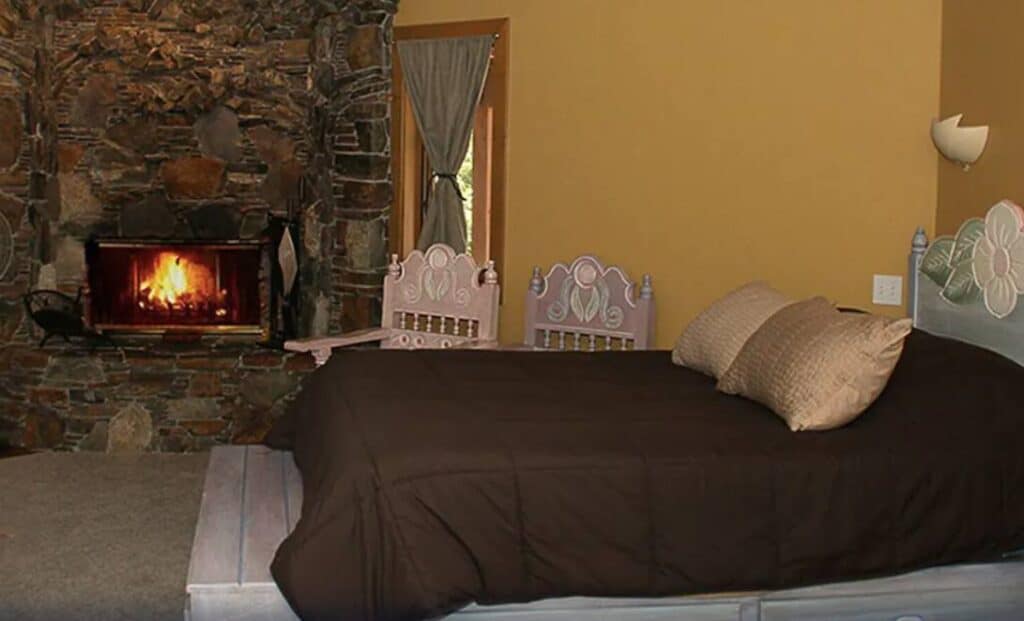 The room is connected to a deck/balcony, which has a very pleasant view of the forest and mountains, especially at sunset – this is a great place to enjoy a quick breakfast too, as the small fridge contains some sweets to start your day with.
The room is part of the Yosemite Peregrine Lounge, which is inside the NP and a short drive from many places of interest, including Yosemite Valley – this is likely going to be your most frequently visited location, as it has quite a few restaurants to offset the lack of a proper kitchen.
>>>
Book this Yosemite room on Expedia
<<<
Yosemite West Studio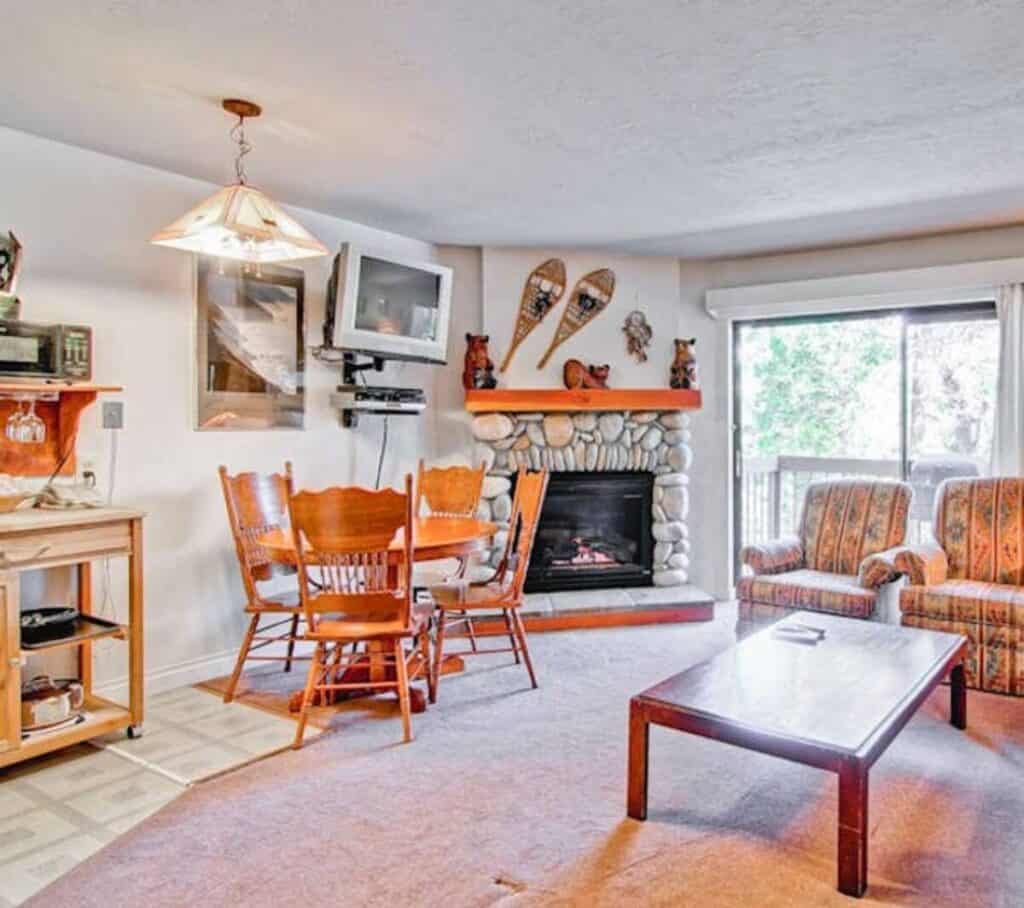 This little condominium is proof that you can achieve elegance and comfort with a single room.
The first thing you're likely to notice when you step inside is the large glass door that leads to the deck and illuminates the entire room – the deck has a propane barbecue grill and a great view of the woods and meadow.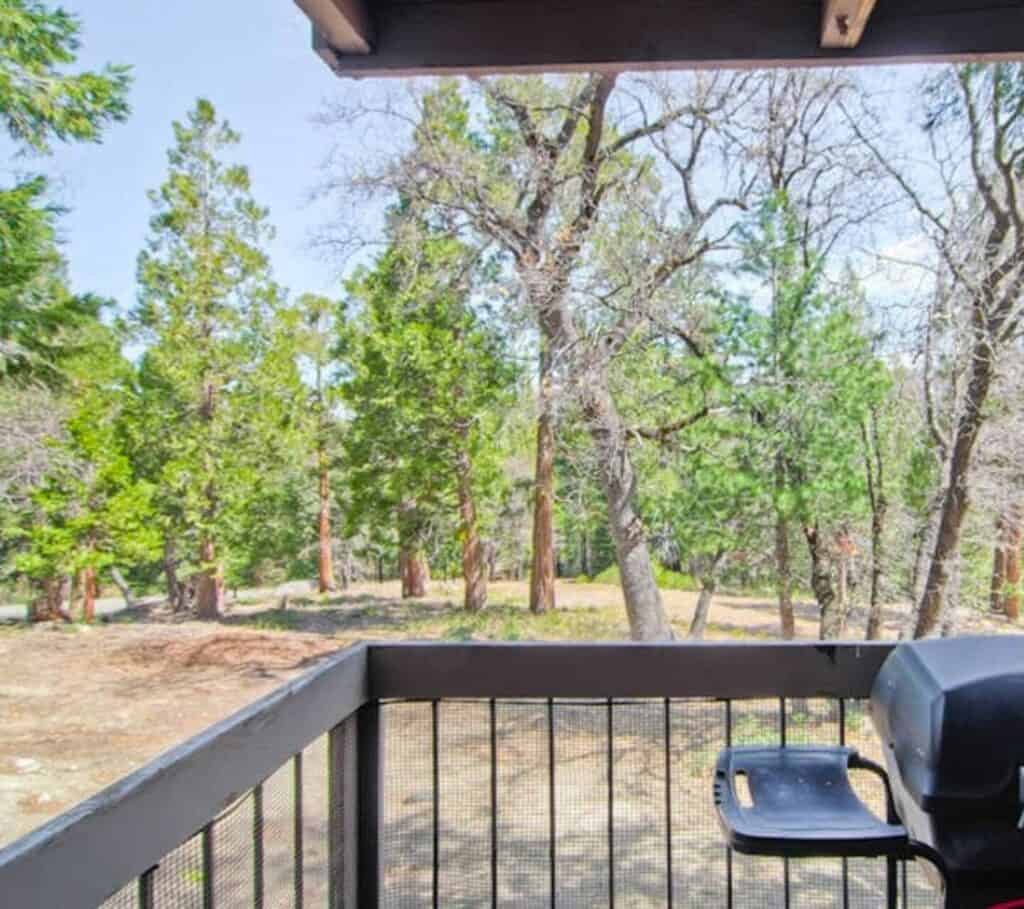 Aside from the two beds, the room has a nice dining table right in front of the large fireplace, a TV with satellite and a DVD player, and every kitchen appliance and accouterment you need.
The studio is located in building A, but you'll be able to access Building B as well – this building has access to a laundry room, and you can also rent a movie here.
Location-wise, this Yosemite National Park Airbnb couldn't be more convenient – the condo is inside the NP, so Badger Ski Pass Area, Wawona, Yosemite Valley, and Glacier Point are all less than a 30-minute drive away.
>>>
Book this Yosemite studio on VRBO
<<<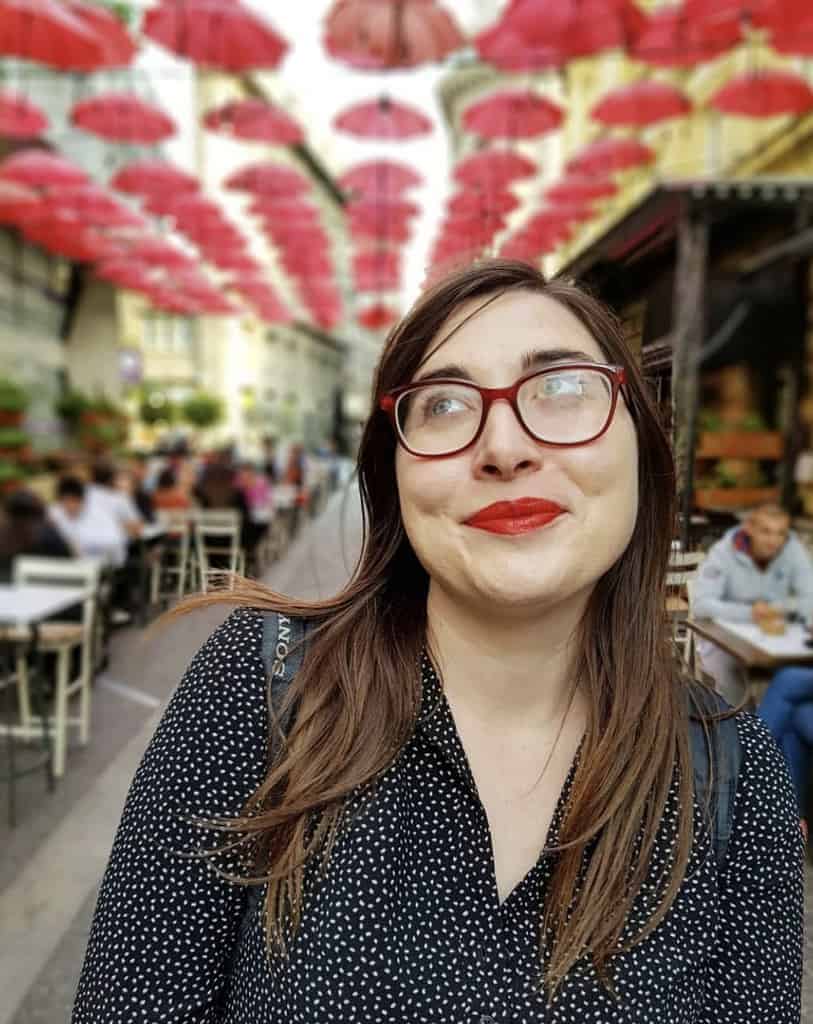 Allison Green is a travel blogger, writer, and podcaster who grew up in the Bay Area of California. She has spent time living in New York, Prague, and Sofia, but has returned to live in the East Bay. She has traveled to 60 countries before the age of 30 while running several digital travel publications. Her writing and podcast have been featured in Forbes, CBC Canada, National Geographic, the Huffington Post, and CNN Arabic, amongst others. She's obsessed with bouldering, houseplants, other people's pets, and anywhere she can see the ocean.