The Pacific Coast Highway has landed itself on so many people's bucket lists and it's not hard to figure out why!
The views of the ocean are endless, the cute coastal towns are in abundance, and marine life can be seen around every corner — otters, elephant seals, and gray whales, oh my!
In reality, you could hop on the Pacific Coast Highway and make random stops without ever being disappointed but from one beach lover to another, there are just some places that knock the others out of the park.
However, there is one thing for certain. You will feel how the atmosphere changes as you leave the busy streets of San Francisco and make your way through the laidback towns that line the beach on your way to Big Sur.
There is just something about the beach that makes you relax! If you don't believe me, then tell me why every town along this drive is dripping with laid-back vibes.
Throw in a slew of tasty restaurants, trendy boutiques, local art galleries, and gorgeous state parks and beaches, and you may never want to leave!
So skip the part where you stress about planning your trip and start your relaxation process early with this list of the 7 must-see stops when you drive from San Francisco to Big Sur via the PCH!
San Francisco to Big Sur Drive: Best Stops Along the Way
This guide covers all the best stops on the way in between San Francisco and Big Sur.
It does not cover what to do in Big Sur once you get there (you can find that in this separate post, which is a two-day Big Sur itinerary!)
Here are the best stops on the Pacific Coast Highway on the way to Big Sur, in order from north to south, as if you were driving from San Francisco.
Pacifica
Note: This post contains affiliate links, which earn me a small commission at no extra cost to you if you make a purchase using one of these links. Thank you for supporting this free content!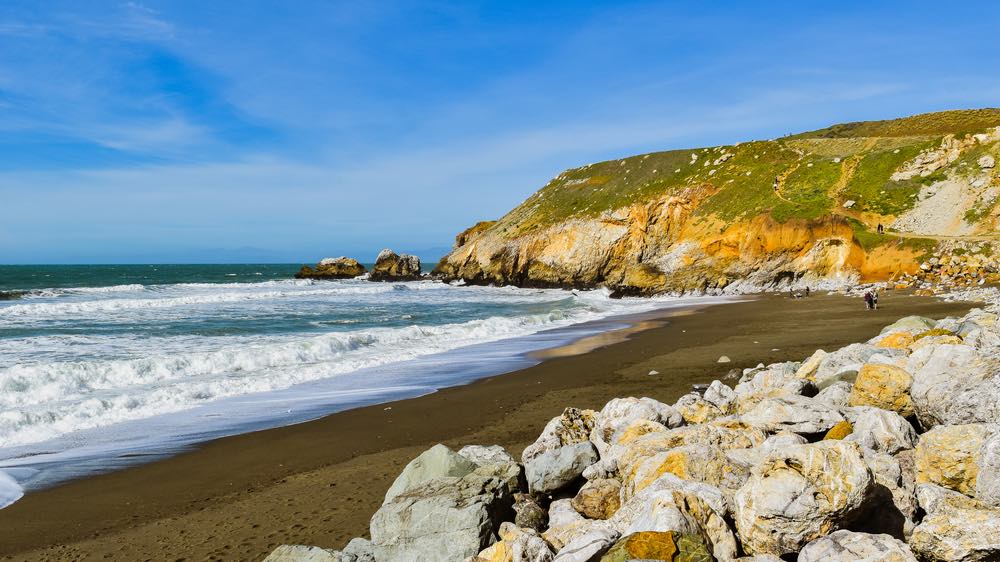 First up on your road trip from San Francisco to Big Sur is undoubtedly the coastal town of Pacifica — and it's not just because it's home to the coolest Taco Bell in the country.
Now before you start questioning my judgment on what classifies as a "good time", just hear me out! This is not your average fast-food restaurant.
I mean, what other fast food restaurant do you know where you can watch surfers hit the waves while you sip on a frozen margarita?
Yes, you read that right. This Taco Bell has frozen margaritas.
Plus, there are plenty of awesome hikes in the area to make you feel a little less guilty about munching on a chicken quesadilla.
The most obvious choice (which in no way should take away from its luster) is Devil's Slide and while it can get pretty busy, it is easy to forget about the crowds when you are taking in the amazing views.
Once a narrow road only attempted by the brave, Devil's Slide has since been transformed into a walking trail/bike path.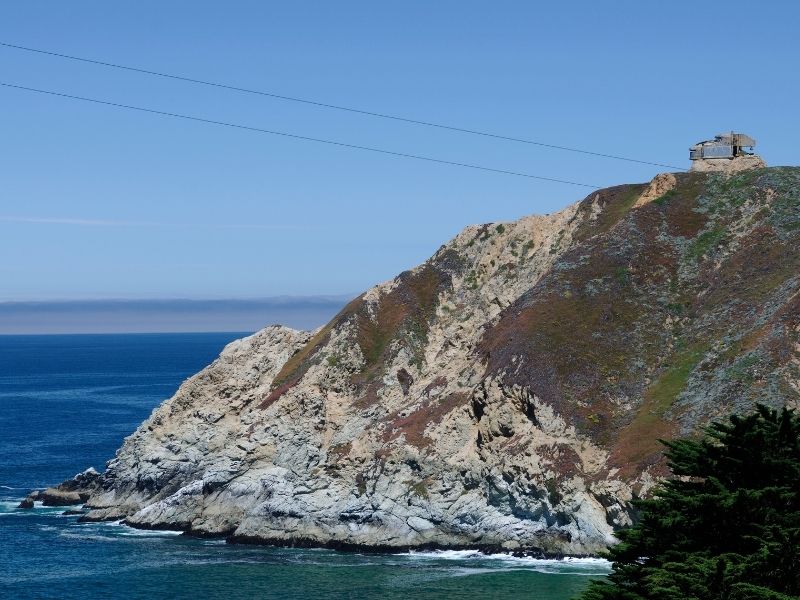 You have three miles to go, so put on your good walking shoes or hop on your bike and get ready for the spectacular views of rugged cliffs paired with the Pacific Ocean.
Not a fan of crowds? I'll share a secret with you. The Pedro Point Headlands trail doesn't have a trailhead so you know what that means: it doesn't see nearly as much traffic.
Throw in the fact that the trail offers up breathtaking views that put Devil's Slide's title as Pacifica's best hike in jeopardy, and you will have your paper map out ready for the hunt!
But I will make it easy for you. The trail can be accessed from Devil's Slide's Northern parking lot and begins to the left of Highway 1. You're welcome.
Enjoy the endless views of the Pacific Ocean, the Pedro Point Rocks (score!), and the lush forest of Eucalyptus trees covered in monarch butterflies.
Oh! and if you happen to make it to Pacifica for breakfast, you have to check out Soul Grind Coffee Roasters where the food is great and the coffee is even better.
Not to mention the fact that there is a trail right next to it that leads you directly to the famous Linda Mar Beach.
Half Moon Bay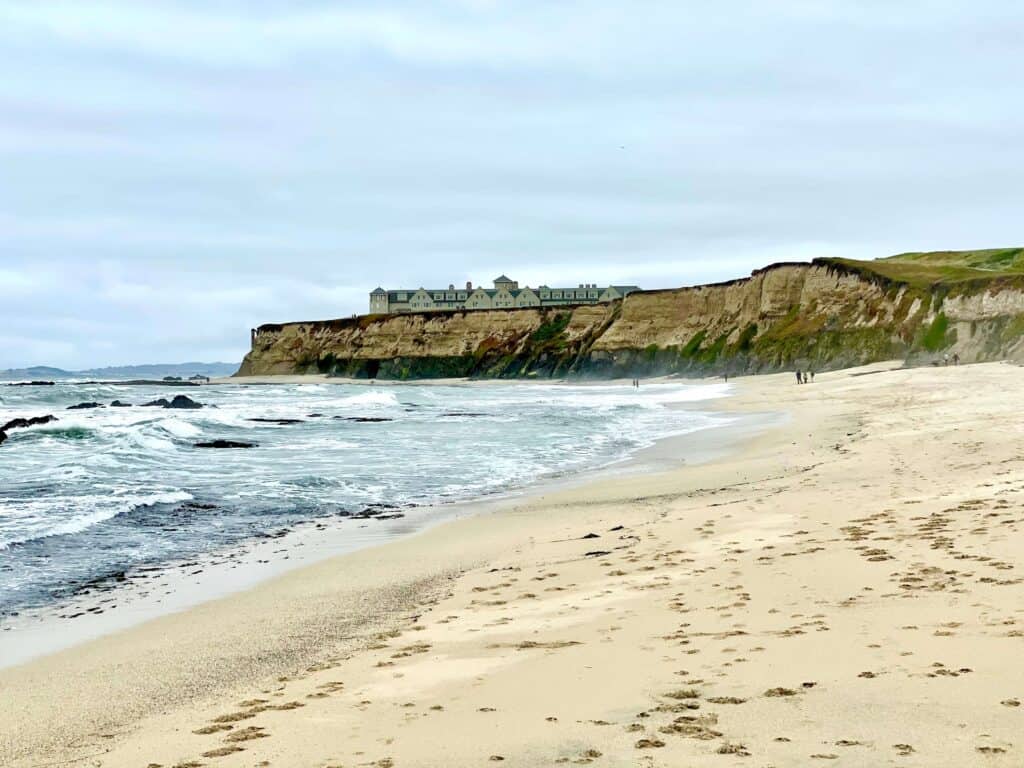 Continue down the coast to Half Moon Bay where you will be engulfed by the endless views of sandy beaches and the nonstop aroma of freshly cooked seafood.
In other words, this is the place where you splurge on a lobster roll… or two.
Early mornings call for heavy fog, but by noon the sun has typically come out and washed it all away, so just embrace the moody vibes while you sip on your coffee, knowing that you will have an amazingly beautiful day ahead of you!
And speaking of coffee, you have to try Granola's Coffee House. When you spot the cozy little shack next to an Airstream and a statue of an elephant, you will know you have reached this eccentric place…
That is, if the intoxicating smell of brewing coffee doesn't get to you first!
Just be prepared to be overwhelmed by the slew of options. I'm talking pour-overs to cold brews, smoothies to parfaits, and breakfast sandwiches to quiches.
After you have fueled up on breakfast, consider checking out one of the exciting local activities like horseback riding on the beach or kayaking around Pillar Point Harbor.
Whatever you decide to do, just make sure you save time to stop by Sam's Chowder House because a visit to Half Moon Bay wouldn't be complete without it. And quite frankly, passing up a visit here would be one of the greatest mistakes you'll ever make. It's that special.
It doesn't take long to figure out why Sam's Chowder House is a must-go destination on any trip to HMB, but I will break it down for you anyways.
This trendy joint prides itself on its clam chowder (hence the name) and lobster rolls, but where most people prefer quality over quantity Sam's provides both.
Like seriously, the lobster rolls are huge and flavorful and can be done up in different ways ("dressed" is served chilled with lemon aioli, "naked" is served warm with butter. I'm partial to dressed, but there is no wrong answer).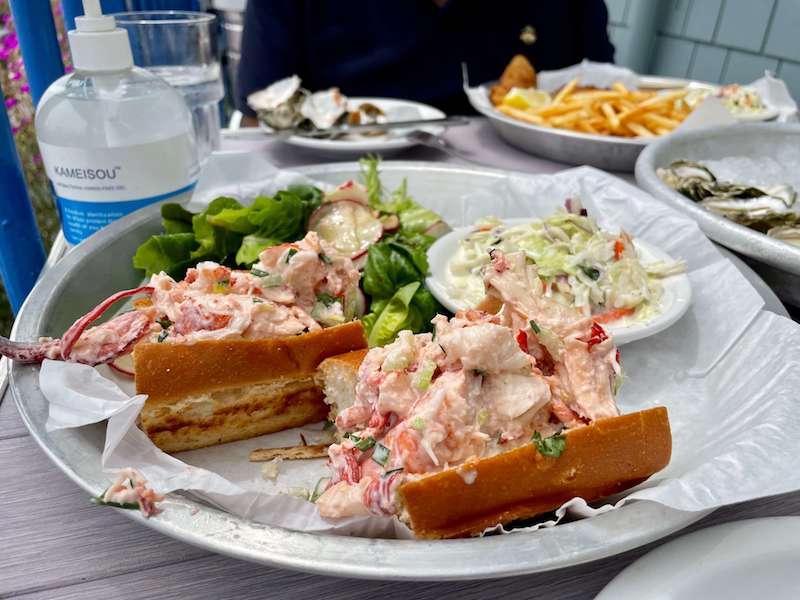 It will have you questioning whether lobster rolls for breakfast, lunch, and dinner would be an acceptable diet (and psssst- this is open from 11:30 AM to 9 PM so you can really stay here all day if you wanted to.)
Their clam chowder is also one of the best clam chowders ever, so I suggest splitting a lobster roll with someone if you can, and grabbing a big bowl of chowder as well.
But there is plenty still to do on this drive from San Francisco to Big Sur, so eat your fill or grab something to-go and then head down the neighboring trail to one of Half Moon Bay's iconic beaches.
Just know that regardless of the time of year, this is not the place to go for a swim. It's freezing, the currents are strong, and the waves are fierce.
But that doesn't mean you can't enjoy your time just hanging out on the golden sandy shores while watching the surfers tackle the waves!
Santa Cruz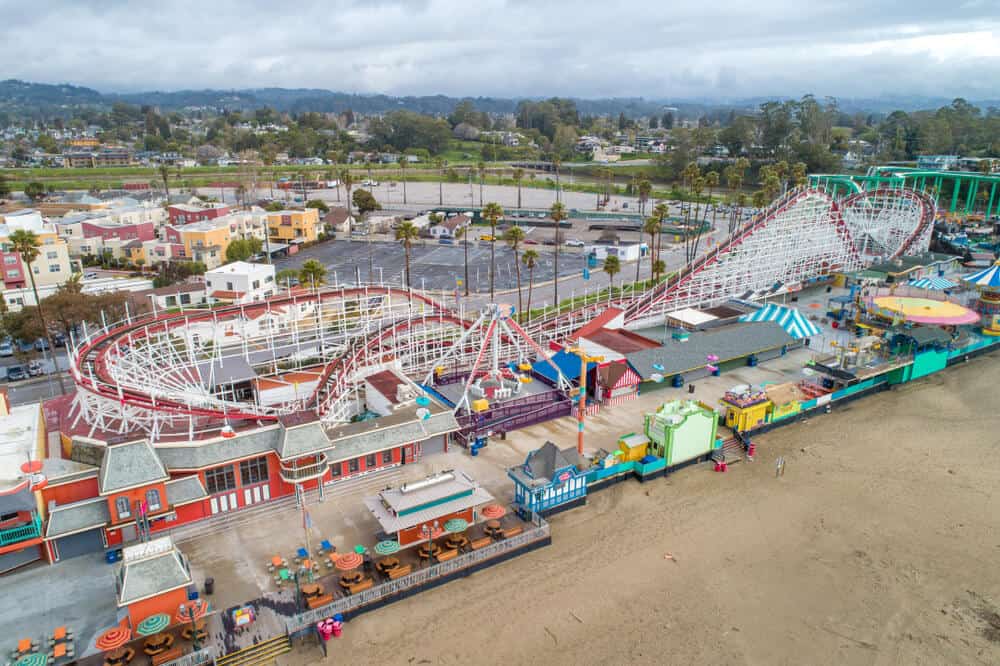 If you are looking for the ultimate beach town vibe, look no further than Santa Cruz where the mountains are dotted with redwood trees, the waves call to the experienced surfer, and the streets ooze hippie energy.
There are plenty of ways to spend your time here but it is only right that you make a stop at the iconic Santa Cruz Beach Boardwalk during your visit.
Whether you want to pig out on boardwalk goodies like deep-fried twinkies, challenge your friends to a friendly game of laser tag, or simply walk the strip while taking in the views, the boardwalk has got you covered.
Pro tip: If you are visiting during the summer months, try to plan your visit for a Friday or a Wednesday when the boardwalk hosts events like live bands, movie nights, and karaoke.
Do yourself a favor and find an excuse to drive along West Cliff Drive for the most dramatic views of the Pacific Ocean as it crashes up against the rugged cliffs and creates a picturesque layer of mist.
Since West Cliff Drive is located at the heart of Santa Cruz, you can easily make a quick getaway to any of the five farmer's markets scattered throughout the town.
Each boasts its own features like live music, trending health products, artisan goods, and local crafts. It's a great place to grab a healthy but tasty snack for the road!
And as tempting as it may be to spend all your time beachside, there are some pretty spectacular attractions waiting for you inland as well.
The most notable would have to be the steam train that leads you up through the mountains. Hosted by Roaring Camp Railroads, this one-of-a-kind experience lets you travel through groves of Redwood giants and up winding tracks that lead to the summit of Bear Mountain.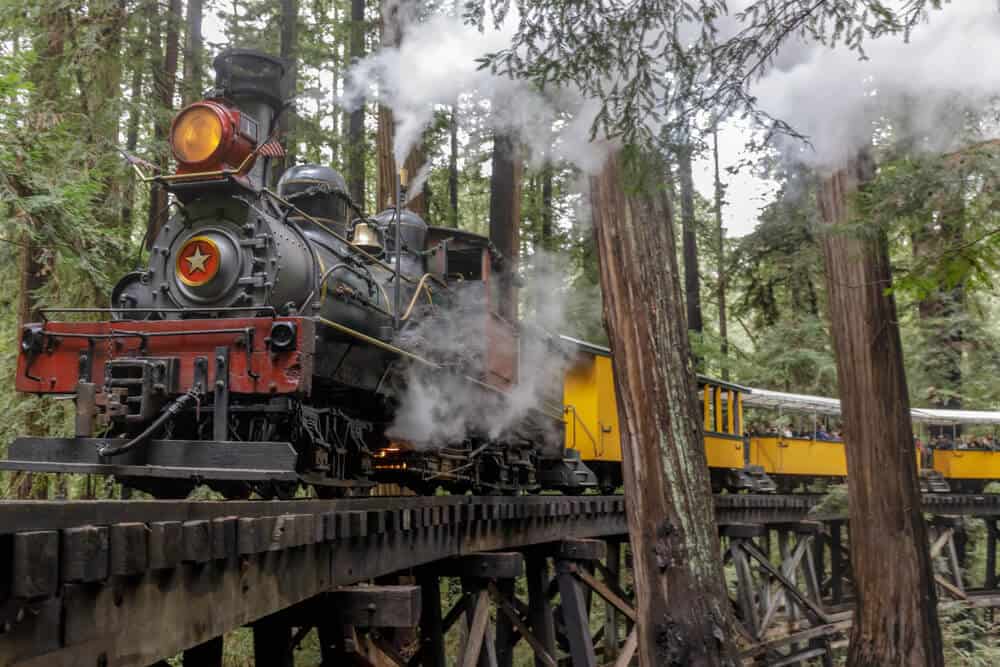 Along your journey, you will be transported back to the late 1800s as the train conductor tells you the stories of how the train came to be and the struggles throughout Roaring Camp's history.
If you find yourself completely mesmerized by the towering redwoods (and how could you not?), then you can feed your fascination with a trip to Henry Cowell Redwoods State Park where some of the trees reach drastic heights of over 250 feet.
Redwoods are known for their unique features so don't be surprised when you come across a hollow tree that you can literally step inside!
Come prepared with a bathing suit because there is also a hidden swimming hole known by the locals as the Garden of Eden — but you didn't hear it from me.
And while sunsets are beautiful just about anywhere you go, the sunsets in Santa Cruz are exceptional so make sure you stay long enough to catch a glimpse of how the sky transforms.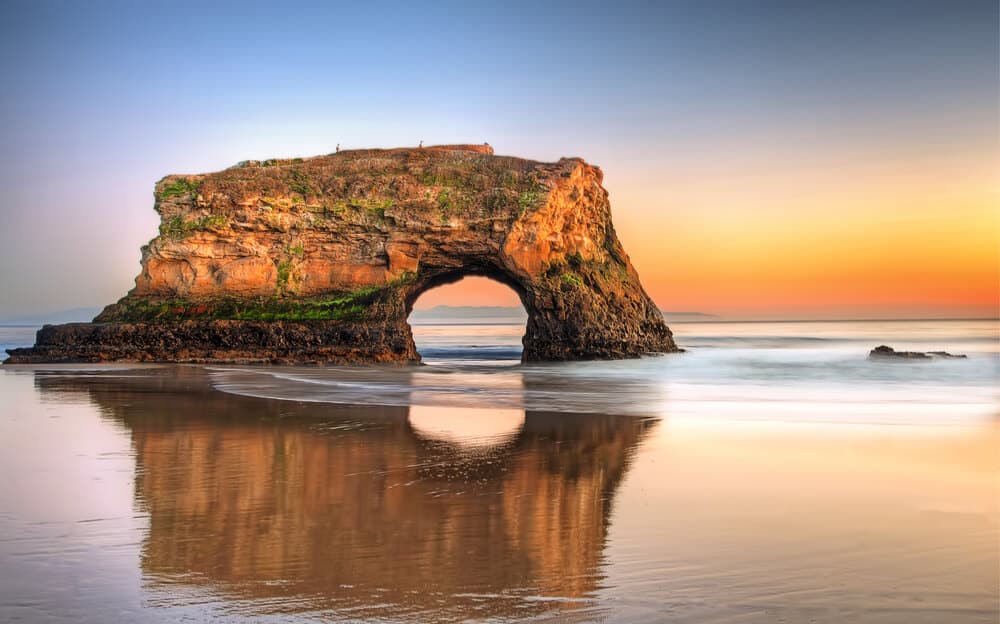 I mean, people will literally stop in their tracks and stare in awe throughout the entire process.
To make the most of this nightly event, head over to Natural Bridges State Beach where you can share the experience with the abundance of marine life that calls the shores home.
Alternately, make your way back over to your old friend West Cliff Drive for a view that never gets old.
Capitola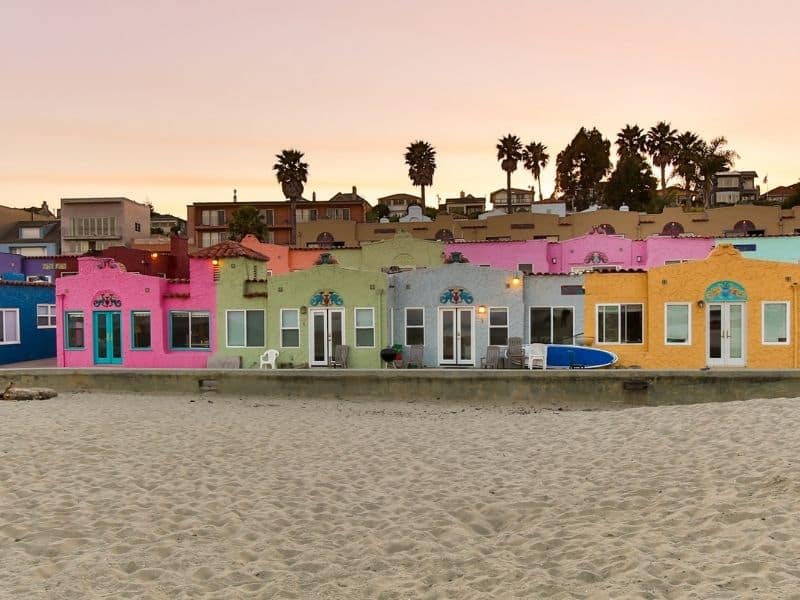 This (not so) little waterfront village is a hidden gem if I have ever seen one and the secret is bound to get out eventually!
But for now, you can enjoy the quiet serenity of California's beaches and the undeniable charm of its sleepy streets without all of the crowds.
Everything about this place is picturesque and what I really mean by that is the fact that there is an Instagram photo opp waiting for you around every corner.
For starters, there is a row of vibrantly colored cottages (think pastel overload) known as the Venetian Court that line the Soquel River and overlook the Pacific Ocean.
And while you can't get right up to them unless you are one of the lucky few spending a night there, you can definitely get close enough to admire its unique style and take a few photos.
You won't have to venture too far (like at all) to get to the Capitola Wharf where you can dabble in the art of fishing or take a scenic walk to its edge.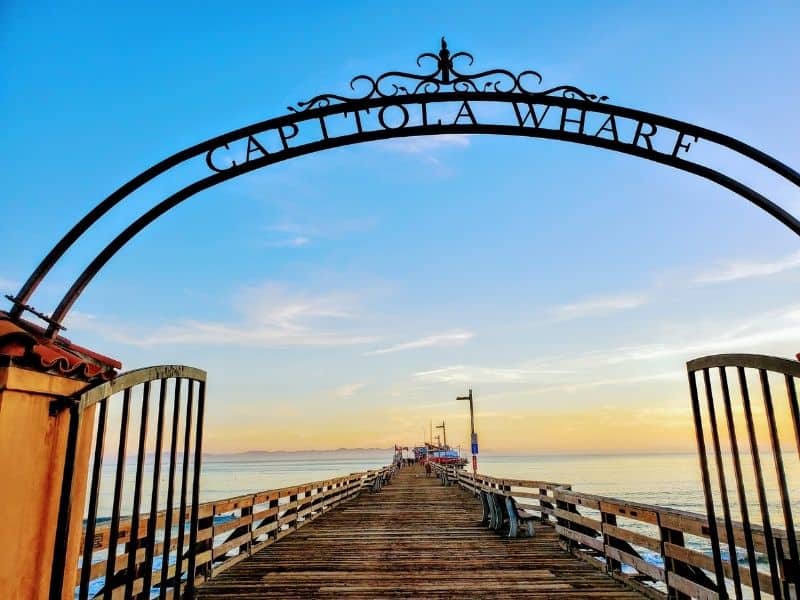 But beware! The Wharf House Restaurant will be tempting you the whole time as the smell of its freshly cooked seafood lingers through the air.
Not in the mood for seafood? Check out Pizza My Heart to enjoy a quick meal beachside and take home one of their t-shirts for just two dollars more. It's a win-win.
Just make sure you save room for Marianne's Ice Cream because, with 54 flavors ranging from snickerdoodle cookie dough to banana almond fudge, there is a pretty good chance that you will want a three scooper.
And you might as well take a pint for the road. I won't judge. (Bring a cooler!)
Walk off some of those calories with a stroll through the village as you stop to take pictures of the wide-sweeping murals in between visits to the many shops and galleries.
Get a taste of Sonoma's finest wines with a visit to the Armida Winery, a tasting room location of a popular Healdsburg winery.
For those looking to spend the night in Capitola, I highly recommend finding a spot within a 3-mile radius of the famous Shadowbrook Restaurant because 1. It's easily the best meal in town and 2. The restaurant will literally send one of their antique 1966 yellow taxi cabs to come pick you up!
Moss Landing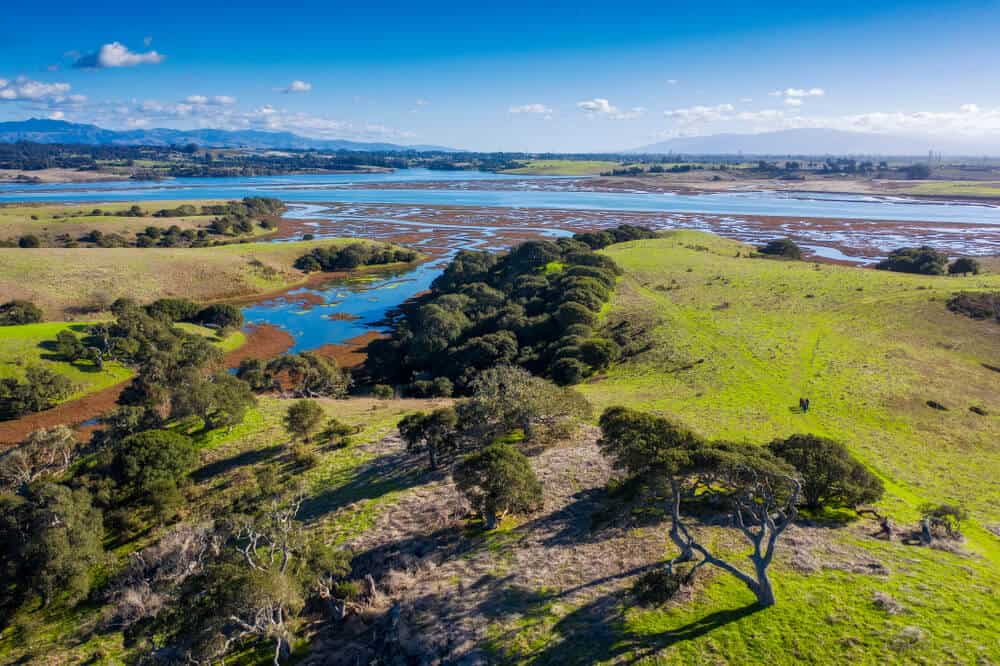 Nestled right along the edges of the Elkhorn Slough Nature Reserve, Moss Landing is the place to go for nature lovers and it is actually pretty suspicious that it's not on everybody's radar yet.
Perfect for the whole family, the best way to get a feel for the wildlife that lives here is by hopping on the Elkhorn Slough Safari, and it does not disappoint.
The channel provides a beautiful boat ride all on its own and then spoils you with views of cuddly sea otters, sunbathing sea lions, and more birds than you can count.
Another great way to get up close and personal with the wildlife is by taking a self-guided kayaking tour that just so happens to be perfect for all experience levels thanks to the calm waters of the Elkhorn Slough.
And lucky for you, Kayak Connection makes it easy to get out on the water with half-day rentals for as little as $50 a session.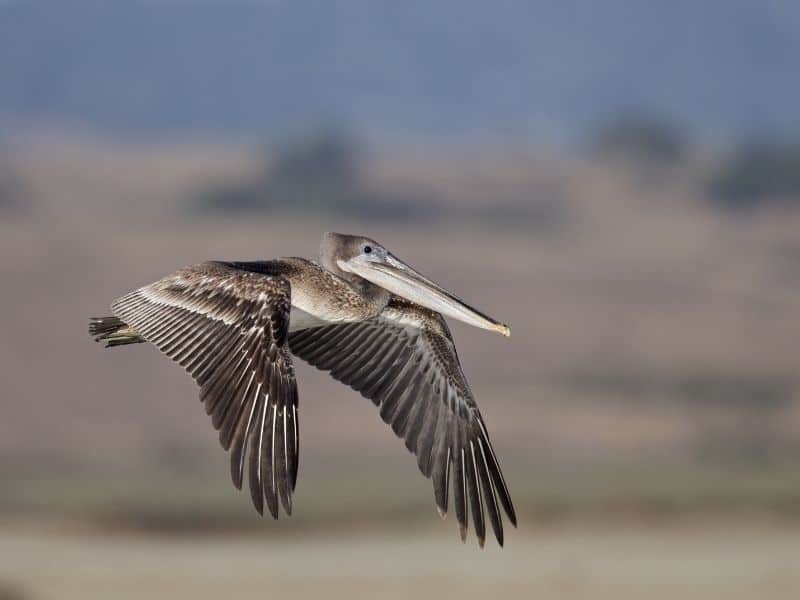 Most beachfront towns along the Pacific Coast will have you stuffing your face with seafood, but it is nice to have a change of pace every once in a while. Moss Landing offers you just that!
You will have endless choices that almost always revolve around Mexican cuisine but the pick of the litter is undoubtedly the Haute Enchilada Art Cafe.
Here you can stroll through an eccentric art gallery, enjoy some local live music, and sit down for a pricey but delicious dinner!
You can't miss it on your walk around the quirky downtown area as there are a handful of eye-catching, larger-than-life collectibles that welcome you to its doors.
And speaking of eye-catching… The entire downtown area could pass for an art museum with its vibrantly decorated antique shops and retired ships living out their final days.
But anyway, back to the food. If you are not looking to empty out your pockets, The Whole Enchilada is just as tasty and provides quick service for those looking to spend most of their time in Moss Landing out on the water.
And of course, while it is not thrown in your face as much as other coastal towns, you can't go wrong with a feast of freshly caught seafood from the award-winning Phil's Fish Market which is located right on the water with plenty of outdoor seating. It doesn't get better than that, right?
Monterey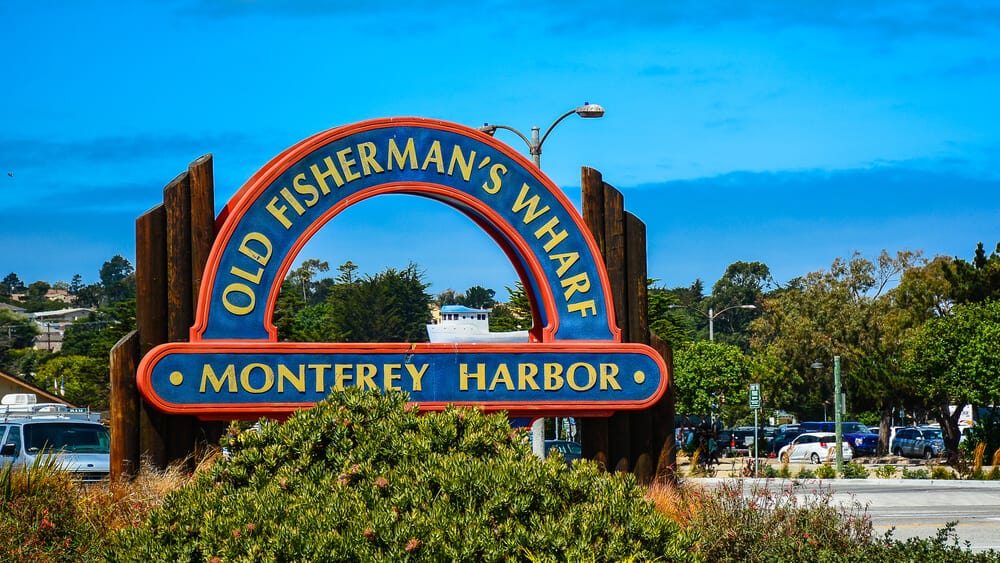 With endless ocean views, a charming strip of stores, a telling history, and outdoor recreation galore, Monterey is not a place that you can just drive through without stopping to take in the sights.
Start your visit with a brief history along Cannery Row where you can walk along the shoreline and admire historic fish-packing buildings that have been around since the early 1900s!
Even better than this is the fact that you can still explore many of these significant structures today… that is, if you wind up having dinner at one of the trendy restaurants or shopping in the boutiques that are now housed inside of them.
Bonus! The iconic Monterey Bay Aquarium is also located along this strip so you can stop in to hang with the sea horses, otters, and jellyfish.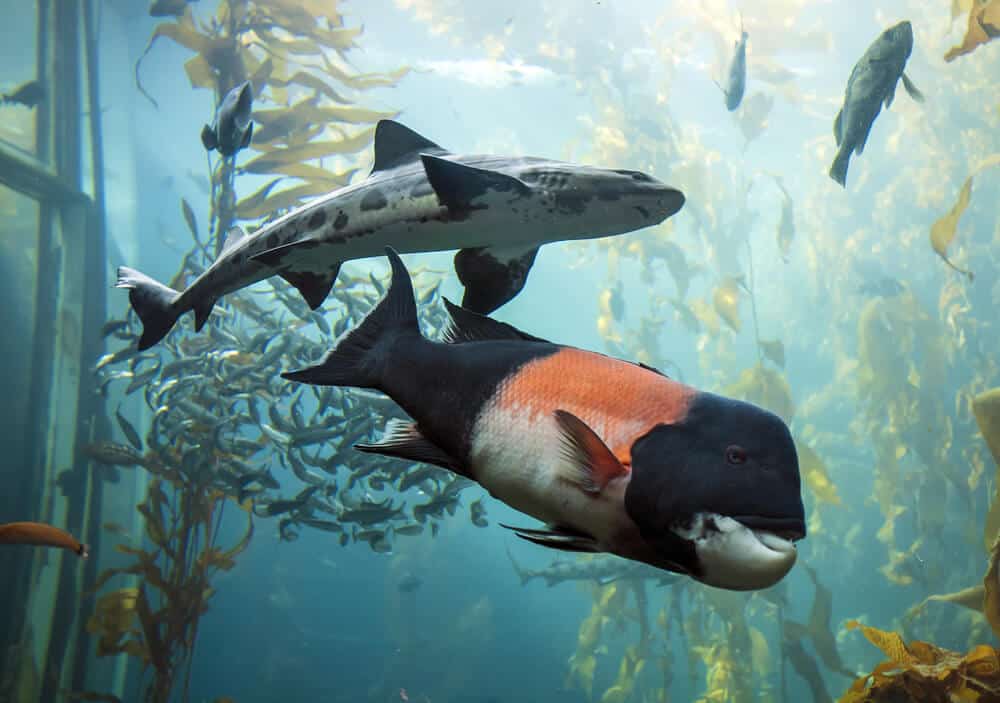 A short drive from the aquarium is Old Fisherman's Wharf, and it is another prime example of how Monterrey manages to bring historic buildings back to life and blend their history into current day culture.
The once functioning fishing wharf has been transformed into a charming strip with adorable shops, peaceful walkways, and tasty food.
The longer you hang out at this breathtaking place, the more you will want to take the glass-bottom boat tour that everybody's raving about and you should! Just make sure to say hello to the sea lions for me!
But it doesn't stop there. Swing by Monterey State Historic Park to admire a handful of historic buildings with a backsplash of crashing waves.
Stretch your legs on the Monterey Bay Coastal Recreational Trail for a walk that's as scenic as it gets.
Go on a whale-watching cruise in the Monterey Bay. Enjoy a waterfront picnic at Lovers Point Park.
Drool over handmade pasta at Aliotti's Victorian Corner Restaurant. Wander through the cute town of Pacific Grove. The list goes on!
17 Mile Drive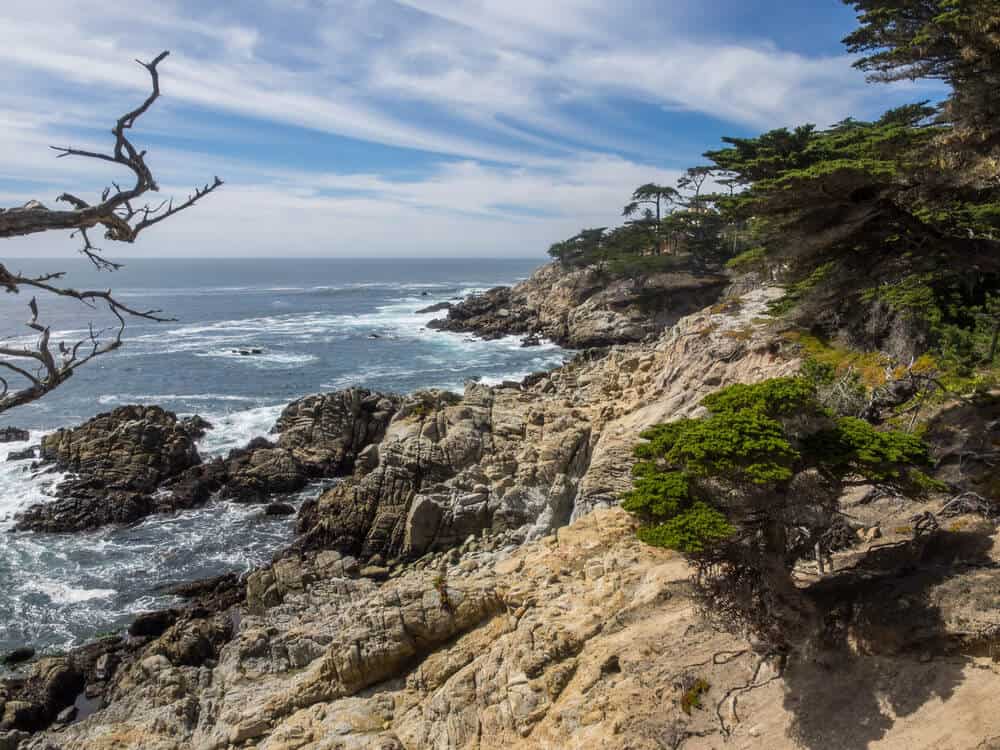 Next up on the list is the iconic 17 Mile Drive but this isn't your typical roadway.
This scenic drive costs a whopping $10.75 a vehicle but you will have gotten your money's worth the second you pass through the gates.
Averaging at one breathtaking viewpoint per every mile, you will definitely spend a few hours here taking it all in, so plan accordingly!
I won't go too in-depth because it truly is a wonderful sight to stumble upon, but I will say that you won't find another part of the California Coast with water as aqua blue and crystal clear.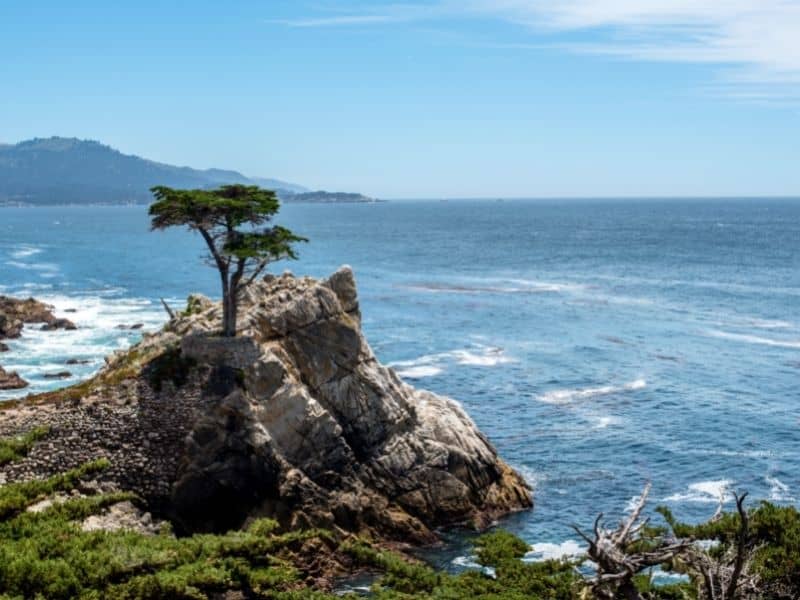 Just be sure that you don't miss the Lone Cypress Tree — it's absolutely stunning.
Speaking of Pebble Beach, you should know that the beach itself is actually broken down into six different coves and each has something unique to offer.
But the bottom line is that you will have a wonderful time at any of the coves and the beautiful water and crashing waves will have you feeling like you're on an island in Hawaii.
And since you're here you should — scratch that — need to stay for the sunset. You'll thank me later.
Pro tip: Grab something to eat at one of the Pebble Beach Resort restaurants and get the entry cost to the 17 Mile Drive completely reimbursed.
Carmel-by-the-Sea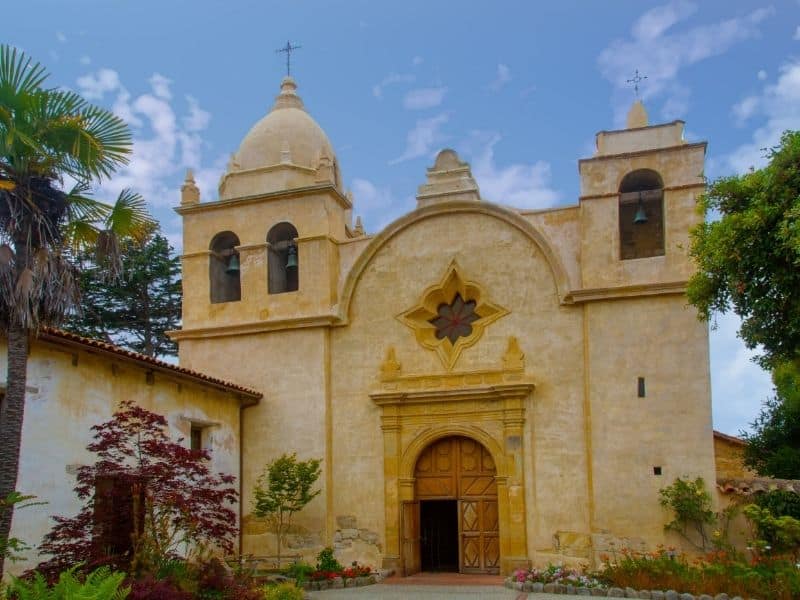 Carmel-by-the-Sea may only be one mile long, but it packs such a punch that you will be planning trips back for years to come and talking about them for even longer.
There is no denying that this place is unlike anything you've ever seen before and it's not just because there aren't any street lights or addresses.
The natural beauty here is unmatched and the laid-back vibes leave nothing to be desired. It's truly like a fairy-tale!
One of the first things you should do (OR only thing if you are taking a quick trip) is head over to Ocean Ave where the streets come alive and perfectly describe what Carmel-by-the-Sea is all about.
Hop between art galleries, boutique hotels, trendy restaurants, and quick bites as you admire the antique cars cruising around the neighborhood and the picturesque beach at the end of the street.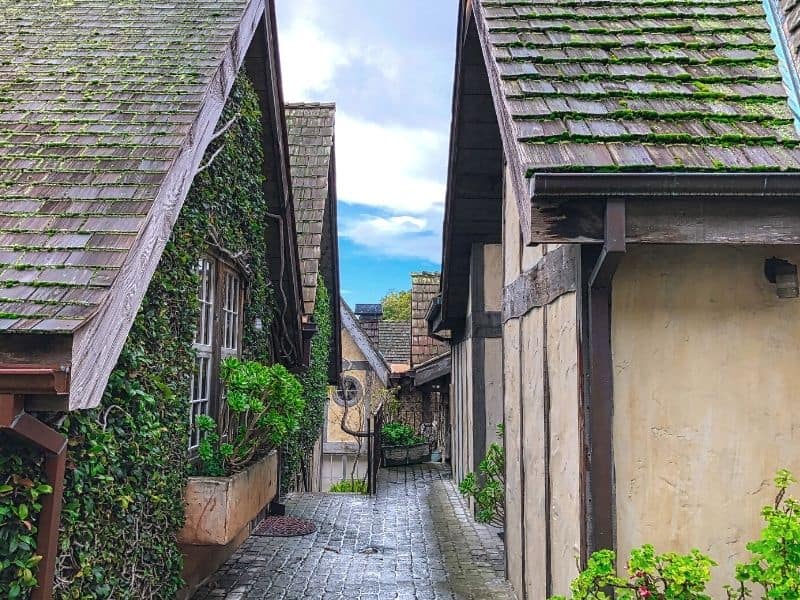 And just when you think the place can't get any cuter, you will be pleasantly surprised by the "Hansel and Gretel Cottages" that are peppered throughout town.
On your next trip, see if you can spot all twenty-one of these fairytale cottages!
Of course, you'll also want to visit Carmel River State Beach and the Carmel Mission.
Did you really think I was going to leave my foodies hanging? The restaurant scene here is immaculate.
There is just no way to sum it in a few sentences, let alone a few visits, but I will leave you with this one piece of advice: opt for the Carmel Food Tour to get a taste of at least seven fan-favorite restaurants in less than three hours.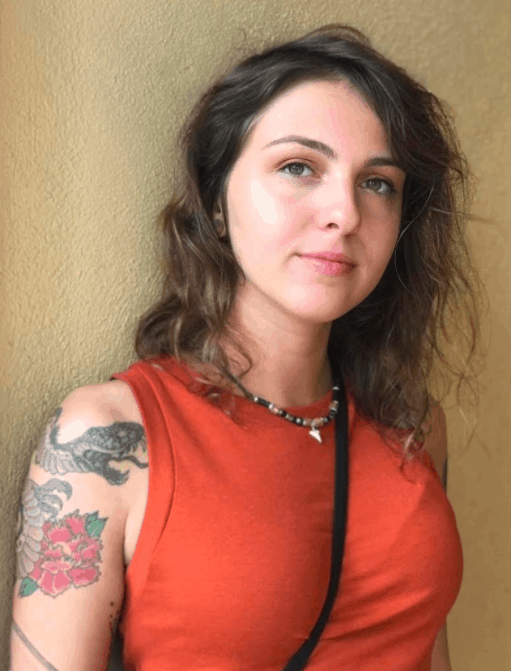 Nicole is a freelance travel writer who lives in Upstate NY, but her heart lies in the beautiful state of California. She loves to travel to new destinations, eat at all the best local restaurants and explore all the world has to offer. Her favorite place is just about anywhere where snow-peaked mountains can be seen in the distance.