Calling all Yosemite first-timers! Have you always dreamt of exploring Yosemite National Park??
Yosemite is a bucket list destination for so many people and when you are finally able to travel to this glorious park, you need to be armed with all of the knowledge you can to max out your stay!
Read ahead for the 16 Yosemite travel tips you need to know before your first trip to Yosemite National Park!
Yosemite Travel Tips for Your First Time in Yosemite
Get a National Park Pass to save money.
Note: This post contains affiliate links, which earn me a small commission at no extra cost to you if you make a purchase using one of these links. Thank you for supporting this free content!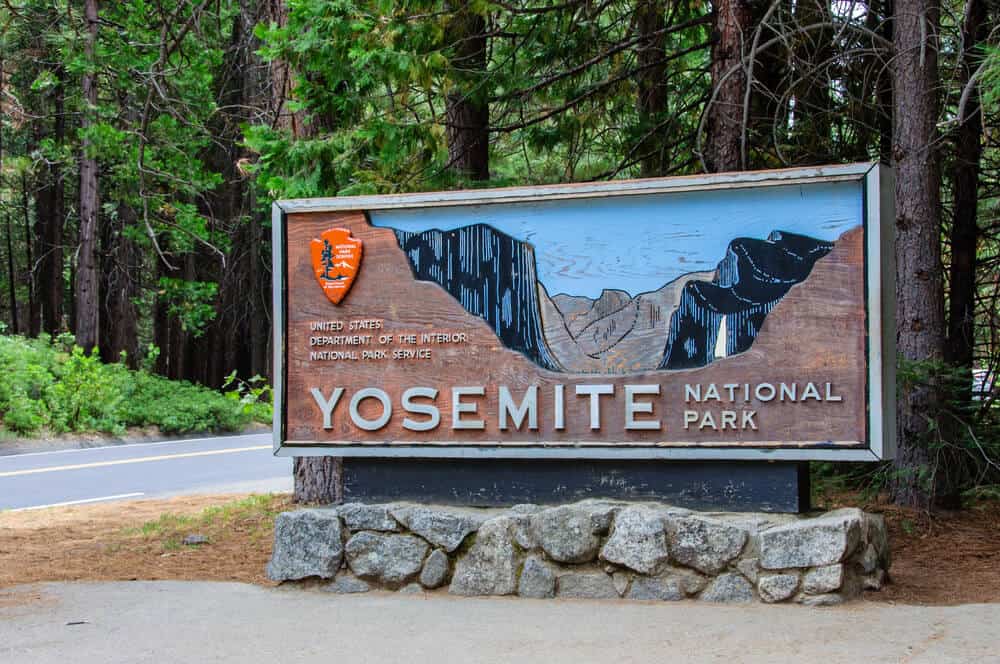 The first thing to know is how to get through the gates! All national parks require a pass of some sort. 
If you know that you will only be exploring one national park that year, buy the $35 park pass that is valid for 7 days. There is also a Yosemite annual pass that is available for $70 if you plan to visit Yosemite repeatedly, but no other national parks.
The best bargain, especially if you know you will be going to at least two different parks during this year, is to get the "America the Beautiful Pass" for $80. 
This annual pass will get you into over 2,000 federal recreation sites including all national parks, national forests, and national wildlife refuges.  These annual passes need to be purchased ahead of time at a local REI store or one of the federal recreation area locations listed on their website.  
It's possible to get into Yosemite for free.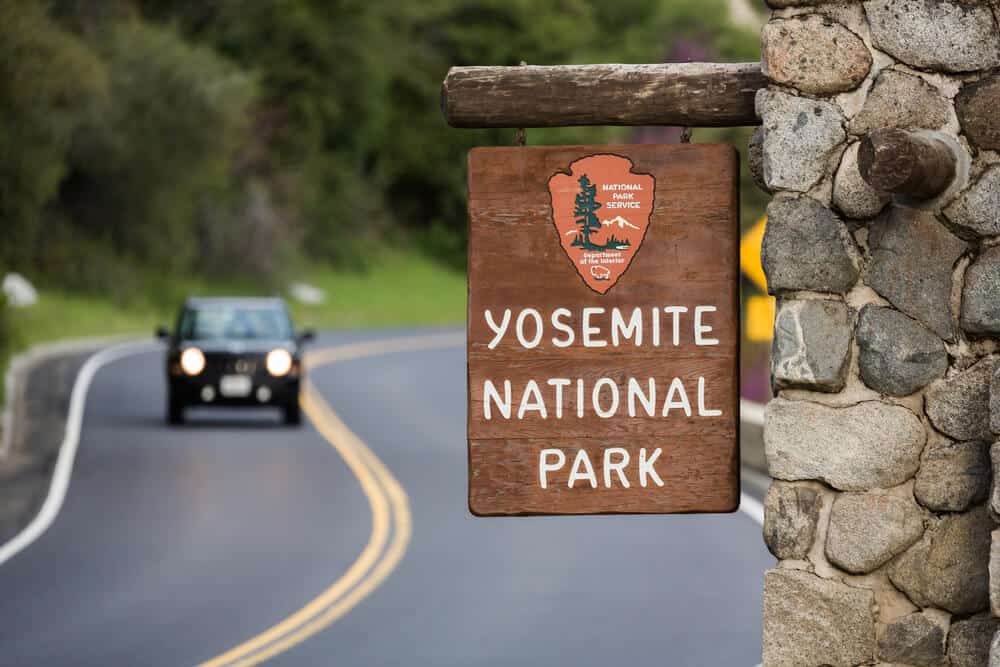 There are a few other ways to get into Yosemite for free!
If you are currently enrolled in the military, you can get a free military park pass!
Also, if you have a 4th grader, you can get a free annual 4th-grade pass that is valid for the duration of the 4th-grade school year through until the following summer. This is made possible through the Every Kid Outdoors project. Read more about it here.
Plan your Yosemite trip in advance.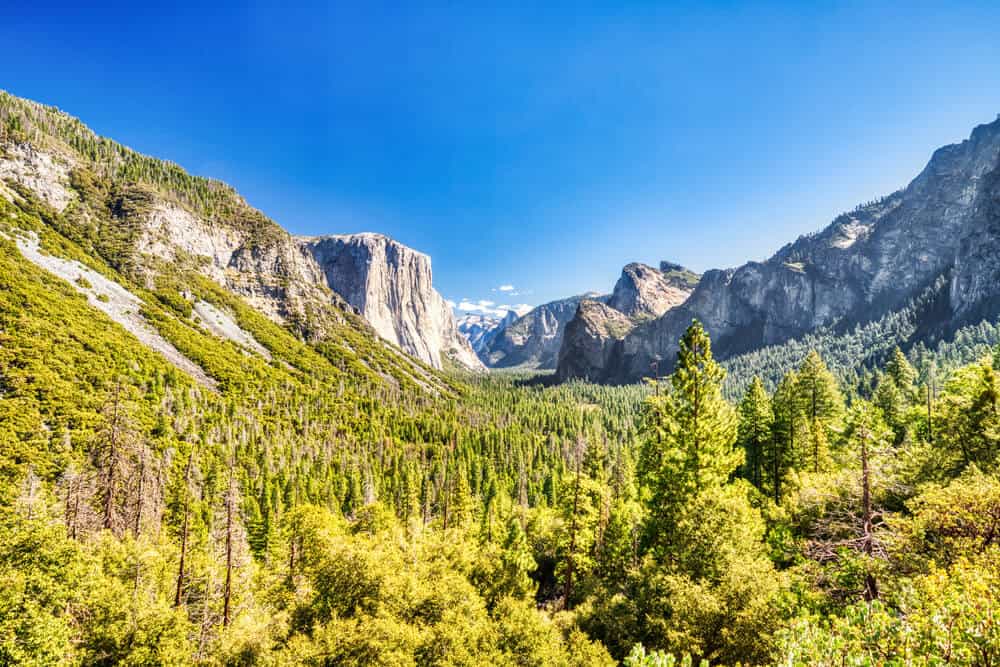 Your Yosemite trip is something that you should plan a year in advance if at all possible. 
Many of the best housing options will book out a year ahead of time; however, if you're running low on time, you can book a Yosemite Airbnb — if it's inside the park (as all of the choices are in my Yosemite Airbnb guide), your Airbnb booking includes access to the park — no need for waiting for a reservation for Yosemite!
Research your options and make your reservations early, there is something to accommodate every style and budget. 
Bed and breakfasts, hotels, campgrounds, and cabin rentals both inside and outside of the park will be available to you with careful planning!  
How to know if you need a permit for Yosemite.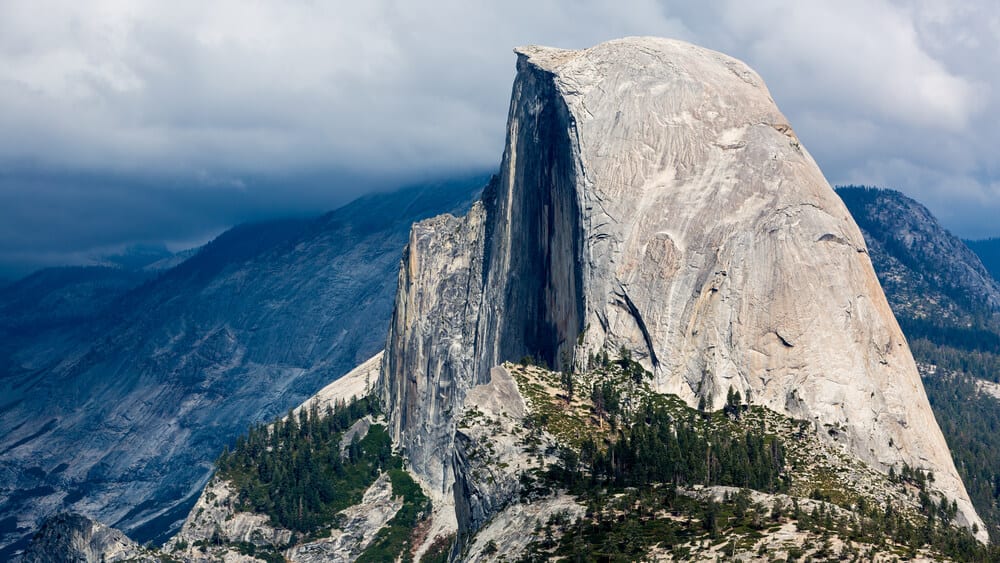 Not only should you make housing reservations ahead of time, but you also need to plan your activities. If you are planning to do some rock climbing or backcountry backpacking, you may need a special permit.  
Wilderness permits are necessary for those wanting to backpack or stay overnight in the Yosemite backcountry of the park. These are available on a first-come, first-served basis.  
You do not need a permit for most Yosemite day hikes or for staying at lodging facilities or campgrounds. 
You do need an additional application if you plan to hike to the top of Half Dome and the John Muir Trail. The Wilderness Act requires that these trailheads have a limited number of people allowed on it to provide outstanding opportunities for solitude and safety, so do keep that in mind.

How to get a permit for Yosemite if you need one.
Head to any permit-issuing station no earlier than 11:00 AM the day before your hike begins to try to get one. 
60% of reservations are available 24 weeks in advance, and the remaining 40% are available one day in advance through a lottery system. 
You can reserve your permit in advance for $5.00 per reservation plus $5.00 for each additional person. 
Make your reservation up to 24 weeks in advance from mid-November through October. 
Wilderness permits are required year-round, but reservations are not necessary for trips from November through April. 
Where to stay in or near Yosemite?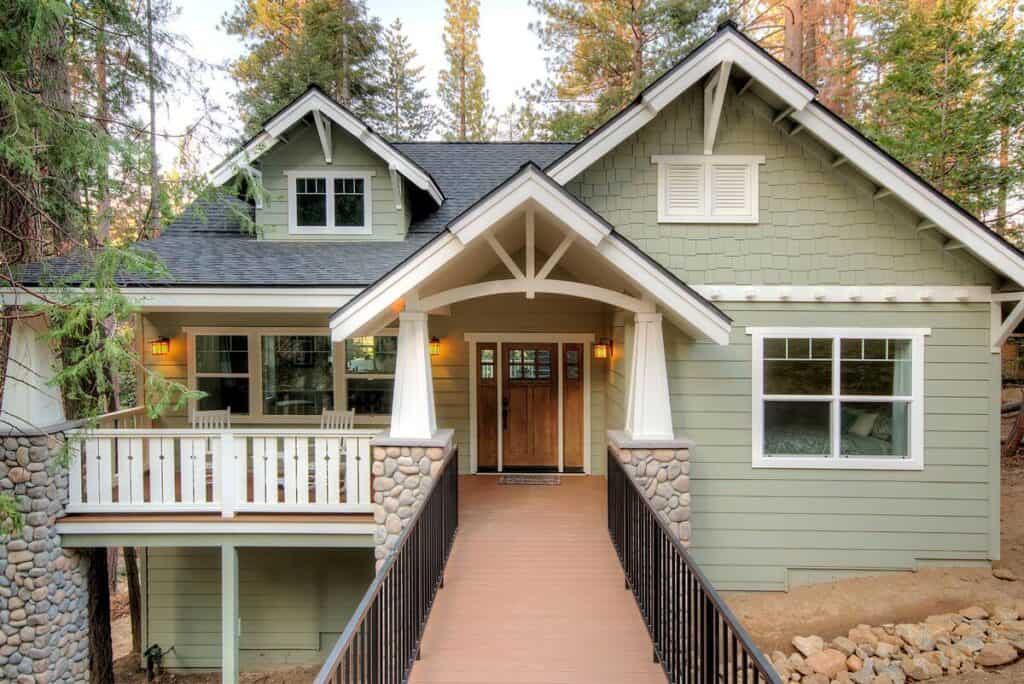 If you choose to stay inside the park, your life will be a little easier as you will have less travel time to get in and out of the main gates. 
During peak times, like when the park first opens, there can be long lines at the gates — so staying in the park avoids this hassle. 
If you want to be a little closer to nature, explore the 13 developed campgrounds or RV camping inside Yosemite.
There are also Airbnb vacation rentals and a few hotels like the gorgeous Ahwahnee inside the park if roughing it is not your thing. These places will give you all the comforts of home while still submerging you in mother nature!
If you are unable to score housing inside the park, you will need to reserve at hotels or rentals in nearby towns like Oakhurst, Groveland, El Portal, and Fish Camp (I recommend the lovely Narrow Gauge Inn) depending on which way you are driving in. 
This will increase your driving time each day in and out of the park, so plan accordingly for the extra hour to an hour and a half drive time each way. 
Travel Tip: These towns are also where the nearest big chain grocery stores and Walmarts are, so you might want to make a pit stop as you drive through to make sure you have everything you need for your Yosemite adventures, especially if visiting Yosemite in winter and needing to rent tire chains, snowshoes, etc.!
Location, location, location!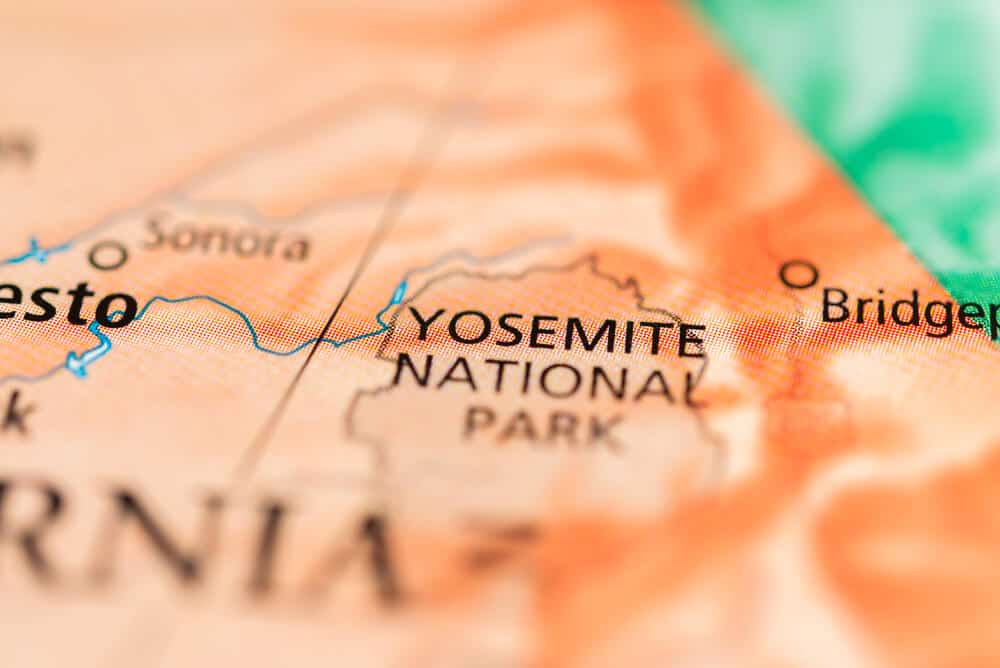 Yosemite is about 200 miles east of San Francisco, 300 miles northwest of LA, 64 miles north of Fresno, and a little more than 400 miles northwest of Las Vegas.
Yosemite has four main entrance gates, all of which take you through Mariposa County.  
Driving into Yosemite is easy via Highways 41, 140, and 120 from the West. 
However, due note that due to altitude and snow safety, the Tioga Pass entrance will be closed from approximately October through May or June each year. 
What exactly is "the Valley" that everyone is talking about?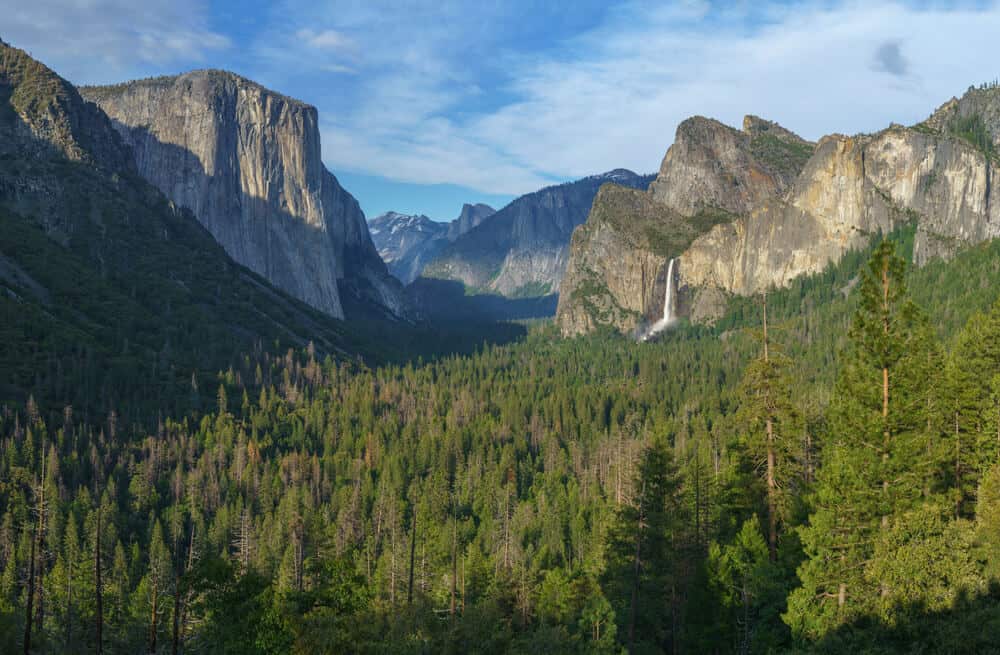 Yosemite is massive: it spans about 1,200 square miles (about the size of Rhode Island)!
However, most visitors focus their exploration on this gorgeous 7.5-mile loop called "The Valley".  It truly is one of the most stunning wild spaces you will ever feast your eyes upon. 
The Valley is 3,500 feet deep (picture two Empire State buildings stacked on top of one another!) that is surrounded by towering granite summits like Half Dome and El Capitan. 
Those two glorious landmarks are a rock climber's mecca and home of the iconic and inspiring (if not vertigo-inducing!) movie Free Solo. 
There is nothing like driving through the Wawona Tunnel for the first time to see the legendary "Tunnel View" that postcards are made of! 
It will truly take your breath away as you see Bridalveil Fall off in the distance, so be sure to stop and get some pictures of this scenic Valley view. Want even more great viewpoints? Check out this guide to the 12 best views in all of Yosemite.
Travel Tip:  Bring binoculars and some folding chairs and enjoy lunch right under El Capitan! If you are lucky, you will spot some rock climbers making their way up the side of El Cap. Incredible!
When is the best time to visit Yosemite for the first time?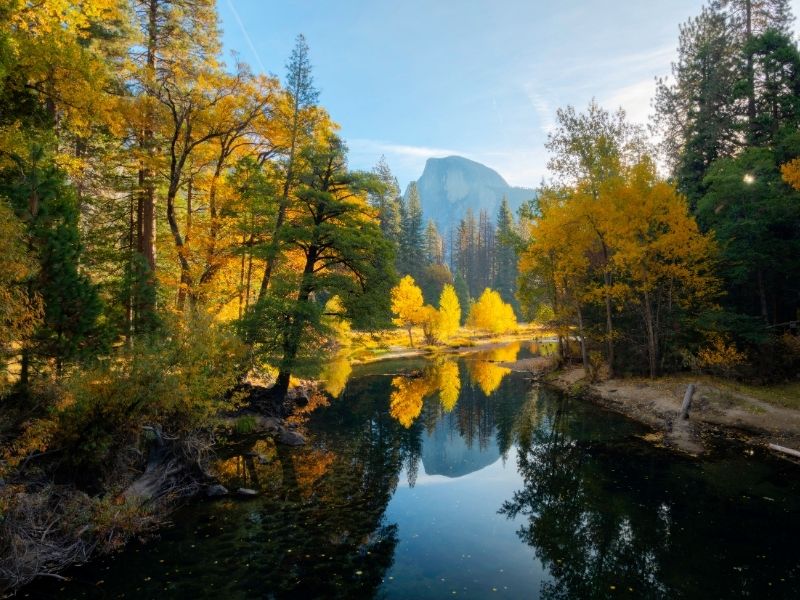 Yosemite is beautiful any time of year and is open year-round.  The summer months tend to be more crowded and much busier, so if you are seeking solitude, it may not be the best time.
However, due to the altitude, Yosemite won't be so scorching hot, so the temperatures should be rather pleasant, even for hiking.
Visiting in the winter is beautiful in different ways, it is breathtaking to see the valley covered in snow, but the Yosemite National Park Services recommends that all cars have tire chains when visiting anytime between November and March. 
Snowstorms and flurries can quickly appear without warning, so making sure everyone is prepared to drive on the winding roads in any kind of weather is important for safety reasons.  You can stop into Mariposa to purchase or rent tire chains if needed. 
Personally, I think visiting Yosemite in the early fall is a great choice. The summer crowds have faded but you don't have to deal with the road closures of winter. Plus, Yosemite has some of the best fall foliage in California!
Travel Tip:  If you are hoping to visit the epic waterfalls of Yosemite, visit during the springtime to see the biggest water flows and snowmelt.  The months of May or June are typically the best. By the time the end of summer hits, some of the waterfalls can actually run completely dry.
Take the "scenic" drive!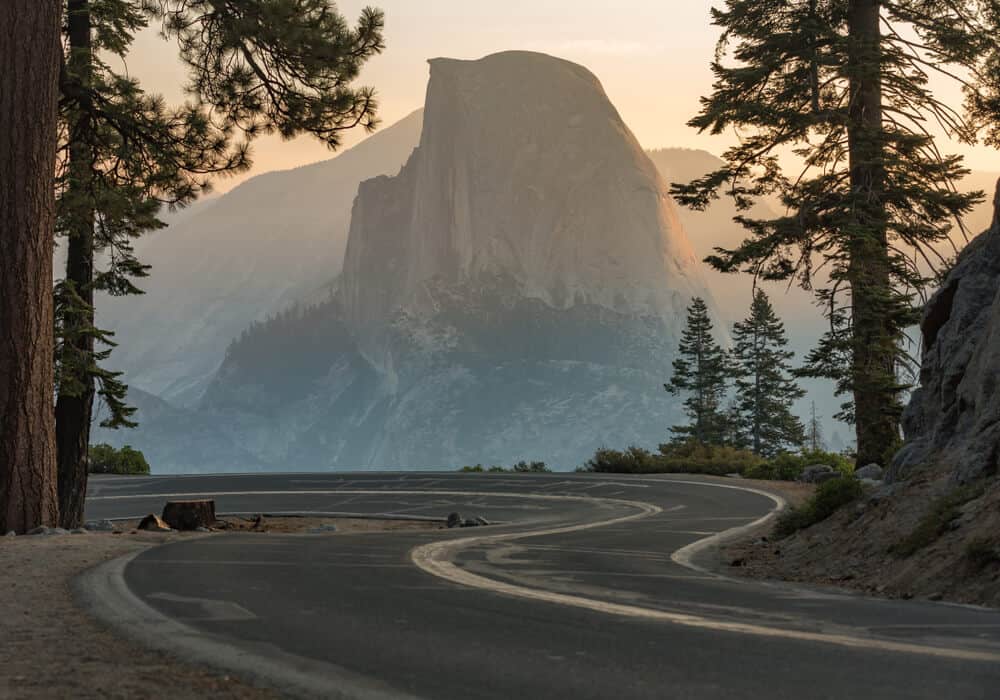 As you drive in and around Yosemite the views are completely breathtaking… in more ways than one, for those who are afraid of heights!
Make sure you understand that most times those "scenic" views can mean a two-lane winding road on a cliffside with no railing. 
Driving in those conditions might not be for those with a fear of heights, so plan accordingly. One of my best Yosemite travel tips is that if you have a travel buddy, make sure that the person that is the most confident dealing with heights is the one in the driver's seat.
Feel free to pull over when there is a safe overlook space if you feel like you are slowing down the traffic behind you or want the other cars to pass ahead of you. 
There is no stress and it will give you more time to enjoy those epic views and take some pictures!
Yosemite Travel Tip:  This guide for Yosemite comes highly recommended and is a great way to get a guided tour while you drive in and around Yosemite.  The guide uses GPS to know exactly where you are, giving you directions to some of the top sites and a cheeky guided tour.  It is absolutely worth the $5.99 price tag.
Where can I eat inside Yosemite National Park?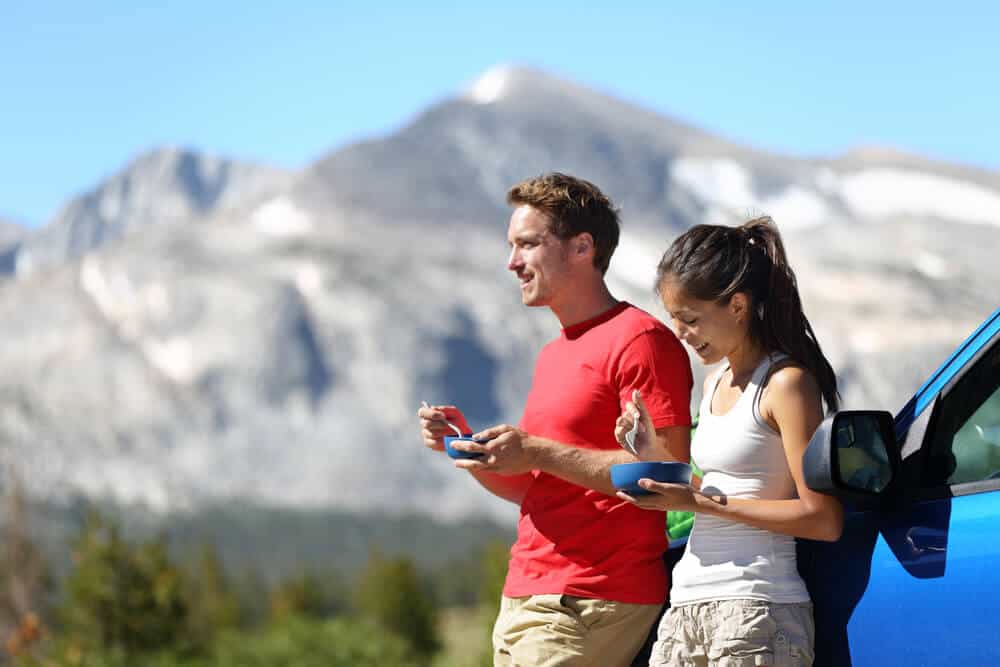 Be sure to stop at one of the grocery stores outside of the park in nearby Oakhurst to stock up on supplies and groceries if you want to pack meals or cook yourself. 
There are plenty of dining options inside the park. There are food courts, restaurants, and Yosemite even has its very own Starbucks!
There are also plenty of picnic areas if you want to pack in your own food and have a picnic with an incredible view!
Are there wild animals in Yosemite

?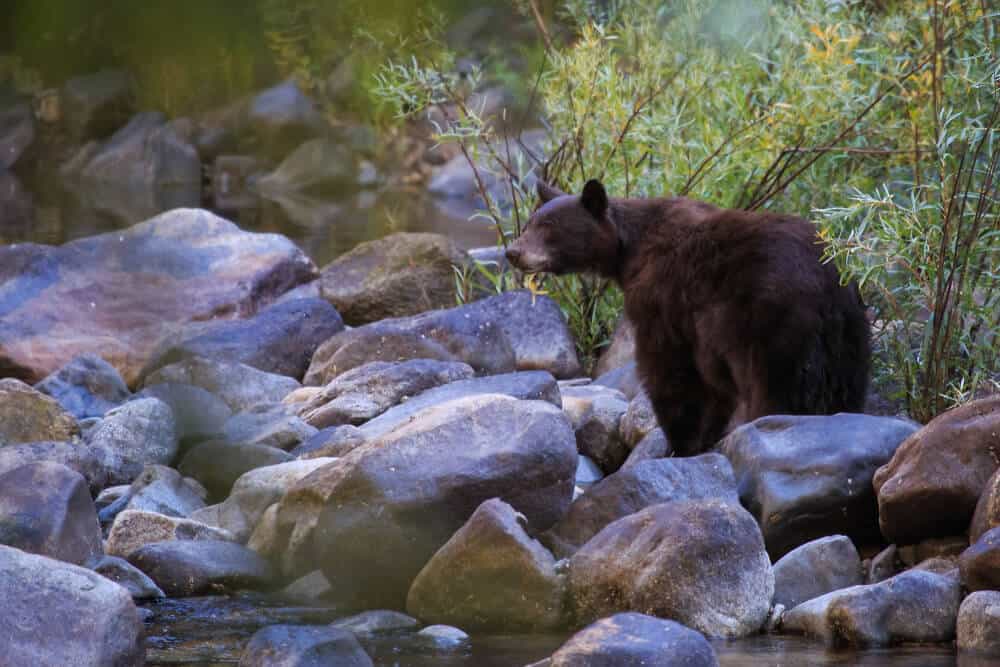 There is a solid chance you will spot a bear, deer, or other wildlife when you visit Yosemite — you are in the great outdoors after all, and this is their home! 
Keep in mind to watch the speed limits, and keep your eyes open at all times while driving. Most animals will keep their distance and you can enjoy them from afar.
You could also purchase some bear spray and/or a bear whistle to arm yourself while you hike if it makes you feel better. Using those can help scare away a bear if you happen to have a close encounter. However, most bears are quite acclimated to humans and will usually make themselves scarce upon hearing hikers' footfall.
An important thing to note is that you will want to keep the inside of your car very clean while you are in the park and never leave food unattended or out on a picnic table. 
Bears have a very keen sense of smell and can smell a dropped French fry hiding under the front seat of your car. They've also been known to break into cars for even a scented lip balm! If you are camping or hiking with food, you must have a bear-proof food storage canister with you. 
As the unfortunate-but-true saying goes, "a fed bear is a dead bear." Bears who attack cars to access human food are almost always euthanized by park rangers because they pose a thread to the humans in the park.
So be responsible and remove any and all scented objects from your car. You don't want to deal with a damaged car or the death of a beautiful bear on your conscience.
You will also notice very unique garbage containers sprinkled around Yosemite National Park! These are designed in a way that makes it very difficult for a bear, raccoon, or any other wildlife to get into the trash. You might recall seeing these special garbage cans at other national parks, but they actually originated in Yosemite.    
It is dangerous to feed wild animals of any kind human food for a variety of reasons — both for your safety and theirs — so please keep your distance and enjoy them from afar. This goes for all animals, including birds.
Leave no trace.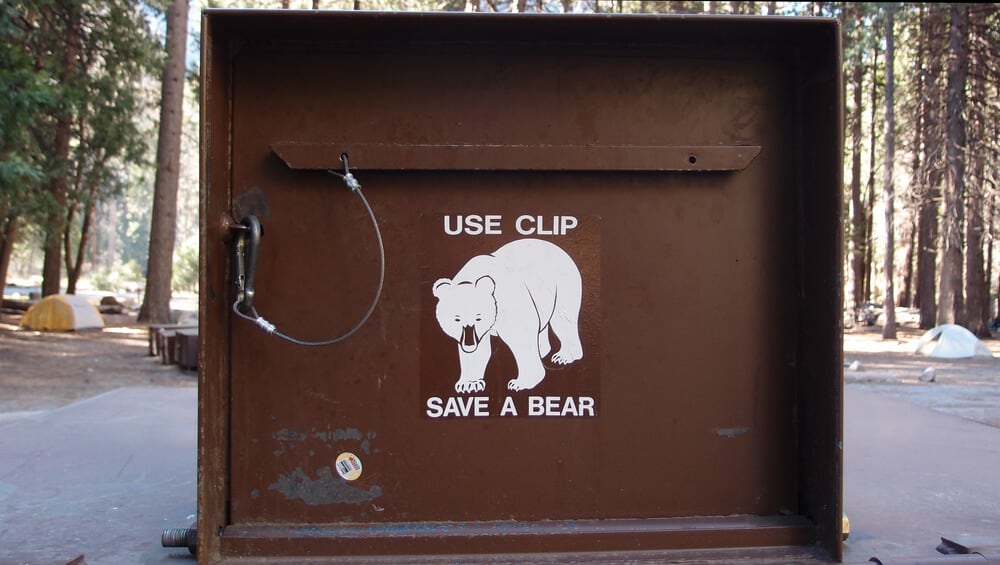 Yosemite National Park welcomes about 4 million visitors per year. That is a lot of foot traffic and waste that needs to be taken care of to keep Yosemite in pristine condition.  
Leave no trace means just that… take out everything you bring in, and leave every campsite, trail, and tree just as you found it.  Dispose of waste properly — so if you pack it in, pack it out. 
If you have to use the restroom outdoors while in the backcountry and can't access a toilet, you need to deposit human waste in catholes dug in soil at least six inches deep and at least 100 feet from any water, camp, or trail. 
Cover and disguise that cathole when finished digging. Pack out all toilet paper and hygiene products as well.
For all you Yosemite first timers, the National Park Service has put together this video titled:  "How to Poop in the Woods" that you should review before your next hike away from the regular toilets in the more developed areas of the park!
How long should I stay in Yosemite for my first time?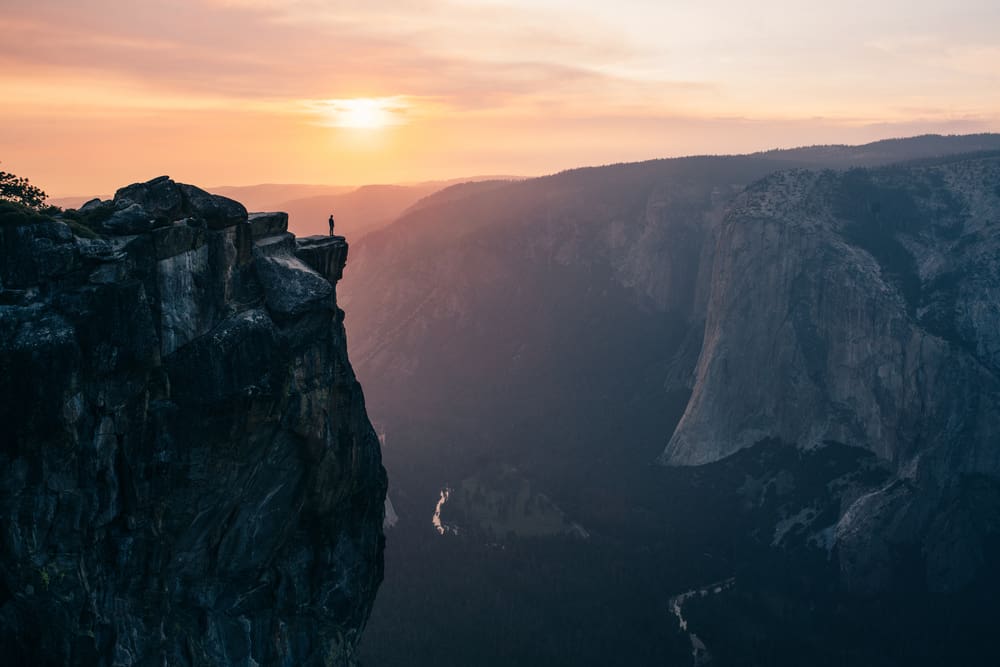 My biggest Yosemite travel tip — as long as you can! If you only have one day in Yosemite, you could easily hit a lot of the best landmarks in the valley… it will be worth the trip, don't question it for one second! 
If you can stay for longer, even better! I have a two-day guide to Yosemite here which you can read, but you could easily spend an entire week or more in Yosemite and explore some of the more distant areas from the valley like Tenaya Lake, Tuolumne Meadows, or the Hetch Hetchy area. 
Can my fur baby come with me?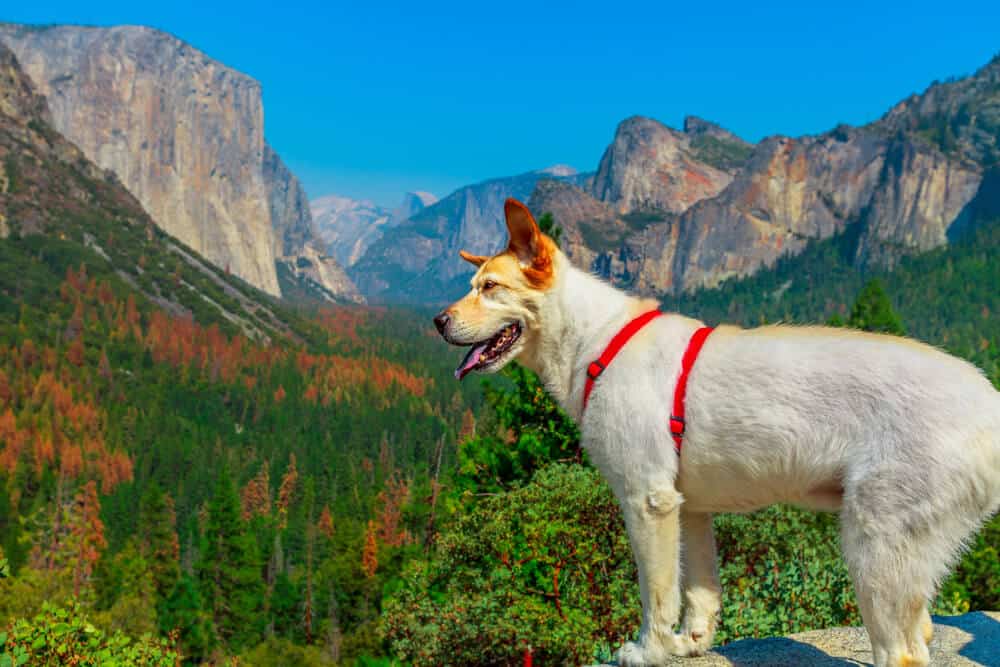 Pets are welcomed in select spots of Yosemite and are welcome in most campgrounds. Your dog must be leashed at all times and owners must clean up after their pets with that same "leave no trace" mentality. 
However, dogs are not allowed on most hiking trails. Be sure to check the website to see the most up-to-date places they will allow your dogs to walk with you. 
My friend Paroma who is an expert at traveling California with a dog in tow has written this excellent guide to bringing a dog to Yosemite National Park, which I suggest reading before bringing your fur baby along for the ride.
Yosemite Hospitality also operates a dog kennel from late May through early September if you need help with your pup while you explore.
What should I pack for Yosemite?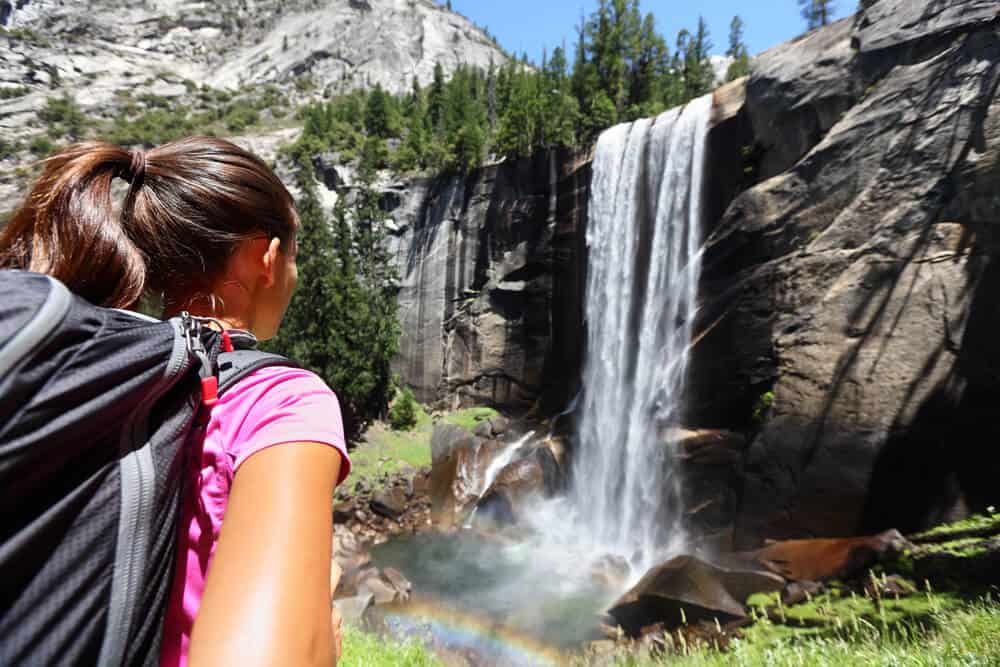 I'm in the process of creating a detailed packing list for Yosemite, but here are the basics you shouldn't forget.
Tons of water — when you think you have enough, pack more! I also suggest bringing a water bottle like the Grayl which can filter water in case you want to fill up from a stream, waterfall, lake, or resevoir.
Comfortable shoes & clothes — bring layers, as weather at high elevation can be quite mercurial!
Water shoes — especially if you plan on playing in the Merced River (a must in summer!)
Sunscreen & sunglasses. Bring mineral/zinc-based sunscreen if playing in the water, as opposed to chemical sunscreen.
Hat, umbrella, bandana — cover that head in the heat of the day!
Snacks
Map of the park — bring a hard copy in case your phone does not get service.
Gear to use the restroom outside (if you plan on venturing off the common areas)
Bike if you want to explore on wheels!
Binoculars
And of course — do NOT forget your camera!!
Last Essential Yosemite Tips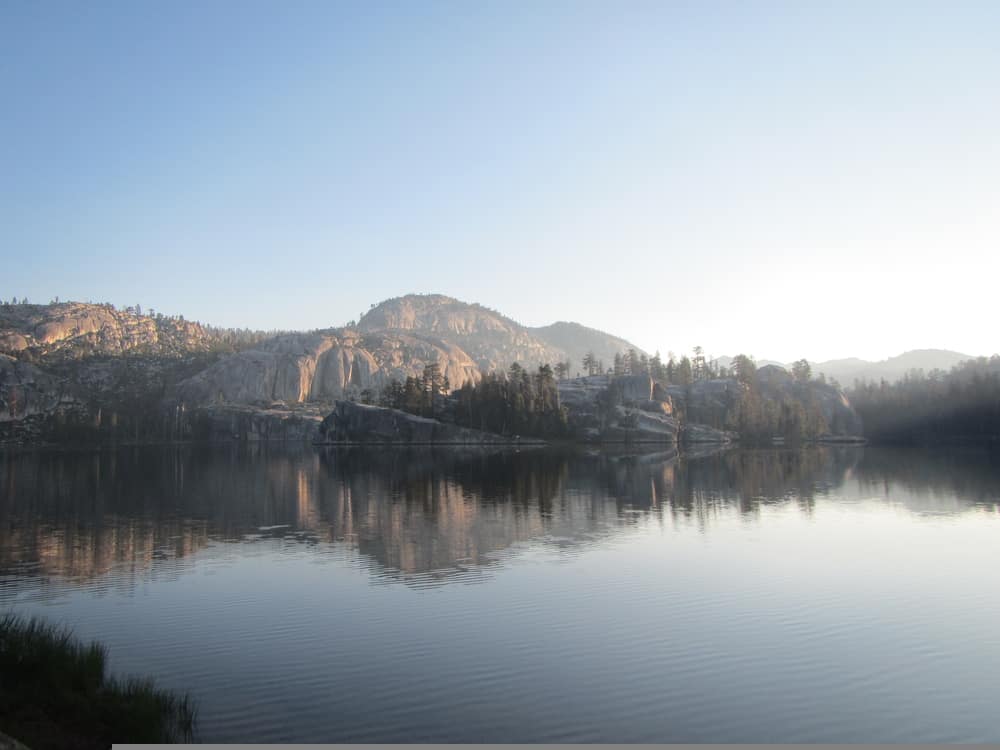 Do not plan on your cell phone working at all! There are places where you will get spotty service, just don't count on it. This is a great chance to unplug.
Be sure to check the Yosemite Website for information on what attractions, roads, and areas might be closed for various reasons. Especially during these Covid days, there are a lot of changes.
Soak it all in, explore, stay safe, and have a fantastic time checking off Yosemite from your bucket list! 
Pin This Guide to Yosemite Travel Tips for First Timers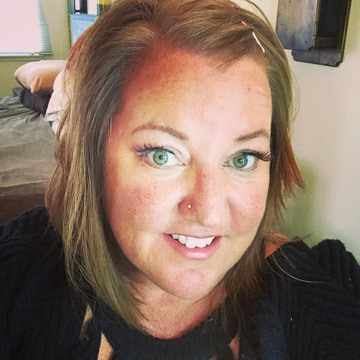 Rosie Queen is a travel blogger and creative writer who grew up on the South Side of Chicago. She has spent time living in Indianapolis, Dayton, New York City, London, Orlando, Boston, and most recently, Huntington Beach, CA. Rosie has been blessed to travel most of her life while being deeply involved in the performing/pageantry arts. She has enjoyed adventures in 48 U.S. states, Japan, Thailand, Mexico, Paris, London, Canada, and the Caribbean. Rosie is obsessed with her dogs, color guard/marching band, national parks, and traveling.