Calistoga is a charming small town in the heart of Napa Valley, home to beautiful vineyards, expressive Cabernets, geothermal features, and delicious restaurants.
But beyond its vineyards and mud baths for which Calistoga is famous, there's a lot more to meet the eye, including a Tuscan-styled castle, a 19th-century grist mill, and volcanic whispers in the landscape.
Here are a few of the best things to do in Calistoga while exploring Napa Valley or visiting Calistoga on a weekend trip.
Fun Things to Do in Calistoga
Explore the charming murals of Downtown Calistoga.
Calistoga is a charming and historic town (well, historic by California standards, anyway).
There are a handful of murals that offer a sort of window to the past, painting historic buildings and storefronts on the sides of what are now the main buildings of downtown. There's an alleyway with a mural of the former Grauss Mercantile, and on the side of a tasting room next to the Napa River, there's a cute little horse stable mural.
Note: This post contains affiliate links, which earn me a small commission at no extra cost to you if you make a purchase using one of these links. Thank you for supporting this free content!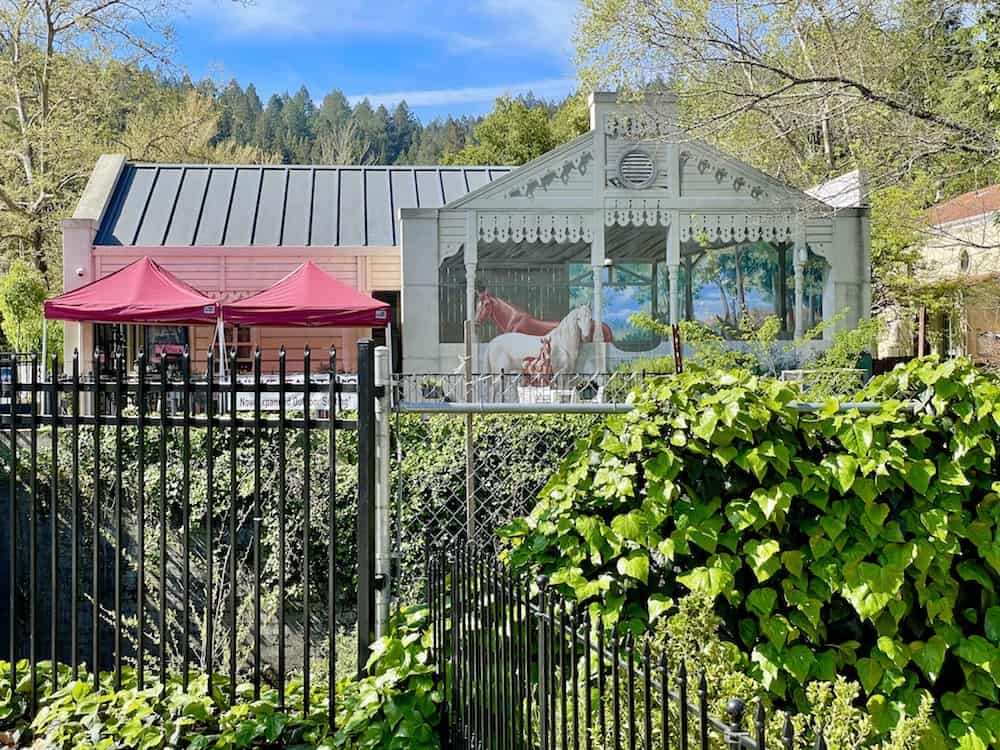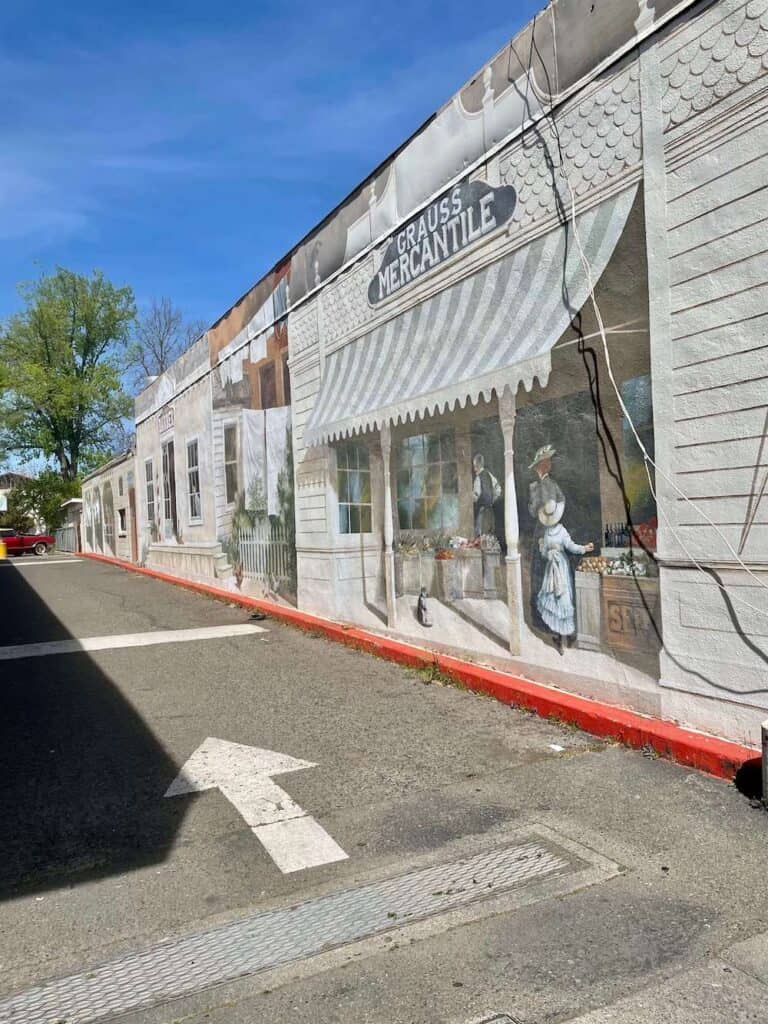 Pick up at picnic at Cal Mart.
Calistoga is home to a fantastic market with all manner of wine and cheese and other wine-tasting accoutrements!
You'll have a hard time settling on their delicious cheeses, many of which are local. You can't go wrong with local favorite Cowgirl Creamery based in Petaluma… especially their Mt Tam cheese! It's an amazing triple-creme soft cheese made from local and organic Strauss milk – it's award-winning and delicious.
They also have charcuterie, all sorts of fruits and nuts, and everything you could think of to create the perfect Napa wine tasting pairing.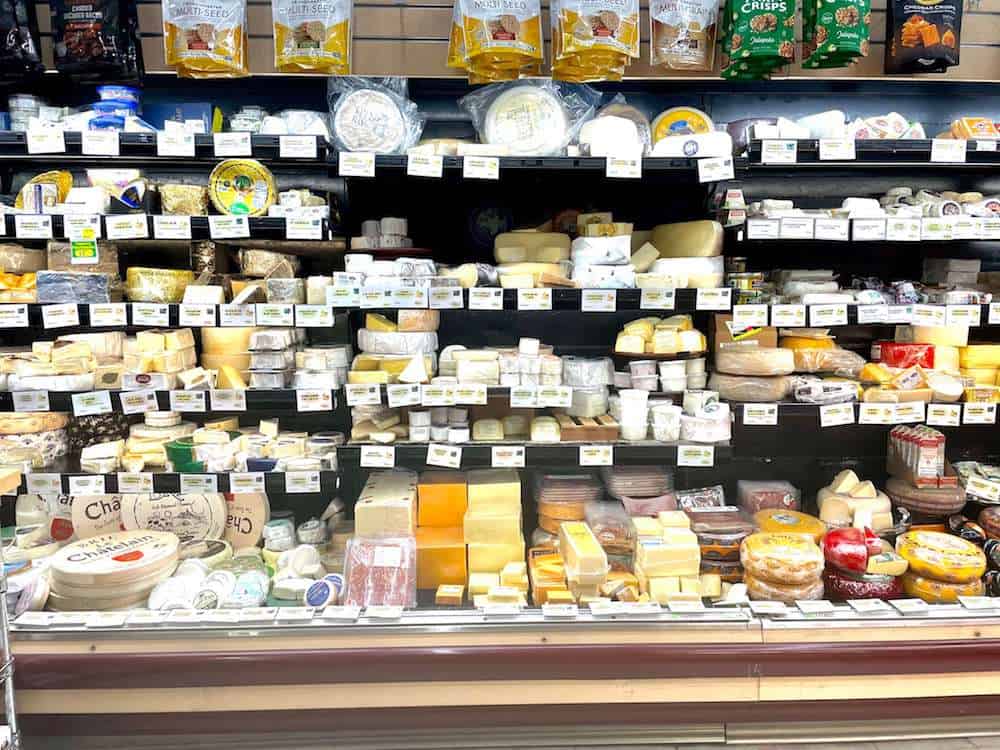 Visit a slice of Tuscany in Napa Valley.
Napa Valley legend Dario Sattui (the 4th generation owner of V. Sattui Winery in St. Helena) dreamed up this castle for decades, and in 2007, he opened it to the public.
The castle was inspired by Sattui's two years of travel through Europe in an old van, and he would sketch and take notes on the medieval architecture he encountered while abroad.
The result was this architectural masterpiece of a castle: over a hundred rooms on more than 8 levels, covering nearly 150,000 square feet. The styling is very true to the time period from which it derived its inspiration — 12th and 13th-century castles — and includes everything from a moat to a drawbridge to a chapel to a (hopefully unutilized…) torture chamber.
Besides the castle, there are acres upon acres of vineyards, and the castle winery makes its own wines… though frankly, we're not huge fans of the wine they make there, and we suggest booking a tasting there but also looking at other wineries that are a little less flashy and a little more grape-focused.
Note that as of now due to Covid restrictions, visiting the castle and winery is by reservation only. Tasting fees vary; their cheapest is $45 per person for a standing tasting.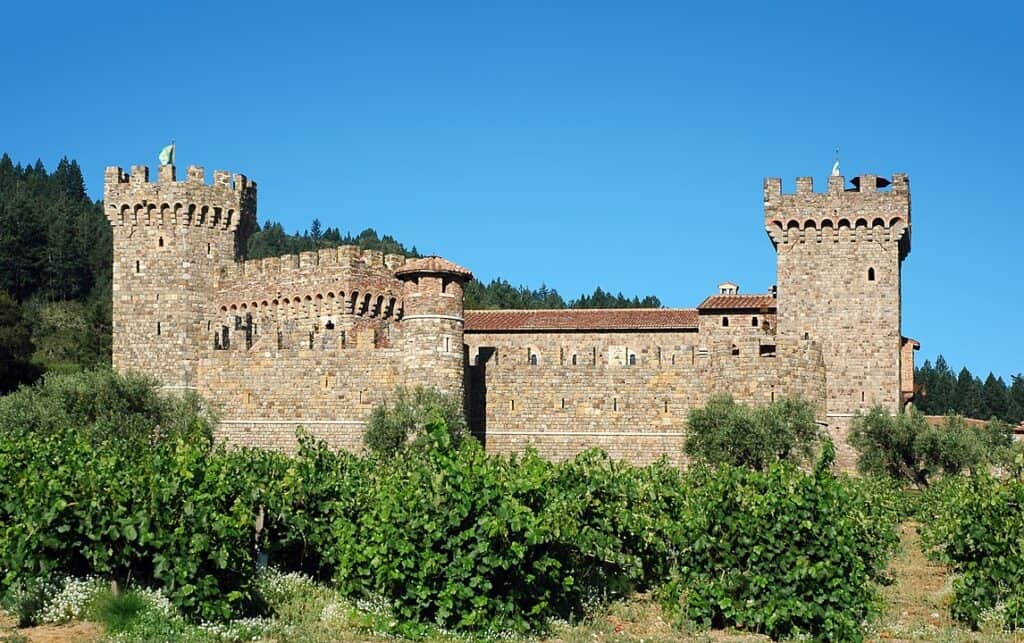 See one of two remaining mill grists west of the Mississippi.
When you need to sober up between wine tastings, take a little walk around Bale Grist Mill State Historic Park, home to a water-powered grist mill (that still works — they run it occasionally for tours!). It's located between St. Helena and Calistoga, not far from Castello di Amorosa.
It was built in 1846 and it's one of just two water-powered mills west of the Mississippi, which makes it pretty darn unique.
Unfortunately, it's closed at the moment due to Covid-19, but when we went to Bothe-Napa Valley State Park and asked about it, they said it would reopen on Memorial Day of 2021 — so soon!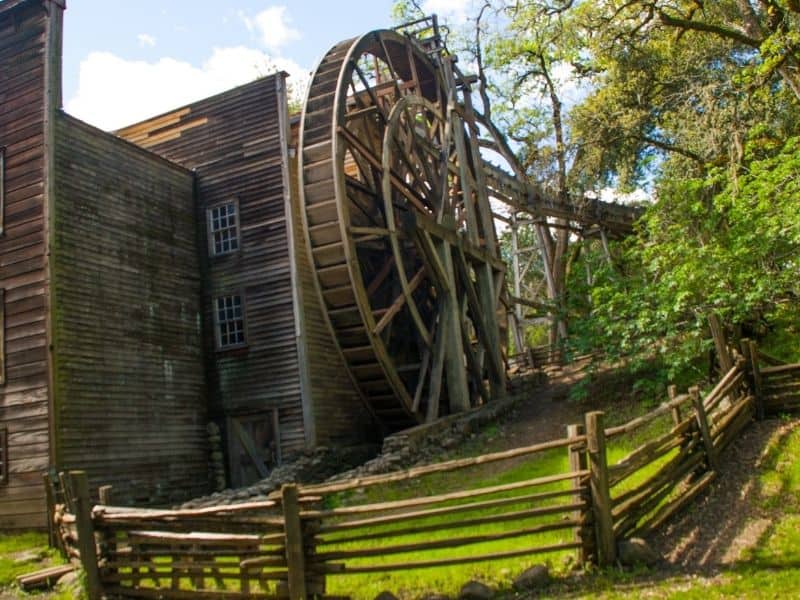 See Calistoga's own mini "Old Faithful"
Named after the geyser in Yellowstone, the geyser in Calistoga is a bit smaller but also rather impressive. It's named so as it is one of only a handful geysers in America that is "faithful" in the timing of its eruptions!
It erupts every 15-30 minutes, and there are several other things to do in the geyser complex while you wait for it to erupt!
There are picnic grounds, a small petting zoo with llamas and mountain goats (!) as well as a Geology Museum that explains the science behind geysers.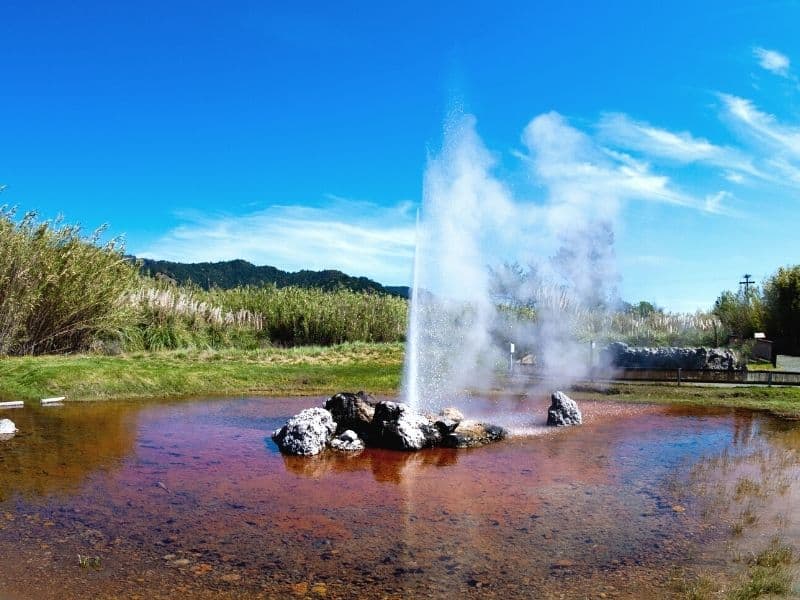 Take a mud bath.
Calistoga is so much more than just wine – it's also a fantastic place for wellness and healing.
In fact, it's believed that the Wappo tribe, the Indigenous group who lived in Calistoga for 8,000 years, originally settled in the area because of the geyser and mud baths, which they believed to have healing powers.
The mud baths in Calistoga combine both volcanic ash from the eruption of nearby Mt. St. Helena as well as mineral-rich hot spring water (the same water source as the geyser).
Mud baths are a great way to detoxify the skin and soothe skin conditions like eczema. It's anti-inflammatory and relaxing, but most of all, it's just plain fun and afterwards, you'll feel baby-smooth and like you're glowing!
There are so many places to do a mud bath in Calistoga but the most famous is Dr. Wilkinson's, who started the mud bath tradition as a tourist attraction. More upscale mud bath experiences are also available at Indian Springs and Auberge du Soleil.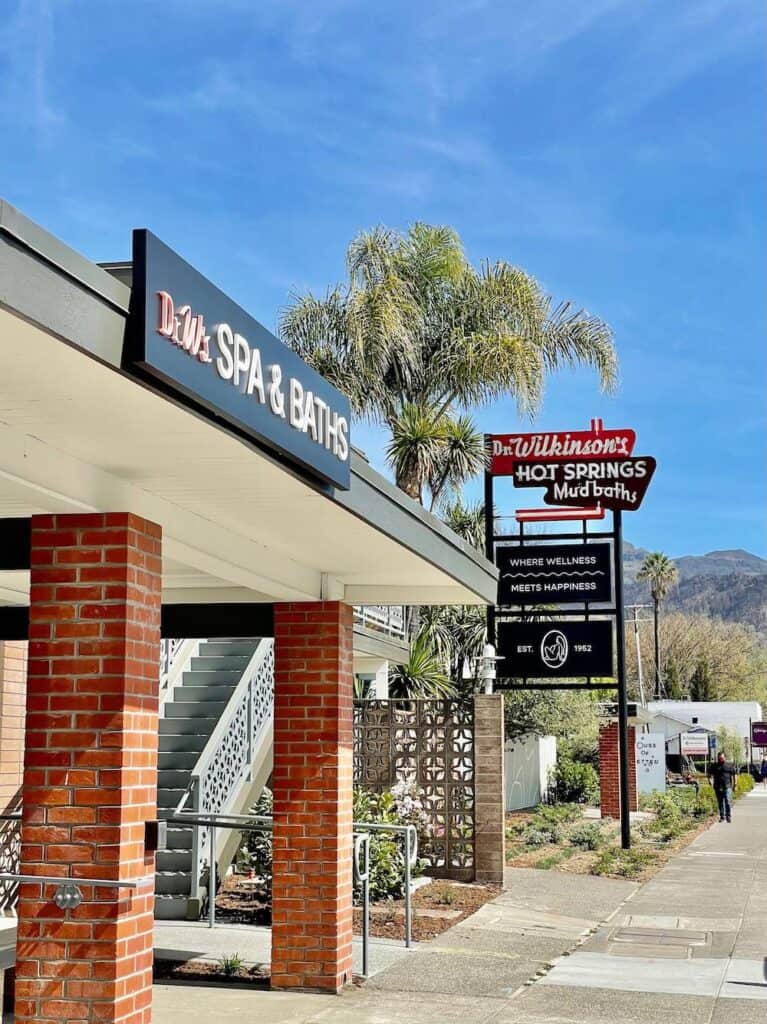 Check out Vincent Arroyo's delicious wines.
Vincent Arroyo is a legendary name in Calistoga and is the owner of one of the northernmost wineries in Napa Valley.
He's a friend of the family, and I had the pleasure of meeting him at his new winery across the way from Vincent Arroyo Family Wines, Otra Vez ("Once more" in Spanish — named so for the fact that he retired, gave the vineyard to his kids… and then promptly started a new vineyard!).
Vincent Arroyo is known for having the best Petite Sirahs in all of Napa Valley, so make sure you stop by Vincent Arroyo Family Wines to try one (or two or three!) or his Petites. And also to say hello to their adorable black lab greeter, Rosie!
This winery also makes a fantastic Tempranillo, Zinfandel, and of course — Cabernet — as well as a Chardonnay (which was on the oaky side for my personal taste, but I'm not a Napa Chardonnay girl).
Across the way just another minute down the road is Otra Vez, where you'll find Vince Arroyo hanging out these days. He just makes Cabernets, and they are phenomenal. We got to try a vertical tasting of the 2016, 2017, and 2018 Cabs and they were all incredible, and it was really fun to see how each year in the bottle changed them.
I personally was a big fan of the 2016 Cab, but I think it's because I'm not a very savvy Cab drinker so I prefer a bottle that's a little more pre-aged as I'm not really certain how it will progress with time.
You need reservations to visit each winery — you can book a reservation at Vincent Arroyo online here and at Otra Vez by using the contact form here. I do not believe there is a tasting fee at either location, which is rare for Napa.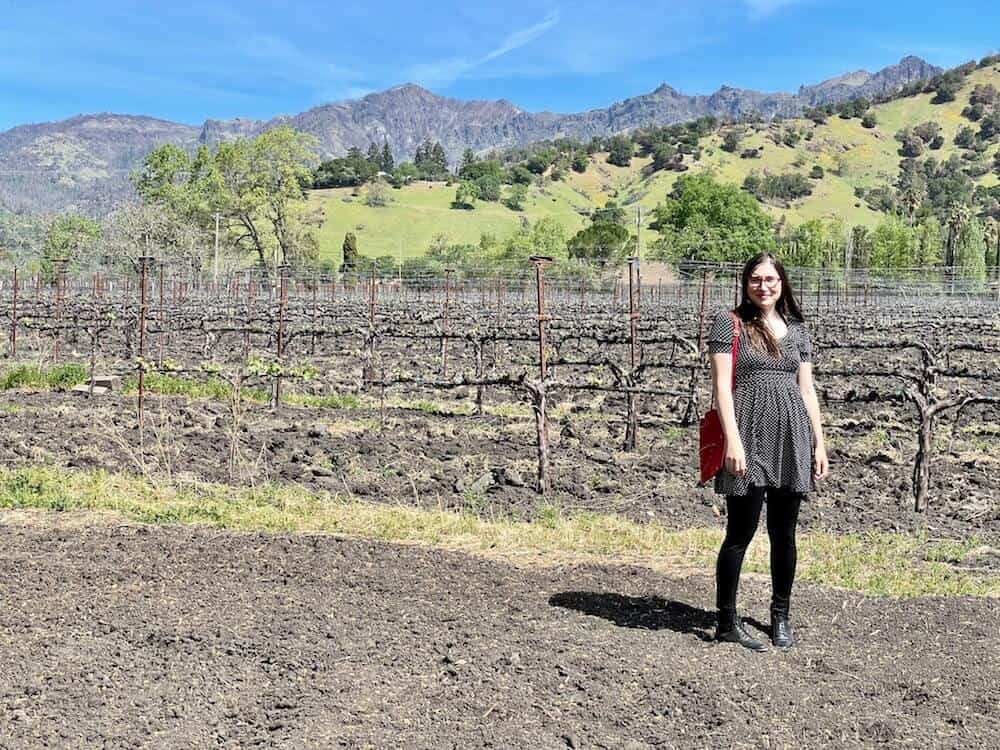 Take a hike.
There are several great hikes in Calistoga you can take as well as elsewhere in Napa Valley. One of the best places to go for a hike is in the Bothe-Napa Valley State Park.
Hike along a moving creek and redwood trees along the redwood trail, hit the Vineyard Trail on an easy loop around a vineyard, or opt for the 8-mile Ritchey Canyon Trail for a more serious hike.
Visit a historic chateau that beat France at its own game.
Wine geeks will know the name Chateau Montelena well!
This Napa winery located in Calistoga won the white wine section during the 'Judgement of Paris' 1967 wine tasting competition, in which Napa Valley trounced traditional French wine in both red and white wines — much to the French's surprise.
They still are best known for their Chardonnays, and why wouldn't they be if they were good enough to beat Chablis and Burgundies?
They also offer Cabernet Sauvignon, Riesling (my personal favorite!), and Zinfandel.
As if the wines weren't delicious enough to warrant a visit all on their own, the property is gorgeous as well. A French-styled castle covered in ivy and surrounded by greenery and trees, with award-winning, history-making wine: what's not to love?
Visits are by reservation only — email [email protected] or call at 707.942.5105. Tasting fees are around $40 per person.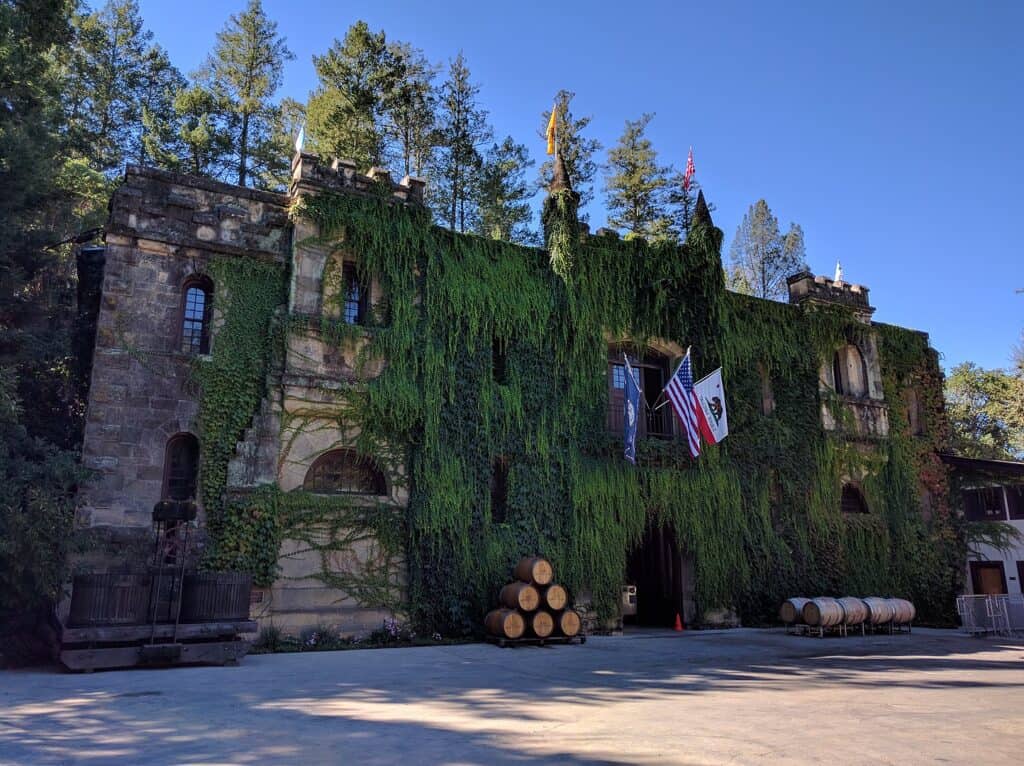 Swap out wine for beer.
Had enough wine tasting, or are there people in your party who can't tell a Cab Franc from a Sauv Blanc?
Head to Lincoln Avenue Brewery in downtown Calistoga, right on Main Street, for their delicious home-brewed craft beers, extensive taproom, and outdoor beer garden. They also serve lunch and dinner.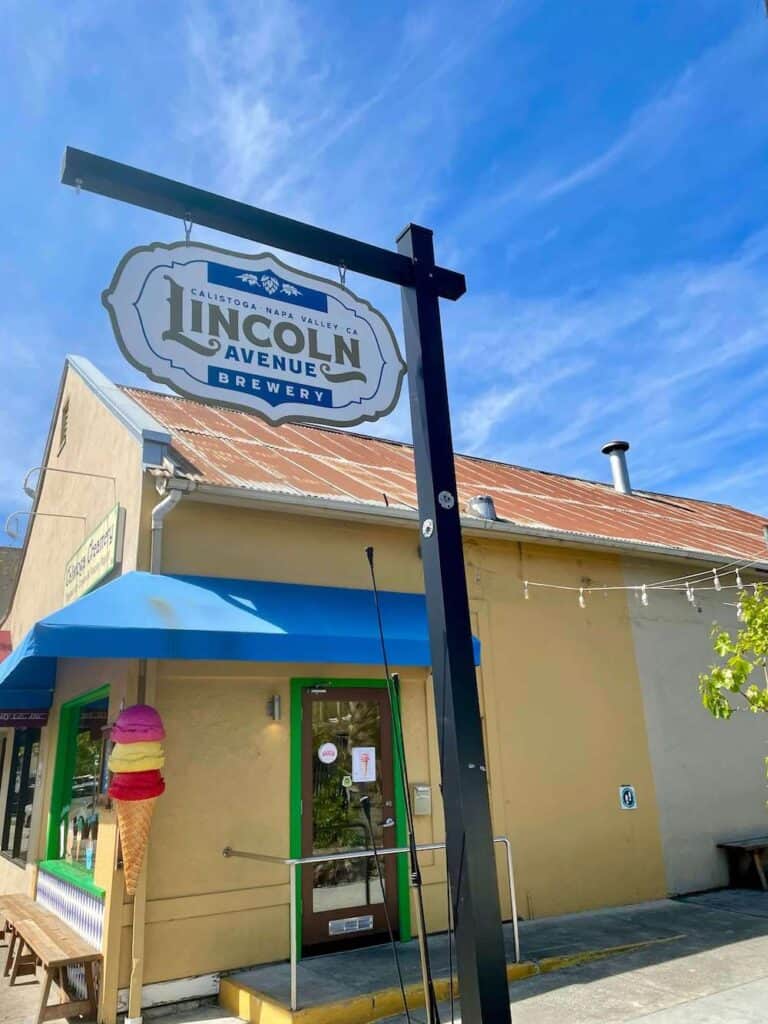 Drive (or bike) the Silverado Trail.
Unlike the busier Highway 29 that runs between Napa and Calistoga, the Silverado Trail is a lot quieter and there are many great wineries you can stop at along the way. It's also a popular route for cyclists.
It was built in 1852 as the first road to permanently connect Napa and Calistoga along the 30-odd miles of distance between them. It's still rural and charming, whereas Highway 29 is built up and a lot busier.
A few wineries of note along the Silverado Trail are Joseph Phelps, Miner Family Winery, and Robert Sinskey Vineyards (try the white blend Abraxas if it's available).
The beautiful Auberge du Soleil hotel is also located right along the Silverado Trail!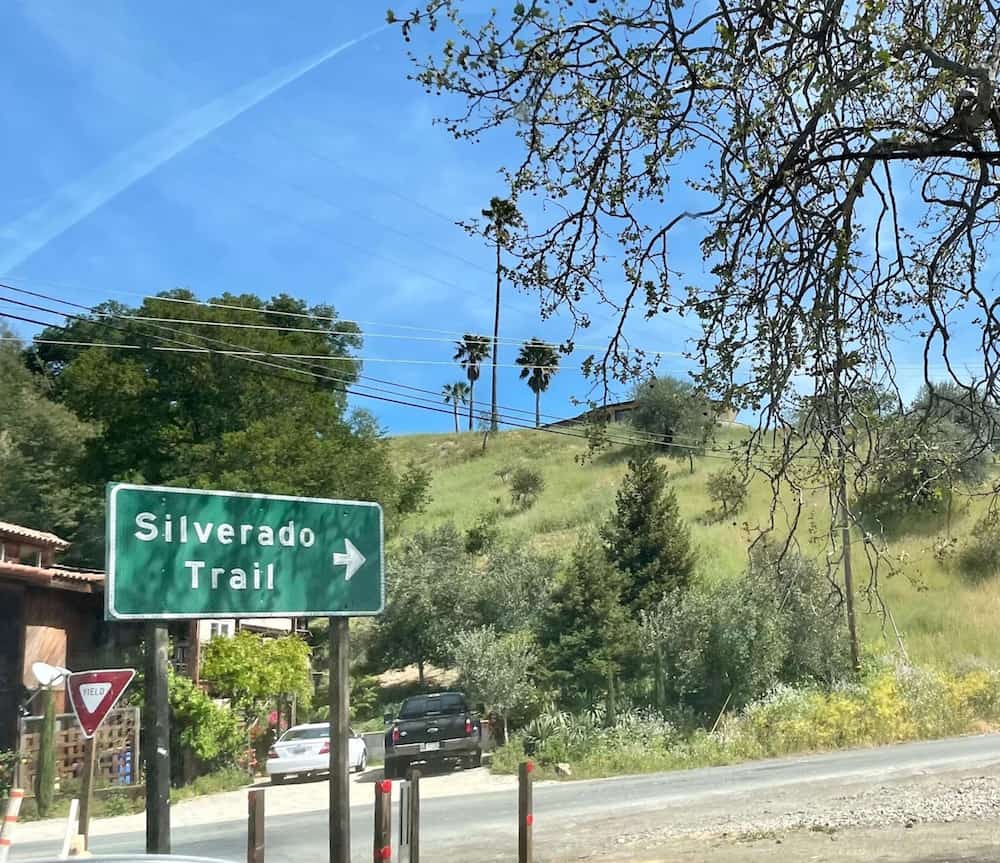 Visit the Calistoga Depot.
The Napa Valley wine train is one of the quintessential tourist experiences of Napa Valley, but it doesn't go all the way up to Calistoga. (However, if you have time to do the 3-hour tour, you can take a roundtrip tour departing from Yountville in Napa, and is well worth the half-day!)
Nevertheless, you can snap some photos with the two red stationary trains parked at the Calistoga depot. One of the trains has been converted into a cute little wine shop!
It's a California state landmark and an absolute must on your list of things to do in Calistoga.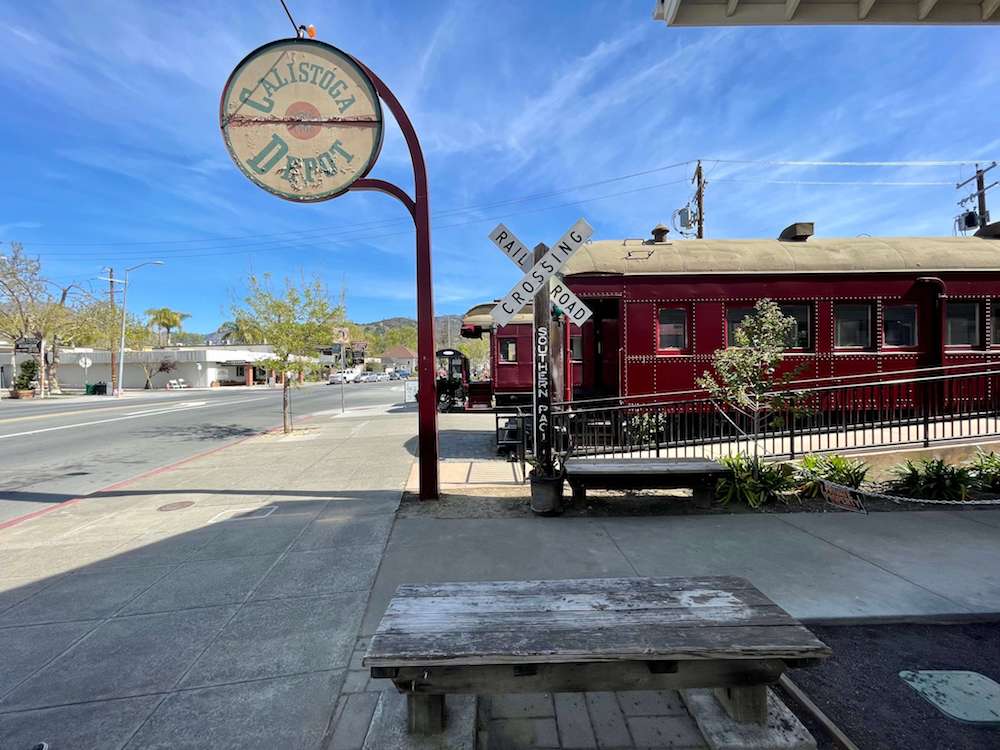 Browse the downtown galleries.
For a small town of some 500-odd people, you'd be surprised to find out that Calistoga is home to at least five excellent galleries.
The most famous is Ca'Toga Gallery composed of the works of Carlo Marchiori (currently closed), but there are several others that are also worth a visit, most on Lincoln Avenue.
YÄGER Galerie: The newest gallery in Calistoga, exclusively hosting the art of Ira Yeager, a beloved California artist based on Napa
Sofie Contemporary Arts: A lovely gallery on the main street with a focus on contemporary artists.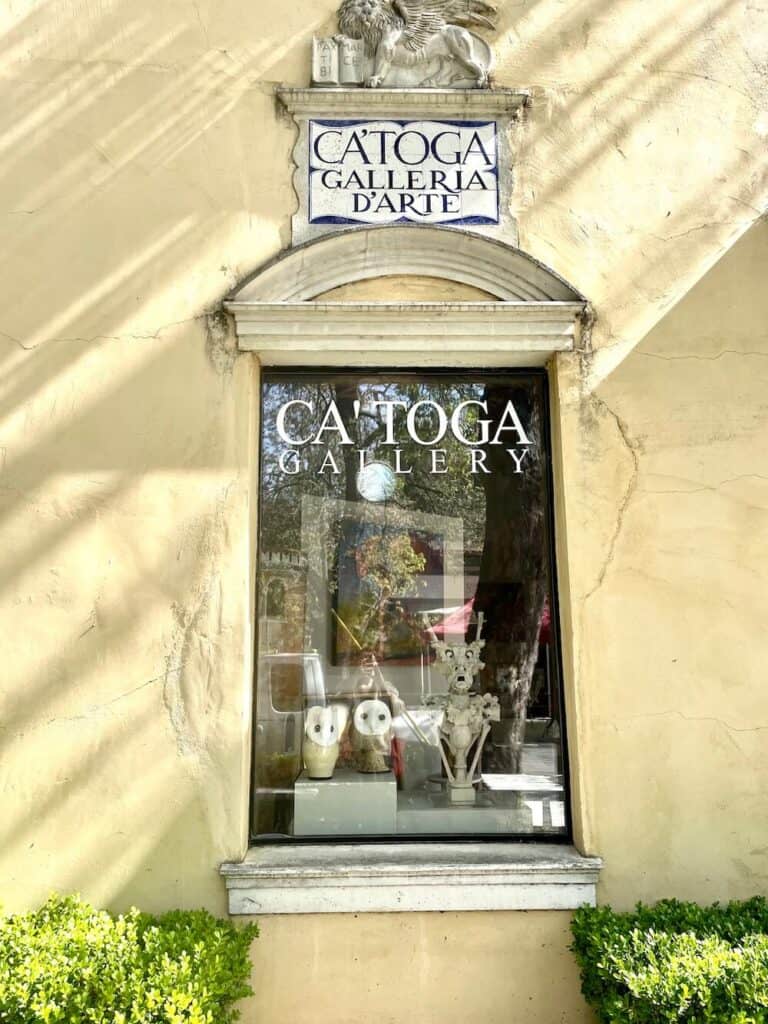 Check out the beautiful houses of downtown Calistoga.
Just off the main road of Calistoga, you'll find a number of adorable houses, particularly around Ca'Toga Gallery.
There's a gorgeous white Georgian-style house and several other beautiful houses near Pioneer Park and on the neighboring streets. This is a fantastic place for a stroll between tastings or after lunch in downtown.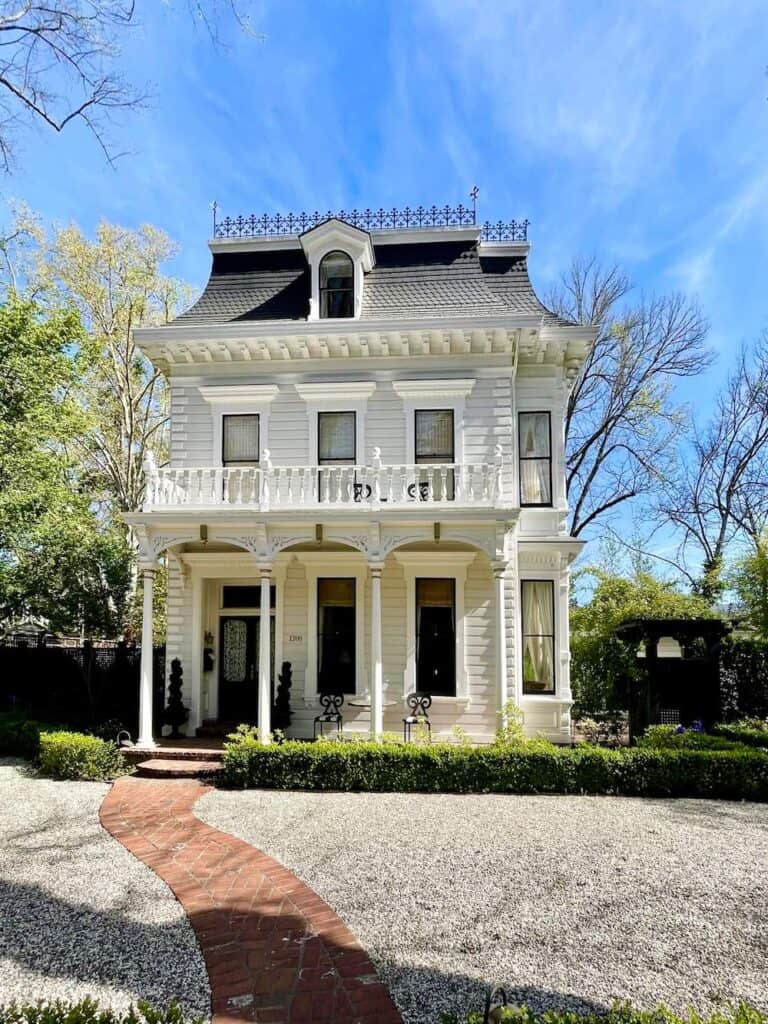 Where to Stay in Calistoga
Calistoga has a number of great accommodation options, many featuring hot springs, mud baths, and other spa amenities.
LUXURY RESORT | If you want the ultimate in luxury in Calistoga — for a special occasion or just to treat yourself — Solage, an Auberge Resort, is the obvious choice! Everything just screams luxury, from the Michelin-starred restaurant to the full-service spa including the traditional Calistoga mud bath and mineral water soaks. They have gorgeous rooms with perks like fireplaces, soaking tubs, private patios, and more. The outdoor pool area is stunning, and there's also a sauna and hot tub for relaxing. It's also super close to luxurious wineries like Chateau Montelena so it's a great fit for a wine-themed getaway.
>> Check availability, reviews, and photos online here
HISTORIC LUXURY | For a luxurious place to stay in Calistoga that is in a historic property (literally on the national landmark registry!), The Francis House is a fantastic and beautiful choice. It's a very small boutique hotel, so you can rest assured that they pay attention to every last detail. The rooms are beautiful and have every last amenity you could want, and the property has an outdoor swimming pool, an infrared sauna, a garden, a fire pit, a library, and a freaking SALT ROOM (my favorite thing on the planet). It's pretty much heaven. They do have spa treatments and massages, but they do not offer mud baths here, so do take note of that. However, there are lots of great places within walking distance of the Francis House that offer just that, so it's not a dealbreaker.
>> Check availability, reviews, and photos online here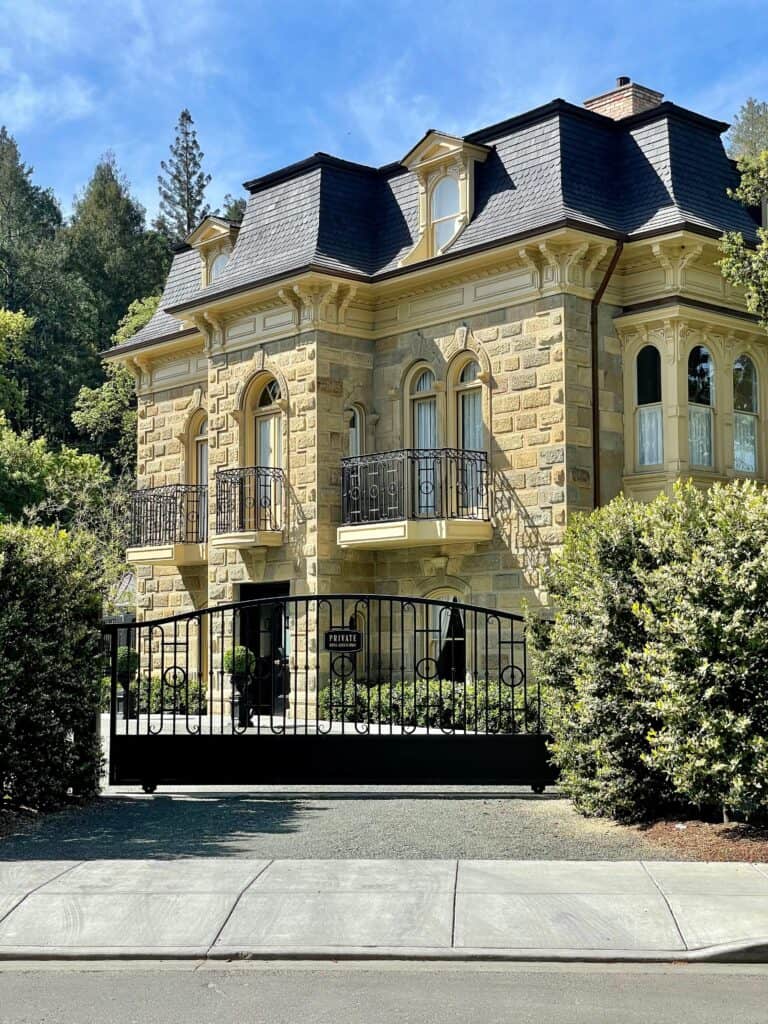 MID-RANGE SPA | For a spa hotel that won't break the bank (though it isn't exactly a budget hotel either), Golden Haven Hot Springs is a fantastic middle-of-the-road option. The rooms are modern and refreshing but not overly luxurious, but the amenities are top-notch. We're talking free bikes to borrow, an indoor mineral-fed pool, a hot tub, a hot spring bath, and Calistoga-style mud baths available at the wellness center. It's a great place for a reasonable spa getaway.
>> Check availability, reviews, and photos online here
BUDGET BED & BREAKFAST | For a lovely and unique place to stay in Calistoga, look to The Bergson, a gorgeous B&B experience in a traditional Calistoga home. Make yourself comfortable with plush bathrobes, fireplaces, free WiFi and TV. Some rooms even have a lovely soaking tub. The daily breakfast is delicious (and included), full of homemade treats like granola and pastries plus fresh fruits. If you enjoy personal attention, you'll also make use of the concierge service, who can help you plan winery visits and restaurant reservations during your stay.
>> Check availability, reviews, and photos online here
Pin This Guide to Things to Do in Calistoga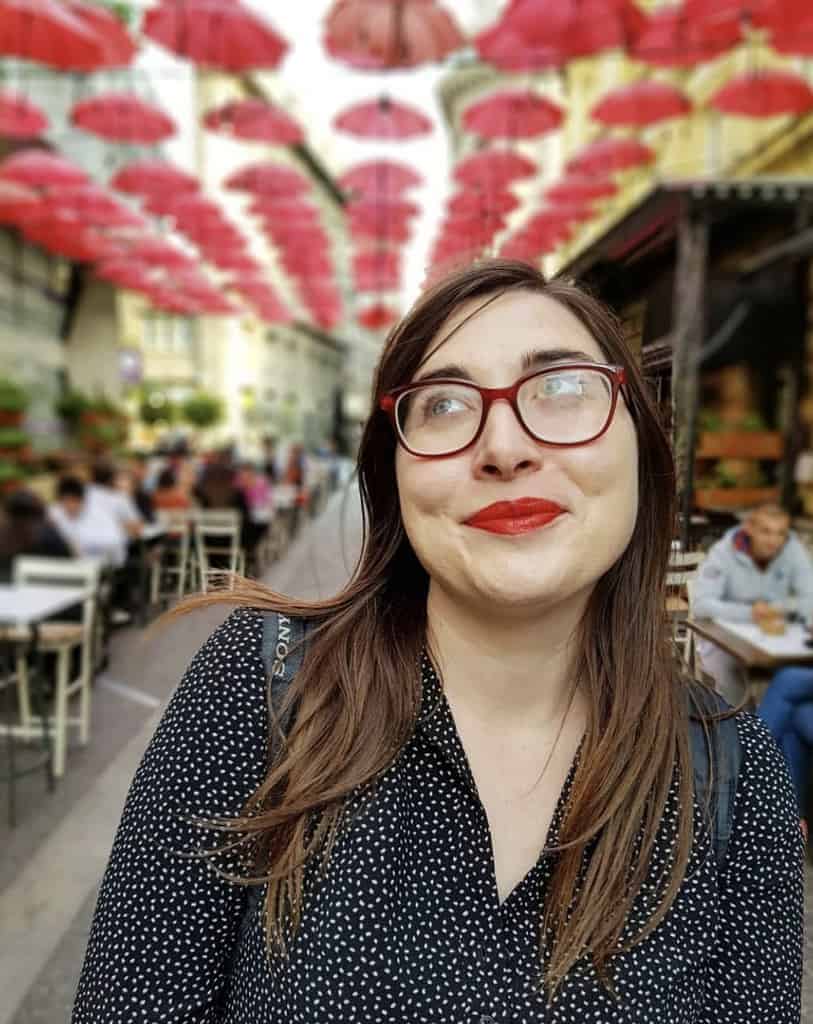 Allison Green is a travel blogger, writer, and podcaster who grew up in the Bay Area of California. She has spent time living in New York, Prague, and Sofia, but has returned to live in the East Bay. She has traveled to 60 countries before the age of 30 while running several digital travel publications. Her writing and podcast have been featured in Forbes, CBC Canada, National Geographic, the Huffington Post, and CNN Arabic, amongst others. She's obsessed with bouldering, houseplants, other people's pets, and anywhere she can see the ocean.