Los Angeles is a wonderful central location to be able to escape on a romantic couples trip for a weekend getaway.
In just an hour or two, you can be in a new city, by a beach, in a desert oasis, or even a secluded mountain town.
Because of all of these ideal vacation destinations in proximity, there are multiple wonderful options if you're looking for a romantic getaway from Los Angeles with that special someone in your life.
Not sure where to start?
Here are our suggestions for the best couples getaways near Los Angeles!
Best Romantic Getaways Near Los Angeles
See The Whales in Newport Beach
Note: This post contains affiliate links, which earn me a small commission at no extra cost to you if you make a purchase using one of these links. Thank you for supporting this free content!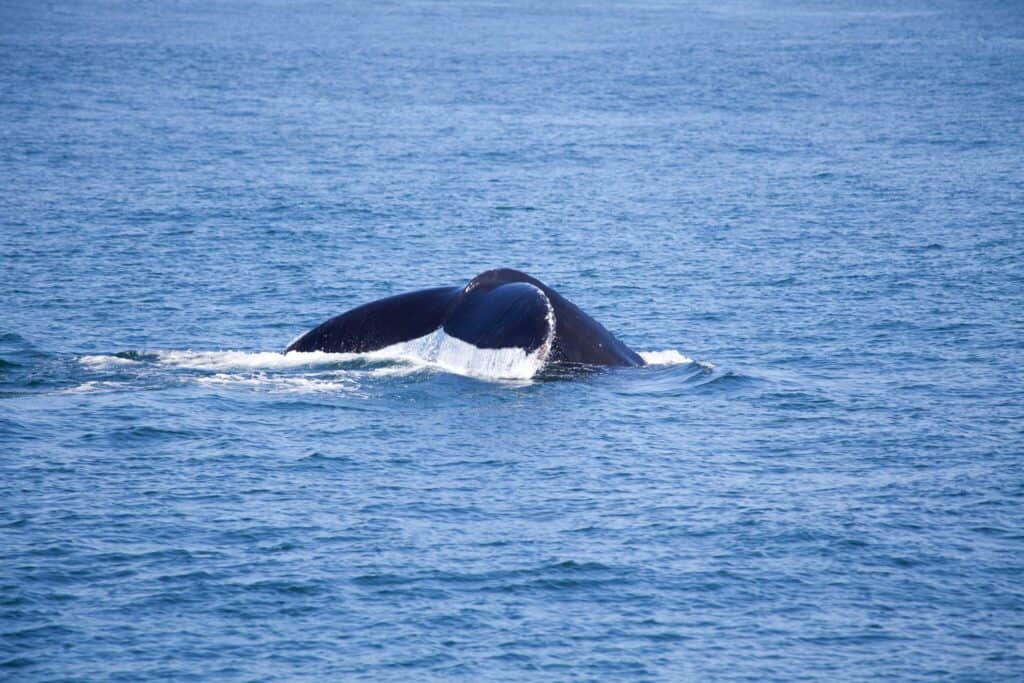 Head down the coast to Newport Beach, which is a great destination for shopping, whale watching, and just enjoying the coastal city vibes.
The drive from LA is around 1.5 hours (depending on traffic, of course!) and once you arrive, the town is your oyster.
Rent an Airbnb or stay in one of the beachfront hotels for a romantic weekend getaway from Los Angeles.
The next day, get up and check out a whale watching tour!
December through April are the best months to see the gray whales on their migration, but you can see animals such as dolphins and seals during any time of the year.  
Where to Stay: Part of the exclusive Autograph Collection of hotels, the boutique Lido House is a beautiful historic place to stay in Newport Beach. Each room is decorated uniquely and full of individual character, with pops of color and tons of attention to detail. Amenities include an outdoor pool, hot tub, fitness center, restaurant, and sun terrace.

Another great choice is the Hyatt Regency Newport Beach, with spacious rooms (hello, king beds!), a great pool area, and lots of freebies like bikes, lounge chairs at the pool, beach umbrellas, and fire pits for public use.
Take a Hot Air Balloon Ride in Temecula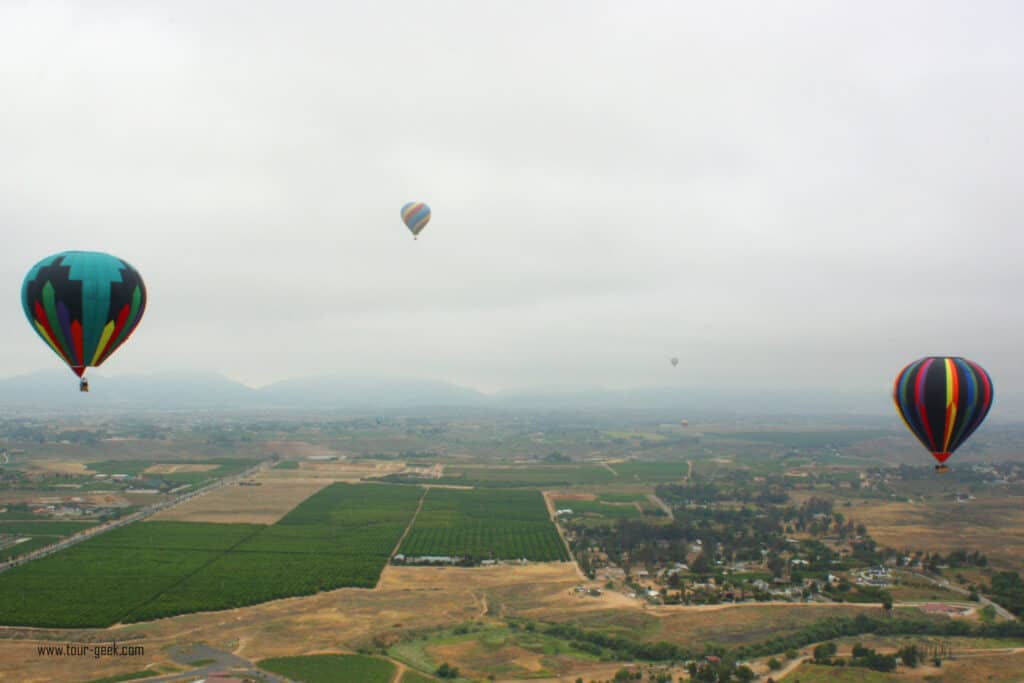 Head 1.5 hours out of Los Angeles for a weekend in Temecula to enjoy the small town and all things wine.
With a slew of wineries to choose from, you and your partner are sure to imbibe some of the best wines southern California has to offer.
There are tons of cute Airbnbs to choose from, along with hotels, some that are even connected to the wineries.
Some wineries also offer romantic horseback rides through the vineyards, so be sure to check that out.
And of course, there's the hot air balloon culture that Temecula brings to the table.
Whether you're riding in one of the giant balloons or enjoying the view while snuggling under a blanket, a sky full of hot air balloons is a sight to behold.
Where to Stay: For a romantic spa getaway in Temecula, look for South Coast Winery Resort & Spa. It's just a 15-minute drive away from Old Town, but you can stay on 38 acres of winery grounds. There's an on-site bar and restaurant, pool, spa, and wellness center… plus vineyards, obviously!

Another romantic getaway option is the Ponte Vineyard Inn. Located on a 300-acre ranch and winery, this charming boutique hotel has beautiful rooms, ample amenities, and even better views!
Become Snow Bunnies in Big Bear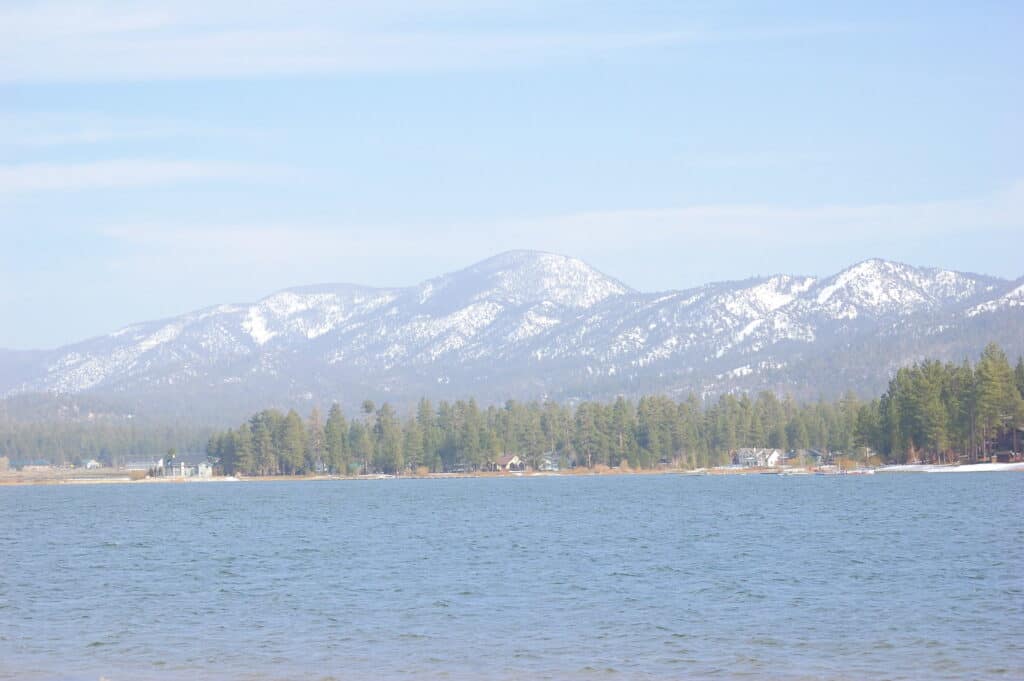 Speaking of snuggling under a blanket…
If you and your partner like snow-filled days of snowshoeing, skiing, or snowboarding, or even just sitting inside by a warm fire watching all your favorite shows on Netflix, Big Bear in winter is a great option for your next romance-filled getaway.
Located about 2 hours and 10 minutes from LA, Big Bear is a close, lakeside town great for a visit in the winter.
But don't sleep on Big Bear in the summer, either! This is truly an all-season romantic getaway from LA.
In the summer you'll be able to hike, bike, or boat rather than ski or board, making it a wonderful destination year-round.
Where to Stay: Rather than opt for a typical hotel, stay in one of the cute cabins in Big Bear for the ultimate getaway! This charming secluded cabin getaway with an on-site spa and hot tub is the ultimate place to stay in the winter.

Another option would be the charming Cienaga Creek Ranch just a 15-minute drive from Big Bear Lake, which is a wonderful rustic getaway for couples (or a group of 4).
Take a Ferry Ride to Catalina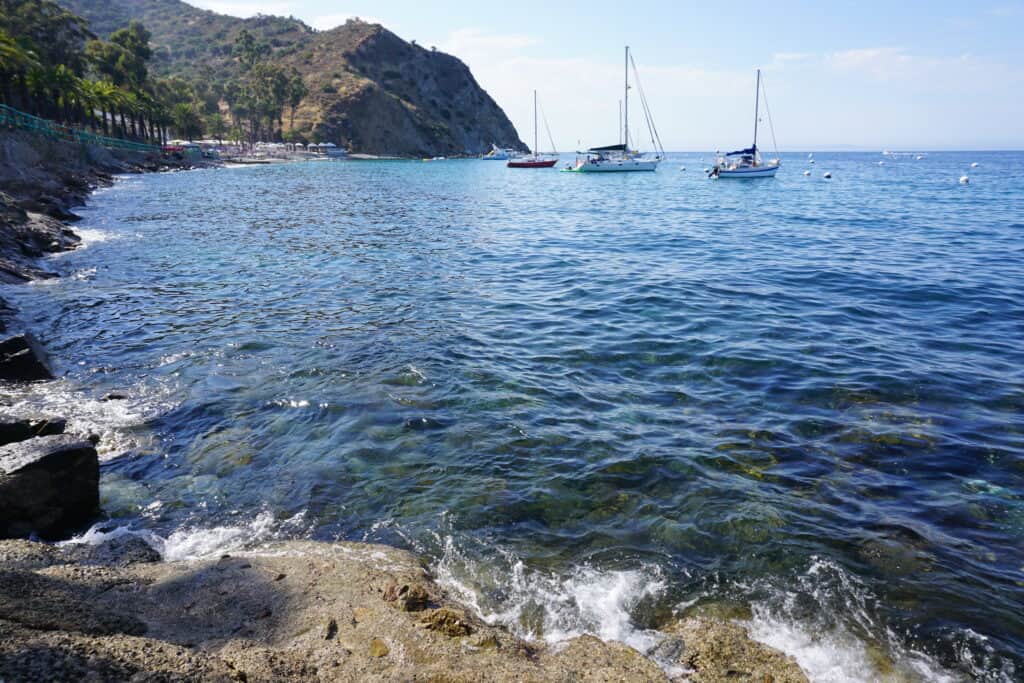 The island town of Catalina is a quick ferry ride from San Pedro, Long Beach, or Dana Point.
In one hour, you'll be docking and ready to begin your island weekend getaway to Catalina.
Depending on what type of trip you want, you can opt for a more rustic getaway by heading to Two Harbors, or a more amenity-packed option like Avalon which has more hotels, restaurants, and boutiques.
The island offers ocean views everywhere you look and you're sure to find many of them from the condo rentals or bed and breakfast stays that you choose.
The island has ample hiking for those that want to hit the trails and great shopping for those that would rather get their steps in as they shop until they drop. 
Where to Stay: For a stay in Avalon, the livelier side of Catalina, Pavilion Hotel is for you. While still on the casual island vibe side of things, Pavilion offers a touch of luxury with its beachfront access and wine and cheese reception!

If you're opting to stay in the more rustic Two Harbors area, opt for Banning House Lodge. It offers a more secluded, adventurous vibe. Complete with no WiFi, this is perfect for a full-on retreat from civilization!
City Hop to San Diego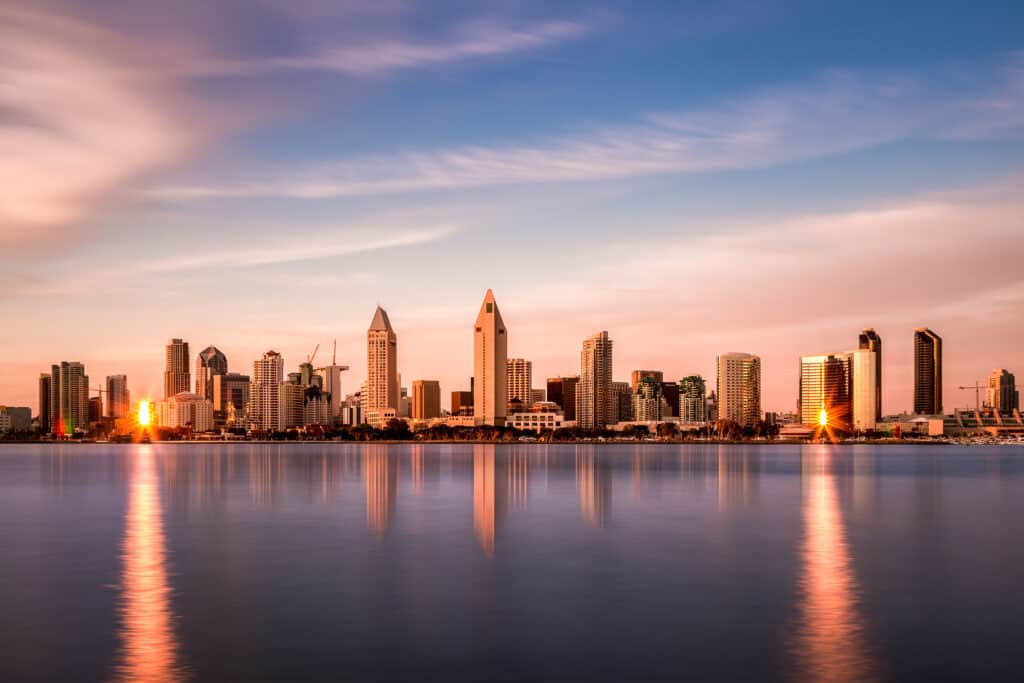 With San Diego only 2.5 hours from Los Angeles, it makes for the perfect getaway for those that love city life.
We have a full weekend itinerary for San Diego that may be helpful if you're planning a romantic getaway, but you can also find our suggestions in brief below.
Be sure not to miss Balboa Park, one of the largest urban parks in the US! Go for a walk through the park before checking out the multiple museums in the area, or even the San Diego Zoo.
San Diego is a beer lover's paradise, so be sure to check out the local breweries and beer bars if you and/or your partner is into the beer scene.
Finally, no romantic trip to San Diego would be complete without catching a sunset at Sunset Cliffs.
The world-famous cliffs are the perfect place to bring a blanket and a cheese board and take in the sunset, high above the crashing waves below. 
It's one of the most romantic things to do in San Diego and a definite San Diego photo spot!
Where to Stay: If resort life is what you're after, check out the highly rated Bahia Resort Hotel located bayside in Mission Bay.

Want some island time? Head out to the island of Coronado to stay at Hotel del Coronado, a Curio Collection by Hilton property.
Head to the Local Forest in Topanga Canyon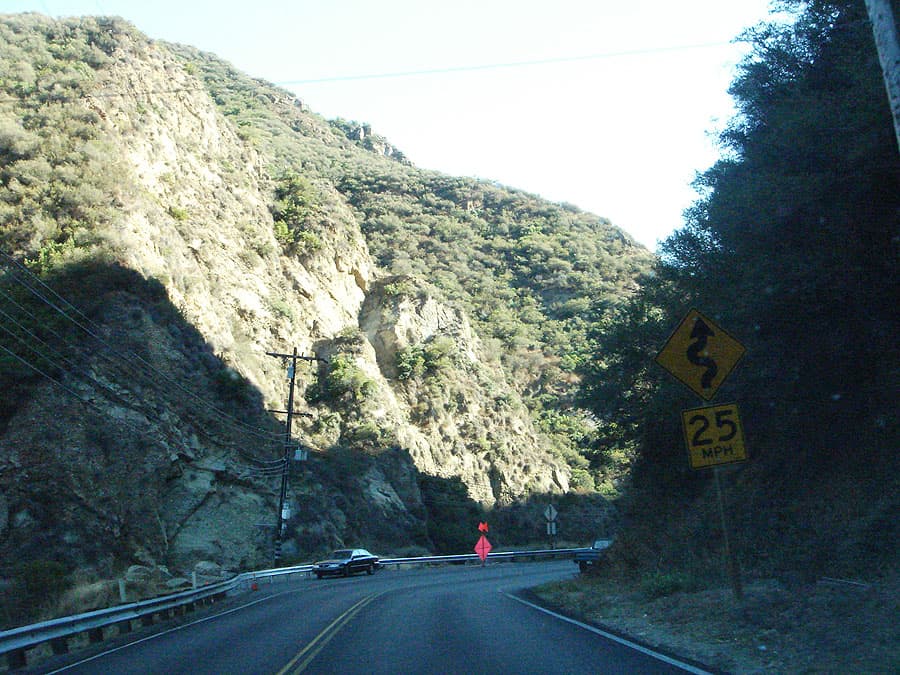 Perhaps Topanga Canyon is not often thought of as a romantic getaway from Los Angeles… until now!
Topanga Canyon is only an hour drive from Los Angeles and perhaps even less depending on what area you're coming from.
With its proximity to the beach, it makes for a wonderful mix of a mountain getaway with a touch of sand and sea.
Spend the day strolling with your hunny along the sandy beach or enjoy a hike at Solstice Canyon, then hit up world-famous Neptune's Net for some seaside treats.
When you've had your fill of surf, head back to your cozy and romantic digs in Topanga Canyon.
When you're ready for dinner, head to the famous Inn of the Seventh Ray for dinner.
Cheaper than Malibu, but still close enough to get your beach fix, Topanga Canyon is a great destination for your next romantic rendezvous.
Where to Stay: Check out the Topanga Canyon Inn Bed and Breakfast for the full treatment, plus sweeping views!

For a more unique, glamping-style stay, check out the Rustic Topanga Treehouse Trailer! It's the great pick for an adventurous getaway.
Head to the Desert in Joshua Tree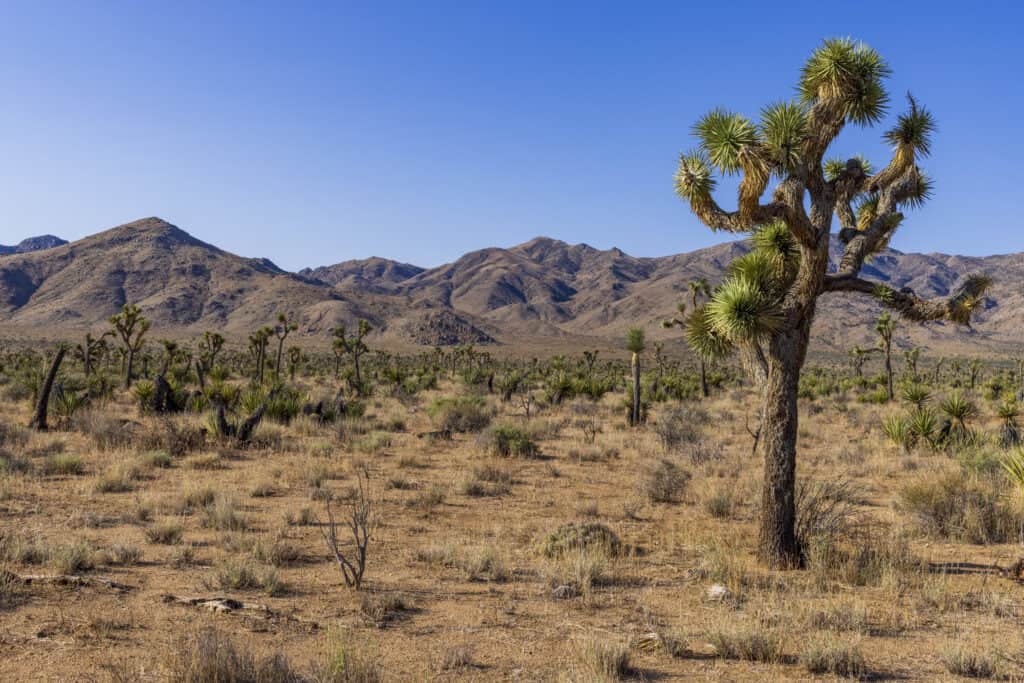 Los Angeles is surrounded by tons of great desert vacation destinations. Our favorite is the town of Joshua Tree.
Known for being the home to the National Park by the same name, Joshua Tree is so much more than that.
In the town, you'll find a wide array of delicious food options and takeaway items so you can plan an impromptu picnic in the park for you and your love.
If you and your loved one like sound baths, there are ample to choose from in this desert retreat town.
If you're looking for a little more spa and relaxation but still want the enjoyment of the National Park, check out Desert Hot Springs.
The town is close to Joshua Tree and is home to hot springs as well as several spas that have healing mineral water flowing into their pools.
Where to Stay: For a unique place to stay, The Castle House Estate in Joshua Tree is unbeatable. You can stay in a glamping tent, container home, or even in one of the castle towers! There's also an outdoor swimming pool, room service, and an outdoor fire pit so you'll enjoy lots of amenities.

Another great option is the two-bedroom, two-bath Marbella Lane vacation rental, which is located on 10 acres of beautiful desert land! It's the perfect remote escape option in Joshua Tree.
Dine at One of the Most Romantic Restaurants in the Country in Ojai
Ojai's The Ranch House, was really rated as one of the top romantic restaurants in the country!
After taking a look at their website, you'll understand why!
The patio garden is surrounded by trees, flowers, and other fauna and the photos of menu options look absolutely delicious.
During your day, you can spend your time checking out wineries, orange groves, and even take home your own bottle of olive oil following a tour of an olive orchard.
Downtown Ojai is known for plenty of boutiques so you can even grab a souvenir or two to commemorate your couples trip to this small town.
As with many other destinations on this list, hiking couples will have much to enjoy in Ojai.
Check out Rose Valley Falls Trail to see a giant waterfall and maybe even catch some local wildlife.
Located just 1.5 hours from Los Angeles, Ojai makes for the perfect speedy couples trip from LA!
Where to Stay: Pretty much everyone who visits Ojai stays at the Ojai Valley Inn. It's so big and has so much to offer that it's a trip all in itself. Golf, restaurants, massage: the hotel is absolute luxury at its best

Looking for something on a slightly different budget? The best boutique hotel in town is the Capri Hotel. It's hipster heaven and you'll wish you lived there all year round, as it's one of those rare hotels that instantly make you feel at home. 
Walk Hand in Hand Past Spanish Architecture in Santa Barbara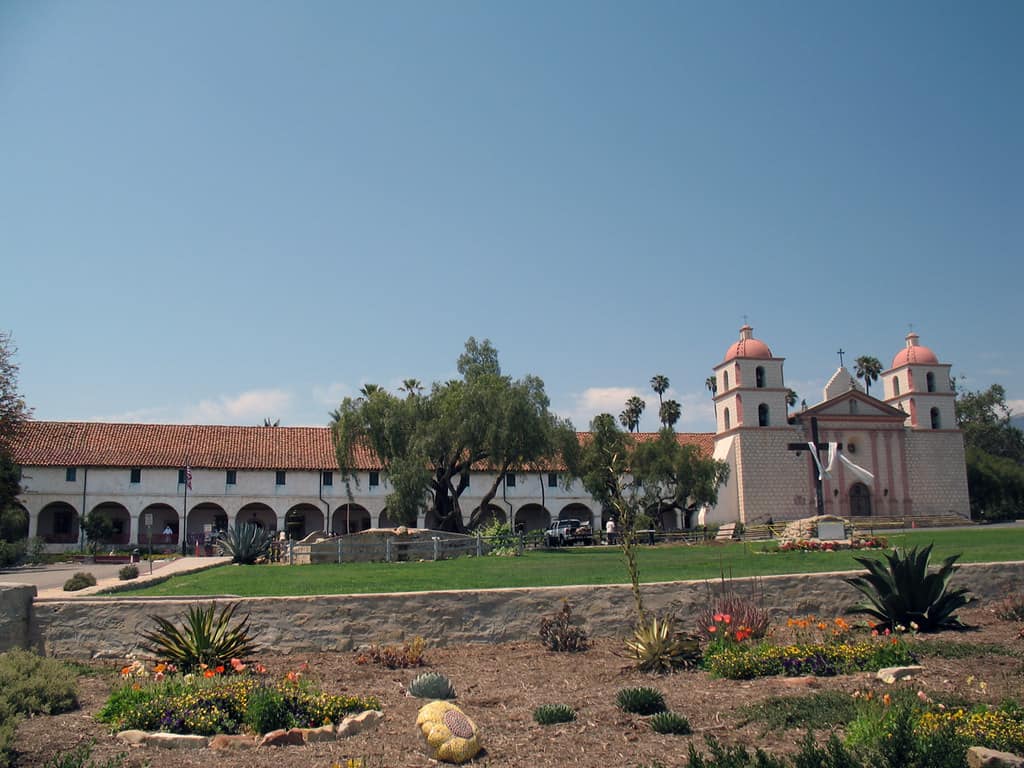 Santa Barbara is 1.5 hours from Los Angeles and is located right on the coast.
Enjoy one of its numerous spas or gorgeous Airbnbs, beachside or in the surrounding hills.
With its many wineries, beautiful architecture, and hiking options, Santa Barbara makes for a wonderful romantic getaway.
Lay by the beach during the day and check out one of the many restaurants the town has to offer.
For nature lovers, you can catch a hike just outside the main town (here are our favorite hikes near Santa Barbara!)
Sign up for a kayak tour and bring your honey on a paddling journey around the islands to see different sea life and kelp forests.
After your day of kayaking, take your significant other out for a bite to eat at one of the amazing restaurants the town has to offer (we recommend the Funk Zone area).
Check out The Lark for dinner and hit up Jeannine's Restaurant for breakfast.
There are also a lot of great wineries in the Santa Barbara area, as well as tons of different breweries in Santa Barbara proper!
Where to Stay: Accommodations in Santa Barbara are not cheap, but the Eagle Inn in West Beach (a 10-minute walk from central Santa Barbara) offers some of the best value just a short walk from the ocean!

For a little more luxury, the Santa Barbara Inn is a beautiful, chic boutique hotel with beachfront access and its own pool, also located in West Beach.
Sway with the Palms in Palm Springs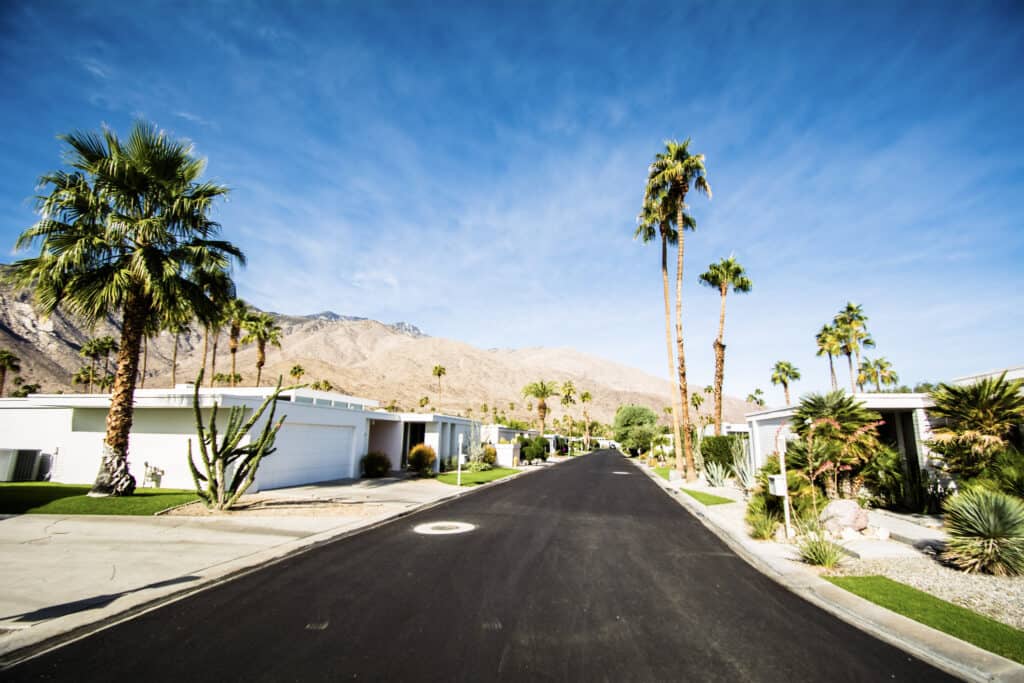 For another desert location that has a more expensive taste, take your honey for the ultimate weekend away in Palm Springs!
Just outside of Joshua Tree, this romantic destination has a plethora of spas and resorts.
Enjoy an all-inclusive resort and have room service delivered by the pool as you float with mountains surrounding you.
Head out to one of the hiking trails or take the aerial tram to the top of Mt. San Jacinto.
In 10 minutes, you'll be more than 8,000 feet (coming from around 2,600 feet, so bring a jacket!) and will have unreal views of the surrounding desert.
Enjoy a meal at Peaks Restaurant and take in the sights over a bottle of wine with your partner.
If art is more your taste, be sure to check out the Palm Springs Art Museum to see what some of the greatest national and international artists are bringing to this desert town. 
Where to Stay: For the ultimate romantic getaway in Palm Springs, L'Horizon Resort & Spa is where it's at. Luxe pool surrounded by cabanas and lounge chairs, framed by palm trees and mountains? Of course. On-site restaurant with amazing dining? Obviously. Spa center complete with hot tub? You got it. You get the picture.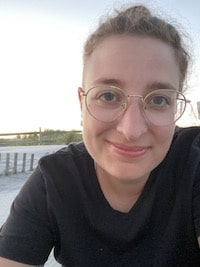 Britta DeVore is a travel writer and hiking enthusiast based in Southern California by way of Brooklyn. Relocating to California has given her the best opportunities to explore the wonderful West and share her experiences with others. You can find more of her work and travel guides at WildBum and her travel account, @trektonowhere