If you're looking for a beautiful mountain getaway in California, there's no shortage of places to visit!
While California is better known for its beaches and coastal cities, people often forget just how much of the state is mountainous.
California's landscape is dramatic and ever-changing: a place where the highest peak and the lowest point in the Lower 48 are less than a hundred miles apart.
The Sierra Nevadas define the interior, with many wonderful California mountain towns dotting the foothills and edges of the mountains, and smaller ranges in Southern California combine both beauty and accessibility.
No matter where you are, a mountain escape in California is never far from reach! This post guides you through all the best mountain towns in California.
Note: This post contains affiliate links, which earn me a small commission at no extra cost to you if you make a purchase using one of these links. Thank you for supporting this free content!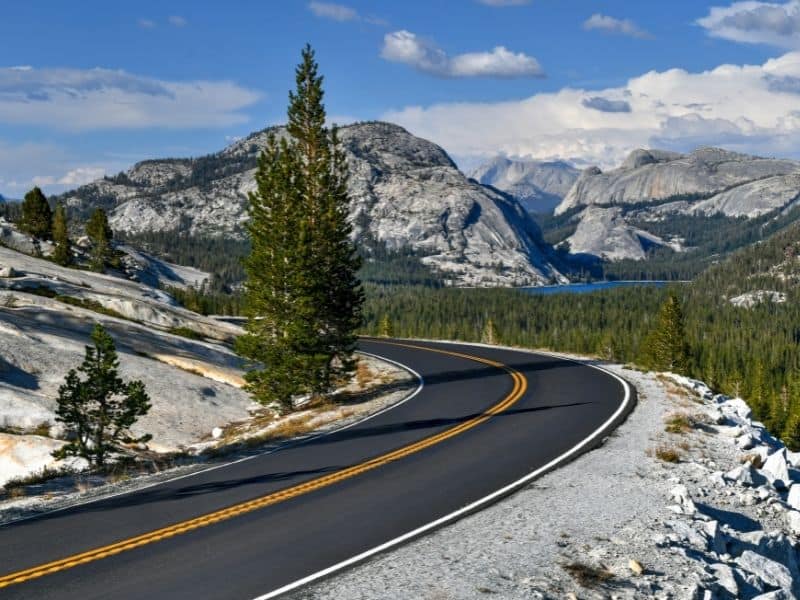 I've broken this post into four sections for ease of use:
Northern California (best accessed from the Bay Area)
Western Sierras (best accessed from either Northern or Southern California via the I-5 corridor)
Eastern Sierras (can be accessed by either Northern or Southern California via Highway 395 [south] or Tioga Pass [north])
Southern California (best accessed from LA, San Diego, or Santa Barbara).
This is an imperfect way to classify things, as many of the Northern California mountain towns are also part of the Sierras, such as the mountain towns in Lake Tahoe.
I also wanted to distinguish between towns on the Western and Eastern sides of the Sierra Nevada range, because the range is all but impassable except for a few select routes, making them two extremely distinct regions when you consider how to get between them.
The Best Mountain Towns in Northern California
Truckee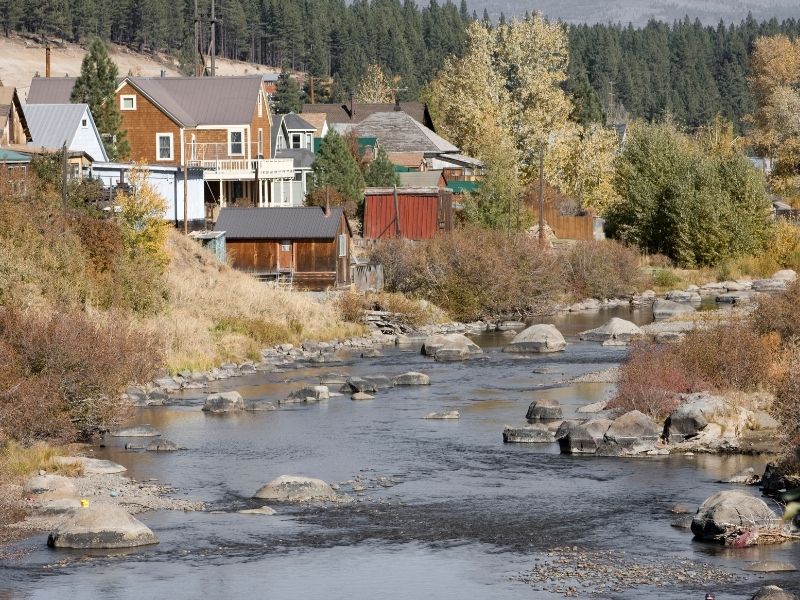 Elevation: 5,817 feet
Population: 16,474
Located at the Northern edge of Lake Tahoe, Truckee is one of the best-loved mountain towns in NorCal. It's also one of the snowiest places in California!
Located near Donner Lake and Donner Memorial State Park, Truckee is home to a wealth of beautiful outdoor activities and scenery, plus lots of great Tahoe area hikes in summer.
There are gorgeous mountain cabins to rent, and the downtown area of Truckee is full of great restaurants and bars to enjoy a California mountain getaway.
And in the winter, Truckee is home to great ski resorts such as Northstar and Palisades, making it the perfect ski trip destination!
South Lake Tahoe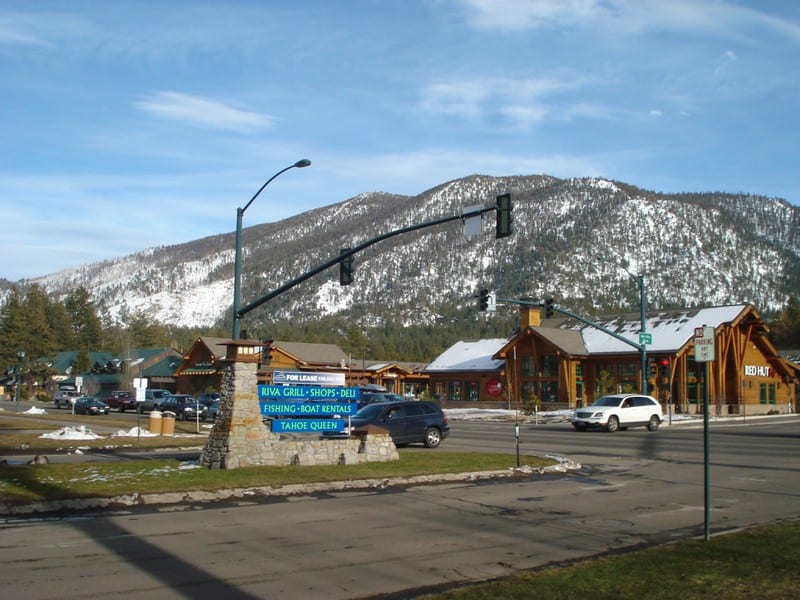 Elevation: 6,237 feet
Population: 21,939
The town of South Lake Tahoe is the largest in the Lake Tahoe area, but it still maintains its small California mountain town vibe.
South Lake Tahoe is known for its proximity to gorgeous state parks in the summer, like D.L. Bliss State Park and Emerald Bay State Park, as well as its wealth of winter adventure activities.
South Lake Tahoe also has a great food scene, but an even better beer scene, thanks to the South Lake Tahoe Beer Trail!
Mt. Shasta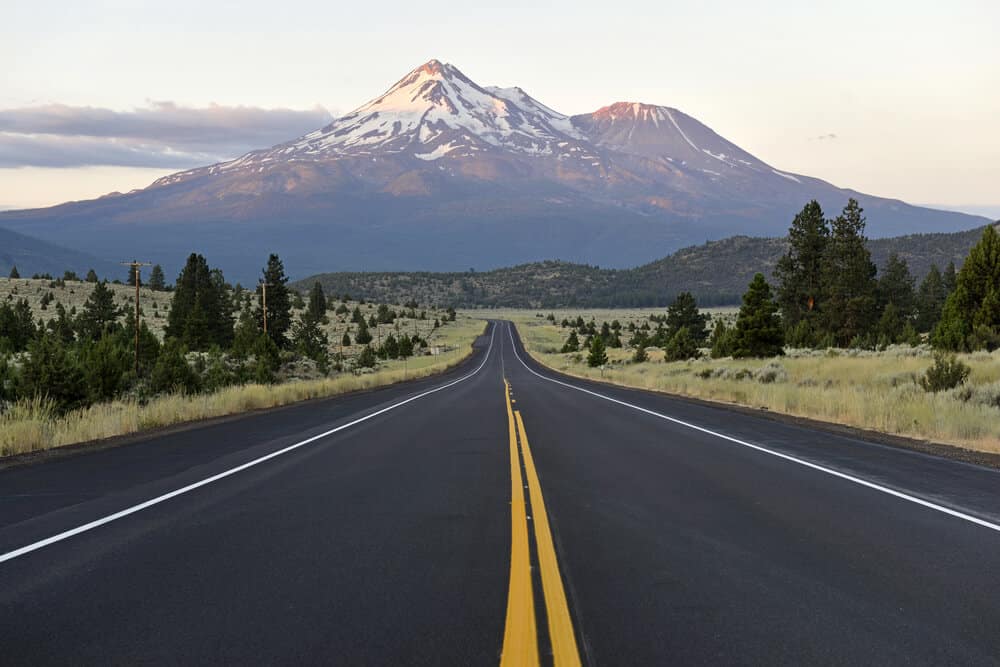 Elevation: 3,586 feet
Population: 3,275
The small mountain town of Mt. Shasta lays in the shadow of the eponymous mountain itself, but it's certainly not overshadowed by it!
The Northern California mountain town of Mt. Shasta is full of classic charm, with restaurants, accommodations, and bars creating a lively scene in winter and summer alike.
Nevada City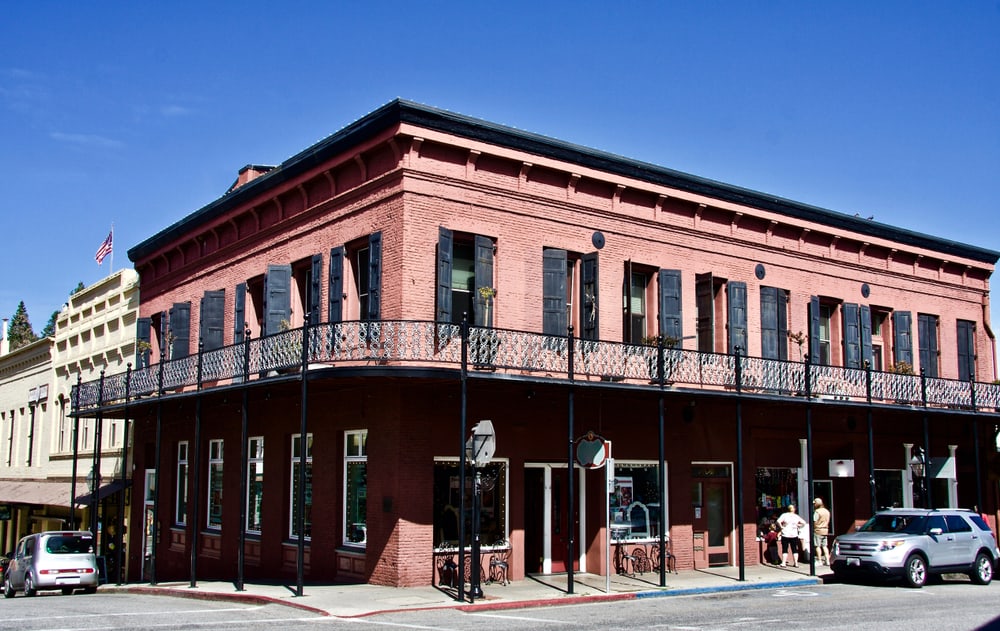 Elevation: 2,477 feet
Population: 3,144
The beautiful town of Nevada City is located in the Sierra Nevada foothills, and you'd be forgiven for feeling transported back in time when you visit as you see all the lovely Victorian architecture in downtown Nevada City.
For a town of its small size, Nevada City offers more than you'd expect, with great boutiques, a wide variety of restaurants, and little artisanal ice cream and chocolate shops.
Grass Valley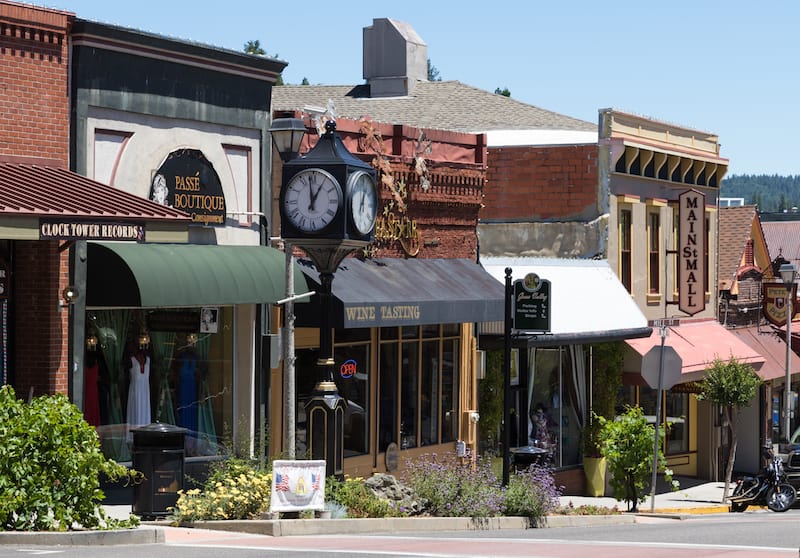 Elevation: 2,411 feet
Population: 12,891
Grass Valley is like a sister city to Nevada City, bigger in population but with a similar chilled-out vibe that still offers quite a bit to do and see.
Grass Valley has a distinctly hippie-ish vibe, as opposed to many of the more sports-focused mountain towns in California, making it a great choice for people who want a more relaxed getaway.
Auburn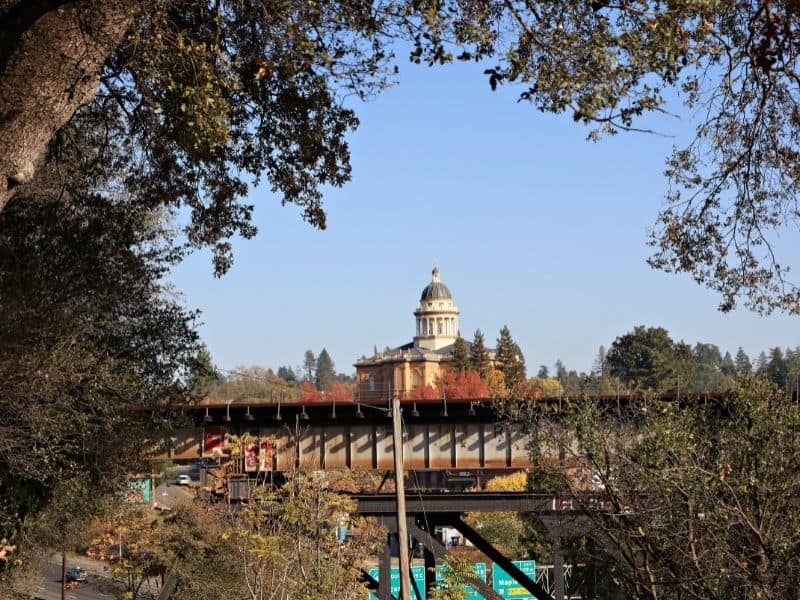 Elevation: 1,227 feet
Population: 14,011
The charming mountain town of Auburn is also great for nature lovers, as there are so many great hikes in the vicinity, as the area is home to the Auburn State Recreation Area.
The town itself has lots of historic places to visit, including the historic Old Town district and the Gold Rush Museum.
Placerville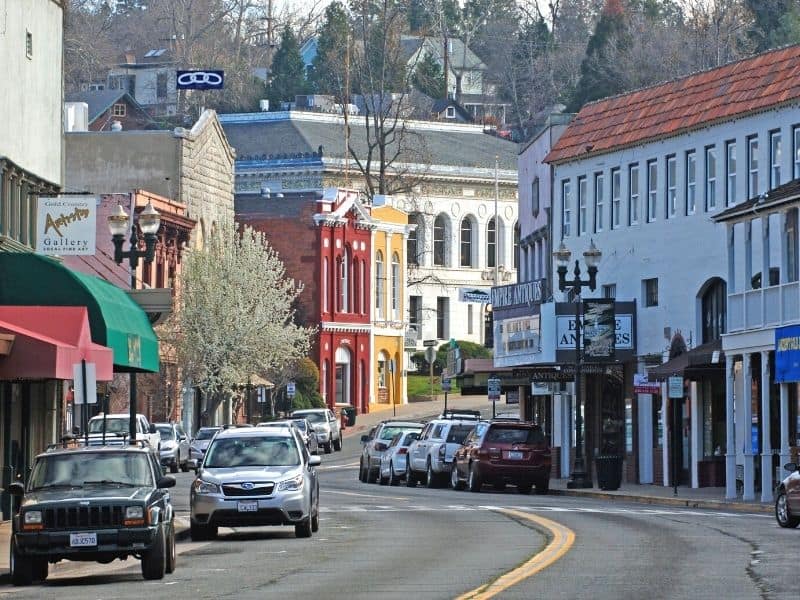 Elevation: 1,867 feet
Population: 10,970
Placerville is a historic Gold Rush town in the mountains of California, but it's got more to offer than just its Gold Rush history and adorable Main Street.
It's also in the up-and-coming Gold Country wine region, and there are several great vineyards located in town so you can experience both history and wine while enjoying a mountain getaway.
It's also located near the Marshall Gold Discovery State Historic Park where you'll find Sutter's Mill: the place that sparked the California Gold Rush in 1848.
Dunsmuir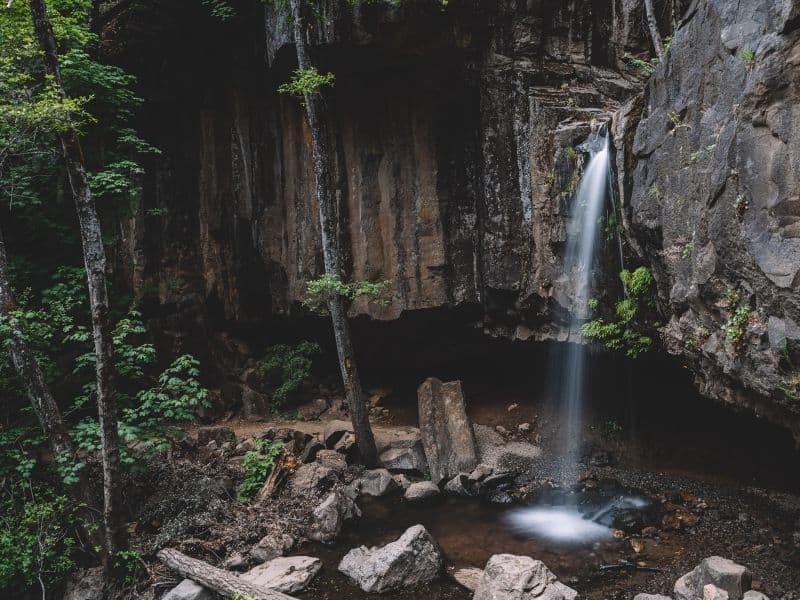 Elevation: 2,290 feet
Population: 1,724
Dunsmuir is a charming mountain town located in the Trinity Mountains of Northern California.
It's famous for its waterfalls: namely, Hedge Creek Falls and Mossbrae Falls, the latter of which is currently inaccessible. It's also close to the McCloud Waterfalls a short drive away.
It also is home to a botanical garden and it has easy access to Mt. Shasta as well.
Burney
Elevation: 3,195 feet
Population: 3,965
The charming town of Burney is a great base for Northern California mountain adventures!
Burney is best-known for being the closest town to McArthur-Burney Falls Memorial State Park, which is home to one of the most beautiful waterfalls in California.
It's also a good base for visiting Lassen Volcanic National Park and Lassen National Forest.
The Best Mountain Towns in the Western Sierras
Sonora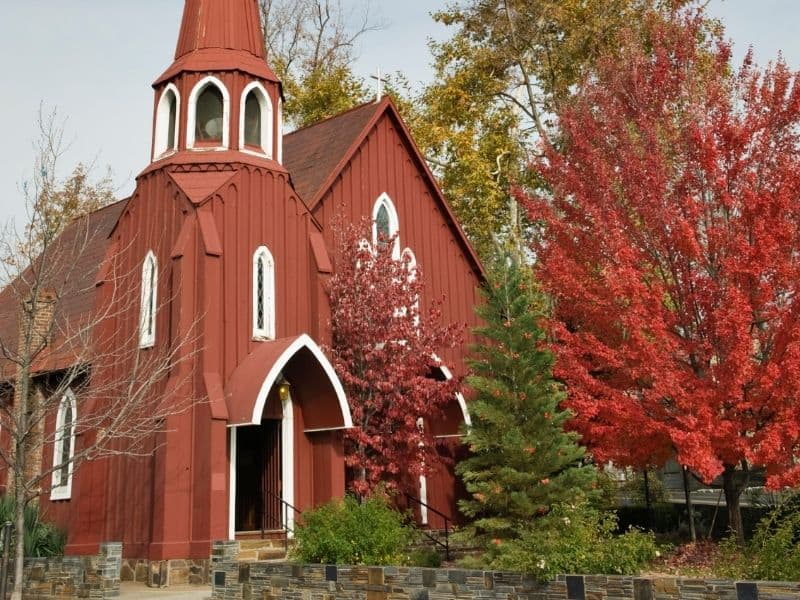 Elevation: 2,946 feet
Population: 4,610
The mountain town of Sonora on the western edge of the Sierra foothills, north of Yosemite, is yet another interesting Gold Country town worth a visit.
It's home to several great museums, a delicious cidery called Indigeny Reserve, beautiful hiking trails, and an excellent downtown shopping scene.
Groveland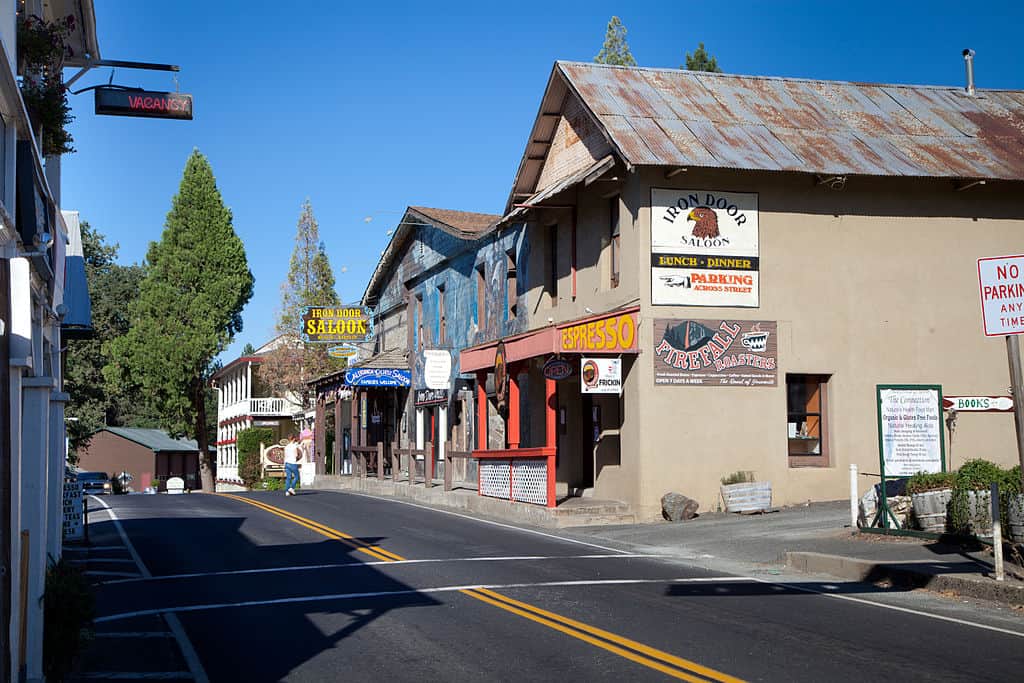 Elevation: 3,136 feet
Population: 247
The small town of Groveland, California is one you'll pass through if you're heading to Yosemite's Big Oak Flat Entrance, the one you reach if you are visiting from the Bay Area.
As a gateway to Yosemite, Groveland has all sorts of amenities for travelers and is the quintessential Low Sierra mountain town.
It's also quite close to Hetch Hetchy for those looking to explore a quieter part of Yosemite, far away from the crowds of the Valley.
Wawona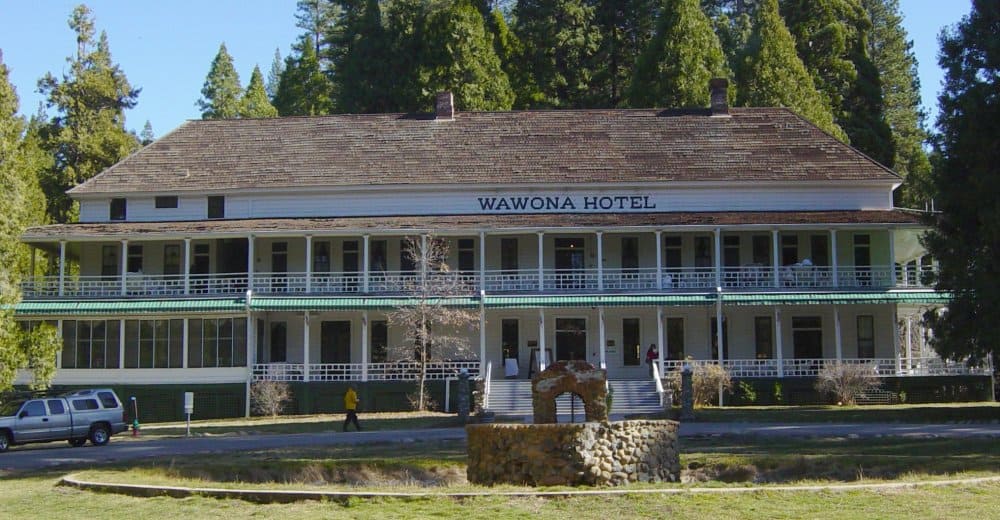 Elevation: 3,999 feet
Population: 169
Entirely located within Yosemite National Park, Wawona is a great base for Yosemite adventures!
There are all sorts of cabins in Yosemite National Park, many of them located in Wawona, as well as the historic Wawona Hotel.
You'll also find the Wawona Covered Bridge and the Swinging Bridge, as well as the Pioneer Yosemite History Center.
Bass Lake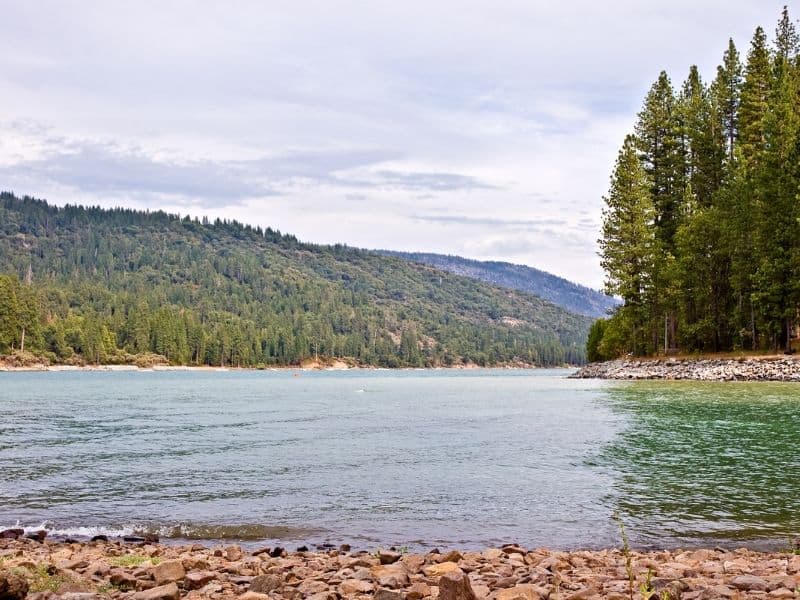 Elevation: 3,415 feet
Population: 449
Located just 14 miles from the Southern entrance to Yosemite National Park, Bass Lake is a beautiful lake getaway in the mountains of California.
It's close enough to Yosemite that you can visit on a day trip, but it also has enough happening on the lake for it to be worth a visit all on its own.
Go boating or fishing out on the water, or head to Mariposa Grove in Yosemite to walk among towering giant sequoias just 30 minutes away!
The Best Mountain Towns in the Eastern Sierras
Mammoth Lakes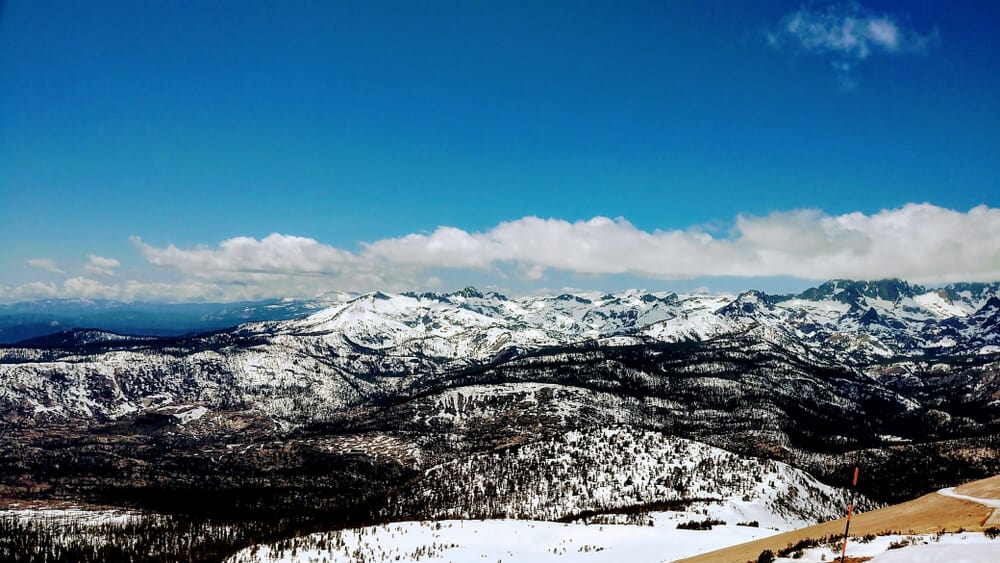 Elevation: 7,881 feet
Population: 8,169
The beautiful town of Mammoth Lakes is a wonderful all-season California mountain town.
Mammoth Mountain Resort is a massive draw for people all over California in the winter, but in the summer, Mammoth Lakes is also a great mountain getaway spot with tons of High Sierra hiking trails laid out at your feet.
With 5 lakes in Mammoth Lakes itself and over a hundred in the immediate area, a beautiful hike is never far away. Just be careful with the altitude — it can sneak up on you!
June Lake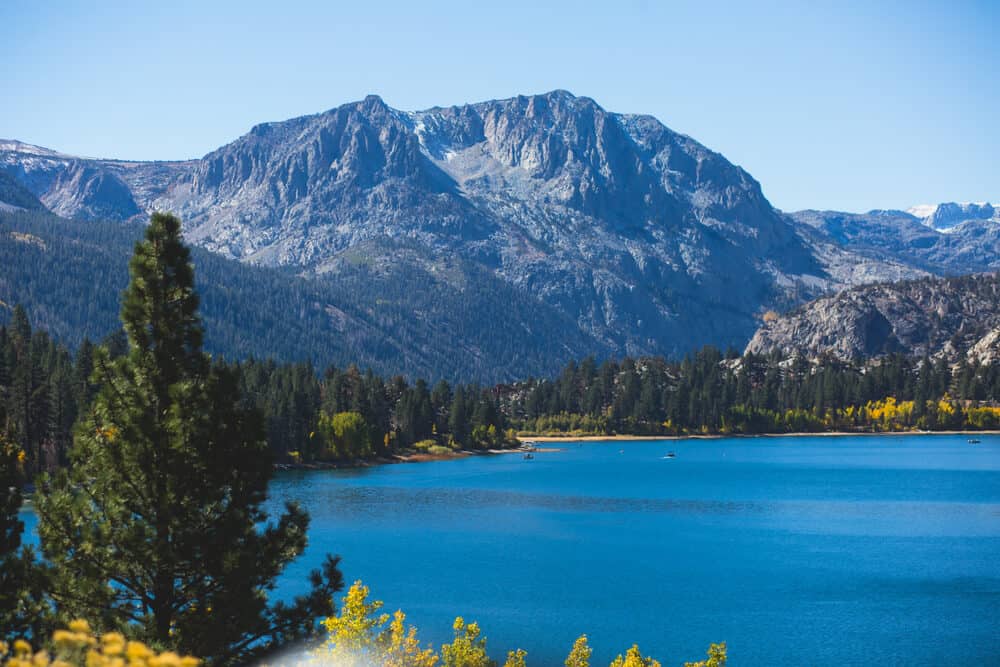 Elevation: 7,654 feet
Population: 390
June Lake is another favorite California mountain destination all year round, offering something unique in each season.
In summer, the beach of June Lake is so spectacular it's hard to believe it's real! By fall, the crisp changing leaves are irresistible to chase, and in winter, you can join the quiet ski scene at June Mountain.
Bishop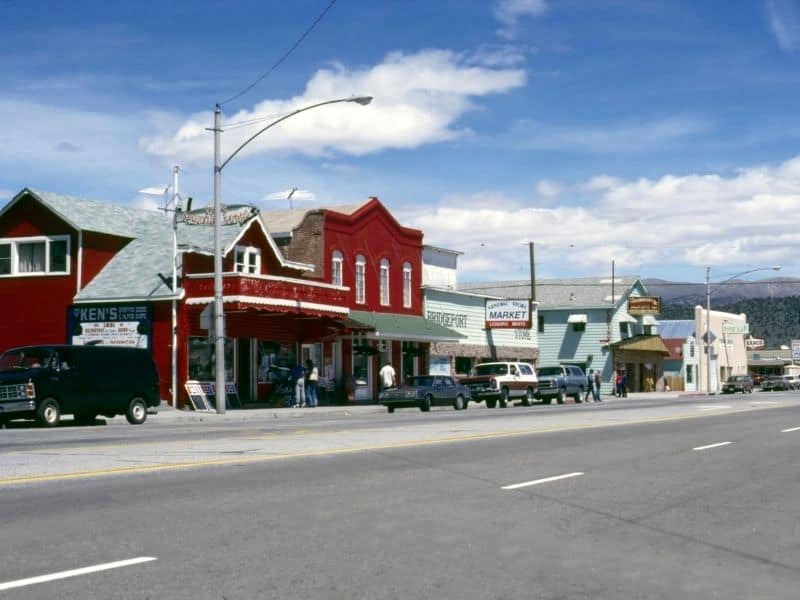 Elevation: 4,150 feet
Population: 3,745
The town of Bishop in the Eastern Sierras is a great base camp for all kinds of mountain adventures in the region.
Visit the Railroad Museum, go leaf-peeping in the fall, go climbing, explore nearby hot springs, or explore the magnificent bristlecone pine forest, home to some of the most ancient trees on planet Earth!
Lone Pine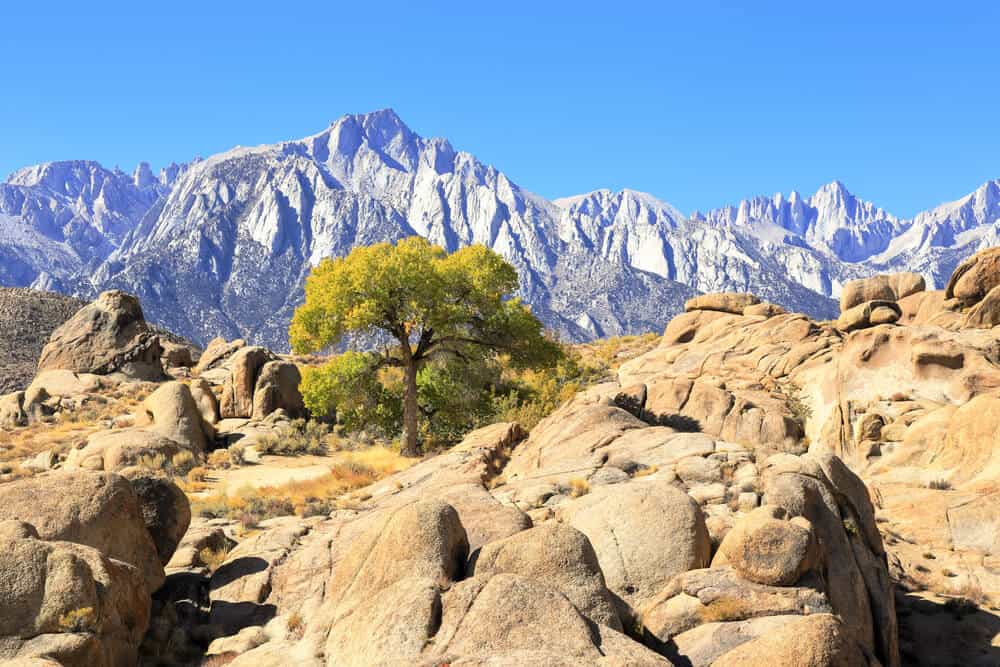 Elevation: 3,727 feet
Population: 1,807
Lone Pine is located at the intersection of Death Valley and the Eastern Sierra region, and its a charming mountain town with an Old West feel.
Lone Pine is also the gateway to Mt. Whitney, and the Alabama Hills just outside of Lone Pine is the perfect place to peep the highest peak in the Lower 48!
The Best Mountain Towns in Southern California
Ojai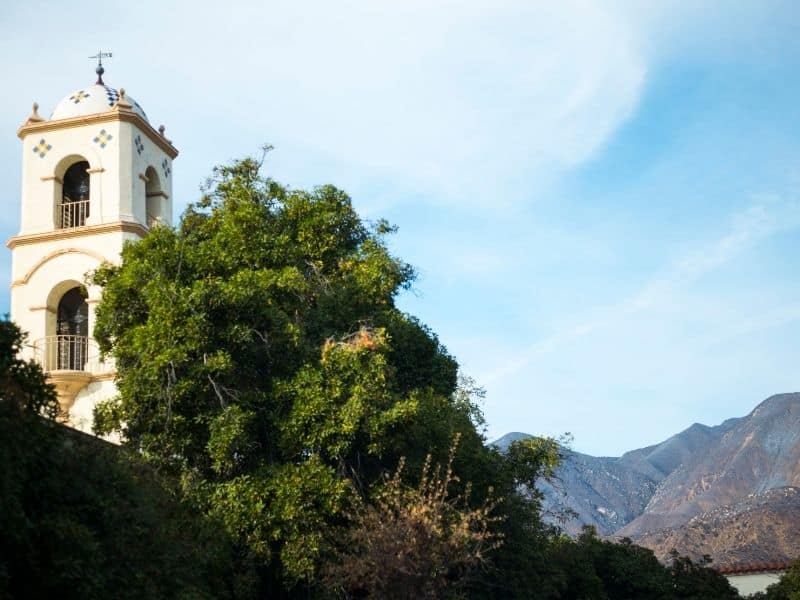 Elevation: 745 feet
Population: 7,534
Set in a valley fringed by the Topatopa Mountains, Ojai is a cute low altitude mountain town in Southern California.
It's a great place for shopping since chain stores are essentially banned in the town! So whatever you find in Ojai will be unique.
In addition to that, Ojai is a great wine-tasting region, and you'll also love all the wonderful hiking trails that are laid out at your feet to enjoy.
Solvang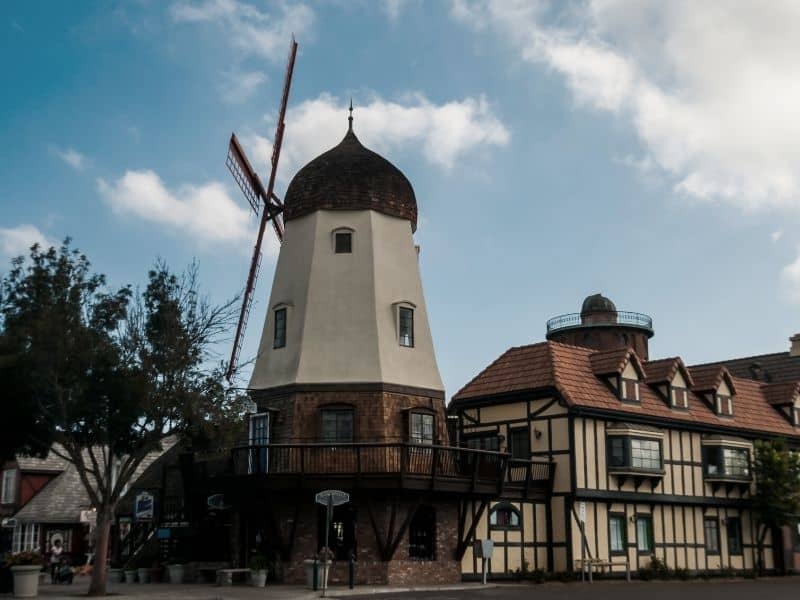 Elevation: 505 feet
Population: 5,804
The charming Santa Barbara wine country town of Solvang is located in the Santa Ynez Valley, amidst rolling hills and Figueroa Mountain in the background. 
Enjoy the historic European-inspired half-timbered houses that were built when the town was settled by Danish immigrants.
Be sure to help yourself to some delicious Danish pastries for which this mountain town is known, like the local favorite aebelskivvers!
Oak Glen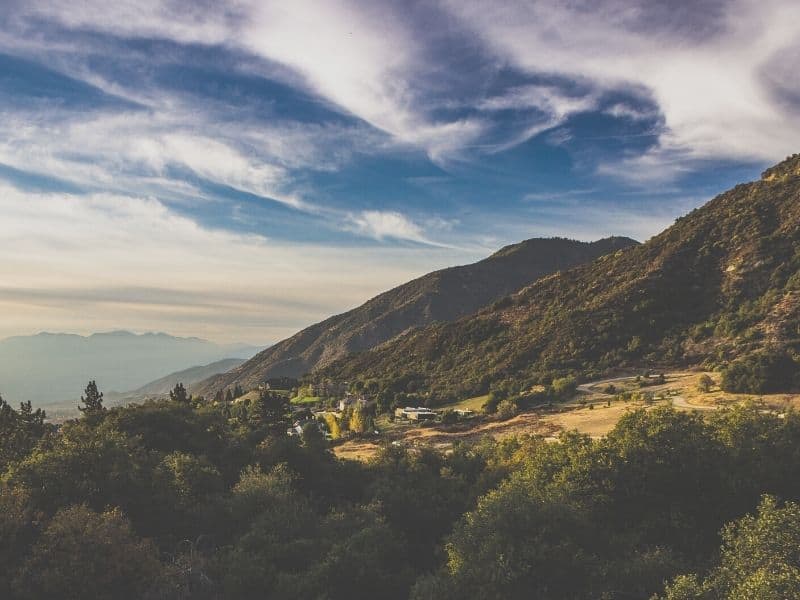 Elevation: 5,400 feet
Population: 430
The beautiful Southern California mountain town of Oak Glen is a beloved place to visit in the fall for apple-picking as well as in the winter for a spot of snow, if you're lucky!
Oak Glen is also known for its shopping, local festivals, and its Wildlands Conservancy which is a great place to take a walk among local flora and fauna.
Julian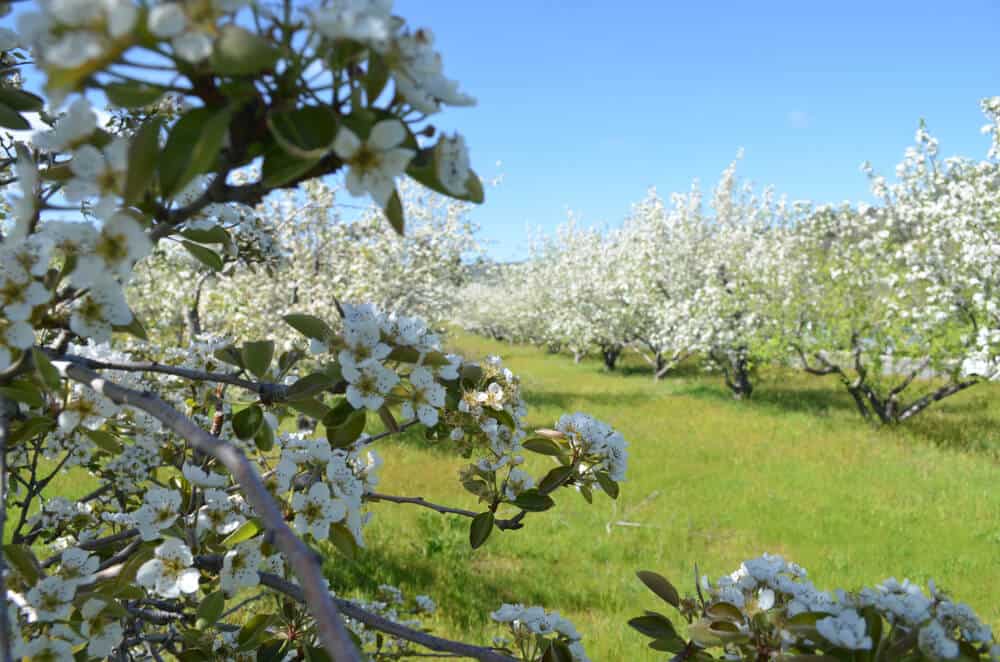 Elevation: 4,226 feet
Population: 1,019
Julian, California is another mountain town in Southern California known for its apple orchards! Come in the spring to see all the apple blossoms, or in fall to pick your own apples.
Julian is also a great place for stargazing in California, with some of the darkest skies and a great observatory/inn to stay at and check out the night sky from your secluded mountain oasis.
Lake Arrowhead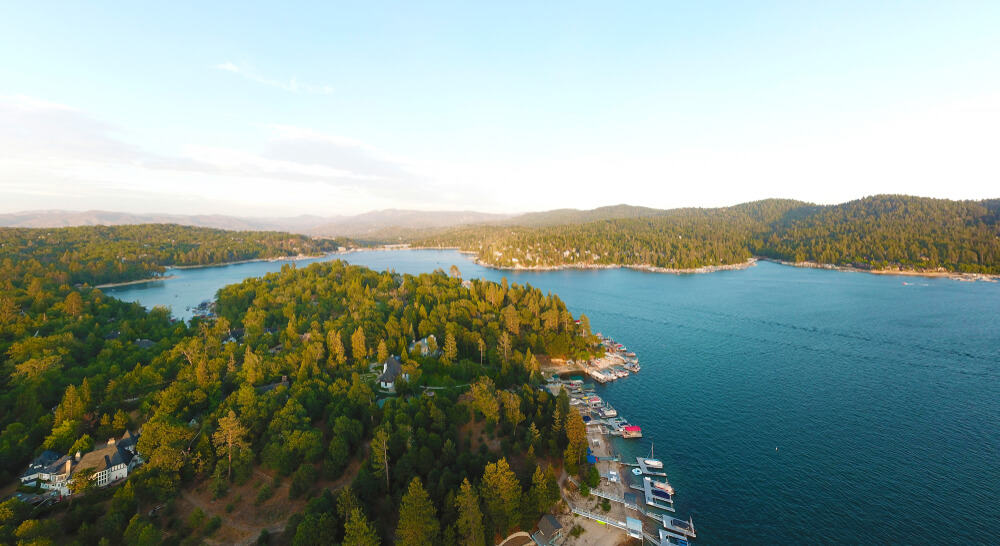 Elevation: 5,174 feet
Population: 8,940
Lake Arrowhead is a beautiful lakeside oasis in the mountains of Southern California, great for a summer escape on the water or a cabin escape in the winter!
It's charming no matter the time of year and a great place for all sorts of outdoor activities.
Idyllwild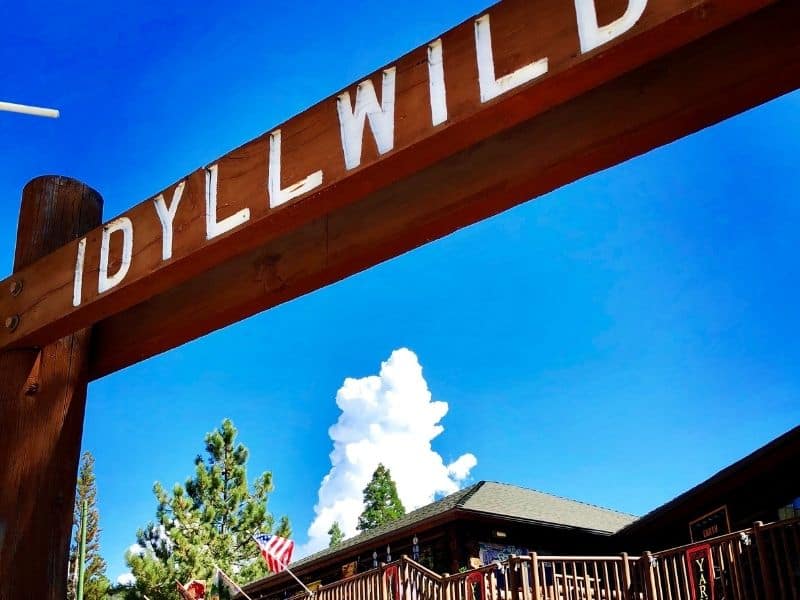 Elevation: 5,413 feet
Population: 2,510
The town of Idyllwild is another wonderful mountain escape in California!
A short drive from either Los Angeles or San Diego, Idyllwild is a great place to play in the snow and stay in a charming cabin in winter or enjoy the hiking trails in summer.
Big Bear Lake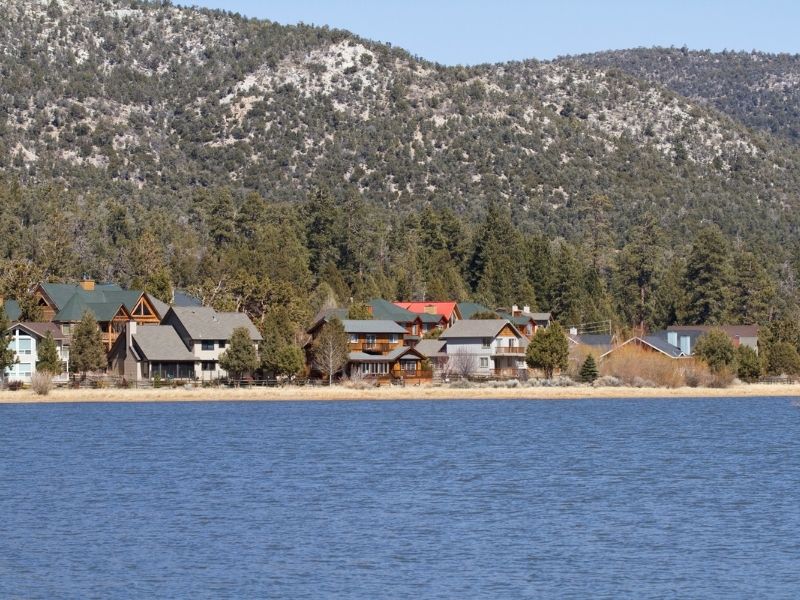 Elevation: 6,752 feet
Population: 5,241
The lakeside mountain town of Big Bear Lake is a SoCal favorite in summer or winter!
It's a wonderful destination all throughout the year, but Big Bear really comes to life in winter when it becomes a vibrant skiing and snowboarding destination!
The cabins in Big Bear are a great place for a mountain escape, and the town has tons of great bars, restaurants, and shops to enjoy no matter the weather.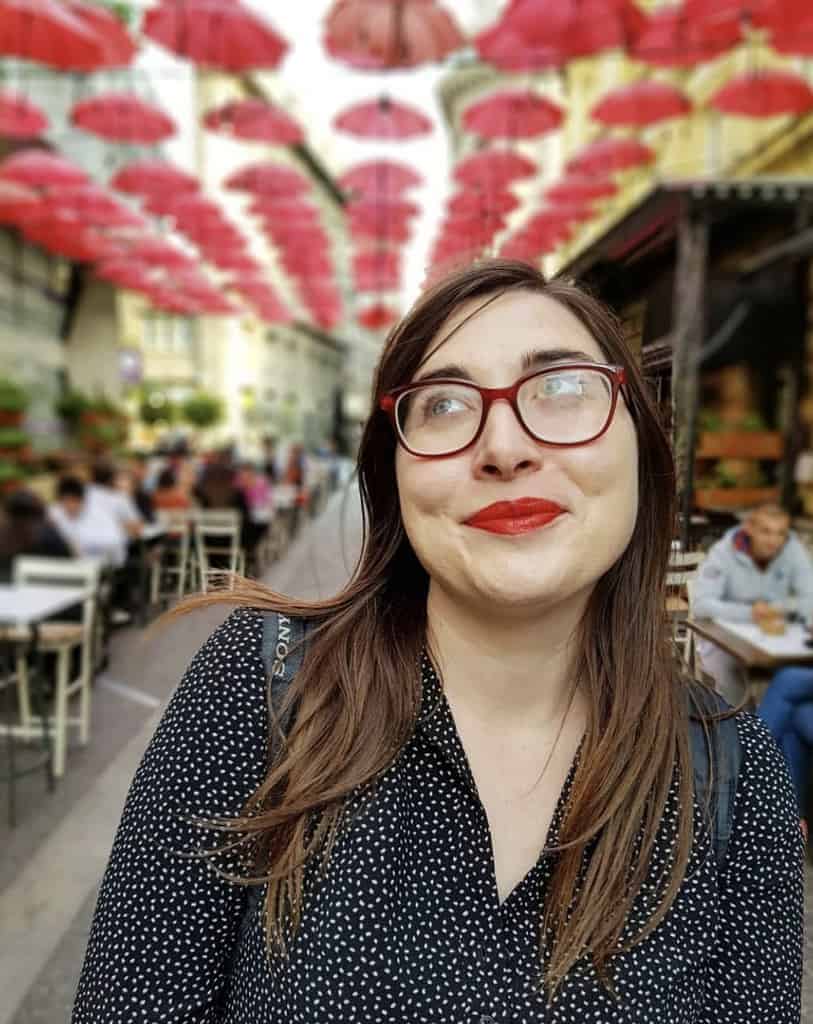 Allison Green is a travel blogger, writer, and podcaster who grew up in the Bay Area of California. She has spent time living in New York, Prague, and Sofia, but has returned to live in the East Bay. She has traveled to 60 countries before the age of 30 while running several digital travel publications. Her writing and podcast have been featured in Forbes, CBC Canada, National Geographic, the Huffington Post, and CNN Arabic, amongst others. She's obsessed with bouldering, houseplants, other people's pets, and anywhere she can see the ocean.