Planning a trip to Big Bear Lake and Bear Mountain?
This stunning Southern California mountain city is a favored getaway from Los Angeles for anyone who is looking to escape the city smog and breathe some fresh, piny air.
In the summer, Big Bear Lake is home to all sorts of aquatic activities — fishing, swimming, kayaking, jet-skiing, the list goes on — and in fall, the area is known for its fall color.
But in winter is when Big Bear really roars to life (pardon the pun), when snow-starved Angelenos flock to the mountains to hit the slopes, get some cool mountain air, and see the fabled 'snow' everyone else seems to talk about.
There are several fancy resorts in Big Bear that you could stay at if you wanted a luxurious experience, but in my book, nothing beats a cabin getaway, especially in the winter.
I've curated this list of awesome Big Bear cabins that I'm sure you'll love, with something to suit basically every budget. It's the best of Big Bear Airbnb has to offer!
Here are my top choices for where to stay in Big Bear.
The Best of Big Bear Airbnb: Big Bear Cabins You'll Love
Serenity in the Tree Tops
Note: This post contains affiliate links, which earn me a small commission at no extra cost to you if you make a purchase using one of these links. Thank you for supporting this free content!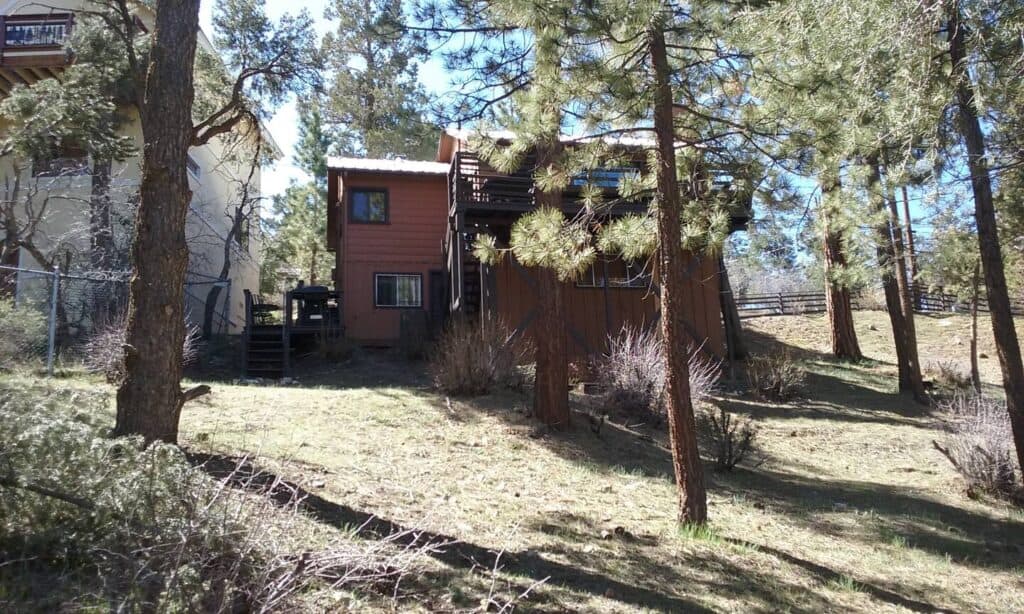 This small but comfortable cabin is a great rental for travelers looking to explore Big Bear while on a budget.
The wooden interior is very cozy, and between the sitting area, kitchenette, and sleeping nook, covers all your basic necessities.
You can unwind on the reclining sofa and pop a movie into the DVD, or step out onto the deck and fire up the barbecue grill for a quick meal.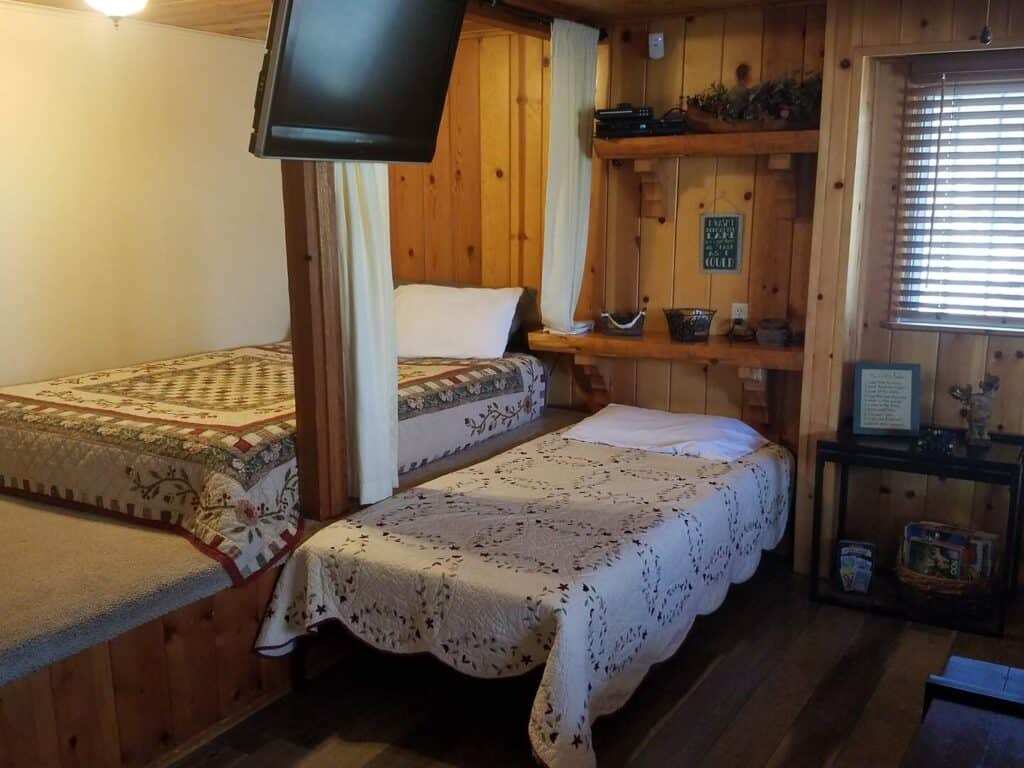 The cabin is in a quiet location surrounded by trees, so you can expect beautiful, serene views all year round.
The cabin really offers you a chance to become one with the great outdoors – on top of the forest around the cabin, BB's major attractions like Big Bear Lake, Bear Mountain Ski Resort, and Snow Summit are all within 5-or-so miles from here.
Also, the Community Market is within walking distance, and the Village is only a short car ride away.
>>>
Check this Big Bear cabin on Airbnb
<<<
Past guests say:
"This quaint little space was just perfect for a weekend getaway. Everything I needed was there. The bed was comfy and the place was quiet. I definitely recommend if you'd like to stay somewhere off the beaten path away from tourists and the busier parts of Big Bear."
Getaway Cabin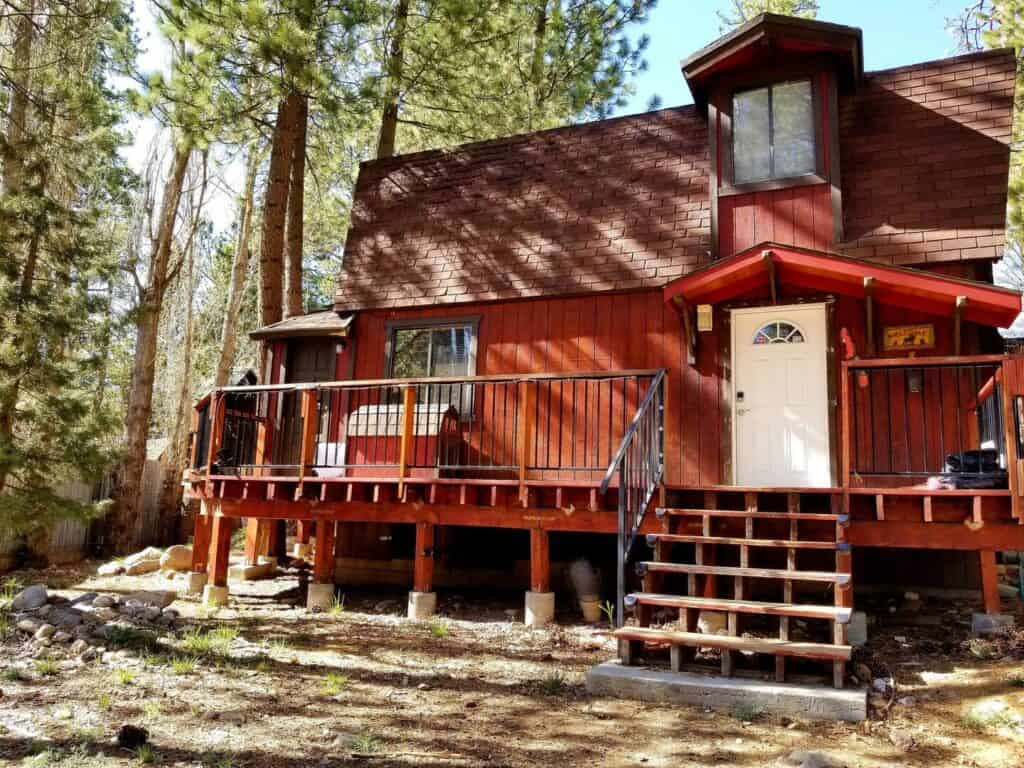 This charming mountain cabin is perfect for both a large group and a couple looking to explore Big Bear.
The cabin features everything you really need for a comfortable stay – the living area boasts a large television (Netflix included), a fireplace for maximum comfort, and a large window with a great view.
You can get an even better view from the deck, which also features a barbecue grill. Exploring the premises of the property is a treat no matter the season, thanks to the beautiful forest.
The property also welcomes pets, and this is certainly one of the nicest places you could bring them!
Right by the cabin, there's a basketball and tennis court, and a playground if you're visiting with children.
Also nearby is the gorgeous Big Bear Lake, Bear Mountain Ski Resort, and the main town, so you can get to a number of stores and restaurants in no time at all.
>>>
Check this Big Bear cabin on Airbnb
<<<
A-Frame With Mountain Views
A retreat in nature doesn't get much better than this gorgeous, pet-friendly A-frame Big Bear cabin!
The beautiful living area's large windows offer a once-in-a-lifetime view of Bear Mountain, and guests will be able to warm their bones by the fireplace on colder days.
The décor and furniture are all very tasteful and in perfect harmony with the surrounding nature.
The house also features 3 bathrooms, a large deck with a barbecue meal, ample seating, and a spectacular view of trees and mountains, and even a jacuzzi tub in the master bathroom – you'll be enjoying the scenery through the bathroom window in style!
The loft swing is a beautiful place to relax, and each of the two bedrooms is as elegant as it is comfortable.
The house is located in Moonridge, and Snow Summit, The Village, and just about everything else you could be interested in seeing is only a short drive away.
>>>
Check this Big Bear cabin on Airbnb
<<<
Past guests say:
"Our family just adored this cozy cabin! It exceeded all of our expectations…super clean, well-maintained, fully stocked kitchen, quiet and peaceful neighborhood, etc. We will definitely stay here again!"
The Honey Bear Cabin
The Honey Bear Cabin takes a decidedly modern approach, and the end result is one of Big Bear's most incredible rental cabins.
Huddle around the fireplace on a chilly winter evening or sit outside by the fire pit – you're guaranteed to be warm and comfortable no matter the time of year.
The combination of elegant furniture and the quintessential hardwood cabin floor and walls make for a beautiful combination, one made even more potent by the incredible forest view from the windows and 2 decks.
Outside, you can fire up a delicious barbecue, go for a scenic hike mere minutes from the cabin, or walk to the lake for the most incredible sunset in all of Big Bear.
The name of the game with this rental is privacy – you'll have great connectivity to plenty locales and landmarks, as The Village is a bit over 5 miles away, all while enjoying a quiet vacation.
>>>
Check this Big Bear cabin on Airbnb
<<<
Past guests say:
"We loved this stay! The location was perfect, quiet area, beautiful cabin with extra special touches."
Bearadise
The name of this cabin tells you everything you need to know – blending beautiful design and breathtaking landscapes, this A-Frame is one of the ultimate Big Bear Airbnbs.
Thanks to the window and French doors, the entire cabin is drenched in natural light and offers a relaxing view of the yard area.
Between the two floors, 3 heated bedrooms, and 2 bathrooms, everyone gets their fair share of privacy at Bearadise.
You can kill an evening with a good book in the reading nook of the loft, or watch a movie by the wood-burning stove – you're in for a treat either way.
In the back yard, there's plenty of room for everyone to get together and cook up a barbecue and enjoy the clean air.
Best of all, you can hop in your car and get to Big Bear Lake, Boulder Day Park, and Snow Summit in no time at all.
>>>
Check this Big Bear cabin on Airbnb
<<<
Past guests say:
"The cabin was the highlight of our trip, it was beautiful and super quiet. 10/10 recommended!!! The host is super nice and sweet and give very fast response."
The Sugar Shack
The quality and charm of the Sugar Shack are abundantly clear from the moment you set foot here.
The homely interior features an open-floor design and every amenity you need. You'll have access to two large bedrooms and decks with that trademark Big Bear nature view.
Guests can use the Weber grill to prepare lunch, relax in the spa and hot tub, enjoy a movie or sports game on the huge television set, or have a simple night in just playing a board game.
The nearest store and restaurant are only a stone's throw away, and you'll be very close to Snow Summit and Bear Mountain Ski Resorts, as well as Big Bear Lake.
Whatever it is you want to do, be it swimming, hiking, fishing, skiing, or anything else, this place has you covered. There are even golf and baseball fields, as well as a skateboard park in the area.
>>>
Check this Big Bear cabin on Airbnb
<<<
Past guests say:
"Very clean, well-kept cabin. We enjoyed our time spent here and wish we could have stayed longer!"
Big Bear Cozy Cabin
This homely rental is a peaceful retreat for a couple or small group looking to explore Big Bear – if you're looking for your stay to be private and well-connected, this is the place for you.
Spacious, bright, and well-furnished, the cabin features a heavily windowed seating area, a fireplace with a gorgeous hearth, a stylish bedroom with urban tapestry, a well-stocked kitchen, and plenty of all-around charm thanks to all the decorations.
There's a small nook with foosball if you're feeling competitive, and a jacuzzi and barbecue grill right outside, surrounded by gorgeous pines.
You can walk to the nearest general store and Kalan's Bar and Restaurant from here, and just about every important location in the area is within reach – Big Bear Lake, Boulder Bay Park, and the Discovery Center are about 6 miles away.
This location is a great place for outdoor activities, including hiking, swimming, and skiing in the winter.
>>>
Check this Big Bear cabin on Airbnb
<<<
Pin This Guide to Big Bear Airbnbs & Cabins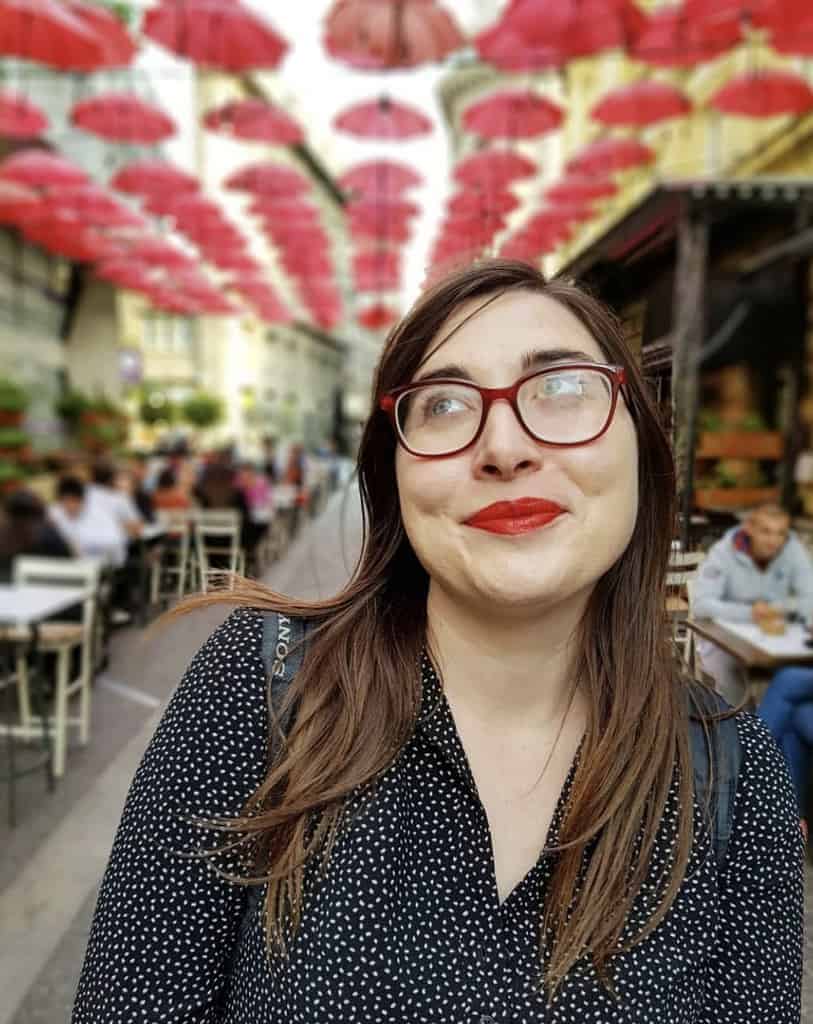 Allison Green is a travel blogger, writer, and podcaster who grew up in the Bay Area of California. She has spent time living in New York, Prague, and Sofia, where she currently calls home in between visits to California. She has traveled to 60 countries before the age of 30 while running several digital travel businesses. Her writing and podcast have been featured in Forbes, CBC Canada, National Geographic, the Huffington Post, and CNN Arabic, amongst others. She's obsessed with dogs, wine, and anywhere she can see the ocean.