Planning a trip to Big Bear Lake and Bear Mountain?
This stunning Southern California mountain city is a favored getaway from Los Angeles for anyone who is looking to escape the city smog and breathe some fresh, piny air.
In the summer, Big Bear Lake is home to all sorts of aquatic activities — fishing, swimming, kayaking, jet-skiing, the list goes on — and in fall, the area is known for its fall color.
But in winter is when Big Bear really roars to life (pardon the pun), when snow-starved Angelenos flock to the mountains to hit the slopes, get some cool mountain air, and see the fabled 'snow' everyone else seems to talk about.
There are several fancy resorts in Big Bear that you could stay at if you wanted a luxurious experience, but in my book, nothing beats a cabin getaway, especially in the winter.
I've curated this list of awesome Big Bear cabins that I'm sure you'll love, with something to suit basically every budget. It's the best of Big Bear Airbnb has to offer!
Here are my top choices for where to stay in Big Bear.
The Best of Big Bear Airbnb: Big Bear Cabins You'll Love
Serenity in the Tree Tops
Note: This post contains affiliate links, which earn me a small commission at no extra cost to you if you make a purchase using one of these links. Thank you for supporting this free content!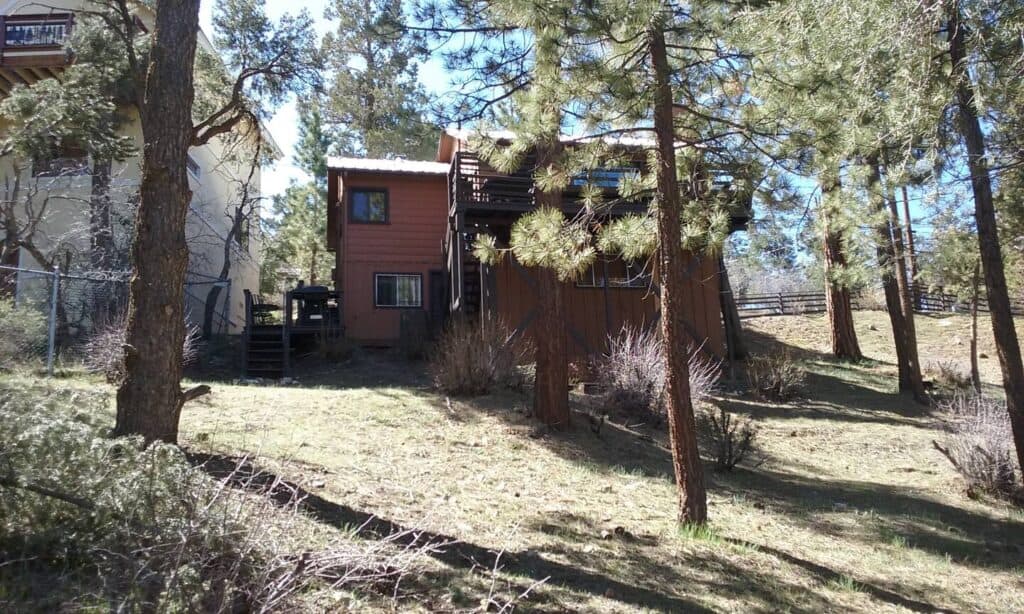 This small but comfortable cabin is a great rental for travelers looking to explore Big Bear while on a budget.
The wooden interior is very cozy, and between the sitting area, kitchenette, and sleeping nook, covers all your basic necessities.
You can unwind on the reclining sofa and pop a movie into the DVD, or step out onto the deck and fire up the barbecue grill for a quick meal.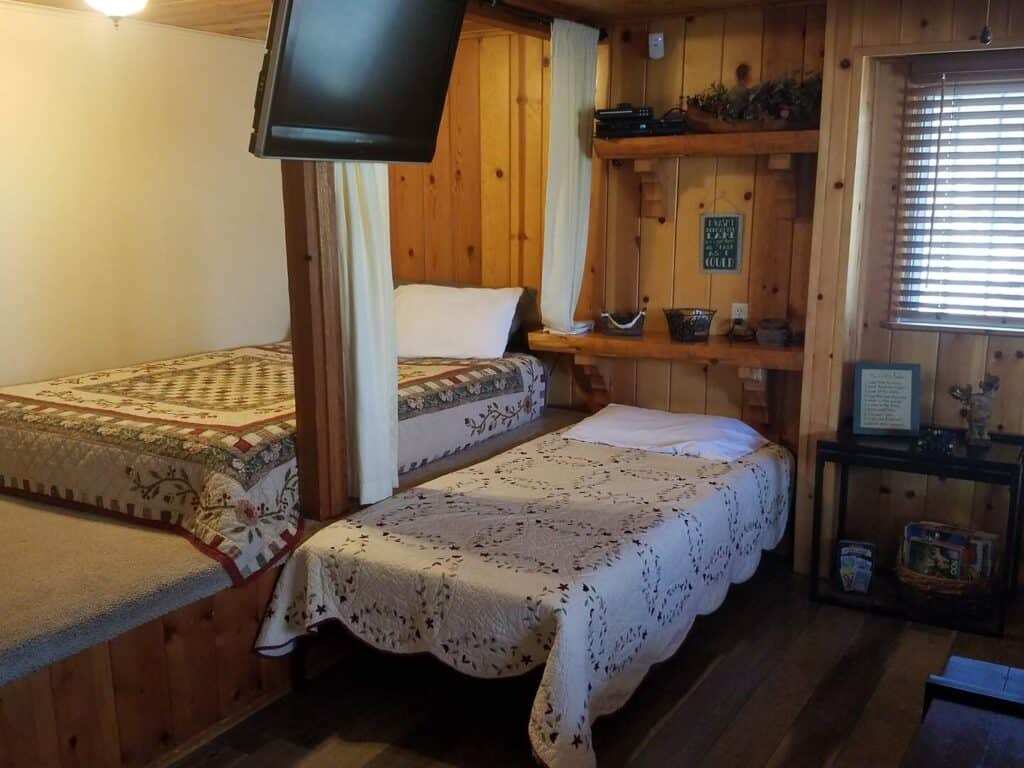 The cabin is in a quiet location surrounded by trees, so you can expect beautiful, serene views all year round.
The cabin really offers you a chance to become one with the great outdoors – on top of the forest around the cabin, BB's major attractions like Big Bear Lake, Bear Mountain Ski Resort, and Snow Summit are all within 5-or-so miles from here.
Also, the Community Market is within walking distance, and the Village is only a short car ride away.
>>>
Check this Big Bear cabin on Expedia
<<<
Past guests say:
"This quaint little space was just perfect for a weekend getaway. Everything I needed was there. The bed was comfy and the place was quiet. I definitely recommend if you'd like to stay somewhere off the beaten path away from tourists and the busier parts of Big Bear."
Dream Getaway with Secluded Spa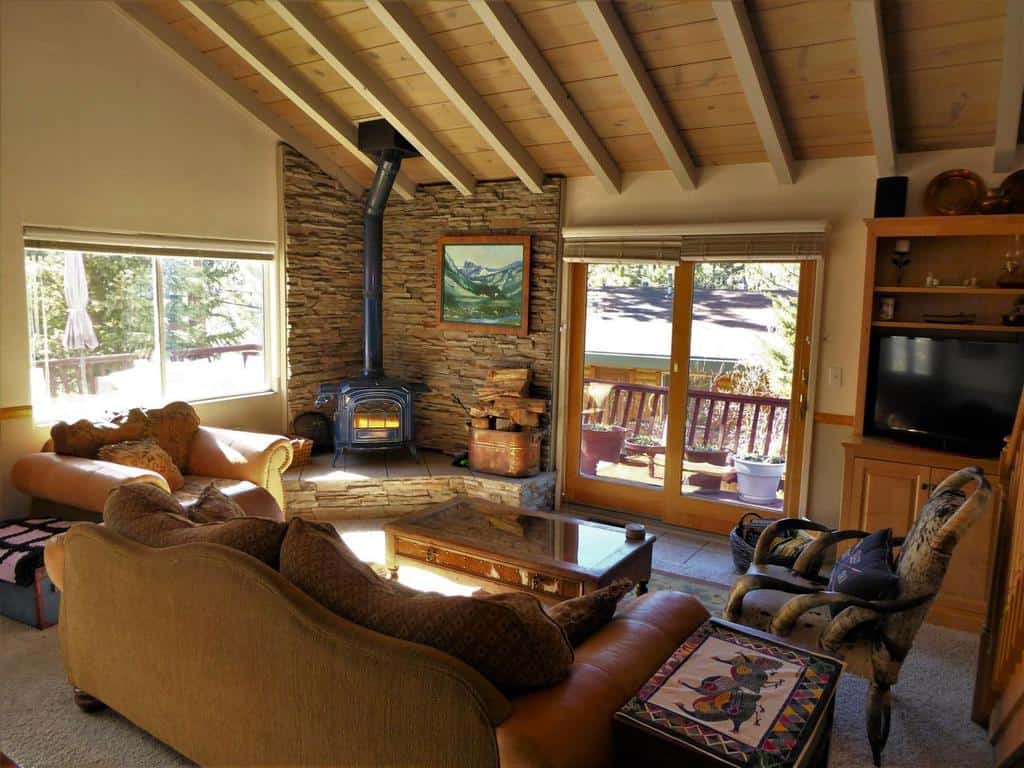 This charming mountain cabin is perfect for both a large group and a couple looking to explore Big Bear.
The cabin features everything you really need for a comfortable stay – the living area boasts a comfy sofa, a fireplace for maximum comfort, and a large window with a great view.
You can get an even better view from the deck, which also features a secluded spa and hot tub. Exploring the premises of the property is a treat no matter the season, thanks to the beautiful forest.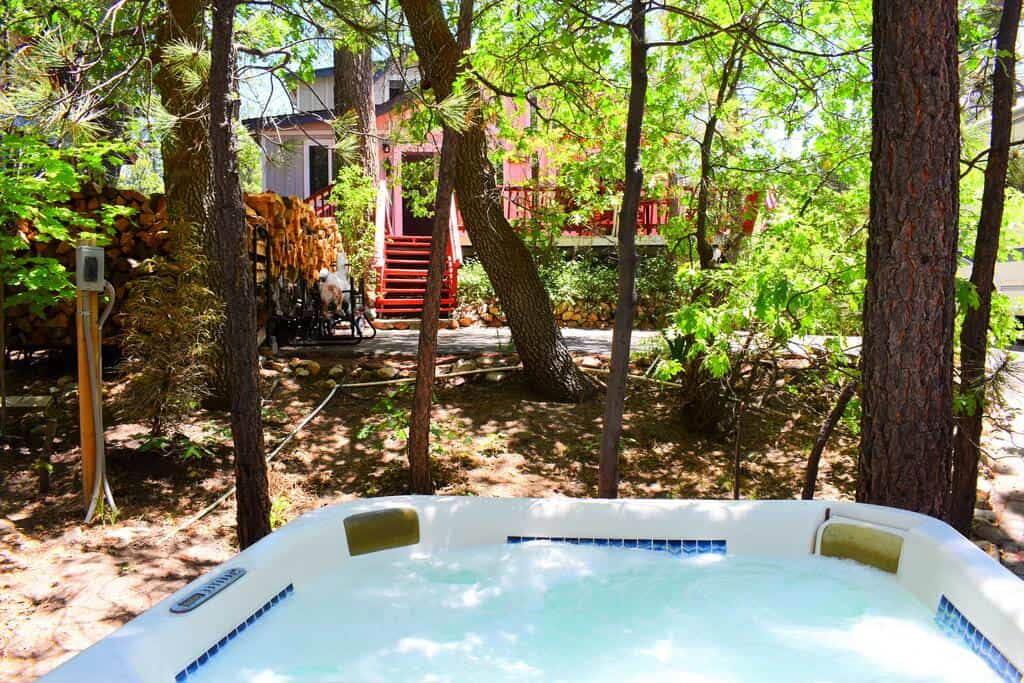 The property is about 1.5 km from Big Bear Marina and offers a patio, garden, and free WiFi. The holiday home is in an area where guests can engage in activities such as hiking, fishing, and tennis.
A flat-screen TV with satellite channels a Blue Ray player, and a DVD player are offered as well.
Also nearby is the gorgeous Big Bear Lake, Bear Mountain Ski Resort, and the main town, so you can get to a number of stores and restaurants in no time at all.
>>>
Check this Big Bear cabin on Boking
<<<
Cienaga Creek Ranch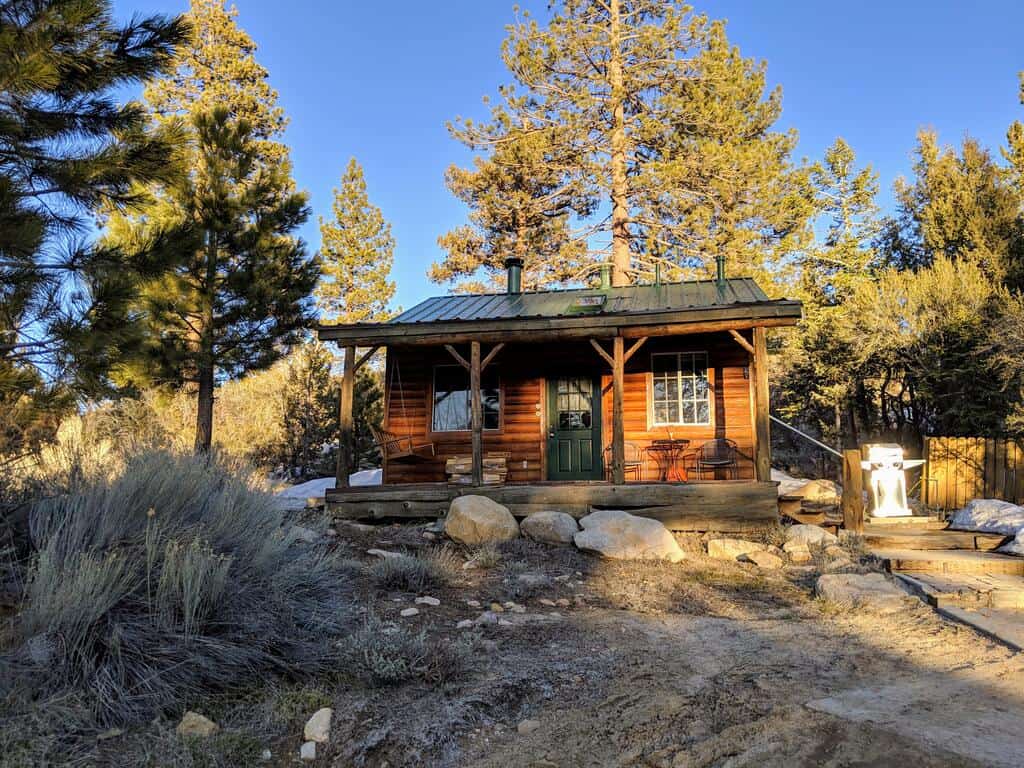 A retreat in nature doesn't get much better than this gorgeous, pet-friendly Big Bear cabin!
The beautiful outside living area offers a once-in-a-lifetime view of Bear Mountain, and guests will be able to enjoy the relaxing oversized spa bath for two, overlooking skylights at Cienaga Creek Ranch.
The décor and furniture are in perfect harmony with the surrounding nature.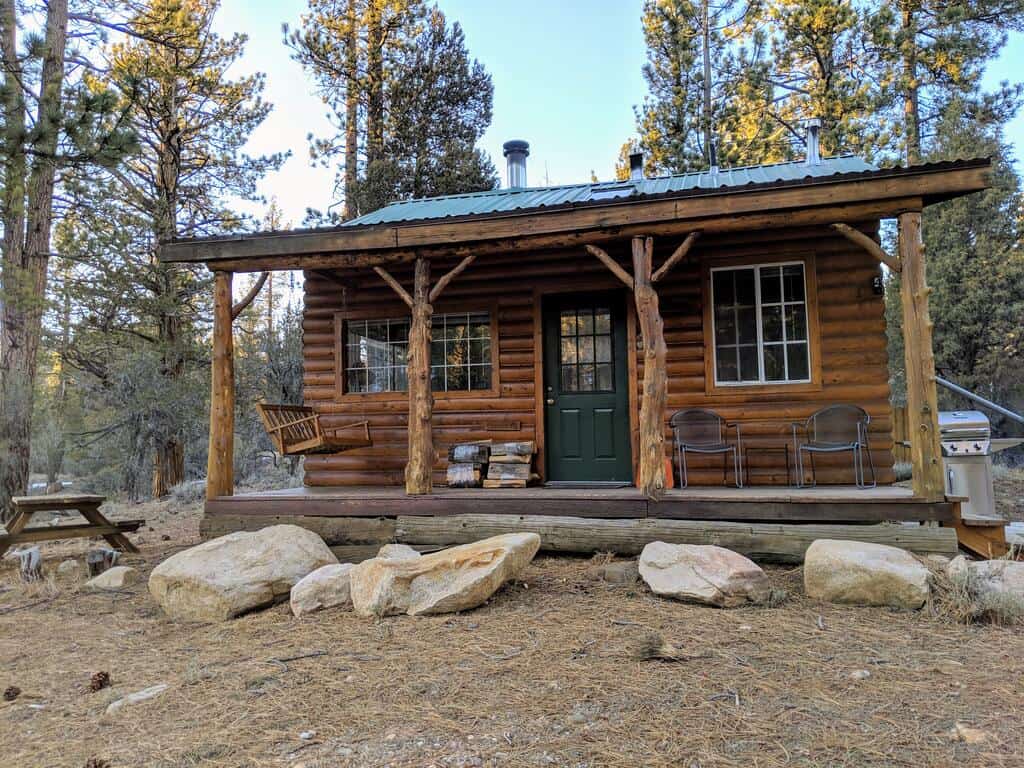 There are several units you can choose from, all of them featuring a full kitchen with stainless steel appliances and granite counters. A seating area with a flat-screen cable TV, a DVD player, and a movie library!
The house is located in a private setting, 15 minutes drive from Big Bear Lake and it's surrounded by a forest. Alpine Slide at Magic Mountain is a 10-minute drive away. Lake Arrowhead is 45 km away from Cienaga Creek Ranch.
>>>
Check this Big Bear cabin on Booking
<<<
Past guests say:
"The location was amazing as this was really the 'cabin in the woods' that we've been looking for countrywide. The double spa bath was incredible, as well as the double showerheads. The owners really go out of their way to make sure one has a great time. I surprised my girlfriend with their Birthday cake and champagne option which they executed brilliantly."
Tres Bien Ensemble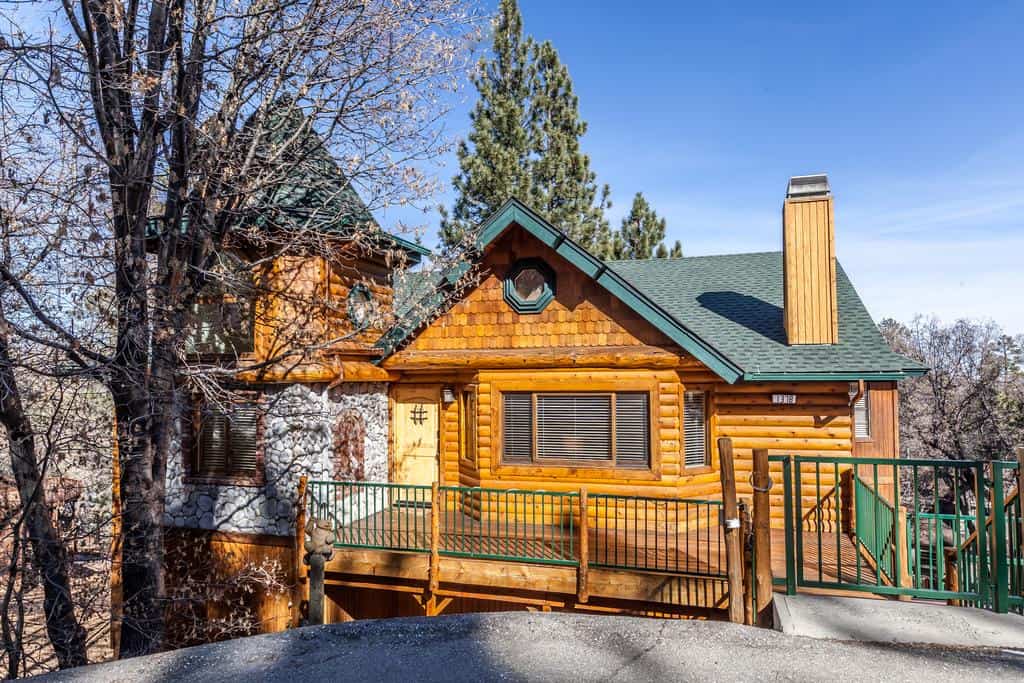 The Tres Bien Ensemble takes a decidedly modern approach, and the end result is one of Big Bear's most incredible rental cabins.
Huddle around the fireplace on a chilly winter evening or sit outside on the beautiful deck – you're guaranteed to be warm and comfortable no matter the time of year.
The combination of elegant furniture and the quintessential hardwood cabin floor and walls make for a beautiful combination, one made even more potent by the incredible forest view from the windows and deck.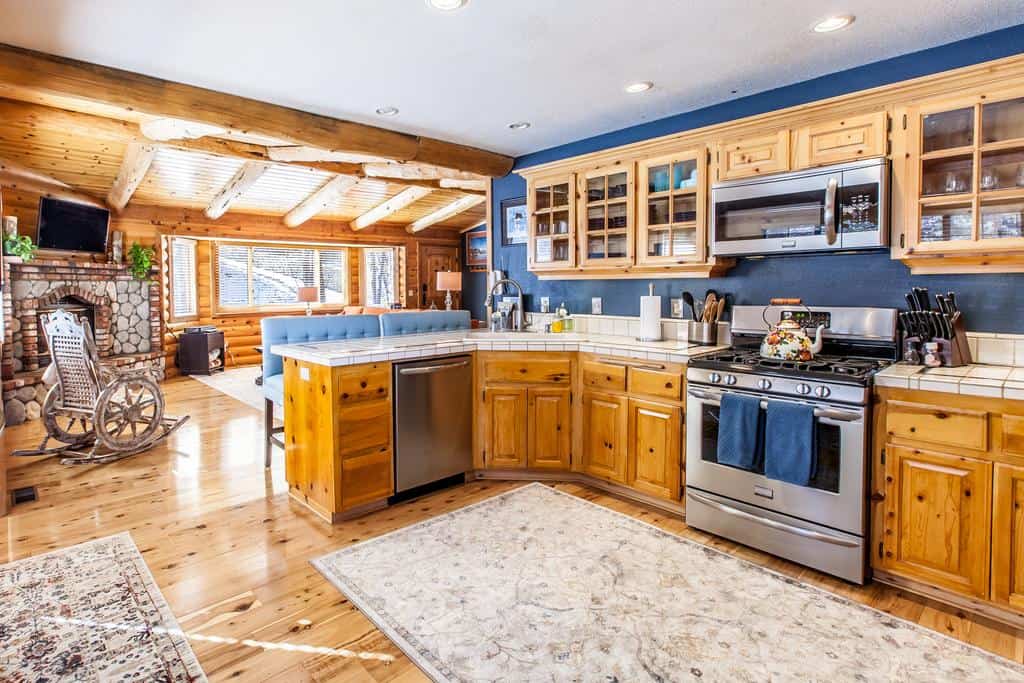 Outside, you can fire up a delicious barbecue on the terrace, go for a scenic hike mere minutes from the cabin, or walk to the lake for the most incredible sunset in all of Big Bear.
The name of the game with this rental is privacy – you'll have great connectivity to plenty locales and landmarks, What's more, Lakeview Shopping Center is 5 km from the property ideal for your basic needs.
>>>
Check this Big Bear cabin on Booking
<<<
Past guests say:
"This beautifully furnished and decorated home included all the amenities (and more!) to help my family and I enjoy our weekend. The home was clean, spacious, and very cozy."
Cozy, Chic & Rustic Lake Cabin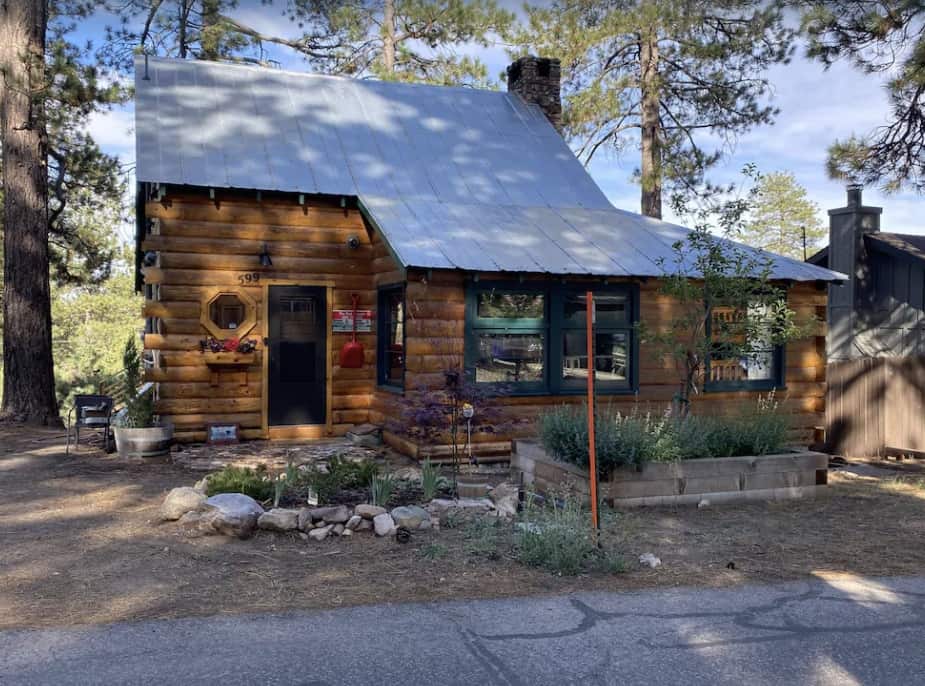 The name of this cabin tells you everything you need to know – blending beautiful design and breathtaking landscapes, this is one of the ultimate Big Bear lodgings.
This authentic 1940's Maltby cabin has been restored with historical charm and modern amenities with peek-a-boo views of Big Bear Lake. The place is perfect to treat yourself to a beautiful journey in this very special cabin.
Its functional flow is designed to easily accommodate multiple couples, multi-generational family excursions or a group of friends while giving everyone privacy and space.
From spa-style bathroom amenities and fluffy towels, super comfy beds and linens, a fully stocked coffee and tea bar, basic pantry items, and a healthy bundle of firewood to warm the hearth are all included with your stay.
The downstairs living areas boast beautiful hardwood floors, refurbished old-style crank windows, and door hardware. A 55" smart TV and sectional leather sectional sofa make the living room area a perfect place to watch movies and relax while enjoying the fire in the 80-year-old hearth.
Accented with club chairs and a cocktail table for fireside chatting, each area is designed to foster an engaging experience. The kitchen has been recently remodeled with new appliances, designer dishes and cookware, and a coffee, tea, and spice bar.
Outside there's a gorgeous deck for enjoying the view and watching nature.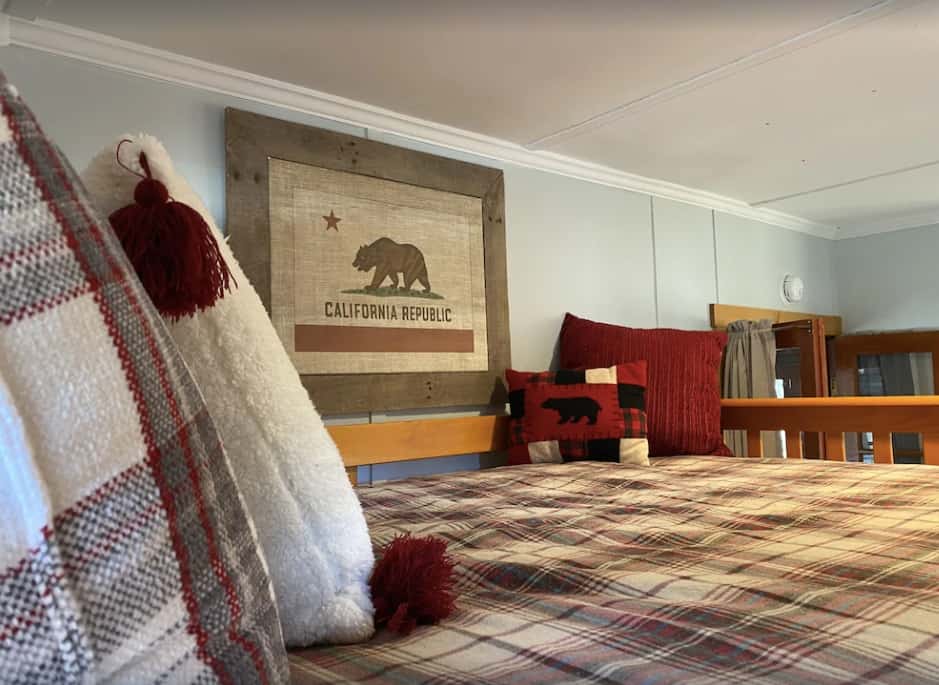 The cabin is located right off Highway 18 just a few blocks from Boulder Bay Park and Pleasure Point Marina.
A private quiet setting with its own sledding hill when it snows. Easy to get to and conveniently close to everything magical Big Bear has to offer.
The cabin is just 2 blocks from Big Bear Lake, 1.6 miles from Alpine Slide, 4 miles to Snow Summit, 1.9 miles to the Village, and 5 miles to Bear Mountain.
>>>
Check this Big Bear cabin on VRBO
<<<
Past guests say:
"The cottage was perfectly located in a charming neighborhood and it was absolutely adorable with lots of authentic details. We had plenty of space and everything we needed plus it was very clean and super comfy. We will definitely stay there again!"
Charming Cabin Chalet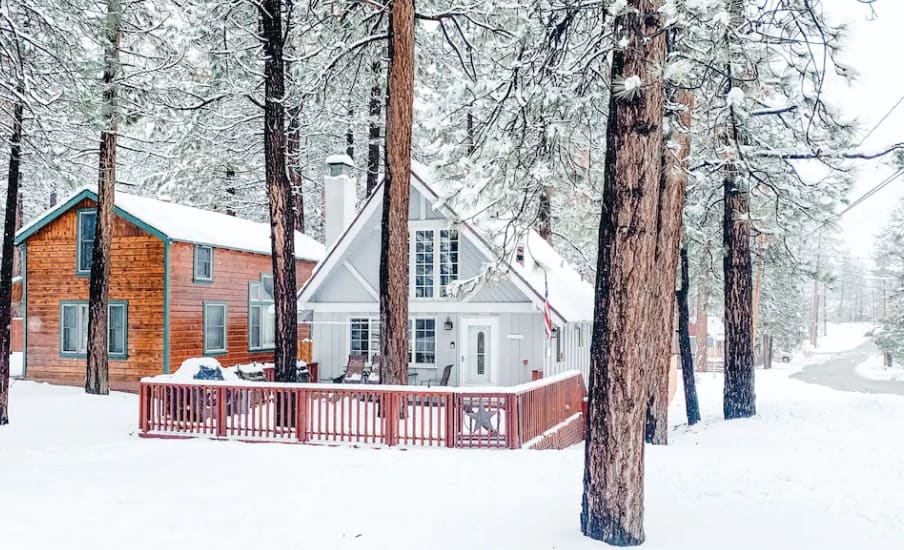 The quality and charm of the Charming Cabin Chalet are abundantly clear from the moment you set foot here.
The cabin features 2 bedrooms, with a King bed upstairs, a Queen bed downstairs and a full size sofa sleeper in the living room
Looking for the perfect getaway? Snuggle up in front of the fireplace and read a book, feast at a family barbecue on the large front deck, or just relax & enjoy the wonderful mountain air in the 6 person jacuzzi after a day on the slopes.
The kitchen is fully equipped with all the essentials. The property also features Wireless WIFI internet with TLC TV in the living room & upstairs loft and a large selection of videos and DVDs for all ages. There are plenty of games for family time fun too!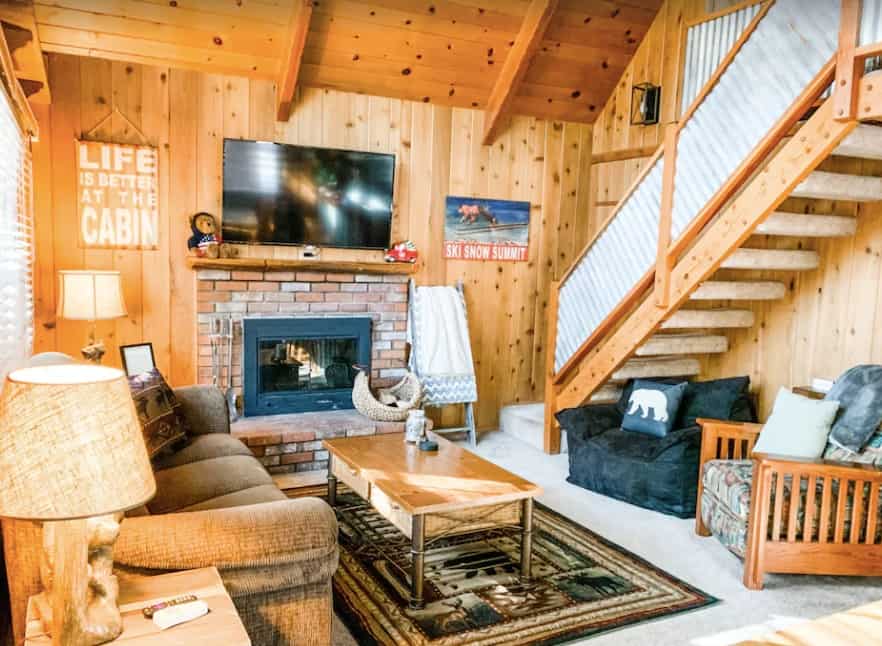 The homely interior is nestled in the perfect Big Bear location; 1.5 miles to Big Bear Village, 1/2 mile to the lake & Holloways Marina, 1 mile to the Alpine Slide, and 3.5 miles to Snow Summit.
Whatever it is you want to do, be it swimming, hiking, fishing, skiing, or anything else, this place has you covered!
>>>
Check this Big Bear cabin on VRBO
<<<
Past guests say:
"This was the best place to spend a quiet relaxing birthday weekend!!! The place was cleaned and had everything you could possibly need for a getaway. It was just my fiancé and me, however, next time we will be back with the kids. Thank you so much for your hospitality and for letting us stay here. We loved it!"
Aeroplane Hide-A-Way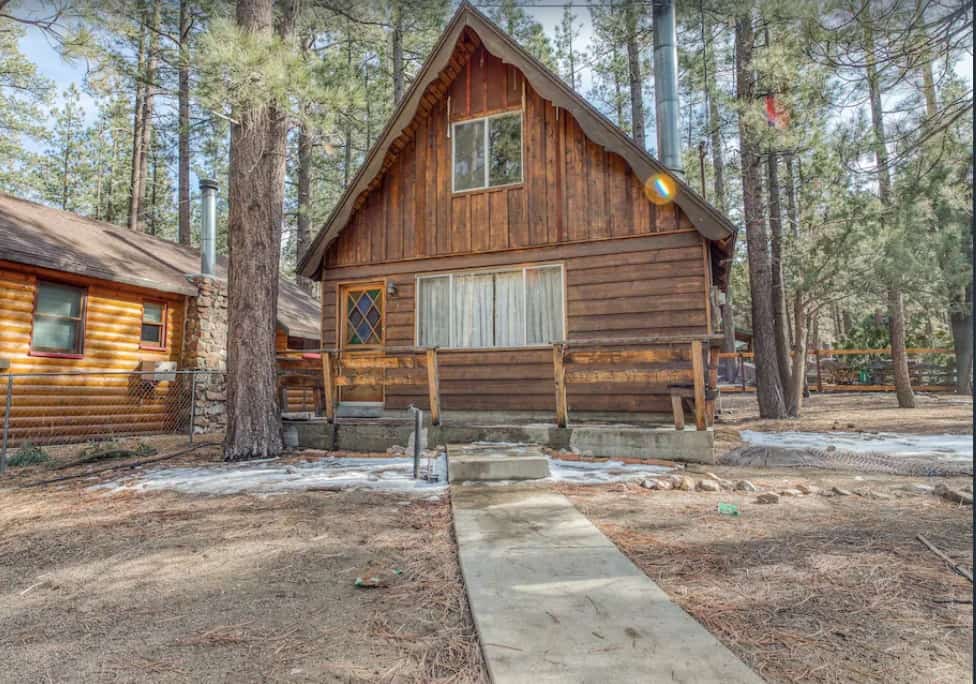 This homely rental is a peaceful retreat for a couple or small group looking to explore Big Bear – if you're looking for your stay to be private and well-connected, this is the place for you.
This location is a great place for outdoor activities, including hiking, swimming, and skiing in the winter.
This cozy, two-story Big Bear cabin is less than two miles from the shores of Big Bear Lake. The home features a full kitchen, a dining table for four, and a cozy living area warmed by a wood-burning fireplace.
Outside, there's a large yard offering plenty of space for the kids or the family dog to run and play.
Spacious and bright, and well-furnished, the cabin features a fireplace, a stylish bedroom, a well-stocked kitchen, and plenty of all-around charms.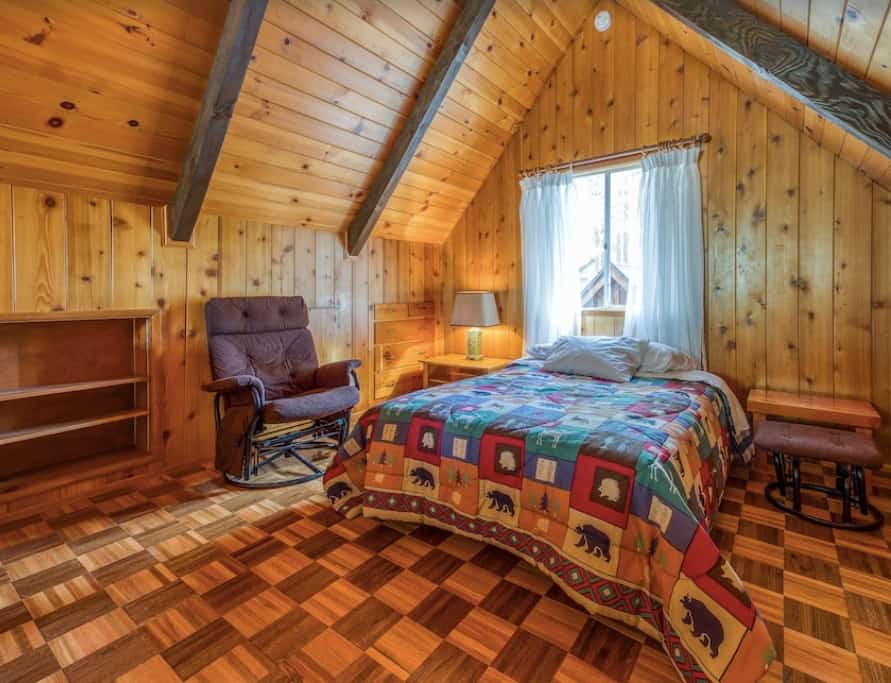 You'll be less than five miles from the Village at Big Bear Lake for plenty of dining, shopping, and entertainment options.
It's also possible to rent a kayak or a stand-up paddleboard for a day out on the water before sampling some local brews at the Big Bear Lake Brewing Company.
For visiting skiers, Snow Summit and Bear Mountain resorts are just a short drive away from this cabin. And for kids of all ages, have a blast at Skypark at Santa's Village located just 27 miles west near Lake Arrowhead.
>>>
Check this Big Bear cabin on VRBO
<<<
Pin This Guide to Big Bear Airbnbs & Cabins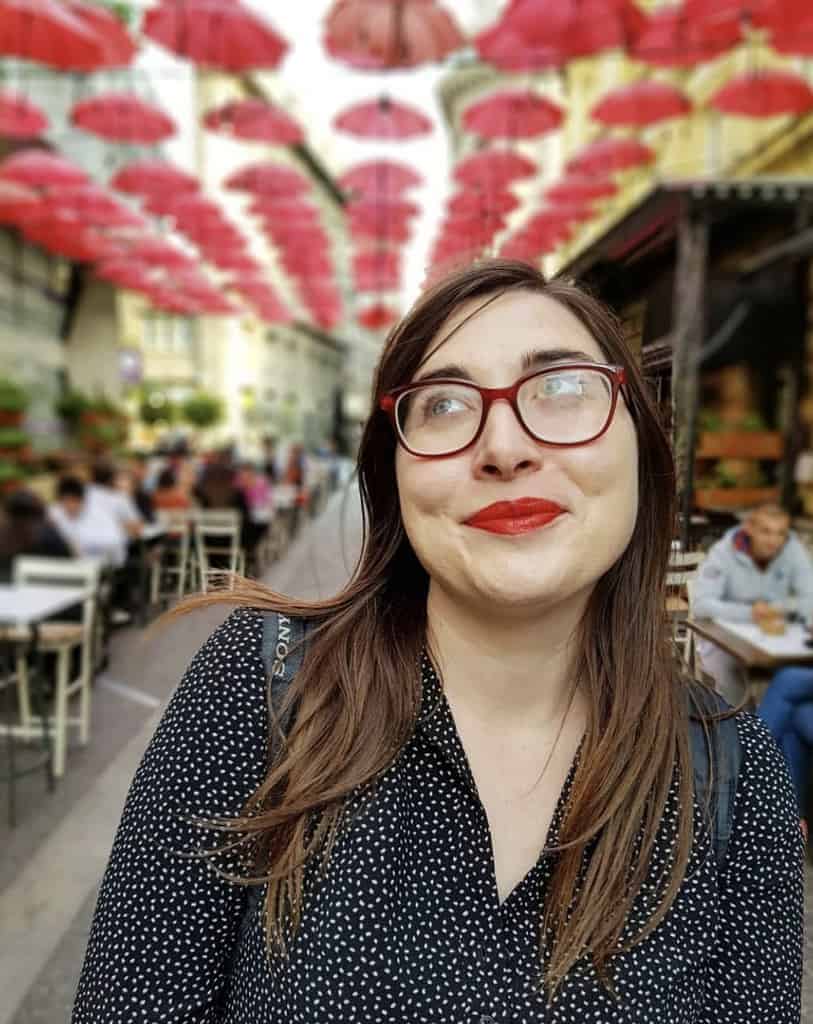 Allison Green is a travel blogger, writer, and podcaster who grew up in the Bay Area of California. She has spent time living in New York, Prague, and Sofia, but has returned to live in the East Bay. She has traveled to 60 countries before the age of 30 while running several digital travel publications. Her writing and podcast have been featured in Forbes, CBC Canada, National Geographic, the Huffington Post, and CNN Arabic, amongst others. She's obsessed with bouldering, houseplants, other people's pets, and anywhere she can see the ocean.