With most international travel out of the cards for the rest of 2020 and who knows how long into 2021, we've got to get creative.
Luckily, the Golden State is so beautiful and diverse it's almost like a world unto itself… literally.
In this post, I'm going to show you 7 incredible places in California that feel like Europe (and where exactly in Europe they resemble). So if you're missing your trip across the pond, maybe one of these Europe-like California destinations can help!
Solvang
Note: This post contains affiliate links, which earn me a small commission at no extra cost to you if you make a purchase using one of these links. Thank you for supporting this free content!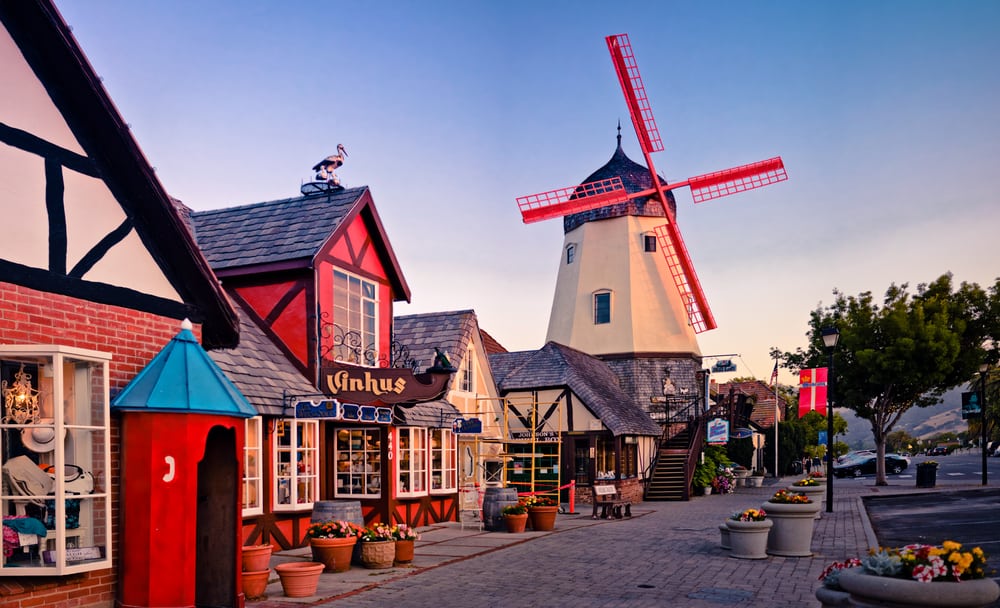 Feels Like: A Danish village
The charming town of Solvang looks and feels like a slice of Europe because, in a sense, it is!
Solvang was founded in 1911 by a group of Danes who finally said f*** it, enough is enough, and sought a place to get away from the harsh Midwest winters… and, as the mild climate of Solvang will attest virtually year-round, they found the perfect place to do just that.
Nowadays, Solvang feels positively contrarian next to the hip, surfer-vibes city of Santa Barbara! It's almost like stepping back into time, or at least, stepping into the Old Town of a European city, far far away from what you think of when you think of California.
Solvang's dedication to Denmark is on point. There's literally a replica of the Little Mermaid statue that's the lackluster symbol of Copenhagen, as well as a bust of Hans Christian Anderson, the fable writer and storyteller.
The half-timber architecture also throws serious European vibes. Shoot your photos in portrait mode with a bit of bokeh and you'll surprise all your followers when you announce that no, you didn't hop on a flight to Denmark, Alsace, or Bavaria: this is just California.
But really — let's get real. You come to Solvang for the aebleskiver, a Danish apple fritter. The best can be found at Solvang Restaurant. Trust me: my grandma lived in Solvang my entire life, and I've been literally two dozen or more times and tried basically every bakery in town!
Venice, Los Angeles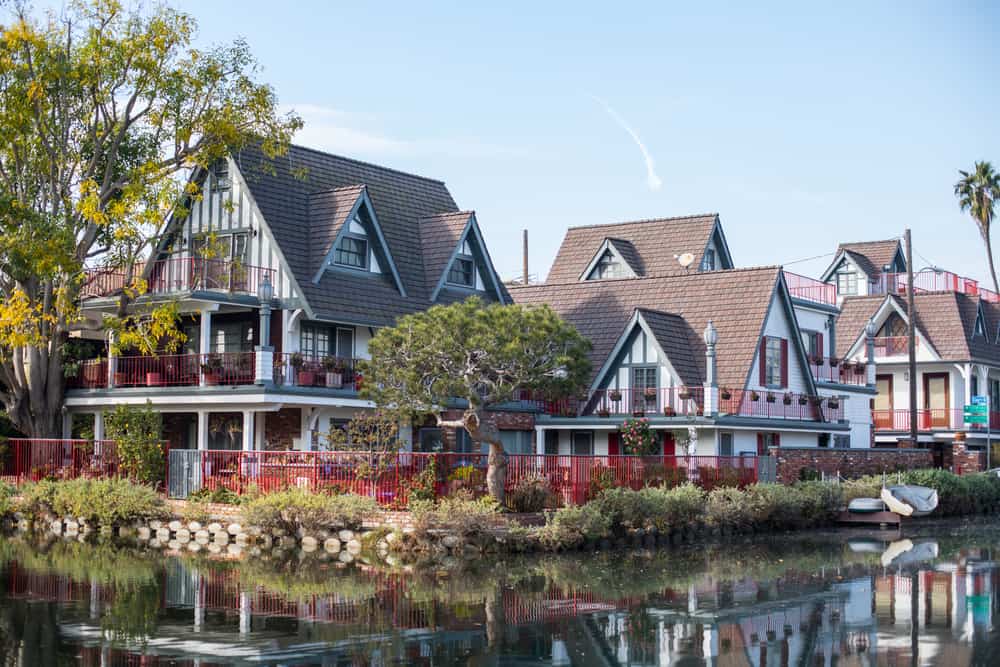 Feels Like: Giethoorn, Netherlands
Thought I was going to say Venice, Italy, didn't you?
Well, I thought so too, but I truly couldn't bring myself to do it. While the Venice canals were ostensibly designed by a California megalomaniac who wanted to replicate the Venetian canals, I can't honestly say he succeeded in recreating Venice in California.
Venice is too unique, too storied: its gondolas as important a fixture in their architecture as their piazzas and pastel-colored buildings.
But admittedly, there is something delightfully European about houses along a canal, and it finally hit me: if you squint, Venice kind of hits a bit like Giethoorn, a village nearby Amsterdam.
OK, you have to agree to look at Venice with a very generous eye, and you definitely can't stray to the Boardwalk or the comparison crumbles. But wander the canals with some rose-colored glasses and try to tell me this slice of California doesn't look a bit like Europe.
Burney Falls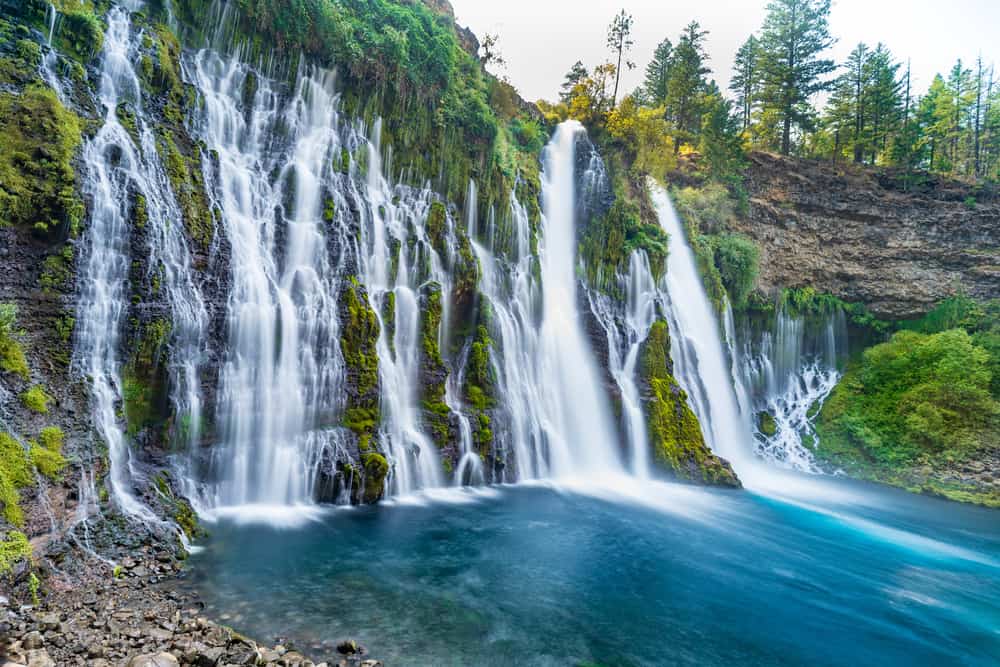 Feels Like: Plitvice Lakes, Croatia
There are a ton of beautiful waterfalls in California, but none looks more convincingly European than Burney Falls, which — in my eyes, at least — is a dead ringer for some of the most famous falls at Plitvice Lakes.
I understand that this isn't a totally fair comparison as Burney Falls is one single waterfall whereas Plitvice Lakes is a park full of them… but come on, meet me in the middle here!
This waterfall screams 'Croatian vacation,' but it's located right the damp, misty heart of Northern California.
Hot Creek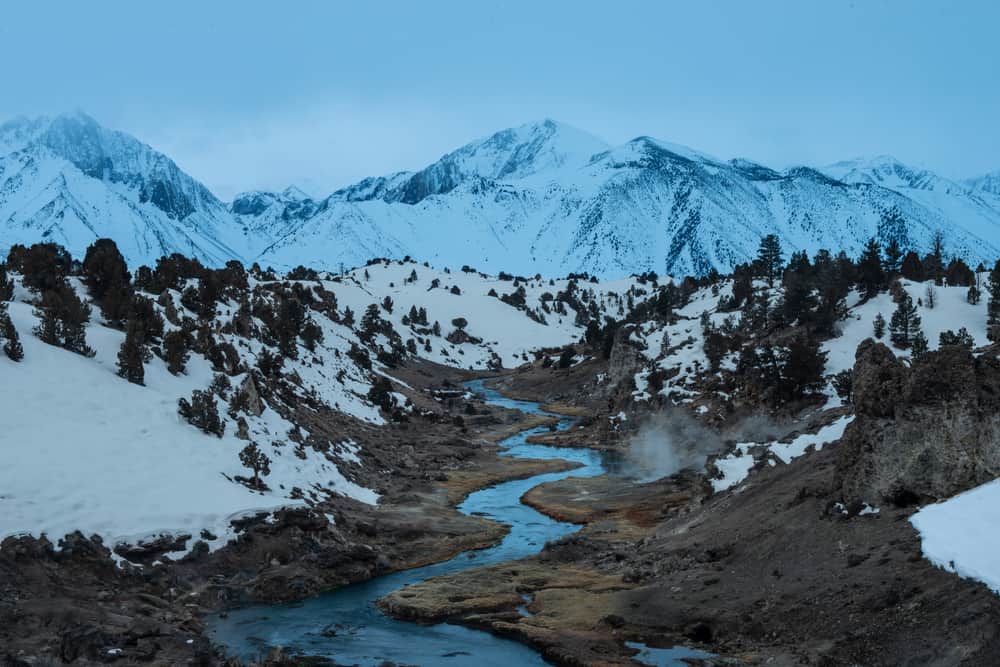 Feels Like: Reykjadalur, Iceland
One of the most famous hot springs in all of Iceland is Reykjadalur, which is actually a hot spring river.
Well, surprise surprise… California's got a hot spring river — errrr, creek — of its own!
Hot Creek is geothermally heated so that the water in the creek is warm year-round, meaning that even in the dead of winter, you can try your luck at fishing here. Yes — fish actually live in this warm river!
Unfortunately, the water temperature is not stable due to the potential for earthquakes to create new geysers and vents, and as a result, you're not allowed to swim here… but it's pretty freaking cool anyway, don't you think?
Black Sands Beach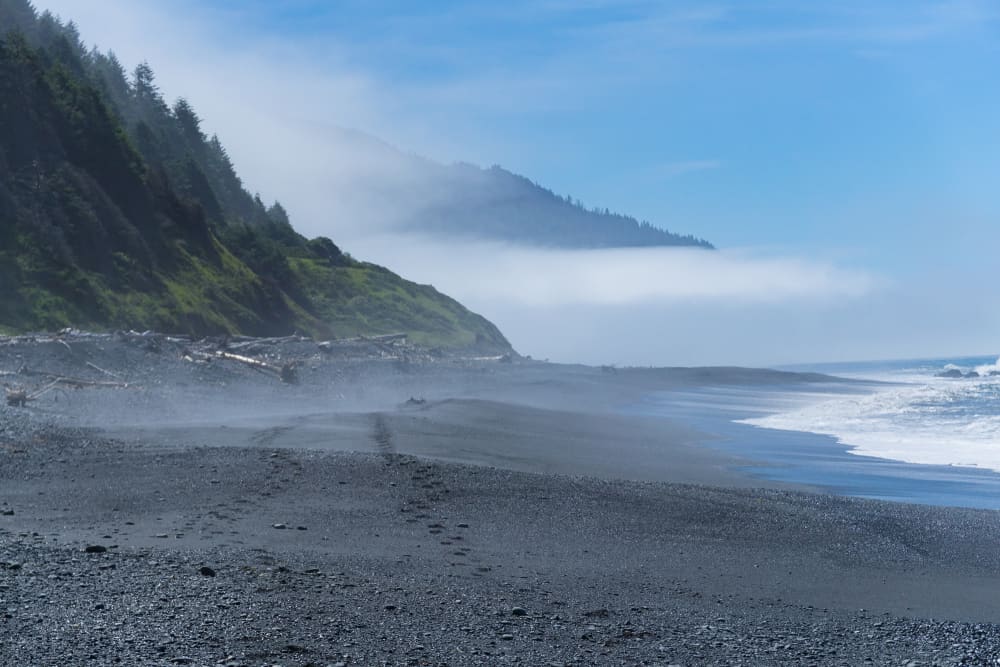 Feels Like: Tenerife, Canary Islands
Many people don't know that California has a handful of black sand beaches, mostly along the Lost Coast (the far Northern coast of California) as well as one in the Marin Headlands, not far from San Francisco.
For the purpose of this post, I'm highlighting the beautiful Black Sands Beach on the Lost Coast, as it feels more wild and rugged.
It reminds me of the beautiful black sand beaches I'm thinking of in Tenerife, one of the island's in Spain's chain of volcanic islands off the coast of Africa, the Canary Islands.
It's one of the best places to visit in Europe in February, but you can also visit in California!
Cherry Valley & Petaluma Lavender Farms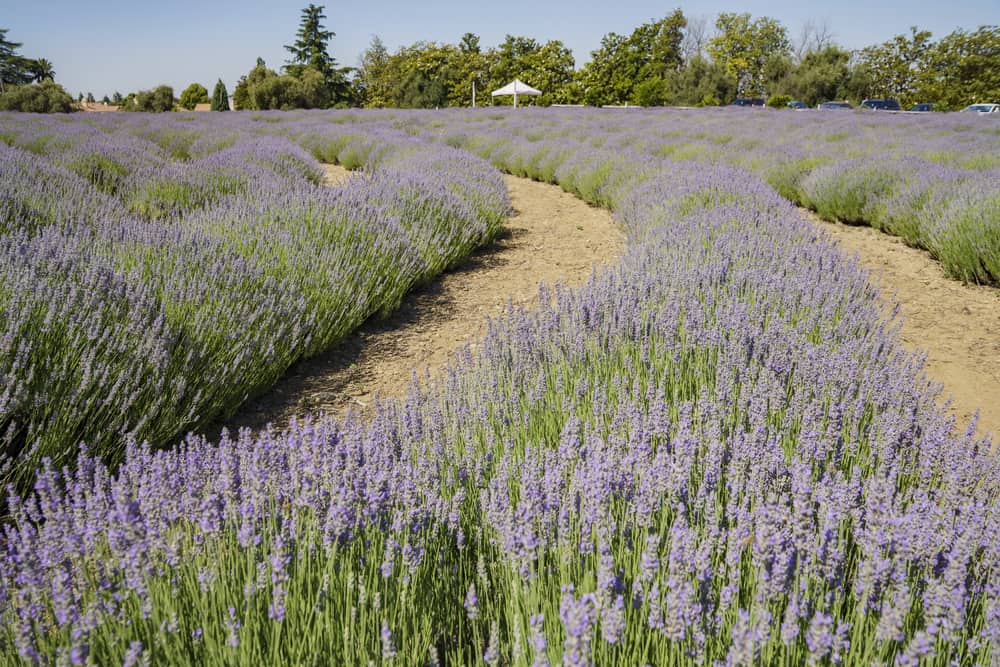 Feels Like: Provence, France
Fancy a trip to France, but can't flex that passport?
California has a ton of lavender farms where you can frolic to your heart's content — and the largest in all of Southern California can be found at 123 Farm in Cherry Valley, outside of San Bernardino.
Northern Californians, don't despair — you don't have to drive to SoCal to get your Provence vibes on. Sonoma County has a ton of great lavender farms like Lavender Bee Farm in Petaluma where you can put on your most basic sundress and sunhat and stunt for the 'gram.
Napa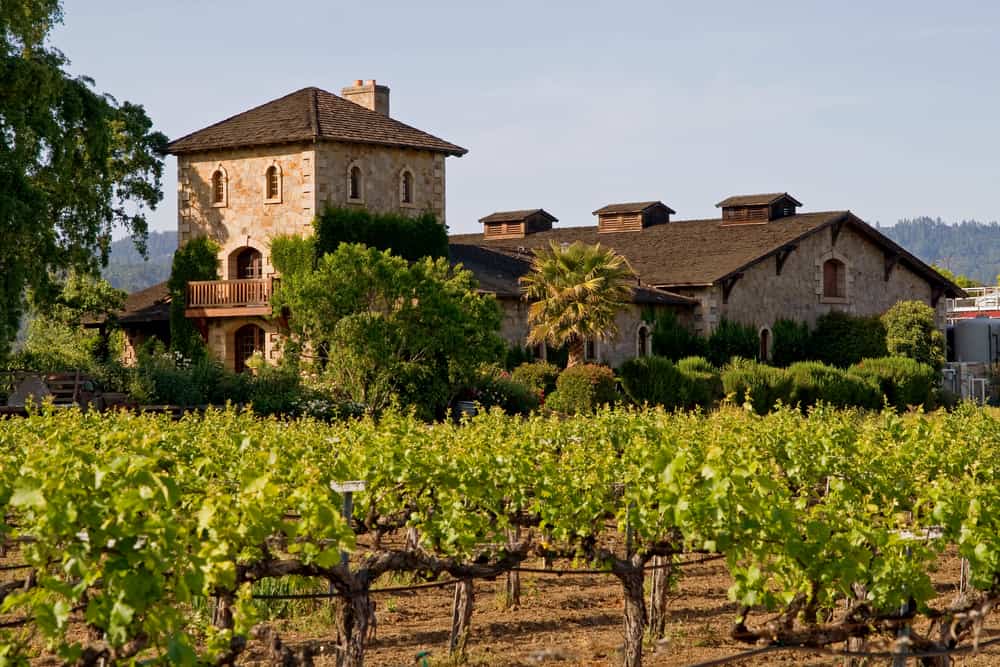 Feels Like: Tuscany
Rich red wines. Vineyards clinging to rolling hills. Stone houses fringed by vines.
Oh, but make it all built in the last, like, hundred years.
If you squint, though, Napa really feels like Tuscany. The architecture, the vineyards, the wines, it all screams "beautiful Tuscan village" until you get the bill for your wine tasting and then realize "Toto, we're not in Kansas… er… Tuscany anymore."
Need some Italian food to complete the illusion? Hit up Bistro Don Giovanni in downtown Napa to try to confuse your brain through your stomach. Even if it doesn't work, it'll be delicious.
Pin This Guide to Finding "Europe" in California!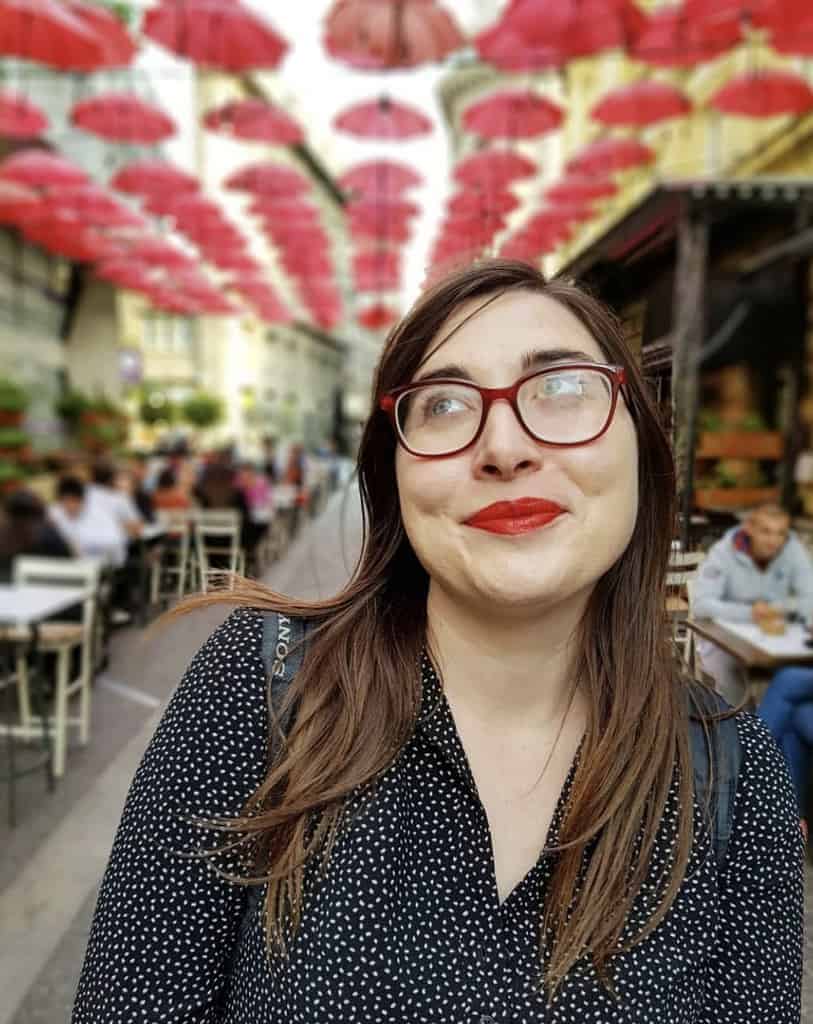 Allison Green is a travel blogger, writer, and podcaster who grew up in the Bay Area of California. She has spent time living in New York, Prague, and Sofia, but has returned to live in the East Bay. She has traveled to 60 countries before the age of 30 while running several digital travel publications. Her writing and podcast have been featured in Forbes, CBC Canada, National Geographic, the Huffington Post, and CNN Arabic, amongst others. She's obsessed with bouldering, houseplants, other people's pets, and anywhere she can see the ocean.