Planning a trip to beautiful Mammoth Lakes?
There's truly no bad time of year to go. Whether you're opting for a summer getaway for some hiking, swimming, and hot springs or a winter escape for all the slopes you can shred, Mammoth Lakes is a phenomenal all-season destination in California.
As one of the largest ski areas in California, the variety of Mammoth Lakes Airbnb options is truly staggering — and slightly intimidating.
I've scoured Airbnb for the best-reviewed, highest-rated condos that offer great bang for your buck. All are cabin-style in feel, just what most people want on their Mammoth Lakes getaway: though note that most of these are condos rather than standalone units.
So behold: the best Mammoth Lakes Airbnbs (condos, cabins, and more) for your next trip!
Mammoth Lakes Airbnb Guide: Best Condos & Cabins in Mammoth Lakes
Large Condo at Mammoth
Note: This post contains affiliate links, which earn me a small commission at no extra cost to you if you make a purchase using one of these links. Thank you for supporting this free content!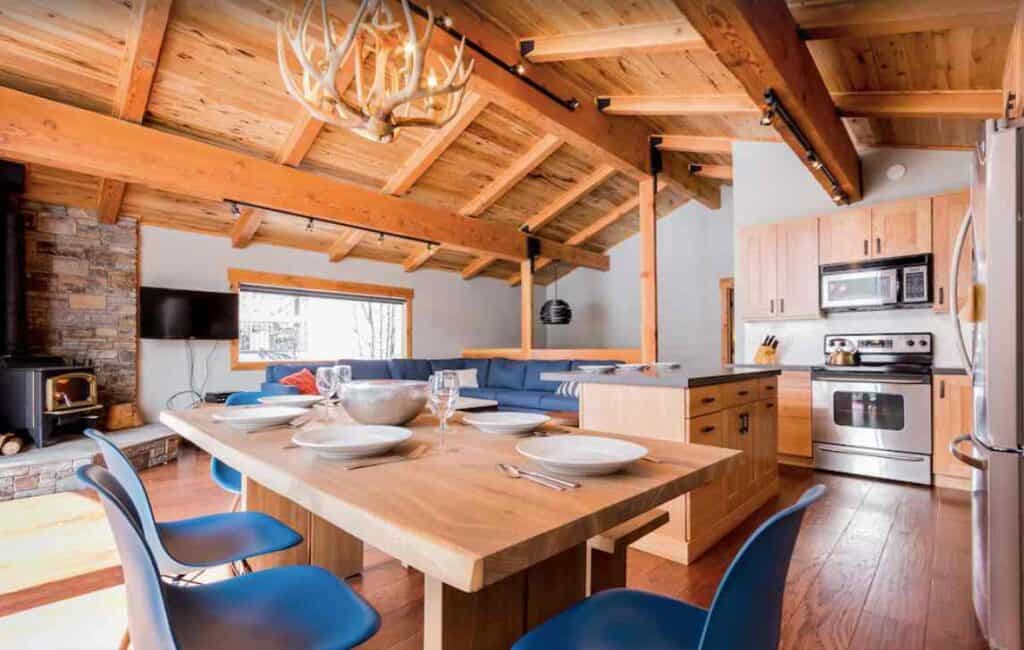 One of the area's standout rentals, this house combines an elegant interior with an idyllic location for the perfect Mammoth Lake experience.
The beautifully lit living room area features a fireplace for a cozy evening indoors, and the hardwood floor and unassuming furniture give the house a distinct flair. You can step out onto the large deck and marvel at the surrounding trees or cook up a meal on the barbecue grill.
There's no shortage of ways to kill time – you'll have access to a sauna, rare park-like grounds with tennis courts, scenic walking paths, a volleyball net in the summer, and wide-open space for snow play in the winter. To top it all off, you can take a dip in the swimming pool or hot tub in the summertime.
Located Less than 2 miles to ski lifts; less than 5 miles to Lake Mary; less than 1 mile to restaurants, shops, and a movie theaters, you couldn't ask for much more in terms of location. You can quickly and easily go and grab an outdoor meal and go back to your quiet, private retreat.
Outdoor activities like golfing, hiking, skiing, fishing, and swimming (June Lake and Lake Mary are very close!) are highly encouraged and close at hand — in summer, of course! in the winter, you'll definitely want to hit the slopes at Mammoth Mountain or play in the snow in town!
>>>
Book this Mammoth Lakes home
<<<
Past guests say:
"We thoroughly enjoyed our stay at this property and will stay again in the future. The location is close to restaurants and grocery stores. Parking right in front of the unit is a plus. The view of the mountains from the living room is gorgeous especially after it has just snowed. It snowed during our stay and our kids were able to play in the snow right outside the patio."
Stonegate 3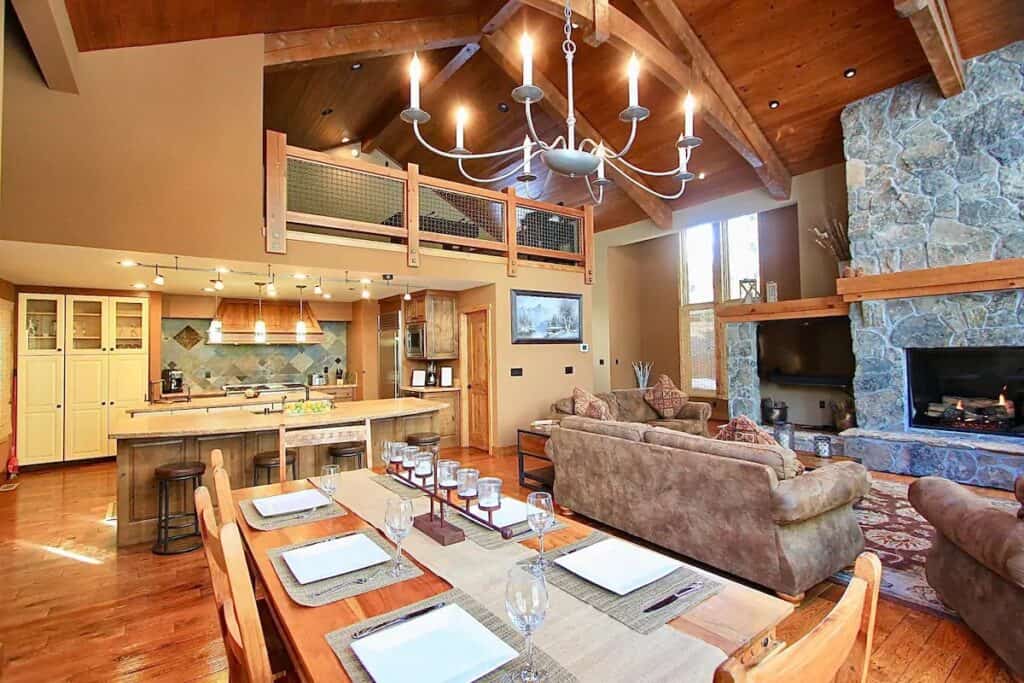 The Stonegate house epitomizes luxury with its incredibly spacious interior and every amenity you could possibly think of.
The open floor design further emphasizes the size of the house, and there's more than enough room for everyone to move around.
The sitting area has a beautiful fireplace, perfect for quality time with your family and friends, and the gorgeous chandelier looming over the dining table will make you feel like you're in a fancy restaurant while eating.
The luxury over into the bedrooms, which are large, equipped with private bathrooms, and beaming with character. For people with simple pleasures, you can enjoy a round of foosball in the loft or fire up the Xbox in the den area.
Stepping outside, you'll get a beautiful view of the property, a barbecue grill, and a jacuzzi.
As if all this weren't enough, the Village and Mammoth Lakes Brewery are just a hop and a skip away!
You can hike around and explore, or get to a number of scenic landmarks by taking the shuttle. The house is located just by Sam's Woodsite, a popular venue for all manner of events in town.
>>>
Book this Mammoth Lakes cabin on Expedia
<<<
Past guests say:
"If you're planning a ski (or, summer) family vacation to Mammoth and want to stay in an amazing luxury home – this is the one!!! The location is excellent, the amenities are first class, and there is plenty of room for everyone to be together for meals and entertaining, but you can also get away for some quiet time if you want. The owners are friendly and very responsive. I would definitely rent this home again."
Cozy Studio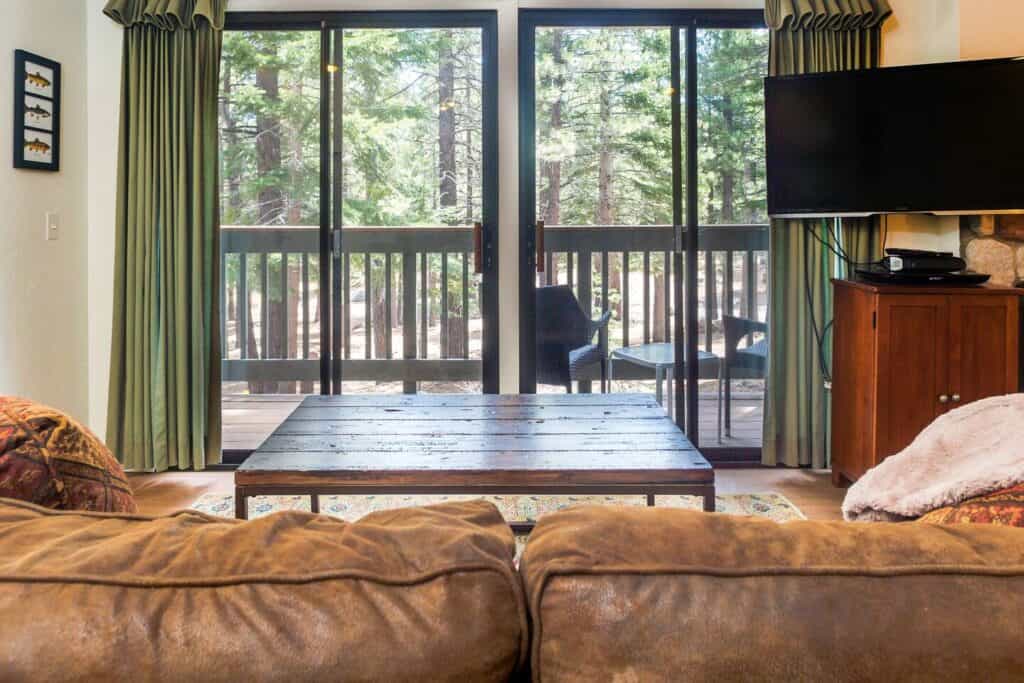 This comfortable and well-put-together house is the perfect hub of operations for exploring Mammoth Lakes from your cozy home for two.
The interior is simple, yet elegant – the sleeping area is incredibly spacious, and you can step outside onto the deck through a glass door in the cozy and well-illuminated 'living' area. Walking along the large deck, you can see the surrounding forest in all of its splendor and enjoy a morning coffee.
The property is part of the Hidden Valley Complex, meaning you'll be within seconds of a hot tub, sauna, swimming pool, and spa. You'll also be right by Mammoth Village, so you can enjoy a night out or do errands and enjoy a peaceful night's sleep in a more private area.
From the Village, you can board a gondola and get to Canyon Lodge in minutes flat. Also worth noting is the proximity to the Mammoth Brewing Company, definitely worth checking out for the local beer!
>>>
Book this Mammoth Lakes Airbnb
<<<
Past guests say:
"Enjoy the beautiful Mammoth Lakes from this very well located condo. It is walking distance to find eateries and close to all the action and beauty. After a busy day skiing or hiking relax in this comfortable, well laid out condo. I spent much of my time on the deck overlooking a beautiful cove of pine and fir trees. A great place to chill."
Cabin Close to the Lifts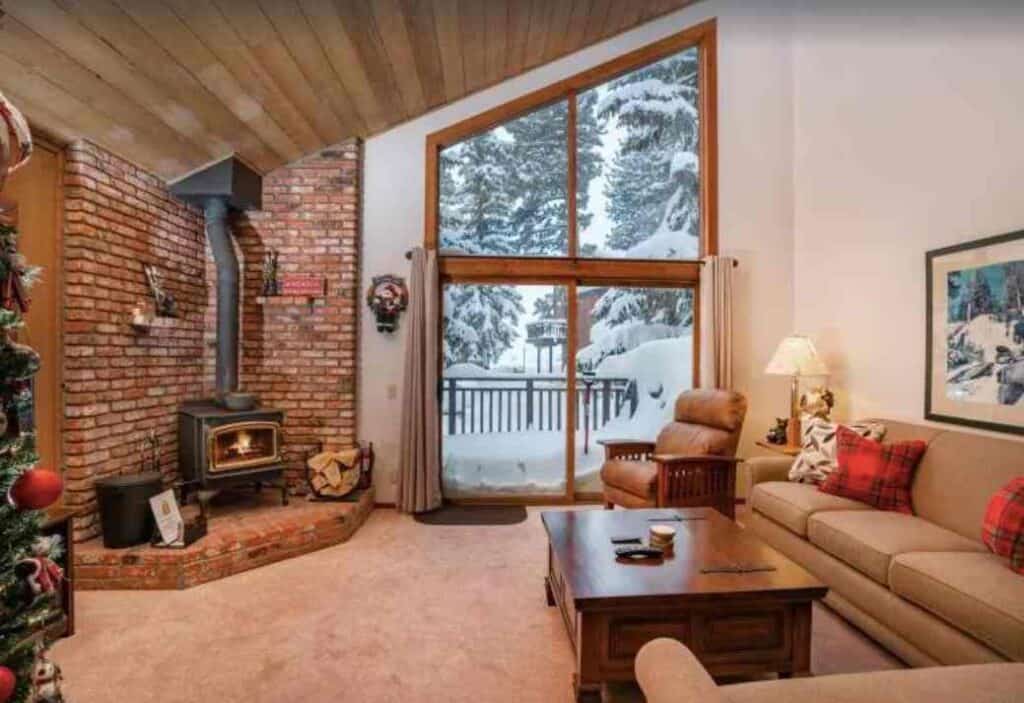 This beautiful rental is so cozy and stylish, you might find it difficult to get out and explore the Mammoth Lakes area!
The large and welcoming living/dining area features a fireplace, large windows that offer incredible views, and more than enough space for group activities. The cabin features comfortable bedding, including a king bed, a single and bunk bed, and a queen sofa. All the windows offer great views of the forest and nearby hiking trails.
In addition, maximum-capacity visitors (featuring 6 people) will appreciate the inclusion of a second bathroom.
Outside, guests can whip up a delicious barbecue or enjoy a swim in the community summer swimming pool. There's also a year-round outdoor spa, a paved bike path near the property, just across the street from Sierra Star Golf Course. The view of the surrounding greenery and the distant mountains from this area is breathtaking in the summertime.
Everything you could hope to see in Mammoth is only a short walk away – you can get to Canyon Lodge, Mammoth Ski and Racquet Club, the Village, and the town of Mammoth Lakes itself within minutes.
>>>
Book this Mammoth Lakes home
<<<
Past guests say:
"This spacious, cozy condo had all the amenities for a fun family weekend. The unit is heated by older wall heaters downstairs but has a classic wood-burning fireplace upstairs. The proximity to Eagle Lodge made logistics really easy for getting a young family of four up on the mountain."
Slope Side Cabin – Cabin #5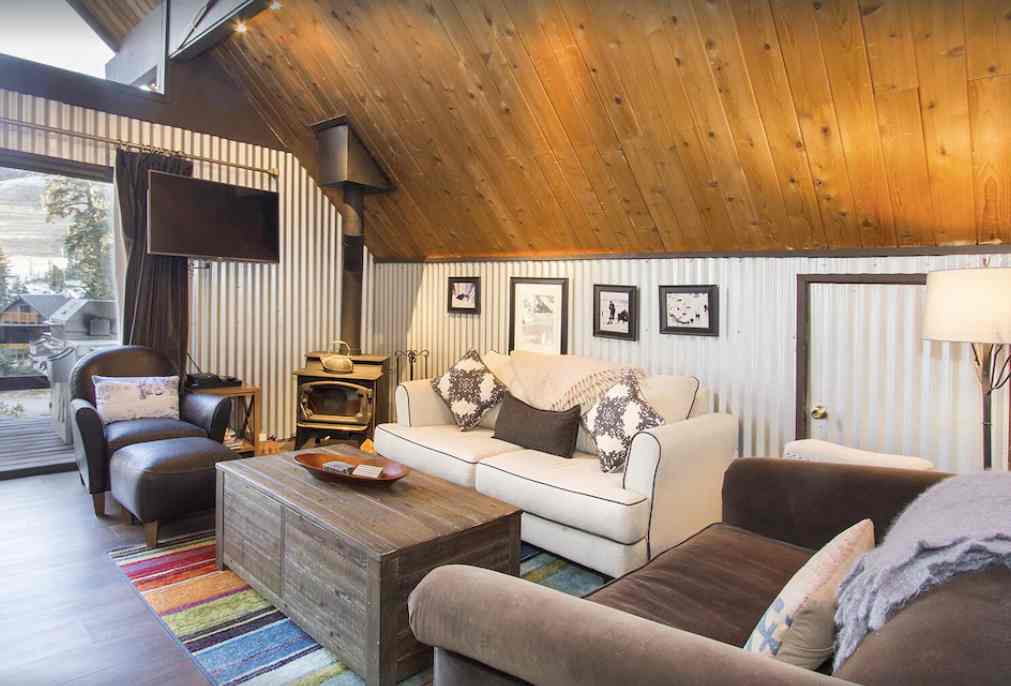 This chalet manages to look very sleek and fashionable while still retaining the feel of a genuine home.
The wooden ceilings are a great touch, as they contribute to the relaxing color scheme and beautifully complement the cozy furniture, the wood-burning stove, the kitchen, and the living room. The large master bedroom features a comfy king-size bed with large glass windows, perfect for admiring the scenery.
Winter visitors can enjoy immediate access to first tracks, equipment rental, ticket facilities, and retail services. They can literally 'ski in' for lunch and at the end of a wonderful day, all without the worries of traffic, parking, or winter access. Summer visitors can walk across the parking lot, catch a bus to the Red Meadows facilities, rent a mountain bike and traverse the mountain trails or just enjoy a panoramic gondola ride to the summit of Mammoth Mountain.
There's ample deck area to sit, relax and enjoy the views of the summit and the surrounding Inyo Forest and experience the wonders of Mammoth Mountain.
>>>
Book this Mammoth Lakes home
<<<
Past guests say:
"We Loved our cabin! It was very clean and the Covid-19 rules were followed. Remotes in Ziplocs, linens sent out for best sanitization. Kitchen set up excellently for all of our own food prep. It was the perfect size for a family of three. Great view of Mammoth Mountain. Great access to hiking and biking! We will stay again"
Mountainback 15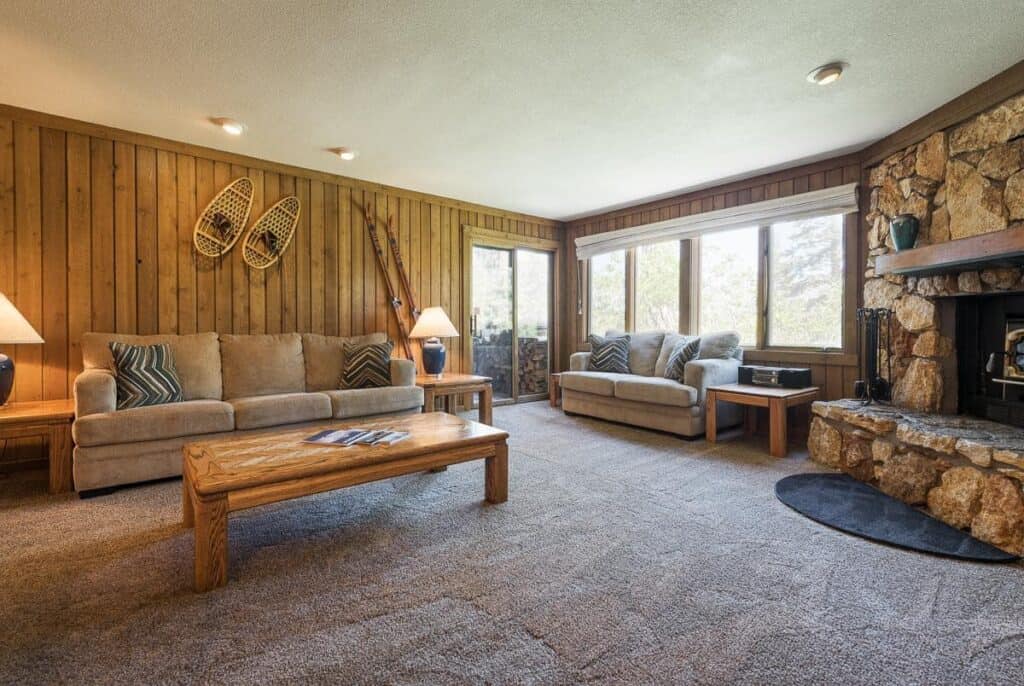 If you're looking to visit Mammoth Lakes with a larger group, few places are as great as this spacious, cozy condo.
The living room area has more space than you'll know what to do with, and the wooden walls and the fireplace's stone hearth perfectly capture the essence and feel of a vacation in nature.
The room is well-illuminated, as are the bedrooms, which offer an incredible view of the area's greenery.
Also, considering you can come with half a dozen people, the second bathroom is obviously a welcome addition.
The condo is part of the Mountainback complex, so guests will have access to a swimming pool and hot tub all year round. You can also bring your pet here, and there'll be no shortage of room for it to run around, both inside and outside.
Perfect for summer and winter visits alike, the condo is near Yosemite National Park, Lake McLeod, and countless hiking spots in the immediate area.
>>>
Book this Mammoth Lakes home
<<<
Past guests say:
"Great location with a stocked kitchen. Cozy and big open space. Very good snow maintenance ensuring a clear path to garage even when snowing over a foot a day."
Lovely Top-Floor Condo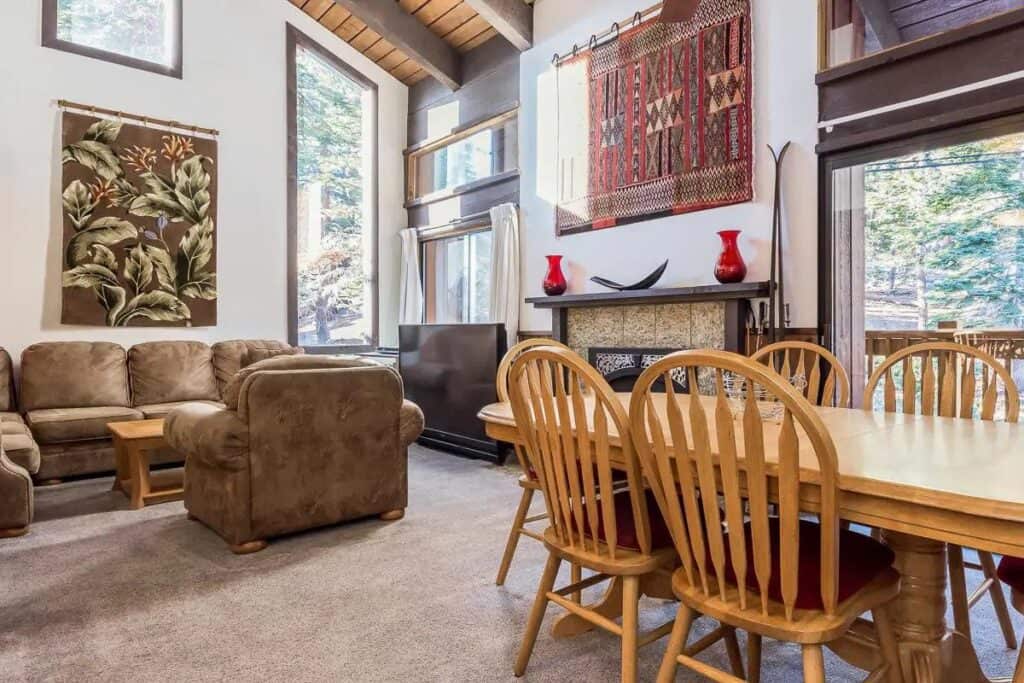 A gorgeous resort capable of accommodating nearly a dozen people (and even your pet), this condo is genuinely one of the standout Mammoth Lakes Airbnbs.
The spacious living room (equipped with a fireplace) has heaps of natural light flowing in, and the colorful art and décor give the space a lot of character.
Thanks to the unit being on the top floor, the views from the large windows in this room are absolutely breathtaking.
You can unwind with a game of pool in the game room, or step out into the communal area in the summertime for a great view, a barbecue grill for an outdoor cookout, and a heated swimming pool.
With lakes, mountains, and hiking trails in every direction, you can explore the premises for days and still have more to come back to next year.
The house is located on the Ski Back Trail, so Mammoths Canyon Lodge, the town of Mammoth Lakes, and the Village, are only a few minutes away.
>>>
Book this Mammoth Lakes home
<<<
Pin This Mammoth Lakes Airbnb Guide!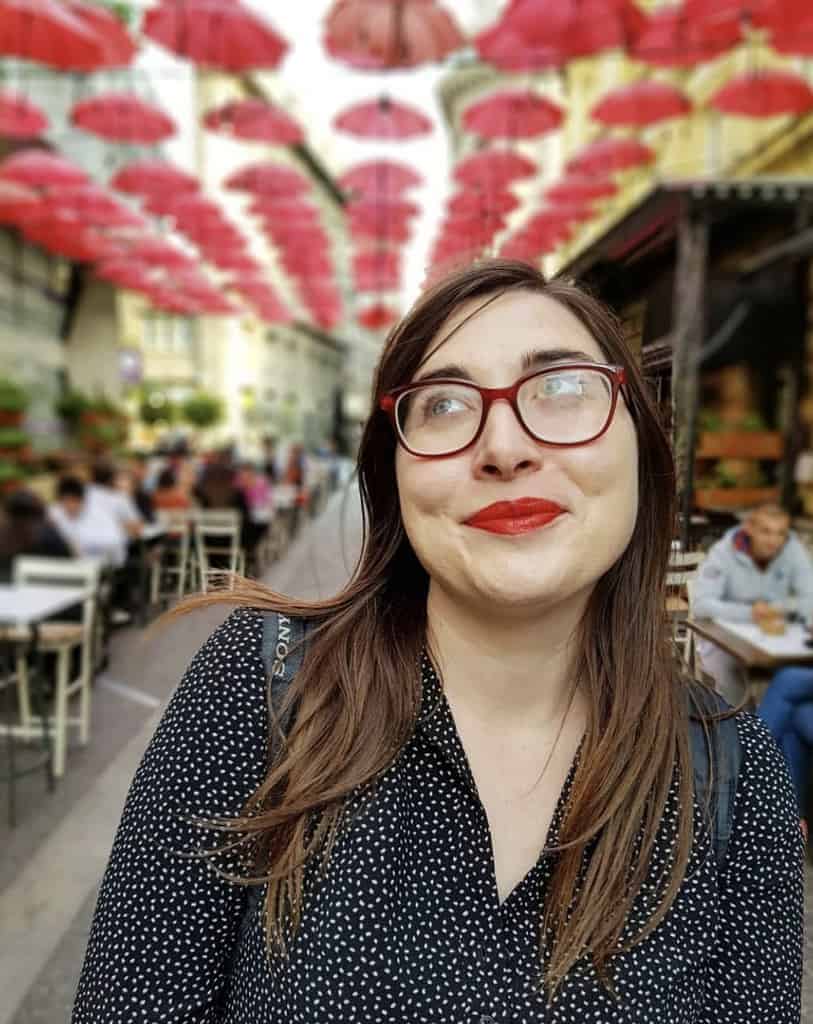 Allison Green is a travel blogger, writer, and podcaster who grew up in the Bay Area of California. She has spent time living in New York, Prague, and Sofia, but has returned to live in the East Bay. She has traveled to 60 countries before the age of 30 while running several digital travel publications. Her writing and podcast have been featured in Forbes, CBC Canada, National Geographic, the Huffington Post, and CNN Arabic, amongst others. She's obsessed with bouldering, houseplants, other people's pets, and anywhere she can see the ocean.