Looking for a unique place to stay in California?
Why not stay a little different on your next California getaway and stay amidst the tall California trees?
Whether you pick a treehouse amidst the redwoods in Santa Cruz, a lovely Southern California treehouse with lovely treetop views, or a treehouse on a horse ranch in Point Reyes, here are 11 incredible treehouse rentals in California available on Airbnb to get you started on your search for your next California getaway.
These treehouses go in order of location from north to south, starting near Mendocino and ending in Los Angeles, so you can find the perfect local escape for you.
Northern California Treehouse Rentals
Forest Camping Hut
Note: This post contains affiliate links, which earn me a small commission at no extra cost to you if you make a purchase using one of these links. Thank you for supporting this free content!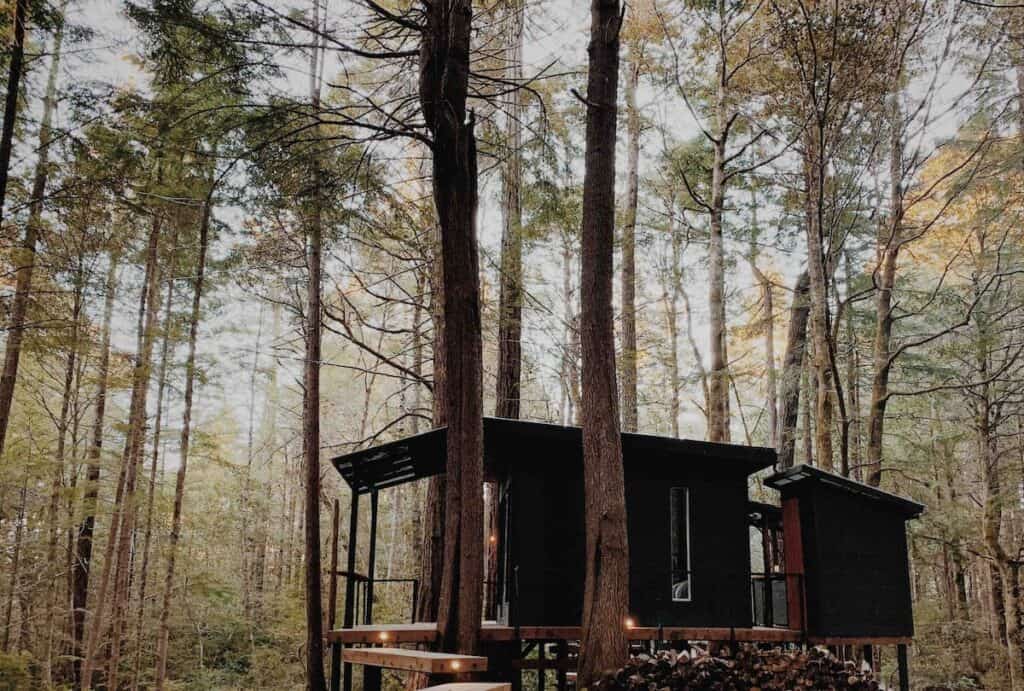 If you're looking to stay in a forest cabin, chances are you're aiming for privacy, and this particular rental really has you covered – with no other cabins in sight and nothing but forest in every direction, this is the ultimate way to get away from the big city.
The design of the house is unlike anything you've probably ever stayed in – the interior is basically comprised of a stylish bedroom, which opens up to a beautiful outdoor area with a scenic view and a private shower and bath.
Every moment not spent sleeping will be spent relaxing beneath the shady trees, keeping your day bright yet constantly illuminated!
The house is technically located in the town of Elk, a small community near Mendocino with plenty of charm and character. All your basic needs are accounted for here – you'll have access to a well-stocked shopping center, a variety of cafes and restaurants, as well as a beach and nearby hiking trails.
If you want to take the adventure a bit further, Mendocino is only about 15 minutes away via an uncongested road.
The Sanctuary Treehouse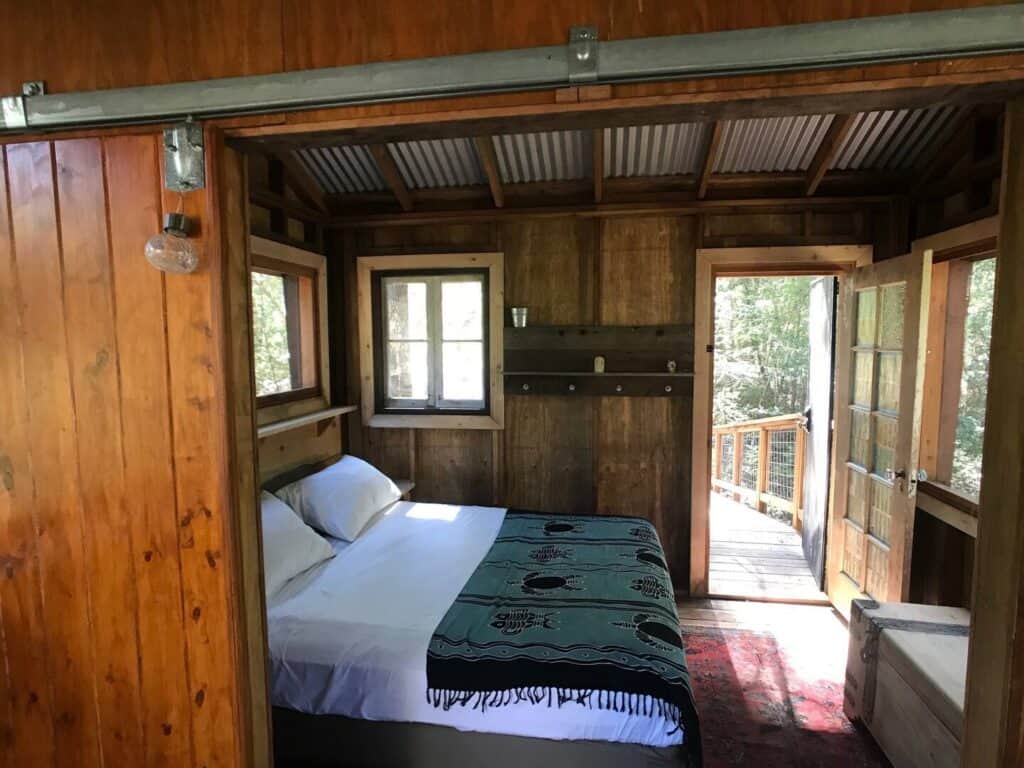 Anyone looking to bring things back to basics is bound to be satisfied with this treehouse!
With a bed for two, some seating, a porch for enjoying your morning coffee, and a decent amount of space, the house itself is rather minimalistic.
The real draw of the rental is the exterior and the additional amenities – you'll be able to cook yourself a meal using the cob oven right outside, gather with a large group of fellow campers, and soak in one of the property's 2 swimming pools.
The campground is relatively isolated, and although it fills up in the summer, it makes for a perfect place to unwind the rest of the year.
This isn't to say you're completely remote, however – you can walk to the nearest grocery store and restaurant if the somewhat off-grid camping experience gets to be a bit much.
A local highlight would definitely be the nearby creekside beach, located within walking distance of the treehouse.
Danehill Hygge House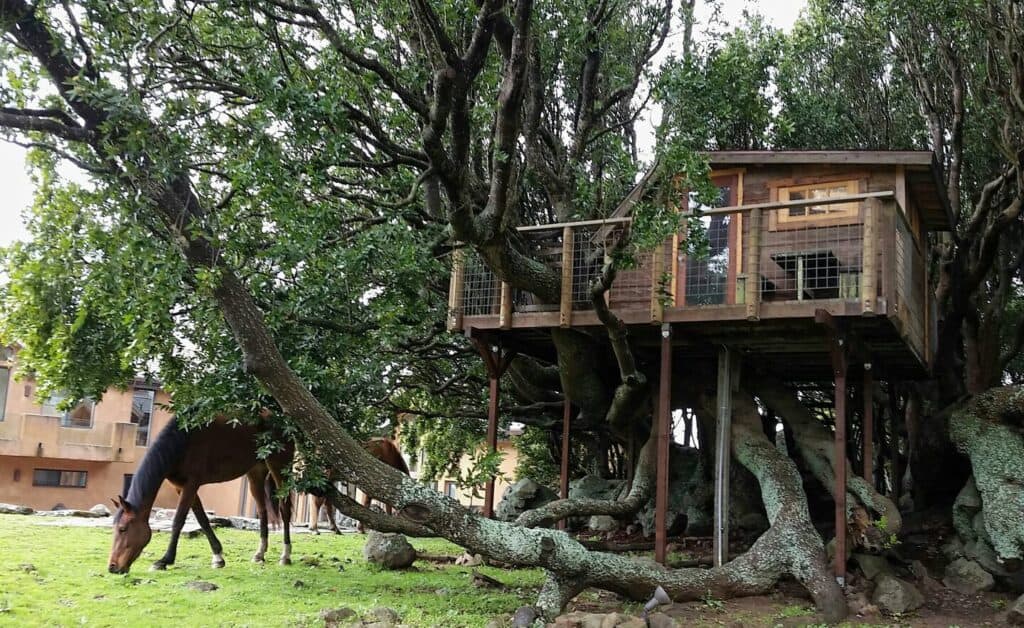 When you think of treehouses, a horse ranch probably isn't the first thing that springs to mind, but the Danehill Hygge House makes for an incredibly unique weekend or overnight getaway!
The house itself has all it needs to be – a comfortable bedroom with a skylight and a queen bed, as well as a deck area to enjoy your morning coffee. In addition, guests will have access to a shower/bathroom area with an incredible view, separate from the main house.
As far as the exterior goes, you can relax by the communal fire pit or the saltwater pool, and do yoga or receive holistic massages, all in the spirit of taking in the beautiful nature.
Most interestingly, however, you get to wake up to beautiful horses grazing mere feet from your treehouse – even if you've never handled a horse in your life, the hosts can and will teach you how to lead them.
Treehouse Rentals in the Bay Area
A Treehouse in the Sky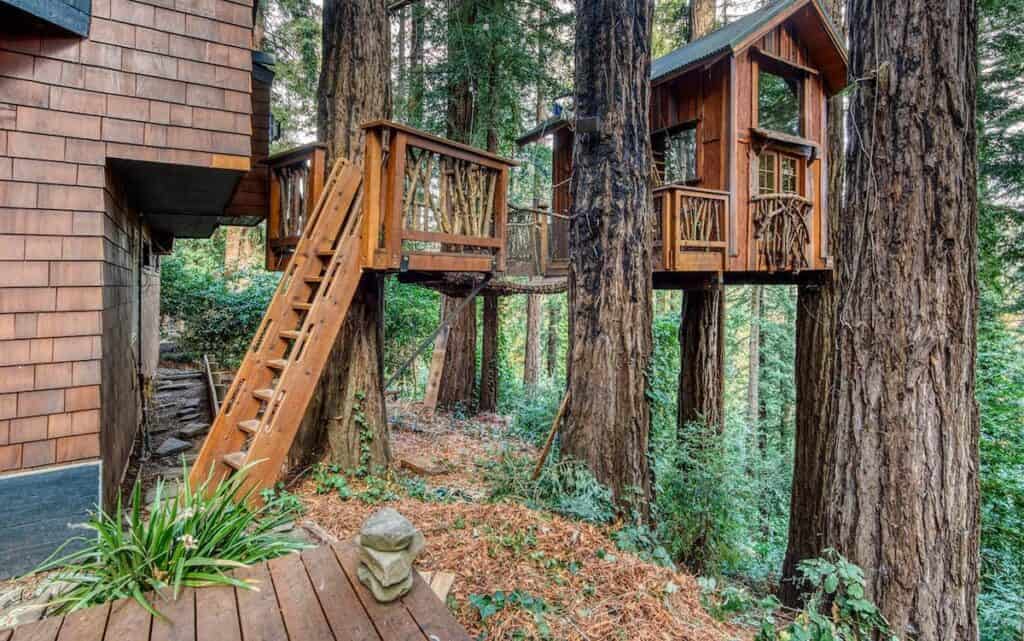 Raising the bar for treehouse rentals everywhere, this house is the quintessential pick if you're staying in the Woodacre area!
Featuring a three-level plan and enough room for 8 vacationers, you'd be hard-pressed to find a better place for a vacation with a large group of people.
Beyond just space, though, the house boasts a state-of-the-art kitchen, a dining area with a marvelous view, and cozy, well-heated bedrooms that evoke feelings of home. Another defining feature of the house are the decks, which, besides incredible views of the redwood trees, offer a hot tub for a night of absolute relaxation.
Finally, if you're planning on bringing the full 8 guests (or if you just want your privacy), there's a bonus mini-house with a beautiful design and a resistance to the elements.
Getting around the area is incredibly easy, given that you'll be 10 minutes from the nearest public transit stop. Your nearest shopping spot is 15 minutes away, and if you're interested in mountain biking, you're in luck: the Bay Area Ridge Trail is one of the best bicycling spots in California and beyond.
Treehouse in San Jose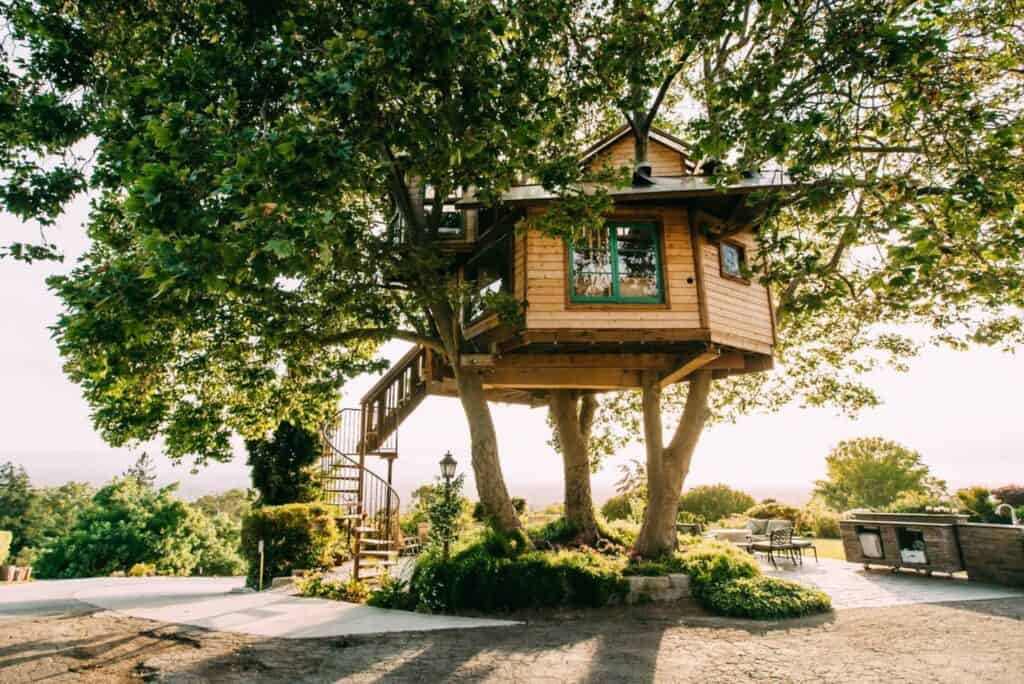 Anyone who had a treehouse as a child will feel right at home in this beautiful California treehouse rental!
Featuring rustic furniture and a quintessentially homey atmosphere, this treehouse is bound to leave you feeling comfortable and nostalgic. Adding to the inviting atmosphere is the ample illumination, as practically every wall is plastered with windows and has heaps of light pouring in.
Unlike many treehouses, this one can comfortably sleep 4 people (even featuring a spacious deck), and a spiral staircase descends into a beautiful garden area, making this an ideal pick if you're traveling with children.
This San Jose retreat is as quiet as quiet gets – your closest neighbors will be the local wildlife, and you'll come to know and love them the more time you spend outside.
If the glamping experience is a bit to intimidating for you, remember you're far from isolated – in fact, you can get food delivered to your treehouse if you're not up for cooking!
Magical Tree House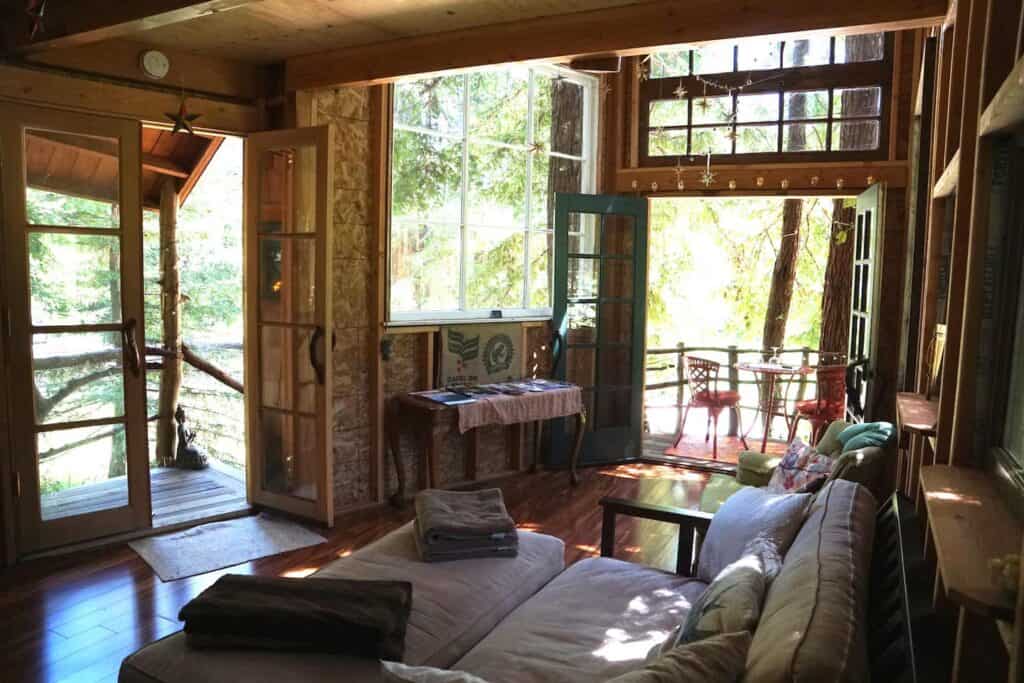 When staying in a treehouse, the woods themselves are as integral to the experience as the rooms themselves!
This particular treehouse features an unpretentious, well-illuminated interior that ticks all the boxes, including an impressive library for bibliophiles.
More importantly, you'll be surrounded by over 70 acres of old-growth trees, and you'll likely be spending most of your downtime observing the local wildlife.
Another highlight is the vintage clawfoot outdoor bathtub, an isolated shower area under the starlight! This is somewhat of an off-grid experience, given that there's no kitchen or barbecue space, but this lends itself nicely to the ambiance created by the old-growth woods.
What the house does have, however, is a small porch where you can enjoy locally made wine and relax in the evenings. Location-wise, you'll definitely need a car to get around, but there are plenty of scenic hiking trails for you to enjoy in the immediate area.
Santa Cruz Treehouse Rentals
Peaceful Treehouse with Ocean View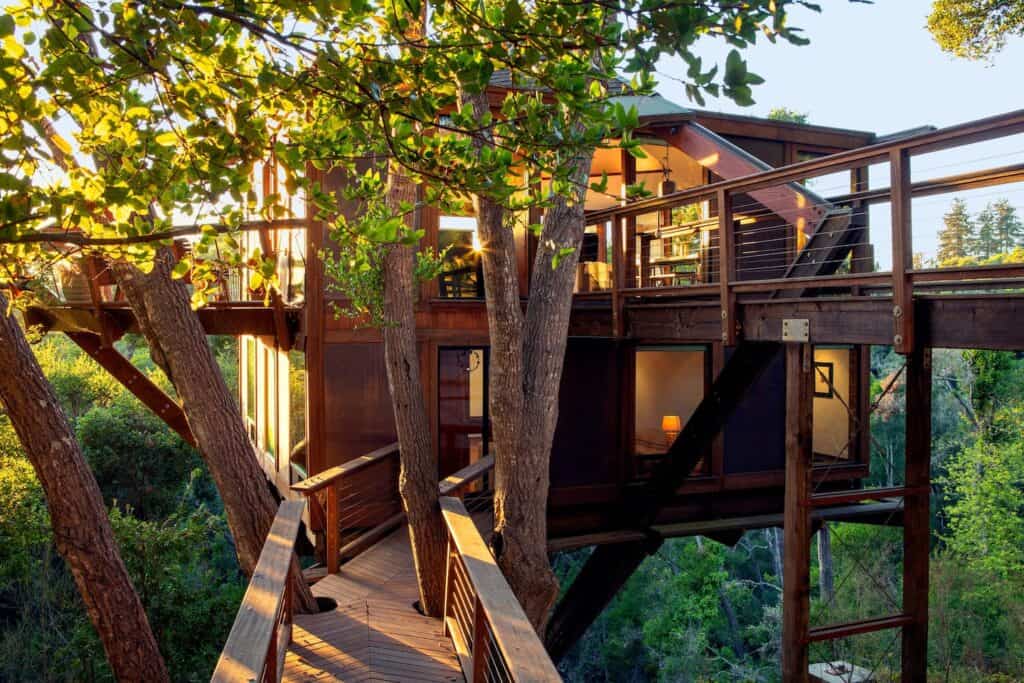 This Aptos rental is a strong contender for the best group/family house in the area, as it truly has it all!
The interior is among the most stylish you'll ever see – with furniture that straddles the thin line between vintage and modern and countless windows with amazing views of the nearby ocean, the house is truly a delight to the senses.
The scenery becomes all the more breathtaking from the patio, where you can relax on the hammock with a good book and bask in the sunshine. Needless to say, you'll be running into all kinds of forest critters as you go about your day here!
The house is near Nicene Marks Redwood Forest State Park, giving you miles upon miles of scenic hiking trails to check out. Santa Cruz isn't far off either, so you can fire up your car and go the urban route by day before coming back to your treehouse of wonder to spend the night.
Romantic Treehouse in the Redwoods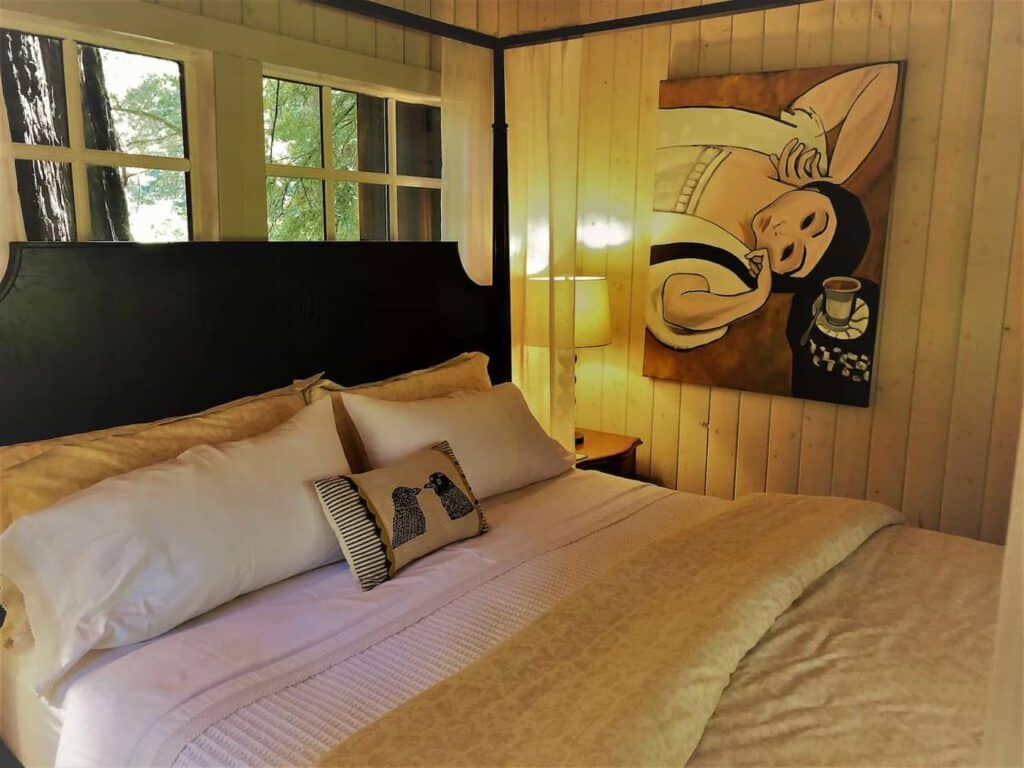 It's easy to design a small little rental and call it a romantic getaway, but this incredible treehouse gets that title for all the right reasons!
Featuring a living room with a skylight and homely decorations, an open-air shower for two, and gifts in the form of sweets and flowers upon arrival, this is genuinely a perfect place for a couple to vacation in the Santa Cruz area.
Also included in your stay is breakfast (made using the hosts' homegrown ingredients), as well as various outdoorsy classes in case you're interested in things like mushroom picking.
Being in the redwoods, this house is the perfect hub after a long day of exploring the area's scenic hiking trails. On a good day, you can easily walk to the nearest Pacific beaches, and the heart of Santa Cruz is only a short car trip away!
With that said, the house itself is somewhat remote, meaning maximum privacy is guaranteed during your stay here.
Redwood Treehouse in Santa Cruz
Less is sometimes more when it comes to giving your rental flair, and this treehouse certainly embodies that!
The interior has all you really need for a comfortable vacation, as well as a few unique touches, namely the trees growing through the living room and bathroom.
Heating is provided, allowing for visits no matter the time of year, and you'll also have access to an amazing hot tub and a spacious deck area offering some amazing views.
Location-wise, you'll be surrounded by redwood growth from all sides, giving you countless hiking trails to explore. The nearest beach is less than half an hour away, which lends itself nicely to the high temperatures throughout much of the year.
In addition, you can easily drive from the house to Monterey, Carmel-by-the-Sea, and Santa Cruz for the ultimate summer trip experience – road trips, whale watching, hiking, and all-around exploring are just some of the things you can do in the area.
Southern California Treehouse Rentals
Treehouse Adventure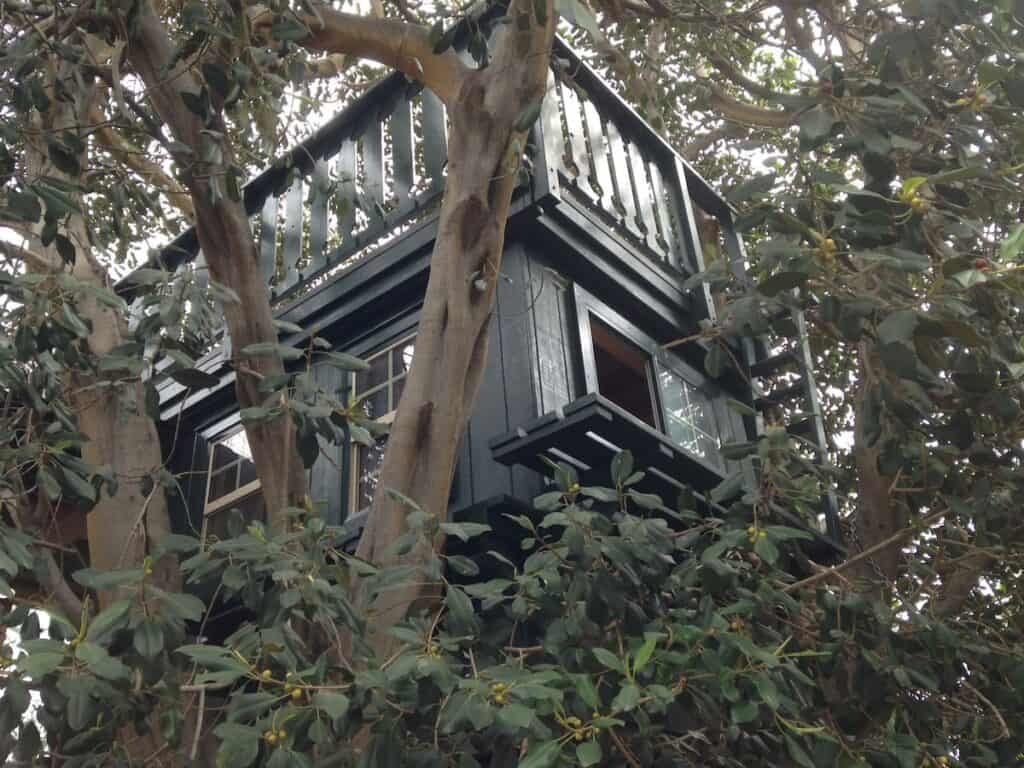 A good treehouse rental can distinguish itself with a unique design or an amazing view, but this particular rental has both!
Featuring a predominantly wood-based interior and more than enough space for 3 guests, this treehouse ensures maximum comfort and serenity. In addition, the view from the deck/balcony is nothing short of breathtaking, making this the perfect place for an outdoor meal or an evening of stargazing.
Getting off a treehouse doesn't get much more fun – go down a slide and relax in the garden area by the fire pit or in the outdoor shower.
As if all that weren't enough, the house is conveniently located within minutes of the nearest parks and dining locales not to mention it's less than 30 minutes away from Disneyland.
Perhaps most importantly, Birch Street is about 5 minutes away, giving you quick and easy access to just about everything you could possibly want to see in town.
The Flying Pig Treehouse Oasis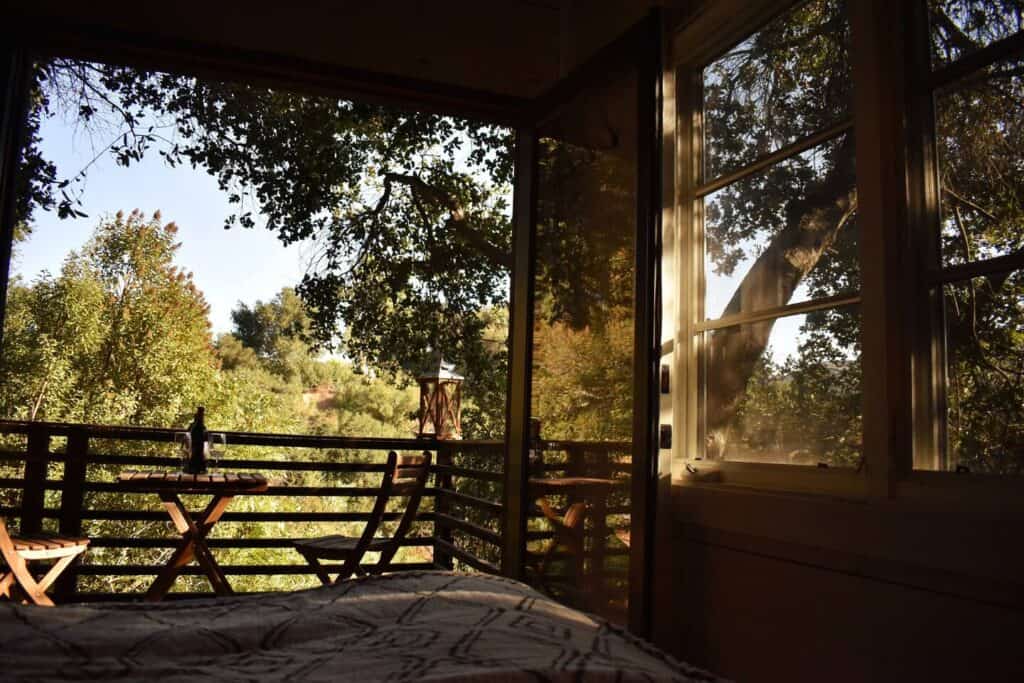 If the name didn't give it away, this is a California treehouse Airbnb with character, and plenty of it!
The sleeping area is very cozy and inviting, keeping things nice and dark for late risers. If you want a brighter experience, worry not – just step out into the outdoor area and fire up the barbecue grill as you enjoy the view of the seasonal waterfall.
This is truly an amazing place to connect nature, to the point where bringing your furry companions is strongly encouraged as long as you clean up after it. The individual parts of the rental are connected by wooden walkways – you can get from your bedroom to the barbecue area or the isolated bathroom & shower in a matter of seconds.
The resort is located in the bohemian wonderland of Topanga, where it is in not uncommon to run into a stray celebrity looking to get away from the limelight.
Not only will you be close to Topanga State Park and the nearest beach, but the view of Los Angeles and the Santa Monica Mountains is out of this world. In addition, being within walking distance of the main house means you can easily contact your hosts for anything you might need.
Pin This Guide to Treehouse Rentals on Airbnb!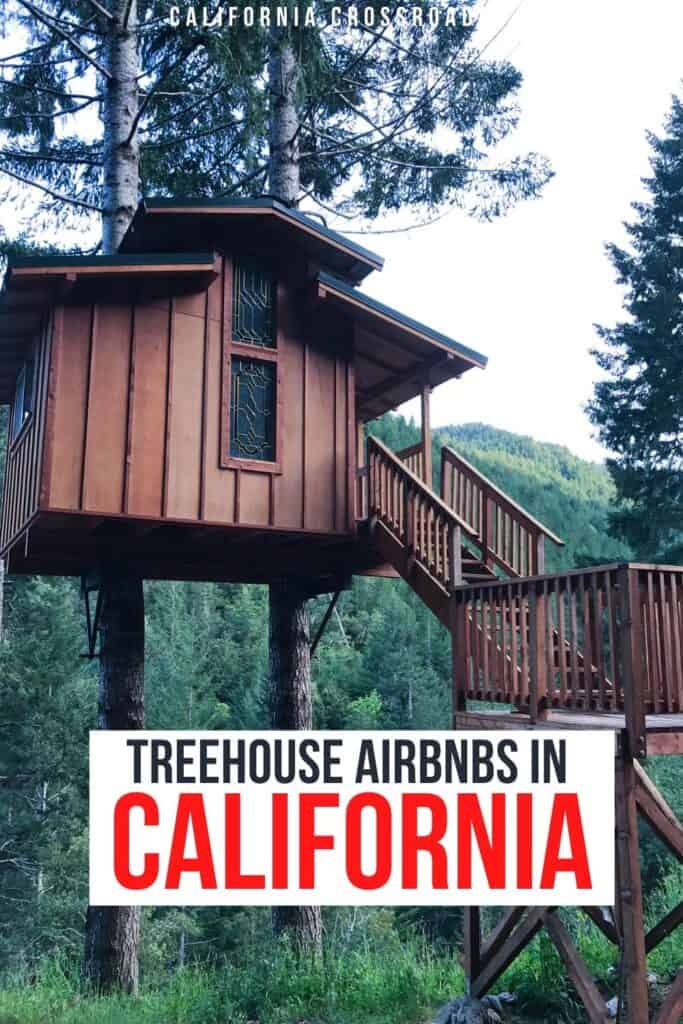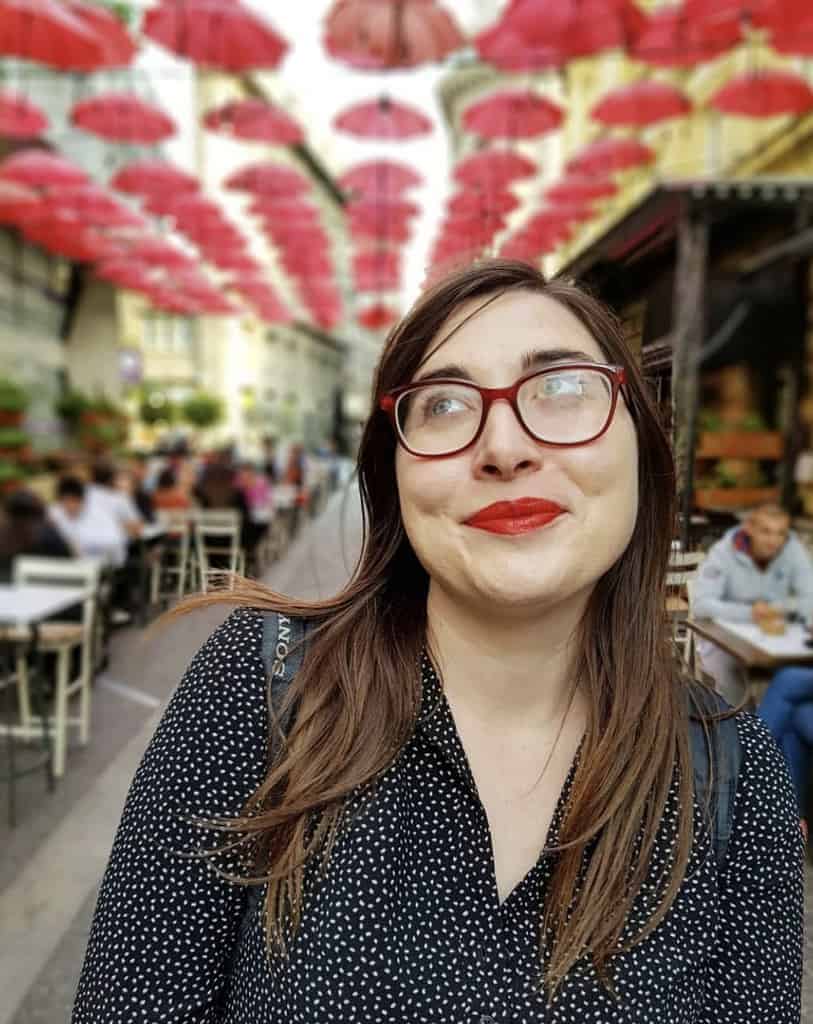 Allison Green is a travel blogger, writer, and podcaster who grew up in the Bay Area of California. She has spent time living in New York, Prague, and Sofia, but has returned to live in the East Bay. She has traveled to 60 countries before the age of 30 while running several digital travel publications. Her writing and podcast have been featured in Forbes, CBC Canada, National Geographic, the Huffington Post, and CNN Arabic, amongst others. She's obsessed with bouldering, houseplants, other people's pets, and anywhere she can see the ocean.