Need a change of scenery? Jump in your car and journey down some of the most scenic drives in Northern California, perfect for a weekend road trip.
Even though the Pacific Coast Highway may be the most famous and well known scenic drive in California, there are so many more drives in Northern California worth a visit beyond just the coastline.
Consider the magical scenery beyond just the most famous stretch of the PCH from San Francisco to LA: we're talking local wineries, fog-hugged coastlines, rolling hills, towering mountains, beautiful lakes, and sky-high redwoods.
Take a day or a long weekend — or even a week if time allows — to venture someplace new or revisit a favorite scenic spot. Below, you will find seven Northern California scenic routes worth the mileage.
Enjoy the trip, and be sure to have your camera at the ready!
The 10 Best Scenic Drives in Northern California
Redding to Lassen Volcanic National Park
Route: Redding –> Shasta Lake –> Castle Crags State Park –> Burney Falls –> Lassen Volcanic National Park
Note: The Park Road (which goes from Highway 89 through the park) is closed from late October through mid-June, depending on the snowfall. Call the park or check the website for updates.
This 188-mile route is a perfect spring through early fall getaway, and it's one of the top scenic drives in Northern California.
If you travel to Lassen Volcanic National Park in the spring, enjoy the massive amounts of wildflowers that brighten the green meadows!
Start in Redding, journey on I-5 to Shasta Lake, the largest reservoir in California. Here you can spend a few hours enjoying the water sports or relaxing with a fishing pole.
As you continue, you will pass the mighty Mount Shasta. While in the area, spend some time exploring the spires of Castle Crags State Park.
Note: This post contains affiliate links, which earn me a small commission at no extra cost to you if you make a purchase using one of these links. Thank you for supporting this free content!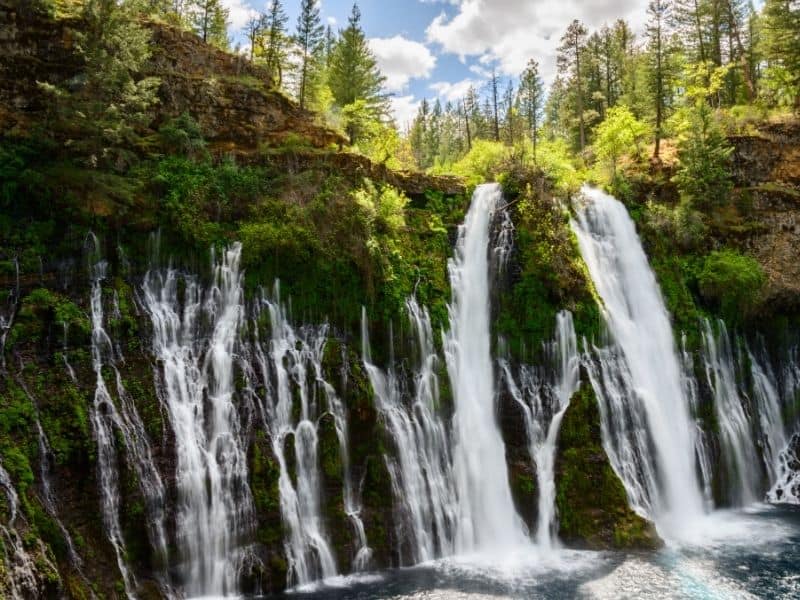 Your next stop should be the 129-foot Burney Falls in McArthur-Burney Falls Memorial State Park.
Arrive at Lassen Volcanic National Park, which has a scenic 30-mile road that you will not want to miss in this beautiful park full of craggy peaks and volcanic rock.
Once there, you will want to spend at least a day or two exploring Manzanita Lake, the 300-ton chunk of lava apply named Hot Rock, drive through the Devastated Area.
For those who enjoy a hike, take the 2.5-mile trail to the summit of Lassen Peak, where you will pass Bumpass Hell with its mud pots, steam vents, and hot springs.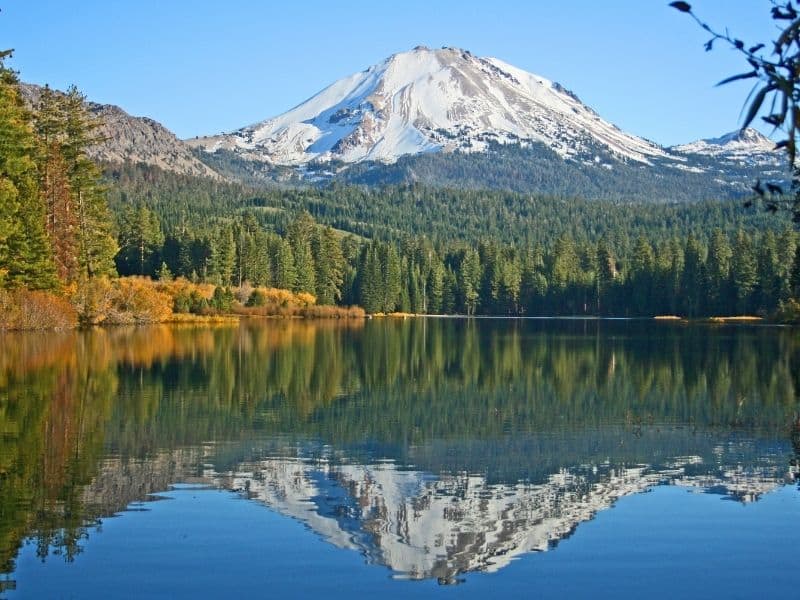 Highway 1 from San Francisco to Point Reyes National Seashore
Route: San Francisco–> Golden Gate Bridge –> Muir Woods –> Mount Tamalpais –> Point Reyes National Seashore
This 34-mile scenic drive in Northern California offers travelers a little of everything and is the perfect itinerary for a weekend getaway.
Begin by driving across the Golden Gate Bridge. Here you may want to make your first stop to view it from the viewpoint on the Marin Highlands side of the bridge before continuing along this scenic route.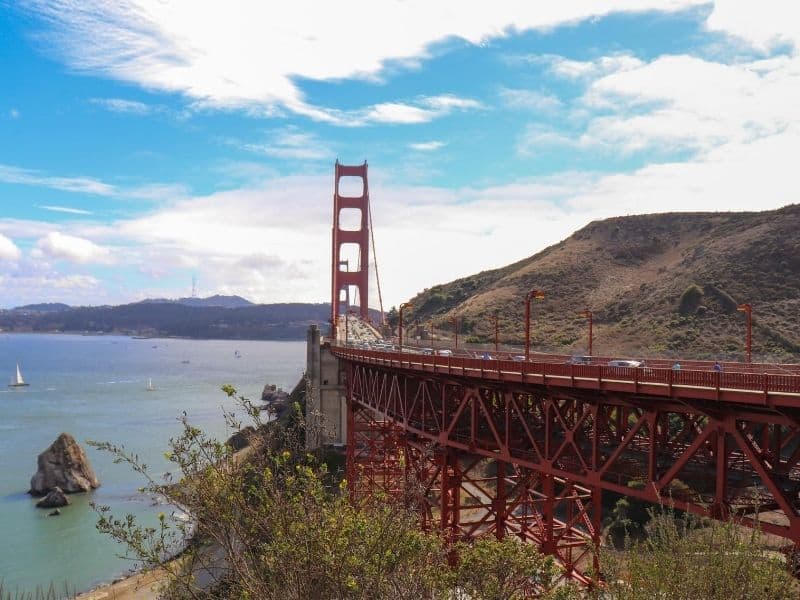 Your next stop will be to wander along Muir Woods National Monument's trails (be sure to pre-book a parking pass) and be in awe of the redwood trees that tower over 250-feet in the air.
From the Panoramic Highway, take to the highroads of Pan Toll Road to the east peak of Mount Tamalpais. Here you will be able to take in views of San Francisco, the Pacific Ocean, and the bay from an elevation of roughly 2,500 feet.
From here, continue to travel north on Highway 1 to the Point Reyes National Seashore, where you will be in awe of the secluded beaches, hiking trails, and the Point Reyes Lighthouse along the sea cliffs. Take time to view the elephant seals and Tule elk that make the park home.
From November through March, gray whales migrate through the area, so bring some binoculars!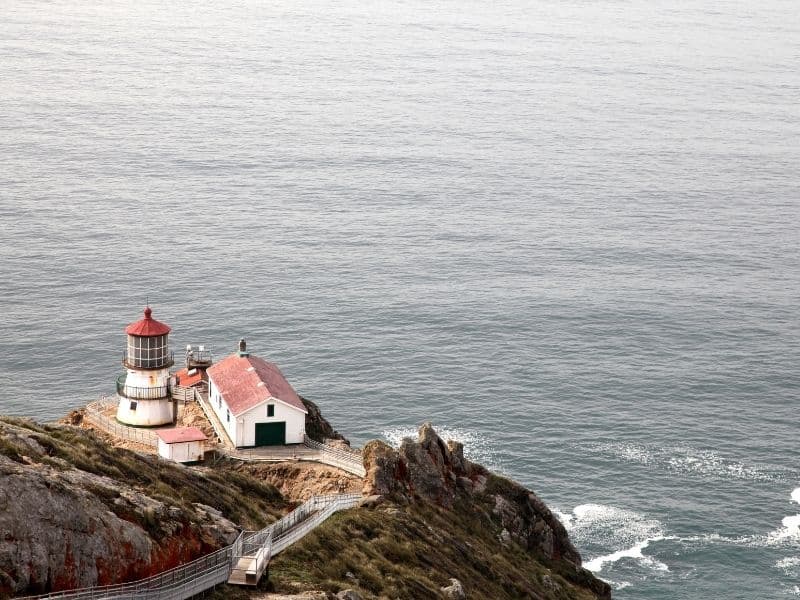 Napa Valley's Silverado Trail
Route: Napa –> Wineries + Vichy Springs (optional) –> Calistoga –> Robert Louis Stevenson State Park (optional)
The 29-mile Silverado Trail from Napa to Calistoga makes the perfect day trip.
This 1-hour route has something to see during every season of the year. To see the grape harvest, visit in the fall, or visit in the late winter/early spring to view the fields of mustard flowers in bloom.
Get off the heavily traveled State Highway 29, and enjoy the winding roads past numerous wineries. Stop and take a winery tour or partake in a tasting sampler from the Clos du Val or Reynolds Family Winery.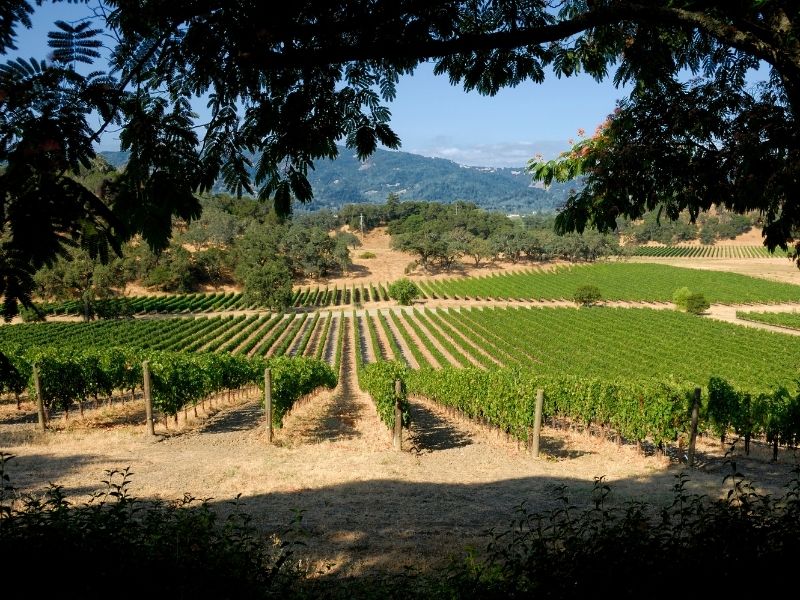 You can also opt to stop at Vichy Springs for their "champagne baths" — no, not with real wine, but with naturally carbonated waters that bubble around you like champagne bubbles.
However, if you want to make a weekend along the Silverado Trail, stay in one of the local hotels like the Maison Fleurie, A Four Sisters Inn established in 1873, or the sophisticated Archer Hotel.
While in Napa, stop in for lunch at the Oxbow Public Market before continuing your journey for more wine tastings at one of the many small wineries scattered throughout the region.
For those who would enjoy a little hiking to walk off that wine, continue a short distance north of Calistoga on Highway 12 to the Robert Louis Stevenson State Park. Here you can hike the trail past the mine and the site of Stevenson's cabin to beautiful views of the Napa Valley.
To extend your stay in Calistoga, stop at the Old Faithful Geyser to see the 60-foot geyser shoot up every 40 minutes.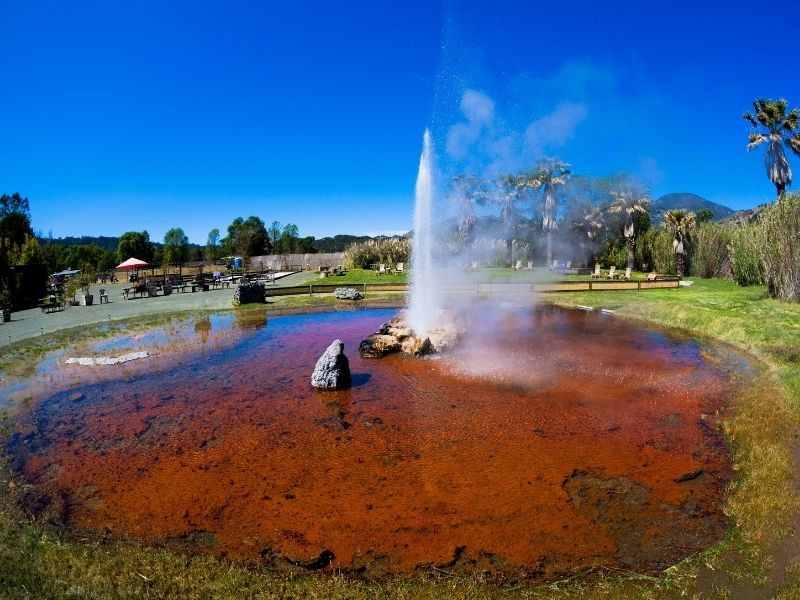 Crescent City to Jedediah Smith Redwoods State Park
Route: Crescent City –> Boy Scout Tree Trail –> Stout Grove Loop –> Jedediah Smith Redwoods Visitor Center
Stretching 175-miles from the Oregon border to Leggett, the Redwoods Highway in California offers several beautiful scenic drives in Northern California that pass the rugged Pacific coastline and multiple clusters of monstrously beautiful redwoods.
Here you have a few options, and I'll list three of the best scenic drives along this route: Crescent City, the Avenue of the Giants, and the stretch from Prairie Creek to Humboldt with a stop in Fern Canyon along the way.
Driving part or all of this route through these magnificent towering trees will be worth your time.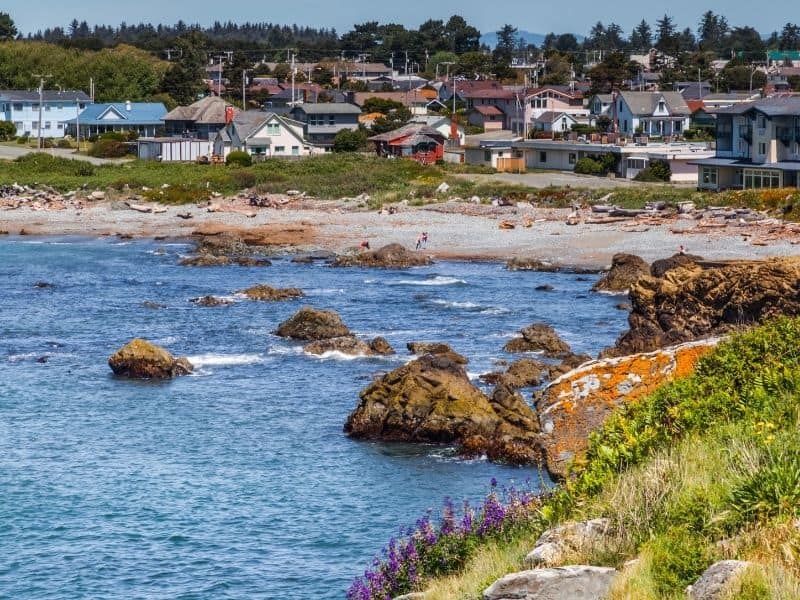 The first redwood drive worth taking is this one. Starting in Crescent City, take Howland Hill road to several different great hiking points deep within the Jedediah Smith Redwoods State Park.
This 8-mile long gravel road winds through miles of spectacular old-growth redwoods.
Even though it is a short route, plan on spending several hours within the park since driving is slow, and you will want to get out and explore both the 2.6-mile Boy Scout Tree Trail and the 0.7-mile Stout Grove Loop.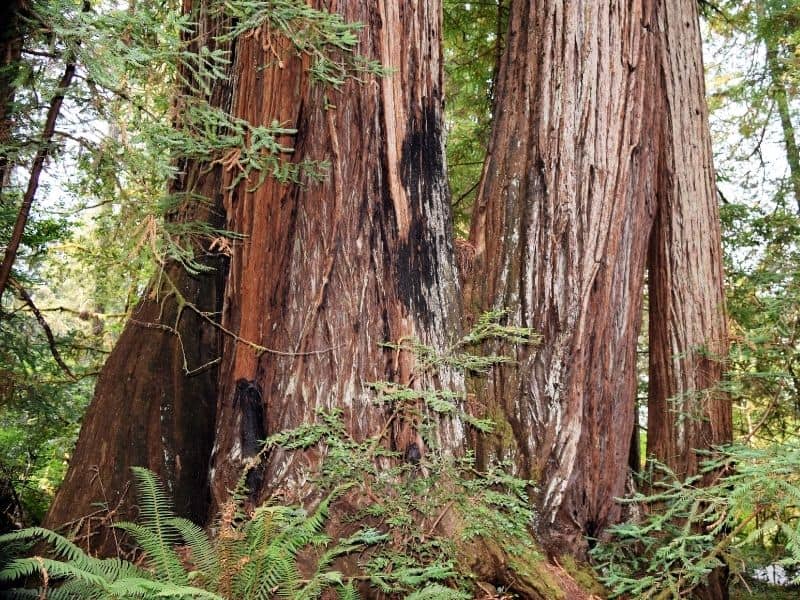 Phillipsville to Pepperwood via the Avenue of the Giants
Route: Phillipsville –> Founders Grove –> Shrine Drive-Thru Tree –> Eternal Tree House –> Pepperwood
Between Phillipsville and Pepperwood, this 31-mile section of the Old Highway 101 is full of hiking trails and the world's largest concentration of coastal redwoods.
Plan on spending a few hours roaming through some of the avenue's main attractions like the ½-mile self-guided Founders Grove loop trail that is home to the fallen Dyerville Giant.
If you're traveling with kids, they will love the commercialized tourist traps like the Shrine Drive-Thru Tree and the Eternal Tree House, and despite their popularity, they're definitely worth a visit!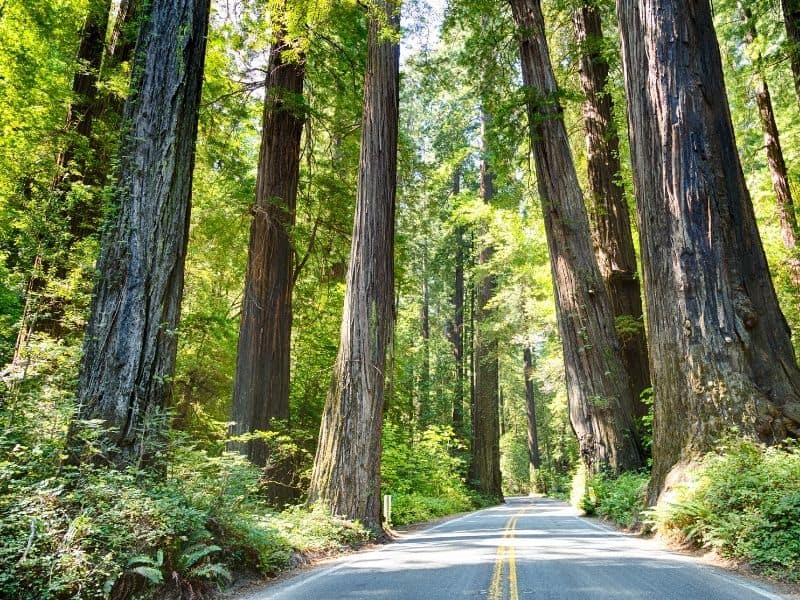 Prairie Creek Redwoods to Humboldt Redwoods
Route: Prarie Creek Redwoods –> Fern Canyon –> Lady Bird Johnson Grove –> Azalea State Reserve –> Humboldt Redwoods State Park
As you drive through Prairie Creek Redwoods, be on the lookout for elk! Stop to take a hike through the 50-foot fern draped canyon walls of Fern Canyon. A side trip down Newton B. Drury Scenic Parkway is also worthwhile.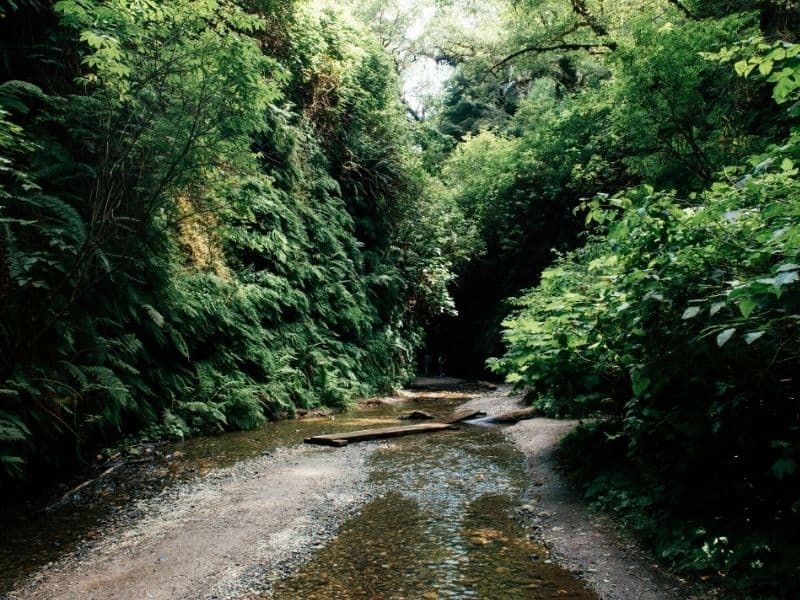 If you want to break the journey into an overnight trip, you can opt to spend the night camping at Gold Bluffs Campground that is near the ocean.
Outside Orick, CA, sitting atop the ridge, the 1-mile Lady Bird Johnson Grove loop trail offers a scenic walk through many coastal redwoods. A journey along this trail in May and early June also means the blooming rhododendrons will brighten up the forest floor.
Next, make a stop at the Azalea State Reserve, especially in spring when the flowers are in full bloom. This 30-acre reserve turns pink and white in April and May and has a self-guided nature trail for visitors to roam.
Next, make a final stop at the Founders Grove and the Women's Federation Grove in Humboldt Redwoods State Park offers a chance to view some of the densest and impressive groves of old-growth coastal redwoods.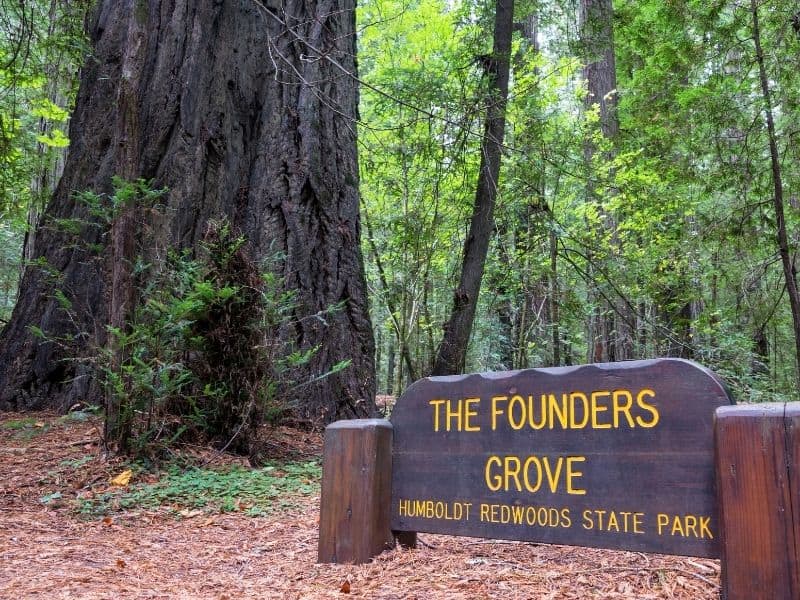 Highway 395 along the Eastern Sierras
Route: Lone Pine –> Alabama Hills –> Manzanar National Historic Site –> Ancient Bristlecone Pine Forest –> Hot Creek –> South Lake Tahoe
Travel along Highway 395 for 232-miles as it meanders through historic mining towns, unbelievable geological features, and old-growth forests.
This journey from Lone Pine to Lake Tahoe only takes about four hours, but you will want to lengthen your trip to four or five days to take in all there is to see and do along the route.
However, in a crunch, it can be done in one or two days. If breaking the journey, stay the night in Mammoth Lakes or Lee Vining.
From Lone Pine, head to Alabama Hills, where you can find the sites of several famous movies like Gladiator and The Lone Ranger and hike amongst the boulders.
A stop at the Manzanar National Historic Site is worth your time to learn a little more about this Japanese Internment camp and this shameful yet important part of American history.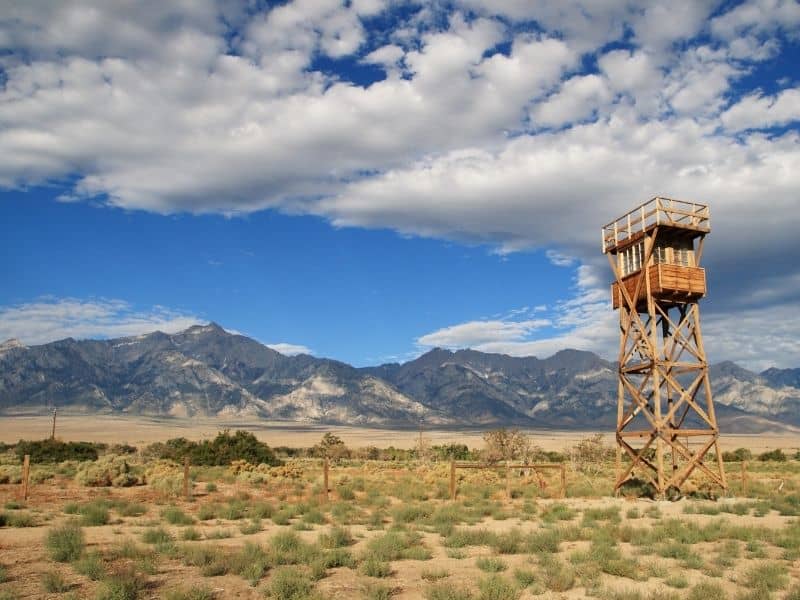 Take the side trip into the Ancient Bristlecone Pine Forest along the Scenic Byway to see the world's oldest living trees. The 34-mile route takes about 2-hours to navigate the roads twists and turns.
If checking out a natural hot spring that runs like a river through a valley is up your alley, watch out for Hot Creek Geological Park just past Bishop.
Then continue to Highway 89 to relax along the shores of South Lake Tahoe.
California State Route 49: The Gold Country Highway
Route: Oakhurst –> California State Mining and Mineral Museum –> Sutter Creek –> Vinton
Named for the '49ers (since 1849 was the year that started the gold rush, hence the name!) that headed out west for the Gold Rush, Highway 49 runs North-South through Gold Country.
It features long stretches without any large towns, historic mining communities, and beautiful views of the once gold-laden rivers of the Sierra Nevada Foothills. It's definitely a drive worth savoring.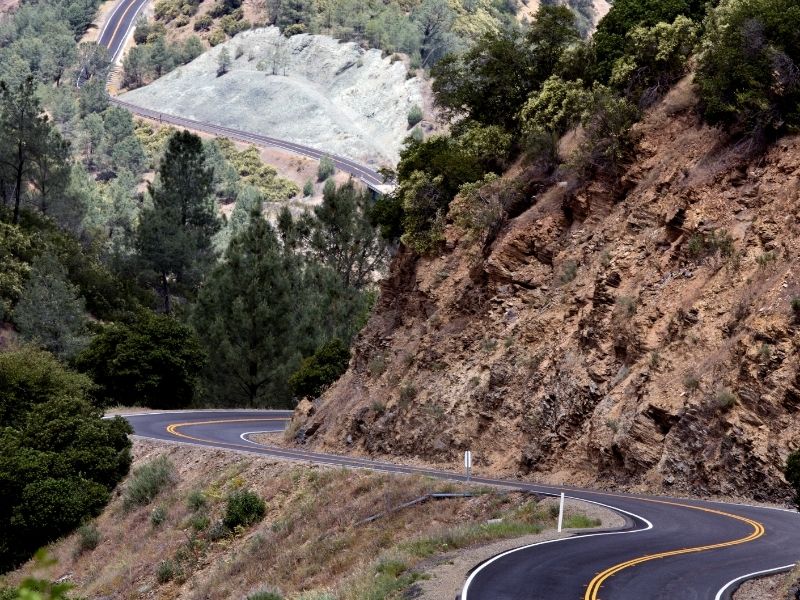 From Oakhurst to Vinton, this 295-mile route follows the route of California's Gold miners and prospectors.
Spend several days exploring this Northern California scenic route, making stops at the historical California State Mining and Mineral Museum, checking out towns like Sutter Creek, Coloma, Auburn, Colfax, and Truckee, and ending in the beautiful Tahoe area.
Ebbetts Pass
Route: Arnold –> Calaveras Big Tree State Park –> Grover Hot Springs State Park –> Markleeville
Travel the 61 miles over the high Sierra Nevada mountain pass. This 2-hour journey begins at Arnold and continues to Markleeville.
This historic pass showcases deep river canyons, giant sequoias, pristine alpine lakes, and breathtaking views of the Sierra Nevada mountain range.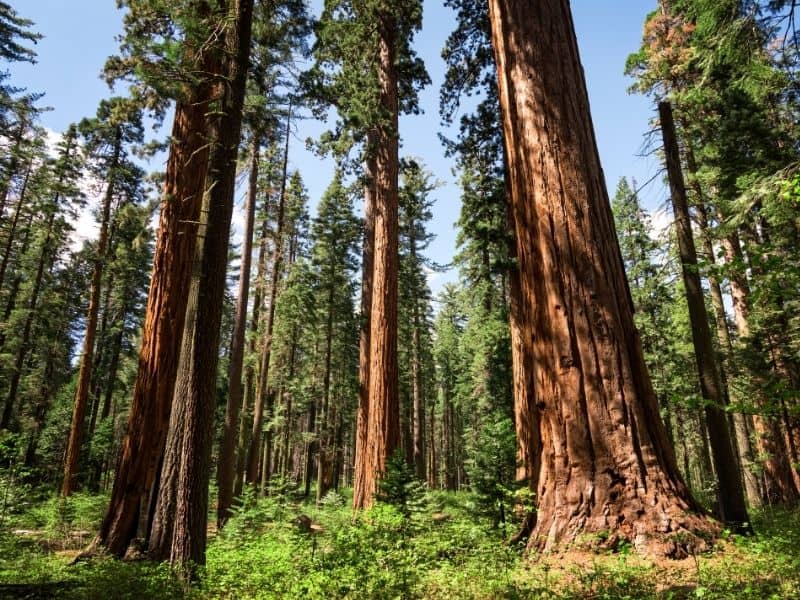 Spend times browsing the tiny hamlets along the way, enjoying the hot mineral pools, or take time to explore the wonders within Calaveras Big Tree State Park and Grover Hot Springs State Park.
A fall trip through Ebbetts Pass means colorful maples, aspens, and dogwoods.
For those who want to make a weekend out of this trip, plan on staying in Murphys. This little town provides you with plenty of options.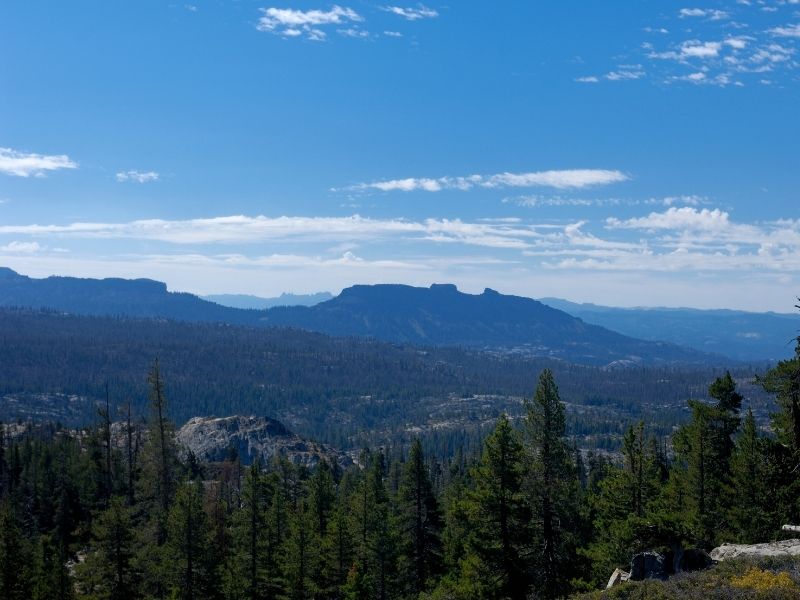 Pin These Northern California Scenic Drives!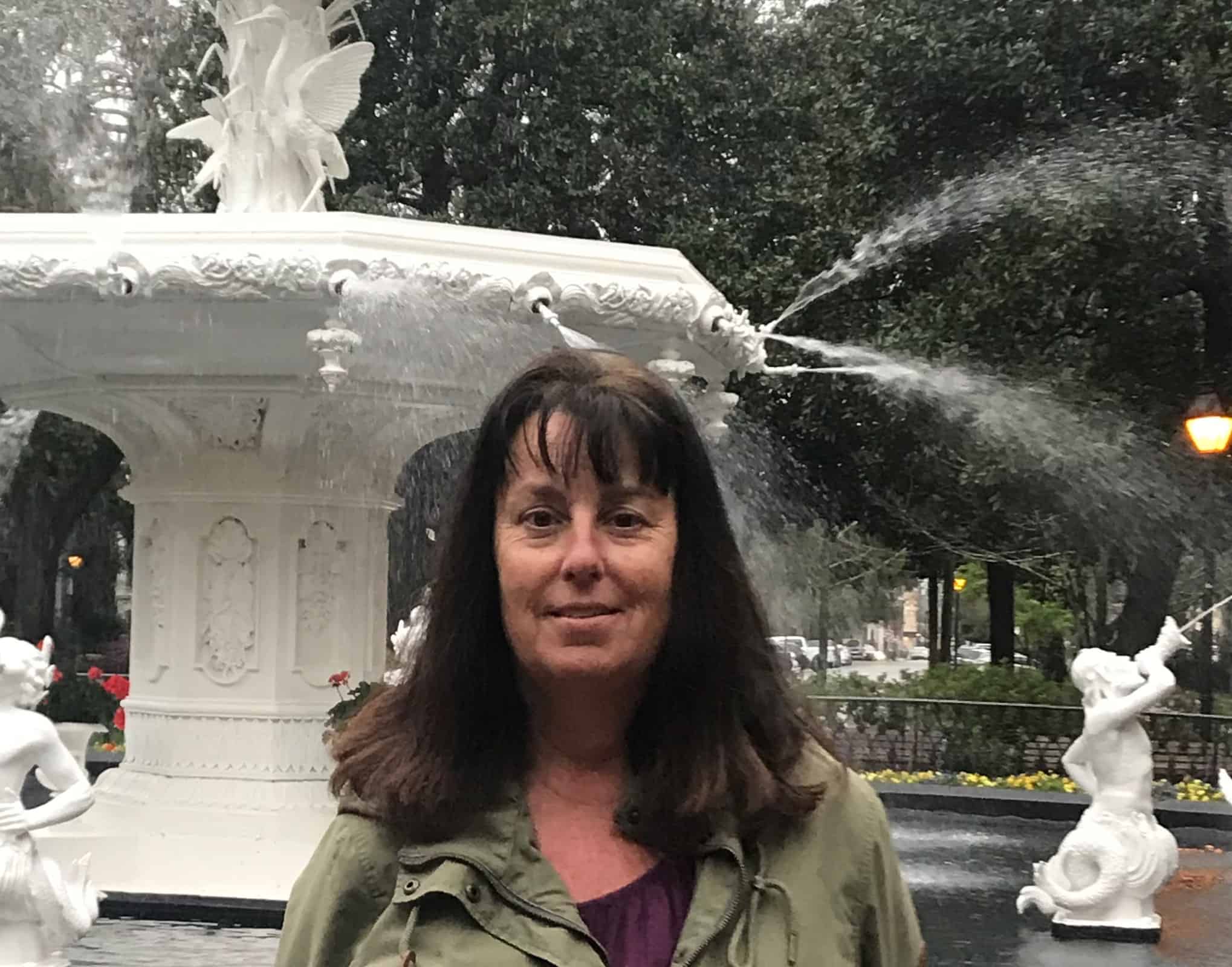 Laura Gray is a freelance writer and retired elementary teacher based in Norfolk, VA.  She spends her summers enjoying the shores of the Chesapeake Bay, traveling the world, and exploring the beautiful United States. Her favorite places to visit are National Parks, waterfalls, and lighthouses.