California was a major center of activity during the Gold Rush in the mid-1800s.
Thousands upon thousands of people rushed into California in search of gold — both to make their personal fortune and help themselves to establish generational wealth for their families.
While the Gold Rush itself ended fairly quickly, the boom and bust of the Gold Rush era led to the formation of gold rush towns all over California.
Many of these boomtowns have since been abandoned when the mining camps near them closed; more than a century later, they have become ghost towns.
A Note on California's Gold Country History
Without the discovery of gold in 1948, there would never have been as big an early push into the areas of California. The fierce entrepreneurial spirit of the people that settled these towns is still visible when you visit what is left of their efforts.
The expansion into California, though, came at a high cost for Native Americans. California's first governor, Peter Hardenman Burnett, orchestrated genocide against the Indigenous tribes who had lived in California for centuries.
He created armed militias against the Native Americans, offered bounties for slain Native Americans, sanctioned the enslavement of native people, and forced their children onto "Indian assimilation" schools to enact cultural genocide.
According to the History Channel, "an estimated 100,000 Native Americans died during the first two years of the Gold Rush alone; by 1873, only 30,000 indigenous people remained of around 150,000." (Source)
This little-known genocide is often glossed over in California history.
As someone who was born and raised in California and attended California public schools until I was 17, we never learned the true extent of the negative impact of the Gold Rush on the Native Americans who lived on the land we now know as California. Nor did we learn how vicious and intentional the genocide against them was.
Chinese immigrants were also an essential part of Gold Rush history, though their presence is largely rendered invisible or as a mere footnote in the history that is commonly told of the Gold Rush.
At the highest point of Gold Rush-related immigration, 20,000 Chinese people immigrated to California in a single year, making up nearly one-third of all immigrants to California.
However, the US and California governments enacted laws against the Chinese that made their lives more difficult and reduced their prospective for economic growth.
One of the earliest such laws was the Foreign Miners License Law, which made mining fees so exorbitant that many Chinese miners left, and many ex-miners ending up settling in Chinatowns around California.
Later, the growing anti-Chinese racism would lead to the Chinese Exclusion Act of 1882. This was the first law to specifically ban a specific country of origin from immigrating to the U.S.
***
For better and for worse, the nature of California today has been affected by Gold Rush history, a complicated history that established the towns that have been left behind today.
This post mostly consists of the Old West ghost towns that were left behind by the Gold Rush era; however, there are also some other ghost towns that were abandoned for other reasons also in this post.
If you are ready to learn about the most interesting ghost towns to visit in California, read on for more information!
California Ghost Towns: Historic Gold Rush Towns
Bodie Ghost Town
Note: This post contains affiliate links, which earn me a small commission at no extra cost to you if you make a purchase using one of these links. Thank you for supporting this free content!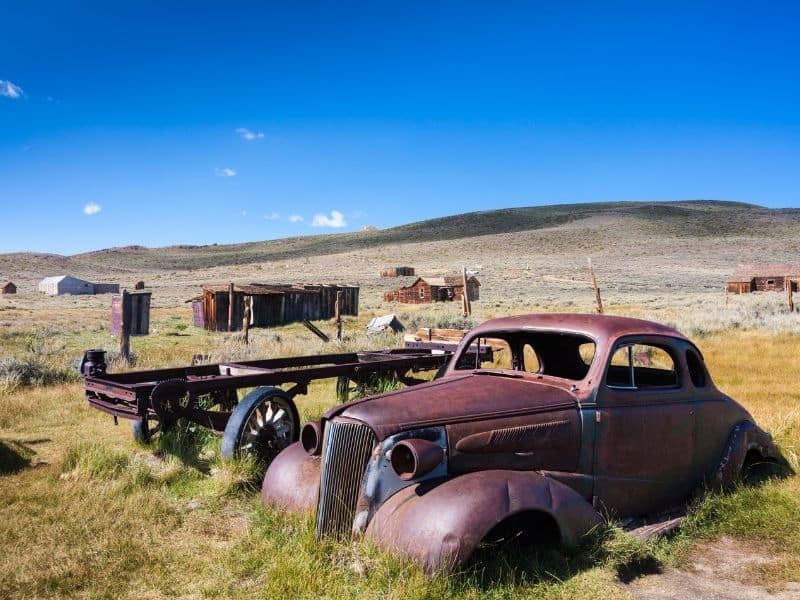 This is one of the biggest and most impressive ghost towns in the state! It is managed by the California State Parks system, under the umbrella of Bodie State Historic Park in Bridgeport, California.
The abandoned boomtown of Bodie is being restored at this time, so your visit will help to fund efforts to preserve this vital part of California's mining town history!
Bodie came to be in 1859 and by two decades later had more than doubled in size, as one of the major hubs of California's Gold Country.
This town was near 30 profitable mines that made the town large and prosperous during the height of the Gold Rush, with prospectors coming from all over the country to try their luck in Bodie.
You can see the end of the boom days clearly played out in the decline of the structures throughout the town. By 1932, this site was no longer inhabited by anyone and was officially a ghost town.
This is a great place to visit to clearly see how the Gold Rush boom and bust lifecycle occurred in a real historical landmark.
Empire Mine State Historic Park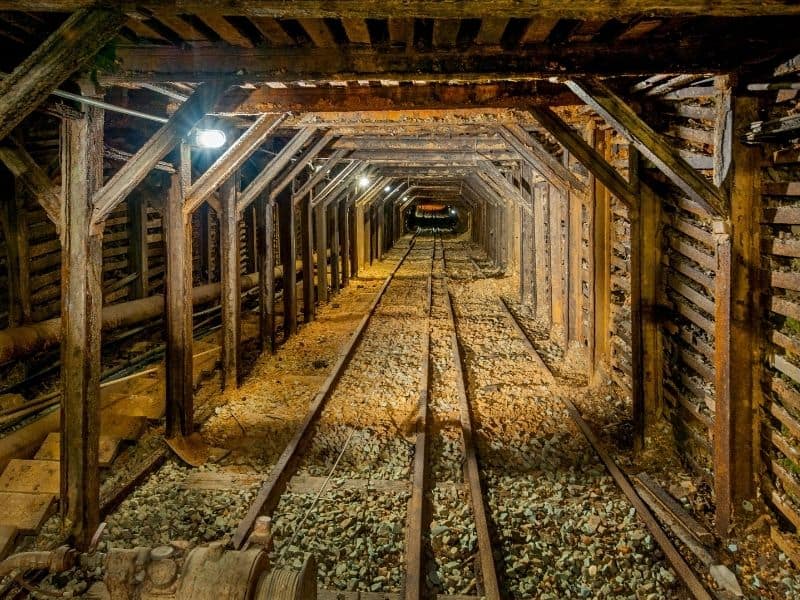 The Empire Mine is a deep and very old mine that was one of the richest in the history of California's Gold Rush.
The area has been turned into a State Historic Park, so it's been kept up with extremely well over the last few decades.
This is one of the ghost towns in California that you really must visit due to its amazing preservation, as well as the quality of the informative displays that you can interact with while you visit.
This mine was open until 1956, and the surrounding area has been turned into a mining historical preservation that you will not find anywhere else.
You can see a scale model of the underground gold mining operation that was in place here as well as the miles of deserted mine shafts.
There are also miles of trails to hike in the 853-acre parkland that surrounds the mine!
This area is like a time capsule that has preserved the town and the mine with amazing detail and attention to the historical record.
As a plus, the neighboring town of Grass Valley is extremely cute and a really fun place to spend some time seeing a vibrant, modern-day town with Gold Country roots.
Panamint City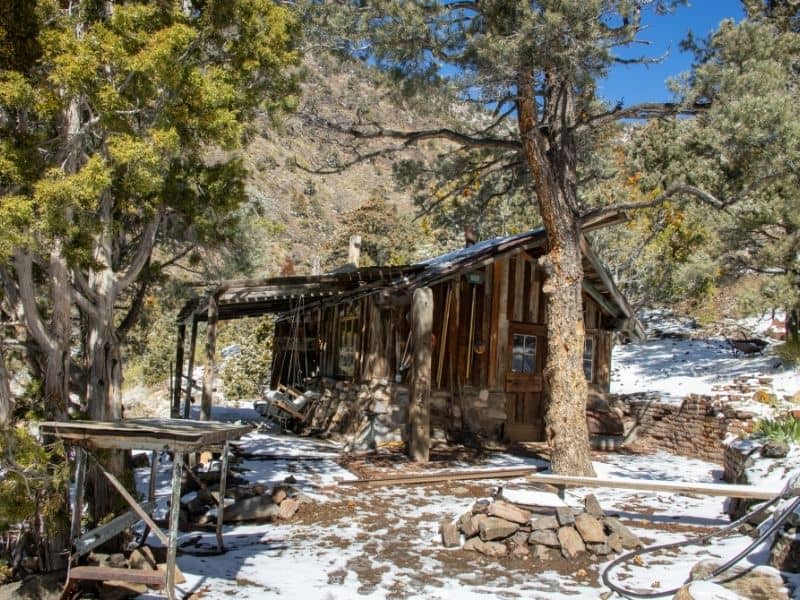 Located near what is now Death Valley National Park, this formerly vibrant city rose up around a silver mining operation that began in 1872.
At one time, there were a dozen saloons as well as a red light district here — and also a population of more than 2,000 people!
Panamint City's heyday was short-lived, however; this area declined over the next four years until the entire town was abandoned around 1876. A flash flood later washed away most of the buildings.
This is a great place to stop and see the beautiful area around the remnants of the town and admire the ghostly remains of what was once a booming mining city and is now a true ghost town.
This town truly exemplifies the boom and bust nature of the mining period in California as few other sites can do.
Ballarat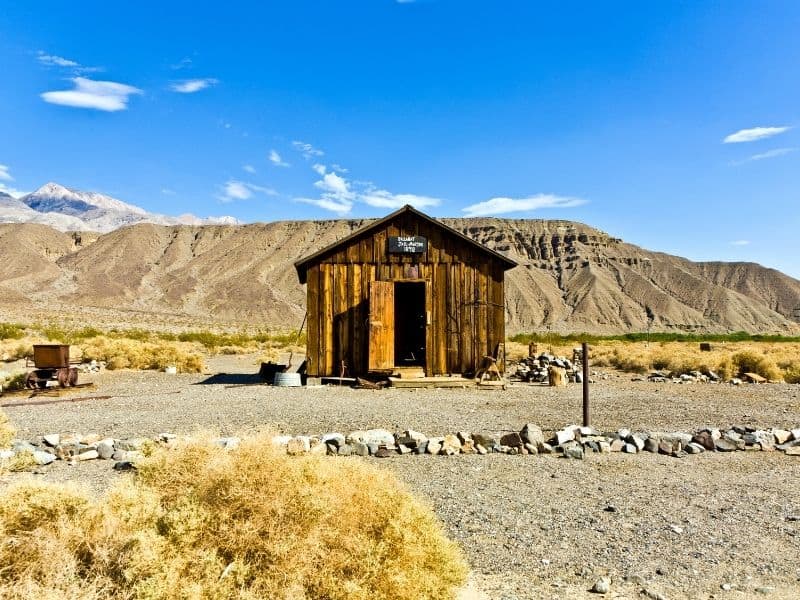 This is another mining town that was very active through the 1880s but died off when the mine was shut down in 1903.
During its heyday, the town had seven saloons and three hotels as well as a post office, making it one of the larger abandoned mining towns in the state. There's also an old jailhouse, pictured above.
Barker Ranch was also located here after the 1930s, created by a couple who wanted to try their hand at mining the leftover remnants of the large mine in the area.
This would not be remarkable except Charles Manson was arrested here in 1969. This put the location on the map for a whole new reason, besides the remnants of the mining town and Barker Ranch.
The police spent a few weeks looking for bodies in the area when Charles Manson was arrested near here. You can still visit the remnants of the homestead, the town, and the area where Manson was arrested today and the creepiness of the site will leave you with chills.
Now, Ballarat is home to one full-time resident who mans the general store with his two pups.
North Bloomfield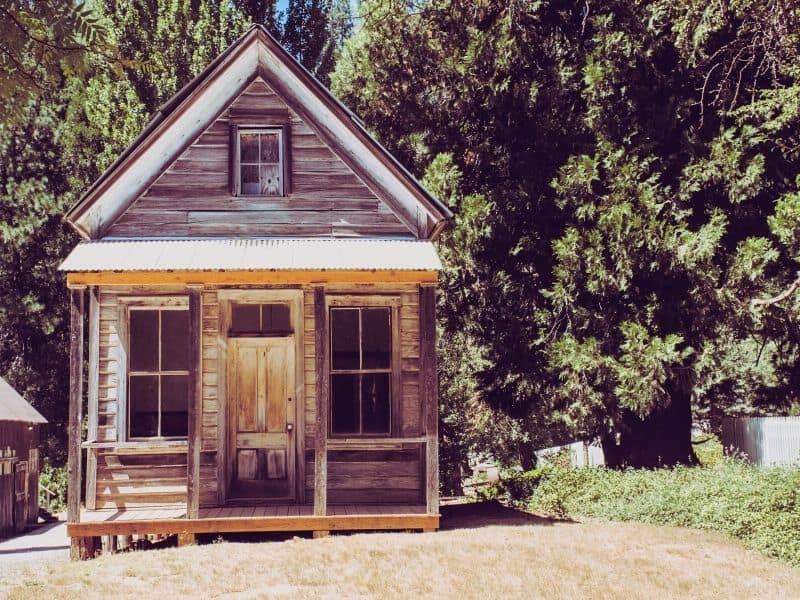 This is one of the best-preserved ghost towns in California, formerly known as "Humbug City".
To this day, you can see the church, barbershop, fire department, and other buildings still standing and in relatively good shape in this former mining town.
This town was founded in 1851 when gold was discovered on the San Juan Ridge, and the town eventually grew to around 2,000 people.
The town was alive and well into the late 1800s when hydraulic mining was made illegal and the ability to gather ore from the location was halted.
This town is actually part of Malakoff Diggins State Historic Park and the buildings are looked after by the parks system so that they can be preserved for visitors to the area.
Cerro Gordo Mines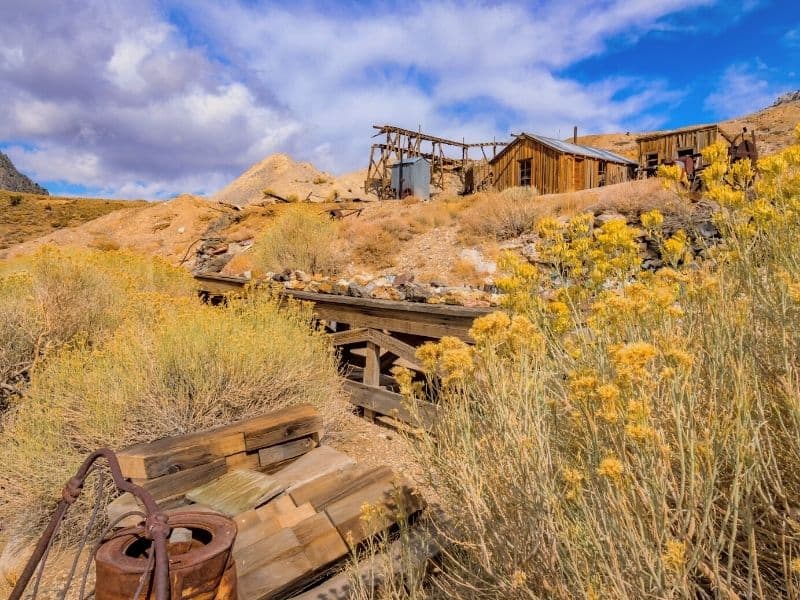 This is often thought of as a better ghost town to visit than Bodie or others in the same area since fewer people know about this town, meaning that there are fewer crowds and more of a true abandoned town feel.
There are only a few buildings left to see and the property is family-owned, but you can get a guided tour when you schedule a time to head out to this location.
This site is unique because the hoist works are still standing and you can see the hotel and the bunkhouse as well.
The Old General Store has been turned into a museum for visitors, and you can learn about the town's history as well as seeing the sights.
This is one of the sites in California that is rumored to be haunted, but of course, that remains under debate. If you're brave, hang out until dark to see if you encounter a restless spirit or two during your visit!
Calico Ghost Town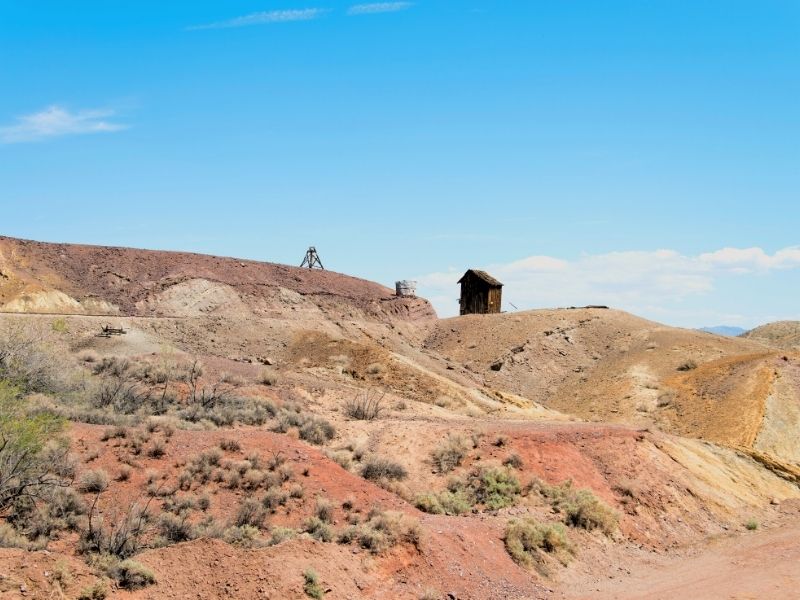 This is an easy ghost town to get to, since it is just off Interstate 15 near Barstow. It's on the drive to Las Vegas and Arizona via Route 66 – where you'll find lots of ghost towns!
This is one of the largest towns that was built during the California Gold Rush, and it thrived until the price of silver ore declined in 1896.
There are five original buildings that are maintained as a tourist attraction here and you can see the regional park as well when you visit.
The property belonged to Walter Knott of Knott's Berry Farm fame, and he refurbished and restored the remaining buildings so that visitors could come and see them.
Calico is no theme park, though; the restoration has been done with lots of attention to preserving historical detail.
There is a lot of value in coming to see this area and you will get a great idea of what these kinds of towns looked like in their heyday when you visit this site.
Zzyzx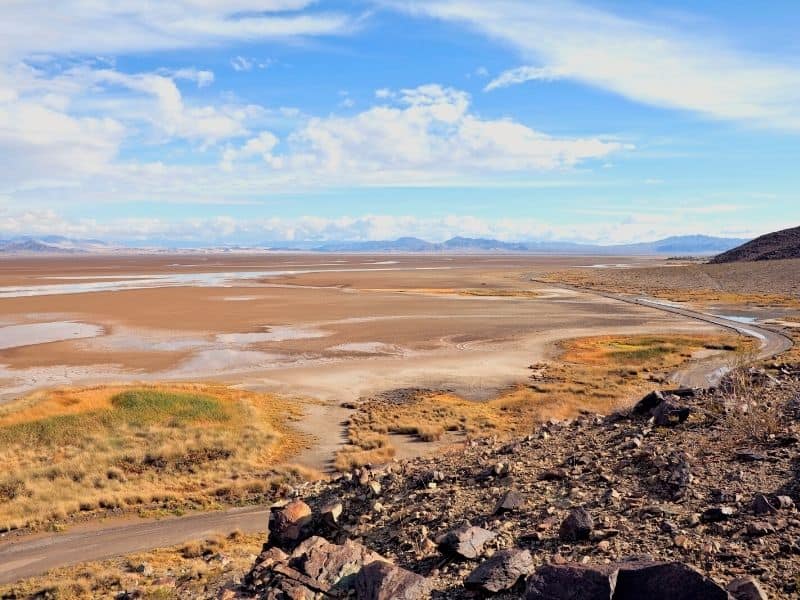 This little consonant-filled former mining town located in the Mojave Desert is a particularly interesting place to visit and is also on the drive from LA to Las Vegas.
The mine was the property of Curtis Howe Springer, of radio evangelist fame in the 1940s. He had planned to dig for minerals here, but instead, he decided to bottle the local spring water and sell it. He also opened a health resort here as well.
The land in the area was reclaimed in 1976, and the location is now the home of the California State University system's Desert Studies Center. You can still come here to see the springs and some of Springer's abandoned buildings.
This is one of the more eccentric ghost towns on the list, but it is very indicative of the post-war period and the scramble for some way to make money after the war ended.
Deadwood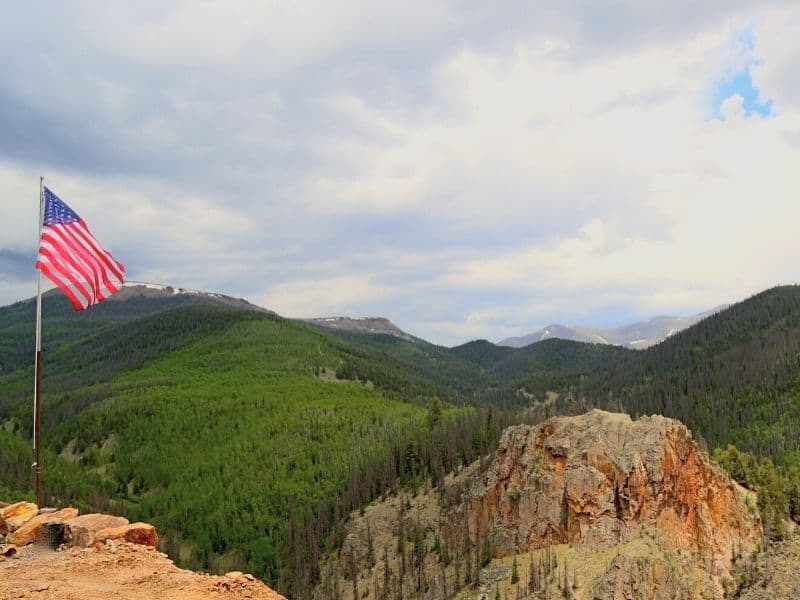 This ghost town is near a few others in the area of Northern California, in the region that was the most active place for gold mining during the Gold Rush.
Built in 1852, this town was at the heart of the Gold Rush activity in the area, but its activity declined as early as 1855.
This is a popular ghost town to visit due to its location near many other historical mining museums. You can also enjoy lots of historical enrichment in the local towns that are close by like Grass Valley and Nevada City.
This is one of the best areas to visit for a total immersion experience into the history of Gold Rush mining towns and visit several ghost towns on one road trip. It's an especially good road trip from San Francisco.
Besides visiting Deadwood, you can also head over to the nearby Last Chance Mine to see what is left of these historic towns that made and broke people hunting for gold in the mid-1800s.
Purissima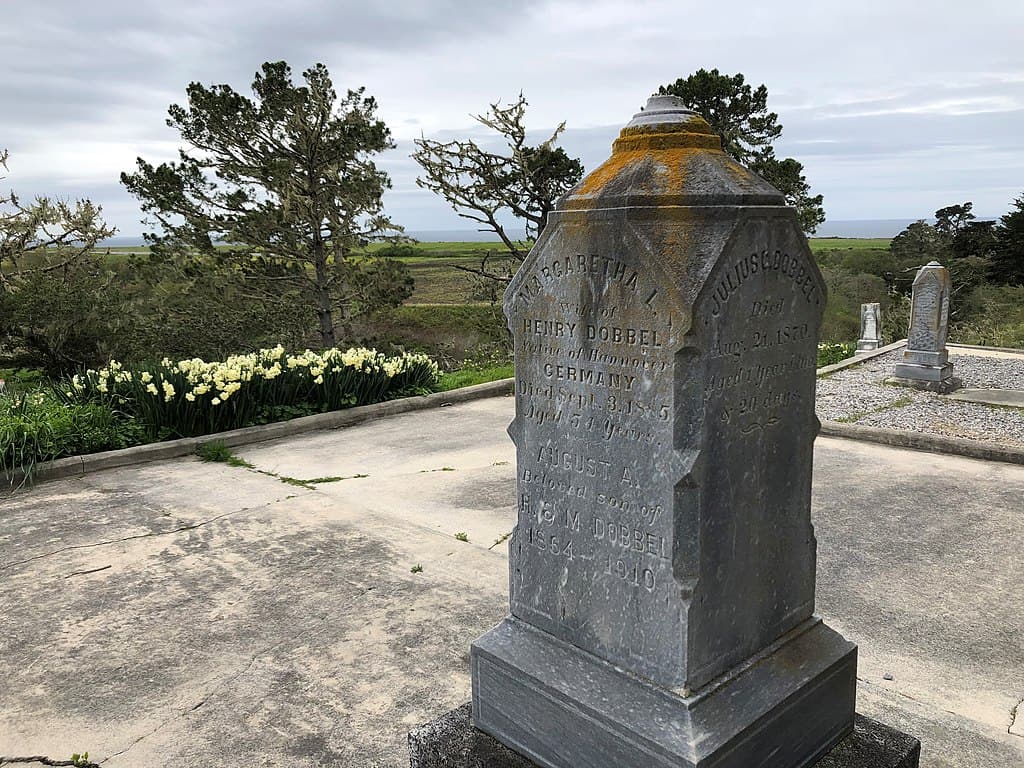 One of the earliest settlements of the San Mateo coast area, this ghost town was settled by European miners who arrived to hunt for gold during the Gold Rush period.
During the heyday of this little boom town, there was a hotel, a school, some houses, and the mine.
Most of the buildings were still standing as late as the 1930s; however, there are now only remnants of the town and the cemetery to mark the spot.
Some efforts have recently been put in to clean up the area as a memorial to its place in Californian history.
Other Abandoned Towns in California
Bombay Beach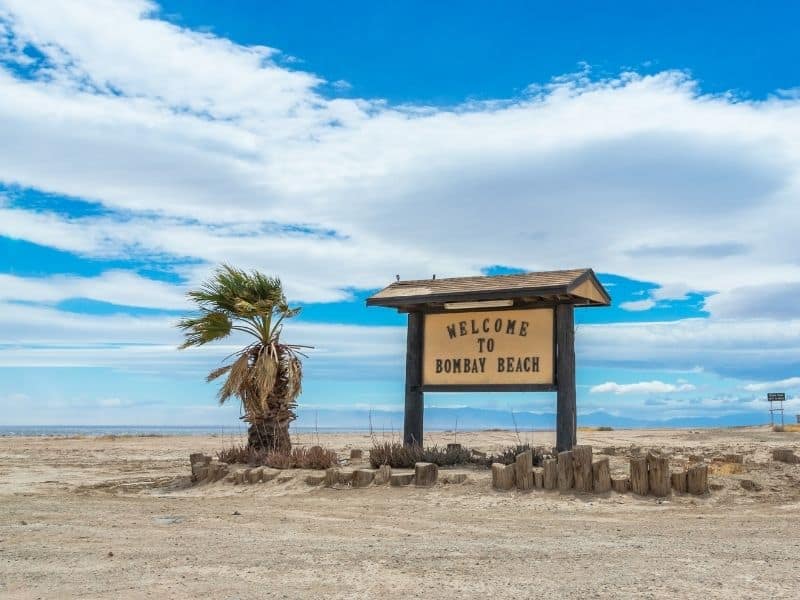 This ghost town is a bit newer than some of the other towns on this list, being a resort that was in use in the 1950s and 1960s!
The resort was located along the Salton Sea, which has since dried up. This resort area died out in the 1970s… when the lake became too full of rotting dead fish and other refuse and trash to be used any longer.
A few people still live in the area, but the rest of the town is largely full of abandoned buildings, the hotel, and cars that were never picked up by their owners.
This is a mysterious and eerie location that speaks of the hubris of people eager to take advantage of a temporary shift in the area's geography due to a fluke along the Colorado River levee.
Allensworth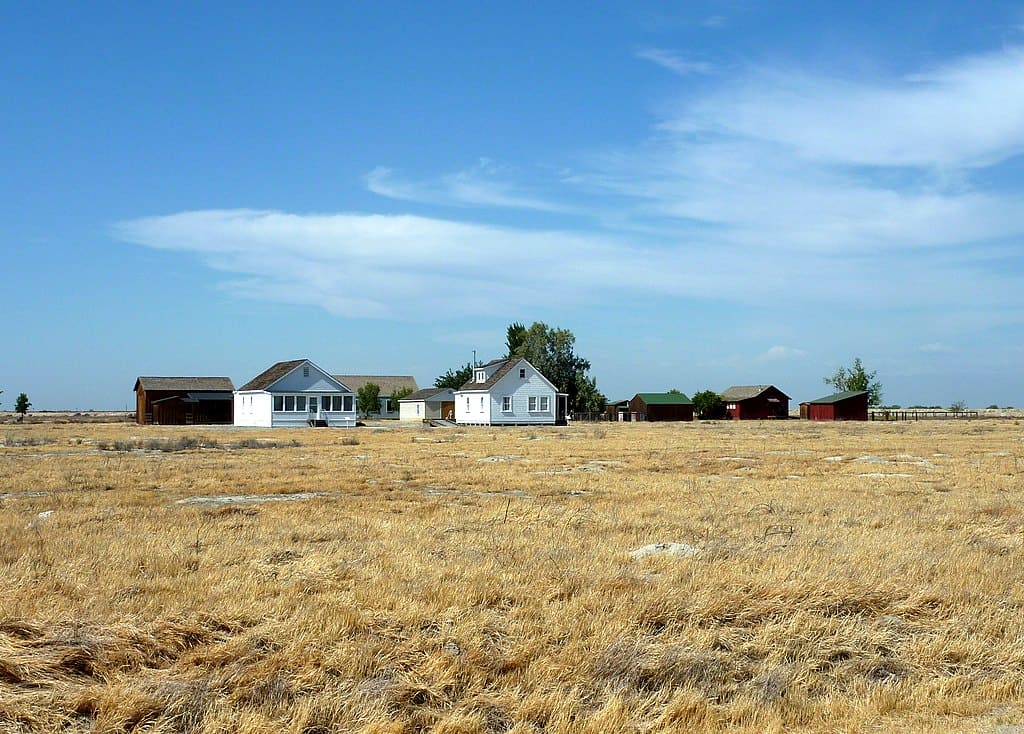 This is a really unique ghost town in that it was built by an African American man named Allen Allensworth in the early 1900s, who was born enslaved in Louisville, Kentucky.
This town was populated by all African Americans, and it was created for other former enslaved people and their families to live in peace and thrive far away from the racism of the Jim Crow laws and the segregated South.
It was "the first town in California to be founded, financed, and governed by blacks", a place where African Americans could own property and thrive in a supportive environment.
By 1914 there were more than 200 people living in this town, but unfortunately, its idealistic beginnings began to meet trouble when the town's water supply dried up in the 1930s, making farming near-impossible.
That alone didn't cause the decline of the town, as residents rose to meet the challenge, drilling new wells and discovering new methods of farming.
However, in 1966, high levels of arsenic were found in the drinking water, and as a result, nearly everyone who had persevered through drought and the Depression ended up leaving Allensworth.
Due to its rich African-American cultural history, Allensworth was preserved, and in 1976 it was approved to be preserved as Colonel Allensworth Historic Park.
You can see restored buildings like a library, church and schoolhouse, and hotel in the preserved town.
Manzanar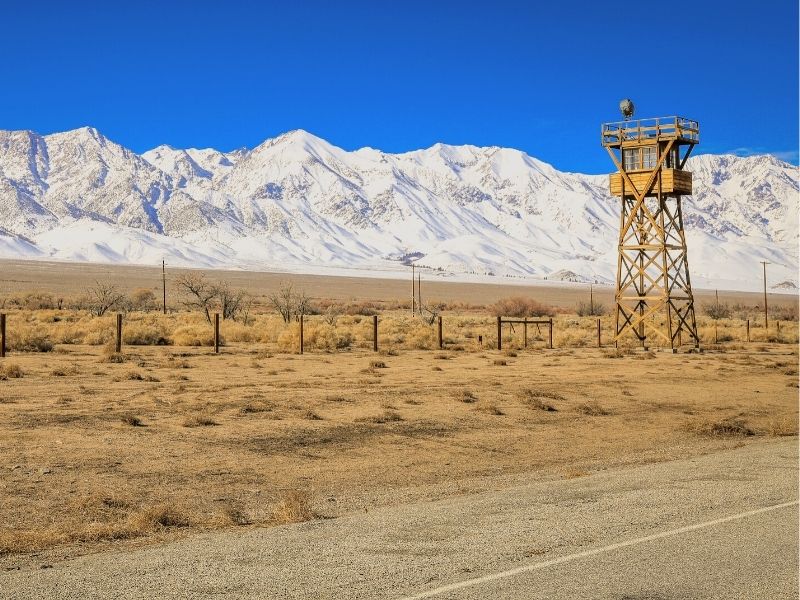 This "ghost town" is different than others on this list as it was never home to a gold mine or other mining prospect.
Rather, Manzanar is an abandoned and eerie reminder of the war that was waged at home against Japanese-American people during World War II. It is located in the Eastern Sierras off of Highway 395.
Manzanar is the site of an internment camp that was created in a misguided, racist effort to protect American citizens from an imagined threat.
There is a visitor center here that describes the period of the internment camp, and you can take a tour of the reconstructed barracks and mess hall to understand what the internment camp was like.
This is a site that is well-worth seeing to remind us of the mistakes that we have made in the past so that we do not make them again.
It's also a reminder that racism against Asian people has a long and complicated history in California.
The campaign to stop Asian hate and end violence against the AAPI community is essential, and it's also important to recognize the history of racism and violence against Asians in this country, as that informs the present-day violence Asian-Americans face.
Pioneertown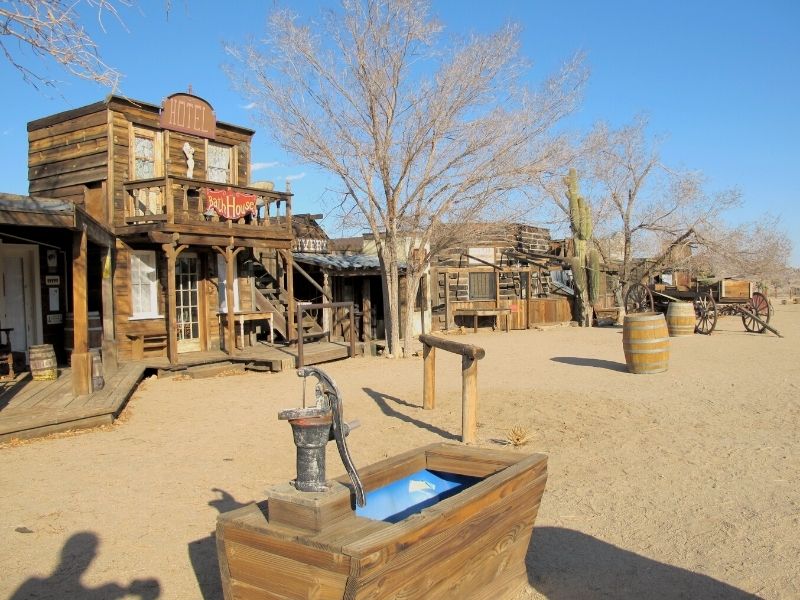 Located near Joshua Tree National Park, Pioneertown is not a true ghost town, but rather a film set designed to evoke the Old West.
Located in the San Bernardino High Desert in Southern California, Pioneertown was created to have a filming location for Westerns close to Hollywood and Los Angeles.
It's been used in many films and while it's not a true ghost town in the way that all the other places on this list are, it has a similar aesthetic and may be of interest — especially if you are more interested in photography than history.
Take a walk down "Mane Street" and snap some photos of this inauthentic but charming Old West "ghost" town.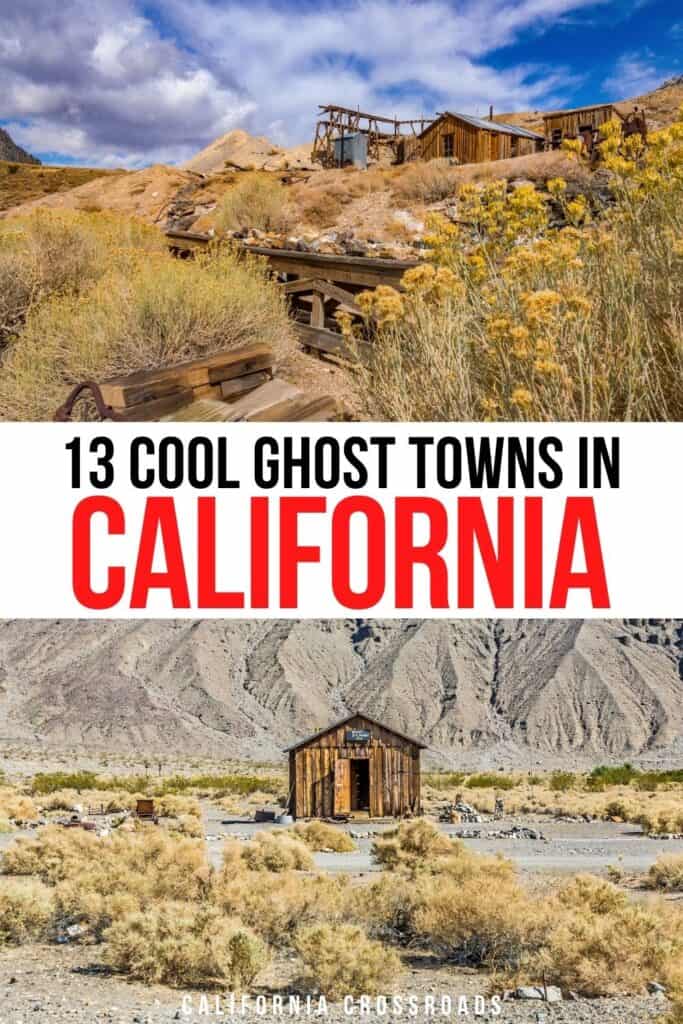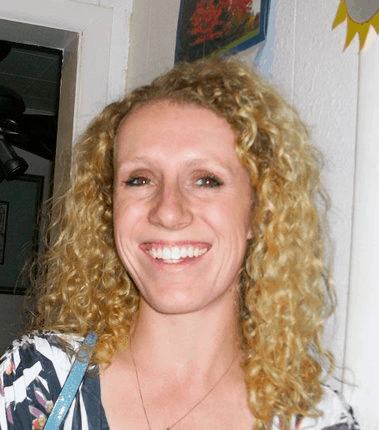 Brianna York has spent many years of her life traveling for work and pleasure, and grew up in Oregon in the gorgeous Pacific Northwest. She embraces each new place she visits and makes the most of seeing all the best that each city or place has to offer.  She is a published author and competes with her Arabian Show horses all over the United States. She embraces each day like a new adventure and is always ready for new experiences!