Santa Barbara County is rich in culture, history, and activities for all interests.
While there is no shortage of hotels and other places to stay, camping near Santa Barbara is a great way to experience some of the beautiful landscapes that make this Central Coast region so unique.
The warm, southern California weather makes it an easy camping trip to prepare for and there is a wide variety of campgrounds to suit your Santa Barbara camping needs.
From mountains to oceans, there is no shortage of great options for camping in Santa Barbara, but here are four of the best.
El Capitán State Beach
Note: This post contains affiliate links, which earn me a small commission at no extra cost to you if you make a purchase using one of these links. Thank you for supporting this free content!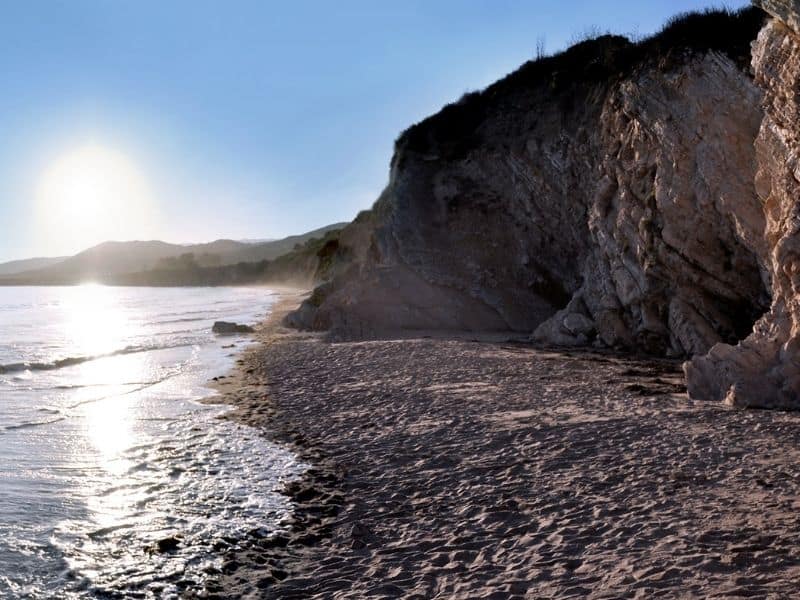 One of the best options for beach camping in Santa Barbara is El Capitán State Beach.
It's located a little less than 20 miles north of downtown Santa Barbara, just off of the Pacific Coast Highway.
This is a large campground, as there are 142 campsites that can accommodate tents and most vehicle types including RVs and trailers up to 42 ft.
There are no hookups at El Capitán, but there are tons of useful amenities such as showers, laundry, flush toilets, free beach wheelchairs, and drinking water.
A short nature trail in the campsite follows the shoreline to a small bay, where there is a high quality surf break and a reef that's great for snorkeling, diving, tidepooling, and fishing.
Since the beach is so accessible, this is a great place to camp if you are interested in any of the marine activities that Santa Barbara offers. If you're lucky, you may get to see larger marine animals such as seals and dolphins!
There's plenty of shade from native oak and sycamore trees, which makes the campground very comfortable on a hot day. Adjacent to this lovely Santa Barbara campground, there is a large grassy picnic area where great blue herons can be seen.
Even closer to El Capitán than Santa Barbara is the neighborhood of Goleta, which is about a 15 minute drive south of the campground and is an easy place to access amenities such as gas stations and grocery stores.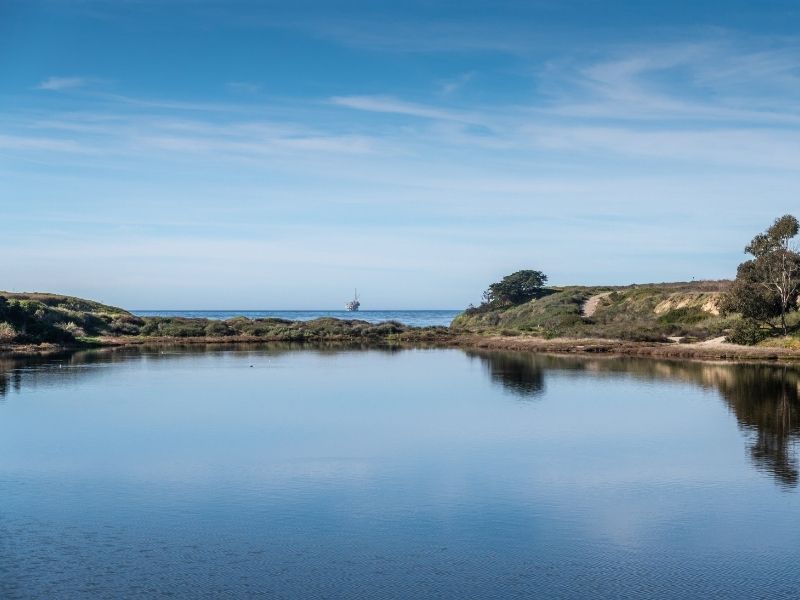 The Arroyo Hondo Preserve is only a few miles north of the campground on Highway 101, and is a great way to learn about native plants and wildlife in Santa Barbara.
Gaviota State Park is another spectacular part of Santa Barbara County and is easily accessible from El Capitán.
It has its own campground, large stretches of undeveloped beaches, and hiking trails that lead to interesting features such as wind caves and a hot spring.
The accessibility, natural beauty, and large range of activities in and around El Capitán really make it stand out among other campsites in the area.
Los Prietos Campground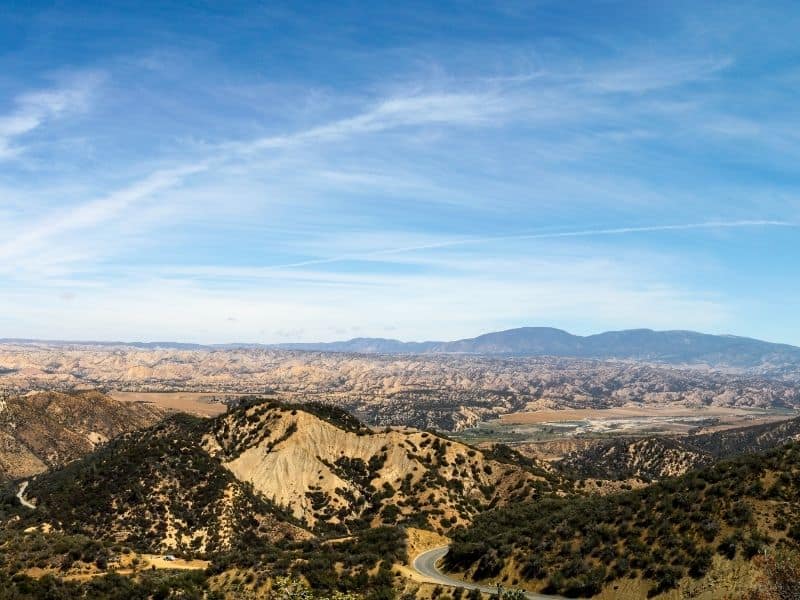 The beautiful Los Prietos Campground is a little farther from the coast than some other campgrounds in Santa Barbara County, as it is nestled in the Santa Ynez Mountains in the Los Padres National Forest.
It is a bit more remote, about a 45-60 minute drive from downtown Santa Barbara, so it's good for those who really want a city escape.
There are both tent and RV sites available at this campground but no utility hookups. There is drinking water, flush toilets, and trash bins available to visitors as well.
This shady campground is located in the middle of a forest of coast live oak trees. Paradise Road, which runs past the campsite, leads to the popular day use areas White Rock and Red Rock.
Through these areas, you can access the Santa Ynez River for swimming, fishing, or just relaxing. These day-use areas also include many trails for mountain biking or hiking.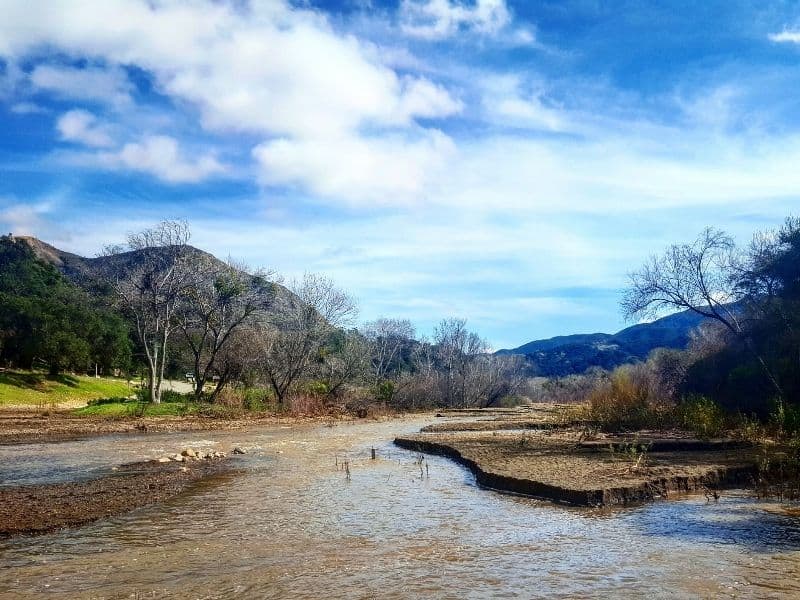 The Gibraltar Dam is a great day hike that starts from Red Rock and takes you through the scenic mountains of Santa Barbara County. A short walk from Red Rock will lead to additional swimming holes with jumping rocks of various sizes.
Unlike many swimming areas in the Santa Ynez mountains, the swimming holes and streams near Los Prietos campground usually have a substantial amount of water year-round.
During times of high water, the Red Rock area may be difficult to access due water covering part of the road. High clearance, 4X4 vehicles may be able to cross, but it is usually not recommended during high water.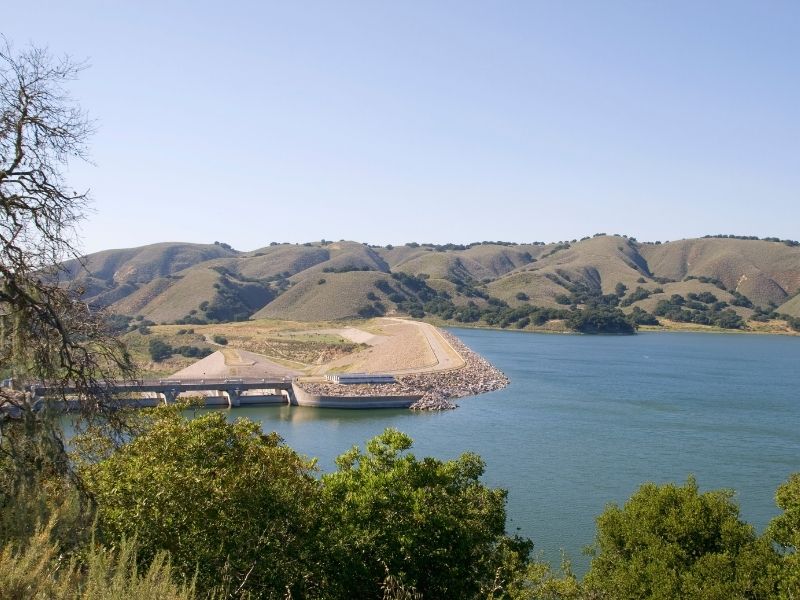 Lake Cachuma is another water feature in the Santa Ynez that is about 15 minutes away from Los Prietos Campground. It's significantly larger than the rivers and swimming holes in the immediate area.
This is a great lake for freshwater activities like fishing, paddleboarding, and kayaking. There is a general store with gasoline and groceries, and there are kayak rentals and a full tackle and bait shop, along with many more hiking trails.
Los Prietos Campground is one of many located on Paradise Road, but its central access to many of the activities and places that make the Santa Ynez unique make it an outstanding place to camp.
Jalama Beach County Park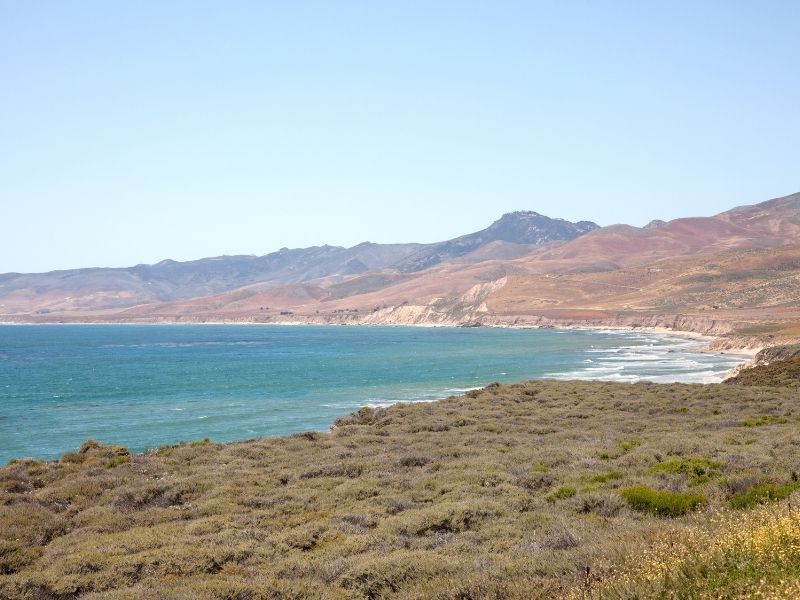 At Jalama Beach County Park, you can enjoy a large stretch of undeveloped coastline right from your campsite.
Jalama is about an 80-minute drive from downtown Santa Barbara, and a 45-minute drive from Lompoc.
This is a remote campground in Santa Barbara County, since there are no amenities such as gas stations nearby, so you'll want to pack everything you need for your trip.
The surrounding area features rolling hills and ranching land with no sign of the beach, but in the last few miles the view from the road opens up to the Pacific.
Jalama is another great place for marine activities, especially surfing, bodyboarding, and fishing. It's also known for sports such as windsurfing and kite surfing.
Geographically, Jalama is very exposed to the open ocean compared to other beaches in Santa Barbara County. This causes large ocean swells and high wind speeds to occur frequently, which can make good conditions for these types of sports.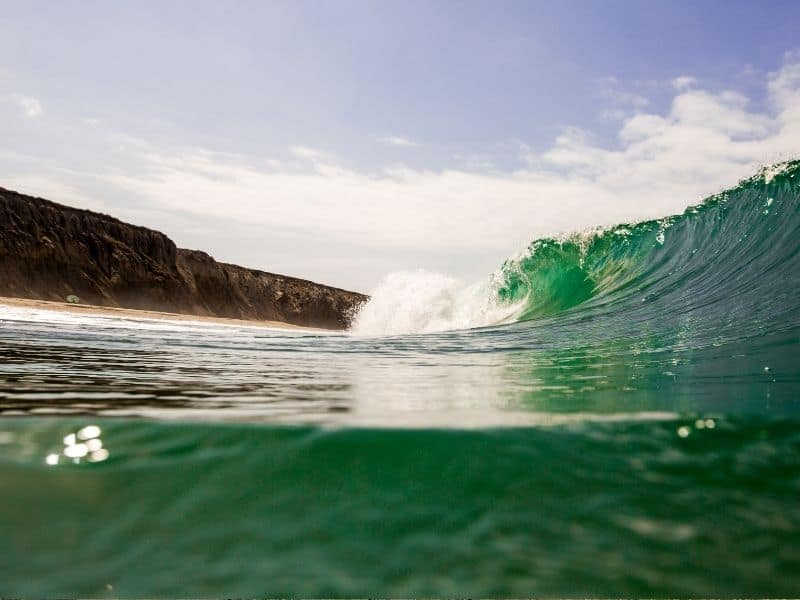 There are some great opportunities for diving and snorkeling as well. During smaller swells, the water visibility tends to be pretty clear, and there are underwater reefs and kelp forests to explore.
Although there are no nearby amenities outside of the campground, there is a small shop with groceries and other camping supplies attached to a restaurant.
You can try the "World Famous Jalama Burger" at the restaurant, which is filled with vintage photos and historical information about Jalama State Beach and the surrounding area. Visiting the restaurant is a delightful way to unwind, relax, and enjoy quality food after an afternoon spent exploring the coast.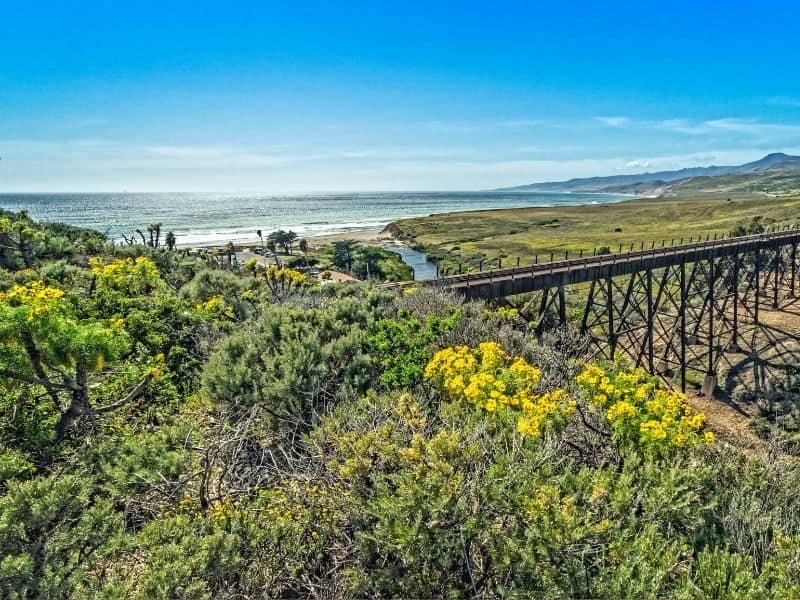 There are 107 campsites at Jalama that can be reserved up to 6 months in advance. 31 of these campsites include electrical hookups for RVs, and the campsite also provides dump stations, beach wheelchairs, and hot showers.
If you're looking for a more luxurious experience, you can stay in one of the 7 cabins at Jalama. Each of these cabins sleeps four, and one of them is ADA accessible.
The range of amenities and activities available to visitors at Jalama make it easy for anyone to enjoy the remote, undeveloped coast of western Santa Barbara — camping style!.
Nira Campground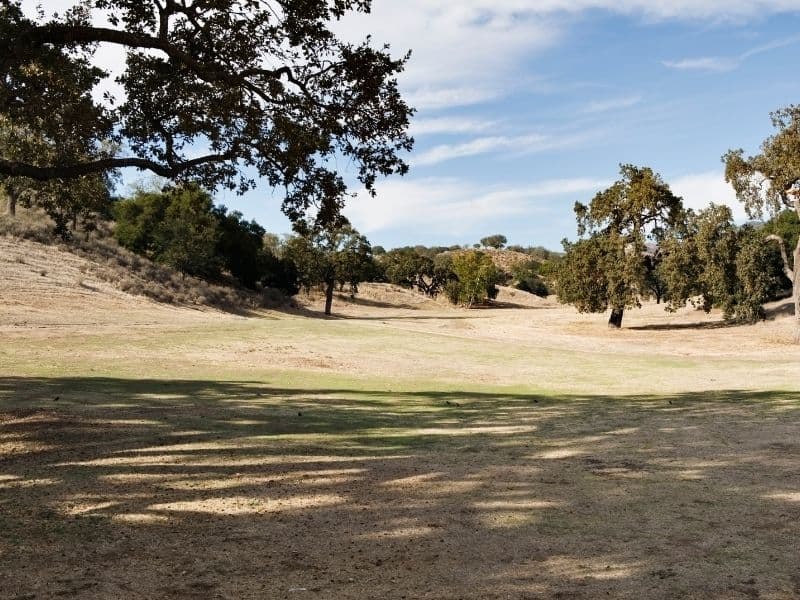 Nira Campground is a great basecamp for those looking to explore the backcountry of Santa Barbara County.
Nira has great access for many trails in the San Rafael Wilderness, which is known to have some of the best backpacking and day hiking in the area.
This is a small, remote campsite near Santa Barbara located in the undeveloped oak woodlands that characterize the mountain ecosystems of the region.
There are only 12 sites that are ideal for tent camping, but some sites can accommodate small trailers under 20 feet. There are very limited amenities at Nira. There is a vault toilet, but you cannot expect water to be provided at the campground.
Although there is no filtered water, the Manzana River runs right through the campground. This makes Nira an optimal place for activities such as swimming and fishing. Many trails that start at Nira follow the Manzana River and other creeks that drain into it.
The weather can be very warm in these mountains during the summer, so having access to so much water is a real treat. If you're feeling really adventurous, you can hike all the way to the Sisquoc River, which is about 15 miles from the Nira Campground trailhead.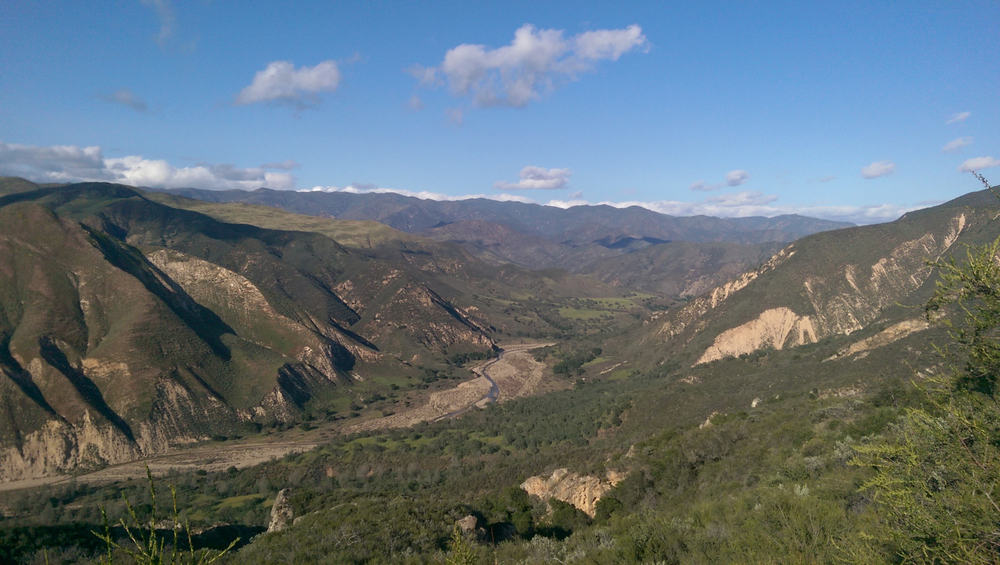 You can break the large trek up into a multi-day trip and stay at lush, shaded camps such as the Manzana Narrows.
Nira is a backcountry hiker's paradise, but that's not the only way to enjoy it. Nira is about an hour drive from Los Olivos or Solvang, and over an hour and a half from downtown Santa Barbara.
Due to the lack of development in the area, anyone interested in enjoying native wildlife has a great chance of finding it. The birdwatching is excellent, since birds tend to flock to the water sources near the campground.
There are also great opportunities for deer hunting (with a permit and only during the hunting season) in the San Rafael Wilderness and plenty of mountain biking trails. Nira Campground is a perfect place for anyone looking to rough it and enjoy a pristine, mountain experience while camping near Santa Barbara.
What to Pack for a Santa Barbara Camping Trip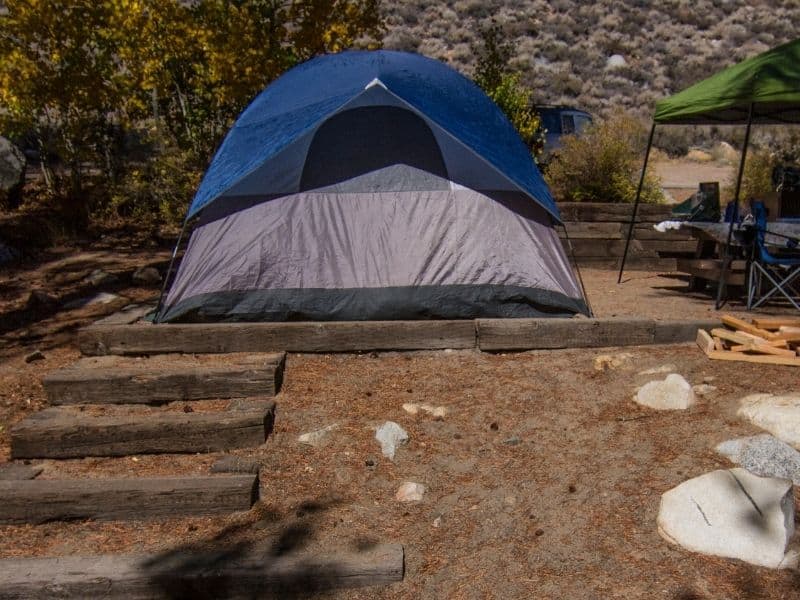 Lightweight tent: This lightweight North Face Stormbreak 2-person tent weighs only 5 pounds 5 ounces, which is a nice low weight given the cost. It's a good 3-season tent with loads of headroom, easy pitching design for fuss-free set-up, and there's plenty of room for two people to share.
Sleeping bag (30 degree or colder): While you may be camping in California, that doesn't mean it doesn't get cold at night — especially on the California coast or in the desert in the winter! You can spend a fortune on a sleeping bag, but you don't have to.
For a comfortable sleeping bag that won't break the budget, I recommend the REI Trailbreak 30 (men's version) and (women's version). You can go more high-tech, but then you're looking around the $300 range. Great if you camp a lot, but for beginners, you may want to start with a more affordable version until you decide you really are a camping person.
Sleeping pad: This is what takes you from cold, uncomfortable nights on rocky ground to tent comfort! You can buy a cheaper version like the REI Trailbreak Self-Inflating Pad, but I'd recommend going with the Flash Thermal if hiking the trail in spring or fall, when the nights can get really cold!
First aid kit: You'll want to pack a small kit with the things you need — but in my opinion, it's better to buy a pre-made first aid kit as it'll likely cover things you might forget. I recommend this HART Weekend First Aid kit, which has all you need for 2 people for 2-3 days of camping.
Water Filter: There are a wide variety of water filtration systems and treatments, but I have two preferred brands: LifeStraw and GRAYL. The LifeStraw set-up I recommend is this one: LifeStraw Flex. It has a 2-stage filter that removes over 99.999% of bacteria, parasites, and microplastics.

It can be used as a personal straw (its original iteration), but it also can attach to a gravity bag (included), a water bottle, or a typical hydration bladder. Each filter can be used for filtering up to 1,000 L of water. If you just want a water filter/water bottle set-up, I recommend the GRAYL Geopress. It's compact and easy to use!
I recommend the LifeStraw Flex if your water sources are fewer and far between, and the GRAYL Geopress if you have an easy water source and just need to filter it between refills.
Cup: For water at the campsite if you don't want to use your water bottle — or for a celebratory glass of wine if you're the kind of person brings a bottle of California red on your camping adventures to celebrate the end of a long day's camp! I like this Hydroflask cup.
Mug: You'll want a mug for morning coffee or tea! Bonus points if it has a cute design for morning campsite snaps, too.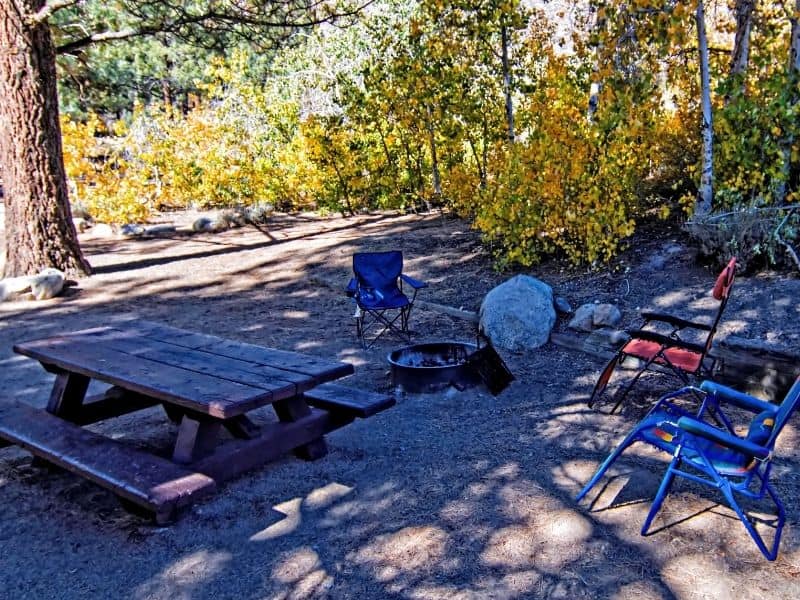 Spork or similar utensil: You can't forget a spork while you're backpacking!
Bear canister: Keep your food away from bears with this bear-resistant canister! Yes, it's heavy, yes, it's bulky, and yes, it's absolutely necessary if you're in bear country.
Day pack: An easy to zip-away day pack is helpful to have when camping so you can easily put small things that you want more accessible and handy when you leave your campsite to do some nearby adventures.
Food: I recommend freeze-dried meals! AlpineAire is a favorite of many campers and has tons of choices: this black bean and beef chili is a fan favorite. Patagonia also has a great selection including lots of vegan options: vegans love this spicy red bean chili. For breakfast, grab some granola with blueberries and milk packets and some tasty Kuju instant coffee!

Of course, you could also bring a cooler and some meat, sausages, and vegan goodies if you want to grill things up or have a BBQ.
Clothing: It can get chilly at night so plan accordingly. You'll want at least 2 shirts (synthetic or wool, long and/or short sleeve depending on the season), 2 pairs of leggings or long underwear, 1 fleece or wool outer layer, a waterproof jacket, waterproof pants, beanie, gloves, and 3 pairs of socks.
Optional Gear for Santa Barbara Camping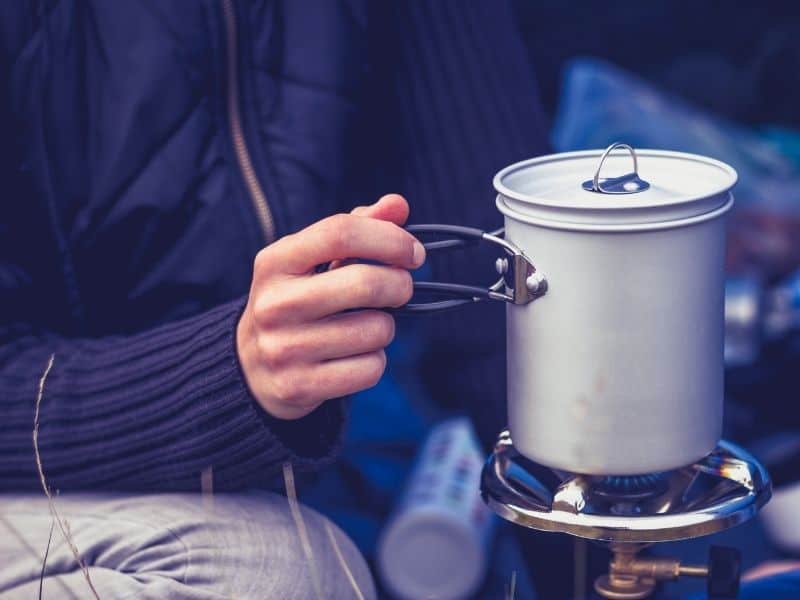 Backpacking stove: This will depend a bit on your set-up and whether or not your campsite has grills or fire pits (and if you're allowed to use those fire pits!).
No matter what, be sure to get your California campfire permit before embarking to any of these Southern California campgrounds.
If you don't want to deal with starting a fire, and you're planning on eating only freeze-dried meals, oatmeal, ramen, and other "just-add-boiling-water" dinners, you can get by with a lightweight Jetboil, which weighs in at less than a pound (fuel included) and is also great for making coffee in the morning!
If you want a more "cooking-friendly" set-up including pots and pans, check out this surprisingly lightweight Optimus camp stove that comes with a frying pan and cooking pot at under a pound of weight (not including fuel).
Note that during peak fire season, even things like the Jetboil may not be allowed — please check with your local rangers regarding any fire restrictions.
Fuel: If bringing your own cooking gear, make sure you have plenty of fuel for whatever your backpacking stove set up is! And if you're doing a fire pit (during a time without campfire restrictions), research if you need to BYO firewood and kindling.
Camera: I use and love my Sony A6000! It's mirrorless, so it's lightweight and perfect for a high-quality camera that won't weigh your daypack down while out and about on your daily adventures.
Journal and pen: For noting down all your camping thoughts!
Board games: For campsite fun — my favorites are Scattergories and Cranium!
Sandals: To change into once you reach your campsite! Tevas are a favorite, and they're a nice break from the sneakers or hiking boots you'll likely be wearing most of the day out.
Sunglasses: To give your eyes a break from the sun during your daily activities
Sunhat: To keep sun off your face – I recommend a packable hat like this one which has a strap so it won't blow off in gusts of wind and you can easily wear it on your back when you don't feel like wearing it on your head while hiking, boating, and enjoying Southern California's beautiful scenery!
Pin This Guide to Camping Near Santa Barbara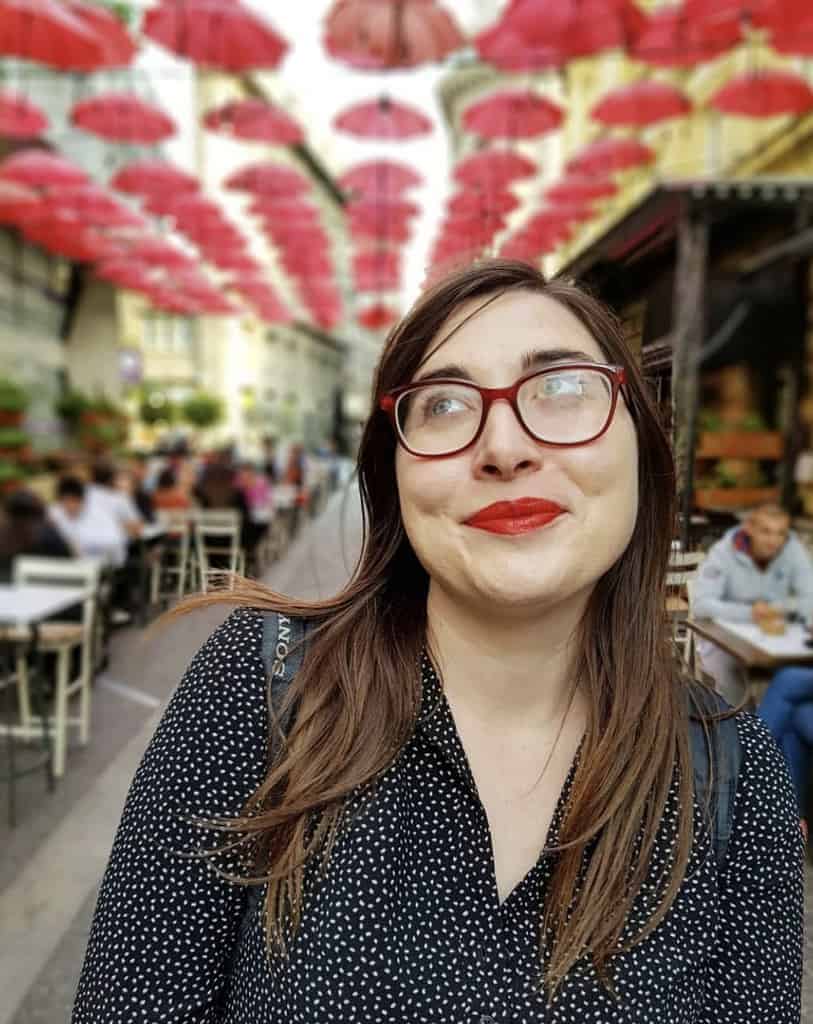 Allison Green is a travel blogger, writer, and podcaster who grew up in the Bay Area of California. She has spent time living in New York, Prague, and Sofia, but has returned to live in the East Bay. She has traveled to 60 countries before the age of 30 while running several digital travel publications. Her writing and podcast have been featured in Forbes, CBC Canada, National Geographic, the Huffington Post, and CNN Arabic, amongst others. She's obsessed with bouldering, houseplants, other people's pets, and anywhere she can see the ocean.