There are many reasons you may only have one day in San Francisco!
Perhaps you have a layover in San Francisco on your way to another destination. Or maybe you're just passing through on a Pacific Coast Highway road trip, and have only one day in your itinerary available for San Francisco.
Whatever the reason, you can still spend one day in San Francisco and experience it as much as possible.
As small a taste as it may be, you will not regret your time spent enjoying a day tour of this beautiful city by the bay.
This guide will help you get the most out of your 24 hours in San Francisco, with local expert advice on how to maximize your time. 
If you have more time, we also have a guide to spending a weekend in San Francisco that you may want to read.
We're assuming it's your first time in San Francisco so we're loading it up with as many "must-sees" as possible!
San Francisco is a city famous for its concentration of steep hills and, relatedly, its cable car system, as well its gorgeous and colorful Victorian architecture peppered around the city.
And of course, San Francisco is also known for its fog (which is lovingly nicknamed Karl) and its temperate (though by no means warm!) year-round climate.
The beautiful heart of the Northern California coast, San Francisco is home to several bucket-list tourist attractions such as the Golden Gate Bridge, the Haight-Ashbury, and Fisherman's Wharf — all surrounded by ranging hills and sea. 
Not only is San Francisco beautiful in terms of its surroundings and its architecture, it's also beautiful for its plethora of culture, brought to you by its diverse residents and artists.
This day trip guide to San Francisco will give you a taste of what the city has to offer!
Of course, one day in San Francisco requires seeing a few of its main sights, but we've also made sure we offered a heavy dose of the lively neighborhoods that make the city so unique.
Before we share this one day San Francisco itinerary, there are a couple of things to consider when spending a day in the city.
Weather in San Francisco
Note: This post contains affiliate links, which earn me a small commission at no extra cost to you if you make a purchase using one of these links. Thank you for supporting this free content!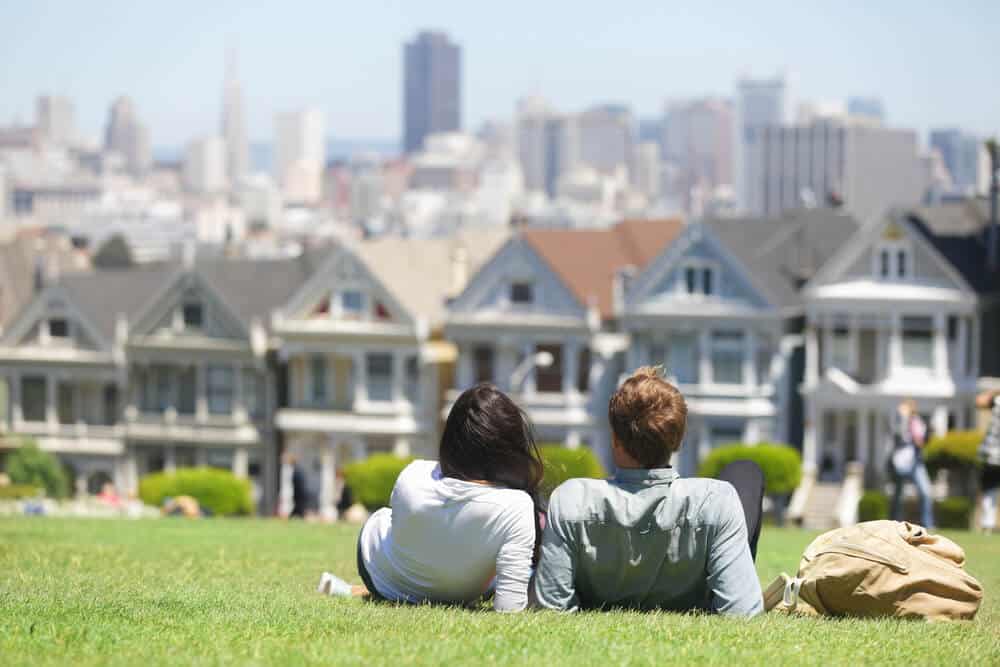 San Francisco is a city with unpredictable weather. It is pretty temperate and can be warm and sunny at times (though usually, paradoxically, not in the summer!).
It is advisable to bring some layers in your day pack, as it can get chilly, even in the summer. Clouds and fog roll in quickly and since it is right on the water, the air blown in can be quite brisk.
If you are visiting in winter, you should probably carry an umbrella or a waterproof jacket. Of course, check the weather first to make your decision.
Also, since you will most likely be on your feet for most of the day with this tour of San Francisco, most importantly, be sure to wear comfortable shoes!
What to Wear For Your Day Trip in San Francisco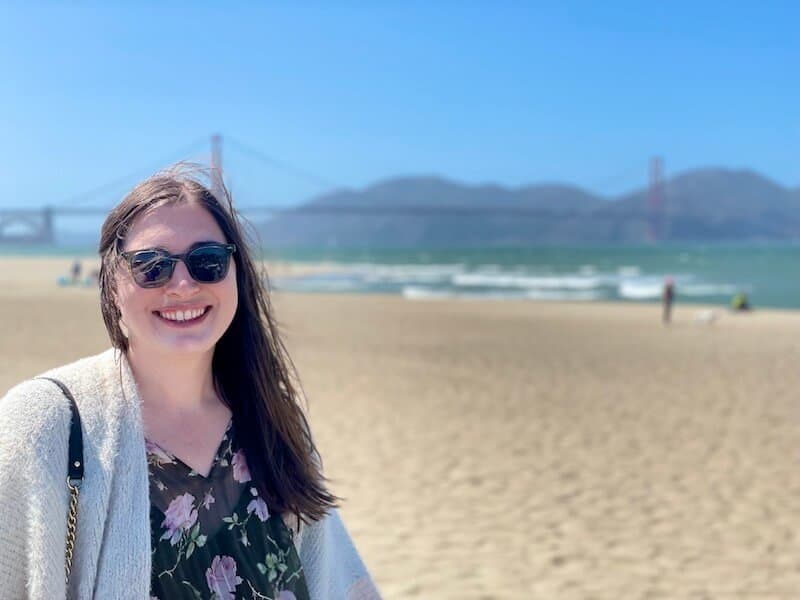 LAYERS | You'll absolutely want layers. That's just a statement of fact. Unless you're visiting in winter, it rarely rains in San Francisco, so a rain jacket usually isn't necessary unless you visit between December and March. If it is necessary and rain is in the forecast, I love this Marmot jacket.
You will want a warm outer layer (think: vegan leather jacket, faux shearling coat, trench coat), a sweater-like mid-layer or long-sleeve shirt, and a thin undershirt you wouldn't mind wearing as your main layer if it suddenly gets weirdly hot (as can sometimes happen!). 
Yes, I've been cold in San Francisco and gotten sunburned all at the same time. This city's weather is wild.
A SAFE DAYPACK | Opportunity theft is rampant in San Francisco, unfortunately. I love the PacSafe CitySafe backpack and have brought it with me to 30+ countries all over the world! 
When I'm bringing pricy stuff like my camera equipment into the city with me, I always bring my PacSafe, even though I'm a Bay Area local!
This backpack is lightweight and cute, but it has a lot of great anti-pickpocket features, such as double-locking zippers, slash-proof mesh inside the bag, and RFID blockers. 
PHONE CLIP | If you're worried about smartphone theft (which is another thing you need to watch out for in SF), this nifty little phone clip with a retractable cord will buy you peace of mind for just a few bucks. 
Avoiding opportunity theft is often just about being the least desirable target, so being prepared with things like a daypack with zippers thieves struggle to figure out or a secured phone will make you a far less appealing target than the thousands of clueless tourists taking 0 precautions.
COMFORTABLE WALKING SHOES | You will walk more and walk harder in San Francisco than basically any other city! With all those hills, you'll absolutely want comfortable walking shoes. If I know I'm going to be walking a ton in the city, I almost always wear my Nikes. Unfortunately SF is too cold most of the time for my beloved Birks!
Getting Around San Francisco
There are many ways to get around San Francisco.
Walking
One way is walking, as San Francisco is a relatively small and compact city, roughly 7 miles by 7 miles. 
This is the best way to get to know San Francisco in a really granular, block-by-block way.
However, with all the hills in San Francisco, I readily admit this is not the most enjoyable way of getting around the city unless you are a hiker with glutes of steel!
Public Transportation
SF also has a pretty extensive public transportation system and taxis/rideshare available.
However, even as a San Francisco Bay Area native, I find the MUNI system in San Francisco a bit confusing; BART, a little less so, but it's more of a regional transit system than an inter-city transit system.
If you only have one day in San Francisco, I wouldn't spend it struggling with public transportation.
Rideshare and Scooter/Bike Share
Instead, I'd rely on a combination of rideshare options and the fun electric scooters that are becoming a more common way of getting around the city — yes, hills and all!
There are Uber and Lyft Pool options that can help cut down on the cost of those services and they are pretty efficient ways of getting around the city.
The most fun way, in my opinion, is biking or riding an electric scooter or bicycle up and down the large hills of San Francisco!
There are a few scooter and bike-share apps to use. You can pick them up and leave them at the next place you go. You can also lock them at the location you land and take it to the next place until you are ready to return it to one of the kiosks for bikes and scooters.
You can also do an actual motorbike with Scoot, who offer electric motorbike rentals through their app.
If you want to use this option, you need to plan ahead as it is required that Scoot verify your driver's license which can take up to 24 hours.
Hop-On, Hop-Off Buses
Another option is having a hop-on, hop-off bus ticket that will cover all the major sites on this itinerary.
This is not the cheapest option (though it does probably compare to taking Ubers everywhere), but it is one of the most convenient.
This is the hop-on, hop-off bus I recommend, which also conveniently includes a ticket to Alcatraz! It is good for 48 hours, Thursday through Monday, running from 9-5 PM.
Note that there are no buses Tuesday or Wednesday so it would not be worthwhile if your trip is on those dates.
The stops include the following: Golden Gate Bridge, Golden Gate Park, the Haight-Ashbury, Downtown & the Financial District, Chinatown, the Civic Center, the Embarcadero, Fisherman's Wharf & the Ferry Building. 
So basically, almost everywhere on this itinerary!
Book your hop-on, hop-off bus ticket + Alcatraz ticket here!
Your One Day in San Francisco Itinerary
Start the day in the Haight-Ashbury.
On this journey of San Francisco we will start in the Haight.
The Haight-Ashbury is famous for being the epicenter of the hippie movement of the 1960s, especially the "Summer of Love" in 1969.
You will find in this area a lot of art, murals, vintage shops, clothing boutiques, and tattoo parlors, along with little shops selling things like crystals, clothes, incense, and other new-agey types of things paying homage to the Haight's hippie roots.
You will also find lots of coffee shops and great little breakfast spots. Zazie is a couple of blocks off Haight and is a favorite breakfast spot amongst locals.
Want something quick and light? Check out Cafe Cole on Cole Street for a healthy morning smoothie.
On Haight Street, itself check out Wake Cup or Coffee to the People, which both sell excellent coffee.
Take a long walk through Golden Gate Park.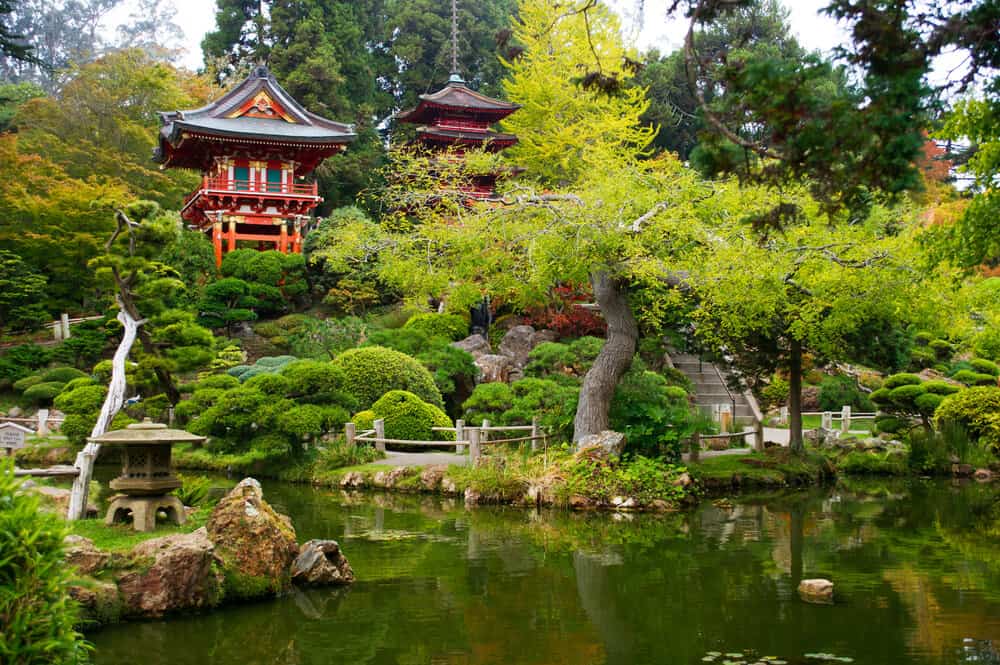 Once you've had your morning charge up, head on into Golden Gate Park. It is one of my favorite places in the city.
It is one of the largest urban parks in the world (larger than Central Park – take that NYC!) and there is so much to do!
There are multiple museums, like the deYoung Art Museum and the California Academy of Sciences inside the park
However, museums do take some time to see properly, so you may save a visit to the museums when you have more time to spend in San Francisco.
You should, however, pop into the deYoung's observation deck, Hamon Tower, which is free and offers beautiful 360-degree views over the park and city.
There are still some nice spots to check out while you walk, bike, or scoot through the park.
Personally, I recommend you get a bike or scooter, as the park is way too big to see it on foot if you have just one day in SF.
Luckily, the Botanical Gardens, Japanese Tea House, Rose Garden, and​​​​the Conservatory of Flowers are all within the same vicinity, and this is all walkable.
I suggest picking one or two to visit, if you have the time. Such beauty resides in the park that it'd be a shame to miss it. My top two picks would have to be Japanese Tea House and the Conservatory of Flowers.
Though you may only have time to stroll the gardens, it is also fun to check out the Dutch Windmillon the far end of the park, near Ocean Beach.
They are Dutch-style, complete with a tulip garden that is in bloom in early spring. There is also a carousel and paddle boating to try out.
Golden Gate Park is also home to the free music festival Hardly Strictly Bluegrass, which usually happens in early October. The festival never fails to deliver on high-quality musical acts from many genres.
Head to the Castro for lunch and sightseeing.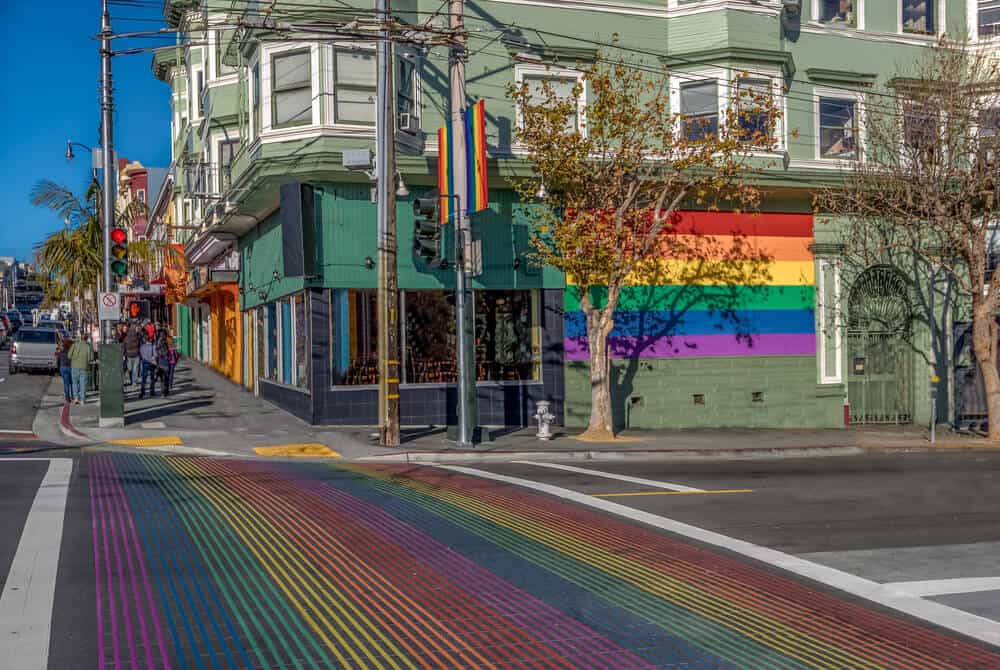 From Golden Gate Park, head on out towards the Castro for lunch. This is a bit far from Golden Gate Park, especially if you ended up at the windmills near Ocean Beach, so I suggest hopping in a rideshare to save time.
The Castro is a neighborhood famous for its connection with the LGBTQ community, and you'll find that connection celebrated loudly and proudly here.
Stop at Pink Triangle Park, a memorial park for the thousands of LGBTQ people that were killed in the Holocaust. A few other sights to see while in the Castro are the famous Castro Theater, and the rainbow crosswalk at 18th and Castro, a beloved San Francisco photo spot.
For food, try Starbelly which serves up California comfort food with a large amount of patio seating perfect for a warm day, or Tacorgasmico, a colorful Mexican restaurant serving delicious classics all on freshly handmade tortillas.
Head towards Japantown to enjoy some of its sights.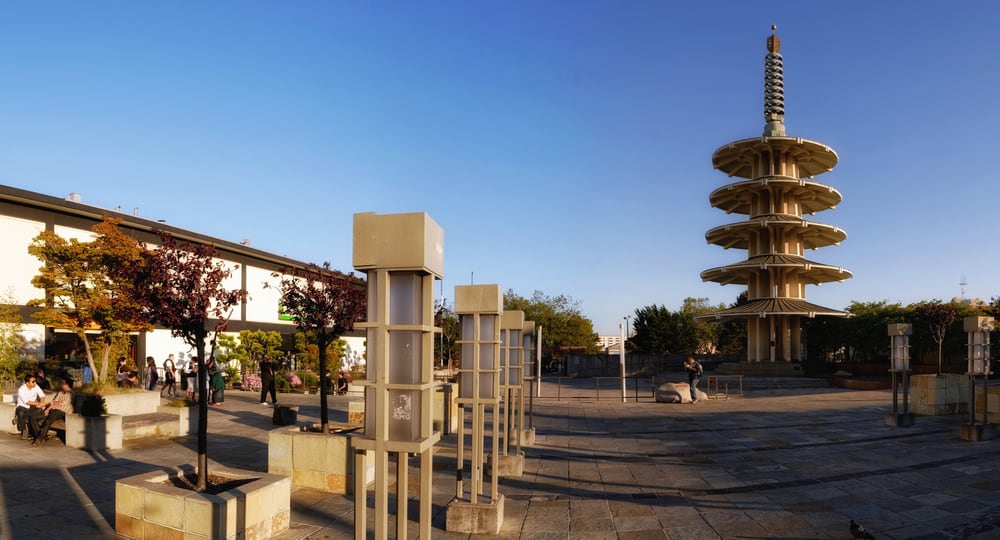 After lunch in the Castro, move on towards Japantown. It is a very small neighborhood, but it is filled with cultural experience.
San Francisco's Japantown is one of four left in America (all of which are in California), so this unique experience is definitely worth a visit.
Check out some of the neighborhood's monuments like the Japantown Peace Plaza with its famous Peace Pagoda and the Origami Fountain.
Enjoy the unique malls of Japantown, which are connected by a foot bridge, and also have excellent food and restaurants.
As you can guess, there is plenty of shopping to be done in these malls that will make you feel like you are really in Japan!
One of the best spots in Japantown, though, is the incredible bookstore Kinokuniya!
This Japanese import is part of a huge Japanese chain of bookstores, and the branch in San Francisco was the first outside of Japan.
They sell everything from books and manga and CDs to quirky Japanese novelty items such as sushi socks!
If your feet need a rest, enjoy afternoon tea at Crown and Crumpet, a popular spot in Japantown.
Just above it is the store Baby the Stars Shine Bright. This is a store filled with frilly, doll-like clothing known as "Lolita style". Totally worth a peep after teatime!
Want more Japantown suggestions? Read my full guide to visiting San Francisco's Japantown!
Head to Union Square.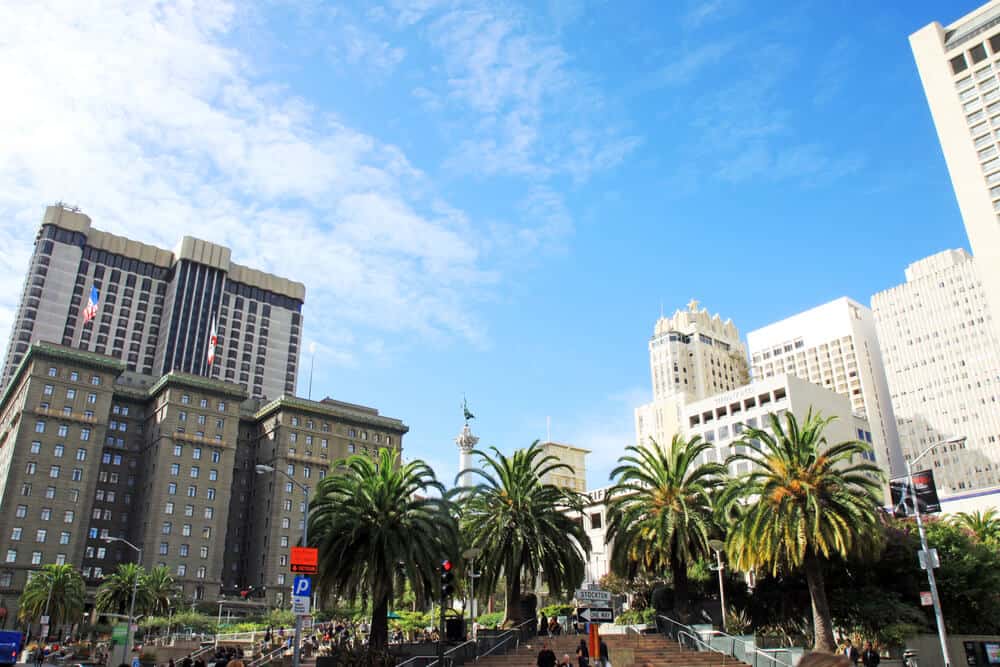 As we move through the day, head on throughUnion Square, conveniently located near to the Powell Street BART station.
Sometimes there are art displays up in Union Square or live music, but no matter what, there's always something going on.
The Union Square neighborhood is home to plenty of hotels, shopping, and restaurants. This area has one of the liveliest feels to the city, and it is often bustling with people.
During Christmas in San Francisco, this is where you'll find the main ice skating rink, large holiday tree, and other holiday sights!
Take a stroll over to Chinatown.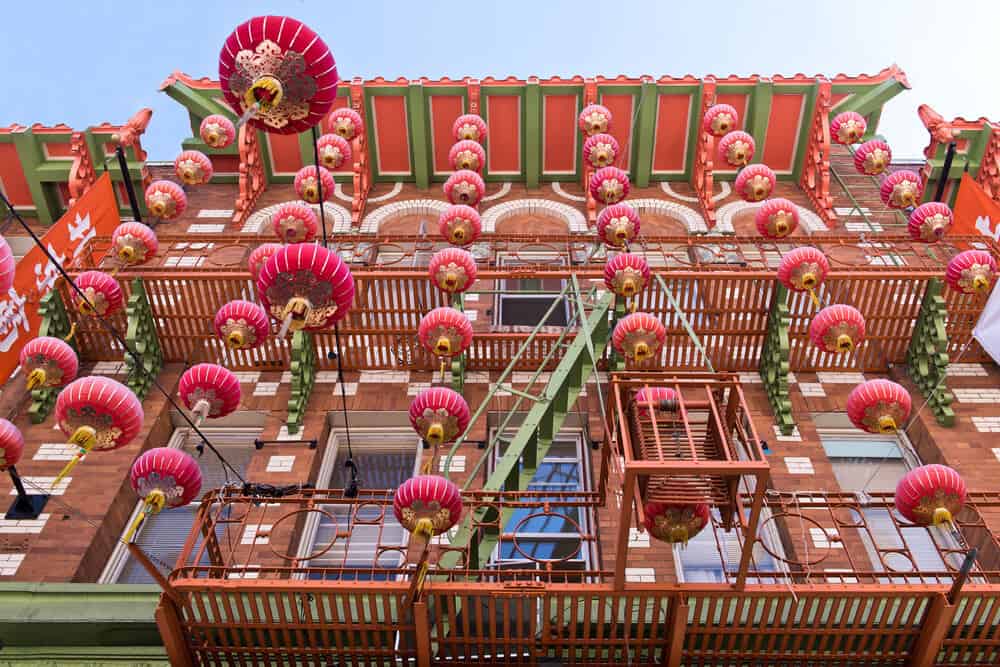 San Francisco's Chinatown is the second-oldest Chinatown in North America (after Mexico City's) and it's home to the largest group of people of Chinese heritage living outside of China in the world.
There are actually four Chinatowns within San Francisco proper, but for the purpose of this article, we're talking about the main Chinatown centered around Grant Avenue and Stockton Street.
Chinatown is so rich and immersive it could warrant its own day in San Francisco, but here are a few sights you should see if you just have limited time.
You'll likely want to snap a photo of the famous Dragon Gate, at the intersection of Bush St. and Grant Ave., which marks the south end of Chinatown.
Portsmouth Square is a cool small public park with interesting structures and a lively atmosphere.
You should also check out the Tin How Temple and my personal favorite place in Chinatown, the Golden Gate Fortune Cookie Factory, where you can see the bakers assemble these cookies entirely by hand!
And foodies, get ready: there's no shortage of delicious Chinese bakeries and takeaway dim sum shops to sate your hunger!
Bike, walk, or ride over to the Marina District.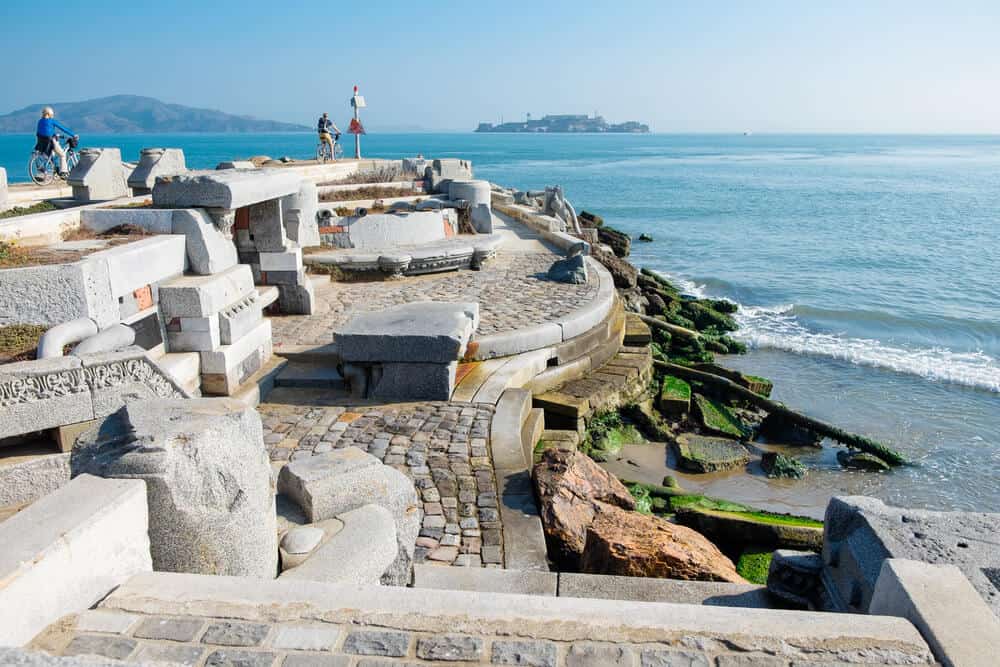 Now, a visit to San Francisco is not complete without a view of the Golden Gate Bridge!
If you only have one day in the city, walking across the Golden Gate Bridge is a bit too much of a time commitment for me to suggest it for this one day itinerary. 
However, that doesn't mean you can't get a good view of it!
For this, we need to cut over to the Marina District and head towards the Wave Organ.
It is a 20-minute bike ride, 1-hour walk, or a 15-minute car ride to this spot. There are also multiple bus routes you can hop on from Union Square, which take about 40 minutes.
Once you figure out methods of transport you will run into two fun experiences in one: seeing the Golden Gate Bridge while also checking out the very cool Wave Organ.
The Wave Organ is set on a small peninsula at the edge of the Presidio, technically in the Marina Green.
You can see the beauty of the Golden Gate Bridge well from here, with sweeping views of the Bay, and also peep Alcatraz Island and Angel Island off in the distance as well as gorgeous views of the city!
If you want, you can also pop down to Crissy Beach to see the windsurfers going wild in the San Francisco Bay on a windy day!
You could also make a stop at the Instagram spot that is the Palace of Fine Arts, a beautiful building dating back to the Panama-Pacific Exhibition of 1915.
Walk down to Fisherman's Wharf.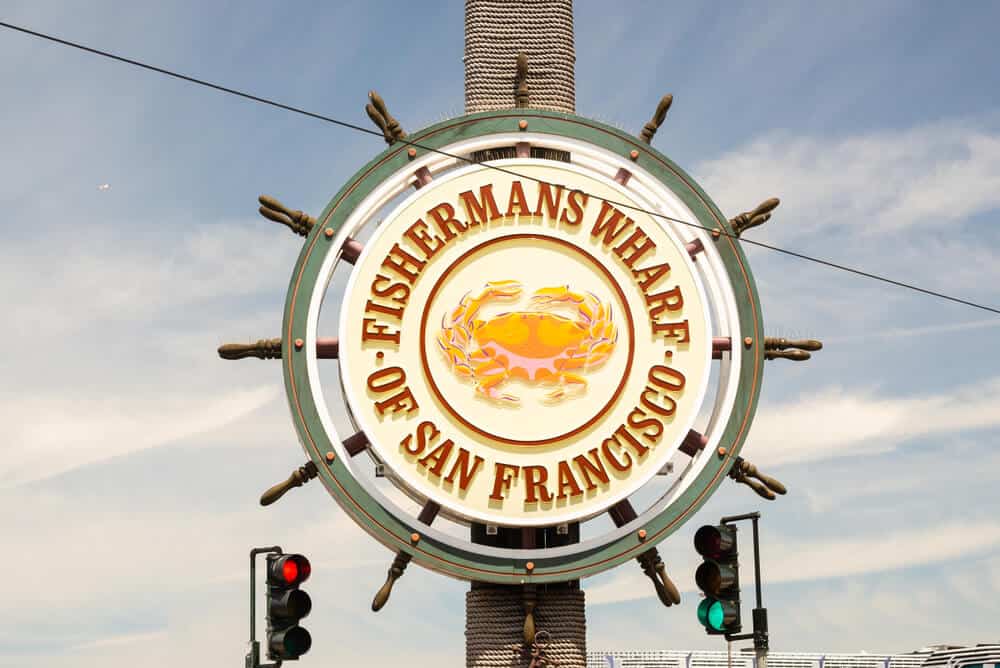 From there, follow the coast and head to the Fishermans Wharf and Ghirardelli Plaza.
Yes, both of these places are rather touristy, but hey! You've got one day in San Francisco: make it count.
Ghirardelli Ice Cream and Chocolate Shop is famous for its ice cream sundaes that you won't want to miss.
However, this can sometimes get quite crowded, so you'll have to decide for yourself if it's worth the wait!
There are also countless restaurants in this area, plus you will see many street performers and vendors.
You can eat fresh seafood like Dungeness crab and clam chowder (best enjoyed in a sourdough bread bowl, naturally — you can find these at Boudin!).
Alternately, you could order San Francisco's classic dish, cioppino (a tomato-based seafood stew).
Another fun thing to do while at Fisherman's Wharf is pop into the Musée Mechanique, which features real vintage arcade games from the 1800s onwards, which have been lovingly restored.
Admission is free, and each game costs as little as a dime to a few quarters to play! It's a great way to while away a bit of time in a uniquely San Francisco place.
See the sea lions at Pier 39.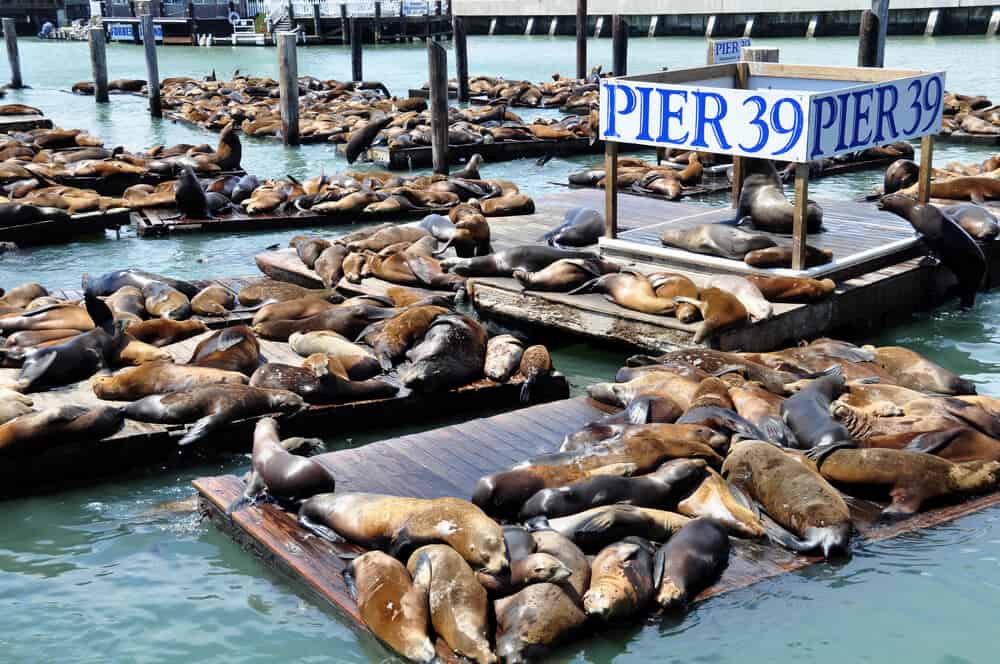 Be sure to make your way to Pier 39 for more San Francisco souvenir shopping, food choices, and most importantly — their sea lion viewing deck! 
Sea lions gather in large numbers on the pier to rest or swim around. They are really cool animals — though they are admittedly a bit noisy and smelly!
You can easily find something to eat for dinner and enjoy a drink in this area. My favorite thing is to grab a quick bite by hitting a seafood stall, grabbing a beer, and heading to a bench near the water to enjoy a casual dinner.
If you want to sit down, try Surisan for Korean-American or stick with the seafood theme with the Blue Mermaid or Fog Harbor Fish House.
Take an Alcatraz cruise.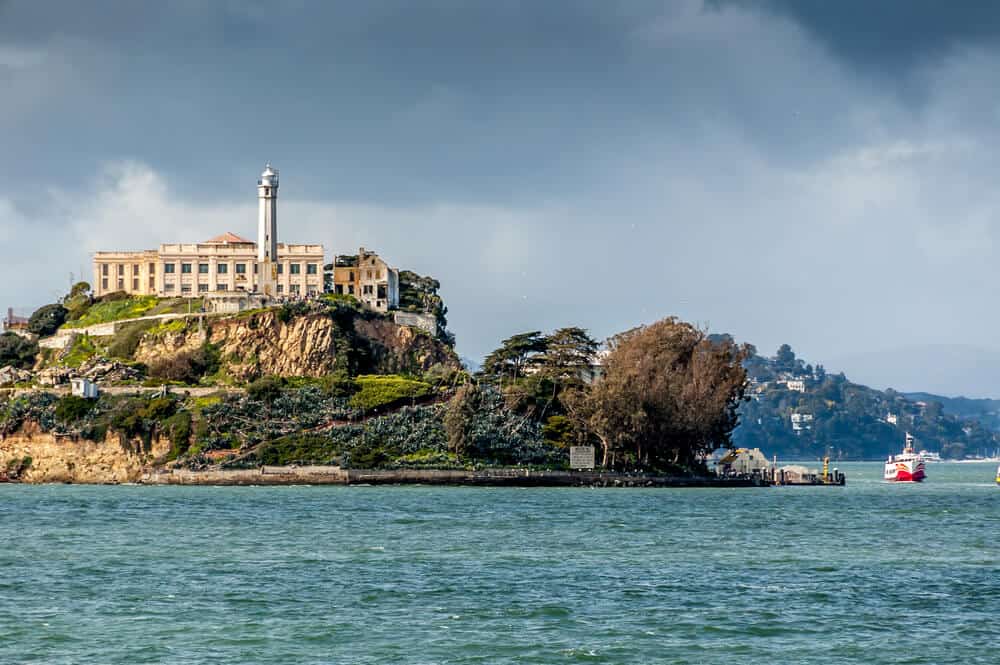 Of course, with just a one day itinerary for San Francisco, you're going to want to make sure you see one of the most famous attractions of the city: Alcatraz Island!
Keep in mind that you have to book your tickets to visit Alcatraz Island well in advance, especially if you are visiting San Francisco during peak travel seasons.
Another thing you'll want to keep in mind is timing, since you have to book a specific departure time.
I suggest booking your Alcatraz ticket for later in the day, as one of the last things you do before dinner, so that you can have a more leisurely day leading up to it.
If you book your ticket far enough in advance, you can book it through the official CityTours website for $41 per ticket. Book online here.
However, only a certain number of those are available. If you miss out, don't fret! There are ways to still visit Alcatraz even if you didn't grab one of the CityTours tickets.
In order to still get to visit Alcatraz, you'll have to buy a combined ticket (that's because it's not permitted to resell Alcatraz tickets unless they are bundled with another activity, like a bus tour, guided tour, or a small group walking tour).
If you only have one day in San Francisco, I suggest making your life a lot simpler with this hop-on-hop-off bus ticket + Alcatraz ticket.
The ferry ticket to Alcatraz is the only cost: entrance to Alcatraz Island itself is free, and the audio tour they give you when you enter the former jailhouse is also free.
Have drinks like a beatnik.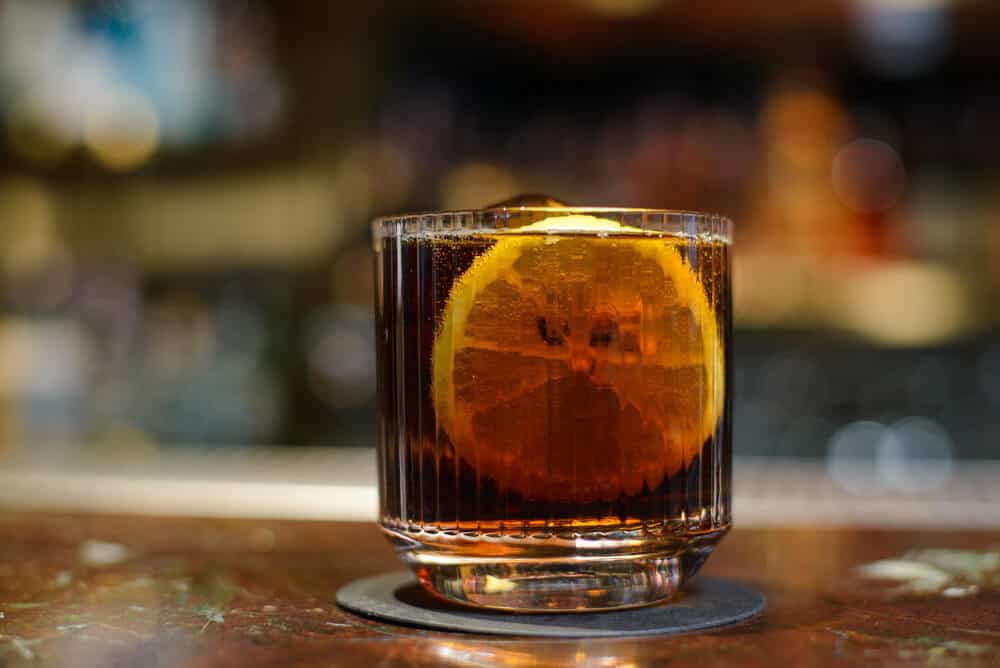 From here, I suggest heading over to Vesuvio on Columbus Ave in North Beach (San Francisco's take on "Little Italy") for drinks at this iconic place.
North Beach is a historically Italian-American neighborhood and you'll find a wide variety of Italian restaurants in this part of San Francisco.
Vesuvio was home to beat generation writers like Jack Kerouac, who were major influencers of the hippie movement.
There is even "Jack Kerouac Way" and The Beat Museum (a hole in the wall of a museum, but worth it nonetheless).
Of course, you should also visit City Lights if it's still open (it stays open until 8 PM daily) to peruse this famous bookstore.
City Lights is also a publishing house, and it was at the heart of the obscenity trial against Allen Ginsburg when he published his masterpiece "Howl," one of the most important poems in queer literature.
Bar hop through North Beach.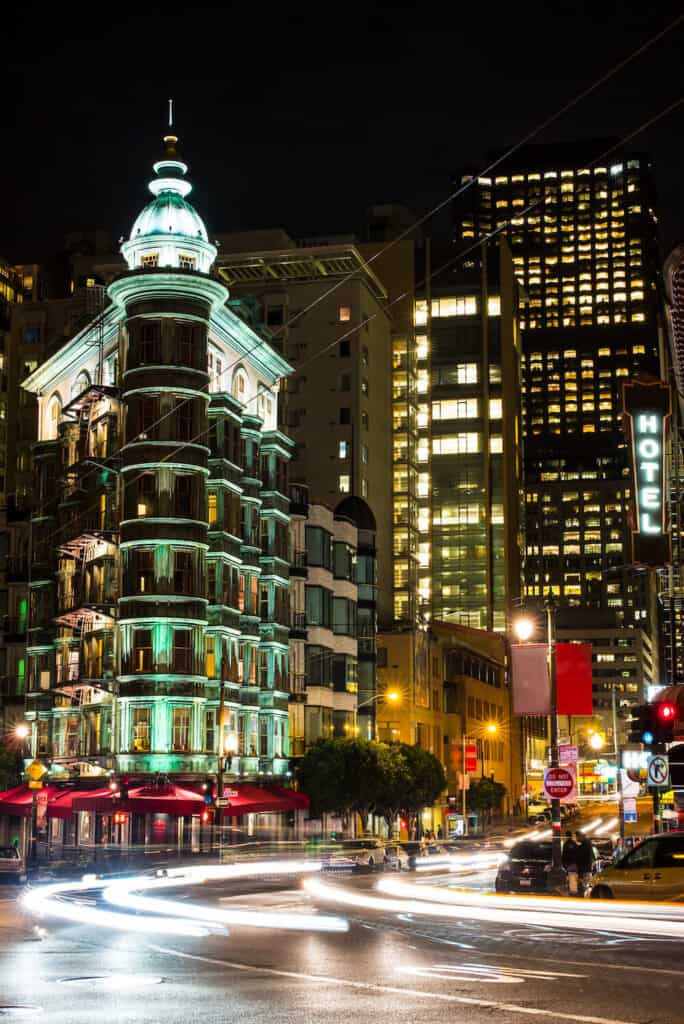 Turn your trip to North Beach into a pub crawl for the ultimate nightcap after a long, busy day in San Francisco. The bars in this area are really cool and unique.
Try Church Key for craft beers, The Devil's Acre for apothecary-themed drinks, or Maggie McGarrys for a traditional Irish pub vibe, among others.
***
By the time you cover all of this you will certainly be tired, and it will have been well-earned. Of course, you do not have to do everything on this list or even in the order provided.
Did we skip something that you think is a San Francisco must? Read below on a few popular sights we skipped and where you could add those into your day in San Francisco if you have time!
What Did We Skip on This One Day Itinerary?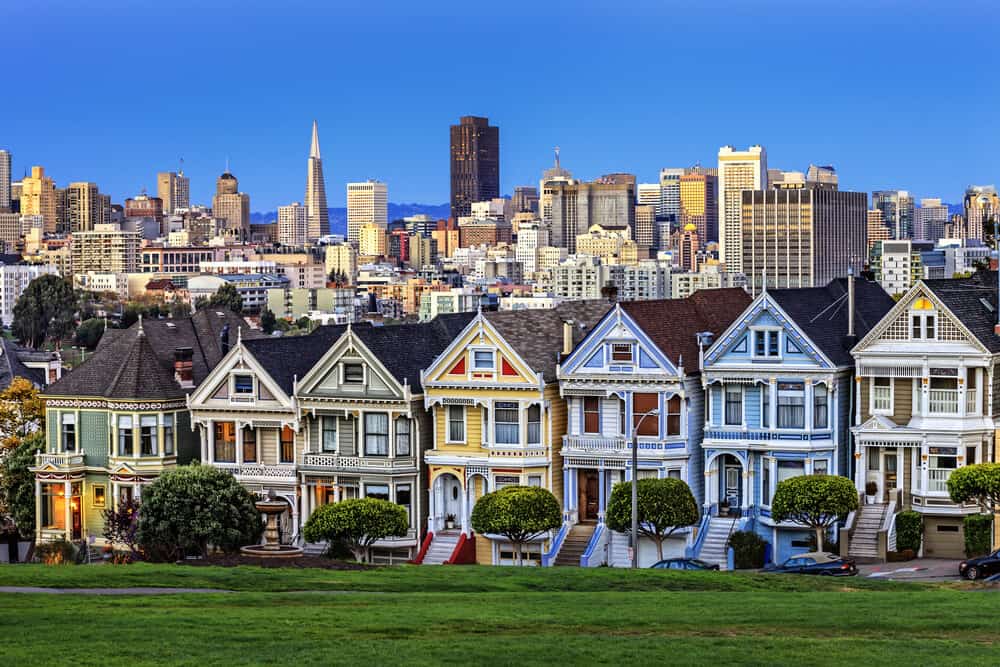 There are a few things that just didn't make the cut for one day in San Francisco the way that I wrote it out according to my preferences and what I thought would be the most convenient way of moving about the city.
However, if any of these San Francisco attractions are must-sees on your list, I'll tell you where to add it in.
We didn't swing by the Painted Ladiesand Alamo Square, but it's close to the Castro District if you want to try to squeeze that in.
We also skipped the Ferry Building along the Embarcadero, but it's close to North Beach and Fisherman's Wharf if you wanted to try to get that in.
You could also start your day with breakfast there before taking an Uber over to the Haight-Ashbury.
Lombard Street, the "crookedest street in San Francisco" also didn't make the cut for this one-day itinerary.
However, if you wanted to add it in, I'd suggest sandwiching it between Chinatown and the Marina district. It's easy enough to do if you choose to take a scooter or e-bike to the Marina.
Another place I skipped was Coit Tower, which you can see from various viewpoints in the city but aren't visiting directly on this itinerary.
That's because it's on a massive hill, Telegraph Hill, so even though it's close to Pier 33 where you'd catch your ferry to Alcatraz, the walk up to Coit Tower is not so simple!
However, this is where you would add it into your itinerary if you wanted to see it, after your Alcatraz visit!
Finally, this San Francisco day trip itinerary doesn't have you taking a cable car, but if you really wanted to, you could take a cable car ride from the Chinatown area over to the Marina.
Get on at either Powell & Clay or Powell & California and get off at the terminus at Hyde Street & Beach Street in the Marina.
However, note that these cable cars can be quite packed and you're not guaranteed to be able to get on at either of these stops!
Where to Go After Your One Day in San Francisco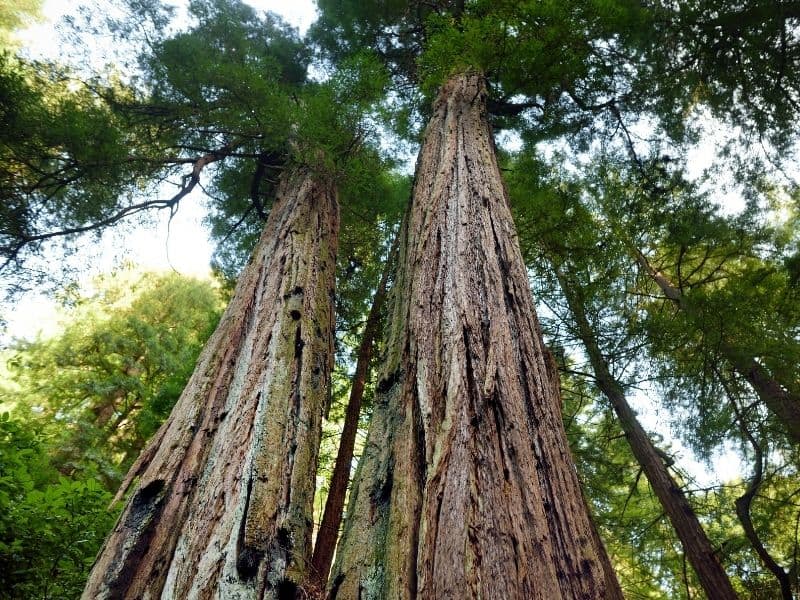 Assuming you're not just visiting San Francisco on a layover and then leaving, we have some suggestions for where to go next after San Francisco.
Muir Woods: For incredibly tall redwood trees and scenic peaceful hikes once you get a bit off the main trail. Book this in advance (read this guide here for more information) as reservations are required.
Sausalito: For a charming coastal small town vibe with views of San Francisco and some of the best restaurants in the Bay Area, this Marin County town is a great addition to a day in San Francisco.
Monterey: For a world-class aquarium, tons of history, and great whale watching and scuba diving. Just two hours away from the city, Monterey is a great addition to San Francisco trip, especially if you're also spending time in Carmel and Big Sur.
Carmel: For a European-village feeling getaway set on a beautiful beach, at the gateway to Big Sur and other points along the Central Coast of California. This is also a great starting point for some of the best hikes in Big Sur!
Yosemite National Park: For one of the most famous national parks in the USA and some incredible hiking opportunities, including hikes in Yosemite Valley and more offbeat high alpine spots in Tuolumne Meadows.
Napa Valley: For world-class wineries and incredible restaurants, all within a short distance from San Francisco. If you're visiting from San Francisco, read this guide.
Sonoma: For the excellent wines of Napa but with fewer crowds and lower prices. If you're visiting from San Francisco, read this guide.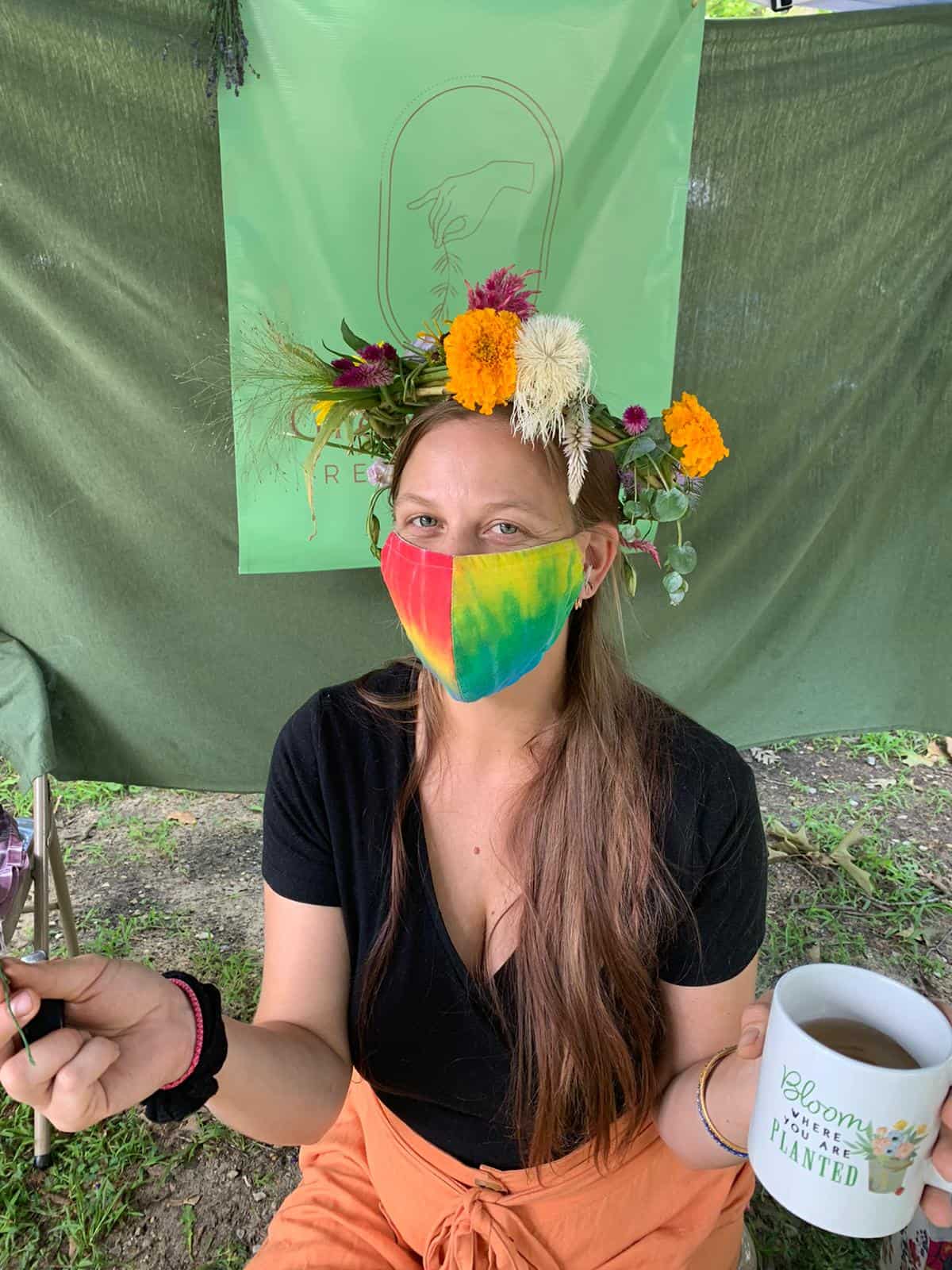 Allison is a writer, herbalist, musician, and lover of nature. She is an avid traveler and backpacker, having traveled throughout most of the United States and through parts of Asia and Europe. She has lived in Hawaii, Philadelphia, New Jersey, Boston, and of course, California. Allison has lived in California for 5 years, working on farms and in Yosemite National Park. She has been all over the state, enjoying many cities and of course, the many amazing outdoor wonders California offers. She currently resides in Aptos, Santa Cruz County, CA.