If you're planning a getaway to Napa Valley from San Francisco, this guide is your ticket to an easy, stress-free day out wine tasting.
Located just 50 miles northeast of San Francisco, Napa Valley is the perfect day trip from the Bay Area.
Depending on traffic, you can be transported to the rolling hills of Napa's wine country in as little as an hour. How's that for a day trip?
There are several ways to get from San Francisco to Napa. The best way to get to Napa depends on several factors, including what you plan to do, how long you plan to stay, and whether or not you want to do wine tasting while in Napa.
A Quick Note on Napa vs. Napa Valley
Note: This post contains affiliate links, which earn me a small commission at no extra cost to you if you make a purchase using one of these links. Thank you for supporting this free content!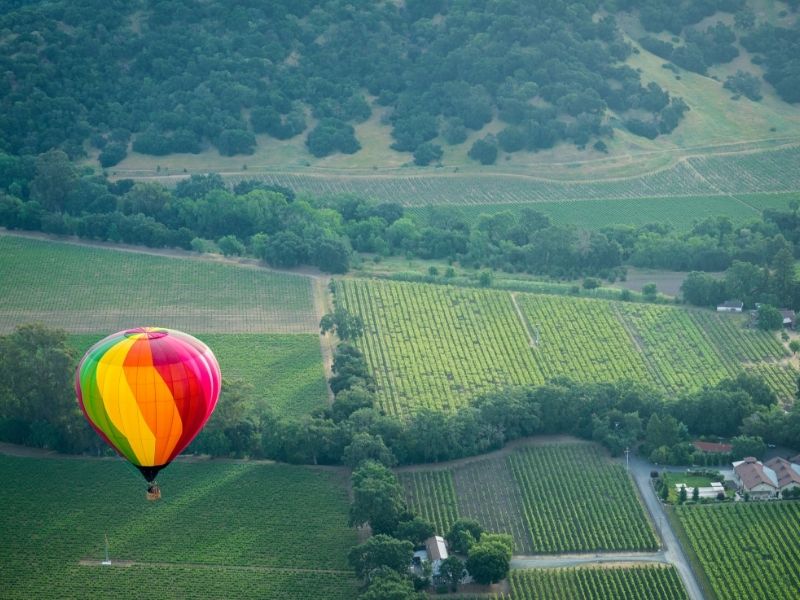 Downtown Napa is 50 miles from San Francisco, but Napa Valley stretches beyond just the city of Napa.
Napa Valley is roughly considered to be the area from American Canyon to Calistoga at the northernmost point, with the city of Napa located near the southern part of the valley.
Napa Valley consists of five different towns and cities. From south to north, those are American Canyon, Napa, Yountville, St. Helena, and Calistoga. Each has its own vibe — and its own price point!
Getting from San Francisco to Napa by Car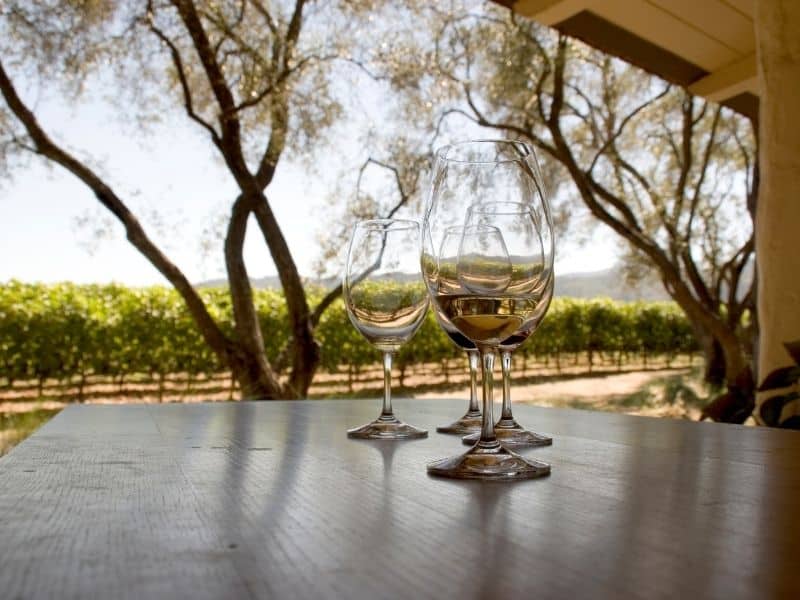 The most popular way to get to Napa from San Francisco is by car.
Most Bay Area locals have their own set of wheels, and the convenience of bringing your own car between the different Napa Valley wineries is unmatched.
There is typically a bit of traffic between San Francisco and Napa, but it's usually pretty manageable.
Typically, it takes about an hour to drive to Napa on the weekdays and about two hours on the weekends.
Depending on the traffic as well as where you are starting in San Francisco, you may route over the Golden Gate Bridge to Highway 101 North.
After that, you'll take the Route 37 Napa/Sonoma exit, then continue to Route 116, and then 121 and 29.
Alternately, traffic and starting point may have you going over the Bay Bridge, then up to 580-E, 80-E, then Route 29 (which overlaps some with 121).
Note that this route has more tolls than the first route, as you cross two bridges vs. one!
Of course, if you're starting at another point in the San Francisco Bay Area, your route may be different.
Pros
– The most cost-effective if you have your own car
– The easiest if you have your own car
Cons
– Bad traffic on weekends coming to and from Napa
– You need a designated driver if doing multiple wine tastings
Getting from San Francisco to Napa by Public Transit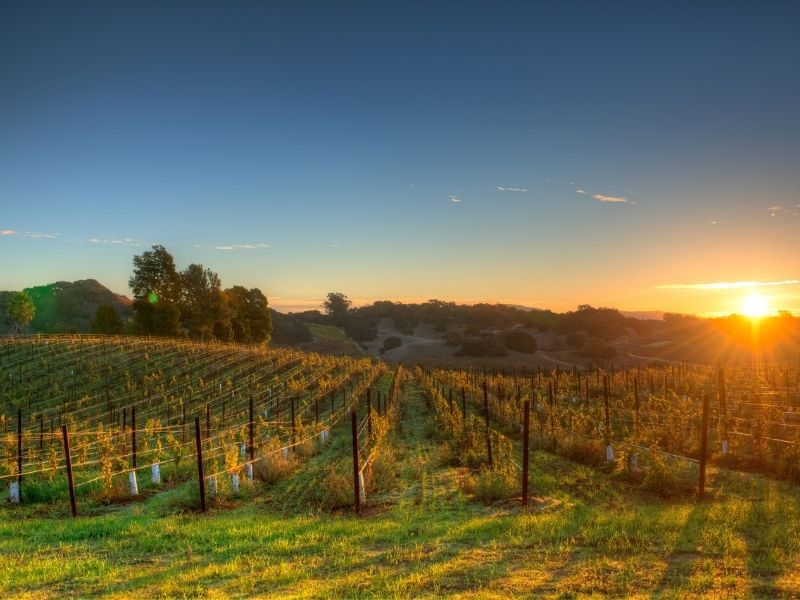 Despite its green image, California public transit is not always the best option.
However, it is fairly easy to travel between Napa and San Francisco by public transit. It's a good method if you're traveling solo, but if you're traveling in a group, a car is likely more cost-effective.
It takes about 2 hours to arrive in Napa by public transportation, which is not bad when you consider that it takes about the same amount of time to go by car.
One way is by BART. Take the Richmond line BART to the El Cerrito del Norte station.
From there, you can take Vine Transit bus line 29, which terminates at the Redwood Park & Ride in Downtown Napa.
However, a more central station is the Soscol Gateway Transit Center, which lets you out right near many Napa attractions such as the Napa River and Oxbow Public Market.
At the time of writing, it costs $4.80 to take the BART to El Cerrito, and then $5.50 to take the express bus from the El Cerrito BART to downtown Napa, for a total of $10.30 per person each way.
Pros
– Most climate-friendly; pretty economical
– No need to deal with traffic
– Easy transport if you just want to visit downtown Napa and its tasting rooms
Cons
– Difficult to get to and between different Napa Valley wineries
– Becomes expensive if you have to Uber to different wineries
Getting from San Francisco to Napa by Guided Tour
One of the most stress-free ways to get from San Francisco to Napa is by taking a wine tour!
This is the way I would recommend going to Napa if you are visiting San Francisco and want to take a day trip to Napa's wineries.
Renting a car in San Francisco is… a choice, and one that I don't generally recommend.
Parking in the city is expensive and stressful. Have you ever tried to parallel park on a steep San Francisco hill? Don't.
Taking public transit to Napa itself isn't too bad, but that'll only get you to downtown Napa, and then you're on your own — or reliant on Uber — if you want to visit wineries as opposed to tasting rooms.
And let's face it, the over-the-top wineries are why you go to Napa!
There are several options for Napa guided tours, depending on what you are looking for, so I'll cover a few different options.
Redwoods & Wine Country Tour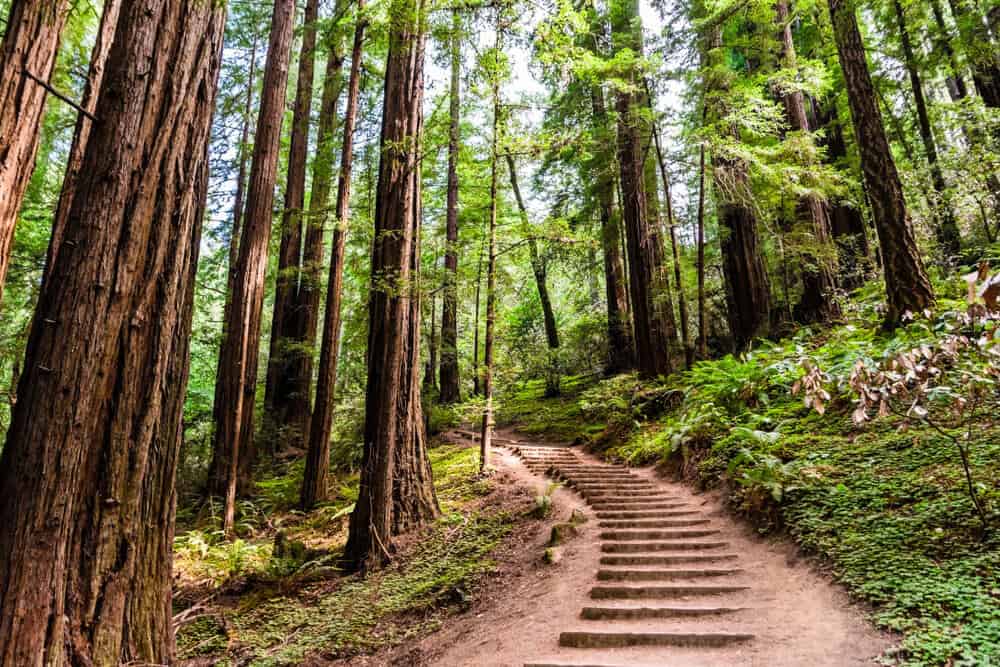 One of the most popular wine tours combines all of the best of Northern California wine country into one easy day trip!
This Napa Valley wine tour includes pick-up and drop-off at a San Francisco hotel and all the day's transportation and tasting fees. 
You'll also get a chance to visit the stunning redwoods of Muir Woods (note that an additional $15 fee to enter the park is not included).
After a walk through the redwoods, you'll be transported to the Napa and Sonoma wine region, where you'll get to do wine tasting at two Sonoma County wineries and a Napa winery, plus spend some free time in Sonoma Square.
Wine Country & Castle Tour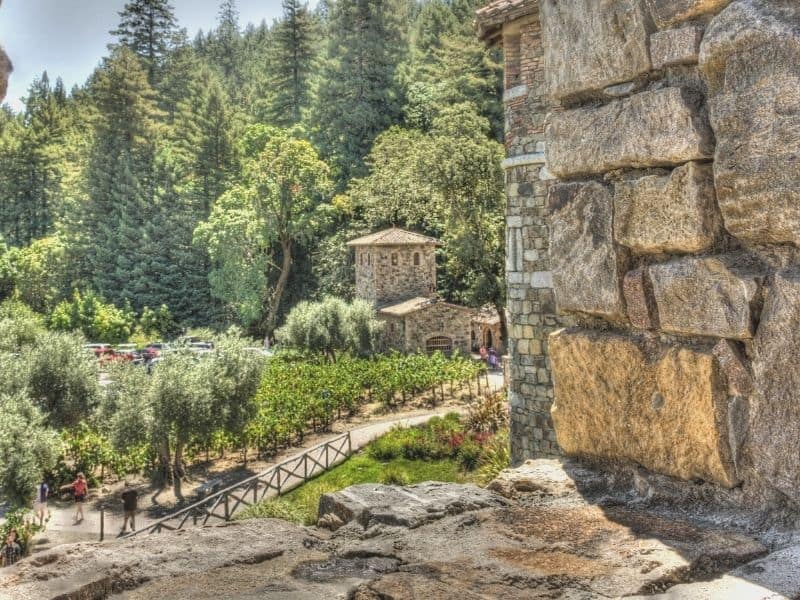 Another popular option for spending a day in Napa is this small group Napa Valley full-day tour.
Why is it so popular? It includes a stop at the famous Castello di Amorosa, one of the most spectacular wineries slash castles in California, that also produces spectacular Cabernets.
Besides Castello di Amorosa, you'll also visit the downtown of Calistoga, where you'll have lunch.
After lunch, you'll visit Tamber Bay Winery… which also just so happens to be a horse ranch with views of Mt. St. Helena! Varietals there include merlot, cab franc, and chardonnay.
Finally, you'll end the day in Carneros, one of the most underrated AVAs in the Napa region, before heading back to San Francisco — but not without a photo stop for some beautiful Golden Gate Bridge snaps, first!
Half Day Wine Tour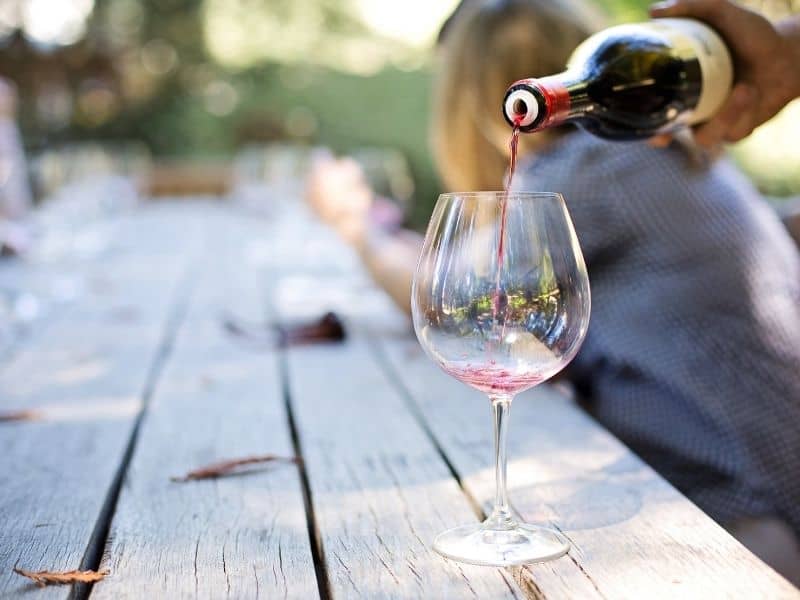 If you're scarce on either time or money when it comes time to planning an excursion from San Francisco to Napa, but you still would prefer a guided tour, this half-day Napa tour is the perfect option.
This tour departs from San Francisco and brings you to two wineries in the Napa Valley area, each with three to five tastings of different wines.
It includes all tasting fees as well as transportation, including pick-ups and drop-offs at either Union Square or Fisherman's Wharf.
You'll be back in San Francisco by the early afternoon so you can enjoy more time in the City!
Pros
– The easiest and most hassle-free way to see Napa Valley, especially if you're from out of town
– No need to worry about designated drivers or getting between wineries
Cons
– Can be on the expensive side, especially for groups
– Less flexibility in planning your schedule
Getting from San Francisco to Napa by Ferry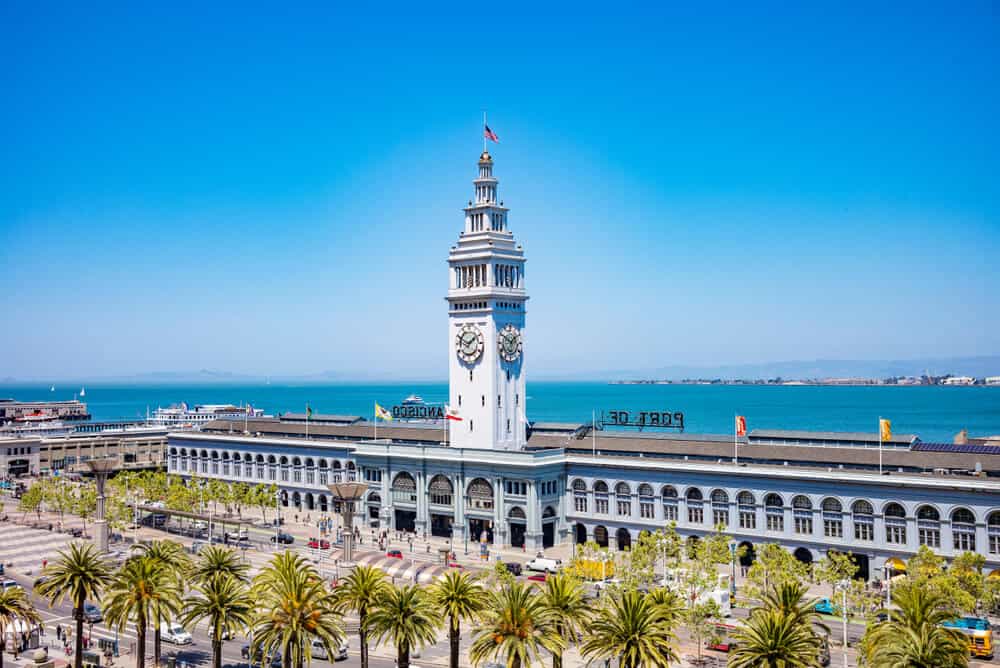 This is not the most common or convenient way to get to Napa, but it is unique!
It's possible to get to Napa partly by ferry and partly by bus, leaving from the San Francisco Ferry Building to the Vallejo Ferry Terminal. Check the San Francisco Bay Ferry schedule here.
You used to be able to leave from Pier 41 near Fisherman's Wharf, but there are no longer stops here.
It's $15.10 one-way on the ferry. Once you arrive in Vallejo, you can walk to the Vallejo Transit Center and then take a Vine Bus Route 11 to get you to downtown Napa. The Vine Bus should cost $1.60 each way.
All in all, you can take a ferry ride and from Napa Valley for the day for around $34 roundtrip — not bad!
Pros
– One of the most scenic ways to go to Napa
– Eco-friendly and unique way to see more of the San Francisco Bay Area
Cons
– No transit between wineries once you arrive in Napa
– Trip over can be time-consuming, especially if your bus gets stuck in traffic between Vallejo and Napa
Getting from San Francisco to Napa by Flight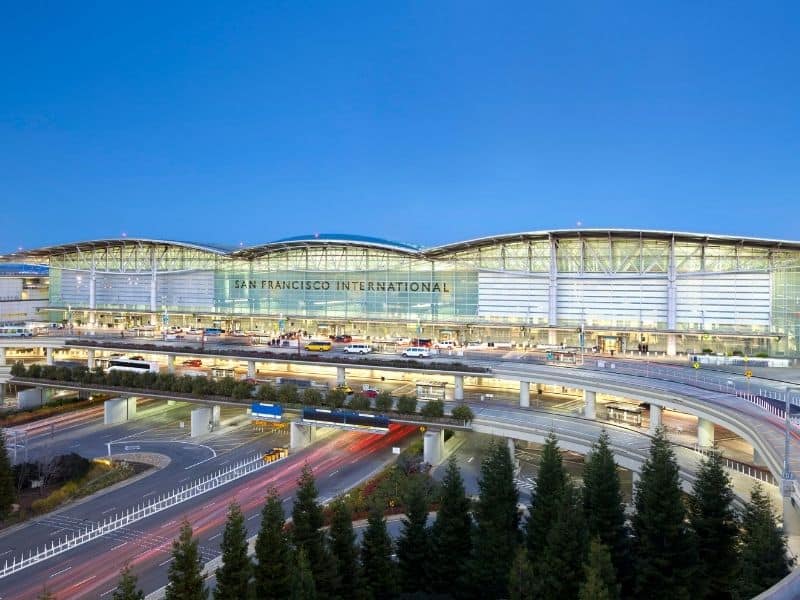 Honestly, I don't recommend this one, unless you are flying into SFO and have no desire to spend time in San Francisco before heading to Napa (and also don't mind hemorrhaging money.)
Still, I'd suggest taking the Napa Airporter in that case. It's cheaper and far more eco-friendly than a short hop flight would be. Rates are the same leaving from San Francisco, Oakland, and Sacramento airports.
Flights from San Francisco International Airport to Napa County Airport are around $175 one-way minimum, so it's not at all an affordable option. Plus, it's a lot of fossil fuel to waste for a trip that is easily done by shuttle.
Pros
– It might be faster if your flights line up perfectly
Cons
– It's really expensive and wasteful of fossil fuels
– Once you arrive in Napa you'll have to rent a car or rely on Uber/Lyft
– You likely won't save any time and you definitely won't save any money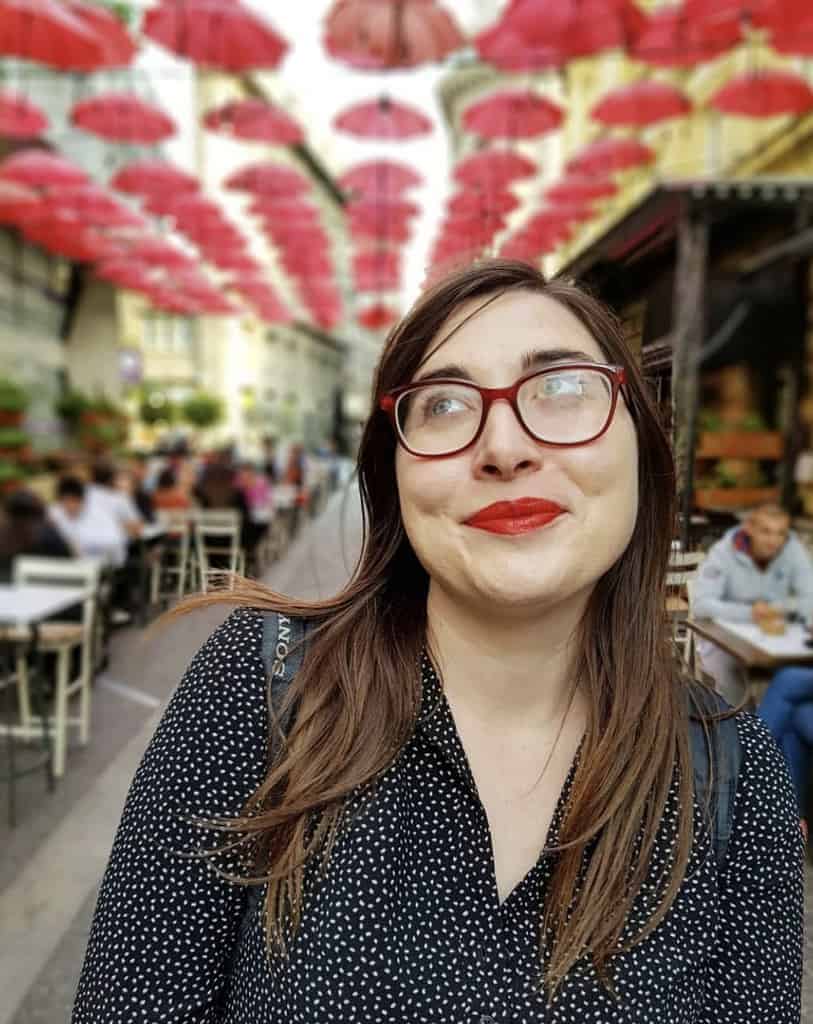 Allison Green is a travel blogger, writer, and podcaster who grew up in the Bay Area of California. She has spent time living in New York, Prague, and Sofia, but has returned to live in the East Bay. She has traveled to 60 countries before the age of 30 while running several digital travel publications. Her writing and podcast have been featured in Forbes, CBC Canada, National Geographic, the Huffington Post, and CNN Arabic, amongst others. She's obsessed with bouldering, houseplants, other people's pets, and anywhere she can see the ocean.