Anza Borrego is a gorgeous desert with rich wildlife, history, and no shortage of sights to see.
Anza Borrego hiking trails like Cactus Loop and Elephant Tree have guided nature hikes with markers along the paths, whereas the unique environment and geology of the area make hikes like the Wind Caves wonderful for exploring.
Some special animals have their home in Anza Borrego, too! In terms of birdwatching in this area, Costa's hummingbird and California quail might be spotted in desert willow trees (most frequent in springtime).
Bighorn sheep are nimble and well-camouflaged, as well as endangered. If you are keen on getting a chance to see one, keep an eye out for their white-colored behinds among the grey rocks!
The best time of year to hike in Anza Borrego State Park is early spring, when the desert blooms are out and there is a much better chance of spotting animals native to the area.
Similar to many other Southern California desert hikes like in Death Valley, the summer temperatures make hiking much less accessible and ultimately more dangerous.
Water, sun protection, and comfortable hiking shoes are always a must regardless of weather, but especially in hotter weather. Don't cut corners with those!
This landscape and everything within it is truly captivating: a definite must-see with many accessible hikes in Anza Borrego Desert State Park
Note: Officially, all of these hiking trails prohibit dogs.
Best Hikes in Anza Borrego Desert State Park
Palm Canyon Trail
Note: This post contains affiliate links, which earn me a small commission at no extra cost to you if you make a purchase using one of these links. Thank you for supporting this free content!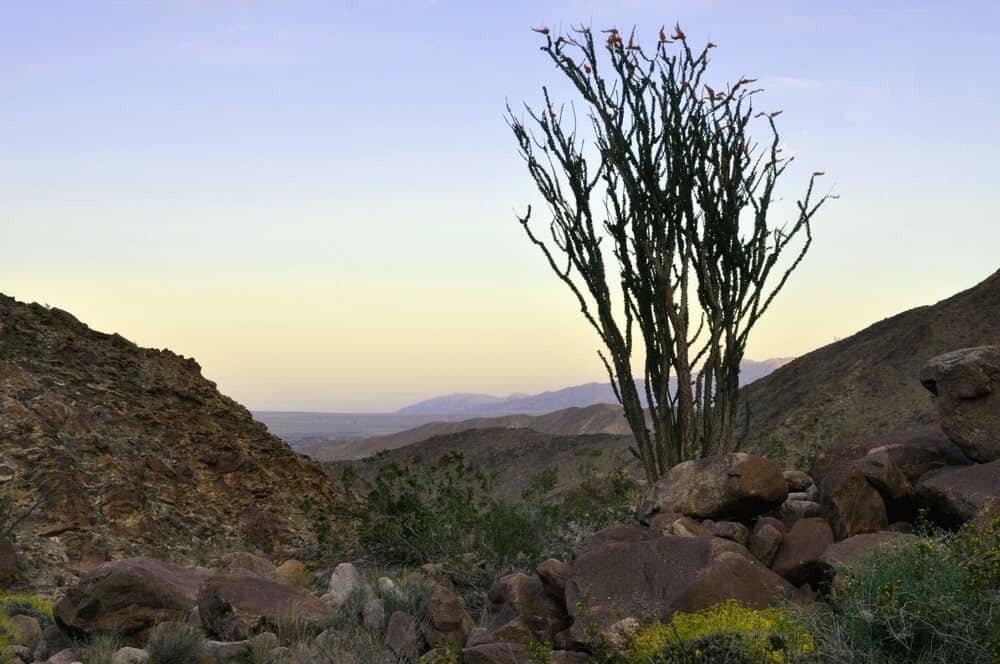 Length: 3 miles
Elevation Gain: 460 feet
This is one of the most popular hikes in Anza Borrego, and for good reason: scattered with desert palms, it leads to a valley and eventually an impressive oasis. In early springtime, the stream coming from it is often visible on the hike there.
There is an alternate path that loops back to the beginning of the trail that's roughly the same length. It tends to have less hikers as well as more desert flora!
This hike is also great for campers as parking is available in the west end of the Palm Canyon Campground.
Important Note: Though the grove is currently closed until further notice and is recovering from a fire, the trail leads to a viewing spot where you can see it. It's estimated to be a number of years before a full recovery.
Cactus Loop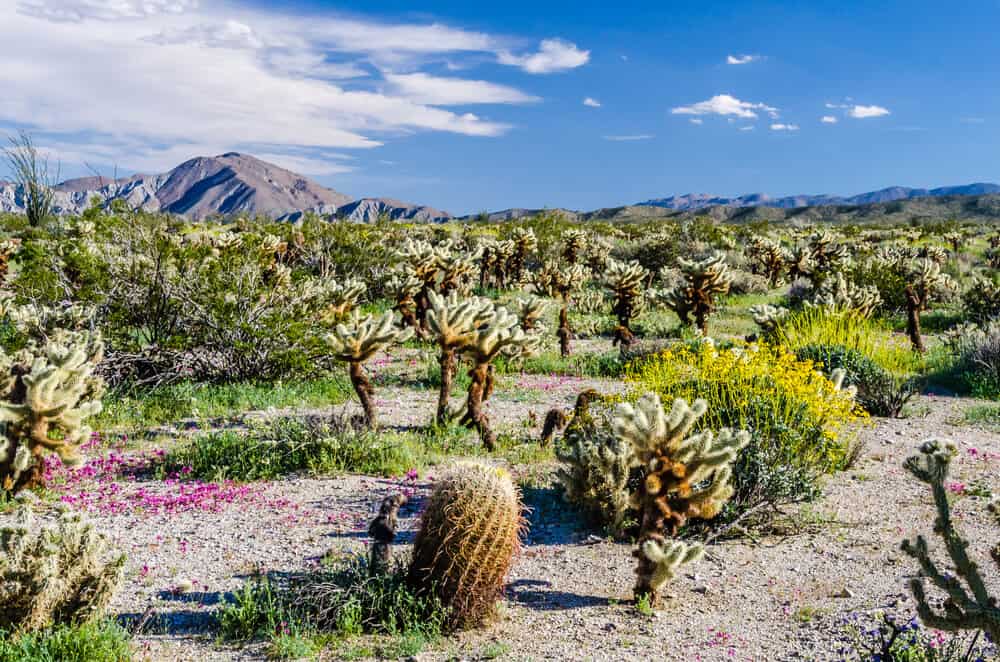 Length: 0.75 miles
Elevation Gain: 225 feet
The hike is full of cacti and goes in a loop. Who would've thought?
Included in this short Anza Borrego hike's prickly lineup are the beavertail, barrel, and hedgehog (cactus, not mammal).
The jumping cholla, or teddy bear cactus, is one to keep a distance from! The branches detach easily to help the plant reproduce, so exercise caution when walking near them.
The path is a bit rocky, but nothing intense. It's short and consistently ascends, then descends back at the halfway mark.
The loop is one to check out for a slow-paced hike with a lot of details. There is roadside parking available close to the trailhead and it's not far from the Tamarisk Grove campground.
Yaqui Well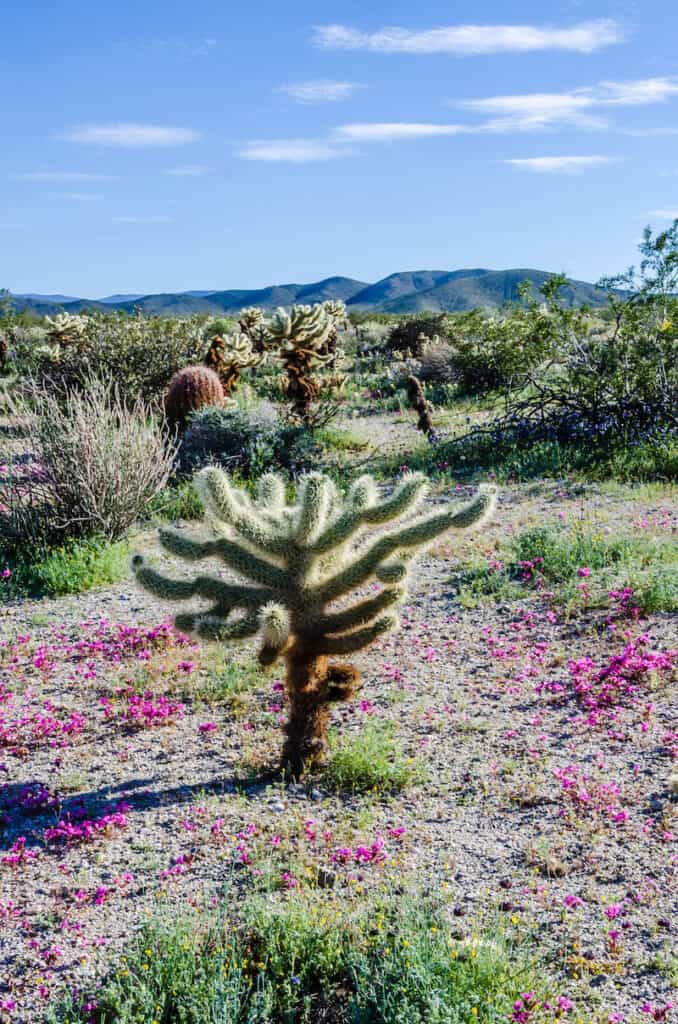 Length: 1.7 miles
Elevation Gain: 100 feet
The trail to Yaqui Well is incredibly close to Cactus Loop, less than half a mile southeast. Its low elevation change and distance make it perfect to pair the two!
You probably won't see water in the well, but expect many of the same cactus and plant varieties as Cactus Loop dotted along the path. Expect similarly rocky bits while hiking, too.
Because it's also close to the Tamarisk Grove campground, the same roadside parking is available.
Elephant Tree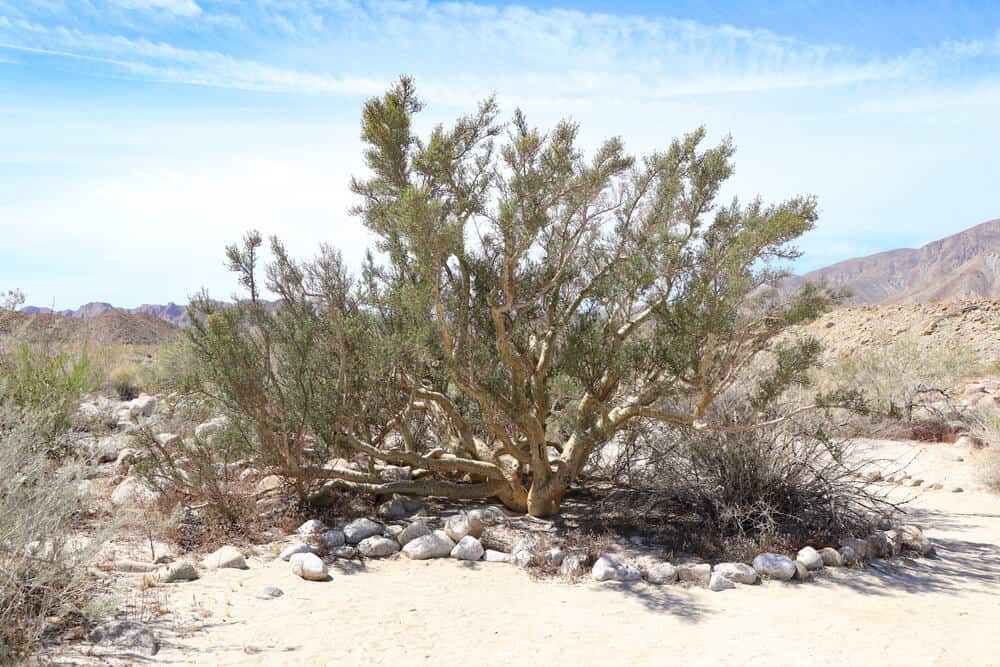 Length: 1.5 miles
Elevation Gain: 100 feet
If you want a more structured version of this hike, be sure to look up a leaflet online before visiting, as there might not be any at the trailhead. Regardless, the path is still well-established.
The relatively small range of elephant trees (Bursera microphylla) is mostly in Baja California and Sonora. Anza Borrego is known to be the furthest north that it extends. The sap has been used by Native peoples as incense, dye, in ritual, as well being a panacea.
There is little to no shade, so the best practice would be hiking earlier in the morning. A hat and other sun protection are crucial here and don't skimp on the water!
The dirt road to this trailhead is known to be quite rocky, so you might need to park further away.
Pictograph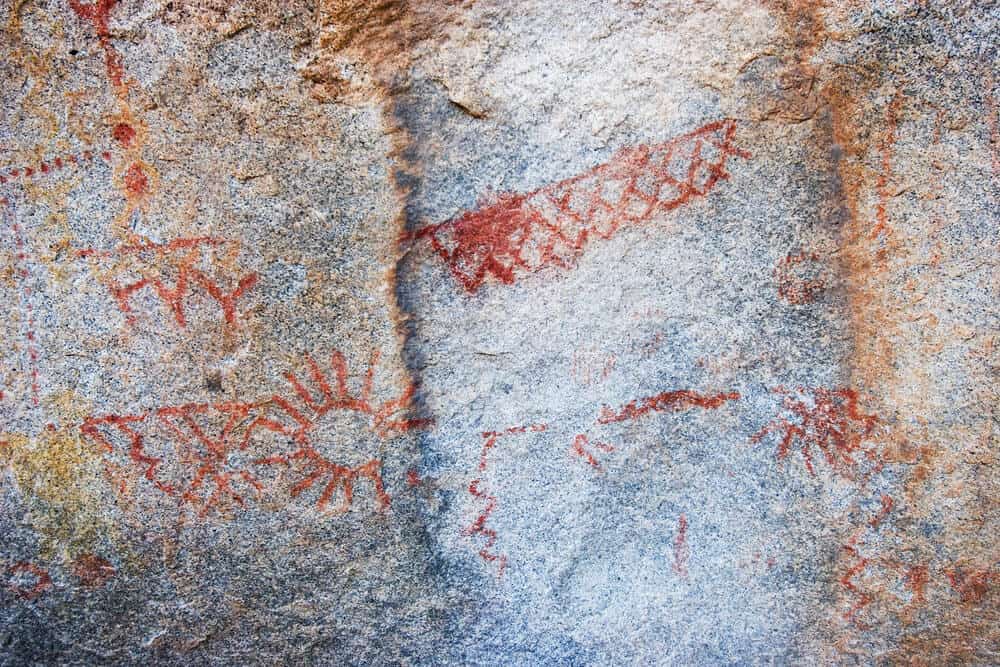 Length: 2.5 miles
Elevation Gain: 400 feet
A series of red rockface pictographs on a huge boulder are one of the main attractions of this hike, which artists of the Kumeyaay tribe painted on thousands of years ago! You don't need to stop there, though.
Keep going and you will come across a tall mass of rock, which reveals a small canyon to hike through once closer. The trail eventually leads to a dry fall overlooking the valley for a wonderful view that makes the extra stretch completely worth it.
Without a 4-wheel drive, you'll have to park about a mile from the trailhead, but walking there is easy and the sites make it completely worth the extra distance. Signs will signal to both Pictograph and Morteros Trail, another one close by.
Morteros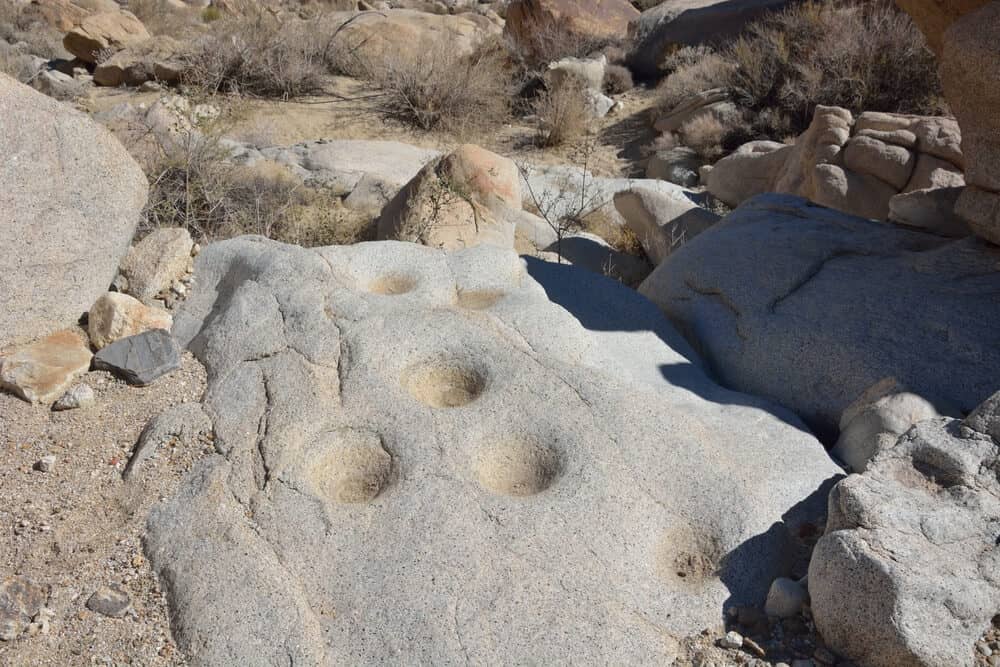 Length: 0.6 miles
Elevation Gain: 30 feet
If you are interested in indigenous history, this and the Pictograph trails are a great combination to check out as their trailheads are close to each other!
The total distance of the two combined is a little over three miles, and neither are particularly strenuous (still, don't forget sun protection and plenty of water).
Morteros refers to the mortars carved by the Kumeyaay people directly onto boulder faces. As we use a mortar and pestle today, they utilized the environment around them to help grind nuts, seeds, and herbs.
The trail comes to a stop at a larger rock at the end with prominent carvings, but if you just keep an eye out, there are other morteros to be spotted along the path.
Both the Pictograph and Morteros trails are near the Blair Valley campground.
Calcite Mine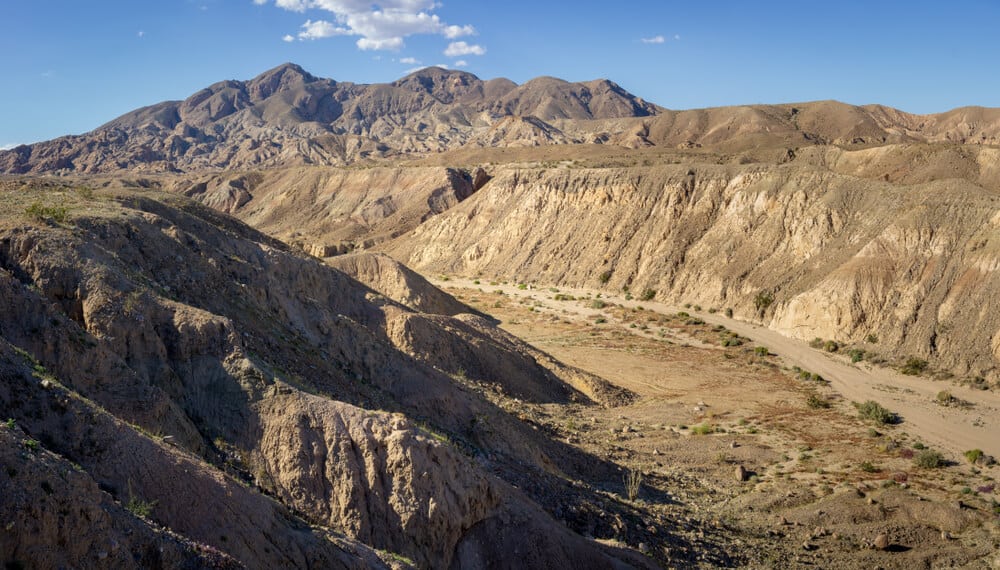 Length: 4 miles
Elevation Gain: 600 feet
The spectacular sandstone rock formations in this area make the scenery pretty otherworldly. Hiking through the dynamic dips and curves along the ravines and walls prove this path to be a truly unique one.
During World War II, this site was targeted for mining during a short but intense period. Calcite for manufacturing weaponry was blasted away after the attack on Pearl Harbor for war efforts. Nearing the mining site, there are still remnants of the mineral glistening among the duller rock.
Though the rocks can provide some shade, it's best to avoid this hike in the summer. There are several detours to seek out that are best explored in milder seasons.
Climbers might enjoy the walls for some light scaling, and once far enough, hikers are rewarded with a clear view of the Salton Sea.
The Slot Loop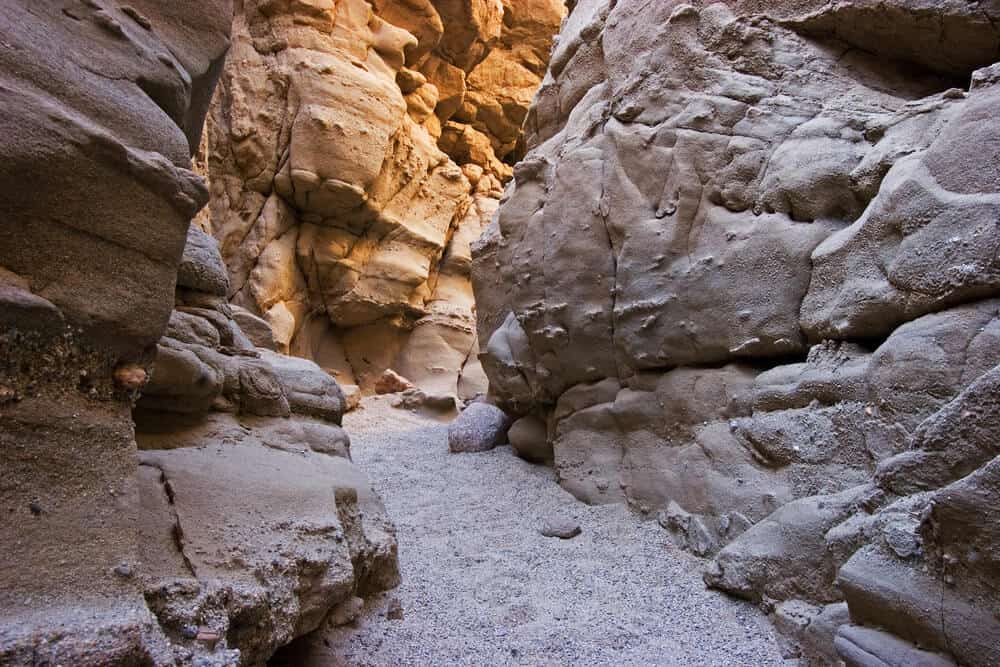 Length: 2.5 miles
Elevation Gain: 300 feet
True to its name, in the beginning stretch of this path, the fit between the rock walls is pretty snug. If confined spaces are a big concern, then it might be helpful to scope it out beforehand. The fit isn't physically uncomfortable and the walls do open up, though.
There is a $10 cash entry fee and a possible wait for parking (though times can vary widely, and weekdays tend to be less busy), but it's money and time well spent.
You can stop after the main "Slot" itself a little less than a mile in or you can continue to finish the loop, which is definitely recommended!
This is a fun, dynamic hike in Anza Borrego Desert with a bunch of different sights and details along the way.
Marshal South Cabin/Ghost Mountain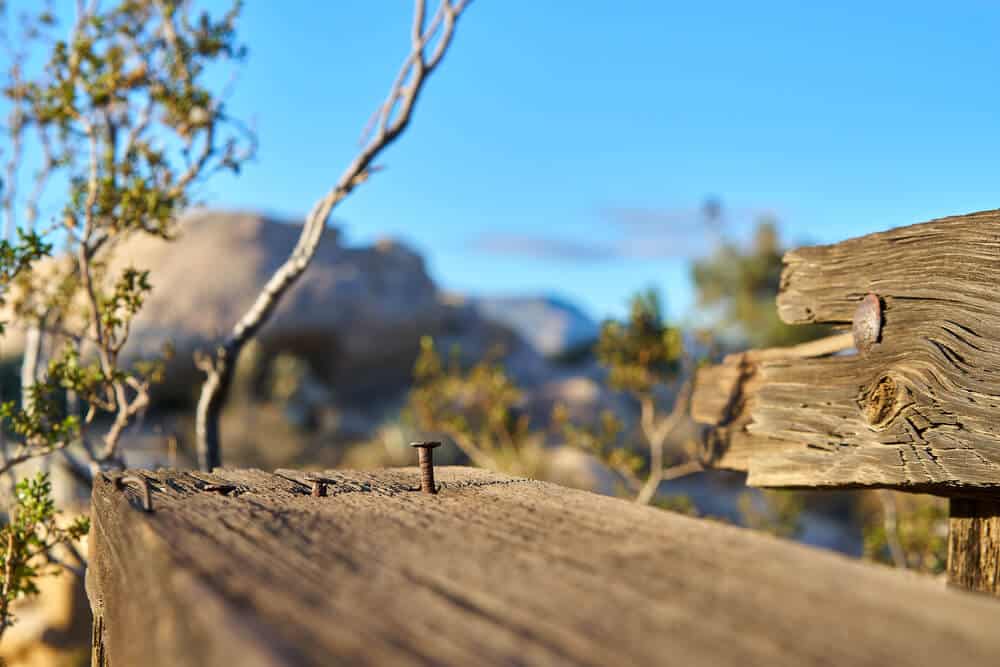 Length: 1.5 miles
Elevation Gain: 550 feet
This whole trail itself is a loop, though some prefer to just complete the hike up Ghost Mountain as an out-and-back. Either way, you will come across the Marshal South homestead remnants.
South moved west during the Great Depression and lived here with his wife and children for a number of decades. Some remnants of furniture and structure of the house remain, but that's about it.
A firsthand account of his family's homesteading experience along with pictures can be found in the book Marshal South and the Ghost Mountain Chronicles: An Experiment in Primitive Living.
The hike is well-marked and easy to follow. There's some light rock scrambling as the trail ascends and the views are beautifully panoramic, looking to Granite Peak and Vallecito Valley. It's a must-see for lovers of ruins and Southwest history!
Wind Caves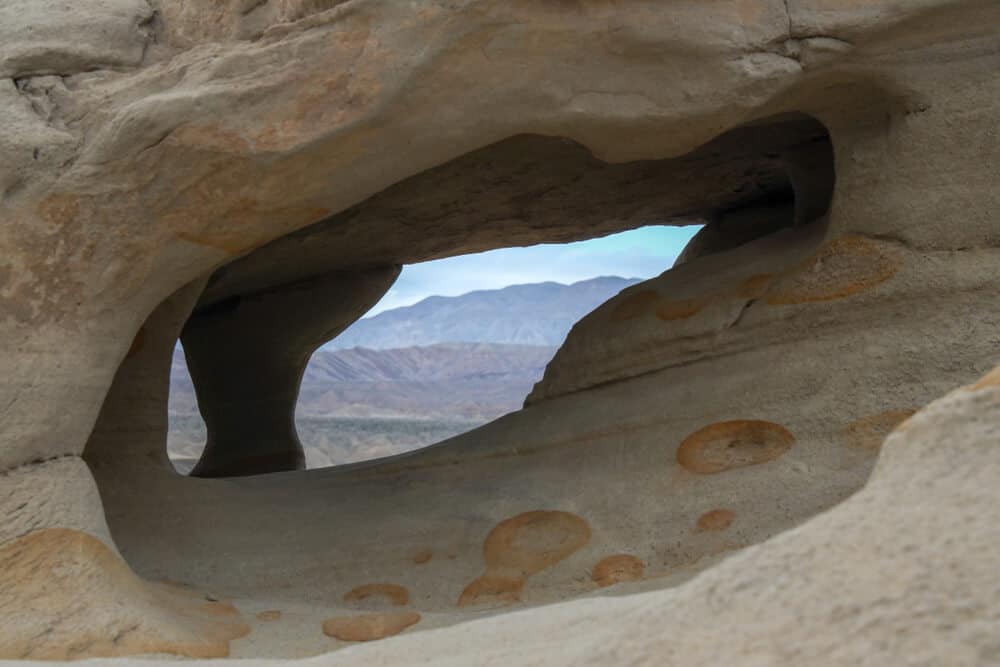 Length: 1 mile
Elevation Gain: 260 feet
To get all the way to the marked trailhead, a four-wheel drive with clearance is recommended to drive down Fish Creek Wash from Split Mountain Road off of Highway 78.
The hike itself is short, but steep with some loose rocks–tread with care! It's a great one for taking your time and exploring. You can't miss the caves once you get there. Unlike the sandstone slots, these ones are full of impressive tunnel-like pockets. Nature sort of made its own jungle gym with this one!
The Carrizo badlands are on full view from the top of this hike, adding another incentive to this fun hike that most anyone can enjoy. 
Pin This Guide to Anza Borrego Hikes