If you're in the San Diego area and looking for an adventurous hike near San Diego, you're in luck — we've gathered 10 great hikes here!
San Diego is known as "America's Finest City" for a reason — the hiking trails!
While it's actually known for its beautiful beaches and predictably perfect weather, San Diego's hiking trails offer variety of scenery and wildlife. From strenuous mountain peaks to leisurely beachfront walks, the San Diego area has a hike for every level of adventurer.
San Diego can get very hot during the summer and many of the trails have very little shade, so keep this in mind when planning your hike.
Many San Diego area hikers take to the lower desert hikes in the winter and will hit the high elevation trails to cool off in the summer.
It's a good idea to have a map of the trail or take a photo of the trail map with your phone. Bring plenty of water and always tell someone where you're going and when you'll be returning.
Best Hikes in San Diego
1. North Fortuna Mountain via Oak Canyon
Note: This post contains affiliate links, which earn me a small commission at no extra cost to you if you make a purchase using one of these links. Thank you for supporting this free content!

Why: If you're looking for one of the best panoramic views in the vicinity of San Diego, consider a hike to the summit of North Fortuna Mountain.  This trail is strenuous but the views and vistas make it more than worthwhile.
Mileage: 5.4 miles
Trail Type: Out and back
Elevation gain: 1,340 ft
Difficulty: Moderate/Strenuous
Dogs: Yes
Getting There:
Starting from San Diego, you'll take I-15 North toward Riverside and exit at the Friars Road E. Friars Rd turns into Mission Gorge Road.
After about 3.5 miles, take a slight left onto Father Junipero Serra Trail and continue to the Old Mission Dam Parking area. Park here and head through the picnic area to the trail.
The Trail:
The trail starts by taking you past the Old Mission Dam and across a series of wooden bridges as you make your way up the mountain. 
This unforgiving trail climbs steadily with only a few downhill stretches making it seem unbearable at times. There will be signs along the way pointing you in the direction of the summit.
When you arrive at the summit you'll be greeted with fantastic views that make this arduous hike worth all the effort! There is a sign indicating you've reached the summit and a register to record your victory.
Take a rest and head back the way you came in.
2. Big Laguna Mountain Loop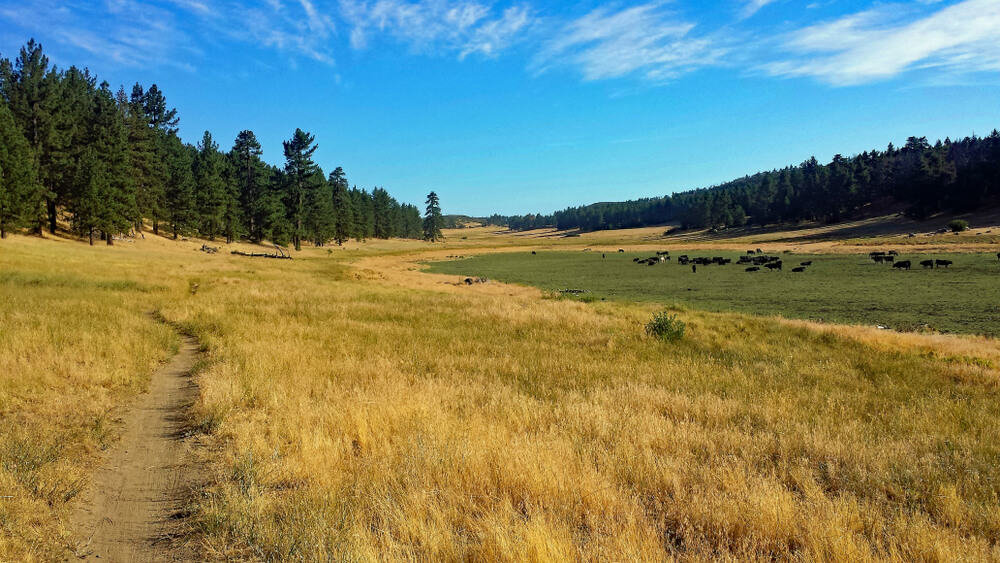 Why: This spectacular trail offers both the mountains and desert in a single San Diego hike. The trail is rated as moderate because of the high mileage, but it's not too steep as far as elevation gain goes.
Part of this trail travels along the famous Pacific Crest Trail that takes hikers from the US border of Mexico to the US border of Canada!
Mileage: 10.3 miles
Trail Type: Loop trail
Elevation gain: 1,167 ft
Difficulty: Moderate
Dogs: Yes
Getting There:
From San Diego, hop on I-8 east and take the Sunrise Highway exit. Turning Left onto Sunrise Highway, continue for 13.8 miles until you reach the Penny Pines trailhead, park here.
The trail:
This single-track trail starts out by taking you through a few gates and then passing the marshy area of Laguna Lake.
After about 6 miles the Big Laguna trail ends when you reach the Pacific Crest Trail (PCT). Turn left here onto the PCT — this is how the loop goes. At this point, the beautiful pines fade into desert chaparral as the expansive Anza Borrego Desert comes into view.
This stark contrast to the previous scenery shows the diversity of the landscape in the San Diego area. The trail continues close to the road for some time until you reach a four-way intersection. Turn left here and walk a short distance back to your car.
3. Sweetwater River Loop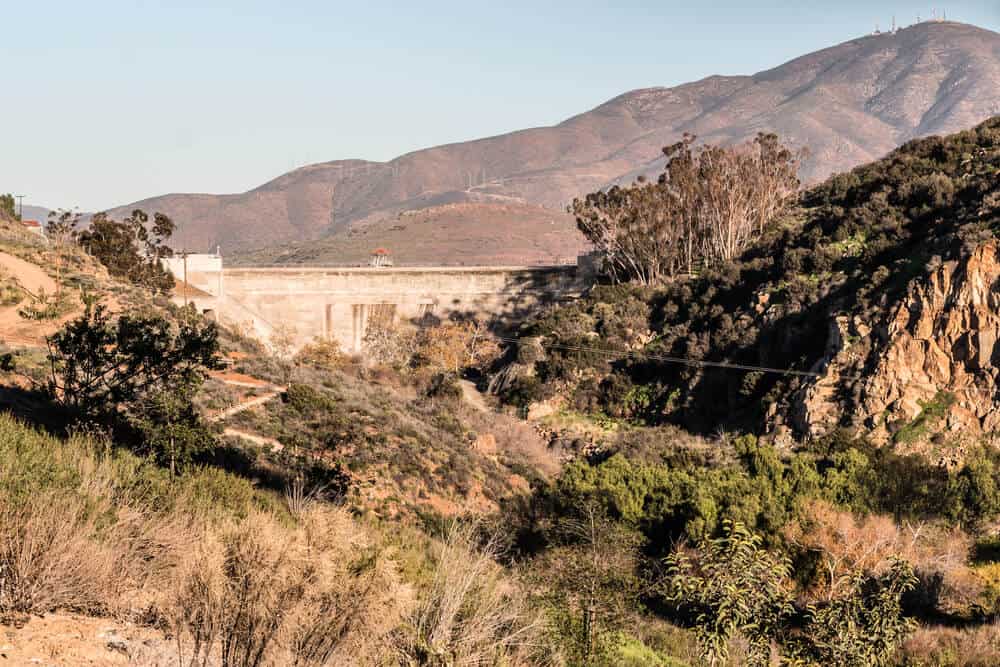 Why: If you're looking for a longer hike in San Diego that's relatively easy, this may be the one for you. This charming trail features a river, riparian forest, a meadow, and desert chaparral. Parts of this trail skirt the river and can be marshy at times, especially after rainfall.
Mileage: 7.9 miles
Trail type: Loop trail
Elevation gain: 700 ft
Difficulty: Easy
Dogs: Yes
Getting There:
From San Diego, take I-8 East, to CA-79 North. Follow CA-79 North for 1.3 miles, then make a left-hand turn onto Riverside Drive. Riverside Drive turns into Viejas Blvd. Continue to the Merigan Day Use area on the left side of the road. There is a $10 fee to park here.
The Trail:
The Sweetwater River Loop Trail begins at the Merigan trailhead in Cuyamaca Rancho State Park. The trail climbs slightly through some oak trees before leading into desert chaparral.
This section of the Sweetwater trail surprises you with intermittent views of the river and cascades. At around the two-mile marker, you will reach the Saddleback trail, turn left here.
After an easy gradual climb, you'll make your way across the ridgeline before heading downhill. This is a lovely shaded section of the trail that takes you along the river before heading back to the parking area
4. Torrey Pines Beach Trail Loop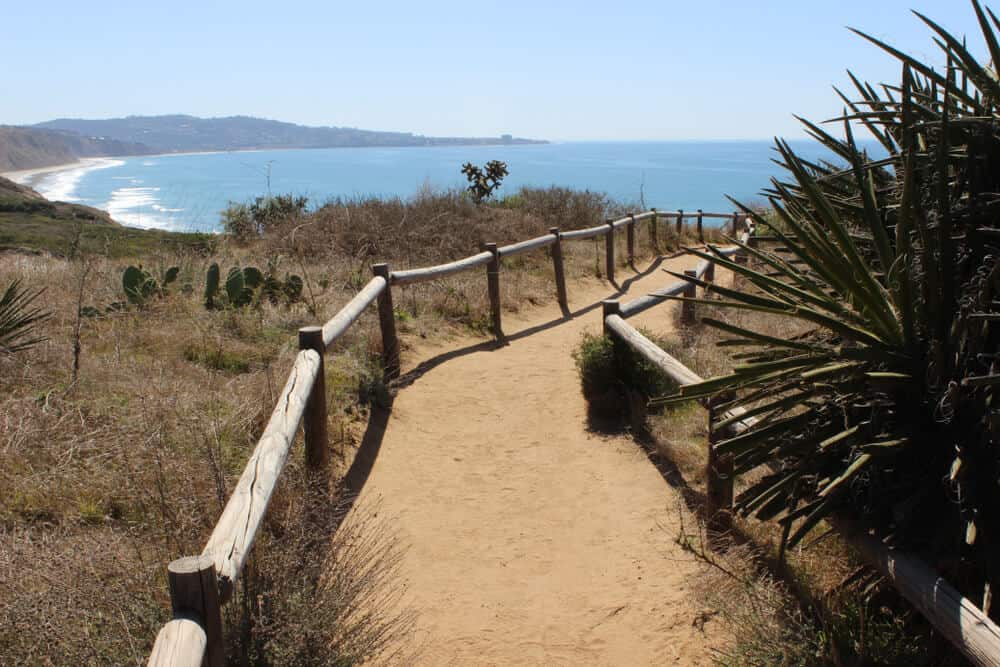 Why: This San Diego trail has it all!  Torrey Pines Beach Trail Loop has all the ingredients for a memorable seaside hike. 
With incredible views of the Pacific Ocean, this hike is easy enough for first-time hikers; also, there are many side trails to add if you're more experienced.  Arrive early or park on the street to avoid the steep $20 parking fee.
Mileage: 2.3 miles
Trail type: Loop trail
Elevation gain: 364 ft
Difficulty: Easy
Dogs: No
Directions:
From San Diego on the I-5, take the Carmel Valley Road exit. Head west on Carmel Valley Road. Turn left onto S Camino Del Mar. This road turns into Torrey Pines Road and continues to the parking lot.
The Trail
This trail starts at the beach and then takes you up the hill giving you panoramic views of the Pacific Ocean. 
This short but sweet trail meanders through an overgrown coastal forest and curious-looking sandstone rock formations. 
These small pine trees are the rare Torrey Pine that's only found in the area, for which the state reserve is named.
The trail also takes you through a grassy meadow that sprouts beautiful wildflowers in the spring, but this area can be marshy after rainfall so wear appropriate shoes. This trail is well maintained and mostly sandy which can make your hike take a little longer.
5. Mount Woodson Summit – Potato Chip Rock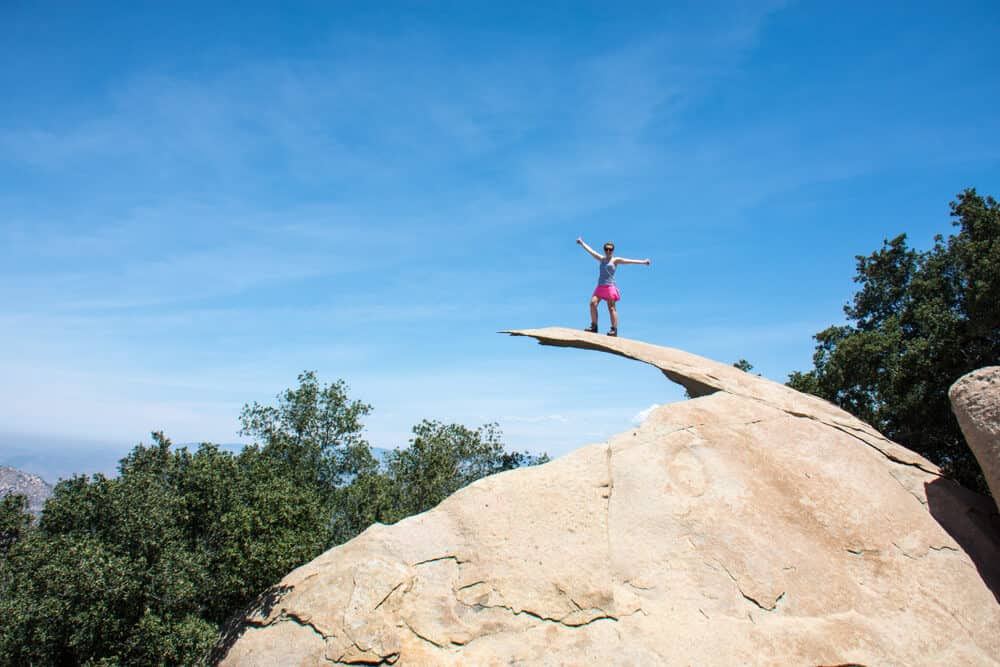 Why: You've probably seen photos of people standing on this potato chip-shaped rock, well here's your chance to see it for yourself on this Insta-famous San Diego hike! 
The trail can get a little crowded due to the popularity of the potato chip so this is the less crowded route to the top. 
Mileage: 4.1 miles
Trail: Out and Back
Elevation gain: 1,220 ft
Difficulty: Moderate
Dogs: No
Getting There:
From San Diego, take the I-5 southbound to CA-163 North toward Escondido. Continue on as CA-163 N becomes I-15 North. Take the Rancho Bernardo Exit. Turn right on to Hwy-S5 then turn left onto Lake Poway Road. Keep left at the fork and continue to the parking area.
The Trail
This hike is on a service road that takes you just about all the way to Potato Chip Rock. While this hike is less crowded and shorter mileage-wise, it's certainly a bit steeper than the well-used trail.
Once you arrive at Potato Chip Rock you will understand what all the hype is about, the potato chip-shaped rock is a great place to take photos and the views are incredible. 
If you really want to punish yourself, you can add another 5.3 miles onto your trip and hike down to the lake and back.
6. Batiquitos Lagoon Trail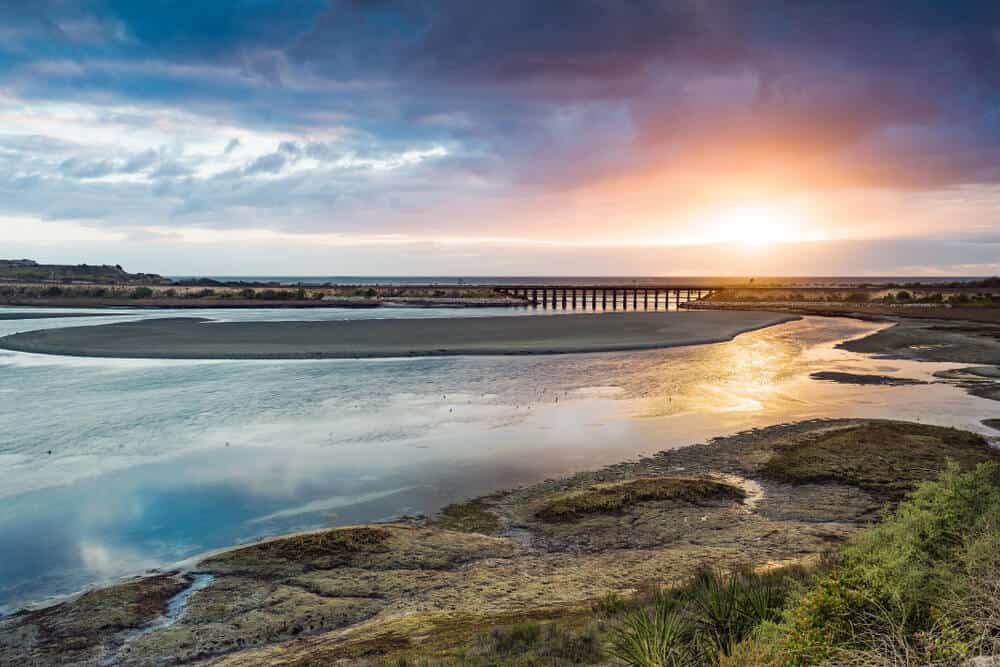 Batiquitos Lagoon Trail is ideal for anyone!  I love this trail because whether you're out jogging on the trail or circumventing the lagoon in a wheelchair, this paved trail is highly accessible to people of all abilities.  There's also little to no elevation gain on this hike.
Mileage: 3.3 miles
Trail: Out and Back
Elevation gain: 29 ft
Difficulty: Easy
Dogs: Yes
The Trail
This lovely trail hugs the lagoon giving you plenty of bird watching opportunities; herons and egrets have been spotted at the lagoon.  As you're hiking this trail, you will see many shorter trails leading to the lagoon or picnic areas. 
This ecological reserve is interesting in that there is a marshy area next to the lagoon with all kinds of wildlife, the inland landscape is more desert-like with yucca parts and sagebrush.
This trail is not complicated, once you're ready to leave, just turn around and head back the way you came.
7. Cowles Mountain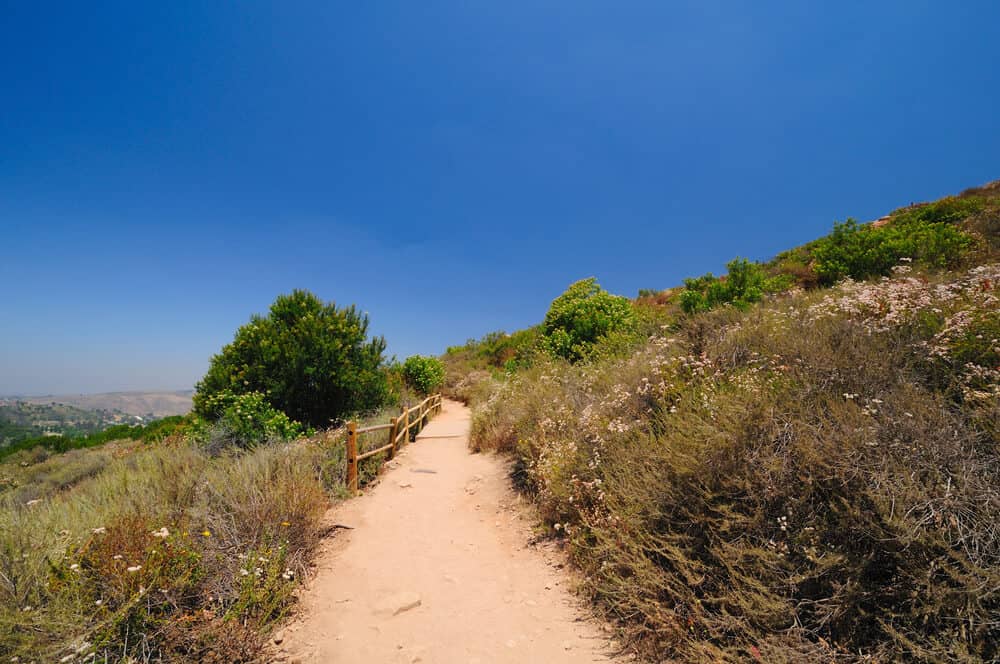 Why: Cowles Mountain Trail will take you to the highest point in San Diego!
This 1,593-foot summit graces you with panoramic views as far as Orange County to Mexico.  Cowles Mountain is one of the more popular hiking trails in San Diego and can get a little busy at times.
Mileage: 3.0 miles
Trail: Out and Back
Elevation gain: 908 ft
Difficulty: Moderate
Dogs: Yes
Getting there
From San Diego, take the I-5 southbound to CA-163 North toward Escondido. Continue on CA-163 and take the Friars Road exit. Turn left onto friars Road which becomes Mission Gorge Road. Turn right onto Jackson road and then left onto Navajo Rd and then another left onto Goldcrest Drive. Parking is just up ahead.
The Trail
The trail up to the summit is pretty straightforward.  There will be great views as you make your way up the switchbacks which lead to some rocky areas where you'll be climbing over boulders. 
The trail climbs steadily the entire way until you reach the summit. There is a plaque at the top and a board indicating the different points of interest you can see from this viewpoint.
Take a rest and some photos before heading back. You will hike out the same way you came in.
8. Blue Sky Ecological Reserve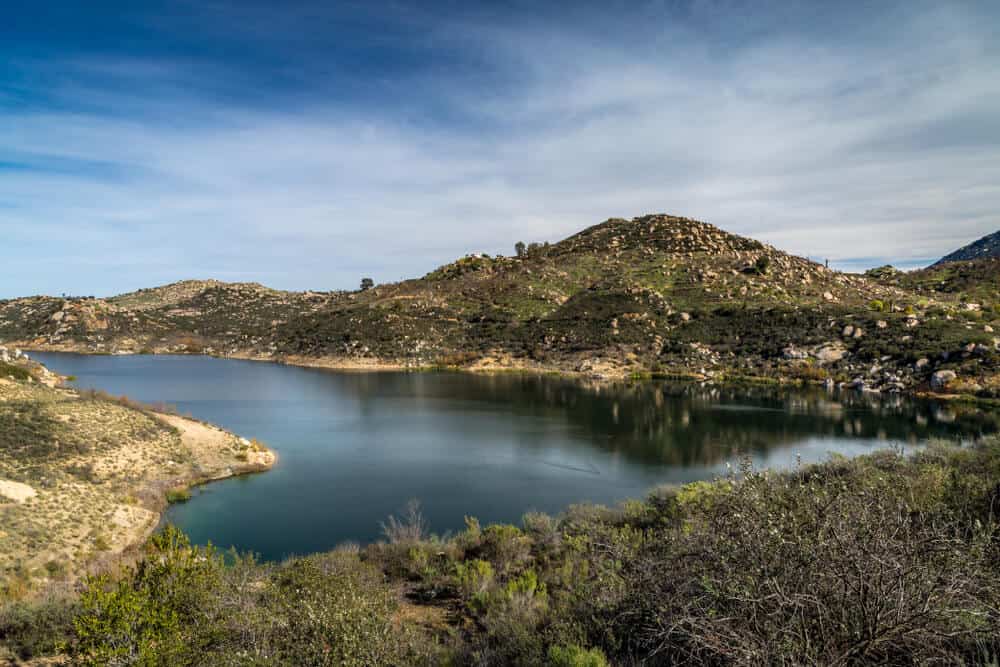 Why: This lovely reserve has a variety of interesting flora and fauna and makes a perfect early morning hike. 
While the first part of this hike is shaded, the second is rather exposed with little to no shade.  This hike has great views of the mountains and lake.
Mileage: 4.8 miles
Trail type: Out and Back
Elevation gain: 800 ft
Difficulty: Moderate
Dogs: Yes
Getting There
From San Diego, take I-15 to the Rancho Bernardo Road exit and head east on Rancho Bernardo Road. This road turns into Espola which leads to the entrance of Blue Sky Ecological Reserve. There is an information kiosk indicating the start of the trail.
The Trail
The beginning of this hike takes you on a trail that is lined with old oak trees, it's a stunning area. 
As you leave the shady oak groves and views become more expansive, you also leave the flat part of the trail and begin to ascend.
As you continue up, the trail will turn to asphalt and you will get a glimpse of Lake Ramona. The lake is just up ahead. 
You can either head to the lake or make this your turning point and head back the way you came in.
9. El Cajon Mountain Trail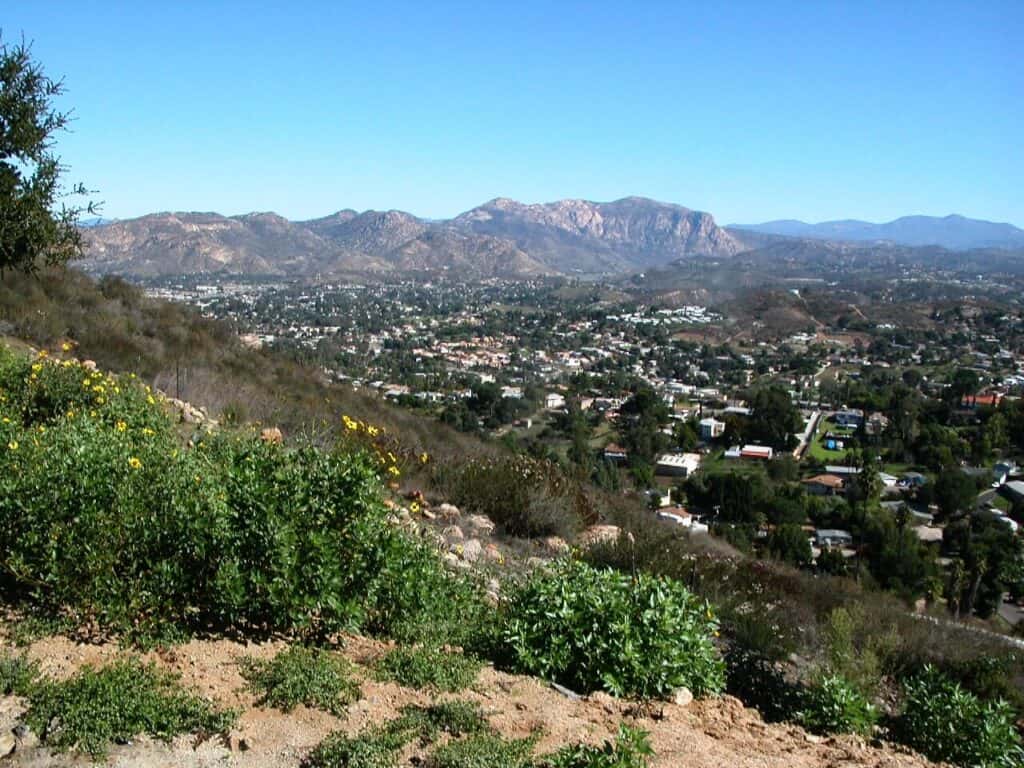 Why: If peak-bagging is your thing, this is a must-do hike near San Diego for you. With 3,576 ft of elevation gain, this hike is no joke! 
Like most strenuous hikes there's a magnificent payoff, spectacular views, and a feeling of accomplishment.
This hike is exposed and so bring plenty of water and a snack or lunch. This is a long hike, expect to be on the trail for at least 5 hours.
Mileage: 11.3 miles
Trail type: Out and Back
Elevation gain: 3,576 ft
Difficulty: Strenuous
Dogs: Yes, but not recommended
Getting There
From San Diego, take HWY 52 east and exit Highway 67 north. Turn right onto Mapleview and make the next left onto Ashwood Street which turns into Wildcat Canyon Road. The trailhead is on the right directly across from Oak Oasis County Park.
The Trail
This easy-to-follow trail may as well be uphill both ways. The majority of the trail is on an extremely steep old mining road that leaves you wondering why switchbacks never occurred to the engineers!
The trail is very well marked with signs pointing you to the summit.  There are also mile markers along the way so you can track your progress or lack thereof.
You will feel like you've been climbing forever when you'll arrive at a burned-out jeep from the old mining days. The summit is just up ahead with a relatively easy ascent.
Aside from bragging rights, you'll also be rewarded with breathtaking views of the ocean and eastern county peaks.
10. Annie's Canyon Trail via Solana Hills Trail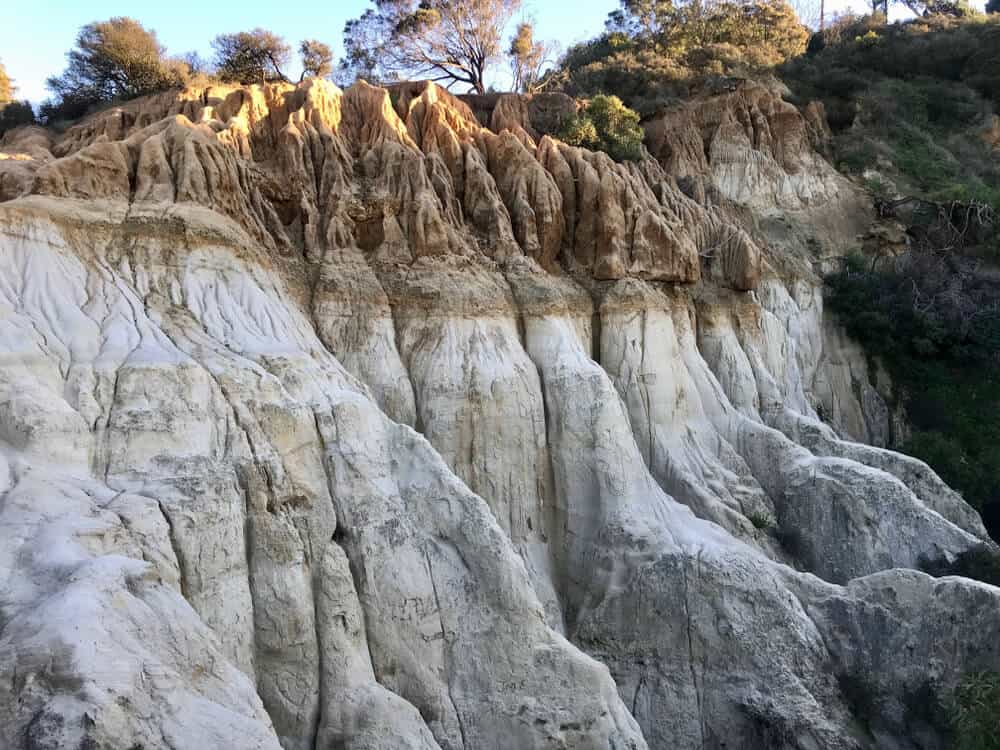 Why: If you like worming your way through dream-like sandstone slot canyons, this is your San Diego hike! Included in the package are panoramic views of the Pacific Ocean and San Elijo Lagoon.
Although this trail is rated as easy, there are some spots where you'll be squeezing yourself through the narrow canyon and doing a little scrambling.
Mileage: 1.4 miles
Trail type: Loop trail
Elevation gain: 273 ft
Difficulty: Easy with some tricky parts.
Dogs: No
Getting There
From I-5, exit at Lomas Santa Fe and head west. Make a right-hand turn onto Solana Hills Drive. Follow Solana Hills Drive to where it ends; park on the street near the trailhead.
The Hike
From the trailhead, walk up the road where you'll find an information kiosk, this is where the trail officially starts. You'll crest a small rise and then head downhill.
After hiking through a lovely eucalyptus grove, you'll come to the entrance of the canyon. This is the fun part! 
As you worm your way through this enchanting canyon, there will be times where you will have to scramble a little and there is also a metal ladder that takes you up a difficult part.
After exploring the canyon and enjoying the views, the slot-canyon loops around to bring you back to the original trail you took in.  Bring a lot of water for this hike.
Pin This Guide to San Diego Hikes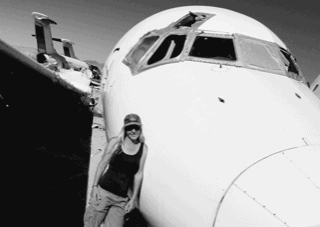 Kristina Ritchie is a writer and who was born in Australia and grew up in Africa. She was educated at Western Connecticut State University before finding her home in Southern California. She writes creatively on a variety of topics, mostly on travel and adventure writing. Having visited over 15 counties and 48 states, along with thousands of miles on the trail with a backpack, Kristina continues to explore and write as often as possible.