Stunning rugged bluffs, towering redwoods, and brilliant cerulean sea: Big Sur is one of the most spectacular stretches of the California Coast. It's the perfect place for a California road trip!
While driving the stretch of Highway 1 that passes through Big Sur is a great way to appreciate the region's beauty, there's no substitute for getting out of the car and exploring Big Sur on foot.
There are a number of great hikes in Big Sur you can tackle, such as those closer to Carmel and Monterey in Point Lobos State Reserve and Garrapata State Park. However, one of my favorite hikes in the region is located right in the heart of Big Sur.
Pfeiffer Big Sur State Park is centered on the Big Sur River. It is located right around the town of Big Sur, close to attractions such as Big Sur Bakery, Nepenthe, and Pfeiffer Beach.
How to Get to the Pfeiffer Falls Trail & Valley View Trail
Note: This post contains affiliate links, which earn me a small commission at no extra cost to you if you make a purchase using one of these links. Thank you for supporting this free content!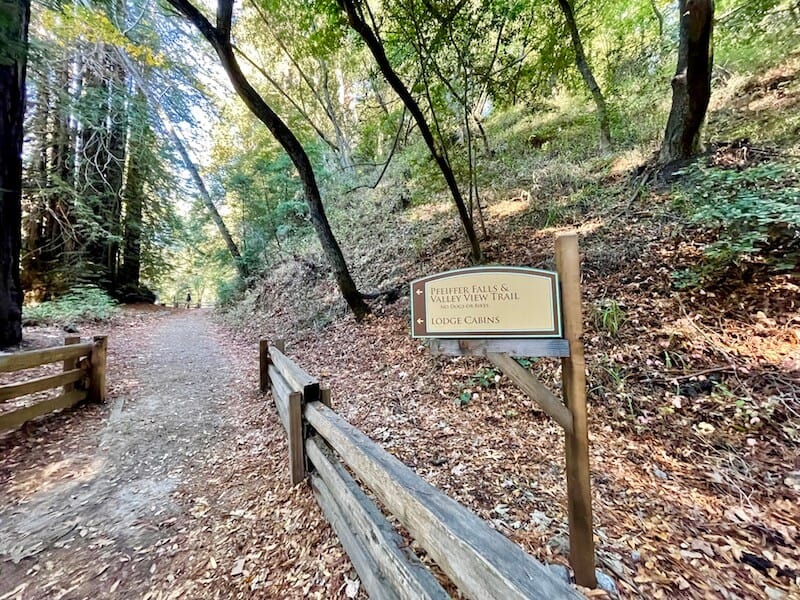 Both the Pfeiffer Falls Trail and the Valley View Trail share the same beginning trailhead, located across from the Big Sur Lodge.
If you are a guest at the Big Sur Lodge, as we were during our last stay, you are permitted to park in the lodge area for up to 90 minutes — about what you need for this hike.
Bonus if you stay at the lodge: it includes parking access to Pfeiffer Big Sur State Park.
They'll also give you a parking pass for other California state parks in Big Sur, including Andrew Molera State Park and Julia Pfeiffer Burns State Park, home to McWay Falls.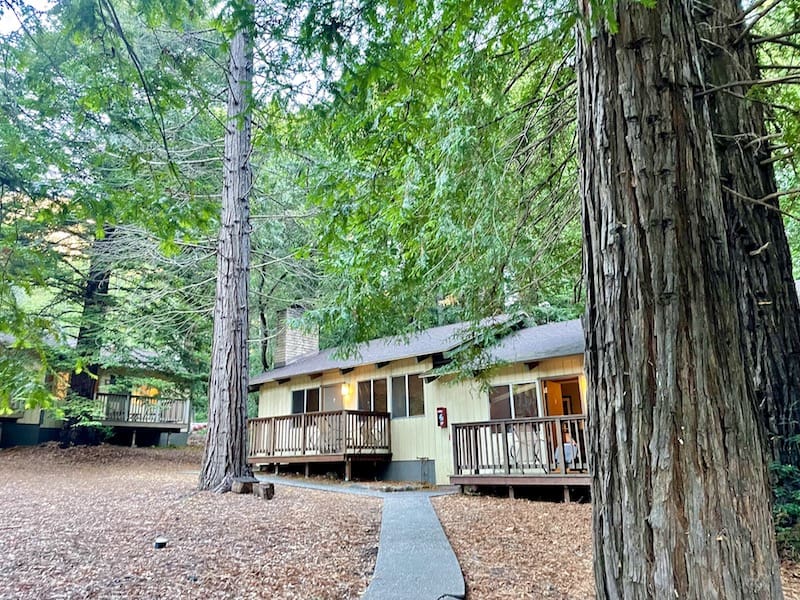 I loved our stay at the lodge! It's the perfect base for hiking in Big Sur, as it's literally located within Pfeiffer Burns State Park.
The price was reasonable for a Big Sur accommodation (which are typically quite expensive).
Our cabin was large and spacious, with a working fireplace, a seating area, two queen beds including a separate bedroom, and a huge bathroom with a great shower.
Best of all was the deck with lounge chairs — perfect for enjoying a cup of coffee with the morning light filtering through the forest.
Check availability, prices, and reviews of the Big Sur Lodge here!
If you are not a guest at the Big Sur Lodge, you will need to park in the day use parking lot, for which there is a $10 fee.
Once you park and walk to the lodge, find the trailhead directly behind the lodge, away from Highway 1, not towards it.
You'll find a sign that leads to both Pfeiffer Falls and Valley View: follow this paved footpath to begin the hike.
After a short walk through the redwood forest, you'll see a sign that bifurcates between Pfeiffer Falls Trail and the Valley View Trail.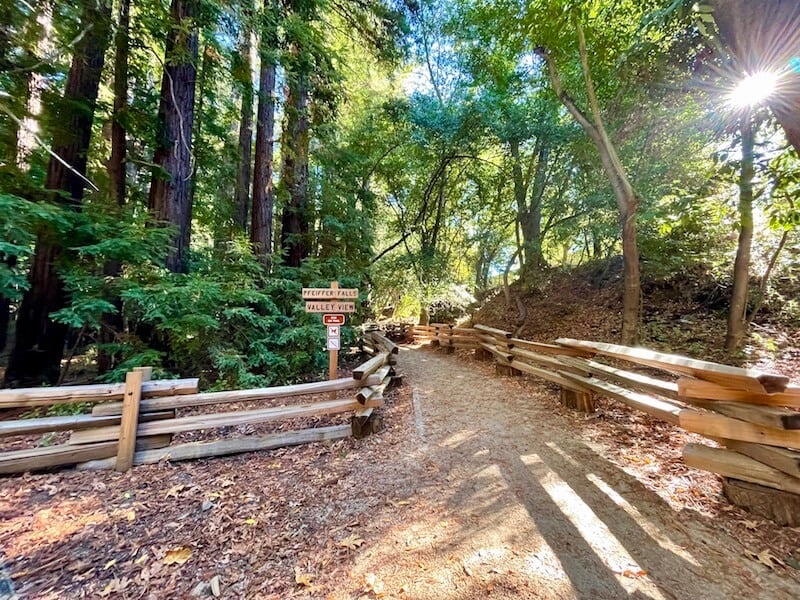 You can take either path and it will form a loop hike. However, I highly recommend hikers start with Pfeiffer Falls.
Why? For me personally, the Pfeiffer Falls Trail is better to take uphill, as it is composed of lots of boardwalks and stairs.
On the other hand, the Valley View Trail is mostly a steady incline on a dirt path, which I preferred taking downhill.
However, it's up to your personal preference — you may prefer to descend via stairs and ascend via the dirt path. Either way works, but I prefer ascending via stairs!
You have two options: take the Pfeiffer Falls Trail to the waterfall and then walk back the same way you came, if you're not interested in the added hike and elevation gain of Valley View.
The other option is to continue on to Valley View and complete the loop hike.
Personally, I recommend doing both — they each offer a totally different view, both of which are spectacular but very distinct.
However, if you only have time for one or the other, I would opt for Pfeiffer Falls. Of the two hiking trails, the waterfall trail is definitely the more spectacular one.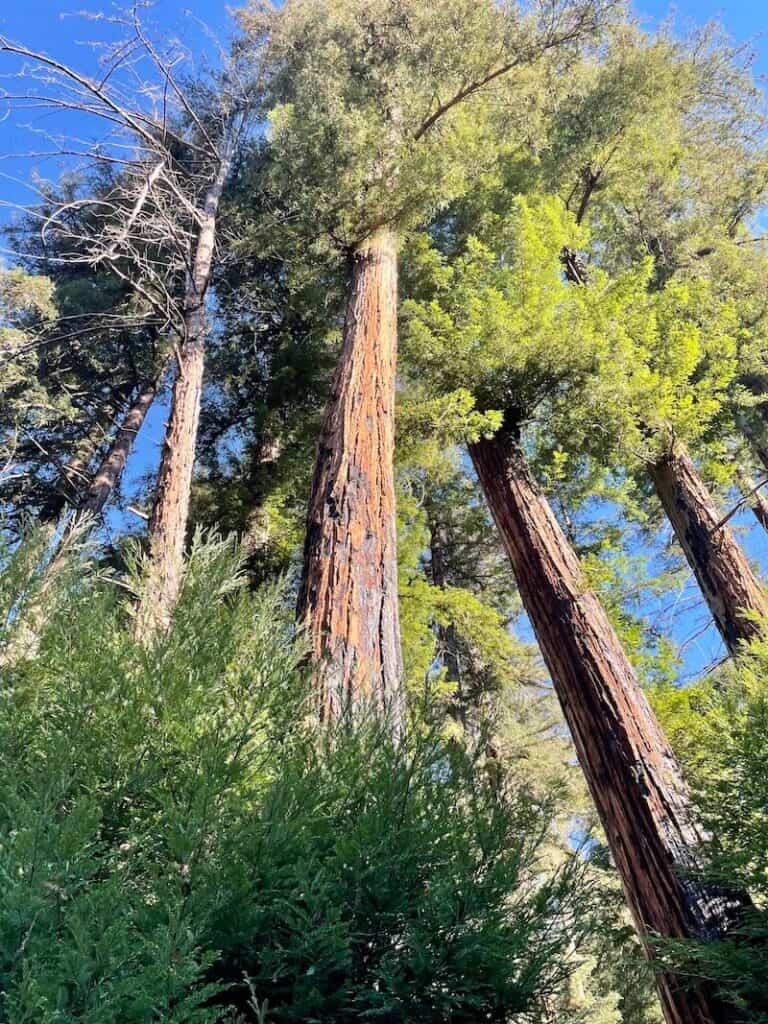 One thing to note about the Pfeiffer Falls Trail: it is newly reopened and reconstructed after a wildfire in 2016 devastated much of Pfeiffer Big Sur State Park.
At certain points of the trail, you will see burn scars on the redwood trees. However, they are regrowing beautifully.
Fire is a natural part of the redwood life cycle, so admire the beauty of these resilient trees rather than seeing it as a negative.
Starting at the Pfeiffer Falls Trailhead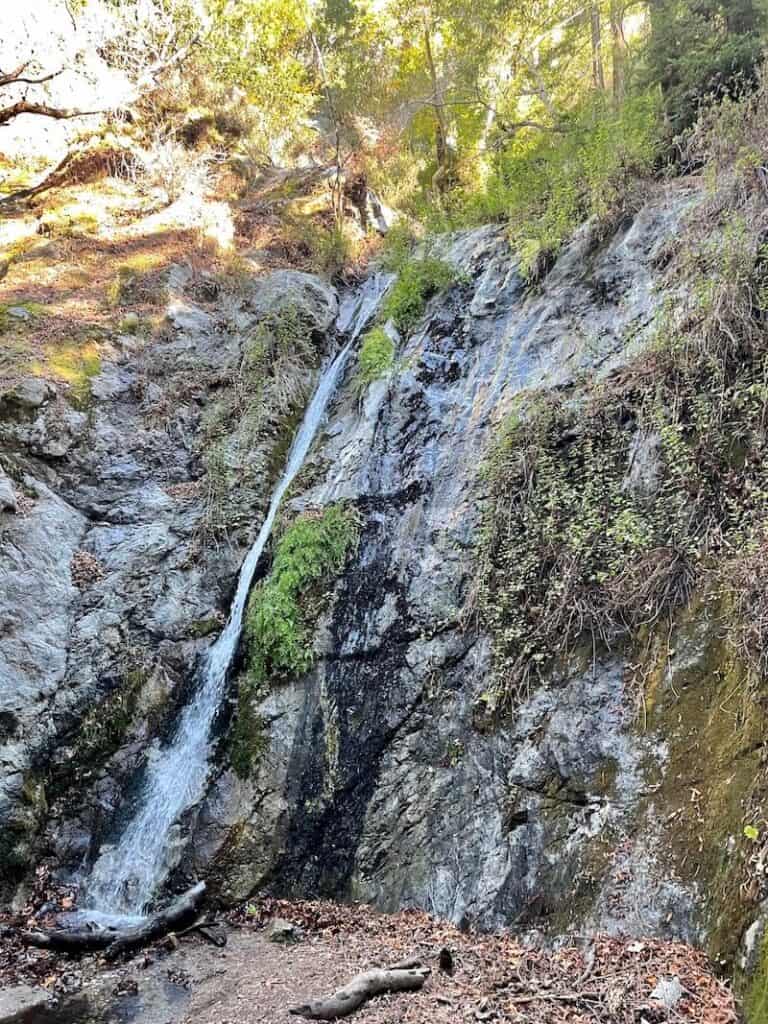 Length (Pfeiffer Falls only): 1.3 miles out-and-back (round trip)
Length (With Valley View as well): 3-mile loop
Elevation Gain (Pfeiffer Falls only): 400 feet
Elevation Gain (With Valley View as well): 700 feet
If you start on the Pfeiffer Falls Trail, you'll walk among towering redwoods alongside the spectacular Pfeiffer Redwood Creek.
The elevation gain comes at a steady, manageable pace, ameliorated by stairs and boardwalks to lessen the intensity.
One particularly beautiful part of the hike is where you cross a footbridge over a gorge, surrounded by redwood groves. This was tied with the waterfall itself for my favorite view along the hike!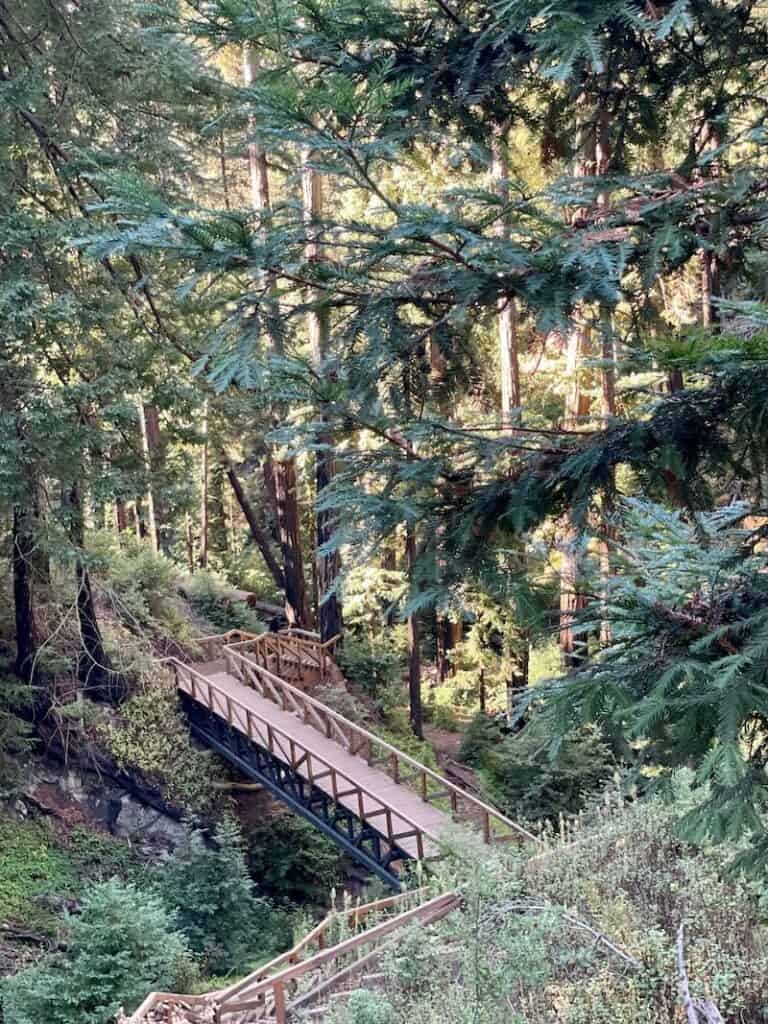 After many, many stairs and a switchback or two, you'll start to hear a little trickle of water — your first indication that you've arrived at Pfeiffer Falls!
Pfeiffer Falls is a gorgeous 60-foot waterfall that cascades down over rocks between redwood trees.
It is blocked off by a fence: please do not cross the fence for close-up photos with the waterfall, as we unfortunately saw other hikers doing.
You can also walk down the trail a bit to see the waterfall from another (and in my opinion, better) angle.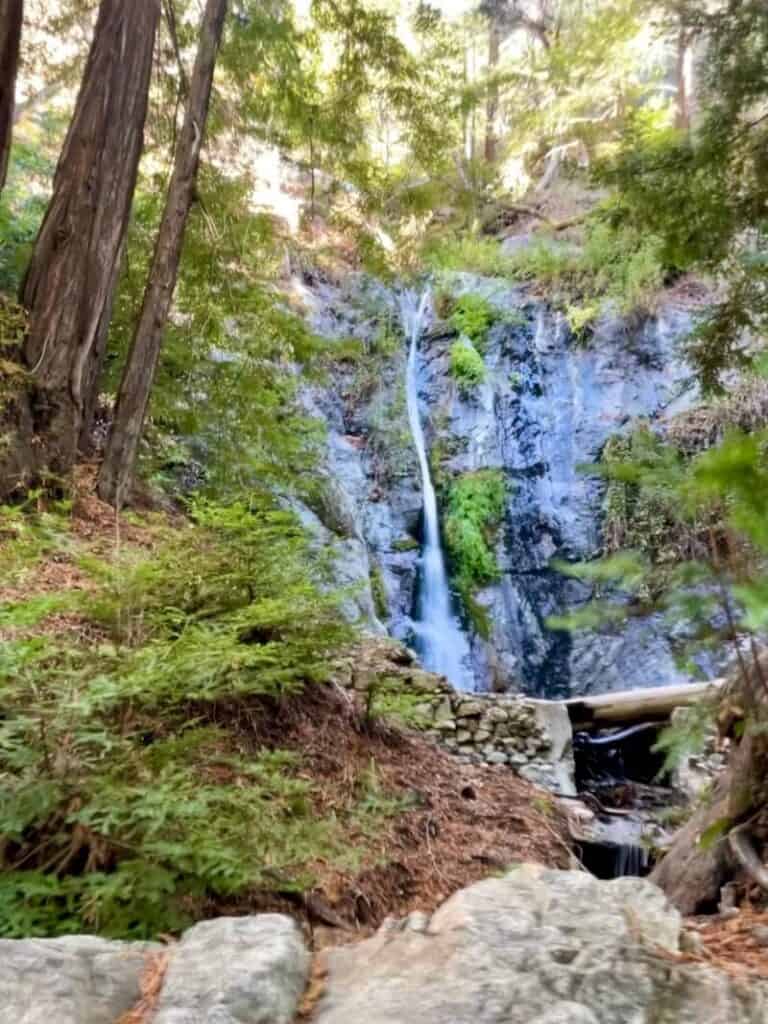 This is the way you'd continue if you were continuing onto Valley View, by the way.
Depending on the time of the year, the waterfall may be roaring or it may be a mere trickle.
We did this hike in mid-October, after some heavy rains had washed a lot of the Bay Area and California coast (so much so that there was a mudslide lower down on Highway 1!).
Still, even after so much heavy rain, I wouldn't say the waterfall was particularly strong. If you are hiking in the summer, I would imagine the water would be even more sparse.
You could turn around here if you just wanted to hike to the falls. However, I suggest continuing on to Valley View if you have the energy!
You will hike through redwoods and an oak grove before you start slowly making your way uphill to the turning point to Valley View. When you see this sign, follow it up towards the ridge.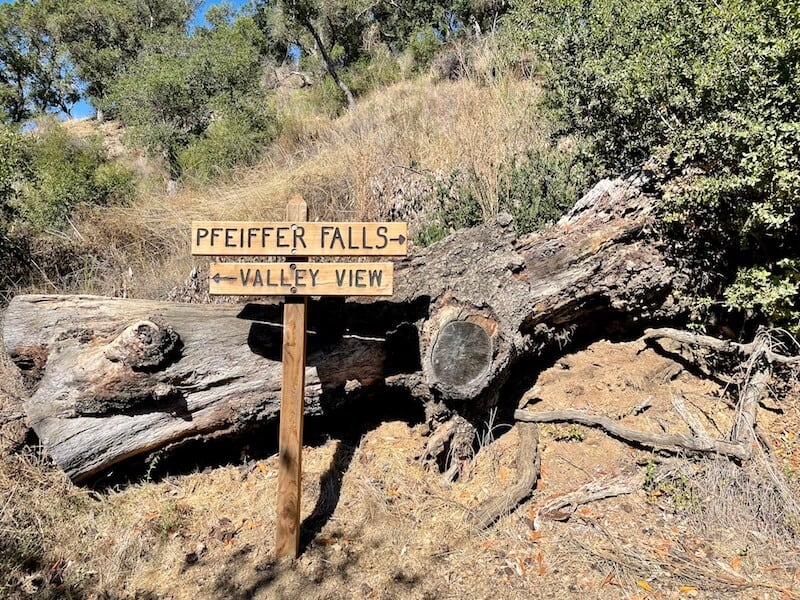 The trail starts to get more intense at this point, as you'll ascend quite a bit further on your way to the Valley View overlook.
You'll see a bench after a while — this isn't the final overlook, but rather, you'll continue onwards until the second bench, about 10 minutes more of a hike.
Once you reach the second bench, admire the view: you'll see redwoods down below in the Big Sur River Valley and the Santa Lucia Mountains behind you.
The view is nice, but I personally loved the views coming back even more, seeing the late morning light hit the mountains just so.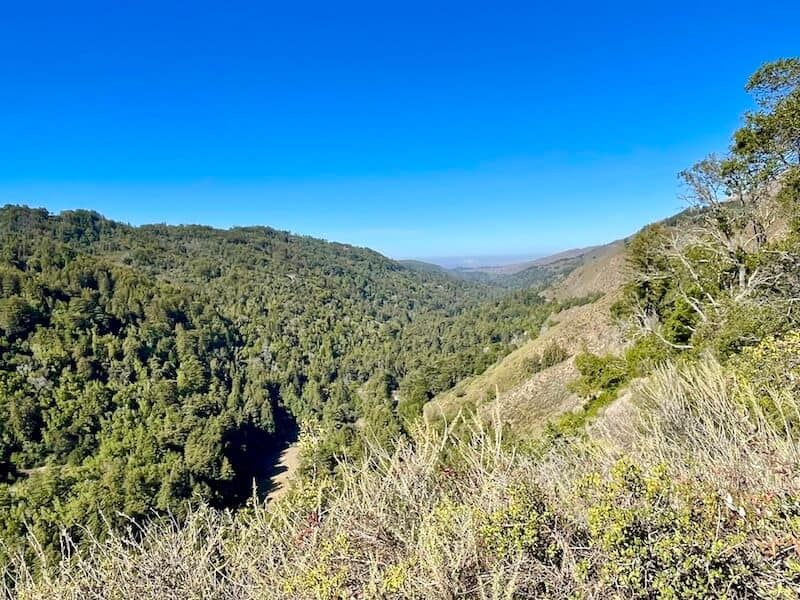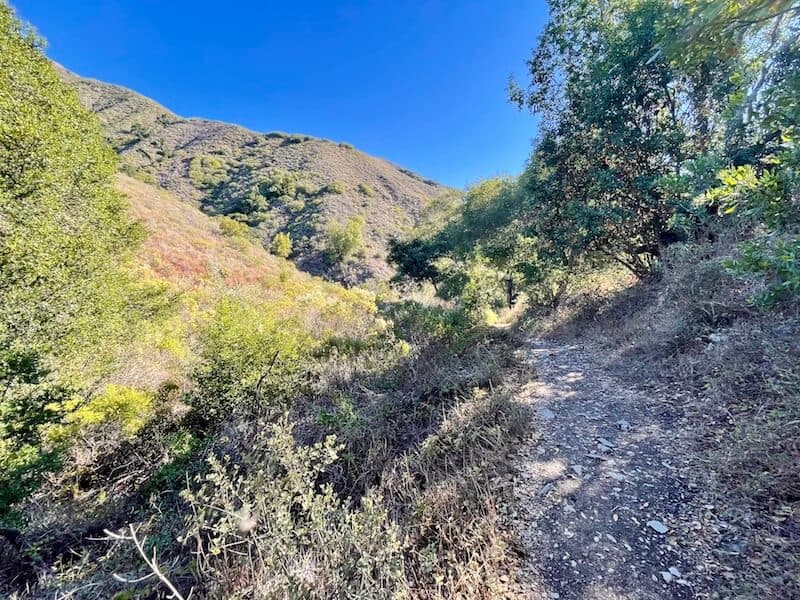 Other Hikes in Pfeiffer Big Sur State Park
Big Sur Nature Trail: A very easy 0.8-mile short hike (more of a walk) with 40 feet of elevation gain, mostly along a flat boardwalk that is stroller and wheelchair friendly.
Big Sur River Gorge Trail: An easy 1.2-mile hike with 75 feet of elevation gain, with river crossings and a swimming hole if the water level is high enough. Mostly an unmarked trail along the river, with rock scrambling. Water shoes are recommended.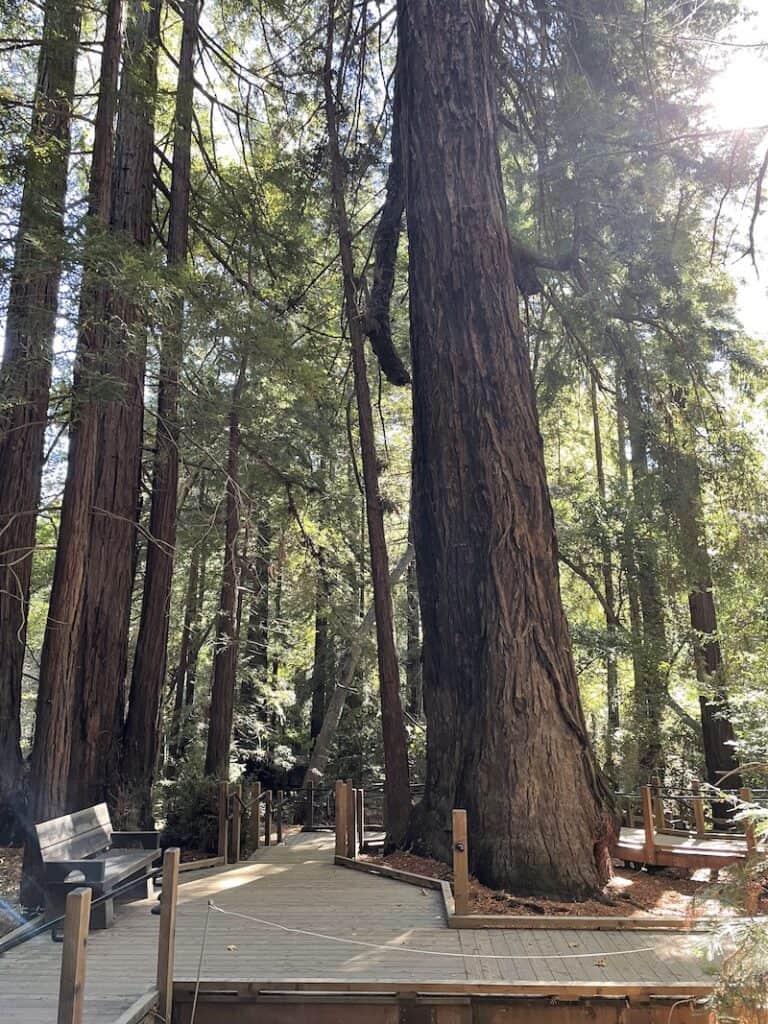 Buzzards Roost Trail: A moderate 2.6-mile hike with 800 feet of elevation gain. Lots of switchbacks leading to a beautiful view of the Pacific Ocean at the end of the hike.
Sykes Hot Springs via the Pine Ridge Trail: This is a tough one, not to be undertaken lightly. It's an overnight backpacking trail at 18.9 miles and over 5,000 feet of elevation gain! You can camp once you reach the springs.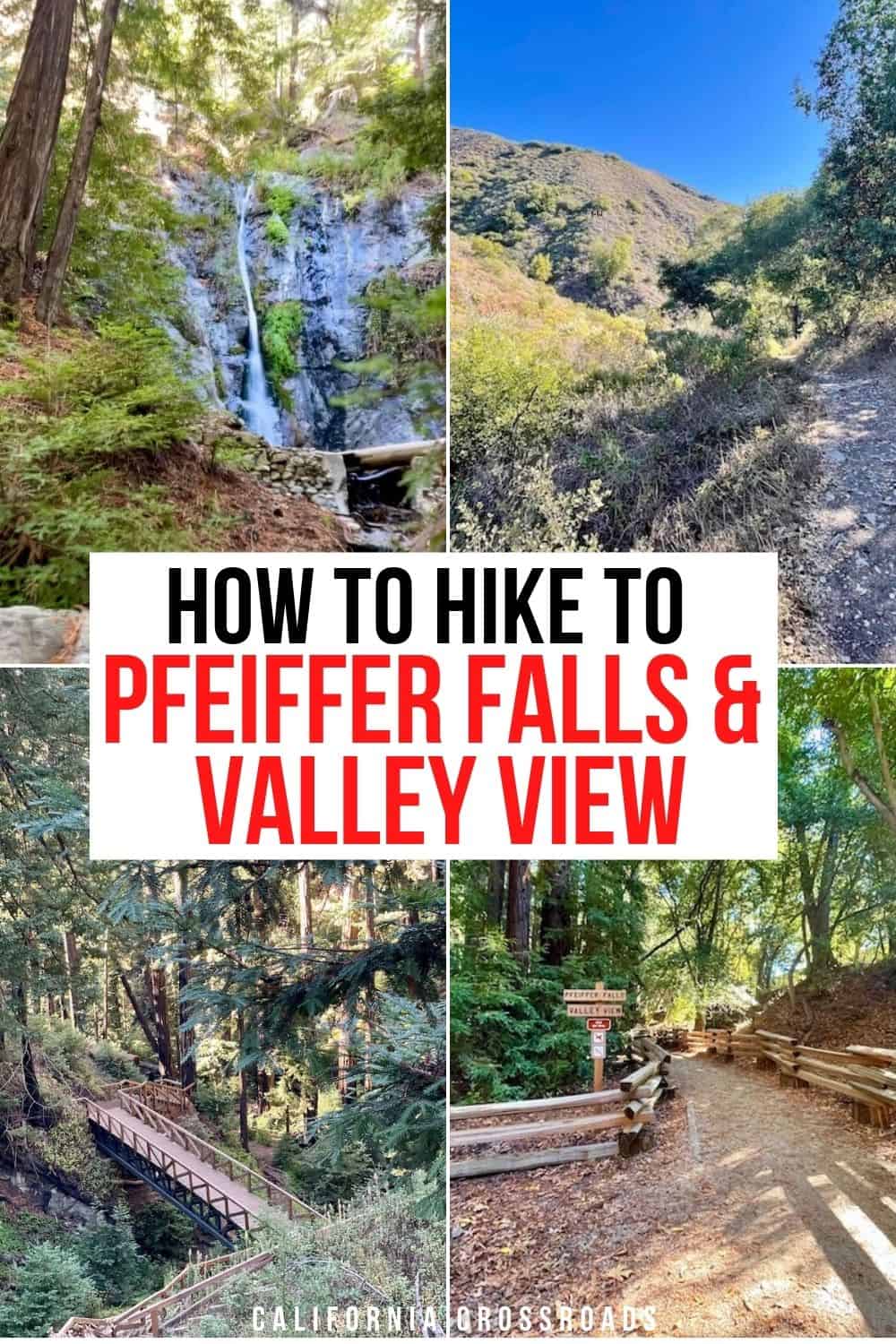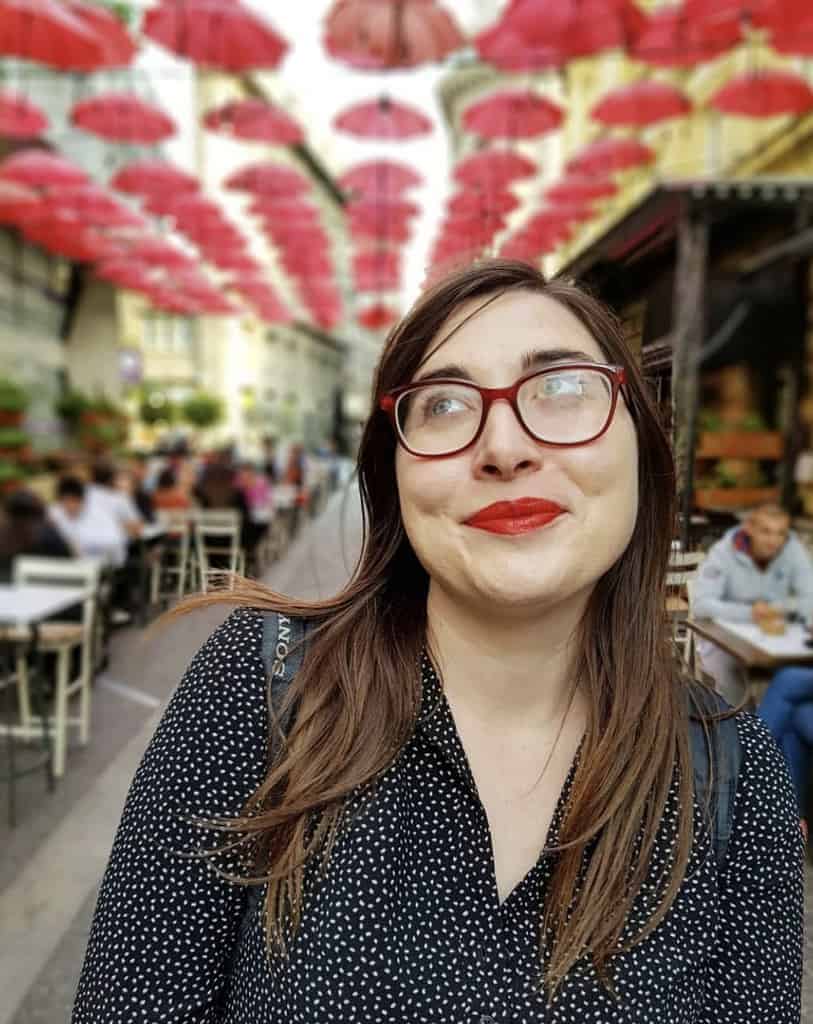 Allison Green is a travel blogger, writer, and podcaster who grew up in the Bay Area of California. She has spent time living in New York, Prague, and Sofia, but has returned to live in the East Bay. She has traveled to 60 countries before the age of 30 while running several digital travel publications. Her writing and podcast have been featured in Forbes, CBC Canada, National Geographic, the Huffington Post, and CNN Arabic, amongst others. She's obsessed with bouldering, houseplants, other people's pets, and anywhere she can see the ocean.