Paso Robles is a bustling city in San Luis Obispo County that sits along the Salinas River in a range of rolling hills that will instantly take your breath away.
These hills boast hot springs, astounding hikes, an abundance of wineries and distilleries, as well as an incredible production of olive oil and almond orchards.
Native Americans known as the Salinan lived in the area for thousands of years before the Mission era, and the modern city of Paso Robles began in 1857.
For both Native and settler Americans, the draw of Paso Robles has always truly been its poetic nature, healing hot mineral springs, and proximity to the oceanside.
But the most amazing experience this lovely place has to offer is just a drive through its rolling hills to take in a vast landscape of beautiful Oak trees (Paso Robles does literally mean "Oak Pass" in Spanish — so its oaks are definitely noteworthy).
Note: This post contains affiliate links, which earn me a small commission at no extra cost to you if you make a purchase using one of these links. Thank you for supporting this free content!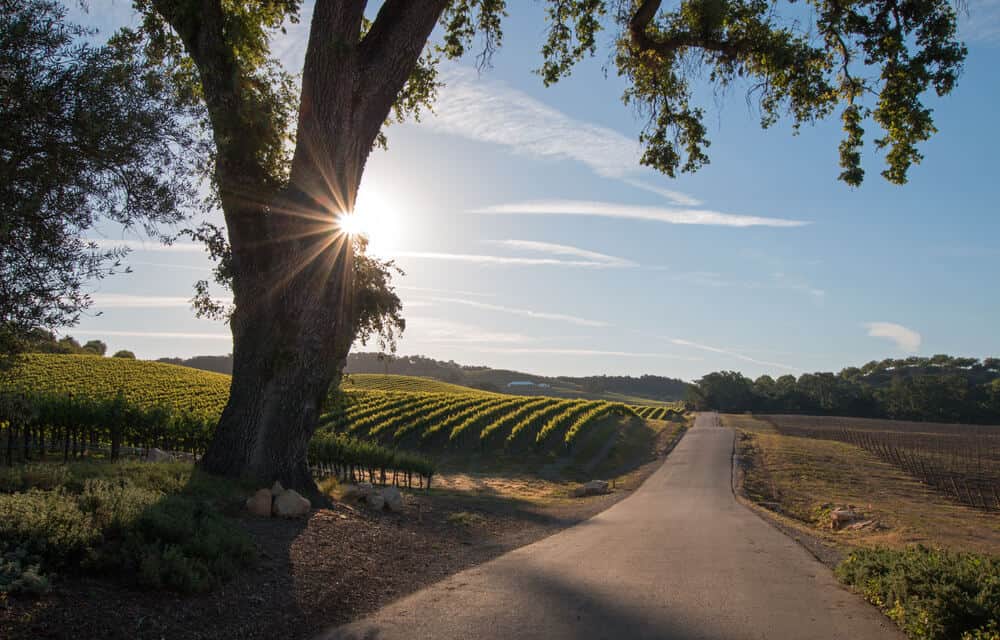 If you do nothing else with your time in Paso, I swear you won't be disappointed!
But there are so many places to stay, so many things to do, so much amazing food to eat, and definitely all the libations to drink that you could ever possibly imagine when it comes to a visit to Paso Robles.
Top that all off with gourmet ice cream, a horseback ride, and a round of golf and you've got yourself one of the most memorable California trips imaginable!
A majority of people traveling here are almost certainly looking for wine, wine, and more wine. And Paso Robles definitely offers that in spades.
But if you're looking for an eventful vacation or no wine at all, there is an abundance of great things to do in Paso Robles besides wine tasting: rich culture, eclectic activities, unique shopping options, and astounding food — all with a backdrop of absolutely incredible scenery for your viewing pleasure.
This travel guide to Paso Robles leaves no stone unturned, so you have the most magical stay possible.
Where to Stay in Paso Robles
Luxury: For an upscale stay, Hotel Cheval is a luxury boutique hotel in the heart of downtown Paso and it's guaranteed to make you feel like you're living in a classic film from the 1940s. If you're looking for a unique and gorgeous environment to stay in, look no further. Hotel Cheval is all class, no sass with a fireplace to boot.
>> Book Hotel Cheval online on Hotels.com
Boutique Winery Hotel: If you need wine upon arrival as well as a gorgeous, chic and cozy hotel stay then definitely consider booking at the Paso Robles Inn. Another boutique winery hotel that boasts a serene koi pond, a delicious steak house, and an outdoor balcony jacuzzi if you want to splurge a teeny bit.
>> Book Paso Robles Inn on Booking.com or Hotels.com
Laidback Winery Hotel: I told you Paso is all about the wine, as shown by yet another gorgeous winery slash hotel. The Summerwood Inn offers all of the picturesque vineyard views amidst the rolling hills and majestic oaks that make up Paso Robles.
>> Book the Summerwood Inn on Booking.com or Hotels.com
RV Resort: If you happen to be traveling by RV check out Cava Robles RV Resort. They have a pool, a diner and loads of great walking trails to keep you light on your feet.
Airbnb: Or if you're looking for a little more privacy, there are tons of charming cottages, airstreams or bungalows for rent on Airbnb. If you're looking for a truly unique stay, you can find a wide range of awesome, funky places that are hosted by locals, such as a remodeled barn in Templeton (a short drive outside downtown Paso) and even stays in tasting rooms! Check out this guide to Airbnbs in Paso Robles for a bunch more ideas.
Things to Do in Paso Robles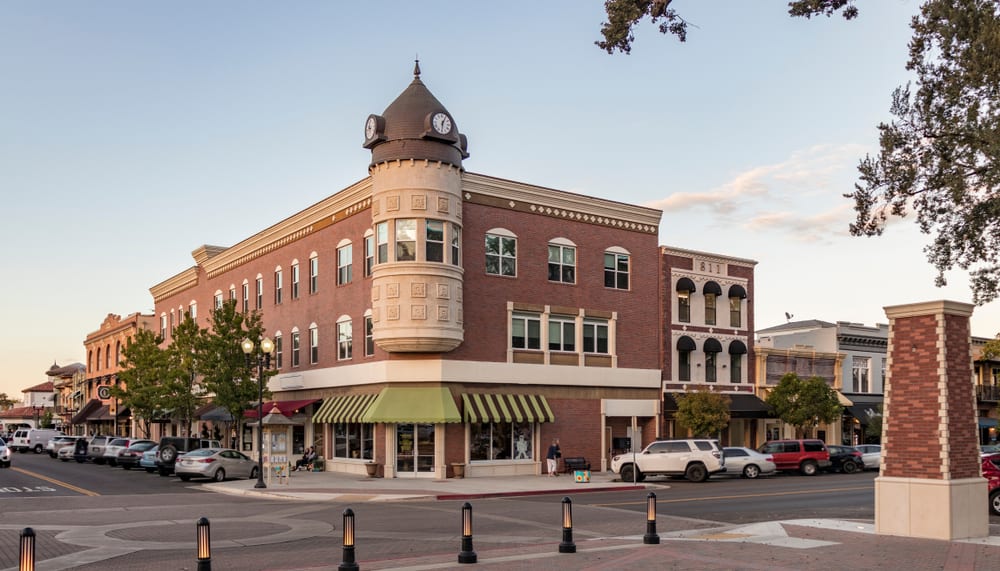 Take a walk around Tin City.
There are a few places in Paso Robles where you can just walk around and soak up the atmosphere, as well as eat, drink, sit and shop.
Your first stop should definitely be to Tin City, an area nestled amongst the oak trees of Paso Robles where some of Paso's most passionate artisans have set up shop for your tasting pleasures.
Here you can discover some genius innovators of wine, food, beer and spirits all in one extremely walkable destination.
There are about a dozen craft wineries and distilleries to explore along with some awesome burgers (Tin Canteen) and some gourmet ice cream (Negranti Creamery)… but more on those in a bit.
And the gigantic outdoor seating area really allows for a great, safe socially distanced experience.
Stroll downtown Paso.
You can't visit Paso Robles with out strolling downtown Paso!
It's filled with shopping, fine dining, wine tasting, art and an eclectic array of lodging. Right now, you can order take out for downtown city park dining enjoying a lovely sunny day.
Explore the Paso Market Walk.
Don't skip out on visiting the Paso Market Walk. It's a walkable, family friendly little neighborhood that offers everything you could ask for.
We're talking unbelievable coffee, oysters, or truffle brie cheese. It's home to some of Paso's best restaurants and the oak trees provide a lot of relaxing shade so you can just sit outdoors and relax.
Be amazed by the Sensorio art installation.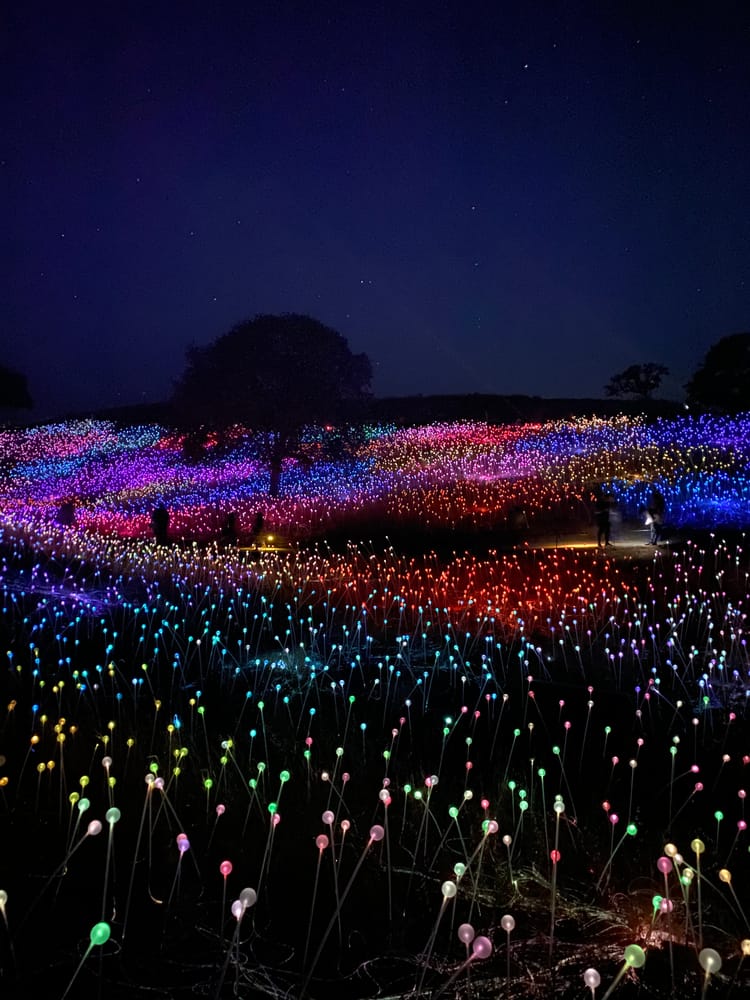 My favorite thing to see in Paso Robles is a truly remarkable art installation that words can hardly do justice.
Sensorio is best described as a large outdoor display of tens of thousands of fluorescent lights that pop up on every inch of a large swatch of rolling hillside. It looks like something out of Willy Wonka's candy shop, but not at all in a tacky way. It's truly gorgeous.
The innovate artist who created it is named Bruce Munro and you can catch his display at sunset.
Often there are food trucks, wine merchants and live music that accompany your visit. I can't stress enough how great an experience it is to view this special exhibit: this is absolutely one of the best things to do in Paso Robles.
Visit Mission San Miguel.
A 200 year old Spanish mission, right in the heart of Paso Robles wine country? You don't say!
Mission San Miguel is National Historic Landmark with a rich history. If you're looking for history or for a great photo opportunity, don't hesitate to take a stroll around the illustrious building dedicated to the Archangel Saint Michael.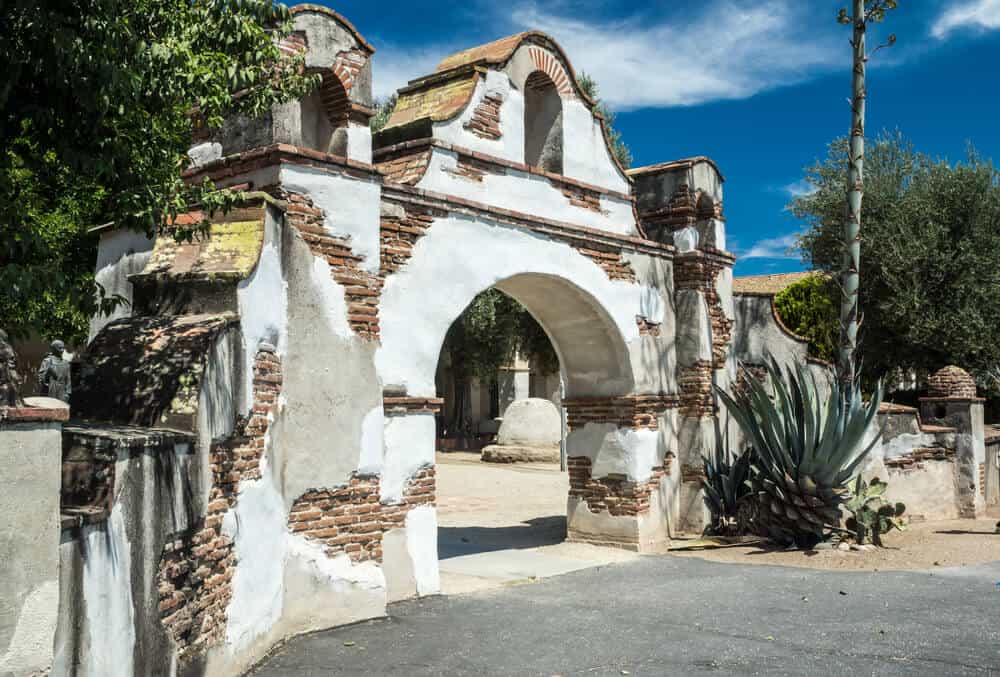 Explore Jack Creek Farms.
If you're looking for something amazing for the kids, or something fun because you're still a kid at heart, roll over to Jack Creek Farms!
If you've had enough wine and booze, take a break with honey or cider tastings.
There are loads of farm animals to feed and pet and tons of activities for kids.
Check out the amazing art scene.
If oak trees aren't artistic enough for you, browse the art housed at Studios in the Park in downtown Paso.
There are six studios with fifteen working artists, four galleries and a fine craft and art gift store.
Check out the murals of downtown Paso.
For the Instagram lover looking for a mural to take a great photo in front of, don't miss the colorful art wall on the side of Les Petites Canailles restaurant in downtown. (More on that gem in a moment!)
Where to Drink in Paso Robles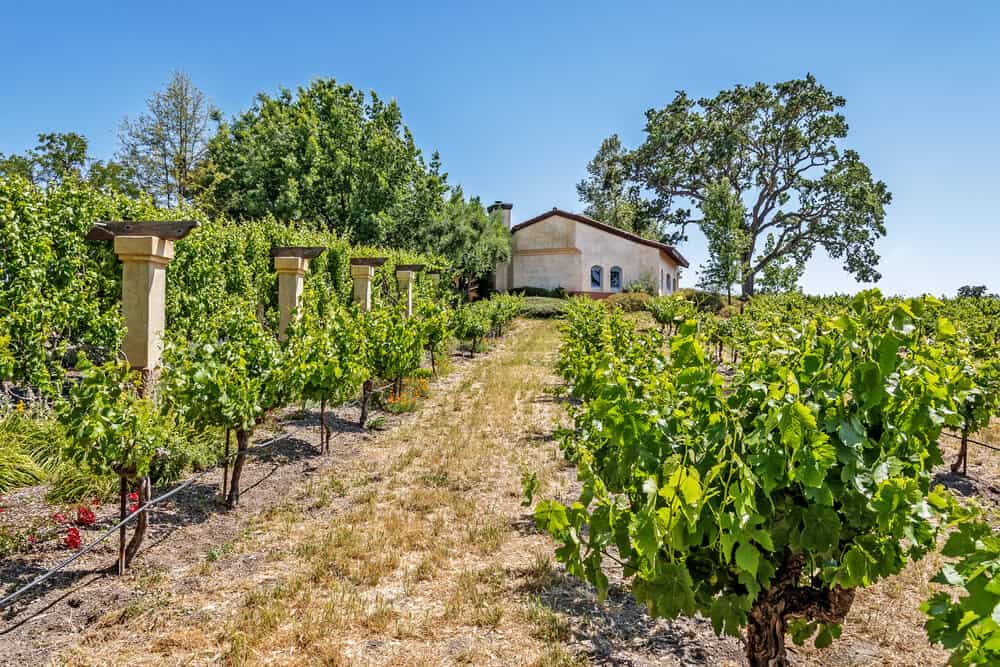 Try the tastiest wines Paso Robles has to offer.
I know, I know.. Why wouldn't we start talking about the wine first? Paso is technically wine country.
Well, the truth is, there is so much fine wine, craft beer, and artisan cocktails in Paso that even Ancient Rome would have to bow down in respect.
Here are a few wineries that stand out for reasons other than just the wine.
Paso Robles Wine Merchant is an artisanal vegetarian wine bar and kitchen. It's located inside the Paso Market Walk and if oysters are your thing, don't walk, run…and then peacefully sit and enjoy your oysters.
You may enjoy a lunch there with options like a Moroccan spiced chickpea stew, white bean toast or a special seasonal grilled cheese (With apple, brie and fig jam.. Yum) Bonus, all their food is farm to table and all their wine is sustainably farmed.
Sip wine with an alpaca at Tablas Creek Vineyard. I mean, enough said right there, right? It is the world's first Regenerative Organic winery tucked into the San Lucia Mountains. And if you're not in the know, ask the alpacas what regenerative organic means, they'll tell you all about it.
Are you looking to 'pour one out for the homies'? Then look no further than Graveyard Vineyards. They are located in the Pleasant Valley Cemetery (hence the name) and they offer a beautiful little dock on a small pond that you can dip your feet in to while enjoying a glass of wine… should you not be too spooked by the location to enjoy!
Finally, DAOU Vineyards might boast one of the best views in town and that's hardly the best part of what they offer. If you're truly a wine connoisseur, drop in and explore the latest and most prestigious wines in California.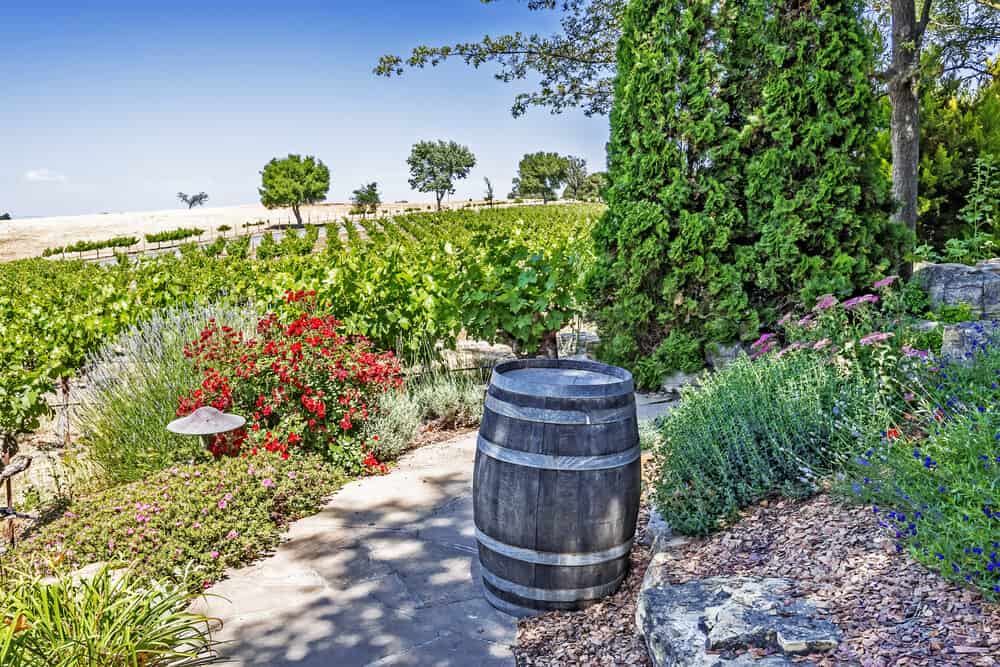 It's hard to exclude any winery in Paso Robles because they really are all special. But here is a short list of some of our favorites.
J Dusi Winery
Cass Winery
Booker Vineyard
Mcprice Meyers Wines
Opolo Vineyards
Alta Colina Vineyard and Winery
You literally can not miss with any of these places! Alternately, you can take a wine tour with Breakaway Wine Tours and let someone else be the decision maker.
There are a few other amazing companies to book with as well. Here's our short list:
Enjoy something stronger.
Wine not enough for you?
Visit the Krobar Distillery and sample their small-batch craft whiskey, gin, vodka, bitters, and apertifs.
It'll be hard not to take a few bottles home with you!
Grab a drink outdoors at one of Paso's bars.
Depending on current Covid restrictions, these bars may or may not be open, although they all have continued to serve outdoors. If you're looking for a great bar, here are my favorite three.
The Hatch Rotisserie and Bar not only has incredible mouth watering food, it's a really great bar just off the town square in Downtown.
Are you looking for a drink in an authentic American middle of nowhere old-school bar? Grab a beer or a Bloody Mary at The Rodeo.
On the opposite end of the spectrum from The Rodeo, there's a fantastic speakeasy cocktail lounge called Eleven Twenty-Two that's definitely worth sitting in for a drink.
They have plenty of outdoor space, so don't hesitate to pop on over!
Where to Eat in Paso Robles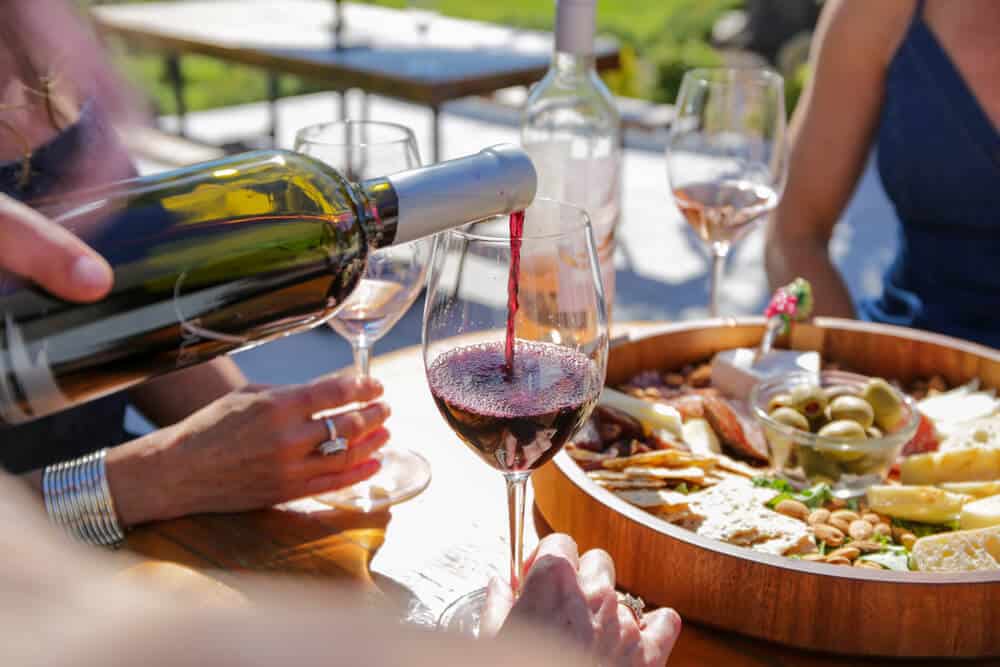 You'd probably never guess that there would be such incredible, innovative and truly unique dining experiences in a little city like Paso Robles.
But let me tell you: there's an abundance of amazing food here. It's hard to stand out amongst so many great restaurants, but here is a list of guaranteed, extra-special, mind-blowing meals.
Eat the best brunch of your life.
The Alchemist's Garden restaurant is so spectacular that I would argue it's worth driving to Paso Robles JUST to eat there. Brunch, lunch and dinner in downtown Paso could not get better than this place.
Duck poutine? Trout toast? Bottomless Prosseco? A vegetarian OR carnivore platter that will have you drooling a year after you eat it? YES PLEASE.
They offer a mind-bending spirit, cocktail and wine collection with unique dinner options like duck chalupa, Moroccan spiced lamb and a skirt steak that's rubbed in… wait for it, wait for it… coffee. Just trust us and go.
Try ramen and Japanese soul food.
Momotaro Ramen in the Paso Market Walk is another fantastic choice for where to eat in Paso Robles.
Ramen? And wine? … Don't doubt it, just say YES. Get some of that Japanese soul food and enjoy the shade of an oak tree.
It'll give you a great foundation to lay glass after glass of wine on top of.
Dig into some BBQ.
Jeffry's Wine Country BBQ would make any Texan cry some happy tears. Share a tray of insanely amazing pulled pork nachos with some friends or go wild with an assortment of Mac & Cheese options that include smoked brisket, sauteed pepper and onions, roasted garlic and a housemaid bbq sauce.
If you're a vegetarian, you're actually in luck. Their veggie options are surprisingly out of this world!
Share a charcuterie board.
What's wine country without charcuterie?
Do yourself the biggest favor and check out Stellar Cellar Boards. They are hand-crafted meat and cheese boards and boxes.
These grazing table platters are designed so well, you may not even want to eat it!
Hit an authentic Italian market.
Di Raimondo's Italian Market in Downtown offers incredible cheese plates and sandwiches.
Like any great Italian store, it's part cafe, part grocery market and part knock-your-socks-off tastiness.
Grab some tasty fish tacos.
If gourmet modern fish tacos and a robust tequila bar are your thing, don't skip past Fish Gaucho in Downtown.
If you go once, you almost definitely will go back twice… or three times. Maybe more. We make no guarantees.
Dine like you're in Paris.
I talked about the mural outside of Les Petites Canailles restaurant, but what I didn't mention was how incredible this French inspired food is!
This is fine dining at it's best, with a creme brûlée and chocolate & praline dessert that you'll never forget.
Or dine at one of these other great restaurants in Paso.
Remember when I said there is too much good food to choose from? Well, here are just a few other places that stand out amongst the crowd.
Thomas Hill Organics
Orale Taqueria
Mcphees Tin Canteen (for an unreal burger)
And if you happen to be in Paso Robles during winter time, there's a wonderful place called Just Soup that serves exactly what it claims it does… soup.
Grab a delicious ice cream at Negranti.
All that amazing food and no dessert? Come on, live a little.
Ice cream fan? Negranti Creamery in Tin City uses sheep's milk (from pasture raised sheep) and so much skill and thoughtfulness they might want to call it something besides ice cream. Soft, magical melt cream maybe?
Eat the best cookies of your life.
The Brown Butter Cookie Company in Downtown is hard to miss.
If you're trying to stay away from sweets, don't go within 50 feet of the place, because once you smell the cookies, you're done for.
Originally a Cayucos instutition, there are now three branches in Central California of this locally-owned, locally-loved bakery, including this one in Paso.
Try a whimsical confection at Just Baked.
If you're looking for macarons, cupcakes or a cake for a special occasion, Just Baked Cake Studio and Bakery is where you need to go.
If you've never had a crunchy nutella cupcake, or a circus animal cookie cupcake or a funfetti or triple lemon or churro or ollalieberry and cream cupcake, then get busy living and dive right on in.
Grab the best bread in Paso.
If you're looking for a little cherry on your cake and you happen to be a fresh baked bread lover, hit up the folks at Bread Bike.
They freshly bake whole grain and sourdough bread loafs and deliver it to you wherever you are — on bicycle.
Dip that in some local olive oil, and you'll never forget it. Enjoy!
Shopping in Paso Robles
Bring home the perfect Paso souvenir.
Want to bring something awesome and unique home from Paso Robles? Besides several dozen bottles of wine? We've got some suggestions for that!
Firefly Gift Shop in Downtown is filled with incredible local creations that encompass jewelry, clothing, home goods and a ton of really cool gifts.
Another spectacular store is called Bijou On The Park. If you're looking to buy yourself or a friend something extra special, they sell women's clothing, unique home decor and everything baby.
I guess you can say those shops cater towards women more so than men, although you can find a gift for anyone of any age. If you're looking for a more neutral shop in terms of clothing and unique goods, browse these two places as well.
The General Store in Downtown is full of amazing things to bring home. Anything from puzzles, books and glassware to soap, handbags and locally made olive oil. Definitely don't skip past this place.
Out By The Shed is a perfect name for this little shop that sells salvaged vintage goods. If you're a fan of the TV show American Pickers, definitely swing by here!
There are so many cool things to gaze at and take home, and who knows? Maybe you find that rare item that later turns out to be worth millions. Good luck!
Things to Do Near Paso Robles
Once you're done eating, drinking, walking around and shopping in Downtown, it's time fill the rest of your weekend with some really fun adventures.
You'll be shocked at how many thrilling things to do in Paso Robles there are, as well as in the surrounding mountains.
Go horseback riding in the countryside.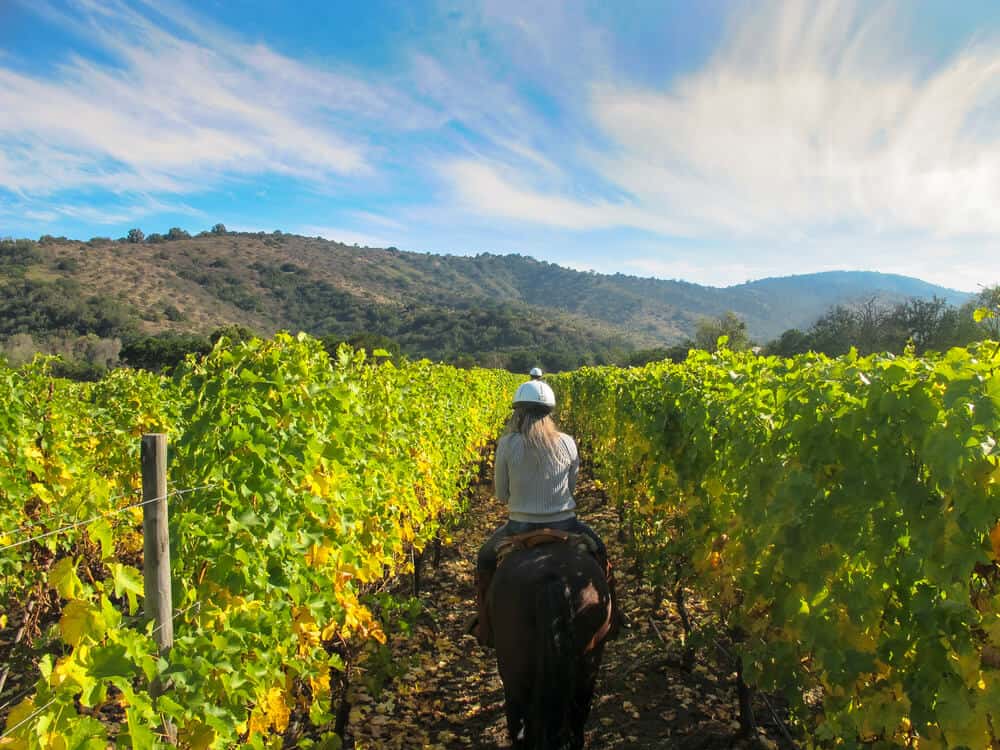 Who say's it's not safe to drink and drive… a horse? Many people actually. So maybe you want to visit Central Coast Trailrides before you go wine tasting.
They'll stroll you through some beautiful landscape on some stunning horses… and you may want to book this on your calendar because Paso really is a cowboy town.
It's hard to imagine visiting with out getting a taste of the cowboy and cowgirl life. Yeehaw!
Soar over the Paso Robles hills.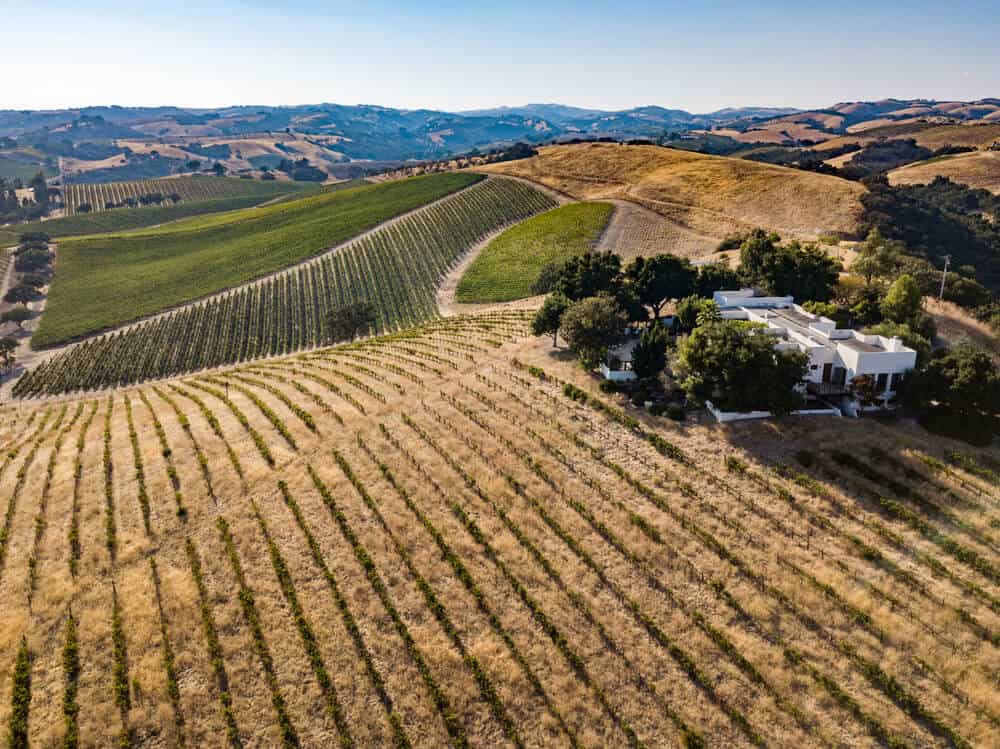 For the more adventurous at heart, look up Margarita Adventures for a zipline thrill over the oak trees and rolling hill vineyards in Paso Robles.
If ziplining doesn't get you far enough from the ground, maybe try a hot air balloon ride with Balloons over Paso!
You'll certainly get a view of the mountains like nowhere else.
Soak in the nearby hot springs.
Remember when I said Paso Robles has been a special place to Native Americans for generations? One key reason was the hot springs!
Check out Franklin Hot Springs for a no-frills mineral hot springs pond or River Oaks Hot Springs for a full on super pampered spa day.
Practice your swing.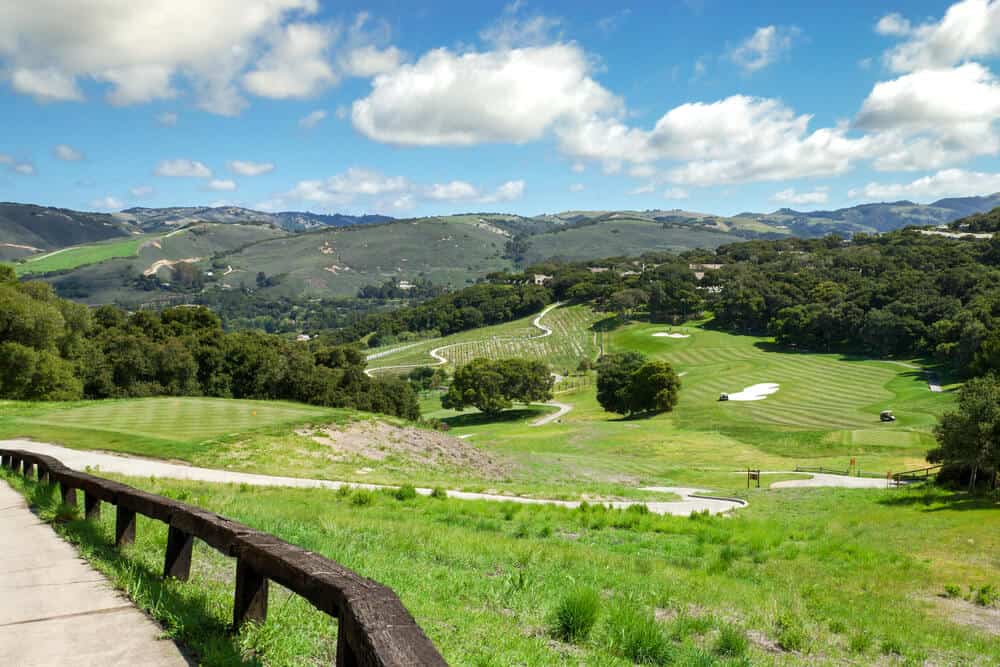 There's a ton of great golfing in Paso Robles!
The Paso Robles Golf Club, the Links Gold Course, Hunter Ranch Golf Course and River Oaks Golf Course are all worth a visit if your real goal is to enjoy a long day on the green.
See something out of this world.
Does anyone remember a few months back, when the world was mesmerized by what appeared to be a strange, tall, shiny, metal, alien-looking object that started appearing in random parts of remote places all over the world?
Well guess what, one of those places is on one of the best hikes you can take in Paso Robles! And as far as we know, as of 12 weeks ago – the monolith sculpture (which is most likely not alien, sorry guys) is still there!
It's called the Pine Mountain Loop hike in Atascadero, just a short drive south of Paso Robles. Even if it's been taken down, it's still worth the hike.
Walk around the beautiful oaks.
If you don't want to travel that far, then just a hop, skip and a jump away is Montebello Oaks Open Space Trail.
It's short and sweet and filled with gorgeous oak trees, the perfect thing to do in Paso Robles if you've had your fill of wine tasting.
More Ways to Get Your Wine On in Paso Robles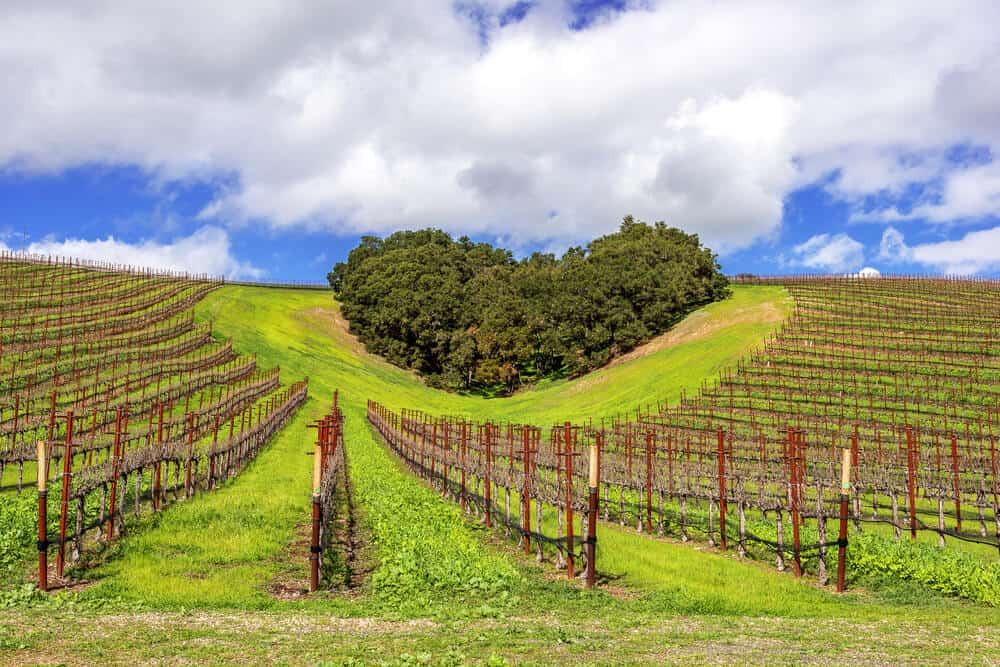 Not enough wine packed into your trip? Add on a visit to tasting rooms at Turtle Rock Vineyards, Rava Wines and Benom Wines.
Alternately, plan a visit when the Garagiste Wine Festival is happening. It's been voted the best wine festival in Paso.
Eat at a winery restaurant! Great options include Cass Cafe at Cass Winery, or the restaurants at either Ninerwine Estates or Justin Wine Vineyards.
Pin This Things to Do in Paso Robles Travel Guide!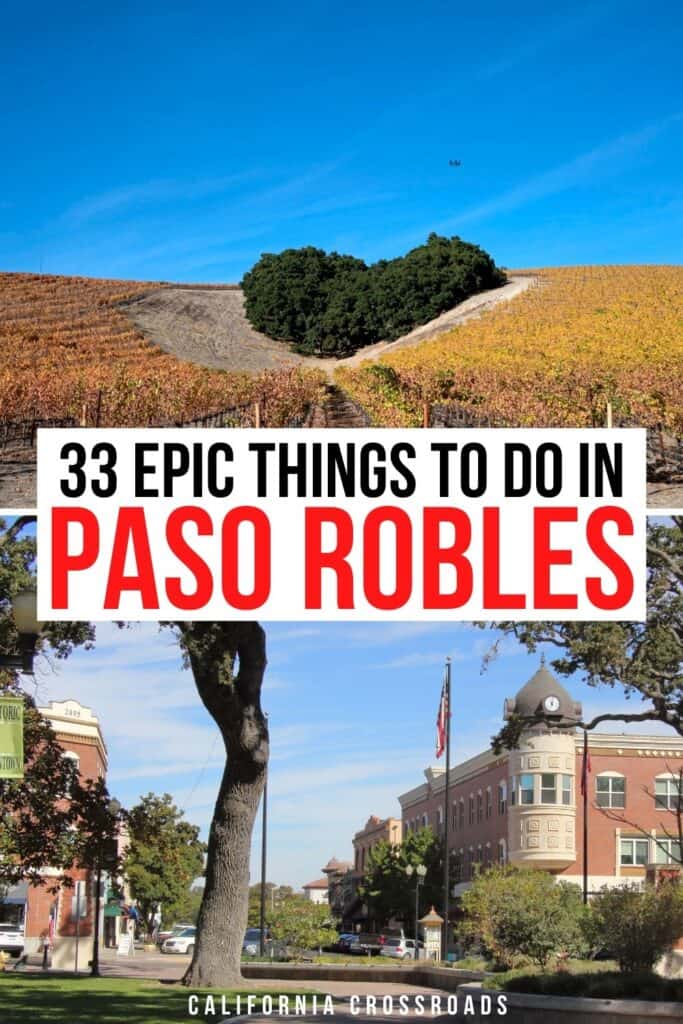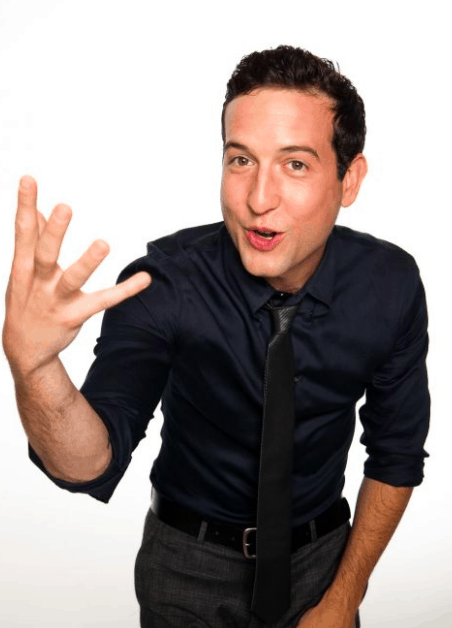 Christopher Rodriguez is a freelance writer, actor, and comedian. Originally from the East Coast, he has resided in Los Angeles for nearly twenty years. He's a first-generation American. Son of an immigrant from France and another from Cuba. He loves to travel and for a trip to be all-encompassing. He's a proud father, an adoring husband, and an occasional optimist.