Southern California's dreamy coast and nearly endless sunshine sets the stage for ideal kayaking conditions!
With plenty of beaches and lakes to choose from, visitors have a wide range of sublime SoCal kayaking launch sites!
Paddling through the state's popular regions, visitors can get a glimpse of sea life, natural landscapes, and the coastline firsthand. 
Following down the coast of Southern California from Santa Barbara to San Diego, paddlers can find numerous beautiful areas to enjoy.
Beginners and experienced kayakers can find their sweet spot amongst these opportune areas.
Though summer and fall are considered prime conditions for Southern California kayaking, the state's weather is often suitable for year-round treks.
Nonetheless, some locations have variable conditions, including high winds and large waves, so remember to check the conditions before heading out!
Enjoy California's clear waters by choosing from these signature venues or discovering your own along the way: here are some of our favorite places to go kayaking in Southern California!
Kayaking in Santa Barbara County
Channel Islands National Park
Note: This post contains affiliate links, which earn me a small commission at no extra cost to you if you make a purchase using one of these links. Thank you for supporting this free content!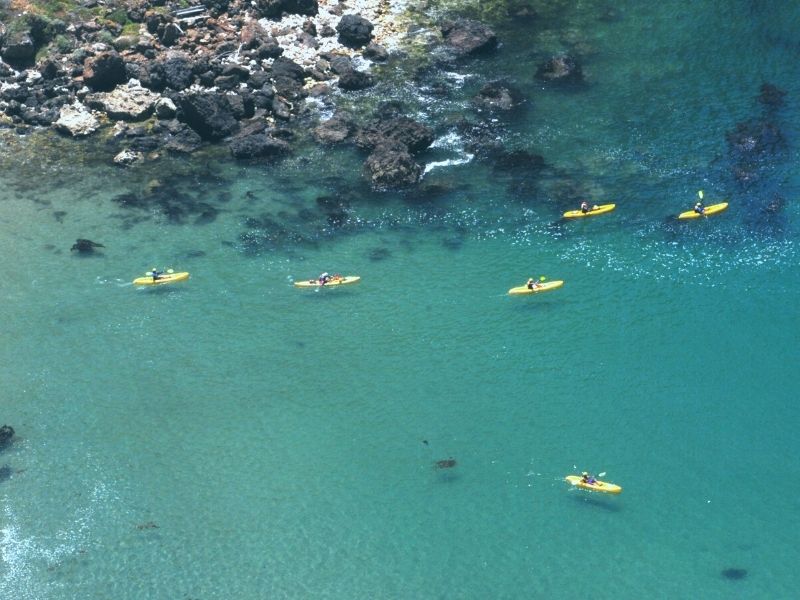 For an active California trip, take a ferry or a short plane ride to Channel Islands National Park, where there are countless kayaking opportunities!
Channel Islands National Park is an adventure seeker's dream, filled with activities like hiking, sport fishing, and exploring sea caves, clear water, and coves.
Of the eight islands, Anacapa and Santa Cruz are two of the best for kayaking — and they offer some of the best kayaking in Southern California, period.
Scorpion Beach on East Santa Cruz Island is known for its exceptional sea kayaking region, conveniently located near camping areas and close to Painted Cave, one of the largest sea caves in the world. 
However, be aware that this unique and rewarding kayaking venue can be challenging, with dangerous winds and conditions. As a result, first-time and inexperienced paddlers should be sure to follow tour guides on their trip.
If up for the challenge, paddlers must be cautious of their surroundings and the potential for conditions to change quickly. Nonetheless, you will be glad to check of Channel Islands kayaking off your California bucket list! 
Santa Barbara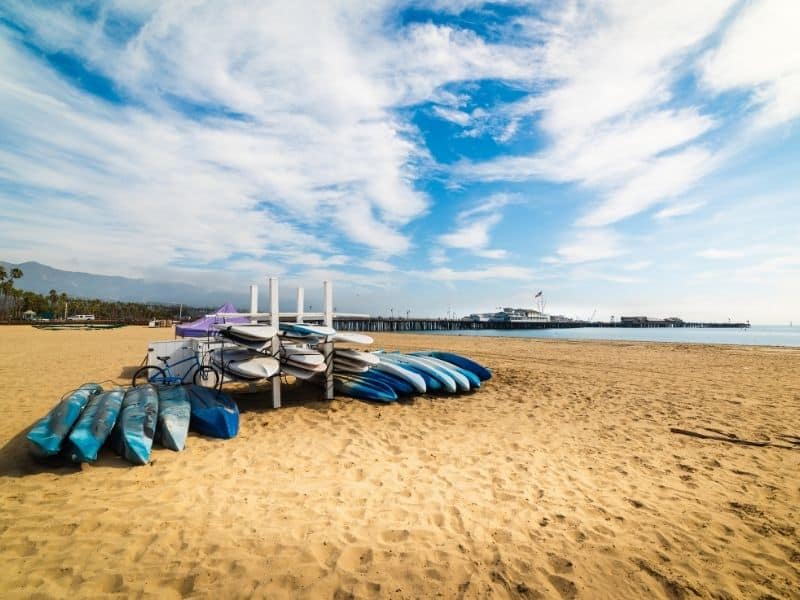 The tranquil city of Santa Barbara, known as the American Riviera, is a splendid place for an undisturbed adventure!
With a calming downtown and incredible natural features, Santa Barbara is an oasis of Southern California.
In the harbor by Stearns Wharf and beyond, both the Santa Barbara Sailing Center and Paddle Sports Center rent out kayaks for easygoing excursions.
From this environment, travelers have a first-hand view of Santa Barbara's waterfront and the Santa Ynez Mountain range.
While the conditions are typically flat in the port, Santa Barbara can get windy, so be sure to check the weather when planning your excursion.
From this convenient location, visitors can explore the downtown region post-paddle (like the always-fun Funk Zone) and grab a drink or meal right on the pier. 
Kayaking in Los Angeles County
Catalina Island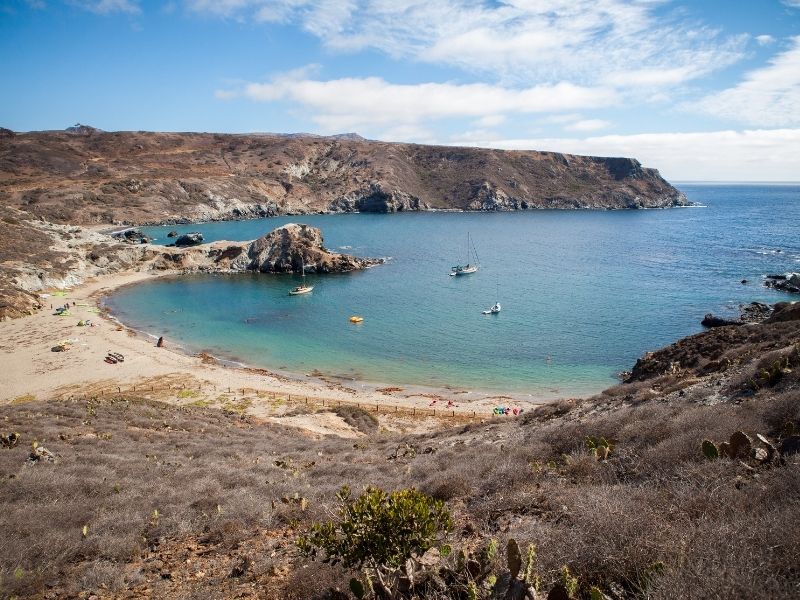 While it is the largest of the Channel Islands, Catalina Island is not actually part of the national park of the same name; rather, it is technically a part of Los Angeles County.
Semantics aside, Catalina Island is a prime spot for exploration via kayak! To get to Catalina, visitors can take a 90-minute ferry ride from Dana Point, Newport, San Pedro, or Long Beach to access the small island, with daily departures from all harbors. 
On the island, you can rent a kayak from Descanso Beach Ocean Sports. Going around Catalina, you will have immaculate views of the Catalina Casino and the Green Pier.
Moreover, you'll see wildlife ranging from eagles and cormorants to bright orange Garibaldis, jellyfish, and other creatures swimming in the clear ocean water. Certain areas allow for fishing and spearfishing, as well.
Taking a kayaking trip to Catalina Island gives you an excellent excuse to relax on the beach post-paddle. The small-scale island, reminiscent of Hawaii and the Amalfi Coast, is a sublime weekend getaway. 
Marina del Rey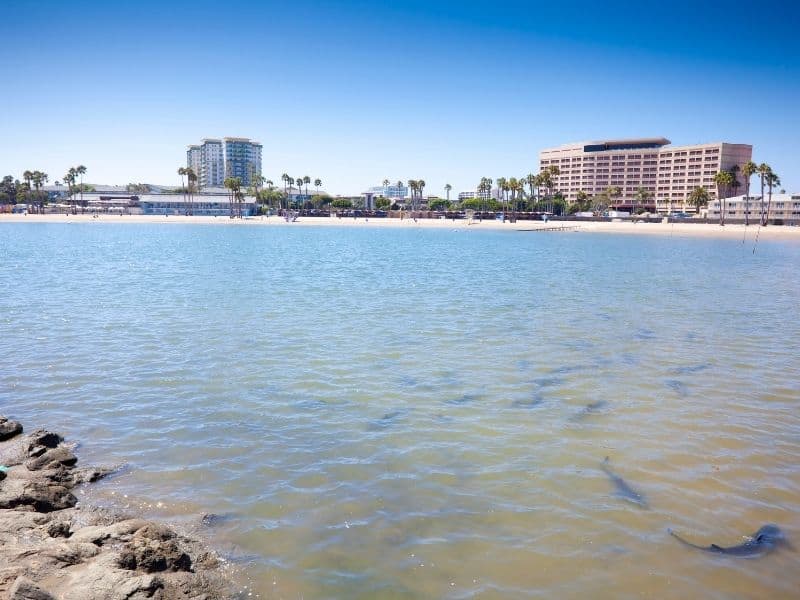 Marina del Rey is a beautiful Los Angeles harbor with a convenient kayak launch. Visitors can rent kayaks through Action Watersports to explore the marina through its eight protected canals.
During summer, live music and restaurants make Marina del Rey a hotspot of activity! Kayakers typically launch at Mother's Beach and continue their adventure from there.
As your paddling along, you can watch the many surfers, runners, bikers, and beachgoers pass by more populated Los Angeles regions and witness local wildlife, including leopard sharks (shown above!) sea lions, dolphins, and birds, firsthand. 
Los Angeles River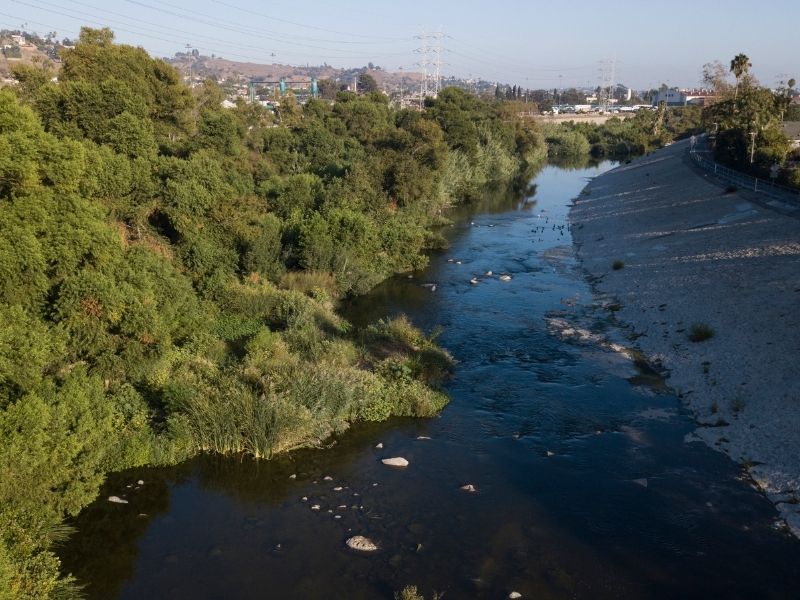 For an urban kayaking adventure, make your way to the Los Angeles River in Elysian Valley. During the summer months, visitors can take a guided kayak tour through the river with the LA River Kayak Safari.
This group offers an informative 2.5-hour trip, with some biking involved and Instructors ready to help beginners and experienced paddlers alike.
In addition, the river serves as an introduction to small rapids, making it a starting place for gaining kayaking experience. 
Kayaking in Orange County 
Baby Beach at Dana Point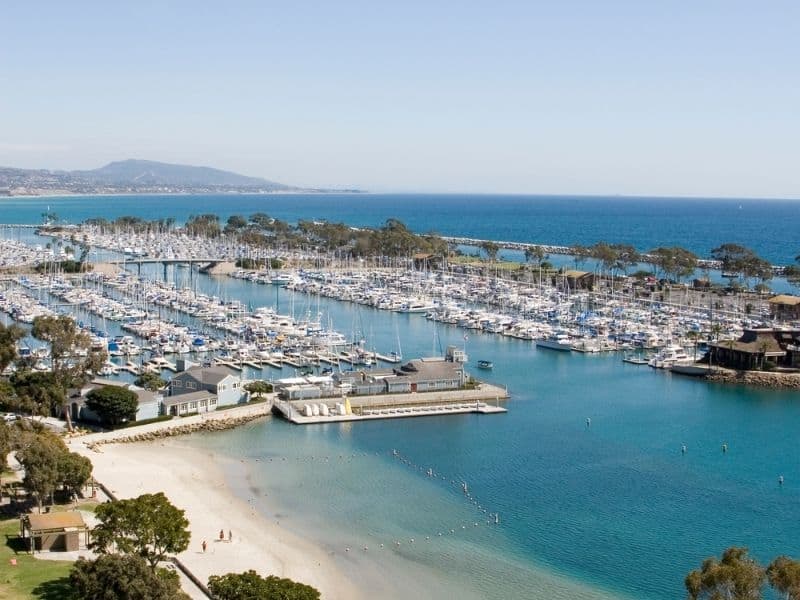 Dana Point's bustling harbor is a perfect place for people and boat watching!
Baby Beach in Dana Point offers mellow conditions, popular for beginner kayakers and paddle-boarders. The bay links to the open ocean and a family-friendly beach, where local sea turtles pop their heads out from under the water!
Across the street from the kayaking area, you will find picnic and barbecue areas, perfect for spending the rest of your day.
Moreover, lifeguards are on duty in the summertime, making you feel safe on your peaceful paddle. 
Newport Harbor and Back Bay Beach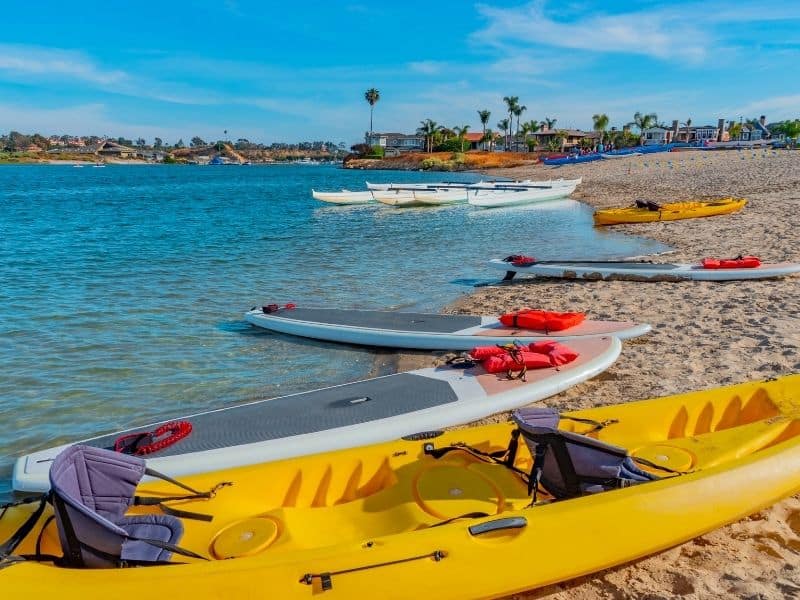 Newport Beach Harbor and Back Bay Beach, conveniently located in the heart of Orange County, are ideal spots for an afternoon adventure!
The Upper Newport Bay Nature Preserve, and Ecological Reserve, known as the Back Bay, is a salt marsh estuary including pristine wetlands, home to over 200 endangered species. Additionally, it is the largest remaining estuary in SoCal!
The Newport Aquatic Center rents out single and double kayaks and paddleboards for guests to explore this region. From these two launch sites, people often see seals and dolphins swimming alongside their boats.
When your paddle is complete, enjoy a post-kayak trip exploring Newport's lively pier and city, with harbor and beachfront dining experiences.
Laguna Beach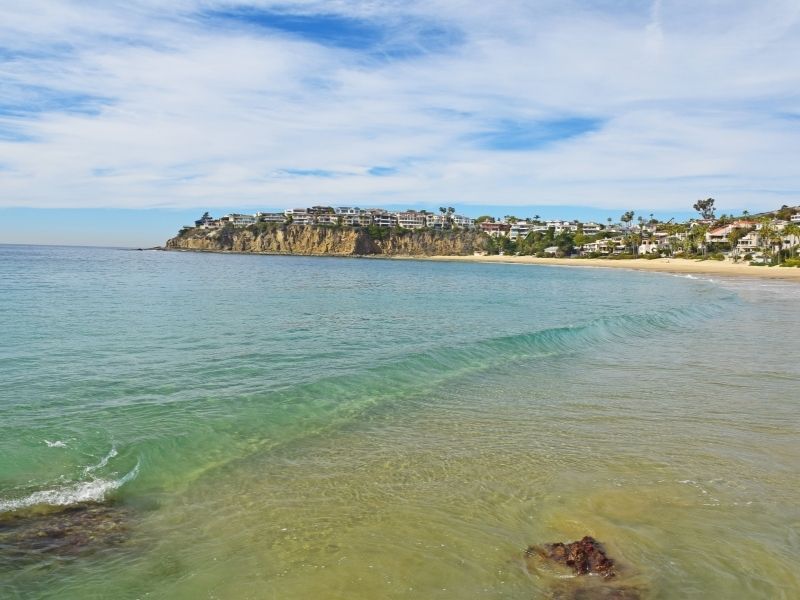 From Laguna Beach's renowned coast, kayakers can explore the turquoise water that makes this Orange County beach famous!
Laguna's coastline is home to hidden beaches, healthy fisheries, and intriguing oceanfront properties easily explored by kayak. Virtually any beach in the area serves as a suitable launch site.
However, be mindful of surfers, swimmers, and snorkelers, as many regions in Laguna attract visitors year-round.
Once you get past the decisive wave break, Laguna Beach presents excellent conditions for a scenic paddle. 
San Clemente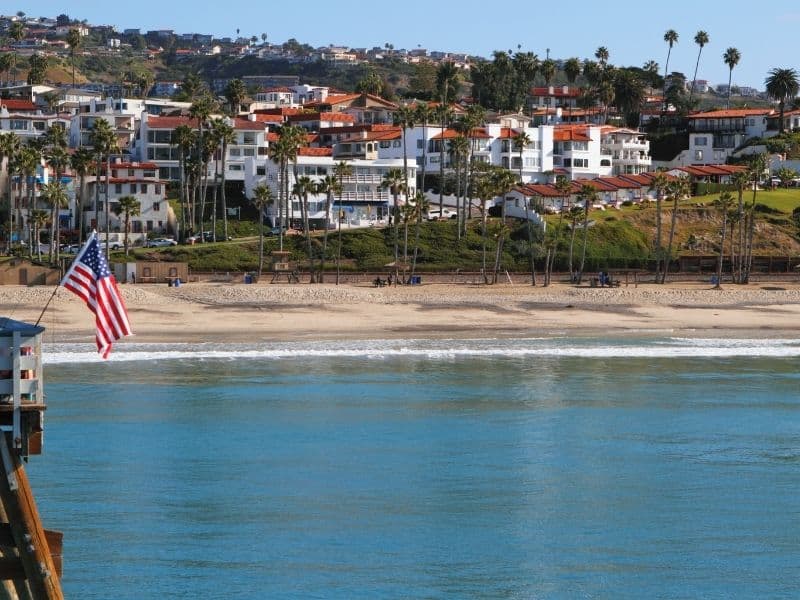 One of California's most beloved surfing communities, San Clemente attracts many outdoorsy people!
When San Clemente's waves are mellow and too small for surf, kayaking near the pier is an enjoyable past-time. Visitors can rent fishing kayaks from Kayak Rentals San Clemente to take a leisurely fishing ride through the ocean.
Moreover, paddlers can take their kayak beyond the waves for a unique, lengthy stretch when you are ready for a break stroll through the downtown area for a taste of the surf-town community that makes San Clemente so notable. 
Kayaking in San Diego County
La Jolla Sea Caves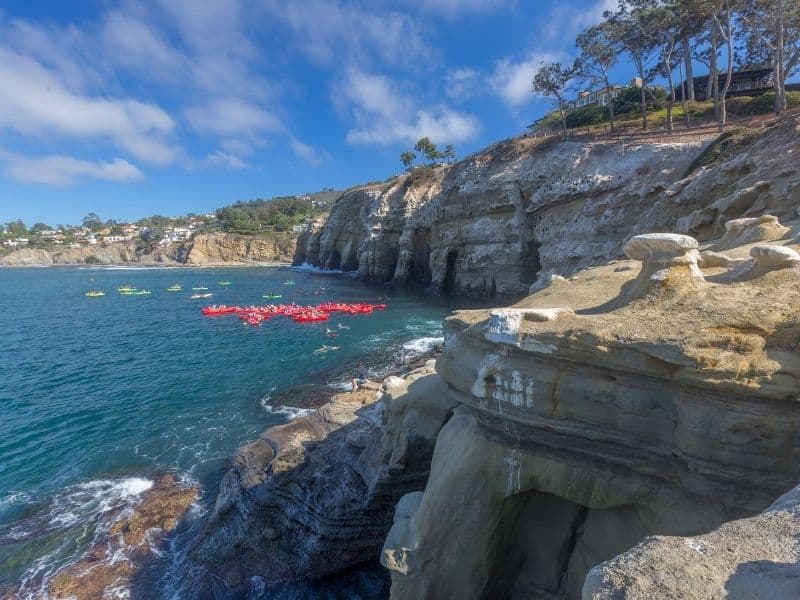 La Jolla is an upscale area of northern San Diego, filled with the rolling hills of Torrey Pines and beachfront coves.
Kayaking through the La Jolla Sea Caves and the La Jolla Ecological Reserve is truly a remarkable excursion!
With buffs, cliffs, kelp forests, and a picturesque landscape, kayakers will not forget their adventure along La Jolla's coast. 
You can access the kayaking area from the Sandy Beach boat ramp, which has a mild surf launch and landing. Stay cautious of swimmers in the launch zone, as the place can get crowded, especially on weekends.
You will likely see many marine animals on your adventure, from leopard sharks to large groups of sea lions perched on the rocks.
However, be careful not to get too close, as the sea lions are known to start barking at people who crowd their personal space! 
Point Loma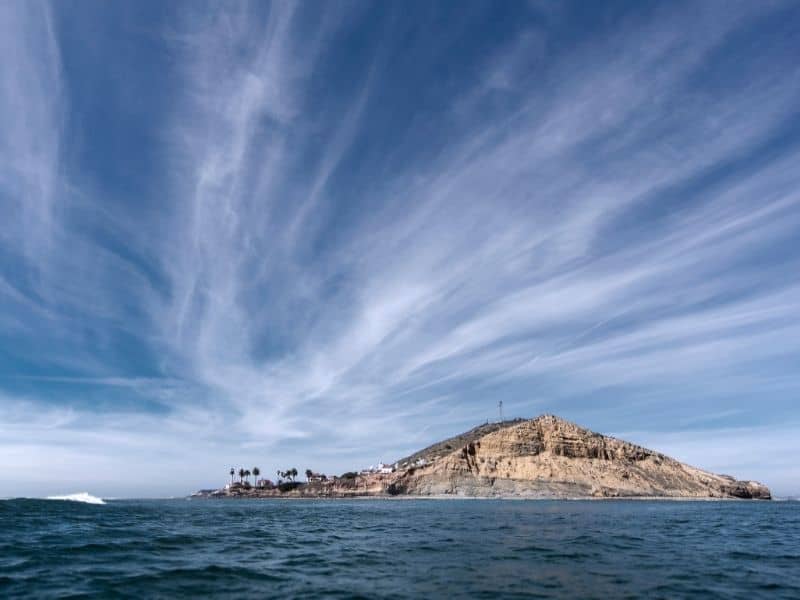 If you have ever wanted to catch a concert straight from the water, you will not want to miss taking a kayak to watch Humphrey's Concerts by the Bay!
In San Diego Bay on Shelter Island, this unique concert venue is an ongoing San Diego tradition that people can enjoy by land or sea. Visitors who choose to paddle out can watch the concert for free.
The venue holds a wide range of options from jazz to comedy, so be sure to check the schedule to find your desired show.
Watching a show in Point Loma's waters makes for a unique experience, unlike any kayak escapade you have ever experienced.
Point Loma is an impeccable area for fishing and watching the iconic sun set over the ocean — so it offers way more than just the concerts!
Mission Bay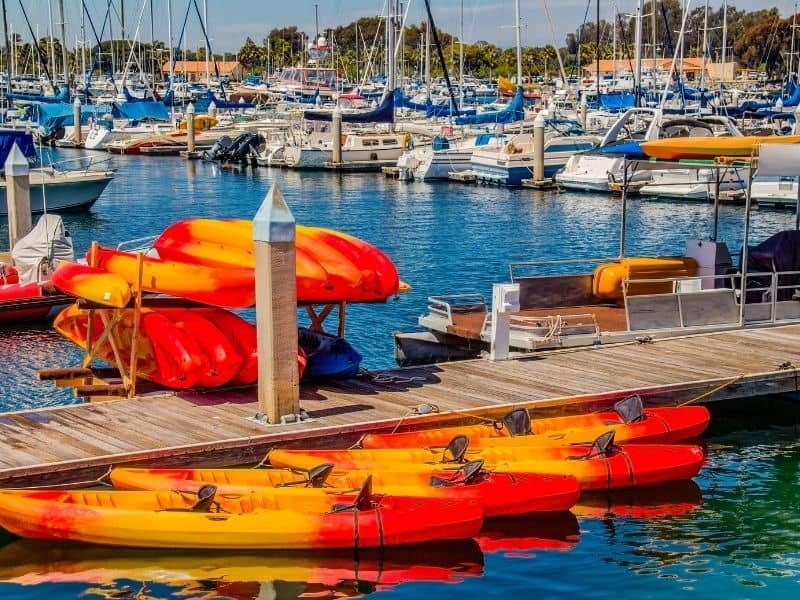 Bring your kayak down to Mission Bay, where you will find easy access to the channel and open ocean.
Beginners can gain experience in this flat-water area, and more experienced kayakers can use the bay as a starting point for coastal paddles.
Because the region is so famous, arrive in the early morning or later evenings to avoid the crowd.
Nonetheless, Mission Bay makes for an unforgettable day on the water with access to white-sand beaches and San Diego's impeccable environment.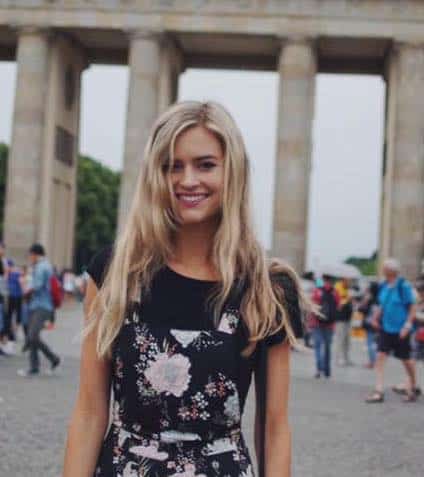 Hannah Morrison is a writer from California who received her Bachelor's Degree in Environmental Studies from the University of California, Santa Barbara. Studying abroad in Germany and Italy sparked Hannah's passion for travel, and she hopes to inspire others to experience all the world has to offer. Along with travel journalism, Hannah enjoys writing sustainability, wellness, and lifestyle content for online and print media.