When it comes to camping in California, the 90-mile stretch of coastline where you can camp near Big Sur is one of the most popular.
With magnificently scenic campgrounds, amazing coastal landscape, and top attractions to in the area means that dedicating a weekend or even a week to a Big Sur is a must on your California bucket list.
Decide whether to pitch your tent cliff-side, under the majestic redwoods, or near a waterfall — all of these are options when camping in Big Sur's beautiful scenery.
Since the Big Sir camping season running from the end of May to the beginning of November, you have plenty of time to try out all of these campgrounds.
Do note that they are closed throughout the winter and spring, so if you are planning a PCH itinerary and want to do some camping along the way to cut costs, you may want to depart in May or June, when campsites are open but the heat is not too bad in Southern California.
Below you will find a camping guide to nine of the top places to set up camp in Big Sur. These marvelous places are perfect for enjoying time in the breathtaking wilderness, with plenty of gorgeous places to set up your tent and camp chairs so to marvel at the terrific views of beautiful Big Sur.
The Big Sur campgrounds are lised in order from north to south.
FAQ About Big Sur Camping
Note: This post contains affiliate links, which earn me a small commission at no extra cost to you if you make a purchase using one of these links. Thank you for supporting this free content!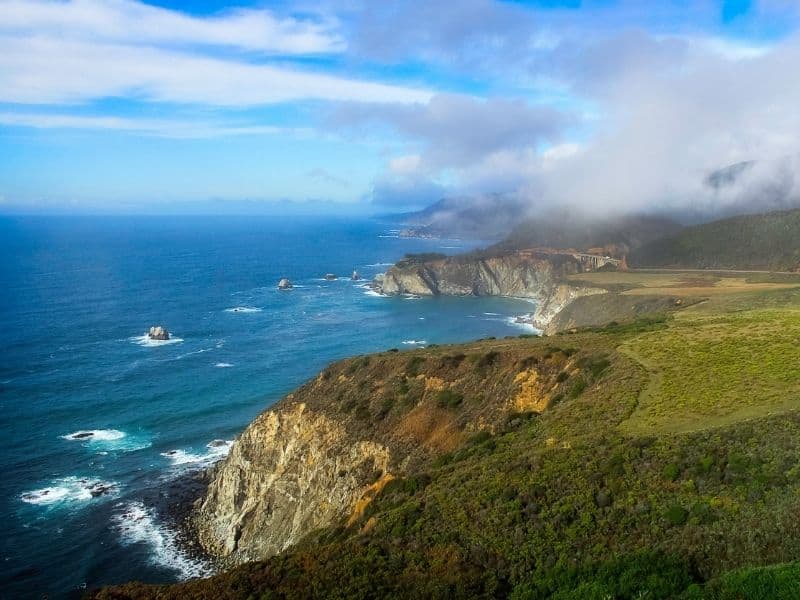 Can you camp for free in Big Sur?
In general, not really — not at any developed Big Sur campsite on this list, at least. All of these campsites require a payment and a reservation, usually made at least 6 months in advance.
There are some free campsites, though – check this website here for more info.
How much do campsites in Big Sur cost?
It can really run the gamut, but it does veer towards the expensive. Expect to spend $70-85 at places like Big Sur Camping and Ventana for two people, one campsite (so about $35-40 apiece).
Camping in state parks tends to be cheaper, but sell out faster. Expect to pay about $35-50 per night at a campsite (two people) at Pfeiffer Big Sur State Park, and $30 per night per campsite at Julia Pfeiffer Burns State Park. However, spots at the latter are very limited, so you'll be lucky to nab one.
How many days do you need in Big Sur?
While theoretically, you can drive the entire coastline of Big Sur along the Pacific Coast Highway in a matter of hours, I think it's best split into at least two days and one night, or better yet, three days and two nights.
Best Camping in Big Sur
Andrew Molera State Park (Temporarily closed)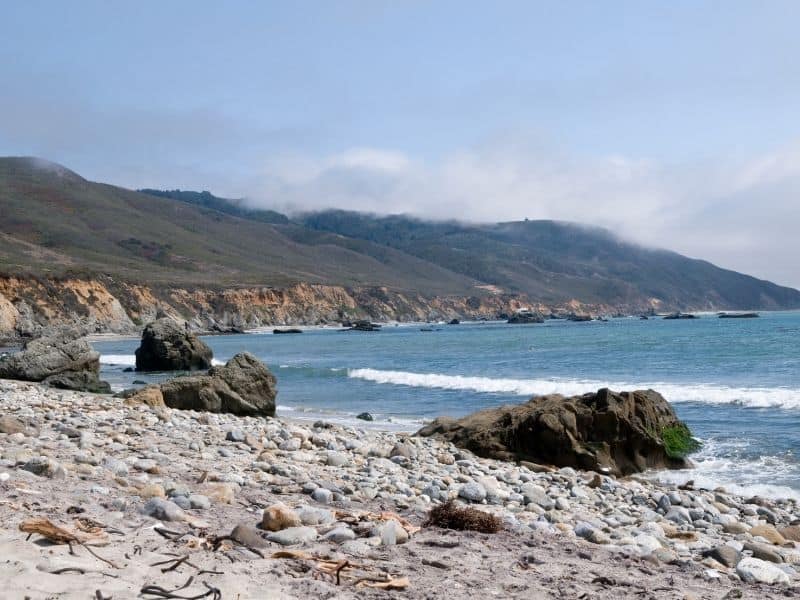 Address: 45500 CA-1, Big Sur, California
Official site: Check here for information and reopening date.
Pack light when you come to camp at Andrew Molera State Park.
This hike-in tenting only Big Sur campground offers campers 24 primitive sites, which you can only access after a short walk of 0.3 miles. So don't pack more than you can comfortably carry on your back!
With lots of trails to hike and ocean access, The Trail Camp at Andrew Molera State Park is sure to be loved.
Big Sur Campground and Cabins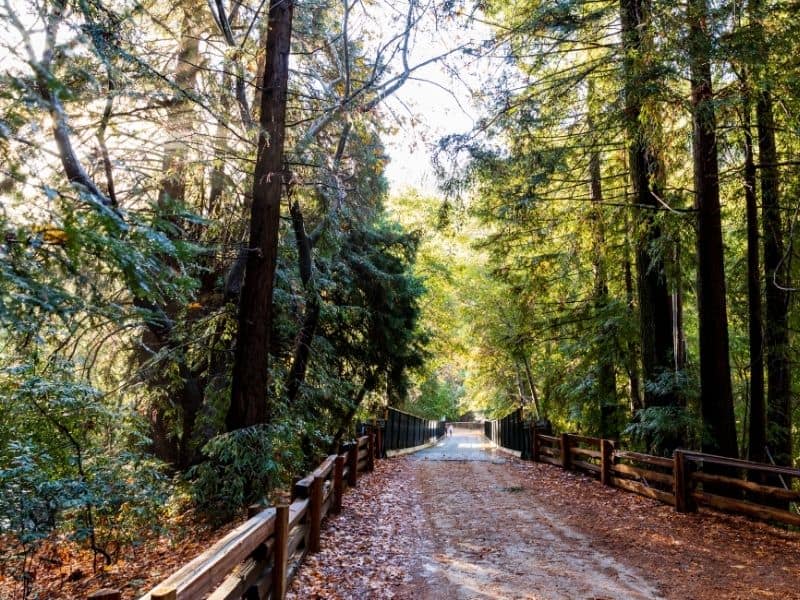 Address: 47000 CA-1, Big Sur, California
Official site: Check Big Sur Camp here
This campground has a park-like atmosphere and offers close to 100 sites for tents, trailers, and RVs (up to 40-feet).
Each campsite features both a picnic table and a fire pit.
This Big Sur campground has public bathrooms available with flush toilets and free hot showers.
There are a lot of amenities here to make your time pass by more enjoyable. To entertain you throughout the day, head to the playground with a swimming pool, basketball and volleyball courts, or rent an inner tube and float down the Big Sur River.
While here, take the five-mile drive and check off a day at the world-famous Pfeiffer Beach from your list.
For those who don't own a camper and don't like to sleep in a tent, the Big Sur Campground also has one and two-bedroom cabins for rent.
Riverside Campground and Cabins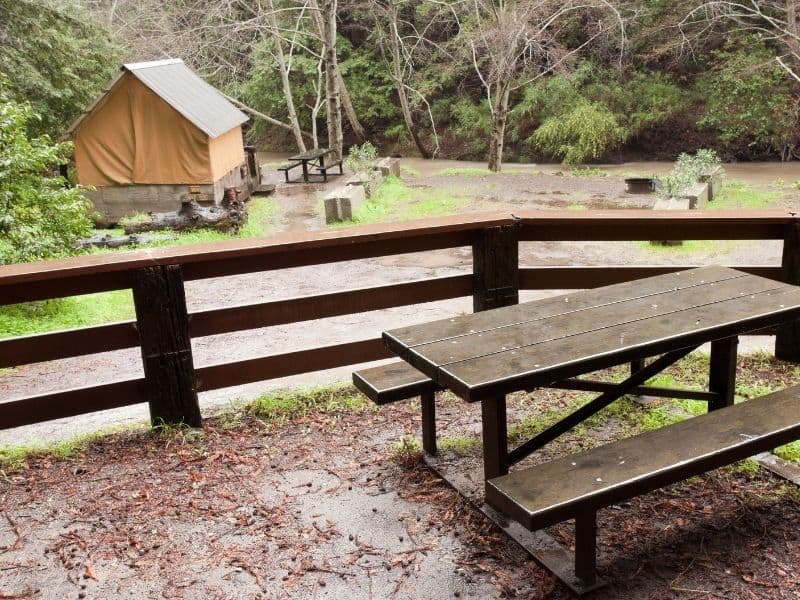 Address: 47020 CA-1, Big Sur, California
Official site: Check the Riverside Campground website
Along the banks of the Big Sur River and nestled among the 10 acres of grand coastal Redwoods, choose one of the 34 sites this private campground has to offer.
For those without a tent or camper, you can also opt to stay at one of the 11 cabins and rooms on site, though this of course will be more expensive than camping.
Each site offers campers a picnic table and firepit, along with water and electric hookups.
The campground features restrooms with hot showers and flush toilets, washers and driers, and a camp store for groceries and supplies.
While staying here, pull out your fishing pole and enjoy a relaxing day of fishing (November – February) or blow up that inner tube and float down the river. Then take to the woods to explore those magnificent redwoods on some of the beautiful nature trails in the area.
Note: There are no sewer hookups or a dump station, so this is not the best choice for RVs who need a full hook-up or to dump greywater.
Another Note: Pets are welcome in this lovely Big Sur campground but are charged a reasonable fee of $5 per pet per night.
Pfeiffer Big Sur State Park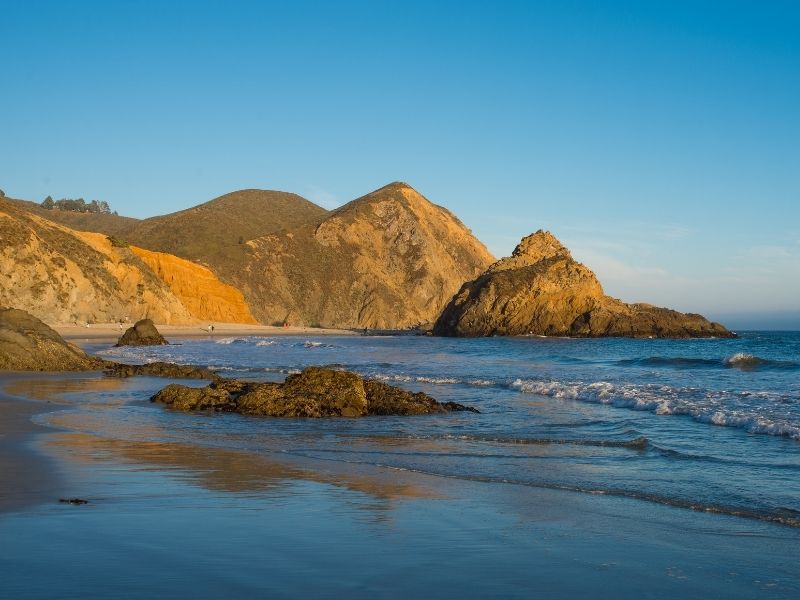 Address: Pfeiffer Big Sur Road, Big Sur, California
Official site: Check the official parks.ca website
A night at Pfeiffer Big Sur State Park means massive redwoods, postcard-perfect beaches, and reservations which must be made months in advance.
With 189 campsites and one cabin both near and along the Big Sur River, this scenic Big Sur campground can accommodate trailers up to 27 feet and RVs up to 32 feet. But just because it has a lot of space doesn't. mean that it's not highly in demand, and reservations do need to be made as early as possible.
Insider Tips: For river sites, choose one of the premium riverfront sites 171 – 189. To camp under big shady trees, you will want to say at sites 1 – 21. If you are with a large group, make sure to reserve one of their two group sites.
All sites have a fire ring with a grill and picnic table. Some campsites have water, but none have hookups.
This charming Big Sur campground does have coin-operated hot showers, flush toilets, and a dump station for RVs and vans. Dogs are welcome in the campground.
This campground is a convenient home base for exploring the redwood groves, day hiking on the half-mile River Trail, or taking the 3-mile Buzzard's Roost Trail. It's also close to the beautiful Pfeiffer Beach.
Alternatively, you can take a walk to the Pfeiffer Falls Trailhead and go on a brief hike to the beautiful Pfeiffer Falls, though this is currently closed.
Ventana Campground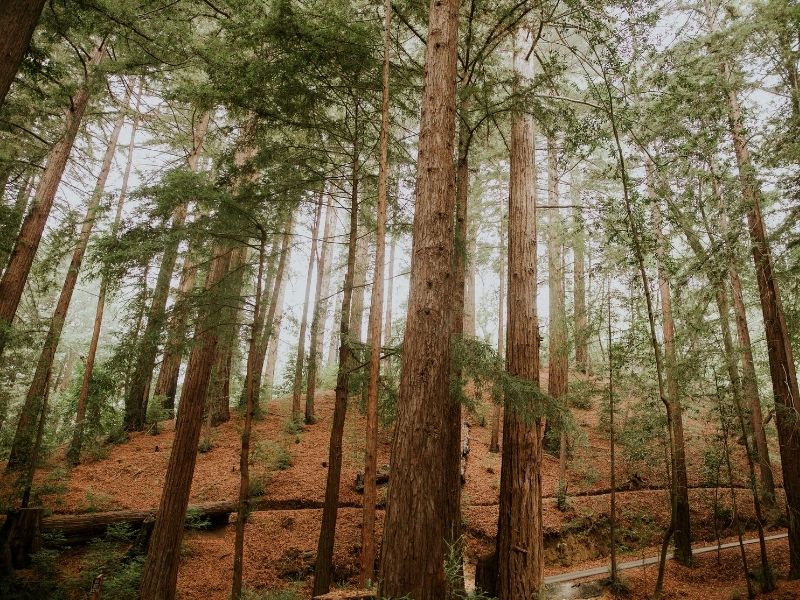 Address: 48123 CA-1, Big Sur, California
Official site: Check the Ventana Campground website
Camping at Ventana means sleeping under the redwoods at this 60-site, tent-only campground. This shady Big Sur campground along the Post Creek will have you snuggling up around the fire with friends and family.
For those without a tent, try your hand at glamping. Ventana offers 15 luxurious safari-style canvas tents with a stone fireplace and mattress pad for a unique upscale camping experience.
This campground is an awesome place to camp with friends since the sites are large, and you can get two or more tents (no RVs or trailers) on each site.
The sites also come with a picnic table and campfire ring. If you need wood, stop in at the general store, and they can stock you up.
On a night you don't want to cook, enjoy a delicious meal by visiting the Big Sur Smokehouse that is just outside the campground.
Julia Pfeiffer Burns State Park (Temporarily Closed)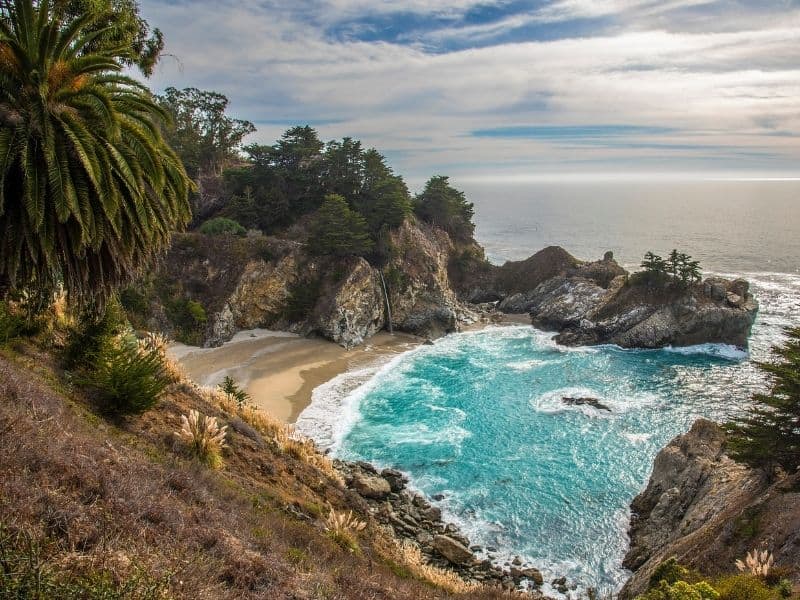 Address: 48123 CA-1, Big Sur, California
Official site: Check out the official parks.ca website
Camping at one of two environmental campsites within Julia Pfeiffer Burns State Park means making reservations six months in advance so you can enjoy some of the most exquisite Bir Sur coastline views.
The two sites are hike-in only sites and are located about a half-mile walk from the parking.
These two Big Sur campsites each allow for up to eight people, and they provide a picnic table, fire ring, and pit toilets.
Wood, trash, and water have to be brought in and out. Water is available across Highway 1 close to the bathrooms.
While staying at these secluded campsites, visit the iconic 80-foot McWay Falls as it plummets into the ocean along with the amazing scenic views that surround it, and hike the coastal canyon trails. You can get there before everyone else does and have the place all to yourself if you're lucky enough to stay at this Big Sur camping spot.
However, pet owners, take note: dogs are not allowed at either campsite.
Limekiln State Park (Temporarily Closed)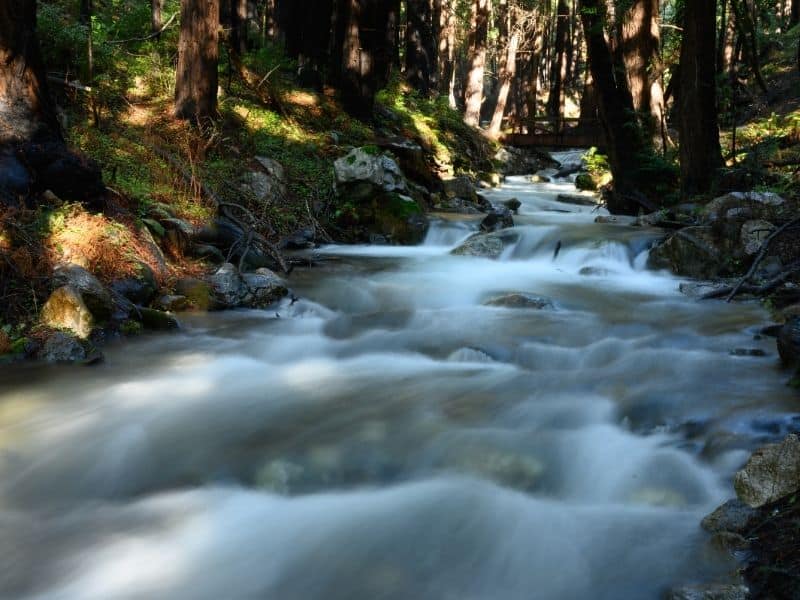 Address: 63025 CA-1, Big Sur, California
Official site: Check the parks.ca website
Camping in one of the Limekiln State Park's 29 campsites, including four walk-ins, means sleeping under the redwoods and falling asleep to the babbling of the Limekiln Creek.
During the day, enjoy the ocean views, the small beach, Limekiln Falls, and hiking along the Pacific Ocean cliffs of up Limekiln Canyon all from this beautiful Big Sur camping spot.
This campground is best for tent camping, but it can accommodate some RVs up to 24 feet and 15 feet trailers.
Each of the campsites includes a fire pit, grill, and picnic table.
Insider Tip: Choose between two very different loops, one within the redwoods (tents only) or the ocean side. For those looking for a campsite with a stunning ocean view, try for sites 1, 2, and 3. These sites are first-come, first-serve, so get there early if you want a prime spot.
Neither side has hookups or a dump station, but they do have coin-operated showers and flush toilets.
Do note that pets are not allowed at any of the campsites.
Kirk Creek Campground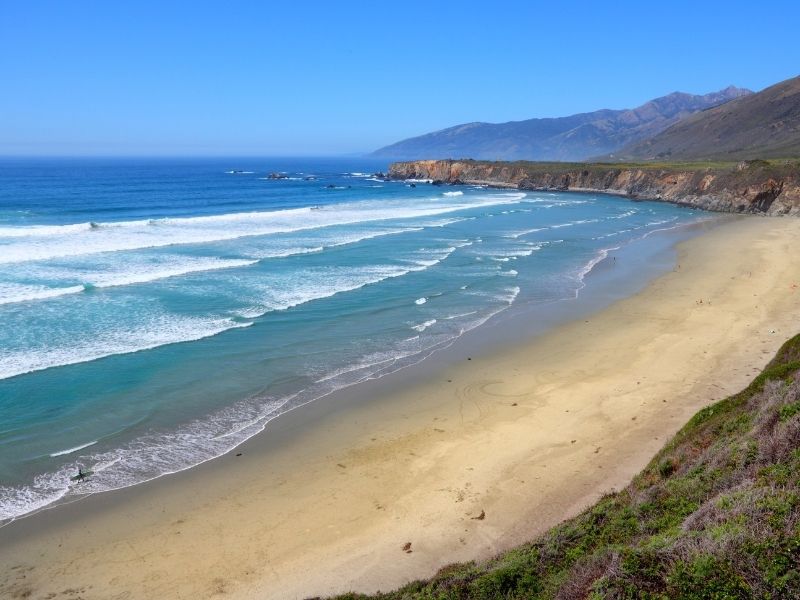 Address: CA-1, Big Sur, CA 93920
Official site: Check the recreation.gov website
With 34 prime Big Sur campsites overlooking the wild Pacific Ocean, this is the perfect place to pitch your tent or park your camper (given that it is under 30 feet long, as that is the limit at this campsite).
Perched on the 100-foot bluffs, you will find campsites with a picnic table, grill, and campfire ring.
This rustic campground does not have water, hookups, showers, or a dump station. The toilets are vaulted, not flush.
Spend the day taking in the surrounding beauty, the gorgeous rocky beach, and lots of Instagram picture-taking moments. There is a short trail that leads to the rocky beach. All the sites also have access to stunning views of the setting sun you won't want to miss.
For those who want to head to Sand Dollar Beach for a day of surfing or swimming, it is just a short drive away.
Plaskett Creek Campground (Temporarily closed)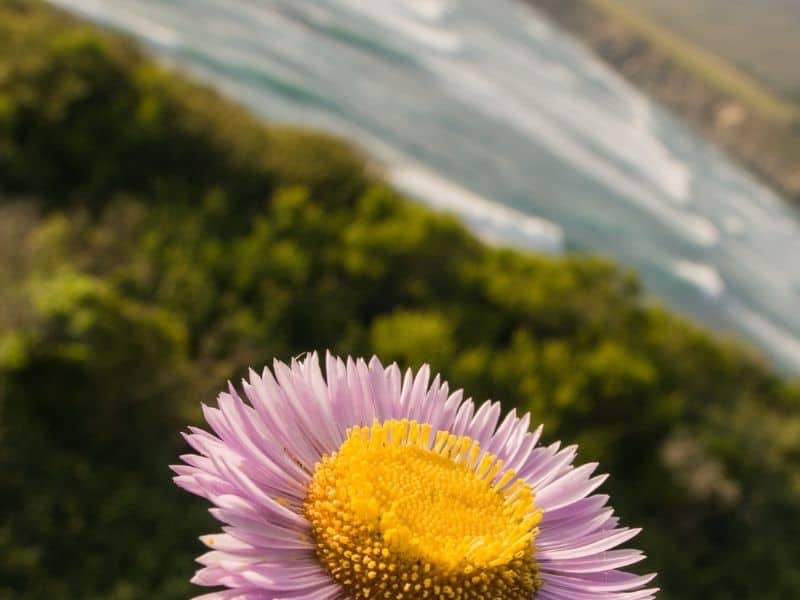 Address: 69345 CA-1, Big Sur, California
Official site: Check the official government site
Across Highway 1 from the large, fine-powdered Sand Dollar Beach, you will find Plaskett Creek Campground.
This grassy campground with a cypress and cedar fragrance from the scattering of shady trees is within the Los Padres National Forest.
All sites provide campers with a table, campfire ring, and grill.
Throughout the 44-site campground in Big Sur, you will find restrooms with flush toilets and sings, along with water. For those in need of wood, the campground host has some for purchase.
After falling asleep to the crashing surf in the morning, take a five-minute stroll with your cup of coffee and enjoy a day of surfing, sunbathing, or swimming. For those who want to go hiking, put on your hiking boots and take to the Willet Hiking Trail.
As is one of the areas most coveted campgrounds, be prepared to book early. Those with an Access or Interagency Senior pass are entitled to 50% off camping.
What to Pack for Camping in Big Sur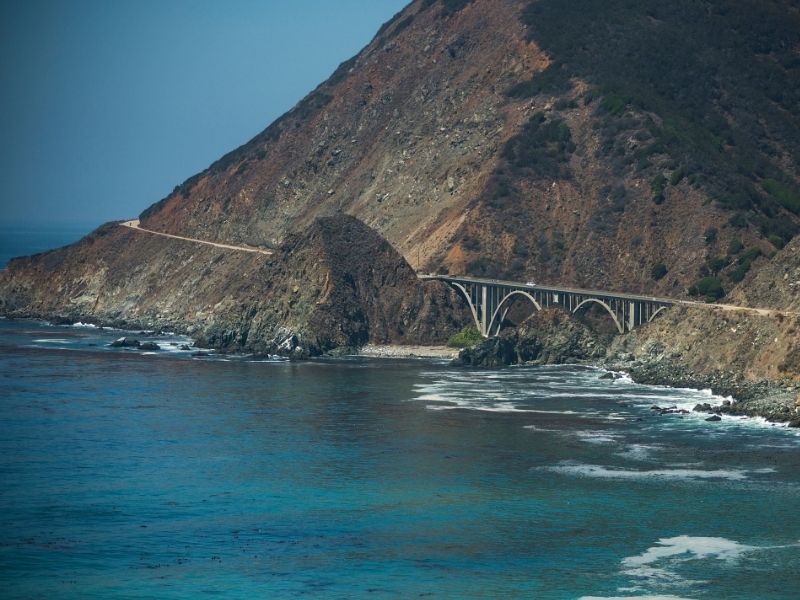 Lightweight tent: This lightweight North Face Stormbreak 2-person tent weighs only 5 pounds 5 ounces, which is a nice low weight given the cost. It's a good 3-season tent with loads of headroom, easy pitching design for fuss-free set-up, and there's plenty of room for two people to share.
Sleeping bag (30 degree or colder): While you may be camping in Big Sur, that doesn't mean it doesn't get cold at night — especially on the California coast with all the fog! You can spend a fortune on a sleeping bag, but you don't have to.
For a comfortable sleeping bag that won't break the budget, I recommend the REI Trailbreak 30 (men's version) and (women's version). You can go more high-tech, but then you're looking around the $300 range. Great if you camp a lot, but for beginners, you may want to start with a more affordable version until you decide you really are a camping person.
Sleeping pad: This is what takes you from cold, uncomfortable nights on rocky ground to tent comfort! You can buy a cheaper version like the REI Trailbreak Self-Inflating Pad, but I'd recommend going with the Flash Thermal if hiking the trail in spring or fall, when the nights can get really cold!
First aid kit: You'll want to pack a small kit with the things you need — but in my opinion, it's better to buy a pre-made first aid kit as it'll likely cover things you might forget. I recommend this HART Weekend First Aid kit, which has all you need for 2 people for 2-3 days of camping.
Water Filter: There are a wide variety of water filtration systems and treatments, but I have two preferred brands: LifeStraw and GRAYL. The LifeStraw set-up I recommend is this one: LifeStraw Flex. It has a 2-stage filter that removes over 99.999% of bacteria, parasites, and microplastics.

It can be used as a personal straw (its original iteration), but it also can attach to a gravity bag (included), a water bottle, or a typical hydration bladder. Each filter can be used for filtering up to 1,000 L of water. If you just want a water filter/water bottle set-up, I recommend the GRAYL Geopress. It's compact and easy to use!
I recommend the LifeStraw Flex if your water sources are fewer and far between, and the GRAYL Geopress if you have an easy water source and just need to filter it between refills.
Cup: For water at the campsite if you don't want to use your water bottle — or for a celebratory glass of wine if you're the kind of person brings a bottle of California red on your camping adventures to celebrate the end of a long day's camp! I like this Hydroflask cup.
Mug: You'll want a mug for morning coffee or tea! Bonus points if it has a cute design for morning campsite snaps, too.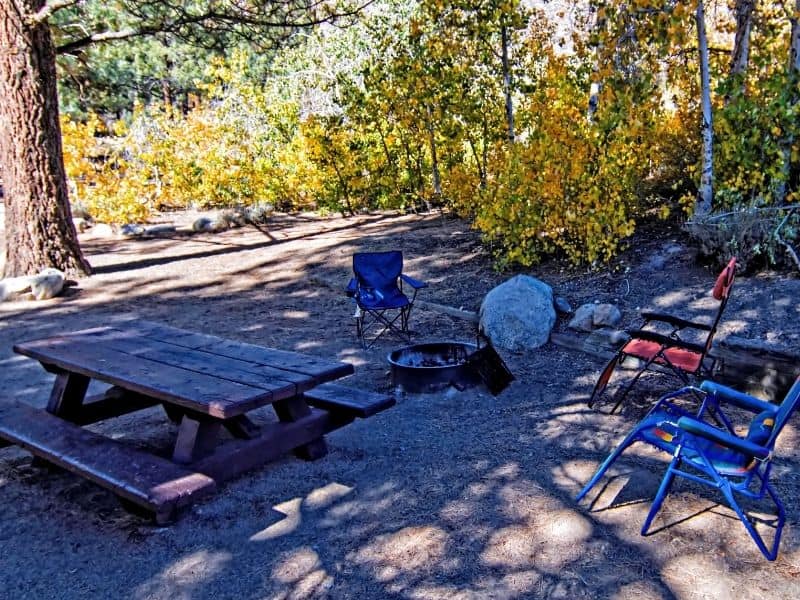 Spork or similar utensil: You can't forget a spork while you're backpacking!
Day pack: An easy to zip-away day pack is helpful to have when camping so you can easily put small things that you want more accessible and handy when you leave your campsite to do some nearby adventures.
Food: I recommend freeze-dried meals! AlpineAire is a favorite of many campers and has tons of choices: this black bean and beef chili is a fan favorite. Patagonia also has a great selection including lots of vegan options: vegans love this spicy red bean chili. For breakfast, grab some granola with blueberries and milk packets and some tasty Kuju instant coffee!

Of course, you could also bring a cooler and some meat, sausages, and vegan goodies if you want to grill things up or have a BBQ.
Clothing: It can get chilly at night in Big Sur so plan accordingly. You'll want at least 2 shirts (synthetic or wool, long and/or short sleeve depending on the season), 2 pairs of leggings or long underwear, 1 fleece or wool outer layer, a waterproof jacket, waterproof pants, beanie, gloves, and 3 pairs of socks.
Optional Gear for Big Sur Camping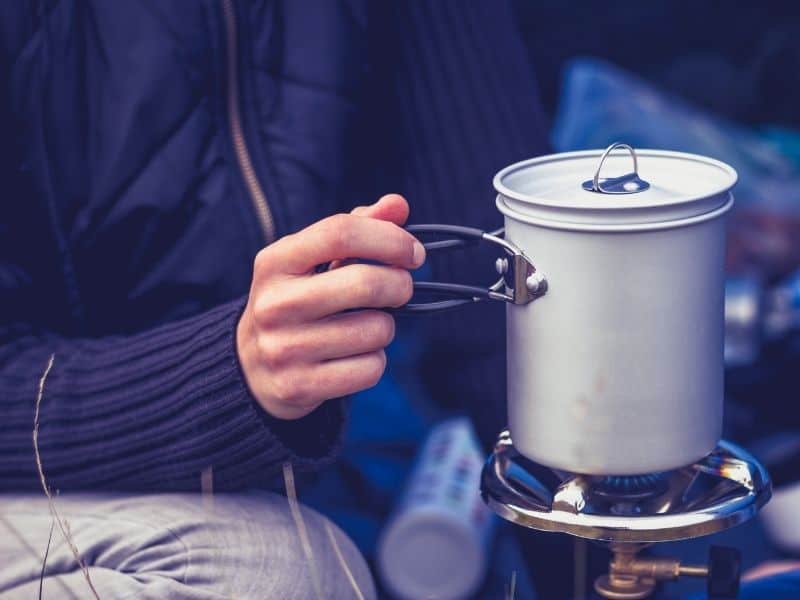 Backpacking stove: This will depend a bit on your set-up and whether or not your campsite has grills or fire pits (and if you're allowed to use those fire pits!).
No matter what, be sure to get your California campfire permit before embarking to any of these Big Sur campgrounds.
If you don't want to deal with starting a fire, and you're planning on eating only freeze-dried meals, oatmeal, ramen, and other "just-add-boiling-water" dinners, you can get by with a lightweight Jetboil, which weighs in at less than a pound (fuel included) and is also great for making coffee in the morning!
If you want a more "cooking-friendly" set-up including pots and pans, check out this surprisingly lightweight Optimus camp stove that comes with a frying pan and cooking pot at under a pound of weight (not including fuel).
Note that during peak fire season, even things like the Jetboil may not be allowed — please check with your local rangers regarding any fire restrictions.
Fuel: If bringing your own cooking gear, make sure you have plenty of fuel for whatever your backpacking stove set up is! And if you're doing a fire pit (during a time without campfire restrictions), research if you need to BYO firewood and kindling.
Camera: I use and love my Sony A6000! It's mirrorless, so it's lightweight and perfect for a high-quality camera that won't weigh your daypack down while out and about on your daily adventures.
Journal and pen: For noting down all your camping thoughts!
Board games: For campsite fun — my favorites are Scattergories and Cranium!
Sandals: To change into once you reach your campsite! Tevas are a favorite, and they're a nice break from the sneakers or hiking boots you'll likely be wearing most of the day out.
Sunglasses: To give your eyes a break from the sun during your daily activities
Sunhat: To keep sun off your face – I recommend a packable hat like this one which has a strap so it won't blow off in gusts of wind and you can easily wear it on your back when you don't feel like wearing it on your head while hiking, boating, and enjoying Southern California's beautiful scenery!
Pin This Camping in Big Sur Guide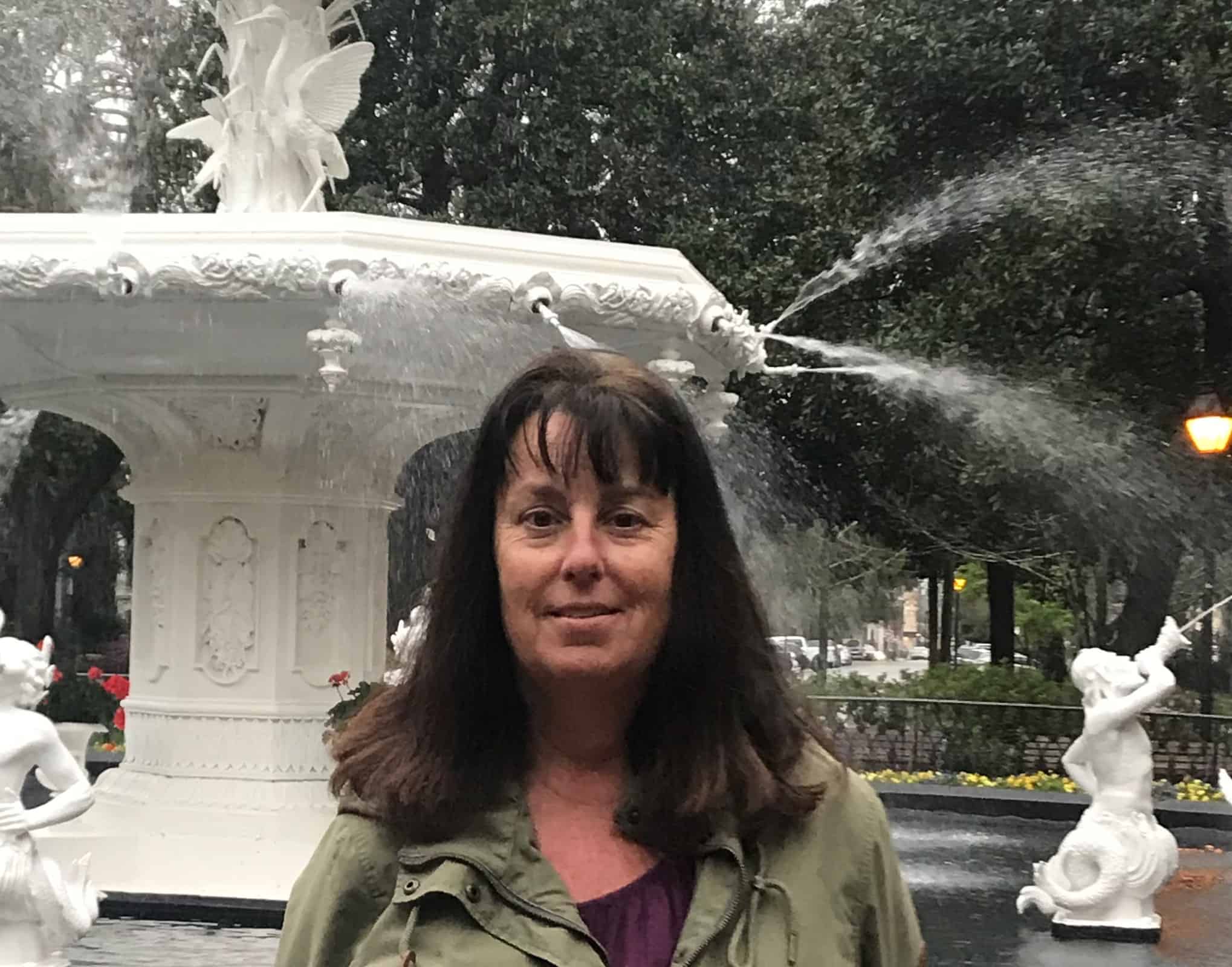 Laura Gray is a freelance writer and retired elementary teacher based in Norfolk, VA.  She spends her summers enjoying the shores of the Chesapeake Bay, traveling the world, and exploring the beautiful United States. Her favorite places to visit are National Parks, waterfalls, and lighthouses.