Big Sur is an unbeatable highlight of California's coast!
Nature lovers dream of this beautiful area because of its picturesque camping sites, unparalleled hiking trails, and magical ocean views.
Big Sur includes stunning coves, waterfalls, and rock formations, unlike any other area of the state, making it a popular spot for visitors and native Californians.
With rich vegetation and rugged landscapes, the region is well worth its reputation. Visiting this place is an opportunity to breathe in the fresh air, admire nature's beauty, and take a break from everyday stress.
With forests, beaches, and wildlife to appreciate, your Big Sur hiking trip is the ideal time to take a moment of reflection!
What to Know Before Hiking in Big Sur
Note: This post contains affiliate links, which earn me a small commission at no extra cost to you if you make a purchase using one of these links. Thank you for supporting this free content!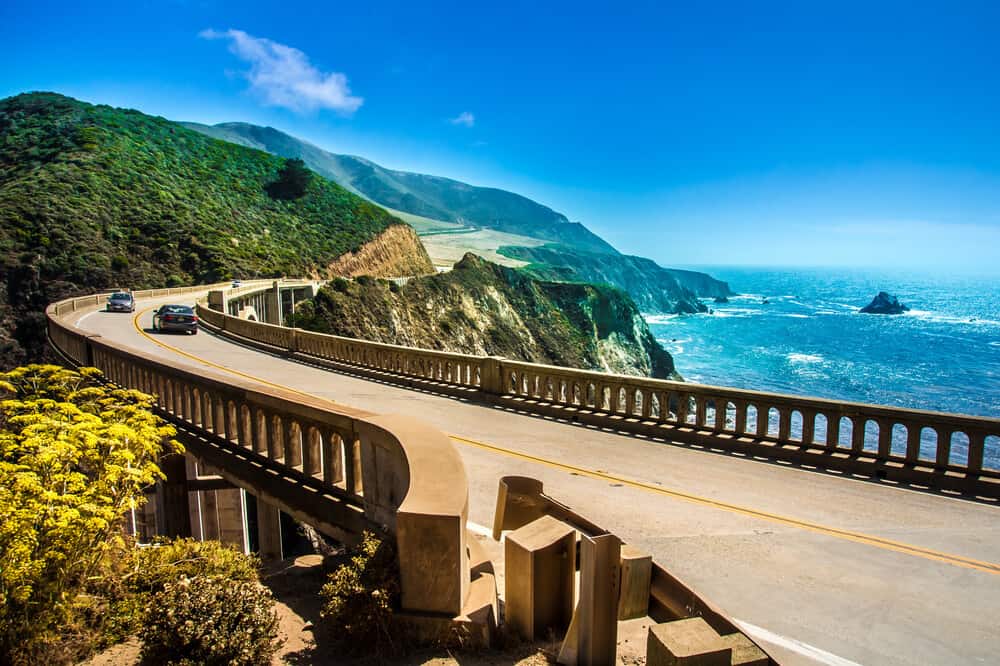 Big Sur, following along Highway One, accounts for 90 miles of coastline between Carmel and San Simeon.
With an average rainfall of 50 inches per year and about 300 days of sun on average per year, planning your hikes around the weather should not be a challenge!
The peak season lasts through April and October, and most recommend visiting during the fall season when you are most likely to have the best conditions.
If you choose to come in winter, keep in mind that nights reach colder temperatures ranging from 30-50 degrees Fahrenheit; come prepared and bundled up if you decide to camp.
Moreover, to ensure the best experience possible, remember that many of the various Big Sur parks have restrictions regarding camping, biking, and dogs, so it is essential to check local rules as you plan your Big Sur itinerary.
Despite limitations on some activities, you will not run out of ways to fill your days while adventuring through the central coast. Along with hiking, people utilize Big Sur's environment for world-class scuba diving, snorkeling, jogging, sightseeing, and birdwatching.
With the region growing in popularity, it is crucial visitors remain mindful of the local ecology and residents. Our responsibility as travelers is to ensure Big Sur remains a place people can continue to experience and enjoy firsthand!
Big Sur covers a vast land area, so we highlighted some of the top hikes amongst two sections, Point Lobos State Natural Reserve and Julia Pfeiffer Burns State Park.
Each of these parks holds pieces of the sublime nature only found in Big Sur. We recommend using the trails detailed below to create an unforgettable tour of Big Sur county.
Big Sur Hikes in Point Lobos State Natural Reserve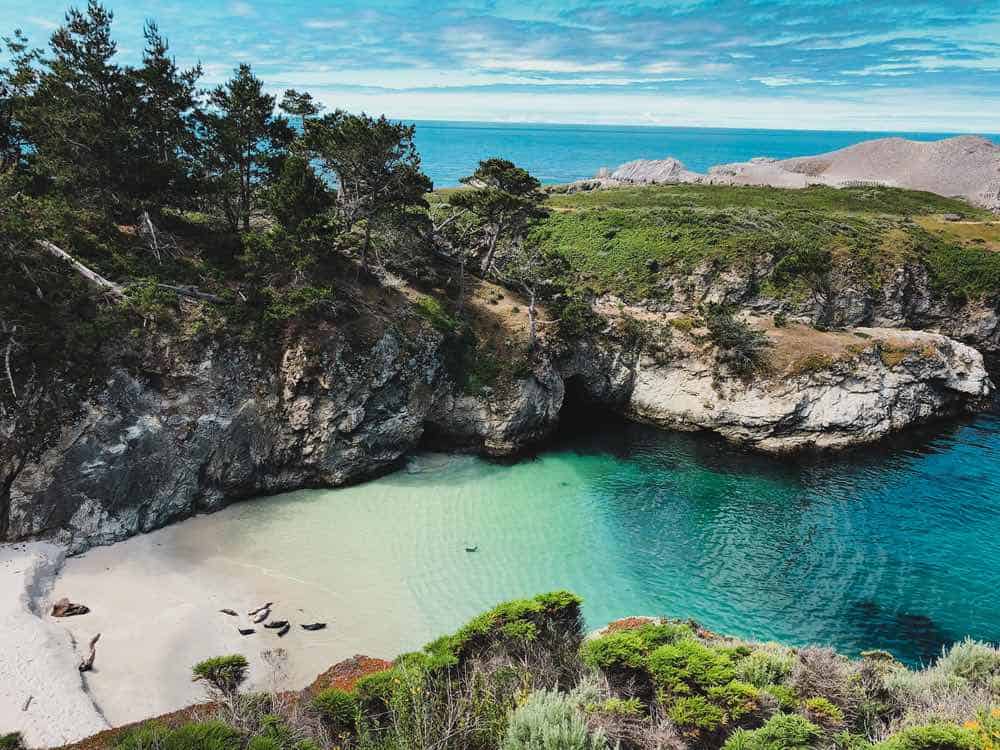 Point Lobos State Natural Reserve is located towards the north of the greater Big Sur region, just before reaching Carmel-by-the-Sea.
Point Lobos boasts incredible, colorful ocean landscapes and various marine animals and wildlife, including deer, rabbits, lichen, lilacs, and oaks.
The wonderous species residing in this area complement the already incomparable scenery!
This state natural reserve is well-documented, with many of the trails available on downloadable maps, which comes in handy at tricky intersections throughout the hikes.
Point Lobos enforces some rules and regulations to preserve its flourishing ecosystem. This region is one of the areas of Big Sur that does not allow dogs, bikes, and camping.
Furthermore, Point Lobos park authorities limit the number of cars parked within Point Lobos and charge a $10 parking fee.
With that said, you may find parking on the outskirts of the park along Highway One and walk into the state reserve. Most hikes' starting points will only be a short walking distance from here.
To help visitors find their way, Point Lobos provides trail guides for pick up at the information station and holds docent-guided walks if you want to get more insight into the region from an experienced guide.
These docents are a great resource to answer questions regarding the local space, wildlife, and history, and joining a tour is a great way to support the local community.
A helpful tip to keep in mind when exploring Point Lobos: poison oak is abundant along the sides of many of these trails, so watch your step when venturing off the main roads and be careful not to brush up against plants!
Point Lobos Loop Trail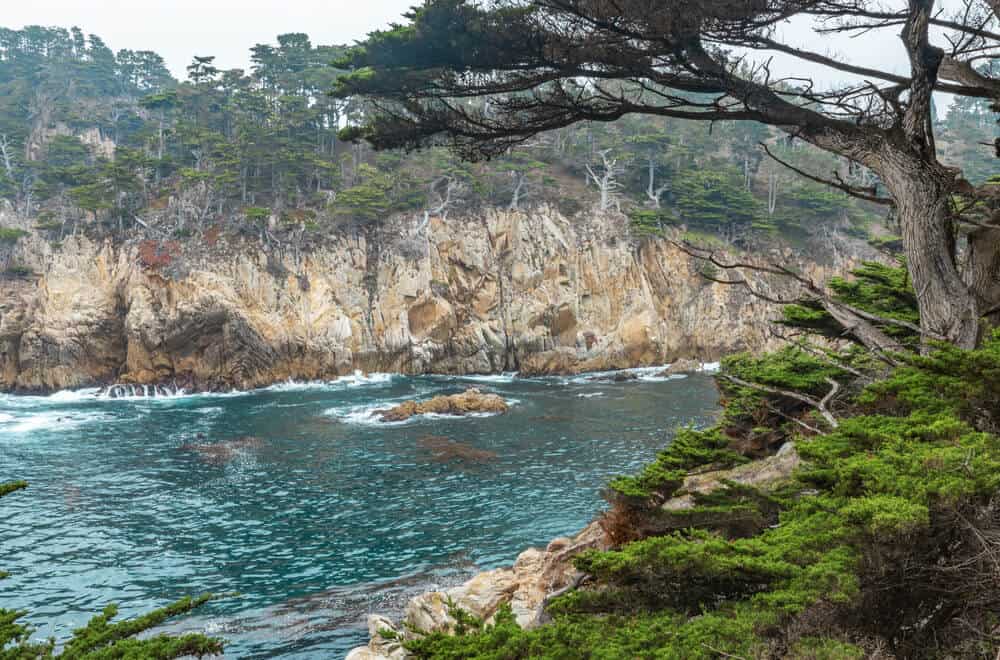 Distance: 6.7 miles
Elevation: 741 feet
The Point Lobos Loop Trail follows the park's perimeter, showing off its natural wonders, including native wildflowers, tide pools, and wildlife life such as sea lions, harbor seals, otters, whales, and shorebirds.
The path takes you through the forests of Monterey pines and Cypress groves to areas overlooking the rocky beaches off of the Pacific Ocean.
This walk begins at the park's entrance, leading to South Plateau Trail. Continuing on Bird Island Trail, you can get a view of Gibson's Beach and China Cove.
You will see South Shore Trail and Point Lobos trail openings at the end of Bird Island Trail, where there is a parking lot.
Take South Shore Trail to walk on the outskirts of the park. The path lies on the coastal cliffs and includes a few turns leading to hidden beaches along the way.
South Shore Trail eventually becomes Sand Hill Trail continuing north along the coastal ridge.
To continue along Point Lobos's perimeter, you will take Sand Hill until you reach an intersection at Sea Lion Point Trail.
This path has an outturn at Sea Lion Point, where you can make a short loop to hopefully see marine life perched on the shore, enjoying their natural habitat.
Sea Lion Point Trail leads to one of the foremost Point Lobos parking lots, connected by the main Point Lobos road. You will easily find your way back to your starting point from here.
The following hikes go into more detail about specific areas noted above, such as Bird Island and China Cove, that you may see on the perimeter hike, as many of them are features of Point Lobos Trail Loop.
Many visitors choose to complete the northern and southern hikes at different times. The blue ocean looks particularly remarkable when the sun shine's bright through Golden Hour at sunset, so you may want to complete the hikes through the forest in the morning.
Whether you take the time to go around the whole park or just visit a few sections, you will not be disappointed!
Bird Island & China Cove Trail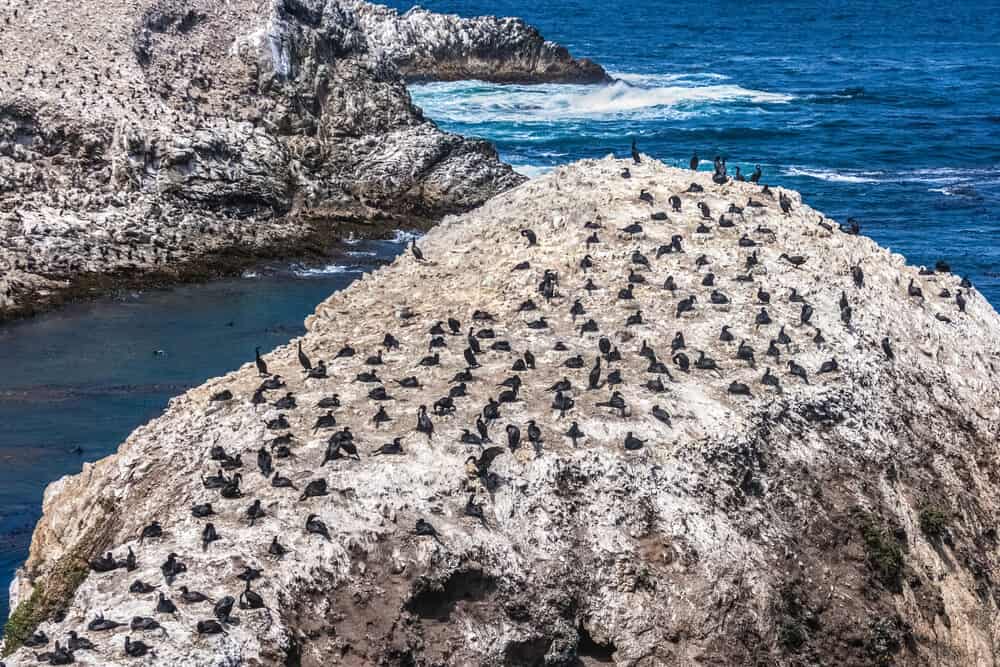 Distance: 0.8 miles
Elevation: 37 feet
As you hike on the Bird Island & China Cove Trail, you will walk through green cliffs to multiple eye-catching locations.
From Point Lobos Road, you will have access to the dirt path to Bird Island Trail. After some switchbacks, you will have sweeping views of China Cove.
The cove shows off bright turquoise and jade green ocean shades and is home to many seals during seal pupping season in the spring.
During this time of year, the park limits access to the staircase leading to the beach. However, in other seasons hikers can wander down to the sand.
Past the gorgeous China Cove, you will find an intersection between Gibbons Beach and Pelican Point.
Unlike many other beaches in Big Sur, Gibbons Beach has calm water, which you may be able to swim in depending on the time of year you visit!
Heading to the right of the intersection, you will walk until you reach Pelican Point, which overlooks small, rocky islands.
The area's name will start to make sense to you as you watch various bird species, such as Western gulls and black-crowned night herons, flying to and from Bird Island.
With numerous wildlife species to observe, Bird Island and China Cove Trail is a favorite hike for animal lovers. Though short and sweet, there is much to see as you walk along the cliffs.
Cypress Grove Loop Trail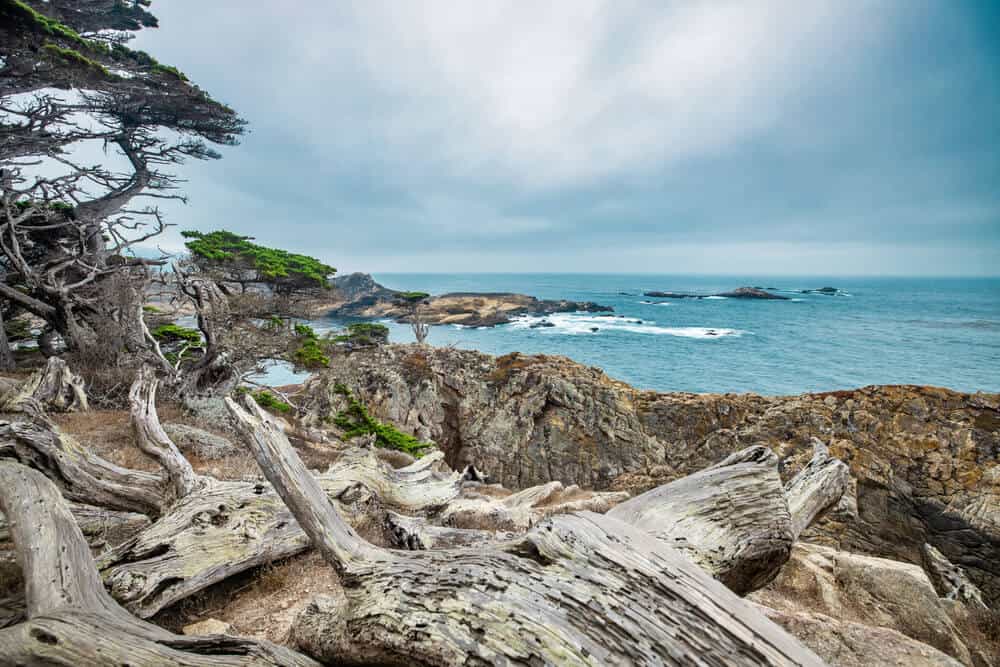 Distance: 0.8 miles
Elevation: 59 feet
Cypress Grove Trail is famous for its unique Cypress groves and extraordinary cove views.
It is one of the less time-consuming hikes in the area and perfect for hiking when you aim to get in as much sightseeing as possible!
Starting at the Sea Lion Point parking lot, you will follow the Cypress Grove loop through cypress forests along dramatic cliffs looking out over the ocean.
The grove is one of two of the only areas Monterey Cypress trees still stand; the other grove location is in Carmel Bay. These trees still stay strong due to the moisture of the coastal climate.
As you explore the hike, you might see orange Trentepohlia, a type of green algae growing on the trees. Luckily, this organism's growth does not harm the trees and creates an exciting spectacle for trekkers.
The Cypress Grove Loop will guide you to Headland Cove, an area where sea lions and otters love to hang out!
You may be lucky enough to see whales migrating here in winter and early spring. Continue back on the trail to reach your starting point.
Granite Point Trail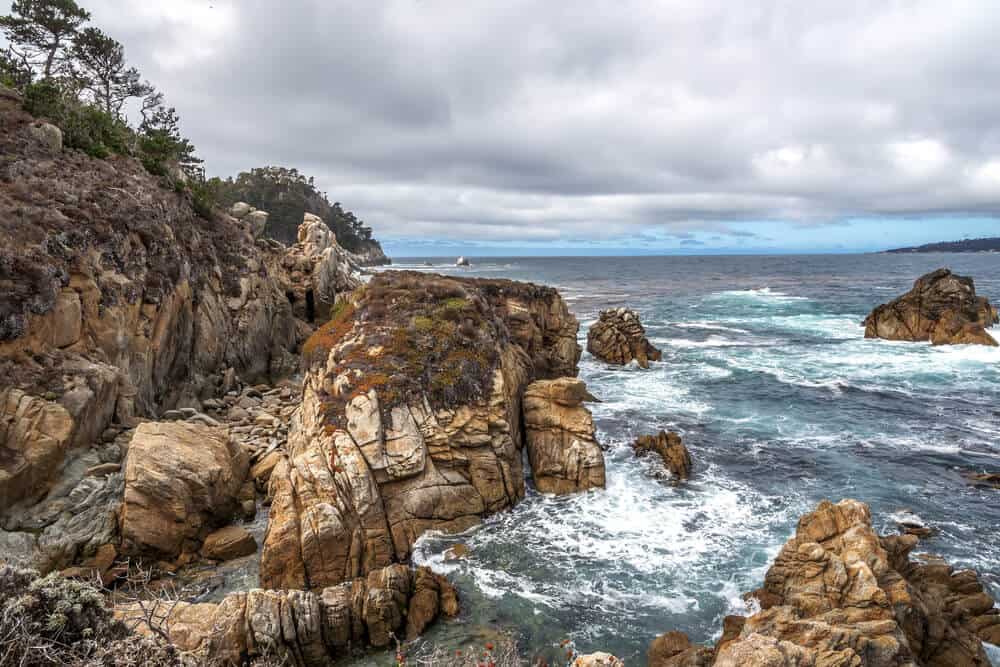 Distance: 1.3 miles
Elevation: 39 feet
Granite Point Trail is a quick hour-long loop, guiding visitors through pines and rocky granite outcrop.
Begin on the Granite Point Trail and make your way to Whaler's Cove. You will follow the trail along the bluffs, making sure not to turn right onto Carmelo Meadow Trail.
Continuing on this route takes you to an overlook of a small cove known as The Pit, which you can visit later down the path. The Pit is a nesting point for pelagic cormorants, who build their nests on the sides of the cliff faces.
On the left, Coal Chute Point provides gorgeous cove views. Coal Chute Point is a nesting spot for great blue herons. Even if you do not see the herons themselves, chances are you will see their large nests.
After taking a break at the lookout, the course follows a shaded pine forest leading to a flight of steps and an old roadbed.
Listen for songbirds and woodpeckers as you trek through the trees. The covered habitat is ideal for many bird species!
Going straight from the steps, you will reach Granite Point. To the east of Granite Point, you will see Moss Cove and the Monastery above Monastery Beach.
To the west, you can see Whaler's Cove. You will find a bench making for an impeccable resting point on your journey on the right.
After enjoying the scenery, you can follow your steps to your starting point, as Granite Point marks the turning point of the loop.
Lace Lichen, North Shore, and Cannery Point Trail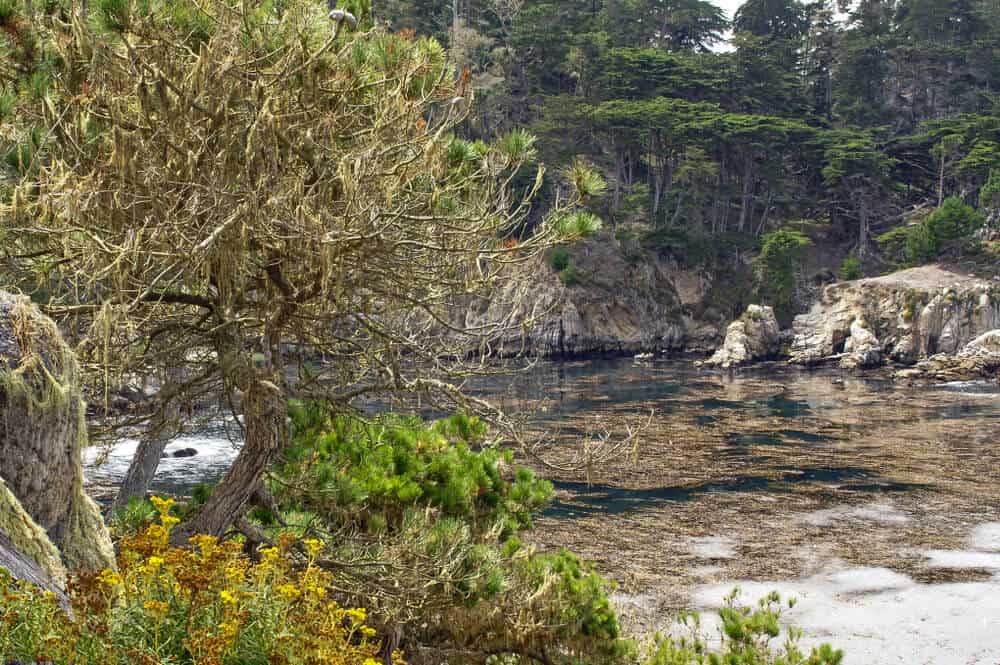 Distance: 2.9 miles
Elevation: 223 feet
Lace Lichen Trail connects to North Shore and Cannery Point Trails, making for a well-rounded, 2.9-mile trip encompassing rich scenery.
It is a moderate hike, with some demanding areas that require skillful maneuvering over rocks and roots.
As a whole, visitors love that this trail is less crowded than many Big Sur hikes along more popular paths, while still providing an exquisite setting for exploration.
The most accessible way to Lace Lichen Trail is from the main Point Lobos parking lot and park entrance.
The path is well-paved and lined with pine trees and shrubbery. It gets its name from the light green lichen growing on the trail's pines and oaks.
This organism does not damage the trees, but it absorbs moisture, helping the forest continue to thrive in a Mediterranean climate with little rainfall year-round.
Due to its sponge-like qualities, Indigenous peoples in the past used it for healing and treating wounds.
The lichen is a food source for native animals such as deer, and birds use it to create their nests.
Lace Lichen Trail is home to other species such as bushy-tailed western gray squirrels, white-tailed brush rabbits, and wild lilacs. With all of the fascinating creatures and plants to see, you will not want to pass up on this trail!
After an intersection with Point Lobos Trail and Whalers Knoll Trail, continue towards the coast on Point Lobos. This path guides you to North Shore Trail.
North Shore Trail follows the coastline up to Cannery Point, where steep steps bring you to the vista. Looking down, you will see how the point shows off its stunning cliffs along the shoreline.
You will follow North Shore back to Point Lobos and Lace Lichen trails when you finish enjoying Cannery Point.
Walking back along North Shore, take some time to admire the many coves you're passing. One large, note-worthy cove is Bluefish Cove.
With unique native wildlife and dazzling landscapes, Lace Lichen Trail is a favorite!
Big Sur Hikes in Julia Pfeiffer Burns State Park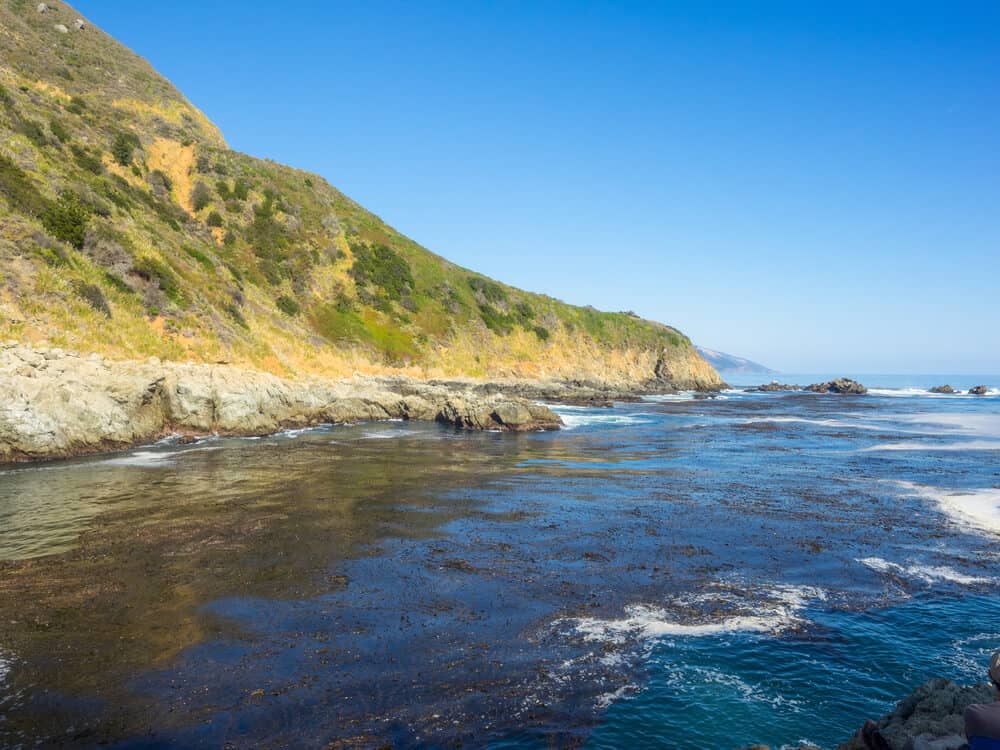 Julia Pfeiffer Burns State Park, named after Julia Pfeiffer Burns, a respected pioneer in the county, includes diverse trails looking out over the Monterey Bay National Marine Sanctuary and looking through the dense forest.
With granite rocks, waterfalls, 3,000-foot ridges, and redwood and oak trees creating a magical ambiance, the area is a hiker's paradise.
This State Park, south of Point Lobos, includes trails along the waterfront and enchanting regional highlights.
A coastal fog often creeps in this region, often extreme during mornings. Keep in mind that the mist can be helpful to keep you cool, but it may block particular landscape views.
Here are the best Big Sur hikes in Julia Pfeiffer Burns State Park!
Pfeiffer Beach
Distance: 0.9 miles
Elevation: 16 feet
Travelers regard Pfeiffer Beach as one of Big Sur's top attractions. Will so many positive reviews, the area may be crowded!
However, the beach remains remarkable and worth visiting even with more sojourners. This leisurely walk is family-friendly and great for all skill levels. The walk along Pfeiffer Beach is an impressive excursion to complement your Big Sur adventures!
From the Pfeiffer Beach parking lot off of Sycamore Canyon Road, a short trail through some woodlands brings you to the sand, where the trail ends.
From here, you can see incredible sand formations, towering arches, and orange boulders as you walk on the strand. This secluded hike on this Big Sur beach provides a serene area for relaxation and taking in the natural world's beauty.
With the charming environment this beach offers and its growing fame, remember to leave the site better than you found it and respect residents and wildlife as much as possible!
After your short walk along the beach, make your way up to your starting point to complete the loop.
Partington Cove Trail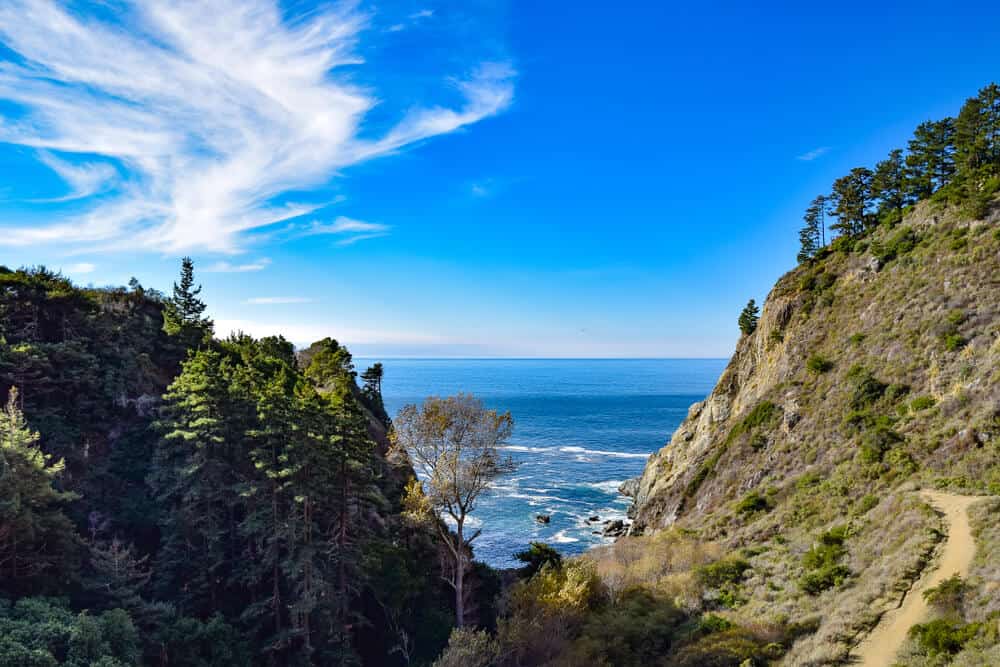 Distance: 1.1 miles
Elevation: 347 feet
Partington Cove Trail follows along a dirt wagon road and is classified as a moderate hike.
You will follow the out-and-back trail across a wooden bridge and through a tunnel to a view of the protected Partington Cove, a symbolic attraction of Big Sur's waterfront.
Visitors use Partington Trail year-round, as it constantly provides an incredible look into Big Sur's light blue, clear ocean water crashing into the rocky shoreline.
The path's starting point is on a bend on Highway One, two miles north of the Julia Pfeiffer Burns State Park's entrance.
Descending towards the ocean, you will walk along the path until you come to a left turn to cross the wooden bridge that hovers over a small creek.
Instead of heading to the viewpoint, you can continue straight down to the sandy beach.
This beach is not typically used for swimming with unpredictable surf conditions, but it is a beautiful area to listen to large waves rolling onto the shore.
The entire hike is relatively short, so you will most likely have time to visit both the strand and the cove lookout!
Past the bridge and the spot for beach access is Partington's Tunnel, a 60-foot tunnel constructed in the past for transporting oak to ships in the cove.
After venturing through the tunnel, you will arrive at Partington Cove Point. People previously used this zone as a boat loading point, but it is not in use today.
You can return to your starting point by tracing your path to make your way back to Highway One.
Along the way, you will pass by flourishing flora and fauna such as blackberry and high brush bushes. Look around to find trails you can turn on to access secluded rivers on your ascent.
Overlook Trail to McWay Falls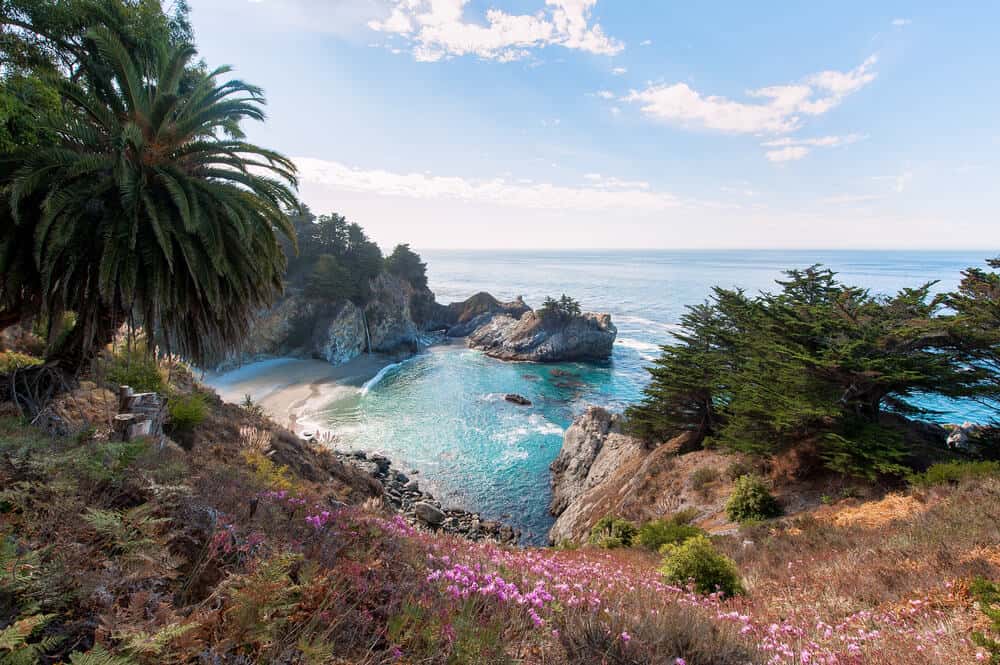 Distance: 1.1 miles
Elevation: 50 feet
This quick hike, which could be considered more of a walk, takes you to a view of McWay Falls, a renowned 80-foot waterfall falling onto the beach below.
A landslide in 1983 created the beach where the waterfall spills: now, it's one of the most famous landmarks in California.
Parking on the side of the Julia Pfeiffer Burns State Parke entrance, you will walk to the dirt road on the mountain's edge.
Rails line the flat path of Overlook Trail, helping to ensure hiker's safety and peace of mind. This leisurely excursion leads to exceptional views, the likes of which you see on postcards of California!
Before visiting, make sure to check the visitor's center or park website, as there may be ongoing construction due to recent erosion.
Though the view of the falls is impressive, any attempt to access this beach is a citable offense and extremely dangerous.
Make sure to remain on the trails and enjoy all there is to do in Big Sur while staying safe!
Tanbark Trail and Tin House Trail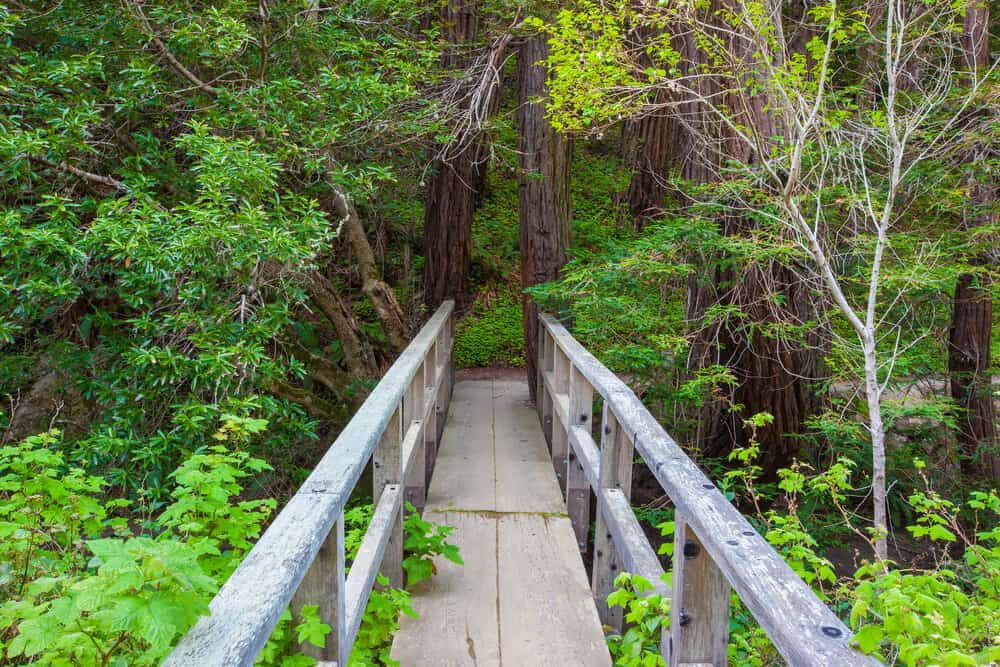 Distance: 6.1 miles
Elevation: 1,600 feet
Considered moderate to hard, the Tanbark Trail challenges more experienced hikers in Big Sur!
Starting at the Partington Cove turnout, hikers follow Partington Creek until they reach the Partington Vista turnout.
The trail merges with Tanbark Trail, which includes a series of switchbacks leading to ridge tops.
The end of Tanbark Trail marks the beginning of the Tin House Trail, which you follow to reach the hike's total mileage.
This trail previously showcased the remains of a historic tin house, which reportedly burned down a few years back.
Former New York Congressman Lathrop Brown built this singular house from the remains of an old gas station!
Because metal expands and grows extremely hot in certain temperatures, the family abandoned the tin house, leaving it a destination for hikers to observe.
Tanbark and Tin House hike highlights Big Sur's forest, taking travelers through luscious greenery and various small waterfalls and streams.
Going deep into nature, you will see dense wildlife and plants around the area.
If you are up for a challenge, Tanbark and Tin House Trails are an excellent way to explore the best of Julia Pfeiffer Burns State Park.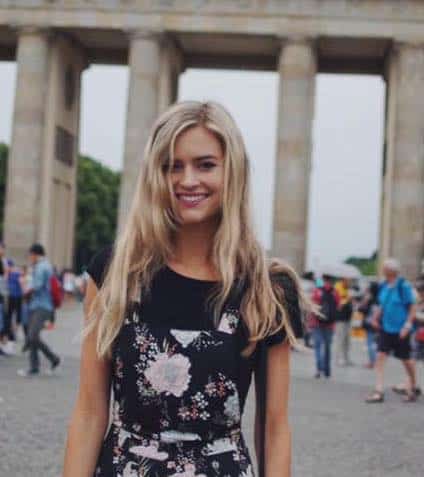 Hannah Morrison is a writer from California who received her Bachelor's Degree in Environmental Studies from the University of California, Santa Barbara. Studying abroad in Germany and Italy sparked Hannah's passion for travel, and she hopes to inspire others to experience all the world has to offer. Along with travel journalism, Hannah enjoys writing sustainability, wellness, and lifestyle content for online and print media.