There is no denying that Los Angeles and Big Sur are two of the most iconic destinations in California (if not the entire state).
These two places showcase the diversity of the Golden State beautifully, from its perpetually sunny sandy beaches fringed with palms to its rugged coastline hugged by fog.
While both LA and Big Sur are incredible, what many people don't realize is that there are so many extraordinary stops along the Pacific Coast Highway on the way!
And though you could easily be content with the endless views of craggy cliffs and aquamarine ocean waters that keep you company on your drive along the PCH, it would be a sin not to explore the hidden gems tucked away amongst their midst!
Within just a few hours of your departure from L.A., you can be hanging with the otters at Morro Bay or transported to a Danish village in Solvang.
There really is no feeling like the one you get as you leave the bustling city life behind and enter a world where time stands still… where the most stressful part of your day will be deciding which of the ridiculous amount of beaches you want to visit that afternoon or which mouth-watering seafood restaurant to try next!
This road trip guide covers the drive in order from Los Angeles to Big Sur, assuming that you want to make the majority of the stops along the way to your finale in Big Sur.
However, taking the route from Big Sur to L.A. can be an even better experience!
You get to drive right alongside the water and gradually make your way back into the city after being spoiled by Big Sur's dreamy coastline.
But don't worry! If you are driving from one location to another, chances are you will make your way back eventually, so you can get the best of both worlds either way!
I suggest picking a few stops for the way north and a few stops for the way south to best split up the drive and ensure you don't burn yourself out with too many stops all at once.
Regardless of whether you start at the northern or southern part of this strip, this list of nine stops along your route will be your golden ticket!
Slice and dice it however you please, but you definitely don't want to miss out on these mind-blowing destinations!
9 Best Stops on the Drive from Los Angeles to Big Sur
Ventura
Note: This post contains affiliate links, which earn me a small commission at no extra cost to you if you make a purchase using one of these links. Thank you for supporting this free content!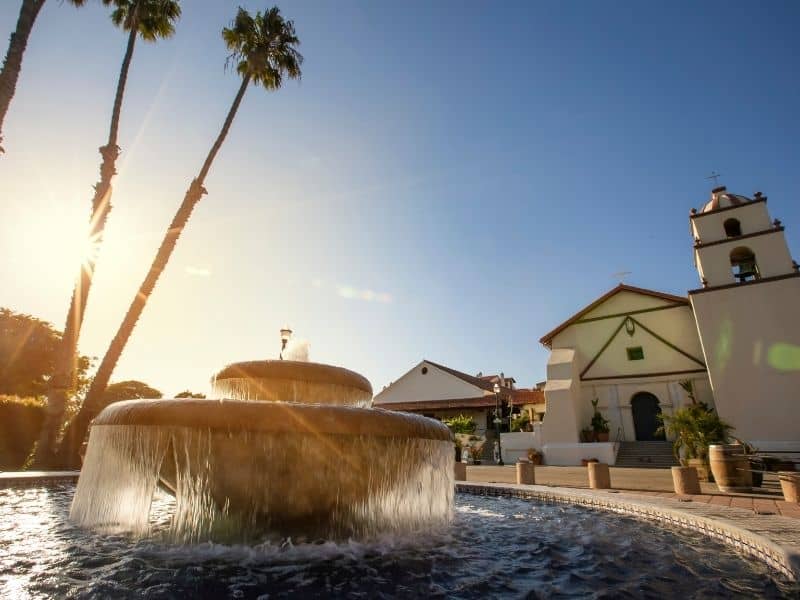 As you leave Los Angeles, don't forget to swing by Ventura!
This charming seaside city is a great place to go for a walk on California's oldest standing wooden pier. Then stay for a while when this sleepy beach town surprises you with a surplus of things to do!
Although if I am being completely honest, you can easily spend an entire day on the pier taking in the sights!
You could partake in some fishing off the pier, enjoy a few drinks at MadeWest Brewing Company, and finish it off with a waterfront dinner at Beach House Fish.
But then you wouldn't have any time to enjoy the Harbor Village, where shopaholics like myself can have their pick of over 20 trendy boutiques and classic souvenir shops…. all while enjoying the endless views of the Pacific Ocean.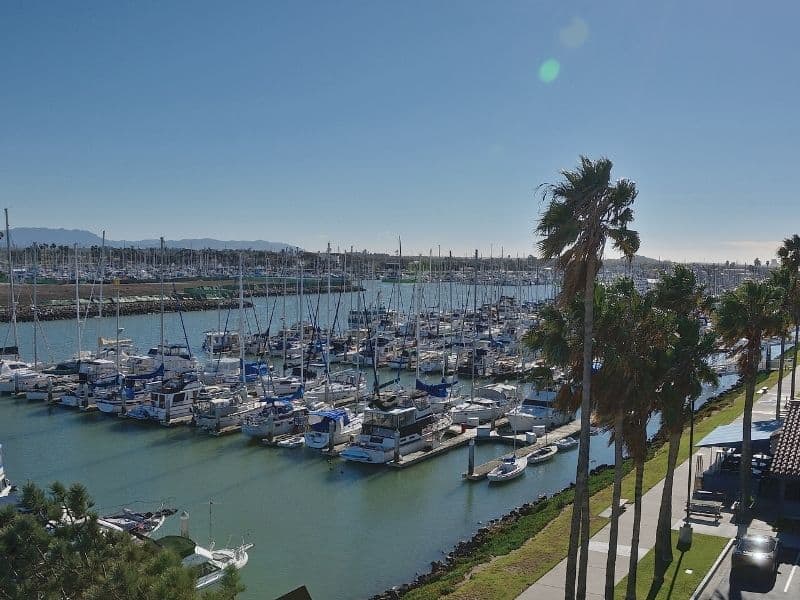 It doesn't get much better than that! …. so one would think.
To be fair, most people don't even know this wonderful thing exists so they don't really know what they are missing but once I spill the beans things will never quite be the same — I mean it!
One visit to this place will have you questioning everything you know about ice cream and you will have no control over the rise in your frozen treat standards.
But if you really must know (and really, you must), the Harbor Village is home to Coastal Cone Ice Cream where the owners have really outdone themselves by adding taiyaki to an already impressive list of 40+ ice cream flavors.
What is taiyaki, you may ask? Technically, it's just a traditional Japanese cake, but the flavor puts a waffle cone to shame and the fish-shaped design will have you pulling out your phone to share it with all of your friends on Instagram!
Yes, the line will be outrageous but it will be worth every second.
Where to Stay: For a unique stay, book a night in the retro-chic Waypoint Ventura, where converted Airstream trailers have been given a modern facelift with gorgeous furnishings and private outdoor patio spaces.

For a more traditional stay, the Crowne Plaza is beachfront, complete with an outdoor terrace with a firepit and Pacific sunset views!
Santa Barbara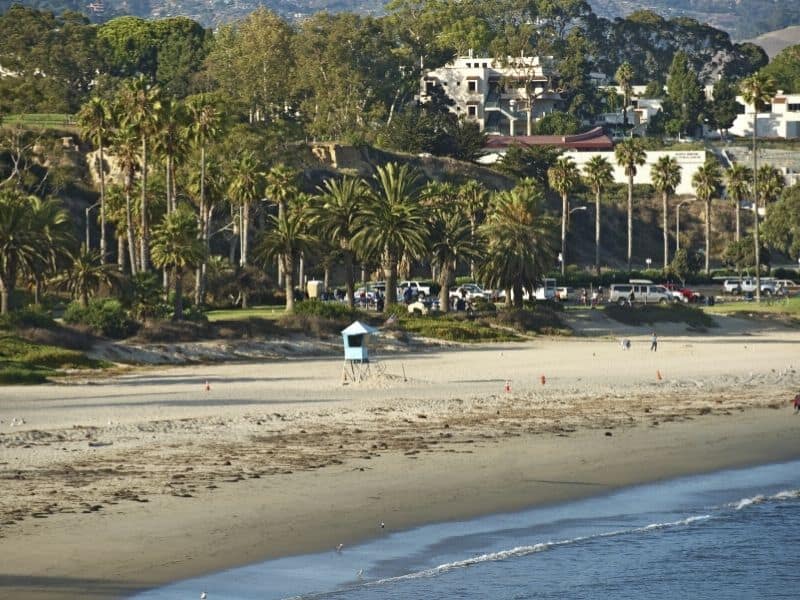 One of the most iconic stops you'll make between Los Angeles and Big Sur is Santa Barbara — but you probably knew that already!
The city's name gets thrown around so often that it's impossible not to have heard of it, but what many people don't know is that there is a lot more to this place than its beaches.
I mean, with 36 breathtaking beaches to choose from (ranging from family-friendly to nudists welcome), it's hard not to make it all about Santa Barbara's sandy shores — but here goes anyway!
You know that Spanish Colonial architecture you can't stop admiring around town?
Well, it all started with Mission Santa Barbara and this famous landmark can still be explored to this day. Walk the impressive grounds making stops at highlights like the cemetery, the church, and the many gardens.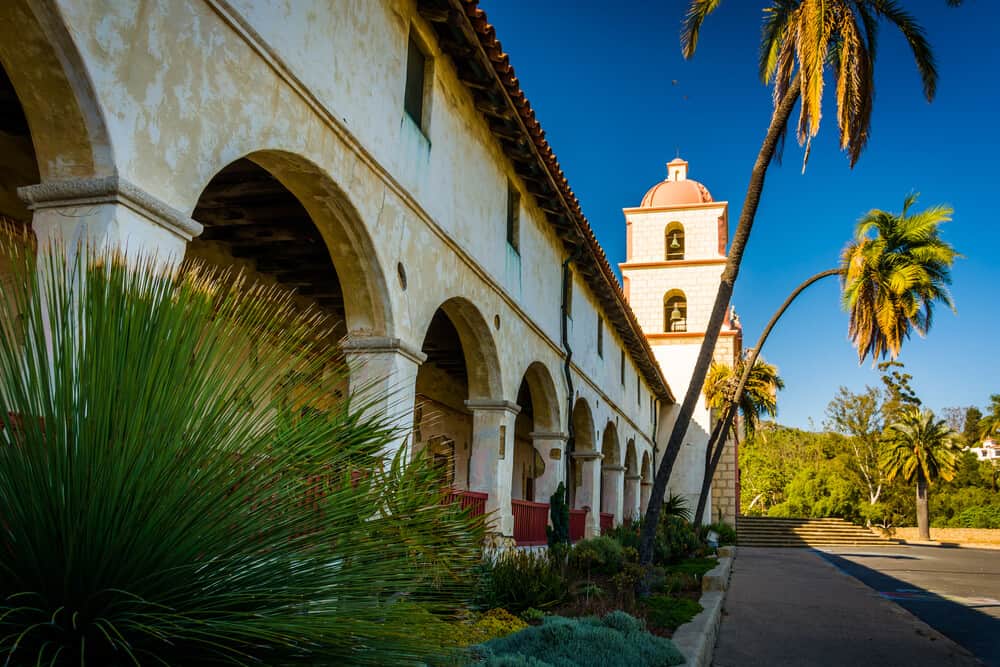 Another historic gem is the Santa Barbara County Courthouse. Even though you are free to explore this Spanish Colonial masterpiece at your leisure, don't forget that it is still a working courthouse. (In other words, be respectful!)
The Santa Barbara Zoo is a must and if you have never hand-fed a giraffe before, you sure will here! Not to mention the breathtaking views of the Pacific Ocean that peek out amongst the lush gardens and usher you to the next exciting exhibit.
And don't even get me started on the restaurants. Let's just say that Santa Barbara is a haven for foodies and coffee addicts alike — especially in its awesome Funk Zone neighborhood — as well as for people who like to try different breweries when they travel.
I just so happen to be both, so I can say with confidence that you will definitely find what you were looking for!
Where to Stay: Accommodations in Santa Barbara are not cheap, but the Eagle Inn in West Beach (a 10-minute walk from central Santa Barbara) offers some of the best value just a short walk from the ocean!

For a little more luxury, the Santa Barbara Inn is a beautiful, chic boutique hotel with beachfront access and its own pool, also located in West Beach.
Solvang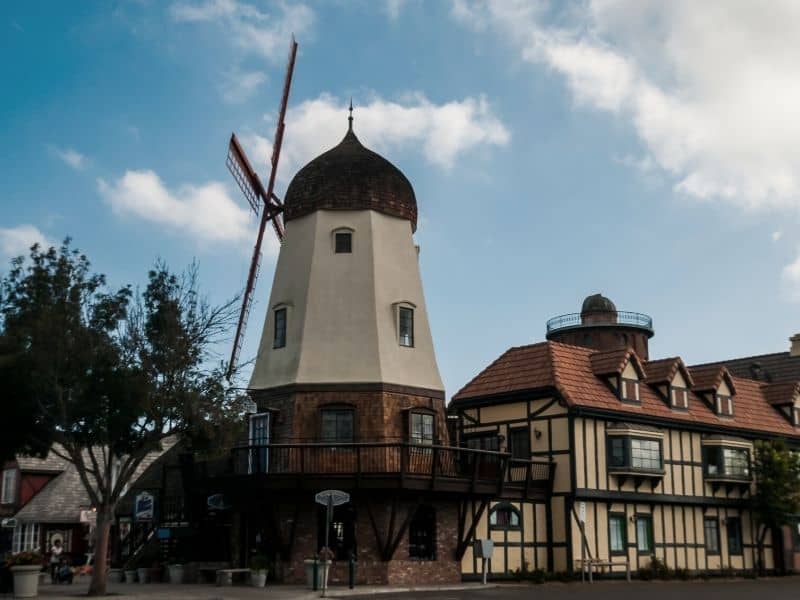 You'll know when you have reached Solvang because you will feel like you have been transported to a humble town in Denmark and that's no exaggeration!
Solvang feels like a little slice of Europe in California for a reason. Danish immigrants planted their roots here back in the early 1900s and immediately began reshaping the area to resemble their old stomping grounds.
Cobblestone streets, half-timbered houses, little bakeries serving up the best authentic Danish pastries you'll ever feast your eyes on. It's the whole shebang!
Start with some history at the Elverhoj Museum where you can admire the traditional Danish style and learn more about how this unique California town came to be.
And don't worry, this museum will only take up about an hour of your day so there will be plenty of time to wander around the village, or get back on the road!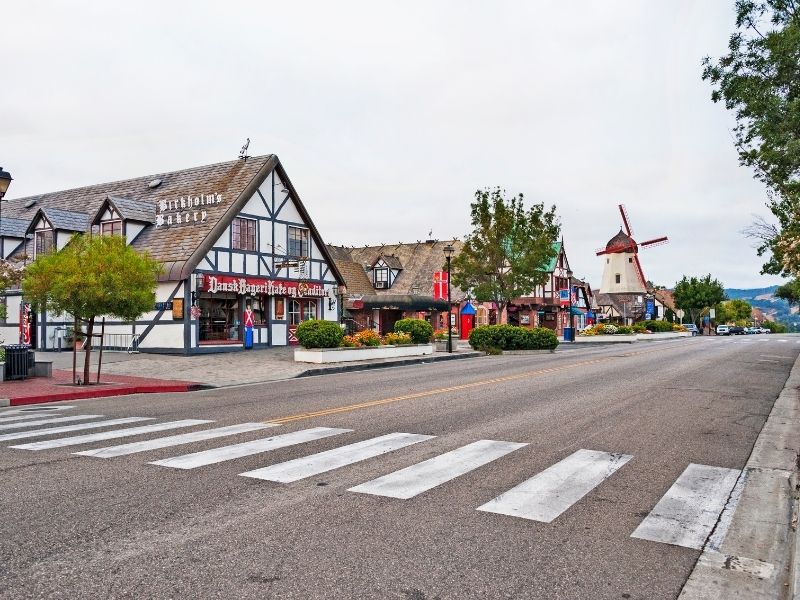 Alright, let's be real here. Your nose will lead you right to the doors of the Olsen's Danish Village Bakery… that is, if there isn't a line wrapping around the block.
But you can't really be mad about it because a long line is literally the staple of a good bakery (how else can they churn out such consistently fresh goodies?) and this bakery is fantastic.
You won't even feel bad about stuffing your face with kringles and cardamom bread if you finish it off with the two-mile, self-guided walking tour. You'll get to visit cool attractions like the Little Mermaid statue and the First Folk School.
Pro Tip: Download the Experience Solvang app on your phone to be up to date on all the fun and take your walking tour to the next level with an audio guide to go along with it!
Where to Stay: Solvang is all about that Scandinavian vibe, so why not stay somewhere with modern Danish design? The utterly charming Atterdag Inn offers that dreamy Nordic interior design at a price that you won't blink twice at.

For a more traditional (as opposed to modern) Danish-style place to stay, the Mirabelle Inn offers upscale, characterful rooms in what looks like a literal chateau in downtown Solvang!
Pismo Beach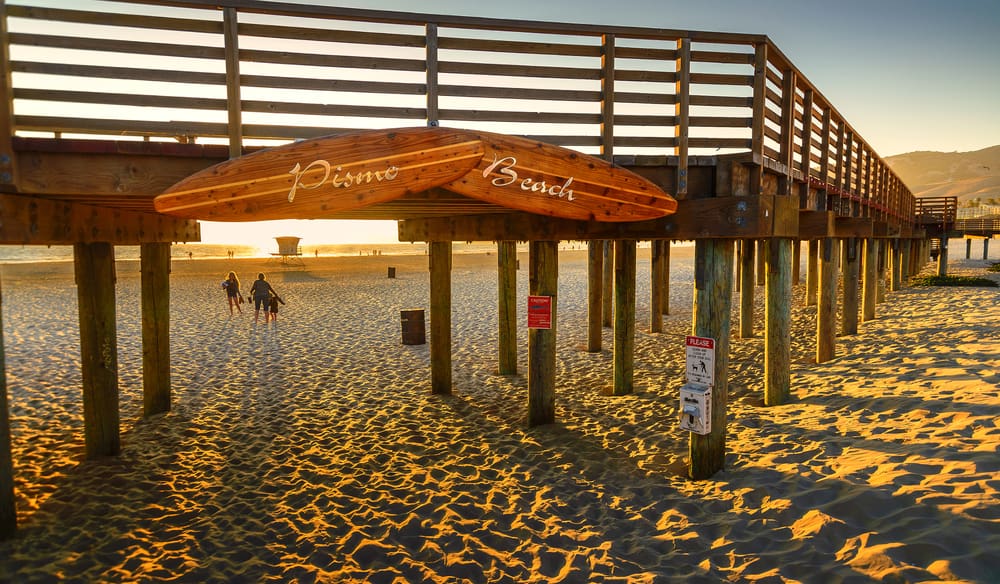 With the word "beach" literally in the name of the town itself, it should come as no surprise that much — if not all — of your time here will be spent with your feet in the sand and the ocean in sight!
A lot of people come here just to visit Pismo Beach's beach (shocking I know) and you really can't deny the relaxing feeling that washes over you as you lay out on its soft, golden san. But there are plenty of other waterfront activities to enjoy here!
A fun place to explore is the Dinosaur Caves Park but before you get your hopes up, I should mention that this park has no real correlation with these ancient creatures…
Unless you count the giant cement dinosaur that used to welcome guests back in the early 1900s, or the pelicans who like to hang out here (that's kind of close, right?)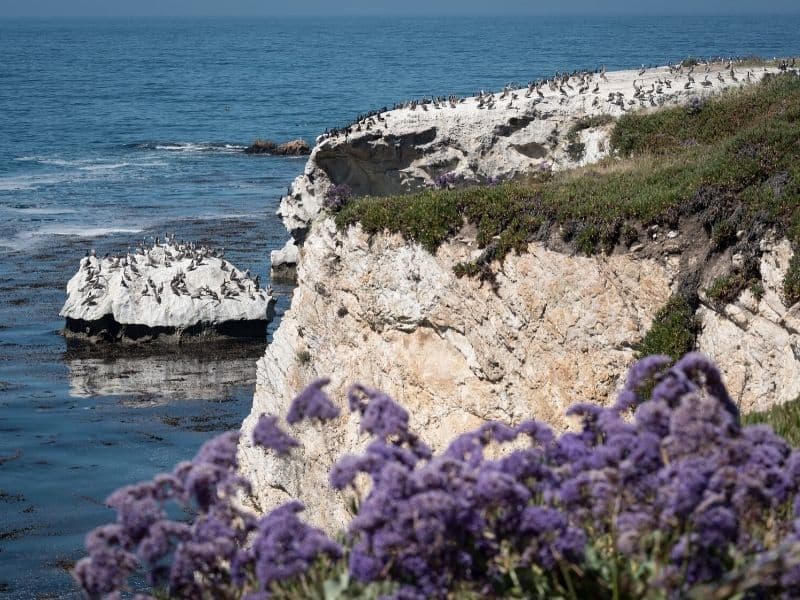 Regardless of this unfortunate detail, the park has so much more to offer and you can spend hours walking the trails along its rugged cliffs admiring the abundance of sea caves down below!
Plus, if you find yourself dreaming of these mysterious caves, you can always rent a kayaking tour at Margo Dodd Park to get the full experience.
And if relaxing by the beach just isn't your style, consider enjoying the sandy shore in a more exciting way at the Oceano Dunes State Vehicular Recreation Area where ATVs and dune buggies will be your new best friend.
Where to Stay: The charming Cottage Inn on the Sea offers stunning views over Pismo Beach from a bluff above it, with a fire pit and chairs to watch dreamy views of the sunset. Score! It also has beautiful rooms (some with fireplaces and ocean views) as well as a pool and hot tub.

For a brand new, luxury hotel experience, Vespera Resort on the beach offers spacious and beautifully designed rooms on a gorgeous property with 4-star amenities (fitness center, giant pool, etc.).
San Luis Obispo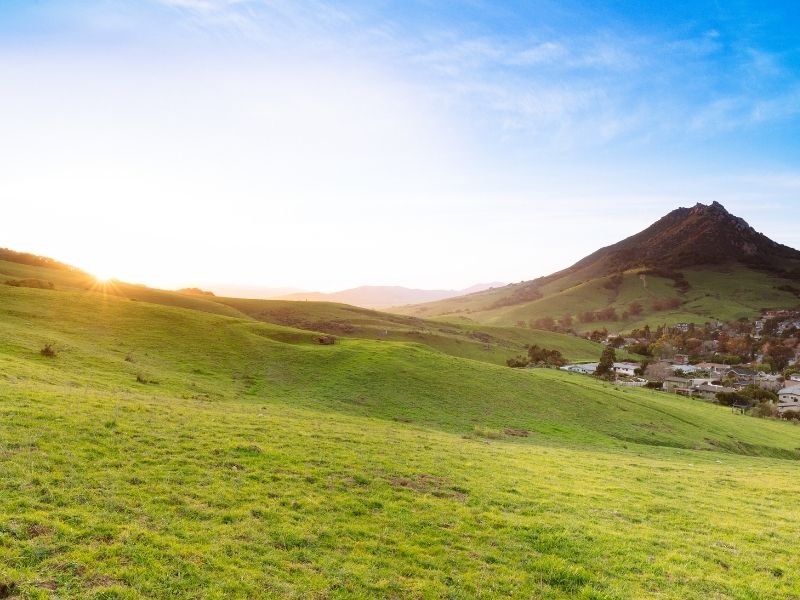 You are probably wondering how you could have made it this far in life without knowing about "the happiest place in America".
That is just one of the many surprises waiting for you in the lovely town of San Luis Obispo!
This exciting place is not like any of the coastal California towns you'll visit along your journey, and while that's mainly because it's not located on the ocean, there are definitely some other factors in play!
For starters, it is huge. Forget about those humble little fishing villages (if only for a moment) and embrace the beauty of a city that has everything you could possibly need and more.
Spending the day hopping from eccentric breweries to dive bars, trendy eateries to quick bites, unique museums to quirky art galleries — and do it all without ever leaving the bustling downtown area.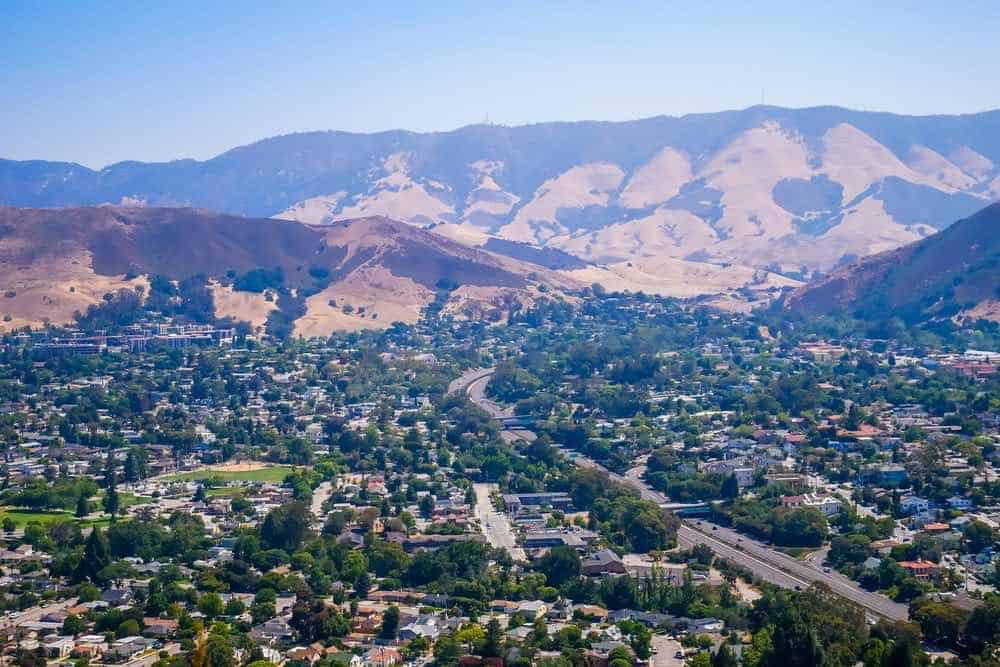 Convinced yet? What if I told you that the Edna Valley is just down the road with more than two dozen tasting rooms that will make you feel like you have entered wine country?
But wait! Before you go rushing out the door. you should know that my personal favorite is Chamisal Vineyards because they just hit every nail on the head.
Service? Spectacular. Views? Breathtaking. Wine? Superb. I mean they are the oldest vineyard in the valley so they have to be doing something right. Just turns out they do everything right!
Oh! And how could I forget about Bishop Peak? I am about to throw some geology at you so stick with me!
California's Central Coast is made up of nine volcanic plugs known as the Morros (aka the Nine Sisters). Bishop Peak is the largest of them all at a towering 1,546 feet!
Now this series of striking formations might ring a bell, and you would be absolutely right in thinking that Morro Rock is part of the collection!
So for reference, picture Morro Rock in all of its glory. Then throw in an extra thousand feet — plus a hiking trail that takes you right up to its peak — and you have the notorious Bishop Peak.
Where to Stay: The forever-classic Madonna Inn offers an impossible variety of quirky rooms, each with their own personalized theme and decor. Don't miss visiting the hot pink steakhouse or walking around their gorgeous grounds! Each room has its own style, so be sure to check your room's photos before you book — that's all the fun!

I don't know why you'd want to stay anywhere else, but if you can't get a room at the Madonna Inn for some reason, I'd suggest the beautiful yet minimalist San Luis Creek Lodge for great design in a wonderful location.
Morro Bay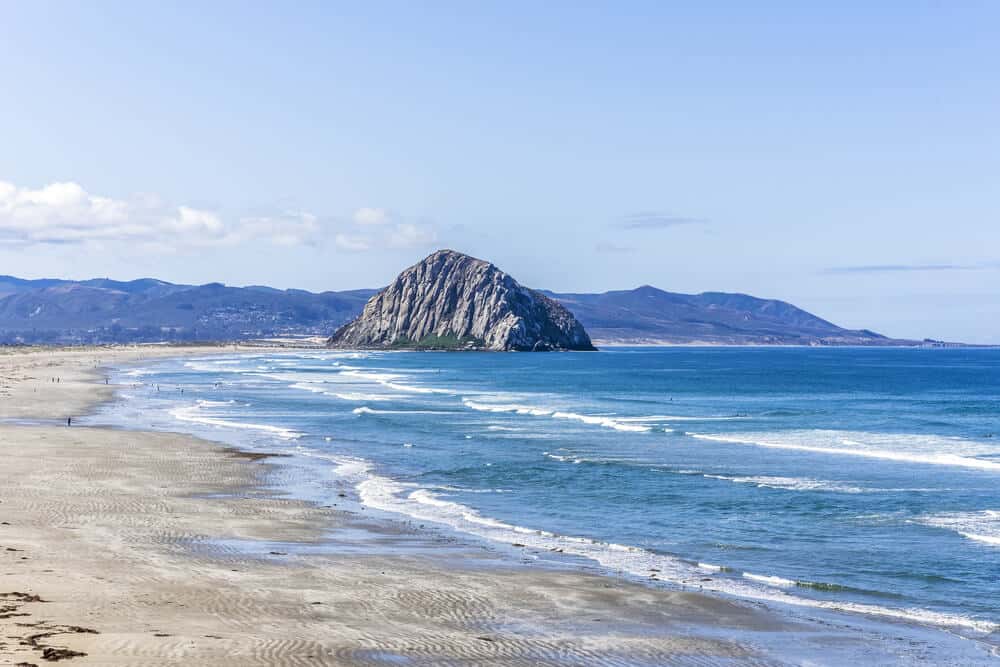 Morro Bay is one of those famous places that would have you questioning my credibility if it wasn't mentioned in this list!
Don't know about this coastal gem? I'm not judging (okay, maybe just a little), but your world is about to change and it is an honor — no, a duty — to share it with you. I mean, you need to experience this!
As far as beach towns go, Morro Bay is king. If you only had time to visit one beach town along your drive between L.A. and Big Sur, this would be it. No questions asked.
Just picture it: you arrive to the smell of freshly cooked seafood and the breathtaking views of endless beaches. You go for a walk along the Embarcadero and the iconic Morro Rock never dips out of sight. Adorable otters and their babies welcome you with a wave (okay not literally, but you get the point).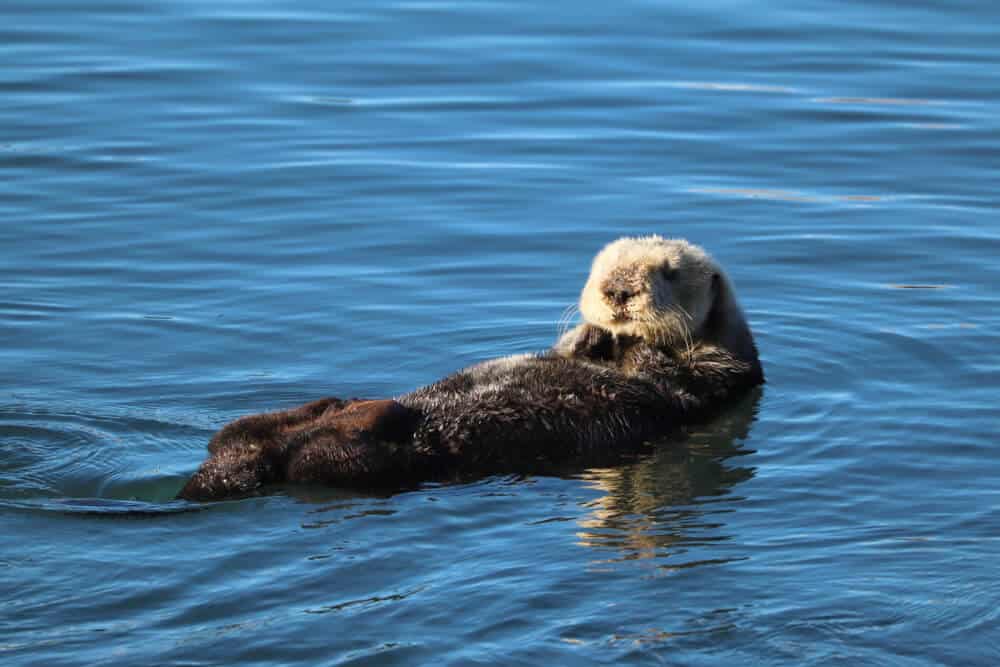 If I am being honest with you, there are probably more otters here than people, so the chances of seeing these cuddly creatures are very high.
I mean, you would literally have to go out of your way not to see one. Or two. Or five.
Not to mention the abundance of other marine life just hanging around like sea lions and seals. The bottom line is, if you want guaranteed wildlife sightings, this is the place to go!
But it is also the place to go if you want to eat one of the best lobster rolls your taste buds will ever encounter.
Who am I kidding? It's the place to go if you want to enjoy all kinds of freshly caught seafood.
Don't know what to order? Just pick a seafood dish at random and it will be a winner every time
Where to Stay: The stunning Inn at Rose's Landing has the best views in town! It's right on the Embarcadero, with a front-and-center view of Morro Rock. The rooms are spacious with a modern flair, and the terrace has great views of the bay and the famous rock!

For a more budget-friendly option, the cheap and cheerful Pleasant Inn has that renovated vintage motel vibe with updated rooms, great prices, and a solid location.
Cayucos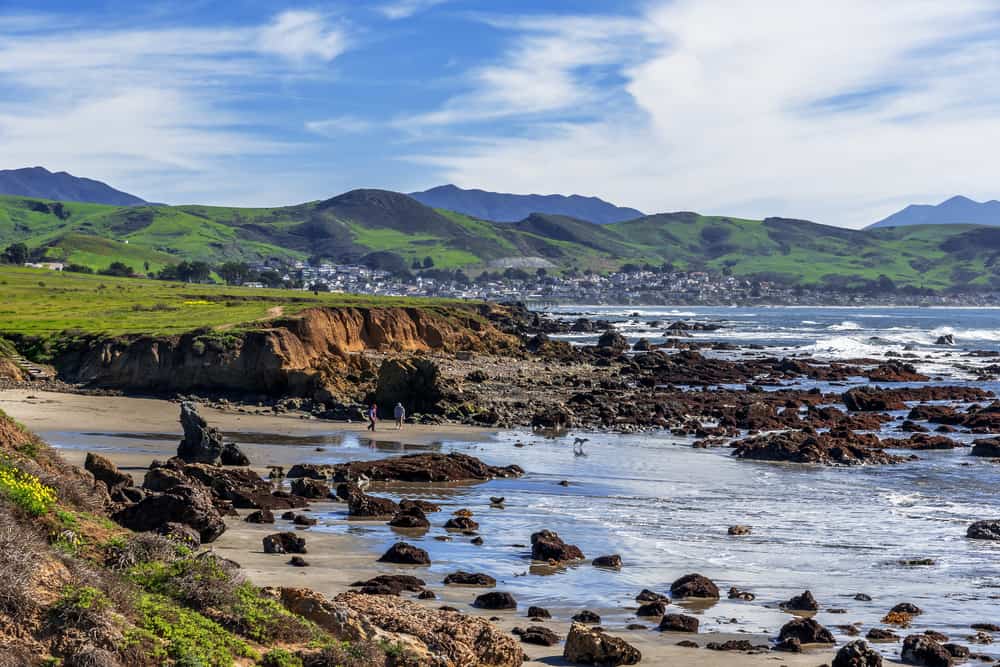 Dabble in some good old-fashioned coastal town history in Cayucos where the streets — or should I say street — haven't changed a bit in the last 100+ years…
This is saying a lot considering the way that most of California's beach towns have succumbed to the need to paint a pretty, vacation-themed picture for tourists!
Don't get me wrong. I love the typical beach vibes as much as the next person, but it is nice to have a bit of variety every so often, and Cayucos offers you just that.
I mean, you can literally have a drink in a saloon that was at one time filled with real-life pirates. How cool is that? If you're lucky you may even have a paranormal encounter with the famous Captain James Cass… or so they say.
Don't bother asking which saloon this is (because the tall standing pirates at the entrance ought to be answer enough) but just know that there is another bar dedicated to cowboys if that's what tickles your fancy!
And bonus, they are right across the street from each other.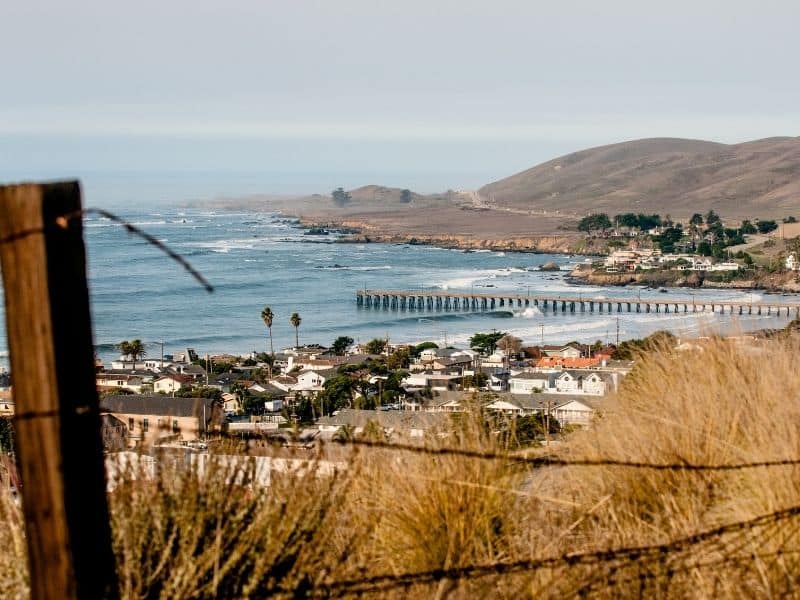 If you haven't figured it out yet, the town of Cayucos is pretty small but with that comes undeniable charm and more importantly, the ability to take a leisurely self-guided tour of the town's nine historic murals.
Keep the history train chugging with a trip over to the pier, which was built by Captain James Cass himself, where you can watch for whales, partake in some fishing, and get those ideal photos for the gram.
After you have had your fill of this quaint little area, head over to Estero Bluffs State Park to take in the breathtaking views that have brought all of these coastal towns to life.
Rugged bluffs and picturesque coves stretch out over 350 acres, offering a plentiful amount of hiking trails for people of all experience levels to enjoy.
Can't decide on a trail? The easy Estero Bluffs Trail is a crowd-pleaser every time. You can thank me later.
Where to Stay: For a charming B&B in Cayucos, look no further than the Cayucos Sunset Inn. It has patios with sunset views just a short walk from Main Street and great touches like fireplaces and en-suite baths.

Another great option that's a little more affordable is Cayucos Beach Inn, which is a lovely no-frills inn just one block from the scenic Cayucos State Beach. Rooms are clean, cozy, bright, and airy!
Cambria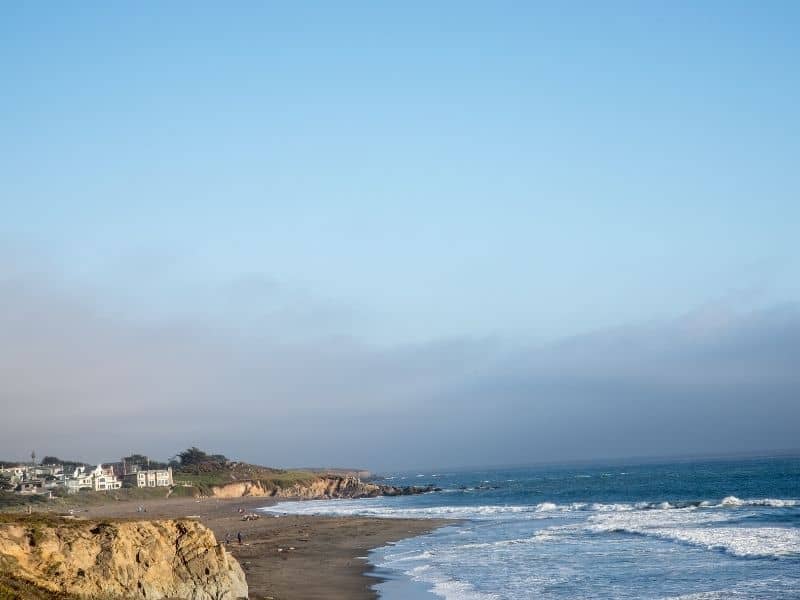 Located one one side of San Simeon State Park is the coastal town of Cambria. Although it shares a lot of the same attractions as the next stop on this list, you would be silly not to stop in…. especially for lunch.
I could start listing off all of the amazing places to eat in Cambria, but why stress you out with a slew of options when the best choice is obvious?
If you ask any of the locals what the best restaurant in town is, the answer will always be Robin's Restaurant. Plain and simple.
Their menu is about as unpredictable as it gets with a seasonal rotation that brings a whole new meaning to the phrase "farm-to-table".
Want to munch on some truffle fries and Thai green chicken for lunch? Done. Interested in a romantic garden dinner where you can indulge in salmon bisque and flatiron steak? Done and done.
Just do yourself a favor and your meal off right with a mouth-watering slice of homemade carrot cake or nectarine upside-down cake!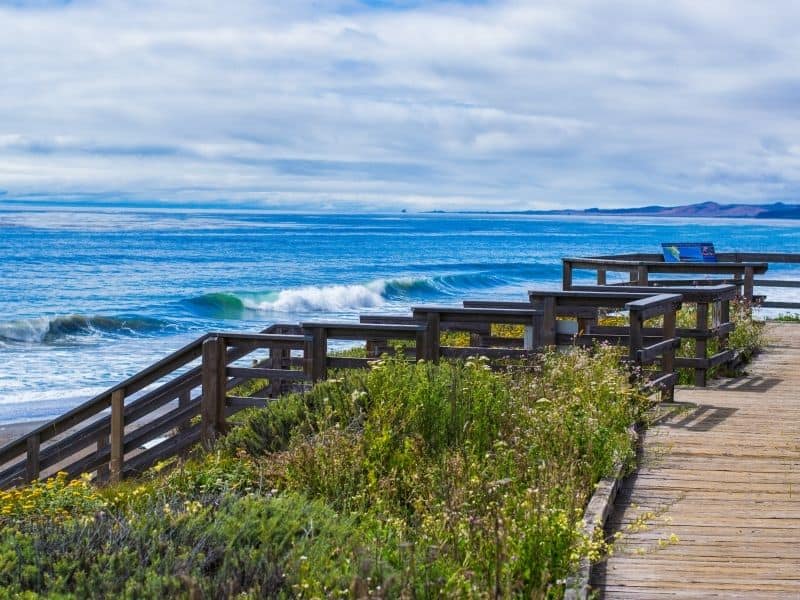 But enough about food (is there such a thing?), let's talk about Moonstone Beach. Ah yes, the beach where you can spend hours collecting sparkling gemstones that wash up along the shoreline.
Now before you get your hopes up, these gems will by no means make you rich, but that doesn't make them any less beautiful and the way they glisten come sunset is a reward within itself.
While in our next stop, you'll get to to marvel at Hearst Castle, but first I suggest you take a quick stop at Nitt Witt Ridge aka the Poor Man's Hearst Castle for a quick giggle at their drastic differences.
Once home to a fairly odd artist who spent much of his time creating a "castle of his own", this house is as quirky as it gets and it is hard not to be impressed with how he used beer cans, car parts, and old kitchen appliances in his build!
Finish the day off with a famous slice of olallieberry pie from Linn's Bakery and you have tackled a day in Cambria like a pro!
Where to Stay: The charming Cambria Beach Lodge is located just across from Moonstone Beach, offering a beautiful sun terrace with a sunset view. Rooms are large with lovely beachy decor, with a seating area and en-suite bath. Best of all, sunny yellow bikes are available for free to guests!

Another great option is Creekside Inn in downtown Cambria located right on Main Street, a 5-minute walk from downtown. Rooms are spacious and clean and the prices are really affordable. Plus, there's a hot tub on site for guest use!
San Simeon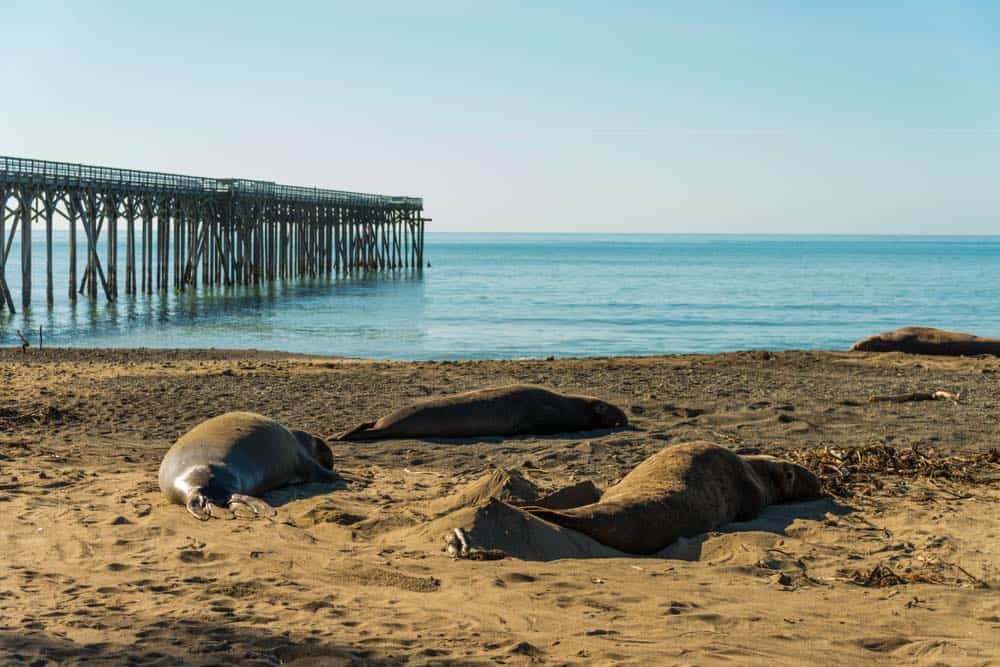 After you have oohed and aahed your way along the portion of the PCH where the ocean meets the Los Padres National Forest, you will find yourself in the charming little town of San Simeon, which is the start of the Big Sur region.
There are just enough things to do here to warrant a day trip along your travels but if you are limited on time, make sure you put Hearst Castle at the top of your list.
This isn't your typical museum experience. Not even close. This is a "how the other half lives" kind of experience.
And even then, you will find yourself wondering how anyone could ever need 165 rooms, two pools, and over one hundred acres of gardens.
I mean, this luxury estate even once had its own private zoo for Pete's sake!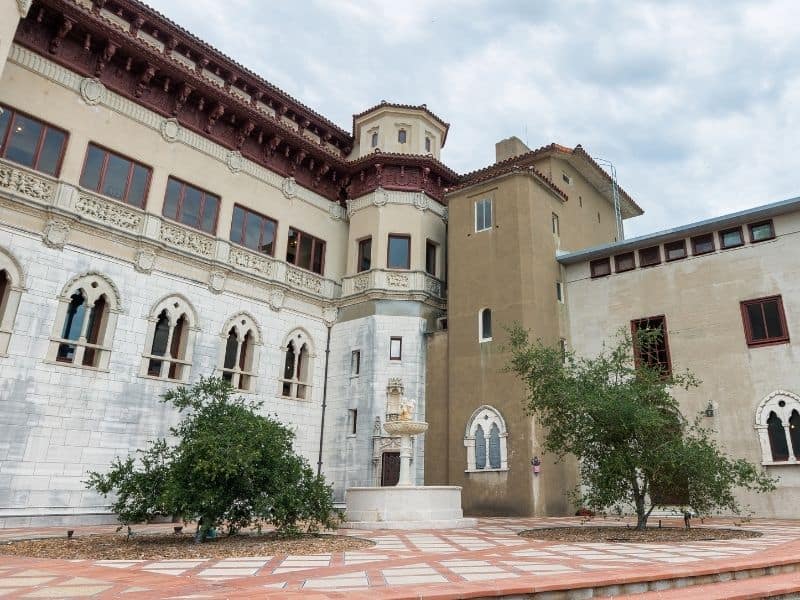 But the fun doesn't have to stop there. The historic ranch that surrounds the castle has some fun opportunities to keep the good times rolling.
To sum it up in a few words: there is an award-winning winery. That's right on the property!
After you have gawked at the over-the-top design of the Hearst Castle, you can head over to the Hearst Ranch Winery where you can sip on fine wine and pretend it's just another day in the (royal) neighborhood.
Pick your favorite wine after an exciting tasting and grab a bottle of it to take with you on your next adventure!
Did someone say sunset picnic on the beach? Don't mind if I do! Hearst San Simeon State Park has not one, not two, but thirteen beaches to choose from.
Plus, the entire state park is a hidden gem so chances are you will have the beach all to yourself…. Well minus the abundance of elephant seals that can be seen all along the rugged shoreline.
And if you can't get enough of the seals (because I mean they are adorable), the Elephant Seal Rookery is never too far away.
Where to Stay: For a scenic stay at the south end of Big Sur, the beautiful Cavalier Oceanfront Resort offers stunning views for an affordable price given the quality and the prime location.

Another option is the charming Ragged Point Inn, located in one of the lesser-known parts of Big Sur. It's two miles from downtown San Simeon along the PCH, but it has beautiful coastal walks and absolutely breathtaking grounds.
Now That You've Arrived in Big Sur…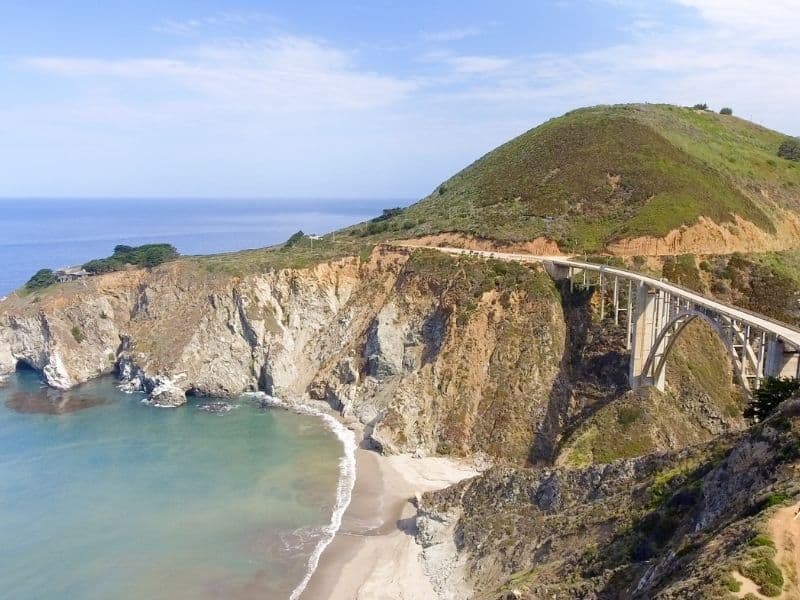 I have a bunch more resources for you!
Check out the best Big Sur campgrounds, tackle one of these Big Sur hikes, or read this 2-day Big Sur itinerary to plan the rest of your trip.
Continuing up the coast to San Francisco? Read about the best stops between Big Sur and San Francisco (just do the stops in reverse, south to north, as the post runs from north to south).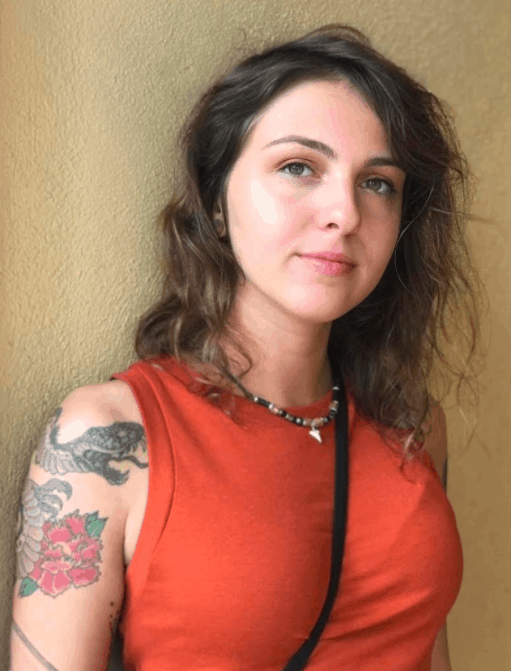 Nicole is a freelance travel writer who lives in Upstate NY, but her heart lies in the beautiful state of California. She loves to travel to new destinations, eat at all the best local restaurants and explore all the world has to offer. Her favorite place is just about anywhere where snow-peaked mountains can be seen in the distance.