The small and unassuming Newport Beach neighborhood of Corona del Mar, or "Crown of the Sea" in Spanish, is aptly named –there are so many treasures to find in this beachfront neighborhood that you will never run out of things to do in Corona del Mar!
This favorite spot in Orange County among tourists and locals alike is jam-packed with treasures.
Between hiking, paddle boarding, marshmallow roasting, surfing, tide pooling, cave exploring, and so much more—there is something here for everyone.
The Best Things to Do in Corona del Mar
Soak up the sun at Corona del Mar State Beach.
Note: This post contains affiliate links, which earn me a small commission at no extra cost to you if you make a purchase using one of these links. Thank you for supporting this free content!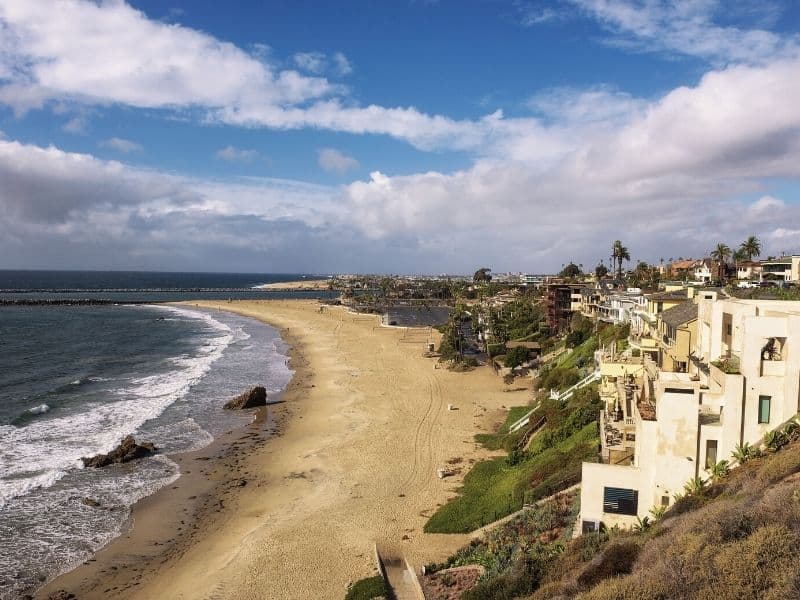 The beautiful Corona del Mar State Beach, also known as Big Corona, is the #1 stop in town!
With the gorgeous views, great waves, wide-open space, and easy access it's easy to see why.
Pack your board and get ready to catch some waves because the water here is perfect for surfing and bodyboarding.
In fact, Corona del Mar State Beach was the site of the first big surfing competition in the United States in 1928!
If enjoying the ocean from the sand is more your speed, there are tons of things to do on the shore as well.
Jump in on a game of pick-up volleyball at the sand volleyball courts and then take a quick dip to cool off.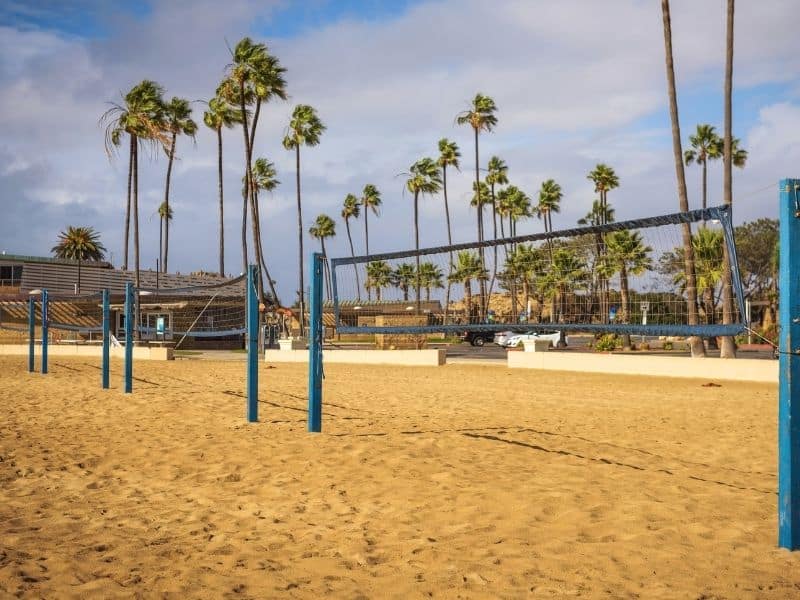 Stroll over to the rock jetty to admire the local wildlife. Sea lions love sunning and people-watching on the rocks and floating platforms.
Head on over to the south side of the beach and take the footpath up to Inspiration Point. This gorgeous bluff overlooking the sand and waves is a perfect spot to bring a picnic, admire the boats floating by, or watch the sunset.
For the ultimate day at the beach, plan to get there early to grab a fire pit. There is parking right by the beach, so feel free to pack the works!
Pop up a sun shelter, roll out the cooler, and plan to stay a while. When the sun starts to go down, light up that fire pit, grab the hot dogs, and go to town!
Don't forget the s'mores! There are few things in life more delightful than listening to the waves, watching the sunset, and devouring a perfectly oozy golden-brown s'more.
Get away from it all at Pirate's Cove.
If it gets a bit too crowded at Corona del Mar State Beach or if you are just looking for a spot that is a little more secluded, head over to nearby Pirate's Cove.
To get there, walk to the north side of the main beach and you will see a big rock formation on the other side of a grassy area. Carefully climb over the rocky area and you will find yourself in Pirate's Cove.
Another access point is available from a footpath at Lookout Point Park on Ocean Drive.
Enjoy a refreshing dip in the ocean in this sweet little spot. The calm waters make it the perfect place for swimming!
It's also a great place to check out some of the unique rock formations that Corona del Mar is known for. You can find all sorts of little caves to explore here.
And if you happen to think that this dreamy little cove is like something straight out of Hollywood, well, you'd be right! Pirate's Cove was one of the filming locations for Gilligan's Island.
In the title sequence of Gilligan's Island, you can actually see the SS Minnow heading out to sea right from Pirate's Cove!
Make sure to explore the caves too—that's where a bunch of cave scenes were filmed!
Rent a kayak or a paddleboard and explore the harbor and the coves.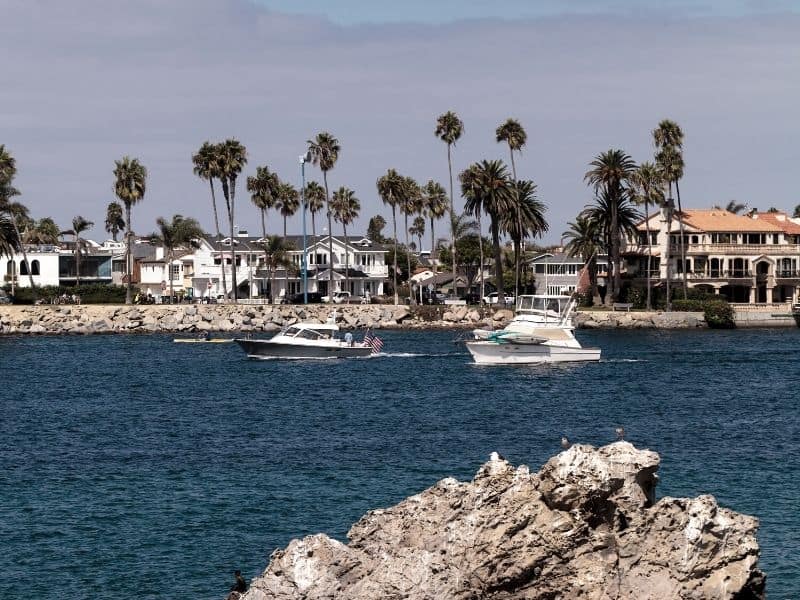 The jetty that provides sea lions at Big Corona Beach with a prime sunning location also protects the waters of Newport Harbor.
This makes for calm waters that are perfect for paddleboarders and kayakers of all levels!
Start off by renting a paddleboard or a kayak in Newport Harbor. (There are plenty of tours and classes available if you need a crash course.) And then set off for some extraordinary sights!
Join a tour of Newport Back Bay where you'll learn about the local ecosystem and see all sorts of wildlife. You might even see a stingray!
Alternately, paddle around Newport Bay and Balboa Island to see all the boats in the harbor as well as some gorgeous beaches and rock formations!
Newport Bay is a popular filming location, both due to its beauty and its proximity to Los Angeles, so look closely to see if you recognize any parts of the bay from movies or TV.
If you're an experienced kayaker, head down the shoreline past Corona del Mar State Beach and towards Little Corona Beach.
There you will find some of the most beautiful yet hard-to-access rock formations in Corona del Mar!
Go tide pooling at Little Corona Beach.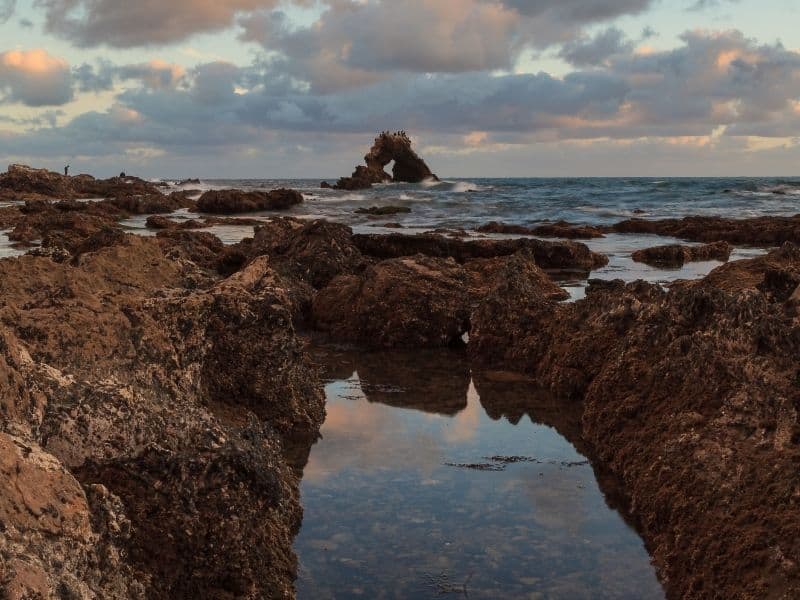 Just down the coast from Corona del Mar State Beach is Little Corona Beach—a smaller, more secluded beach that is popular with locals.
To get to this beach you'll head to the end of Poppy Avenue where you'll find a footpath that leads down to the beach.
The unique rock formations that Corona del Mar is known for make this beach especially magical!
Along the shore, you'll find little pools for sea creatures like little fish, starfish, sea urchins, crabs, and sea anemones. You might even spot a brightly colored nudibranch!
Just don't forget the two most important rules of tide pooling—watch where you step, and look but don't touch!
Little Corona Beach is also home to some of the most popular rock formations in Corona del Mar—Little Arch Rock and Big Arch Rock. Head out at low tide for the best opportunities to explore and take photos!
Trek down the coastline to Cameo Shores and Cliff Island.
For an exclusive experience reserved mostly for locals in the know, wait until the ocean is at low tide and then take a 15-minute hike down the coastline from Little Corona Beach.
Be careful, this hike is very rocky and the rocks that are exposed during low tide can be slippery! Shoes are recommended, and water shoes are even better.
Cameo Shores beach is very exclusive and direct access is limited to local residents, but you can still experience this gorgeous and quiet beach by walking over from Little Corona Beach.
Here you'll find even more caves and tide pools to explore!
Keep going a little bit further down the coast and you will be rewarded with stunning views of Cliff Island, a large rock formation with an arch in the middle that is located just off the shoreline.
This difficult-to-access site is one of the most iconic images associated with Newport Beach and Corona del Mar.
Time your visit with the sunset and you will experience one of the most unique and extraordinary photo opportunities in California.
For adventurous and experienced cliff divers, this is also a popular spot for cliff diving.
Just make sure to talk to the locals who have experience diving off the island for tips on how to do it safely!
Hike Buck Gully Reserve.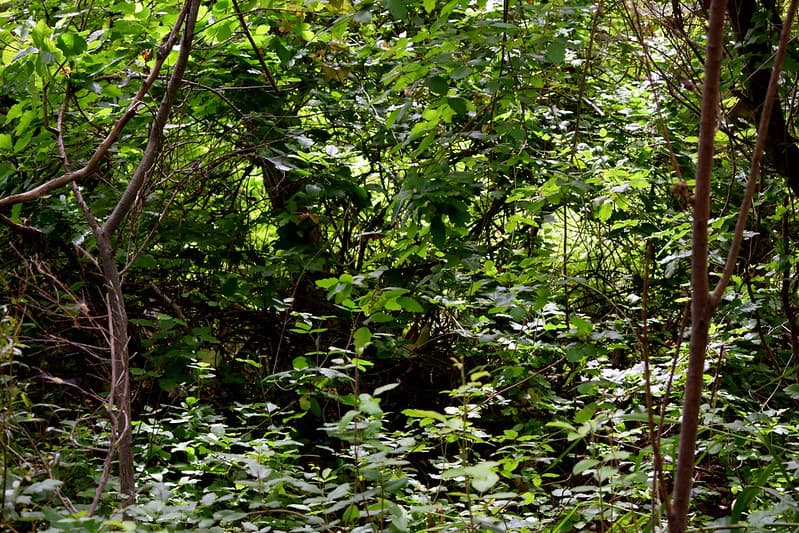 If you have had enough beach time and want to explore another element of the local ecosystem, check out the Buck Gully Reserve.
This is a 300-acre nature reserve where you can explore the natural coastal landscape filled with endangered plants and animals.
Even though you'll be right in the heart of Newport Beach, you'll feel like you're a world away!
To explore the reserve, take the 4.4-mile round trip Buck Gully Trail. The trail parallels a stream and all the trees provide welcome shade on hot days.
Take the turnoff for Bobcat Trail for some awesome beach views!
Explore the botanical garden at Sherman Library and Gardens.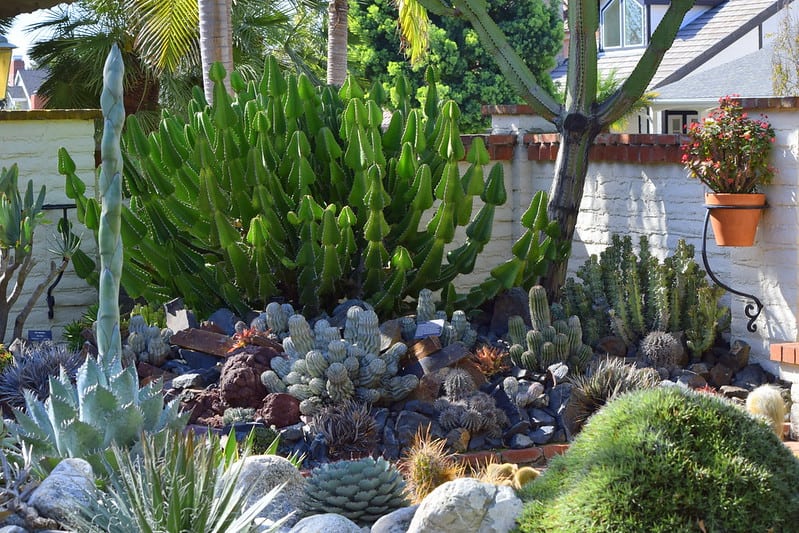 The Sherman Library and Gardens is a true hidden gem right in the heart of Corona del Mar!
Explore the gardens to see plants and flowers from all over the world, a koi pond, and even some carnivorous plants!
The garden also features breathtaking rotating exhibits. Past exhibits include sand sculptures, garden sculptures, and living spaces reimagined as gardens.
Fuel up on great food!
A long day of surfing, kayaking, tide pooling, or sunbathing calls for delicious sustenance. Not to worry—Corona del Mar has the food scene covered!
If you're headed out early to claim a prime piece of beachfront real estate, start off the day right with a pit stop at Sidecar Doughnuts & Coffee on the way into town for the most perfect waterfront breakfast of all time.
For lunch, head out to the Pacific Coast Highway to find plenty of options to fuel your afternoon activities.
Chronic Tacos and Gallo's Italian Deli are local favorites and offer highly portable provisions if you'd like to enjoy your lunch seaside.
As a bonus, these restaurants and several others are only about a 15-20 minute walk away from Corona del Mar State Beach, so you don't have to lose your parking spot!
For dinner, head back up to the Pacific Coast Highway for a range of restaurants sure to satisfy any craving.
Or, for even more options, drive over to Fashion Island where you'll find even more fabulous choices to wrap up your day in Corona del Mar.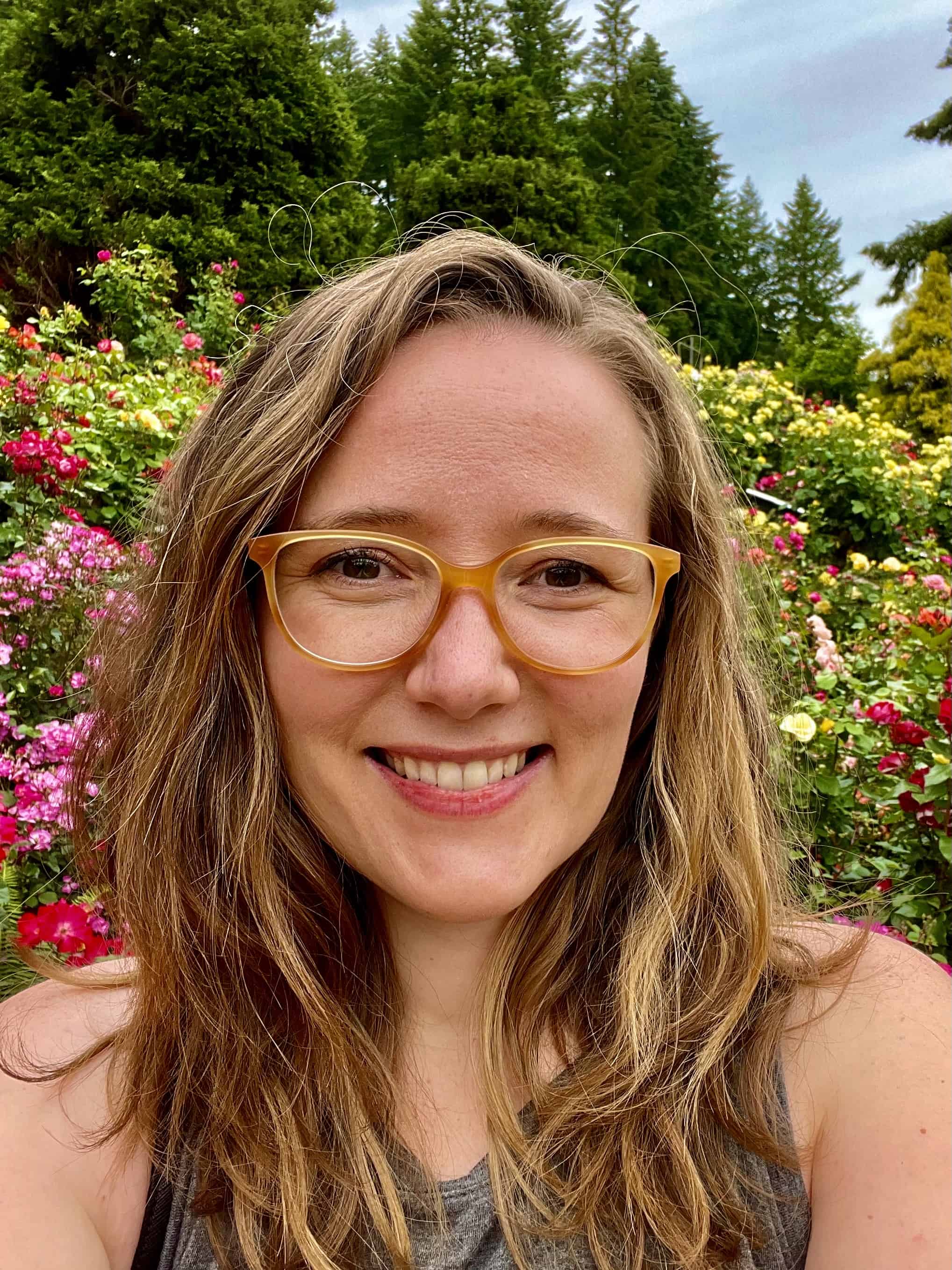 Hilary Blum is a public historian and a freelance writer based in the Pacific Northwest. Originally from Southern California, she is always planning the next adventure and has traveled and lived all around the world. She spends her free time baking, reading, visiting museums, and fawning over her two cats.