A California Christmas can mean cold, snowy days or warm sunny beaches: we've really got it all in the Golden State.
But whether your forecast is sun or sleet, one thing is for sure: Christmas in California means a lots of lights, festivities, and fun throughout the holiday season, whether you're keeping in sunny in San Diego or snowy in Lake Tahoe.
December is when the Christmas spirit in California really hits a fever pitch, with activities for kids and adults alike. This is the time to head to the slopes and ski with Santa and Mrs. Claus — or perhaps catch them on their boats in one of the many coastal boat parades!
Listed below are some of our favorite California Christmas spirit towns and their holiday events during this festive season.
Add some to your list for a festive California Christmas getaway or day trip this holiday season!
Important Note: Some of these events may not be taking place in 2020 due to the coronavirus pandemic and subsequent restrictions. Things are up in the air, so please research if events are still happening on the websites listed or do a Google search for more information, as this information changes more frequently than I can update!
Christmas in California: 13 Best California Cities and Towns to Celebrate Christmas
Solvang
Note: This post contains affiliate links, which earn me a small commission at no extra cost to you if you make a purchase using one of these links. Thank you for supporting this free content!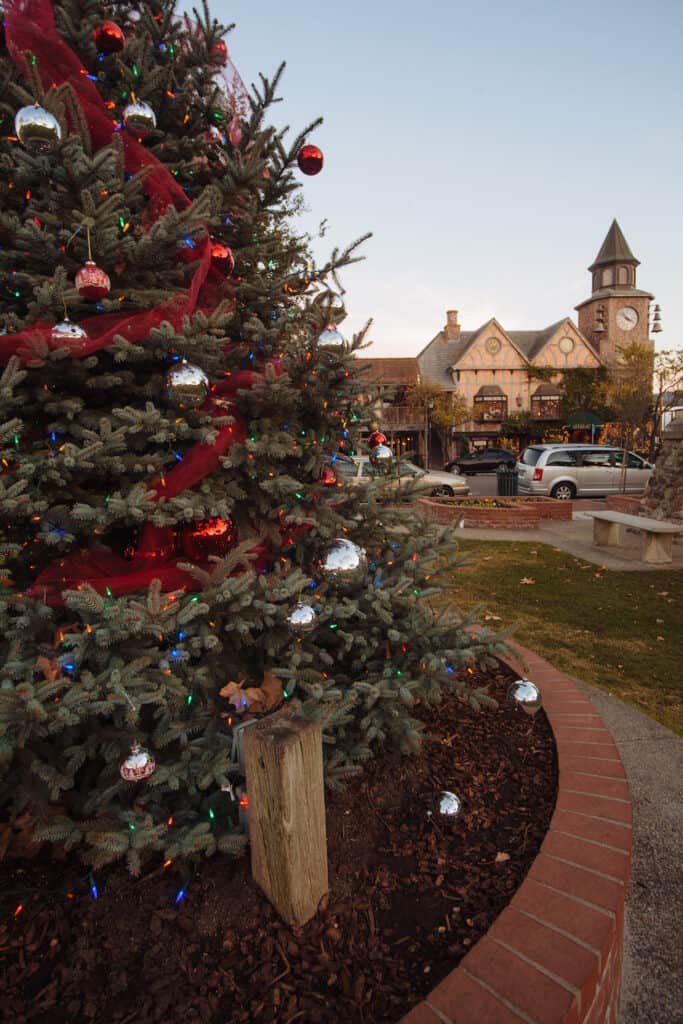 Founded by Danish immigrants, this little village enclave in Central California not far from Santa Barbara is a Christmas must if you're looking for a little slice of Europe in California.
Complete with a windmill that's all lit up for the holidays, festive lights, and architecture out of a Danish storybook, you'll fall for Solvang any time of year, but Christmas is when it shines.
Here are a few of the best ways to celebrate Christmas in California in Solvang!
During December, take to the streets of Solvang to enjoy viewing the Danish-style buildings in all their festive lights and decorations.
Be in town for the Julefest Parade
Participate in or watch this festive parade as it goes through the streets of Solvang on a December Saturday morning.
Read their website for more information and exact dates.
Take a ride or stroll down Copenhagen Drive and Alisal Road
All the shops are decorated and have trees done up for the holiday season! 
This is a great spot to shop for souvenirs and Christmas gifts as well.
Observe the Christmas Market Light Show
Stroll through town during a Thursday through Saturday evening in December to enjoy the choreographed light and music show from a safe social distance.
Venice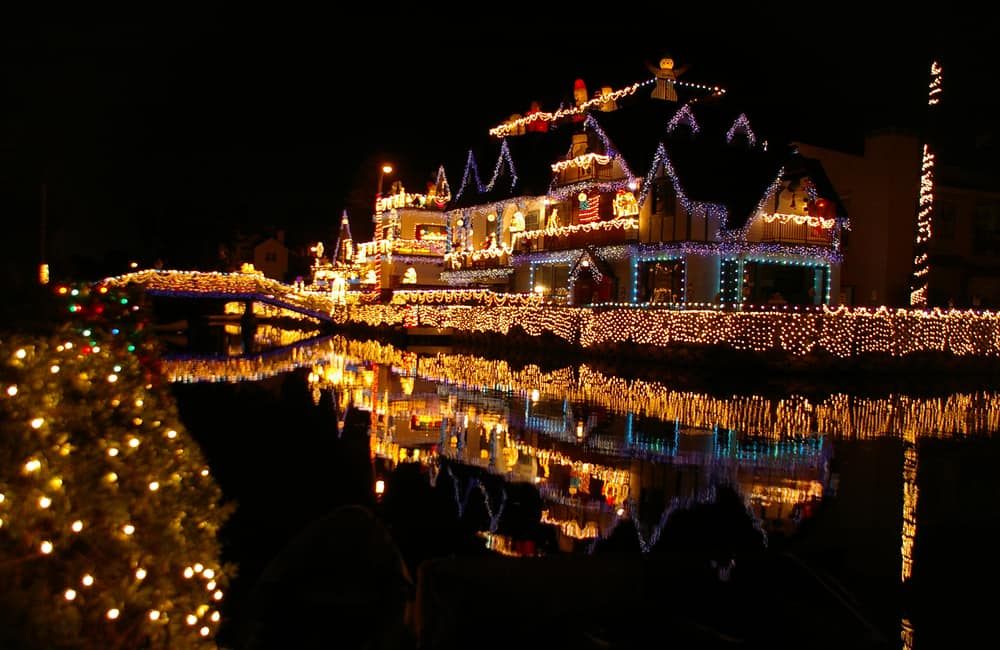 The eclectic neighborhood of Venice in Los Angeles, adjacent to Venice Beach, is a whirlwind of holiday spirit during Christmas.
It's a quintessential Los Angeles Christmas experience to stroll the canals of Venice all lit up on an oddly warm December evening!
Marvel at the Venice Canals Christmas Lights
Take an evening walk over the wooden canal bridges that are shimmering with holiday lights.
The mansions on the canals will be all lit up in a splendid array of colors that will practically blind you with holiday spirit!
Watch the Venice Canals Holiday Boat Parade
For nearly 40 years, people have been enjoying watching the stream of decorated boats sail through the canals.
For the best vantage point of this event, head to the Eastern and Carroll Canal intersection for the Annual Venice Canals Holiday Boat Parade. 
The show begins at 3:30 PM on the first Saturday of December.
Los Angeles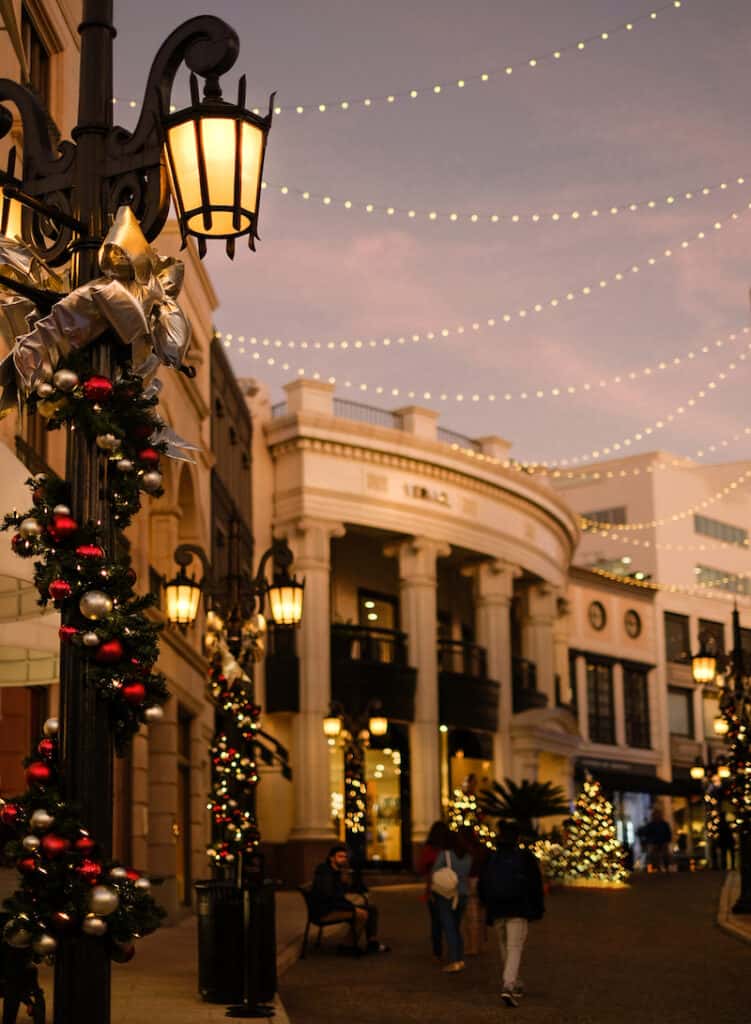 Besides Venice, there are several other areas of Los Angeles which are perfect for seeing the holiday decor and getting the vibe of a California Christmas!
Here are just a few favorites:
Window shop on Beverly Hills' Rodeo Drive
Mosey down this fancy shopping street to enjoy the palm trees adorned with festive lights: a true Christmas in Southern California experience!
Drive through Upper Hastings Ranch Neighborhood
When you need a break from the frenzy of downtown Los Angeles, drive through this Pasadena neighborhood.
Enjoy how the neighbors go all out decorating for Christmas!
Marvel at the homeowners in Woodland Hills along Candy Cane Lane
rom the second Saturday in December through the end of the year, travel down Lubao and Oxnard Streets to see how these homeowners have been decorating for over 60 years.
Stroll the Enchanted Forest of Light at Descanso Gardens
Take an hour and meander through one mile of glowing forests and artistic sculptures throughout the botanical gardens.
The event takes place from mid-November through the beginning of January.
Wander and shop at The Grove
In this famous LA outdoor shopping area, stand beneath the glow of The Grove's 100-foot Christmas tree.
Be there any December evening before the 25th at 7 or 8 PM and watch the fake snow come down!
Take photos and celebrate at LA Zoo Lights
Visit the LA Zoo by night to take a long minute stroll through lighted walkways and visit the 225-foot-long Twinkle Tunnel!
Enjoy the music and water show as you much on holiday foods and drink warming hot chocolate.
Running from mid-November through early January, you have plenty of time to head to Griffith Park to find the perfect spot for your holiday photo.
Riverside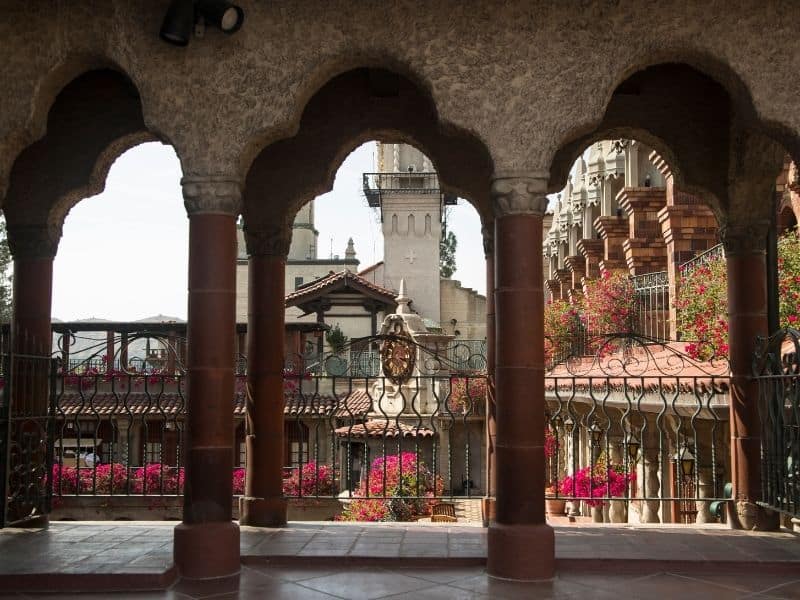 Riverside, California is full of holiday spirit, and nowhere is that more clear than at the Mission Inn Hotel.
It's perhaps the most festive place to celebrate Christmas in Southern California!
Celebrate the season with the Mission Inn's Festival of Lights
Explore the grounds of The Mission Inn Hotel and Spa and take in the creative works of Kelly and Duane Roberts as they, along with the city of Riverside, present a winter wonderland. 
As one of the leading holiday lights displays throughout Southern California, you won't want to miss seeing the millions of lights, hundreds of animated figures, and live entertainment at this free Christmas event.
This much-loved tradition of Riverside was named America's Best Holiday Festival of 2015 by USA Today's 10 Best Readers' Choice Contest! Check the website for more details.
Palm Springs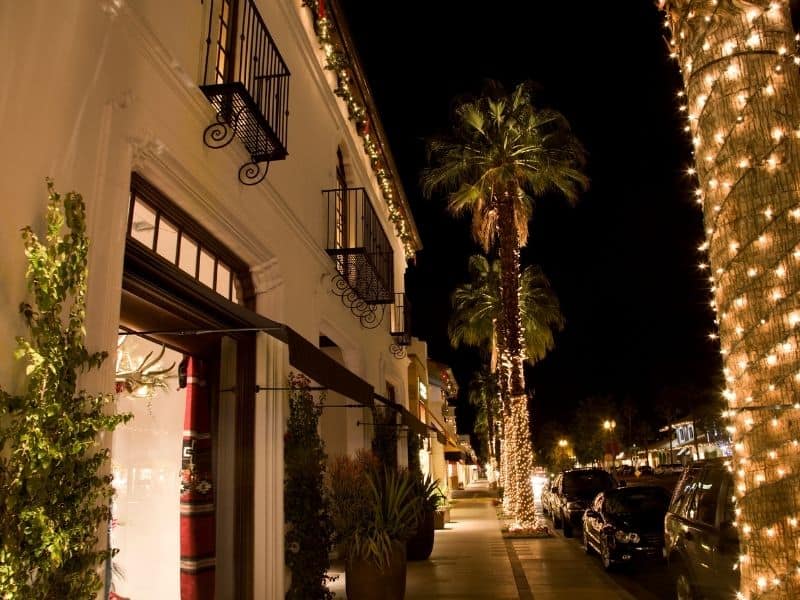 If you think an oasis in the middle of the California desert can't be Christmassy… think again!
Christmas is actually a perfect time to plot a weekend trip to Palm Springs. The temperatures are warm during the day and crisply cool at night, and the city has a really festive vibe that is sure to put you in the holiday spirit!
There are several special holiday events in Palm Springs that make it one of the best places to celebrate Christmas in Southern California: here are just a few!
Visit the 4-acre quirky world of artist Kenny Irwin, Robolights
This winter wonderland allows you to explore the robots, sleds, and art that he has created out of thousands of tons of junk.
The unique light and art display is open daily from Thanksgiving through early January.
Bring the kids to Santa Fly In & Santa's Snow World
Greet Santa as he and Mrs. Claus fly in from the North Pole with gifts for all the good children, and enjoy playing in the 'snow 'in Snow World after.
This event is located at the Palm Springs Air Museum and is fantastic for children.
Join the locals of Palms Springs on the first Saturday of December and watch the floats, balloons, and area marching bands parade down the street in this holiday tradition.
The parade travels down Palm Canyon Drive from Ramon Road to Tamarisk Road. According to an AOL survey, it was named one of the country's Top Ten Holiday Parades!
Enjoy Christmas desert-style at WildLights
Explore the Living Desert's festive wonderland filled with a million twinkling lights and life-sized lighted animals.
Stroll the paths or take the train to view the excitement throughout the park. Then sit back and enjoy the music while sampling some of the delicious holiday treats!
San Diego
If you thought the southernmost city in California couldn't possibly have the Christmas spirit, with sunny skies nearly year-round and zero chance of a white Christmas, think again!
San Diegans really get into the holiday spirit and that's why it's a perfect time to visit San Diego for a weekend getaway.
As a bonus, whale watching season begins in December so it can be a great time to enjoy one of California's best whale-watching destinations as well, as the grey whales begin their southbound migration!
Celebrate the season with Balboa Park December Nights
This two-day free festival provides families an excellent way to get in the festive spirit! 
The event features seasonal entertainment, delicious food, vendors, and holiday lights throughout the park.
During the festival, venture into one or more of the park museums for free. Check their website for more information on the festival.
See the beautiful tree at Seaport Village
Do a little holiday shopping as you marvel at the Poinsettia Christmas tree that is 25-feet tall. 
Ooh and ahh at the San Diego Bay Parade of Lights
Get a prime spot along the San Diego Bay for this annual holiday tradition.  
During two evenings in December, starting at 5:30, roughly 80 boats will parade the waters decorated in their holiday finest — now that's Christmas San Diego style!
While on 'paws' for 2020, this is a fantastic San Diego Christmas tradition to bookmark for future years.
Explore the Botanical Gardens in Encinitas on select December evenings from 5:00 – 8:30 PM.
Hear the holiday carolers, walk through the Twinkling Light Tunnel, and participate in the Botanical Wonderland Scavenger Hunt through over 100,000 shimmering light.
Carmel-by-the-Sea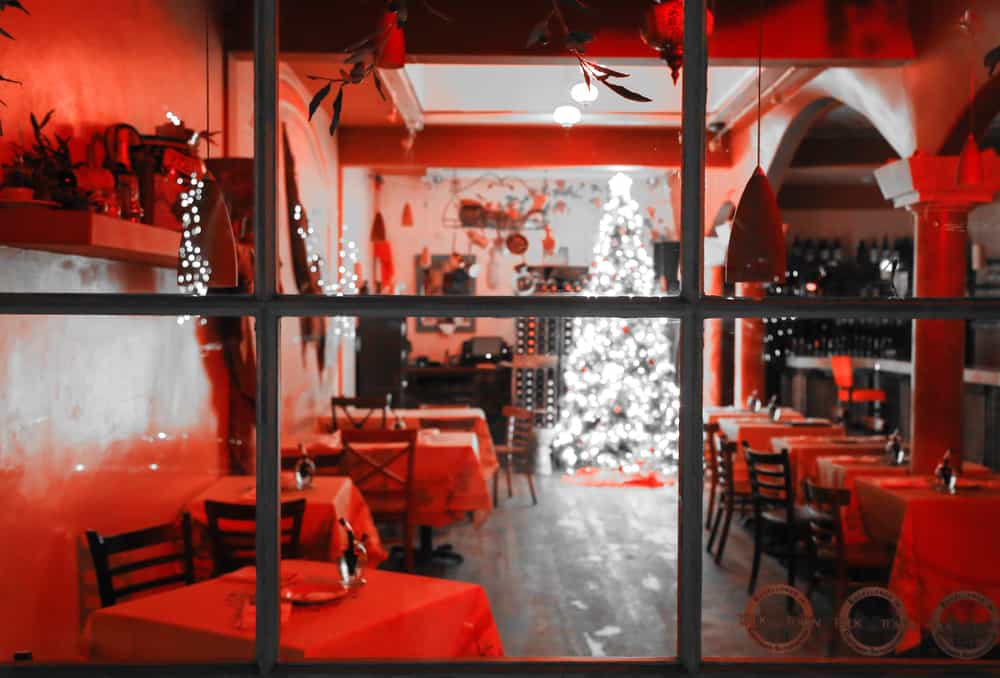 The sweet seaside village of Carmel-by-the-Sea is a magical fairytale town any time of year, making it one of California's best weekend getaways.
With cute cozy cottages already emitting fairytale vibes, during Christmas, Carmel-by-the-Sea steps up the charm with cozy lights, holiday events, and all sorts of hygge to amp up the coziness in this Central Californian charmer.
Attend the Carmel-by-the-Sea Christmas Tree Lighting
Devendorf Park comes alive at 3:00 PM with entertainment and a visit from Santa before the 5:45 PM tree lighting.
Stay around throughout the evening to shop throughout Carmel Plaza or enjoy an evening of entertainment.
Take the Inn of Distinction tour through several of the quaint inns and B&Bs throughout Carmel.
At each stop, sample some of the finest local wine and restaurant delicacies.
Sacramento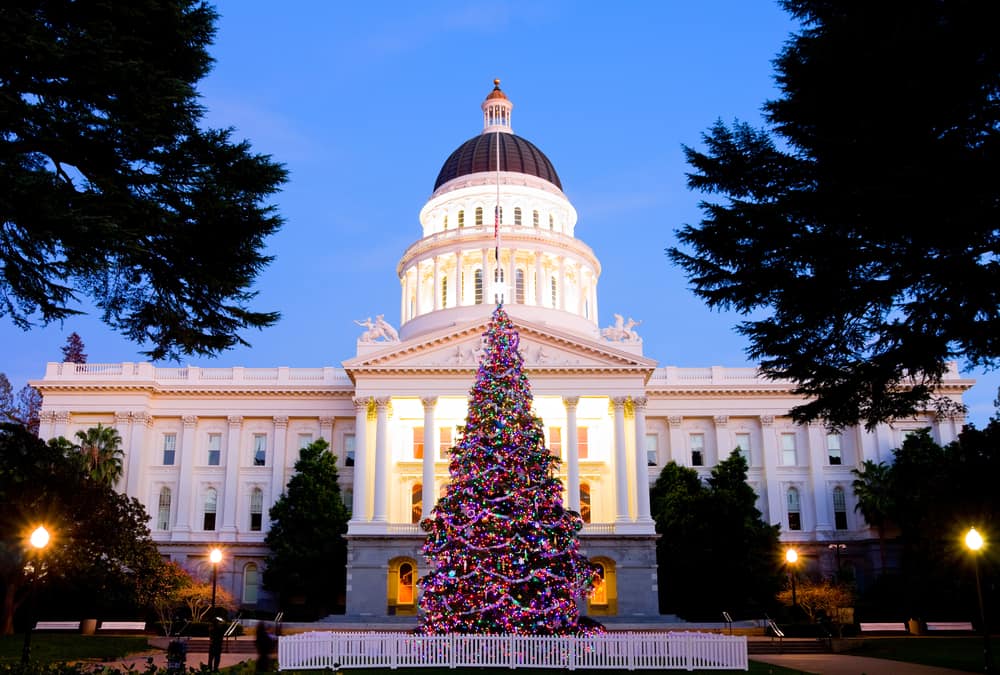 Is it any surprise that California's state capital also joins in on the holiday fun?
Whether it's visiting the giant Christmas tree in front of the Capitol or taking a festive train or seeing a lighting ceremony, here's what Sacramento in winter offers.
Ride the Magical Christmas Train
All aboard the Magical Christmas Train with Santa and the elves. This 90-minute ride features a Christmas train story, hot chocolate, and cookies
Sing along with Santa as you chug through the wonderland: a great California Christmas event for the kiddos!
The train is located at 400 N. Harbor Blvd., West Sacramento, CA and you can find more details on their website.
Celebrate the Holiday Tree Lighting Ceremony
Old Sacramento Waterfront's evening tree lighting ceremony features lots of family festivities and entertainment, followed by the tree lighting ceremony.
It is located at 1124 2nd St., Sacramento, CA.
Located at the California State Railroad Museum, there's yet another holiday train option for the kiddos.
While enjoying hot chocolate and cookies, sit back and enjoy a magical one-hour train ride to the North Pole.
Attend Winter Wonderland in the charming Fairytale Town
Catch a snowflake on your tongue, listen to the carolers, or visit the local vendor's booths as you stroll through Fairytale Town's festive decorated streets.
This event is located in Fairytale Town, at 3901 Land Park Dr., Sacramento.
San Francisco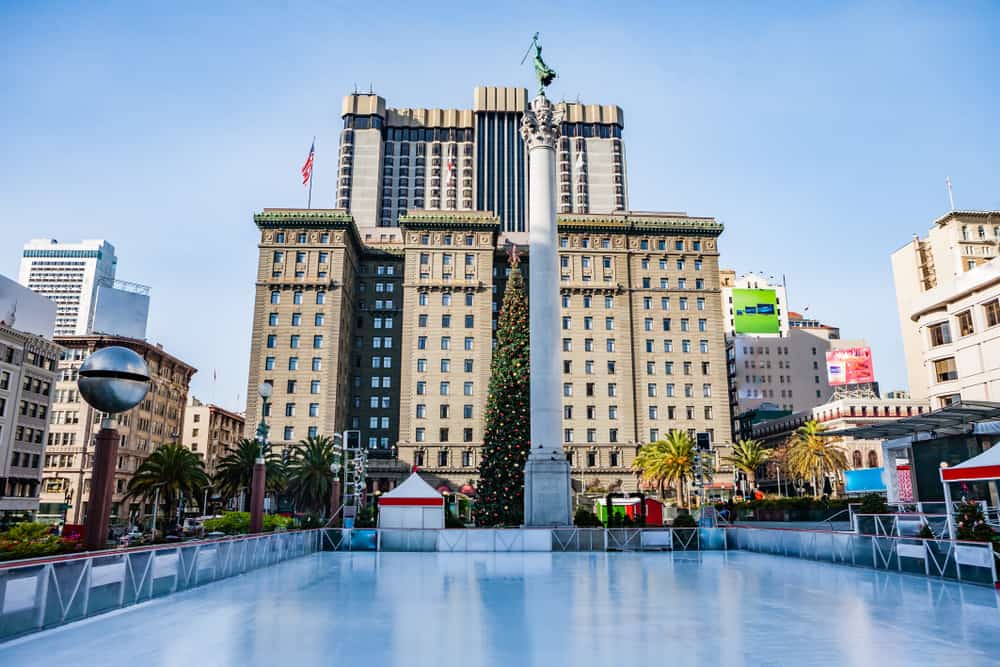 San Francisco is a marvelous place to get into the holiday spirit — and holiday shopping!
Shop and skate in Union Square
Enjoy the sight of the towering Christmas tree and all the lights throughout Union Square by day — then come back by night to skate on the beautiful ice rink with lights twinkling all around you.
If you want to attend the tree lighting ceremony, it happens on Black Friday.
Debauch with fellow Santas at SantaCon
For a San Francisco tradition, put on your Santa outfit and join in on the fun during this adult-only event, SantaCon!
Long Beach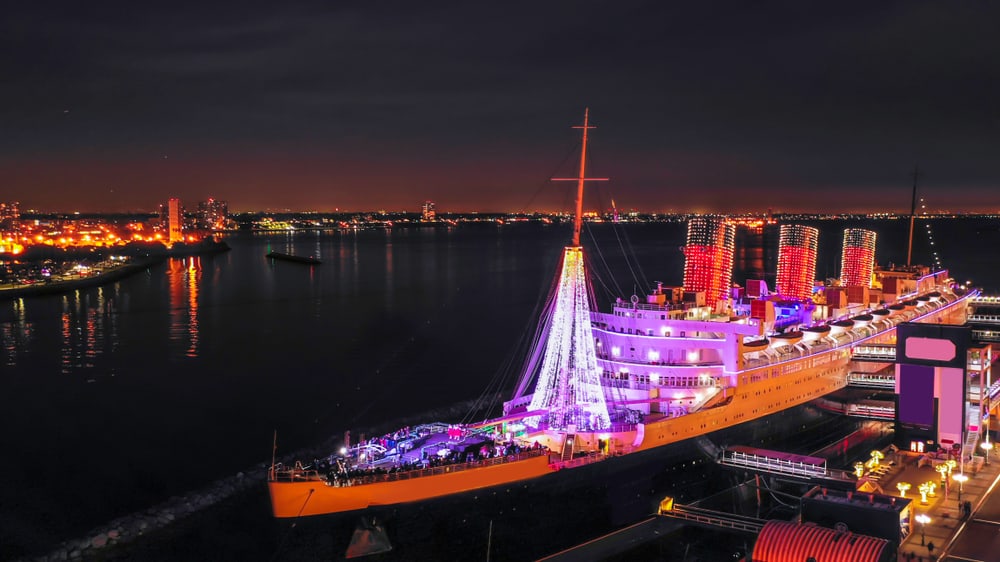 Not far from Los Angeles, the town of Long Beach, California is a delightfully festive place to celebrate Christmas in California.
Next to the docked Queen Mary, venture through Chill, the winter wonderland full of lights and decorations.
Try your hand at ice tubing or ice skating at the North Pole Village!
Wander through the charming Naples Neighborhood
Take an evening drive through this luxurious waterfront neighborhood.
It is known to shimmer and shine with Christmas lights and decoration.
Marvel at the Trees in the Bay
From a variety of locations around Alamitos Bay, view the more than 70 lighted trees throughout the bay.
Lake Tahoe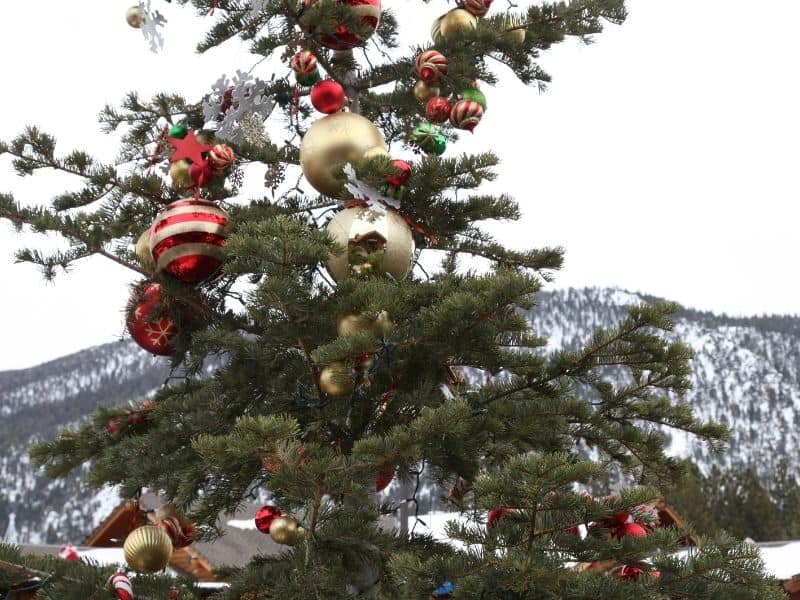 Looking for a winter wonderland when it comes time to deciding where to celebrate Christmas in California?
It doesn't get more snowy or wintry than Lake Tahoe! This is one of your best shots for a true White Christmas in California.
Celebrate at Squaw Valley Resort
There are all sorts of festive activities at Squaw Valley Resort in December, mostly aimed at making kids happy while the parents hit. theslopes!
Kids can snap a picture with Santa and tell him your list each Saturday in December, have story time with Mrs. Claus, or ski the slopes with Santa.
Families can enjoy listening to the carolers sing your favorite Christmas songs while you walk through the gingerbread village.
Head to Heavenly Holidays Family Festival
Kids and adults alike will find plenty of Christmas entertainment throughout December at Heavenly Village. 
Enjoy the nightly tree lighting at 5:00 PM, a holiday train, nightly live performances, breakfast with Santa, and Santa's Pub Crawl (ok, well, this is more for adults!)
Monterey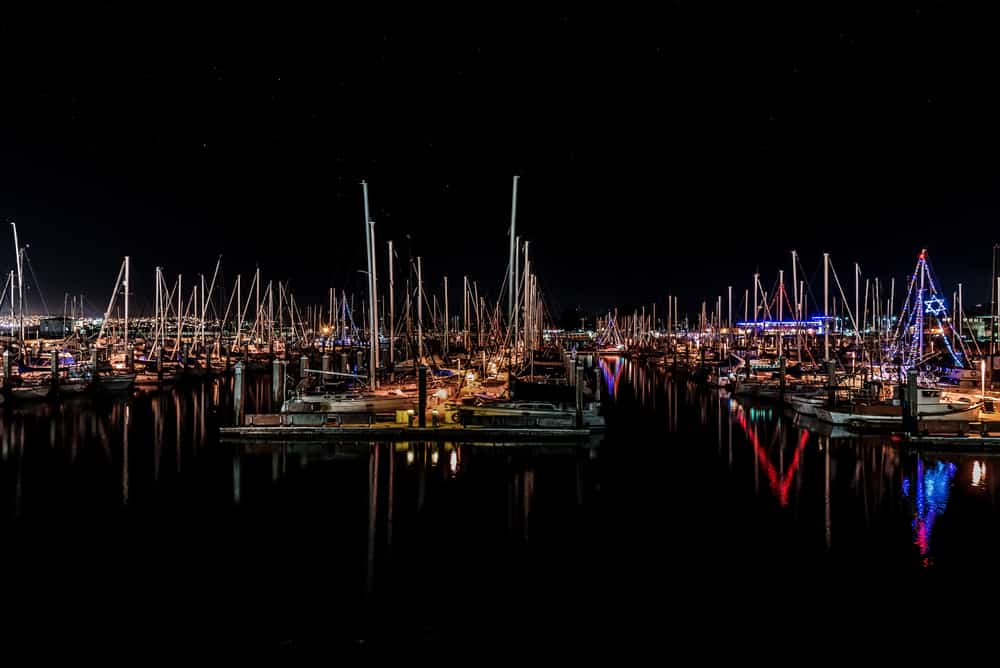 There are several events in Monterey that are perfect to get you in the California Christmas spirit.
Located on Monterey's famous Cannery Row, made famous by the Steinbeck novel of the same name, this event kicks off the holiday season at the end of November. and gets Moneterey's Christmas season started.
Who said you can only celebrate Christmas on land? At the yearly boat parade, boat owners light up their sailboats with a stunning array of Christmas colors to delight those who come to see the festival!
Pin This Guide to Christmas in California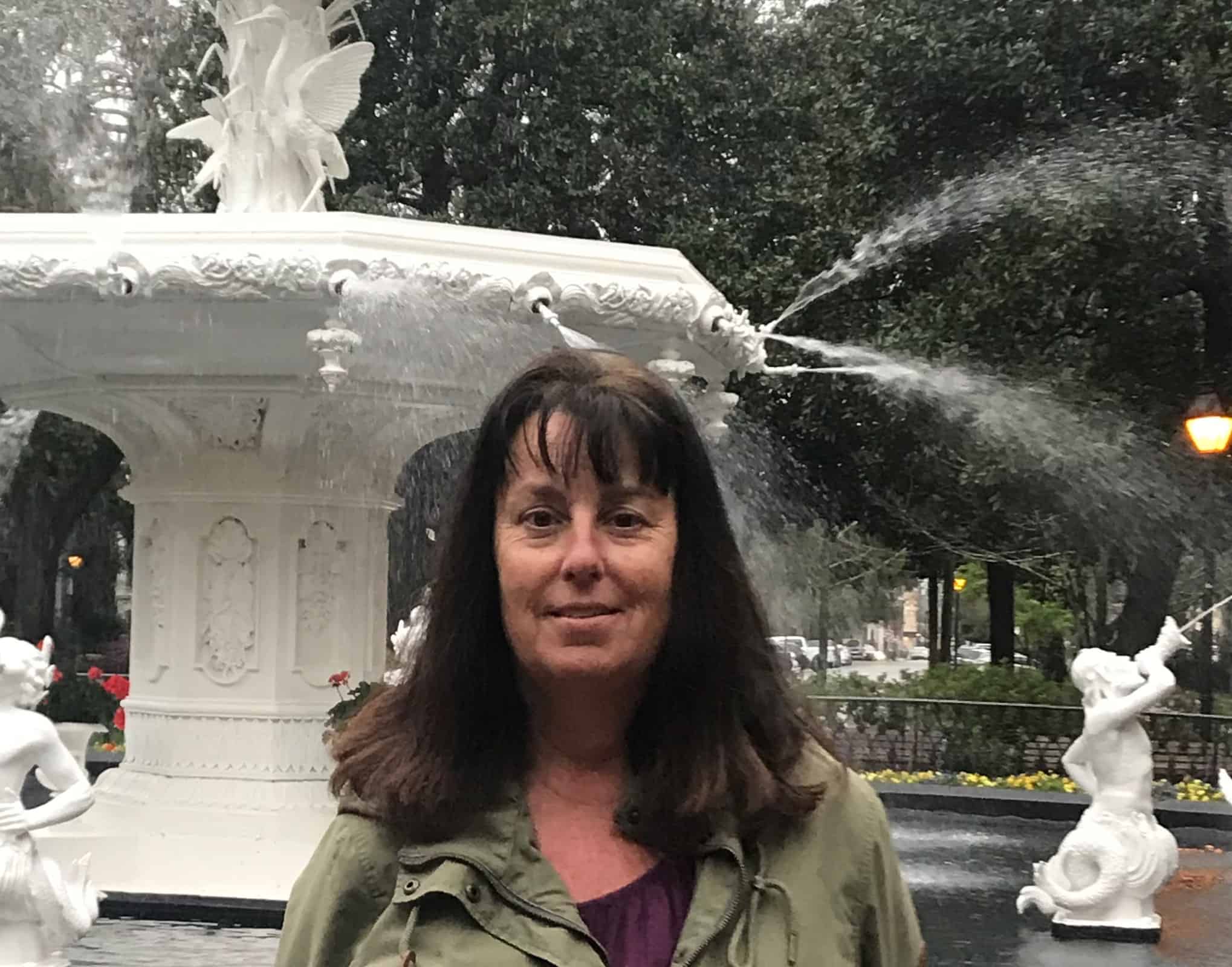 Laura Gray is a freelance writer and retired elementary teacher based in Norfolk, VA.  She spends her summers enjoying the shores of the Chesapeake Bay, traveling the world, and exploring the beautiful United States. Her favorite places to visit are National Parks, waterfalls, and lighthouses.