If you're looking for a unique way to spend Christmas in California, you're spoiled for choice.
While many people think of California as a land of golden sand and eternal sun, Californians know we're spoiled for way more choice than just that!
Christmas in California can look any type of way: a snowshoeing adventure through Yosemite National Park, watching lighted boat parades through harbors and marinas, shredding fresh powder on the slopes of the Sierras, or admiring the sunrise in the desert.
There are so many ways to enjoy the holiday season in California: here are just 21 ideas for how to spend a unique Christmas in California!
Add some to your list for a festive California Christmas getaway or day trip this holiday season!
Christmas in California: Best Northern California Christmas Destinations
San Francisco
Note: This post contains affiliate links, which earn me a small commission at no extra cost to you if you make a purchase using one of these links. Thank you for supporting this free content!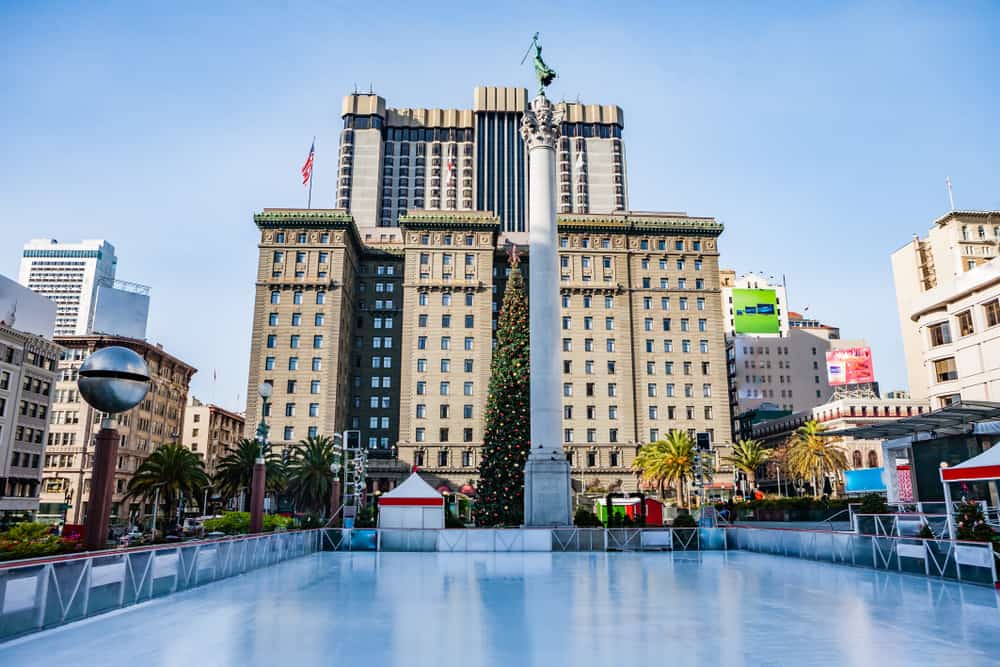 San Francisco has a festive spirit like no other during the holiday season!
Union Square is the heart of the Christmas action, but other places in the city get into the festive spirit as well.
There are also many other places to see Christmas lights in the Bay Area, as well as local places to choose your own Christmas tree.
Enjoy the sight of the towering Christmas tree and all the lights throughout Union Square by day — then come back by night to skate on the beautiful ice rink with lights twinkling all around you.
If you want to attend the tree lighting ceremony, it happens on Black Friday.
Also in Union Square, be sure to check out the windows at Macy's!
Every year, Macy's partners with the SPCA to promote animal adoption during the holiday season: their window displays are paws-itively adorable!
If you love to see Christmas lights with a twist, don't miss the Westfield Centre with its traditional inverted tree hanging from the ceiling! 
Napa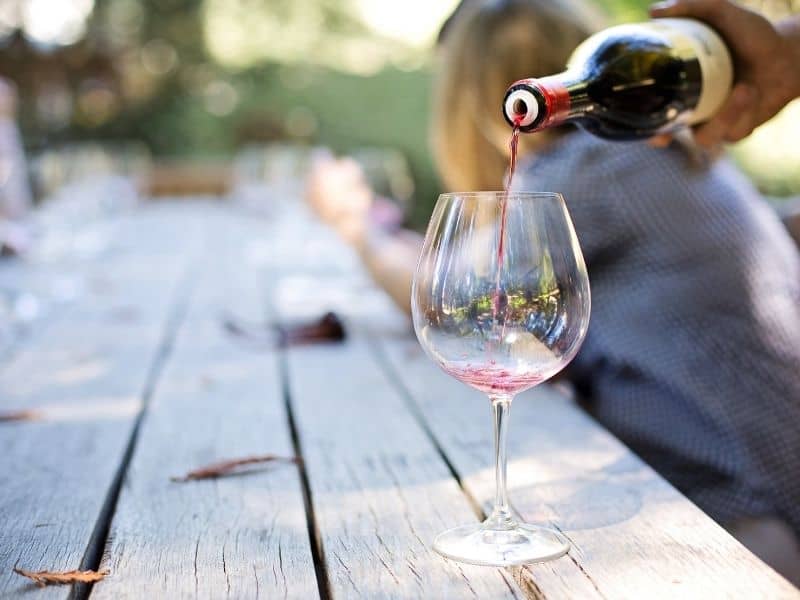 No wine says Christmas quite like Cabernet! It's a rustic, rich wine that is perfect for sipping fireside… so why not get your fill of it in the beautifully decorated and festive Napa Valley?
If you want a romantic Christmas getaway in California, Napa delivers on every front.
Delicious dining? Check. Decked out wineries? Check. Mild but still crisp and wintry weather? Check again. 
Virtually every winery gets into the holiday spirit, with lots of cozy seating, fireplaces crackling, lights twinkling, and of course, wine a-pouring!
Best of all, winter is Napa's low season, so you can count on easier-to-snag appointments (or sometimes just walk in!).
Lake Tahoe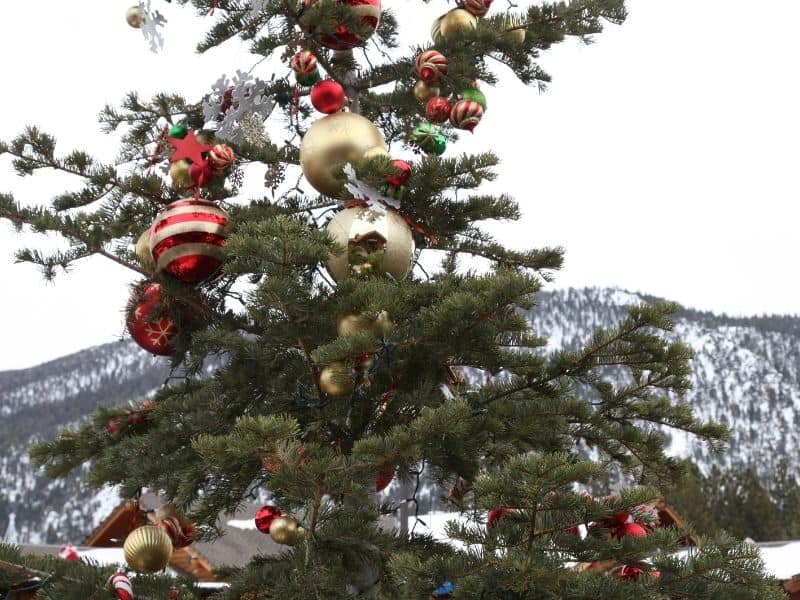 It doesn't get more snowy or wintry than Lake Tahoe! This is one of your best shots for a true White Christmas in California.
Visiting Lake Tahoe in winter is full of all sorts of winter fun, even for non-skiers. There are all sorts of lovely winter hikes and snowshoe excursions you can do and views to admire.
One of the best places to base yourself in Tahoe in winter is South Lake Tahoe, as it has the most vibrant food scene and even has its own Beer Trail!
But really, any major resort will get massively into the Christmas spirit, such as Heavenly or Palisades, which virtually turn into little Christmas towns all on their own!
You can also rent a cabin in Tahoe and enjoy Christmas as a family away from the crowds.
Sacramento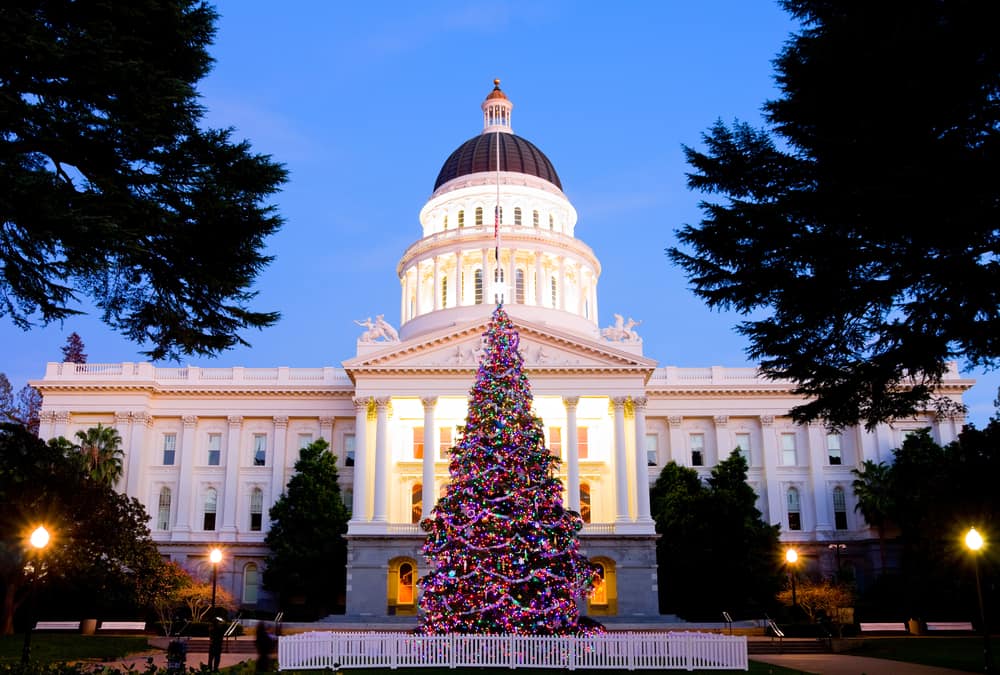 As California's capital, it's perhaps not a surprise that Sacramento knows how to deliver a California Christmas properly!
Whether it's visiting the giant Christmas tree in front of the Capitol or taking a festive train or seeing a lighting ceremony, here's what Sacramento at Christmas offers!
Check out historic Old Sacramento bedecked in holiday lights as part of the Theater of Lights celebration, check out the 12 Days of Midtown festivities, or attend a tree lighting ceremony on the waterfront.
Old Sacramento Waterfront's evening tree lighting ceremony features lots of family festivities and entertainment, followed by the tree lighting ceremony.
There are also all sorts of Christmas plays and cultural events that take place throughout the month of December.
Nevada City
The charming and historic Nevada City is a wonderful small town full of holiday cheer during December!
Visit during their Victorian Christmas event which takes place the first three Sundays in December in order to get in the Christmas spirit, turn-of-the-century-style.
We're talking aromatic roasted chestnuts, streets lit by gas lamps, people dressed in Victorian attire, and all the street vendors you could possibly dream of shopping from!
Grass Valley
Grass Valley is just adjacent to Nevada City and has similar holiday events and traditions, but their version is called Cornish Christmas.
We're talking spiced cider, costume-bedecked merchants, chestnuts roasting on an open fire, and all sorts of holiday decor!
Christmas in California: Best Central California Destinations
Carmel-by-the-Sea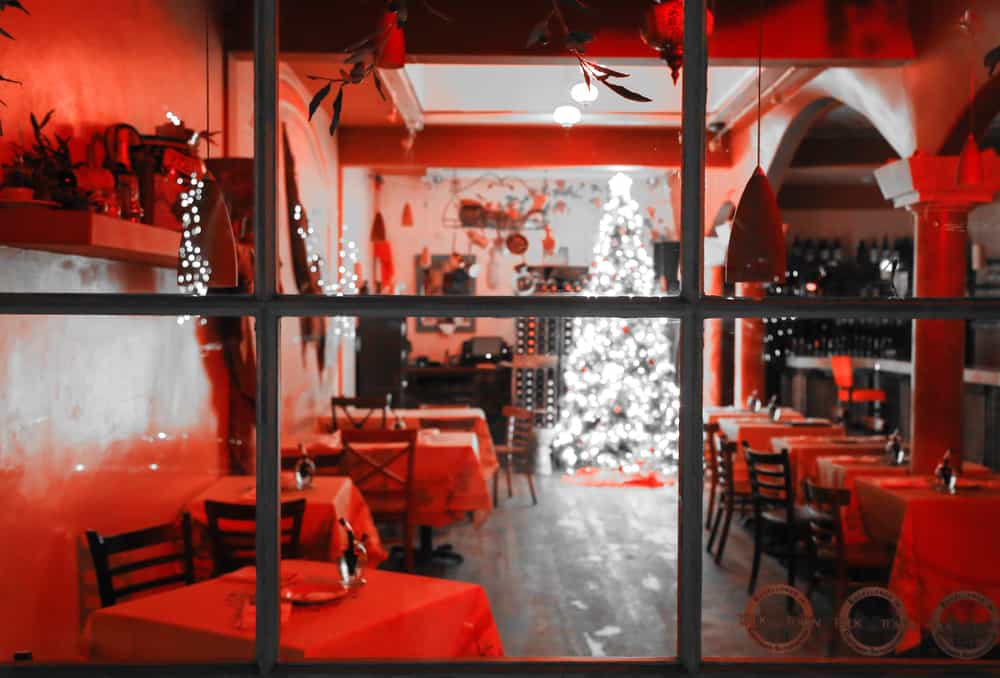 The sweet seaside village of Carmel-by-the-Sea is a magical fairytale town any time of year, making it one of California's best weekend getaways.
With cute cozy cottages already emitting fairytale vibes, during Christmas, Carmel-by-the-Sea steps up the charm with cozy lights, holiday events, and all sorts of hygge to amp up the coziness in this Central Californian charmer.
One of the most fun ways to celebrate the Christmas season California-style in Carmel is by attending the Carmel-by-the-Sea Christmas Tree Lighting!
This year, the tree lighting ceremony will take place on December 3, 2021 between 3 and 7 PM!
Stay around throughout the evening to shop throughout Carmel Plaza or enjoy an evening of entertainment.
And of course, no matter the time of year, you need to wander around the village and admire all the unique architecture for which Carmel is known and loved.
This California coastal town is charming no matter the time of year, but it steps it up in winter with lots of cozy festive lighting and holiday decor!
The fairytale houses reminiscent of a European village look even more inviting when lit up with all manner of Christmas lights and decorations!
Monterey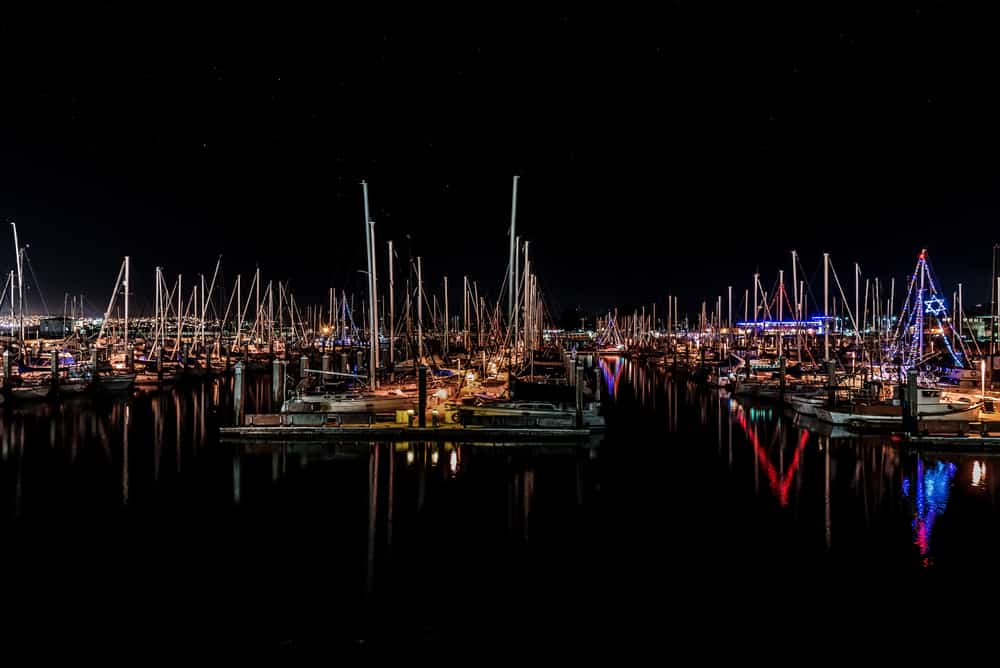 There are several events in Monterey that are perfect to get you in the California Christmas spirit.
Don't miss admiring all the lit-up buildings on Monterey's famous Cannery Row, made famous by the Steinbeck novel of the same name.
At the end of November, buildings in Cannery Row and Fisherman's Wharf start to light up and get into the Christmas spirit!
And who said you can only celebrate Christmas on land?
Monterey frequently hosts Christmas-themed boat parades, but even if it's not an official parade, there is usually lights to enjoy!
You'll often see in the harbor that boat owners light up their sailboats with a stunning array of Christmas colors to delight all those who visit!
Christmas in California: Southern California's Best Spots
Solvang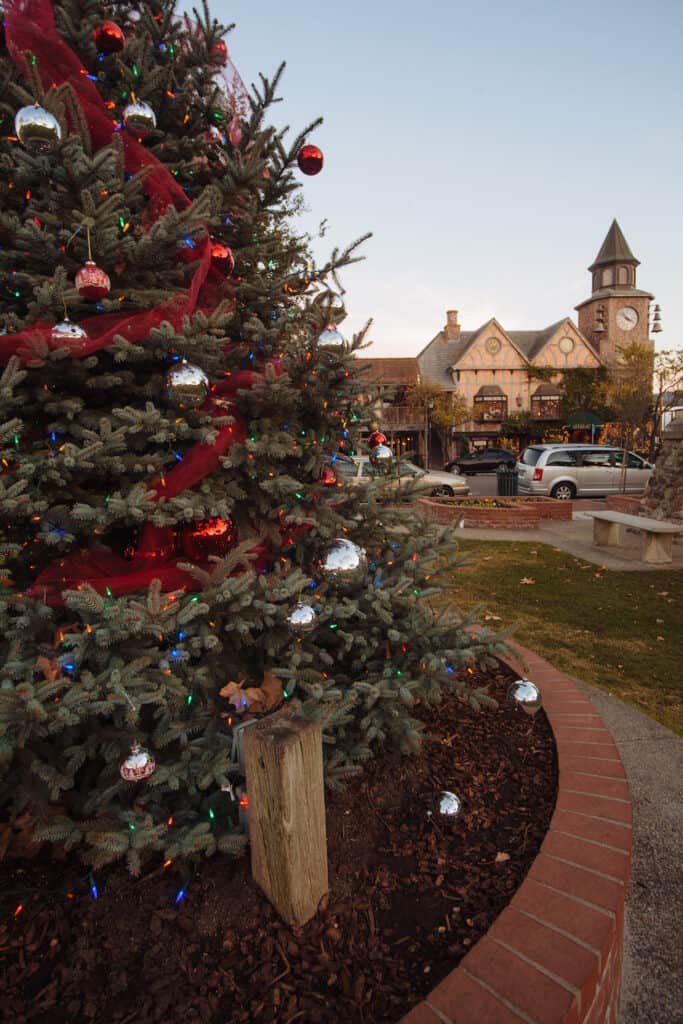 Founded by Danish immigrants, this little village enclave in Central California not far from Santa Barbara is a Christmas must if you're looking for a little slice of Europe in California.
Complete with a windmill that's all lit up for the holidays, festive lights, and architecture out of a Danish storybook, you'll fall for Solvang any time of year, but Christmas is when it shines.
Here are a few of the best ways to celebrate Christmas in California in Solvang!
During December, take to the streets of Solvang to enjoy viewing the Danish-style buildings in all their festive lights and decorations during their Julefest celebrations.
Participate in or watch this festive parade as it goes through the streets of Solvang on a December Saturday morning.
The streets of Copenhagen Drive and Alisal Road are also perfect places to visit in Solvang around Christmas.
All the shops are decorated and have trees done up for the holiday season!
This is a great spot to shop for souvenirs and Christmas gifts as well.
Venice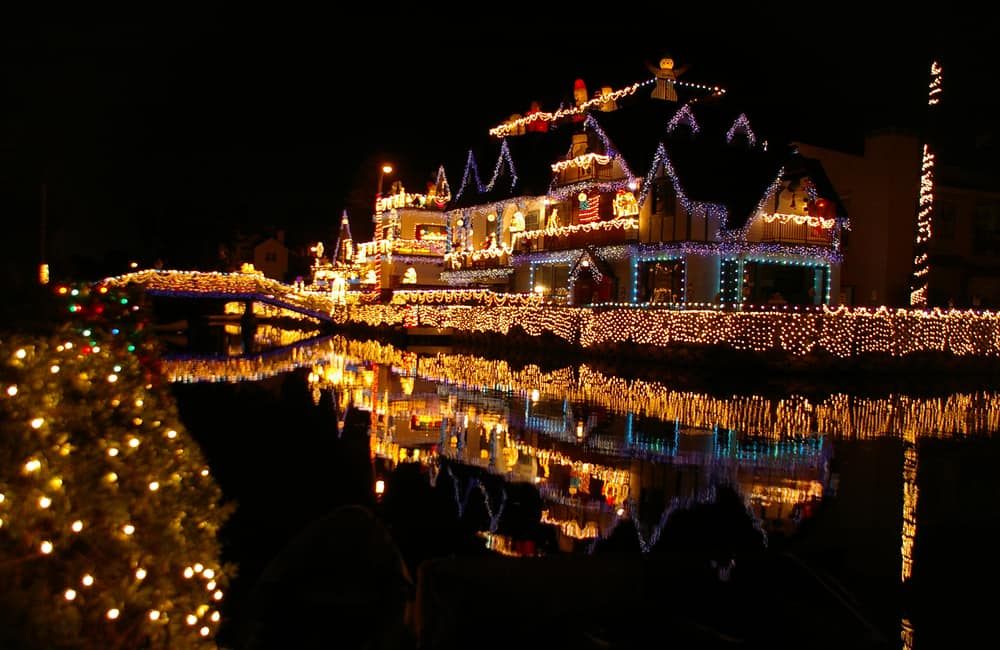 The eclectic neighborhood of Venice in Los Angeles, adjacent to Venice Beach, is a whirlwind of holiday spirit during Christmas.
It's a quintessential Los Angeles Christmas experience to stroll the canals of Venice all lit up on an oddly warm December evening!
You can't miss the chance to marvel at the Venice Canals Christmas Lights! Take an evening walk over the wooden canal bridges that are shimmering with holiday lights.
The mansions on the canals will be all lit up in a splendid array of colors that will practically blind you with holiday spirit!
Another fun thing is the Venice Canals boat parade! For nearly 40 years, people have been enjoying watching the stream of decorated boats sail through the canals.
For the best vantage point of this event, head to the Eastern and Carroll Canal intersection for the Annual Venice Canals Holiday Boat Parade.
The show typically begins at 3:30 PM on the first Saturday of December.
Los Angeles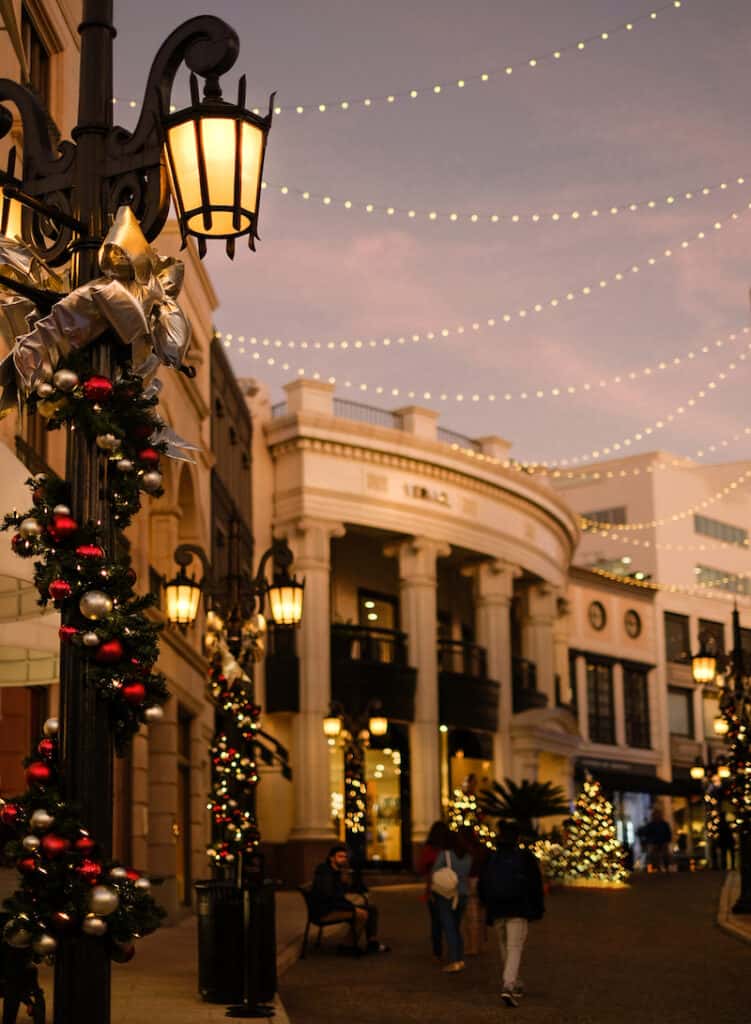 Besides Venice, there are several other areas of Los Angeles that are perfect for seeing the holiday decor and getting the vibe of a California Christmas!
One of the best ways to get into the holiday spirit in LA is to window shop on Beverly Hills' Rodeo Drive!
Mosey down this fancy shopping street to enjoy the palm trees adorned with festive lights: a true Christmas in Southern California experience!
Another great (and more affordable) place to shop is The Grove.
In this famous LA outdoor shopping area, you can stand beneath the glow of The Grove's 100-foot Christmas tree and take photos to your heart's content.
Be there any December evening before the 25th at 7 or 8 PM and watch the fake snow come down!
There is also a lot to do outside of the downtown LA area during Christmas time.
Head to Descanso Gardens for a beautiful and inspired Christmas light show! Take an hour and meander through one mile of glowing forests and artistic sculptures throughout the botanical gardens.
The event takes place from mid-November through the beginning of January.
There are also several neighborhoods in Los Angeles that go all out on their Christmas lights each year! Upper Hastings Ranch in Pasadena and Candy Cane Lane in Woodland Hills are two stand-outs.
The LA Zoo also goes all-out with the lights and is a great place for kids to enjoy the season!
Riverside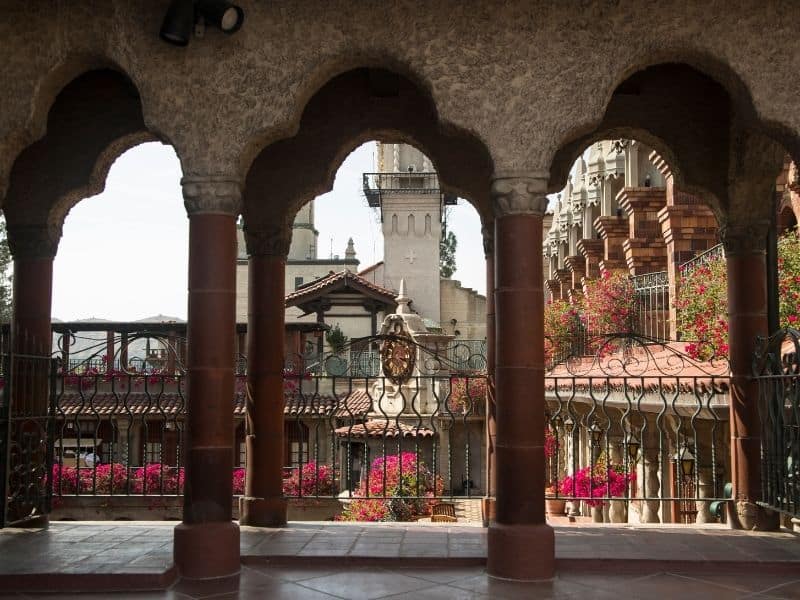 Riverside, California is full of holiday spirit, and nowhere is that more clear than at the Mission Inn Hotel.
It's perhaps the most festive place to celebrate Christmas in Southern California!
Explore the grounds of The Mission Inn Hotel and Spa, one of the leading holiday lights displays throughout Southern California!
You won't want to miss seeing the millions of lights, hundreds of animated figures, and live entertainment at this free Christmas event.
In fact, this much-loved tradition of Riverside was named one of America's Best Holiday Festivals by USA Today!
Palm Springs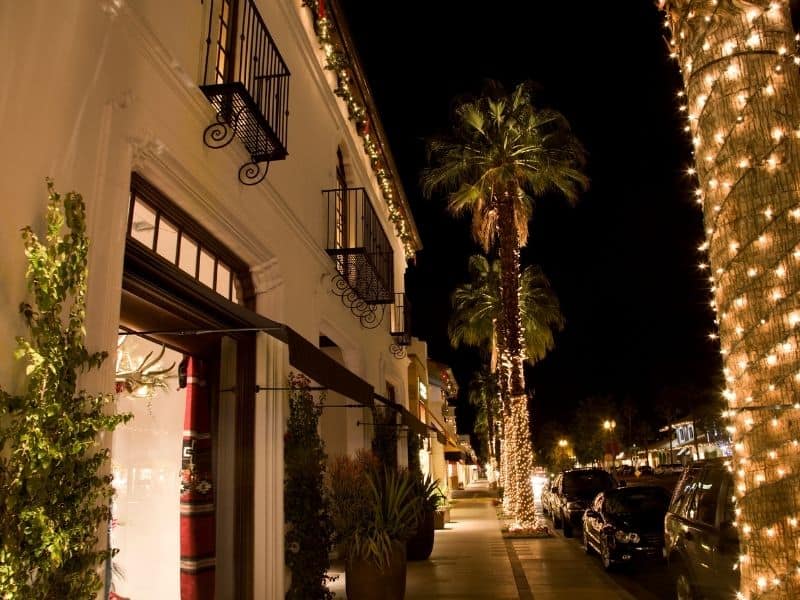 If you think an oasis in the middle of the California desert can't be Christmassy… think again!
Christmas is actually a perfect time to plot a weekend trip to Palm Springs. The temperatures are warm during the day and crisply cool at night, and the city has a really festive vibe that is sure to put you in the holiday spirit!
There are several special holiday events in Palm Springs that make it one of the best places to celebrate Christmas in Southern California: here are just a few!
One of the most typical Palm Springs Christmas traditions is to visit the Living Desert Zoo & Gardens for their annual WildLights festival, when more than a million lights illuminate the desert grounds!
Another classic way to experience Palm Springs at Christmas is to take the Aerial Tramway up Mt San Jacinto!
There's a tree lighting ceremony up there annually, and if you're lucky, there might even be snow on the top of the 10,000+ foot mountain!
San Diego
If you thought the southernmost city in California couldn't possibly have the Christmas spirit, with sunny skies nearly year-round and zero chance of a white Christmas, think again!
San Diegans really get into the holiday spirit and that's why it's a perfect time to visit San Diego for a weekend getaway.
As a bonus, whale watching season begins in December so it can be a great time to enjoy one of California's best whale-watching destinations as well, as the grey whales begin their southbound migration!
December Nights in Balboa Park is one of the best ways to inaugurate the Christmas season!
This free festival provides families an excellent way to get in the festive spirit and features seasonal entertainment, delicious food, vendors, and holiday lights throughout the park.
This year (2021) it is expected to be a drive-through experience so stay tuned for more information.
There are also other ways to celebrate Christmas in San Diego!
Head to Seaport Village to marvel at the Poinsettia Christmas tree that is 25-feet tall. 
Plus, this is a great place to get some last-minute holiday shopping done in a fun and festive environment!
Finally, don't miss the San Diego Bay Parade of Lights. Get a prime spot along the San Diego Bay for this annual holiday tradition!  
During two evenings in December, starting at 5:30, roughly 80 boats will parade the waters decorated in their holiday finest — now that's Christmas San Diego style!
You can also head to Encinitas for Botanic Wonderland's Holiday Nights in the Garden on select December evenings from 5:00 – 8:30 PM.
Hear the holiday carolers, walk through the Twinkling Light Tunnel, and participate in the Botanical Wonderland Scavenger Hunt through over 100,000 shimmering lights.
Long Beach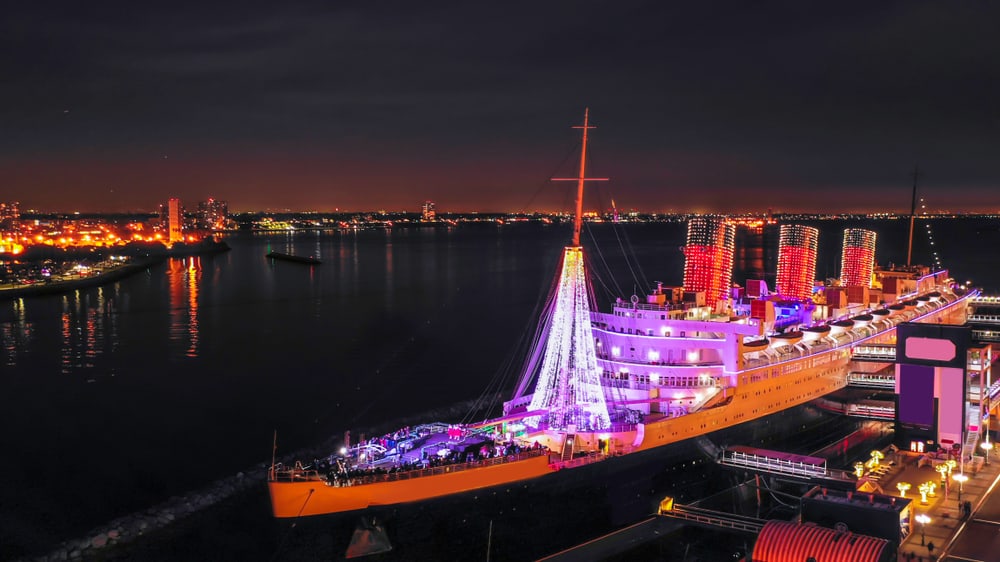 Not far from Los Angeles, the town of Long Beach, California is a delightfully festive place to celebrate Christmas in California.
All aboard the Queen Mary Christmas event! Next to the docked Queen Mary, venture through Chill, the winter wonderland full of lights and decorations.  
You can also try your hand at ice tubing or ice skating at the North Pole Village!
Another fun thing to do in Long Beach is to wander through the charming and Christmassy Naples neighborhood.
That's right, there's not just one Italy-inspired neighborhood in the greater LA area: there are two, and Naples is a true delight!
Take an evening drive through this luxurious waterfront neighborhood.
It is known to shimmer and shine with Christmas lights and decorations, so it's a great place for the whole family to enjoy.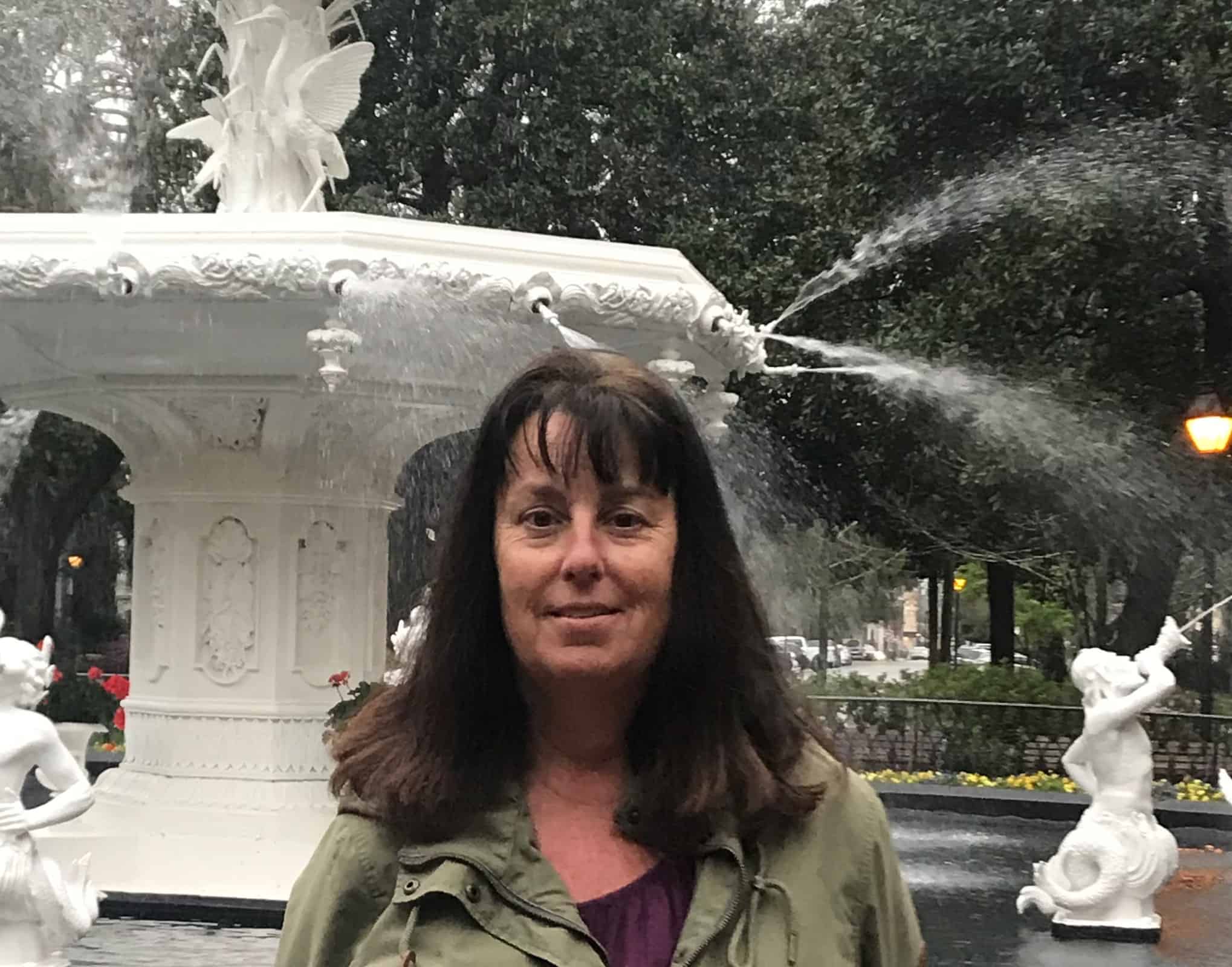 Laura Gray is a freelance writer and retired elementary teacher based in Norfolk, VA.  She spends her summers enjoying the shores of the Chesapeake Bay, traveling the world, and exploring the beautiful United States. Her favorite places to visit are National Parks, waterfalls, and lighthouses.