When you hear the words "Laguna Beach" you likely immediately think of that famous TV show or the beautiful Orange County beaches. I don't blame you — that's what the city is best known for!
What you might not know is that Laguna Beach is also famous for being somewhat of an artist colony that is heavily populated by galleries and artists.
So if you love beautiful beaches and gorgeous art, Laguna Beach is for you!
Located about halfway between San Diego and Los Angeles in the heart of Orange County, Laguna Beach offers beautiful views, great shopping, and some hidden gems.
Where to Stay in Laguna Beach
Note: This post contains affiliate links, which earn me a small commission at no extra cost to you if you make a purchase using one of these links. Thank you for supporting this free content!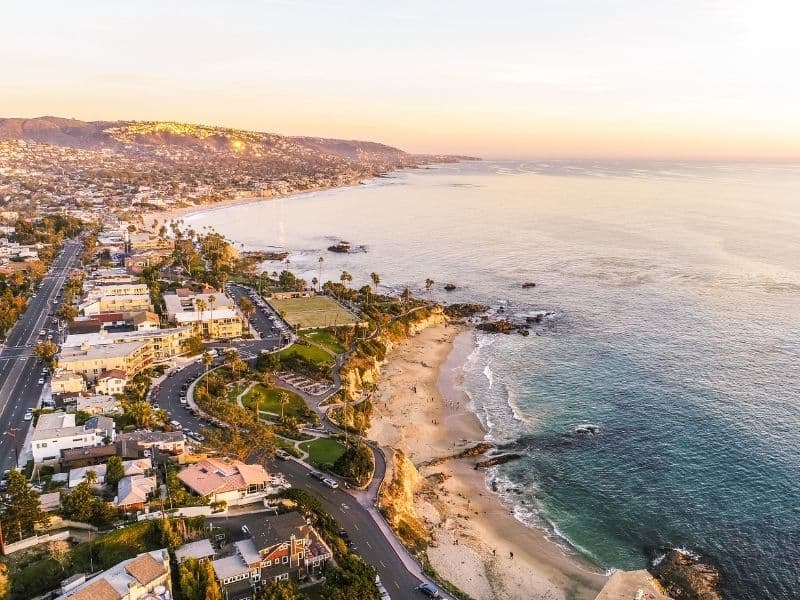 LUXURY | If you want to stay chic while in Laguna Beach, check out the hypnotically beautiful Surf and Sand Resort. With a poolside lounge area begging to be 'grammed overlooking the Pacific, there's no more beautiful place to catch a sunset in Laguna.
This resort has all you need — an onsite spa, a restaurant and bar, sauna, fitness center, outdoor pool, happy hours, live music performances, etc. — and more!
>> Check photos, availability, and reviews on Booking.com <<
BOUTIQUE | For a stay that's unique but won't break the bank, check out the beautiful Seaside Laguna Inn & Suites. This beautiful boutique hotel offers sea-facing rooms with charming interior design without a big-ticket price tag.
Many of the rooms have a private outdoor area with views facing the ocean, and some rooms are suites with multiple rooms, some including kitchenettes. The property also has a beautiful outdoor area for relaxing at the end of the day. While there isn't a pool on site, the beach is about 100 steps away, literally, as it's on the ocean side of the PCH!
>> Check photos, availability, and reviews on Booking.com <<
BUDGET | This classic hotel in Laguna Beach, The Tides, has some great amenities for its budget-friendly price. There's a saltwater outdoor heated pool and sun loungers to enjoy, and the location is fantastic: just 10 minutes away from Downtown Laguna Beach and a 5-minute walk from Heisler Park and its beautiful beach sunsets!
Other perks include a parking space for each guest, pet-friendly rooms, a shared BBQ space, and spacious, comfortable rooms.
>> Check photos, availability, and reviews on Booking.com <<
Best Things to Do in Laguna Beach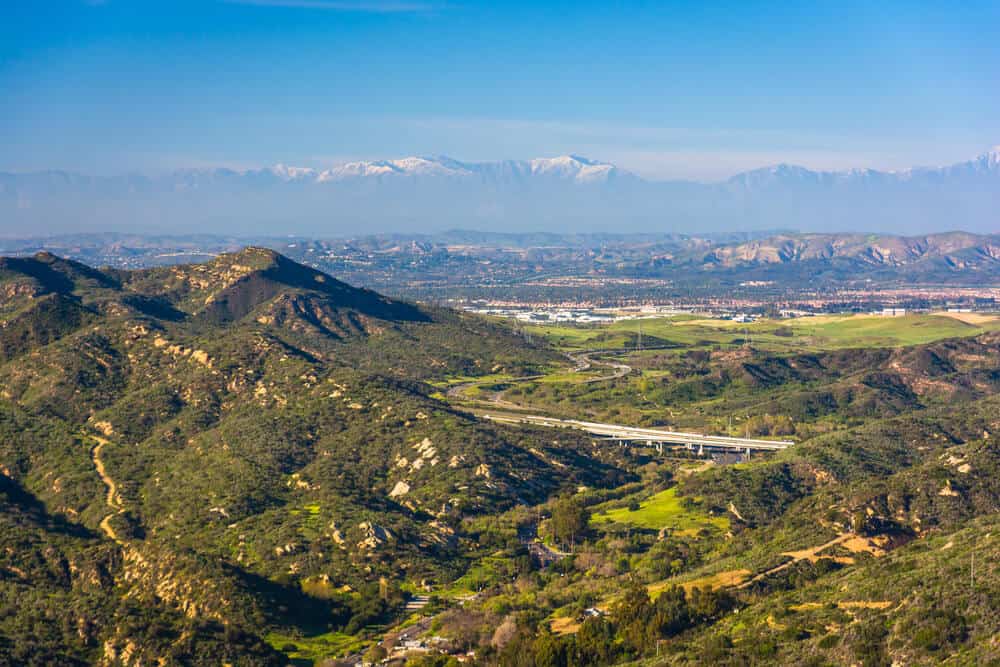 Take the trolley.
One of the coolest things about Laguna Beach is how "small town" it feels!
This quaint town is very walkable, but it also provides a free open-air weekend trolley service. During the week, there is a small fee for adults — just 75 cents!
All of the signs are color-coded, and the trolleys travel through 9 routes around town, which you can hop on and off wherever you like, totally free!
Insider Tip: Download the Visit Laguna Beach app and gain access to a real-time Trolley Tracker.
Explore the hidden gem beaches.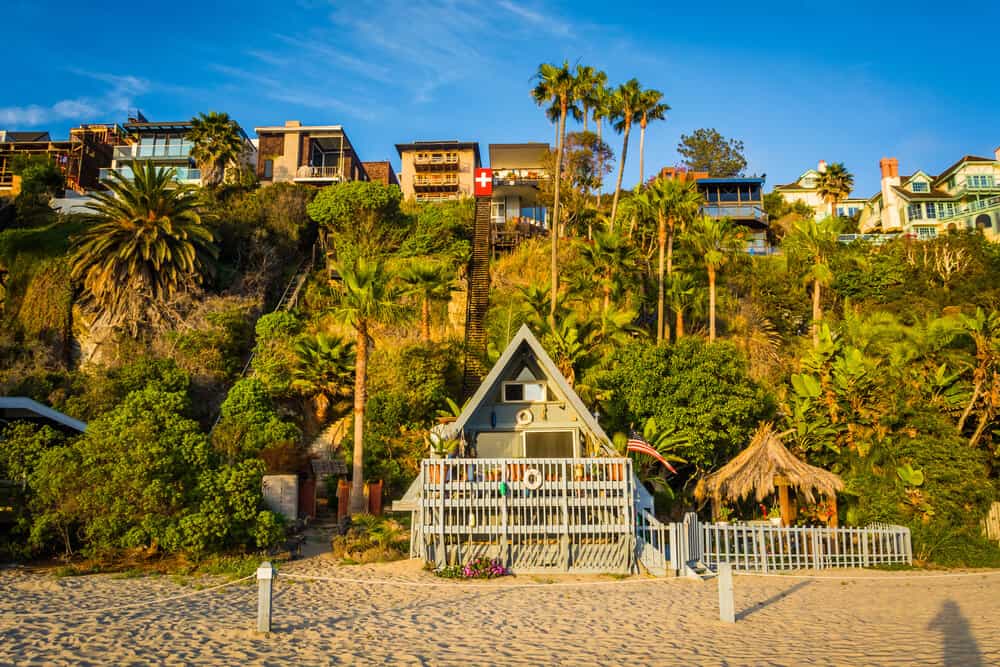 Main Beach is smack dab in the center of town and would be hard to miss! There is a ton of metered street parking and side streets to try to score a parking spot and hit the sand.
There is a cool grassy area and boardwalk that makes it very kid-friendly and enjoyable for the whole family to enjoy a game of volleyball or basketball.
If you want to dive a little deeper into some of the unique beaches that the locals love and famous Instagram spots in Laguna Beach read on…
Table Rock Beach is located under a row of gorgeous beach homes, you will access this beach down a set of wooden stairs at the end of Table Rock Drive. Both ends of this beach have cliff bookends, so you have one way in. On the south end, you can also access another hidden treasure Secret Cove.
Thousand Steps Beach is a great place to enjoy some beach volleyball, take a dip in the Pacific, or explore the tidepools. It is one of the largest beaches in Laguna. You can access this gem on 9th Avenue and make your way down the stairway. Don't worry… it really isn't 1,000 steps; it is only 223!
Victoria Beach has so many cool amenities from volleyball to an Instagram-famous pirate tower, it will not disappoint! Try to park on the PCH (good luck!) and follow Victoria Drive until you reach the steps.
If you head north, you will find the Pirate Tower and a nearby cement pool that fills up with seawater (you might have seen this on Instagram — epic photos taken with a drone!)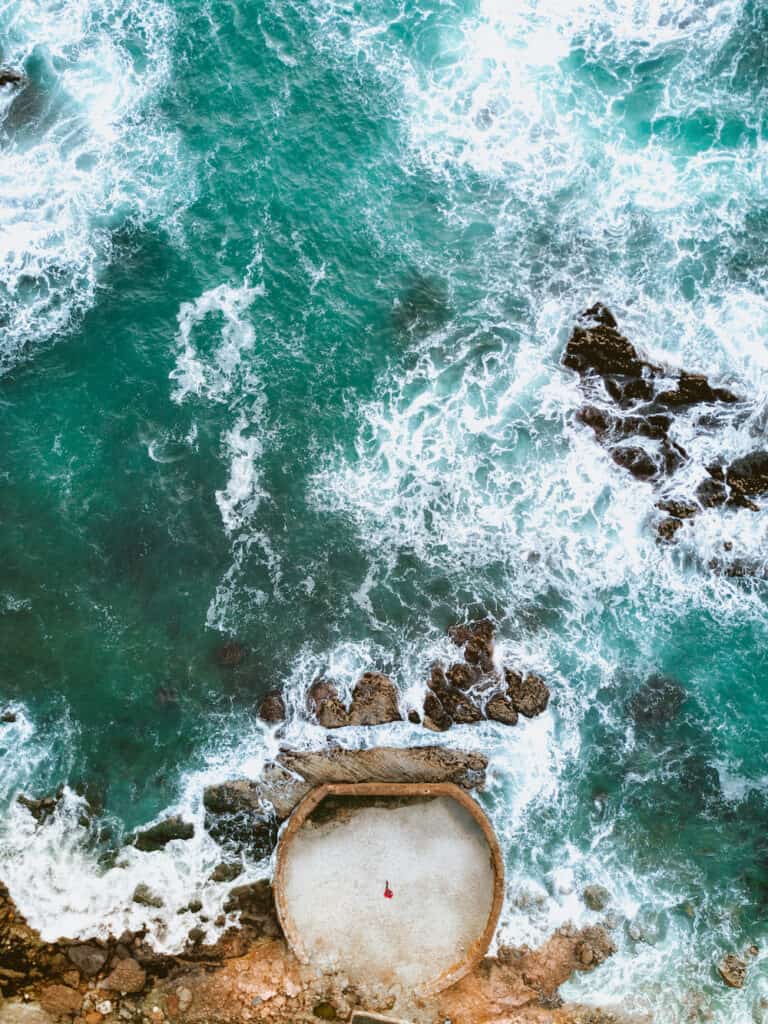 The Pirate Tower is 60 feet tall and looks like it has grown from the sandstone cliff that surrounds it. This tower was built in 1926 to serve as an enclosed staircase to get down to the beach.
Insider Tip: Some of these hidden beaches are only accessible during low tide. Make sure to check the tide charts to find the best times to visit. Be very careful, as it can be dangerous to get caught in some of these spots at the wrong time. Observe all posted signage and play it safe.
Check out the mini-underwater worlds of the tidepools.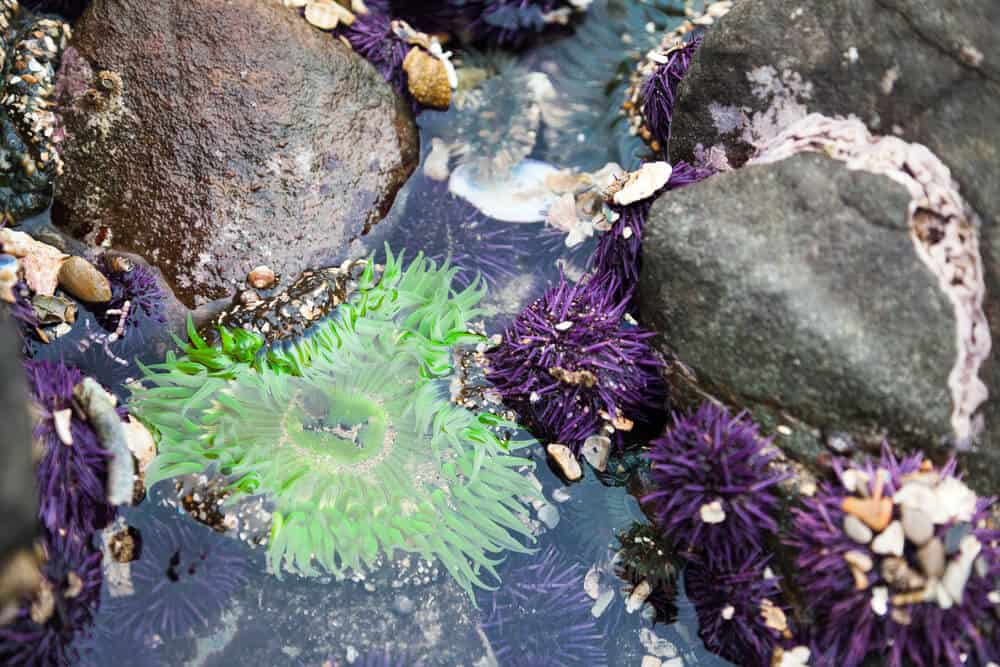 If you want to see ocean critters and unique marine organisms that live just below the waves, explore the many tide pools in Laguna Beach.
When the water recedes at low tide, it will reveal rocks and structures with many cracks and crevasses that house many unique tiny living creatures.
Timing is important, so make sure to check the tide charts online so you can visit at the perfect time. There are 2 high tides and 2 low tides every day in California.
The best places to explore the tide pools in Laguna are Crescent Bay Beach, Thousand Steps Beach, Diver's Cove, Rockpile Beach, Main Beach, and Treasure Island.
Crystal Cove State Park also has 4 awesome tidepool viewing areas: Reef Point, Rocky Bight, Pelican Point, and Treasure Cove.
When visiting tidepools please be sure to:
Be careful, do not step on any animals.
Not collect shells, rocks, or organisms.
Not pick up, touch, or remove any animals from their pools.
Not turn over any rocks or pull animals from their home.
Head to Crystal Cove State Park.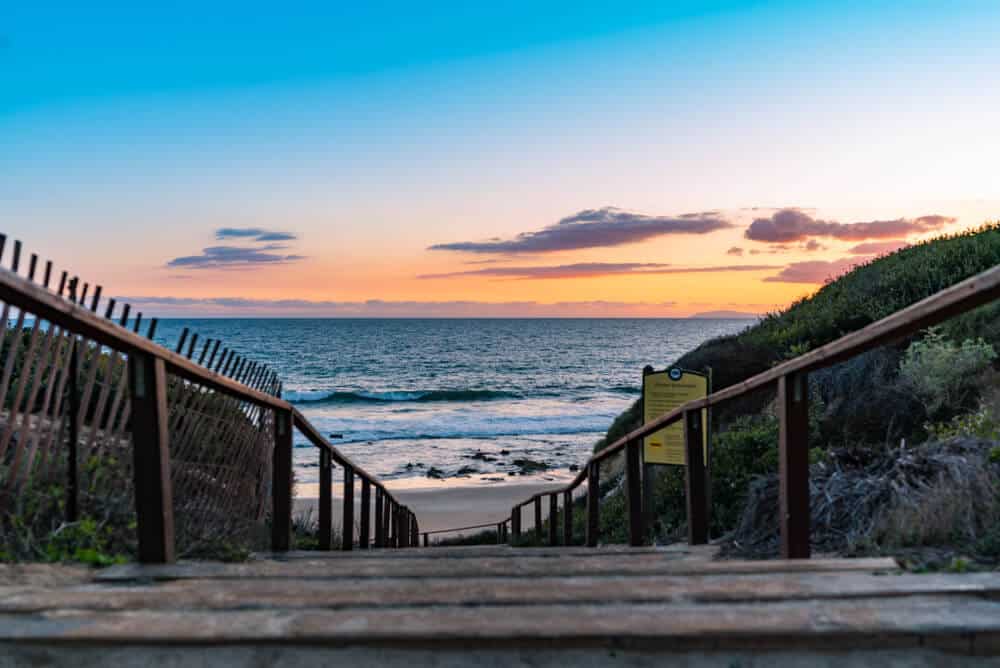 Smack dab in the center of Laguna Beach is the epic Crystal Cove State Park. You can read more about cool things to do in Crystal Cove here in an article I wrote specifically about the park.
Sandy beaches, ocean side bluffs, tide pools, gorgeous views, and tons of hiking trails make this park a great choice to become one with Mother Nature and enjoy some of the best hikes in Orange County.
If you are looking for some outdoorsy housing, Crystal Cove has RV and tent campgrounds as well as more primitive campsites if you are into roughing it a bit more.
Sleeping under the stars right next to the ocean in Crystal Cove is a special experience that you won't regret!
Explore Laguna's artsy zone.
As you drive into this cool Orange County town, you will notice that the vibe changes almost immediately. Art is everywhere!
You can't miss the cool murals on the sides of buildings, unique statues, painted benches, and art galleries.
If possible, time your visit to Laguna Beach to take advantage of the First Thursday Art Walk that makes for a fun and free cultural evening the first Thursday of each month touring over 40 art galleries!
Don't miss the annual art festivals in Laguna Beach, you will have the opportunity to support the local artists and community.
Some of the best artsy things to do in Laguna Beach are:
Indulge in some cliffside dining.
After a long day of exploring Laguna, you will need to refuel and there is no better place for an outdoor dining experience than the Cliff Restaurant!
They have a tasty happy hour daily between 3 PM and 6 PM with live entertainment and spectacular 180-degree ocean views.
Explore your wild side.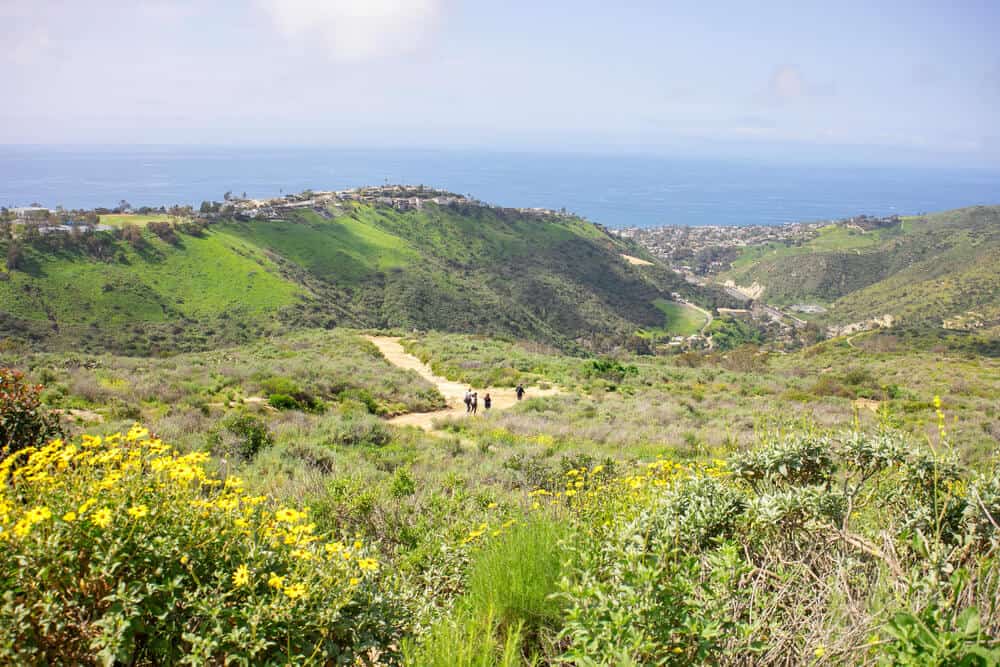 Explore 7,000 acres of endless trails through some of the most picturesque landscapes in California in Laguna Coast Wilderness Park!
When you enter the park, you will be surrounded by coastal canyons, rocky bluffs, mountains, and towering oak and sycamore woodlands in some of the finest nature California has to offer.
The parking fee is only $3 daily and is open from 8 AM to 5 PM daily. Dive deeper by indulging in a guided tour or visit the award-winning Nix Nature Center to learn more about this natural wonder.
You can also go hiking in the Aliso & Woods Canyon Wilderness Park, not far from Laguna Coast Wilderness Park, which is home to some of our favorite Laguna Beach hikes!
Shop 'til you drop in the HIP District.
The HIP District has recently been reimagined and is thriving as the "place to be" in Laguna!
"HIP" stands for Historic and Interesting Places, which is so very true! There are seven streets from Thalia St. to Bluebird St. that make up the HIP zone, chock-full of home-grown small businesses.
Take a beachside stroll and shop local at some of these unique spots like Twig which has a great mix of new and vintage clothing, enjoy a tasty breakfast at the Heidelberg Cafe, or check out the book selection at Laguna Beach Books for your next poolside adventure.
Support rehabilitating marine life.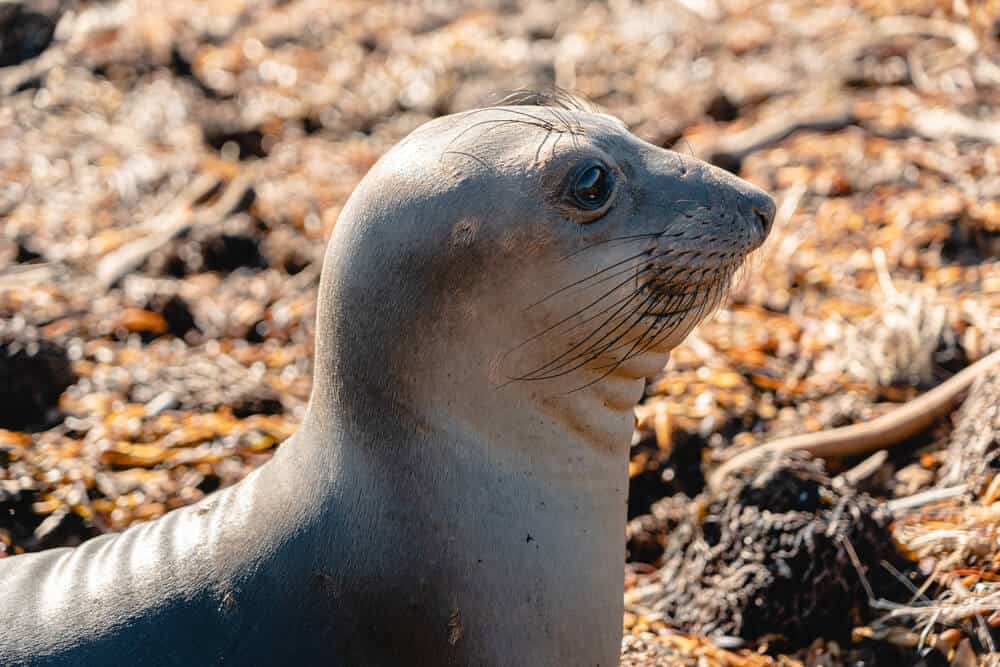 If you want to meet some lucky marine animals, head over to the Pacific Marine Mammal Center. They rescue and rehabilitate marine animals and release them back into the ocean.
If you've ever seen a video or photo of a sea animal getting tangled up in fishing gear or trash, you understand why these animals need help!
They have free docent-guided tours of their Visitor Yard to see some of these healing creatures up close, note visits are by reservation only.
Watch the whales.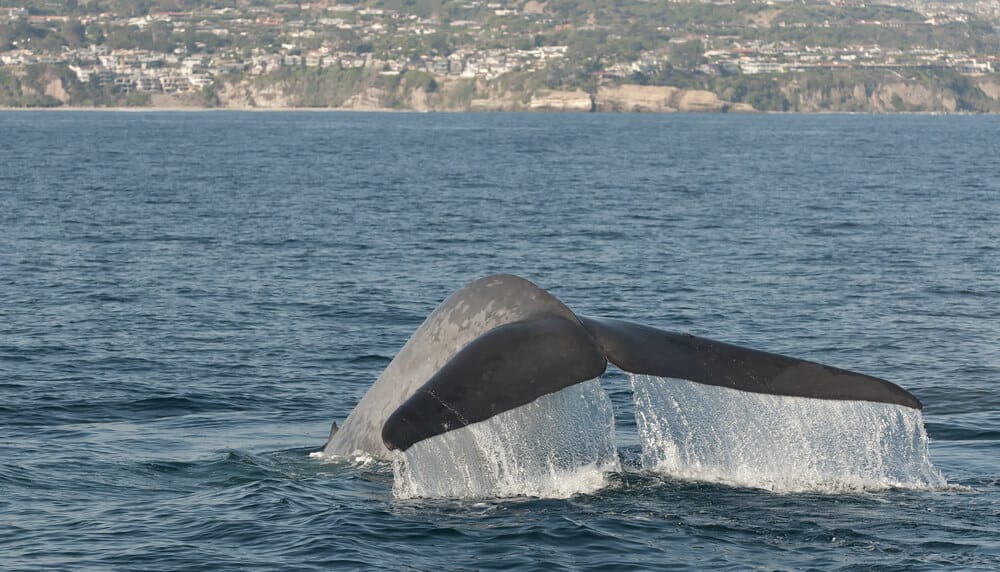 Laguna Beach has two main harbors, to the north is Newport Beach Harbor, and to the south, Dana Point Harbor. You can find whale watching tours for reasonable prices at both harbors.
We suggest Davey's Locker (I suggest booking via GetYourGuide as they offer free cancellation 24 hours in advance) which departs from Newport Beach for a whale-watching adventure!
They will have you out on the ocean for a few hours enjoying the views of the Pacific coast from a different perspective. You will likely get to enjoy watching dolphins swim alongside the boat and if you are really lucky you might even catch a whale breaching the surface. Bring a camera!
Gray whale season is November through May, blue whale season is May through November, and humpbacks, minke, and dolphins are around year-round!
Sip on some local beers.
If you are looking for a local brewery, be sure to check out Laguna Beach Beer Company.
They serve fantastic warm pretzels, and they allow your fur baby to sit on the patio with you while you enjoy all of the cold brews that are named after all of the most iconic Laguna Beach locations!
Take a walk in the park.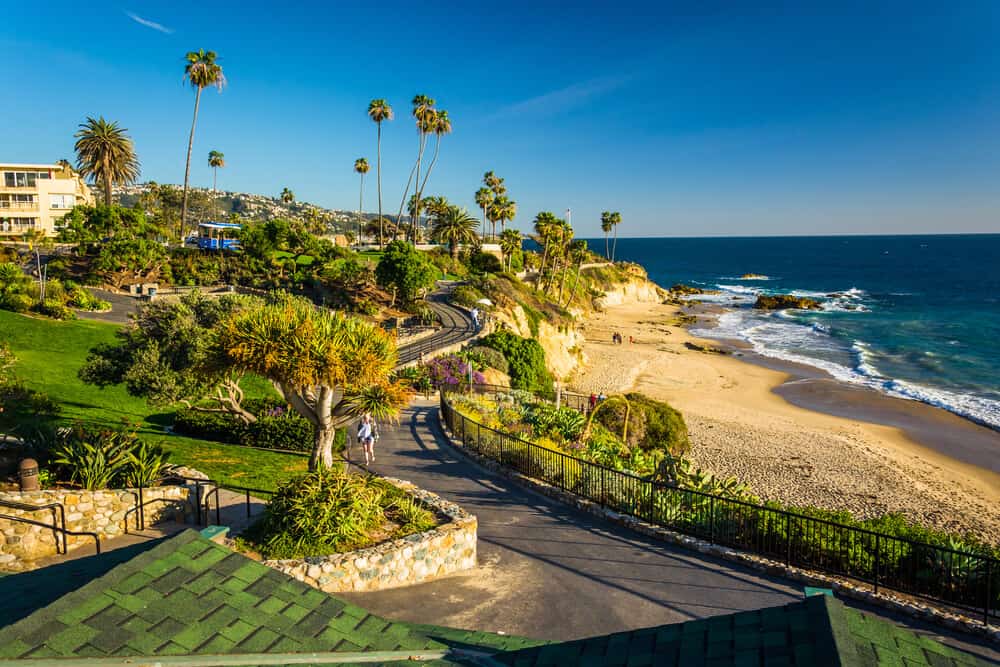 One of the best things to do in Laguna Beach is take a stroll in Heisler Park. It stretches along the bluffs from Aster Street to Diver's Cove and is a popular wedding spot.
Relax on the beautiful grassy area and soak in the gorgeous views of the Pacific. There are restrooms on-site as well as barbecues, picnic tables, gardens, walking trails, and a marine refuge with tide pools.
Be sure to enjoy the 14 pieces of public art pieces sprinkled throughout the park — truly, this park will not disappoint!
***
Laguna Beach truly has something for everyone whether you want to explore nature, chill at the beach, tap into your artsy side, or shop till you drop.
Soak up the 278 days of sunshine per year and enjoy the adventures!
Pin This Guide to Things to Do in Laguna Beach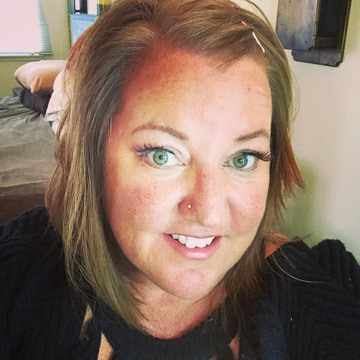 Rosie Queen is a travel blogger and creative writer who grew up on the South Side of Chicago. She has spent time living in Indianapolis, Dayton, New York City, London, Orlando, Boston, and most recently, Huntington Beach, CA. Rosie has been blessed to travel most of her life while being deeply involved in the performing/pageantry arts. She has enjoyed adventures in 48 U.S. states, Japan, Thailand, Mexico, Paris, London, Canada, and the Caribbean. Rosie is obsessed with her dogs, color guard/marching band, national parks, and traveling.