The Central Coast of California has so much to offer, from its rugged coastline to its iconic wine country, that even people who call the area home struggle to check off every destination on the list.
Except Solvang. Everyone checks out Solvang!
I mean, how could you not? This charming Danish town 45 minutes from Santa Barbara is pretty much a transportation device that takes you soaring across continents to Europe, where you can walk the streets of a Danish-inspired village like it's nobody's business.
Half-timbered houses, cobblestone streets, authentic Danish pastries: Solvang has got it all. And considering the fact that it is located in a place where sleepy coastal towns are in abundance, it is impossible to miss!
So when you are in the mood for something different or you just really find yourself craving a Danish cinnamon roll, you can't go wrong with a visit to this fairytale town.
Check out this two-day itinerary for the ultimate weekend in Solvang so you can spend less time deciding where to go and more time eating all the treats (and/or drinking all the wine).
So, if you're planning a weekend getaway in Santa Barbara County or just looking for an epic road trip stop on your way to Southern California, Solvang has got to be your pick!
Where to Stay for a Weekend in Solvang
The Landsby
Easily one of my favorite places to stay in Solvang, The Landsby is everything you could need and more! 
For starters, it is located right at the center of all the excitement so you are never too far away from a Danish pastry or an afternoon of wine tasting.
And in a town where European architecture is everywhere, the Landsby finds a way to stand out while also holding true to its Scandinavian roots!
Each and every room is uniquely designed to give guests the perfect combination of luxury and comfort but you'll probably end up spending most of your time in the picturesque courtyard.
Here you can mingle with friends, old and new, while you sip on one of the bar's signature cocktails and enjoy the comfort of a roaring fire.
Not to mention the fact that the Landsby is also home to one of the hottest restaurants in Solvang, Mad & Vin, which is enough of a reason on its own to spend a night here. Trust me.
The Mirabelle Inn
It is nearly impossible to understand just how charming this Solvang accommodation really is without having seen it for yourself, but if I had to sum it up into one word for you, I could honestly say that the Mirabelle Inn is magical.
From the half-timbered roof and sparkling chandeliers that make you feel like you have walked inside of a fairytale to the exceptional staff that would give your their firstborn child if you asked (not really, but you get the point), it is hard not to be blown away by your experience here!
Spend the night in one of thirteen detail-focused rooms, with personal touches like whirlpool baths and gas fireplaces, but don't forget to take advantage of the Michelin star restaurant located right on property! Did someone say dry-aged prime rib?
Wine Valley Inn
Although the name can be a little misleading (and maybe even a little disheartening for my fellow winos), the Wine Valley Inn is located right in Downtown Solvang and is just minutes away from the "Little Denmark" village. 
In other words, you'll have the world at your fingertips! So though you won't technically be frolicking around a vineyard or indulging in a wine tasting by the courtyard, the convenience of this place is hard to beat.
But that's not the only thing this establishment has on its side. The Wine Valley Inn also has adorable lodging options, offers a free meal each morning, and even has a spa located right on the property for those days when you just need to unwind!
I haven't met a person who hasn't fallen in love with the Denmark-inspired chateaus, village suites, and cottages each boasting attractive amenities like fireplaces and private patios.
And regardless of where you rest your head, you will get to enjoy a complimentary hot breakfast featuring all the fan-favorite dishes like eggs, hash browns, and sausages. You'll even get an authentic Danish pastry to send you off for the day!
Victorian Mansion Bed & Breakfast
Okay so technically the Victorian Mansion Bed & Breakfast isn't located in Solvang, but the town of Los Alamos is just a short twenty-minute drive away and it is totally worth it to be able to spend your night in a pirate ship (yes, you read that right).
When most people think of bed & breakfasts, their mind usually jumps right to a couple of elderly people inviting you into their creaky, old home and cooking you breakfast each morning.
Well, the Victorian Mansion Bed & Breakfast is the furthest thing from that stereotype! Which I am sure comes as a surprise given its classic "I'm an old house" name.
Each of the six rooms has its own unique themes and spare no expense to provide guests with an over-the-top experience.
Sleep in a hand-carved chariot in the Roman suite, listen to the sounds of the forest in the Gypsy Suite, or sit in a luggage-trunk hot tub in the French Suite.
Each room has a fun place to lay your head as well as a hot tub, fireplace, and even background music that is relevant to the theme!
But I haven't even gotten to the coolest part! The bathrooms in each room are located behind hidden doors so you can really feel like a cool kid when you pull on king tut's beard or slide right on the Eiffel tower to reveal a secret entrance… even if you are just going in there to take a shower.
Oh yeah, and there is a free, hot breakfast. Can't forget the breakfast!
The Ultimate Weekend in Solvang: Day One
Enjoy dessert for breakfast.
Note: This post contains affiliate links, which earn me a small commission at no extra cost to you if you make a purchase using one of these links. Thank you for supporting this free content!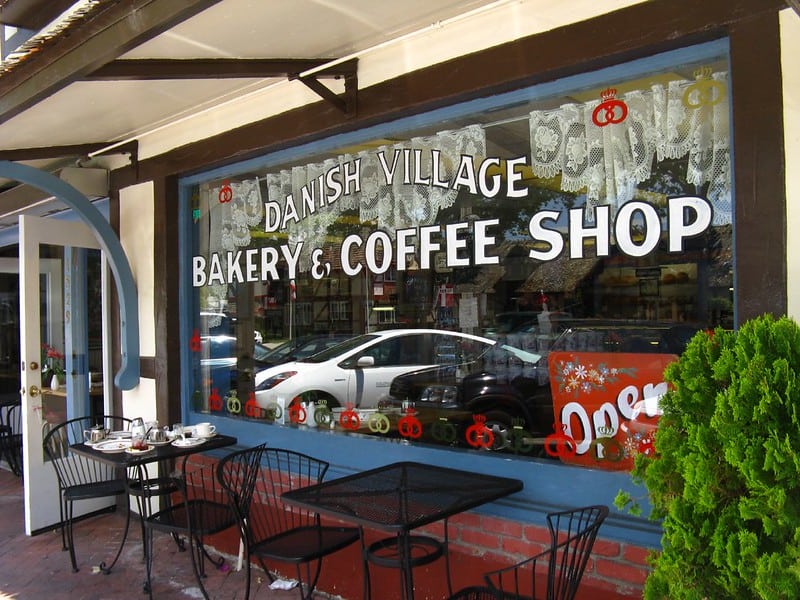 Who said you can't have dessert for breakfast?
Okay sure, your parents may have engraved this into your brain growing up, but the good news is that you're an adult now and you can make your own decisions. Plus, if there is any time to break this rule, it is now!
Not to mention the fact that you are in Solvang so I mean, if you are not pigging out at a Danish bakery first thing in the morning, then what are you really doing?
I'll start by saying that there are so many Danish bakeries to choose from so in an attempt to not overwhelm you, we will be sticking to the best one I've tried (and I've tried more than I'm proud to admit).
When it comes to Danish pastries, Olsen's Danish Village Bakery is as authentic as it gets and their selection is huge!
Grab a piping hot cup of coffee paired with their signature almond kringle or mouth-watering apple strudel to start your day on the right foot.
If you somehow still find yourself feeling ravenous, you can take comfort knowing that Paula's Pancake House is located right next door if you want a heartier brunch.
Hang out in the Village.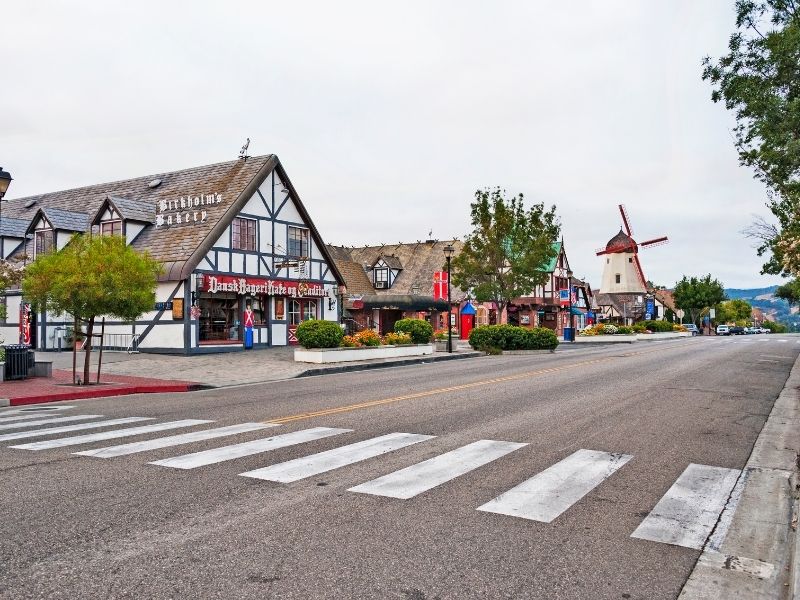 Okay, this one is a given!
Chances are if you are coming to Solvang, you are coming to get a taste of Europe without the outrageous international airline ticket price tag. Or maybe you just really find yourself craving a good Danish pastry.
Regardless, there is no denying that one of Solvang's best features is its European vibe and Danish architecture, and it's everywhere: so why not see it on a walking tour of the town of Solvang?
One stroll down the village's cobblestone streets will have your heart swelling with pure joy and the half-timbered houses paired with the occasional historic windmill really takes the cake.
Speaking of cake, you will find no shortage of it here since there are authentic Danish bakeries scattered all over the place!
But given your delicious breakfast, it may make stopping yourself from visiting every single one a little bit easier.
For now, just take in the mesmerizing beauty of it all. Maybe even consider taking the Solvang Heritage Tour. 
You can find it right on your smartphone through the Experience Solvang App. It's a great addition for visitors who would like to learn more about the city's rich history.
And if you do end up finding your nose dragging you to the nearest bakery, just go for it. I understand.
Dabble in some history.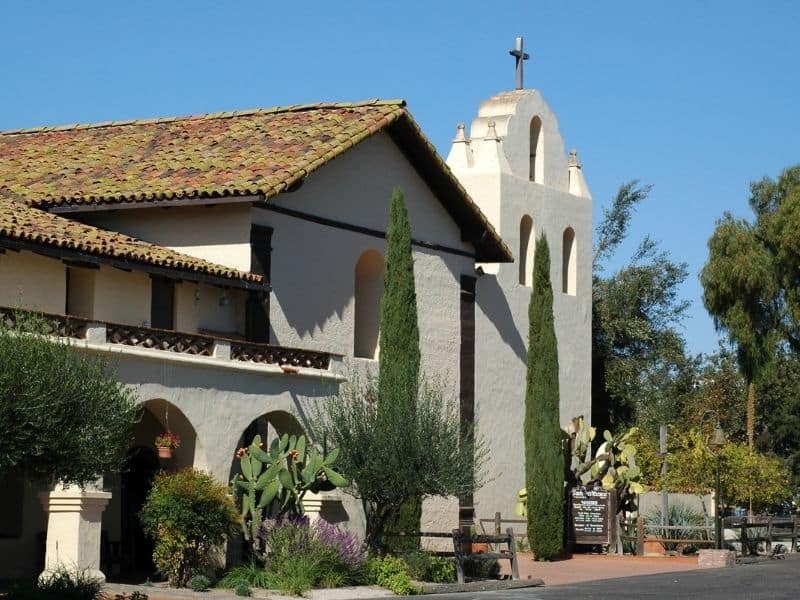 Old Mission Santa Ines is one of those iconic destinations that every Solvang traveler finds themselves in one way or another. 
Whether it be to appreciate its significant role in Solvang history, to take a moment to pray, or to take in the breathtaking views of the valley, the Mission is a must-visit on any Solvang itinerary.
This beauty has been standing tall way before Solvang was even a thought, and it's one of a handful (more like four handfuls) of ancient missions that call California home.
A self-guided tour lets you explore every inch of this beautiful location so feel free to wander amongst the inside of the church, the small but informative museum, and the picturesque gardens overlooking some of California's well-known natural beauty.
Enjoy lunch at Solvang Restaurant.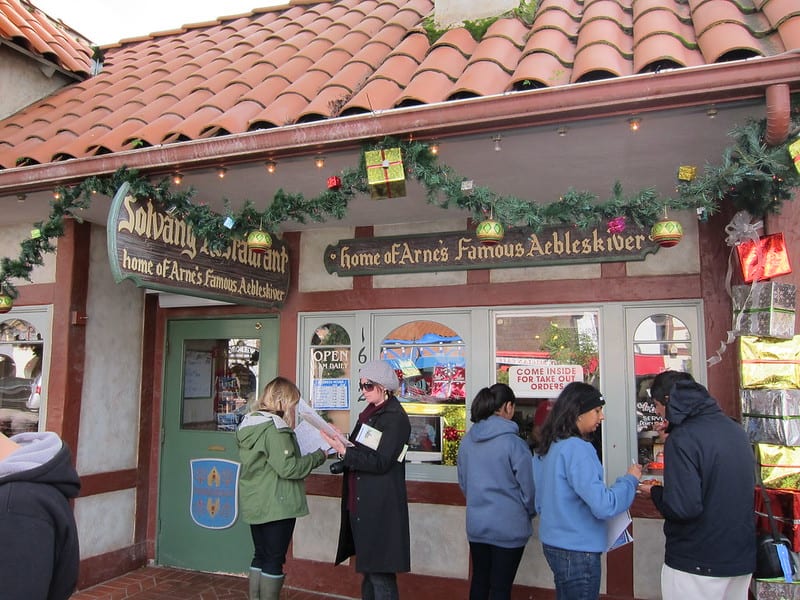 Okay to be fair, the name Solvang Restaurant may lack some originality, but it totally makes up for it with its tasty Danish bites and incredibly friendly customer service!
The menu is short, but you'll be thankful for that, given the fact that each and every item on it will get your mouth watering in a second.
I could tell you to get the turkey and cranberry croissant sandwich or the chicken and waffles, or even the open-face Danish cheese sandwich, but at the end of the day, any choice here is the right one.
Just do yourself a favor and end your meal with their famous Aebleskiver. Don't even bother to ask what they are. Just order a plate and prepare to be amazed.
Take a visit to… Ostrichland USA?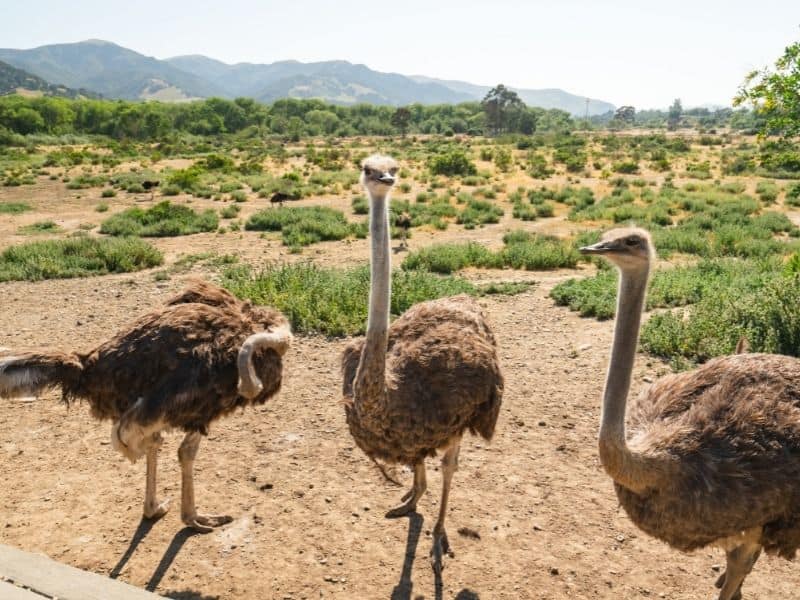 Yup, it is a real place!
Located just outside of Solvang in the nearby town of Buellton, Ostrichland USA is probably the weirdest attraction on this list. 
But without a doubt, it's one of the most fun things to do in the Solvang area… Unless you are scared of birds. Then hanging out with a massive group of these giant creatures might not particularly be your style. 
The good news is that they are completely fenced in and as you may know, they are completely flightless. So this may just be the absolute best way to face your fears. Even if you stand as far away from the gate as possible.
And to all of my other friends, I am about to give you some of the best advice possible. Get the food pellets. These birds are always hungry and with an asking price of just one dollar, you really can't go wrong!
The size of these birds alone can be a little intimidating, but once you see their goofy faces up close and personal, it's hard to not fall in love with these adorably ugly creatures.
With that being said, they are very used to interacting with people so you don't have to worry about one nipping your finger…
But maybe, leave the hats at home for this adventure.
Check out the local wine scene.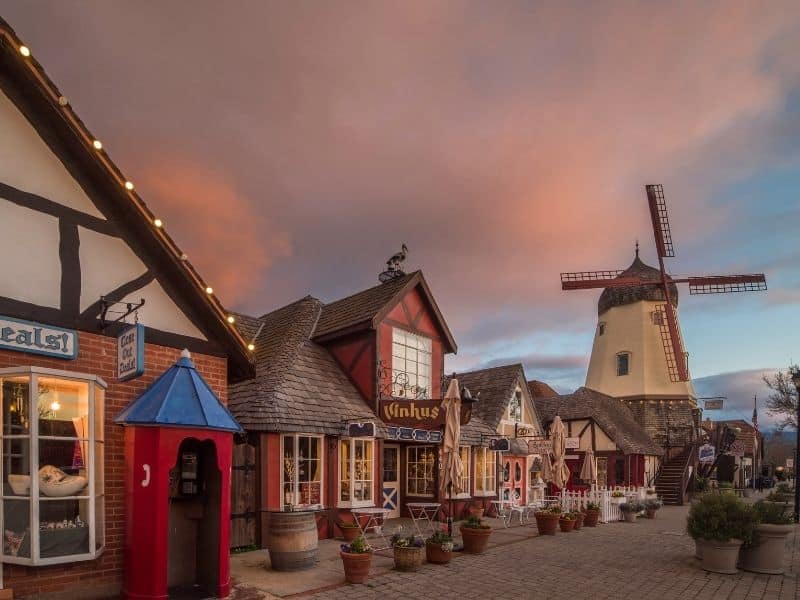 I know you are here for the Danish-style charm, but the wine scene is not to be missed. The movie Sideways was filmed here for a reason!
I mean, you are literally located smack dab in the middle of primo Wine Country, so if you are not doing a bit of tasting, there is bound to be something wrong.
Besides, Solvang makes wine tasting a breeze with an abundance of award-winning wine tasting rooms located just minutes away from each other.
And I'm talking walking minutes, which means your designated driver will only have to worry about driving you home… unless you plan on spending the night somewhere in the village. Then you are golden!
There are more than twenty tasting rooms to choose from in Solvang, and I could spend all day talking about all of their amazing qualities. But for the sake of both of our time, I will focus on a couple of my personal favorites.
A popular choice is Lucas & Lewellen Tasting Room and with good reason. They have three vineyards spread out amongst different valleys, so all of their grapes get exactly what they need to flourish and you can taste it amongst their 20+ wine varieties.
After spending an hour (or five) at Lucas & Lewellen, it doesn't take much effort to make your way over to Toccata.
No seriously, it's a two-minute walk. Just enough time to get a breath of fresh air before heading into another Solvang wine classic. 
Here you can enjoy some of the city's finest Italian wines and do a bit of shopping in the artisan market, all while hanging out with the local pups. (Yup, it's dog-friendly!)
Dine in style at Mad & Vin.
You know a place is going to be good when reservations are required, but there is really no way to describe just how good this place is without experiencing it for yourself.
Mad & Vin excel in every department. Food, service, and ambiance straight out of a Copenhagen restaurant. There is literally nothing they can do wrong. 
So feel free to order the caramelized Brussels sprouts or the lamb shank or the Korean-style short ribs or the pork tomahawk. You are in for a treat either way!
And psst: if you are staying at The Landsby (which I highly recommend, as you already know), then you are already home! Talk about a win-win.
The Ultimate Weekend in Solvang: Day Two
Stuff your face at brekkies.
Let me just start by saying that the menu at brekkies is intense. Even if you come here with an idea in mind of what you want, you will still be blown away by the variations you have to choose from. 
Want pancakes? Great! Now decide if you want banana nut, chocolate Nutella, or a classic Danish pancake stack with berries and powdered sugar. Choices will have to be made and they will not be easy!
The good news is that everything on the menu is worth the struggle of deciding, so you are guaranteed a delicious meal regardless of which way you sway.
Plus, all of the ingredients are acquired from Central Coast farms, bakeries, and markets so you'll be supporting local businesses as you indulge in the freshest meals possible!
Explore wine country on horseback.
There is nothing better than starting your day with views of the Santa Ynez Valley (especially if you've already had your cup of coffee). What better way to take it all in than on the back of a horse?
Sitting atop one of these majestic creatures as you sway with their walk is peaceful in its own right, but throw in the picturesque surroundings of rolling vineyards and you might as well call it a therapy session. Especially if paired with a glass of wine after.
It is no wonder that horseback riding is one of the most popular activities in the Valley. You'll find ranches all over Santa Ynez, but Vino Vaqueros is by far the best of the bunch. 
All rides are completely private so you never have to worry about sharing your guide with a large group of people, and you can rest easy knowing you get to enjoy the experience all to yourself.
You'll get to spend over an hour with your new four-legged friend as you venture through the countryside's tranquil vineyards and once it's all said and done, you'll head back to the ranch for a complimentary wine tasting. It really doesn't get much better than that!
Hit up a couple of vineyards, self-guided or on a wine tour.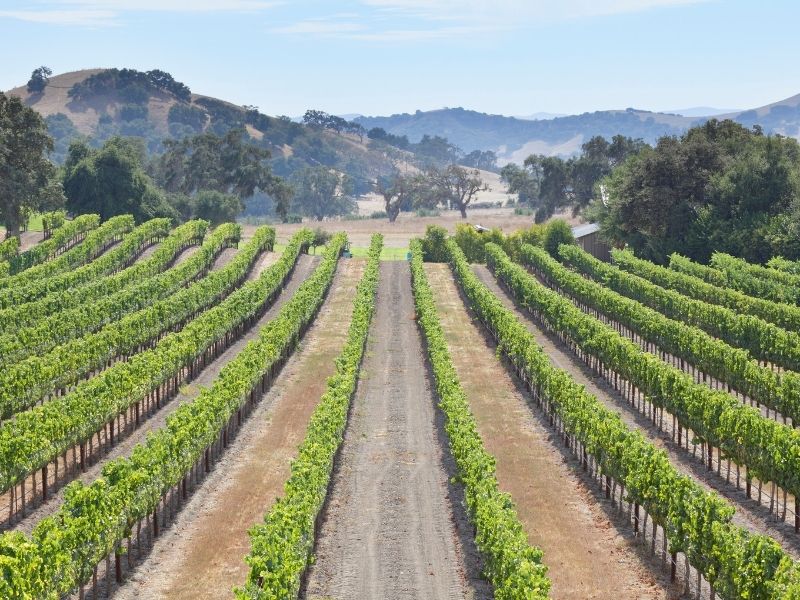 It's five o'clock somewhere and you've already had your first sip of wine for the day, so you might as well keep the good times rolling by visiting a couple of those vineyards you were just trotting through. When in Wine Country…
Once you leave Vino Vaqueros, you are going to be smack dab in the middle of all the best vineyards the Ynez Valley has to offer, so feel free to go a little crazy.
I could take the time here to name a few of my favorite options but it would ultimately be a waste because you are not going to be able to stop yourself from visiting the first vineyard you see.
From the elegance of Sunstone Winery to the laid-back atmosphere of Foxen Vineyard, all of the options have their own appeal and they are everywhere. 
So just go ahead and drive to the first vineyard that catches your eye and you'll be sure to have a good time!
If you don't have a designated driver, don't worry — there are a plethora of excellent wine tours that will handle all the planning, driving, and organizing for you.
This wine tour includes tastings at three local wineries, as well as transportation between all of them and your hotel in the Solvang area.
Enjoy lunch on the patio.
Quick: it's time to eat as many delicious carbs as humanly possible to absorb all that wine so you can stay fueled for the rest of the day. Can't have you falling asleep on me now!
And it just so happens that sandwiches are the Succulent Cafe's specialty. So good luck deciding between an artisan grilled cheese, a spicy fried chicken sandwich, and a Succulent bacon burger. 
Especially if you've already scarfed down a charcuterie board or a plate of fish ceviche!
Look up at Nojoqui Falls.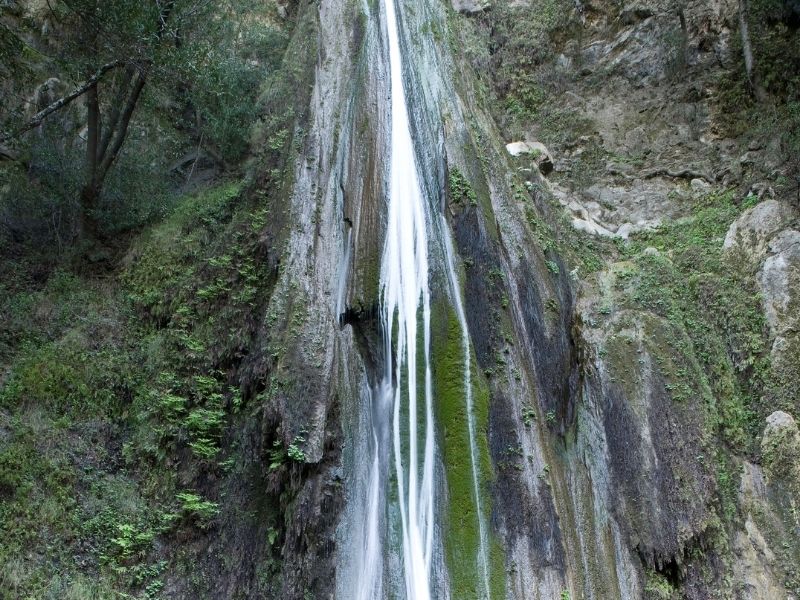 I don't know why, but it seems like waterfalls are always either located at the end of a long, strenuous hike or just minutes off the main road. There is no in-between.
And you (your legs mostly) will be happy to know that Nojoqui Falls is the latter!
It only takes about ten minutes to reach this towering beauty, so I wouldn't even call it a hike but more like a scenic stroll. But like all easily accessible viewpoints, this is not the kind of place that you get to yourself.
However, the constant flow of water gliding 80 feet down a moss-covered wall of bedrock is enough to keep you distracted from the handful(s) of people you will be sharing the experience with.
Note: Like many waterfalls in California, this is seasonal, so there may not be much water if there hasn't been much rain in a while.
Visit a museum or two.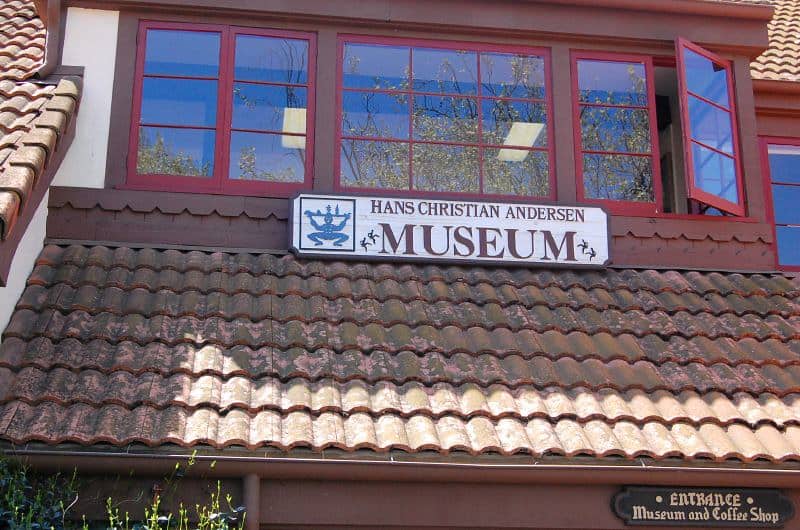 If you can manage to pull yourself from the bakeries and wineries and are looking for another way to pass the time during your stay in Solvang, you can't go wrong with checking out one of the town's unique museums.
Admire some cool artwork, learn about the town's culture, and check out the ancient display of motorcycles. There is something for everyone!
For example, the Scandinavian style of the Elverhøj Museum of History & Art is enough to make you want to step inside but once you do, you will be amazed by the display of art pieces that tell the story of how Solvang came to be.
Or how about the Wildling Museum? This museum does a wonderful job combining the beauties of the natural world with the work of local artists to create an experience that is ever-changing.
If you're a fan of fairytales, you can't miss the Hans Christian Andersen Museum, dedicated to the legendary Danish author.
The Solvang Vintage Motorcycle Museum is pretty self-explanatory but that doesn't make it any less impressive when you see one of these custom vehicles up close and personal!
The list goes on.
Say goodbye in Italian.
Okay, now I know what you are thinking. You are literally in Little Denmark, and I am over here trying to get you to eat Italian food. But I assure you that there is a method to my madness.
And if you don't believe me, just look at the menu at Leonardo's Cucina!
You know a restaurant is going to be serving quality, authentic Italian food when its sports options like Penne Pescatore and Tortellini di Vitello.
Just do yourself a favor and book a reservation because a place serving more than ten kinds of pasta doesn't mess around!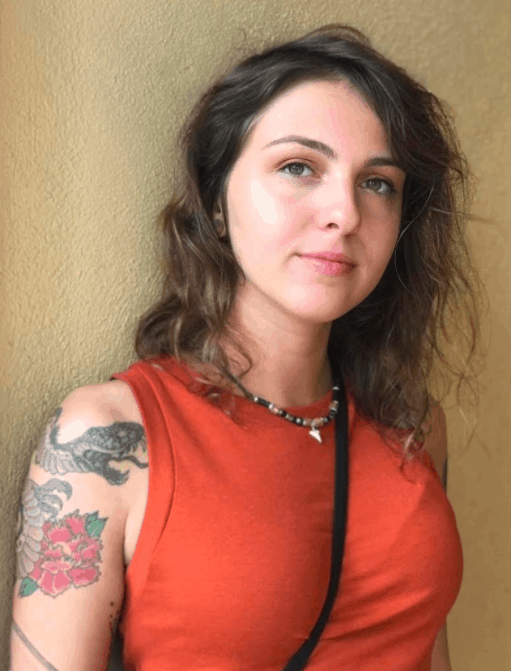 Nicole is a freelance travel writer who lives in Upstate NY, but her heart lies in the beautiful state of California. She loves to travel to new destinations, eat at all the best local restaurants and explore all the world has to offer. Her favorite place is just about anywhere where snow-peaked mountains can be seen in the distance.