California is a state of natural wonders, especially considering the state's breathtaking coastline.
Scuba diving in California offers a range of dive sites for aquatic adventurers of every level.

From the seal cove of La Jolla in San Diego to the untamed waters off of San Francisco, there is a dive for every experience level in the Golden State!

Your guide to exploring California's underwater magic starts right here!
The 9 Best Places to Go Scuba Diving in California
Visit the Seals in La Jolla Cove.
Note: This post contains affiliate links, which earn me a small commission at no extra cost to you if you make a purchase using one of these links. Thank you for supporting this free content!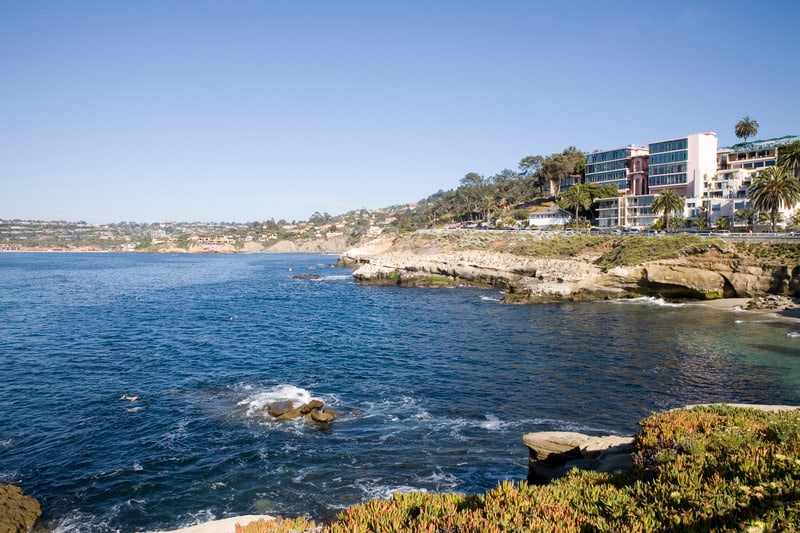 La Jolla is a great option for not only snorkelers but divers of all experience levels.
Its easy access from anywhere in San Diego County and its calm beach entry makes it great for beginner divers!

However, this doesn't mean that experienced divers will get bored! La Jolla offers a myriad of wonders for you to explore.

The area is famous for the seals and sea lions who are so used to human divers that they'll come right up to you when they feel like playing.

The summertime is also an amazing moment to take in lemon sharks congregating to mate, but don't worry. They're harmless!
Explore the Channel Island Wrecks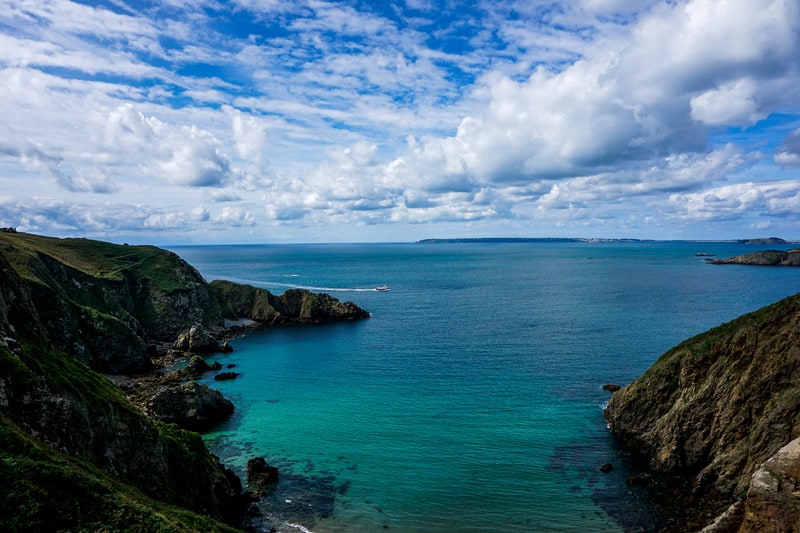 The Channel Islands are one of California's nine national parks, and they have some amazing pieces of history to offer divers.

After visiting the Santa Barbara Maritime Museum, you can dive amongst some of the very spots on display in the exhibit.

Wreck divers can find artifacts from ships of every era, from paddleboard style luxury boats to retired military ships which now serve as as artificial reefs.

All of the growth and activity around these pieces make for a great place to swim through history!
There is also a great deal of marine wildlife between the coral growing around the wreckage and weaving through the kelp fields.
Delve Into the Orange County Oil Rigs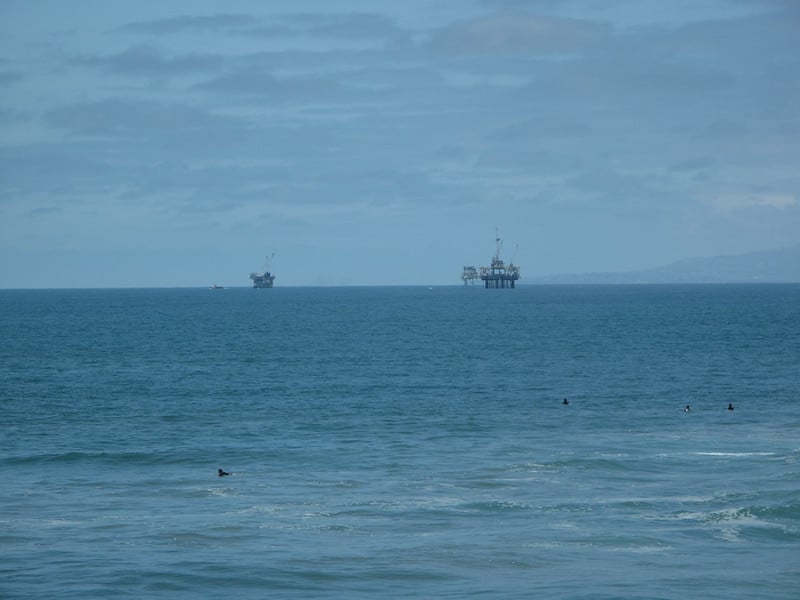 Not far from the most active ports in the world, divers can see how nature has adapted and improvised around man-made structures.
The oil rigs around Orange County are some of the most accessible "wall dives" for newer divers.

These old and abandoned structures have provided an opportunity for ocean substrate and barnacles to latch onto.
This then attracts larger animals, making human infrastructure essentially a man-made coral bed.

The longer organic matter has been able to accumulate on these oil rig pilings, the more likely you are to see larger creatures.
Brave divers can go shark spotting one day and live the LA lifestyle the next!
Enjoy Every Facet of Catalina Island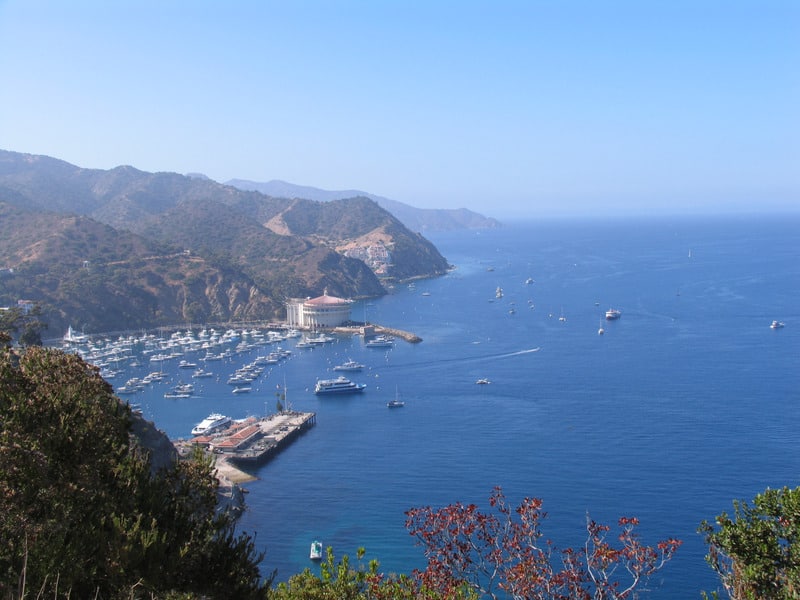 From gambling at casinos to lounging at the beach to zip-lining over gorgeous hillsides, Catalina Island offers something for everyone.
Divers will not be in short supply when it comes to attractions either!

Thanks to the frequent human traffic, wildlife will be quite used to your presence. Much like La Jolla Cove, don't be shocked if a friendly seal comes up to investigate!

Lovers Cove is an excellent spot for those who want to walk right off the beach into a dive.
The cove is protected by natural breakwaters, making it great for tired divers or those who still want more to do later in the day!

More experienced divers might prefer Ship Rock, just off of the Catalina hamlet called Two Harbors. Divers can go anywhere from 60 to 100 feet into the kelp fields to find all sorts of wildlife.

If you can brave the chilly waters, Ship Rock divers report seeing lobsters, horn sharks, barracudas, and everything in between.

The area is popular amongst not only recreational divers but also spearfishermen and lobster freedivers for the variety of games in the area to both see and pursue.

Whatever your passion, you can find it on Catalina Island.
See the Sights at Shaw's Cove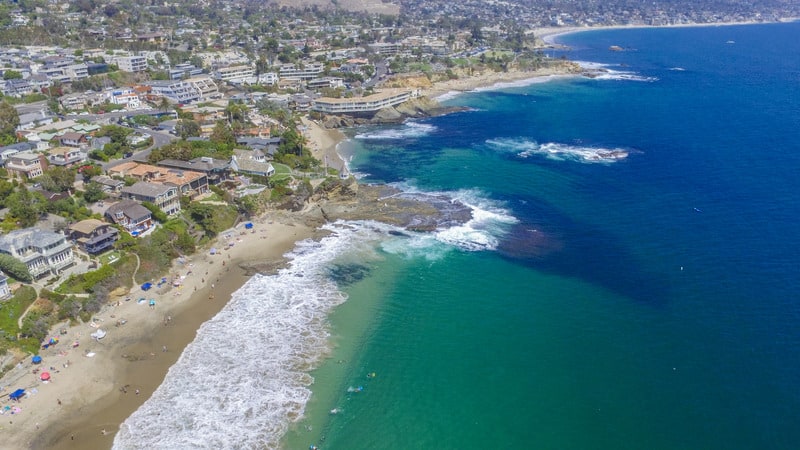 Just off of the picturesque Laguna Beach, Shaw's Cove is one of the most popular dives in Orange County.

Known for its incredible visibility, Shaw's is also well protected from intense surf.
Divers can view many different types of marine life who also want to take advantage of the calm waters to raise their young.

You'll see everything from leopard sharks to bat rays and moray eels. Divers can easily enter via a sandy bottom beach and surface swim out to the reef.

Even better, you'll find no shortage of dive shops close to the area, meaning that Shaw's Cove is both breathtaking and convenient.
Find Nature on Anacapa Island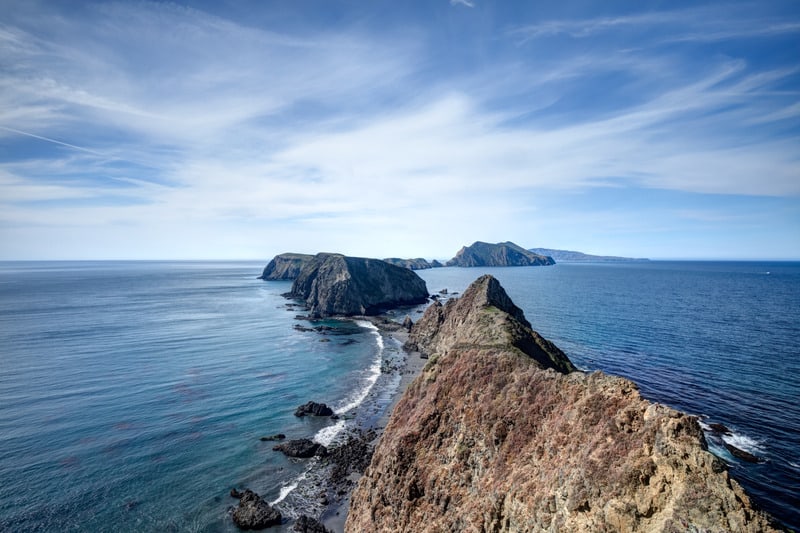 Both daring and rookie divers can find plenty to experience at Anacapa Island.
Just off the coast of Ventura County, Anacapa Island is easily accessible (as it's part of Channel Islands National Park) and offers a variety of underwater attractions.

A well-protected area from rough swells, Anacapa is a great spot to complete your open water SCUBA certification, and the gentle kelp forests offer more than just relaxing views!

Ambitious adventure seekers with advanced diving certification can dive down to 120 feet to see the wreckage of a World War II Avenger bomber.
Destroyed in a training exercise gone wrong, the wings and fuselage are still clearly visible after over 70 years sitting at the bottom of the Pacific Ocean!
Brave the Farallon Island Chain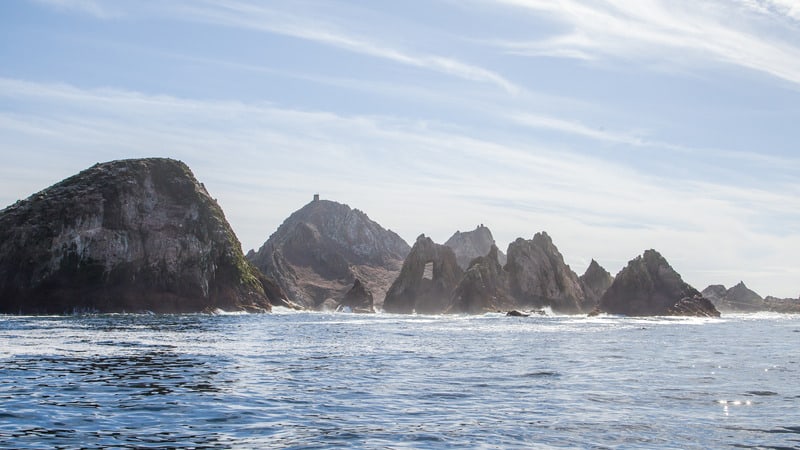 Not to be outdone by other dives, the Farallon Islands are 30 miles offshore from San Francisco and are a prime example of the wild, untamed Pacific at its best.

The island chain is a national marine sanctuary because it is a breeding ground for seals and sea lions. This protected ecosystem also provides ample opportunity for their greatest predator: the great white shark.

If you're a fan of sharks, this is your chance to see one of nature's most magnificent predators in its element. The undisturbed environment means that every nature lover can take the entire area in all its glory.

The islands are a great chance to go cave diving, but the sharks do migrate, only appearing around the Farallon Islands from September to November, so shark enthusiasts will have to plan their trip around migratory patterns.

Cage diving companies in the area offer surface cages for non-certified divers as well as cages submerged down to 50 feet for comfortable SCUBA divers.
Spend a Summer at Noonday Rock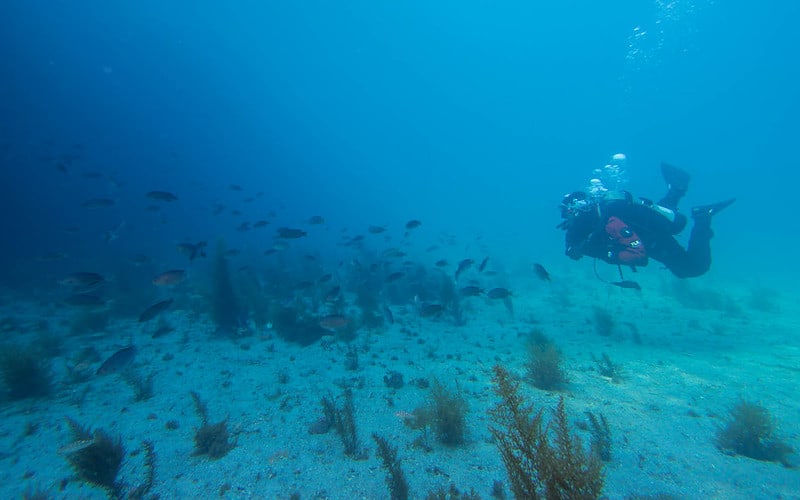 While intrepid divers will prefer the shark season during the fall season at the Farallon Islands, Noonday Rock can make for a more recreational dive for spring and summer divers still wishing to see the Farallon Islands area.

The rocky seabed attracts colorful sea anemones and sponges, which in turn capture substrate and lure in small fish. These prey fish then attract mid-sized predators such as the wolf eel and unique rockfish.

More advanced certifications and diving experience will be required to explore the bottom of Noonday Rock's sheer underwater cliff faces, but it can be worth it if you want to see larger marine life.
Divers report seeing dolphins and even whales at the right time of year!
Survey a Submerged Grand Canyon in Monterey Bay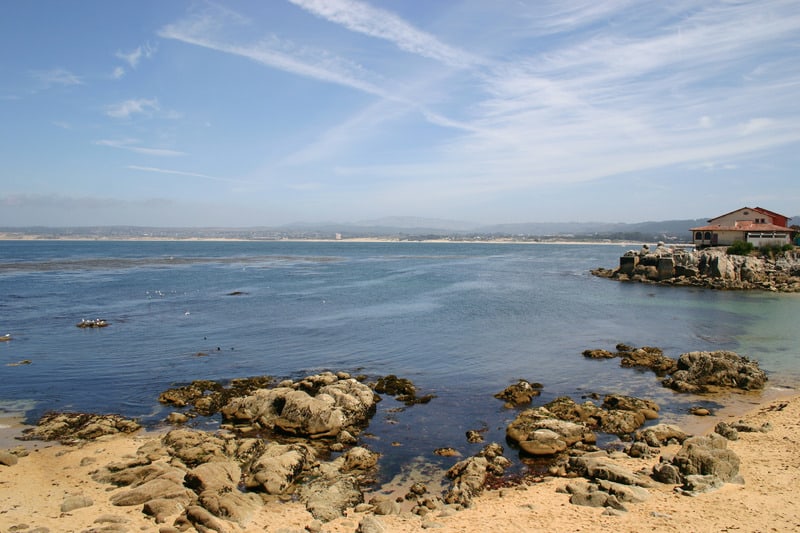 Monterey Bay Canyon is no ordinary dive spot. Its depth rivals that of the Grand Canyon in Arizona!

Home to many marine research laboratories, the area provides a unique experience for divers.
Upwells from the canyon's deepest depths provide plenty of nutrients for the shallow water organisms in addition to the fascinating deep-sea life.

This wide dispersion of nutrient-rich sediment along with habitats of varying depths means that you can see everything from whales plunging into the abyss to otters jumping playfully about the surface and safe harbor of the shallows!

Take on Lake Tahoe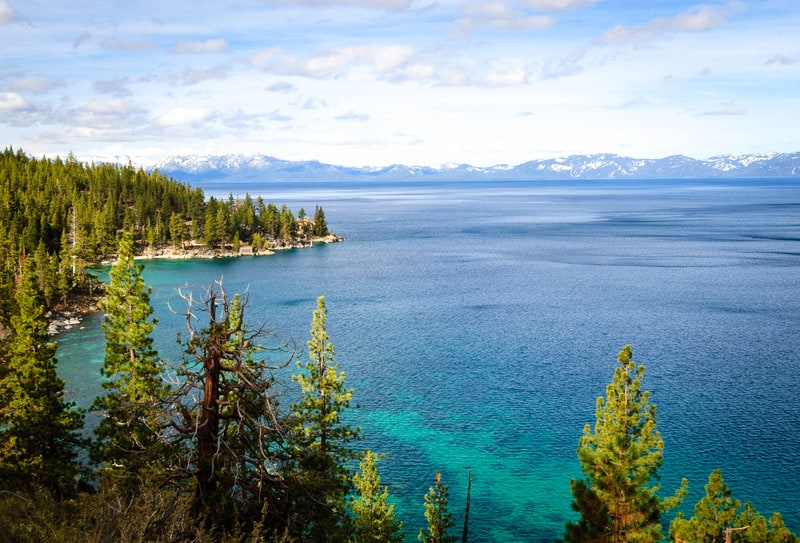 If you like to mix some mountains in with your underwater adventures, then Tahoe is the perfect spot for you!
Called by some divers "the jewel of the Sierra Nevadas," Lake Tahoe is known as a high altitude, alpine lake featuring crystal clear waters.

Lake Tahoe is the second deepest lake in the United States at just over 1,600 feet, second only to Oregon's Crater Lake.

Another great draw to the area is that there is always something to do in every season!
Brave divers can ski and dive all in the same trip, and there are plenty of cafes and restaurants to kick back and rest your feet at.

Divers will achieve the best visibility in the winter months when there are fewer boats out on the lake.
This will require dry suit diving, and divers will have to plan their trips in the early morning if they want to get the best views.

Sand Harbor is one of the most accessible areas, but this also makes it popular with swimmers and kayakers. You will have to plan on waking up early to get the best experience.

Patton Beach is an easy dive and can help you avoid the crowds, but travelers will have to navigate street parking which can be troublesome depending on how busy the lake and surrounding area is.

The elevation and alpine nature of Lake Tahoe mean that the water is fairly cold year-round.

Divers can expect water temperatures anywhere from 40 to 60 degrees Fahrenheit, but they will be rewarded with an average of 60 feet of clear visibility depending on boat traffic in the area.