When it comes to day trips from Sacramento, it's hard to think of a better-situated city!
Sacramento is near to all kinds of exciting activities; plus, it's just a small hop from San Francisco!
The area enjoys great weather year-round (OK, its summers are scorchers, but you can't have everything!).
In the summer, the coastline is not too far for a break from the heat, and in the winter, Sacramento is not too far for a day trip to a skiing location for some snow in California!
You can live in Sacramento for quite a while and still not do everything that there is to do (I know because I used to live there!)
If you're just visiting Sacramento, you'll need to pick and choose carefully between all of the fun things that you can do in this area!
The Best Day Trips from Sacramento
Tree Top Sac
Note: This post contains affiliate links, which earn me a small commission at no extra cost to you if you make a purchase using one of these links. Thank you for supporting this free content!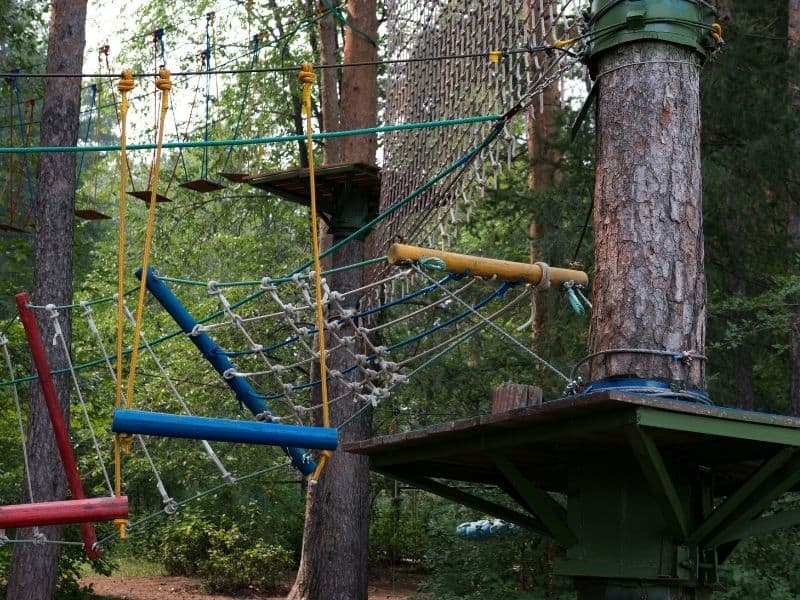 Driving Distance: 5 miles or 10 minutes with no traffic
If you're looking for an activity to escape to rather than a city to explore, Tree Top Sac is a great way to get away from it all for a bit!
This fun climbing location has platforms, ladders, and more than you can climb and explore, all on an obstacle course in the trees! There are also zip lines and more to enjoy here.
You and your friends and family will be hooked up in proper safety gear and allowed to ramble around the challenging course, testing your skill at climbing and traversing, and navigating.
Kids, as well as adults, will love every moment that they spend on this adventure! Getting outdoors and having fun while also getting a bit of a workout is a great use of your time, no matter what time of year it is.
American River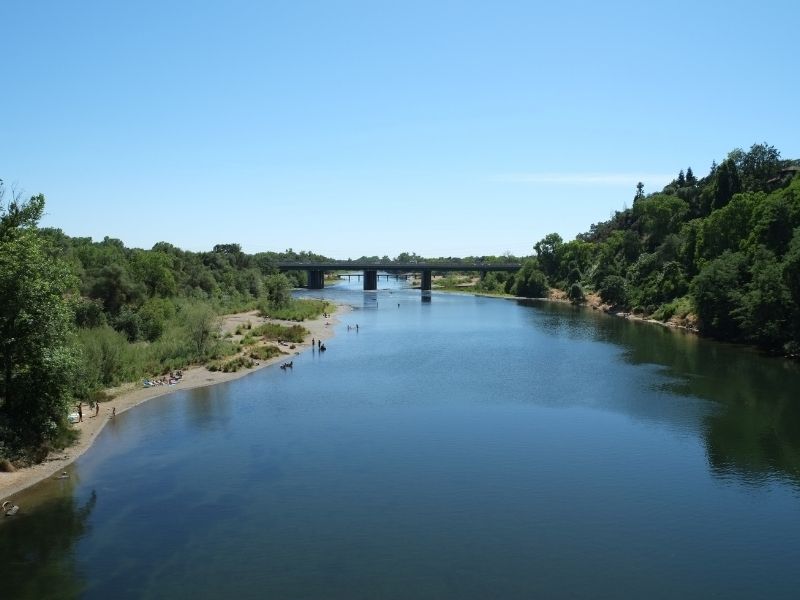 Driving Distance: In town, but you can pick up kayaks 15 miles away at American River Raft Rentals
The American River runs right through Sacramento, where it intersects with the Sacramento River in the capital of California.
While of course, you can visit the American River by just walking a river walk in Sacramento, you can also make a day trip of kayaking on it!
Rent a kayak, raft, or stand-up paddleboard at American River Raft Rentals for a perfect family-friendly day trip enjoying Sacramento's nature.
Davis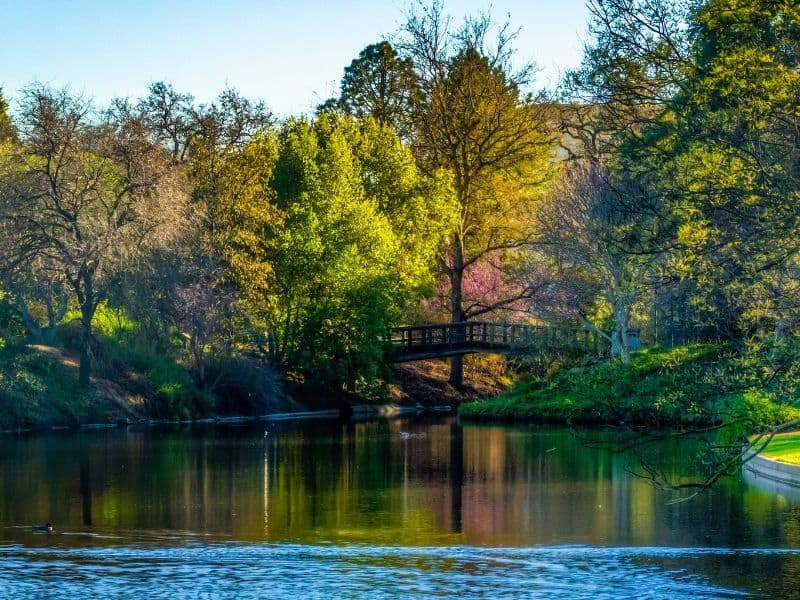 Driving Distance: 15 miles and about 20 minutes with no traffic
Davis is known for its university, but there's a lot more to this city near Sacramento than just its campus!
Davis also has a beautiful arboretum, the UC Davis Arboretum, which is a gorgeous place to visit year-round, but it's particularly beautiful in the fall.
Being a university city, Davis is also home to a lot of great arts and science museums: the Jan Shrem and Maria Manetti Shrem Museum, the John Natsoulas Gallery, and the Bohart Museum of Entomology.
Folsom & Folsom Lake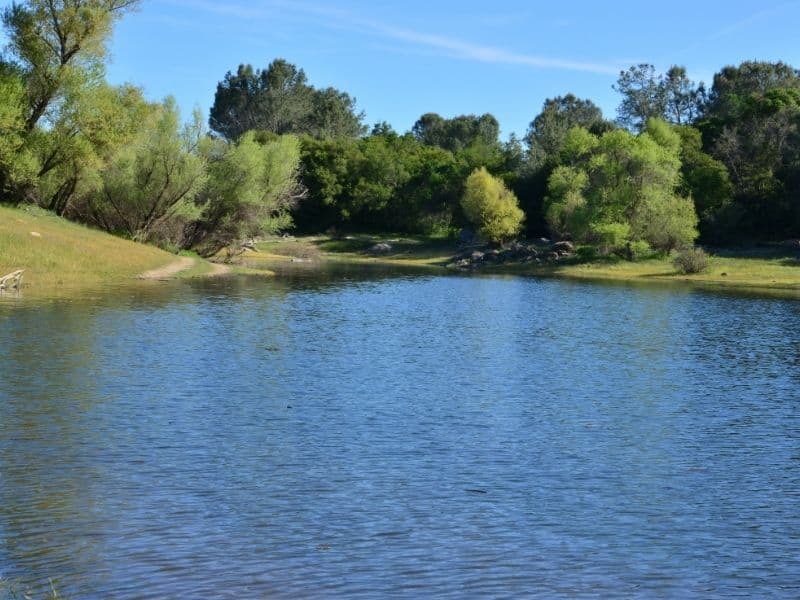 Driving Distance: 25-35 miles and about a half hour without traffic
The nearby city of Folsom is a great place to head to if you want an easy-to-access location close to Sacramento that offers quality shopping, fun activities, museums and charm — and also a great lake!
Folsom Lake is one of the best places to take your kayak or your jet skis and enjoy a day of fun in the sun! If you have a boat, it's a great place to go boating!
Rent paddle boats or go for a hike near the lake if you would rather not get in the water — either way, you'll have a great time at Folsom Lake.
Back in downtown Folsom, be sure to make time for the Folsom History Museum or head downtown to see the historic buildings that are in the center of town.
Golfland SunSplash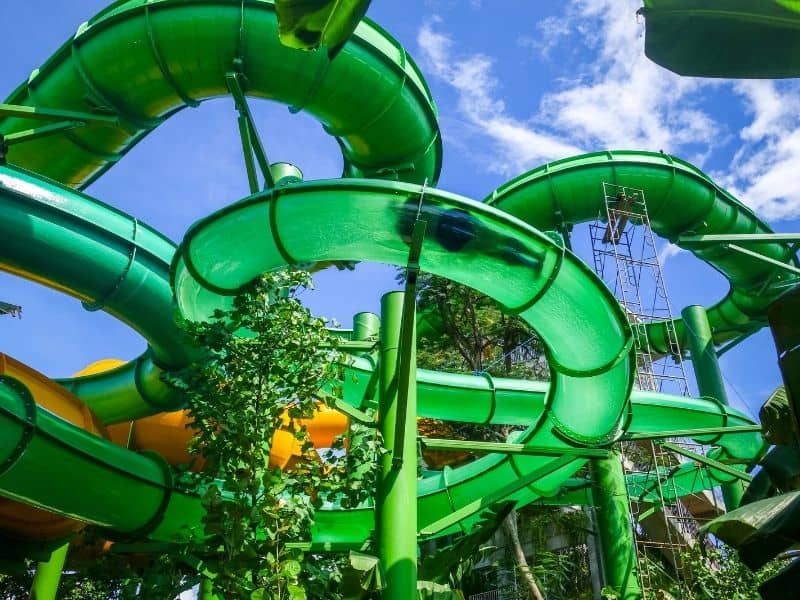 Driving Distance: 25 miles or 30 minutes without traffic
Need to escape the Sacramento heat? The awesome waterpark of Golfland SunSplash is in nearby Roseville just a half-hour from downtown!
This is a huge waterpark with a long lazy river, a great wave pool, lots of places to sit in the sun and enjoy the heat. There are also mini golf and arcade games!
Enjoy huge and thrilling water slides that go very fast or very high, or enjoy simple slides that you can ride with your kids.
This can easily be an all-day event for you and your family or you can drop by this park on your way home from other adventures up north like Grass Valley, Nevada City, and Truckee.
This is a great way to cool off on a hot day, and you will love that there are so many things to do here besides just water slides!
Lodi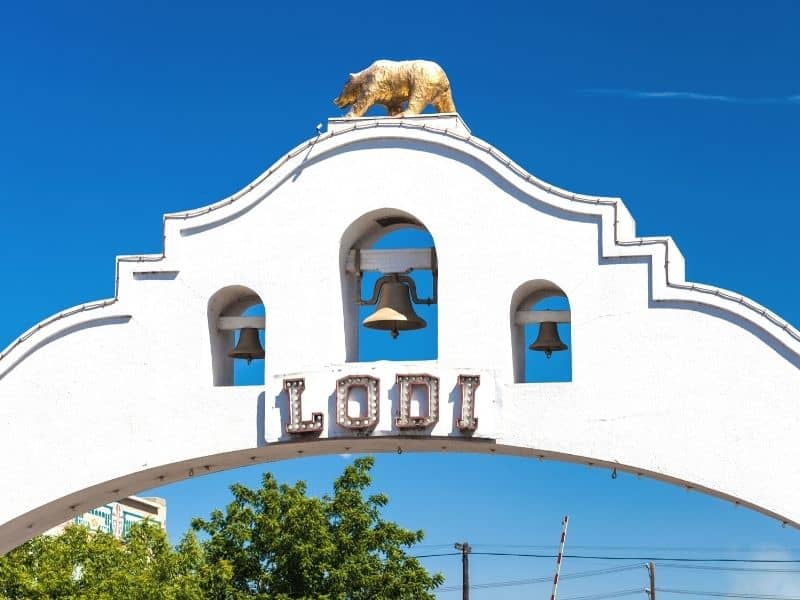 Driving Distance: 35 miles or 40 minutes with no traffic
The wonderful city of Lodi is so close to Sacramento that it's an obvious choice for your next day trip!
First up, let's talk wine: we love Oak Ridge Winery with its charming building that looks like a wine barrel and the delightfully minimalist m2 Wines.
Also, The Dancing Fox Winery is an absolute must, as it is family-run. They offer their own beers as well if you have people with you who aren't into wines.
The downtown also has great shopping, as well as 11 murals you can check out on a self-guided walk through the city to discover the city and its history all in one outing from Sacramento!
Auburn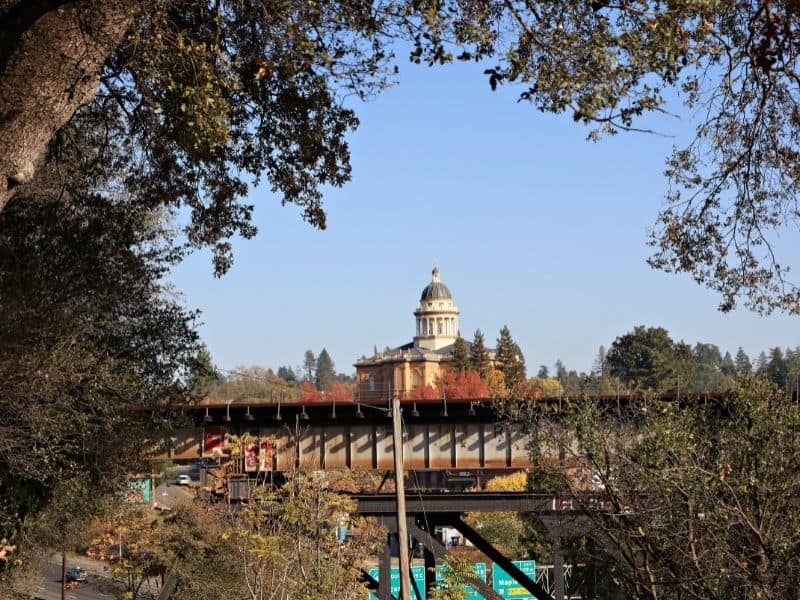 Driving Distance: 36 miles or 40 minutes with no traffic
The charming town of Auburn is also great for nature lovers, as there are so many great hikes in the vicinity, as the area is home to the Auburn State Recreation Area.
This protected park area covers 40 miles of the American River (both the North and Middle Forks) and has endless beautiful hikes to choose from.
Besides its hiking opportunities, the town of Auburn is charming. Check out Old Town Auburn Historic District, visit the free Gold Rush Museum, or admire the Foresthill Bridge.
Amador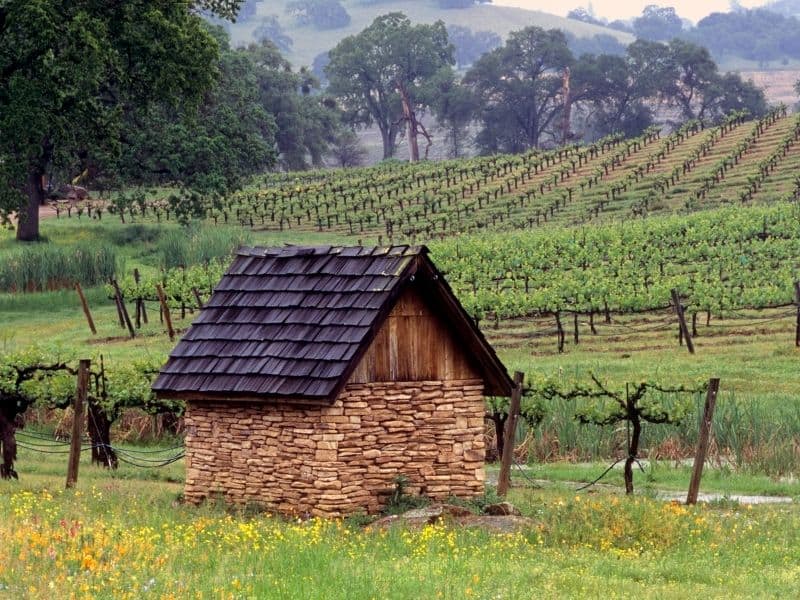 Driving Distance: 42 miles or 45 minutes with no traffic
If you want to visit a historical town that seems frozen in time, you need to head to Amador! This little town is on the border of Stanislaus National Forest.
Amador feels frozen in time and has quaint and rustic buildings as well as heaps of charm to offer!
There is something that is truly delightful about the way that Amador has preserved its historical feel in such a thorough way. For history buffs, this location is too good to be missed!
You can head to this area to visit museums, enjoy delightful food and drink and even go wine tasting — yes, this area is an up-and-coming wine destination!
Be sure to make time to see the Amador Whitney Museum and the Monteverde General Store. You can also see the cast iron foundry that opened in 1873.
There is no more beautiful place to visit in California if you love history and want to experience the Old West in all its glory.
Coloma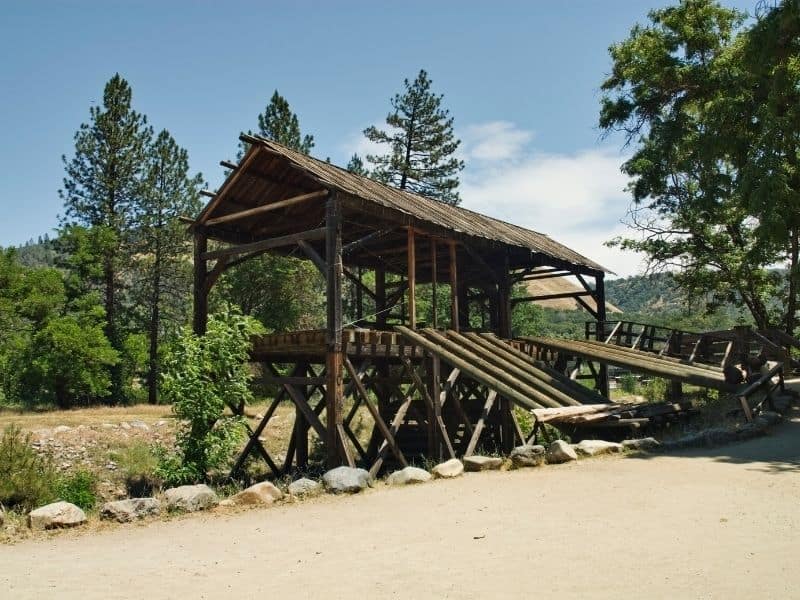 Driving Distance: 45 miles or about 50 minutes with no traffic
Another interesting Gold Rush destination, Coloma is an easy Sacramento day trip that is a great place to learn about California history.
In fact, Coloma is the place to learn Gold Rush history, since it all started here! Well, at the Marshall Gold Discovery State Historic Park to be exact, which is where James Marshall discovered gold for the first time at Sutter's Mill.
The town of Coloma is now considered a California ghost town and is by and large abandoned, with the exception of the well-kept state park.
Sutter Creek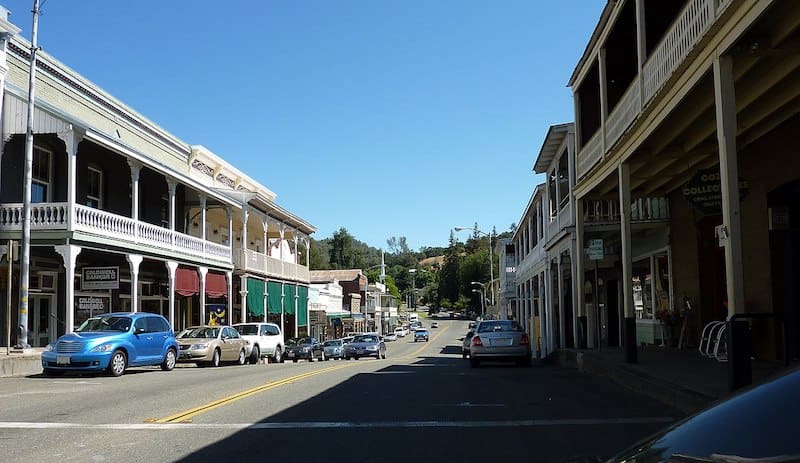 Driving Distance: 45 miles or about 50 minutes with no traffic
If you're looking to escape the typical tourist attractions, head to the charming Gold Rush town of Sutter Creek.
It's considered one of the most scenic towns in all of Gold Country, with its 19th-century Victorian buildings on its Main Street, and a wonderfully walkable town center with lots of great restaurants, tasting rooms, and inns to stay in.
Yes, tasting rooms — the Sierra Foothill Wine region is one of California's up-and-coming wine regions, and it's also close to other incredible wine regions in the Gold Country area.
Sutter Creek is also a good mid-way point as you make your way to Yosemite National Park!
Note: I don't recommend Yosemite National Park as a day trip from Sacramento. It takes 3 hours to get to the park entrance and then another ~30 minutes or so to get into the world-famous Yosemite Valley, which is probably what you want to see, as that's where you'll find Half Dome and El Capitan, etc.
And that's all assuming there is no line to get in, road work, etc, which can all eat further into your day. Better to do Yosemite as a weekend getaway from Sacramento, or as a multi-day trip than as a day trip, in my opinion!
Napa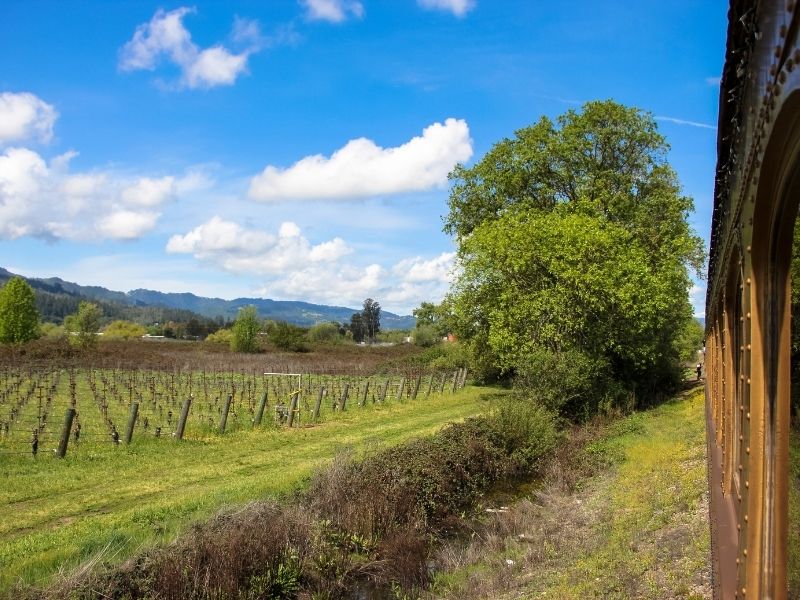 Driving Distance: 59 miles or 1 hour with no traffic
Believe it or not, Napa is not that far from Sacramento: at less than 60 miles or an hour drive with no traffic, Napa is the perfect Sacramento day trip for wine lovers.
You will have all of the best wineries on the West Coast to choose from, and there are lots of fine dining options in the quaint and beautiful town of Napa, as well as its sister cities in the Napa Valley (like St. Helena, Yountville, and Calistoga).
You can stay at lots of really nice bed & breakfasts here in Wine Country if you want to extend your stay overnight, but Napa is close enough to Sacramento to head out for the day and back with no trouble… assuming you have a designated driver, of course!
Consider booking the Napa Valley Wine Train and heading out on an adventure through the beautiful vineyards.
This unique dining experience shows you the beauty of the Napa Valley while you dine in an elegant train car. Enjoy a multi-course meal and fine wines with each course!
If you're not doing the wine train, enjoy a hike in Napa, followed by some wine-tasting and a meal at Oxbow Market!
El Dorado National Forest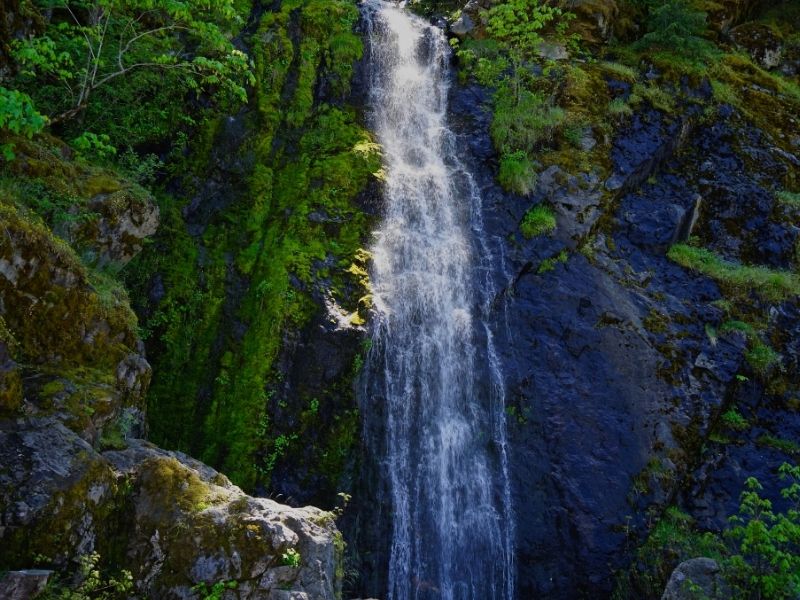 Driving Distance: 60 miles or 1 hour without traffic
There are few places on earth that are more beautiful than the El Dorado National Forest, one of our favorite places to hike near Sacramento.
The pine trees brush lazily in the breeze and there are miles and miles of hiking trails in the area — plus, don't miss the beautiful Bridal Veil Fall.
Visit any of the peaceful lakes that are within the forest and you can even camp overnight if you want to extend your stay a little.
This is a quiet park that is really enjoyable for nature lovers who want to get away from it all and see what this part of the state is all about.
Note: Be sure to check on fire conditions in the area if you are visiting in the summer! At present (September 2021) all national forests are closed.
Grass Valley and Nevada City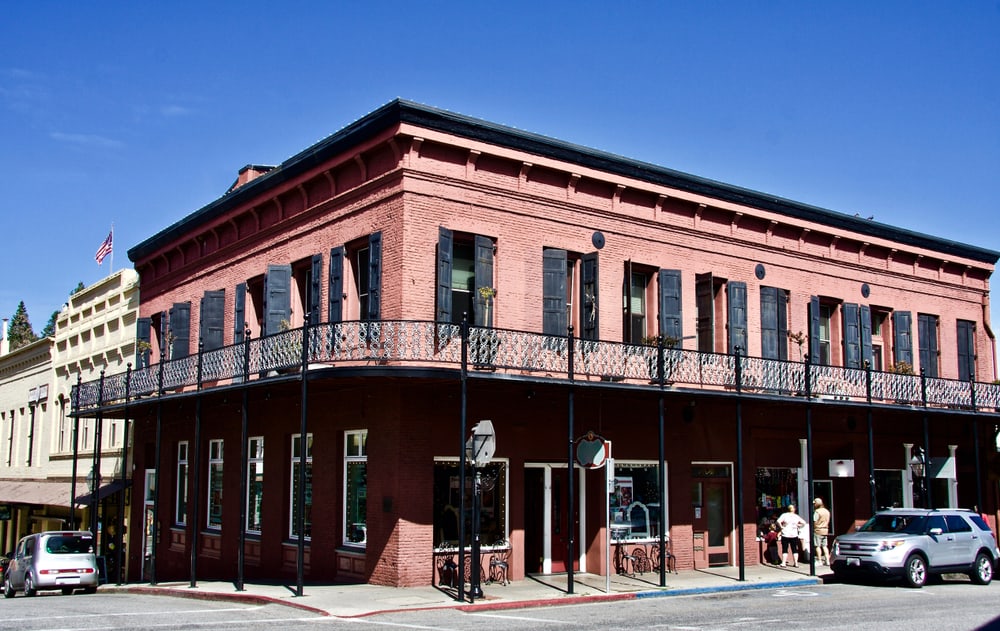 Driving Distance: 60 miles or 1 hour without traffic
Both of these charming and quaint little former mining towns are close together, nestled in the Sierra Nevada foothills. Both towns are about an hour's drive from Sacramento, making this a perfect pairing.
You will be able to enjoy the sight of charmingly crooked little Main Streets with historical buildings in both towns, so don't skip either!
There are mining museums in both towns, and you can learn about the history of the Gold Rush towns that built Northern California in either of these charming towns.
These areas are full of bed and breakfasts as well as excellent restaurants. You can enjoy wonderful shopping in both cities and there is a wide range of local shops that sell artisans' wares and more.
These cities are like little time capsules and you will love being able to learn about the history of Northern California in these locations!
Lake Berryessa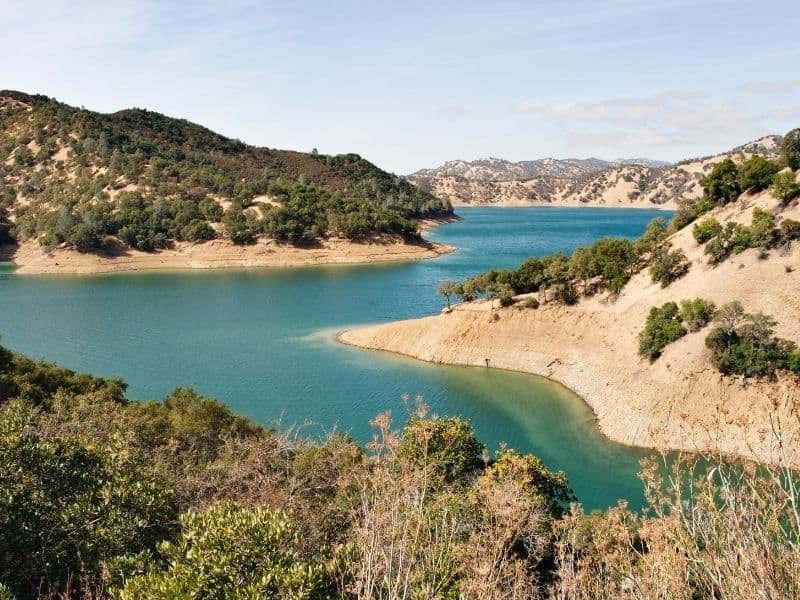 Driving Distance: 67 miles or 1 hour 30 minutes with no traffic
Napa's largest lake, Lake Berryessa, is a great place to go to cool off when the weather in Sacramento is crazy hot!
This lake is manmade (and home to a crazy-looking spillway, which helps keep the dam from overflowing).
Fascinatingly, there is an entire town located beneath the lake! Only one small vestige of the town that used to be is present: Goat Island, a little island in the middle of the lake. Everything else is now underwater.
Eerie history, strange spillways, and Zodiac Killer connection aside, Lake Berryessa is a fantastic choice for a peaceful lake day… if I haven't scared you off of it with all that.
If you're a fan of the strange and macabre, though, there's no more interesting place near Sacramento to visit!
Sonoma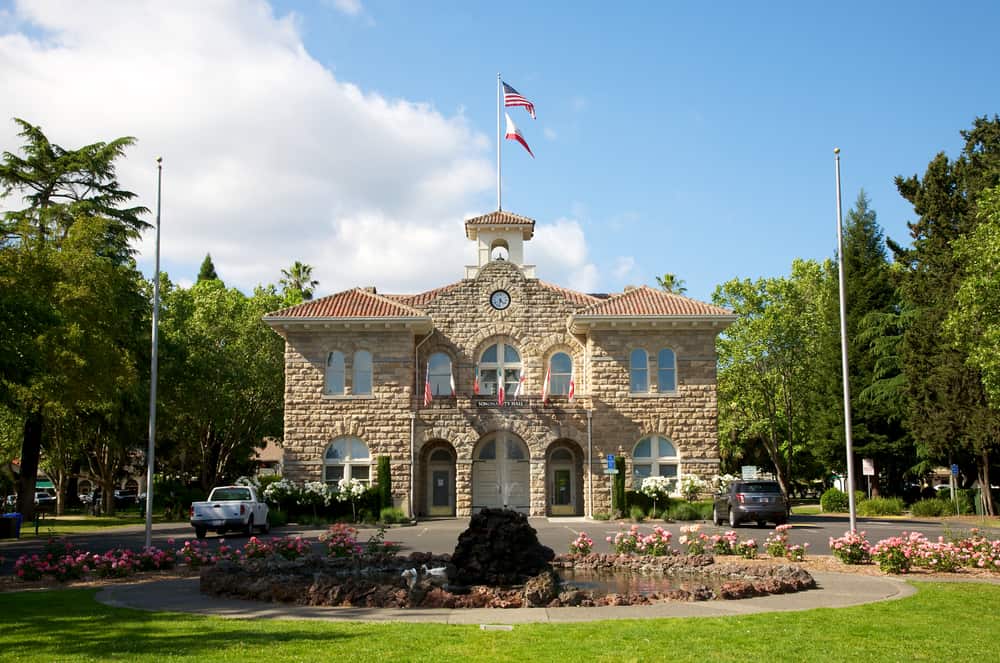 Driving Distance: 68 miles or 1 hour 15 minutes with no traffic
The charming town of Sonoma, clustered around Sonoma Square, is a great place to combine food, culture, and a touch of a history!
Check out the Sonoma Mission before making your way around Sonoma Square eating and drinking your way into a daze!
Have a delicious meal at the girl and the fig before continuing through tasting rooms like Fulcrum and Bedrock, and explore the boutiques and art galleries that line downtown Sonoma's storefronts.
Alternately, you can check out actual wineries like Hanzell Winery just outside of town!
Calistoga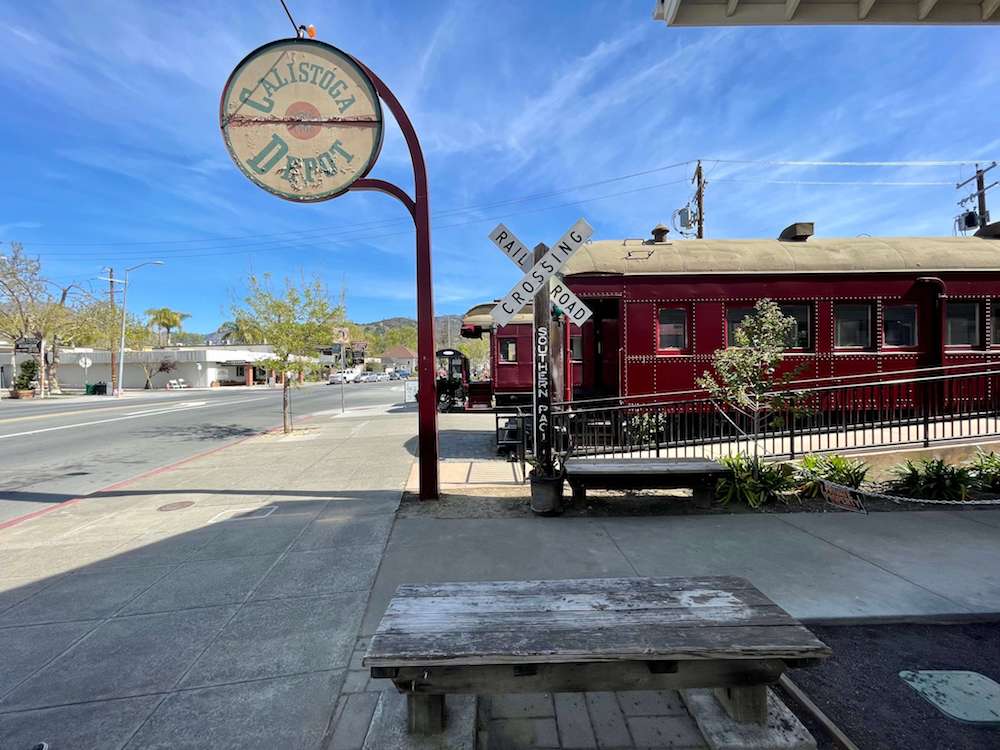 Driving Distance: 87 miles or 1.5 hours with no traffic
This charmer of a small town at the north end of Napa Valley is well-known for its hot springs and the variety of wine-tasting options that you have access to when you visit!
You can head out to see the Castello Di Amorosa and be amazed by the Tuscan-inspired castle that is on the site.
There are mud baths (with geothermically-heated volcanic mud!) and a winery here as well — but there are plenty of other places in town with mud baths as well, plus some great wineries, like Vincent Arroyo!
You can also see Old Faithful here (a smaller version than Yellowstone's, but much closer for a Sacramento day trip!) and head back to some local wineries for wine tasting.
Calistoga offers the full range of activities that you would expect from a city in Napa, and there is no shortage of fun to be had here!
San Francisco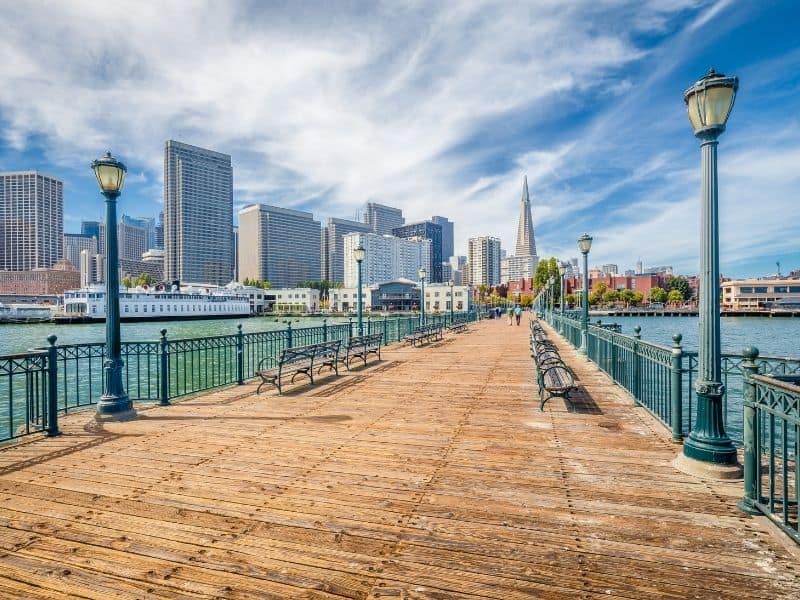 Driving Distance: 88 miles or 1.5 hours with no traffic
San Francisco is just an hour and a half away from Sacramento! This makes this famous and delightful city an easy option for a day trip. 
There are frequent buses connecting Sacramento and San Francisco, making this an easy Sacramento day trip to do if you don't have a car.
Take a cruise on the San Francisco Bay to visit Alcatraz Island (be sure to book this way in advance!), or stay on land and go shopping at the department stores in Union Square or the hip boutiques in the Hayes Valley.
Walk across the spectacular Golden Gate Bridge or head to Chinatown for amazing food — the dim sum here is hard to beat.
Consider making time to ride the famous cable cars, and head down to Ghirardelli Square for massive ice cream sundae and some unique shopping experiences!
There is no shortage of amazing things to do in San Francisco and you will find that you won't be able to fit them all into just one trip.
Plan to head to the city more than once if you live in the Sacramento area and want to partake of everything that San Francisco has to offer!
Truckee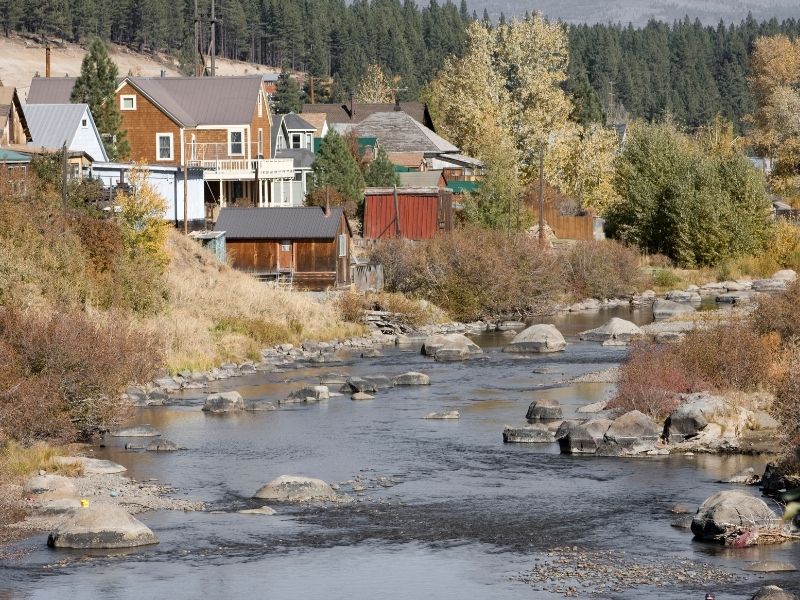 Driving Distance: 101 miles or 1 hour and 45 minutes with no traffic
The charming mountain town of Truckee is the perfect day trip from Sacramento in all seasons (granted you have snow chains — this part of California gets really snowy!)
Road trip to Donner Lake for some fun-in-the-sun in the warmer months, which is more peaceful and less crowded than Lake Tahoe, or go for a hike in Donner Memorial State Park.
In the winter, Truckee is one of the snowiest places in California, so bring your snowshoes or cross-country skis for an adventure in the snow — or head to one of the many resorts nearby (like Palisades, below, or Northstar).
No matter the season, be sure to take the time to drive Donner Pass Road and admire the architecturally perfect Donner Summit Bridge which spans over some rocky hills with Donner Lake framed beautifully in the background.
Palisades Tahoe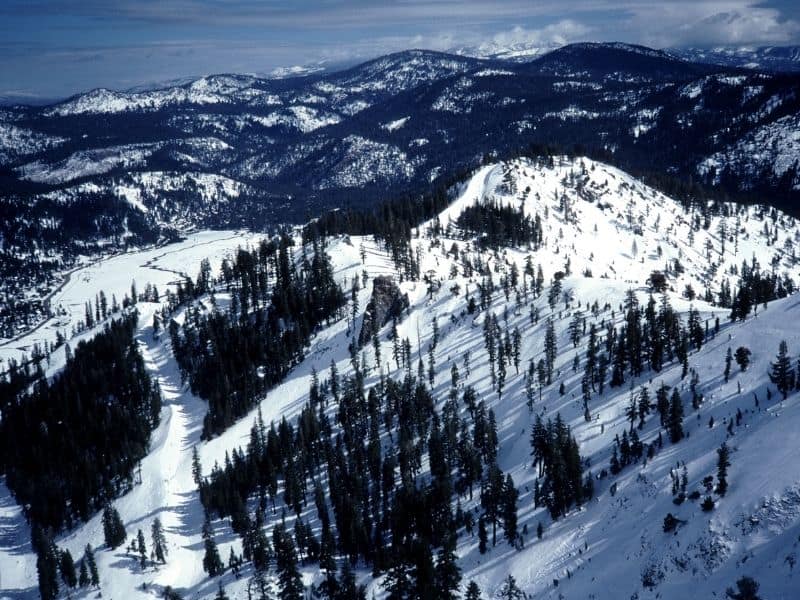 Driving Distance: 109 miles or 2 hours with no traffic
Did you know you can ski on a day trip from Sacramento?
This huge and spacious ski resort of Palisades Tahoe (formerly Sq*aw Valley, after a long-overdue name change) is just 109 miles from Sacramento near Lake Tahoe!
The views on the slopes are gorgeous here and you will be able to ski at any difficulty level that you wish. There are 6,000 acres of slopes here as well as 42 lifts, 16 bowls, 270 trails and lots of annual snowfall!
The lodge here is beautiful and you can go shopping and have fun in the nearby town of Truckee if you're looking for some city exploration.
This is one of the best places to head to the snow if you have been wanting to ski or snowboard in a beautiful location!
You can easily spend a whole day on the slopes here and still be back in your own bed in Sacramento by nightfall.
Calaveras Big Trees State Park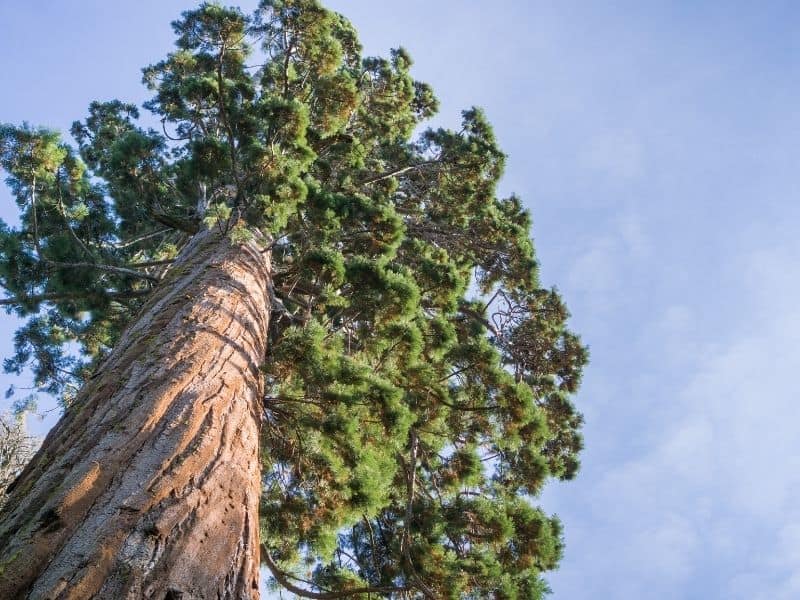 Driving Distance: 101 miles or 2 hours with no traffic
Want to see giant sequoias but don't want to make the 3-4+ hour plus drive to Yosemite or Sequoia?
Head to Calaveras Big Trees State Park in the small town of Arnold, CA, which protects two beautiful groves of giant sequoias.
These massive trees once covered much of the United States, but now are confined only to a small subsection of the Sierra Nevada foothills. Don't miss your chance to see them in person!
San Jose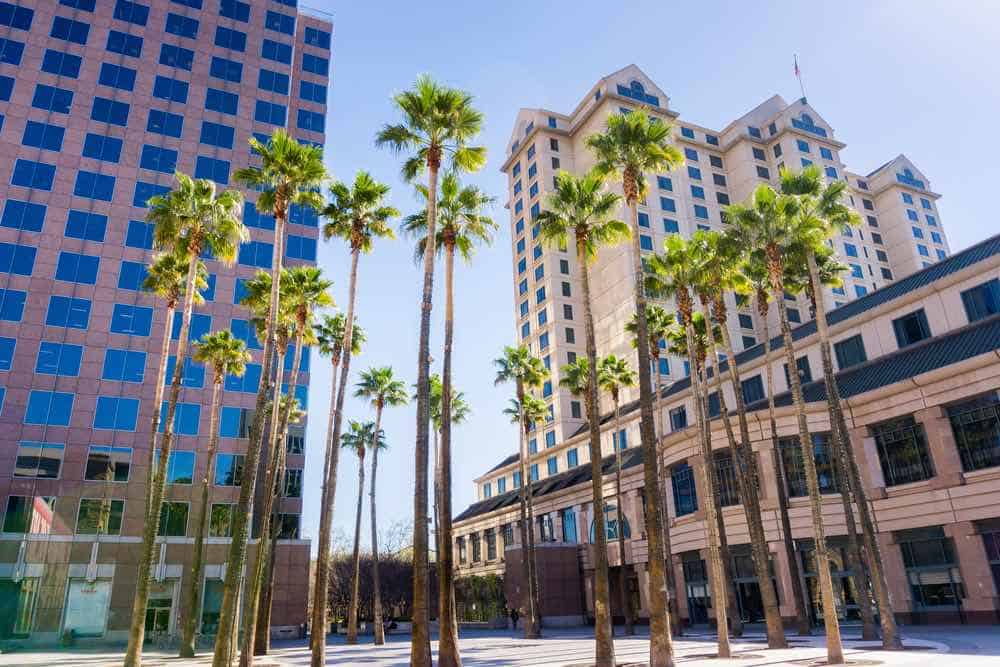 Driving Distance: 120 miles or 2 hours with no traffic
The beautiful city of San Jose is the Bay Area's largest city and it's an easy day trip from Sacramento if you want an urban escape.
San Jose is a vibrant metropolis and has something for everyone to choose from: shopping, food, and culture!
Shop your way through Santana Row, explore the many different types of food that are available in San Jose, or head a bit out of the city to explore redwoods, like at Bear Creek Redwoods Open Space Preserve in nearby Los Gatos.
Reno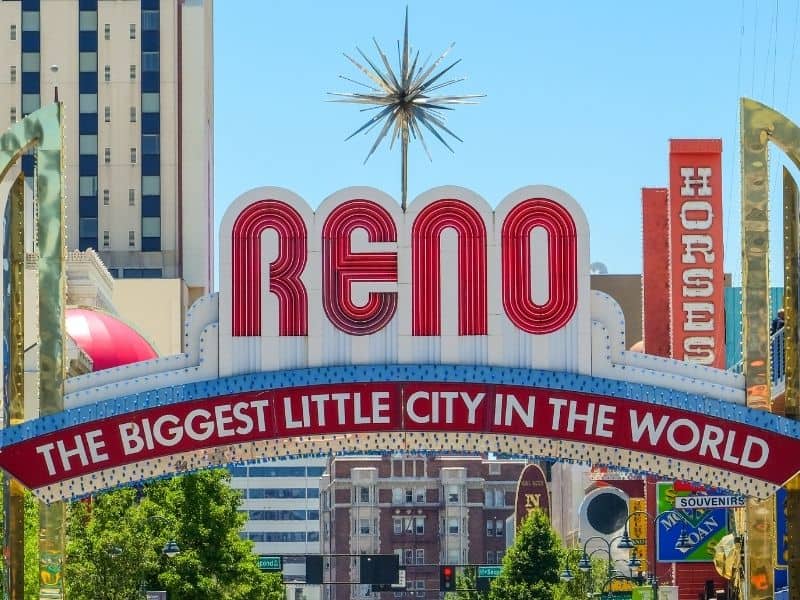 Driving Distance: 132 miles or 2.5 hours with no traffic
Crossing a state line on a day trip from Sacramento? Why not! Thanks to sharing I-80, these two cities are easily linked and definitely doable as a day trip.
Hailed as "The Biggest Little City in the World", Reno makes sure that it mimics Vegas… but in a way more convenient location for Northern Californians.
You will get access to all sorts of fun casinos here, as well as lovely options for an overnight stay, should a day trip not be enough!
There are slots, shows, and great dining to enjoy in Reno and everything costs a quarter of what you would pay to do the same activities in Vegas.
If you have kids, head to Circus Circus for some fun arcade games, some really good restaurants, and a connected walk to the El Dorado casino and the Silver Legacy Casino.
Make the time to have a fine dining experience at Roxy in the El Dorado or pick up tickets for one of the Cirque Du Soleil shows. There is no shortage of fun to be had in Reno and you will love everything about a day trip to this fun city!
Monterey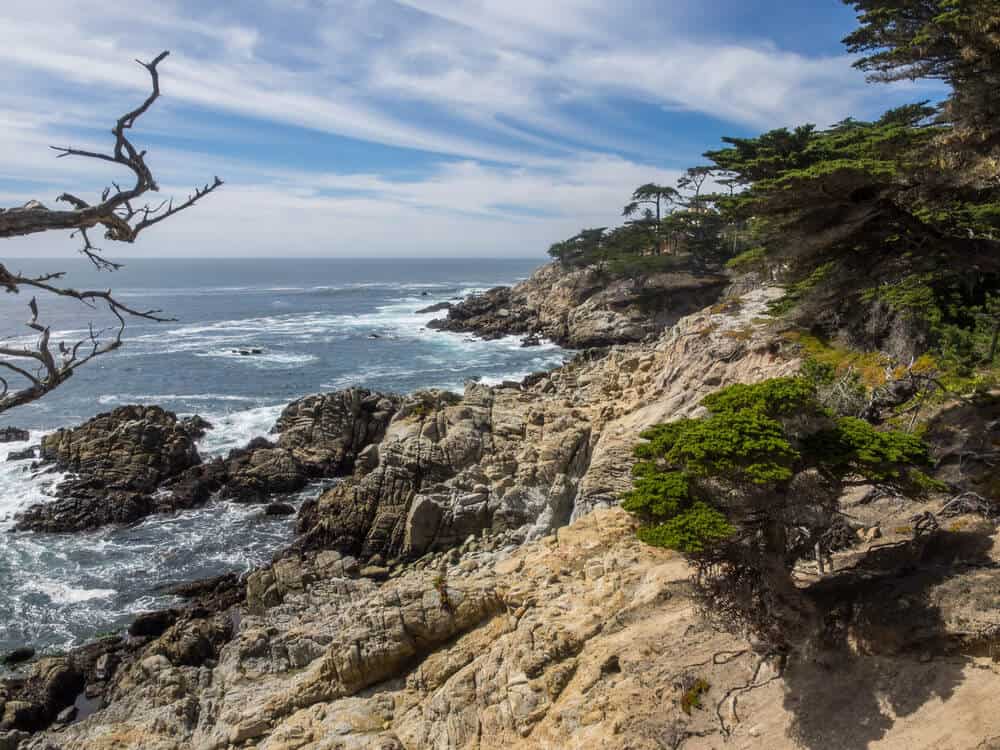 Driving Distance: 186 miles or 3 hours with no traffic
If you want to experience the California coastline and check out one of the world's best aquariums, a trip to Monterey is a no-brainer!
Besides its aquarium, the historic city of Monterey offers beautiful historic buildings such as Cannery Row and the Old Fisherman's Wharf. There is also great dining, whale watching, and beautiful beaches along the way.
There is something delightfully slow-paced and peaceful about life on California's Central Coast, and you will leave at the end of your outing refreshed and happy!
Carmel-by-the-Sea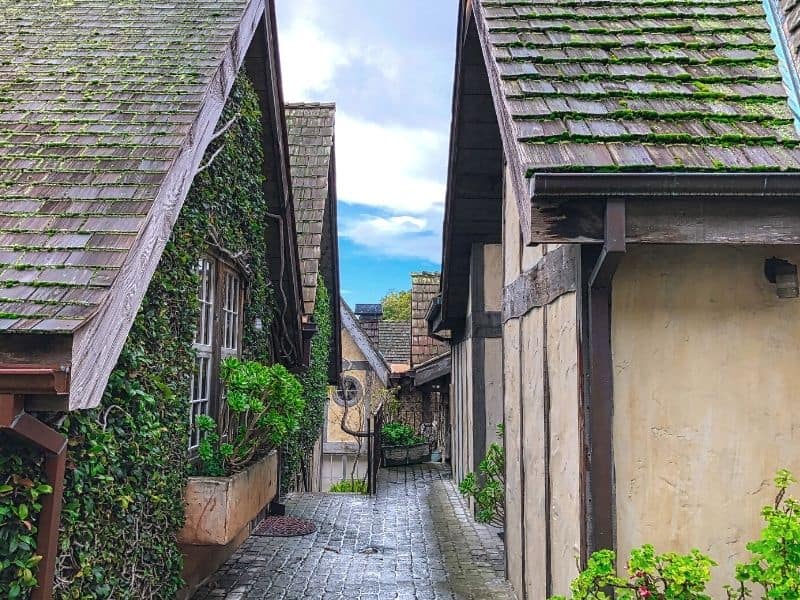 Driving Distance: 190 miles or 3 hours with no traffic
One of San Francisco's most beloved day trips isn't too far for Sacramento-area people to enjoy either!
The coastline is rugged here, juxtaposed against soft, sandy beaches at Carmel River State Beach, which is extremely beautiful. However, note that it is often chilly here, as this part of the Central Coast is often hugged by the fog.
The downtown is like a fairytale with all its scenic architecture, and there are lots of shops and excellent places to eat in Carmel!
***
Sacramento is located right next to so many amazing things to do that this is only a small sample of what you can do and see in the area.
Being close to so many historical locations in Northern California makes Sacramento one of the best places to use as your home base if you are curious about California history and particularly its Gold Rush roots!
If you live in this area, there are probably so many things that you did not know you could go do within a few hours' drive!
You can easily head out for the day to see a handful of amazing sites and be back at home before dinner time.
Sacramento offers many of its own amazing activities that you can do or so and heading out for day trips will help you to experience all that Sacramento has to offer and more!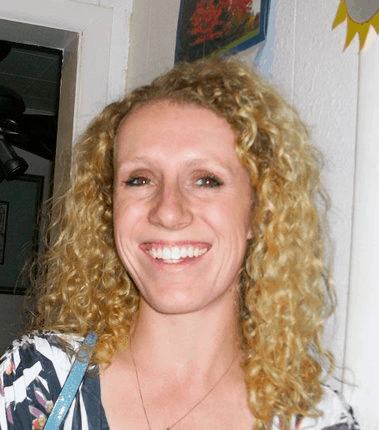 Brianna York has spent many years of her life traveling for work and pleasure, and grew up in Oregon in the gorgeous Pacific Northwest. She embraces each new place she visits and makes the most of seeing all the best that each city or place has to offer.  She is a published author and competes with her Arabian Show horses all over the United States. She embraces each day like a new adventure and is always ready for new experiences!