Marin County is San Francisco's neighbor to the north, just on the other edge of the Golden Gate Bridge.
This beautiful Northern California county is home to just about everything you could want: delicious food, incredible hiking opportunities, beautiful beaches, and towering redwoods.
Whether you live in Marin County or are just day tripping there from elsewhere in the Bay Area, here is my guide to the best things to do in Marin County — written by a Bay Area native who spends a lot of time in Marin!
Note: This post contains affiliate links, which earn me a small commission at no extra cost to you if you make a purchase using one of these links. Thank you for supporting this free content!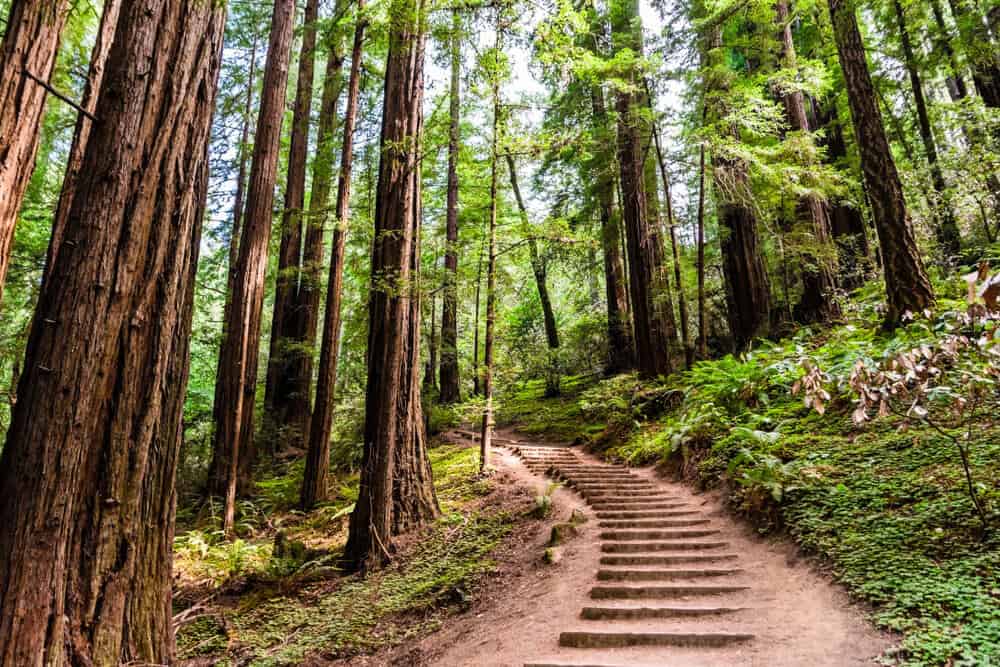 The Best Things to Do in Marin
Walk or bike across the Golden Gate Bridge.
The most classic introduction to Marin is by walking across the Golden Gate Bridge. While technically this activity starts in San Francisco, I'd still argue it's one of the best things to do in Marin!
Walking is the most popular way to experience the Golden Gate Bridge, but renting a bike or taking a bike tour over the bridge is another popular way to experience it.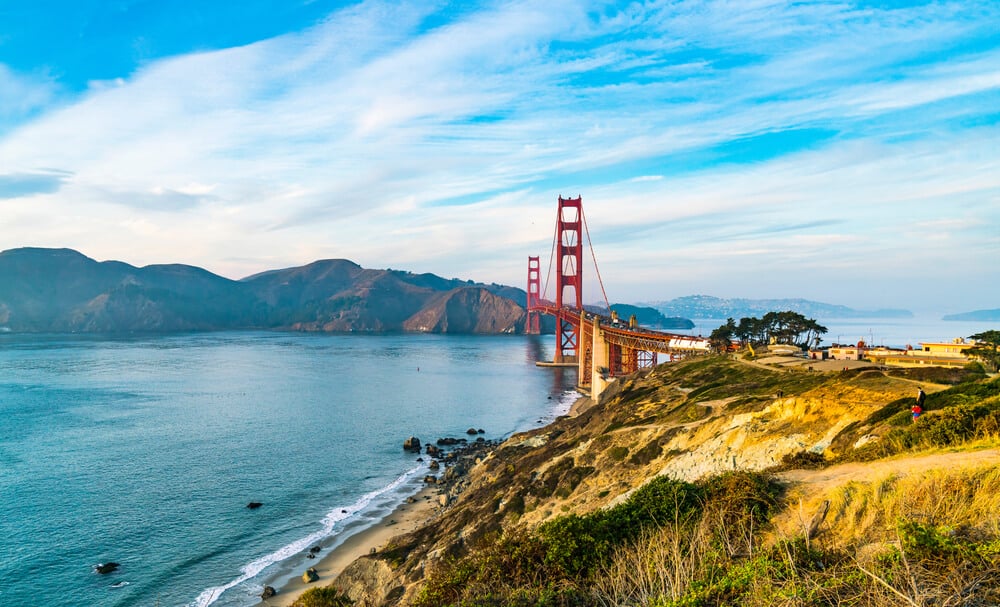 Take a hike in the Marin Headlands.
The Marin Headlands region is home to a ton of wonderful hikes in the protected lands of the Golden Gate National Recreation Area, a National Park Service-controlled site.
There are all sorts of wonderful hikes in Marin, but my personal favorites for the easy-moderate level are the Tennessee Valley Trail and the Rodeo Beach to Hill 88 Trail.
If you want some tougher hikes, Marin offers that too — check out the section on Mt. Tam State Park later in the article, or this article on the best hikes in Marin.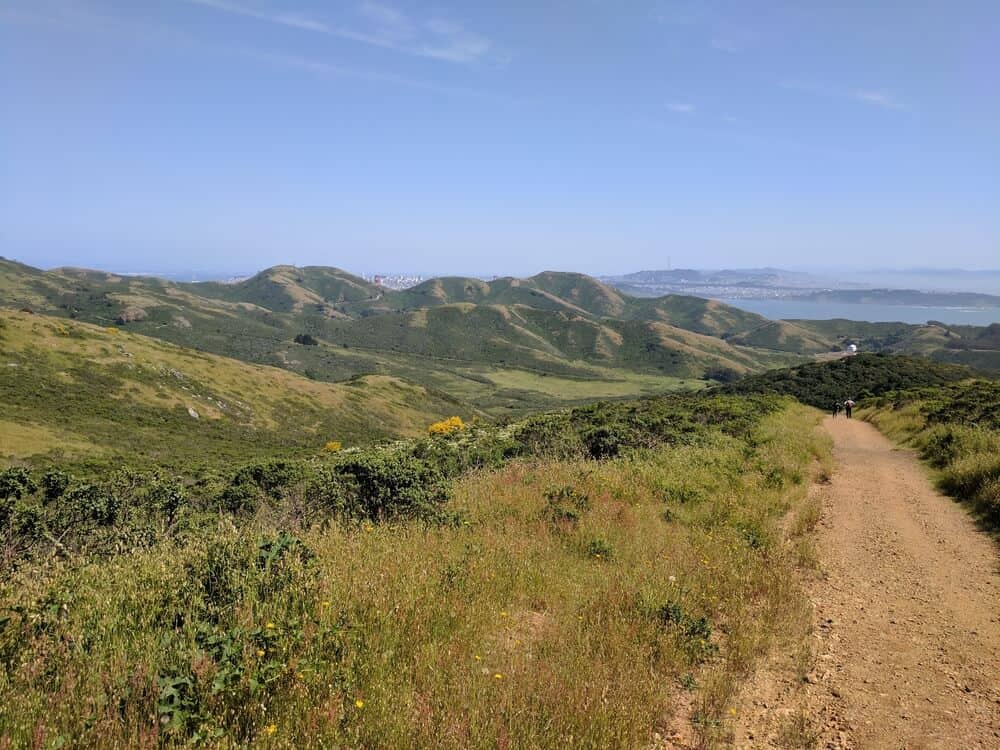 Wander through Muir Woods.
The lovely redwoods of Muir Woods National Monument are one of the best places to hike in all of California, and in my opinion, it is the most beautiful redwood forest near San Francisco.
There are all sorts of trails in Muir Woods National Monument for all kinds of skill levels and accessibility needs, from the easy and wheelchair-accessible Main Trail to the legendary Dipsea Trail which is perfect for a challenge.
Tip: Planning to visit Muir Woods? Read this guide on how to get there and some of the best hikes in Muir Woods.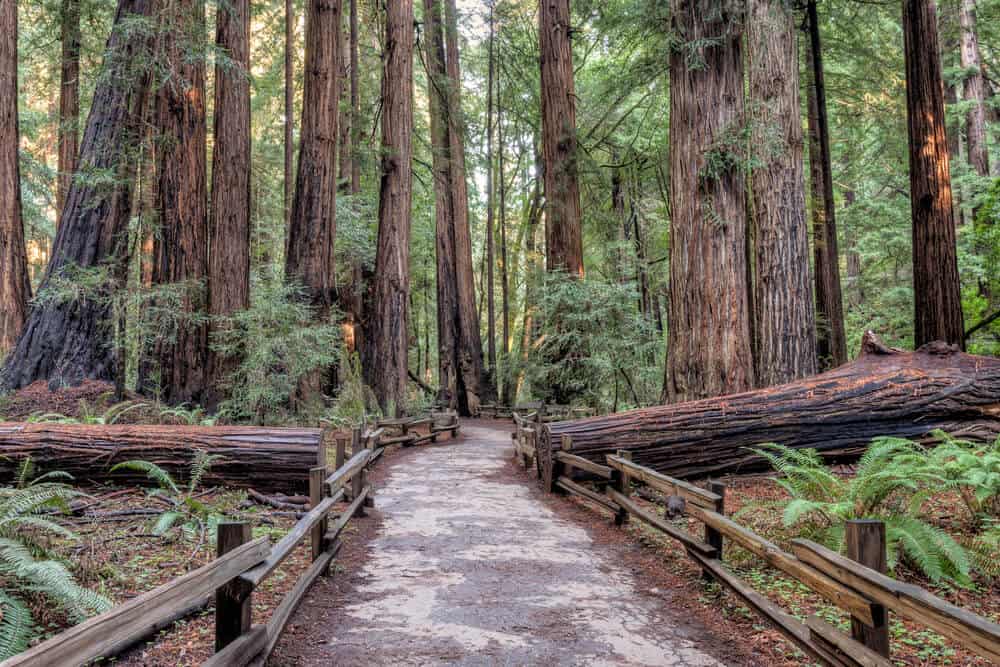 Eat your way through San Rafael.
San Rafael is the largest city in Marin and one of the more diverse, meaning it's a great place to go for all kinds of meals from around the world!
Whether that's Puerto Rican cuisine at the locally-loved Sol Food, Mexican food at Los Moles Hecho en Casa, or Vietnamese at Saigon Village, you'll find lots of delicious and down-to-earth eateries in San Rafael.
Wander around charming Mill Valley.
Mill Valley is one of my favorite towns in Marin because it's just so impossibly charming, a beautiful mix of downtown amenities and easy access to nature.
To best experience Mill Valley, take a stroll down Throckmorton Avenue's vibrant downtown stretch, until it turns into the redwood forest of Cascade Drive.
Depending on the water levels, you might be able to see some waterfalls along the way at Three Wells and Cascade Falls!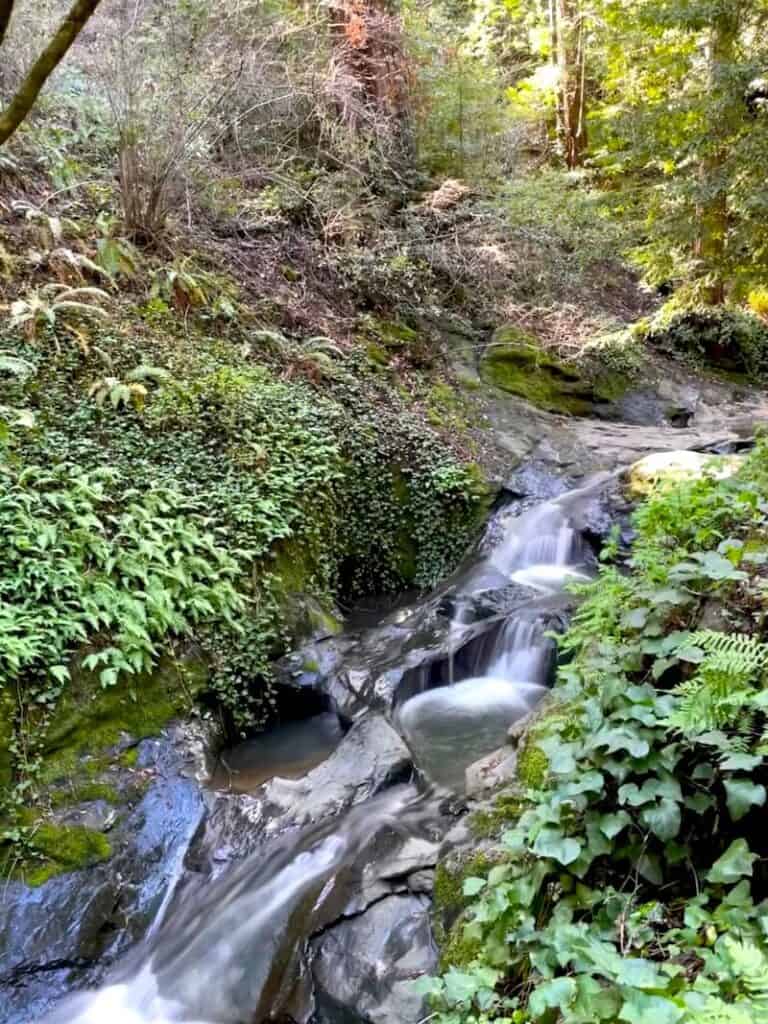 Admire Muir Beach.
Marin is a coastal county with several stunning beaches, and one of my favorites would have to be Muir Beach.
This charming little cove is located just a few miles away from Muir Woods National Monument, making it a great stop after experiencing the redwoods.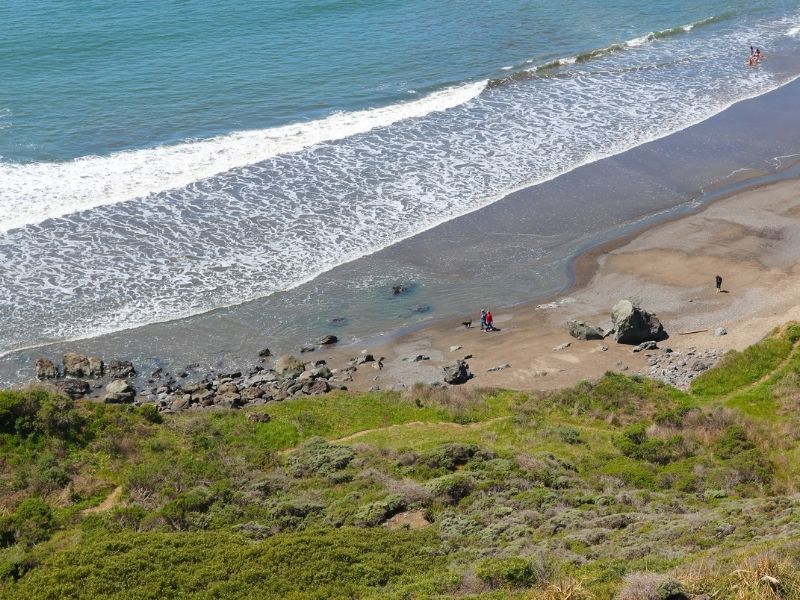 Spend the day in Sausalito.
Sausalito is a fun coastal town just across the Bay from San Francisco, with a great shopping and restaurant scene that make it the perfect Marin day trip.
Take a walk down the Bridgeway Promenade, explore the Marinship neighborhood with all its houseboats, or explore the downtown area with its great galleries and boutiques.
Getting hungry? Eat some of the best sushi of your life at Sushi Ran, delicious and unfussy French cuisine in a marina-front setting at Le Garage, or some expertly-cooked seafood at Fish.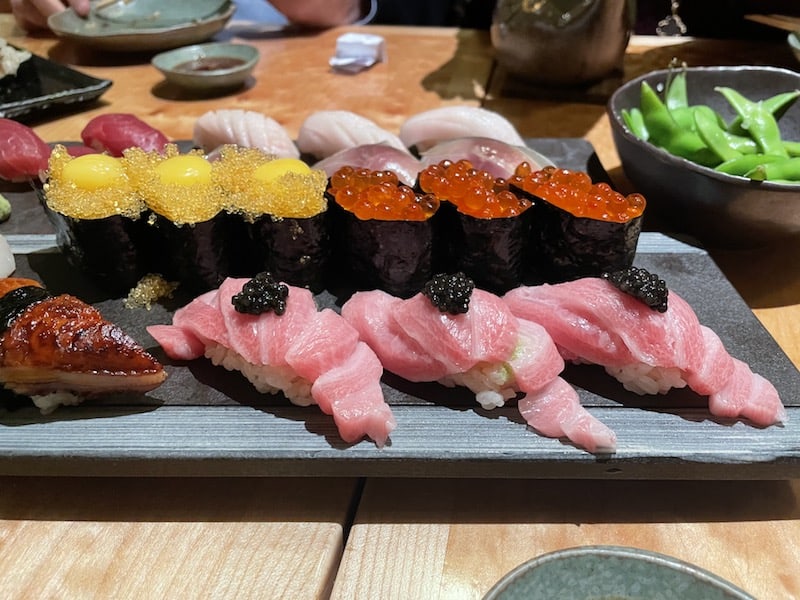 Take the ferry to Angel Island State Park.
The beautiful Angel Island in the middle of San Francisco Bay is actually a state park that you can easily access from Marin, via a ferry from Tiburon!
Angel Island has a number of great hiking trails and epic views over San Francisco, including views of Alcatraz and the Golden Gate Bridge.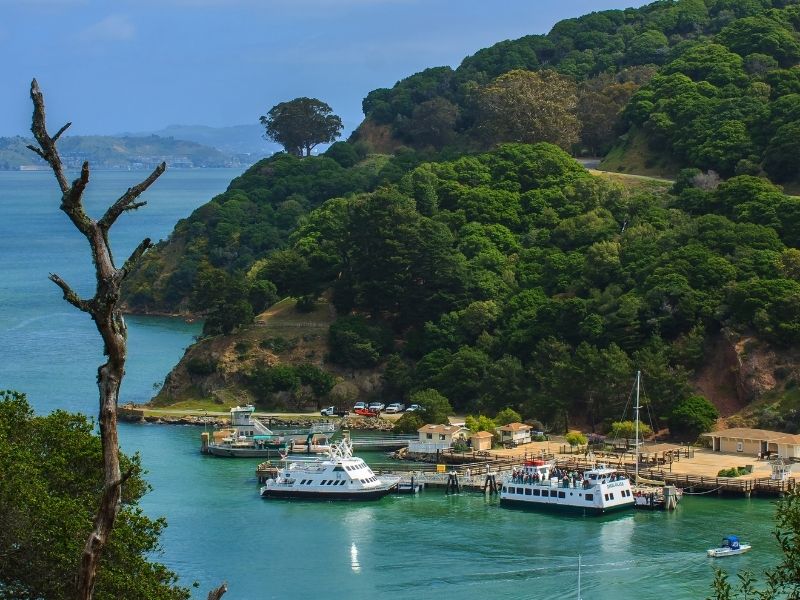 Marvel at Rodeo Beach.
Another great beach in Marin, Rodeo Beach is a popular starting point for trails like the Rodeo Beach to Hill 88 Trail. But it's also just a beautiful beach to spend the day at when the weather permits!
Rodeo Beach is unique in the San Francisco Bay Area as it is a pebble beach, composed of beautiful red and green pebbles that give the beach a beautiful color.
You can also spot gems like black agate, jade, and carnelian along the beach, though it is forbidden to take them.
There are also old military barracks of Fort Cronkhite on the beach from when this was an active military site, which is an interesting place to explore!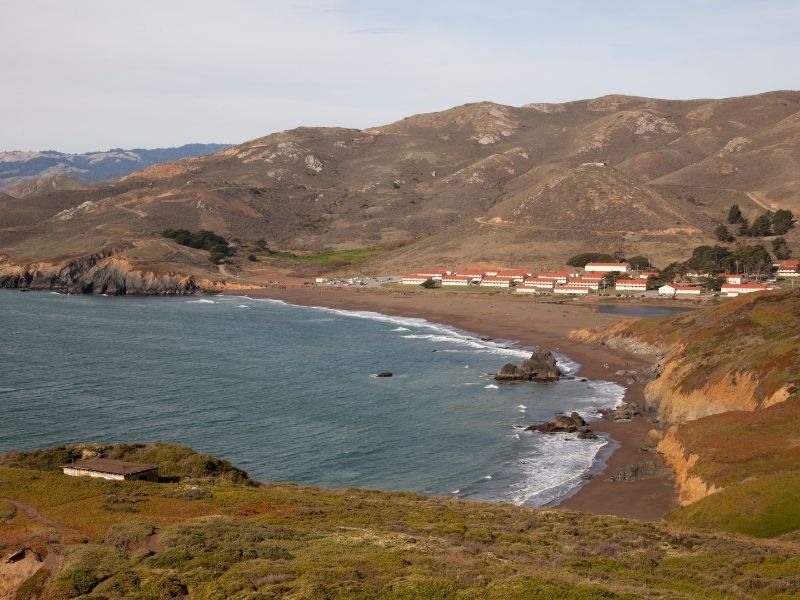 Wander around the charming Point Reyes Station.
The small town of Point Reyes Station is the gateway to Point Reyes National Seashore, and any day in Point Reyes will often start with a visit to this charming little town for a coffee or pastry at Toby's.
Visit the many art galleries and home goods stores along the main stretch of Point Reyes Station, and don't miss stopping by Station House Café for a delicious post-hike meal! There may be a wait on weekends, but it's worth it.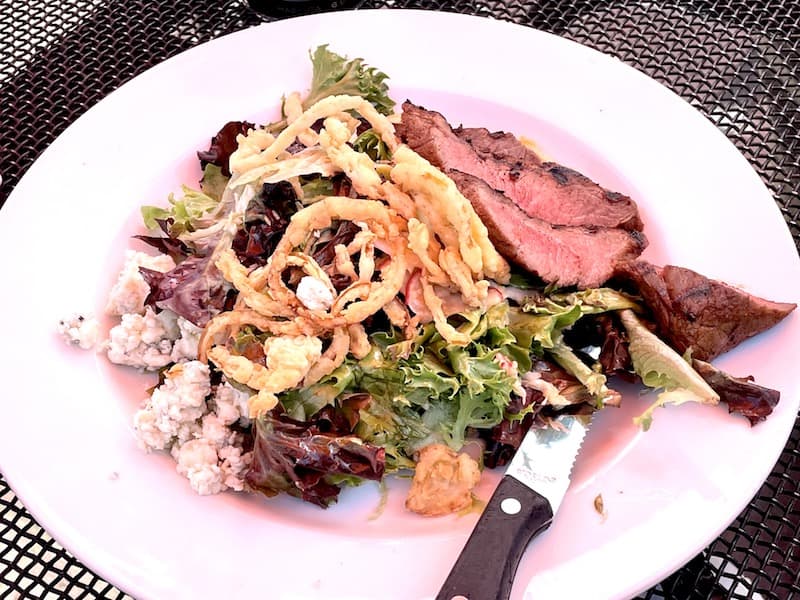 Rent a kayak on Tomales Bay.
Tomales Bay is the peaceful sheltered bay protected from rough Pacific winds by Point Reyes, separating the peninsula of Point Reyes from the rest of Marin.
Because the water is so calm, it's a great place for water sports like kayaking and stand-up paddleboarding!
There are a few places you can rent kayaks in the area, here are a few outfitters:
– Blue Waters Kayaking: 11401 CA-1, Point Reyes Station, CA 94956
– Tomales Bay Expeditions: 12948 Sir Francis Drake Blvd, Inverness, CA 94937
Enjoy BBQ oysters on Tomales Bay.
Nick's Cove may just be a casual restaurant with counter service… but nevertheless, it has some of the best seafood in Marin!
I went recently with family and had a proper seafood feast here. I especially enjoyed barbecued oysters, but their Dungeness crab cakes, truffle-garlic fries, fish and chips, and their fish tacos were also wonderful.
Everything is tasty, but they are best known for their BBQ oysters… don't knock it 'til you try it! While I love a good raw oyster, these may just take the cake.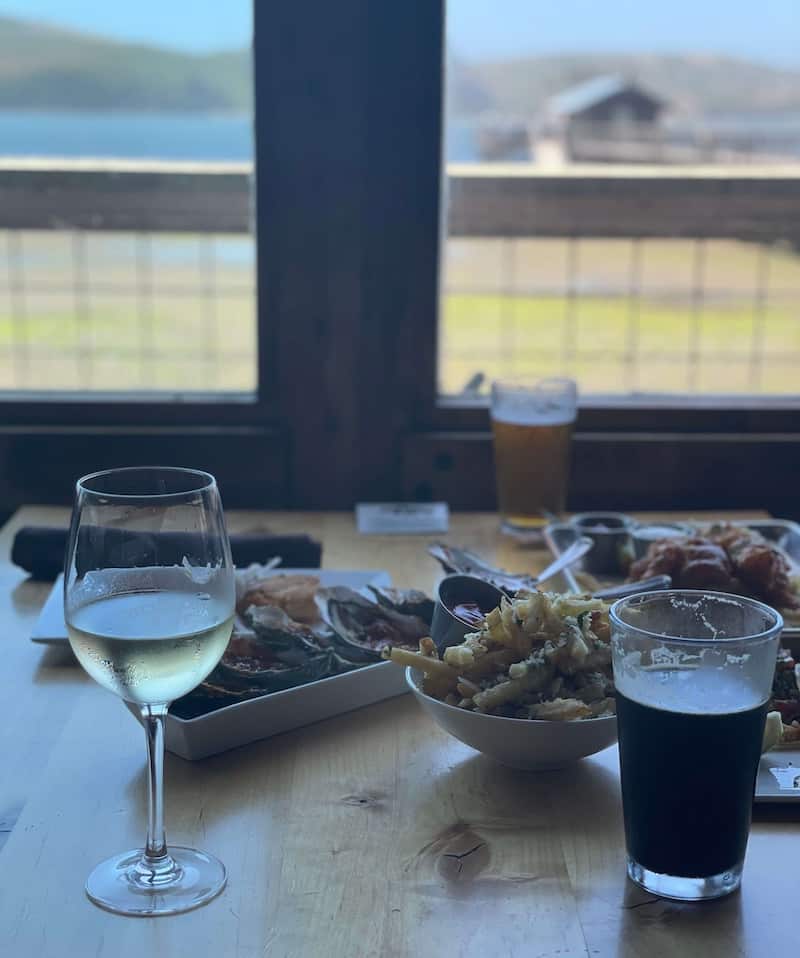 Check out the Point Reyes Lighthouse.
One of the most beautiful places on the California coastline, the Point Reyes Lighthouse is a can't-miss and the #1 thing to do in Point Reyes!
This is the westernmost part of the state, and during the winter when it's gray whale migration season, you can easily spot whales breezing past the lighthouse.
Previously, you could visit the Point Reyes Lighthouse by going down the many, many stairs, but it's been closed for a while because of Covid-19 — check the NPS website to see if it has reopened.
Be aware that it's often super windy here, so bundle up!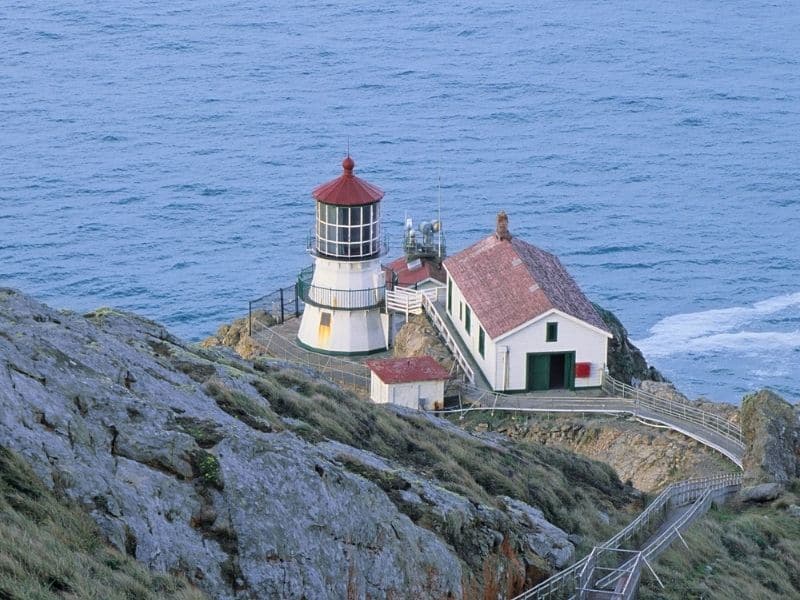 Visit the beautiful Cypress Tree Tunnel.
Also in Point Reyes National Seashore, the Cypress Tree Tunnel is one of the most Instagram-famous places in Marin County!
This famous photo spot has always been beloved by local photographers, and when you visit, you'll see why — these trees make a natural tunnel that is simply beautiful, and it's even more spectacular in person.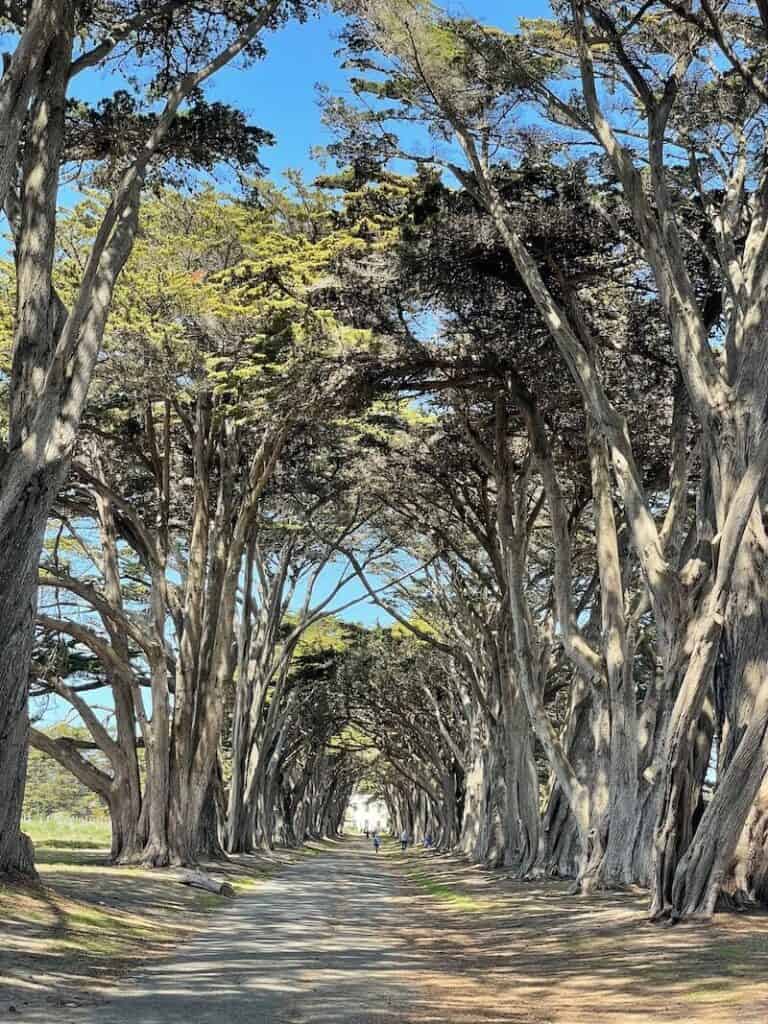 Go for a hike in Point Reyes National Seashore.
Point Reyes is massive and has an impossible number of worthwhile hikes — so many, in fact, that I have a post entirely dedicated just to hiking in Point Reyes.
Alamere Falls is the most beloved hike, as this is where you can see one of California's two tidefalls, waterfalls that cascade onto the beach below it (the other is in Big Sur).
However, this is a tough hike, so it may not be the best choice for all hikers — luckily, there are hikes of all levels in Point Reyes!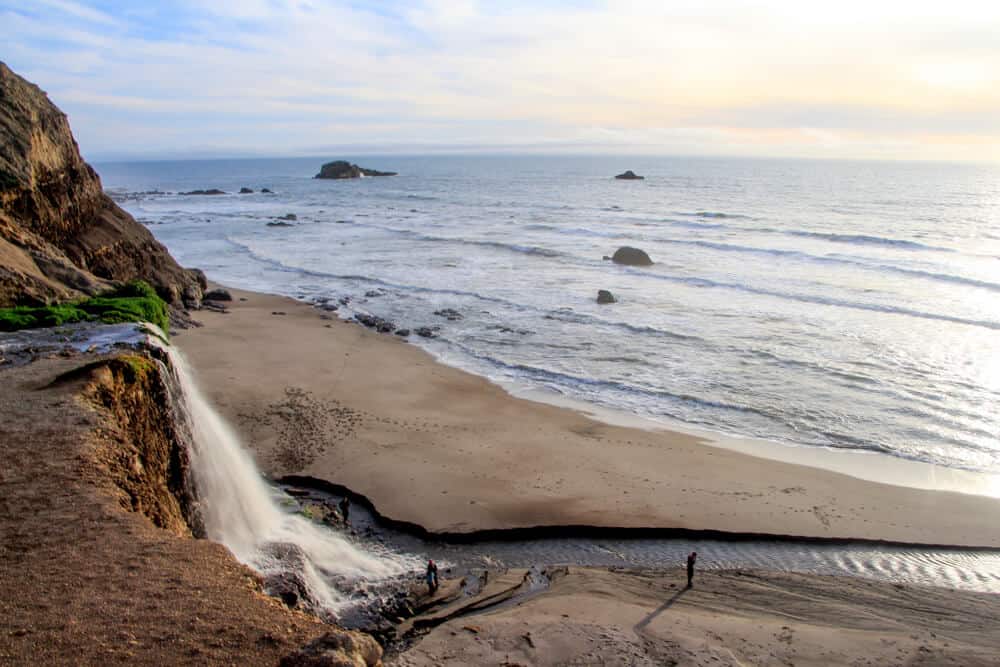 Enjoy a sunny day on Stinson Beach.
Stinson Beach is one of the most-loved beaches in Marin, with the scenic Bolinas Lagoon on one edge of the beach and the Pacific Ocean on the other.
Stinson is a popular place for bouldering and it can be fun to watch the boulderers take on the rocks on the beach!
It's also a great place to go for a swim or a stroll on a warm day, provided the fog doesn't swoop in and ruin your plans!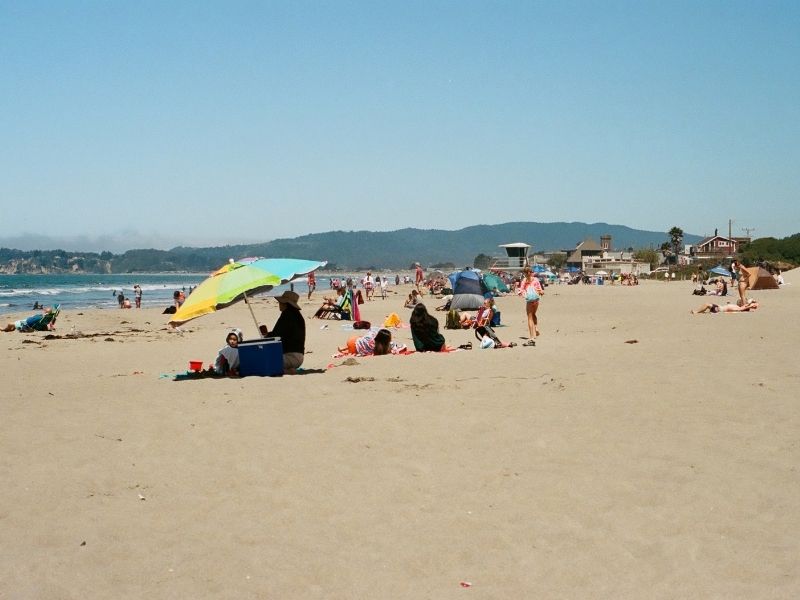 Admire the view from the top of Mount Tamalpais.
Mount Tamalpais is the highest point in Marin County, and of course, you can't miss the opportunity to see the Bay Area from up high!
There are many ways to get to the top of Mt. Tam. The easiest is to drive up to the parking lot near the top and then take the Plank Trail to the fire lookout, which has incredible views from the summit.
For a tougher challenge, there are some Mt Tam summit hikes; one of the most popular is the Matt Davis & Rock Spring Loop.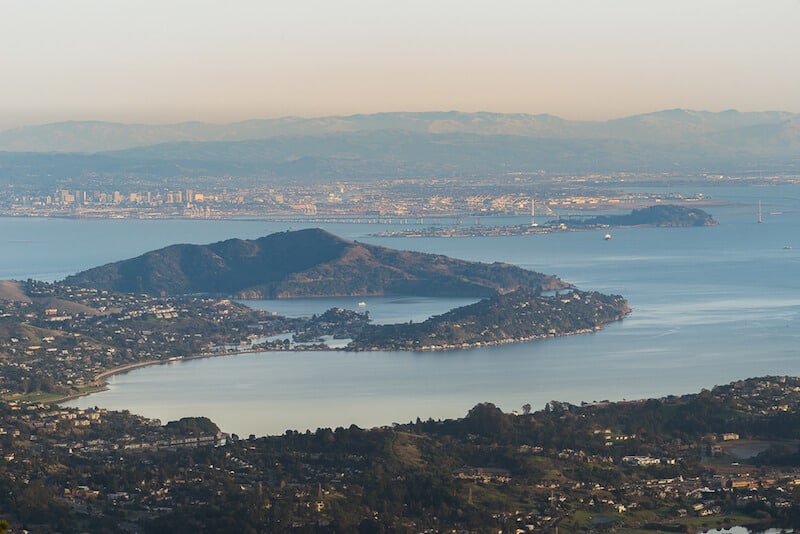 Walk among redwoods in Samuel P Taylor State Park.
The redwoods of Samuel P Taylor State Park are a beautiful and peaceful place to go for a hike in the redwoods away from the crowds of Muir Woods.
Located between Point Reyes and popular Marin cities like San Rafael and Fairfax, Samuel P Taylor is a great place for a less crowded day hike.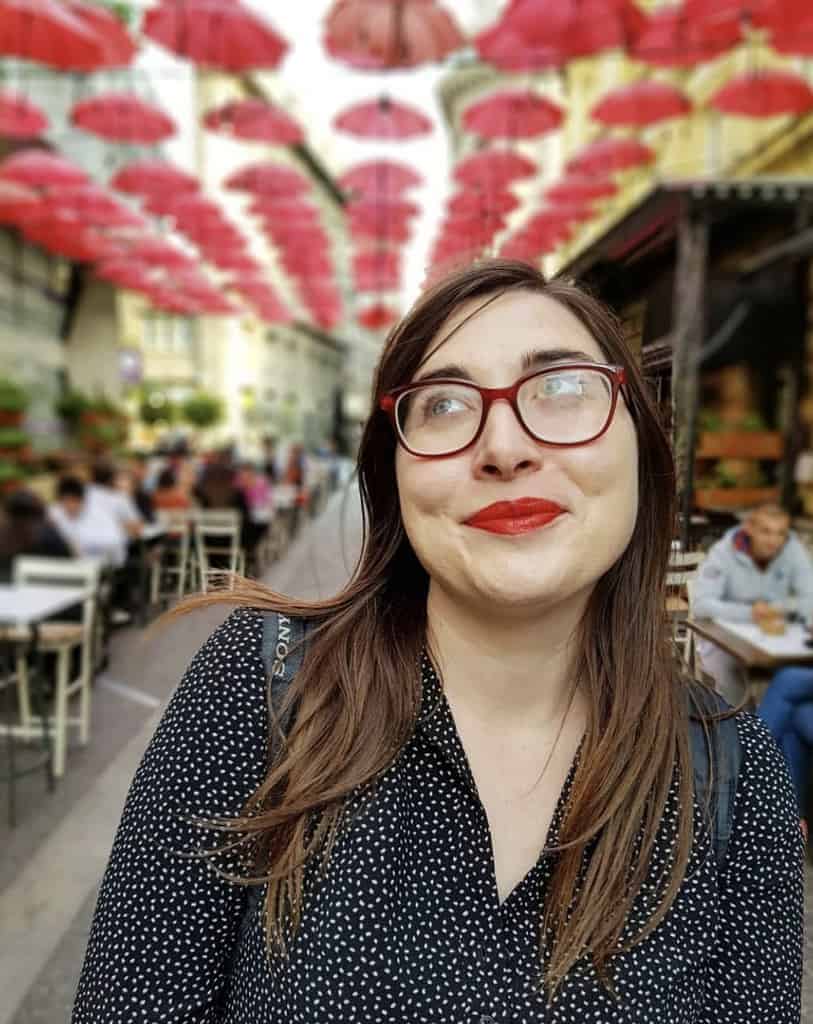 Allison Green is a travel blogger, writer, and podcaster who grew up in the Bay Area of California. She has spent time living in New York, Prague, and Sofia, but has returned to live in the East Bay. She has traveled to 60 countries before the age of 30 while running several digital travel publications. Her writing and podcast have been featured in Forbes, CBC Canada, National Geographic, the Huffington Post, and CNN Arabic, amongst others. She's obsessed with bouldering, houseplants, other people's pets, and anywhere she can see the ocean.