Approximately 30 miles west of downtown Los Angeles is the idyllic beach city of Malibu. This charming seaside community includes a 21-mile-long natural coastline bordered by the boundless sea and the rugged highlands of the Santa Monica Mountains.
During the spring, wildflowers bloom in abundance, coloring Malibu's countryside with vibrant hues while rainfall ushers in the first sought-after sightings of the year—waterfalls!
These magnificent cascades among other breathtaking scenery can be seen along a few of the many hiking trails that Malibu has.
Year-round, the constant ocean breeze moderates the climate to a tolerable heat, especially during the sweltering summer days in Southern California. This makes Malibu the ideal destination for any time of the year!
Azure skies paint the backdrop to the luxury oceanfront homes that line the lush and jagged coastal cliffs. Wait until sundown, and you'll witness a dreamy blend of pastels or a fierce crimson take over the daytime blue. Malibu sets the scene for a picture-perfect postcard.
Besides the impeccable views, Malibu is ideal for the outdoor enthusiast. Nature is aplenty for exploring and the nearness of the ocean welcomes all kinds of water activities. When you're not soaking up the sun, you'll be indulging in some of the freshest seafood or indulging in the simple pleasure of relaxing in the undisturbed, quiet spaces of Malibu.
Can you spend only one day in Malibu and enjoy its magnificence? Absolutely! This itinerary will show you exactly how to accomplish a Malibu day trip from LA — no overnight stay is required!
How to Travel to and Around Malibu
Note: This post contains affiliate links, which earn me a small commission at no extra cost to you if you make a purchase using one of these links. Thank you for supporting this free content!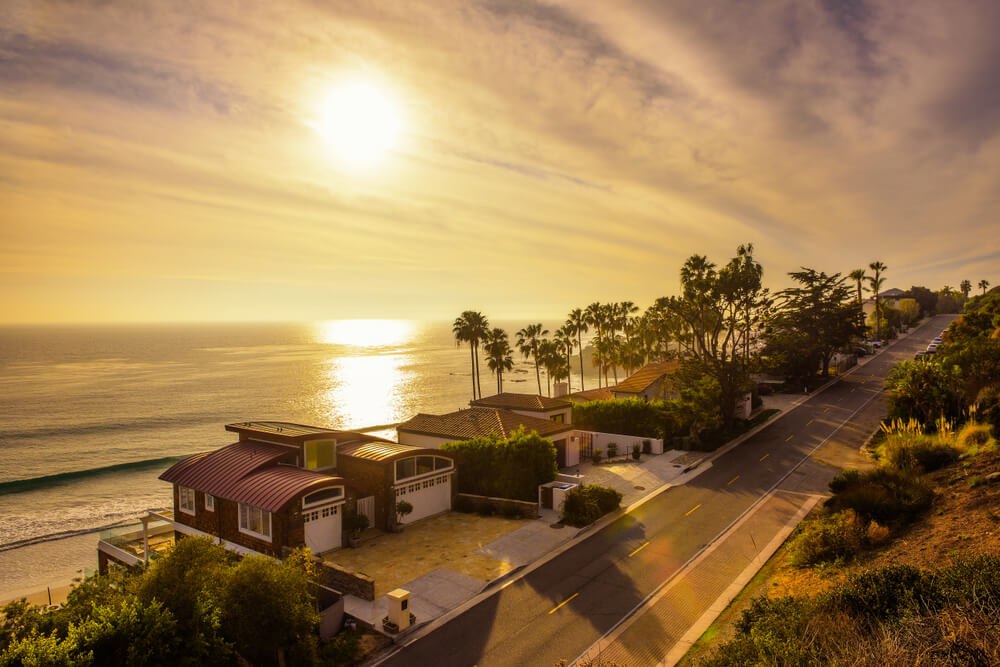 While it's recommended to travel by car for overall ease and efficiency of getting to and around Malibu, it's not the only method of transportation.
The alternative is to take the (one and only) bus from Los Angeles to Malibu: the Metro Line 534. The 534 departs from Santa Monica (at 5th St and Colorado Ave) and arrives at its final destination—the Trancas Country Market (at Trancas Canyon Rd and Pacific Coast Hwy).
View the 534 bus schedule and route here.
Taking the bus is a great option even if you have a car! You will get to soak in the uninterrupted coastal views the entire bus ride, as opposed to driving, when you'll need to focus on the road and getting to your destinations. It can also be significantly cheaper once you factor in gas, parking, etc.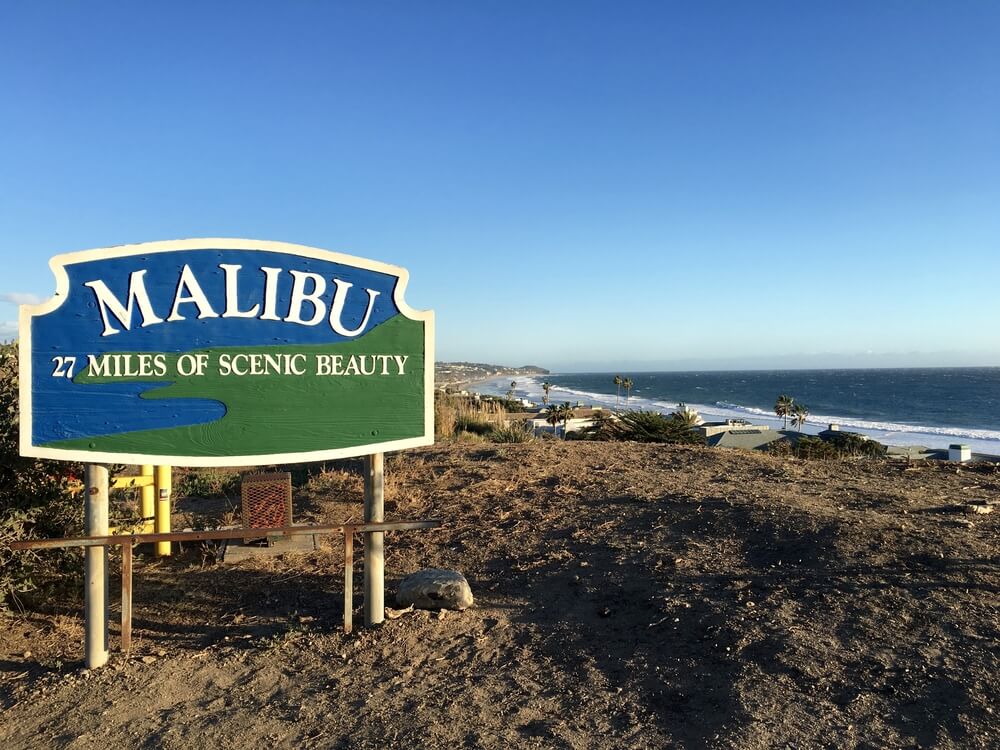 Here are some things to consider before taking the bus to and around Malibu:
A one-way ride costs $1.75. When using a TAP card (the primary transit card used throughout Los Angeles), the $1.75 fare covers 2 hours of transit in one direction only (no roundtrips). This means if you get off at one stop and hop on the bus again within 2 hours after having initially used the TAP card to pay the $1.75 fare—you won't have to pay the fare again!
If you intend to use only cash, make sure you have the exact fare when boarding the bus as the bus operators do not carry change.
For this itinerary, it's recommended to purchase a 1-Day Pass for $7 in advance on the TAP card website. The day pass validates upon boarding the bus and tapping the card to the farebox (or validator). The day pass includes unlimited rides for the entire day and expires at 3 AM the following day. For more information on fares, please visit the Metro website here.
Expect to wait for the bus throughout the day (unless you time your activities around when the next bus comes, then you may not have to wait much at all).
Make sure to download the TAP app on your mobile phone to view real-time bus arrivals. Or, you can text Metro to receive real-time arrivals by a text message sent directly to your mobile phone within a few seconds. For instructions on how to do this, visit the Metro website here.
Since some bus stops in Malibu are a distance away from the intended destination, you will get many steps in—be prepared to walk a lot. Keep in mind that you will often walk along the Pacific Coast Highway, so stay as close as possible to the curb and away from oncoming traffic.
Be sure to pack plenty of snacks and water to keep you fueled and hydrated from all the walking!
Here are some things to consider before you drive to and around Malibu: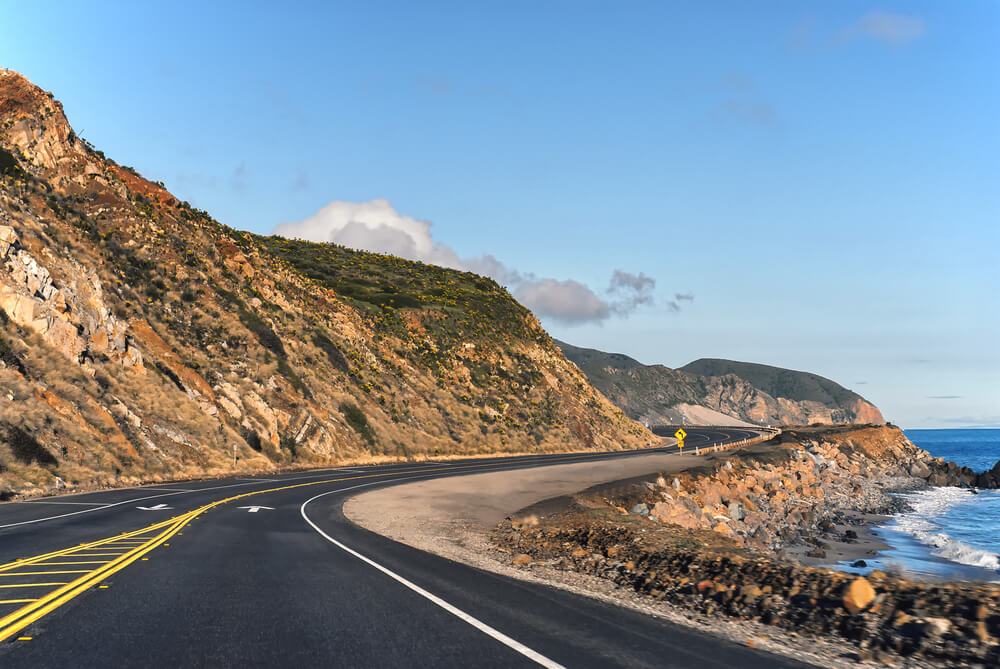 Gas stations in Malibu charge approximately over $4.50 per gallon (as of May 2021) — so it may be cheaper to take the bus!
On busier days like the weekend or holidays, parking lots at restaurants, parks, and beaches tend to be fuller and parking can be hard to find.
Parking at beach parking lots are typically a few bucks per hour, or a full-day rate is available. Otherwise, you can park along the Pacific Coast Highway for free—just be mindful of any street signs that prohibit you from parking in a particular area.
However, there are some plus sides. For one, you won't need to wait to travel from one destination to the next, just hop in your car and get going! Additionally, traveling to and around Malibu will be faster than taking the bus.
Whether you choose to drive or take the bus to and around Malibu, this Malibu itinerary will show you the way!
How to Spend One Day in Malibu (By Car or Bus!)
Travel back in time to the ancient Greek and Roman era.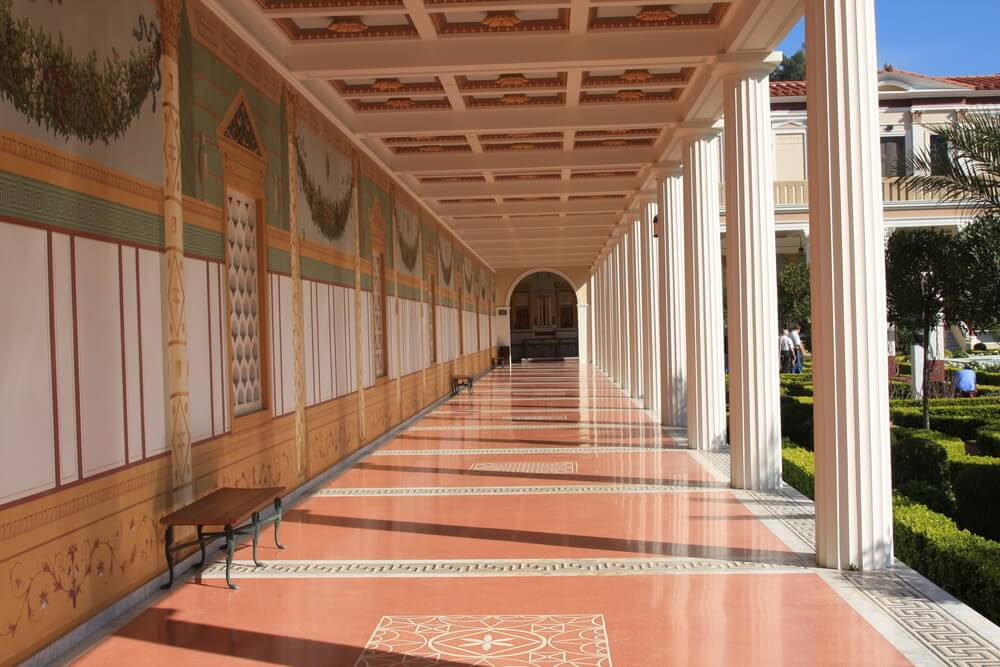 Take a step back into the ancient, prosperous town of Herculaneum located in what is now southern Italy…. while never leaving Southern California. Wait, what?
First, a little backstory: Herculaneum was inhabited by the Romans and established in what has been thought to be the 6th or 5th century BCE (the exact history is unknown).
Before the volcanic eruption of Mount Vesuvius in 79 A.D. that destroyed Herculaneum, the Villa dei Papiri (Villa of the Papyri) was recognized and is still renowned as one of the most grand and luxurious homes of the Roman world.
Today, a tour of Malibu's The Getty Villa provides visitors the precious opportunity to walk through an ancient Roman home like Villa dei Papiri.
The villa's architecture and landscaping is stunning—the tranquil gardens include fountains and sculptures while the interior includes skylit galleries and walkways lined with columns. There are two floors full of galleries that display Greek, Estruscan, and Roman art—some artwork are the rarest and oldest objects known to humankind!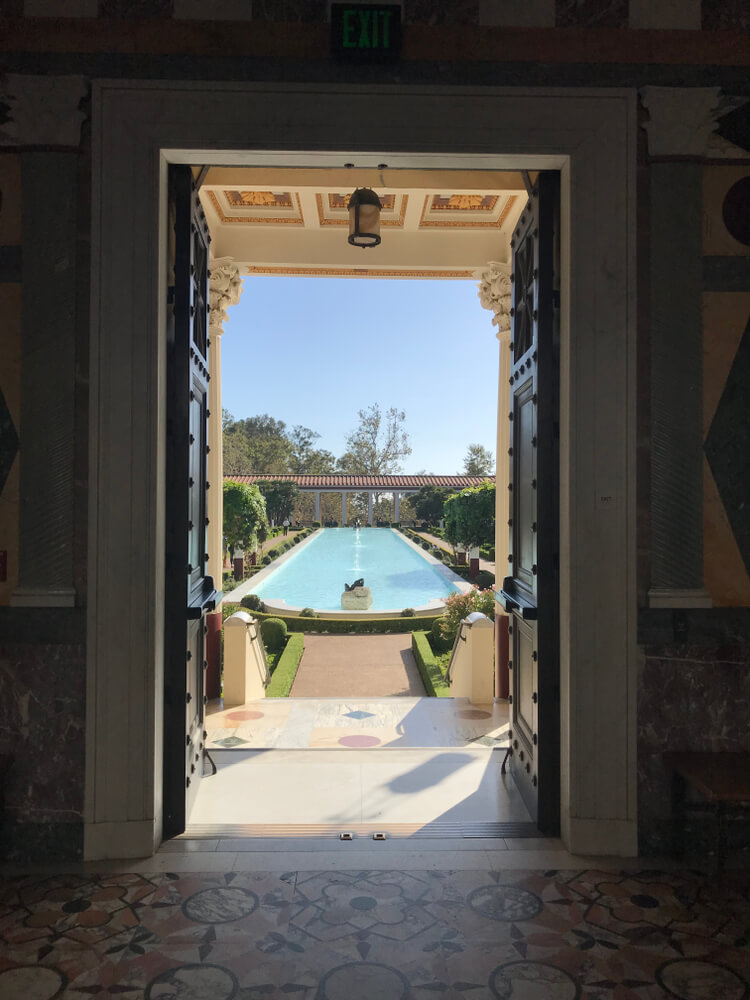 Admission to The Getty Villa is free but requires a timed-entry reservation, so make sure you make a reservation in advance online here.
At this time, there are no in-person tours available, but a guided experience is available for free using the GettyGuide app that you can download onto your mobile phone here. The time it takes to tour the Getty Villa averages between 2-3 hours.
Note: If you are driving, parking is $20 and only credit card payments are accepted at the time of entry (no cash). It is recommended to purchase parking in advance when making your reservation. See the website here for more information on parking and transportation.
If you're taking the 534 bus, get off at Coastline Drive and Pacific Coast HIghway—the stop is right across from the Getty Villa entrance. The bus ride should take about 15-20 minutes from Santa Monica and the walk up to the Getty Villa from the bus stop should take less than 10 minutes.
Address: 17985 Pacific Coast Hwy, Pacific Palisades, CA 90272
Enjoy a fresh seafood lunch.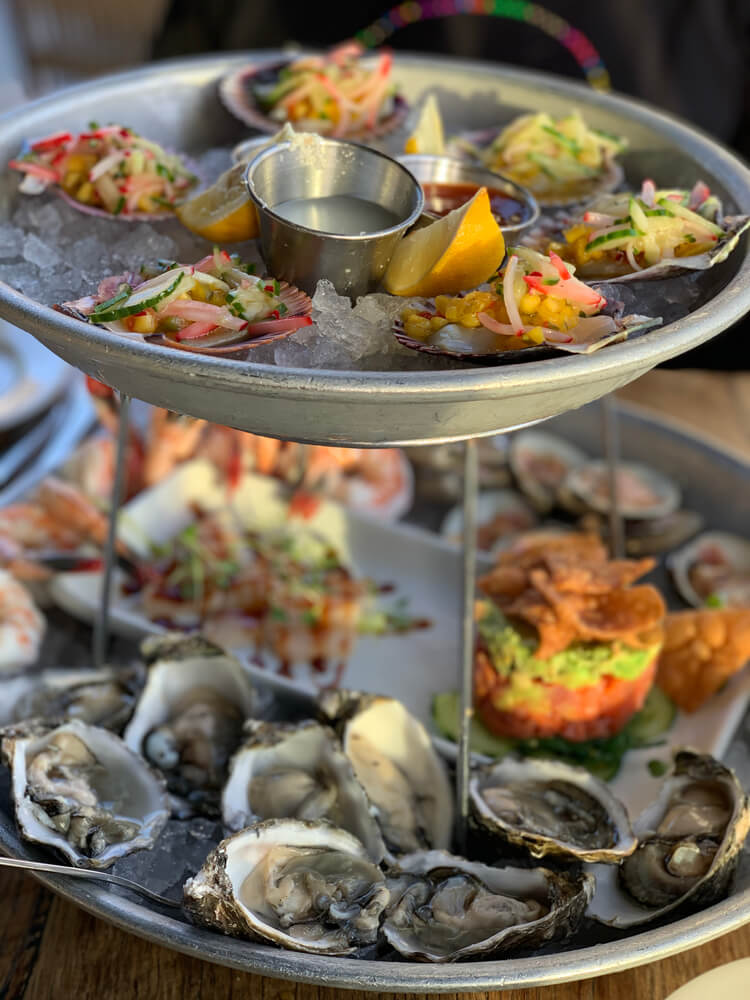 When in Malibu, the ocean is at your fingertips. And with that said, most restaurants in Malibu focus their menus on seafood for a very good reason—the seafood dishes here are so fresh and delicious!
Before heading to the next destination, stop by one of these restaurants along the way. Explore the options below by selecting the link for each restaurant listed. Note: the prices range from moderate ($$) to expensive ($$$$).
Walk down the Malibu Pier.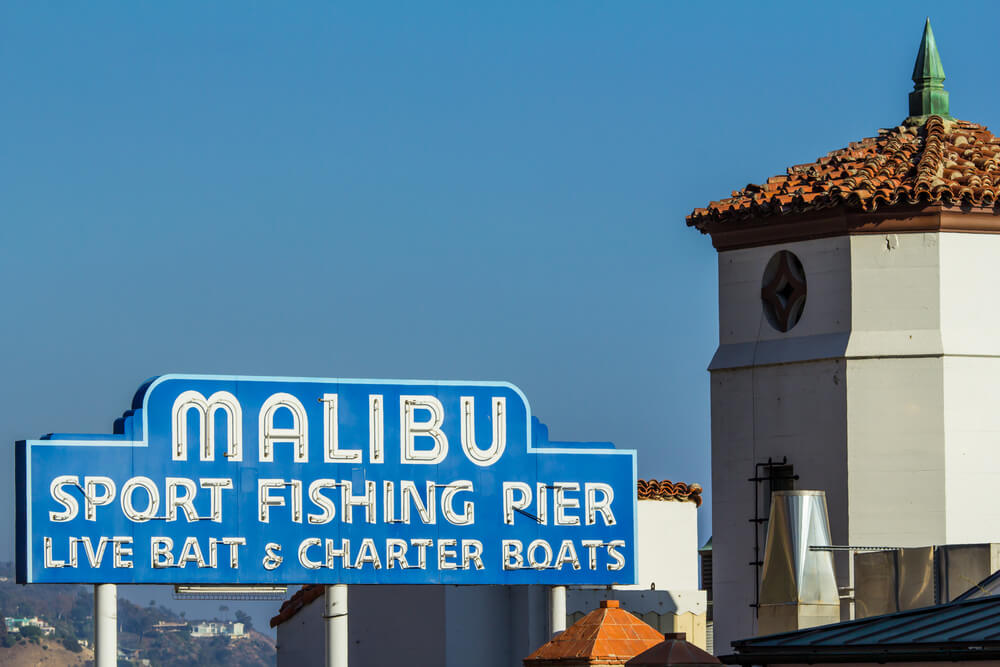 If you decide to eat at the Malibu Farm Pier Cafe (it's located at the end of the Malibu Pier), you can skip this section and move on to the next destination.
If not, take a peaceful stroll down the Malibu Pier and take in the sweeping ocean views—you'll want to take out your camera at this spot! Malibu Pier is not overly crowded and includes a couple shops and restaurants.
During your walk, you might even see some fisherman reeling in their big catch! You can even try throwing out a line from the pier to see what you can catch—no permits are required to fish on the pier.
Plus, you can rent fishing rods at the shop located at the end of the pier. For more information on rentals, click here.
Address: 23000 CA-1, Malibu, CA 90265
Tour the Adamson House Museum.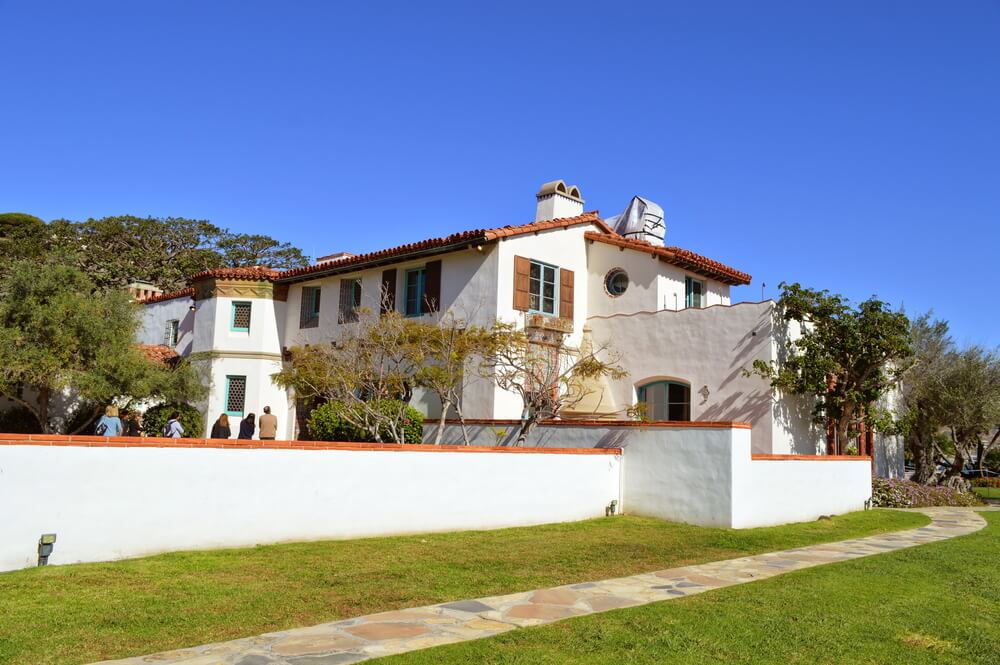 After your seaside stroll, stop by the Adamson House Museum to experience the cultural heritage of Malibu.
Before the Adamson House was built in 1929, it was once home to the Chumash Indians who thrived in this part of Malibu until the late 18th century.
By the early 20th century after construction was complete, Rhoda Rindge Adamson and Merritt Huntley Adamson moved into their Mediterranean Revival-style home.
The couple was well known for their civic duties and their dairy business that became one of the largest dairies in the country.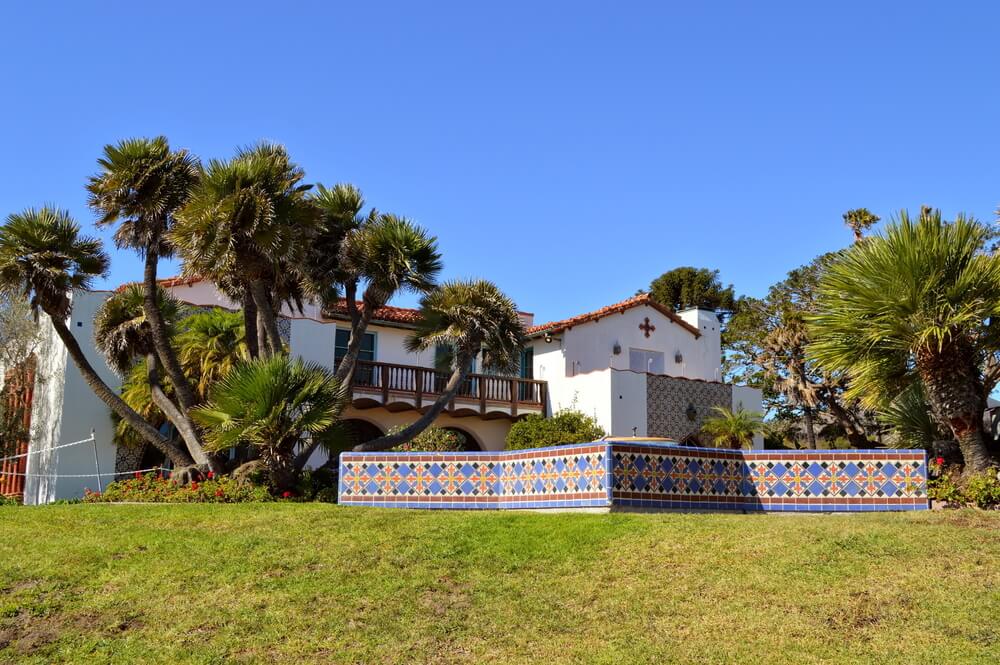 Inside this charming, two-story residence are 10 rooms filled extensively with decorative ceramic tiling. The architect Stiles O. Clements had designed the Adamson House and his incredible artistry shows in every nook and cranny of this historical landmark.
Parking and visitor information is available here.
Note: If you're taking the 534 bus, get off at 23017 Pacific Coast Highway just after the Malibu pier and then walk about 5 minutes to arrive at the Adamson House Museum located on your left.
Address: 23200 Pacific Coast Hwy, Malibu, CA 90265
Hike the Malibu countryside.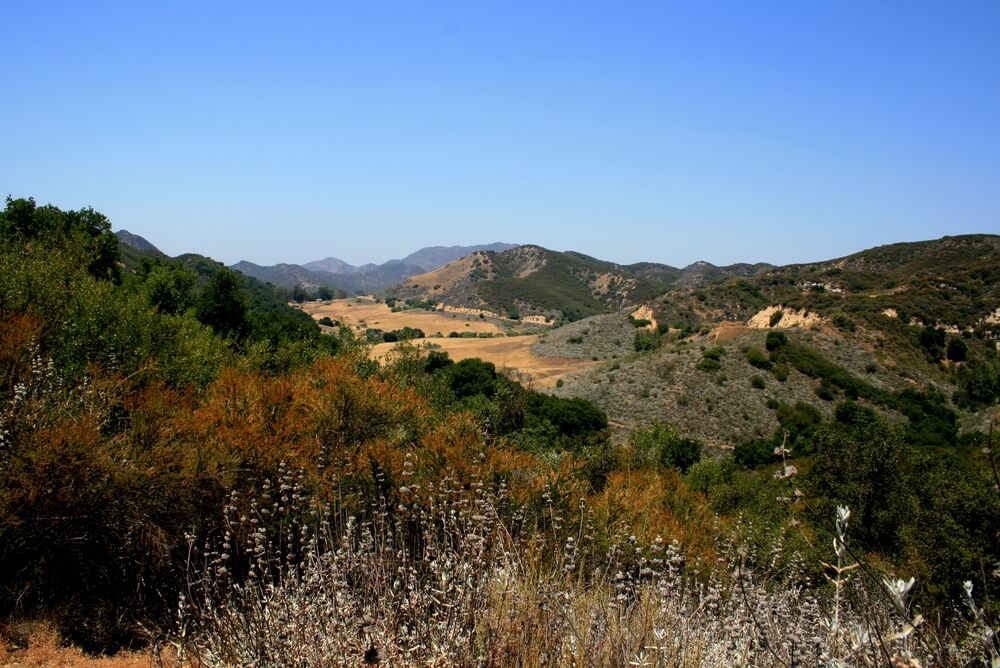 With the great expanse of the ocean and the Santa Monica Mountains hugging the Malibu coastline, you are guaranteed spectacular views on many of Malibu's hiking trails.
If you're driving, consider trying out one of these hikes during your one day in Malibu:
Malibu Creek State Park: Mesa Peak Trail is a 4.8 mile out-and-back moderately difficult trail that includes a steady incline the entire way. You'll be presented with incredible mountain views on your way up and then sweeping ocean views from the midway point to the top. If you're on a time crunch, turn back at any time—this hike is scenic and a great challenge regardless!
Malibu Wine Hikes: Malibu Wine Hikes is a 2-mile loop and guided tour that takes you through the vineyards of saddlerock ranch where you can explore the grounds, learn the history, see both farm and exotic animals, and finish off with your very own bottle of wine to take home with you. The tour takes approximately 2 hours and it is $49 per person. Booking your tour online here.
Escondido Falls Trail: This 3.7 mile out-and-back trail is an easy hike that features a gorgeous waterfall. If you plan to do this hike, try to come a few days after rainfall to see the waterfall in full stream.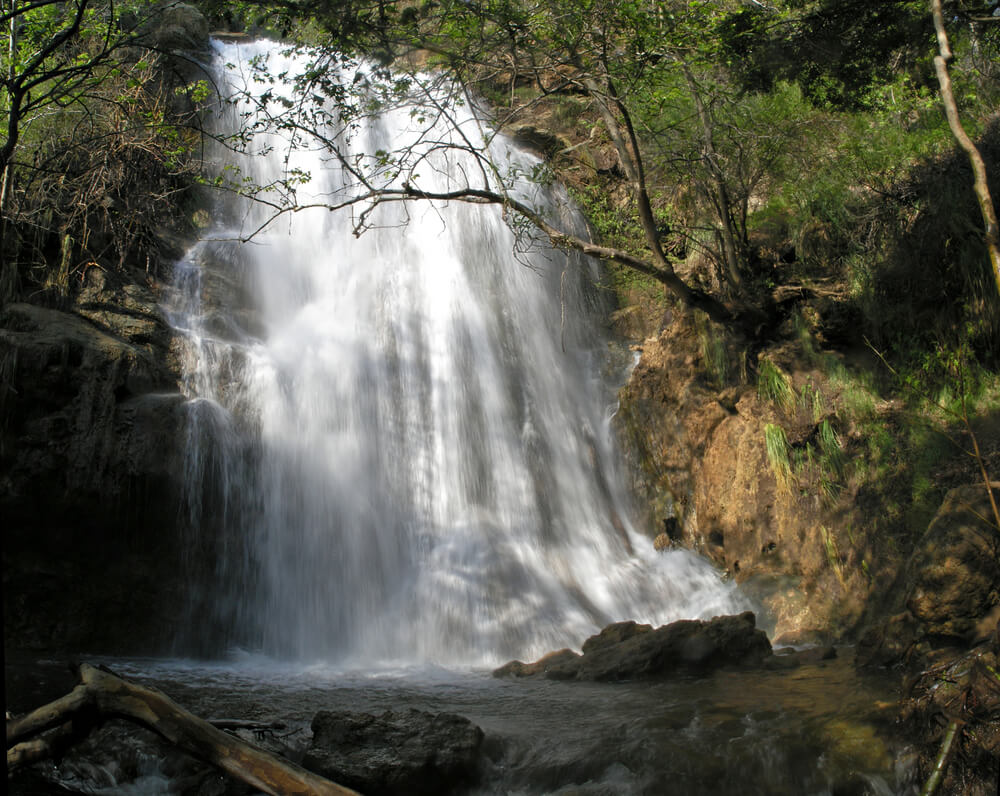 If you're taking the bus, consider trying out one of these hikes:
Corral Canyon Loop Trail: Located at Corral Canyon Park, this trail is a quick 2.3 mile loop that provides you ocean views the entire way. Park information can be found here.
Bus Stop: Get off at Pacific Coast Hwy and Corral Canyon and walk about 20 minutes east on Corral Canyon Rd to get to the trail.
Solstice Canyon Loop Trail: A moderately difficult 3-mile loop that offers you the chance to see some historical architectural ruins and elevated views of the ocean. Park information can be found here.
Bus Stop: Get off at Pacific Coast Hwy and Corral Canyon and walk about 20 minutes west on Solstice Canyon Rd (you'll first walk on Corral Canyon Rd, then turn left onto Solstice Canyon Rd) to get to the trail.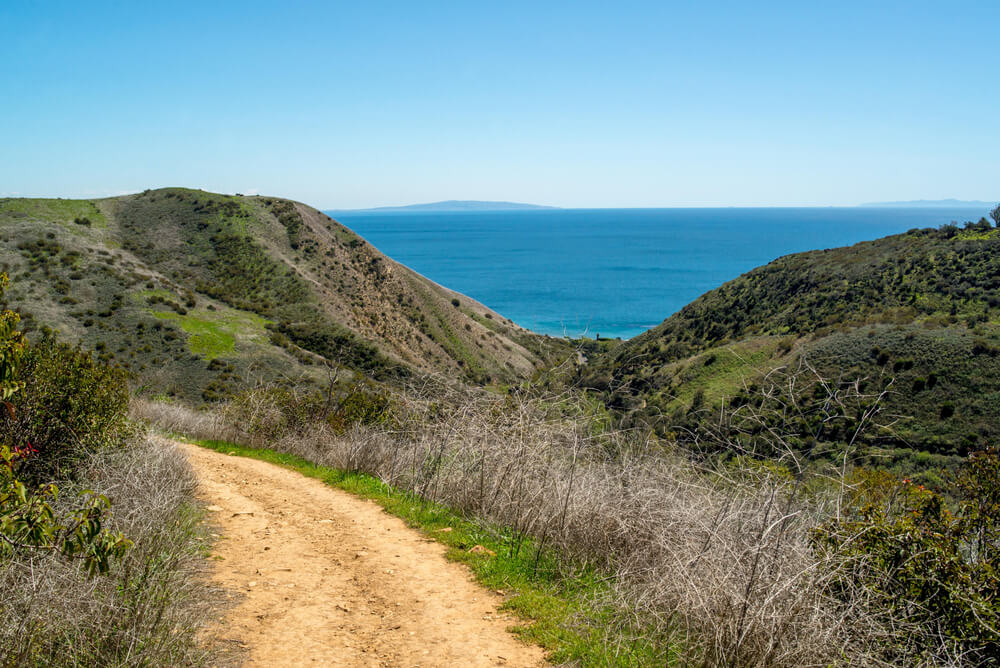 Explore the sea caves and watch the sunset at El Matador Beach.
El Matador Beach is a popular spot not just for soaking up the sun but exploring its dramatic rock formations and sea caves.
After you've finished roaming the beach, take a seat and watch the magical sunset unfold before your eyes. It's the best way to end a day trip to Malibu!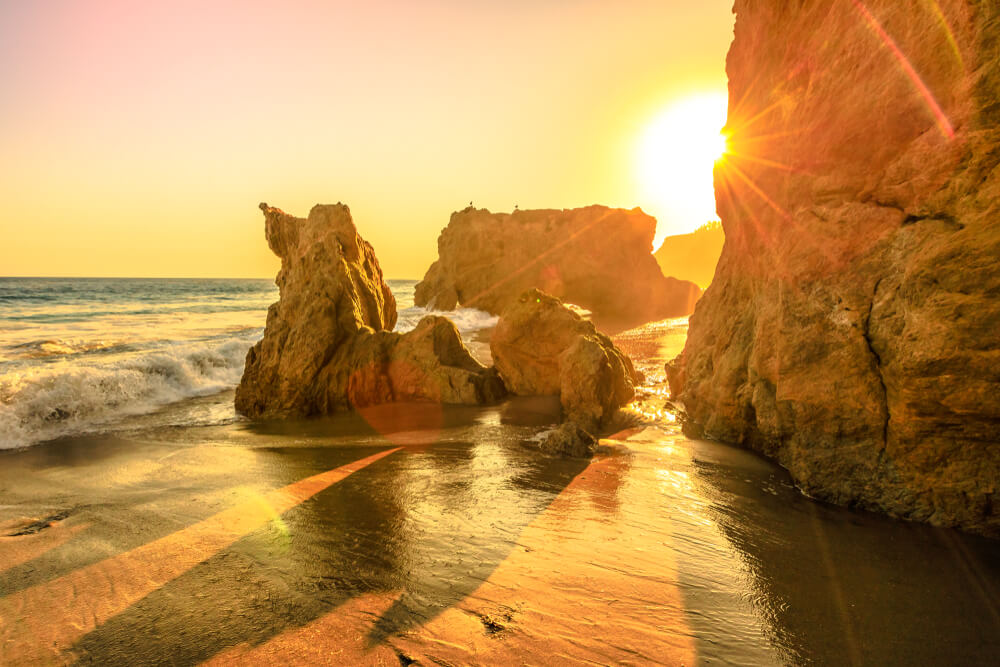 Note: You will have to walk down a set of stairs to get down to the beach. Parking in the beach lot is $3 per hour. The lot is small, so if you can't find parking, park for free along the Pacific Coast Highway.
If you're taking the bus, get off at Trancas Canyon and Pacific Coast Highway, then walk about 30 minutes or 2 miles west to get to the beach.
Address: 32350 Pacific Coast Hwy, Malibu, CA 90265
Dine with ocean views to end the day.
There really is no other way to cap off the perfect Malibu day trip unless it's with a delicious dinner with ocean views!
If you're taking the bus, hike Corral Canyon Loop and when you're finished, grab dinner at Malibu Seafood Fresh Fish Market & Patio Cafe as the trail is right next to it (before heading to El Matador Beach).
Or, take the 534 bus back toward Santa Monica and stop at one of the restaurants listed below. As a last resort, you can consider waiting until you get back to downtown Santa Monica as there are dozens of restaurant options available there too.
Explore the options by selecting the link for each restaurant below. Note: the prices range from moderate ($$) to expensive ($$$).
What About Staying the Night in Malibu?
Honestly, a stay in Malibu will not be cheap, so if you are able to return to LA, I would suggest that.
If you really want to stay the night in Malibu, be prepared to shell out some dough!
One of the most luxurious places to stay is the Calamigos Guest Ranch & Beach Club. Located in the mountains on a 200-acre property, it also has its own private beach club for the best of both worlds. With several pools and a spa, it'll be hard to tear yourself away!
For a more affordable stay, the M Malibu is an option. Honestly, it's nothing special — and the price is still on the high side — but it's the best option for the price.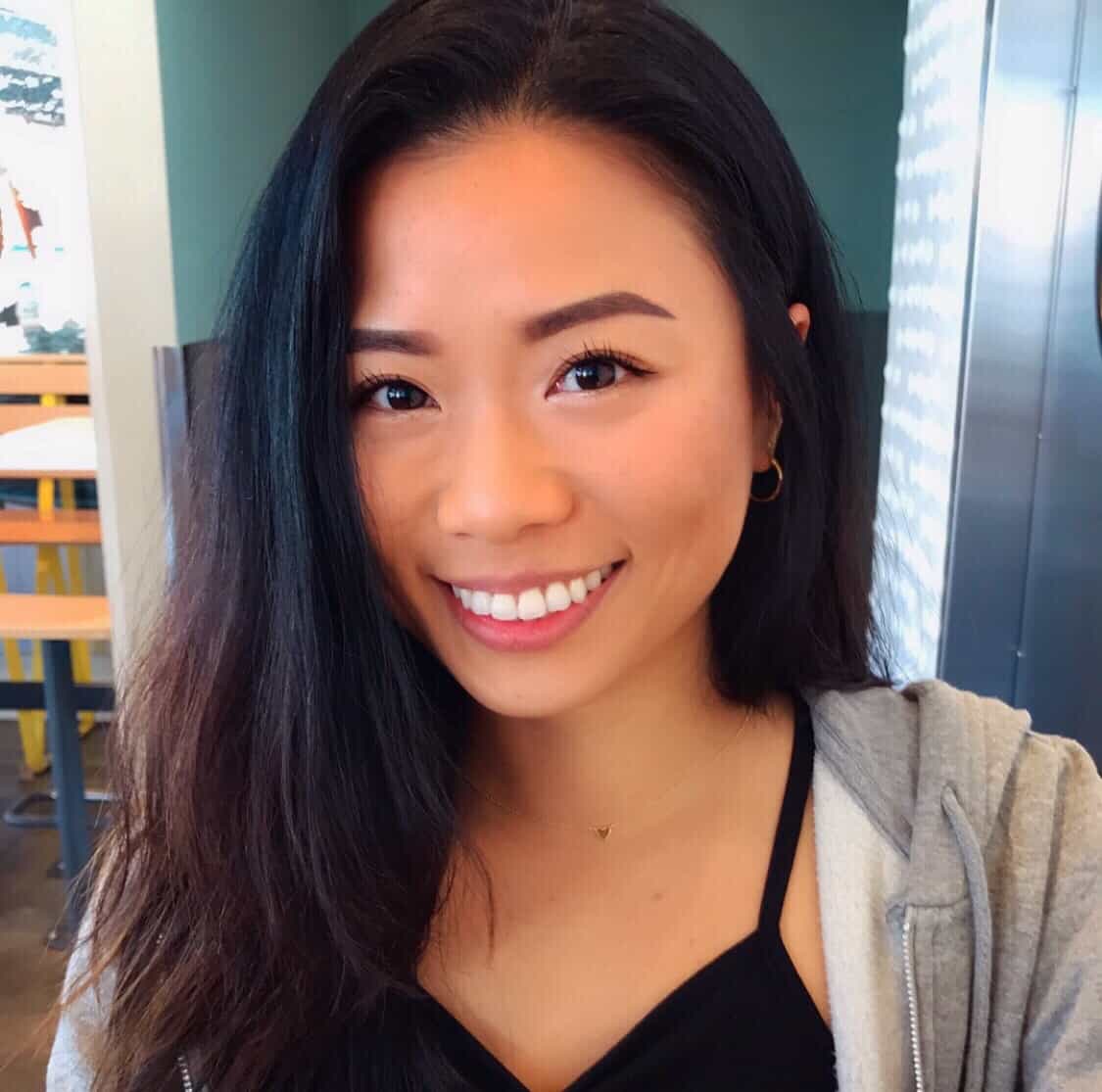 Lianne quit her 9-5 job in 2018 and moved to the bustling city of LA for a change of pace. Having lived in a quiet, secluded part of the East Coast most of her life, her life on the West Coast has since pushed her outside her comfort zone and inspired her to always take "the road less traveled." Travel has played a key role in her personal development, and she believes everyone can reap the extraordinary benefits of exploring life beyond borders.