If you're a hiker looking for an interesting experience, look no further than Joshua Tree National Park. Over one thousand miles of desert oasis awaits you.
As you travel through this land, it transforms from the MojaveDesert found in California to the Colorado Desert, which brings cooler temperatures and a different scenery altogether.
What's more — the park is an international dark sky park and filled with a fascinating history that's only a hike away.
If you're looking for the perfect weekend getaway from LA or a spot on your California road trip itinerary, you've found it here. If you only have one day in Joshua Tree, I also have a guide for tackling the park in just a day!
I will give you my insider tips — what I learned during our time at the park, from hidden gems, to the best places to stay, the best things to do in Joshua Tree, and everything in between. Let's dig in!
Your Perfect Joshua Tree Itinerary
Your Stay
Note: This post contains affiliate links, which earn me a small commission at no extra cost to you if you make a purchase using one of these links. Thank you for supporting this free content!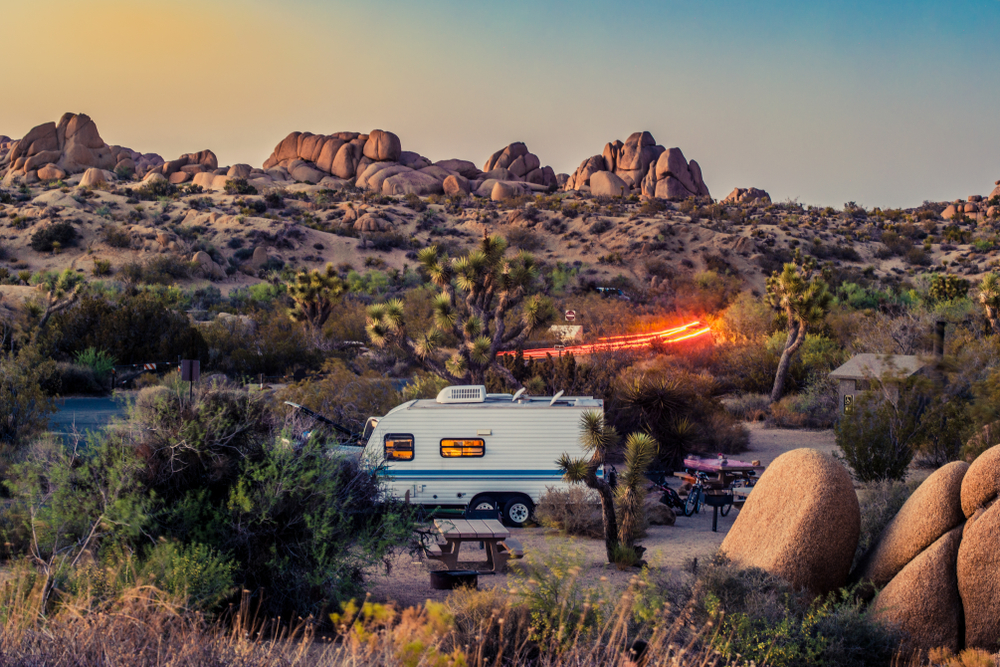 Driving in the night before, I recommend two options, and they vary based on your price and desires. My family recently converted a work van into a camper, so we opted to stay on Bureau of Land Management land, which is free.
There are multiple sites throughout the park, we chose to stay at the White Tank Campground at the South end. Just a heads up, you will be doing true primitive camping – while there are restrooms nearby, there is no running water or electricity at the sites.
You could also stay at an Airbnb. There are hotels but not many, so this is a better option. The people of the area have built some beautiful ones, and I recommend either the tiny house or the desert dream shipping container home!
For a complete list, check my guide of Joshua Tree Airbnbs!
Before You Go to Bed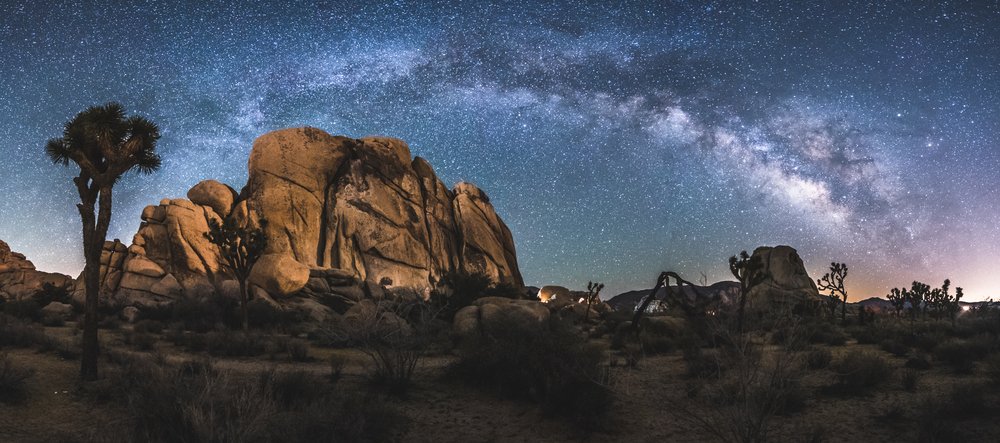 Insider Tip: The main reason I wanted to go to Joshua Tree was that I learned that it is on the list of International Dark Sky Parks! For the first time in my life I saw twinkling stars and the Milky Way.
Interestingly enough, it is one of the most unique parks because it is situated so near a city that holds 22 million people — about a hundred miles away. Part of the way they were able to achieve this is through the high elevation of the desert and through asking neighboring areas to reduce their power supplies using varying methods.
If you, like me, are coming here in part to see the night sky in all its wonder, here are my suggestions!
1) Plan your stay around when the moon is in a phase that won't bother you at night — full moon is not great for seeing the Milky Way! It was a total fluke that we managed this, but I am grateful that we managed and will note it for next time.
2) Only use a red light. You can add red cellophane to a flashlight in order to achieve this. The reason why is because it takes the eyes twenty minutes to adjust to the darkness after seeing a bright light. I don't know about you, but I'd rather spend that twenty minutes in awe of what I'm seeing.
3) Watch your step. If you plan to be walking during this time, make sure to use the flashlight to look at what is coming ahead. We chose to stay by our camper and got amazing views without walking about at night.
Day One of Your Joshua Tree Itinerary
Start at the South End, Cottonwood Springs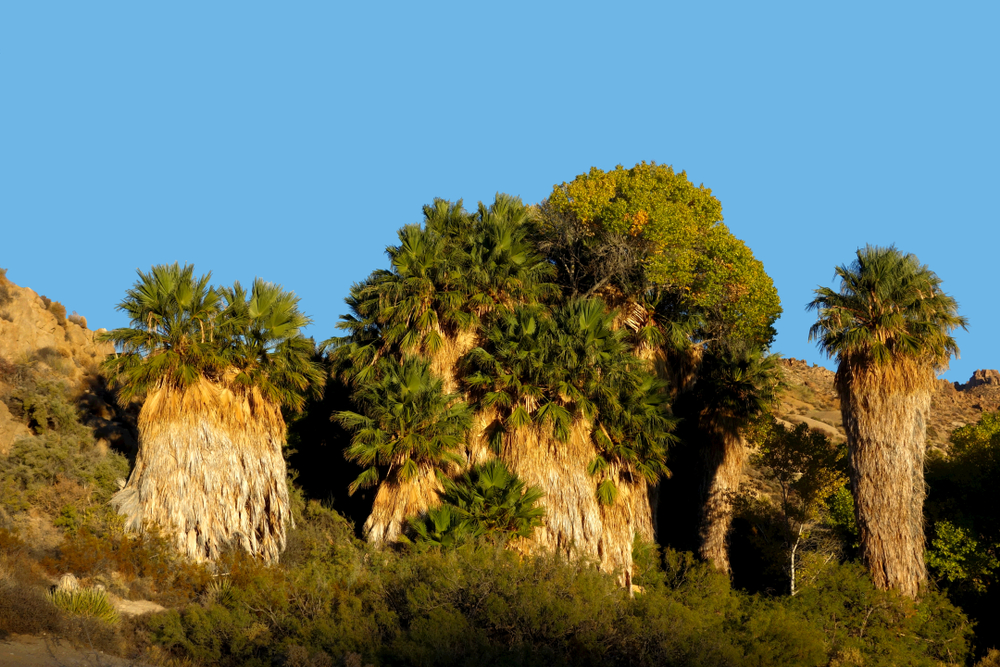 Now that you're rested and hopefully well fed, it's time to explore Joshua Tree National Park! About seven miles into the South Entrance is Cottonwood Springs. Cottonwood Springs is one of Joshua Tree's hidden gems.
One of the best parts about this area is that you get to see the Joshua Trees up close and personal. Before going, I didn't know much about what the trees looked like, so I had to chuckle a bit when I noticed they look a bit like a cheerleader holding up their pompoms.
Beyond the trees, in every area of this park, there is wildlife. Cottonwood Springs is especially known for Bighorn sheep coming up for water in the early mornings, so be sure to get a decent start to the day.
If you are a bird watcher, the availability of the water from the spring means this is the best place to spot birds as well.
Insider Tip: I do want to note though that when we went the Cottonwood Springs Visitors Center was closed due to bee activity — so not all wildlife is fun to be around! That being said, we went in the heat of the summer, so this may not be an issue in the other seasons.
Hike the Mastodon Peak Loop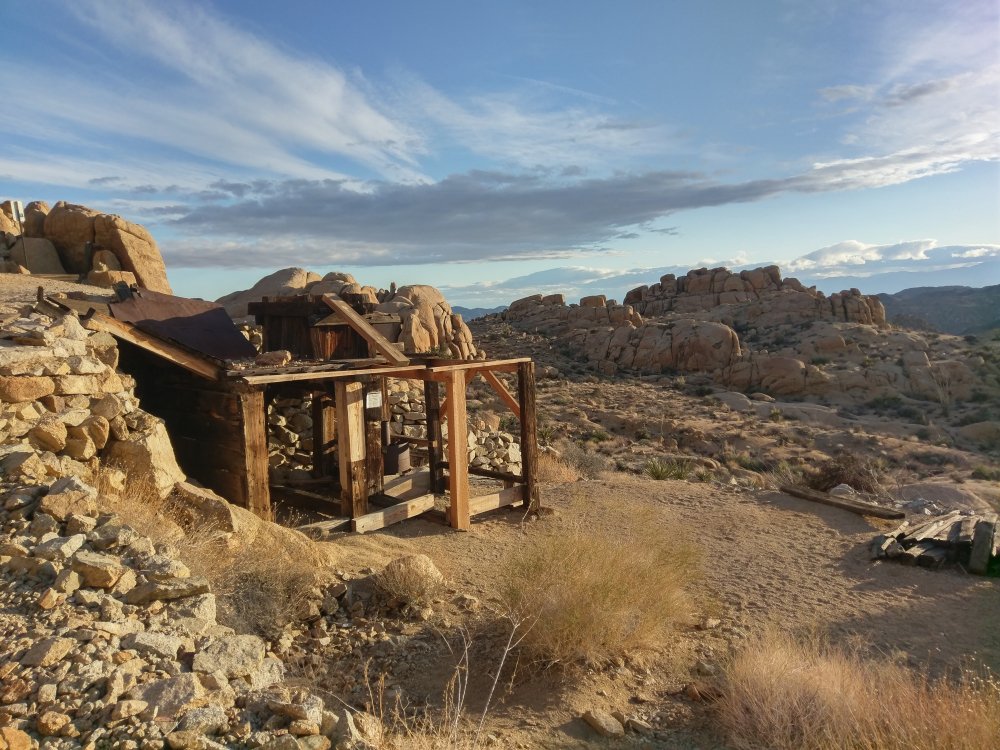 The Mastodon Peak Loop Trail takes about two hours to complete without stops. Some of the sites to stop and learn about include a long-abandoned gold mine and Winona Mill. You might also stumble upon remnants from the indigenous people who lived here.
Once back to your car, you have about an hour drive to your next destination of arch rock trail.
Hit the Arch Rock Trail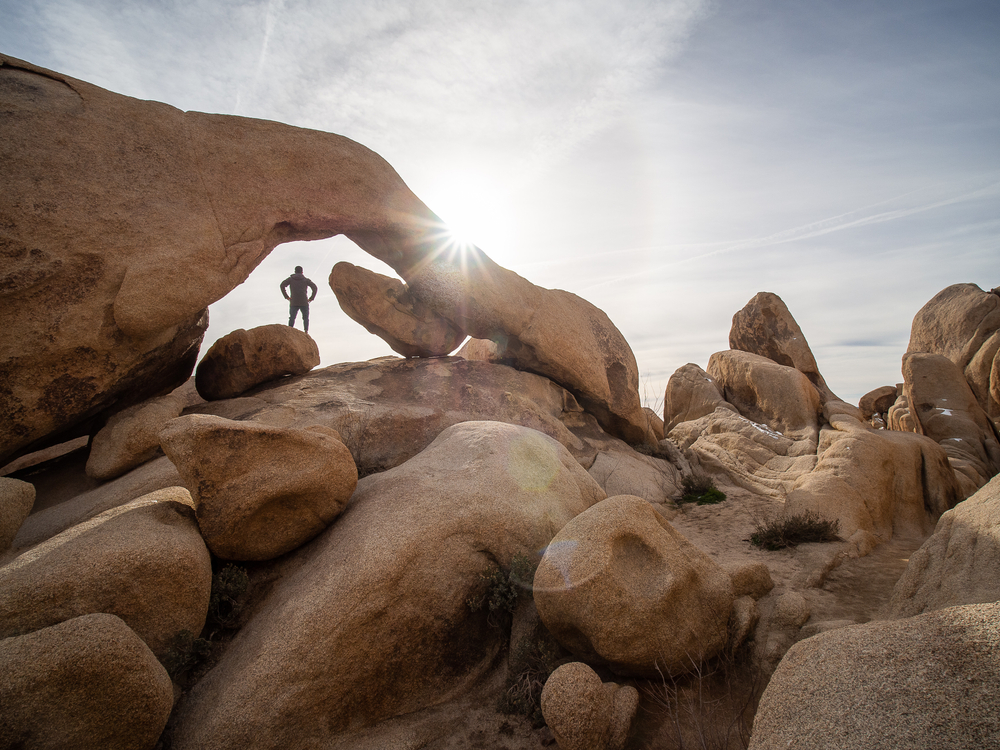 This trail is one mile long, and you will see it from the trailhead. There are a lot of different rock formations along your hike, including Arch Rock and a quarter-mile away is Heart Rock.
Most hikers will not give you the exact location of Heart Rock as they believe the fun is in finding it. We're here to enable your adventure, though, so here are the GPS Coordinates if you want to try to find it yourself: 33°59'17.6″N 116°00'47.8″W.
Note that it is on an unmarked trail, so be sure to download the offline map of the area on maps.me or Google Maps so that you won't get lost in case you don't have cell reception in the area!
This is also a good trail to get some amazing star-gazing pictures if you want to hike along with your night views.
Check out Skull Rock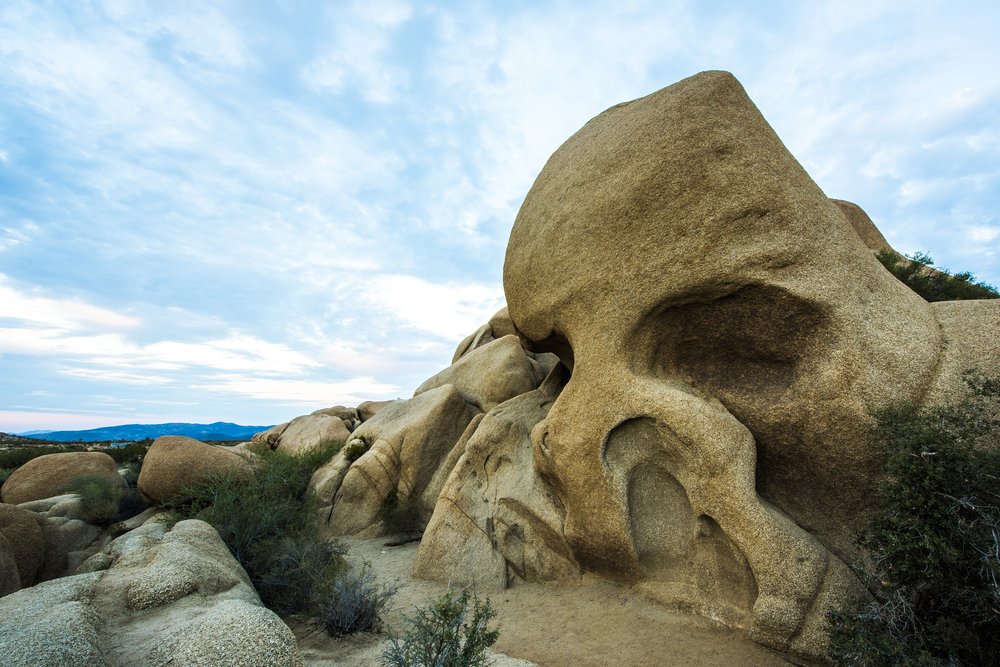 The drive from Cottonwood Springs to Skull Rock is one that should be enjoyed, this is where the scenery really changes from the Mojave to the Colorado desert.
This is a good area for those that just want to get pictures, as the rock that looks like a skull is right off of the main road. A big perk of this trail for most people is being able to get some climbing in! We took advantage of this as well and climbed around for about an hour.
Tackle the Ryan Mountain Hike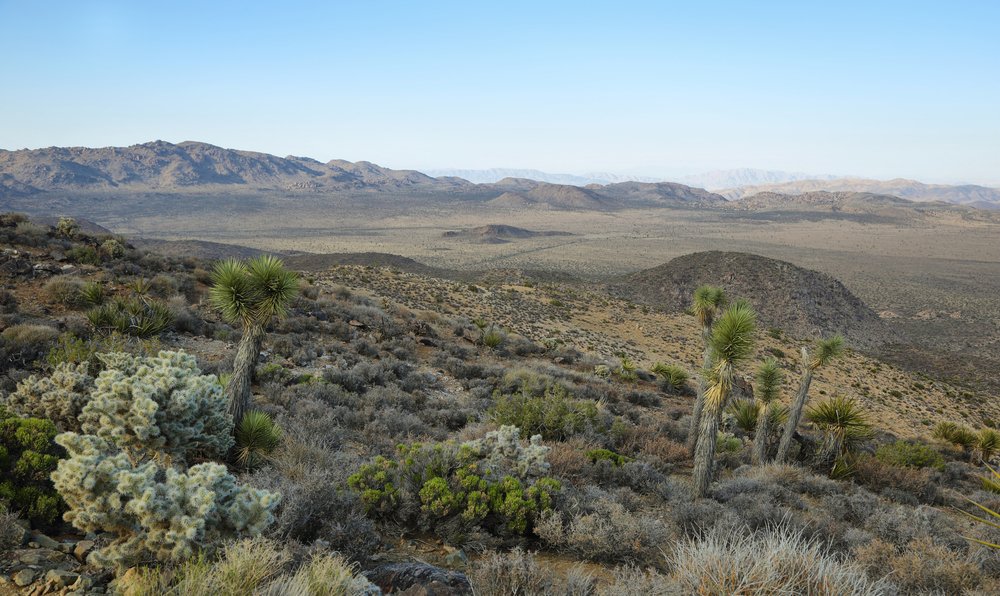 This hike is a three miles round trip and the first half of it is all uphill. Since this is the second-highest point in the park, don't take it lightly. During the winter months, there might even be snow!
You will have epic scenery from the beginning, as the trail is close to the edge of the mountains for the first mile or so. Don't worry though, because the trail is well-maintained.
The summit sits at 5,400 feet. There is a rock pile you can stand on to get a full 360-degree view of the area that looks out on Joshua Tree National Park for miles and miles.
This is the end of day one of your Joshua Tree itinerary and the perfect hike to end the day on, as it has amazing sunset views. Just don't forget to take your headlamp for the way down!
Depending on your accommodation situation, you can either go back to your hotel or Airbnb or camp at Ryan Campground in the park.
Day Two of Your Joshua Tree Itinerary
Visit the Cholla Cactus Gardens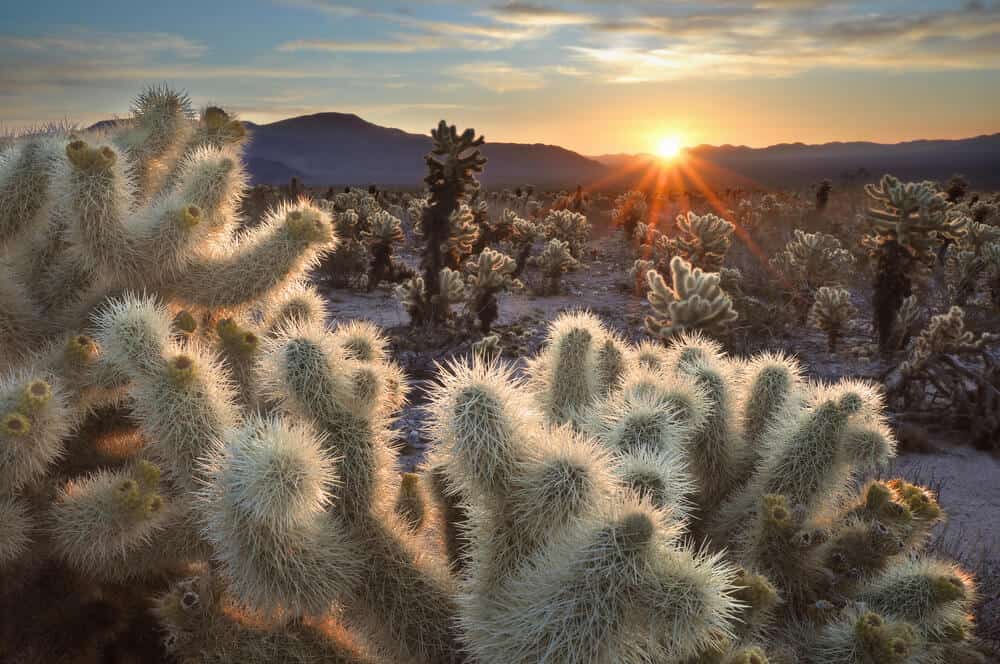 This trail is one of the shorter ones in the park at only half a mile round trip. It is perfect for families with younger children who may not have the stamina for longer hikes.
Just as the park is named after the Joshua Trees, this hike is named after the cactus. Most of the trail is on the ground, but one area does have some bridges to get you through the trail.
Insider Tip: Don't get too close to the chollas — the cacti are known to stick you pretty quickly! They even have tweezers and alcohol wipes outside of the trail in case you get stuck!
Learn and Hike at Wall Street Mill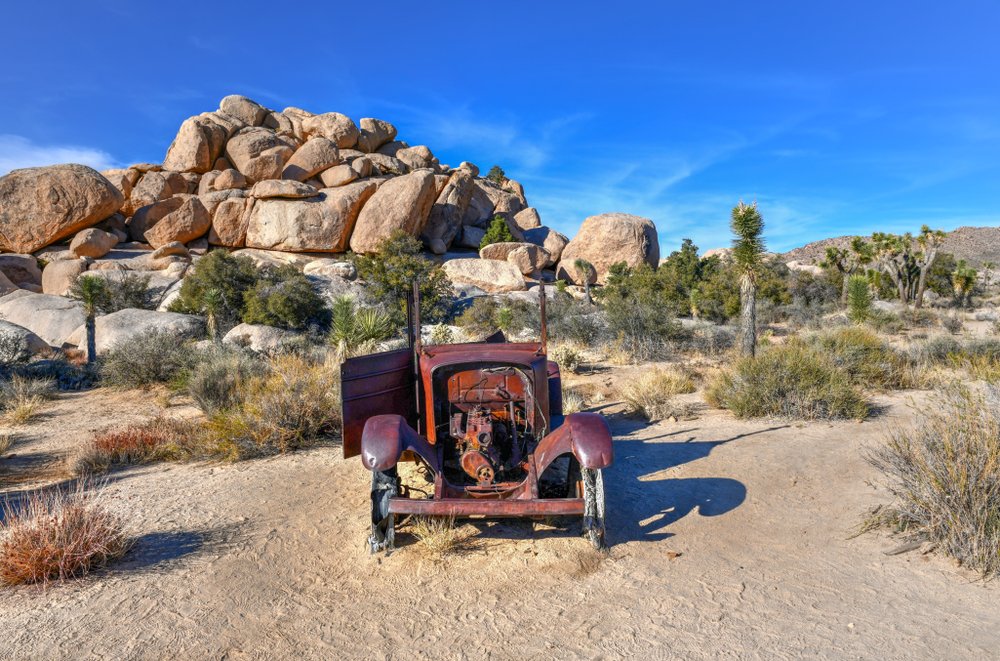 This Joshua Tree hike was my favorite and, combined with the night sky, this made this my favorite National Park we went to on our latest road trip.
There is a very dramatic history attached to the area, and remnants of this past still remain there today, including three vehicles, a mine, and even a tombstone.
Like the first hike, there are quite a few animals that might leave you stopping as well!
The hike itself is about 2.2 miles round trip and not very difficult. Given that there is not much shade, going in the morning during the summer is your best bet.
Hike the Historic Barker Dam Trail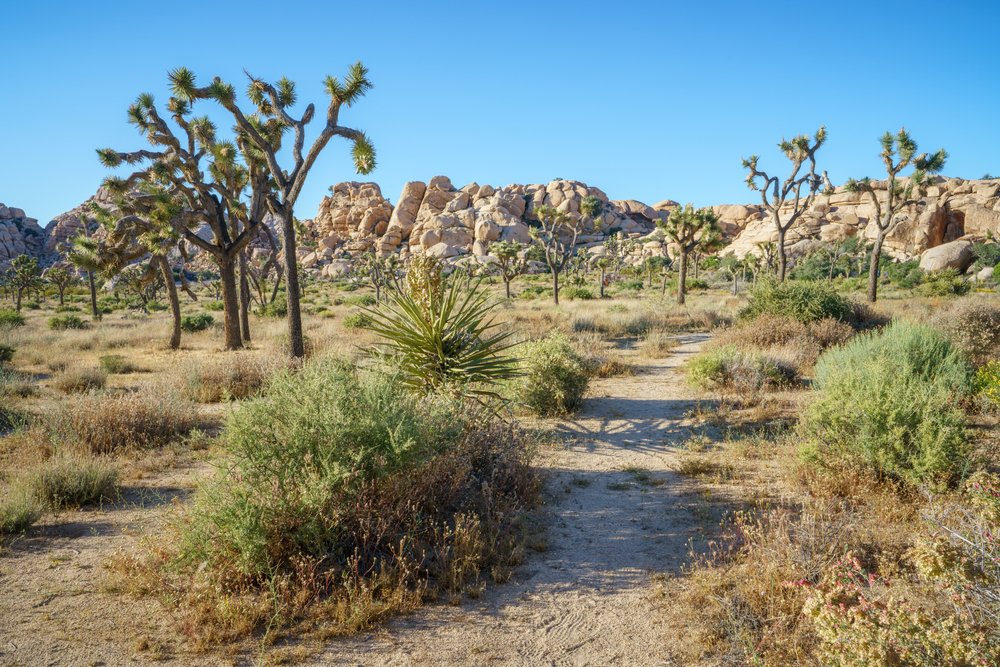 The dam is mostly dry during the year, but the dam is still there and still working. It was originally built by cattlemen in the early 1900s, but it was risen by William Keys and his children in 1949.
Given that there is water part of the year, as with Cottonwood Springs, there is more wildlife in this area than other parts of the park, so it's a great opportunity for wildlife photography.
The trail is one and a half miles long and only climbs 50 feet in elevation. At the point in which you are ready to turn back, there is a sign that points to the petroglyphs which you can see.
In addition to the petroglyphs, there is writing in the concrete at the dam, with the names of the kids who helped build the dam, along with the date; and a horse trough that is still in working condition.
Check out Key's Ranch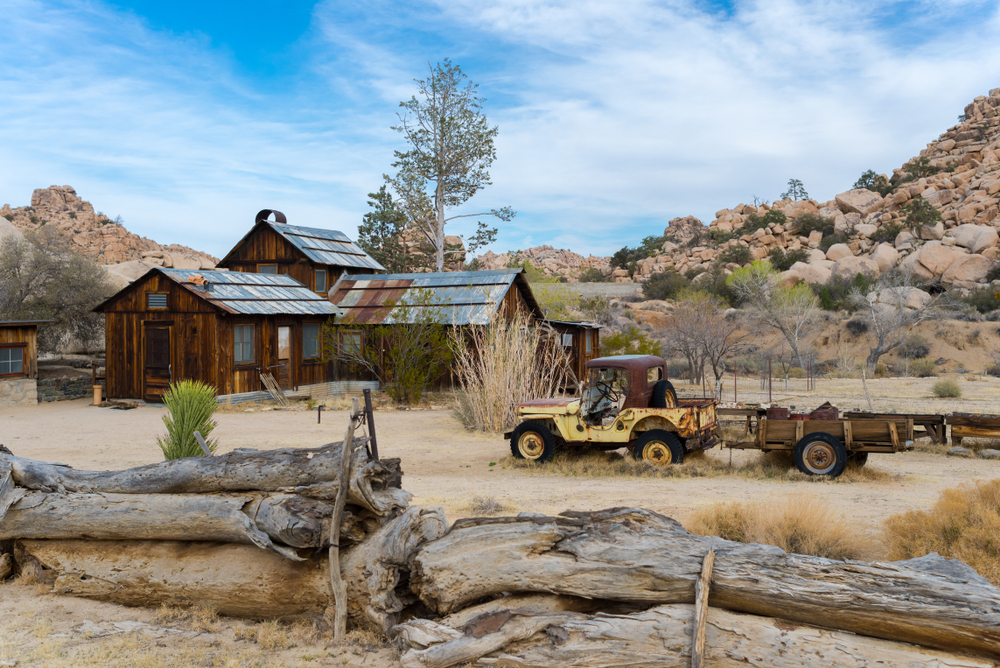 Key's Ranch is another part of the interesting history from the Wall Street Mill. Both the mill and the home were owned by Bill and Francis Key, and the home is much better maintained than the mill.
The ranch house is in great shape; the school house, store, and shed are still standing, and there are miscellaneous items throughout the area that are worth viewing and learning about. You will leave never forgetting who the Key family was after this!
It is important to note that this part of your trip needs to be planned, as the only way to get there is by a 90-minute guided tour. There is only one tour per day and it costs $10 for adults and $5 for children six to eleven, in addition to paying the National Park fee.
This should be where your Joshua Tree National Park itinerary ends. If you get the chance, do swing by the Visitors Center in the town of Joshua Tree – the rangers are very nice and will be even more helpful than we were. I hope you enjoyed this and head out on your next adventure soon!
Pin This Guide to Planning Your Joshua Tree Itinerary!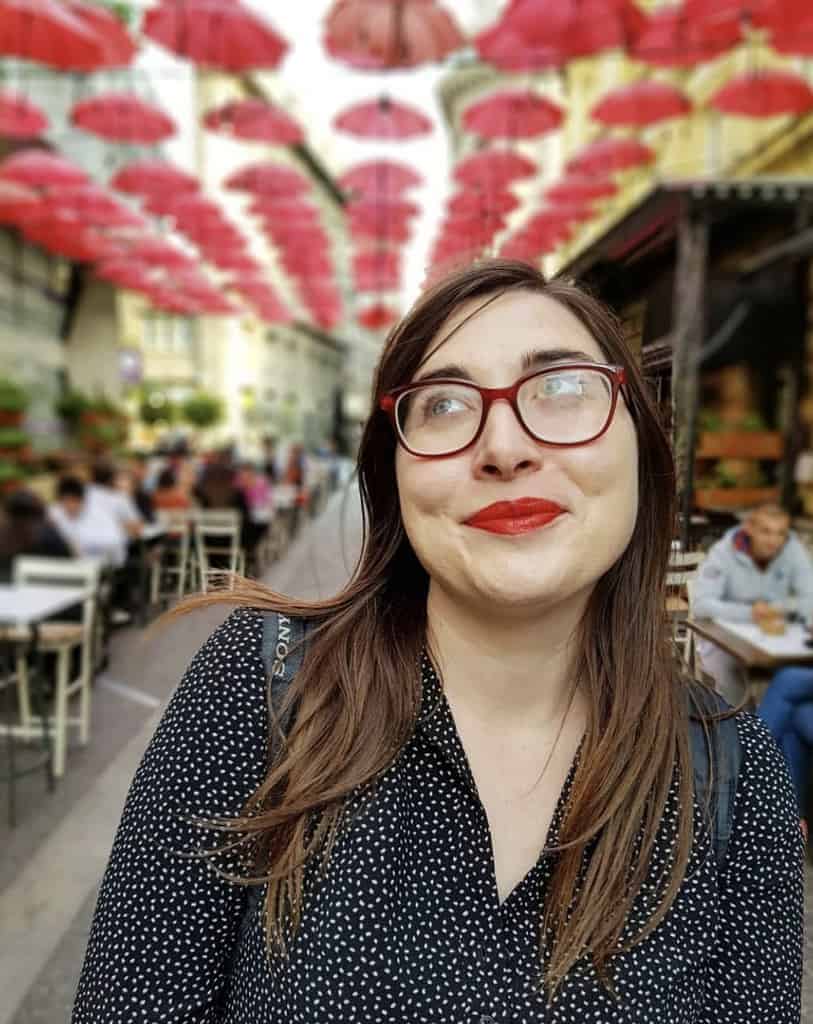 Allison Green is a travel blogger, writer, and podcaster who grew up in the Bay Area of California. She has spent time living in New York, Prague, and Sofia, but has returned to live in the East Bay. She has traveled to 60 countries before the age of 30 while running several digital travel publications. Her writing and podcast have been featured in Forbes, CBC Canada, National Geographic, the Huffington Post, and CNN Arabic, amongst others. She's obsessed with bouldering, houseplants, other people's pets, and anywhere she can see the ocean.