With Joshua Tree National Park (and its awesome hikes) so close by, the remaining Palm Springs area doesn't get much attention but that doesn't mean it shouldn't!
Palm Springs is located between not one, not two, but four mountain ranges — and let us not forget about the Coachella Valley stretching in almost every direction!
With that being said, you are guaranteed breathtaking views on just about any hike in the Palm Springs area.
To really take in the desert terrain and admire the peaks of San Bernardino, Little San Bernardino, Santa Rosa, and San Jacinto, you should definitely check out these 6 hikes in Palm Springs, which are not only scenic but a lot of fun!
Hop off of the beaten path (well, not literally — let's stay on the trail, here!), fight the urge to visit areas you are already familiar with, and leave the crowds behind.
Prepare to have your mind blown by the beauty that awaits you in Palm Springs!
The Best Hikes in Palm Springs, CA
Palm Canyon Trail
Note: This post contains affiliate links, which earn me a small commission at no extra cost to you if you make a purchase using one of these links. Thank you for supporting this free content!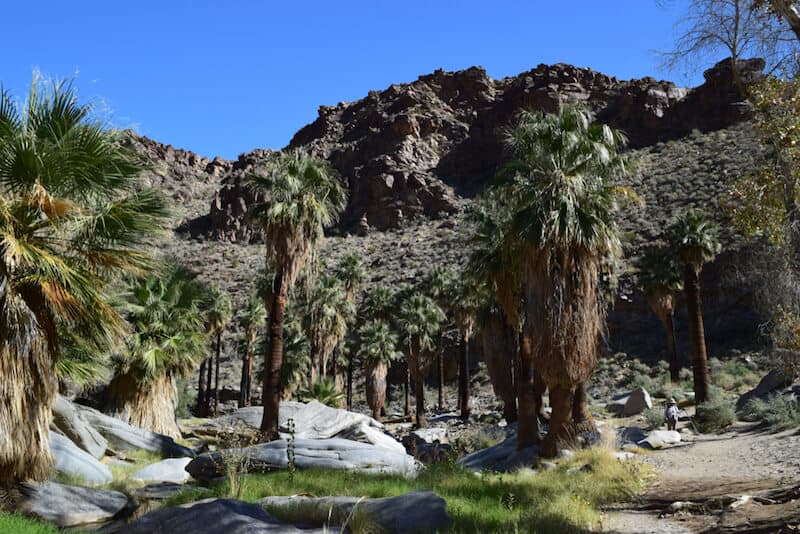 Difficulty: Easy
Distance: 2 miles
Route Type: Out-and-back
Elevation Gain: 300 feet
Trail Conditions: Check hiker updates on AllTrails
Palm Springs is known for its palm trees and the best way to see them in abundance is by visiting Palm Canyon. Shocker, I know!
But in all seriousness, the palm tree oasis you'll find along the Palm Canyon Trail is hard to beat and even better than that, it is easily accessible to all so grab your kids or your out-of-shape friends and get ready to explore!
You'll feel completely immersed in the environment as you walk under a dense forest of towering palm trees and listen to the sounds of the creek trickling beside you.
The sun won't be able to knock you off your feet (or leave you burnt and bothered) thanks to the lovely and constant shade provided by the massive fan palms overhead.
Once you reach the end of the trail you will have the option to head back through this cool oasis or head down the Victor Trail for a full loop with new cactus-filled views.
Bump And Grind Trail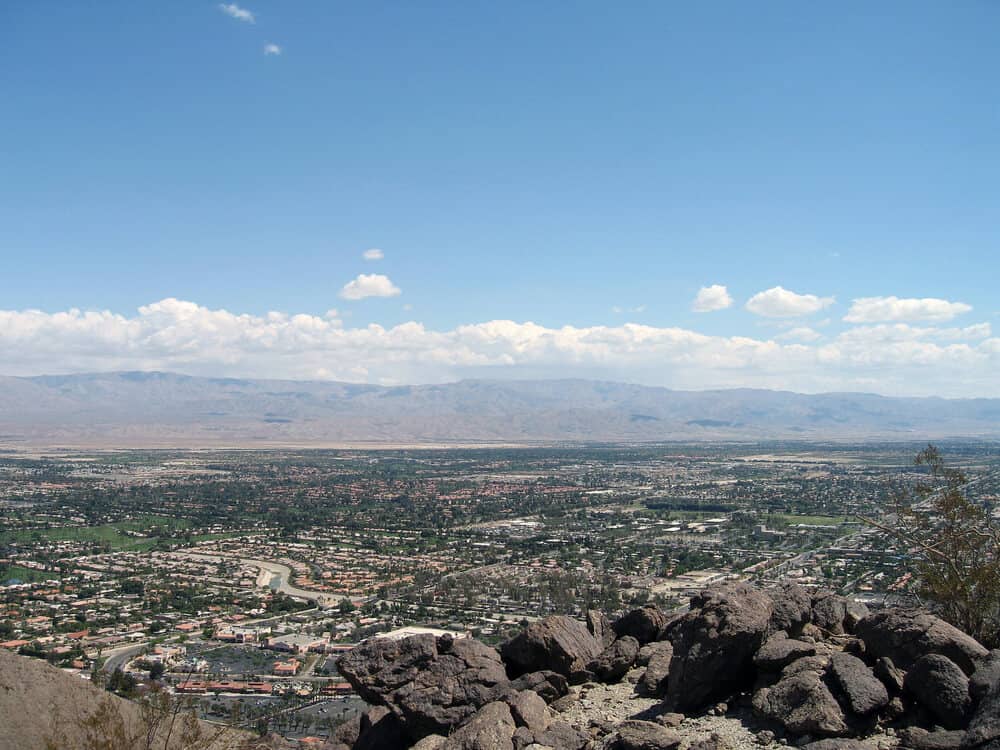 Difficulty: Moderate
Distance: 4 miles
Route Type: Loop
Elevation Gain: 1,000 feet
Trail Conditions: Check hiker updates on AllTrails
The Bump and Grind Trail is easily the most popular hike in the Palm Springs area.
With popularity comes large crowds, so do yourself a favor and plan your trip in the early morning or late evening to lessen your exposure to foot traffic!
It is important to note that you are in the desert and deserts are… well hot. Really hot. So even though this hike is relatively shorter than others, dehydration and exhaustion are common when preparation is lacking.
Along your journey, you'll come across the home of the endangered Peninsular bighorn sheep where you can admire them in their natural habitat.
Please make sure to keep a safe distance for both your sake and the sheep!
In addition, this portion (which accounts for the last mile) is closed off between February and April to give the bighorn sheep space to feed and care for their newborns.
After you manage to pull yourself away from these adorable creatures, you'll make your way to the summit where you can bask in the magnificent views of Mt. San Jacinto and San Gorgonio.
The Cross Trail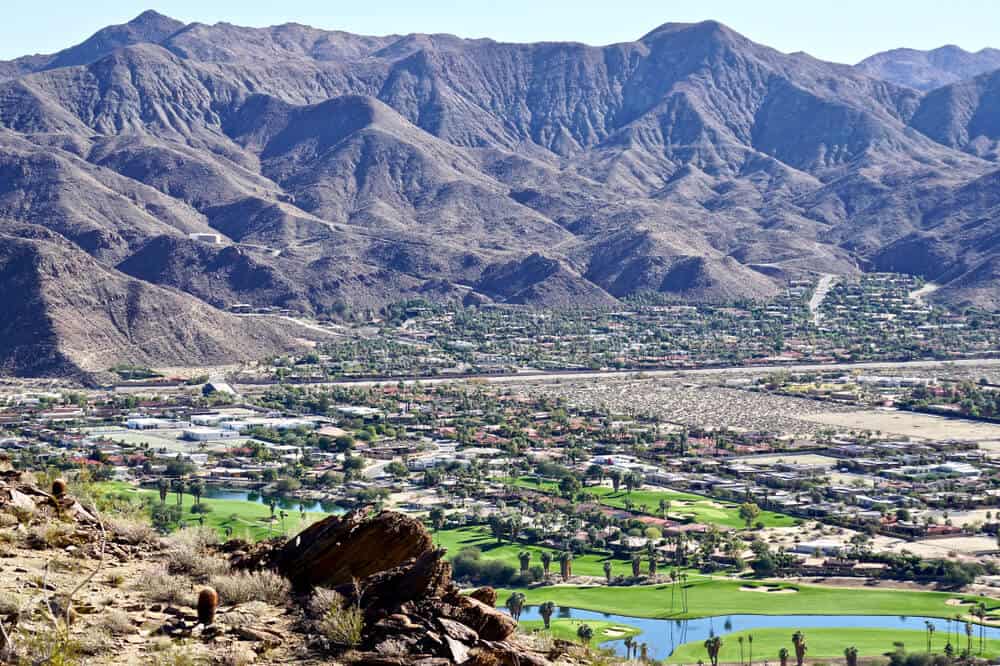 Difficulty: Moderate
Distance: 2.3 miles
Route Type: Out-and-back
Elevation Gain: 600 feet
Trail Conditions: Check hiker updates on AllTrails
You don't have to be religious to appreciate the 30-foot tall cross that stands in the middle of the desert.
The wide sweeping views that surround it are breathtaking regardless of what you believe in!
The trail is made up of two smaller trails, the Homestead Trail and the Hopalong Cassidy Trail, which are both placed in a… you guessed it… cross.
Remember, this is a desert terrain so always plan accordingly. Bring plenty of water, sun protection, and light layers.
Fun fact: The Hopalong Cassidy Trail is actually named after a famous fictional cowboy played by an actor who retired to the Palm Desert in the late 1900s.
Although you won't have any coverage from the sun, the hike is rather short and the elevation gain is gradual so your legs won't be burning as you make your way up the switchbacks.
You'll know the end is near when you see the massive cross peeking out amongst the ridgeline and the views only get better as you make your way over to its base.
Sit back and appreciate the vast valley with soaring mountains out in the distance but please be respectful of the religious tokens that are scattered around the area.
Bogert to Murray Peak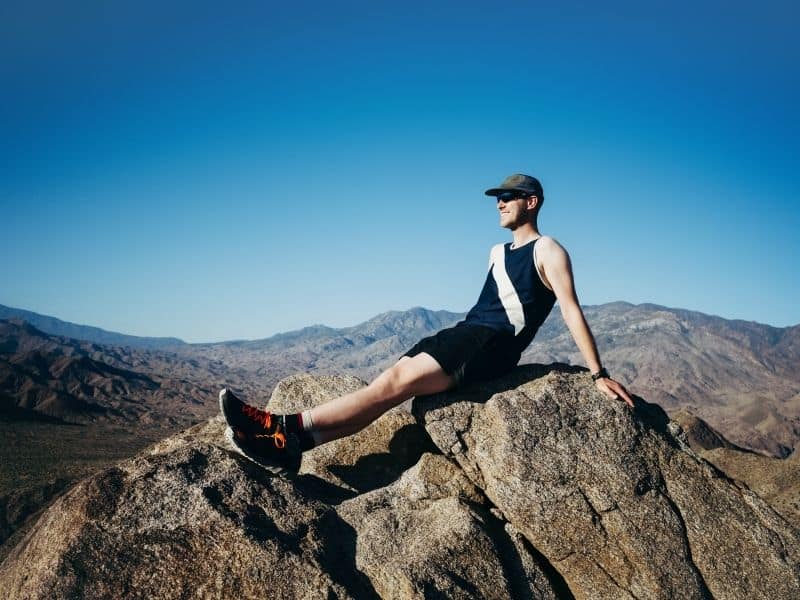 Difficulty: Moderate
Distance: 6.8 miles
Route Type: Out-and-back
Elevation Gain: 1,850 feet
Trail Conditions: Check hiker updates on AllTrails
The Murray Peak Trail is a hidden gem if I have ever seen one and as an added bonus to the lack of crowds, you'll get to enjoy some diversity in an area that is mainly composed of desert foothills.
There are a few different starting points to choose from but the best place to start is the Frank Bogert trailhead because of its spacious parking lot and straightforward trail system.
The first section of the trail is pretty leisurely and provides a good amount of shade so enjoy it while it lasts before things start picking up.
Once you get to the switchbacks, you will have started your ascent and although the switchbacks lessen the burden, you can still expect to feel the burn.
But the pain will quickly be forgotten about as you are rewarded with one breathtaking view after another for the remainder of your climb.
You'll be amazed at the sight of the Coachella Valley as you walk along the spine of the ridge and make your way to the peak where you can sit for a picnic and marvel at the mountain views in every direction.
Ladder Canyon Trail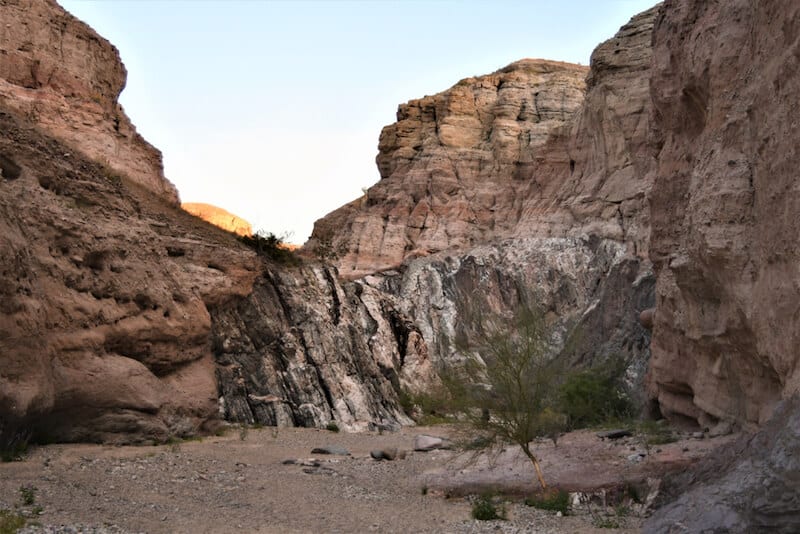 Difficulty: Moderate
Distance: 4.4 miles
Route Type: Loop
Elevation Gain: 850 feet
Trail Conditions: Check hiker updates on AllTrails
When you need a break from the usual desert hikes and feel the need to spice things up a bit, the Ladder Canyon Trail will be waiting for you and I promise you, it does not disappoint.
In fact, it may even knock all of the other hikes on this list right out of the park (depending on who you ask) because of its completely unique environment, and besides who doesn't enjoy a good slot canyon?
So hop in your 4×4 vehicle, head down the bumpy road to the trailhead, and get ready to embark on an exhilarating adventure filled with ladders, sand, and good ole canyon fun.
The start of the trail looks more like a pile of boulders than an actual trailhead so make sure to follow the rock-formed arrows in the sand so you don't miss it.
After a bit of easy rock scrambling, you'll make your way into the massive slot canyon where you will have the option to either climb your first ladder or scramble up some more.
The second ladder you come across is both beautiful and unavoidable. If you're looking for your picture perfect moment you'll find it here before climbing further up and into the depths of the slot canyon.
As the mouth of the canyon widens, you will be welcomed by beautiful layers of desert hills and the Salton Sea out in the distance.
Bask in the panoramic views atop Painted Canyon before making your way down to walk between its patterned canyon walls.
It doesn't get more gorges than that, amirite?
Cactus to Clouds Trail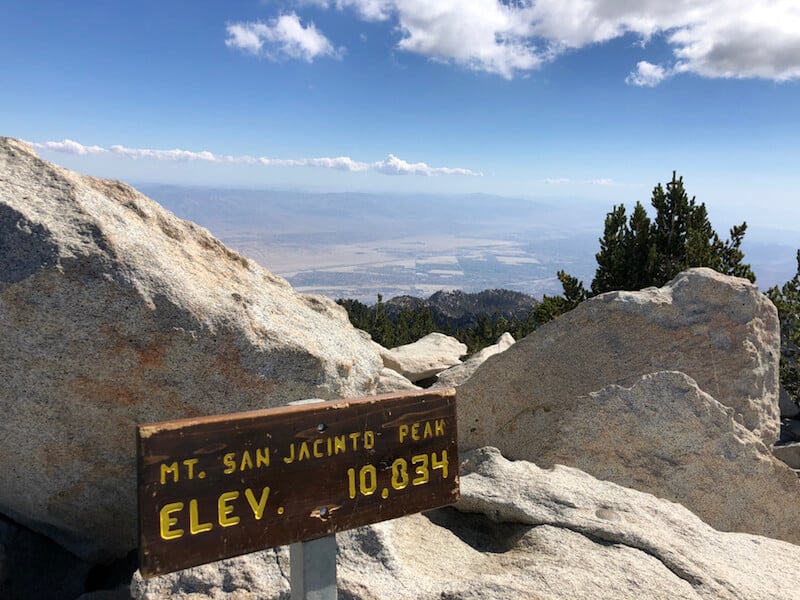 Difficulty: Extremely Hard
Distance: 22 miles
Route Type: Point-to-Point
Elevation Gain: 10,764 feet
Trail Conditions: Check hiker updates on AllTrails
I just want to start by saying that this first hike is a real doozy and should only even be considered if you are in amazing shape with extensive hiking experience.
However, if you have the skills to take on the challenge and you plan your trip accordingly to combat bad weather, it is definitely a trail worth conquering.
It is known as one of the hardest day hikes in the world… Yes, you heard that right. There is no option to stop and set up camp.
I can't stress enough the importance of planning when it comes to taking on this feat (managing time, water, energy, etc.) and I highly suggest doing a bunch load of research before your feet ever hit the dirt.
Now to the good stuff… The trail starts in the heart of Palm Springs but you hit the ground running with a steep incline up the ridgeline and through the vast desert environment.
The trail markers will be your saving grace so make sure you follow them at all times as you will be faced with quite a few sneaky switchbacks.
There is a good chance you'll reach the Palm Springs skyline viewpoint before daybreak and oh what a wonderful sight it is to see the city lit up below you.
But it only gets better (and cooler) from here! You'll start to see awesome geological features at every turn like Chino's Canyon and Dry Falls as the setting slowly shifts from desert to alpine.
Once you've reached the top of Grubb's Notch, stop for a moment to take in the breathtaking views and relish in the thought that the hardest parts are behind you!
From here, you will have to fight the temptation to stop every couple of seconds to marvel at the wide sweeping mountain range but just wait until you see the panoramic views that wait for you atop the peak of San Jacinto!
Did I mention that accomplishing this Palm Springs hike will earn you some pretty serious bragging rights? (It was implied.)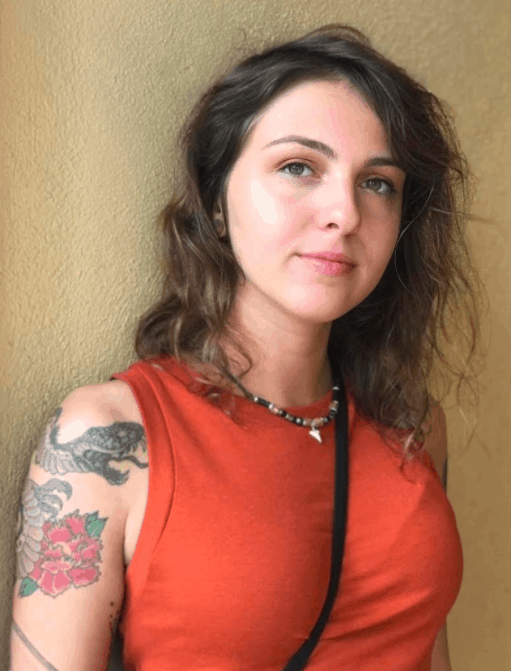 Nicole is a freelance travel writer who lives in Upstate NY, but her heart lies in the beautiful state of California. She loves to travel to new destinations, eat at all the best local restaurants and explore all the world has to offer. Her favorite place is just about anywhere where snow-peaked mountains can be seen in the distance.