With 27 miles of rolling beaches and fierce waves, Malibu is one of the most popular hotspots for beachgoers in Southern California.
With this, finding the best beaches in Malibu might feel impossible, but not to worry!
Malibu contains a balance of tourist destinations and incredible natural sights.
It is critical to know what kind of Malibu beaches you are looking for when start to create your travel plan.
With each sliver of California coastline having its own unique qualities, you can be confident there is a beach in Malibu that is just perfect for you to visit.
Whether you want rugged rock formations, sand to sink your toes into, or amenities to enjoy, here are our favorite beaches in Malibu!
Where to Stay in Malibu
Note: This post contains affiliate links, which earn me a small commission at no extra cost to you if you make a purchase using one of these links. Thank you for supporting this free content!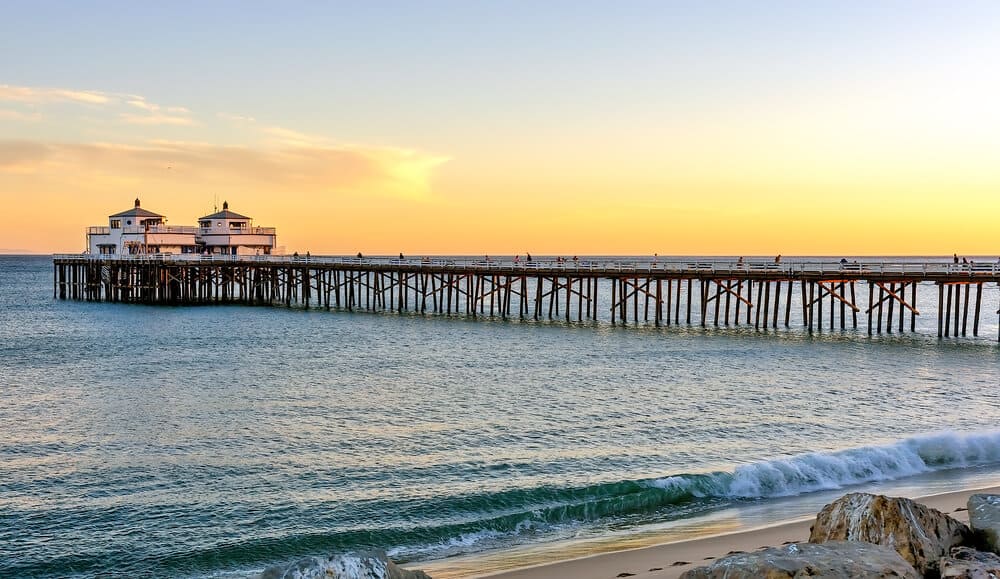 LUXURY: A stay in Malibu will not be cheap, but it will be amazing! One of the most luxurious places to stay is the Calamigos Guest Ranch & Beach Club.
Located in the mountains on a 200-acre property, it also has its own private beach club for the best of both worlds. With several pools and a spa, it'll be hard to tear yourself away!
MID-RANGE: For a more affordable stay, the M Malibu is a good option for travelers who want the convenience of Malibu without the high price tag!
Honestly, it's nothing incredible — and the price is still on the high side — but it's the best option for the price, and that's the reality of Malibu!
The Best Beaches in Malibu, California
Feel Love in the Air at El Matador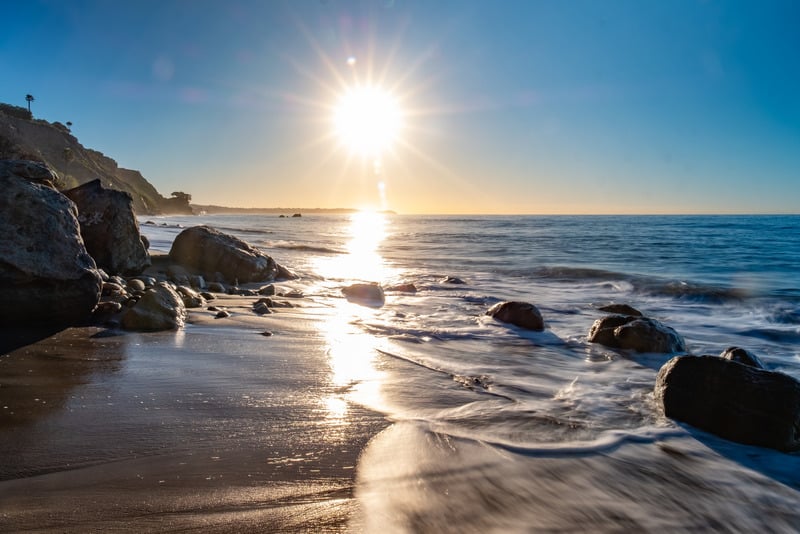 As one of the most breathtaking beaches in Malibu, El Matador is a frequent spot for proposals, wedding pictures, or just a romantic night at the seaside.
Stacked beach boulders cascade along the beachfront, with caves along the bluff, creating an incredible background for cute couple photos.
You will find picnic tables at the top of the beach just before you descend to the sand — making a picnic here a wonderful romantic LA date spot!
Here you can sit, have a meal, and watch the sunset fall over the pacific ocean and shine on this gorgeous scenery.
Being a more shallow beach where the public has direct access, El Matador is great for snorkeling adventures as well as swimming in the ocean.
The waves are rarely rapid, so the water tends to be a bit warmer, ensuring an enjoyable date with you and your sweetheart!
There are various caves to explore as well and find a little private corner of the beach that you can call your own, for a time!
The caves, trails, and viewpoints are extremely easy to access and are relaxing, so you won't be too wiped out if you have a romantic dinner date in Malibu planned.
The beachfront stretches for miles north and south, so long walks on the beach are a must-do at El Matador!
Bring the Whole Family to Malibu Lagoon Beach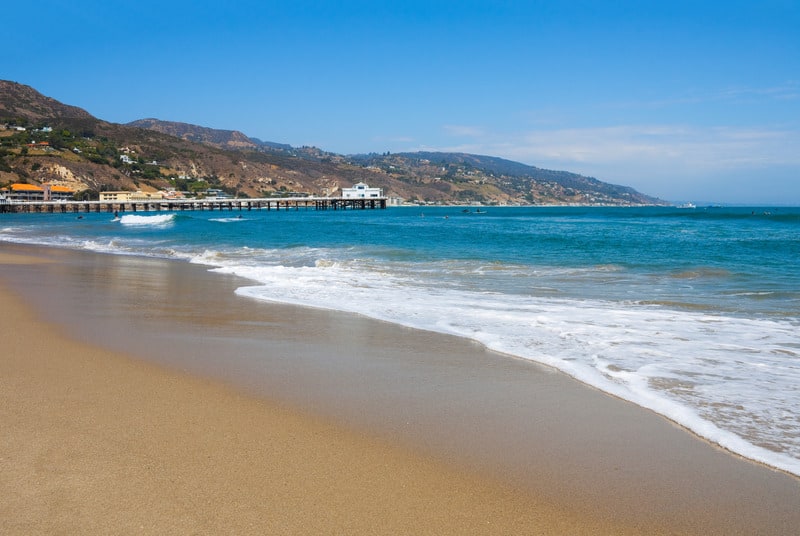 At Malibu Lagoon Beach, there is something for everyone to enjoy.
From the gorgeous hiking trails to surfing in the sun, this is the ideal place for a family or large group to enjoy their time at this family-friendly Malibu beach.
If you visit the beach at the right time, you can catch the tide low and take the family tide pooling!
When the tide is low, kids will eagerly jump at the chance to see crabs and starfish — just remember to look, don't touch!
This activity is completely safe (with parental supervision of course) making for an exciting but educational experience!
Right outside of the Lagoon, you can catch some of the most famous waves in Malibu — or watch people catch them, if you're not a surfer yourself!
Surfrider Beach, featured in classic movies like Beach Blanket Bingo and Big Wednesday, is a popular tourist and surfer destination.
So if you have a few surfers in your group, they can venture over and catch the waves.
To the east of the beach, take your family over to the Malibu Pier.
At this location, you can go fishing, take boat rides, and eat at the Malibu Farm Cafe.
You can even rent paddleboards and beach gear to get the most out of your time at Malibu Lagoon!
Hang Ten at Zuma Beach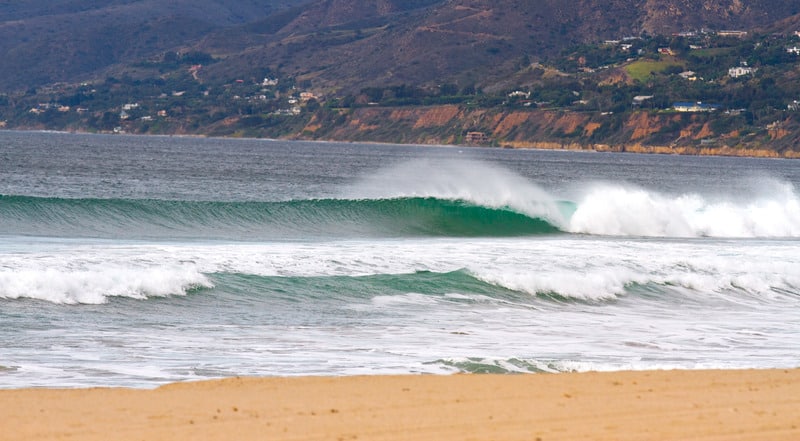 Zuma Beach has one of the largest coastlines in Southern California, with almost 2 miles of continuous white sand and sun.
This means you can undoubtedly find a surf spot for whatever level you are — beginner or advanced!
There are both some quieter spots and rolling tides of waves for the more thrill-seeking types.
You are practically guaranteed to find a set-up spot at this popular beach, as it rarely fills up with enough people to occupy all the space (a rarity in California, but you do have two miles to choose from!)
On each end of Zuma, you can find food stands to stop for a quick rejuvenating snack after your surfing endeavors.
There are bathrooms and parking spaces all along the miles of beach, so you won't have to go searching for a spot.
Right across the Pacific Coast Highway, you can find Spruzzo Restaurant and Bar, a convenient location to have dinner after a long day of fun.
Zuma is a treasured beach by its longtime locals.
They know the best spots for whatever activity you are searching for. As luck would have it, I am one of them!
If you are up late at night in Malibu and are seeking another remarkable adventure, head over to Zuma to find some of the best spots for stargazing in California.
Most of Zuma is hidden away from the fierce lights of Malibu and neighboring Los Angeles, so you can catch a magnificent view of stars and galaxies.
Bundle up though, the beach at night is much less warm!
Get the Celebrity Treatment at Paradise Cove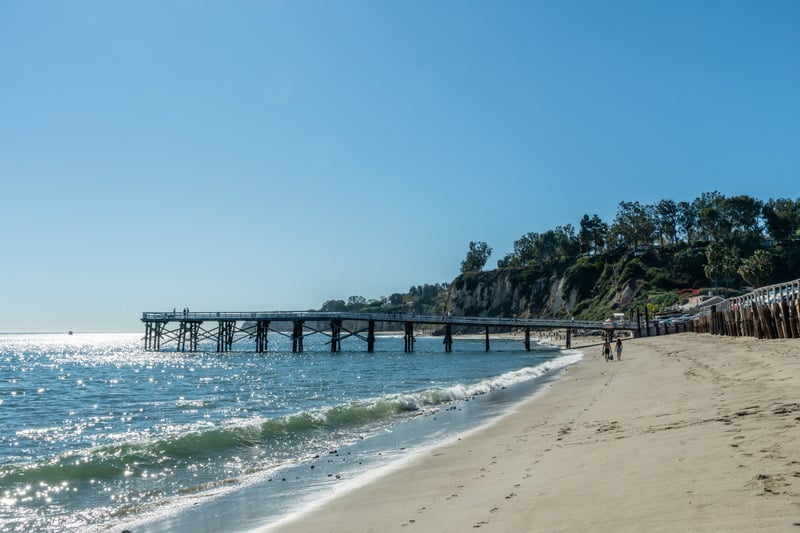 Imagine sitting peacefully on the beachside, sunbathing for hours with a daiquiri in hand (and another waiting for you just a few steps away).
Sound like a dream? It basically is. Paradise Cove is practically the blueprint of how movies portray a day at the beach!
Here you can find surfing, coastal walks under beautifully built mansions, fishing rentals, and the Paradise Cove Restaurant to tie this experience all together.
While the beach in itself is a breathtaking sight, what really makes this the perfect tourist destination are the amenities.
Through the local restaurant that owns the beach, you can rent a private spot with cushioned sun chairs, umbrellas, and even a fenced-in border for your privacy.
The restaurant will even bring orders directly to you, so you don't have to have your sunbathing interrupted!
If you head down the shore, you can walk underneath some of the most beautiful mansions in Malibu.
If you walk a bit further, you will find yourself at Point Dume, a famous overlook of the Pacific Ocean to enjoy the sunset.
While parking and amenities here are a bit more pricey than a public beach might be, you can't beat the five-star service with ten-star views!
Get Away from the Crowds at Lechuza Beach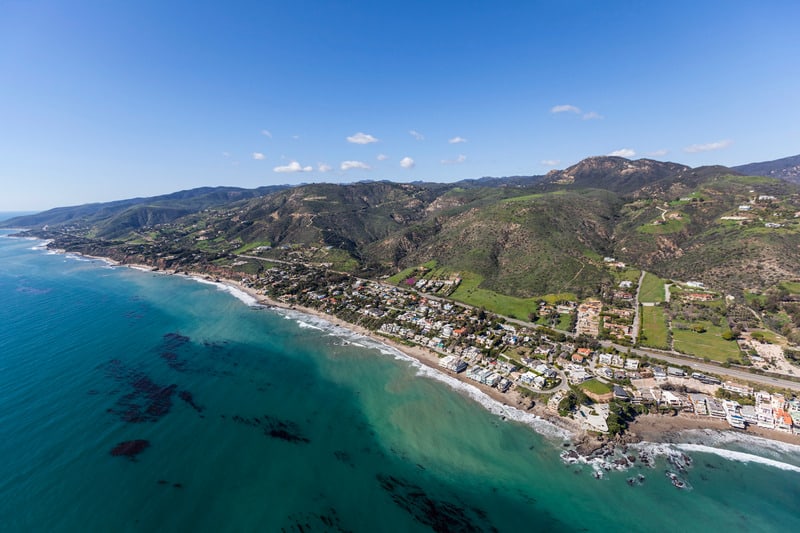 Lechuza Beach is a little hidden gem right outside of the more popular Broad Beach.
Because this area is less known, it might require a longer walk to get to and its amenities are less apparent.
However, if you are looking for a day of privacy on a scenic Malibu beach, Lechuza is perfect!
The entrance to this beach will be near Broad Beach on a local road called Bunnie Lane.
There is a flight of stairs covered in trees you have to walk through to find this entrance.
From there, you will enter the middle of the beach to see large rock structures and a covelike area.
CaliforniaBeaches.com mentions there may be signs near the entrance that says "Right to pass by permission and subject to control by owner" — which can be ignored as these signs are no longer valid. Read more details here.
Parts of the beach are covered in lush greenery that pushes up against the oceanfront.
You can also take a short hike to get to Lechuza Point, a quaint viewpoint that overlooks the ocean.
This beach is known to be a Malibu local gem, as it is one of the most beautiful areas to visit.
And the best part of all this? Parking is free on the street!
Just a few miles away you can find some other Malibu hidden gems, like Neptune's Net.
This is a famous fish and chips restaurant featured in prominent movies and TV like The Fast and the Furious, Point Break, and The Bachelorette.
They make a pretty mean basket of calamari too!
End the Night with a Sunset at Point Dume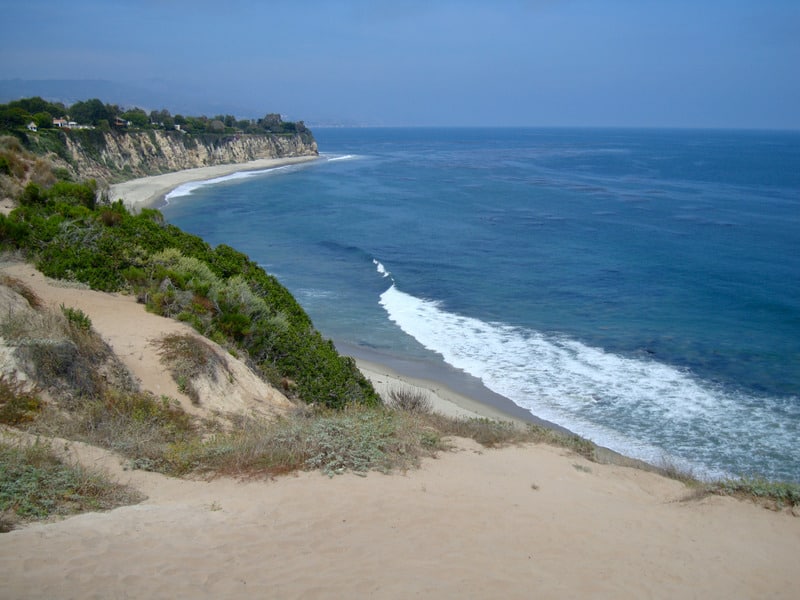 Riddled with steep cliffs and rolling hills, Point Dume is the best place to catch the brilliant sunset above the amazing Pacific Ocean.
This beach has over 34 acres of land to wander, with a few man-made trails that bring you to the best lookout points in the area.
Parking is rarely an issue here as there are over 300 spaces, so unlike most beaches in Malibu, you won't miss the sunset trying to find a parking spot.
If you are feeling adventurous before sunset arrives, this beach is popular for scuba diving and cliff jumping!
The water is deep enough to make for a safe but thrilling experience.
The hiking trails along the coast are sprinkled with park benches and lookout points, so at any point, you can stop for a snack or sunset picnic.
If you are planning your vacation for the wintertime, bring a pair of binoculars: Point Dume is one of the most popular areas in Southern California for whale watching!
You may be able to catch a glimpse of the grey whale migration if you time your trip right!
Do you have a few hours until sunset arrives? Not to worry. You can head over to Point Dume Village for local shopping and food.
Make your beach experience even better by grabbing an acai bowl and shopping in some of the local stores!
This market won't overwhelm you with too many options, but is a great time–killer while you wait eagerly for the sun to catch up with you!