Laguna Beach, famous for its stunning location and artistic culture, offers diverse and lively adventures for all-day excursions. Sea caves, secret coves, and art galleries fill the small, social city; it's no wonder locals and visitors flock to this location!
Laguna Beach brings more than just watersports and ocean activities to the table: the coastal area encompasses over 7,000 acres of trails renowned for hiking, mountain biking, and running.
The variety of Laguna Beach hikes can be seen in the trails in Laguna Coast Wilderness Park. This lengthy trail network leads visitors through rolling hills and oak and sycamore woodlands to incomparable panoramic ocean views and Orange County's only natural lake, Barbara's Lake.
Laguna Beach's trail network highlights California's best features: rocky bluffs, seascapes, vistas, and valleys. On clear days, you can see Catalina Island, lying 22 miles from the coastline, and Mt. Baldy and Saddleback Mountain peaks on the east.
The well-groomed hiking paths serve hikers and bikers daily, with trails available for all skill levels. Make sure to download a map on your phone or pick up a map from the Visitor's Center before venturing on the trails, as service might be limited, especially on longer hikes.
With an average of 281 sunny days in Laguna Beach, it's wise to pack sun protection and water to ensure you have the best experience possible!
Because there are 40 miles of hiking trails to choose from, the following hikes are some of the top tracks you won't want to miss on your Laguna Beach visit!
Best Laguna Beach Hikes in Crystal Cove State Park
Reef Point and Crystal Cove Trail in Crystal Cove State Park
Note: This post contains affiliate links, which earn me a small commission at no extra cost to you if you make a purchase using one of these links. Thank you for supporting this free content!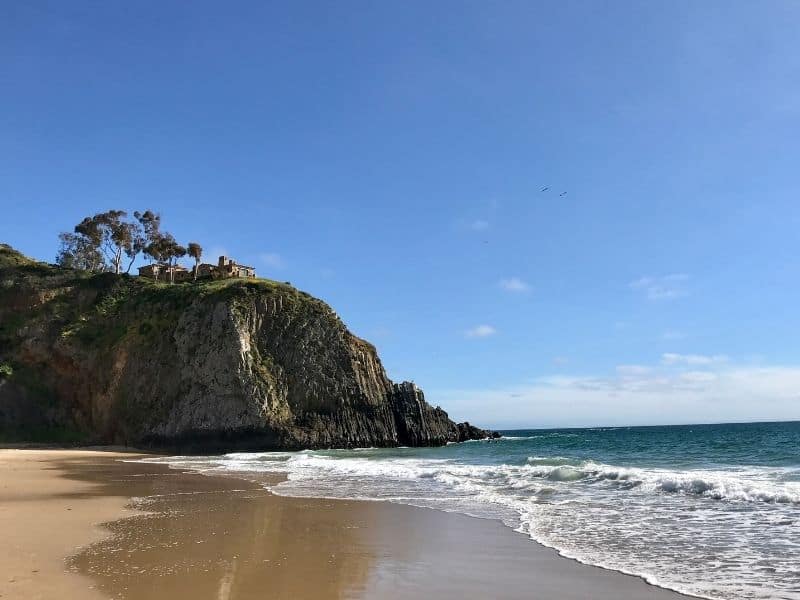 Distance: 5 miles
Elevation Gain: 298 feet
Reef Point and Crystal Cove Trail is an excellent Laguna Beach hike for beginners to embrace the ocean breeze and California sunshine!
To access the trail, head down Pacific Coast Highway until you reach Crystal Cove State Park signs. You will find convenient parking at Crystal Cove State Beach's designated parking areas within walking distance to the bluffs and down to the beach.
The 5-mile loop begins at Reef Point overlooking Moro Beach. You can choose to walk down the stairs to the sand and the Historic District with its charming cottages or continue along the bluffs.
It is kid and biker-friendly, ideal for bird watchers and nature-lovers, and a smooth stroll for all skill levels. Throughout the hike, watch out for whales spouting in the ocean and wildflowers blooming along the path. Features like this remind us why Laguna Beach hikes are one-of-a-kind!
Moro Canyon Trails (Various Levels)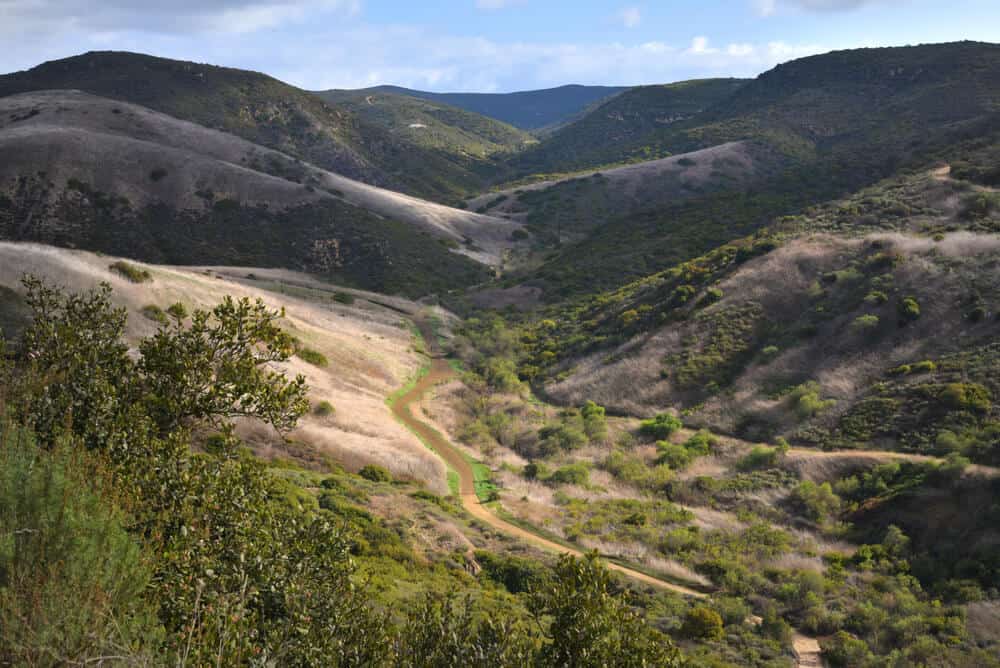 These Moro Canyon Trails take you through Crystal Cove State Park. At the Crystal Cove Ranger Station, you can find a variety of hikes, including easy, moderate, challenging, and strenuous routes, to accommodate various athletic abilities.
Because all trails share a starting point, paying attention to the map is essential to remain on the right track for your skill level.
From this network, beautiful wildflowers and seascapes make your workout even more rewarding! Whether you are a beginner or looking for a lengthy journey, Moro Canyon trails will bring you through the beautiful Laguna canyons and make your visit worthwhile.
Easy Trail
Distance: 3.0 miles
Elevation Gain: 287 ft.
Starting from the Ranger Station, you will turn left before the campground and across a bridge. From here, you will travel on Moro Canyon Trail through the canyon.
After finding the junction with Poles Trail, you will turn around and head back to the starting point. Though quick, this trail is an enjoyable tour of the park!
Moderate Trail
Distance: 2.85 miles
Elevation Gain: 633 ft.
The moderate hike begins with an uphill dirt path on No Dogs Trail. After this road, you will descend along Poles Trail to make your way back, turning right to follow Moro Canyon Trail back across the campground.
Slightly more challenging, the moderate trail has steeper inclines, but remains doable in a short timeframe, perfect for a quick workout.
Difficult Trail
Distance: 4.89 miles
Elevation Gain: 1,053 ft.
This challenging trail begins on Moro Canyon Trail, just like the easy path. Instead of turning back along Moro Canyon Trail at the East Cut Across Trail, you will turn right and continue uphill to Moro Ridge.
Turning right towards the ocean will lead you to BFI. This steep route leads you back to Moro Canyon. The Difficult Trail highlights more of the State Park's backcountry, making it a fitting transition into longer treks.
Strenuous Trail
Distance: 8.97 miles
Elevation Gain: 1,848 ft.
Along the strenuous path, hikers can explore Crystal Cove's expansive backcountry. The lengthy trail covers the park's perimeter and takes an average of 5 hours to complete.
Starting on No Dogs Trail, you will continue onto No Name Ridge. This path leads to Ticketron Trail and the entrance to Deer Canyon Campground.
From here, you will follow Red Tail Ridge, turn right on Fenceline Trail, leading to Missing Link Trail. You will eventually arrive back at Moro Ridge Trail.
Though vigorous, this hike leads you through the entirety of Crystal Cove State Park, a journey worth taking to explore one of California's most noteworthy regions.
Other Laguna Beach Hikes
Car Wreck Trail in Top of the World Park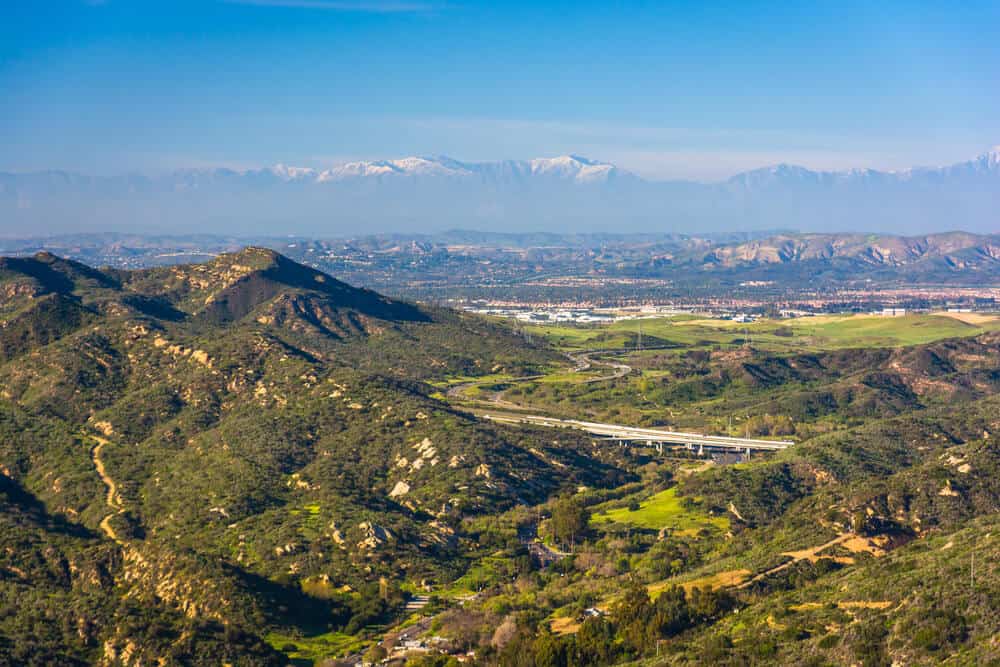 Distance: 3.80 miles
Elevation Gain: 920 feet
Car Wreck Trail is an iconic loop featuring the remnants of a 1946 Dodge coupe.
To begin your journey to the vintage car, you will park at Alta Laguna Park and walk through the gate at the northwest corner in the parking lot and into Aliso and Woods Canyon Wilderness Park.
Continuing past "Top of the World Peak," you will descend West Ridge Trail. Maps and posts line the trail, ensuring you stay on the right path.
Continue down the canyon along the ridgeline until you reach Mathis Canyon Trail. A small turnoff will lead you to Car Wreck Trail.
Taking in the scenery of the wreck, you may wonder how the car got to such a strange location. This question remains unanswered!
People speculate it arrived there around the 1960s due to a flash flood and heavy rains, but its true origin remains a mystery. Check it out for yourself and tell us what you think happened!
To get back to your starting point, continue left past the wreck; you will be back on Mathis Trail to hike back to your car. With some rocky terrain, the Car Wreck Trail can be extreme in some places. Before venturing this path, make sure you have training on more accessible trails.
Boat Road and Laguna Ridge Trail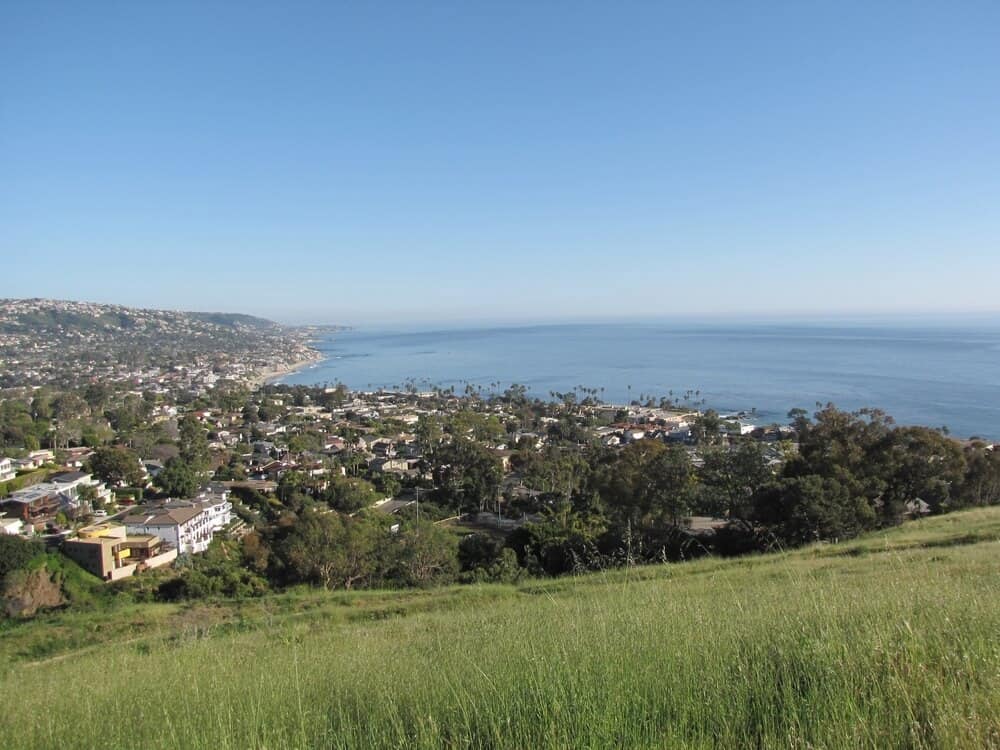 Distance: 4.7 miles
Elevation Gain: 997 ft
Boat Road Trail is a less-crowded loop, offering a moderate challenge and a scenic landscape.
The trail entrance at Dartmoor Road, where you can park for free, leads you to the path. The hike begins with a short uphill along Laguna Ridge fire road and continues to take you along rolling hills through the canyon.
Continuing past the summit, you will reach an intersection with Laguna Bowl, Water Tank, and Laguna Ridge trails. To complete the loop, turn back the way you came and continue to take in the scenery.
The serene backcountry along this route provides a chance to step away from crowds and take in nature's beauty. This moderate hike in Laguna Beach is perfect for experienced hikers or beginners looking to challenge themselves.
Laguna Bowl and Water Tank Road Loop
Distance: 3.9 miles
Elevation Gain: 918 feet
Laguna Bowl and Water Tank Road Loop include Laguna Beach's steeper, more vigorous trails and glimpses of downtown Laguna's shops, restaurants, and lively atmosphere.
Golden Yarrow flowers cover the fields, emphasizing Laguna Beach's picturesque landscape. The loop lies close to Laguna Canyon Road, ending on paved roads with less traffic than more popular hiking areas.
To access the loop, make your way to Acacia Drive and walk toward Broadway street. Taking a left, go past Pageant of the Masters, and you will find a metal fence marking the park entrance.
After trekking uphill, you will take a left turn on Water Tank Road. At the end of the road, gate 17 will lead you to Poplar Street, which leads you back to where you began.
The steep grades on the Water Tank Road Loop make for an intense workout. Make sure to stay hydrated and that your quads are ready for a burn!
With that said, the views overlooking the city and the Laguna Bowl make for an unbeatable experience.
Valido Trail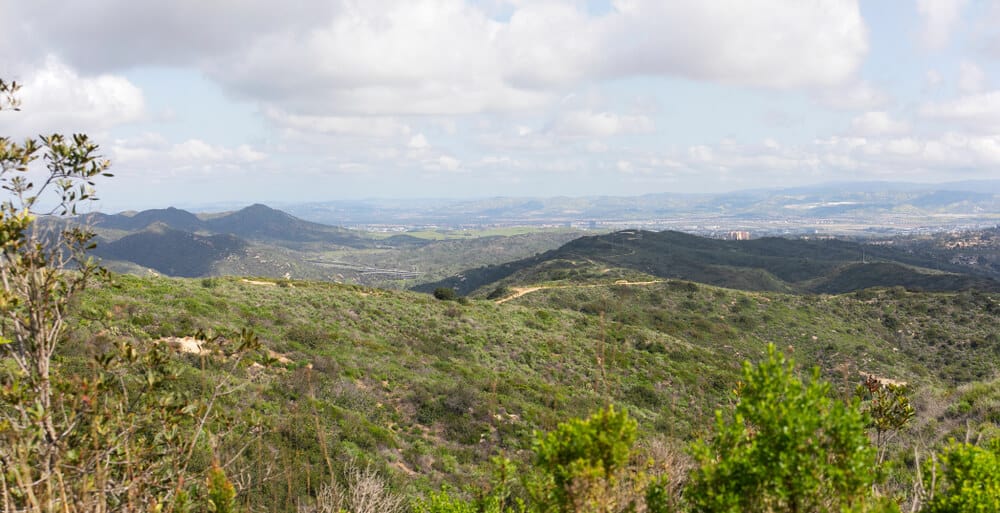 Distance: 1.1 mile
Elevation Gain: 331 ft.
Valido Trail, leading to Aliso Peak, is a short and sweet, heavily trafficked out and back trail. Because it is a more accessible trail, this track is convenient for bringing children or furry friends!
From the north, heading down Pacific Coast Highway, take a left on West Street. From there, you will take another left on Valido Road. Because it is a residential area, be cautious of parking restrictions and respectful of the neighborhood.
To begin the hike, make your way to the Toto Loma sign and head towards the trailhead leading into the valley. Once on the trail, the route is straightforward. Though there is a steep hill, the trail leads to an ocean view, well worth the climb.
Because the course is short, bring a picnic to the top to enjoy the view. Aliso Peak is the perfect place to watch the sunset and admire the beauty of the Pacific Ocean!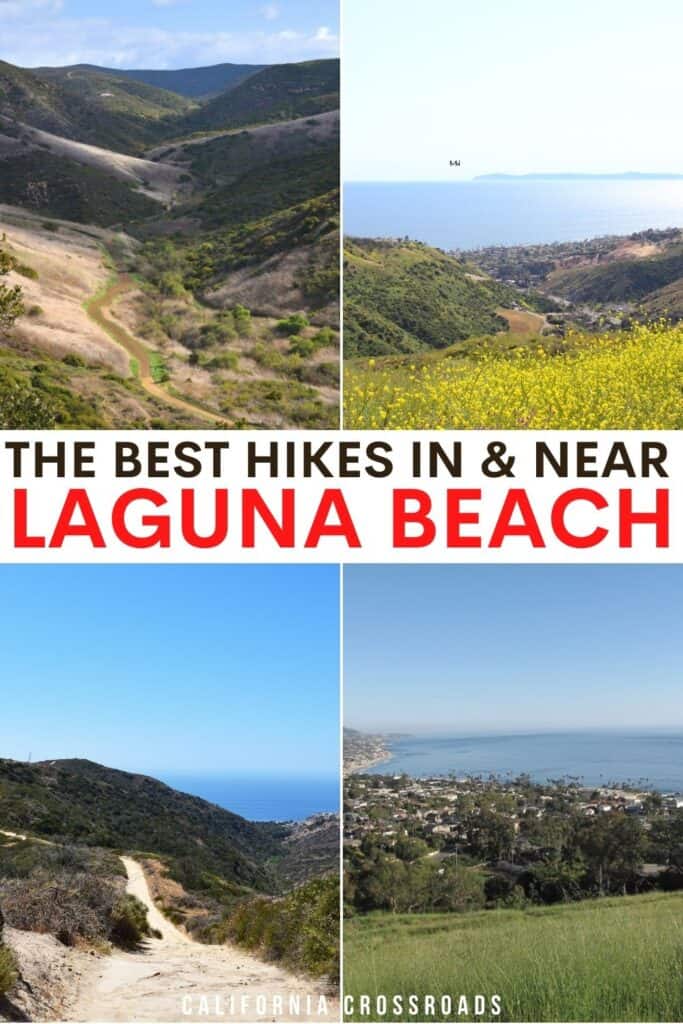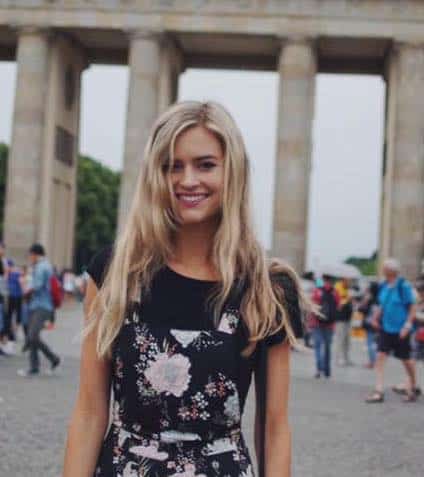 Hannah Morrison is a writer from California who received her Bachelor's Degree in Environmental Studies from the University of California, Santa Barbara. Studying abroad in Germany and Italy sparked Hannah's passion for travel, and she hopes to inspire others to experience all the world has to offer. Along with travel journalism, Hannah enjoys writing sustainability, wellness, and lifestyle content for online and print media.