California is home to a jaw-dropping number of state parks — 280, in fact, one of the largest state parks systems in all of the country.
Each offers something spectacular, but one particularly special park to my heart is Sonoma Coast State Park. It's, quite simply, absolutely stunning.
This gorgeous state park stretches from 4 miles north of Jenner all the way down to Bodega Head in Bodega Bay.
Along the way, the state park system encompasses a handful of pristine beaches with beautiful rock formations that look almost like the coast of Ireland.
This post will be your guide to visiting Sonoma Coast State Park: the best beaches, tips on dog-friendly places to go, beautiful hikes in Sonoma Coast State Park, and information on camping. I hope it helps you plan a great trip in one of the prettiest state parks in California!
Best Beaches in Sonoma Coast State Park
Jenner Beach
One of the northernmost beaches in the Sonoma Coast State Park system, Jenner Beach is a stunner.
Scattered with washed up driftwood and studded with gorgeous rock formations everywhere the eye can see, Jenner Beach looks more akin to its Pacific Northwest brethren than Southern California beaches.
It's located on the north side of the Russian River estuary. Parking is on the side of the PCH, and then you'll have to make your way down a rather steep trail to reach the beach.
Note: This post contains affiliate links, which earn me a small commission at no extra cost to you if you make a purchase using one of these links. Thank you for supporting this free content!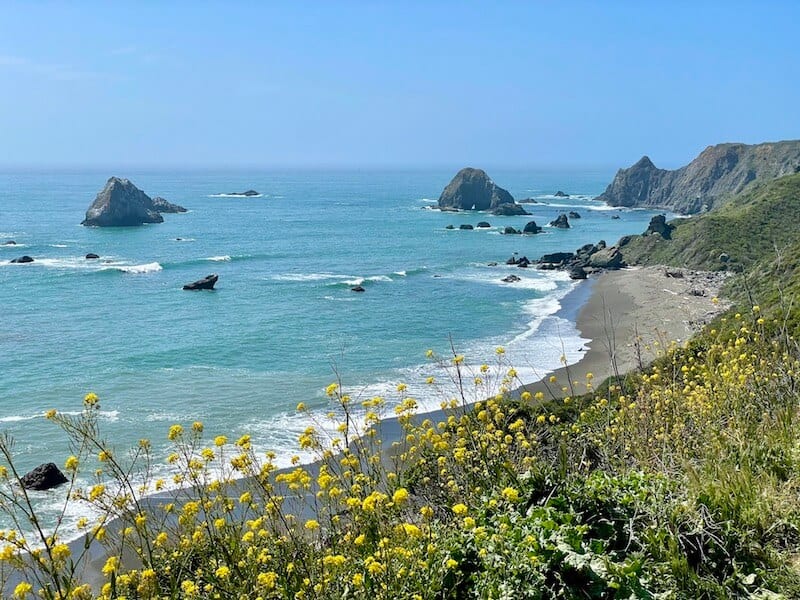 Goat Rock Beach & Blind Beach
So named for its large rock supposedly shaped like a goat (as a goat aficionado, I gotta be honest — I don't really see the resemblance), Goat Rock Beach is located on the other side of the Russian River (south side). You can access it via Route 1 south of the town of Jenner, on the way towards Bodega Bay.
The first of two parking lots leads to Blind Beach, the second of the two leads to Goat Rock Beach. Blind Beach is dog-friendly and involves a short hike down to the water. Goat Rock Beach does not allow dogs, but it's great for kids as there is the Russian River estuary there that is safe for them to play and splash in.
Be very careful next to the Pacific waves — there are rip currents here occasionally that have claimed a number of lives, particularly during extreme surf conditions. Be extremely cautious.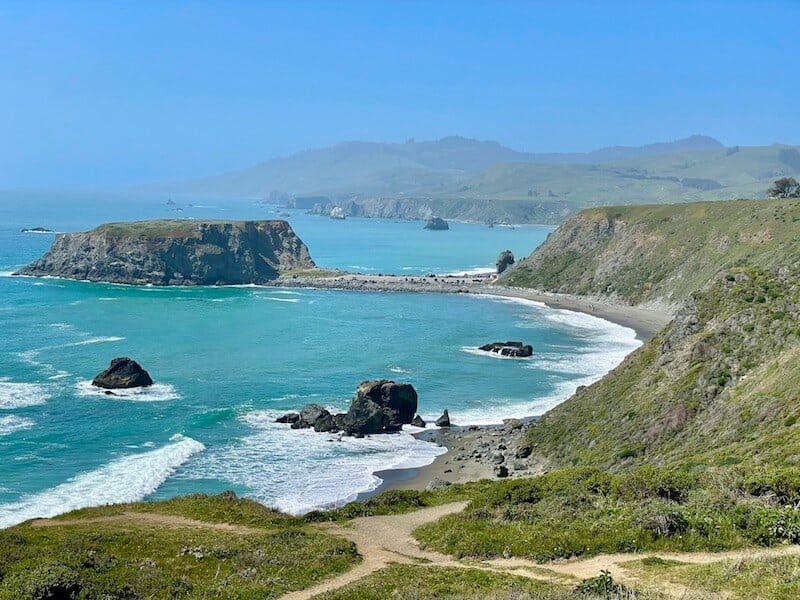 Arched Rock Beach
If you love unique rock formations, Arched Rock Beach is the perfect Sonoma Coast beach for you: a cute little keyhole arch peeps out from the Pacific waves which have eroded a hole in the middle of the rock over the millennia.
This beach is located about 3 miles north of Bodega Bay; pull over at the sign just off the PCH. There's a beach as well as an overlook point. Dogs are not permitted at the beach.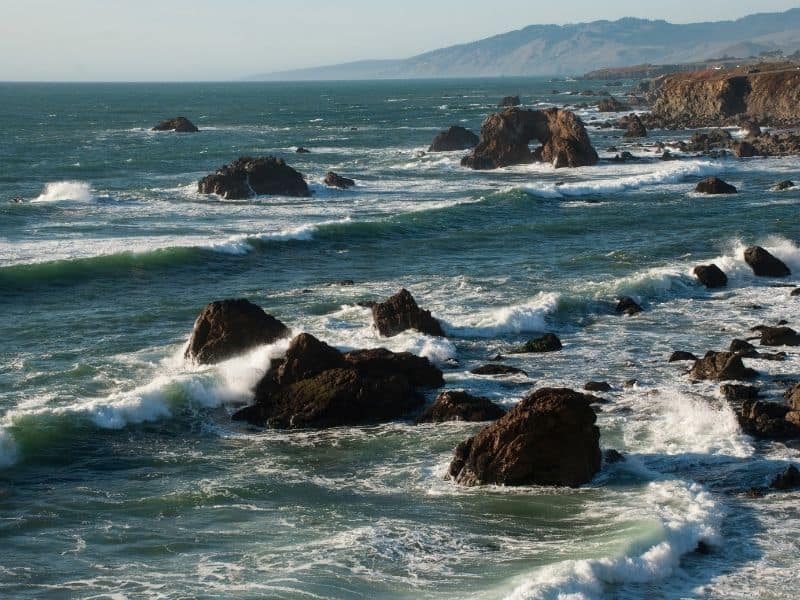 Schoolhouse Beach
This charming beach welcomes four-legged visitors! It's also one of the widest sandy beaches on the Sonoma Coast.
It has fewer rock formations than other beaches, so it's more 'traditional' in landscape compared to other Sonoma beaches which are more rocky and jagged.
The sand is a beautiful dark brown, almost black, and the orange cliff bluffs surrounding the beach amp up the beauty even further.
This is a beach with a steep drop-off point which can create a rip tide, so be very careful and follow all posted conditions.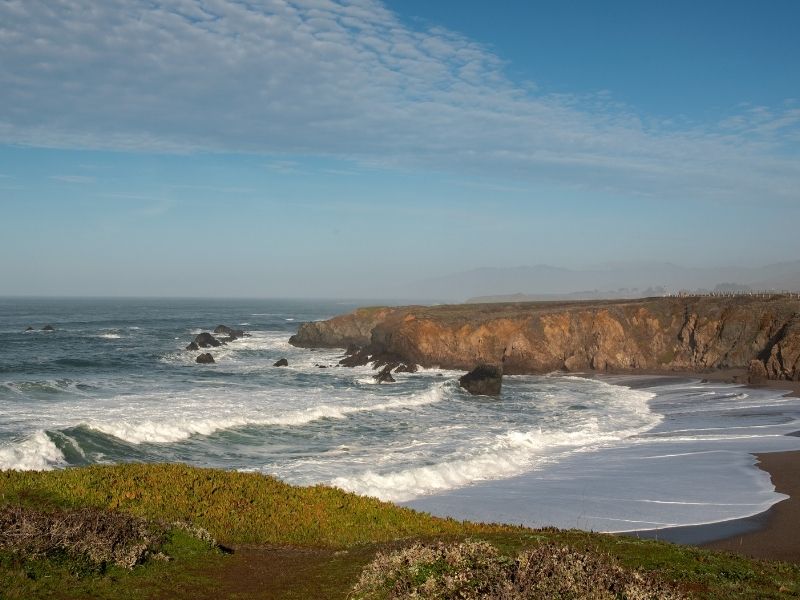 North Salmon Creek Beach
One of the southernmost beaches in Sonoma Coast State Park, this beach is just due north of Bodega Bay and is beloved for its wide, sandy beaches and stunning sweeping views over the Pacific.
There's also a ton of driftwood on this beach, often made into beach forts by kids passing by. The beach is particularly wide and spacious, so there's a ton of room for groups and families to spread out — particularly great in 2021, the year of social distancing!
Salmon Creek empties into the Pacific here, making it a great place for kids to wade and play in relative safety compared to the harsh, cold waves of the Pacific Ocean. Dogs are not allowed here due to the nesting birds.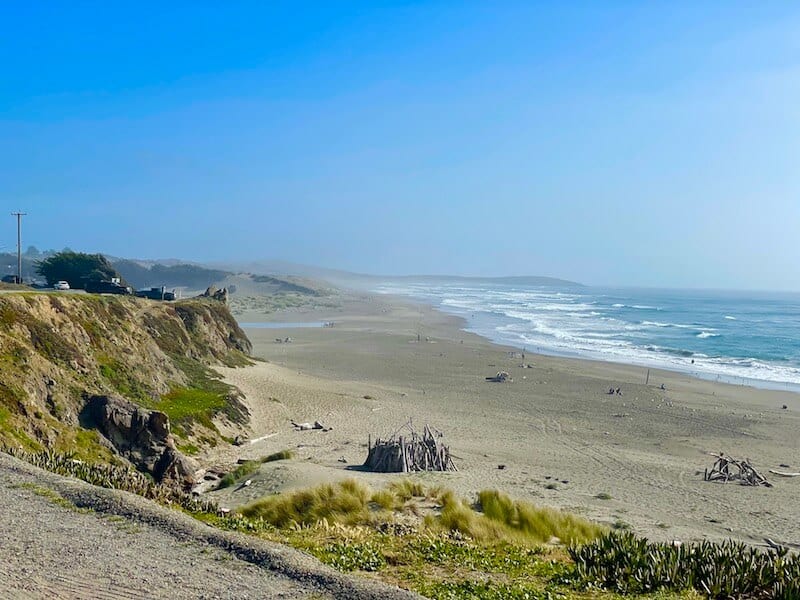 Dog-Friendly Beaches in Sonoma Coast State Park
There are a handful of beaches on which dogs are allowed to go. As per the State Park website:
Dogs allowed on specified beaches: Campbell Cove, Marshall Gulch, Carmet Beach, Schoolhouse Beach, Portuguese Beach, Duncan's Cove, Wright's Beach, Furlong Gulch, Shell Beach, Blind Beach, Russian Gulch. Dogs not allowed in Pomo Canyon and Willow Creek environmental campgrounds. 
Note that Schoolhouse Beach, Blind Beach, and Portuguese Beach are all known for their "sneaker" waves and are considered some of the most dangerous beaches on the Sonoma Coast. Be very careful with your pups — and yourself! — on these beaches.
Best Hikes in Sonoma Coast State Park
Kortum Trail
The Kortum Trail is a beautiful stretch of the 17-mile Sonoma Coast State Park, connecting Blind Beach (where you'll start) and Shell Beach and Wright's Beach to the south.
It's a 4.6-mile roundtrip hike from Blind Beach (Goat Rock State Park parking lot) to Wright's Beach, or you can do a 8.5-mile hike starting from Shell Beach, which goes from Shell Beach to Goat Rock Beach down to Wrights Beach and back to Shell Beach.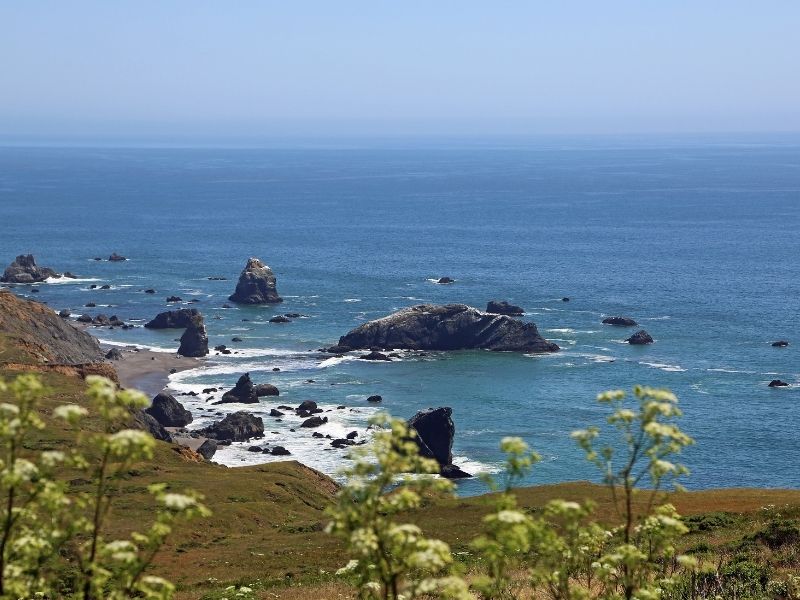 Bodega Head Trail
This stunner is quite easy: just 1.7 miles out-and-back, on a compact gravel trail that is suitable for people in wheelchairs and people using strollers. It also marks the very southern end of Sonoma Coast State Park.
This hike is located in Bodega Head, the spit that extends 4 miles out into the Pacific, jutting past Bodega Bay. It's full of gorgeous beach views, wildflowers, and rock formations. There are also two pit toilets and picnic tables at the trailhead, plus a large parking lot.
Bring a pair of binoculars – this is a great trail for whale watching!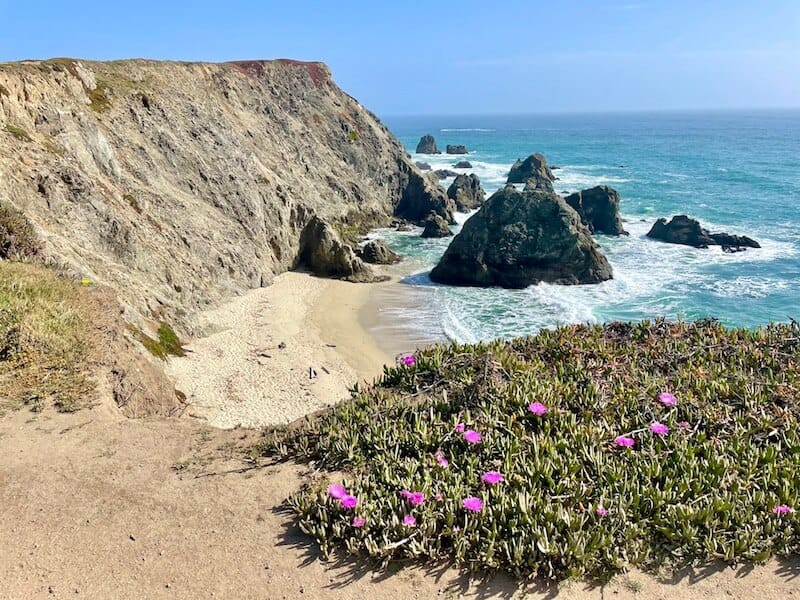 Vista Trail
The northernmost end of Sonoma Coast State Park is marked with the Vista Trail, an ultra-easy paved 1-mile loop that offers views of the entire state park.
It's often a bit foggy, but on a clear day at the turn-around point of the loop, you might even spot Point Reyes off in the distance!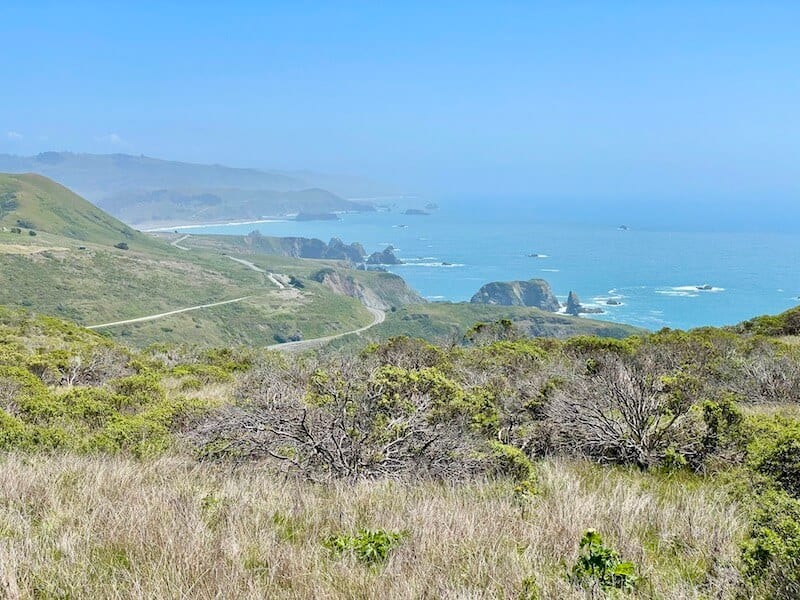 Islands in the Sky Vista Loop
This is my secret favorite hike in all of California. It's got it all: dense ferny forest at the beginning, a clearing, a cluster of redwoods near the top, then a meadow, and finally rewarding you with views of the Russian River from the top of Red Hill. Say no more!
Located in Duncans Mills, this is a great 4.7 mile roundtrip hike with 928 feet of elevation gain — steep elevation gain I might add! That said, it's well worth every aching muscle for the views from the top. Be aware that this hike remains muddy after a rain for a while so bring good shoes that can handle a bit of mud.
Pin This Guide to Sonoma Coast State Park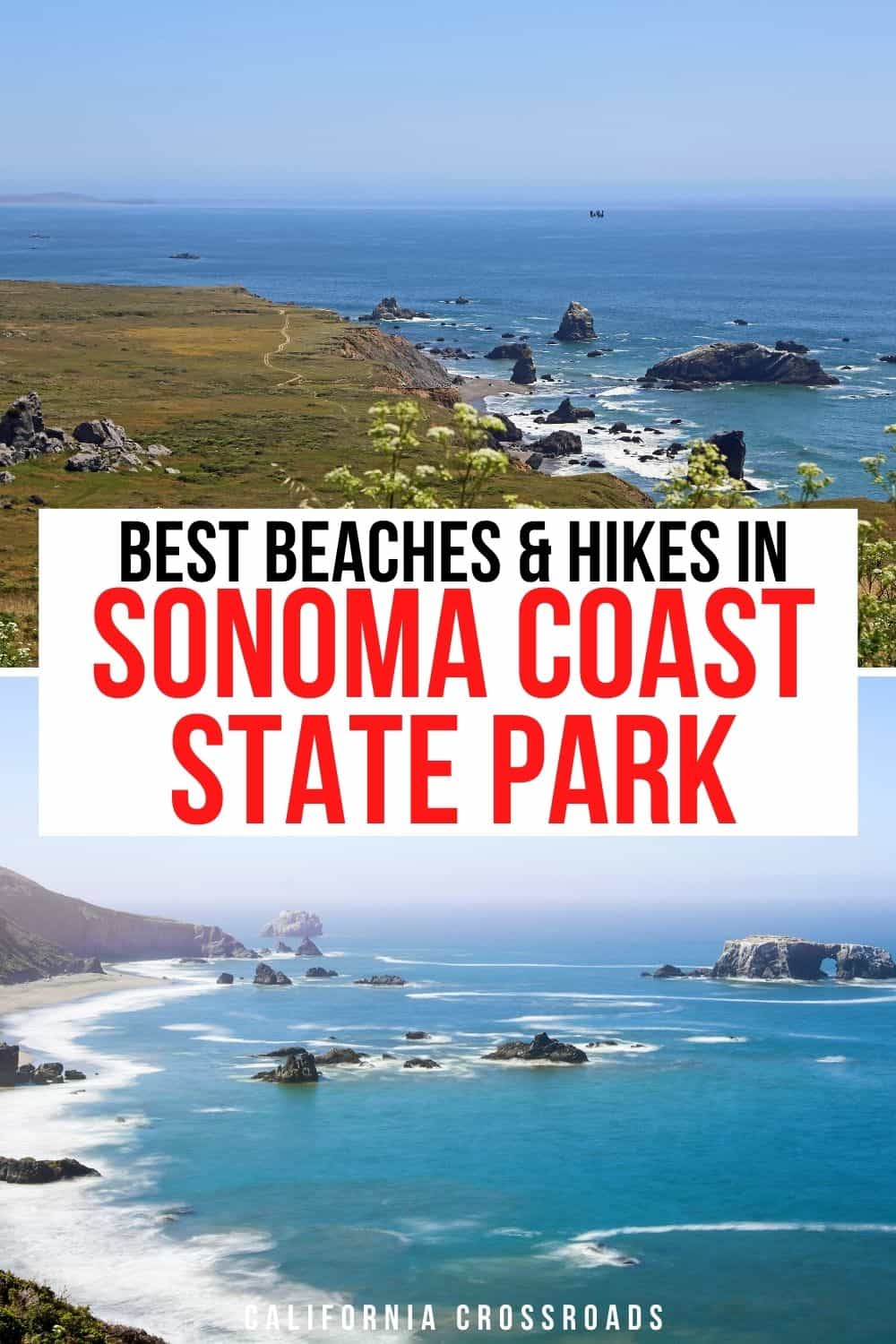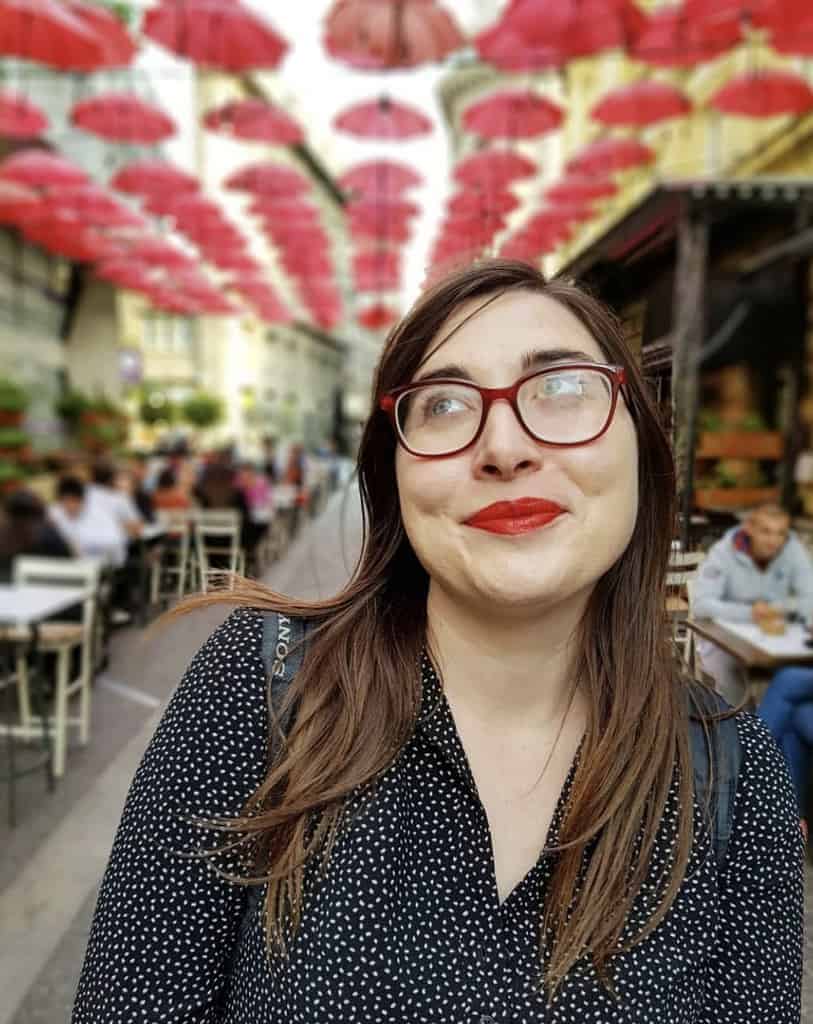 Allison Green is a travel blogger, writer, and podcaster who grew up in the Bay Area of California. She has spent time living in New York, Prague, and Sofia, but has returned to live in the East Bay. She has traveled to 60 countries before the age of 30 while running several digital travel publications. Her writing and podcast have been featured in Forbes, CBC Canada, National Geographic, the Huffington Post, and CNN Arabic, amongst others. She's obsessed with bouldering, houseplants, other people's pets, and anywhere she can see the ocean.