Sonoma is hands down one of my favorite places in Northern California!
I can't even begin to count how many times I've visited, but it's got to be several dozen times and cumulatively, a few months of my life.
I've visited every nook and cranny of Sonoma County: from the beautiful beaches along Highway 1 between Bodega Bay and Jenner to downtown Sonoma and its tasting rooms to funky small towns in West Sonoma along the Russian River surrounded by redwoods.
As a result, I have an endless number of Sonoma travel tips for you, but with only 2 days in Sonoma, we'll get straight to the point — especially if it's your first time in Sonoma!
If you only have a weekend in Sonoma County, it'll take some strategizing to fit in all the highlights, but let's get started!
Choosing Between a Weekend in Sonoma or Napa Valley?
Note: This post contains affiliate links, which earn me a small commission at no extra cost to you if you make a purchase using one of these links. Thank you for supporting this free content!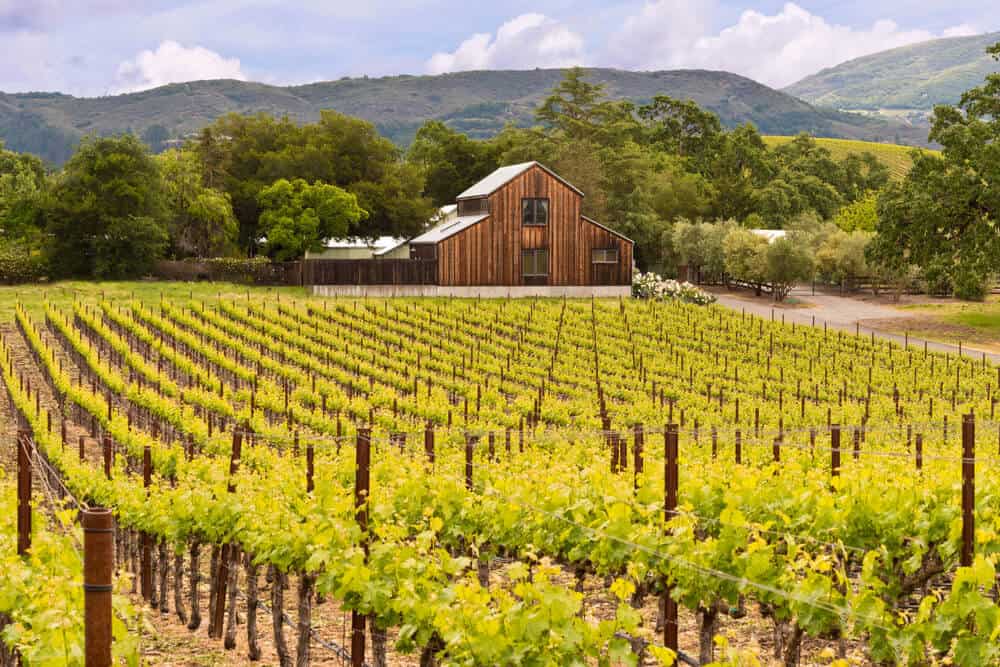 Wondering which California wine country is the best pick? Personally, of the two, I prefer Sonoma to Napa Valley!
It may be a bit polemical, but I find the wines are better and more approachable — in terms of both palate and price.
Sonoma County is also massive compared to Napa Valley (which is not small either) and there are so many charming small towns in Sonoma to explore, plus an incredible coastline.
In short: Sonoma is more varied, and while Napa Valley may have prestige-packed wines, Sonoma Valley can definitely deliver excellent wines that punch well above their weight, especially if you love pinot noir!
While Napa may get all the chardonnay love, for me personally, Sonoma's are tastier: less oaky, subtle, and more reminiscent of a perfect Chablis than the oak-bombs I've come to associate with California chards.
Where to Stay in Sonoma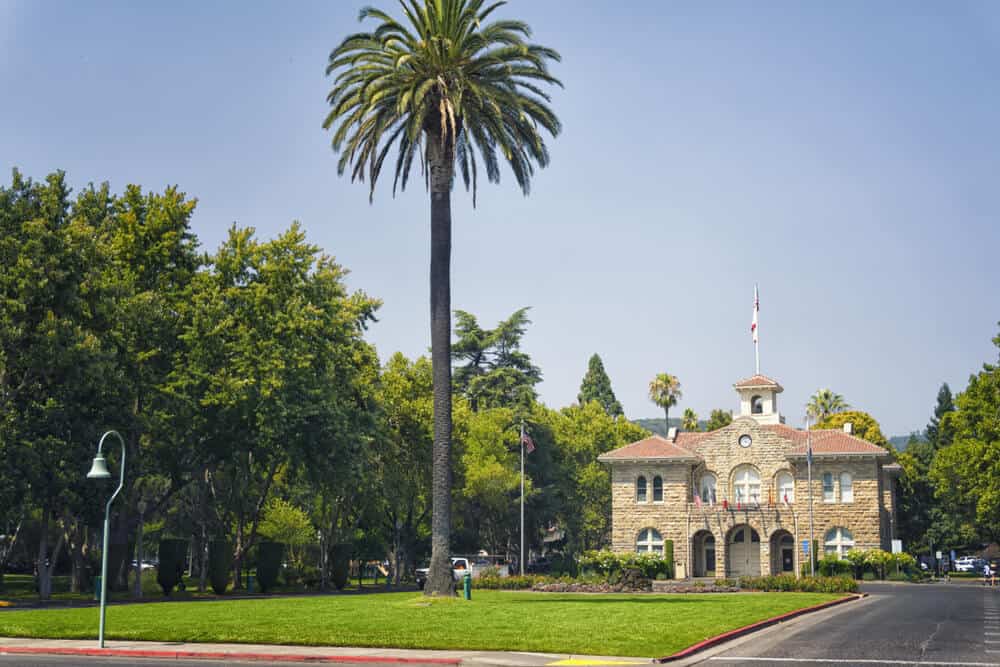 For the purpose of this itinerary, you'll either spend one or two nights in the city of Sonoma.
I suggest driving to Sonoma on Friday night and checking in to minimize stress and maximize your weekend trip!
WHERE TO STAY: Just outside of Sonoma in neighboring Boyes Hot Springs is the beautiful Fairmont Sonoma Mission Inn & Spa.

This inn has it all: an 18-hole golf course, full-service spa, on-site fine dining, geothermally-heated swimming pools, and a bar featuring over 50 wineries.

Rooms are extremely romantic, and you can pick from options such as having a fireplace, a spa bath, or a balcony in your room.
>> Check availability, reviews, and photos online here
If you are extending your trip as suggested in the final section, I suggest staying in Bodega Bay on your final night before exploring Freestone, Occidental, Sebastopol, and Petaluma.
Day One of Your Weekend in Sonoma Itinerary
Start the day with breakfast on the square.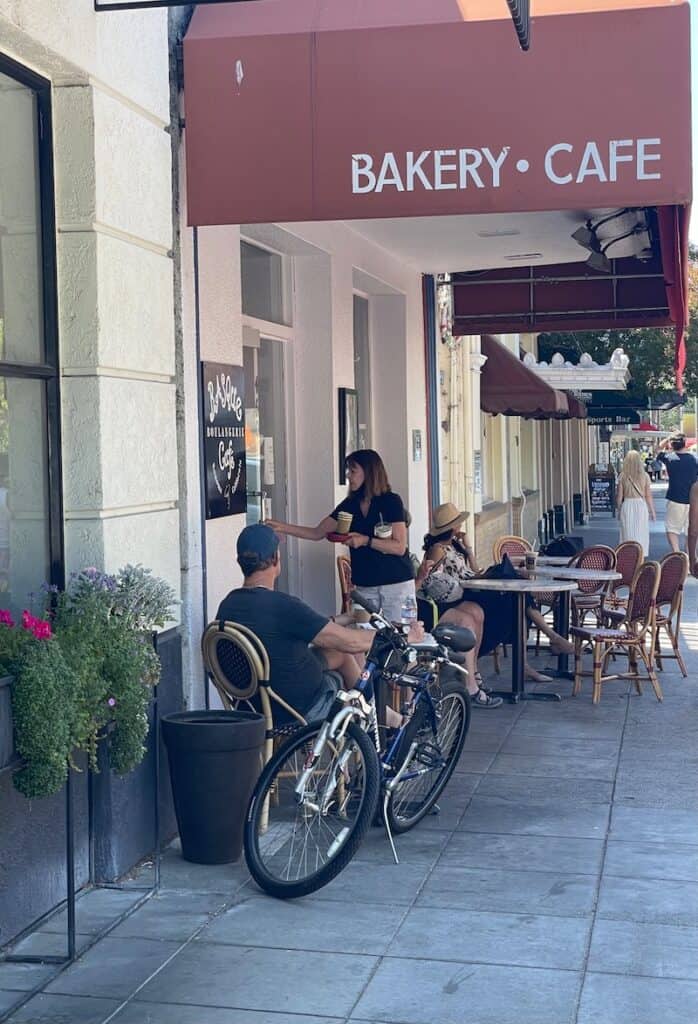 If you're starting your weekend in Sonoma on a Saturday morning, you'll want to wake up bright and early so you can make your way to Sonoma if you're coming from the Bay Area.
Personally, I suggest driving up on Friday and staying the night before for a less stressful weekend getaway!
Either way, your first activity — a Sonoma Valley wine country tour — starts at 10 AM, and while it includes a picnic lunch, you'll want to have your stomach lined for your first wine tastings… trust me!
For a quick bite, grab something at the Basque Boulangerie Café which has delicious eat-in and to-go breakfast and brunch options.
I love their croque madame but they also have avocado toast, sweet options like French toast and bread pudding, and to-go pastries.
If you get to Sonoma early enough for a sit-down breakfast, I suggest Sunflower Caffé. Their creative menu includes everything from scrambles to wraps and bowls, all with a unique twist.
Personally, I think you can't miss their delicious buttermilk biscuit sandwich made with homemade shallot and leek conserves and spicy aioli, with either avocado or your choice of meat.
Go on a Sonoma Wine Country tour.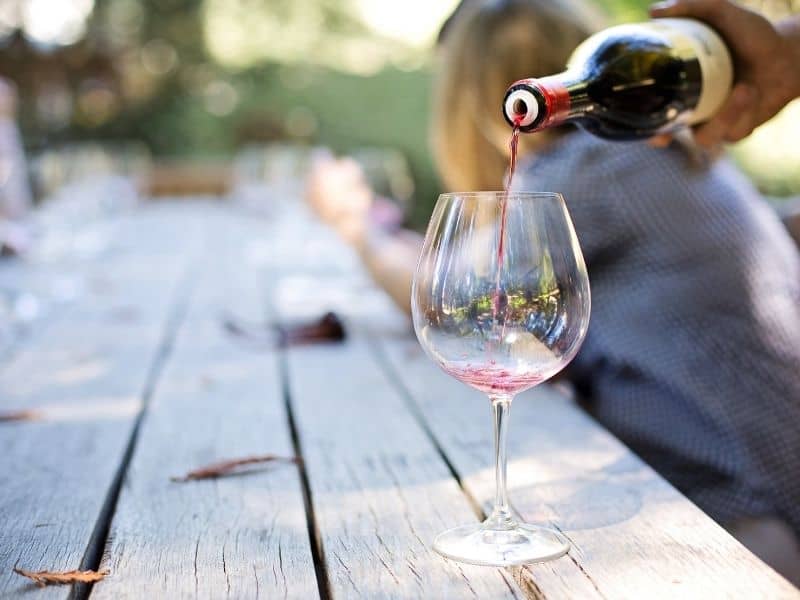 Of course, you didn't come to Sonoma to not sip wine, right?
Just kidding — there is plenty to do in Sonoma besides drink — but most people who are planning a weekend in Sonoma are here to do a wine country tour of Sonoma Valley and beyond.
It can be very easy to overindulge while wine tasting without realizing it, so I always suggest people go on a guided wine tasting tour (unless you have someone willing to be the designated driver).
This full-day wine tasting tour leaves from Sonoma (you can also get picked up in nearby Glen Ellen or Kenwood) and will take you on a guided tour where you can taste several great wines from a variety of wineries in Sonoma.
The tour includes a picnic lunch served at the wineries, but it does not include tasting fees, so be prepared to pay for those fees as well.
The tour leaves at 10 AM and returns around 5 PM, just in time for you to enjoy a bit more of Sonoma Square before dinnertime.
Wander around Sonoma Square in the evening.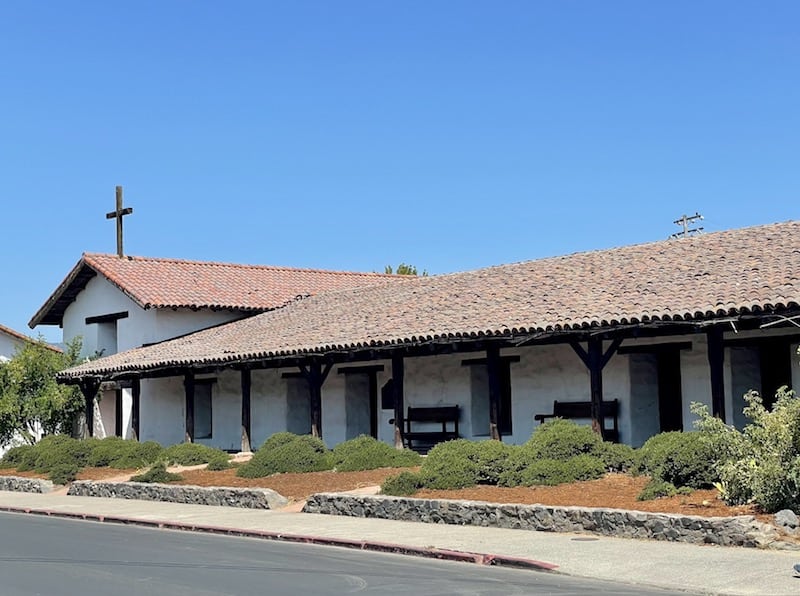 Time to shake out those legs and sober up a bit before finding a great dinner spot for tonight (and don't worry — I've already got you covered there!).
The area around Sonoma Square is a marvelous place to go for an early evening walk. The Mission San Francisco Solano is right on one corner of the square.
While the Mission museum closes at 5 PM so you'll likely arrive back too late to enjoy it, you can still admire the exterior and walk around the facade.
You can also stroll the picturesque Sonoma Plaza, where there is typically live music playing somewhere, and admire the gorgeous architecture of Sonoma City Hall, an icon of the city.
And of course, there are a ton of wonderful boutiques lining the square in case a little tipsy shopping is calling your name!
Have an excellent dinner out.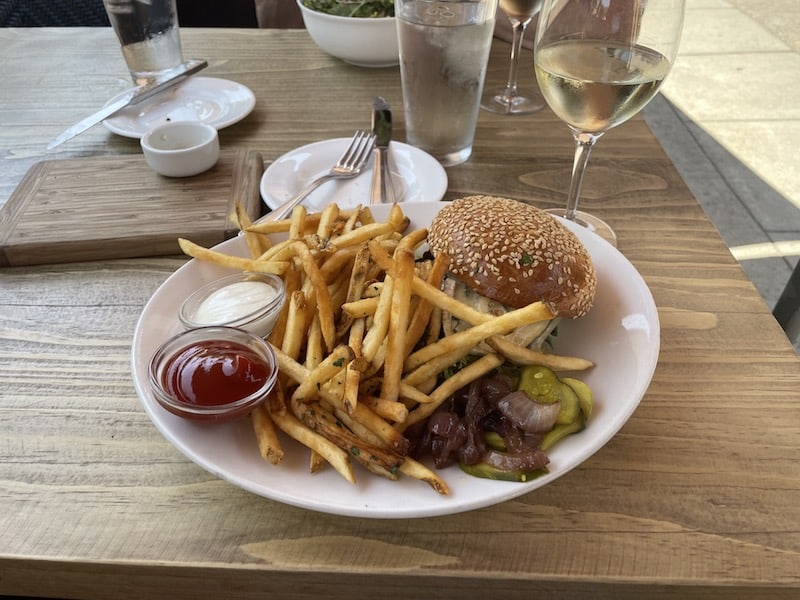 If you haven't gathered yet, I'm all about showing you to your next phenomenal meal, and for that, I strongly urge you to pre-book dinner at the girl & the fig which in my opinion is the best meal on Sonoma Square!
They specialize in French-inspired fare, and don't miss their moules frites (mussels cooked in a white wine sauce served with fries) either as an appetizer or as a main!
But don't shy at ordering the burger — while not the most exciting-sounding item on the menu, it's truly one of the best burgers I've ever eaten, and I'm a burger fanatic.
If you can't get a spot at the girl & the fig, then I'd suggest the Portuguese restaurant LaSalette which has an incredible menu of Portuguese classics (plus a bomb-a** feijoada, the national dish of Brazil).
Day Two of your Sonoma Weekend Getaway
Grab breakfast in Healdsburg.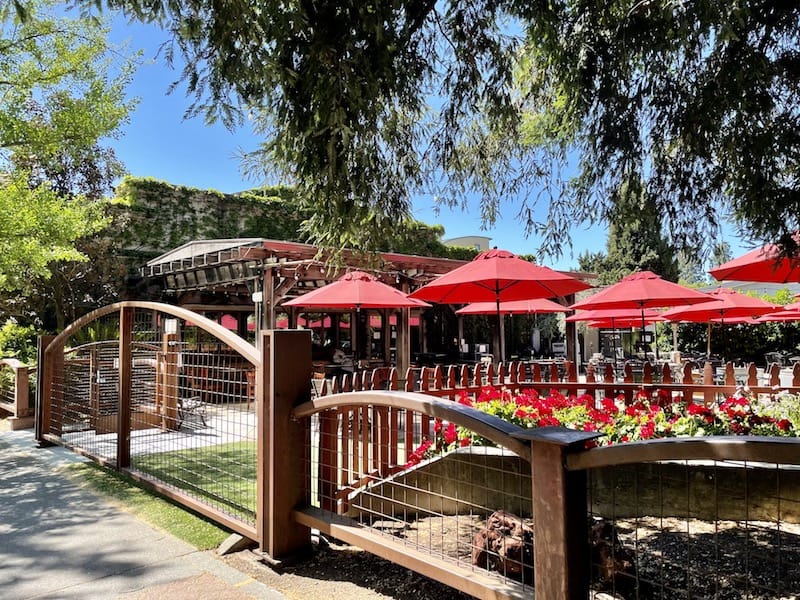 Time for a Sonoma road trip! We'll start by making our way to Healdsburg via Santa Rosa.
You could stop in Santa Rosa if you like, but it's a big city and we have a short amount of time to fit all of this Sonoma weekend trip into, so I suggest saving it for a return visit (I doubt this will be your only weekend in Sonoma!).
Healdsburg has a ton of great breakfast options, but I would suggest Costeaux French Bakery for French-inspired breakfast classics or the Parish Cafe if you want a New Orlean-style Cajun breakfast — grits, anyone?
Go wine tasting one of three ways near Healdsburg.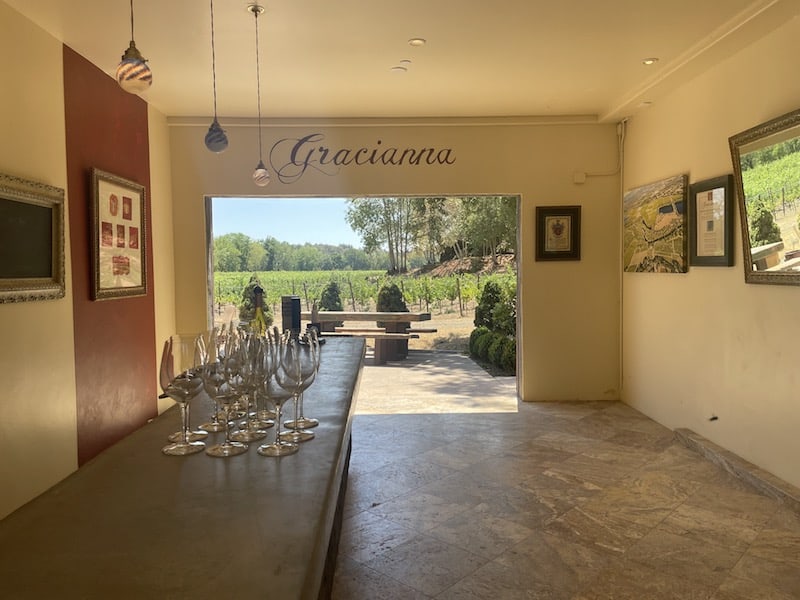 Healdsburg is in the heart of some of Sonoma's best wineries, including the Dry Creek Valley, Alexander Valley, and Russian River Valley AVAs.
Each Sonoma County wine country AVA is known for particular wine varietals. For example, the Russian River Valley AVA is best-known for its pinot noirs, and you'll find all sorts of great wineries specializing in Pinots along Westside Road.
For me, my favorite RRV Pinots are made at Flowers Winery, J. Rochioli, and Gracianna Winery, all of which serve world-class wines.
Some of these are quite small, especially Gracianna which is a purely family-run affair, so you might get a chance to speak to the vintners themselves!
If you are more of a fan of Zinfandel, head to the Dry Creek Valley AVA to the northwest! I haven't visited the winery myself, but my #1 forever and always is Rockpile Vineyards. I also do love the Zins I've tried from Seghesio and Ridge.
Finally, another option is Alexander Valley, located to the northeast of Healdsburg. This region is often compared to Bordeaux, so cabs and chardonnay dominate here.
These aren't typically my favorite kinds of wines, but I do love the wine at Robert Young Estate Winery.
While I've given you an overwhelming number of options, I strongly suggest picking just one! The rest of the day is pretty full with a lot of driving, so pick your winery of choice and just plan to come back for another Sonoma weekend getaway soon.
Make your way to the Russian River town of Guerneville.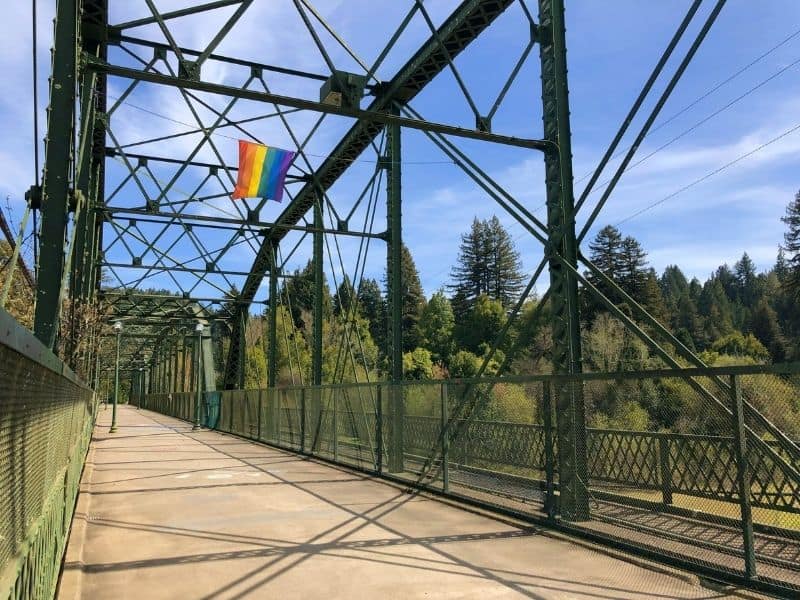 Once you've narrowed down your tasting options and partaken in some even more delicious wine, it's time to head to one of my favorite spots in Sonoma: the quirky Russian River town of Guerneville!
Guerneville is small but offers a lot: riverside beaches to enjoy, art galleries to browse, restaurants to indulge in, and redwoods to walk through (though note that unfortunately, Armstrong Redwoods State Natural Reserve is currently closed due to fire damage).
There are also a few wineries in Guerneville if you have a designated driver and can make another tasting stop. The #1 winery in Guerneville is Korbel, which specializes in sparkling wines. They also have a great deli here to pair with your bubbly!
I suggest stopping for lunch in Guerneville. My favorite restaurant is boon eat + drink (their mushroom and truffle breadcrumb mac 'n cheese is so good it should be illegal) but there are other good options!
On a budget? Hit up the Guerneville Taco Truck in the Safeway parking lot. Want something quick to take away? Grab a biscuit sandwich from Big Bottom Market (Oprah-approved!).
And if you want something sweet, you can't miss ice cream at Nimble & Finn's, in the converted Guerneville Bank Building. Their lavender honeycomb ice cream is to die for!
Head to the coast to the charming town of Jenner.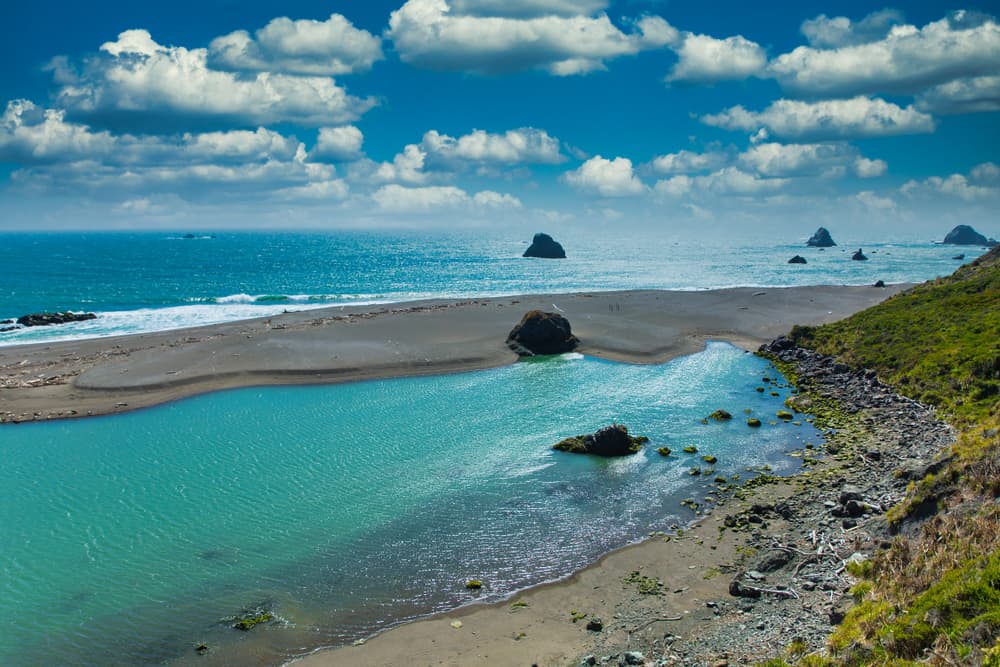 Choosing my favorite place in Sonoma is like asking me to pick a favorite theoretical child (or dog, as my case may be).
But if I had to pick? It wouldn't even be a question, it would be Jenner-by-the-Sea.
Jenner is absolutely beautiful. So many beaches to choose from, great hiking trails with impeccable sea views, and the panoramic view of where the Russian River empties into the Pacific Ocean is simply spectacular.
I have a whole guide to visiting Jenner, but if you're just making a brief stop, I'd say to enjoy a cup of coffee or tea at Cafe Aquatica and then pay a visit to Goat Rock Beach.
If you have time for a hike, the Kortum Trail is an exquisite and easy coastal trail that you can customize to your preferred length, as it is an out-and-back trail.
Make a stop in Bodega Bay.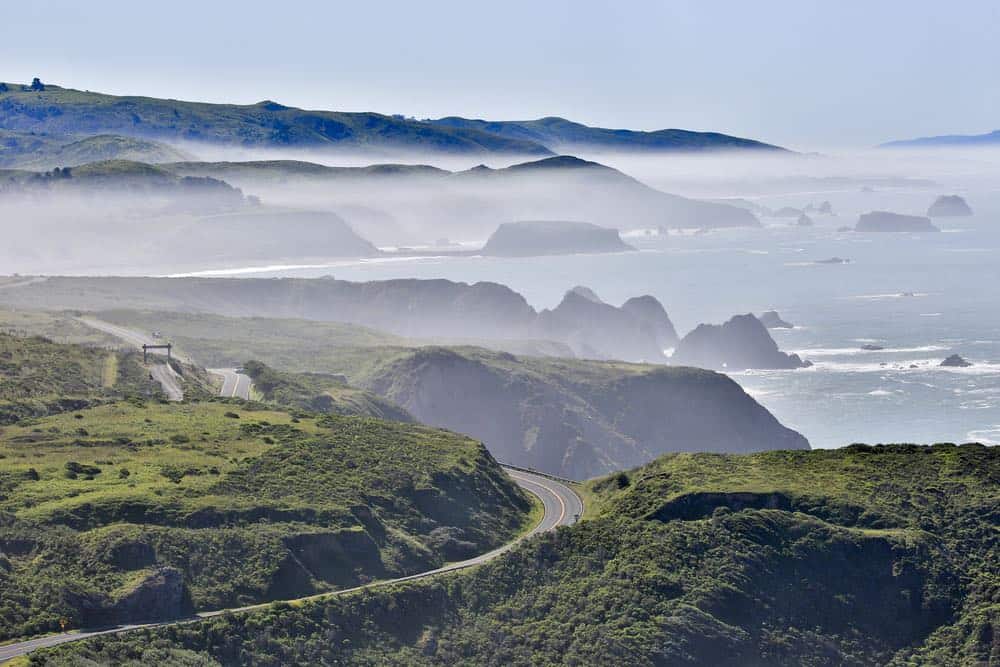 This weekend itinerary for Sonoma assumes two days, so we're going to start making our way back to the San Francisco Bay Area now, driving along the spectacular Sonoma Coast.
If you have three days, I'll add a few suggestions for what to do if you have a long weekend in Sonoma after this section!
I strongly suggest driving to Bodega Head for incredible views and a short hiking opportunity via the 1.7-mile Bodega Head Trail.
On the way back, you can stop at Spud Point Crab Company for oysters or Dungeness crab if it's in season.
You should also visit the neighboring inland town of Bodega itself, which is where a lot of the Hitchcock filming locations are, such as the Saint Teresa of Avila Church and the Potter School House.
If you're hungry and it's nearing dinner time, there's the wonderful Terrapin Creek, a Michelin-starred restaurant that is surprisingly down-to-earth.
Want more Bodega Bay suggestions? I have a full guide here.
Head back to San Francisco via Highway 1.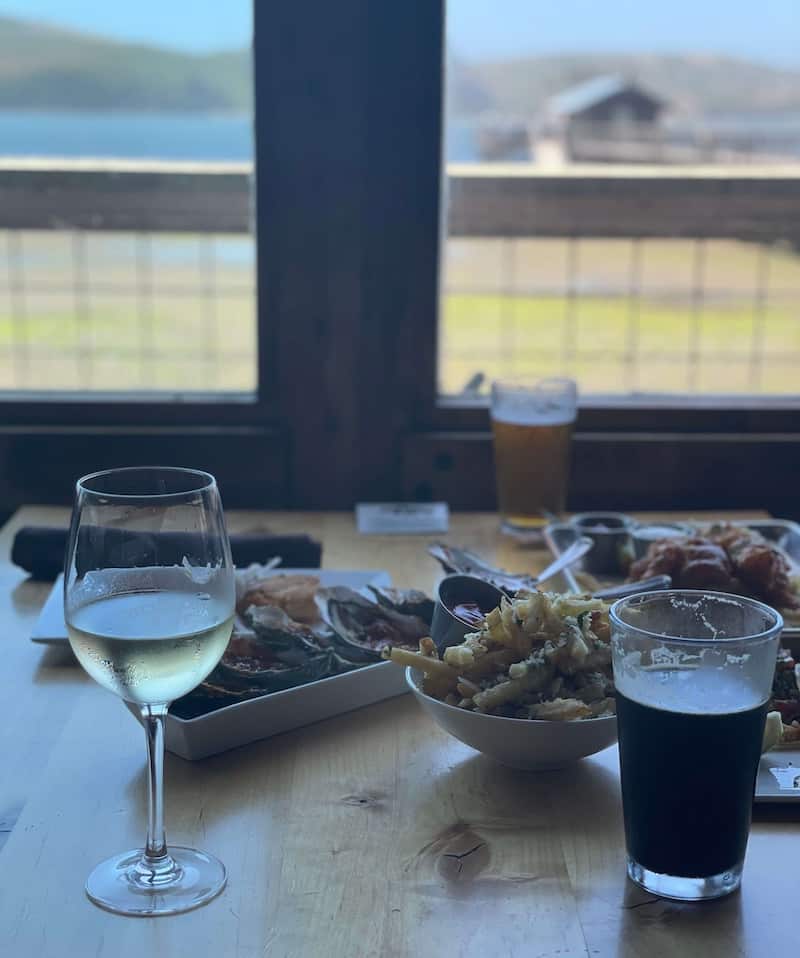 If you're finishing up your weekend in Sonoma now, it's time to make your way back to SF. I suggest going back on Highway 1 for the best views!
If you want some fun stops, I suggest the town of Tomales for its bakery and churches, Nick's Cove in Marshall for amazing seafood (the BBQ oysters are legendary), Valley Ford Cheese and Creamery for your dairy dreams to come true, or Pt Reyes Station for some great art galleries and a walkable downtown area.
What if I Have a Long Weekend in Sonoma?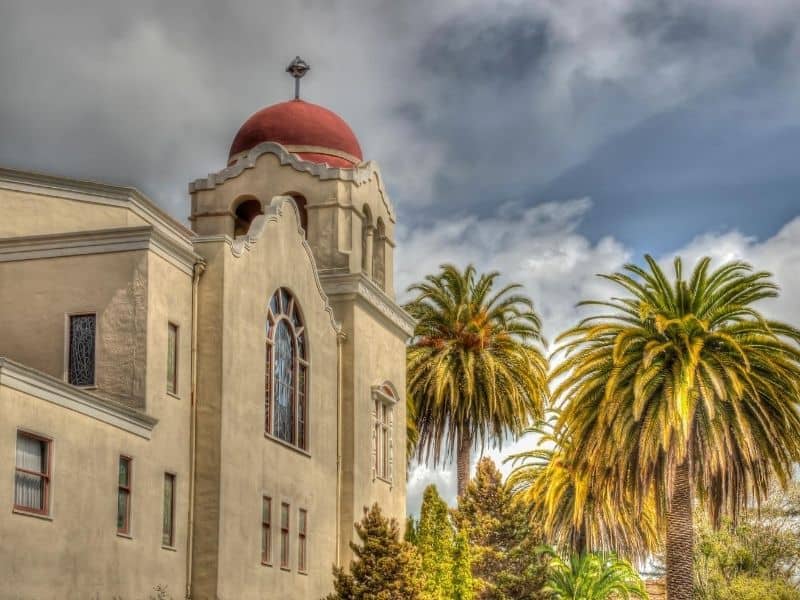 If you have one more day in Sonoma, I suggest continuing past Bodega on the Bodega Highway towards Freestone.
At Freestone, you can take Bohemian Highway, one of the prettiest roads in Sonoma County, on a scenic drive up to Occidental, which has some fun shops and galleries to explore.
After Occidental, make your way to Sebastopol via Forestville.
Sebastopol has a ton of great wineries worth exploring, but I suggest making a stop at Region. in the Barlow which has a ton of wines you can taste on tap, which you can serve yourself via a 'debit card' system!
It's a great way to taste wines from a ton of different winemakers in the region without needing to spend a lot of money or visit a lot of individual vineyards.
There are also lots of great restaurants in Sebastopol, such as Ramen Gaijin and Handline.
After Sebastopol, make your way to Petaluma to pick up a great dessert at the Petaluma Pie Company and to admire the cool architecture of downtown Petaluma.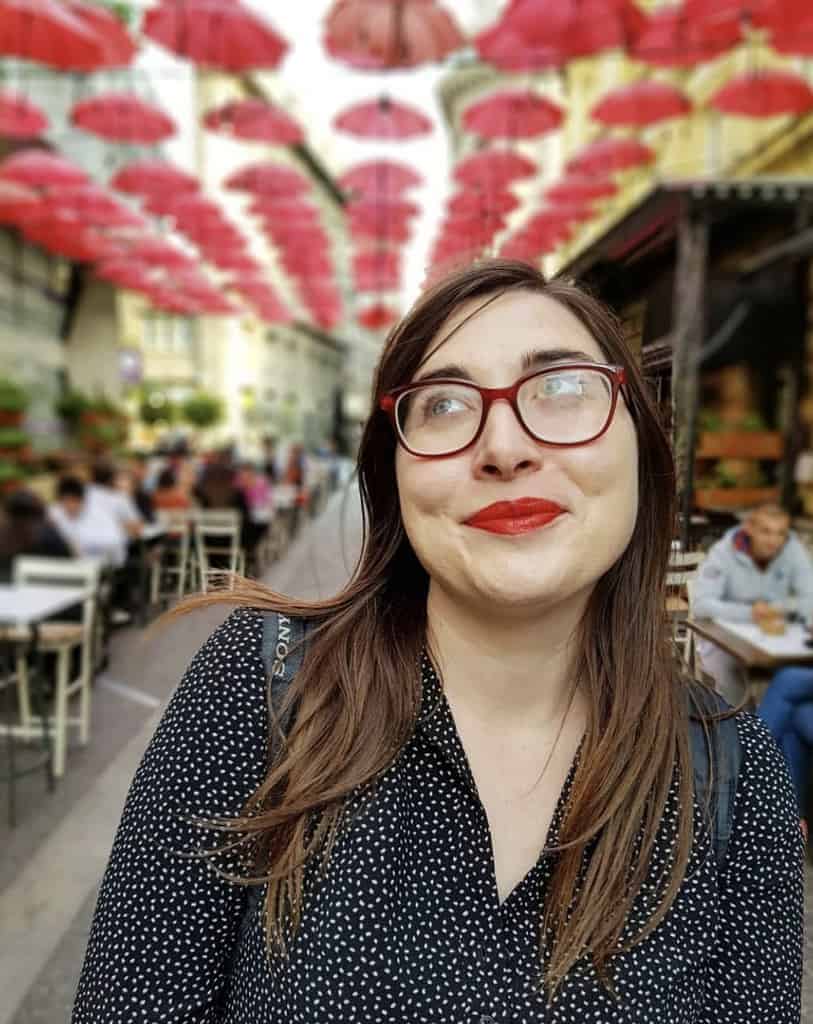 Allison Green is a travel blogger, writer, and podcaster who grew up in the Bay Area of California. She has spent time living in New York, Prague, and Sofia, but has returned to live in the East Bay. She has traveled to 60 countries before the age of 30 while running several digital travel publications. Her writing and podcast have been featured in Forbes, CBC Canada, National Geographic, the Huffington Post, and CNN Arabic, amongst others. She's obsessed with bouldering, houseplants, other people's pets, and anywhere she can see the ocean.