There are so many places to explore in California, but only a few really capture the essence of everything wonderful the Golden State has to offer.
Big Sur is one of those few.
Travelers take Highway 1 (the only accessible road) along 90 miles of California coastline between Carmel and San Simeon to experience all the hiking, beaches, and breathtaking views that Big Sur has to offer.
Whether this is your first time in California or you've lived here your whole life, it's a coastal paradise you won't want to miss, and I've created this Big Sur road trip itinerary to make sure you make the most of it.
Preparing for Your Big Sur Road Trip
This Big Sur itinerary will take you through 7 of the must-see sights and stops that the region has to offer.
These highlights are arranged in a logical itinerary, starting from the north and traveling south down Highway 1. I recommend starting at the north end because all the exits to viewpoints will be easily accessible and you won't have to backtrack.
Of course, if you are beginning in Southern California do this itinerary in reverse!
If you need to rent a car, it makes most sense to depart from San Francisco Airport and drive down the coast past cute towns like Pacifica and Half Moon Bay.
>>>
Not sure where to get the best deal on your rental? I've rented cars dozens of times through various search engines and have settled on Discover Cars as the best car rental search engine – it searches over 500 trusted rental companies to find the cheapest price for your rental! Compare prices for car rental in your destination here.
<<<
PCH Road Closures in 2021
Yet again, a large section of Highway 1 in Big Sur was washed away by massive rainstorms at the end of January 2021. This happened in 2017 as well, when a landslide shut down a stretch of the PCH and took over a year to rebuild.
This means that a large section of the road is now closed, which tacks on about 2 hours of driving time, unfortunately on roads far less scenic than the PCH!
If heading from south to north, you'll detour just after the town of Harmony (right before Cambria), take Highway 46 until it connects with the 101, and then you can connect back in Monterey by taking Highway 68.
The same is true but in reverse if coming from north to south.
From Monterey, you can still visit much of Big Sur along Highway 1 — the turnaround point is around Slates Hot Springs.
So you can still visit Carmel-by-the-Sea, the town of Big Sur, McWay Falls, Bixby Creek Bridge, and all the other PCH classics, with the exception of San Simeon and Hearst Castle on this list.
Best Time of Year to Visit Big Sur
Note: This post contains affiliate links, which earn me a small commission at no extra cost to you if you make a purchase using one of these links. Thank you for supporting this free content!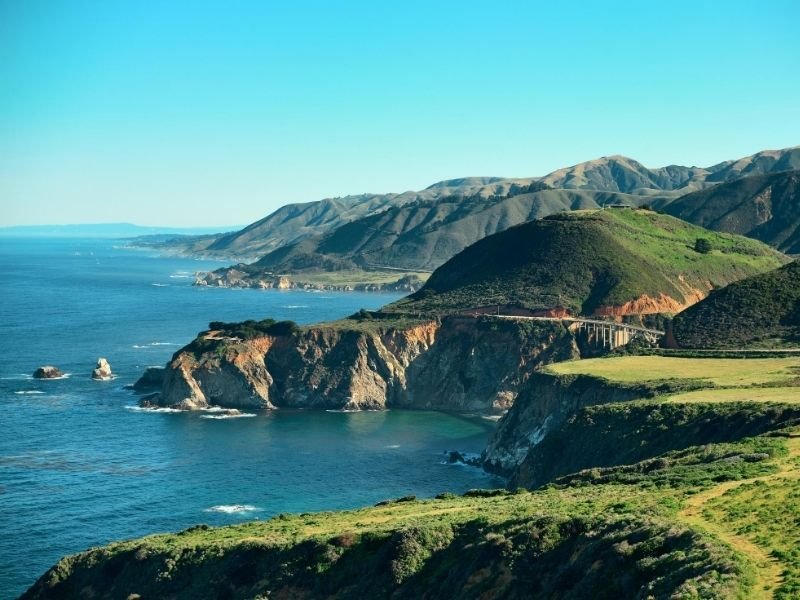 There really is no wrong time to go to Big Sur!
The coastal climate is very mild and ranges from low 50s to high 70s Fahrenheit throughout the entire year. The most popular season is April through October.
My recommendation would be to go either in the early spring because it is a nice time to catch the wildflowers in full bloom or to go in early fall because the weather is the warmest and most pleasant.
Contrary to most places, Northern California summers are actually quite foggy. However, as long as you pack layers you really can't go wrong!
Highway 1 Road Status
Much of Highway 1 is made of one-lane roads traversing along the sides of cliffs.
In the past, this road has closed down for landslides, mudslides, and wildfires. Make sure to check your route before embarking, as this is the only Big Sur road trip route to see all that the region has to offer!
Things to Know Before Your Big Sur Road Trip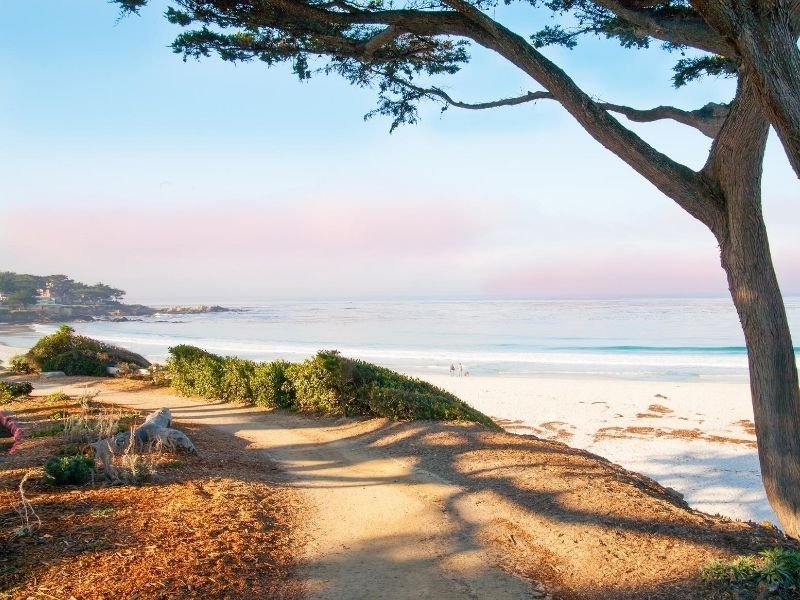 Stops and Snacks
The remote vastness and beauty of Big Sur comes at a cost to your sweet and salty cravings. There are not many stores along the way so I recommend bringing food and snacks with you on your journey.
This includes gas and bathroom breaks as well! Public restrooms are available in all the state parks – and there are three on this list.
Is Big Sur dog-friendly?
The short answer is probably not.
Three of the locations on this list (Point Lobos, Julia Pfeiffer State Park and State Beach) do not allow dogs.
If you plan to make other stops along the way, check the info page ahead of time.
Bring a map!
Yes, a real map!
You can also download an app called maps.me for offline navigation. Cell service is not reliable in Big Sur, and you'd rather be safe than sorry.
Where to Stay in Big Sur
If you're planning to spend a night or two in Big Sur, I suggest making somewhere between Carmel-by-the-Sea and Big Sur your base.
Carmel is a great place to return to each night, with loads of great restaurants, whereas most of the rest of Big Sur is rather rural with not much in the way of evening activities or restaurants.
Here are a few incredible places to stay in the area, broken down by budget bracket.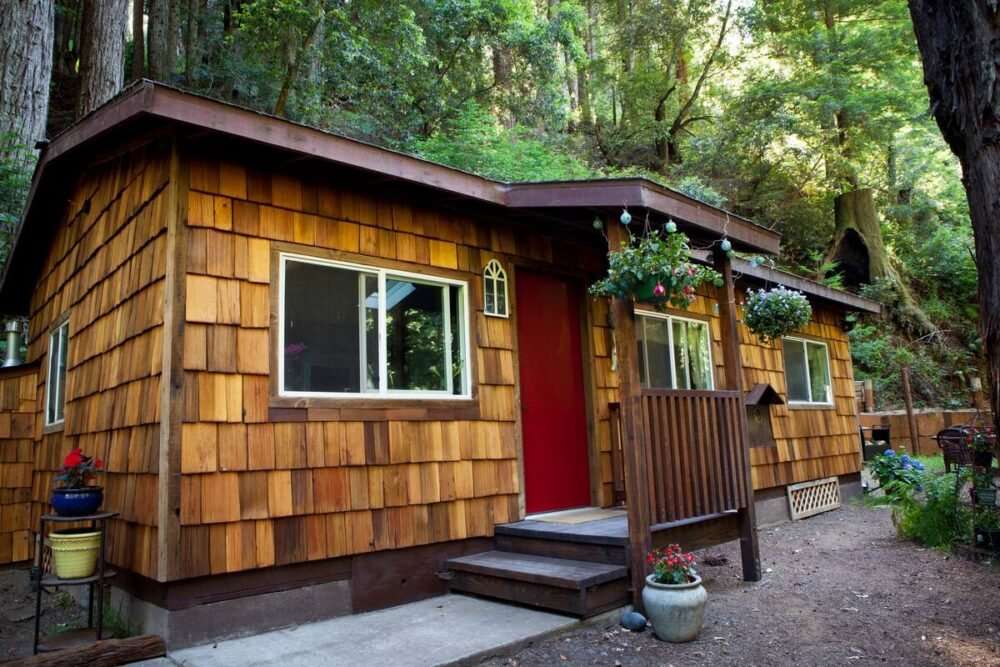 Budget | Redwood Haven | Located in a cute cottage in the midst of a redwood forest in a canyon between Carmel and Big Sur, it doesn't get cuter than this place! It's alongside a creek in the redwood canopy and is just a few minutes from the PCH.
There's one bedroom and an additional Murphy bed available if you're traveling with up to 4 travelers. There's also a garden, propane grill, and outdoor seating. Note that there's no TV or WiFi and signal is weak due to the redwoods, so plan to disconnect! Book your stay on Airbnb.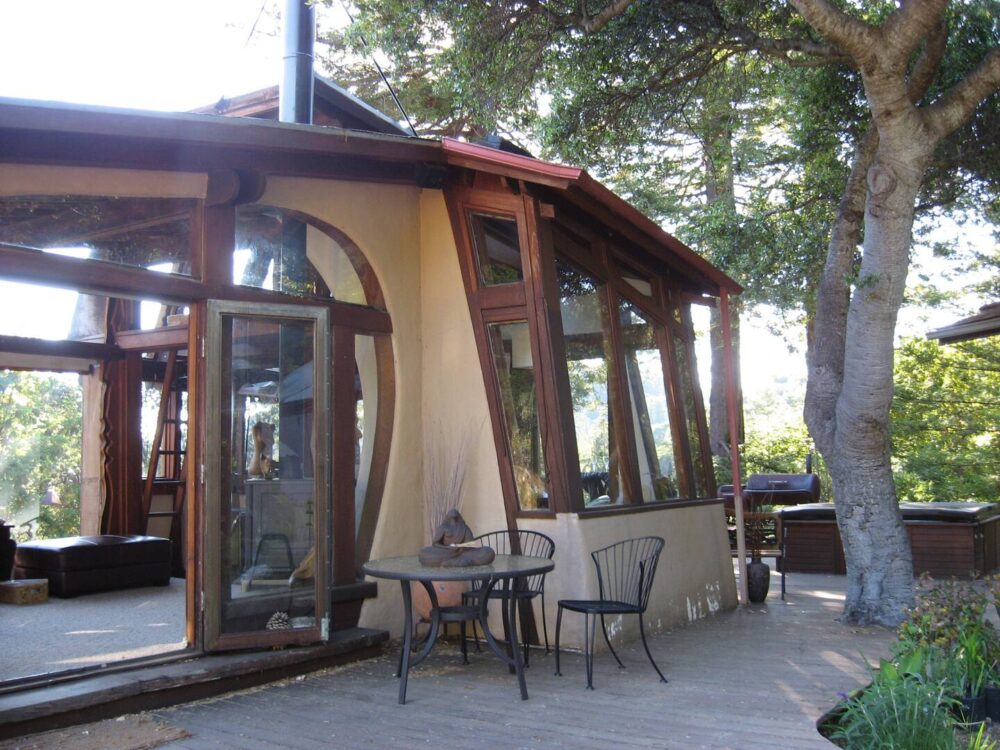 Mid-Range | Big Sur Dream House | This place is something out of a fairy tale! It almost looks like a treehouse in real life, with a gorgeous pool to swim in under the stars, grill, outdoor fireplace, and a luxurious patio.
There are windows everywhere, streaming in natural light and giving the whole place a warm and airy feel. It has one loft bedroom and one yurt bedroom — great for a cozy stay for two friends. Book your stay on Airbnb.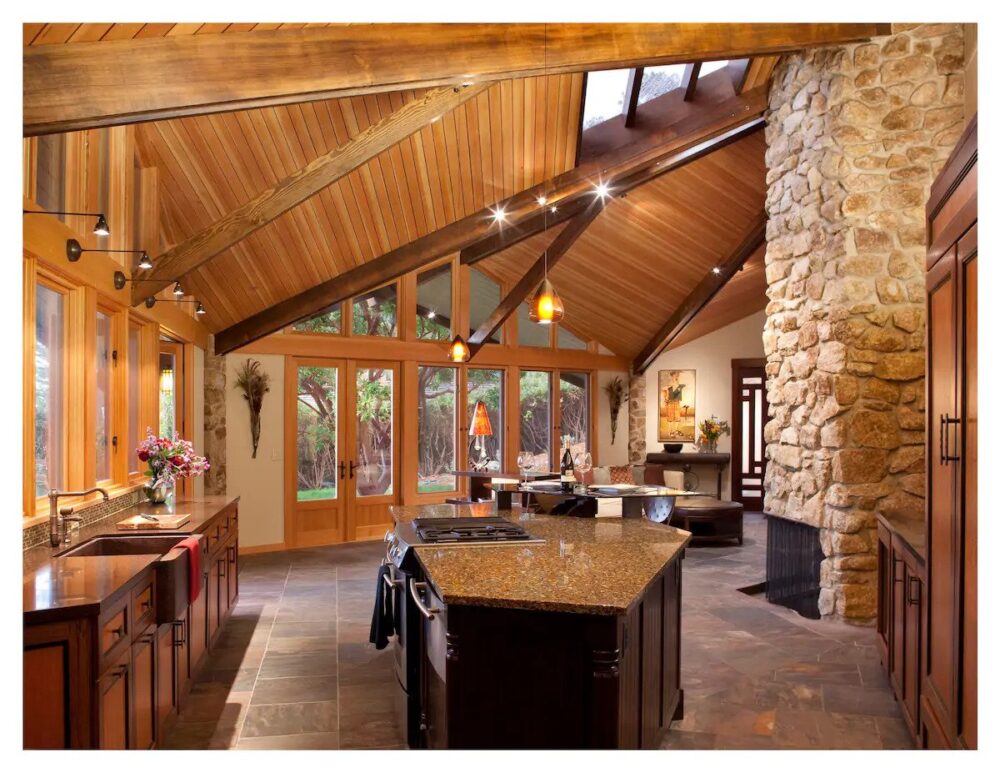 Luxury | Private Craftsman Home | This exquisite home is minutes away from incredible hikes in Garrapata, Point Lobos, and Pfeiffer Beach! Enjoy two private patios with an outdoor grill with ocean views and a fire pit, and a surround-sound theater!
There are two bedrooms in this modern California craftsman bungalow, and the beds are cozy as can be with Temperpedic mattresses with private bathrooms for each — with waterfall showers and massaging wall jets in one! It's a magical place to stay, and books up well in advance due to its amenities, so book it on Airbnb to reserve your spot.
Your Ultimate Big Sur Road Trip Itinerary
As mentioned before, this Big Sur itinerary starts heading south from Northern California along the coast.
If you're heading up from Southern California and are heading north, just follow this itinerary for Big Sur in reverse.
Point Lobos State Park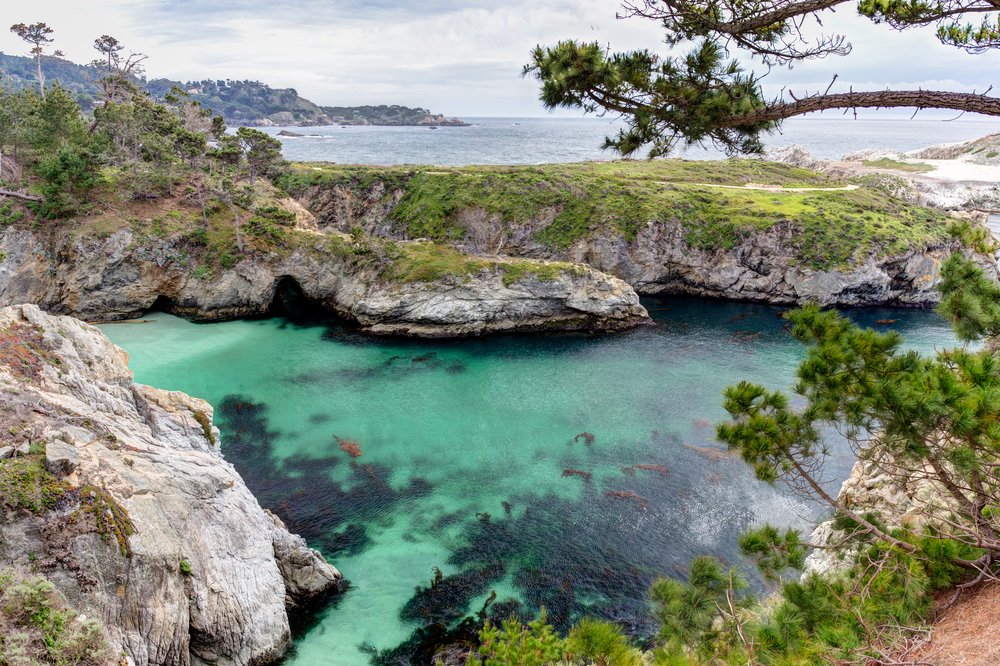 The first stop on your journey through Big Sur is only three miles south of Carmel down Highway 1.
This state reserve has a $10 entry fee. Once you get inside, there are four parking lots to choose from.
To the north shore is Whaler's Cove, where the vistas from high up on the cliffs looking out at the Pacific Ocean will take your breath away. The Whaler's Museum is also located at the north end parking lot and is open from 9 am to 5 pm every day.
From any of the parking lots, you can embark on one of many hiking trails that meander along the many popular viewing spots soaking in the crashing waves below. If you're lucky you can catch sight of some interesting wildlife such as sea lions, sea otters, and pelicans!
Garrapata Beach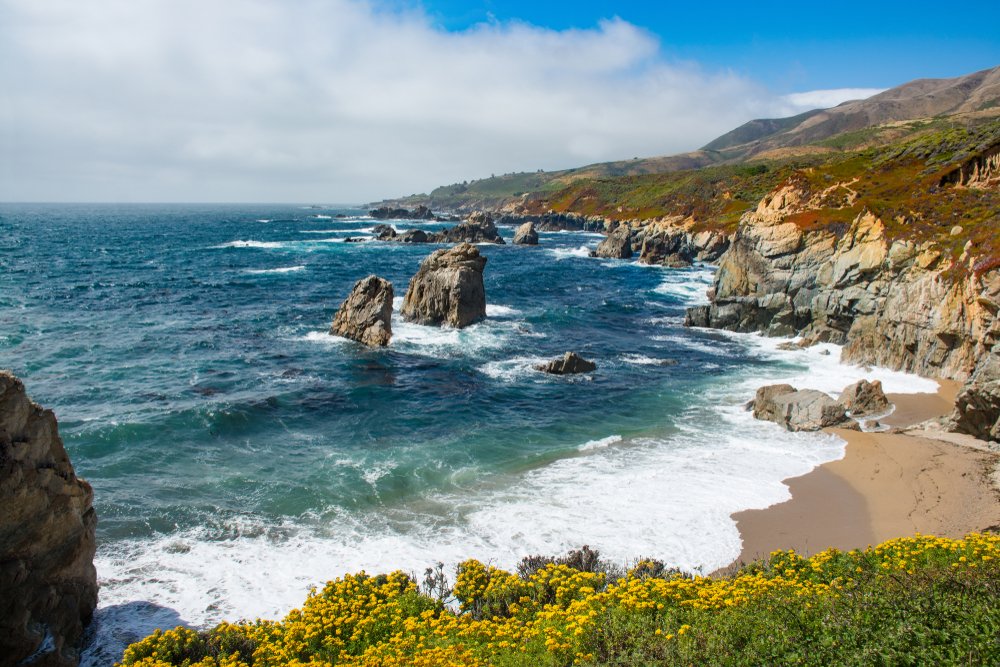 This secluded beach is considered a Big Sur hidden gem by the locals, which makes it a must-see highlight for this road trip!
This state park and beach is just 8 miles south of Carmel and just a few minutes down the road from Point Lobos, your previous stop on this Big Sur itinerary.
There is only one turnout sign that most people skip over, which is great for allowing you to have it all to yourself!
Take some time to wander down the trail and dip your toes in the Pacific Ocean. If you arrive in spring, all the wild flowers in bloom will enhance the experience even more.
Bixby Creek Bridge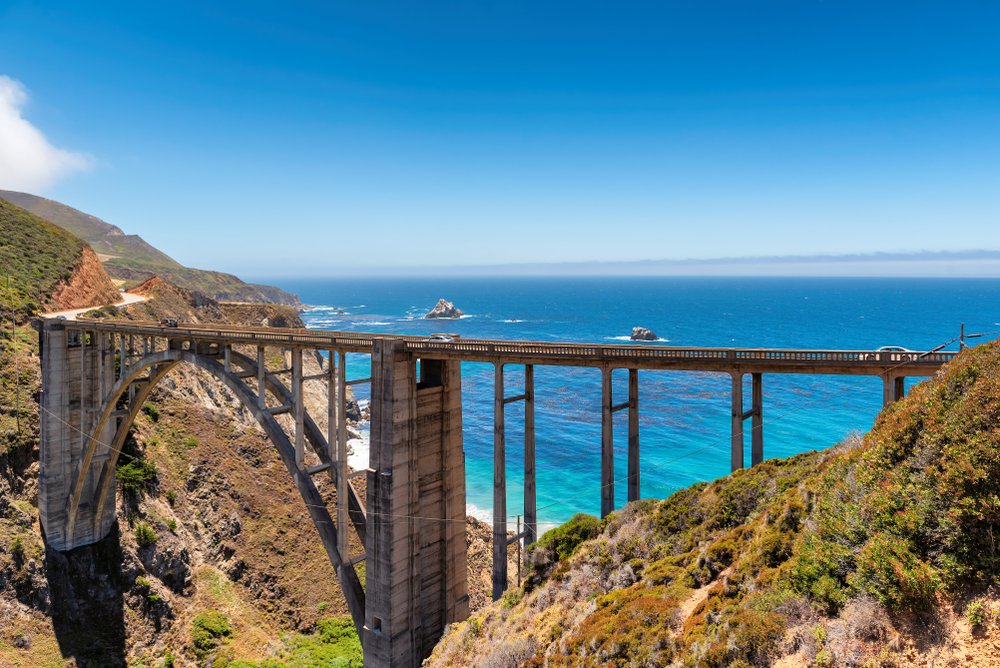 Located 13 miles south of Carmel, fans of the HBO show Big Little Lies will definitely recognize this one!
The Bixby Bridge is an open-spandrel arch bridge that was built in 1932. There are two viewpoints on the north and south end of the bridge to get out and take pictures.
You're going to have to drive over it anyway, so you might as well take some pics! This is the second most photographed bridge in California after the Golden Gate, and for good reason.
Pfeiffer State Beach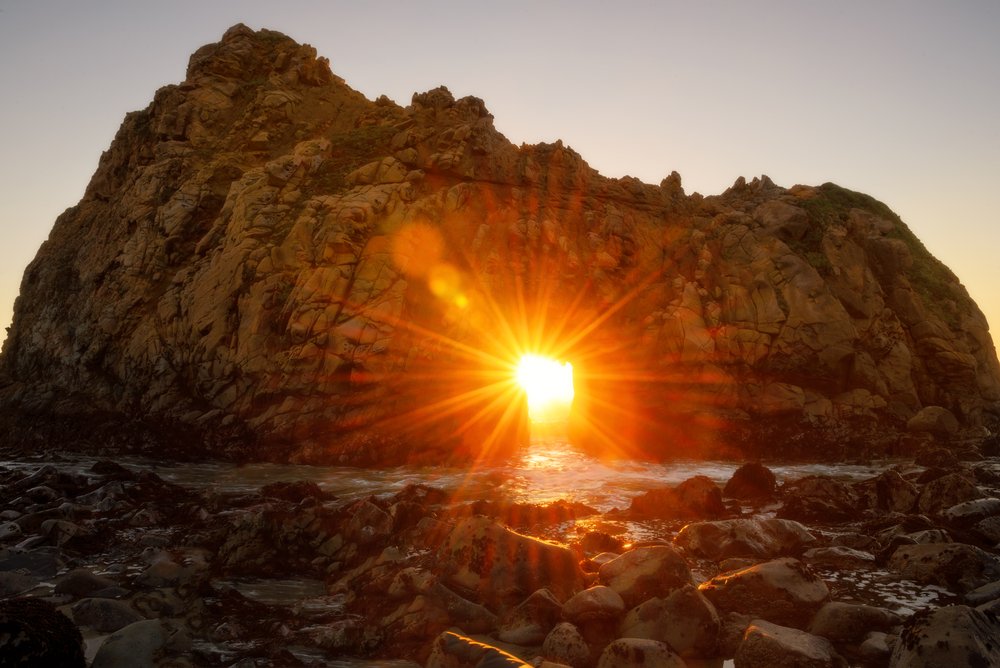 Also located in the town of Big Sur and about 30 minutes west of the Pfeiffer State Park is Pfeiffer State Beach.
This beach is probably the most popular attraction for tourists to Big Sur. However, I have included it on this list because it really is a must-see.
There is a day-use parking lot which does require a $10 entrance fee per vehicle. Soak in the sand and waves during the sunset while admiring the Keystone Rock.
Even if there are crowds, the beach is large enough to spread out. To really get the most for your money, I recommend bringing a picnic and blanket down to the beach and watch the sunset down below the Pacific Ocean.
Bonus Tip: Want to break up your trip here? Opt for a stop at Ventana Glamping in Big Sur between Pfeiffer Beach and your next stop, Mcway Falls, for a touch of luxury in nature!
Julia Pfeiffer State Park and Mcway Falls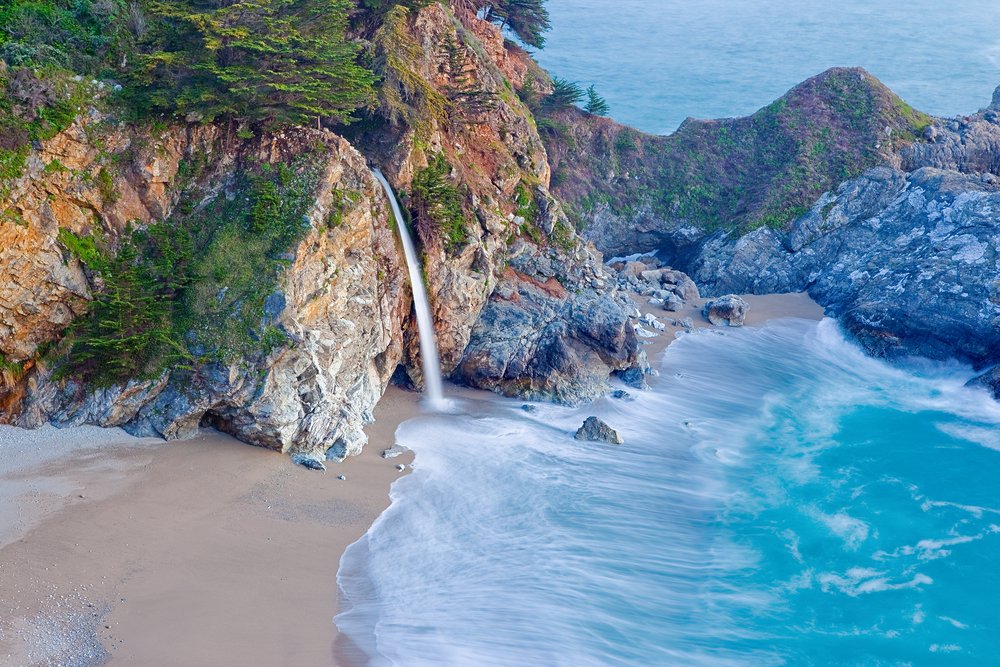 Now officially entering the small town of Big Sur, it is the time to put on your hiking shoes!
This is also a park that requires a $10 entry fee per vehicle. But remember, you are supporting the California parks system and helping to maintain this beautiful area.
The Pfeiffer State Park is a beautiful state park that most people come to for the plunging McWay Falls into the Pacific Ocean. The McWay Falls Outlook Trail is only 0.65 miles and will take you directly to the falls! This is a highly populated tourist attraction, so I recommend coming here early so that you can take in the views without all the crowds.
Besides the falls, there are also copious other trails for all levels of hiking rigor. I also recommend the Ewoldsen Trail, which meanders through the redwood trees and also picks up some elevation.
In total, this trail is 5 miles in length, but the view of the Big Sur Valley below is worth the climb!
Also, the Partington Cove Trail which is only one-mile round trip, offers ocean views from the trailhead leading down to the rocky surf below. Be advised, swimming at the end of this trail is not advised or allowed. But oohing and awwing is highly encouraged!
If you are interested in camping to get the full Big Sur experience, the Pfeiffer Campground is a popular location. It's located right in the heart of the park up along the Big Sur River.
Reservations book up very far in advance – up to almost 6 months. So plan ahead if you want to camp here!
Elephant Seal Vista Point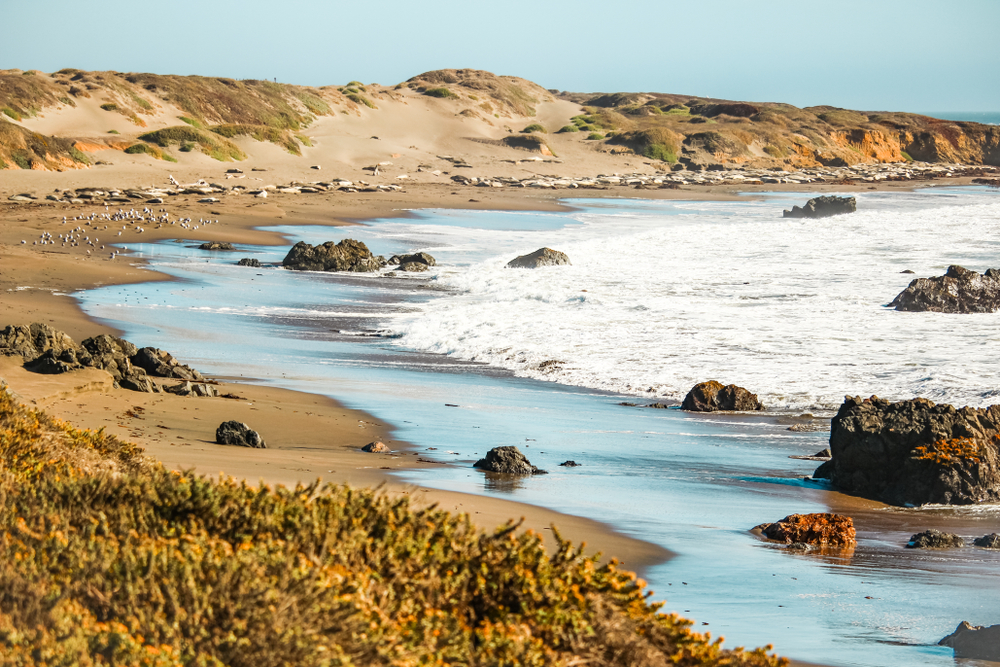 This cove located in San Simeon is so different from any wildlife interactions you may have ever had before!
The Elephant Seal was an endangered species before protective measures helped bring them back safely. Now, these enormous mammals flock to this beach in the hundreds – and up to the thousands during November through March, the birthing season when the little pups are born.
Getting the chance to see (and hear) these elephant seals in their natural habitat is really something you have to see for yourself.
Hearst Castle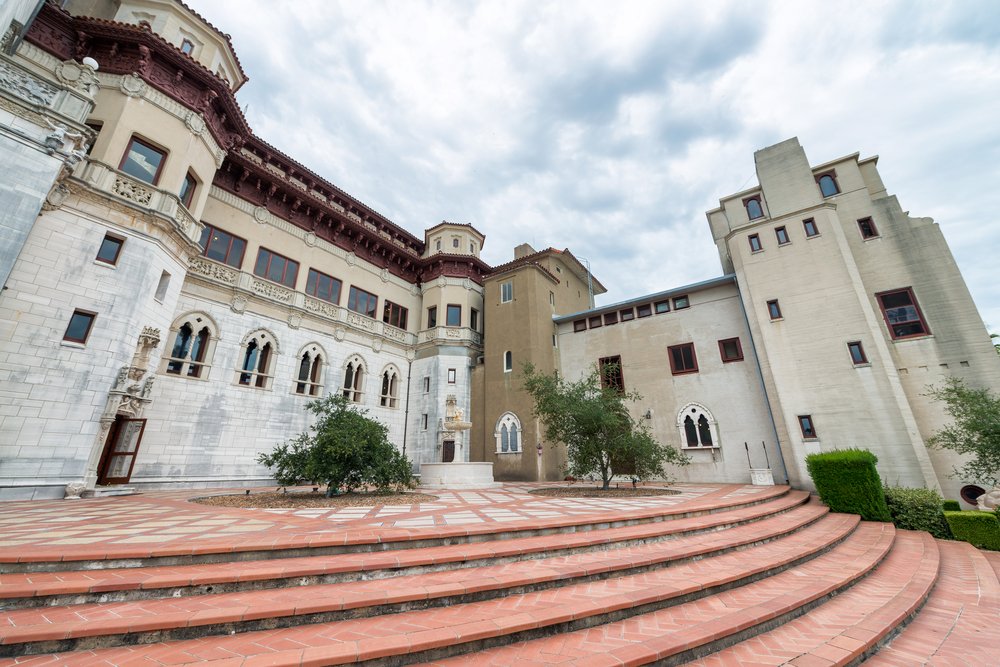 Also located in San Simeon is the spectacular home-turned-museum of William Randolf Hearst.
This is the only non-outdoor activity on the list, making it an essential highlight after all the natural beauty of the beaches and parks.
The magnificence of the mansion is second to none. Inside, you can expect to see high marble ceilings and huge ballrooms with columns and larger-than-life decorative art.
Outside is somewhat of an exotic farm with zebras, goats, and various livestock. Entry to the castle is by tour group only. The cost is $25 for adults and $12 for children.
Make sure to book in advance to guarantee the best time. It's really a Big Sur highlight you won't want to miss!
Final Words About Visiting Big Sur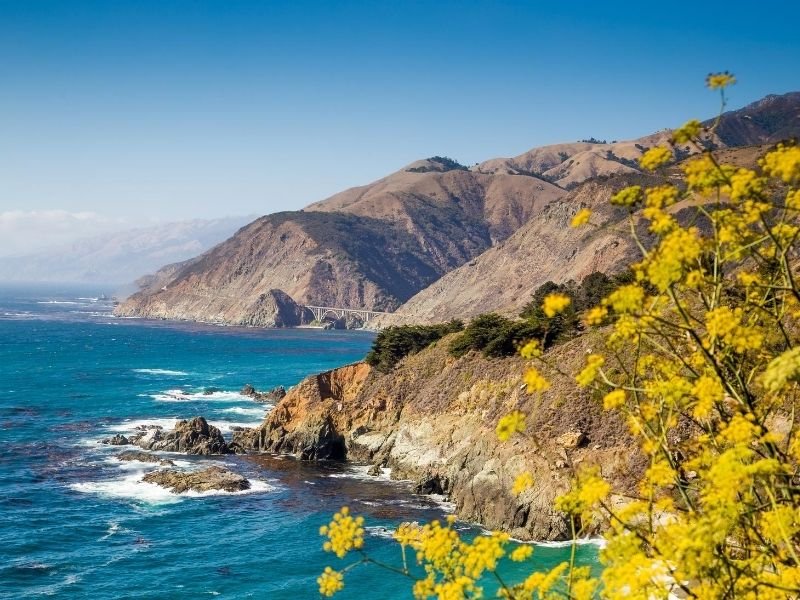 Although the Big Sur itinerary outlined above will surely guarantee you get to experience many of the popular highlights of Big Sur, there are also many beautiful turnouts along Highway 1 not mentioned.
These are spots where you can pull off to at any time to snap a nice photo or stretch your legs or just feast your eyes on the vastness of the great ocean ahead. As long as it's safe to do so, don't be afraid to be a little spontaneous as well!
From top to bottom, this Big Sur road trip needs only 2 hours in drive time. However, I encourage you to make it your own!
You can hit three spots in one day and four the next, or stretch it out into a more slowly-paced 5-day road trip. What is so wonderful about Big Sur is it's very much a choose-your-own-adventure kind of travel, so enjoy it and discover your own slice of Big Sur!
Pin This Big Sur Road Trip Itinerary!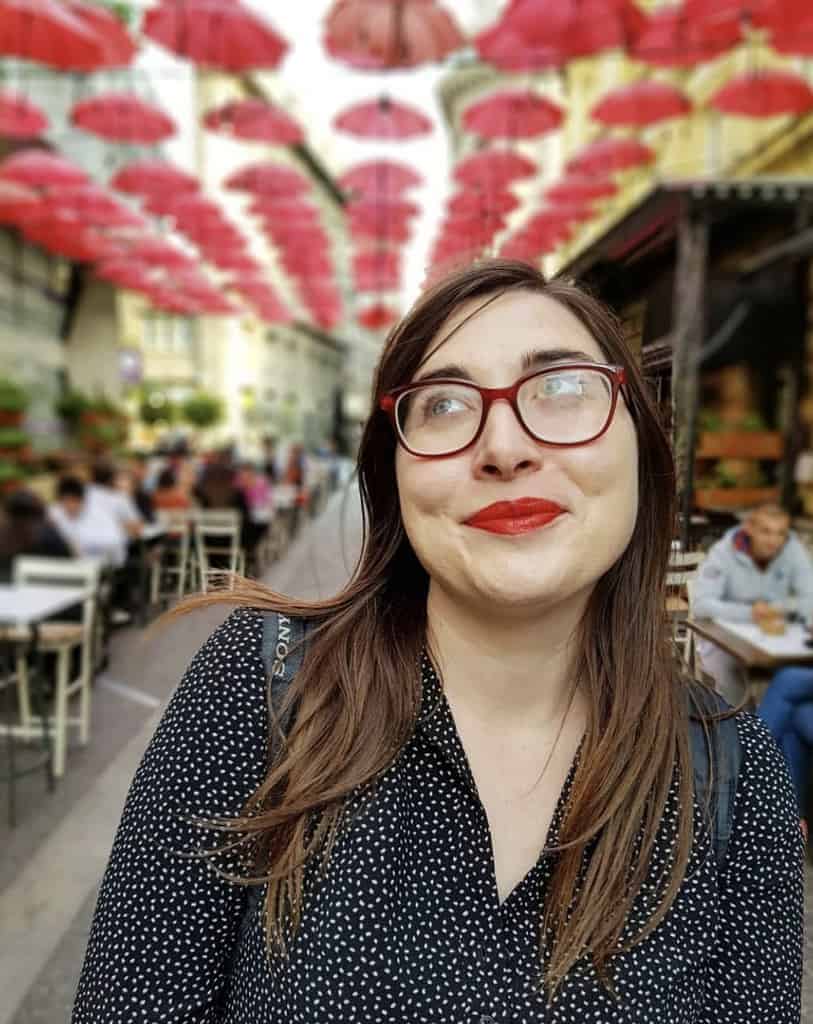 Allison Green is a travel blogger, writer, and podcaster who grew up in the Bay Area of California. She has spent time living in New York, Prague, and Sofia, but has returned to live in the East Bay. She has traveled to 60 countries before the age of 30 while running several digital travel businesses. Her writing and podcast have been featured in Forbes, CBC Canada, National Geographic, the Huffington Post, and CNN Arabic, amongst others. She's obsessed with dogs, wine, and anywhere she can see the ocean.