Have you ever driven down the road and come across a bright yellow field of sunflowers? It makes you want to stop and take pictures of the seemingly glowing field.
There are a scattering of sunflower fields in California that are worth exploring on a day trip or a summer weekend adventure.
These California sunflower fields are definitely worth the trip, and make sure you have an old pair of shoes and your camera ready to take some perfect Instagram photos!
In this post, I will share some tips about when to set out exploring, how to get those perfect sunflower pictures and the locations of some of California's most beautiful sunflower fields.
Best Time For California Sunflowers
Note: This post contains affiliate links, which earn me a small commission at no extra cost to you if you make a purchase using one of these links. Thank you for supporting this free content!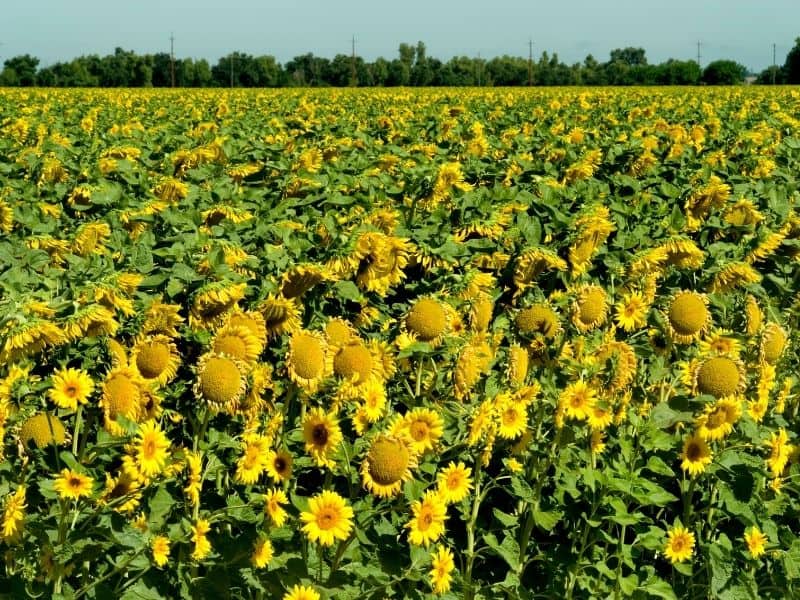 Each year is slightly different, just depending on the temperature and rain, but the sunflowers usually peak near the end of June to the beginning of July.
However, many of these farms have late-blooming sunflowers which perk up around September or October.
If you go too early, the blooms will still be small; too late, and you will be looking at sunflower seeds instead of the golden petals.
Best Time To Take Photographs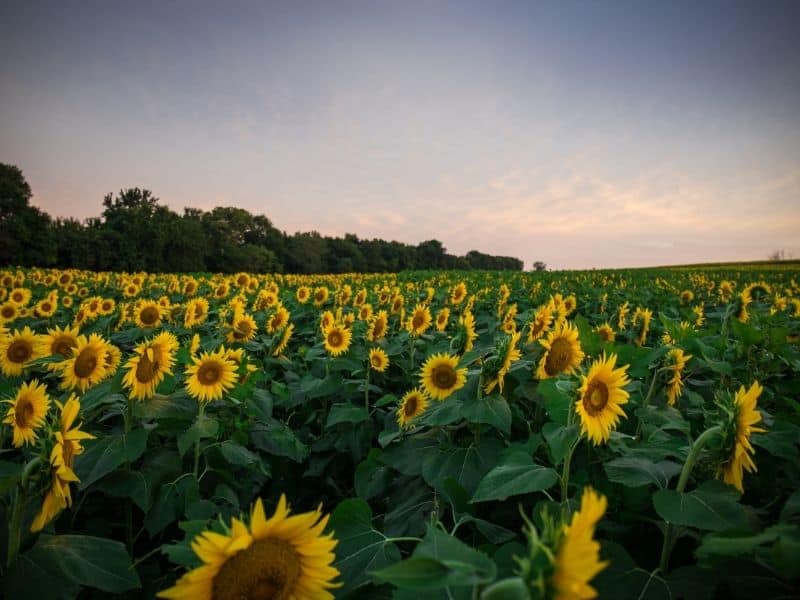 Don't let the summer heat keep you from the marvelous splendor of the sunflower fields in California!
Go out in the early morning before the temperature gets too warm and enjoy the sun-loving flowers.
The early morning hours around sunrise is also one of the best times to take those magical sunflower pictures as they face east, reaching for the first sun's rays.
Best Thing To Wear and Take To The Field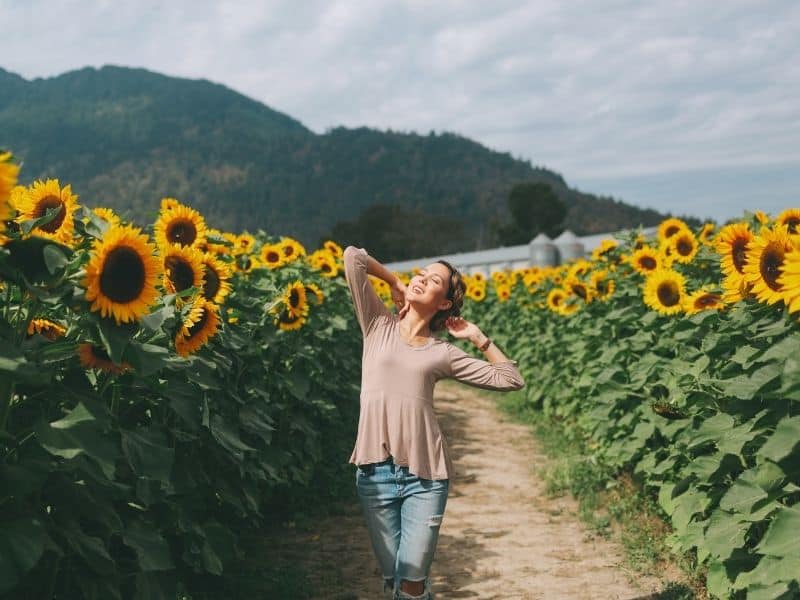 Old shoes/boots – the field will likely be muddy
Light-colored clothing to complement the sunflowers
Sun hat
Bug spray
EpiPen or Benadryl, for those allergic to bees, depending on severity of allergy
Flower cutters, if you are planning on cutting sunflowers
Notes for Visiting Sunflower Fields in California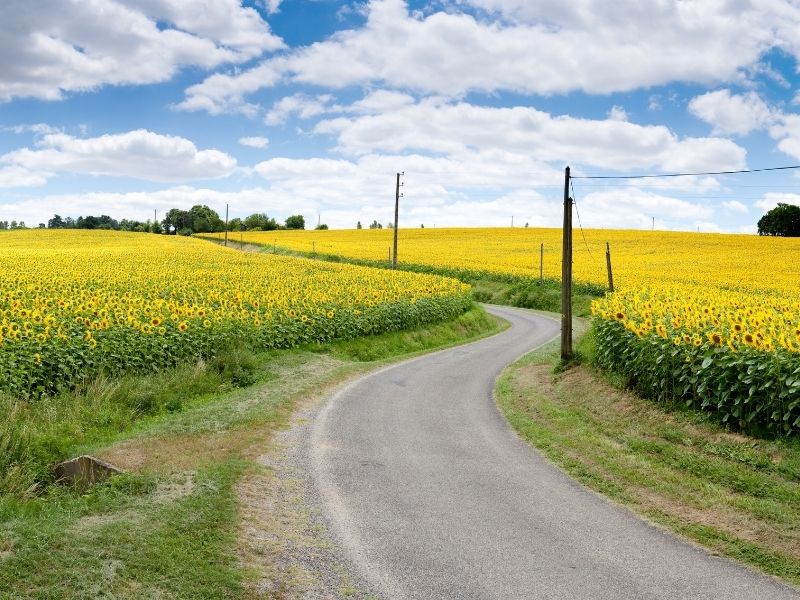 Since many of the sunflowers listed below are on private property and not officially open to the public, be respectful to the farmer's crops.
When stopping along the road, take a quick picture or two from the edge of the field. Please don't pick any flowers or trample the plants. These crops are their income!
If there are no trespassing signs posted, please keep driving until you find another field. If you know the fields you want to photograph, call ahead of time for permission and ask where the best spot would be to take photos.
Peruse the list of sunflower fields in California below to find the perfect field for your sunflower adventure.
Best Sunflower Fields in Northern California
Andreotti Family Farms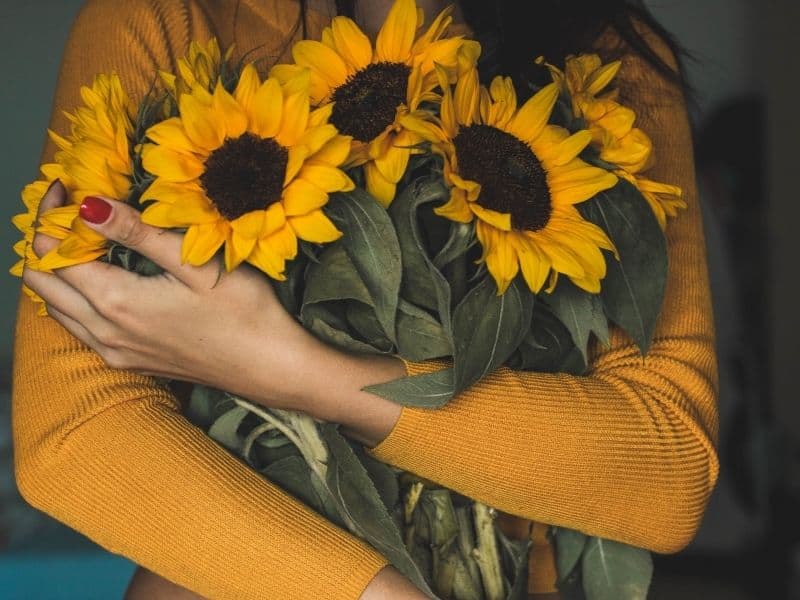 Address: 800 Cabrillo HWY North, Half Moon Bay, CA 94019
Phone Number: 650-922-0141
Email: [email protected]
Peak Season: October
Cost: $15 – Advanced ticket reservations required
Details: Find out more information on their Website
The Andreotti farm is a beautiful California sunflower farm with later-blooming sunflowers. The peak season at their farm is between the middle of September and the beginning of October.
At this time, you can head into the field and cut a sunflower bouquet — provided you've purchased advanced tickets and paid the fee.
Beware, these are not small sunflowers! These towering plants grow to a height of seven to nine feet tall. You may feel like a munchkin as you wander the field!
If you want to plan something special like a Farm to Table Dinner, private photoshoot, or a farm tour, contact the farm to get additional information.
During the fall season, the Andreotti Family Farms come alive with their pumpkin patch and the sunflower maze once the golden blooms fade.
The Andreotti farm does charge a fee to enter their fields, but the fee also includes cutting a five-flower bouquet to take home, plus all the photos you would like to take!
Cloverleaf and Collins Farm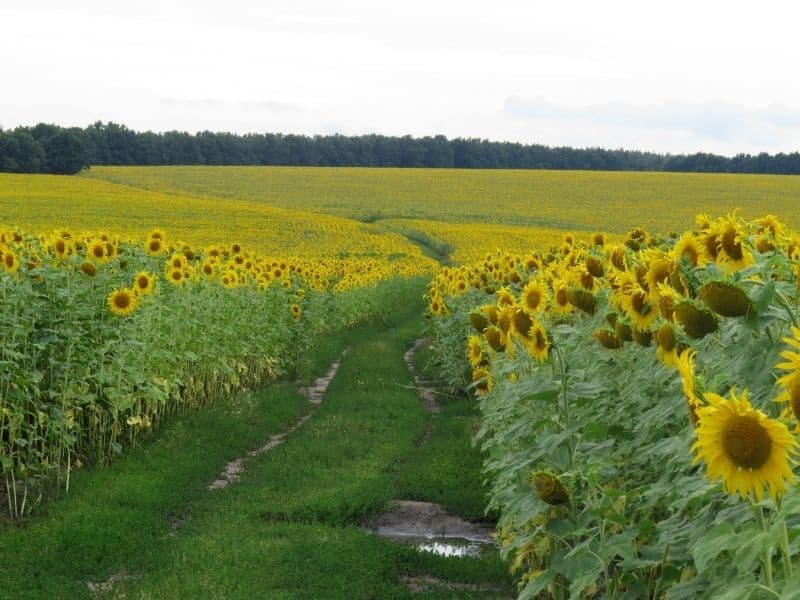 Address: 9055 Olmo Lane, Davis, CA
Peak Season: Mid-June through Mid-July
Details: Find out more information on their Website
This magnificent field of sunshine sits right along I-80 on the westbound side near the Kidwell Road exit ramps.
Note that this is private property, but if you come for the U-Pick stone fruits or to purchase some fresh fruit during the summer harvest season, you might be able to visit their sunflower fields and take some photos if you ask nicely.
Field of Sunflowers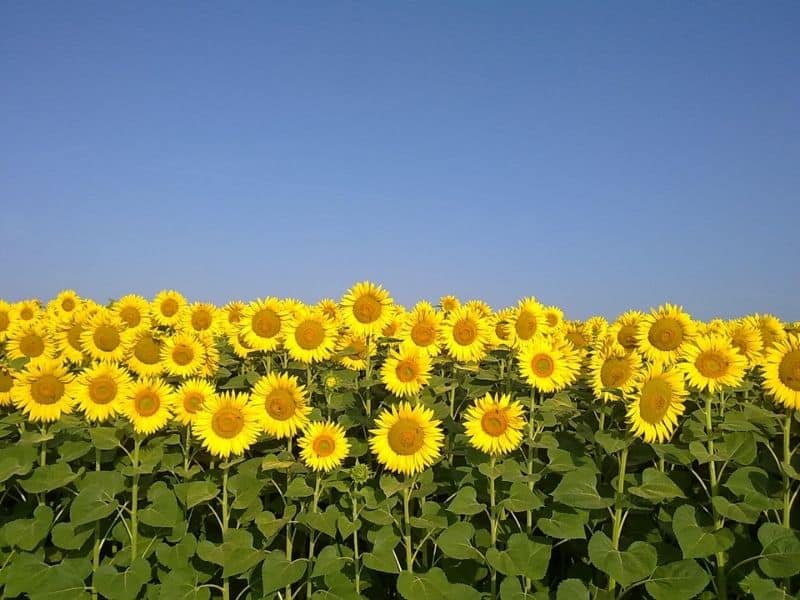 Address: 8747 Currey Rd, Dixon, CA 95620
Peak Season: July
This field is easy to find. Watch for the Dixon Fruit Market at 7808 Batavia Rd, Dixon, CA 95620, and look across the street to the yellow field of flowers.
Even though the flowers will call your name to traipse around the field, this is a private field. Walking through the field can damage their crop and irrigation lines, so take your photos from the side of the road (parked safely) only.
This beautiful stretch of flowering fields is a trendy Instagram photo spot in July, so if you can get there during a weekday, you will not have to fight as much of a crowd.
Remember: no matter what you see other travelers doing, you know better, so take your pictures from the side of the road!
If you continue to drive along Currey Road, you will find other Northern California sunflower fields that are also photo-worthy.
M3 Ranches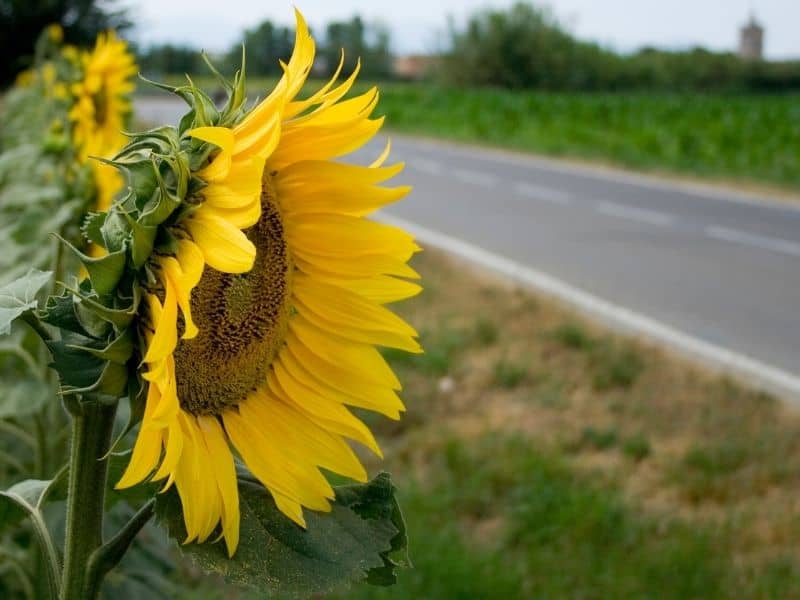 Addresses: 35472 Co Rd 18A and 15810 Co Rd 95, Woodland, CA 95695
Peak Season: Middle – End of June
Email: [email protected]
Details: Find more information on their Website
Just a short drive outside Sacramento, the M3 Ranches are away from the major highways and a favorite for sunrise pictures of the sunflowers.
The Mullers make their living grow beautiful sunflowers for seed each year. Before heading into the field, please get permission by emailing or contacting them on their Instagram.
They are a wonderful group of farmers, and if you are respectful of their crops, they will provide you an address to where you can take pictures legally.  
Pedrick Produce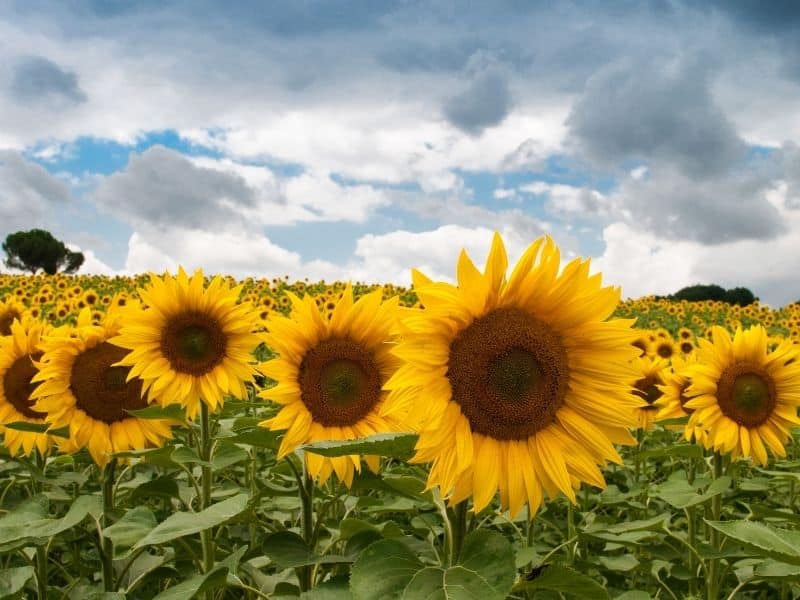 Address: 6850 Sievers Rd, Dixon, CA 95620
Email: Contact Link
Another radiant spot for spotting beautiful sunflowers in California is at Pedrick Produce. 
Their sunflowers are gorgeous, but again, this field is on private property, so ask for permission (contact link provided above) before visiting, and do not trespass. Photos from the side of the road are fine.
Sunflower Fields in Southern California
The Rancho Bernardo Pumpkin Station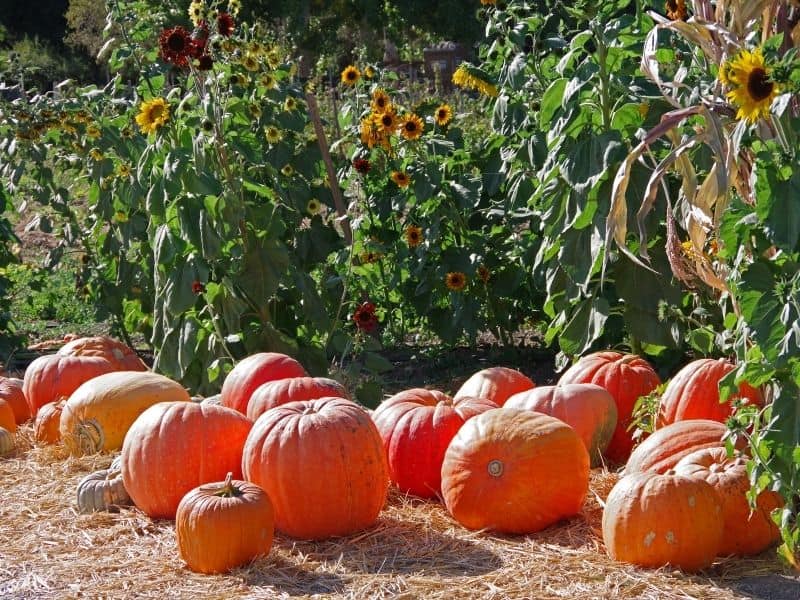 Address: 13421 Highland Valley Rd Escondido, CA 92025
Hours: October 1 – 16 from 9:00 AM – 6:00 PM; October 17 – 31 from 9:00 AM – 7:00 PM
Peak Season: October
Each summer, the Rancho Bernardo farm plants over 75,000 sunflower seeds. By the first of October, they are starting to bloom, and the nearby pumpkins are turning orange.
Make a day of it on the farm by picking out your pumpkins, going for a hayride, find your way through the corn maze, and enjoy the petting zoo.
They also have a picnic area where you can eat lunch or a snack before heading to the U-Pick Sunflower field to cut a bunch of sunflowers to take home. The farm provides shears for cutting flowers.
The U-Pick sunflowers are $2 for each stem, and you can take some photos while you're in the fields.
Swank Farms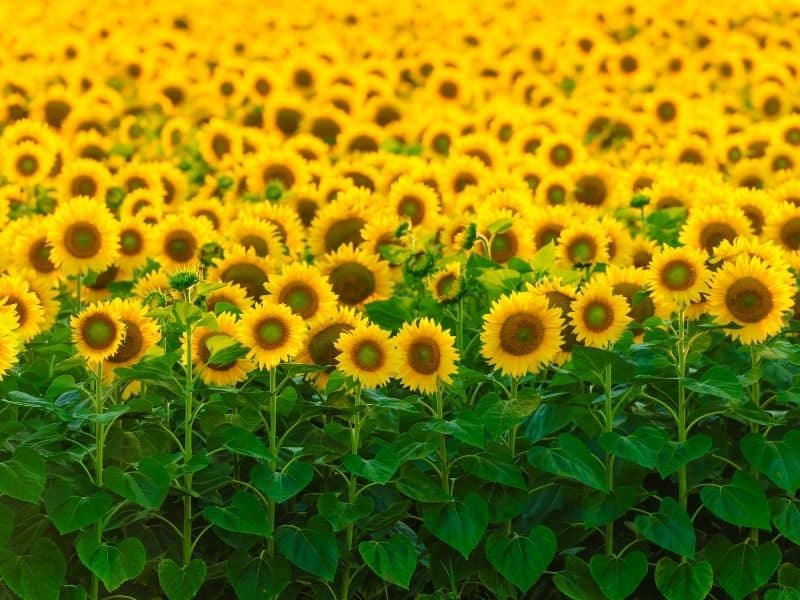 Address: 4751 Pacheco Highway, Hollister, CA 95023
Hours: Last weekend of September – First weekend of November (Thursday 10:00 AM – 6:00 PM, Friday – Sunday 10:00 AM – Sunset)
Peak Season: October
Details: More information available on their Website
Swank Farm's annual sunflower bloom occurs during their festive Fall Days event from the last weekend of September through the first weekend of November.
During this time, you can stroll through these beautiful Southern California sunflower fields and find the perfect cluster of flowers for your backdrop and enjoy the outdoors.
After your sunflower stroll, take time to weave your way through the corn mazes, pick your pumpkins from the pumpkin patch and have a great time with a variety of other festive events. They also offer a variety of food items.
Tanaka Farms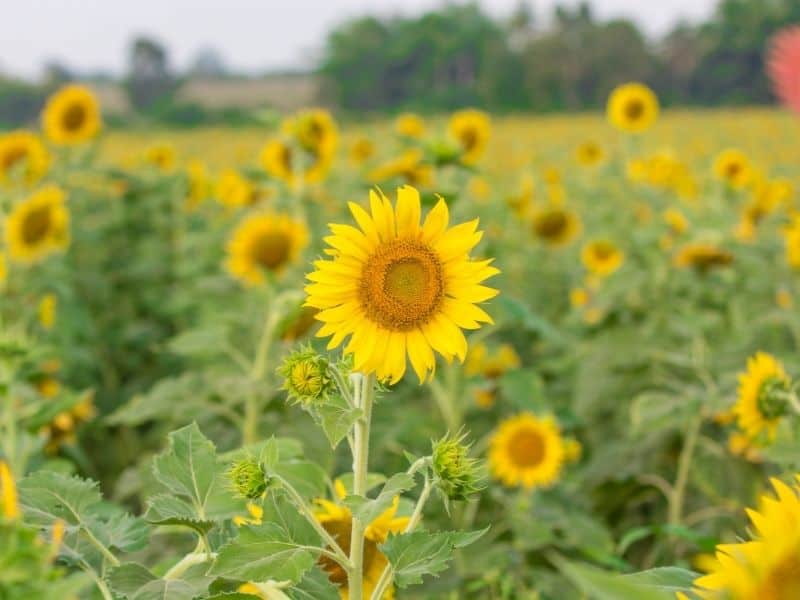 Address: 5380 3/4 University Dr, Irvine, CA 92612
Hours: 9:00 AM – 5:00 PM
Peak Season: Mid-September – Early October
Details: More information available on their Website
Head to Tanaka Farms for a fun, festive fall day that includes a stroll through the sunflower fields, a trip through the corn maze, a chance to play at their famous Pumpkin Cannon, take a wagon ride, and visit the barnyard animals.
Their Facebook page has regular updates on how their sunflowers are progressing, so you can pick the perfect day to visit.
This is a place you could come back to time and time again, as they have different events and U-Pick tours during different seasons. For example, February through June celebrates strawberries, July through August is all about watermelons, and October is — naturally — all about pumpkins!
They also have a special Christmas lights festival and it's also a great Southern California Christmas tree farm.
Note that this is not a pet-friendly farm, so bring your four-legged friends behind!
 Other Notable Sunflower Fields in California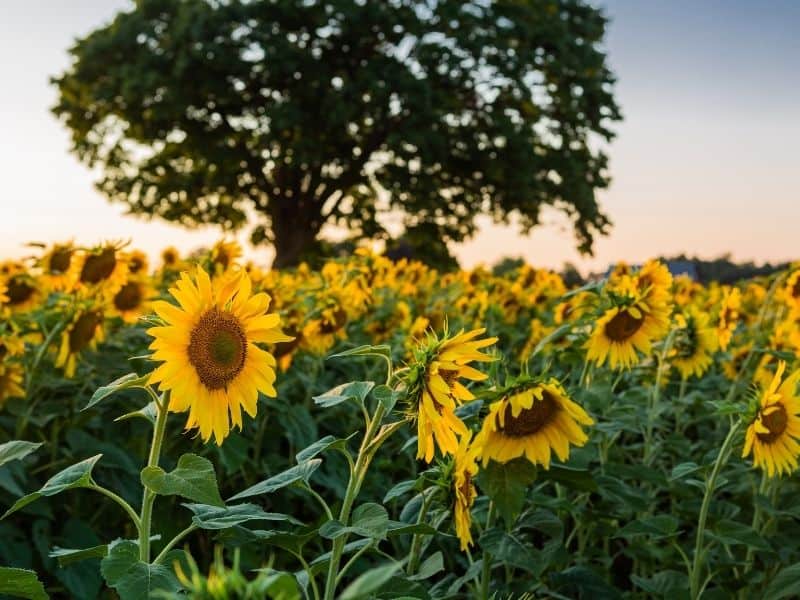 Location: Intersection of Roads 89 and 26 in Winters.
Here there is a lovely field of sunflowers with a small pull-off area to park. This spot offers a chance to get some stunning pictures near sunset. This is private property, so don't trespass.
Location: Along the freeway between San Francisco and Sacramento
For those who just want to get out and drive, a trip between San Francisco and Sacramento on I-80 in July will showcase a variety of sunflower fields along the freeway for your enjoyment!
Location: Along Interstate 5 outside Sacramento
This is another route where you can view the fields from the road as you drive by the endless rows of sunshine.
Location: 850 Cabrillo Hwy N, Half Moon Bay, CA 94019
This beautiful sunflower field is located next to Farm John's Pumpkin Farm. So, after enjoying the sunflowers, head over and select your fall pumpkins.
Pin This Guide to Sunflower Fields in California!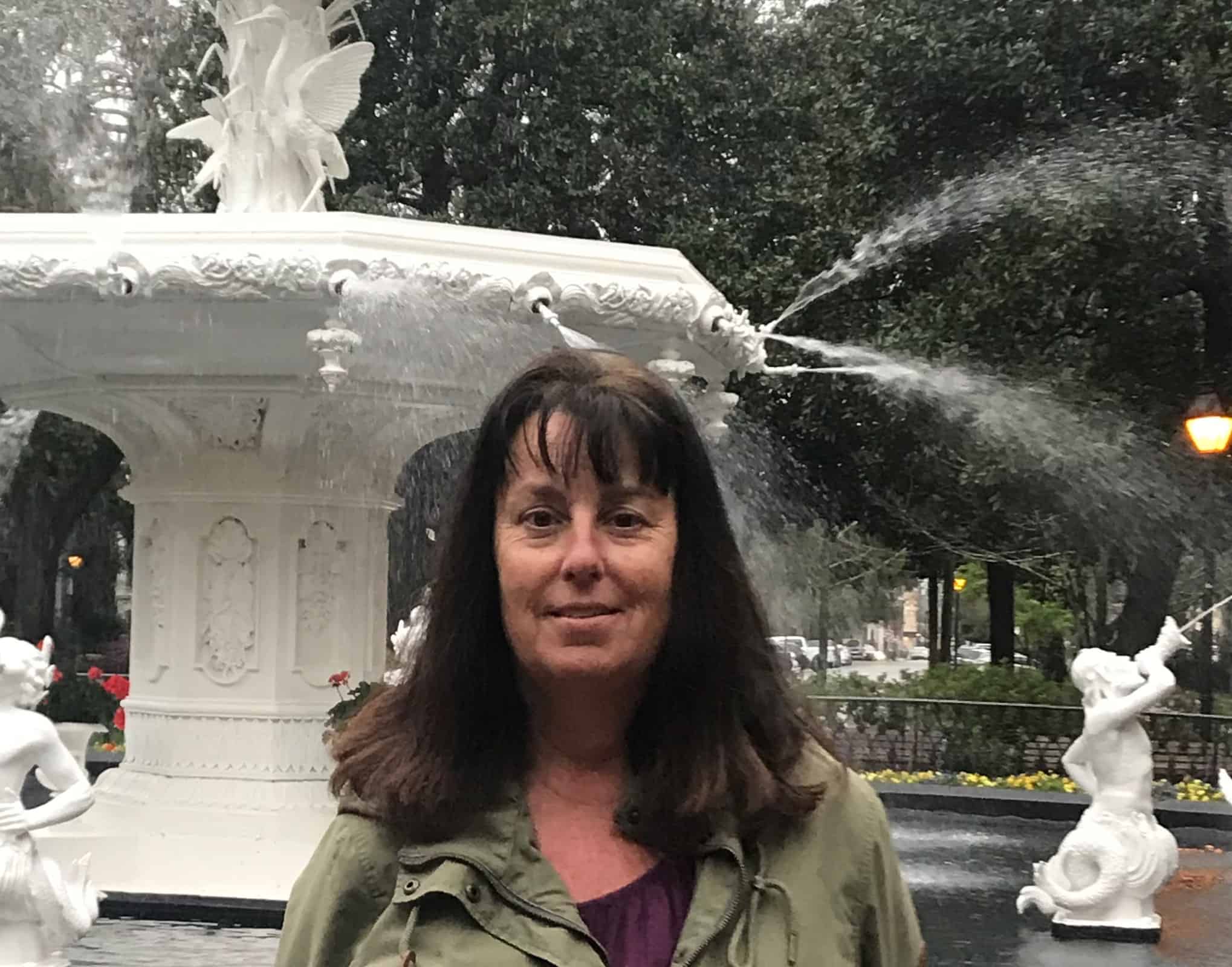 Laura Gray is a freelance writer and retired elementary teacher based in Norfolk, VA.  She spends her summers enjoying the shores of the Chesapeake Bay, traveling the world, and exploring the beautiful United States. Her favorite places to visit are National Parks, waterfalls, and lighthouses.