California's Redwood Coast extends for roughly 175 miles, affording numerous opportunities to walk amongst these three hundred foot tall, two thousand year old giant trees.
Iconic Highway 101 meanders along the rugged coastline and right through the heart of Victorian Eureka, the perfect spot for an overnight stay amongst the redwoods.
Founded on Humboldt Bay in 1850 with an aim of providing provisions to inland miners, Eureka quickly became a valuable seaport and home to thriving fishing and logging industries.
While many visitors simply pass through Eureka on the highway, this quaint bayside town is worthy of its own attention.
Here's what to do on a trip to Eureka!
Note: This post contains affiliate links, which earn me a small commission at no extra cost to you if you make a purchase using one of these links. Thank you for supporting this free content!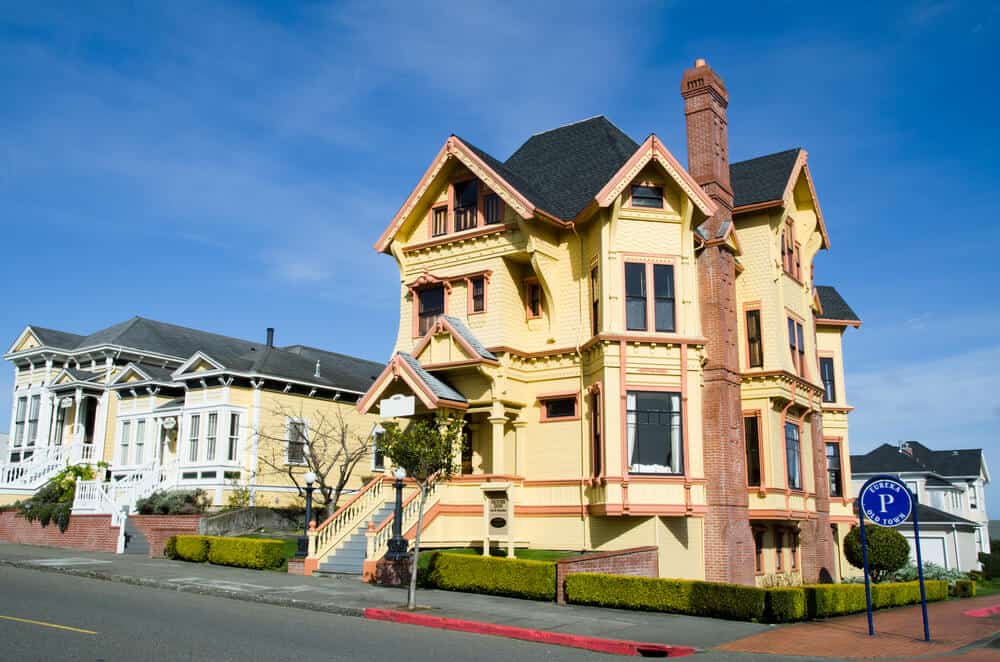 15 Best Things to Do in Eureka
Saunter the Streets of Old Town
Rightly named Old Town is where Eureka began and today the 350-acre district is on the National Register of Historic Places.
The National Register is comprised of 154 contributing buildings that today house eateries, shops, art galleries, and offices between C and M Sts along 1st, 2nd, and 3rd. Streets.
Outdoor murals dot the district and the Arts Alive evening art walk is held the first Saturday of every month!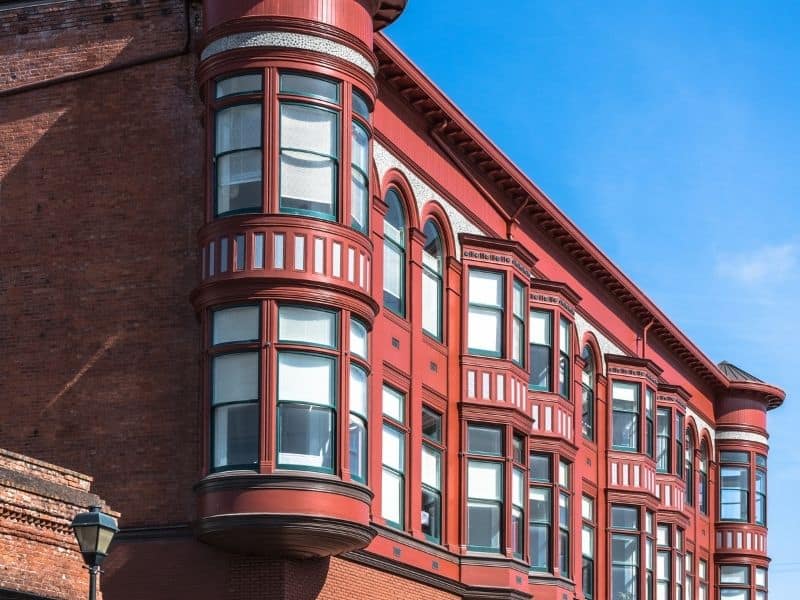 Immerse Yourself in Living History
Return to the late 1800s at the Blue Ox Millworks Historic Park, home to a custom millworks operation catering to the Victorian buildings seen in town.
This park houses a museum said to be the world's largest collection of working human-powered woodworking and finishing machines.
Originally purchased as an affordable means to start up a business, the antique sawing, sanding, and milling machines within the museum are still used today to produce authentic period millwork.
They have been joined by a print shop, blacksmith, ceramics shop, and a textile studio.
Address: 1 X St, Eureka, CA 95501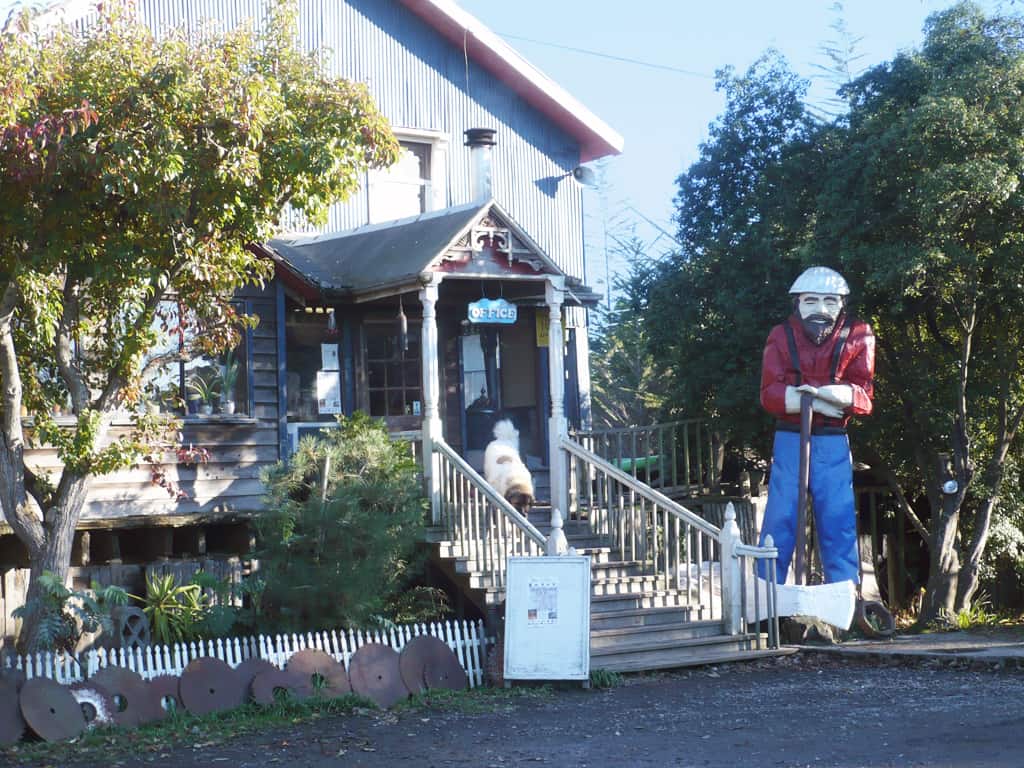 Check Out All the Greater Area Has to Offer with Local Food and Drink
Old Town's Humboldt Bay Tourist Center (HBTC) combines a high-tech information center featuring iPads to research attractions and accommodations throughout Humboldt County with a tasting room specializing in locally crafted food and drinks.
The HBTC serves as a full-service concierge and ticket agent, but is perhaps most beloved for its role as hosting Humboldt Bay Provisions.
Here you'll find locally crafted chocolate, cheese, kombucha, beer, wine, cider, meats, bread, pastries, and seasonally caught seafood. Local chefs, brewers, and farmers frequently are on-site to meet the public on Sundays.
Address: 205 G St, Eureka, CA 95501
Soak In the Redwoods Glory and Play at the Zoo
Sequoia Park Forest and Garden consists of a total of 67 acres, containing a verdant coast redwood grove with trails throughout, a large duck pond, and gardens populated with many thriving native rhododendrons and well-tended dahlias.
The adjacent six-acre zoo is the oldest zoo in California, the land having been donated to the city of Eureka as the last stand of original redwood trees remaining in town.
The petite zoo includes a free-flight aviary, a barnyard with petting corral, red pandas, and a kid's play area that simulates a watershed with spawning salmon!
Address: 3414 W St, Eureka, CA 95501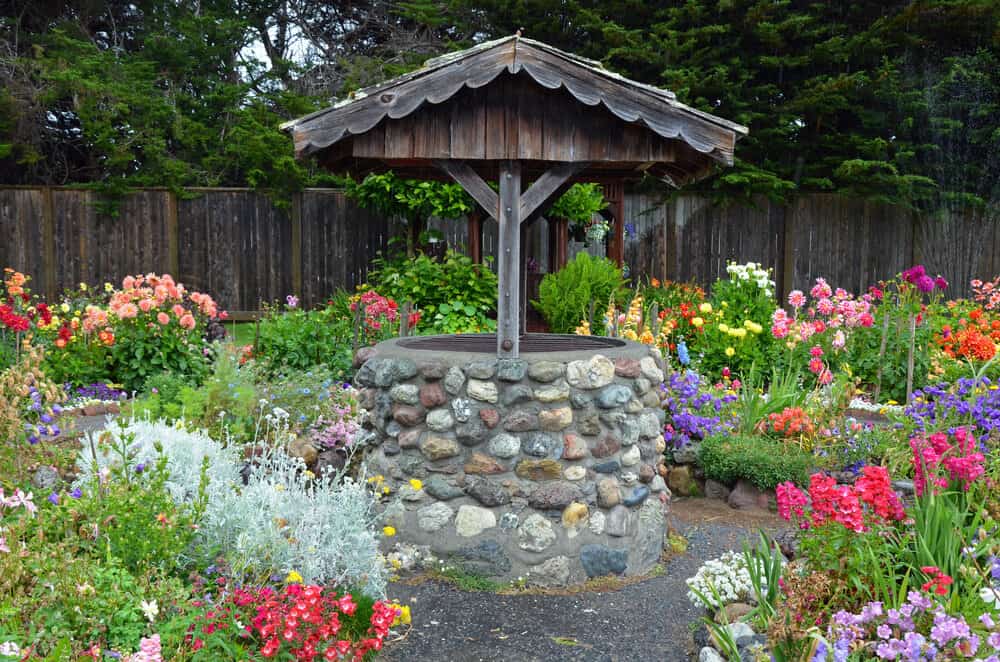 Celebrate the Good Old Days
Founded by a high school history teacher in 1960, Ms. Cecile Clarke, the Clarke Historical Museum focuses on Humboldt County.
It contains the country's largest collection of Native American baskets, many of which were Ms. Clarke's personal finds.
Museum artifacts include those from the California gold rush and early logging and maritime industries while rotating exhibits allow visitors to imagine themselves as characters in the city's Victorian era or as a pioneering fisherman, rancher, or farmer.
The museum inhabits the architecturally significant former Bank of Eureka Building, built of glazed terra cotta in 1912.
The newer Nealis Hall wing houses along with the basketry, other objects including tools, weapons, and textiles from the Wiyot, Karuk, and Hupa tribes who are indigenous to the area which is now called Humboldt County.
Address: 240 E St, Eureka, CA 95501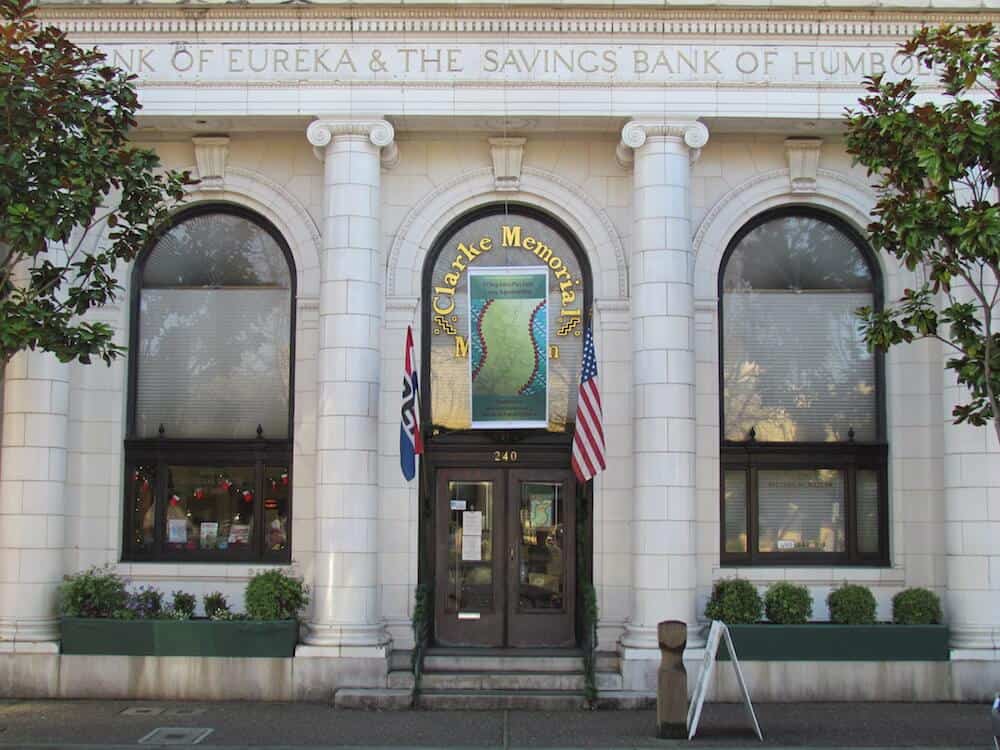 Gaze Upon California's Most Documented Victorian Mansion
The 1884 Carson Mansion is a perfect example of American Victorian architecture. Despite being only being viewable from the outside, it is still one of Eureka's highlights.
Built in 1884 for one of the area's first true lumber barons, William Carson, the mansion was constructed over two years by a hundred workmen.
Essentially unchanged in over a hundred years, the Carson Mansion uses redwood and white mahogany woods with imported onyx, stained glass, and marble.
An eclectic mix of essentially every Victorian style — Queen Anne, Italianate, and Eastlake-Stick — but also incorporating French and Gothic elements, the mansion has eighteen rooms and covers 16,000 square feet.
Since 1950 the Carson Mansion has been owned by the exclusive Ingomar Club, and unfortunately, the interior is not open to the public — but it's still fun to gawk at from outside and snap some photos of.
Address: 143 M St, Eureka, CA 95501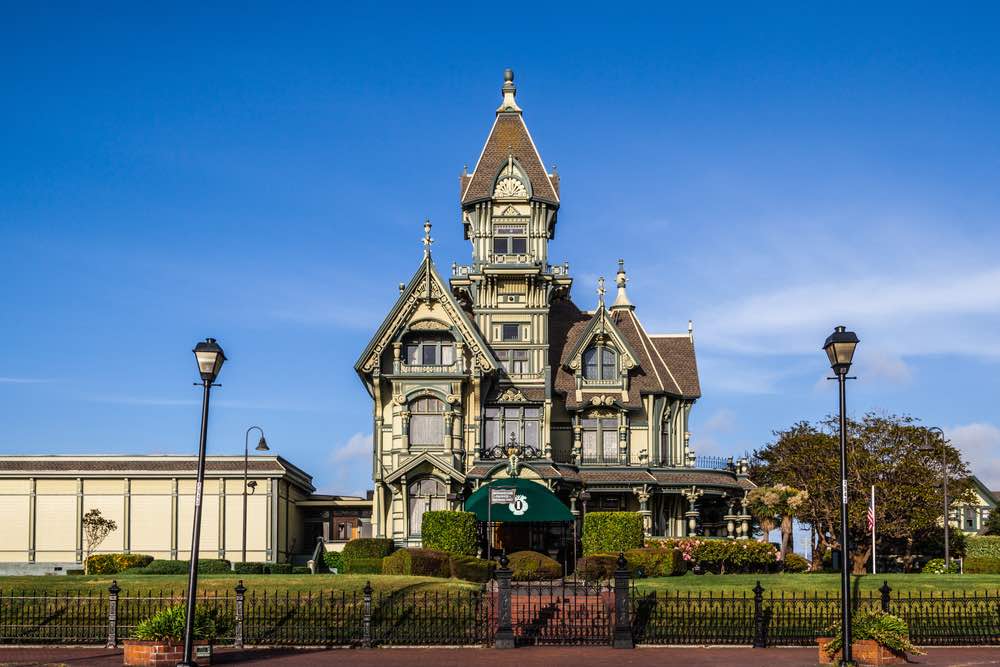 Relive the Frontier Era at the Old Fort
Once the headquarters of the Humboldt Military District, Fort Humboldt State Park perches on a cliff offering expansive views of Humboldt Bay.
Established in 1853 yet abandoned in 1870, the fort once contained fourteen structures of which only the hospital remains today.
Perhaps the most famous resident of Fort Humboldt was Captain Ulysses S. Grant who commanded Company F for six months yet found the location too isolating.
Today the former hospital contains a museum with exhibits about the military installation established here to monitor and hopefully diffuse conflicts between local Wiyot, Karuk, and Hupa tribes and new settlers — though as with most Indigenous-settler interactions, that didn't always go as intended.
Also on site are both indoor and outdoor displays with vintage logging equipment, including the Dolbeer Steam Donkey 'Lucy' and Elk River Mill and Lumber Company's #1 Falk locomotive.
Address: 3431 Fort Ave, Eureka, CA 95503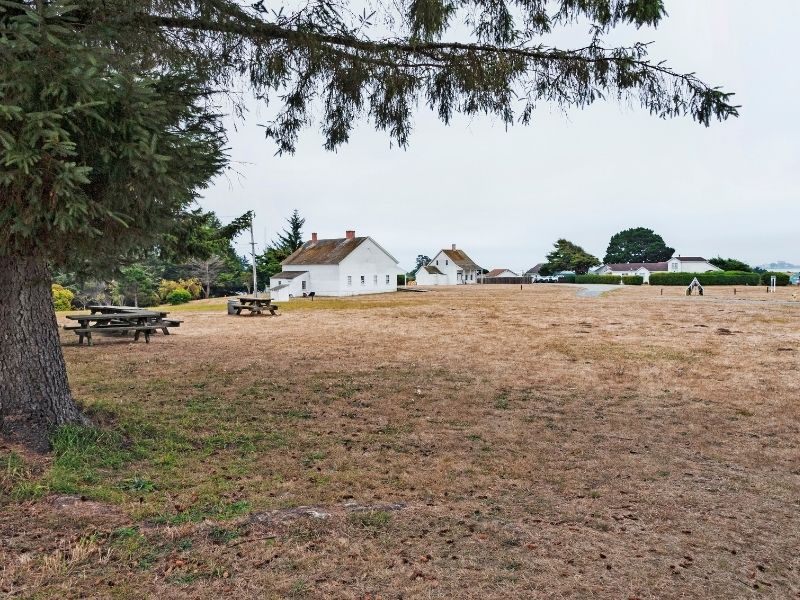 Escape to the Beach
A quick hop across the bay will put you on the seven mile long Samoa Peninsula which contains a sandy, driftwood strewn beach. However, it is most known for the Samoa Cookhouse, an all you can eat eatery that still serves lumber-camp-style at long, communal tables.
Within what was once the head cook's house is today found the Humboldt Bay Maritime Museum, founded in 1977 by William Zerlang, avid collector of marine artifacts.
Exhibits cover topics related to the maritime history of the North Coast including shipbuilding, shipwrecks, ferries, and lighthouses of the past. Behind the Cookhouse, the Timber Heritage Association stores a collection of steam locomotives and logging artifacts.
Address: 77 Cookhouse Road, Samoa, CA 95564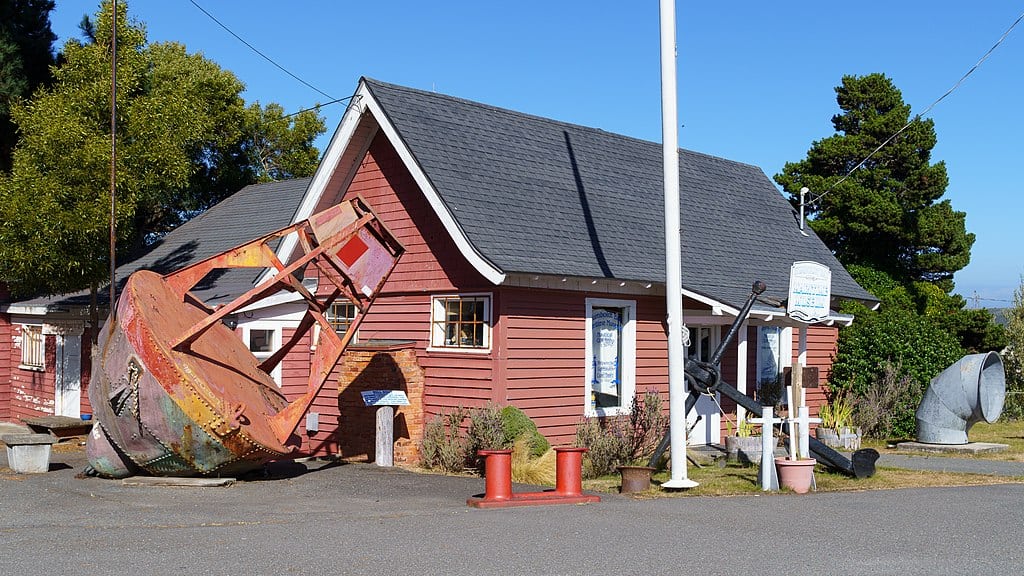 Take a Glimpse into the Local Art Scene
Eureka's Morris Graves Museum of Art owes its existence to the artist of the same name, Morris Graves, local resident from 1964 to 2001 and founder of the Northwest School of Art who endowed the museum in 1999.
Seven galleries and a sculpture courtyard display Mr. Graves' own works and personal collection as well the creations of many local artists.
A performance rotunda allows for events featuring actors, literary performers and historians, dancers, and musicians.
The museum is housed in what was California's first Carnegie Library building in 1902, a Classical Revival building designed by local Eureka architects that was slated for demolition prior to restoration and revisioning efforts that began in 1996.
Address: 636 F St, Eureka, CA 95501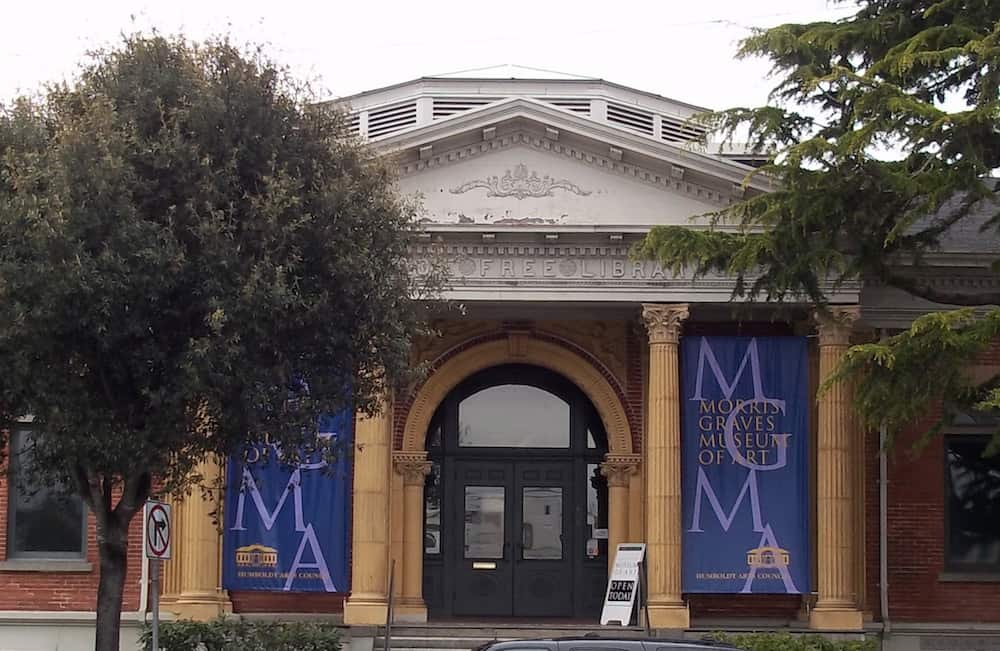 Stop to Smell the Flowers
On the southern edge of town, the not-for-profit Humboldt Botanical Garden covers over forty acres and consists of five individually themed garden environments with five more sections planned for future development.
While the original focus was on local species, the unique setting straddling both Mediterranean and Pacific Marine climates allows many diverse plants to thrive here.
The garden is most known for its collection of irises, conifers, and lilies and contains five miles of forested hiking trails.
A favorite feature of the garden is the 'All Happy Now' Earth Sculpture by Peter Santino, a walkable labyrinth.
Address: 7707 Tompkins Rd, Eureka, CA 95503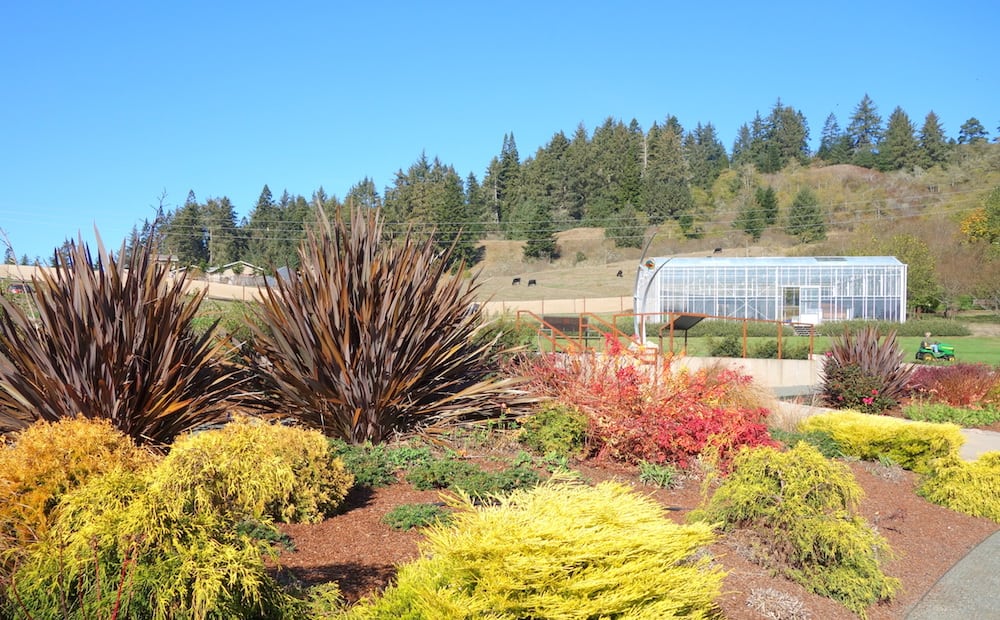 Embrace the Zany
Eureka revels in its wacky side at its quirky Kinetic Museum which showcases the bizarre and inventive 'movable art' contraptions — resembling items such as giant fish and UFOs — that are featured in the annual Kinetic Grand Championship known as the 'Triathlon of the Art World'.
For three days every May, costumed racers propel themselves fifty miles aboard their creations through sand, water, and mud with Eureka being the leg of the race where the human-powered vehicles enter the water and hopefully float.
The museum houses several past race entries, including some constructed by Hobart Brown, the metal sculptor who began the race in 1969.
Address: 518 A St, Eureka, CA 95501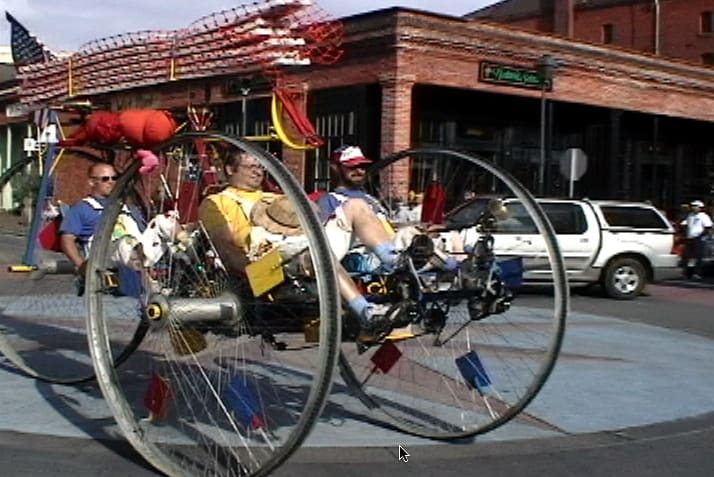 Stroll Beside the Harbor
Eureka's Boardwalk parallels Old Town between C and G Streets and is cheerfully decorated with signal flags and nautically themed ornamentation.
From the waterfront one can look across the Eureka Channel (also called the Inner Reach) to Woodley and Indian Islands and further in the distance out to Samoa and the North Spit that encloses Humboldt Bay.
This is an active, working wharf with fisherman daily bringing in catches of cod, snapper, crab, and shrimp which can be purchased straight off the boats.
The boardwalk continues as part of the six-mile-long Eureka Waterfront Trail and provides easy access to Old Town shopping and dining while summer months bring weekly Thursday concerts to the foot of C Street.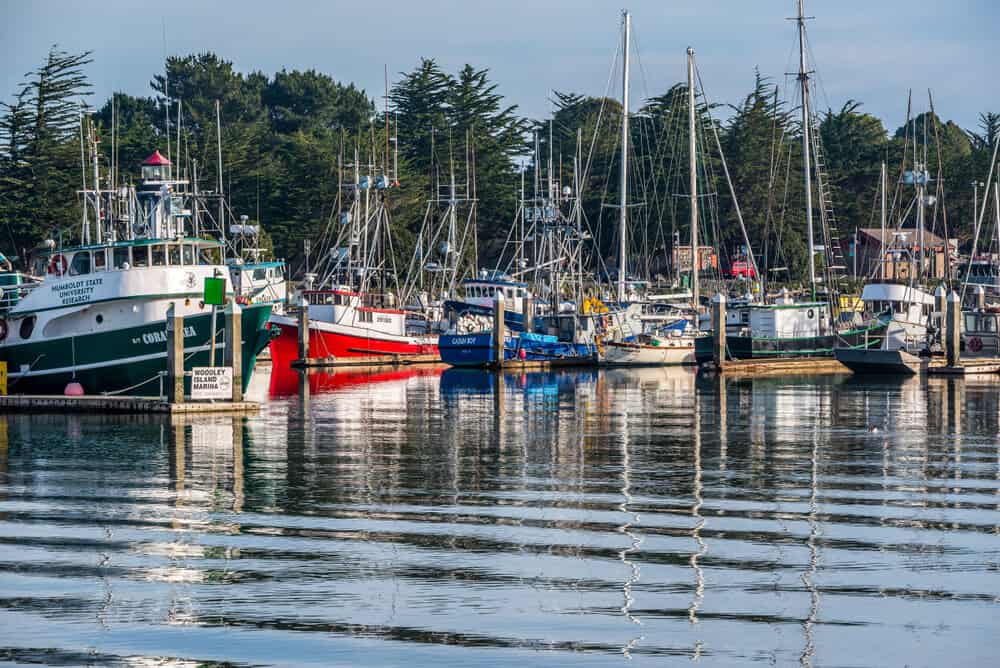 Cruise the Bay on the Smallest Licensed Bar in California
Built in 1910 and operated by the Humboldt Bay Maritime Museum, the MV Madaket was originally a millworkers' ferry, retired in 1972 with the opening of the Samoa Bridge.
Eco-wildlife themed, evening cocktail hour, and narrated history cruises all depart from the foot of C Street.
Fun facts: The Madakat is the country's oldest continuously operating passenger vessel and houses the smallest licensed bar in California!
Address: 1 C St, Eureka, CA 95501
Walk Through the Willows
A southerly section of the Eureka Waterfront Trail, the Hikshari' Trail follows Humboldt Bay for 1.5 miles through coastal willows and sand dunes of the Elk River watershed.
Enhanced by signage that interprets topics such as ecology, geology, history, railroading, Wiyot village life, and wildlife identification, the Hikshari' Trail is known for its wildflowers and as a place for birdwatching.
Address: Access at 4 points including behind the Bayshore Mall at Truesdale and Herrick Ave off Highway 101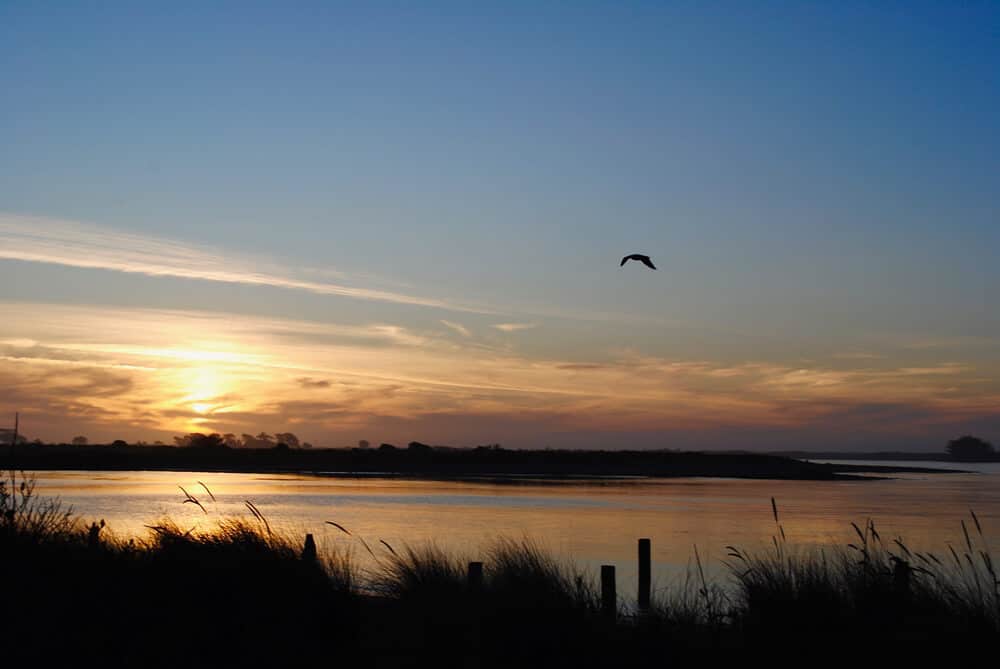 Hop Onto an Island in the Bay
One of three islands within Eureka's portion of Humboldt Bay, Woodley Island contains the largest marina in the region, complete with waterside eatery, boat and kayak rentals, and fishermen selling catches fresh from their boats.
One half of the island is a wildlife sanctuary, known for birds such as pelicans and egrets. Island landmarks include the Dick Crane statue titled 'The Fisherman' and the retired Table Bluff Lighthouse tower.
Address: 601 Startare St, Eureka, CA 95501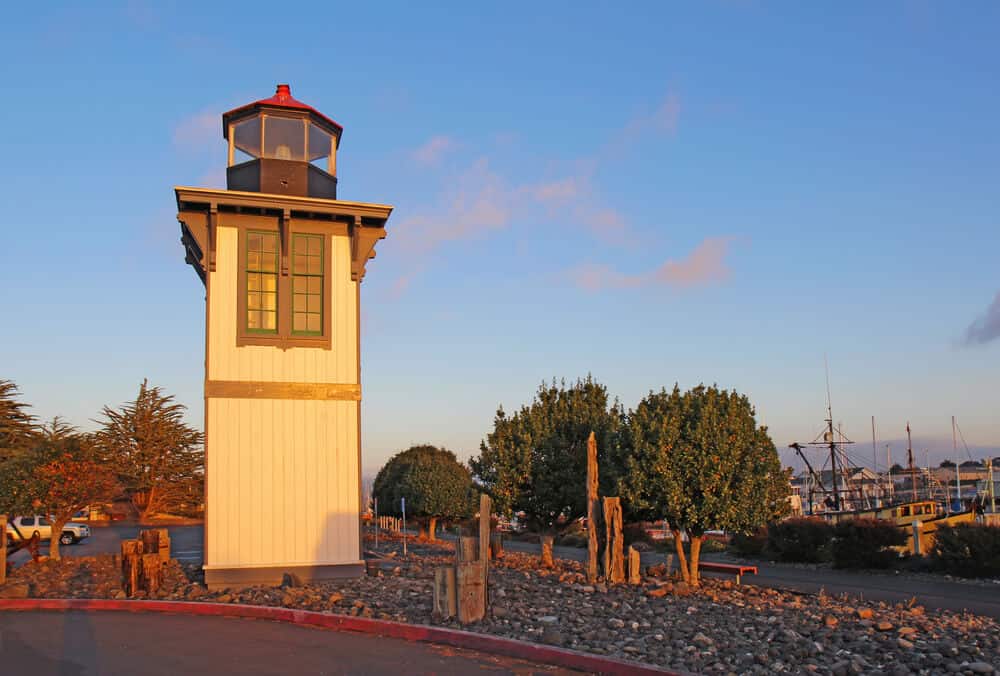 Pin This Guide to Things to Do in Eureka!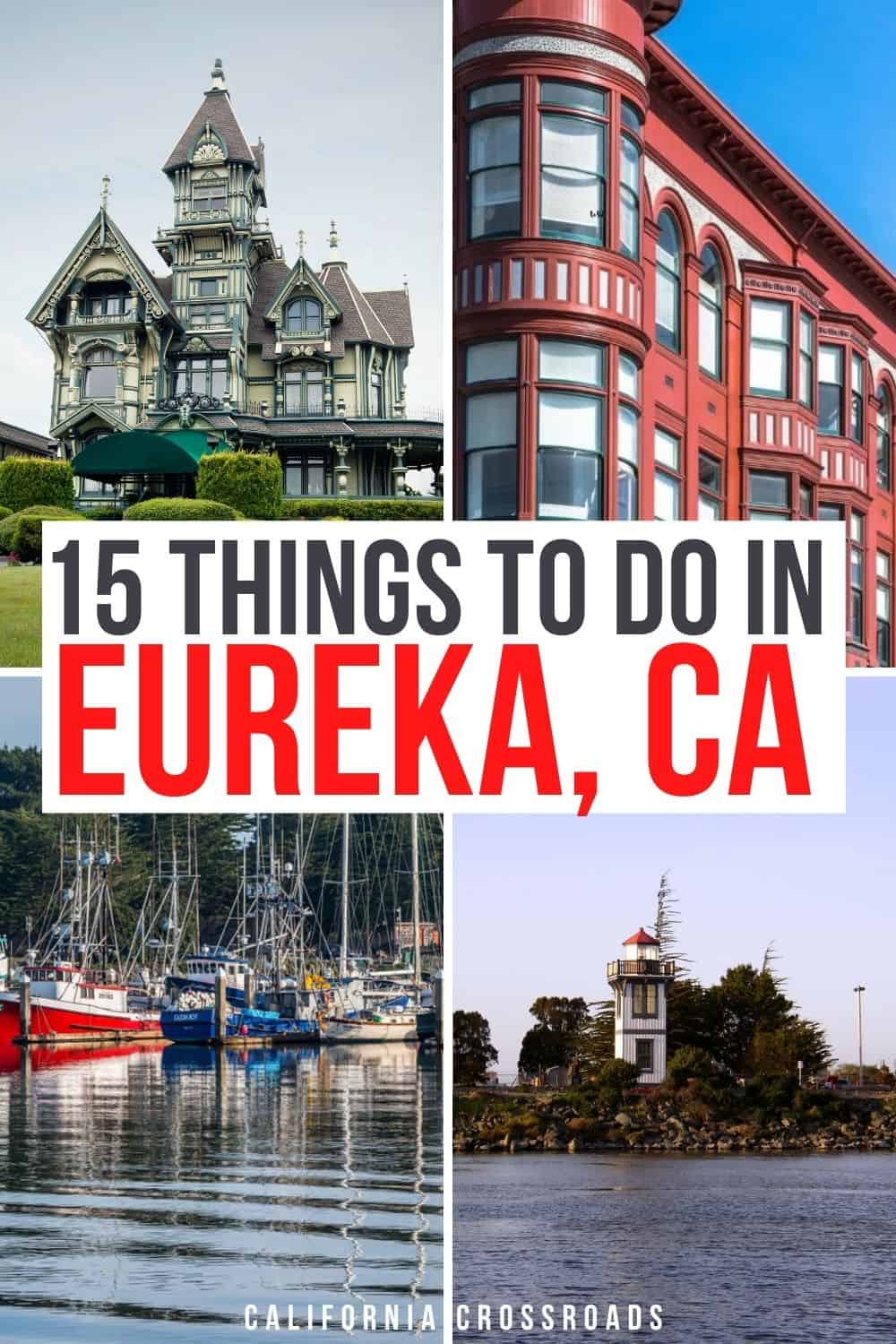 Jill Watkins is a Portland, Oregon based travel writer and certified tour guide. A natural explorer who has led groups throughout the western states, Jill believes you can find wonder wherever you might be.