San Francisco is home to a lot of great taquerias.
It is the birthplace of the Mission-style burrito, the one that you can now find almost anywhere across America, thanks to Chipotle.
San Francisco's Mission District has the city's highest concentration of taquerias, perhaps no surprise considering it has a burrito named after it!
The Mission District has been home to the best Mexican food in San Francisco for decades.
Since 1969, the most iconic food coming out of these taquerias is the Mission-style burrito.
While the burrito is the crown jewel of taquerias in San Francisco, there are plenty of other fantastic dishes, as well.
Quesadilla suiza, chilaquiles, enchiladas, and tacos all shine at various locations throughout the city by the bay.
The 7 Best Taquerias In San Francisco
Best Quesadilla in SF: El Farolito
Note: This post contains affiliate links, which earn me a small commission at no extra cost to you if you make a purchase using one of these links. Thank you for supporting this free content!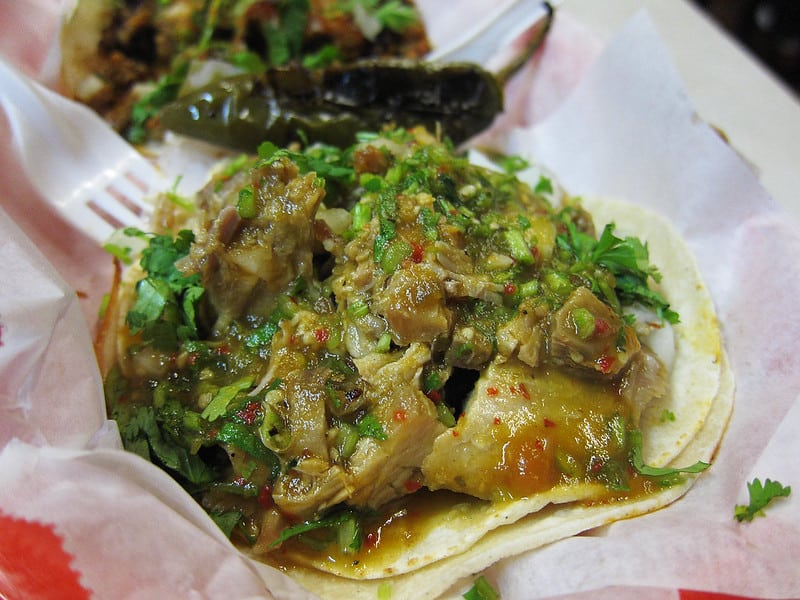 If you've lived in San Francisco or even visited for a night of bar-hopping in the mission district, you have been to El Farolito.
The staff is friendlier than they probably should be during the late-night dinner rush serving up some of the most iconic burritos in San Francisco to a mostly inebriated crowd.
And the burritos are good. But the quesadilla suiza is better.It's the best quesadilla you will ever have.
Choose the Al Pastor, and it is also the best you will find in San Francisco.
Cut fresh off the trompo and seared on their wonderfully seasoned grill.
You will not be disappointed. It is essentially a grilled burrito without beans and rice.
Inside you'll find perfectly seasoned meat, fresh avocado slices, spicy salsa, and sour cream.
It is the most harmonious blend of these flavors you will ever have.
There are other good options to order here, as well.
Locals and tourists come for tacos and super burritos.
But this is a restaurant where I order the same thing every single time and never think twice about it.
Get the salsa verde on the side. It's excellent!
Best California Burrito in SF: Taqueria Los Coyotes
(Temporarily closed until further notice)
For a long time, this taqueria flew under the radar.
Located an alley corner just off of 16th Street, this was where you could skip the line at Pancho Villa across the street and (in my opinion) get a better burrito.
Times have changed, and this place now has similar lines on a weekend evening and just as many writeups online and in print.
What are those lines for? Well, Los Coyotes has the best California burrito in San Francisco.
A departure from the Mission Burrito, this monster of a meal forgoes the rice and beans for French fries.
A San Diego classic that wasn't available this far north until much more recently, it has gained popularity over the years.
It is now on many taqueria menus throughout the city.
Los Coyotes does it near flawlessly. The fries are crispy outside and soft inside, and the meat has a perfect char.
There is fresh avocado, and delicious crema stuffed into this thing beautifully. Top it off with one of many options at arguably the best salsa bar in the city.
People love the mango salsa here, but I promise you it's the chipotle salsa that you need to try.
Here, other great choices include the dinner plates with fresh-made tortillas, chimichanga (again the best in San Francisco), burrito mojado, and an excellent set of chilaquiles for breakfast.
They have an extensive menu with guisados, enchiladas, soups, seafood, tortas, and even burgers and hotdogs for kids (I can't vouch for the latter).
Best Al Pastor Burrito in SEl Castillito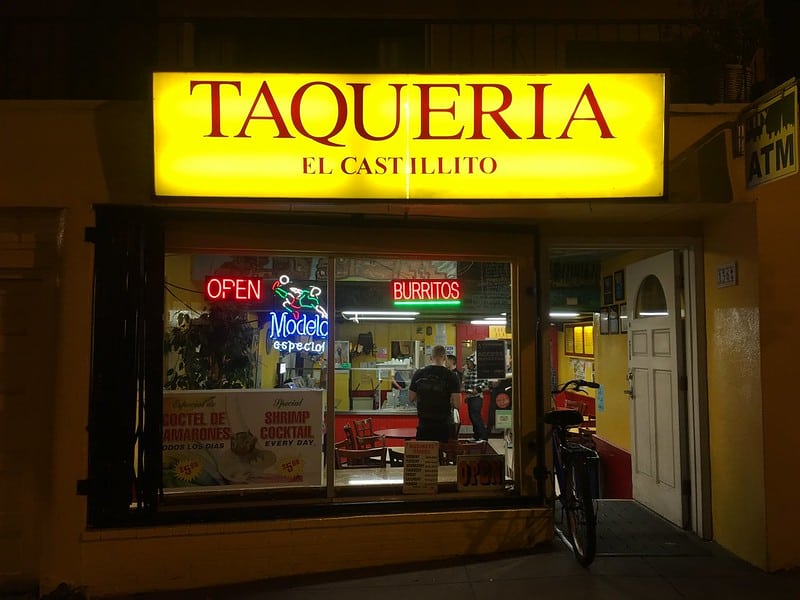 There are two locations in San Francisco, and both are very good.
David Chang famously said it may be the best burrito he's ever eaten. It is undoubtedly in that conversation for me.
I have always frequented the Duboce location, and the service is as good as the food.
When you walk down the stairs and make your way through the line, you'll find a small window in the grill area.
You can't help but notice the giant Al Pastor rotating on the trompo, or rotisserie, with delicious seasoning making its way down the chunks of pork.
Your tortilla gets tossed on the grill and immediately topped with squares of jack cheese.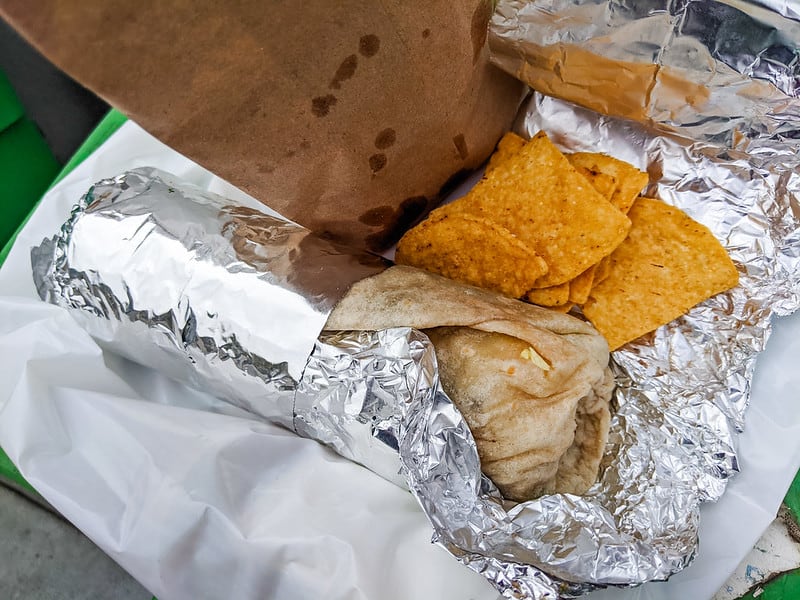 The grill master will ask what meat you want.
Again, Al Pastor is what you probably want to order here, though the steak and chicken are great, too.
The next choice is beans, followed by the level of heat you want in the salsa.
Once the ingredients fill the tortilla, the chef moves your order to the foil, wraps it up, and directs you to the other counter area to pay.
A third section of the countertop holds a salsa bar, with some of the best choices in town. The pickled vegetables here are excellent.
 Best Tamales in SF: La Palma Mexicatessen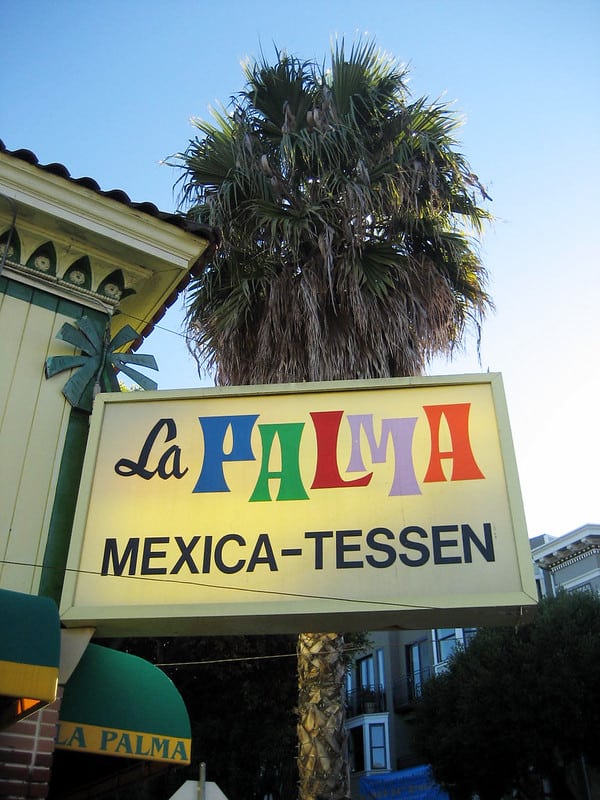 Though technically a store more than a taqueria, there is a full-service restaurant inside.
Just know that you are not getting a table. They do not have any tables available inside.
The space is small, but every inch of the shop is stocked full of delicious house-made items.
The chicharrones by the cash register, the fresh-made corn, or flour tortillas and chips in the middle aisles, and the housemade salsas lining the refrigerators along the walls are all reasons to walk the 10-15 minutes down 24th street from Bart.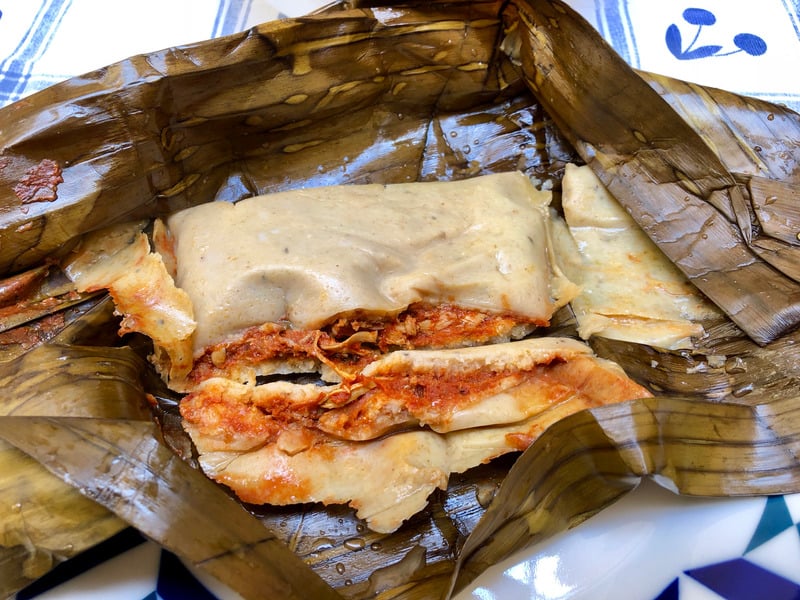 The taqueria in the back of the store has fantastic tacos, tamales, and burritos, and they also have fresh-made masa to take home if you want to make your tamales.
Order any of the meats. They are all good. But the story here is the handmade tortillas, homemade chips and guacamole, and fresh salsas.
They are all way above average!
Best Quesabirria Tacos in SF: Tacos El Patron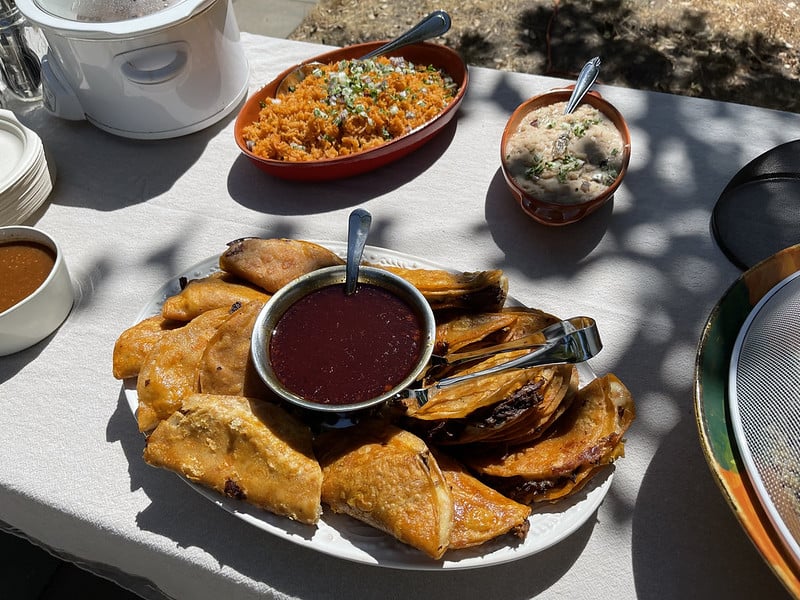 Another food item that has long enjoyed success further south but just started becoming popular in the bay area over the past few years is quesabirria tacos.
El Patron is the best place in San Francisco to order them, and they were also one of, if not the first.
Birria is traditionally made with goat meat but can be made with beef, as well. The meat is stewed in a rich blend of spices and jus.
Quesabirria tacos are made by taking tortillas, dipping them in the beef broth, and then cooking them on a grill.
They are smothered with cheese before being topped with the shredded beef, folded, and fried until crispy and molten hot with cheese.
Chopped onion, cilantro, and a side of the consome are the garnishes for this unique taco.
El Patron has other menu items as well that are worth ordering.
The choriqueso (melted cheese mixed with chorizo and served with chips), mulitas (think corn tortilla quesadilla), and taco el patron (a shrimp taco with cheesy edges and guacamole inside) are all things you won't find at many San Francisco taquerias and they are all done very well.
Best Fusion Burrito in SF: Senor Sisig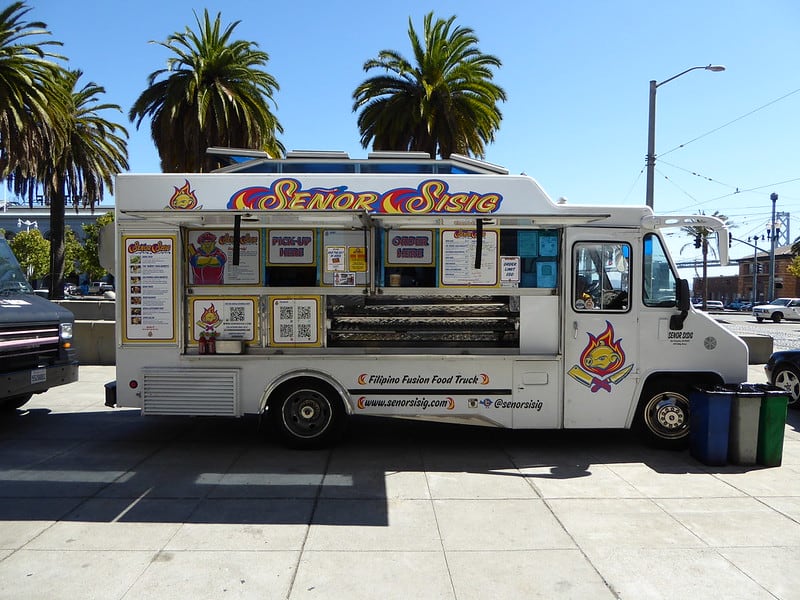 This restaurant is unique because it is Filipino/Mexican fusion. It is on this list because the food is excellent.
And at this point, Senor Sisig is an SF institution.
What began as a popular food truck in 2010 has now morphed into multiple locations of both trucks and restaurants serving fantastic street food in the Bay Area.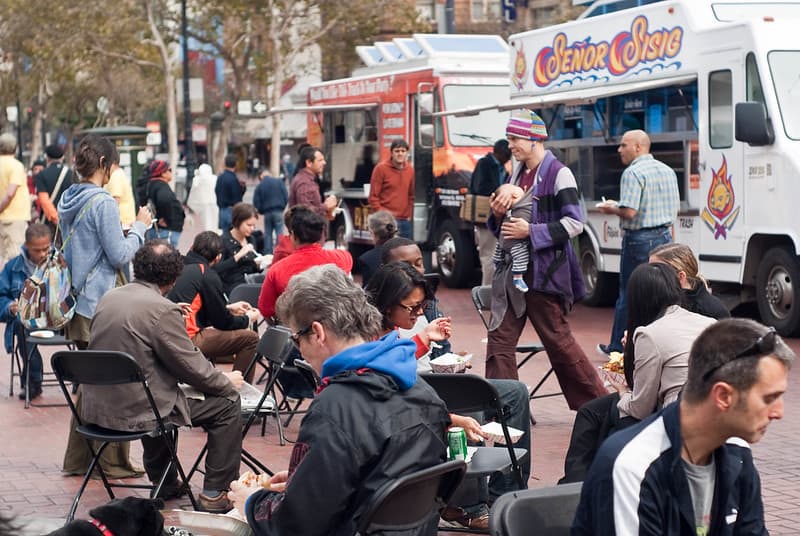 The sisig burrito comes with your choice of chicken, tofu, or pork marinated and marinated in the same style as sisig (a classic Filipino party food) and then grilled fresh to order.
The burrito comes with adobo garlic rice, beans, cilantro cream sauce, and pico de Gallo.
You can get this burrito California style with french fries as well.
Another great burrito option here is the tosilog burrito, a sweet Filipino marinated pork called tocino.
This burrito is served with a fried egg, making it a great brunch or late-night option.
Other great choices include:
The sisig fries (kind of a play on carne asada fries)
Sisig and rice (for a more classic Filipino plate)
The sisig crunchadilla (a cheesy, meat-filled tostada wrapped in a flour tortilla and grilled to perfection)
The Jeremy Fish creation "The Whole Barnyard Burrito" which true to its name has every meat available, egg, and french fries in addition to the rest of the usual ingredients (sans rice and beans)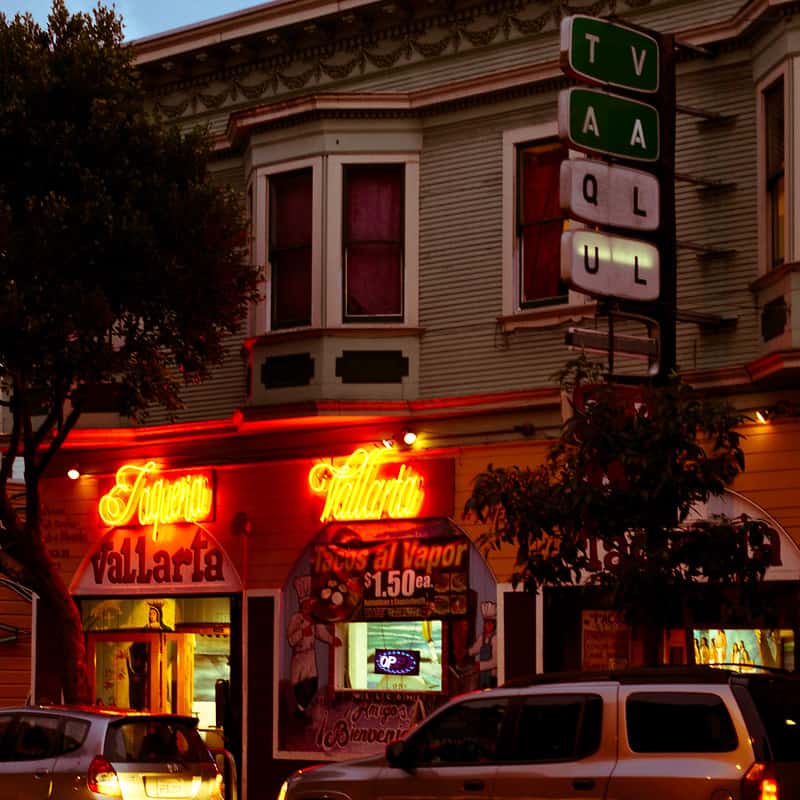 Taqueria Vallarta is a really good all around taqueria. The burritos are well above average, and the salsa options are good.
But the main reason to come here is for the tacos.
Even if you come here for something else, you cannot help but notice the grill when you walk in the door.
Immediately upon entering Taqueria Vallarta, you will see meats and tortillas being cooked up on a comal, away from the central kitchen.
The tacos here are among the best in San Francisco and probably the entire Bay Area.
The tacos are made to order constantly, so they will be the freshest tacos you can find in SF.
Do yourself a favor when you come here and grab a couple of tacos when you wait to order your super burrito.
Thank me later.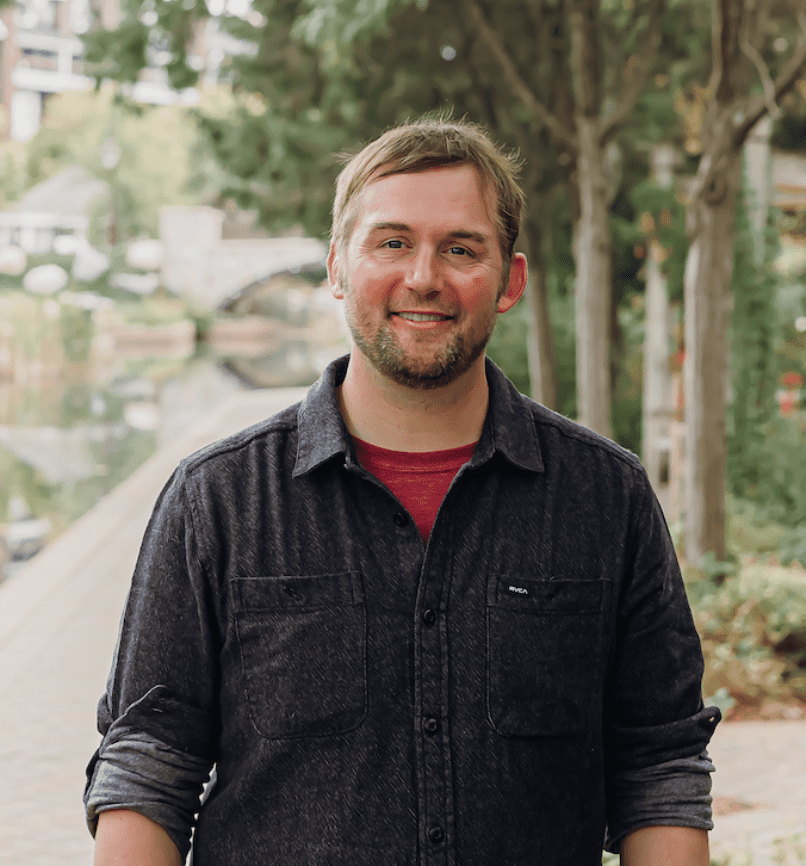 Deric is a freelance copywriter and content manager living in San Francisco, CA. Deric is a proud father, home cook, avid hiker, former bartender, and SF resident since 2006.